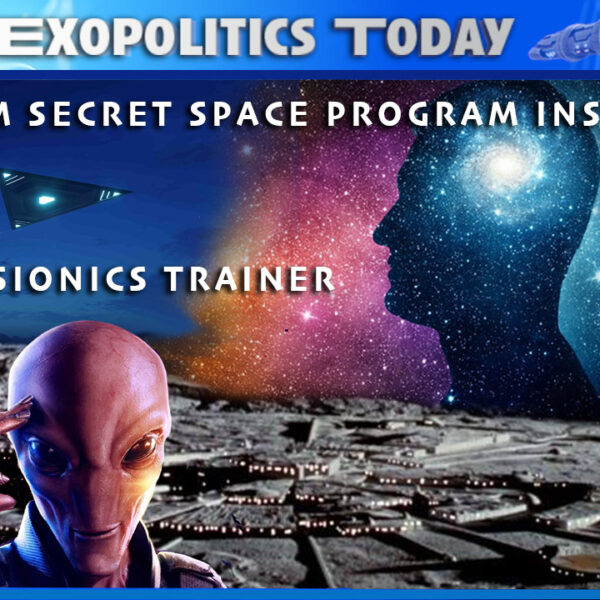 Randy Cramer claims to have completed a 20 and back tour of duty with a secret space program where he attained the rank of Captain in the USMC special section. He was sent to Lunar Operations Command in 1987 for his induction and spent the next 17 years as a supersoldier protecting Mars corporate colonies from attacks by indigenous Reptilian and Insectoid species.
Randy says that he subseqently spent 3 years as a pilot of various types of spacecraft that belonged to the Solar Warden space fleet. He asserts that he next completed a ten year assignment performing rescues or assassinations in special space operations. Randy has undergone a lie detector test which confirmed that he was not being deceptive and he discusses the results in the interview.
Interview available on Rumble, YouTube & Odysee

Audio Podcast on Apple, Spotify, or Google
Randy Cramer currently teaches psionics courses. More info is available on his website: universityofconsciousevolution.com
Further Reading/Interviews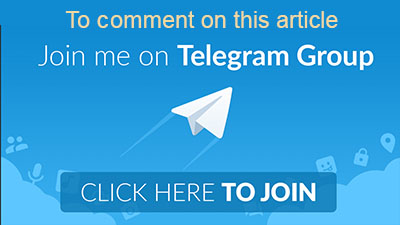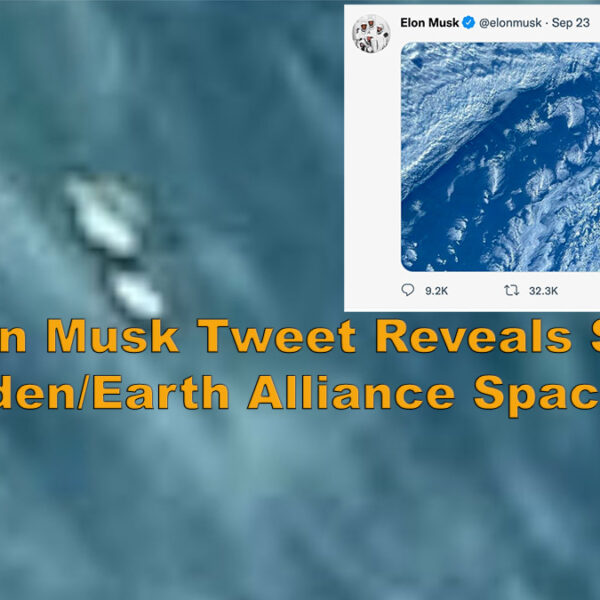 On September 23, 2021, Elon Musk tweeted a picture taken from a SpaceX civilian mission into low Earth Orbit. A close up of the picture reveals at least six cigar shaped craft traveling in formation. According to Thor Han Eredyon of the Galactic Federation of Worlds—as relayed by Elena Danaan—the craft belonged to the US Navy's Solar Warden program and are now part of the newly formed Earth Alliance.
I have been told that Musk is constrained by Non-Disclosure Agreements (NDAs) from revealing what he knows about the Earth Alliance, diplomatic meetings on Jupiter, extraterrestrial life, etc., but is allowed to leave clues so we can figure it out by ourselves. 
Video of the spacecraft formation is available on YouTube and Rumble
For more articles, videos and podcasts featuring information about the Galactic Federation of Worlds as relayed by Thor Han/Elena Danaan and Val Nek/Megan Rose, click here.
---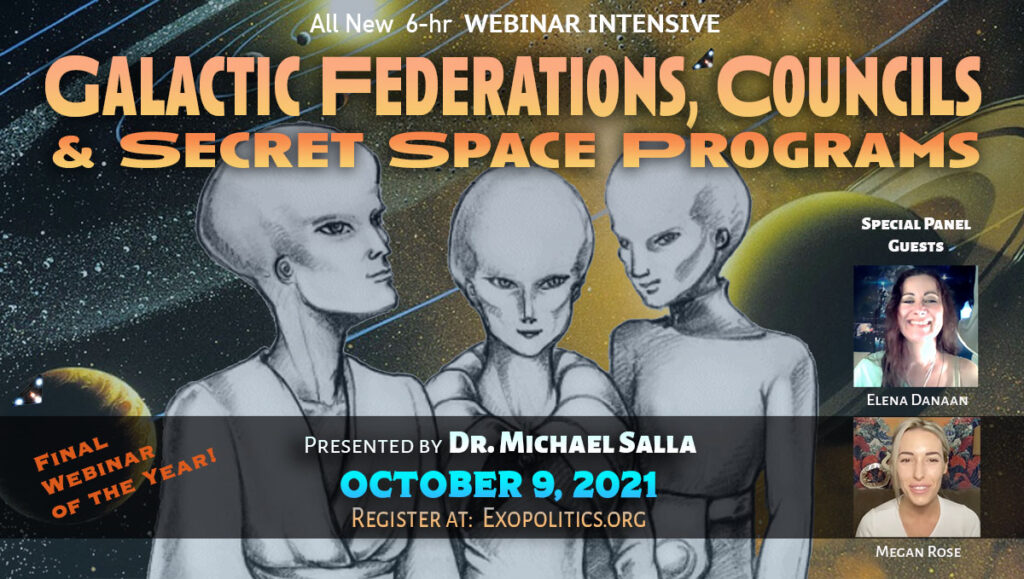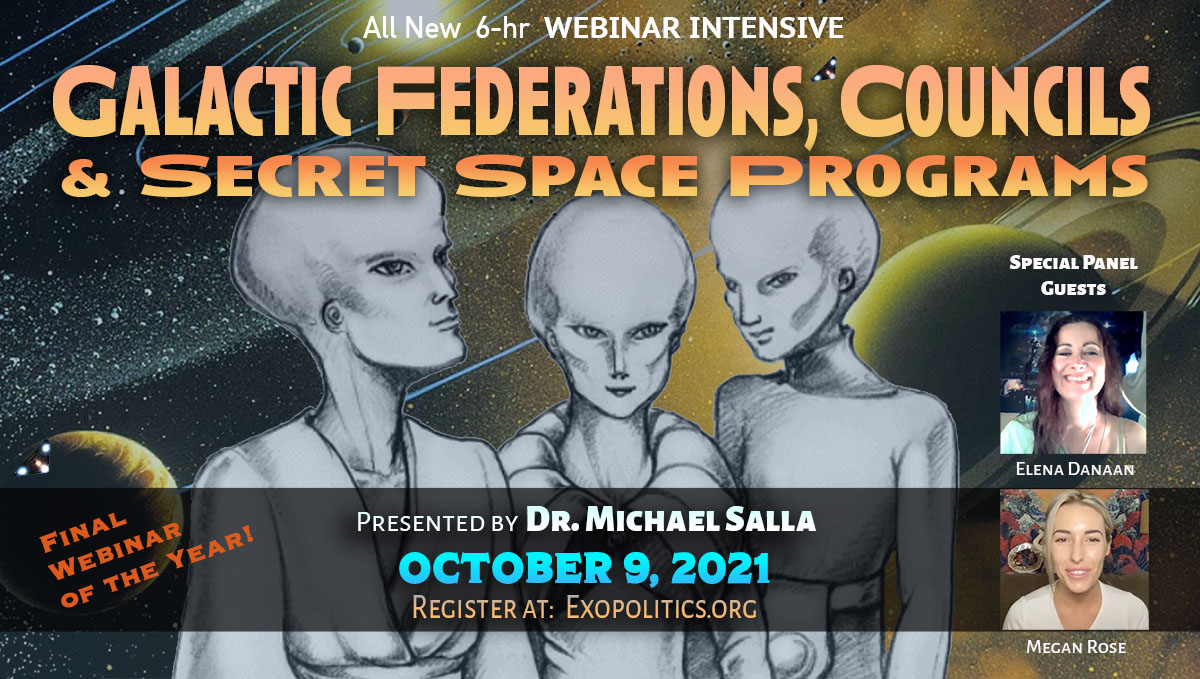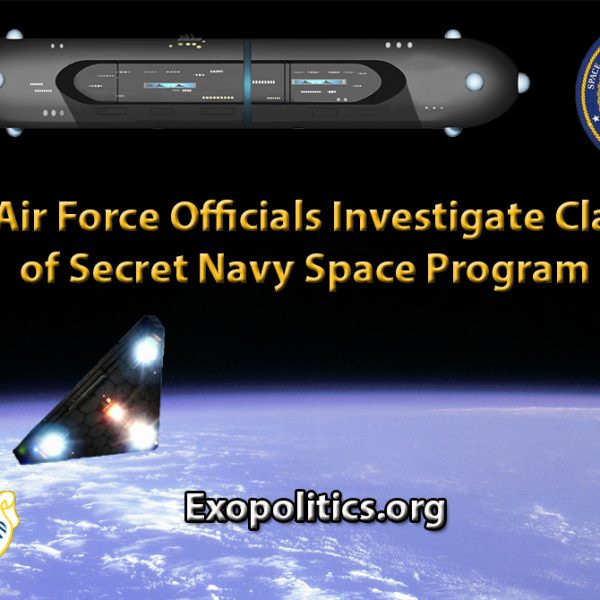 Officials from a highly classified U.S. Air Force space program that operates a space surveillance system around the Earth, are seriously investigating whistleblower claims, especially those stating that the U.S. Navy has secretly developed a parallel space program with kilometers-long craft belonging to eight battle groups capable of deep space operations.
According to secret space program whistleblower, Corey Goode, a senior official from the Air Force program who he calls "Sigmund", has been conducting "information exchanges" with Goode to learn about the alleged Navy space program and rumors of it cooperating with Nordic and other extraterrestrial groups,
Previously, Goode reported that he first encountered Sigmund in a series of military abductions that began in January 2016, when a triangular shaped antigravity spacecraft landed near his Texas home, and two Air Force personnel from the vehicle forcibly took him into the craft. Goode was subsequently interrogated and chemicals were injected into him to force him to reveal the source of his information.
After publicly emerging in March 2015, Goode's claims had come to the attention of a highly classified Air Force Space Program, which closely cooperates with other U.S. military entities such as the National Reconnaissance Office, the National Security Agency and the Defense Intelligence Agency. Goode calls this interagency collaboration the Military Industrial Complex Secret Space Program (MIC SSP).
The MIC SSP is entirely separate to a more advanced Navy Space Program known as "Solar Warden", which Goode says he served in during a "twenty year and back" tour of duty from 1987 to 2007. In previous reports, Goode has discussed at length the activities of Solar Warden and its interactions with visiting extraterrestrial civilizations.
During the initial abductions, Sigmund was trying to ascertain the source of Goode's information which had revealed highly classified information about the MIC SSP. In earlier reports, Goode also described how Sigmund and his subordinates chemically forced Goode to out several operatives working for the Solar Warden program.
The nature of Sigmund's interrogations of Goode began to significantly change when Sigmund determined that Goode's information was, at least in part, accurate, and that he was not part of a disinformation program belonging to a rogue element of the MIC SSP.
Sigmund subsequently began an "information exchange" with Goode that first occurred in "meetings" during the latter part of 2016. Goode was given information about Antarctica and the intense power struggle within the U.S. national security system involving the 2016 Presidential election. Goode wrote a report about one of these information exchanges that was published on December 11, 2016.
On March 16, Goode gave me a detailed four hour briefing about his ongoing meetings with Sigmund and/or his two subordinates from the MIC SSP, which occur on a regular basis to the present day. The information provided by Goode was originally going to be released in "Endgame 3", and was passed on to me in order to get the information out.

The scope of the information revealed by Goode is breathtaking in its national security implications for the U.S. and the rest of the planet. Consequently, this summary will be the first in a series of articles describing the information Goode has acquired through his "information exchanges" with Sigmund and/or his subordinates, and the latest activities participated in by Goode.
The overall context for the "information exchanges", according to Goode, was Sigmund's  anger over the fact that his MIC SSP was out of the loop concerning activities in deep space involving extraterrestrial life and technology. The possible existence of a more powerful Navy program operating in deep space, with technologies far more advanced than anything possessed by the MIC SSP, was of particular concern to Sigmund.
Sigmund's MIC SSP is primarily confined to near Earth operations (500 miles altitude) utilizing at least two operational space stations capable of hosting several hundred personnel, and several squadrons of TR-3B's that service the stations. This is consistent with a briefing President Ronald Reagan received in 1985, and later published in The Reagan Diaries, where he was told that the U.S. has the capacity to place 300 astronauts in space.
Lunch with 5 top space scientists. It was fascinating. Space truly is the last frontier and some of the developments there in astronomy etc. are like science fiction, except they are real. I learned that our shuttle capacity is such that we could orbit 300 people [p.334].
Reagan had been briefed about the MIC SSP and was greatly impressed by its capabilities.
In addition, Goode says that the MIC SSP maintains small bases on the moon and Mars but these are secondary in relationship to its primary mission of near-Earth surveillance and operations.
Goode says that Sigmund and MIC SSP personnel were all told that they were "the tip of the spear" when it came to the deployment of advanced military technologies in space, but had now learned that they were just the "f…ing Coast Guard"!

Sigmund's fury over lies told to him and other MIC SSP personnel led to angry confrontations with his superiors. This further resulted in Sigmund initiating a serious investigation into Goode's claims, along with those more recently provided by William Tompkins through interviews and his book Selected by Extraterrestrials, which specifically details the U.S. Navy Space Program and its cooperation with Nordic extraterrestrials.
Significantly, according to Goode, Sigmund is now conducting a similar type of investigation to my own recently completed one, done for my March 2017 book, The US Navy's Secret Space Program and Nordic Extraterrestrial Alliance. Sigmund's investigation also involves historical document searches, along with interviewing Navy personnel that have potential knowledge of a Navy Space Program that was secretly constructed in parallel with the creation of the MIC SSP.
After eliminating a number of possible sources for Goode's impressive body of information, Sigmund has now reached the conclusion that there are two remaining explanations for what Goode's revelations. The first is that a visiting group of "Nordic extraterrestrials", known to the MIC SSP, is manipulating Goode through mind control and feeding him accurate information for an unknown agenda.
The second is that Goode is genuinely associated with a Navy-run secret space program, which is part of a "Secret Space Program Alliance", and he is also working with a visiting group of extraterrestrials called the Sphere Being Alliance.
Sigmund began his information exchanges with Goode in part to further investigate Goode's claims, thus helping to determine which of the two explanations would prove to be more accurate.
Sigmund has also been concerned that plans for a "limited disclosure" of the MIC SSP would only reveal part of the truth about deep space activities involving lesser classified compartments of the U.S. military, and that the truth needed to be determined and exposed in order to maintain morale in the various programs. Was the MIC SSP the "tip of the spear" as they had been told, or "the f…ing Coast Guard" as Sigmund now feared?
This becomes especially relevant to Tom DeLonge's Sekret Machines initiative that began in early 2016 as an effort backed by 10 senior military and corporate officials. In late 2016 Wikileaks released emails that confirmed DeLonge's claims, and outed two of the ten officials involved in his initiative.
DeLonge and his advisory group genuinely believe that their disclosure of a US Air Force run space program comprising antigravity TR-3B vehicles, will usher in a new age of space exploration. These TR-3B squadrons operate out of Area 51, classified space ports on the island of Diego Garcia and a secret location in Antarctica, which according to Sigmund is also a major R & D facility.
[Update] In a March 20 post on his Facebook page, Goode explained more about this Antarctica base: 

Some of the Military and Corporate (Lockeed etc…) R&D facilities are bases that are VERY similar but much larger than Camp Freedom that was built in Iceland [Greenland] in the 50's under Project Iceworm. The space-port is an expanded former NAZI installation. The NAZI's have had several bases built across the SE and E regions of Antarctica. The reason Sigmund brought it all up is because I used the video of Project Iceworm in my CLE presentation. LOTS more going on in Antarctica that is not related to the ancient ruins. The development and testing of weapons platforms is forbidden under the international treaties of Antarctica. Also, to be noted. Many of the early bases on the Moon and Mars have been built in a similar manner. CG.
There has been widespread support among USAF and corporate officials for DeLonge's effort. That is no longer the case according to Goode. Sigmund now believes that efforts like DeLonge's are only a form of "limited disclosure", which would indefinitely perpetuate an information gap between the MIC SSP and the Solar Warden/Secret Space Program Alliance.
Consequently, the once uniform Air Force support for DeLonge's disclosure initiative is losing support. Essentially, the MIC SSP wants to get to the bottom of it all before anything about the MIC SSP is released to the public.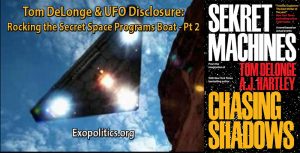 Goode says that Sigmund has been organizing meetings where he has provided briefings for select VIPs from the aerospace community. Leading engineers, scientists, industrialists and others have listened to Goode's information to see if any of it rings true for them.
The meetings have been arranged by Sigmund, and his subordinates would facilitate Goode's travel when necessary, and provide the security. Goode says that he has now given a series of briefings to 28 VIPs at similar secret meetings with between one to eight participants.
One of these meetings involved three people attending a conference being held at a hotel where Goode was staying in late January 2017. I stayed at this same hotel at the time, and Goode gave me a briefing about his visit to Antarctica in early January, which I then published on exopolitics.org.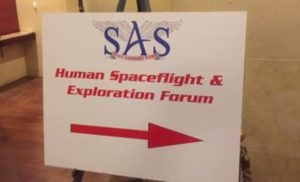 The conference was the "Human Spaceflight and Exploration Forum" organized by Special Aerospace Services  . Goode says that during his briefing presentation to the three VIPs who were Forum participants, one of the attendees got up and left in disbelief over such a secret space program existing.
The remaining two VIPs stayed to the end of the briefing, but their bemused expressions suggested that they didn't believe a word of what Goode was saying.
Goode says that in all briefings he has given, one or more of the participants have similarly stood up and left in disbelief, while the remaining VIPs largely maintained quizzical expressions. Consequently, Sigmund has recently paused the VIP briefing sessions since they have not had either the desired effect of informing the VIPs about a possible Navy space program, nor have they uncovered any further information that could help Sigmund in his investigation.
During our March 16 conversation, I pointed out to Goode the irony of his situation. The very same thing had happened to William Tompkins during World War II when he was tasked to deliver briefing packets containing information about a Nazi flying saucer program that used antigravity technologies and that the Nazi program was aided by a Reptilian extraterrestrial race.
Tompkins said that on many occasions when he delivered his briefing packets (from Naval Air Station San Diego) to the different aircraft company experimental test facilities, think tanks and university departments, the lead scientists and engineers would dismiss the information as impossible. According to Tompkins, he had to constantly battle the closed minded skeptism of those who had been trained to accept conventional scientific laws as inviolable.
Despite the VIP briefing sessions coming to an end, Goode says that his "meetings" with Sigmund and/or his subordinates continue to the present day. In these meetings, Goode has received significant information about the Trump Presidential Administration and official events to disclose the truth about suppressed technologies. This is evidenced by a secret Memorandum issued by Trump soon after taking office on January 20, 2017, to declassify secret patents involving health and free energy technologies.
Many Thanks to Corey Goode for his corrections and suggestions to an earlier version of this article, and for permission to use images which were created by a team of artists working with the Sphere Being Alliance and Cosmic Disclosure.

© Michael E. Salla, Ph.D. Copyright Notice
Further Reading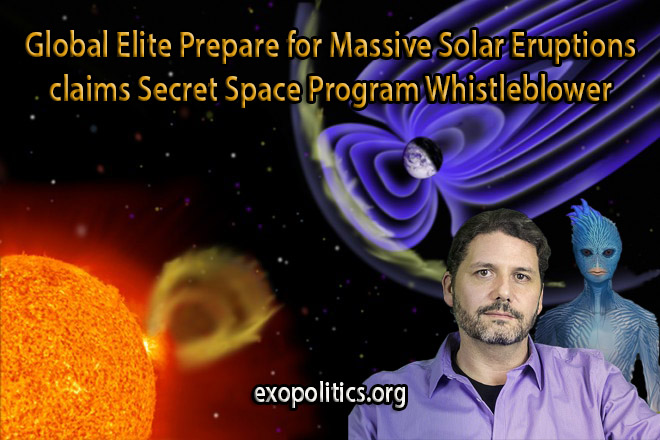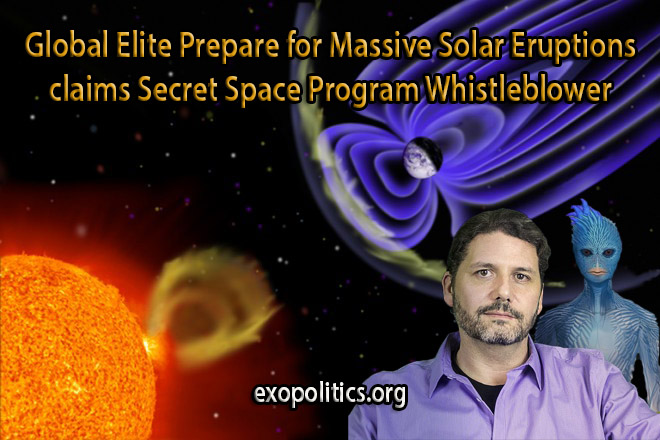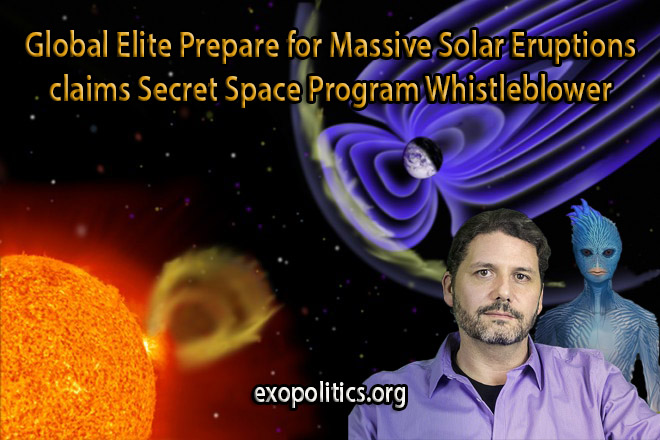 Corey Goode yesterday released the first of a two-part report discussing his latest alleged meetings with different extraterrestrial civilizations and representatives of secret space programs. In it, he discusses some disturbing information about elite preparations for upcoming solar events that they believe will have devastating planet-wide effects.
In his report, Goode begins by filling in the details of what has taken place since a resumption of meetings after a lengthy hiatus, which he briefly discussed on August 1. He also discussed some of the ramifications of his personal briefings and a Cosmic Disclosure interview concerning a covert aerial tour he was given of six hidden Antarctica facilities belonging to the Interplanetary Corporate Conglomerate (ICC) – one of five space programs he has previously disclosed information about.
For those unfamiliar with Goode's revelations and interviews, his latest report appears fantastic. There is, however, compelling whistleblower, documentary and circumstantial evidence supporting his claims. Much of this was presented in the book, Insiders Reveal Secret Space Programs and Extraterrestrial Alliances. Since its September 2015 publication, William Tompkins, a highly respected aerospace engineer, has come forward to reveal his own testimony, supported by official documents, which corroborate many of Goode's claims.
In his August 16 report, Goode said that Kaaree, a representative of the Inner Earth Civilization called the Anshar had given him, via a telepathic etheric link, some updates about recent events after his return from a June trip to Boulder, Colorado:
In these briefings she learned that our recent reconnaissance flight into the icy caverns of Antarctica had highly disturbed the individuals who are responsible for security at these installations. They were most shocked that their advanced technology did not detect the presence of the Anshar-Bus Craft. This not only had a psychological impact on those who work at these facilities but it was communicated to me that specific areas under the ice were made public – ancient sites that are fairly significant on a number of levels.
The Sphere Being Alliance had helped the Solar Warden/Secret Space Program Alliance upgrade their defensive weapons technologies. It's not clear if the Anshaar had likewise benefited, but their secret surveillance of Antarctica facilities clearly caught the ICC off-guard.
This information shared by Kaaree appeared to be part of a new trend. Previously, the two space programs working with Draconian extraterrestrials according to Goode, the Dark Fleet and the Interplanetary Corporate Conglomerate, had the most advanced weapons technologies. Now they longer held this advantage due to the Sphere Being Alliance.
Goode next describes the impact the hiatus of information about the SSP programs was having on him over a period of several weeks during the months of June and July:
Over the following weeks I was contacted by Kaaree for short exchanges with very little information from her meetings with the SSP Alliance trickling down to me. I was feeling very disconnected and not really of any use.
Karee assured Goode about the relationship they would continue to have as a result of the mind meld they had experienced. Significantly, she said that it would continue well after the Sphere Being Alliance had completed their work in our solar system and would depart: "You and I will be in contact far after the Guardians go out of phase".
On July 10, Goode had a physical encounter with the Sphere Being Alliance via a blue orb that transported him to a location in the vicinity of the Sun:
When I arrived I could see the silhouette of Raw-Tier-Eir and a much shorter figure standing to the left. They appeared to be standing quite a distance away. My attention was suddenly drawn to the outside of the giant energetic sphere we were in. I noticed other spheres of various sizes moving away from the Sun.
He described how the giant energetic spheres appeared to be playing a filtering role in terms of solar energy:
These spheres were more lit up than I had seen before – from the perspective inside the sphere we were in. They seemed to be shimmering and then were becoming more translucent. They were moving towards the orbit of Venus and Earth in a slow steady fashion. I then looked over at our sun. The wall of the sphere I was inside were behaving like some sort of filter for the way we would normally view the Sun. I perceived what appeared to be crackles of electricity radiating from the corona.
This is consistent with what Goode has previously described as one of the main function of the giant Jupiter sized spheres that began appearing in our solar system in 2011. Their purpose was to buffer cosmic energies coming into our solar system so humanity could better integrate these and make necessary changes.
Goode's report suggests that the Sphere Being Alliance is currently focusing on the sun, and has giant spheres around it to help buffer incoming Cosmic Energies that could trigger enormous solar eruptions.
On August 8, two cameras belonging to NASA's Solar and Heliospheric Observatory (SOHO), EIT 195 and EIT 171, revealed giant cubes in the vicinity of the sun. Some speculated that the cubes were a result of photo manipulation designed to remove evidence of large bodies around the sun, possibly spheres.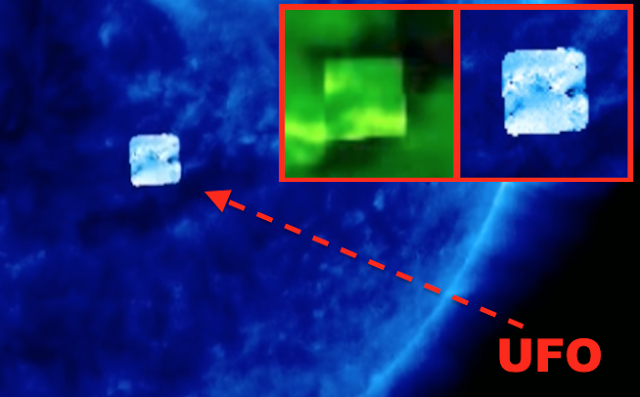 Goode went on to describe a meeting he had with a being from an adjacent star system whose planet had recently undergone a similar liberation struggle as currently taking place on Earth.
He introduced himself as "Micca". He stated that his planet resides in our local star cluster and that his people are our "stellar-cousins" sharing about 94% of the same genetics. He claimed that he was an Ambassador from his system of planets to Earth. Micca then went on stating that his people have been enamored by our cultures and arts but have always been disturbed by our capacity for violence. He further stated that in the past that his people had resided on Earth as refugees during his own peoples battle for freedom. He stated that it had only been a few generations since his people had overcome the tyrannical beings that had enslaved them.
Then Goode described the important role played by the Sphere Being Alliance in helping Micca's planet achieve liberation from its own elite controllers:
Micca further stated that he had worked closely with Raw-Tear-Eir during his own peoples struggles, and that they had recently gone through a process very similar to what we are undergoing. He stated that his people didn't have as many challenges as are found on the Earth, but that there were numerous similarities.
The information from Ambassador Micca correlates with previous information from Goode that our solar system is closely linked with others in a local cluster of solar systems. He has said that there once existed a powerful defensive weapons grid for our local star systems cluster, built by an Ancient Builder Race. It was destroyed about 500,000 years ago during a war between the planet Maldek and Mars, that created the asteroid belt.
Significantly, William Tompkins says that Stage 4 of the Apollo Program was for the U.S. Navy to build a defensive grid in 12 adjacent star systems using Space Battle groups. It does not appear coincidental that the Navy envisaged a defensive role for its space battle groups that would include a ring of adjacent solar systems.
Six days after meeting Ambassador Mica, on July 16, Goode says he was once again transported by a blue orb to another meeting with the Sphere Being Alliance. Here he was met by three Blue Avians and a Triangle Headed being who was accompanied by a familiar figure:
Once more I looked down to see Raw-Tear-Eir and another person standing before me. I then saw the silhouettes of Raw-Mare-Eir, Raw-Rain-Eir and a "Triangle Headed Being" standing off in the distance. I greeted Tear-Eir and then focused on his companion. It took a moment for me to realize that the person standing before me was Gonzales…. The last I had heard of Gonzales was that he was off with the Mayan group receiving emotional "healing".
Gonzales explained to Goode what had happened since the last time they had met in May 2016.
After a short greeting he explained that from his point of view and experience of time, he had been away for almost 6 months. He said that the Mayan technology is simply magical. I kept thinking about how "blissed-out" he was acting and the remarkable change in his overall energy. He stated that he now knew himself and had found a real purpose in life.
Gonzales said that in future, rather than resume his former duties with the Secret Space Program Alliance, he would be a liaison with the Mayan group:
He then informed me that he had met with a few people in the SSP Alliance. He could not slide back into his old post after disappearing, but was able to remain in contact with certain assets. He was going to stay with the Mayan group and be a liaison of sorts between them and some other groups waiting to assist humanity.
Gonzales then gave Goode some fresh intel about events in the Southern Hemisphere, and the upcoming solar events the elite/cabal were preparing for:
The most scientific and pragmatic of these "secret syndicates" believe the entire surface area of the Sun's corona is about to mass eject. They believe the Sun will then go almost completely dark for a number of days before it re-awakens into a new state of equilibrium. These syndicate "egg heads" believe that the proceeding energetic shock wave and then the impact of this Mega CME would take out all communications, electronics and sources of electricity on Earth… Some of these syndicates further believe this will cause a flip in polarity of the Earth's magnetic field, having a dramatic effect on every living creature on the planet. The neurology and magnetic fields of our bodies would be effected as would our Consciousness.
Goode's description of the Sun going completely dark for several days, along with a flip in the polarity of the Earth's magnetic field is very similar to what Greg Braden described in his 1997 book, Awakening to Zero Point: The Collective Initiation. This raises the question of whether Braden's ideas have influenced elite/cabal preparations.
Goode went on to describe two scenarios that the elite thought most applicable to humanity:
There is a divergence between these various syndicates beliefs as to how powerful of an effect this "solar sneeze" will have to the atmosphere and the surface of the Earth. Some believe that it will be a minor event that will take a few decades to recover from, while others are expecting dramatic increases in volcano eruptions and large scale earthquakes across the world. This particular syndicate group believes it will cause a planetary winter that will repeat the downfall of the previous advanced civilization, which occurred just prior to our last ice-age.
Gonzales, responding to Goode's concern over what the elites were preparing for, explained:
"This event isn't imminent and this is only what some of these syndicates are expecting". He said that the more esoteric of these syndicates believe, as many do in our community, that this will be a spiritual harvest… They think they can escape or hide from it while deep under-ground and beneath icecaps, such as in Antarctica.
At this point, it became clear that Raw Teir-Eir wanted to explain some things to Goode about the present Earth situation, and Gonzales took his leave. Goode planned to present what Raw Teir-Eir had told him in Part 2 of his report.
The next instalment in Goode's meetings promises to provide significant information about how humanity as a collective entity can face the many challenges confronting it, while the global elite prepare for a planet wide contingency that may or may not occur as they envisage.
If what Goode was told is an accurate description of the global elites plans and thinking, it is very telling that many have quietly fled to safe areas in the Southern Hemisphere, without taking even the most minimal of steps to protect the national electrical grids of developed countries, which are most at risk, from predicted massive solar eruptions.
© Michael E. Salla, Ph.D. Copyright Notice
Further Reading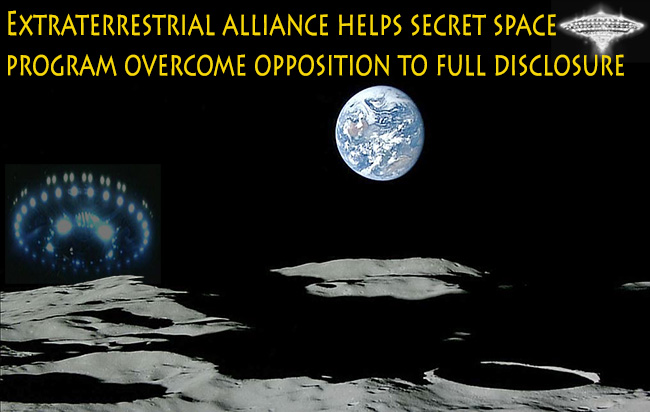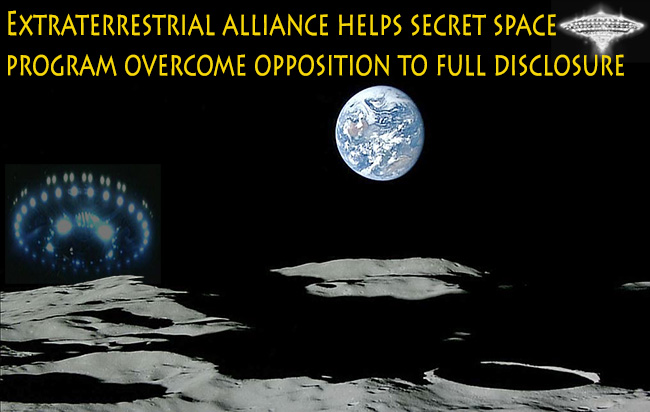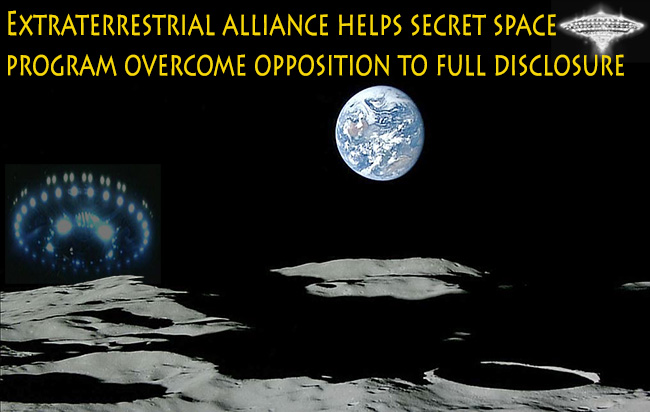 Corey Goode (aka GoodETxSG) has revealed more about his claimed contact experiences with a group of extraterrestrials called the Sphere Alliance that is cooperating with an alliance of secret space programs indigenous to Earth. He has earlier revealed that there are five secret space programs belonging to our current Earth civilization, as well as between five to seven space programs belonging to ancient human civilizations that are still operating. Several of these secret space programs indigenous to Earth make up what he calls the Secret Space Program (SSP) Alliance, which should not be confused with the Sphere Alliance which he claims comprise five different extraterrestrials races that are here to assist humanity deal with an upcoming "Event" that will change life dramatically on the planet.
Corey claims to have attended several off-planet meetings where three of these extraterrestrial races belonging to the Sphere Alliance, have appeared. The alien race which he has communicated with the most is called the Blue Avians – one of whom he met with as recently as this past weekend is called "Tear-Eir". In addition to his recent contact experiences, Corey also claims to have earlier served, from 1987 to 2007 with several secret space programs as an Intuitive Empath. In an earlier question and answer email exchange, Corey described the five secret space programs as follows:
Solar Warden –  mainly focused on policing the Solar System and surrounding Star Clusters;
Interplanetary Corporate Conglomerate (ICC) – focused mainly on development and aquisition of technology by any means.
Dark Fleet – worked almost entirely outside the Sol System, Very Military (Offensive),
"NATO TYPE SSP" – Recently in Alliance Conferences they were referred to as the "League of Nations Program."
Various Special Access Program SSP's that were small, usually had the newer technology, very secretive and worked for some of the Secret Earth Governments,
In his answers to my most recent questions sent by email (see below), Corey describes why the Solar Warden space program, the first program to be established in the contemporary era, was picked by the Sphere Alliance to be given technological assistance. The Solar Warden Program along with the other programs belonging to the SSP Alliance have been given advanced technologies to neutralize the prior technological advantage of "negative" or "service-to-self" groups described as the Cabal/Illuminati, Draco Reptilians, etc.
In addition, Corey addresses questions concerning the current political situation such as President Putin's disappearance for 10 days (March 6-16) and the possibility that he secretly attended one of the Sphere Alliance meetings; President Obama's March 12 comment about extraterrestrials controlling the US government; Pope Francis' role with extraterrestrial disclosure; Edward Snowden acting with the tacit support of other NSA officials in releasing classified information; and the upcoming Sept 23 meeting between President Obama and Pope Francis.
It's worth mentioning that at this stage Corey has not given any documentary evidence to support his incredible claims, nor has anyone else come forward to confirm their participation in alleged meetings involving the Sphere Alliance and the 10-12 Secret Space Programs indigenous to Earth. Nevertheless, Corey has had a number of researchers who have come forward claiming that anonymous insiders have confirmed that Corey did indeed serve with one or more Secret Space Programs. The most prominent among them is David Wilcock who has given a number of presentations where he cites his exhaustive efforts through his insider contacts with knowledge of secret space programs to confirm Corey's background.
In my own case, I have heard from Randy Cramer (aka Captain Kaye) that what he has read so far of Corey's testimony is consistent with his own 20 year experience with different secret space programs. In addition, to the similarities between Randy's and Corey's testimonies (described here), there are important similarities between Michael Relfe's testimony of having served for 20 years on Mars in a secret space program from (1976-1996), and what Corey has revealed.
Finally, I found Corey's knowledge of a Secret Space Program that can be traced to the Mayan civilization as very impressive given my own personal experiences with a representative from such a program who secretly approached me in 2010. As I wrote in an earlier article, this was powerful personal corroboration that Corey's testimony is genuine. Combined with the corroborating testimonies from other whistleblowers involved in secret space programs, I highly recommend considering Corey's testimony as quite possibly the most comprehensive revelation of secret space programs and extraterrestrial intervention to have emerged to date.
© Michael E. Salla, Ph.D. Copyright Notice
Further Reading
---
Questions for Corey Goode on Sphere Alliance and Solar Warden Space Program – May 11, 2015
Q1. You have previously described the Solar Warden space program as largely responsible for maintaining security in the solar system. Why is the "Sphere Alliance" helping Solar Warden change the power structure on Earth which has been dominated by a Cabal/Illuminati running governments from behind the scene?
The Sphere Alliance has been mostly focused on the energetic changes occurring in our local star cluster because of the area of the Galaxy they are entering. They have been using the many thousands of cloaked spheres that are equidistantly spread out across our Sol System and neighboring Sol Systems (Electrically Connected in the "Cosmic Web" and Natural Portal System) to buffer and diffuse incoming tsunami waves of highly charged energy that changed the vibratory state of space/time, energy and matter to cause it to raise to a higher state in the "Density Spectrum". This energetic change has a direct effect on not only every planet and star in the region but also every life form below a certain vibratory level. This can cause extreme swings in the way beings behave. Lower Vibrational (or "Negative Beings") will become more reactionary and their behavior towards their current polarity will be enhanced. Beings that are Higher Vibrational (or "Positive/Loving Beings") will begin to have those qualities enhanced. Beings of both polarities will need some sort of guidance offered by beings that have been through this process so that they can make the decisions to continue to raise their vibrations to match the changing background energetic changes or chose to remain in their current state of lower vibration and self-destruct.
The Sphere Alliance happened to choose the SSP Alliance (That was not just the Solar Warden Group) because they had made a conscious decision to bring the end of the control and slavery of Earth Humans by "Trickster Gods" who were custodian aliens and their worshipers/followers whom we have lumped under an umbrella name such as "The Cabal"/"Illuminati". The SSP Alliance had decided that it was time to give every Human on the planet access to their full and true history, suppressed technologies that would lengthen and enhance their lives as well as collapse the world Financial Debt Slave Systems (AKA Babylonian Money Magic Slave System). This put the SSP Alliance in a greater percentage "Service To Others" category than any other group in our Sol System that was made up of Earth Humans fighting for the freedom of Earth Humans. They definitely had their draw backs being warriors who were looking to use violence to obtain the desired freedom. The Sphere Alliance is a nonviolent group and there has been quite a lot of adjustments for the SSP Alliance to make (as well as some mistakes) in the process of developing a workable partnership with a group of 6th through 9th Density Beings that have a completely different way of doing things.
Q2. Please describe some of the advanced technology given to Solar Warden to offset the prior technological advantage held by the Cabal/Illuminati forces on Earth opposed to full disclosure?
The Sphere Alliance has setup 2 "Energy Barriers" that cannot be penetrated by any beings or technology (be they 3/4D or 4/5D beings). One is the "Outer Barrier" which completely closes off the entire Sol System (including Gate/Portal travel) from travel into or out of the system. The other is a "Barrier" that surrounds the Earth. It keeps every Being and Craft/Technology that was either On Earth or in Near Earth Orbit from leaving a certain distance from the Planet. There are active Gates/Portals that allow travel between Planets within the Sol System. However those Portals are affected by these "Energetic Tsunami Waves" at times and regular travel is ill advised and can be dangerous. The technology provided directly to the SSP Alliance has ALL been of a defensive nature. It allows the Alliance to disrupt weapons systems, cloaking systems and highly shield vessels and locations from various types of high energy beam and torsion field weapons (torsion weapons that rip apart buildings or craft by twisting the space/time fabric that the structure exists in at the moment causing the targeted structure to rip apart etc…)
Q3. Why did Solar Warden allow itself to be technologically leap-frogged by the cabal/illuminati if it was the first secret program to deploy advanced vehicles in space?
Solar Warden was in no position to not allow itself to be left behind technologically any more than any other Military type operation that has become aged and began to be replace by other programs that were funded and provided the newer technologies. Solar Warden went through several upgrades of their vessels but as long as the vessels were serviceable and capable of doing performing their mission they were not receiving replacement vessels that were the newer technologies that ended up going to the other SSP's. Since the Stealth Civil War began and they became allies with the Sphere Alliance there have been groups from the other SSP's that have "Defected" bringing with them some of the newer vessels and offensive technologies. The SSP Alliance Fleet is now a mixture of vessels and personnel from several SSP's.
Q4. Please describe how Solar Warden uses metal expanding technology given to it by the Sphere Alliance to disable more advanced weapons systems controlled by the Cabal/Illuminati on Earth?
This technology is actually an older tech that was developed by "US" some time ago. It causes some metals to expand and magnetize making the needed moving parts not capable of moving. This works well against kinetic energy weapons like firearms and missiles. It can also cause malfunctions in conventional aircraft and have other practical uses. This has been around for quite some time but has not been used so widely to prevent assassinations and certain attacks until the Alliance started doing so when they were urged more and more to find nonviolent ways to achieve the results they used to achieve through other means by the Sphere Alliance.
Q5. Russia's President Putin is allegedly aligned with and supported by the Solar Warden/Sphere Alliance, why is Putin and the Russian Federation more supportive of full disclosure?
Putin and other elements of the "Earth Based Alliance" that make up the BRICS Alliance among others that dove tail together are all working for the common goal of defeating the "Satanic/Luciferian Cabal" that is now in control of the majority of the world and responsible for not only amazing deceptions of his and other countries populations but also some of the most horrific Crimes Against Humanity that have ever taken place in known history. There are many of these crimes that have become more and more known through recent disclosures behind the scenes. This has only caused these groups and people to want to bring down these Secret Earth Government Syndicates now more than ever. Unfortunately some of the "Earth Based Alliance" wants to put into place another Financial Debt Slave System to replace the old one. This is going to be something that is heavily negotiated in the near future. The "East" has stated that "The West has had its 100 years, now the East deserves its 100 years". This is referring to the giant financial Ponzi Scheme set in place by the Federal Reserve System.
Q6. Has President Putin met with the Blue Avians/Sphere Alliance. If so, did this happen during his recent disappearance for 10 days?
The timing of his 10 day disappearance occurred exactly during the time of the SSP Alliance/Sphere Alliance Conference that was taking place on the LOC along with many Earth Politicians (Non Cabal) and Regular Earth Citizens. I did not personally see him or have I been briefed that he was there. I was not involved in that portion of the conference. I do strongly suspect that he or his representatives were present.
Q7. On April 12, 2014, the USS Donald Cook equipped with an Aegis Combat System was allegedly disabled by a Russian Su-24 tactical bomber deploying a sophisticated electronic jamming system. Was this an example of the kind of technological assistance given to Solar Warden and its earth allies to change the military/political balance of power on Earth?
I have been told this is the case by several SSP Alliance members but I have not seen any briefing reports personally to be able to vouch for that 100% myself. Other insiders have reported this as well so it is probably a safe speculation.
Q8. On March 12, President Obama claimed on Jimmy Kimmel Live that his hands are tied on the disclosure issue by extraterrestrials themselves. Was Obama encouraged to make this statement as a form of soft disclosure?
I heard that he did this as a way to plant a seed and control the narrative a little but he was reprimanded for doing this "Joke Setup" on this show. I have only heard second hand information about this incident and cannot give direct knowledge. I do believe as David Wilcock stated that "Many a truth is given in jest". The side he serves on is indeed subservient to some "Alien Groups" that they sold us out to many decades ago. If you notice also the timing, this too was also during the exact time of the SSP Alliance/Sphere Alliance Conferences at the LOC and Putin's "Missing Time". My question is do you believe in that much of a coincidence?
Q9. Has President Obama met with Blue Avian/Sphere Alliance at any secret meetings prior to his March 12 statement?
Absolutely Not (and these "Elite Groups" are enraged by not being recognized by the Sphere Alliance). The Blue Avians/Sphere Alliance refuses to directly meet with any "Cabal" linked persons or groups. They will not meet directly with the Illuminati. This is why they have had "Representatives" or "Delegates" attend various Federation meetings for them as well as meet with various "Comities" that represent these Secret Earth Government Syndicates.
Q10. Lockheed Martin, Northrup Grumman, and Boeing are some of the major aerospace companies allegedly involved with secretly developing anti-gravity space vehicles. Please describe how these and other companies are involved with the Interplanetary Corporate Conglomerate (ICC) space program?
They have Board Members who either "Retire" or "Rotate Off" the corporate boards and then join the ICC SSP Super Boards to where they work as super conglomerates and make decisions involving the companies they represent. It is a certain "Elite" among the corporate structure that ever knows anything about the ICC. Often they will work with the companies for a couple of decades and not know anything about the larger activities in the Sol System until they are asked to join or serve on a Super Board or other position.
Q11. Why did the ICC decide to ally itself with Solar Warden and the Sphere Alliance, rather than continue to work with the Cabal/Illuminati who are generally thought to own and exercise great power over major corporations?
The ICC has not joined the SSP Alliance. Only some "Cells" or "Groups" have broken away and defected to the SSP Alliance in recent months. This has been a blessing and a curse. This ended up causing some major ethical struggles inside the Alliance as well as 2 "Atrocities" that were very upsetting to many. It involved 2 attacks based on actionable intelligence provided by some defectors and ended up having a very high rate of collateral damage of innocent lives. This caught up to the SSP Alliance recently karma wise and ended up in the attack on some of the Alliance Personnel involved in the "Atrocities". This was very recent and apart of this past weekend's meetings.
Q12. Please describe how Solar Warden is enforcing a planetary quarantine to prevent assistance being given to the cabal/illuminati on Earth as the latter's advanced weapons systems and bases are being systematically disabled/destroyed.
Mostly any ships that try to flee have ran into the energy barrier around the Earth and bounced back through the atmosphere with a fiery light show. The SSP Alliance has been taking out many "Star Wars"/SDI Era space based weapons which have also been seen entering the atmosphere in like fashion. There are also a lot of recent skirmishes between different "Cabal" factions since they have realized that their "Royal White Reptilians" have tried to negotiate their safe passage out of the Sol System by giving up all of their Illuminati/Cabal followers as well as their lower cast Reptilian and Other Allied Races in their Federation. There is chaos among these groups who are following the example of their masters and turning on each other. Though they are heavily denying this publicly and putting their most clever disinformation agents out to control the narrative as best they can.
Q13. Previously, you have described five secret space programs, two of which mainly operate outside of our solar system – a NATO Type SSP and a Dark Fleet. Are these latter two still subject to a solar system wide quarantine by the Sphere Alliance from returning to our solar system?
Yes, there have been several petitions for the NATO Type SSP Group to return as well as to allow some innocent Alien/ET Groups who were here on peaceful scientific missions to leave. All requests have been denied and the Outer Barrier will be maintained until after the "Event" and everyone has answered for their parts in what has gone on in the Sol System over the last however many thousands of years that they have decided (Grand Cycle etc…)
Q14. In an April conference presentation in San Francisco, David Wilcock described a timetable with 2017 as the year by which full disclosure is going to happen. What can you tell us about any timetable the Sphere Alliance/Solar Warden has to disclose the truth to the world public?
I have not seen this timetable or date anywhere or been given it in any briefings personally. There were multiple "Time Windows" that were put forth that were all listed between the 2018 – 2023 time frame in various programs. However this was prior to the Sphere Alliance and many other things that seem to be pushing the time frame forward. It is getting more and more difficult for them to maintain this illusion that we live in down on the planet with all of the energetic changes and changes in the mass consciousness. I think putting out a date is a bad idea myself. But it could very well be 2017, as fast as things are moving it could very well be 2015/2016 as well. The Sphere Beings have put it all on us and when we decide to wake up and expand our consciousness to the point to where we realize its co-creative power. Once we do we can make things happen on our own timetable.
Q15. Are there White Hats within the NSA secretly coordinating with whistleblowers such as Edward Snowden to disclose the truth about extraterrestrial life and secret space programs?
Yes. Any further info would be dangerous to the few white hats that are in various positions surrounded by black hats. Anyone that things Snowden pulled off that Data Grab on his own is very much misinformed or ignorant of how Information Security worked back then as well as it does now.
Q16. Is there currently a disclosure race happening between the Cabal/Illuminati and the Solar Warden/Sphere Alliance in terms of how much information should be released and how this frames key issues?
Yes, When FULL Disclosure occurs it will also come with the disclosure of massive crimes against humanity that will send the bulk of society into shock for some time. The fact that there are aliens will not be as disruptive or shocking as what all the "Elites" have done in secret during the time they were hiding the existence of aliens and most of all the high technology that would have ended the financial system decades ago.
IF the "CABAL/ILLUMINATI" can control the Disclosure they can also control the narrative and spin of disclosure they think to make themselves come out looking better in the end. They had planned on being off planet when all this info broke. Now that they are stuck here with everyone else they are all turning on each other and spinning and cutting deals as fast as they can. They know what the population will call for if there is full and unfettered disclosure of our true history along with the release of suppressed technologies and the existence of alien life.
They MUST do everything they can to control the narrative and manner that this information is disclosed. This is a much more complicated situation than most realize. Complete disclosure is going to leave many of the world's population calling for "heads to roll".
Q17. Do you think that the 2016 President Elections might be a forum by which disclosure happens through individuals such as John Podesta and Hillary Clinton how have been involved in prior disclosure events by the Clinton and Obama administrations?
NO, No political races or outcomes will lead to any type of disclosure.
Q18. Is Pope Francis playing a strong behind the scenes role in disclosing the truth about extraterrestrial life? Is he involved in any capacity with the current meetings with Blue Avians?
The Vatican is lumped in with the Secret Earth Governments and are not being recognized or permitted audiences with the Sphere Beings. They have been rotating in as Delegates in the Human-like ET Federation that has been mentioned.
Q19. It has been claimed that President Obama cannot take any action in revealing the truth about extraterrestrial life, until the Vatican has done so. Is the planned meeting between President Obama and Pope Francis on September 23 significant for extraterrestrial disclosure?
They may decide as a part of the process of doing a controlled disclosure to control the narrative to allow the Vatican to release some information. I am very doubtful. There are many scandals of so many groups that they are trying to keep in Pandora's Box when they crack it open to allow the disclosure of "Alien Life" to be known. They may very well be deciding how exactly they are going to control the narrative and how to let out information about alien life and suppressed technology without letting out the full information about their crimes and scandals. That would be a difficult meeting and problem to try to figure out on their end.
Q20. In your most recent update, you say that you met with Blue Avian/Sphere Alliance extraterrestrials over the weekend of May 9-10, can you describe who else attended this meeting and where it was held?
It was just myself and the Blue Avian named "Tear-Eir". It was a "One on One" meeting to discuss some of the recent issues with the SSP Alliance, some of the recent Energetic Tsunami Waves and their effects on the population as well as some upcoming meetings that I am going to be asked to attend. [More info here]
Thank you for the questions. I am no longer doing postings or questions and answers on The One Truth Forum (TOT).
To have a more controlled and civil environment we are now going to be doing ALL "Questions & Answers" previously done in "Internet Forums" on the Sphere Being Alliance Web Site.
We will also be doing all future updates, articles, disclosures and data releases on the same web site. We are also configuring a "News Letter" for anyone who would like to sign up to be notified of updates. If not already, you should be able to register for news letters on the Home Page shortly.
Things have moved to a whole new level
With the upcoming release of Articles by Researchers I Respect and Trust enough to engage with, Video Interviews to be released FREE on YouTube (Along with a Free E-book), Discussion of a Disclosure Series on GaiamTV.com with David Wilcock, and planned "Skype" Interviews with Researchers as well as well-known Online Web Show Hosts creating a News Letter to keep people informed seemed to be an important and natural next step.
The Current Sites that I have are;
Sphere Being Alliance (Twitter)
https://twitter.com/blueavians
Sphere Being Alliance (YouTube)
https://www.youtube.com/channel/UCa5Lacw0dS1fgSb9_kkVVlg
Sphere Being Alliance (Blog)
http://goodetxsg-secretspaceprogram.blogspot.com/
Sphere Being Allince (Home Page)
http://spherebeingalliance.com/
To continue the "Q & A" process go to the following part (FAQ) of the Sphere Being Alliance Home Page and click "Ask A Question". Type in your question in the field and click "Submit". I am happy to answer all of your reader's direct questions here at this location. I look forward to providing them more information and answering their questions.
http://spherebeingalliance.com/faqs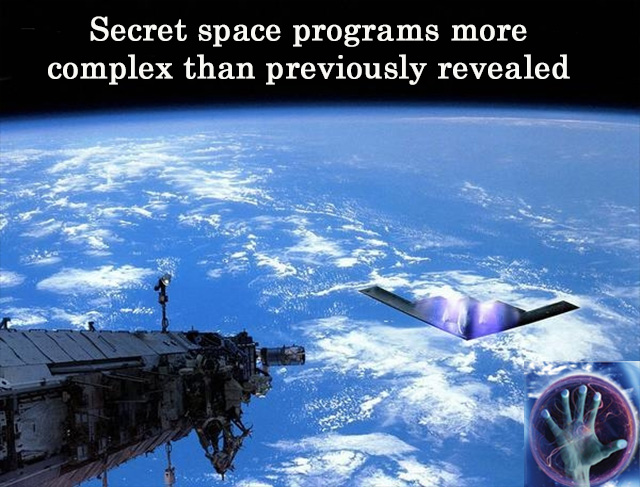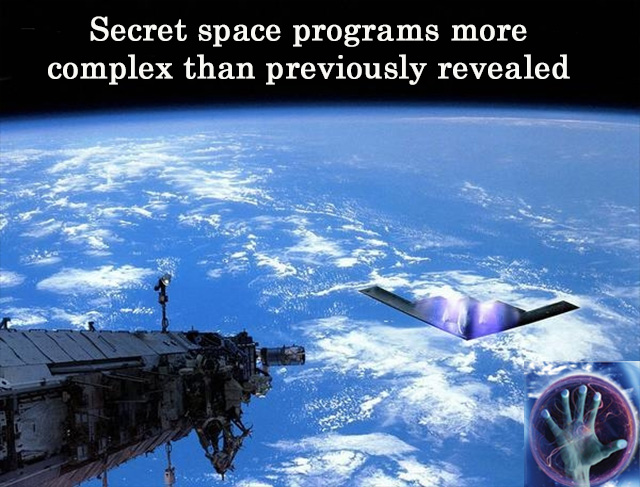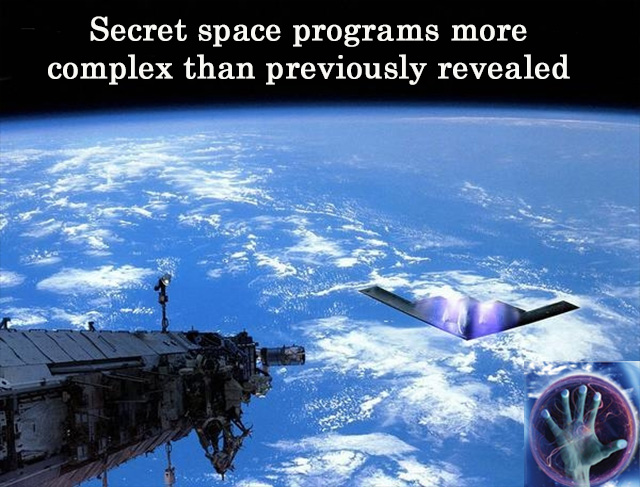 According to a new whistleblower claiming to have worked with multiple secret space programs, the complexity of programs, technologies and their dynamic interrelations is far greater than anything previously revealed. The overall scope of information "Corey" (aka GoodETxSG/Luke), is revealing on these secret space programs appears destined to dwarf anything released by prior whistleblowers. Already according to David Wilcock, who has spent 22 years researching whistleblower testimony on extraterrestrial life and the secret space program(s), Corey "knew almost as much as all the others had told me combined."
In an earlier article, I gave a summary of the information "Corey" has released through his website, internet forums and interviews with David Wilcock. In order to better understand and assess Corey's controversial claims since writing the summary article, I sent him a set of questions by email on April 4 seeking clarification on various secret space program issues raised in continued discussions on internet forums. He kindly responded to the questions revealing more intriguing details and insights on these increasingly complex issues.
Among Corey's core claims is that the oldest of up to five rival secret space programs to emerge in the modern era, "Solar Warden", contains more dated technologies but has a greater dedication to humanity's long term interests. Those in charge of Solar Warden have decided to leak information about the existence of secret space programs by, for example, allowing their spacecraft to be photographed by the International Space Station.
These pro-disclosure actions along with "service-to-other" activities has made the Solar Warden program the most suitable candidate for a powerful new group of highly evolved extraterrestrials that has allegedly entered into our solar system which has significantly changed the dynamic between rival space programs, and their respective relations with visiting extraterrestrial civilizations and older ancient human space programs.
The "Sphere Alliance," according to Corey, directly deals only with the Solar Warden program among the five "modern" space programs; and is seeking to assist humanity in a series of conferences whereby private citizens meet secret space program representatives in a secure environment. The second of these exodiplomacy conferences occurred on April 5 according to Corey, the details of which he says he will soon announce.
As described in my earlier summary article, there is no concrete evidence substantiating Corey's controversial testimony. His responsiveness to people's questions, attention to detail and consistency helps raise confidence in the veracity of his claims. I have found his willingness to promptly respond to people's questions, including my own, a clear sign of his sincerity. More importantly, his decision to have his identity revealed in upcoming video interviews with David Wilcock suggests he is willing to stand great public scrutiny at great personal and professional cost. Wilcock recently explained his own rigorous screening efforts regarding Corey's testimony and that he found nothing awry. Wilcock went as far concluding the he "can personally vouch for the authenticity of his [Corey's] information." That's quite an endorsement from someone who has for over two decades been working with an extensive number of whistleblowers and researchers.
Given Corey's claim that he was age and time-regressed in his earlier service with the secret space program, it's unlikely that any hard evidence or documentation will be found to corroborate his prior covert space service. However, his more recent claims of being physically taken to conferences organized by the Sphere Alliance can be verified if other attendees step forward. So far none of the alleged 70 other private individuals attending the first confernece have come forward. That may change, especially as more conference events are held.
The complexity of the narrative Corey has developed about Earth's secret space program(s) and breakaway civilization(s) appeals to some, but raises red flags for others. A common psychological warfare tool is to mix lots of false information with genuine information to hide the truth in plain sight. Indeed, Gordon Duff, founder of the popular website Veterans Today, claims that as much as 40% of the information released about the secret space program, is disinformation designed to protect sources and methods.
Is Corey's testimony part of an elaborate psychological warfare operation; or is he revealing the truth about genuine unfolding events involving multiple secret space programs and extraterrestrial visitors? Those that have met and communicated with Corey are impressed by his sincerity and willingness to expose himself to criticism by stepping forward. The information Corey has released so far is consistent with what other whisteblowers have revealed as Wilcock has concluded. The level of information that Corey has released certainly has the potential of transforming life as we know it on the planet. Will his information stand the test of public scrutiny as his identity is revealed and due diligence is conducted on his claims? Hopefully the following email exchange will help the reader begin their own journey in assessing the veracity of Corey's claims.
© Michael E. Salla, Ph.D. Copyright Notice
___
Questions for Corey/GoodETxSG – 4/4/2015
Q1. You say there are five secret space programs developed by our current human civilization, and that the oldest of them, Solar Warden, was approached by the Blue Avians/Sphere Alliance. Can you describe why Solar Warden was chosen as a more suitable partner?
A majority of the "Solar Warden" factions had already been involved in a "Shadow Civil War" or "Shadow Cold War" with the other "SSP Groups" for some time. They had been "accidentally" appearing in front of "NASA ISS Live Feeds" as well as causing "other" incidents to allow people to see their technologies. There is a strict schedule of "When and Where to BE" in various parts of our Sol System to prevent the satellites of various nations and corporations from accidentally capturing telemetry of classified technology. The Solar Warden Group was the more "Aging" of the SSP Groups with much of their fleet being produced in the 1980's and 1990's with continuous upgrades. They had shown a willingness to take a stand in a "David vs Goliath" type battle that was selfless and one that showed the cloth they were cut from. They also had broken off alliances with more negative oriented off-world beings. They had allied themselves with some more positive off-world beings and a group that was an Ancient Earth Breakaway that had made some changes in a positive direction. Even though these Non-Solar Warden Allies were considered "Good Guys" the Sphere Alliance stated that they had their own agendas and as much as they wanted to help Humanity they were still considered "Service-To-Self". There was a lot of frustration prior to the Sphere Alliance making contact with Solar Warden. The Sphere Alliance had began to arrive (or at least their "Spheres" had began to arrive") in the late 1990's and cloaking. No matter who tried to communicate or hail them there was absolutely no response. They to this day refuse to interact with any of the beings or Human groups that are "Service-To-Self" directly and use an "intermediary" to communicate between these two groups.
Q2. In what way is Solar Warden more capable of representing humanity's interests in negotiations with the Sphere Alliance?
As stated above they had already formed an infrastructure for an "SSP Alliance" and were already engaged in a "Stealth Cold War" or "Stealth Civil War" with the "Cabal" controlled groups that vastly outnumbered and out-gunned them. This was an incredible show of valor and service to others even though their agenda or operational plans to achieve that agenda was more of a warlike or violent nature. There is something else to note. The Cabal Groups who look for certain children to bring into "MILAB" programs are looking for "Star Seeds" who have gifts that can be corrupted and used for "The Dark Side". Many of these "Star Seeds" on Earth and in the "SSP's" are beginning to realize that they are "Alive Here Now, During This Time for a Reason"… a Mission… This too has something to do with it IMHO. When I was contacted by the Blue Avians I was "Told" that the "Cabal" groups were incredibly worried about what the "Star Seeds" may contribute in a movement against them. They have put people and programs out there to locate and try to "Target Star Seeds" to traumatize them, cause "Entity Attachments" (discussed further down) and to derail them from any missions they may have on this Planet and Time line.
Q3. Does the U.S. Navy play a major role in Solar Warden's operations and world view? Alex Collier claims that the Navy is more aligned with Constitutional values than the other military services, especially the USAF. Do you agree?
Most of how the Navy, Air Force and militaries of other nations play into the SSP's are from an Earthly based support role. An example would be the Air Force Space Command's old (soon to be replaced) Space Fence program. Those there were briefed and told they were at the top of the "Intel Totem Pole" and that yes, there were a certain amount of Aliens but what they were tracking were ALL ADVANCED US CRAFT. So, if you were to meet one they would argue until they were red in the face that all that is flying in space is secret government projects. Many that aren't read in to there being any aliens at all are told "You are at the top of the Intelligence Totem Pole and there are No Aliens", they believe it and will argue with you until they are ready to come to blows that there are NO ALIENS! This is one of the most compartmentalized and complicated subjects as you will see below than most researchers EVER DREAMED! Those who are asking "Did Roswell Really Happen" or "Are there 4 or 58 Alien Groups Visiting Us" are barely on a kindergarten level of what is really going on. This is far more pervasive and woven into the fabric of our daily lives than we realize as well. There is a constant ridicule and denial of any and all material related to ET's as a secret U.S. Policy that has been in place since the early 1950's. Intel groups have mastered infiltration of disclosure groups, causing infighting or leading people into situations where they can become blackmailed or compromised. Usually they just have to plant a seed or two and let "Human Nature" take its course. It has been a very effective program to prevent researchers and disclosure groups from making an real progress. I will explain more about how more and more of the SSP Personnel are people who were brought up inside secret programs since they were children (MILAB's) and then later "drafted" into the Secret Space Programs and Secret Earth Government Syndicates and Sub-Programs.
Q4. Randy Cramer says that the US Marine Corps special section was created by a secret executive order by President Eisenhower as a kind of institutional safeguard in case any of the space programs went rogue. Do you have any information about this?
There is a definite "Military Faction" to the Secret Space Programs. Most of the "Military" or "Security" Forces were Mixed Military Forces (MMF). The majority of people who served in these various security and military forces did not come from, nor were they associated with any of the military forces that are common to us here on Earth. They were mostly MILAB Program "Members" (Milarty Abduction/MILAB usually taken into programs "around" the age of 6 years old). I have a listing of various MILAB Project Names on my website. Commonly what occurred was as "Training" progressed your "Talents" and Psychological Proclivities were assessed and you were then "Herded" into "Sup-Programs" where you were developed into what they saw as a best fit for their future needs. Those who made it through to the end were usually "drafted" into a number of other "Black Programs" including the various Secret Space Programs and programs working within organizations on Earth that I have referred to as "Secret Earth Governments" and their "syndicates". Those who were deemed to be "cut from a soldiers cloth" would be trained and enhanced in some ways to fulfill that task. This is when the Military Trained MILAB's were splintered off into the various SSP's, Secret Earth Governments or their syndicates as well as even integrated into the U.S., UK, CA and AU Specialized Military Forces.
I had access to quite a lot of information about the Truman and Eisenhower Administrations and their policies that created the "Break Away Civilizations" we have now through the Military Industrial Complex (through the "Smart Glass Pads"). There was mention of both U.S. Army and Marine Companies that were trained and used more than once to threaten what became the Interplanetary Corporate Conglomerates (ICC SSP) to open up their facilities and information to "Federal Oversight". This however ended later on after the ICC Groups gained enough power to take control over the Corporate U.S. Government and in time most of the Pentagon and Civilian Intelligence Agencies. There was no direct reference to this U.S. Marine Corp Group in any of the "documentation".
Q5. You have endorsed Richard Boylan's claim that the secret space program contains at least eight cigar shaped craft the length of two football fields – about 200 meters. Have you ever travelled on any of these craft? Are they the space equivalent of an aircraft carrier? How many smaller craft do they hold?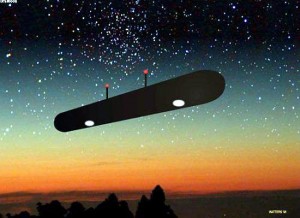 I used an article that was based on his information before I had fully "Come Out" while posting on an Internet Forum. There was some very credible information in that article that I referenced. There were however more than eight carrier Craft that were "Cigar" shaped and some were in the range of a "Mile Long". There were many different "Sizes" and "Classes" of Vessels and Craft in the Solar Warden Fleet alone. I have briefly been on board one of these carriers but have not traveled on them. I was assigned to a Research Vessel of a smaller size that was "Triple Hulled".
Q6. What national personnel manned the cigar shaped craft? Americans, French, Russians, Chinese, etc.?
These were mostly American personnel, there were a number of UK, Canadian and Australian personnel serving on board as well. I was only assigned to the Research Vehicle (where there were German and some Chinese Scientist) which was not a "Military Vessel" and had quite a different atmosphere. The "Security Personnel" were present but were under the authority of the more Civilian and Scientific Minded Personnel (Security referred to as "Egg Heads" in a derogatory manor). While we were off the vessel however the security personnel were in charge and made sure to take advantage of those opportunities. The security personnel considered the assignments to these research vessels as a light duty and boring assignment and would also refer to the research vessels as "Hot Dogs" in a derogatory way because of the Main Hull "Cigar Shape" and the partial triple hulls I guess somewhat made the Vessel look like a Hot Dog to them. I was only assigned to the research vessel [ASSR "ISRV"– (Auxiliary Specialized Space Research) Interstellar-Class Vessel, Arnold Sommerfeld] for a little over 6 years before being transferred to a few other programs that wanted to make use of the Training I had received and also my experience with dealing with a large number of "Off World Beings" while assigned as an "Intuitive Empath" (IE) in a support role to the Earth delegates that "Rotated" in to the "Human Like ET/ED" Federation Conferences that various Secret Earth Government and SSP Leadership types were honored to be a part of. The Secret Space programs continued to evolve over the 20 years I was assigned ("20 & Back"). Towards the end there were of course personnel from other countries brought in and of course were probably personnel already involved that I just didn't run into or have a "need to know" about.
Q7. Did you ever come across the terms "USSS Nautilus", "Earth Defense Force," or "Mars Colony Corporation," in your experiences/knowledge of cigar shaped craft?
"Nautilus" in my understanding was a "Class" of "Early Interstellar-Class Vessels". I only saw "USSS" used in documentation that had to do with "Personnel Assignments" and "Personnel Transfers". Otherwise I did not see any of the SSP groups refer to their vessels with a "USSS" Designation.
Q8. How do these eight cigar shaped craft compare against the TR-3B which is allegedly 200 meters in width? Which holds more personnel?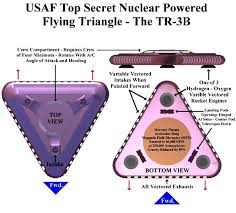 As stated there were more than 8 of the "Cigar" shaped carrier class and other class of vessels of various sizes and classifications. They were designed to carry various type of "craft" that many think of as the TR-3B. These "Cigar" shaped Carriers were designed to carry a large compliment of crew for extended periods of time and travel to "other Star Systems" (though Solar Warden was "mostly" kept to just inside our Sol System and the "Local Star Cluster" on rare occasions). The TR-3B is considered extremely outdated technology and in many cases has been gifted as "hand me down" craft to "Elites" within the Secret Earth Governments and their Syndicates as something akin to "Company Jets". There are so many newer technologies that are of the same general shape as the TR-3B (& models that came after) that it would blow people's minds. Most of them have completely "Modular" cabin's that the Pilots can fly and dock into the fuselage of the craft they will be piloting. Most of them are "Triangle" or "Chevron" shaped to some degree as well as the "Manta" shaped craft. For combat however, they have moved more and more to "drones" which a single pilot can control several of during sorties. I have always seen these craft controlled by "Neurological Interfaces" with the pilots (going all the way back to the 1980's). I have not seen any craft piloted by "Fly by Wire" or "Stick and Throttle" means. There is no way to compensate for the extreme speeds and changes of direction with "Eye Hand Coordination".
Q9. Do these eight cigar shaped craft all belong to Solar Warden, or are they distributed among all five independent space programs belong to our current human civilization?
Yes, these older "Cigar" shaped Vessels were "Solar Warden Assets". The other SSP's ended up acquiring ALL of the newer and cooler technological "Toys" and the ICC-SSP always kept the most advanced and best for themselves. The ICC-SSP is a HUGE INDUSTRY that has a HUGE INFRASTRUCTURE in Space that produces extremely high technology for not only "Human Breakaway Civilizations" but also "Civilizations from other star systems". There is a huge "Barter System" that is used "Out There" and the ICC-SSP has traded some very "Unsettling Things and even been involved in Human Trafficking/Trading" to acquire "New Technologies" to then engineer and produce for our Break Away Civilizations as well as for trading under treaties with other civilizations. (I mention in the interview with David Wilcock, some of Earths most precious "Missing" Art has been traded off and is hanging on a wall or sitting on a floor in another Solar System right now as wild as that sounds!). These people have no boundaries that they are not willing to cross to obtain more and more technologies and "ET Specimens" (Biological Specimens) for their research and interstellar commerce.
Q10. You say that one of the space programs is a corporate conglomerate that runs like a fascist dictatorship that deceives personnel into signing on with false promises of a utopian like off-world working conditions. What else can you share about the corporate conglomerate in its off-world operations?
See above for more details that you may want to move to this section/question. This ICC-SSP has also in addition to the above information been steadily recruiting "Talent" from here on Earth. They have often shown hopeful recruits pamphlets and videos of high tech cities (usually elite subterranean cities that are located here on Earth) and told that they are going to live like "The Jetsons" and will be contributing to man kind developing technology to be released in the near future or in some cases told that the Earth is going to be hit with a "Solar Cataclysm" or "Pole Shift" that will wipe out all life. That "They are Special" (so many people are made to feel "Special" in these programs!) and so is their family. That they are being given an opportunity to save the human race (And their families) by moving to a Colony on Mars or else where to use their skills (usually their spouse has a needed skill as well) and their children will be raised and educated to become the builders of a new civilization and rebuild Earth. Those who believe what they are told and take their families to these colonies find quite a different environment when they arrive. They are met on the tarmac by Security Forces who escort their family to a 8×10 room (for their entire family, wife and kids) and the reality of their decision sets in. They are then given their "Assigned Work Duties", as is their "Spouse". They are informed that their children will be raised in a system (much like MILAB's described above) where they will be educated and then provided a position in the community that best suits them and that when their children "Come of Age" they will be setup in "Arranged Marriages". At this point they are stuck, they are slave labor and prisoners. I was told that when these "Colonies" were first established that they were done so in a fascist way to prevent any possible repeat of the "13 Colonies Rebellion" on Earth referring to the "colonies that became the United States". These ICC-SSP groups are also very much involved in "Human Trafficking" and use these poor people as a commodity to trade off to various races for various purposes (That I will not go into) for trade and commerce of high technology and biological materials. (Note: I do not want to be insensitive to those who have loved ones who are missing persons, I do not want to feed the fear porn machine either. I stayed away from this topic with David Wilcock in the video recordings for that reason. It is a very sensitive topic and I want to respect those who have loved ones missing. Human trafficking is a horrible thing that is not focused on enough for the horrible things that surround what is involved in it on Earth. I am not cooping this horrible subject for my own purposes I assure you.).
Q11. Are companies like Lockeheed, Northrup Gruman, Boeing heavily involved in the corporate space program, or more the traditional military run Solar Warden program?
There are what are called "Super Boards" or "Super Commitees". Usually what happens is that ALL of these very well known Government contracting corporations that we know of (and some we do not) have a standing board member that will "Retire" and roll off their corporate board and then join one of the ICC-SSP Corporate Boards (Super Commitees). They are then out of the limelight and still have their "Corporate Pull and Connections". Solar Warden was indeed a heavily Navy program in the beginning with Air Force involvement later on. Even though most of the "Rank and File" come from within the MILAB Recruiting Systems the "Brass" has been connected to the Military (some very much Constitutional supporters and believers in their "Oaths"). In recent "SSP Allied Conferences I have attended I have noticed a change. Many of the "Brass" are now the MILAB Types who have worked their way up the ranks. There are also quite a few new "Defector Groups" from some of the other programs no involved. Things have evolved in the Solar Warden SSP as I am sure they have in the other SSP's… Unfortunately in the case of the ICC-SSP and the "Dark Fleet-SSP" they have become more and more negative because of their "Off World Alliances".
Q12. G. Marconi allegedly was involved in creating an independent corporate run high tech enclave in South America just prior to WW2, do you know anything about Marconi's alleged program and Nikola Tesla's alleged involvement?
As many know the Secret Earth Governments and their Syndicates (many call the "Cabal" and "Illuminati") have had complete control of the financial system of Earth for many hundreds of years. As many know these same groups were financing both sides of WWII (and EVERY War before and since) for various reasons to support their agendas. After WWII much of South America was pretty much bought by the NAZI's who setup enclaves, bases and even cities through out South America and even a couple huge bases in Antarctica. During this time just about anything of interest in the field of high technology in the regards to your question was coopted by the NAZI's either overtly or covertly.
Q13. What can you tell us about the third secret space program belonging to our current civilization? It appears that is run by the cabal, who are they and how is it run? Is this space program more under the control of regressive extraterrestrials, satanic forces, or AI?
This is a very complicated question and answer. I have gone into heavy details on it on both my website and the forums I post to. There are multiple Secret Space Programs that are connected directly to our current era "Break Away Civilization". There are more than a hand full of Secret Space Programs that are directly connected to Ancient Earth Civilizations that developed their own "Break Away Civilizations" before those civilizations perished (some of these Ancient SSP Breakaway's have presented themselves as "Gods" to Humanity in less developed time periods and have most recently presented themselves as "ALIENS" from "This or That Star System" to People they are contacting Currently on Our Planet. They tried this with the various "Current Era SSP's" but it did not work for very long.
There are elements of Secret Earth Governments and their Syndicates as well as Ancient Breakaway SSP's that are aligned with not only several different groups of "Off World Groups of Beings" but who have also become what we have termed as "AI Prophets" and are working on a somewhat integrated but independent Agenda of bringing the "ET/ED AI" into Control of the Technologically dependent world they have helped create. This "ET/ED AI" which they consider to be far more capable of "Ruling Humanity" has been a scourge across multiple Galaxies and destroyed hundreds of advanced civilizations far more advanced and wiser than our own. This is considered by the Other SSP's and even other Federation ET's as an Imminent Threat. The security protocols in place to guard against the AI Threat are quite intrusive at times and are taken very seriously. There are some of the more negative oriented ET/ED Groups that not only have "Entity Attachments" themselves but also use these "Ethereal/Negative Spiritual Entities" as "Tools" to attach to Humans to manipulate their behavior.
These "Entities" use both the ET/ED's and Humans as "Hosts" and extract "Loosh" Energy from their victims by creating Fear, Anger, Depression, Anxiety and any number of other lower vibrational emotions. This looshe energy is shared with the host in a symbiotic relationship. The Blue Avians have stated that when the new waves of higher vibrational energies come through our Sol System that these "Negative Entities" will no longer be able to exist here and will be forced back to "The Outer Realms Where They Came From" (Exactly what the "BA's" Stated). This will leave their former hosts writhing in withdrawls like a "Heroin Addict" who has gone off of their addicted substance "Cold Turkey". It will be extremely unpleasant for these individuals to go through.
The various Secret Space Programs of our current era and break away civilization are all aligned with different (some times multiple) groups of off world groups. This is completely independent of the problem on Earth of the Secret Earth Governments and their Syndicates that the "Earth Alliance" has done so well in combating over a protracted amount of time. With the arrival of the Sphere Beings the "Religious Fanatics" of the Secret Earth Governments first thought that "Their Gods Had Returned". This was soon to become very much of a disappointment to them. This has also been a very unsettling time for the "SSP Alliance" who have since late December gone from a "Shadow Civil War" into an "Open Shooting War". The Sphere Beings have been delivering a "Message" that many of them have called a "Hippy Love and Peace" message in the middle of a war. The message of becoming "More Loving", "Service To Others", and to "Focus on Raising Our Vibrations and Consciousness" and to practice "Forgiveness to Release Karma" is not what many of the battle hardened "SSP Alliance" members were wanting to hear. The Sphere Beings Quarantine around both the Earth and the Entire Solar System has also further complicated things for some of the "Off World Beings" and the plans of the "Secret Earth Government Elite" who had planned on "Not Being Here" when all of this went down. They are all stuck here for the "Duration" by these new arrivals who have been termed by the "SSP Alliance" as "The Sphere Alliance" (Who are 6th, 7th, 8th & 9th Density Beings/Civilizations). The 3/4tth and 4/5th Density "Custodian God's" AKA "Custodian ET/ED Beings" that had been in control of this Solar System for MANY Thousands of years have absolutely no recourse against these "New Arrivals". Their agenda's have been thwarted and they are now locked inside this Solar System with us until these "Events" pay out. These will certainly be interesting times indeed for those of us who are at various stages of being awake as well as the masses who are firmly asleep.
[NOTE: In a follow up email sent on April 6, Corey/GoodETxSG helped clarify the number of secret space programs belonging to the current era – there are five not three as I previously thought he had described. These are as follows]
1. Solar Warden – Established early and is the most aging fleet (though it has gone through many upgrades over the decades). They have a R&D/Scientific focused fleet and a Military Offensive/Defensive focused fleet that is mainly focused on policing the Solar System and surrounding Star Clusters and keeping track of "Intruders" and Visitors" as well as locate and remove unauthorized "Visitors" on the Earth and other planetary bodies. Their program name describes their function pretty well.
2. Interplanetary Corporate Conglomerate (ICC) – Focused mainly on development and aquisition of technology by any means. Develop and Produce Technology for Commerce with Earth and Off World Groups in a Barter System and left nothing off the table that they were willing to trade. Very powerful, very classified, and Always had all of the latest technology and "Toys" at their disposal.
3. Dark Fleet – Worked almost entirely outside the Sol System, Very Military (Offensive), Extremely Classified above the others and were large fleets (similar looking Carrier Craft that looked like the Star Wars Wedge Shaped craft in the movies). They worked along side the Draco Alliance and are speculated to fight along side them in their affairs in other systems.
4. "NATO TYPE SSP" – Recently in Alliance Conferences they were referred to as the "League of Nations Program." Apparently this was the one where I arrived and all of the people were relaxed in another Sol System and were from MANY different countries. There were literally more flags on their shoulders than I could identify (countries like Estonia etc…). This group was based almost entirely outside of the Sol System and was a relatively newer SSP that was created for all countries to participate in, have exchange of information and technology and to encourage the countries to keep silent on the SSP Programs.
5. Various Special Access Program SSP's that were small, usually had the newer technology, very secretive and worked for some of the Secret Earth Governments, Syndicates and World Military Forces (there could be several independent groups in this category).
…
Corey "GoodETxSG" aka "Luke"
Web Site:www.SphereBeingAlliance.com
Blog: http://goodetxsg-secretspaceprogram.blogspot.com/
Twitter: @BlueAvians