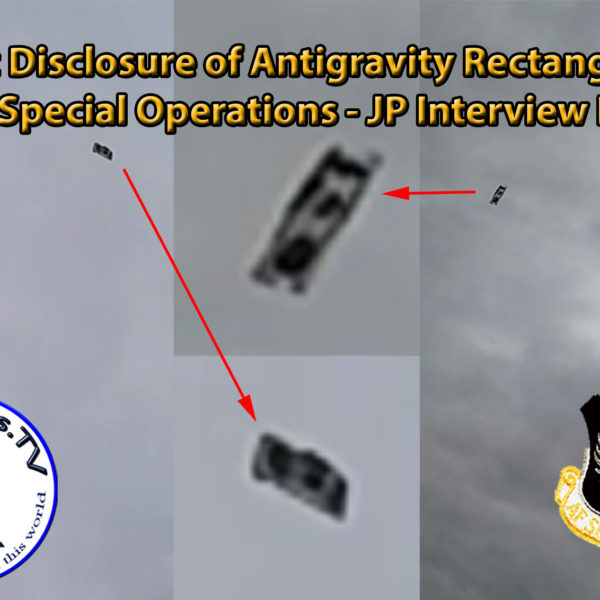 In Part 3 of this ExoNews TV interview series featuring the audio testimony of JP, who has photographed multiple antigravity vehicles in Florida, we learn that he was prompted by covert personnel to take photos of flying rectangles he witnessed near McDill AFB, Tampa, in October 2017. He then recalled that he had been earlier subjected to a Military Abduction (MILAB) and was inside the rectangular vehicle that he later photographed. In the interview he describes his experience inside the flying rectangle, the USAF Special Operations personnel he encountered and more.
For Part 2 go to: https://youtu.be/LQjU_5FTPq8
For Part 1 go to: https://youtu.be/_6-fz6uRW3c
To learn more about JP and the photos he has taken of antigravity craft go to: http://exopolitics.org/jp-articles-photos-videos/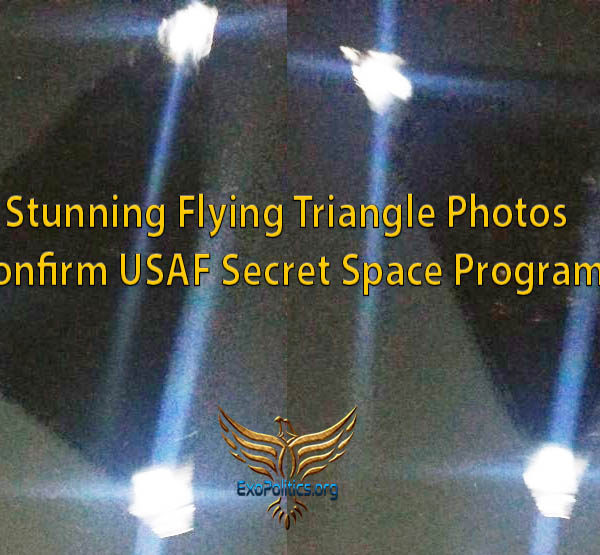 On February 18, 2019, four stunning photographs of a flying triangle shaped craft was taken in Orlando, Florida at around 1:20 am. The photographer, my confidential source JP, was then approached by two men in black who threatened him to remain silent about what he had seen and photographed. The craft appeared with three lights shining, one at each corner, and hovered about 45 feet (13.7 meters) away from him over a secluded field near his home.
In a Skype message, JP told me about what had happened. He recalled going to bed around 10 pm on Sunday night, and then waking up at 2:30 am with a sore throat. He says that when he checked his phone, he saw four pictures of a flying triangle. He then remembered that he had been standing out in the field and taking the photos and video of the craft. He says that he felt an electromagnetic field around the craft which was the size of a school bus.
After taking the photos and videos he remembered starting to walk back home. After 10 minutes, JP says that two men in black approached him and threatened him not to tell me about it in particular. He says that one of the men pulled out something like a gun and threatened him. He next remembered waking up in bed. The video of the craft was gone, but the photos remained. What follows is a short video of the original four photos and enhancements to better clarify what JP photographed.
In previous encounters with antigravity craft, both in Tampa (next to McDill Air Force Base) and Orlando, JP recalls being taken inside the craft where he has had multiple experiences with personnel belonging to USAF Special Operations. These earlier incidents have been described in articles where I have analyzed the photos he has taken, and the circumstances of each encounter.
In the earlier incidents, JP recalls being encouraged to take photos of the different shaped craft by covert personnel associated with Air Force Special Operations, but then being threatened by personnel associated with the CIA not to take any videos of the incidents. Indeed, he says that other videos prior to the February 18 incident had also been mysteriously deleted from his phone.
In the February 18 incident, JP believes that he was followed from his home to the field by CIA personnel who have him under constant surveillance due to the regular contacts he has been having with both Air Force secret space program personnel and extraterrestrials, which I have described in previous articles.
JP supplied a screenshot of the information from the last of the four photos he took, which gives the timestamp of when it was taken, confirming his recollection of the events that transpired early in the morning of February 18. The following images are of image 4 in the sequence (original with no enhancements) and the screenshot of his camera phone of the time when it was taken.

JP's stunning photos are powerful evidence of a Secret Space Program run by USAF Special Operations, which is encouraging him to take photos and videos of their antigravity spacecraft. Other government entities, such as the CIA, are not happy with this arrangement, and are intimidating and harassing JP [see note below], and deleting video evidence of what he is witnessing.
Michael E. Salla, Ph.D.
Feel free to share this article with original links. For those planning to incorporate the above video and/or original photos in their own YouTube videos/articles, you have permission to do so provided you link to the original source.
FURTHER READING
[Special Note: JP recently lost his job after he began sharing his photos with more members of the general public, after repeated warnings of not to do so by personnel associated with the CIA. He has been pressured to join the U.S. military in order to resolve his financial problems, but has resisted since it would impact his ability to share his startling experiences with the public. If you would like to support JP in his efforts to continue disseminating his photos and information, you can do so through a donation via the Exopolitics Institute. Please use the following Paypal link for your donation and mark it, "JP Donation" .]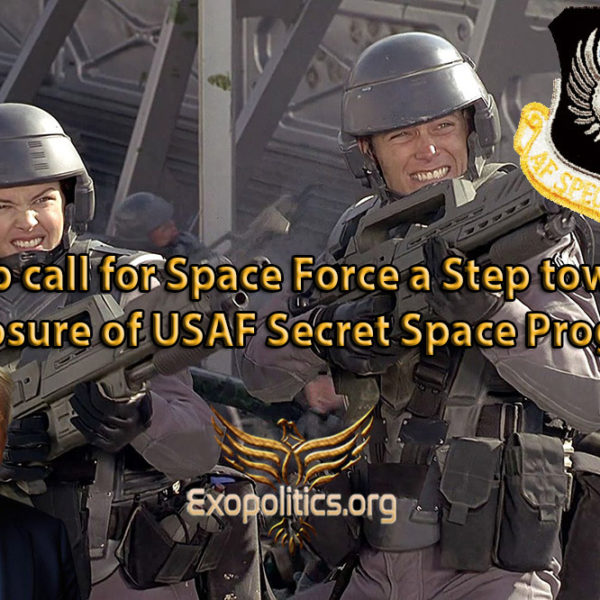 On March 13, President Donald Trump gave a speech where he said the creation of a U.S. space force was a good idea. This gave new life to a recently defeated Congressional bill to create a space force out of the United States Air Force (USAF) despite strong Pentagon opposition. Why has the Pentagon and the USAF been so firmly opposed to the creation of a separate space force?
The conventional explanation is that it would add an unnecessary and expensive layer of bureaucracy at a time when the Pentagon and USAF budgets are stretched thin to meet global military needs. The real reason, however, is one that takes us a big step closer to disclosure of a USAF run secret space program.
Here is what Trump had to say about the creation of a space force in a speech at the U.S. Marines Corps Air Station Miramar, in San Diego:
In space, the United States is going to do Colonel [John] Glenn [the former astronaut] proud. We are finally going to lead again. … Very soon we are going to Mars… My new national strategy for space recognizes that space is a war-fighting domain, just like the land, air, and sea. We may even have a Space Force. We have the Air Force. We'll have the Space Force. We have the Army, the Navy. 
Trump did not appear aware of an attempt by a subcommittee of the House Armed Services Committee to create such a force in the 2018 National Defense Authorization Act. The proposal passed in the House of Representative on July 14, 2017, but failed to get the necessary votes in the Senate due to fierce opposition by the Air Force and the Pentagon. Even the White House was opposed saying: "the creation of a separate Space Corps, however, is premature at this time."
According to House members proposing the creation of the space force, the USAF has been negligent in its responsibilities for "short-changing space programs."
What the House members did not realize is that the USAF already has established a highly capable space force that has been operating secretly for at least two decades.
One might assume that such a space force would be located within the Air Force's Space Command, which is  among the USAF's ten major commands. USAF Space Command has as its primary mission the "development and operation of military space and cyberspace technologies".
However, while Space Command provides the advanced technologies for space operations, it is from another of the Air Force's ten major commands that personnel for a secret space force is trained and deployed.
According to eyewitness testimonies it is Air Force Special Operations Command (AFSOC) that provides personnel for a USAF run secret space program. Before examining these testimonies, it's worth pointing out that AFSOC has been active since May 22, 1990.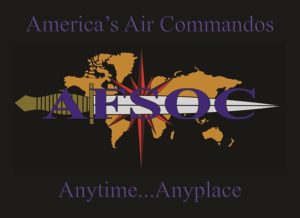 It is headed by a three star USAF General (currently Lt. Gen. Marshall B. Webb) and its headquarters is Hurlburt Field, Florida. Currently almost 16,000 airmen are deployed with AFSOC, their nickname is "Air Commandos" and their motto is "Any place. Any time. Anywhere".
In short, Air Force Special Operations provides the trained combat personnel for special operations using advanced aerospace technologies and infrastructure developed by the USAF generally, and Space Command in particular. This is analogous to how the US Navy provides the ships and technologies, which deploy Marines as a specialized combat force anywhere around the world.
The primary mission of Air Force Special Operations Command is to provide Air Force units for U.S. Special Operations Command (USSOCOM), which is one of the Pentagon's nine unified combatant commands. These combatant commands are organized into six regions covering the entire planet, and three functional areas of responsibility such as Special Operations and strategic nuclear weapons.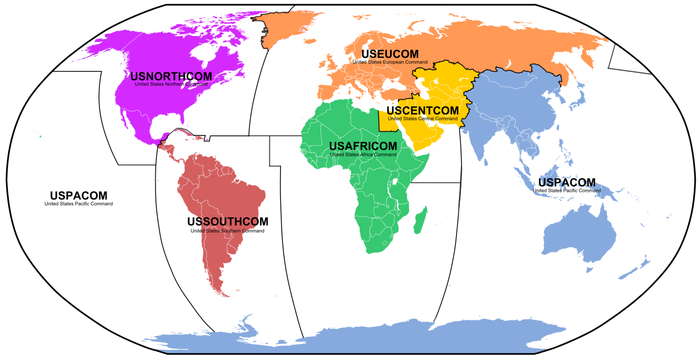 USSOCOM is headed by a Four Star General or Admiral, and integrates special operations forces from all four U.S. military services: US Army, US Navy, USMC and USAF.  
It is the only one of the Pentagon's unified combatant commands that was legislated into existence by the U.S. Congress. The National Defense Authorization Act of 1987 led to the Pentagon establishing USSOCOM on April 16, 1987.
What all this means is that while USAF Space Command provides the necessary aerospace technology and information for AF Special Operations personnel to pilot space fighters, other military services provide their own special operations forces that augment and serve alongside the Air Force's space commandos.
MacDill Air Force Base, Tampa, Florida. MacDill is the headquarters of U.S. Special Operations Command, and where AF Special Operations personnel have a primary base of operations for joint programs.  This takes me to eyewitness testimony that Air Force Special Operations deploys one or more of its secret space squadrons from MacDill Air Force base.
In the months of September and October 2017, an anonymous whistleblower JP I have known since 2008, took photos of both triangle and rectangle shaped antigravity craft flying in the vicinity of MacDill Air Force base. JP says that on several occasions he was prompted by covert personnel to look up into the sky to take the photos, but warned against taking video of the craft he witnessed.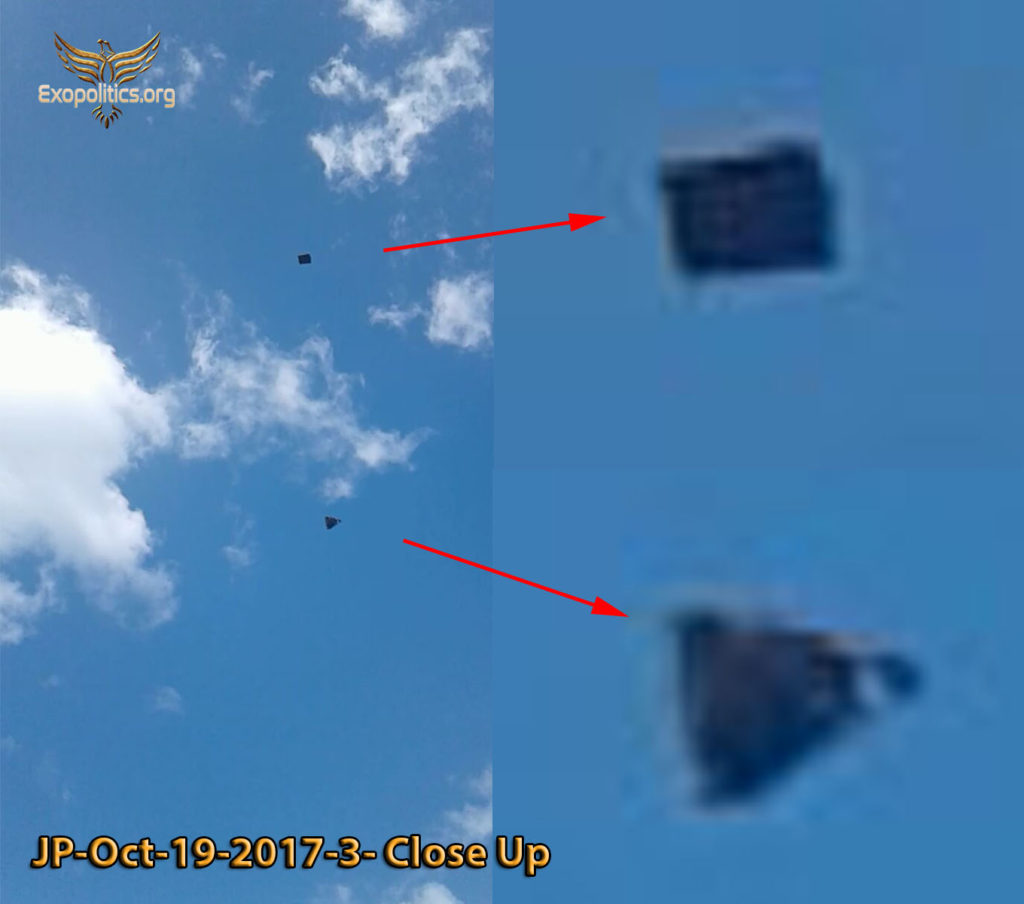 More importantly, JP says that he was physically taken on board both the triangle and rectangle shaped craft which he later photographed. It was on the rectangle shaped craft that he witnessed personnel wearing a military patch which he did not at first recognize.
Later he was able to confirm that the patch belonged to Air Force Special Operations Command. In a skype communication on March 14, he said that the patch was located in a similar place as on the airman in this photo.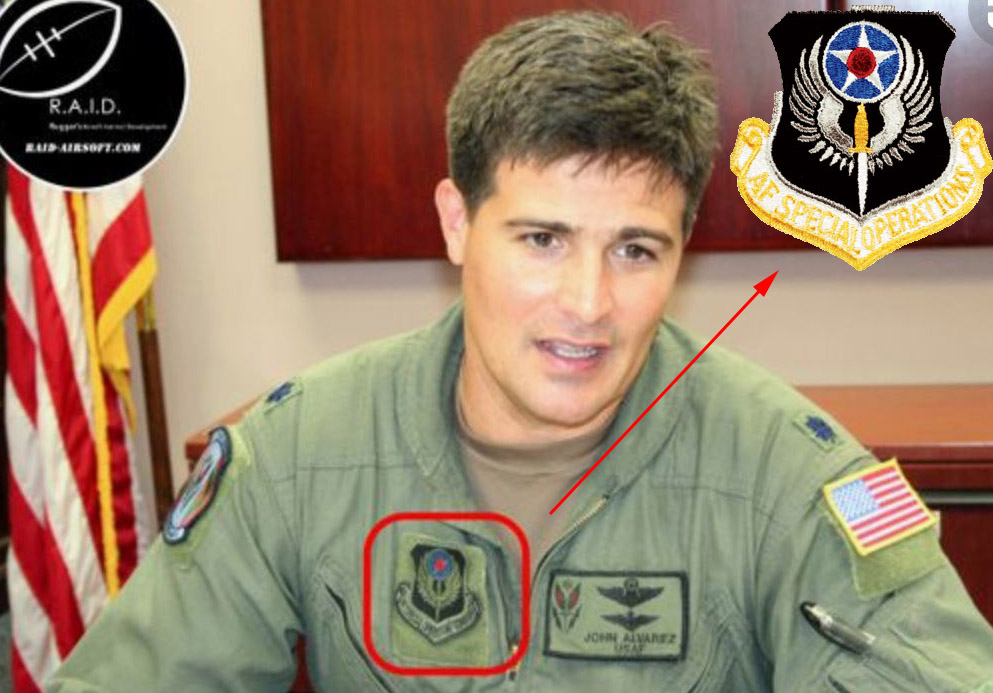 Corey Goode, who says he served for 20 years in a navy run secret space program called Solar Warden, also asserts that he was abducted by airmen belonging to a USAF run secret space program. He says that in early 2016 he was taken on board a triangle shaped antigravity craft by two airmen, where they and their superior interrogated Goode about his knowledge of their highly classified program.
Goode has provided artistic sketches of the triangle shaped spacecraft that was used to abduct him on several occasions. On March 14, in response to a skype question, he says that he witnessed a variation of the Special Operations Command patch during his interactions with AF personnel in space.
Based on the testimony and photos provided by JP, and Goode's testimony and artistic depictions, it can be concluded that the USAF does operate a secret space program, and it uses personnel from Air Force Special Operations Command to operate space craft developed, supplied and monitored by Air Force Space Command.
All this takes us back to Trump's speech that the creation of a space force is a good idea. There are three possible explanations which need to be considered for why he did so.
First, Trump has been officially briefed that such a force already exists, and his proposal is part of an official disclosure process for revealing the existence of the USAF run secret space program. A powerful motivation for doing so may be to gain public support and additional funding for the program.
Second, Trump has not been officially briefed about the existence of such a space force but has acquired knowledge of it through unofficial channels. Goode claims that he has been told through his own sources that Trump has indeed been informally told about multiple secret space programs.
Trump's speech was therefore intended to pressure Air Force officials to officially brief him about the existence of its space force, in order to prevent the creation of a duplicate space program authorized by Congress, which would take funding away from existing USAF programs. This explanation effectively lays the foundation for the Air Force secret space program being publicly revealed via Trump after he is officially briefed about its existence.
Third, Trump has neither official nor unofficial knowledge of a secret space force and simply believes that the creation of such a force is a good idea worth pursuing. This explanation appears least likely of the three given what he said in his inaugural speech on January 20, 2017, which indicated he had already received some information about secret space programs:
We stand at the birth of a new millennium, ready to unlock the mysteries of space, to free the earth from the miseries of disease, and to harness the energies, industries and technologies of tomorrow.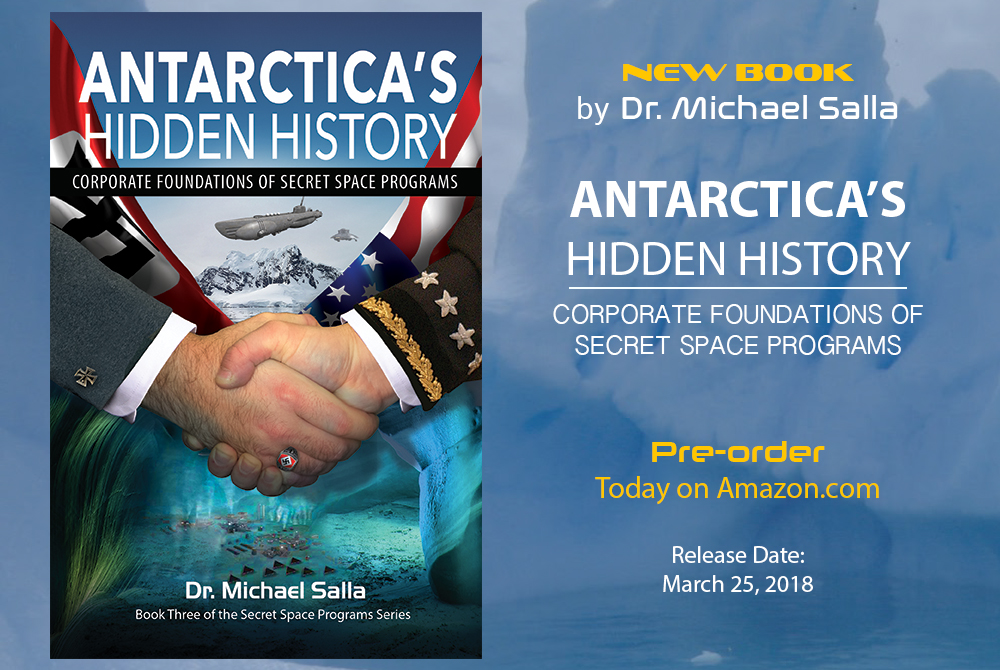 Consequently, there is grounds for optimism that President Trump's speech will result in him eventually disclosing the existence of an Air Force run space force in order to gain public support for its expansion and additional funding.
© Michael E. Salla, Ph.D. Copyright Notice
FURTHER READING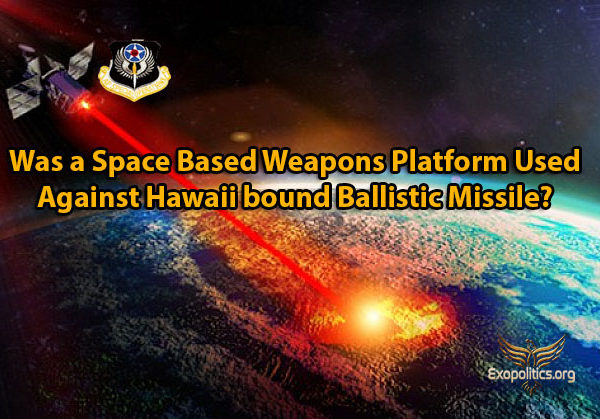 On January 30, the Governor of Hawaii, David Ige, gave a press conference about the result of an official investigation into the January 13 ballistic missile alert that was an alleged false alarm. In the press conference Ige and other state officials gave a detailed account of the scenario that led to the false alarm.
While the official investigation concluded the emergency alert was a false alarm due to human error and a poorly designed reporting process, eyewitnesses continue to emerge saying they saw a meteorite, or something like it, exploding high in the sky over the Hawaii islands only minutes before the alert. Furthermore, eyewitnesses claim to have seen a television story about the exploding meteorite or object, before the news story was pulled.
In a video published on January 14, Marfoogle Watutu [a pseudonym] claims he was told by his sister, a Maui resident, about a tourist boat which carried multiple eyewitnesses to the exploding meteorite:
My sister has lived in Maui for eight years and what she is finding out is that a group of boaters that actually run a tour company say now that they saw something get blown out of the sky. 
So, they said it looked like a meteor and then all of a sudden there was a big boom and it lit up the entire sky.  It was 8 o'clock in the morning. . .
Maybe this was not a drill after all.  Maybe our Boys in Blue and Boys in Green shot it down. And I would think that the U.S. would not want to cause more panic if they did try to launch something at Hawaii.  Then, of course, they would say it was a mistake.  They took responsibility very quickly that it was a mistake. . . This could be bullshit but I just had to relay that. . . [Transcription Source]
Apparently, some of the tourists were interviewed by a local news channel that aired these before the story was pulled.
Marfoogle has to date not released the names of any of the eyewitnesses or the tour boat company involved, making it difficult to confirm his story.  He claims that Joe Rogan, a former comedian who now hosts The Joe Rogan Experience, has contacted him and is contemplating doing a report on the incident, and that some of the names have been released to him.
However, in the 500+ comments to Marfoogle's video (80,000+ views), several purport to be eyewitnesses to the exploding meteorite and/or the television news story. What follows are the relevant comments as they appeared on January 30, which cast light on what really happened 
The following comments focus on an alleged KHON2 news story about the incident, the first of which refers to a tourist boat that was covered in the story and an exploding object.
The above witnesses together, with anonymous sources cited in two previous articles, continue to raise the scenario of an intercepted ballistic missile attack, which is being officially covered up.
Multiple sources claiming that a ballistic nuclear missile had indeed been intercepted, and a cover up is underway were analyzed in my first article on the incident. My second article pointed to a rogue Deep State/CIA faction that may have used a boomer submarine to create a false flag attack, which was intended start a war with North Korea.  
As to who was responsible for intercepting the ballistic missile, initial speculation focused on an anti-ballistic missile defense system run by the U.S. Navy.
On January 31, however, the U.S. Navy announced that it had conducted another exercise to intercept a ballistic missile using its Aegis class anti-ballistic missile defense technology.  The exercise was the second failure by the Navy to intercept a ballistic missile attack in the past year.
Given that the exercise was conducted less than three weeks since the January 13 incident, it is clear that the U.S. Navy currently does not currently have the capacity for reliably intercepting ballistic missiles.
The announcement of the failed exercise raises an intriguing question. Were U.S. Navy leaders signaling they were not responsible for shooting down the January 13 missile? So then, who did shoot down the ballistic missile?
My initial article focused on the likelihood of a secret space program run by the U.S. Air Force that used space based weapons technologies to shoot down the ballistic missile. Photos taken on October 23, 2017, showed a rectangular shaped UFO in the vicinity of MacDill Air Force Base, Tampa, Florida.
The photographer, JP (who I have known since 2008), claims he had been earlier taken inside the rectangle UFO, and had been informed that was a weapons platform. He says that he witnessed uniformed military personnel wearing the insignia of U.S. Air Force Special Operations who could operate the weapons system.
A Directed Energy Weapons system on a space based weapons platform could have the capacity to reliably shoot down a ballistic missile intended to simulate an attack from North Korea. Unlike anti-missile missiles used in the Navy's Aegis defense system which have failed twice in two tests against simulated ballistic missile attacks, a Directed Energy Weapon could send a pulse of laser energy at the speed of light.
A Directed Energy Weapons could therefore easily intercept a ballistic missile in the terminal stage of its flight trajectory where it travels at hypersonic speeds (5x speed of sound).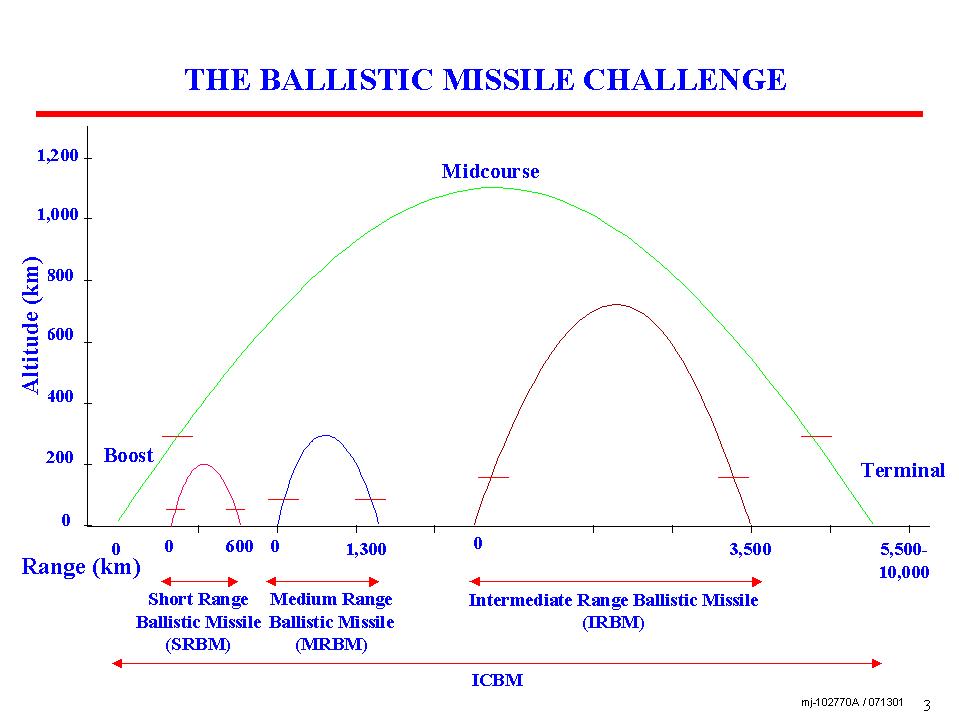 What gives further credence to the possibility that Maui residents and tourists witnessed a missile being shot down by a Space Based Directed Energy Weapon is the U.S. Air Force surveillance installation on the summit of Haleakala, Maui.
The capabilities of the Maui Space Surveillance Site (MSSS) is described by GlobalSecurity.org as follows:
The Maui Space Surveillance Site (MSSS) includes the Air Force Maui Optical Station (AMOS) is an asset of the US Air Force Materiel Command's Phillips Laboratory. the Maui Optical Tracking and Identification Facility (MOTIF), and a Ground-based Electro-Optical Deep Space Surveillance (GEODSS) site operated by US Air Force Space Command.
… The site is the only one of its kind in the world, combining operational satellite tracking facilities (MOTIF and GEODSS) with a research and development facility (AMOS). The MSSS operates primarily at night, but performs many of its SOI missions 24 hours a day.

It is very likely that the Maui Space Surveillance Site was used in the tracking and/or shooting down of the ballistic missile. If so, this would help explain why many Maui residents saw the explosion. It was only during the final stage in the trajectory of the missile attack that a directed energy weapon system could have been used as the Maui facility could help accurately triangulate the missile's position.
Further insight into what happened on the morning of January 13, comes from an anonymous Hickham Air Force Base source on duty at the time of the alert. S/he pointed out the great amount of confusion over the alert which was at different points considered a drill and then a genuine attack by U.S. Pacific Command personnel.
Significantly, s/he points out it was only after a request for a military response to the presumed attacker, North Korea, was declined by the White House that Hawaii local authorities were instructed to say it was all a false alarm.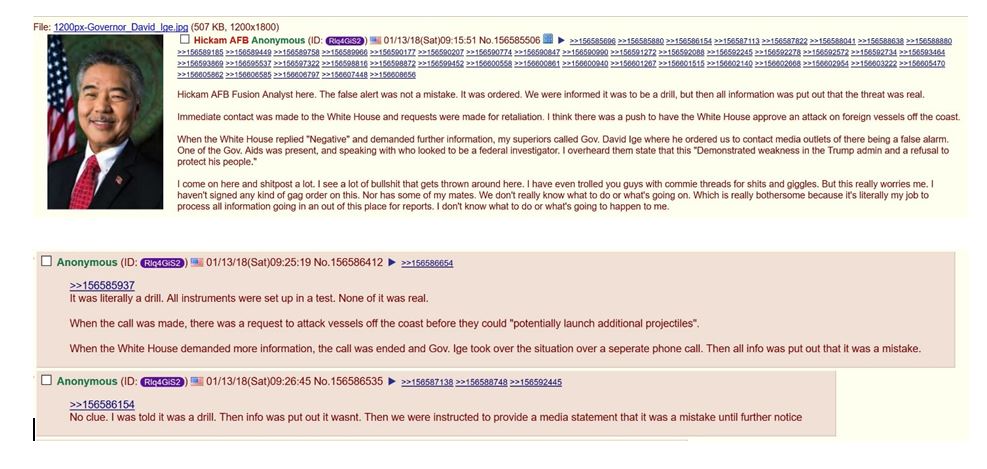 The confusion over the missile alert being a drill or genuine has the tell-tale characteristics of a false flag attack. Similar confusion has occurred in past false flag events on September 11, 2001 (New York) and July 7, 2005 (London), etc. In these alleged terrorist attacks, military and government authorities were first told about a drill where security forces were instructed to stand down, and then informed that a real attack was occurring by which time it was too late to prevent.
Analysis of this pattern in past alleged false flag attacks has led to the following observation:
The exercise or drill – at the same time, at the same place – has became the sine non qua or indispensable element of the recent false flag operation.

In the Hawaii situation, it appears that cool heads at the White House did not order military retaliation against North Korea after the missile was shot down. President Trump and/or his national security advisors likely suspected that a false flag attack had been attempted.
According to my own efforts to find Hawaii residents willing to testify about witnessing a high altitude object being destroyed, I have been told that police and other authorities are intimidating witnesses into silence.

Consequently, in contrast to the official State of Hawaii report that the January 13 event was a false alarm due to human error, the following conclusions can be offered.
First, a ballistic missile likely carrying a nuclear warhead was destroyed during the final stage of its trajectory by a USAF Secret Space Program using space based Directed Energy Weapons deployed on rectangular shaped weapons platforms.
Second, the Maui Space Surveillance Site helped in the tracking and destruction of the ballistic missile as it neared the Hawaiian Islands, the most likely target being Pearl Harbor, Honolulu.
Third, a drill was scheduled for the morning of January 13, which was intended to create confusion so that a ballistic missile attack could succeed, and the missile's trajectory would point to North Korea as the culprit.
Fourth, the party responsible for the false flag attack is a rogue Deep State/CIA group with its own ballistic nuclear submarines, which are part of a secret Navy apparently called the Dark Fleet.
Fifth, the US Navy's January 31 test was intended to let the general public know that it does not yet have the capability of intercepting ballistic missiles, and that the real heroes in tracking and intercepting the nuclear attack on Hawaii was USAF Special Operations.
Further information is needed to determine the accuracy of these conclusions. One thing is pretty clear at this point given the number of insider sources and witnesses that have come forward so far. The official State of Hawaii investigation is a cover-up for a ballistic missile attack, which evidence suggests was a false flag attack using one or more nuclear weapons by a mysterious naval force desiring to start a regional nuclear war.
Thankfully, a classified space based weapons system was most likely used by the USAF Special Operations, thereby giving the U.S. national security planners time to develop an appropriate response to those behind the false flag attack.
© Michael E. Salla, Ph.D. Copyright Notice
Further Reading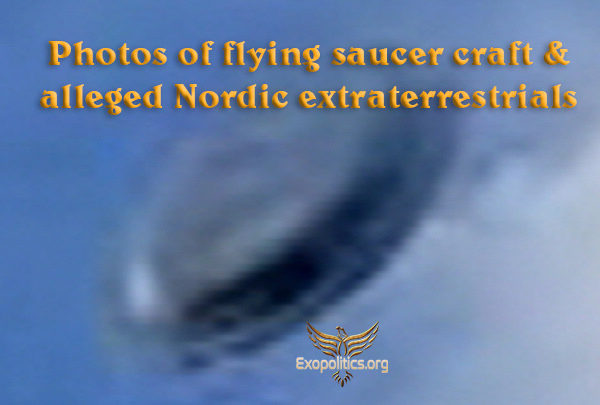 On January 12, a photo was taken of a flying saucer craft with a large rectangular shaped porthole window apparently showing two occupants. According to the photographer, who uses the pseudonym JP to maintain anonymity, the occupants are two Nordic "human looking" extraterrestrials who were telepathically communicating with him.
JP says that he received a telepathic communication while at a residence about 10 outside of Orlando, Florida where he was told to go outside and look up into the sky. This is what he says he was told in the communication:  
Today at 6 o'clock I had an amazing contact… I was getting telepathic messages inside the house.
Asking me if I wanted to see them. So I was negotiating with them if I could take a picture. I told them that this was really important for Disclosure
The voice in my head that I heard was the Nordics that picked me up in Brazil. [Note: I was first contacted by JP in 2008 about his extraterrestrial encounter in Brazil. M.S.]
They are working with the United States Air Force. Doing missions around Antarctica in outer space. Giving a technology to the Air Force that's overwhelming
 That can manipulate any point in the air and open a wormhole to other planets giving coordinates. This technology works in flashes, gives a flash like a lightning [bolt] but no noise
So I go outside and I hear the voice that tells me to look up. I saw them. I was taking but it was not working. My phone was being blacked [out] by some hacker. But I did manage to take some pictures and save it in my phone.
JP provided a sketch of the two alleged Nordics he saw in the spacecraft.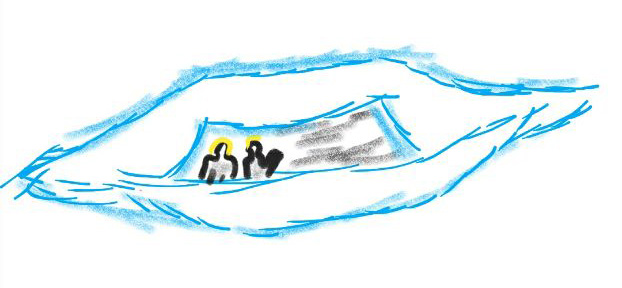 He also supplied three photos of the craft he witnessed which are found in the following video.
The final photo in the sequence appears to validate his claim of witnessing two Nordic extraterrestrials – original photo is available on right.
What's also pertinent in JP's above telepathic communication is the claim that the group of Nordics in the spacecraft captured in the photos is working with the US Air Force, providing different types of technological support.
On September 14, 2017, JP supplied photos of a cigar shaped craft flying near MacDill Air Force base.  He says this craft belongs to extraterrestrials working with USAF Special Operations. JP has also supplied photos of triangle and rectangular antigravity craft flying out of MacDill Air Force Base, some of which have taken him on board.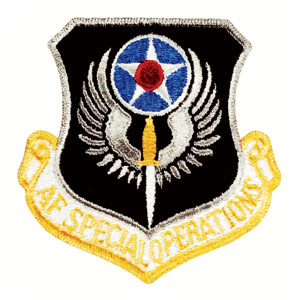 In one incident on October 23, 2017, he recognized the insignia of the military occupants of a rectangular shaped craft as belonging to USAF Special Operations.

JP recently moved from Tampa to Orlando, Florida, and continues to liaise with the special operations community that wish to recruit him due to his relationship with Nordic extraterrestrials who have provided him information about advanced technologies.
The January 12 photos provided by JP is evidentiary support for his alleged contacts and communications with Nordic extraterrestrials, and may be among the few photos capturing the mysterious occupants of alien spacecraft.
© Michael E. Salla, Ph.D. Copyright Notice
[Note: Only hours after sending me the photos of the above craft and its occupants, JP's daughter began experiencing convulsions, turned blue and had to be rushed to hospital with a 103 degree F. temperature. Please send your thoughts and prayers to JP and his family.]
Further Reading