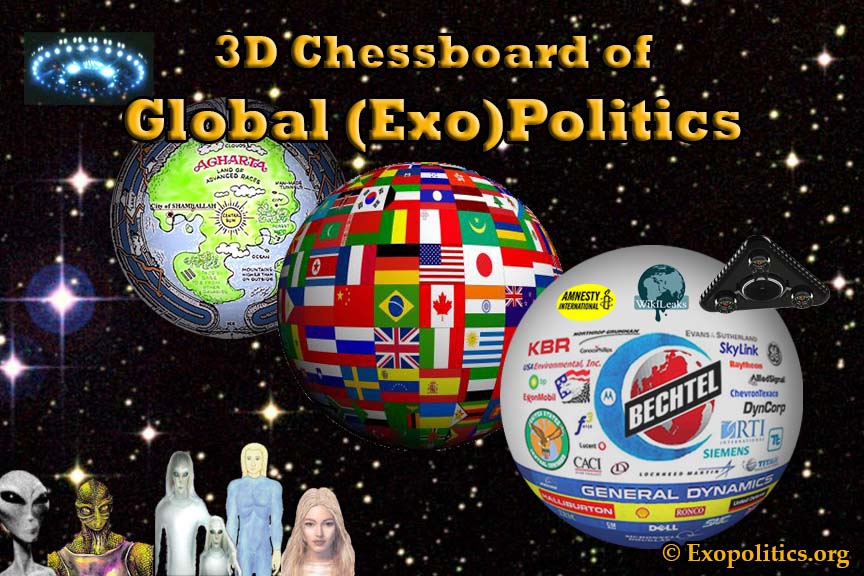 The above video published today on Youtube outlines how global politics needs to expand beyond the traditional scholarly focus on nation states, transnational corporations, non-state actors, international organizations, and social movements.
Global politics requires three dimensional thinking, as depicted in the fictional 3D Chess of Star Trek, in order to factor in how both advanced subterranean civilizations and extraterrestrial civilizations influence political events on Earth.
Dr. Michael Salla has held full time university positions teaching both graduate and undergraduate students key concepts in global politics. He combines his scholarly expertise in global politics with his more recent research in exopolitics, to produce a remarkable 3D understanding of global (exo)politics.
More info at: exopolitics.org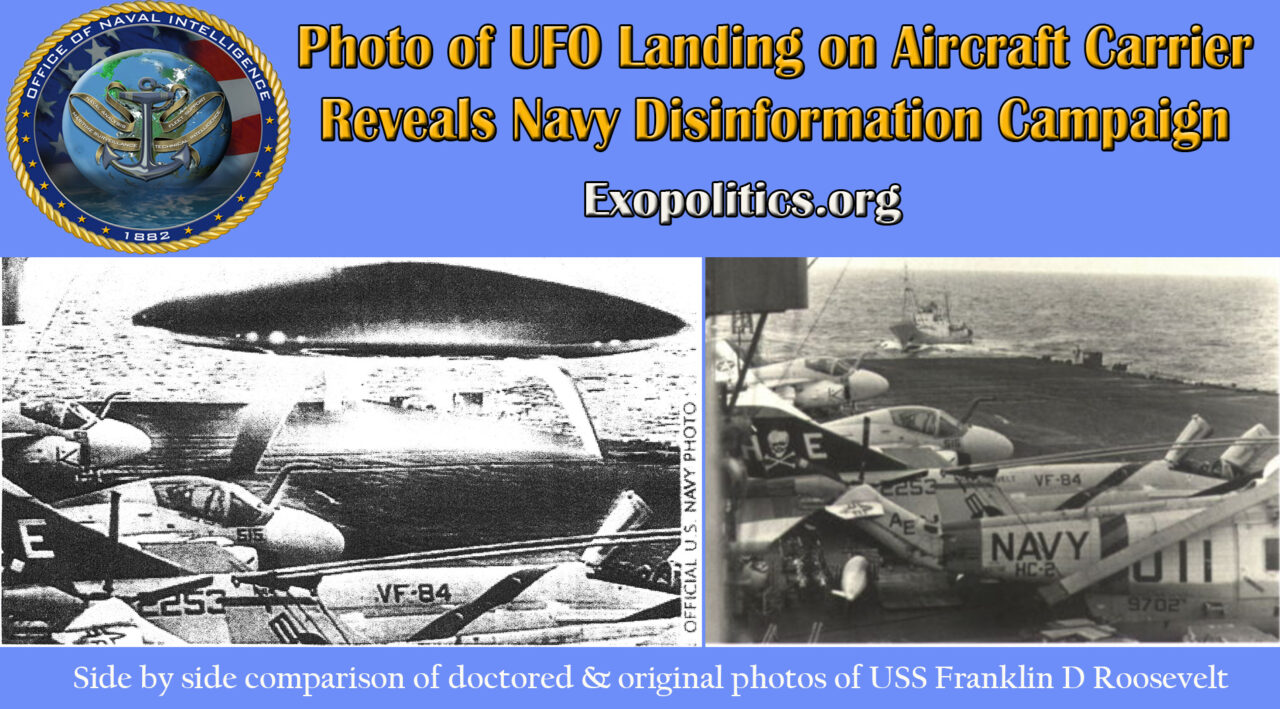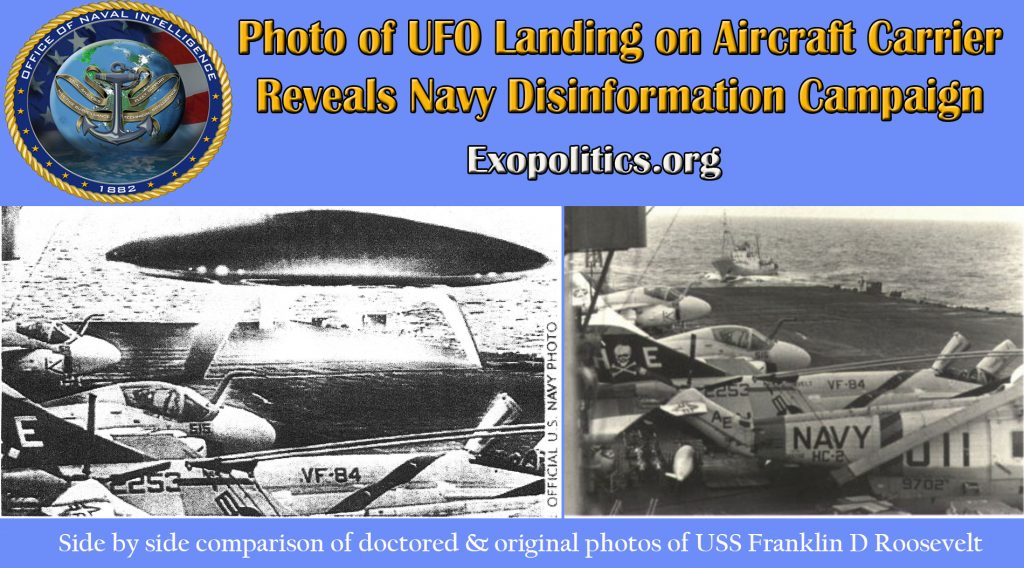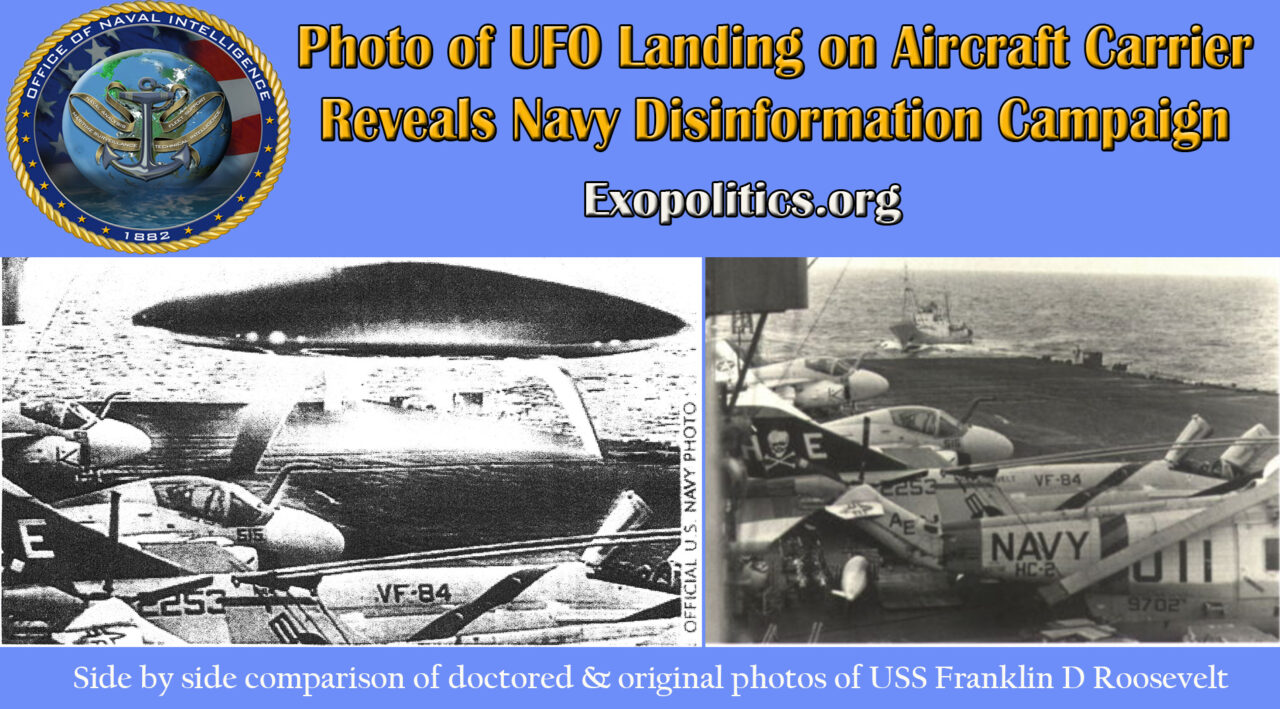 There has been an important breakthrough in the investigation of the authenticity of a photo showing a flying saucer landing on an aircraft carrier that was obtained by Navy Commander Graham Bethune (now deceased), and first publicly released in 2008 by his associate, Frank Chille. Bethune's photo was discussed in a May 4 interview on Rense radio featuring William Tompkins, and was analyzed in an exopolitics article published on May 11.
An official US Air Force photo of the flight deck of the USS Franklin D. Roosevelt from April 1975 closely matches the configuration of aircraft found in Bethune's photo. There is clear evidence that the 1975 photo was altered to produce Bethune's photo. The origin and chain of custody of Bethune's photo suggests it was part of an officially sanctioned Navy disinformation campaign around the issue of flying saucers landing on U.S. aircraft carriers.
First some background. The 1975 USAF photo was released by the U.S. Air Historical Support Office and published in the 2002 book, American Military Aviation: The Indispensible Arm. It shows a Soviet intelligence ship approaching the USS Roosevelt, which was stationed in the Mediterranean Sea at the time.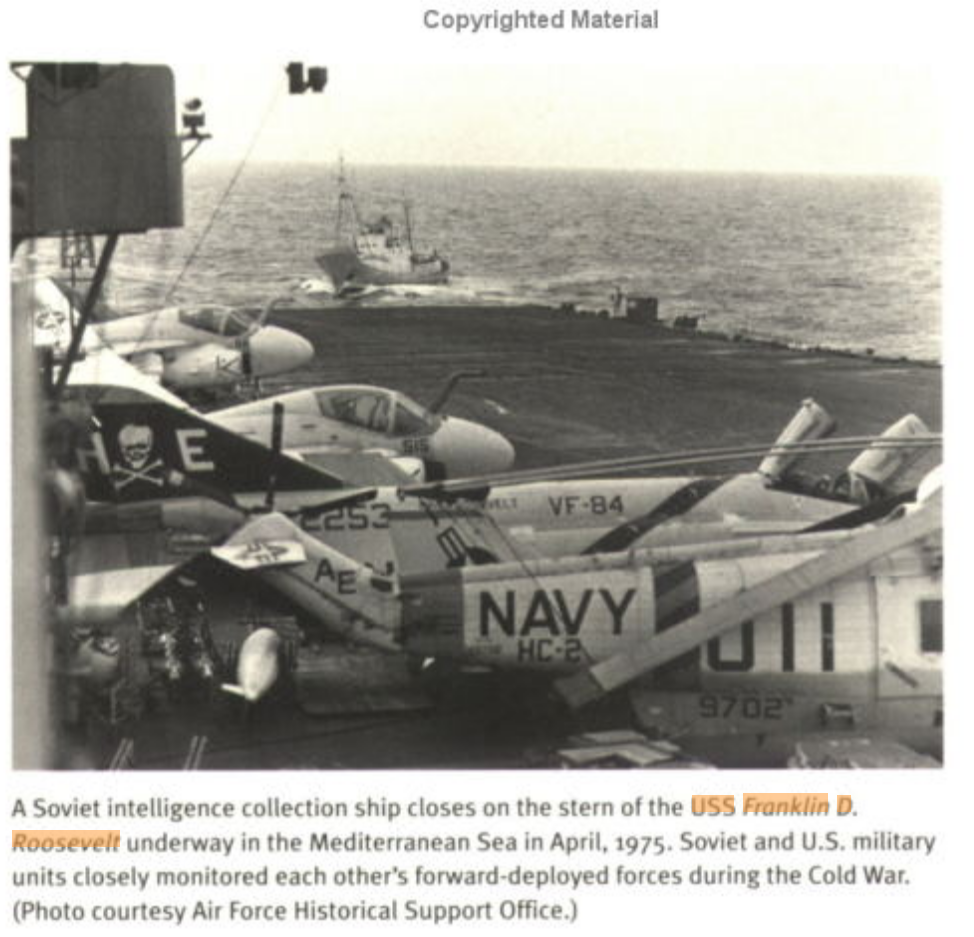 The chronology of the flying saucer landing on the aircraft carrier photo released by Bethune is given by Chille, who says he obtained a copy from Bethune around the year 2000:
Graham had told me that all his photos were hand delivered to him personally by Admiral Delmar Fahrney. I had the distinct impression that I was one of very few whom were ever shown these photos by Graham Bethune. Graham never published any of the photos he had shared with me and he never told me not to share this photo with anyone. Graham did say to me at many meetings that Admiral Fahrney was very aware of the Visitors and the craft they employed. They had ships of all sizes and description and some were enormous in size. [Email 5/13/16]
It's important to emphasize that according to Chille, the photo possessed by Bethune was given to him personally by Rear Admiral Fahrney sometime before that latter's death in 1984, and then later passed on to Chille in 2000. Bethune never publicly released the photo, and passed away on October 30, 2006. Chille publicly released it for the first time in 2008 via the CNN website. Chille later passed on the photo to Major George Filer who released it in one of his Filer Reports on November 2012. Finally, it was released online by Rense for his radio interview with Tompkins on May 4, 2016.

Chille's recollection of the genealogy of Bethune's photo clearly points to the U.S. Navy's involvement in its creation and/or dissemination via Admiral Fahrney.
Fahrney, retired with the rank of Rear Admiral in 1950. He was credited with being the father of "naval air guided missiles":
Rear Admiral Fahrney was "the foremost Navy pioneer for the development of guided missiles. His vision of future weaponry, technical excellence and tireless advocacy formed the basis for the post-World War II Navy missile programs." "Admiral Fahrney's early work in guided missiles and his foresight in planning for future generations of missiles earned for him recognition by many peers as 'the father of naval air guided missiles.'" (circa 1956).
He subsequently became a prominent member of the National Investigations Committee on Aerial Phenomena (NICAP), and was prominent advocate of the "Extraterrestrial Hypothesis" that UFOs were interplanetary vehicles. Fahrney's stature would have meant that whoever he forwarded the alleged photo of a flying saucer landing on an aircraft carrier would have accepted it as genuine.
However, a comparative analysis of the 1975 USAF photo and Bethune's photo leads to a surprising conclusion. Bethune's photo is an altered version of the original USAF photo. The following animated gif which was created by Keanu Bruun shows the key similarities and differences of the two photos.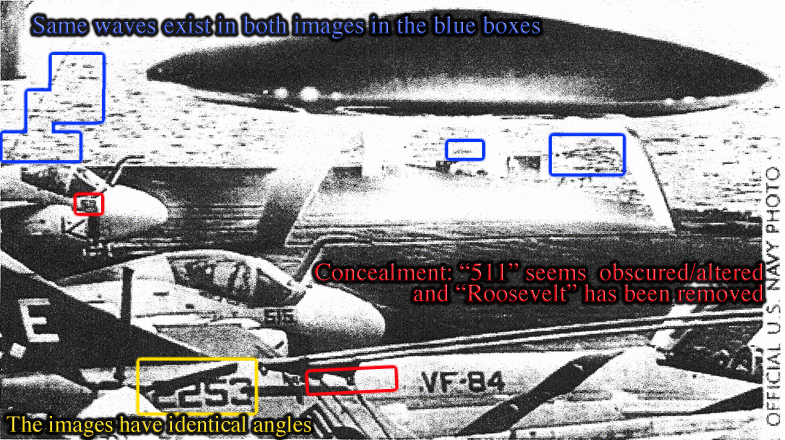 The removal of the word "Roosevelt" from the F-4 Phantom on the deck of the Roosevelt is very clear evidence of photo alteration. The identical wave action in the highlighted sections of the two photos is also very suspicious, and strengthens the case for the 1975 USAF photo being the original used in creating a doctored version.
This raises questions of why was the hoax created, and why was Admiral Fahrney complicit in its dissemination? His Naval and UFO research background suggests that it would take a professional military intelligence organization, such as the Office of Naval Intelligence, to fool him into believing the hoaxed photo was genuine, and anticipate that he would eventually pass it on to others who would leak it into the public arena.
Alternatively, Fahrney and/or Bethune may have been simply following orders to leak the doctored photo into the public arena.
The painstaking work that went into producing this doctored photo sometime between 1975 and 1984, well before Photoshop and other image manipulation software became publicly available, would have required professional photo manipulation expertise. Furthermore, the senior military ranks of the Navy personnel involved suggests there would have needed to be an important national security reason behind the photo's creation.
One justification is that if flying saucers were genuinely landing on aircraft carriers on a regular basis, then over the years many thousands of Naval personnel would have witnessed such occurrences, and could eventually start revealing this to the public. Fahrney may have been told by Naval Intelligence assets, for example, that a flying saucer had indeed landed on the USS Roosevelt in 1975, and that dissemination of a doctored photo was necessary on national security grounds in case the incident was ever revealed by rank and file Naval personnel.
What better way to anticipate and discredit future reports of such encounters than by releasing a doctored photo of one? The hoax could then be easily mistaken as genuine by those familiar with or having direct experience of flying saucer landing on aircraft carriers, and thereby discredit such a phenomenon.
Indeed this appears to have happened with retired aerospace engineer, William Tompkins. In a radio interview with Jeff Rense, he connected Bethune's photo to an incident described in his autobiography, Selected by Extraterrestrials, where a flying saucer piloted by "Nordic extraterrestrials" landed on the USS Coral Sea in the 1950's.
Rense: … the first image that comes up is a large disk-shaped craft with a couple of lights visible. Apparently [it] landed on the deck of an American aircraft carrier. Tell us about that picture, Bill. What's the story? …

Tompkins It's one of quite a number of Nordic extraterrestrial UFOs that have landed on US Navy aircraft carriers.
Tompkins was likely confused by the realistic depiction of the flying saucer in the doctored photo, which led him to believe it was a genuine photo of one of many landing incidents.
One of the leaked Edward Snowden NSA documents confirms that the intelligence agencies of the "Five Eyes" nations – USA, UK, Canada, Australia and New Zealand – are involved in disseminating hoaxes involving UFO images online. The doctored flying saucer landing on the USS Roosevelt is evidence that such an officially sanctioned disinformation effort is being conducted to confuse not only the general public, but also well-meaning senior military officers and even aerospace engineers, over what is genuine or not.
In the case of Bethune's photo, it was through a collaborative effort by private researchers, who were able to identify the original USAF photo used to create the doctored version, which proved essential in bringing this to public attention. While some may be disappointed that Bethune's photo is not hard evidence of a flying saucer landing on an aircraft carrier, it is nevertheless significant that an official Navy disinformation campaign has been found that aims to anticipate and discredit such claims by the dissemination of doctored versions of genuine extraterrestrial encounters.
© Michael E. Salla, Ph.D. Copyright Notice
Further Reading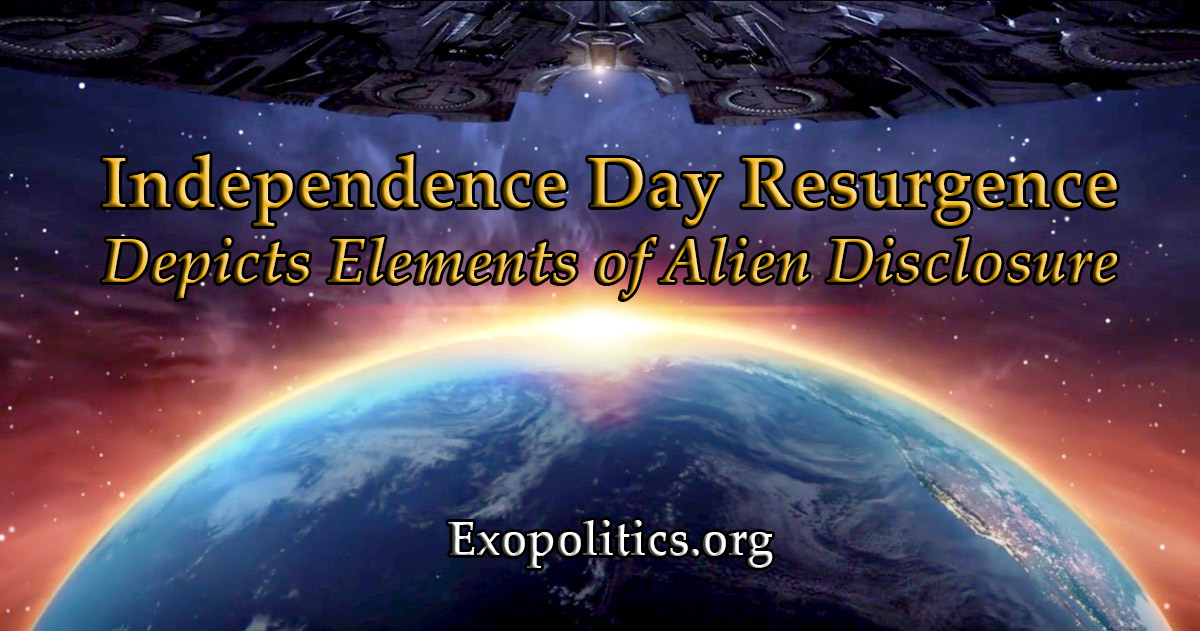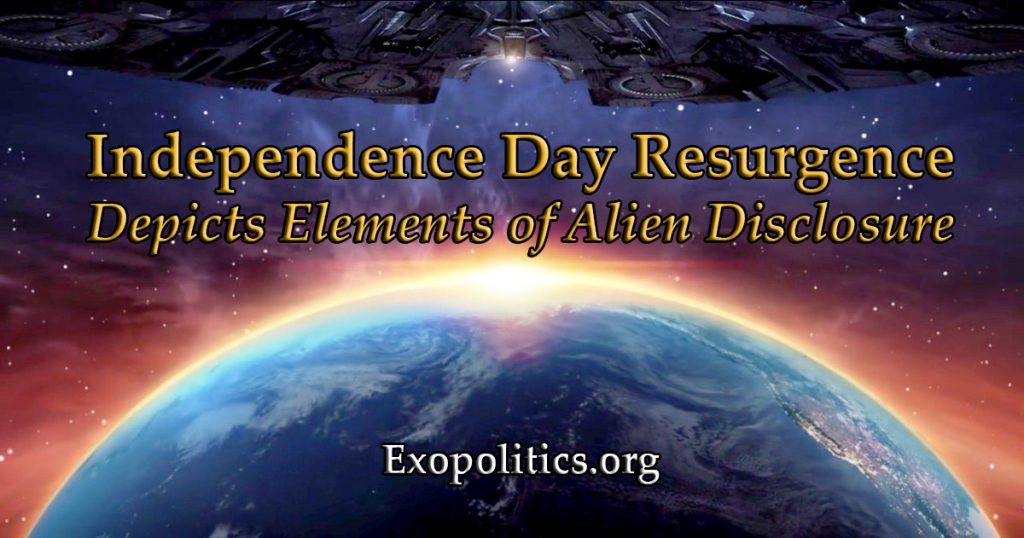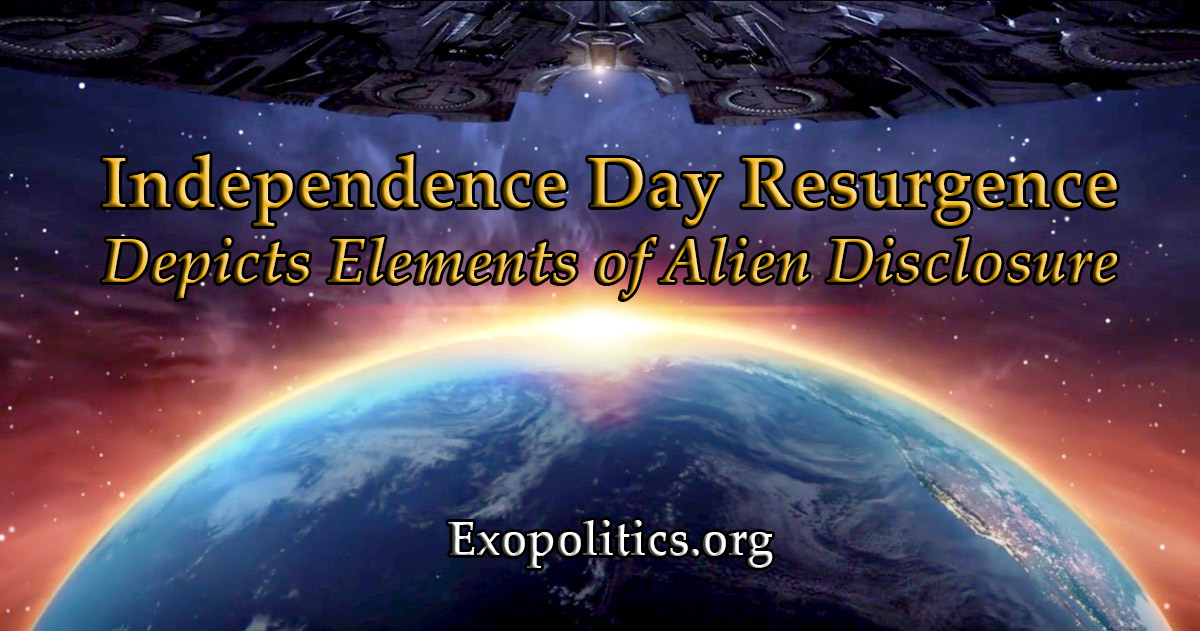 A commemorative video is now circulating to promote the upcoming June 20 release of the Independence Day sequel: Resurgence. There are key elements in the video, however, which suggest a "soft disclosure" agenda – preparing the public for official announcements of the existence of advanced antigravity spacecraft that can defend Earth against hypothetical alien threats.
The video pays tribute to the fictional 1996 attack by extraterrestrials on Earth depicted in the original Independence Day movie. The video lauds historic global efforts by nations to unify in forming a global defense force called "Earth Space Defense", whose job is to defend Earth from future attacks.
A photo from 1998 shows actual world leaders at the time, Jean Chretien (Canada), Francois Mitterrand (France), Boris Yeltsin (Russia), and Tony Blair (Britain), standing alongside the hypothetical U.S. leader, President Thomas Whitmore.
Now 20 years later, a new extraterrestrial threat is emerging, but in the meantime Earth has created fleets of antigravity space fighters, a military base on the moon, killer satellites, and many other advanced weapons based on recovered alien technologies from the 1996 attack. Earth is apparently ready to defend against a renewed alien threat.
More significant is the commemorative video's depiction of the Earth unifying in the 1990's to form a coordinated global strategy for defending against an extraterrestrial threat. Of course this is a fictionalized version of world history that never officially occurred, but did something similar to these fictional events really happen behind the scenes?
It's well known that President Ronald Reagan gave a speech at the United Nations in September 1987 calling for the world to unite in dealing with an alien threat. He said:
In our obsession with antagonisms of the moment, we often forget how much unites all the members of humanity. Perhaps we need some outside, universal threat to make us recognize this common bond. I occasionally think how quickly our differences worldwide would vanish if we were facing an alien threat from outside this world. And yet, I ask you, is not an alien force already among us?

Reagan then appeared to walk back his startling remarks by asking: "What could be more alien to the universal aspirations of our peoples than war and the threat of war?" Earlier and subsequent comments reveal that what he really meant by "alien force" was an extraterrestrial threat, rather than a more mundane reference to the danger of global war.
In 1995, he had asked the Soviet leader, Mikhail Gorbachev, whether he would pledge cooperation with the USA in responding to an extraterrestrial threat. In a 2009 interview, Gorbachev confirmed Reagan's strange request during their 1995 Geneva Summit:
From the fireside house, President Reagan suddenly said to me, "What would you do if the United States were suddenly attacked by someone from outer space? Would you help us?"
I said, "No doubt about it."
He said, "We too."

Beginning in 1989, the Cold War came to a rapid end with the collapse of the Berlin Wall, and by December 1991, the Soviet Union was no more. President Yeltsin became the first President of the Russian Federation, which was now focused on rebuilding what was left of the crumbling economy of the largest republic from the former Soviet Union.
As far as the world knew, there was no link between the rapid collapse of communism in Europe, and Reagan's efforts to get the world to unite in opposing an extraterrestrial threat.
However, according to secret space program whistleblower, Corey Goode, the United Nations did covertly come together to form what he has called a "Global Galactic League of Nations."
In an email interview, Goode replied to a question concerning the relationship between the alleged "Global Galactic League of Nations" space program and the United Nations:
The beginning of this program coincides with a particular speech given to the U.N. by President Reagan that mentions how quickly we would come together if there was an alien threat.

The goal of this space alliance was to find defensive technologies that could protect the Earth against an undisclosed extraterrestrial threat.
Goode claims that interstellar space craft using antigravity technologies were built, which would seek out advanced technologies in other solar systems that could be used to defend the Earth.
He says that during his 20 year tour of duty (1987 – 2007) he visited a remote moon base belonging to this Galactic League of Nations that was located in another solar system. The moon base had scientists from all over the world working together to develop futuristic technologies to defend the Earth.
In the book, Insiders Reveal Secret Space Programs & Extraterrestrial Alliances, whistleblower testimonies and documents are examined which lend surprising support to Goode's remarkable information. After the book's publication, another piece of evidence emerged supporting Goode's claim that key members of the United Nations were secretly negotiating a coordinated response to an "extraterrestrial threat" during the end of the Cold War.
In a November 21, 2015 lecture, veteran UFO researcher Dr. Steven Greer said that he had spoken with the Crown Prince of Lichtenstein, Hans-Adam, who had revealed to him a startling extraterrestrial disclosure plan being negotiated in 1989 at the United Nations. Prince Hans-Adam was participating in the high level negotiations involving Presidents Ronald Reagan and George H.W. Bush (who replaced Reagan on January 20, 1989), Mikhail Gorbachev (Secretary General of the USSR), along with other world leaders who were meeting with Perez de Cuellar, as the Cold War was coming to an end.
Greer said that the disclosure plan was aborted at the 11th hour on November 30, 1989, after Perez de Cuellar was involved in an abduction event where he was forcibly taken to a spacecraft and threatened by extraterrestrials. Greer explained what Prince Hans-Adam had told him:
He said what happened was that Perez de Cuellar … was coming back from a 3 am late night planning session for this event when he was abducted by aliens from his motorcade in Manhattan … Perez de Cuellar was taken somehow out of the motorcade onto an ET craft where he was threatened by the ETs and told: If you disclose this information, we will abduct every world leader involved, including the President of the United States.
Greer went on to say that the event was actually a staged abduction. It involved highly classified corporate programs using bioengineered "Programmed Life Forms" designed to look like real extraterrestrials.
Nevertheless, as far as key United Nations members were concerned, according to Prince Hans-Adam telling of the incident, the Earth was facing an alien threat that was among us, just as Reagan had warned in his 1987 speech.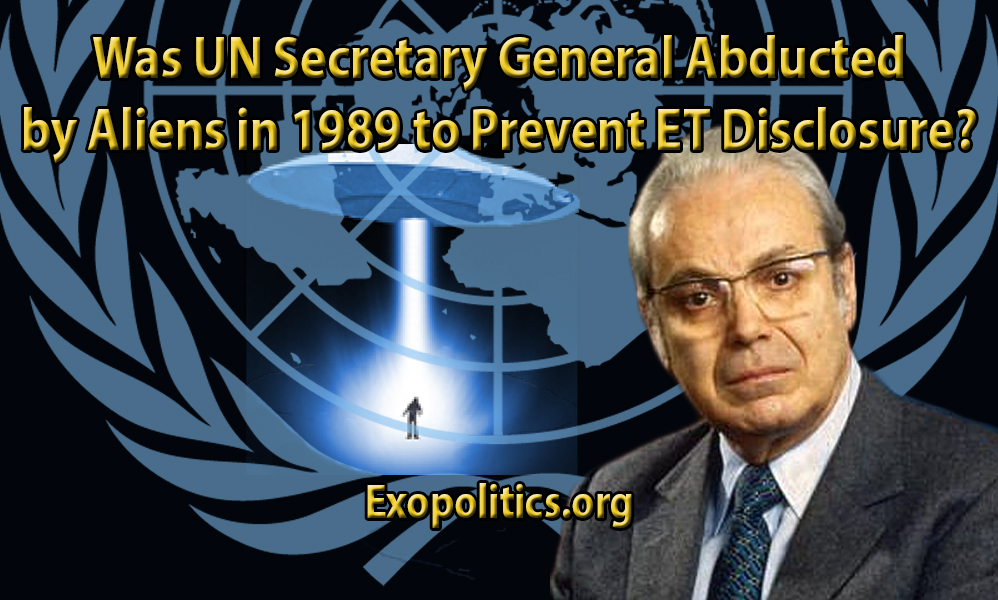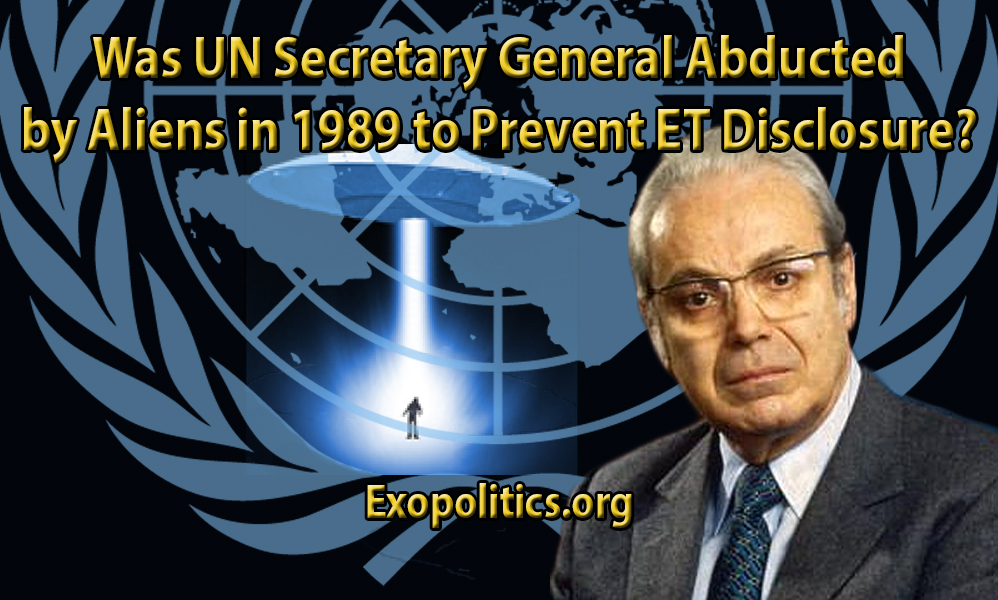 Adding another level of complexity to the 1989 abduction incident involving de Cuellar, is the Linda Napolitano UFO abduction case that occurred on the same night, and was extensively researched by Budd Hopkins in the book, Witnessed.
Hopkins claimed that he was able to get directly in touch with de Cuellar who privately confirmed that he had seen the Napolitano abduction. Hopkins says that he met with de Cuellar who insisted on keeping his involvement in the incident confidential, despite Hopkin's repeated efforts to persuade him to go public.
The testimony of Prince Hans-Adam, as relayed by Greer, is supported to a significant extent by the impressive evidence accumulated in the Napolitano abduction case by Hopkins. The emerging conclusion is that a secret 1989 United Nations plan for extraterrestrial disclosure was aborted due to a threat the UN Secretary General Perez de Cuellar received.
Either genuine extraterrestrial visitors conducting abductions, or aliens (PLFs) created by a cabal of transnational entities staging false flag alien abductions, did not want humanity to learn the truth about extraterrestrial visitation.
The events surrounding de Cueller's involvement in the November 1989 abduction incident confirms that major members of the United Nations were meeting at the time to coordinate a response to extraterrestrials who were perceived, genuinely or not, as a threat. Perhaps more significantly, global leaders believed – based on the abduction phenomenon – that hostile extraterrestrials were already among us.
This makes it plausible that the United Nations decided to cooperate in building an interstellar fleet in the 1990's using classified technologies developed from crashed alien vehicles. The secret U.N. Space Fleet would travel to other star systems for help in defeating an extraterrestrial threat, part of which involved alien abductions on Earth, in what might be described as an interstellar SOS.
Consequently, there is significant evidence supporting Goode's claim that the major nations of the world did come together in the 1990's to form a unified scientific exploratory space fleet which would seek out defensive technologies for the Earth. Rather than an overt alien invasion as depicted in the original 1996 Independence Day, a covert alien invasion was underway as far as world leaders were aware. The events depicted in the commemorative Independence Day video are therefore not entirely fictional.
Major world leaders did indeed come together in the 1990's to help protect the Earth from a hypothetical alien threat. This was done, however, covertly, rather than with public knowledge as depicted in Independence Day: Resurgence.
While Resurgence is likely to be another in another long line of Hollywood blockbusters depicting extraterrestrial life as an existential threat to humanity, there is an element of "soft disclosure" based on actual events in it as well.
Based on the preceding analysis, a remarkable conclusion emerges. The world public is being subconsciously conditioned, through fiction, to accept the reality of advanced fleets of antigravity spacecraft reverse engineered from crashed alien craft, futuristic space weapons, and a unified global space command secretly established in the 1990's under the auspices of the United Nations.
© Michael E. Salla, Ph.D. Copyright Notice
Further Reading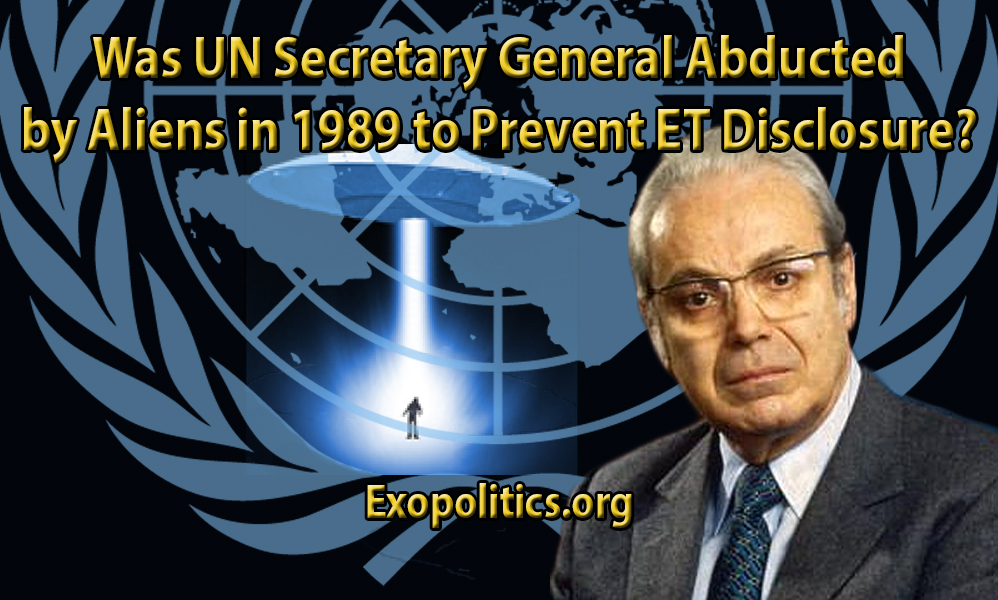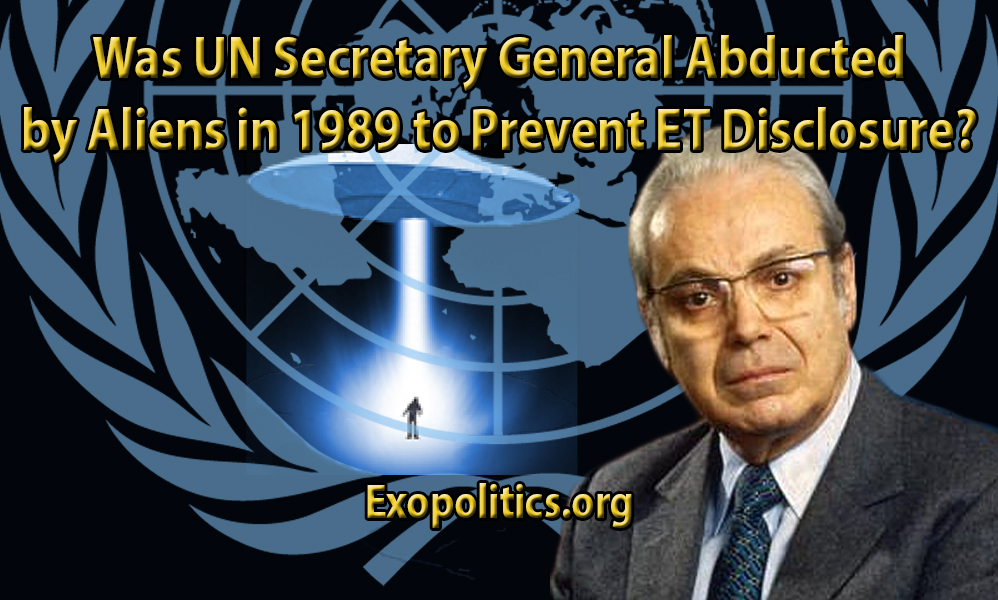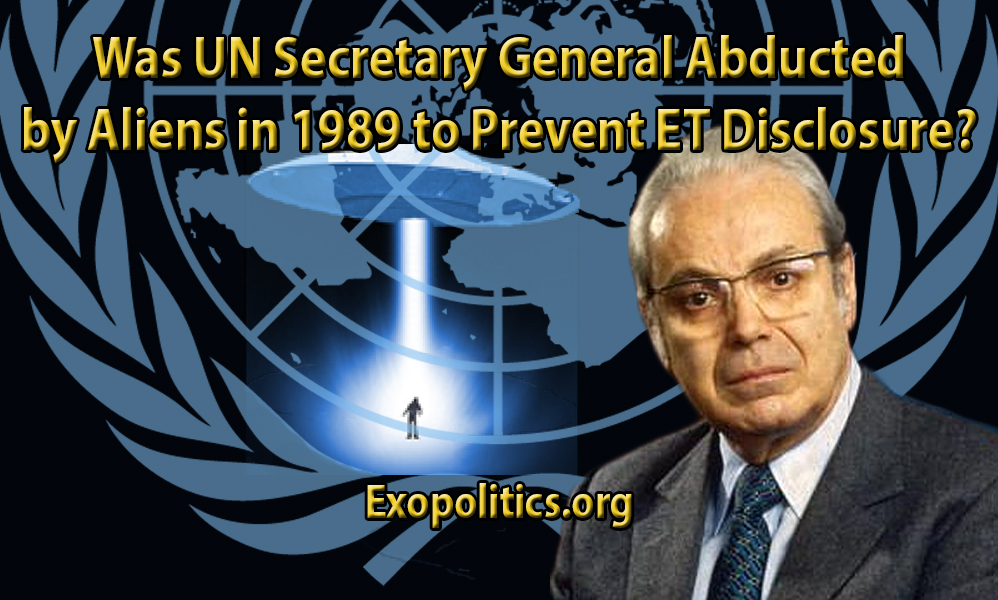 In a November 21 lecture, veteran UFO researcher Dr. Steven Greer made the startling claim that in 1989, the United Nations Secretary General, Javier Perez de Cuellar, was abducted in a false flag alien event. Greer said that the fake abduction was designed to block an initiative by leading world statesmen meeting at the United Nations to disclose the truth about extraterrestrial life and technology to the world.
In his lecture, Greer said that he had spoken with the Crown Prince of Lichtenstein, Hans-Adam, who had revealed to him the startling extraterrestrial disclosure plan being negotiated in 1989 at the United Nations. Prince Hans-Adam was participating in the high level negotiations involving Presidents Ronald Reagan and George H.W. Bush, Mikhail Gorbachev (Secretary General of the USSR), along with other world leaders who were meeting with Perez de Cuellar, as the Cold War was coming to an end.
Greer said that the disclosure plan was aborted at the 11th hour, after Perez de Cuellar was involved in an abduction event where he was forcibly taken to a spacecraft and threatened by extraterrestrials. Greer explained what Prince Hans-Adam had told him:
He said what happened was that Perez de Cuellar … was coming back from a 3 am late night planning session for this event when he was abducted by aliens from his motorcade in Manhattan … Perez de Cuellar was taken somehow out of the motorcade onto an ET craft where he was threatened by the ETs and told: If you disclose this information, we will abduct every world leader involved, including the President of the United States.
Greer went on to say that the event was actually a staged abduction. It involved highly classified corporate programs using bioengineered "Programmed Life Forms" (PLFs) designed to look like real extraterrestrials. He said that the PLFs, which he called "aliens" as opposed to genuine extraterrestrials, were used in many thousands of false flag abduction events to fool the world into believing we were facing an extraterrestrial threat. The PLFs would implant abductees with tracking chips so they could easily be abducted in the future by the corporations involved,
To support his startling claims, Greer supplied documents showing that he was indeed in communications with Prince Hans-Adam, and met with him in New York in July 1994. The letters show that Hans-Adam had agreed with Greer's analysis of the role of transnational corporations in managing the UFO/extraterrestrial phenomenon, but thought Greer had little chance of success in his disclosure efforts.
Greer also supplied whistleblower testimony from William Pawelec, a former military/corporate contractor, who had disclosed that small electronic implant chips had been developed in 1979 for tracking purposes. These could be implanted into people, making them trackable even from an altitude of 120 kilometers. Pawelec said that billions of the chips were made by a division of the Siemens corporation, but they had disappeared. 
Greer also supplied a document from the Strategic Studies Institute located inside the US Army War College, which detailed an elaborate psychological warfare plan to deceive the world about extraterrestrial life by staging false flag alien abductions. The plan envisaged traumatizing abducted individuals sufficiently so that they would be willing accomplices in a future false flag alien invasion scenario.
The documents and whistleblower testimonies Greer cited raise important questions about why the Siemens corporation had manufactured billions of chip implants soon after 1979, which could be used to track individuals. Pawelec testimony is especially significant since implants have been found in many abductees that proved to be electronic tracking devices them.
More recent research on implants has shown that these can be used to remotely influence individuals from satellites using advanced computer systems. A U.S. Patent issued in 2000 reveals that individuals with brain implants can have their thoughts and emotions electronically influenced by satellites remote controlled by advanced computers.
Greer's documents and Pawelec's testimony strongly suggest the existence of a highly classified corporate military program to monitor and remotely influence individuals with implants for psychological warfare purposes. Furthermore, one of the Edward Snowden NSA files, also confirms that UFOs were a key part of covert online operations.
Was Perez de Cuellar subjected to a false flag alien abduction for psychological warfare purposes, as Greer claims?
The crux of Greer's version of events is that Perez de Cuellar was abducted and threatened by the 'aliens' (PLF's impersonating extraterrestrials), after leaving a late night planning session for an upcoming extraterrestrial disclosure plan by the United Nations. Yet there is compelling evidence that Perez de Cuellar was not actually abducted himself, but had witnessed, along with his two bodyguards, an alien abduction of a woman around 3 am on November 30, 1989.
Budd Hopkins, a respected UFO researcher, was the first to investigate the Linda Napolitano (aka Linda Cortile) alien abduction case. Essentially, Napolitano claims that she was floated out of her 12th floor bedroom window by three aliens that appeared in a bluish-white beam of light, projected from a large glowing UFO hovering over her Manhattan apartment complex. She was then taken inside the alien craft and had various experiments conducted on her.
In early February 1991, Hopkins received a letter from two men claiming to be police officers using the first names Richard and Dan, who had seen the Napolitano abduction. Richard and Dan were acting as bodyguards for an unidentified VIP and were in a car two blocks away. They told Hopkins:
There was an oval-shaped object hovering over the top of the apartment building two or three blocks up from where we sat. We didn't know where it came from. It happened too fast. Its lights turned from a bright reddish orange to a whitish blue coming out of the bottom. Green lights rotated round the edge of the saucer. A little girl or woman wearing a white gown sailed out of the window in a fetal position – and then stood in mid-air in this beam of light. I could see three of the ugliest creatures I ever saw. I don't know what they were. They weren't human. Their heads were out of proportion, very large heads with no hair. Those buggers were escorting her into the craft. My partner screamed, 'We have got to get them.' We tried to get out of the car but couldn't. After the woman was escorted in, the oval turned reddish orange again and whisked off.
The third witness had seen the abduction from a ¼ mile away while traveling on the Brooklyn bridge. Up to 23 witnesses have come forward describing various aspects of abduction incidents described by Napolitano.
The VIP was later identified by the two bodyguards as Perez de Cuellar. Hopkins claimed that he was able to get directly in touch with de Cuellar who confirmed to Hopkins that he had seen the abduction. Hopkins says that he met with de Cuellar who insisted on keeping his involvement in the incident confidential, despite Hopkin's efforts to persuade him to go public.
Hopkin's investigation of the Napolitano incident showed that there were four direct witnesses in total, including de Cuellar, to Napolitano's abduction.
So, there was an abduction that de Cuellar had seen, but was he directly involved as Greer was told? According to the two bodyguards, their car had stopped running during the sighting suggesting it was under the influence of the saucer shaped craft.
Also, it was later revealed that one of the bodyguards, Dan, had a lifetime of personal abduction experiences himself and was often paired with Linda Napolitano when they were children. He apparently recognized Napolitano from these childhood incidents, and became obsessive over her.
In one of her sessions with Hopkins, Napolitano revealed a startling development: "she thought somehow she was being used by the aliens to control the men.  She communicated with the men telepathically."  It can be concluded that while in the flying saucer, she was telepathically communicating with Dan and/or Perez de Cuellar on behalf of the aliens.
Later, Dan and Richard revealed they were CIA agents. As these additional details emerged, some investigators then dismissed the Napolitano case as clever disinformation to discredit Hopkins' abduction research.
Details from what Prince Hans-Adam told Greer, indicate Napolitano's abduction had happened at roughly the same time as Perez de Cuellar was himself directly involved in an abduction incident. The most plausible explanation is that de Cuellar had seen Napolitano's abduction, and was perhaps even telepathically influenced, rather than being abducted himself, as Greer was told.
Nevertheless, the latter possibility can't be ruled out entirely given the abduction history of one of his personal bodyguards, and problems experienced with the car around the time the abduction was occurring.
In either case, the Napolitano abduction had a powerful emotional effect on Perez de Cuellar and his bodyguards. It is easy to understand why Perez de Cuellar may have interpreted the abduction incident as a threat not to proceed with the United Nations disclosure plan. This is even more so if de Cuellar was receiving telepathic communications from Napolitano through Dan, on behalf of the aliens. All of this parallels with key elements of what Greer was told by Prince Hans-Adam.
In addition, Greer insisted in his lecture that the incident was a staged alien abduction, rather than a genuine extraterrestrial event. According to Greer, extraterrestrials are not involved in abductions or other hostile actions. In his opinion, extraterrestrials do not conduct overt hostile actions against humanity. If hostile acts occur, this is indicative of a false flag alien event staged by rogue classified programs run by transnational corporations in cooperation with elements of military-intelligence community of the world's major nations.
Greer's conclusion that there are no hostile extraterrestrials interacting with humanity is very controversial, and is refuted by the testimonies of many whistleblowers and experiencers claiming the contrary. Long adhering to his position, in May 2006 Greer launched a rare public rebuke of my exopolitics research for claiming that some extraterrestrial visitors behaved in a hostile manner. My response to him at the time is here.
In the Perez de Cuellar abduction, as related to Greer, the action was overtly hostile in terms of threats being made to abduct other world leaders. Greer concludes that this is evidence of it being a false flag alien event that belongs to the ongoing psychological warfare operations against the world public.
It is plausible that the 1989 abduction was indeed designed to be a threat and warning not to proceed with the United Nations extraterrestrial disclosure plan. As for whether the Napolitano incident was a staged alien abduction or a genuine extraterrestrial event, there is considerable room for debate. It was certainly the opinion of Budd Hopkins, who has done the most work in investigating the case, that it was a genuine extraterrestrial abduction.
Yet Greer does have some compelling documentary evidence that substantiates staged alien abductions as a tool for a broader psychological warfare campaign. One of the goals of which is to condition the world populace to accept a contrived hostile alien threat.
Regardless of the debate over whether the aliens in the Napolitano abduction case were genuine or not, what Greer has done in releasing Prince Hans-Adam's testimony in his November 21 lecture, is that it strongly confirms Hopkin's earlier claims that Perez de Cuellar was directly involved with the Napolitano abduction event. Whether de Cuellar was merely a witness to Napolitano's abduction, was himself abducted, and/or had received telepathic messages from the aliens, more research is required.
The testimony of Prince Hans-Adam, as relayed by Greer, is supported to a significant extent by the impressive evidence accumulated in the Napolitano abduction case. The final conclusion is astounding. A secret 1989 United Nations plan for extraterrestrial disclosure was aborted due to a threat the UN Secretary General Perez de Cuellar received. Either genuine extraterrestrial visitors conducting abductions, or aliens (PLFs) created by a cabal of transnational entities staging false flag alien abductions, did not want humanity to learn the truth about extraterrestrial visitation.
© Michael E. Salla, Ph.D. Copyright Notice
Further Reading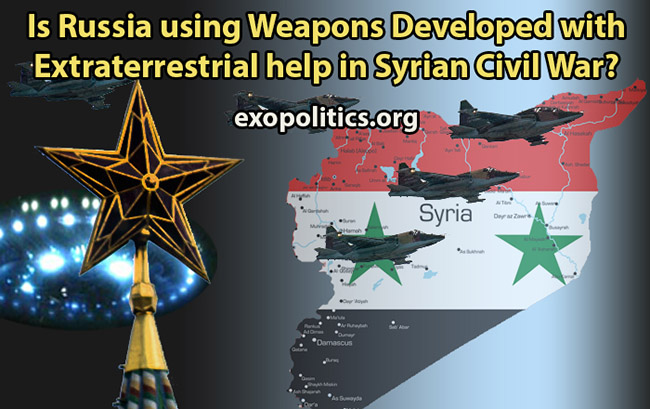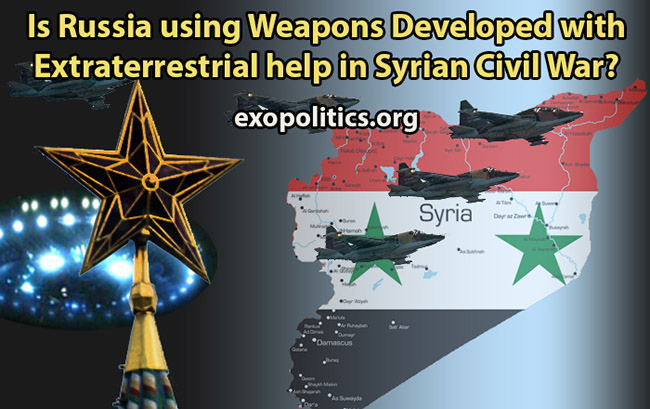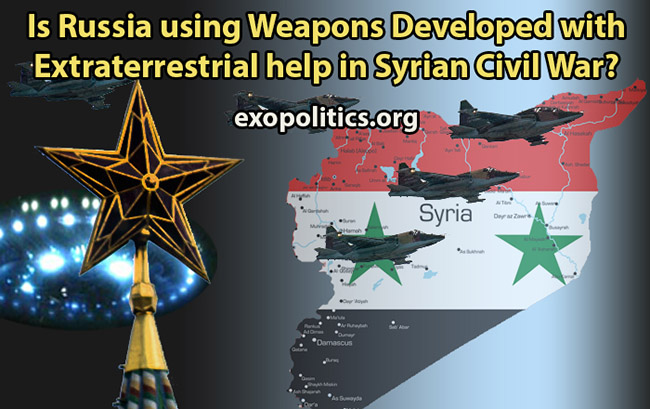 On October 14, Dr. Preston James, a columnist with Veterans Today, made startling claims about Russia using advanced weapons system developed through a secret agreement with extraterrestrial visitors in an article titled, "Putin's Wild Card in Syria."
James' article analyses the game-changing nature of Putin's military intervention in Syria, and the nature of the extraterrestrial inspired weapons systems used to devastating effect:
What exactly do the Russians now have as far as ultra high-tech weaponry? The list is long, but includes supersonic torpedoes, which create their own ability to travel through matter surrounding their path using inter-dimensional cloaking. Russia has missiles which, after launch, operate as if they are "hived" and use inter-dimensional entangled communication to evade interception, to regroup and to re-target, taking strange flight patterns which can change from straight to spirals to semi circles and more. Some insiders believe that the Russians now have the ability to generate inter-dimensional cloaking of some of their stealth aircraft and missiles, making them for the most part undetectable in flight and even shut-off spy satellites.
James' analysis has some remarkable similarities to the claims of Corey Goode, whose whistleblower testimony concerning multiple secret space programs has been the focus of a recently published book, and an online television series.
James begins "Putin's Wild Card in Syria" by distinguishing the sources he used from those making up the military intelligence community associated with Veterans Today:
Even though some of the Veterans Today Directors may have Beyond-black Secret Space War clearances, none of the Secret Space War material in this article was sourced by them or through them and comes from independent outside sources.
James does not name his outside sources, but they do not include Corey Goode, whose information differs in key ways. Yet when it comes to Putin's role in dealing with an elite control group manipulating humanity and suppressing information about advanced technologies and extraterrestrial visitors, James' and Goode's information align closely. This is either a remarkable coincidence, or important corroboration that Putin has indeed reached agreements with extraterrestrial visitors, which have supplied advanced weapons technologies to the Russians.
James describes the elite control group and its influence in the Syrian Civil War as follows:
It is now clear to the whole world that ISIS, ISIL, Daesh, Al Qaeda and Al Nusra and the like are little more than paid mercenaries of the Israeli-American Terror Machine, and are synthetically-created, engineered and deployed Gladio-style terror, all done to further the NWO Globalist Agenda of the Rothschild Khazarian Mafia (*RKM).
According to James, the RKM is associated with a nefarious group of extraterrestrials called the "Dracos" or the "Draconians":
The best information available suggests that the RKM is basically directed and energized by the Dracos, an incredibly evil race of cosmic predators that are large and powerful human inter-dimensional cosmic parasites that love to control, murder, torture and consume human flesh.  
Goode similarly refers to the Draconians as secretly directing Earth's elite control group, which he describes as the "Satanic/Luciferian Cabal." Goode says that he and another whistleblower using the pseudonym, Lt. Col. Gonzales, have attended meetings with the Draconians organized by a positive group of military insiders called the "Secret Space Program Alliance".
James refers to a Russian agreement with a positive group of extraterrestrials opposed to the Draconians and the Cabal/RKM:
Sources deep within Russia have reported that the Russian Federation has signed a treaty with a certain Alien ET group, and this particular Alien ET group has a long conflict with the a certain group that has allegedly been "advising and running" the top RKM Policy-makers who have served as their agent for taking over the whole world.
James goes on to say that the Russians have been given advanced weapons technologies by the positive extraterrestrial group that neutralize the best technologies available to the CIA/Mossad/Saudi equipped Islamic State groups backed by the Cabal/RKM:
At this time it is unknown what their long term agenda is, but so far they have equipped the Russian Federation with some astoundingly powerful weapons, especially ultra-high tech electronics which can temporarily shut off the electrical systems of whole ships or carriers and even aircraft and all group, air and satellite radar systems. Putin has allegedly been told that he should go ahead and checkmate the RKM and its Terrorists cutouts in Syria and Iran and not worry, because this Alien ET group now has his back.
James refers to an incident involving the U.S.S. Donald Cook as an example of these advanced extraterrestrial technologies being developed and used by the Russian military:
Some of Putin's secret space war weapons are shocking in their actual capabilities. One was tested on an America ship, the USS Donald Cook, last April 2014. As two Russian fighters flew over, the ship's electric supply was disrupted, shutting down all radar and Aegis defense systems. It was reported that the top officers were so upset that some of them resigned their commissions and left the Navy, feeling they could not even defend their own ships and crews anymore against such ultra high-tech weapons.
James information dovetails with Goode's own revelations of Putin's association with an "Earth Based Alliance" associated with the BRICS nations, which is dedicated to overturning the plans of the Illuminati/Cabal/RKM.
Goode describes Putin's role as follows:
Putin and other elements of the "Earth Based Alliance" that make up the BRICS Alliance among others that dove tail together are all working for the common goal of defeating the "Satanic/Luciferian Cabal" that is now in control of the majority of the world and responsible for not only amazing deceptions of his and other countries populations but also some of the most horrific Crimes Against Humanity that have ever taken place in known history. There are many of these crimes that have become more and more known through recent disclosures behind the scenes. This has only caused these groups and people to want to bring down these Secret Earth Government Syndicates now more than ever.
Goode has said that during Putin's ten day disappearance from March 6 to March 16, 2015, he or his representatives very likely attended a secret space program meeting held on the Moon where the use of advanced extraterrestrial technologies for defensive purposes was discussed:
The timing of his 10 day disappearance occurred exactly during the time of the SSP Alliance/Sphere Alliance Conference that was taking place on the LOC [Lunar Operations Command – a secret moonbase] along with many Earth Politicians (Non Cabal) and Regular Earth Citizens. I did not personally see him or have I been briefed that he was there. I was not involved in that portion of the conference. I do strongly suspect that he or his representatives were present.
Regarding the Donald Cook incident, Goode replied to the following question:
Q7. On April 12, 2014, the USS Donald Cook equipped with an Aegis Combat System was allegedly disabled by a Russian Su-24 tactical bomber deploying a sophisticated electronic jamming system. Was this an example of the kind of technological assistance given to Solar Warden and its earth allies to change the military/political balance of power on Earth?
[Goode] I have been told this is the case by several SSP Alliance members, but I have not seen any briefing reports personally to be able to vouch for that 100% myself. Other insiders have reported this as well so it is probably a safe speculation.
There is compelling circumstantial evidence supporting both James' and Goode's remarkable claims. Currently, all U.S. aircraft carriers have been removed from the Persian Gulf according to a CNN Report. According to James, this is because U.S. aircraft carriers currently have no effective defense against Russia's superweapons:
The last US Carrier group in the Mideast was called home, and this alone has confused many who thought the American nuclear carriers and their state-of-the-art Aegis missile defense shield were invincible and should stay put in order to stop ISIS…. . Some top weapons experts consider these carriers sitting ducks because of all the new Russian ultra high-tech weaponry recently deployed, which can temporarily deactivate their electrical supply systems and electronics, including their radar and sonar systems as well as their Aegis missile systems.
James concludes his article by claiming:
What few realize is that President Putin and the Russian Federation have now been "authorized" to checkmate the RKM in Syria and Iran and take it down if they don't start backing down. Putin is also well aware that the RKM has infiltrated and hijacked much of the Pentagon and the US Administration, as well as NATO.
Preston James' "Putin's Wild Card in Syria," contains incredible claims which lack the necessary corroborating hard evidence that many will demand to take it seriously. Yet his claims have remarkable similarities to those of another independent whistleblower, Corey Goode who has been rigorously investigated by several researchers and found to be very credible. Furthermore, the 2014 Donald Cook incident and the puzzling disappearance of all U.S. aircraft carriers from the Persian Gulf does lend support to James' incredible claims.
If James and Goode are correct, then Russia's military intervention in Syria using advanced technologies developed with extraterrestrial help is a game-changer. As James claims, it will checkmate the attempt by nihilistic forces (Cabal/RKM) to use Syria as a means of spreading discord and violence throughout the Middle East and beyond, and bring about a fulfillment of Biblical End Times prophesy.

Cabal/RKM control of the planet appears to be coming to an end with Putin's bold intervention. If so, not only will Russia put an end to nefarious plans to bring about a fulfillment of a devastating End Times World War, but also vindicate famed American prophet Edgar Cayce who in 1935 predicted that Russia would, after the collapse of communism, become the "hope of the world."
© Michael E. Salla, Ph.D. Copyright Notice
Further Reading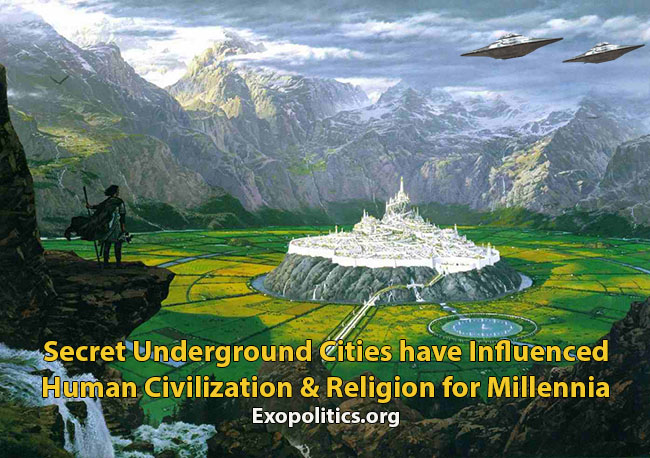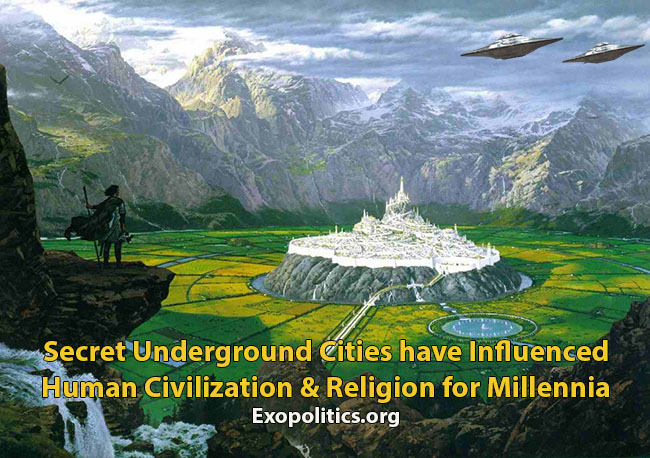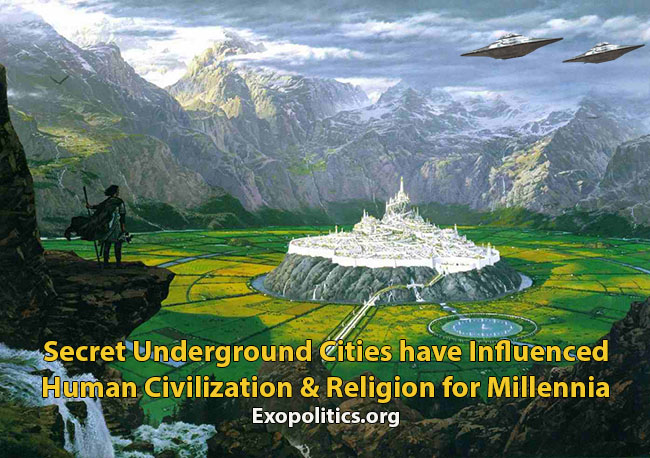 An ancient network of underground cities, tens of thousands of years old, has exerted a powerful influence over human society and religion for millennia according to secret space program whistleblower, Corey Goode. More recently, he claims this network of cities has been negotiating with major nations that have developed secret space programs.  
On September 23, Goode released a report describing a diplomatic meeting with members of seven ancient underground civilizations that recently had to come together to form an alliance due to political and technological changes on the Earth's surface.  In the latest episode of Cosmic Disclosure on GaiamTV, Goode reveals his knowledge of these underground civilizations that are described as the "Agartha Network" – a coalition of underground cities described in "smart glass pads" he had access to during his secret space program service from 1987-2007.
Goode says that the Agartha Network was created over time by successive cataclysms on the Earth's surface that led to different civilizations establishing underground refuges for their elites, along with their most advanced technologies. As the number of ancient underground cities expanded over the ages, many joined to form the Agartha Network, which possessed advanced spacecraft called the "Silver Fleet".
The Agartha Network and the other breakaway ancient civilizations were not alone in establishing refuges in underground locations throughout Earth's turbulent surface history. Non-human races that include 'Raptors' (a hybrid Reptilian and Avian race), were also present, and played significant roles in Earth's cataclysmic history.
Also, a war-like Reptilian race called the 'Draconians' first appeared around 300,000 years ago according to Goode, and began genetic experiments with some the surface inhabitants that survived earlier cataclysms. Other human-like extraterrestrials also began genetic experiments – a total of 22 – with the remnants of surface humanity.
The Draco and the human extraterrestrial visitors had major wars in which the fortunes of one side or the other would wax and wane over the ages. Goode said that Zecharia Sitchin's The Earth Chronicles, is a fairly accurate account of these battles. Meanwhile, the Agartha Network closely monitored conditions on the Earth's surface, and the different extraterrestrial visitors conducting genetic experiments, while fighting amongst each other.
Goode says that the Agartha Network pretended to be gods when they met members of surface humanity, thereby either giving birth to, or, at the very least, influencing ancient pagan religions. Among the Greek 'gods', and similar gods from other religious traditions, many were actually members of the Agartha Network.
In Goode's September 23 report, the Agarthans and other underground civilizations claimed that they did so in order to bring a measure of order and civilization to a turbulent surface humanity, which had been genetically modified by Draconians and other extraterrestrial visitors to be aggressive.
Goode said that it was not only the Agartha Network that pretended to be gods to surface humanity, but also some visiting extraterrestrials who did likewise. These included bird-like extraterrestrials revered by the ancient Egyptians such as Thoth and Horus. According to the "Law of One" material, the RA group says that despite their efforts to be merely teachers to the ancient Egyptians, they were instead revered as gods.
Goode's claims are supported by ancient historians like Manetho (circa 300 BC), who describes pre-dynastic Egypt as being directly ruled by the gods, who walked among surface humans for millennia. These 'gods' intermarried with humanity to produce generations of demi-gods who ruled over humanity for extended periods. A similar scenario is described in the Book of Enoch.
In an interview on Coast to Coast AM on September 14/15, Goode said that the gods (Agarthans and visiting extraterrestrials) walked the Earth's surface until around the fourth century AD.  This approximate date coincides well with the gradual disappearance of the pagan religions and the ascendance of Christianity after the conversion of the Roman Emperor Constantine in 325 AD.
Around 600 AD, Islam was established and rapidly spread throughout the Middle East, North Africa and Asia. The ancient pagan traditions rapidly disappeared as the two major monotheistic faiths spread around the world, often at the point of a sword.
Significantly, both of these monotheistic faiths incorporated significant elements of the Jewish religion ('Old Testament' in Christianity) that referred to an unknown transcendent 'God' called Yahweh or Jehovah. The Old Testament has numerous references to this alleged transcendent God commanding the ancient Hebrews to ruthlessly eradicate the indigenous pagan peoples in what would today be recognized as ethnic cleansing. This suggests that the Hebrew 'God' was more likely another advanced extraterrestrial or subterranean imposter.
If Goode is correct, the Agartha Network's influence over surface humanity, through ancient pagan beliefs, significantly waned with the spread of Christianity and Islam that incorporated the Hebrew belief in an unknown transcendent God. Were these two monotheistic faiths genuinely a result of divine intervention by a transcendent being, or were they likewise influenced by one or more different extraterrestrial civilizations impersonating a transcendent being?
In the modern era, Goode claims that the Agarthans attempted to assert their influence over surface humanity by this time pretending to be extraterrestrials from other worlds. They apparently did so with German Secret Societies, which along with Nazi SS, developed flying saucer technologies in the World War II era.
The Agartha Network negotiated and established treaties with German Secret Societies, accepting some of their members into their underground cities, while giving assistance to others in establishing underground bases  in Antarctica and South America, according to Goode.
The Germans shared a similar Nordic genetics with some members of the Agartha network that they came into contact with in Antarctica and South America. Yet, not all ancient underground civilizations share these racial characteristics as Goode made clear in his September 23 report, which he illustrated with several pictures released on October 7.
Goode says that the Agartha Network pretended to be extraterrestrials with the U.S. based secret space program, until they were exposed in the 1970's. More recently, there have been negotiations conducted between the Secret Space Programs and the Agartha Network, as Goode revealed in his September 23 report.
If Goode's account of what he read in classified briefing documents in secret space programs is accurate, then his account of the Agartha Network and its history raises many important issues. On the one hand, the Agartha Network and other ancient breakaway civilizations have clearly influenced surface humanity by pretending to be gods, and more recently extraterrestrials.
On the other hand, the Agartha Network represents a repository of ancient knowledge and history that to some extent predates the intervention of extraterrestrials on the Earth's surface. Therefore they can help surface humanity learn much about its origins and potential, despite the bewildering assortment of changes introduced by so many extraterrestrial visitors through long-term genetic experiments.
While critics claim that there is no hard evidence supporting Goode's testimony, there is in fact documentary evidence supporting some of his key claims, which is detailed in the book, Insiders Reveal Secret Space Programs and Extraterrestrial Alliances.  In addition, Goode's sincerity, consistency in his claims, along with compelling circumstantial evidence, all point to his disclosures being genuine rather than contrived.
Goode's latest Cosmic Disclosure interview, together with his September 23 report, outlines a version of history that needs to be seriously considered by all seeking to find the truth about humanity's origins, and its interactions with ancient civilizations and extraterrestrial visitors. If negotiations are currently being conducted with the Agartha Network, as Goode claims, then we may not have to wait too long for future disclosures that turn human history on its head, and reveal many uncomfortable truths about our origins and major religions.
© Michael E. Salla, Ph.D. Copyright Notice
Further Reading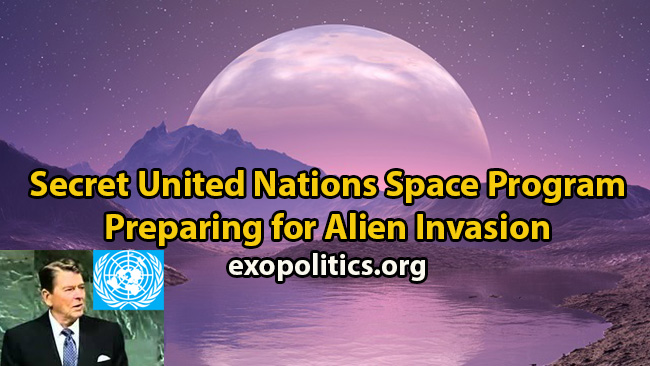 A secret space program was created for United Nations members states in the early 1990s that had agreed to cooperate for an alien invasion, according to the latest startling revelation by whistleblower, Corey Goode. He discloses, in his newly released Cosmic Disclosure Gaia TV interview, more details about the United Nations space program, which he had earlier briefly discussed in an email interview, as a NATO-type space program called the "Global Galactic League of Nations." Goode says that the origins of the secret UN space program can be dated to the 1980s, with President Ronald Reagan's statements concerning the need for global cooperation to prepare for an alien threat.
Goode began the interview by saying that during his 20 year tour of duty with a number of secret space programs, he visited a moon base in another solar system belonging to the Global Galactic League of Nations (GGLN). He says that he traveled there through a portal shuttle system, which made interstellar travel between the Earth and the exomoon very rapid – only a few minutes! Once there, Goode says that he saw personnel from many different nations in a very relaxed mood,  similar to what is depicted in the fictional Stargate Atlantis TV series. The mood on the GGLN moon base contrasted 180 degrees with what Goode experienced on the Mars colonies controlled by the Interplanetary Corporate Conglomerate.
The GGLN exomoon had a breathable atmosphere that orbited a nearby gas giant, according to Goode. He was told that the gas giant was part of the Pleiades star system, but was unable to confirm this. Most of the moon base personnel were scientists and engineers, who were working on advanced technologies that had been supplied to them by the Interplanetary Corporate Conglomerate. They were developing these technologies for defending the Earth from a possible alien invasion.
Goode elaborated on his earlier disclosure concerning the connection between Ronald Reagan's statements about alien threats, the most famous of which was delivered at the United Nations General Assembly on September 21, 1987. This speech was the catalyst for United Nations member states reaching an agreement for forming a secret space program.
The GGLN would be supplied with advanced space technologies supplied by the same multinational aerospace corporations, which had become the backbone of the Interplanetary Corporate Conglomerate.
Goode's final conclusion was that the GGLN was heavily compartmentalized and manipulated into believing they were building advanced defense systems to protect the Earth from an alien threat. They were not privy to all the information about different extraterrestrials, and thus could be easily manipulated into believing they were the tip of the spear for defending Earth. Goode did not discuss who the aliens were that might be threatening the Earth, but said it was based on what Reagan had earlier revealed.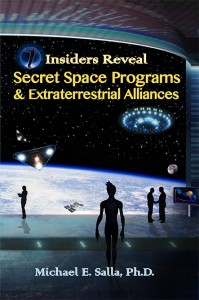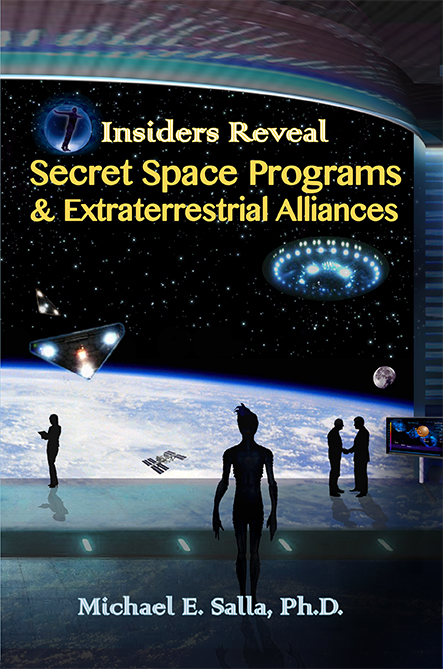 In the forthcoming book, Insiders Reveal Secret Space Programs & Extraterrestrial Alliances, a chapter discusses the relationship between Ronald Reagan and the UN secret space program. An alleged briefing Reagan was given in 1981 concerning hostile aliens is analyzed as the catalyst for his later statements concerning an alien threat and the need for planetary cooperation. The book further discusses how this unprecedented level of global cooperation was the real reason for the end of the Cold War.
The Cosmic Disclosure episode discusses other important historical developments, including the Soviet Union's development of "cosmospheres," where cosmonauts could travel into space in small metallic spheres, most of which could accommodate up to three personnel, with larger ones holding even more personnel. The Soviets used their cosmosphere sphere program as leverage for having a greater role in the secret space programs being developed in the United States in the late 1950s. Once again, this is an episode of Cosmic Disclosure that you don't want to miss.
© Michael E. Salla, Ph.D. Copyright Notice
[Note: The first two episodes of Cosmic Disclosure are available for free on the Gaia TV website. The first episode is on Youtube.  To watch the whole season of Cosmic Disclosure, you need to subscribe to Gaiam TV. If you subscribe using this link, then a portion of your monthly subscription will go towards supporting Corey Goode as he continues his disclosures. His  website is here.]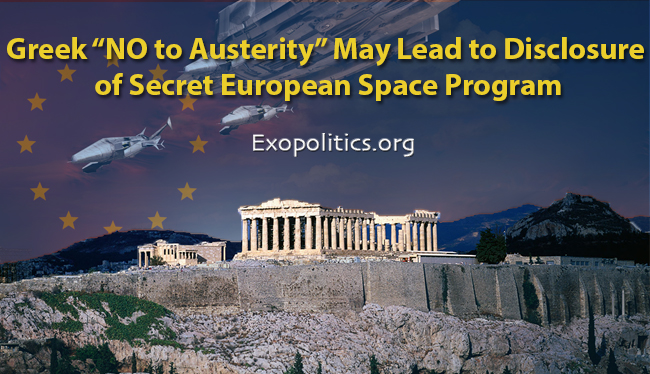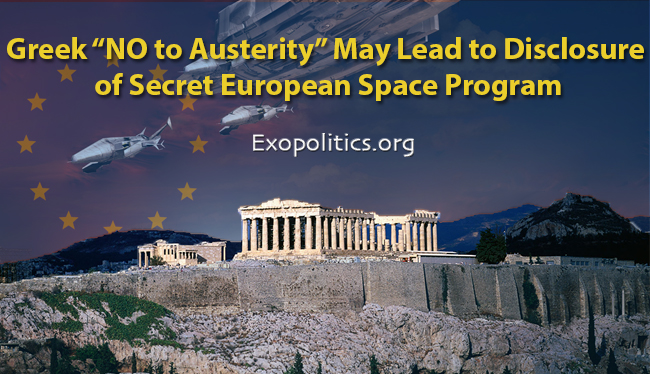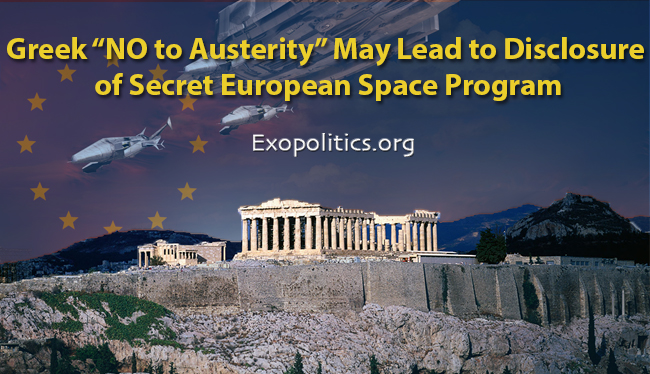 Sunday's vote in Greece was a simple question about whether or not voters would accept the latest bailout package by "the Troika" of major financial institutions: the International Monetary Fund, the European Central Bank and the European Commission. By voting 'No', the Greek people said that they rejected the Troika's core demand that staying within the European Union's fiscal system meant adhering to its strict limits on government spending in relation to national debt levels.  Maintaining these strict fiscal limits, the general public was told, enables inflation to stay low and preserves the value of the currency, which for Europe is the Euro. In reality, minimizing government public spending to preserve the Euro's value, enables more funds to be siphoned off by the European Central Bank and other national central banks into a highly classified black budget for a multinational secret space program where European nations play a prominent role.
The current policy of the European Central Bank is the reverse of mainstream fiscal policy. In periods of recession or low economic growth, the idea is that governments spend money to stimulate the economy. Governments usually do this by issuing treasury bonds that private entities, central banks or other governments buy. These government treasury bonds become a debt to be repaid at a future time. Greek governments have been doing this for decades to maintain welfare policies, and overall government debt has reached an unsustainable level of nearly 180% of the Gross Domestic Product, well over what European Union rules allow.  Hence it was argued by the Troika that the Greek government needed to cut its spending and bring down the overall debt level. This led to budget cuts by previous Greek governments that created austerity in terms of loss of public service jobs, reducing government pension payments, and cut backs in many other government programs. Greeks were told these cuts were necessary to bring down government debt levels, and to continue to use the Euro and stay in the European Union.
What Greeks and the public in other countries aren't being told is that the international monetary system is designed to cut government spending as far as possible not to just maintain currency value and the wealth of its national elites, but to generate funds that can be secretly siphoned off into different black budgets controlled by private entities. These private entities work closely with the international central banking system and intelligence communities of major nations. The black budget funds are used for classified programs that increasingly consume financial resources as they become operational.
A good example of how black budgets are set up and secretly used is what occurs in the USA. The 'official' black budget comprises single line items in the Department of Defense (DoD) budget that don't refer to any real weapons system. These single line items are covers for a US Congress sanctioned and publicly funded 'black budget' – a top secret slush fund for intelligence organizations such as the CIA, and classified weapons programs by the DoD. There is, however, a second black budget that is not Congressionally sanctioned, but it is nevertheless publicly funded – America's 'unofficial' black budget.
The key to uncovering the size of the unofficial black budget in the USA is the chronic accounting anomalies in the Department of Defense budget. In the three year period from 1998-2000 when the DoD was audited by the Office of the Inspector General, it was found that an average of 1.7 trillion dollars per year could not be accounted for. These auditing anomalies are evidence that well over one trillion U.S. dollars annually was being siphoned through the Department of Defense for secret distribution to various military intelligence agencies and corporate contractors, and the 'deep black' programs they support. The international central banking system works closely with national intelligence organizations such as the CIA to manipulate international currency values in ways that maximize funds secretly being siphoned off into "unofficial" black budgets of major nations. All this points to a vast international network of 'deep black programs' run by major nations including Germany, which is leading the European effort to pressure the Greek government to pass austerity policies.
According to recent whistleblower testimony, the most expensive deep black programs concern off-world fleets of classified spacecraft with secret bases in the solar system, and beyond. Corey Goode claims to have been a delegate at a recent series of meetings involving these deep black programs, and disclosed one of these is a secret space program that comprises many European nations that maintain a deep interstellar fleet. He says that at these "Alliance Conference" meetings this fleet was described as a "League of Nations" Secret Space Program (SSP):
Recently in Alliance Conferences they were referred to as the "League of Nations Program." Apparently this was the one where I arrived and all of the people were relaxed in another Sol System and were from MANY different countries. There were literally more flags on their shoulders than I could identify (countries like Estonia etc…). This group was based almost entirely outside of the Sol System and was a relatively newer SSP that was created for all countries to participate in, have exchange of information and technology and to encourage the countries to keep silent on the SSP Programs.
This multinational secret space program with many European nations is largely controlled by private corporations deeply linked to commercial banks that own and set the rules for the European and other central banking systems. Goode's eyewitness testimony is supported by a compelling body of circumstantial evidence.
By saying "No" to more austerity demanded by the international Troika, the Greek people have done far more than just strengthen the hand of the Prime Minister Alexis Tsipras to get a better deal in future negotiations to write-down the Greek government's national debt. The Greeks, founders of Western democracy, have sent a clear signal that the people of Europe have woken up and will not accept an international monetary system that demands government cut-backs in times of slow economic growth or recession. Governments are expected to maintain a minimal social welfare net and this will not be allowed to be dismantled to meet the fiscal policy guidelines set by international central banks. In doing so, the Greeks have undercut a major source of future funding for black budgets sustaining secret space programs in Europe and elsewhere. The Greek "No to Austerity" vote, and the effect it will have on other European debtor nations, may bring an end to unlimited black budget funding of classified programs, and lead to disclosure of Europe's role in a secret space program.
© Michael E. Salla, Ph.D. Copyright Notice
FURTHER READING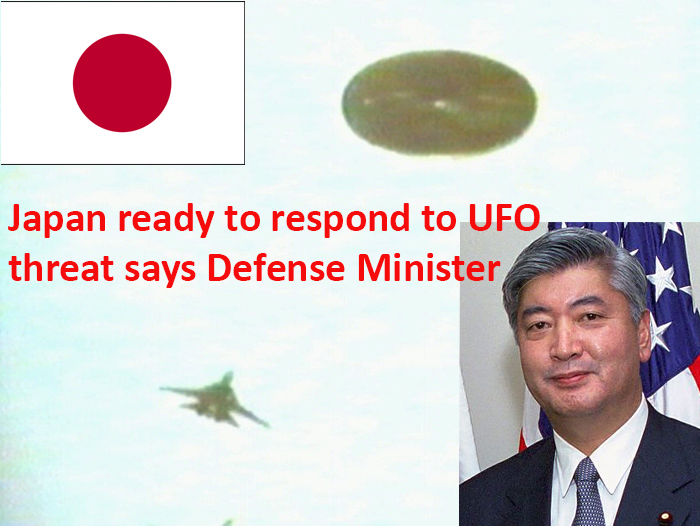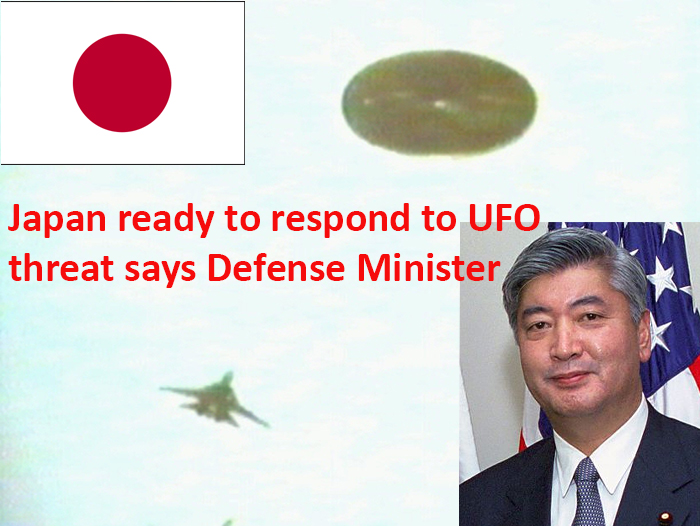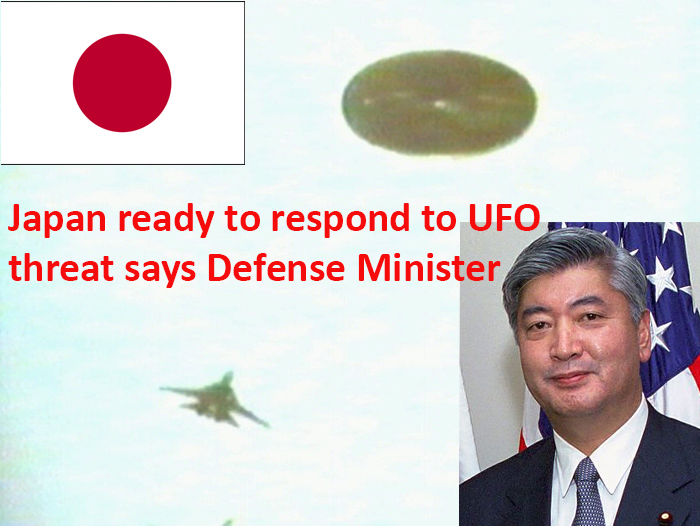 Japan's Defense Minister today responded to questions in an upper house parliamentary committee about whether the Japanese Self Defense Force has ever encountered extraterrestrial visitors, and if secret studies exist on what to do if they show up. The Japan Times reported that the Defense Minister was responding to parliamentary concerns of a possible threat by alien visitors.
The Japan Times reports that the questions were raised by lawmaker Antonio Inuki, a former professional wrestler who now sits in Japan's upper house:
Inoki had asked if aircraft were dispatched to meet extraterrestrial visitors and "whether studies are going on."
In his response, the Defense Minister, Gen Nakatani described the policy of the Self Defense Force concerning UFOs:
When the Air Self Defense Force detects indications of an unidentified flying object that could violate our country's airspace, it scrambles fighter jets if necessary and makes visual observation.
He then went on to deny that alien UFOs have ever been encountered by the Japanese military:
They sometimes find birds or flying objects other than aircraft but I don't know of a case of finding an unidentified flying object believed to have come over from anywhere other than Earth.
This is not the first time that the Japanese parliament has discussed how the Defense Force would respond to extraterrestrial visitors. Back on Dec 20, 2007, Japan's Defense Minister, Shigeru Ishiba, made a statement in response to a parliamentary question of how the Defense Force would respond to UFOs appearing in Japanese airspace. According to a Bloomberg report, he said:
There are no grounds for us to deny there are unidentified flying objects and some life-form that controls them," Ishiba said. "Few discussions have been held on what the legal grounds are" for a military response.
Ishiba went on to say that the official defense policy was that if no hostile intent was displayed, the Japanese Defense Force would not militarily engage with the space visitors.
"If they descended, saying `People of the Earth, let's make friends,' it would not be considered an urgent, unjust attack on our country, How can we convey our intentions if they don't understand what we are saying?"
Ishiba's statement is one of the few public policy statements released on possible responses to extraterrestrial visitors by a major nation.
In his response to Inuki's question, Defense Minister Gen Nakatani pointedly did not reply to whether or not studies have been prepared by the Japanese Defense Force in response to extraterrestrial visitors. It's likely that such studies, in the case of a hostile attack, would be highly classified. This would be consistent with the policy of the Japan's closest military ally, the US, which according to Professor Paul Springer from the U.S. Air Command and Staff College, does have a classified military plan to respond to an alien invasion.
Back in April 2012, Springer responded to questions by an Australian Television program exploring possible responses to an alien invasion that aired on Easter Sunday. In the segment titled ""U.S. military making plans for an alien invasion," he discussed the implications of humanity being confronted by an extraterrestrial threat. Springer's comments echoed the sentiments by Professor Stephen Hawking in April 2010 that advanced extraterrestrial life is likely to be predatory, and humanity needs to be prepared for contact with hostile off-world visitors. Furthermore, Springer's comments reveal that a 2006 book titled An Introduction to Planetary Defense: A Study of Modern Warfare Applied to Extra-Terrestrial Invasion, written by a number of defense contractors, may in fact contain many aspects of the Pentagon's classified plan.
Any studies by Japan's Self Defense Force in response to an alien invasion would likely contain elements from An Introduction to Planetary Defense. What the study doesn't cover is the possibility of an alien false flag event that has allegedly been planned for several decades. Could Japan be fooled into a military response against a contrived alien attack?
If extraterrestrials come in peace, as former Defense Minister Ishiba declared, Japan's policy would be to peacefully monitor the visitors. In contrast, if extraterrestrials invade Japanese airspace – whether genuine or not – then Japan would first scramble its fighter jets. After that, the Japanese Defense Minister won't share details of any classified plans of how it will respond to an alleged alien invasion.
© Michael E. Salla, Ph.D. Copyright Notice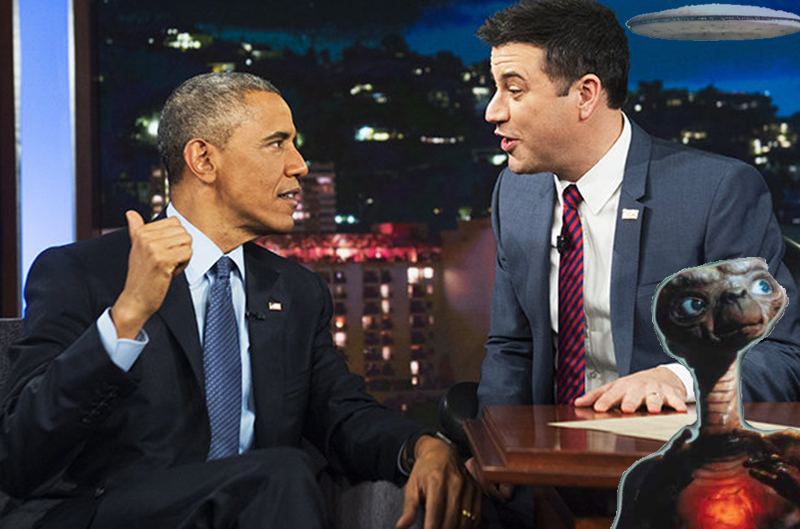 On last night's Jimmy Kimmel Live, President Barack Obama made a strange UFO admission. He said space aliens control the USA, and they are responsible for government secrecy about UFOs. According to the LA Times and New York Magazine, Obama's admission was nothing more than a joke made in a late night comedy show highlighting his dry sense of humor. But was it? A recent disclosure about UFO secrecy by John Podesta, Obama's former White House Counselor for Climate Change and Energy Policy, suggests that Obama was serious about a situation he had no control over.
Here is what Obama said in response to Kimmel according to the LA Times:
[Kimmel] wanted to know whether Obama had tried to get to the bottom of the "UFO files" about the mysterious desert region known as Area 51.
"The aliens won't let it happen," Obama joked. "You'd reveal all their secrets. They exercise strict control over us."
But President Clinton once said he'd checked on the matter and found nothing, Kimmel protested. "That's what we're instructed to say," Obama responded.