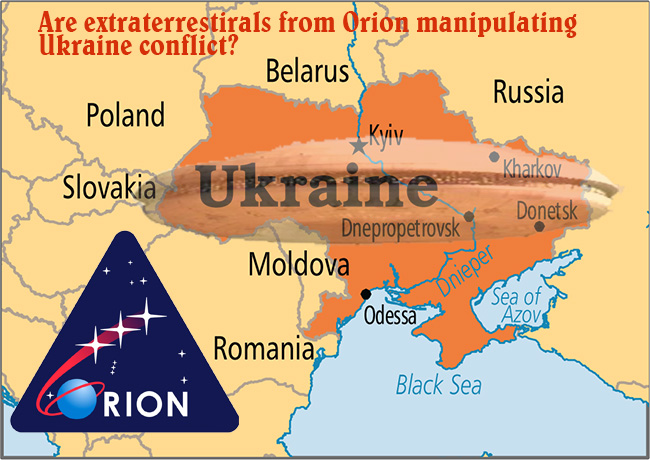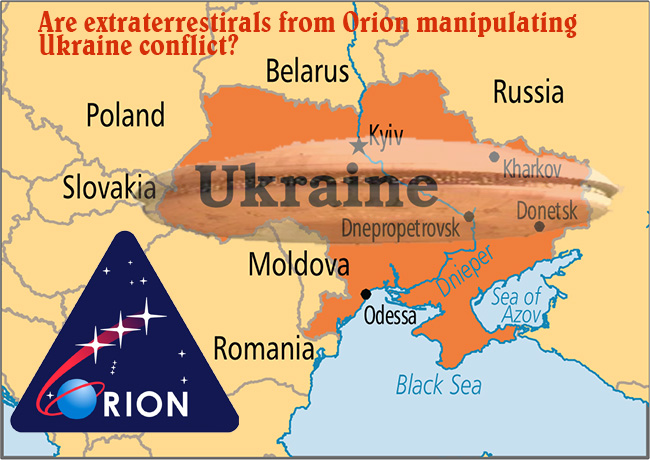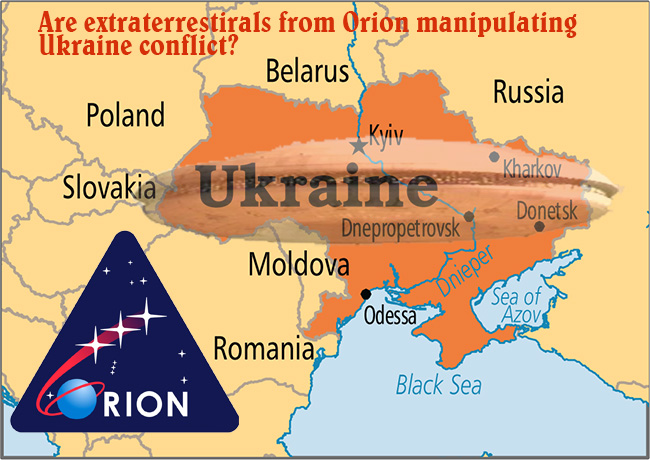 In an article published today on ExoNews.org, Richard Cook, a former NASA engineer and U.S. Treasury official for over two decades, shared some unusual insights about what is driving the Ukraine conflict. Cook's analysis takes us much further than the geopolitical machinations of great powers jockeying for regional influence. He goes far beyond the musings offered by the mainstream media focusing on the psychology of key political leaders. Cook goes to the heart of a problem confronting humanity. An extraterrestrial presence that has both benign and malevolent factions, the latter of which acts as a third force that manipulates political elites and nations into self-destructive wars.
In his article titled, "Making Sense of Ukraine Through a History of Extraterrestrial Intervention," Cook elaborates on the Ukraine conflict. He uses communications from the RA material to elaborate upon the different extraterrestrial factions that have intervened in human affairs in our recent history. He identifies two main factions. The first of which he explains:
The RA Material explains that the influx of UFOs/ETs starting around the time of World War II was prompted by the acquisition by mankind of nuclear energy and weapons. This led the higher-vibration beings who stand watch to make their presence known on planet earth. According to RA, these beings constitute a "Council of Guardians" whose headquarters are on the rings of Saturn. Other sources call this Council "The Nine." Working with them are other extraterrestrial entities who together form the "Confederation of Planets in the Service of the Infinite Creator."
With regard to the negative faction, Cook explains:
But the opening of the protective gates around earth has also allowed negative entities to slip through. Chief among these, says RA, have been the Crusaders of Orion. These are beings of self-serving character who try to gather disciples interested in manipulating, controlling, and enslaving others. In fact, RA adds, a majority of the UFO appearances of modern times have been of these Crusaders. These are the ones responsible for abductions, animal mutilations, and gloom-and-doom-type channelings. They are allowed by the order of things to prey on human beings, but only by appealing to people's weaknesses, such as pride, lust, etc. It is the weak-minded who fall for their deceptions and try to use black magic to contact them.
Cook's analysis then identifies the hidden hand of the third force behind the Ukraine conflict, the "Crusaders of Orion":
But why is Russia seen increasingly as an enemy? Didn't we rejoice when the Soviet Union fell and its component states went democratic? Wouldn't it make more sense to embrace Russia as the return of a long-lost friend to the fold of well-intentioned nations? Instead, it almost seems as if powerful elements behind the scenes want to foment a major war with Russia and possibly China. It makes no sense. The negative frame of mind this attitude signifies is harmful to the point of being pathological. Is it too much to speculate that the hand of the Chariots of Orion is fueling the fire with fear and war-hysteria? Are they stirring the pot just for the delight in seeing people suffer?
Cook's analysis finally takes us into the real predicament facing humanity today. Most people have been induced into a kind of sleep paralysis where they are not awake to the third force manipulating human affairs:
Also according to RA, the Confederation inspired earth's scientists to bring forth the technology that gives humanity the opportunity for the leisure required for spiritual pursuits. But technology has been perverted by the Crusaders' minions for economic exploitation and weapons of war. They use such "gadgets" as television and advertising to keep humanity asleep. Even the internet is used for negative as well as positive purposes. In the Ukraine incident, the Western media are working overtime to demonize Russia and its leaders. Leaders of the Republican Party mock President Obama for his supposed weakness in not being more aggressive, saying, as did former Secretary of State Condoleezza Rice, that the American people "cannot afford to be war-weary." This is worse than insanity in a world on the brink.
Cook's article is very helpful insofar as it introduces the reader to a third force manipulating political elites from both sides to embark on self-destructive wars. In an earlier article, I discussed how a hacked phone call between the Estonian Foreign Minister and the European Union's Foreign Affairs chief, revealed how a shadowy third force was behind the sniper attacks against both protesters and police. I concluded that "the chaos in the Ukraine may be a result of a secret exopolitics conflict between Putin's Russia and the international power elite responsible for maintaining secrecy about UFOs and extraterrestrial life." Cook's analysis casts light on who is behind this international power elite, or third force, manipulating national governments and populations.
While some may question the authenticity of the channeled information the makes up the RA material, it does provide helpful insights into the hidden forces behind international conflict. Cook's article is an invitation to investigate the possibility of a third force manipulating international conflict, along with the likelihood that it is other worldly in origin.
© Copyright 2014. Michael E. Salla, Ph.D.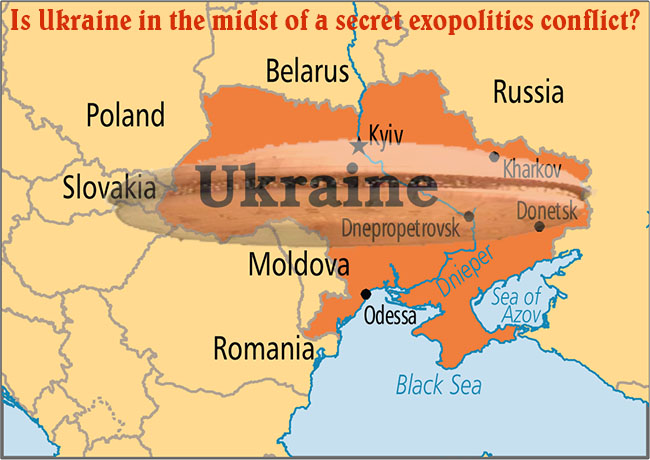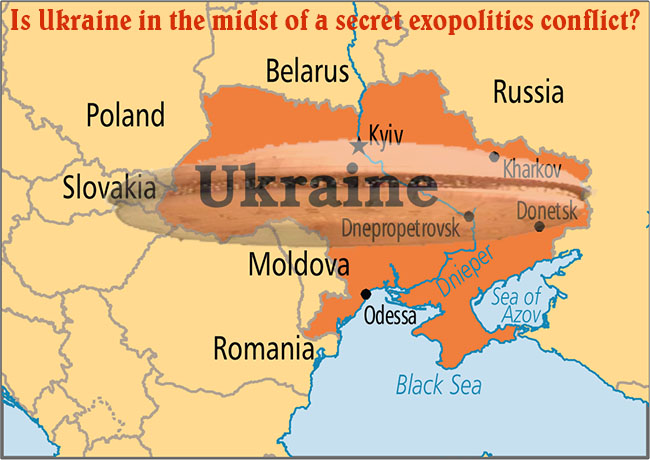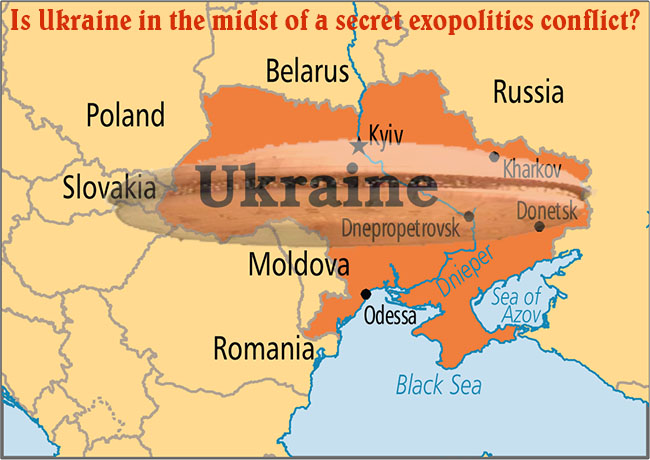 A hacked phone call between the Estonian Foreign Minister and EU Foreign Affairs chief, Catherine Ashton, reveals that snipers responsible for the death of protesters were not from the deposed Ukrainian government. The hacked phone call was made available to the RT news service and today was the subject of a number of news reports. The hacked call reveals that the snipers targeted both protesters and police. According to the call, there was a need to investigate, but there was no incentive among the new Euromaidan approved Ukrainian transition government to do so. The hacked call reveals that a mysterious third force was operating to destabilize the previous Ukrainian government run by President Yanukovych by making it appear responsible for the sniper attacks.
According to Kurt Nimmo from Infowars.com, the sniper attacks were part of an Operation Gladio type operation run by covert operatives designed to create chaos that would promote a pro-European agenda. In this case, the goal was to discredit the Ukrainian government run by Viktor Yanukovych, in order to ultimately detach Ukraine from the Russian sphere of influence. The hacked phone call is evidence of a covert operation by a mysterious third force – an international power elite – intending to undermine the Russian Federation and the policies of President Vladimir Putin. While the immediate target of the covert operation is fairly transparent, fathoming the deeper agenda is more difficult. One possibility is that the covert operation may ultimately be a response to what has been described as Putin's "exopolitics agenda."
The startling revelations in the hacked phone call were made by the Estonian Foreign Minister, Urmas Paet, after doing a fact finding tour of the Ukraine on February 25, and interviewing key witnesses. Among those interviewed was Olga Bogomolets who was the chief doctor for the Maidan mobile clinic giving medical assistance to wounded protesters. Bogomolets had earlier turned down the position of Vice Prime Minister of Ukraine for Humanitarian Affairs offered by the Euromaidan appointed government. Paet told Catherine Ashton:
And second, what was quite disturbing, this same Olga [Bogomolets] told as well that all the evidence shows that the people who were killed by snipers from both sides, among policemen and then people from the streets, that they were the same snipers killing people from both sides."
Paet went on to explain more of Bogomolets' astounding reveleations:
There is now stronger and stronger understanding that behind the snipers, it was not Yanukovych, but it was somebody from the new coalition … So that she then also showed me some photos she said that as a medical doctor she can say that it is the same handwriting, the same type of bullets, and it's really disturbing that now the new coalition, that they don't want to investigate what exactly happened,"
The hacked phone call reveals that European governments are aware that the Yanukovych administration was likely not responsible for the sniper attacks on Euromaidan protestors. The newly appointed Ukrainian government is reluctant to investigate since this would bring into question its own legitimacy in orchestrating the removal of President Yanukovych and his administration. The ultimate result is that the Ukraine is now experiencing chaos as a result of divided loyalties between the current and former government administrations.
In a previous article titled, "Russia's military intervention in Ukraine and exopolitics," it was claimed that President Putin had taken proactive action in response to what he claimed was covert actions authorized by an international power elite. Furthermore, it was claimed that Putin was quietly implementing an "exopolitics agenda" of leaking information about extraterrestrial life to the Russian and world publics. In doing so, Putin was challenging a seven decades old secrecy policy implemented by the same international power elite responsible for the Ukraine crisis. If the article's claims about Putin's "exopolitics agenda" is accurate, that provides a possible answer to the deeper agenda behind the covert operation involving sniper attacks on Euromaidan protestors. Ultimately, the chaos in the Ukraine may be a result of a secret exopolitics conflict between Putin's Russia and the international power elite responsible for maintaining secrecy about UFOs and extraterrestrial life.
© Copyright 2014. Michael E. Salla, Ph.D.
This article is copyright © and should not be added in its entirety on other websites or email lists. Permission is granted to include an extract (e.g., introductory paragraph) of this article on website or email lists with a link to the original.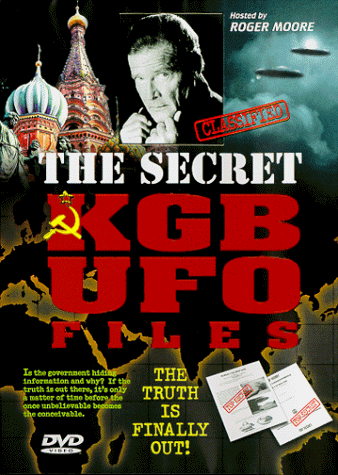 In a Press Conference televised today, Russian President Vladimir Putin declared that it was unlikely that Russia would take over Ukraine's Crimean Peninsula. He declared: "We have reinforced protection of our military facilities, because we were receiving threats and saw that gunmen from terrorist organizations were coming,"   Russia's military actions in the Crimea has sparked international condemnation with Western leaders calling for a coordinated response, and taking symbolic diplomatic actions to punish Russia. In contrast, President Putin declared in his Press Conference that the recent events in Ukraine was an "illegitimate state coup" orchestrated by the intelligence communities of the U.S. and Europe that arranged for the overthrow of Ukrainian President Viktor Yanukovych.  According to Putin, Russia's military intervention was merely a proactive measure to defend Russian nationals in a territory that has been historically part of the Russia. U.S. Secretary of State, John Kerry attacked Russia for brazenly violating the sovereignty of a U.N. member state on trumped up charges. Kerry today stated, "not a single piece of credible evidence" supported Russia's intervention, ironically forgetting that the same could be said for the U.S. led invasion of Iraq based on non-existent weapons of mass destruction.
Ukraine is but the latest in a series of former territories of the Soviet Union that have been courted with membership offers to the European Union (EU) and promised eventual membership of NATO. As former Soviet era territories continue to join the EU and eventually NATO, the effect is to gradually squeeze the Russian sphere of influence, and make Russia subservient to the agenda of the Western power elite.  In the chess board of international politics, Ukraine is but a pawn in a grand strategy to checkmate Russia. Why? What makes Russia so politically dangerous to the Western power elite? Is it Russia's nuclear arsenal? Is it Russia's political tradition of standing up to forces of international banking and the Western power elite? Or is it another deeper form of international politics being played out with Russia – exopolitics? Is Russia's main threat to the Western power elite a carefully orchestrated policy of slowly leaking information concerning UFOs and extraterrestrial life to its citizenry and the world?
To find the truth of whether Putin's Russia is quietly pursuing an "exopolitics" agenda by leaking information extraterrestrial life, we need to begin with events in the early 1990's. As the Soviet Union collapsed in December 1991, and 15 independent states emerged, the Soviet KGB dissolved and in the process lost control over a vast collection of files. Many of these leaked KGB files concerned the formerly Soviet era taboo subjects of UFOs and extraterrestrial life. The motivation for many KGB officers in leaking these files was largely monetary. A number of western media outlets were willing to pay large sums for information from Soviet era archives concerning UFOs and extraterrestrial life. Several thousand dollars for leaked documents, photos or videos would mean former KGB agents could feed themselves and their families for a few months in the uncertain times ahead as the Russian Federation found its footing in a capitalist international system. Roger Moore, the former James Bond star, took a film crew to Russia, then led by Boris Yeltsin, and found some of these files.
Moore's documentary, The Secret KGB UFO Files, was released in 1998 and revealed some of the best UFO footage ever captured on film. It showed a crashed UFO in a remote rural location being filmed and retrieved by Soviet army units led by KGB officers. One also saw video of an autopsy being conducted of a dead alien, and other evidence of Soviet knowledge about UFOs and extraterrestrial life.
Later documentaries would reveal even more formerly classified KGB information such as the US Navy battling UFOs in Antarctica during the Operation Highjump expedition in 1946/47, and even secret meetings between U.S. government authorities and extraterrestrial ambassadors.
In 1997, the famous Italian stigmatist and self-declared "contactee," Giorgio Bongiovanni was given permission to interview high ranking military officials and former KGB agents about extraterrestrial life. He met with Russian officials at the Anti-Aircraft Academy of Defense in Tver, Russia and discussed evidence of UFOs and extraterrestrial life possessed by the Russian government. Photos and videos of alien life were shown to him revealing that both the Soviet Union and USA were aware of and covering up evidence of alien life. Permission was also given to film the interview and it was released with the title: "UFO Disclosure in Russia."
Under President Boris Yeltsin, whether by historical accident or deliberate state policy, an exopolitics agenda was being quietly implemented. With permission by Russian authorities, Soviet era UFO files were being leaked to independent researchers and film crews revealing the truth about alien life visiting our world.
A little known KGB Colonel, Vladimir Putin, rose quickly in the Yeltsin administration. His first major appointment was on 26 March 1997 when he was appointed Deputy Chief of the Presidential Staff. Putin continued to be rapidly promoted and on 25 July, 1998 was appointed head of the FSB, one of the successor agencies to the KGB. He became Prime Minister on 9 August 1999 and Yeltsin announced his desire that Putin would succeed him. After Yeltsin's abrupt resignation in December 1999, Putin became acting President, and was elected President on 26 March 2000.
Putin appears to have quietly continued Yeltsin's exopolitics agenda of allowing alien related information to be leaked to the public. Senior officials in the Russian Federation have been allowed to come forward on national TV to offer their frank assessment on the subject of extraterrestrial life visiting Earth. One of these officials was Kirsan Ilyumzhinov, the sitting Governor of the Russian Republic of Kalmykia, the only Buddhist region in Europe.
In an extraordinary television interview conducted in May 2010, Ilyumzhinov claimed that in 1997 he was taken from his penthouse apartment on board an extraterrestrial vehicle. Ilyumzhinov claims that the extraterrestrials he met were humanoid and gave him a tour of their ship, and even took him to another world. According to Ilyumzhinov, his experience is backed by three witnesses who searched for him at his home after he had boarded the alien spaceship. Most revealing is that Ilyumzhinov appeared on Russia's no.1 rated television station, Channel One, which is 51% controlled by the Russian government. The interviewer, Vladimir Pozner, began the segment with questions about Ilyumzhinov's experience. This reveals that the host and producers knew in advance of what had happened, and wished to discuss it on air. Significantly, there was no censorship of Ilyumzhinov's experience which was immediately made available on the Channel One website. At the very least, this signifies that the Russian government was open to public debate on extraterrestrial life sparked by its most prominent television station. More importantly, the airing of Ilyumzhinov's experience signaled that Putin, who was Prime Minister at the time, and his successor President Dmitry Medvedev, were pursuing an exopolitics agenda to prepare Russian citizens for eventual public disclosure of extraterrestrial life.
In 2012, after Putin had been re-elected as President of the Russia Federation, his predecessor and now serving Prime Minister, Medvedev, startled a television hostess with his frank comments about UFOs and extraterrestrial life. After completing an on-air interview with five television reporters on December 7, 2012, Medvedev continued to respond to reporters and made some off-air comments without appearing to realize that the microphone was still on. He was then asked by one reporter if "the president is handed secret files on aliens when he receives the briefcase needed to activate Russia's nuclear arsenal," Medvedev responded:
Along with the briefcase with nuclear codes, the president of the country is given a special 'top secret' folder. This folder in its entirety contains information about aliens who visited our planet… Along with this, you are given a report of the absolutely secret special service that exercises control over aliens on the territory of our country… I will not tell you how many of them are among us because it may cause panic.
Just over a month after his startling on-camera admission, Medvedev opened the 2013 World Economic Forum held in Davos Switzerland, January 23-27. An 80-page analysis of 50 risks for the next 10 years had been distributed to attendees. The Global Risks 2013 report is lengthy list of prognostications of what world leaders need to plan for to avoid "systemic shocks and catastrophic events". Among the list are five X factors that according to the report, "no country alone can prevent." One of the X factors was the discovery of extraterrestrial life.
In understanding why the US and its Western allies are trying to encircle, pressure and intimidate the Russian Federation, we need to appreciate that this is the means by which Putin's exopolitics agenda can be stopped. If Russia continues to allow senior officials to reveal the truth about extraterrestrial life and to leak Soviet era UFO files, this threatens a carefully developed and enforced policy of over seven decades of international secrecy.
While the international media depicts Western democracies led by the US as free and open societies, the reality is that when it comes to the issue of extraterrestrial life, the West is anything but free and open. In contrast, the Russian Federation is far more forthcoming when it comes to the issue of alien visitation to our planet. Unfortunately, the Ukraine is being used a pawn in an internationally orchestrated effort to weaken and intimidate the Russian Federation so it can be easily pressured to fall in line with the dictates of the international power elite on issues such as extraterrestrial secrecy. Putin understands this and that is why he proactively intervened in the Ukraine to defend Russian interests in this strategically vital nation. In allowing an exopolitics agenda implemented by his predecessor, Boris Yeltsin, to continue, President Vladimir Putin, and his chief ally Prime Minister Dmitry Medvedev, are doing humanity a great service.
© Copyright 2014. Michael E. Salla, Ph.D.
This article is copyright © and should not be added in its entirety on other websites or email lists. Permission is granted to include an extract (e.g., introductory paragraph) of this article on website or email lists with a link to the original.
Further Reading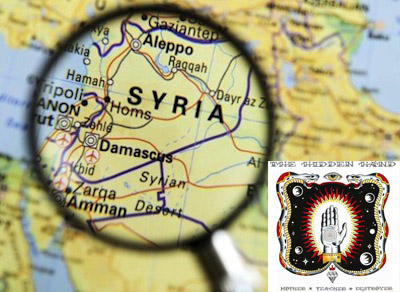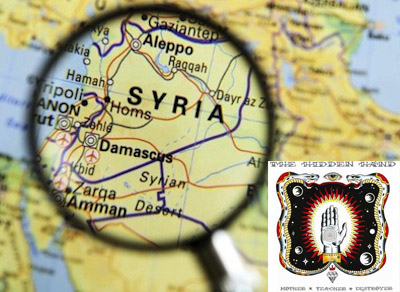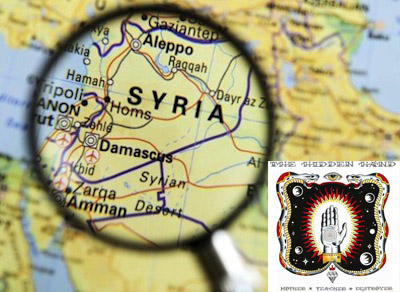 This week President Barack Obama personally leads an attempt to persuade the US Congress to authorize a US militarily attack against the Syrian regime in response to a chemical weapons attack on rebel held areas in Damascus on August 21. Casualties range from 355 to 1729 dead, with three times as many being injured in the attack. Obama lays responsibility squarely at the regime of Bashar al-Assad.
Obama claims intelligence sources confirm with 'high confidence" that the attack was launched by the regime even if Assad did not give the order. This is reflected in a German Intelligence report that has just emerged that suggests that the attack was conducted by government forces without Assad's approval.
For many military analysts and independent observers the timing of the attack raises many troubling questions for the scenario depicted by Obama. Why would the Assad regime resort to chemical weapons when it was winning the war using conventional forces? Also, why would the regime launch chemical weapons during a visit by United Nations chemical weapons inspectors? According to US Ambassador Samantha Powers, the attack was timed to show the contempt of the Assad regime to international norms, and its intent to increasingly use chemical weapons.
Not so according to the majority of alternative media sources. The consensus that has quickly emerged is that it was Syrian rebels themselves that launched a chemical weapons attack on rebel held suburbs in Damascus Syria in a false flag attack to provoke Western military intervention.  What both President Obama's administration and the alternative media are not considering is a shadowy "Third Force" operating in Syria. There is evidence that a "Third Force" is operating in Syria that plans to decimate Damascus for an otherworldly "exopolitical" agenda.
Let me begin by describing this shadowy "Third Force" which can also be described as the "Hidden Hand" of both world politics and the relatively new field of exopolitics. The "Hidden Hand Dialogue" is a set of questions and answers given by a self-described Illuminati insider and members of the Above Top Secret Forum that was recorded in October 2008. The insider responds to questions in a sincere and consistent way, and reveals valuable information about the secret control mechanisms used by an elite group of insiders s/he calls "The Family". S/he wrote:
I am a generational member of a Ruling Bloodline Family… Our Lineage can be traced back beyond antiquity. From the earliest times of your recorded "history", and beyond, our Family has been 'directing' the 'play' from behind the scenes, in one way or another.
Among the many insights s/he gives is that the leadership of the family is very much aligned with a group of extraterrestrials that has been on Earth for millennia:
I want to be clear on this Bloodline issue. The ones you know, they are of earthly lineage. Yes, they have their place in the Family, but the Real Power lines, do not originate from this planet.
This echoes the apocryphal Book of Epoch where a band of 200 fallen angels/extraterrestrials arrived on Earth and mate with humanity to create a new bloodline of ruling elites – the Nephilim.
Preston James has just written an article on Veteran's Today describing the Luciferian extraterrestrial aspects of this "Third Force:"
Some credible insiders have claimed that most top world leaders have had to enter into a contract with the Third Force which is really lucifer, the fallen one, the great deceiver of mankind, who has presented himself as the Annunaki Master Controller Chief Alien ET which is claimed to be an an inter-generational, inter-dimensional entity that is manipulating the world according to his alien ET agenda.
The Hidden Hand gave detailed answers to questions, and made some predictions. Among these was the following: "Damascus, will be uninhabitable by the end of 2010, possibly even sooner…"
Significantly, Benjamin Fulford, a former Asia Pacific Bureau chief for Forbes Magazine, claims that someone with connections to what he describes as a "criminal cabal" made a threat in September 2011 that "Damascus would be made 'uninhabitable.'"  There's no evidence that Fulford was aware of what the Hidden Hand had predicted back in 2008, so it's a curious coincidence that the same language was used for claiming that Damascus would become uninhabitable at some point by a mysterious group of individuals with great power behind the scenes.
In 2008, such a prediction appeared very fanciful, and indeed did not occur by the predicted date. Fulford's similar prediction did not have a timeline but clearly suggested that the coming devastation was to be contrived by the Third Force/criminal cabal. Now, however, we are witnessing the Syrian capital of Damascus being slowly destroyed in an expanding civil war where indiscriminate aerial bombing and artillery force was initially used by the government as reported by independent organizations such as Amnesty International.
As the Assad regime continued its use of indiscriminate force to cow its opponents into submission and punish civilians supporting the opposition, it's not unrealistic to assume that Assad would eventually resort to chemical weapons as he lost control of densely populated urban areas. In retaliation, rebel units could themselves use chemical weapons they have gained access to against regime forces and areas, as Assad's regime is now claiming. If chemical weapons were used in a large scale in Syria's capital by opposing forces, then Damascus could indeed become uninhabitable in the not too distant future.
The tide of the war, however, changed dramatically for the Assad regime with an influx of Hezbollah fighters from Lebanon and Quds Force volunteers from Iran. Cities and territory that had been held by rebel forces for months began to fall starting with the border town of Qusayr in April 2013.  So why would Assad resort now to the use of chemical weapons in Syria's capital city?
He most likely didn't as some press reports are now claiming. Nor is it feasible that the rebels themselves would target a rebel held area thereby dealing themselves a significant tactical military setback. The most likely culprit is therefore a shadowy Third Force calling itself "The Family" that desires to escalate the conflict in Syria and fulfill its own prophesy that Damascus would become uninhabitable.
The ultimate fate of Damascus will be a sign that the revelations of the Hidden Hand and Benjamin Fulford were accurate – the Earth has been controlled by a "Family" or "Criminal Cabal" of ruling bloodlines with enormous power behind the scenes that manipulates both sides in international conflicts. A book by William Bramley, the Gods of Eden, traces how the Third Force – he calls them "the custodians" – has historically manipulated both sides of conflicts to achieve its long term goals.
Numerous witness reports suggest that most visiting extraterrestrials, however, are not part of the Third Force, and in fact are in conflict with them. According to multiple contactees and the Book of Enoch, the Third Force was a criminal band of extraterrestrials banished to Earth millennia ago.
President Obama's attempt to persuade the US Congress to authorize military force against Assad's regime is facing heavy resistance and may fail. More people than ever have become educated by the alternative news media about false flag events, and strongly suspect that the chemical weapons attack in Ghouta, Damascus was indeed a false flag operation. It was not however an attack launched by the Assad regime or by the rebels who both had no clear interest in authorizing such an attack.
Instead, ultimate responsibility lies with the Third Force which explicitly mentioned years ago that Damascus would in future suffer from calamitous events that would make it uninhabitable. We are very likely witnessing the beginning of a chain of events that may fulfill this dire prophesy. However, the power of the alternative media to educate the general public about false flag events and a historic extraterrestrial presence (exopolitics) is a positive development. It may culminate in the planned chain of destructive events in Damascus involving chemical weapons and U.S. intervention not occurring. There is good reason to believe that the power of the Third Force to manipulate humanity's fate is being increasingly exposed, and will eventually come to an end.
© Copyright 2013. Michael E. Salla, Ph.D. Exopolitics.org
This article is copyright © and should not be added in its entirety on other websites or email lists. Permission is granted to include an extract (e.g., introductory paragraph) of this article on website or email lists with a link to the original. Further Reading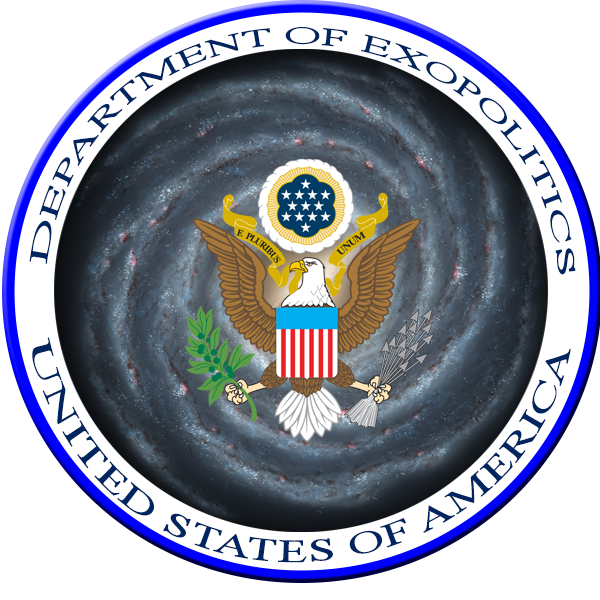 According to well-informed sources the US Government is set to announce a new department or office that would run extraterrestrial affairs. Today, in his latest installment in the popular Veterans Today website about an undeclared space war, Dr Preston James argues that an internal decision is about to be reached by a secret "exopolitics" committee that manages extraterrestrial affairs. They are on the verge of deciding that the time has arrived to go public – full disclosure of an extraterrestrial presence. The Secret Committee is called Majestic 12 or MJ-12 according to Dr James, and it is about to approve the creation of a formal Department or Office of Exopolitics. Its job would be to formally conduct relations with extraterrestrial life in the same way that the Department of State manages US relations with international governments. Dr James claims several "esteemed" individuals are under consideration to run the first Department/Office of Exopolitics.
Dr James begins with reports he has received from unnamed sources about the deliberations of the secret exopolitics committee called MJ-12 that has run extraterrestrial affairs since 1947. He writes that the decision to go public is being driven largely by younger members:
"some reports have suggested that there has been a deep internal split in this group, with younger members pushing hard for complete USG public disclosure followed by the setting up of an official USG Department of Exopolitics".
James claims that several "esteemed individuals" have already been considered to run the proposed "office:"
USG is now in the process of setting up an official Office for Exopolitics and considering several esteemed individuals from which to choose a director to run this new office.
There is a major difference between creating a new government Office versus a new Department. There are a variety of bureaucratic models that could be used in creating a government entity to formally conduct exopolitics – relations with extraterrestrial visitors. Here are the three that stand out as the most obvious choices.
First, some existing government departments would argue that exopolitics is merely an extension of their current activities and therefore should be located entirely within their department. For example, the U.S. Department of State could argue that US government relations with alien civilizations is an extension of its current role of managing relations with international governments. Therefore an "Office for Exopolitics" should be set up within the Department of State in the same way in which the "Office for Civil Rights" is located within the Department of Education. The main advantage here is that an "Office of Exopolitics" could be expected to harmonize with ongoing diplomatic relations at an international level. Main disadvantage is that other government departments and agencies could argue that key areas of relations with extraterrestrial visitors fall under their responsibilities, e.g., Department of Defense, Department of Energy, NASA, etc.
A second bureaucratic model would be to set up an "Exopolitics Office" that directly reports to the US President such as in the case of "The Office of Science and Technology Policy" whose mandate is:
advises the president on the effects of science and technology on domestic and international affairs. It also develops, coordinates, and implements science and technology policies and budgets.
The main advantage here is that the US President, for the first time since Presidents Truman and Eisenhower would be directly involved in setting policy on extraterrestrial visitors. Main disadvantage is that relations with extraterrestrial visitors is too important an issue to add to an already overburdened President whose responsibilities are diverted to many government priorities.
A third bureaucratic model would be to create a Department or Agency for Exopolitics that would be a fully independent entity with its own bureaucracy and headed by a Secretary or Director that would be given Cabinet status within the Obama administration. This model has many advantages since it could coordinate policies on a wide range of issues, diplomatic relations, defense, science and technology, energy, health, etc. that involve extraterrestrial life and technology. The main disadvantage is that other more established government departments might compete with and undermine the new Exopolitics Department/Agency in terms of policy and influence over extraterrestrial affairs.
There is no precedent for setting up a Department or Office of Exopolitics in the world. While the United Nations passed Decision 33/426 in 1978 authorizing the creation of a UN Agency to monitor reports of UFOs and extraterrestrial life, the decision was never implemented by member states. The only bureaucratic history that is known with any degree of reliability is that the Majestic 12 committee that originally constituted a de facto Office of Exopolitics was initially set up as a covert program within the US National Security Council system. Here is a description of MJ-12's reconstitution during the Eisenhower administration:
The most significant institutional reorganization as far as political management of the ET presence was concerned was expanding and formalizing MJ-12 as an autonomous institution fully authorized by executive order to deliberate upon and make policy decisions on the ET presence. MJ-12 became formally embedded in the Covert Operations Committee of the National Security Council – Committee 5412, named after National Security Council Edict 5412. MJ-12's earlier existence as an ad hoc committee appointed by executive authority, was now transformed into a permanent sub-committee institutionally embedded within the most secret of all the National Security Council's committees. Evidence from whistleblower testimonies suggest that Truman's ad hoc committee, MJ-12, was reorganized so as to now comprise two layers. The outermost layer was a group of up to 40 individuals who would form a Study Group (hence the names PI-40 and Special Studies Group also attributed to MJ-12) whose function was to provide specialized studies and policy recommendations concerning ET issues for a smaller decision making group (MJ-12) that would actually make official policy recommendations for implementation after gaining executive approval by Eisenhower.
Initially hidden within the National Security Council system, the MJ-12/Office of Exopolitics has morphed over time into a quasi-governmental entity with significant corporate involvement, and a distinct international element.
According to Dr James' undisclosed sources:
[Y]ounger members of MJ-12 want complete public disclosure as soon as possible, within 2013 and have actually been providing leaks for over twenty years, helping Hollywood writers and producers by supplying information so that movies can be made and the public can be conditioned in small baby steps to accept the idea of alien visitation.
How credible is Dr James and his unnamed sources? Veterans Today is a highly respected website which has key individuals in its editorial board with deep connections to the world of military intelligence. Dr James is a board certified psychologist with 35 years experience in marriage/family therapy, and claims many contacts with those in military intelligence. His professional background and military intelligence connections suggest his sources are worth taking seriously.
If Dr James' sources are correct then not only can we expect a formal government disclosure of extraterrestrial life in the near future, but the creation of a US Government Office or Department of Exopolitics to follow soon after. The Director/Secretary of such an Office/Department could be vetted by Congress to determine their suitability in managing the most important policies confronting humanity in the 21st century.
Creating an Exopolitics Office or Department, would be a tremendous step forward in bringing transparency and accountability to how relations with extraterrestrial visitors are being run by elements of the US government, and internationally. For the first time, American citizens would be informed of how covert elements of their government is managing the issue of extraterrestrial life and technology, and will have a voice in how policies are developed and implemented.
© Copyright 2013. Michael E. Salla, Ph.D.. Exopolitics.org
This article is copyright © and should not be added in its entirety on other websites or email lists. Permission is granted to include an extract (e.g., introductory paragraph) of this article on websites and email lists with a link to the original.
Further Reading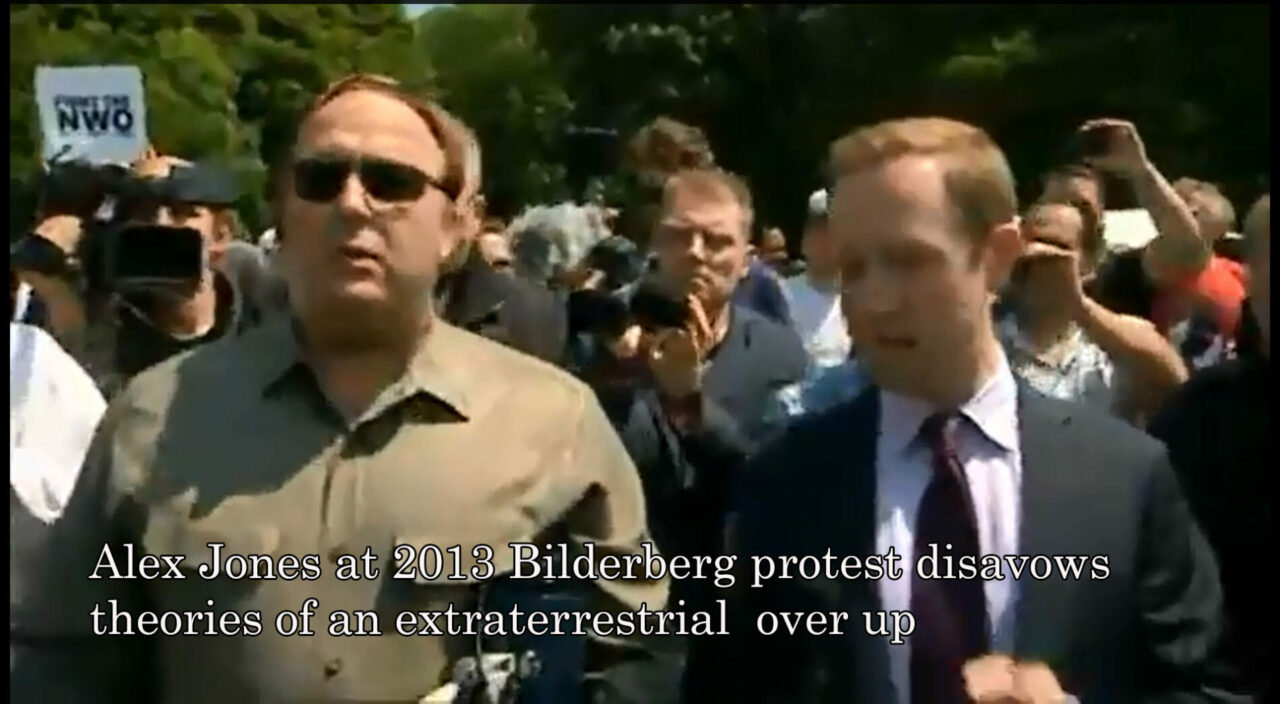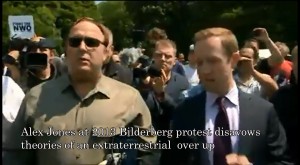 The BBC sent a reporter to cover protests at the annual Bilderberg meeting held near Watford, Britain. In a video segment made available online, the BBC reporter approached Alex Jones who was described as "King of the conspiracy theorists." When asked if there was any conspiracy theory that he rejected, Jones replied that it was the idea of an extraterrestrial cover-up. More important, according to Jones, are the globalist policies designed and orchestrated by the Bilderberg group that he wants to expose. Jones declaration was no big surprise for any that have followed his exposés on Inforwars.com or PrisonPlanet.com. Jones dismissal of an extraterrestrial cover-up, while protesting at a Bilderberg meeting is ironic since that may well be the very reason why the annual Bilderberg meeting was created in the first place.
 First, let's begin with what Jones actually said. The BBC reporter approached him and asked: "Are there conspiracy theories out there that you think are too nuts, are just too extreme."
Jones replied: "Yes, I don't personally believe there are extraterrestrials or anything like some people say."
In the full BBC video report, Jones went on to describe a litany of globalist policies that have been orchestrated by the Bilderberg group, completely unaware of the irony of his initial response to the reporter's question. Jones was essentially claiming that there was no connection between the annual Bilderberg meeting and conspiracy theories of an extraterrestrial cover up. Historic events and evidence, however, suggest otherwise.
The first Bilderberg meeting in 1954 had multiple reasons to convene. The public justification was that it was held to promote political and economic cooperation between Europe and North America as the best defense to what was now perceived as the long term threat of communism. To that end, prominent business and political leaders have been regularly invited to Bilderberg Group on an annual basis to discuss ways of coordinating national policies and anticipating global trends.
Key personnel and agencies involved in the formation of the Bilderberg Group reveal that its hidden purpose was to encourage global cooperation in response to a perceived long term threat known to Bilderberg's creators: the Central Intelligence Agency (CIA); the Rockefeller brothers and Prince Bernhard of the Netherlands. This long term threat was only shared on a need-to-know basis, and emanated from World War II events involving Nazi Germany's advanced technology programs.Events which Nelson Rockefeller, and the CIA & its OSS predecessor, became deeply intimate with during and immediately after the War – Nazi attempts to reverse engineer extraterrestrial technologies for the war effort.
The main task of the Bilderberg Group was to coordinate the nations of the world so that any information gained by any nation pertaining to extraterrestrial life and technology was to be sent to the right place for research and development. A highly secretive second Manhattan project that had begun in the United States under President Truman to deal with the alien life and technologies was expanded to include other nations in a globally coordinated effort. Eisenhower's election in November 1952, offered his chief supporters, the Rockefeller Family, the opportunity to have greater corporate involvement in the now 'global' Manhattan Project.
The Rockefeller brothers (Nelson and David) along with Dr Henry Kissinger, who was a protégé of the Rockefeller brothers, were instrumental in shaping the Eisenhower government's response to extraterrestrial technologies using Cold War covert operations as a cover, and helping set up the Bilderberg Group for that purpose. The Bilderberg Group would meet to coordinate national policies so that humanity would have the best chance of surviving the challenges posed by visitation of different extraterrestrial factions with unknown agendas.
A vital part of the Bilderberg Group agenda was to ensure that the global media and national legislatures would not learn about an extraterrestrial presence, or of the coordinated national contributions to a globally coordinated Manhattan Project. Funding a global Manhattan Project, let alone the U.S. element that was at its core would be a monumental task. The global Manhattan Project would cost hundreds of billions in the 1950s, and eventually grow to trillions to fund each year.
It would have to be funded in a way that the mass media and national legislatures would not discover what was happening. This funding came from diverse sources such as CIA front companies, insider trading, "black gold", international drug trade, etc. This was a key reason why international bankers were prominent in Bilderberg Group meetings. International banking offered the means for transferring enormous sums of illicitly generated money to this unacknowledged Global Manhattan Project.
It's ironic that Alex Jones would disavow theories of an internationally orchestrated cover-up of extraterrestrial life at the 2013 Bilderberg Group meeting. Perhaps it's not so ironic after all. According to a recent radio interview given by Alex Jones himself, at family reunions half the people in the room are retired and former CIA – the key U.S. agency involved in the creation of the Bilderberg Group.
Given evidence that the CIA has been the lead U.S. government agency orchestrating a global cover-up of information concerning extraterrestrial life, Jones anti-extraterrestrial cover-up views at a Bilderberg Group protest now make more sense. At his next family reunion Alex should have another chat with former CIA members present; and find out why, surprise, surprise, they lied to him.
© Copyright 2013. Michael E. Salla, Ph.D. Exopolitics.org
This article is copyright © and should not be added in its entirety on other websites or email lists. Permission is granted to include an extract (e.g., introductory paragraph) of this article on website or email lists with a link to the original.
Further Reading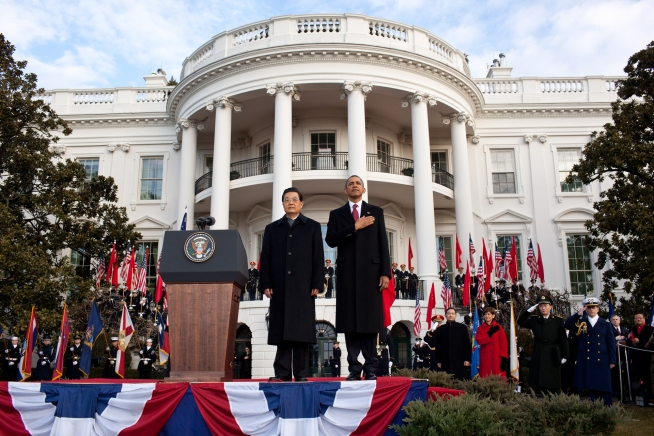 Today President Obama meets with his Chinese counterpart, President Xi Jinping in a two day Sino-US summit in Sunnylands California. The summit is expected to discuss hot button strategic issues like cybersecurity, North Korea, and high-tech espionage. The meeting will set the stage for a more ambitious meeting in July where U.S. and Chinese officials will hammer out agreements in the strategic and economic spheres. The Obama Xi summit follows upon a speech made on May 21, 2013, by Dr Henry Kissinger who argued that the U.S. and China needed to cooperate in creating a new world order. Kissinger's influence extends well beyond his status as an influential "elder statesman" that was instrumental in the 1972 Nixon visit to, and rapprochement with, China. According to various documents and whistleblower sources, Kissinger has been powerful figure in managing global information about what is known about highly classified technology programs that date back to the Nazi era. In his speech, Kissinger was signaling to the Chinese leadership that a new world order jointly headed by the US and China is not only inevitable but the indispensable key for China gaining access to the Holy Grail of high technology – retrieved extraterrestrial technologies. If President Xi chooses to fully cooperate with President Obama, then disclosure of the truth about extraterrestrial life and technology can be expected to eventually follow.
In his May 21 speech, Kissinger said: "The challenge is how to build a world order for the first time in history on a global basis…. The United States and China have a special obligation." Kissinger went on to describe how this would be done:
It is not that China and the United States should establish a G2 organization, but what they should do, and what they need to do is to approach a common conception of how problems should be dealt with, and then work with the international community to make a real international community.
As a former National Security Advisor and Secretary of State during the Nixon and Ford administrations (1969-1977), Kissinger has a powerful resume for advocating his thoughts about world governance. What is not generally known about Kissinger is that his influence was established well before he was chosen by Nixon to be his National Security Advisor. As a protégé of Nelson Rockefeller, Kissinger played important roles in the covert Cold War operations strategy developed in the Eisenhower administration. Rockefeller chose Kissinger to be his point man for developing a strategic covert response to the Soviet threat. Only problem was that the Soviet Union was not the real threat – it was the advanced technologies and capabilities of extraterrestrial visitors.
Kissinger's influence dates from experiences in Germany during World War II when he was part of the Army's Counterintelligence Corps (CIC), and helped identify Nazi scientists familiar with advanced technologies of interest to the U.S. Some of the Nazi scientists retrieved in Operation Paperclip were directly involved in advanced technological projects that according to the father of modern rocketry, Hermann Oberth, had been assisted by knowledge of extraterrestrial life and technology. Oberth said:
… we cannot take credit for our record advancement in certain scientific fields alone. We have been helped." When asked by whom, he replied, "the peoples of other worlds."
Embedded within the Army's CIC was a little known elite unit called the Interplanetary Phenomenon Unit (IPU) that, according to a leaked document, had been created by General George Marshall in 1942 to study crashed flying saucers. The US. Army initially denied that the IPU existed, but documents released through the Freedom of Information Act confirmed its existence at the time Kissinger served in the CIC. Kissinger left the CIC as a reserve captain in 1949 and his previous work hunting Nazi scientists involved in covert technology projects almost certainly exposed him to the IPU, and marked him as someone with a big role to play in future covert projects involving alien technologies.
Beginning in 1953, Kissinger served as an advisor to Nelson Rockefeller who was responsible during the Eisenhower administration for government reorganization and the contracting of classified research and development projects into the corporate world. These technology development projects involved highly classified alien technologies in a program run by a Truman appointed committee named Majestic-12 (aka MJ-12).
Kissinger's long suspected role in classified programs attempting to reverse engineer retrieved alien technologies and his direct relationship with MJ-12 was posthumously confirmed by Dr Eric Henry Wang. Wang was the head of the Department of Special Studies that from 1956 to 1960 was located at Sandia National Laboratories, and previously at Wright Patterson Air Force base in Dayton, Ohio. After his death in 1960, his widow revealed that Henry Kissinger, according to Dr Wang, "is deeply involved in the Flying Saucer Program. In fact, he was completely in charge of it at the time that Dr. Wang was still alive and involved with it."
Kissinger's influential role in alien related projects was illuminated even further in filmed testimony released to the public of a former CIA agent in May 2013. The agent claimed that he had been recruited by the CIA while serving as an army cryptologist during the Eisenhower administration. He revealed that in 1958 he and his immediate CIA superior were summoned by President Eisenhower, who was accompanied by Vice-President Nixon, to pass on a message to the MJ-12 control group in charge of alien related projects:
We called the people in from MJ-12, from Area 51 and S-4, but they told us that the government had no jurisdiction over what they were doing…. I want you and your boss to fly out there. I want you to give them a personal message…. I want you to tell them, whoever is in charge, I want you to tell them that they have this coming week to get into Washington and to report to me. And if they don't, I'm going to get the First Army from Colorado. We are going to go over and take the base over. I don't care what kind of classified material you got. We are going to rip this thing apart.
The CIA agent's testimony is significant since it revealed the brewing conflict between the representative government led by Eisenhower and Nixon, and the secret control group, MJ-12, that was not willing to disclose the full extent of its operations. Significantly, this occurred at the very time that Kissinger was in charge of alien related projects, according to Dr Wang. Basically, Kissinger and others on the MJ-12 committee were opposed to Eisenhower and Nixon exerting any authority over alien related projects.
When Nixon finally succeeded to the Presidency in 1968, Henry Kissinger was chosen to serve as his National Security advisor. Most political commentators assumed that Kissinger, as a Nelson Rockefeller man, was chosen to ensure Rockefeller's support for the Nixon Presidential campaign. The truth was that Kissinger was there to ensure that Nixon would not cause any problems when it came to how alien related projects were being run. Kissinger represented the interests of Rockefeller and the MJ-12 committee.
The Nixon-Kissinger visit to China in 1972 was an important step in forming a second front against the Soviet Union and its Warsaw Pact allies including Vietnam. China was now formally allowed to join the United Nations, and a rapprochement had begun with the United States. The four decades long rapprochement has culminated with Kissinger's May 21 speech recommending a partnership by the US and China in creating a New World Order. The sub-text is that if President Xi cooperates with President Obama, then China will be allowed greater access into the covert world of advanced alien technology programs. The price for eventual public disclosure of alien life and technologies, something that would greatly benefit China, is full cooperation between the U.S. and China in establishing a New World Order.
© Copyright 2013. Michael E. Salla, Ph.D. Exopolitics.org
This article is copyright © and should not be added in its entirety on other websites or email lists. Permission is granted to include an extract (e.g., introductory paragraph) of this article on website or email lists with a link to the original.
Further Reading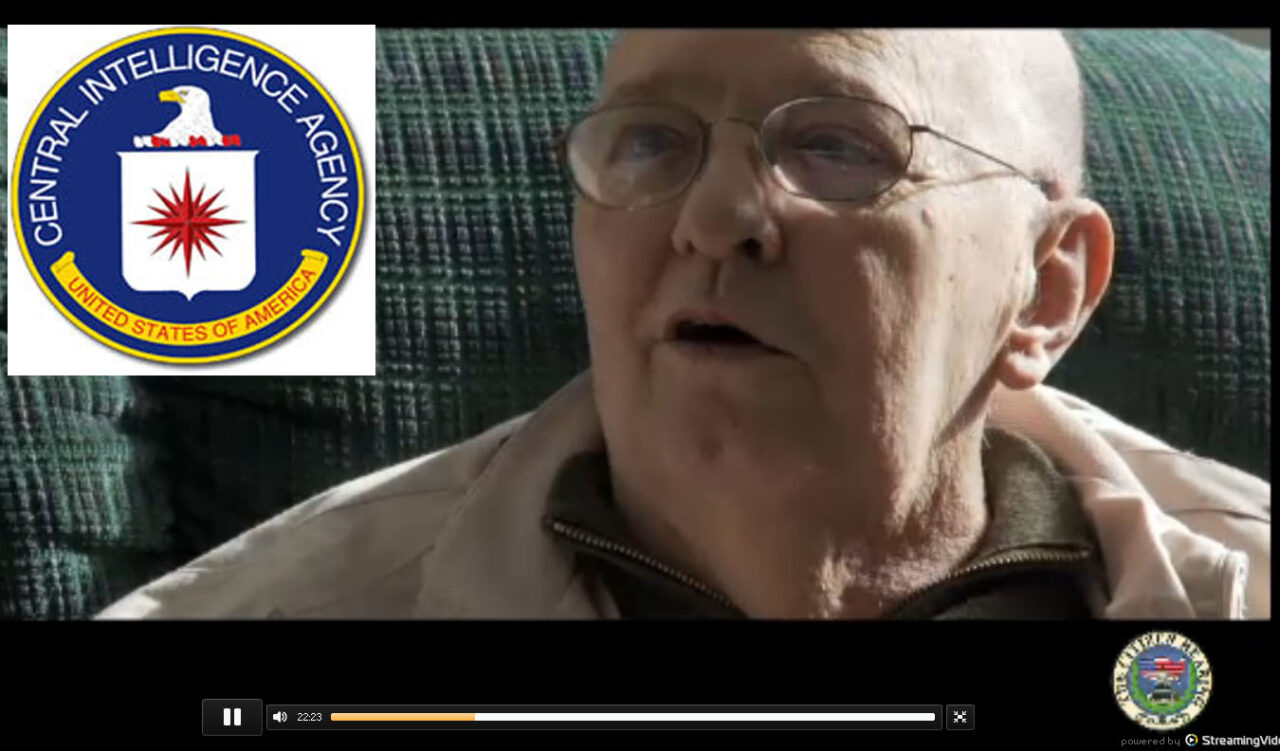 In s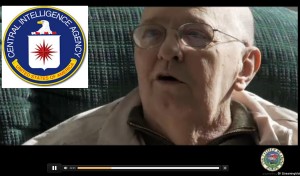 ensational testimony submitted on the final day of the Citizen Hearing on [UFO] Disclosure, six former members of the U.S. Congress heard from a former CIA agent about an incident involving President Eisenhower and extraterrestrials. In a video testimony played today before the retired US Congress members, the agent alleged that President Eisenhower sought to gain information from a secret control group called MJ-12 about alien related projects at a facility near Area 51 called S-4, both of which are located in a remote region of Nellis Air Force Base, Nevada. When denied the requested information, Eisenhower allegedly authorized a personal message that the agent and his immediate superior would deliver to those in charge at Area 51 and S-4. The message was a direct threat that the President would authorize a military invasion of Area 51 and S-4 if his request for information was not carried out.
The former CIA agent is currently aged 77 and suffering from acute kidney problems and has only several months to live. A 15 minutes segment was played out of a longer interview where he went on the public record about how he was recruited by a senior CIA operative located out of Langley, Virginia to work with the CIA on the issue of extraterrestrial life. At the time of his recruitment in 1958, he had just completed training at the US Army Signal Training Center, and began working as an Army cryptologist. He said that he was recruited by the CIA operative because it would give him significantly more money than he was earning in the Army. His first assignment was to examine files on UFOs and extraterrestrial life submitted from USAF base at Fort Belvoir, which were different to the Project Blue Book files studied at Wright Patterson Air Force Base that were eventually released to the general public.
In response to questions from UFO historian Richard Dolan, the former CIA agent went on to explain how in 1958, he and his boss – the CIA operative – were summoned by President Eisenhower to the Oval Office. The President, who was accompanied by Vice-President Nixon, told the agent and his boss that he was trying to get information about efforts to learn about extraterrestrial life and technology. The agent said that according to President Eisenhower: "MJ-12 was supposed to find out, but they never sent reports to him." The CIA agent said he and his boss were called into the Oval Office". President Eisenhower said:
We called the people in from MJ-12, from Area 51 and S-4, but they told us that the government had no jurisdiction over what they were doing…. I want you and your boss to fly out there. I want you to give them a personal message…. I want you to tell them, whoever is in charge, I want you to tell them that they have this coming week to get into Washington and to report to me. And if they don't, I'm going to get the First Army from Colorado. we are going to go over and take the base over. I don't care what kind of classified material you got. We are going to rip this thing apart."
In response to Dolan's question, "Eisenhower was going to invade Area 51?" the CIA agent confirmed that Eisenhower indeed planned to so with the First Army.
After traveling to Area 51 and S-4, the CIA agent said that he saw several garage type doors with flying saucers in them. He described seeing a Gray alien at the S-4 facility that his boss "partially interviewed". Upon returning to the White House, the agent and his boss relayed what they had seen at S-4. Significantly, the FBI Director, J. Edgar Hoover, was also present during the debriefing of the CIA agent and his boss over what they had witnessed at S-4 and Area-51. According to the CIA agent, Eisenhower was shocked.
The testimony of the CIA agent was admitted into the Citizen Hearing by the main organizer, Stephen Bassett, since he thought it was credible based on the research of Linda Moulton Howe and Richard Dolan. The CIA agent's testimony yields important insights among which include:
© Copyright 2013. Michael E. Salla, Ph.D. Exopolitics.org
This article is copyright © and should not be added in its entirety on other websites or email lists. Permission is granted to include an extract (e.g., introductory paragraph) of this article on website or email lists with a link to the original.
Further Reading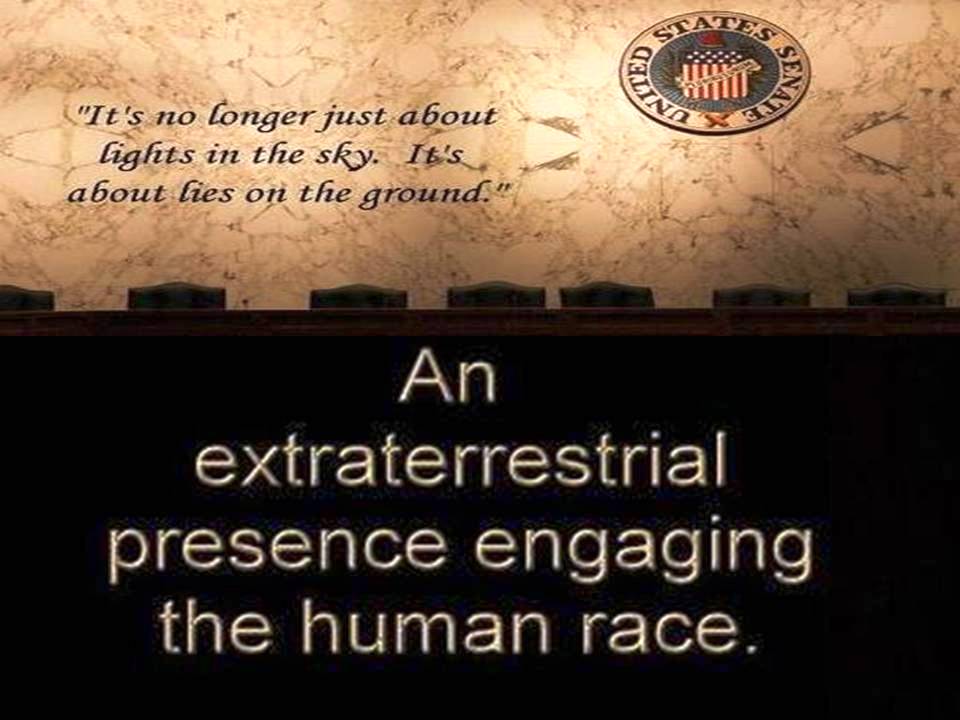 It has just been confirmed that five former members of the US Congress will hear evidence of a sixty year cover-up of evidence of UFOs and extraterrestrial life. In an April 8 Press Release, it was announced that from April 29 to May 3, 2013, former Senator Mike Gravel (1961-1981); former Congressman Merrill Cook (Rep, 1997-2001); former Congresswoman Darlene Hooley (1997-2009); former Congresswoman Carolyn Kilpatrick (1997-2011); and former Congresswoman Lynn Woolsey (1993-2013) will sit and hear evidence from forty witnesses. Modeled on a U.S. Senate hearing room formula, the five members will hear the evidence presented by "researchers, activists and military/agency/political witnesses" in what will be called a "Citizen Hearing on Disclosure." The former Congressional members will hear evidence that the Roswell Crash did happen, that the US military issued shoot-to-kill orders against UFOs, that the FAA was ordered to cover up UFO sightings, that the reality of extraterrestrial life has officially been covered up since at least 1947, and that nuclear weapons facilities have been deactivated by UFOs.
The "Citizen Hearing on Disclosure" is the brainchild of Stephen Bassett from the Paradigm Research Group who succeeded in raising over a million dollars in funding for the event which will be streamed live to world and held in the National Press Club. Bassett says that:
The Citizen Hearing on Disclosure will attempt to accomplish what the U. S. Congress has failed to do for forty-five years – reveal the facts surrounding the most important issue of this or any other time.
The last time the US Congress heard evidence about UFOs was in 1968 at a symposium held before the Committee On Science And Astronautics, which comprised 30 members of the U.S. House Of Representatives. The Congressional Committee heard evidence from six scientists, and accepted written statements from a further six scientists including Stanton Friedman, M.Sc. who will be a presenter at the 2013 Citizen Hearing on Disclosure.
On the Citizen Hearing website, the format is explained:
All will conduct themselves in the same manner appropriate to a Congressional hearing. To the extent possible the protocols for congressional hearings will be followed. Committee members will receive written statements from witnesses, hear oral statements and ask whatever questions they wish about the subject matter at hand.
Witnesses include former astronaut Edgar Mitchell, former Canadian Minister for Defense, Paul Hellyer, and witnesses/researchers from Brazil, Uruguay, Peru and China.
I spoke today to Stephen Bassett, Executive Director of the Citizen Hearing, about what he expects to emerge from the Citizen Hearing. He said that no report is expected from the former members of Congress who will simply hear witness testimony, receive reports, ask questions and maintain a suitable congressional model for the Citizen Hearing. The main intention is to have the evidence presented for follow up. In this regard, he explained five main goals:
Send a message to the U.S. Congress that it is not doing its job, by having the Citizen Hearing gather evidence about UFOs and extraterrestrial life that deserves further investigation by the Congress.
Reply to a White House claim in an official response to an earlier petition that there is no evidence supporting the extraterrestrial hypothesis.
Stimulate Citizen Hearings in other countries by having the Citizen Hearing translated into the five most important world languages.
Draw attention to the tremendous number of witnesses, researchers and activists working on disclosing the evidence of an extraterrestrial presence.
Create a 501(c)3 organization that can gain funding for future Citizen Hearings.
A documentary will be produced from the Citizen Hearing which will be titled Truth Embargo. The April 28-May 3 Citizen Hearing is free and open to the public. More details are available at its main website.
© Copyright 2013. Michael E. Salla, Ph.D.
This article is copyright © and should not be added in its entirety on other websites or email lists. Permission is granted to include an extract (e.g., introductory paragraph) of this article on website or email lists with a link to the original.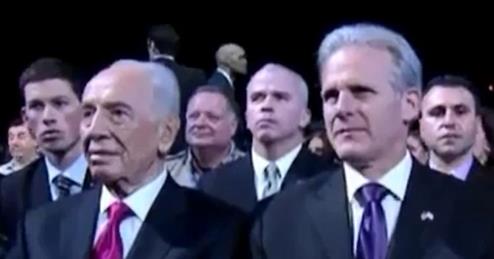 A video recording from President Obama's address at the 2012 AIPAC conference at the Washington Convention Center shows a mysterious looking figure among the Secret Service agents protecting him. From one camera angle, the figure looks uncannily like a tall Gray alien; with no noticeable ear, mouth or facial hair. From most other camera angles, the figure appears as a bald Secret Service agent who looks human enough. Not so according to a popular Youtube video that has over 330,000 hits since its March 13, 2013 release. The bald Secret Service agent is a shape shifting humanoid alien, and the video provides detailed analysis supporting its remarkable claim. So was it all just a trick a light, or did the camera capture something we weren't supposed to see? In the 1988 science fiction movie classic, They Live, extraterrestrials live among humanity using advanced technology to hide their physical differences. Is it possible that the Secret Service employs aliens to protect President Obama, and uses some kind of advanced technology to hide them from the public eye?
The idea of the U.S. Secret Service employing aliens appears far-fetched, but it was only back on December 7, 2012 that Prime Minister Medvedev said in candid off-air comments that Russian Presidents are briefed on aliens living among us. He went on to add that a highly classified national security agency monitors aliens residing on Earth. Major media thought it was a case of Medvedev's dry humor, and that he gave the joke away when he referred to the Hollywood Blockbuster, Men in Black. Yet Medvedev appeared to be referring to a Russian documentary instead, one produced by the same network that the female reporter who asked him the alien question worked for. In fact, the reporter asked the question because the network was working on another extraterrestrial related documentary. A disturbing possibility is that the meteor strike on Russia on February 15, 2013 was related to Medevedev's candid off-air comments about aliens among us. A Russian Parliamentarian claimed that the meteor strike was a warning to the Russian government. Was it a warning that Russian needs to maintain secrecy about alien visitors? If Medvedev wasn't joking, it is possible that aliens secretly living on Earth aren't just monitored, but also employed in sensitive security positions like the U.S. Secret Service.
It's a fact that advanced technologies such as invisibility have been developed for use in classified military projects for some time now. Proof-of-concept demonstrations in the open source literature are available for funding and development purposes by military contractors. Classified versions would predictably be far more advanced, and very likely have been operational for some time now. It's reasonable to conclude that invisibility or related technologies are used by the Secret Service to make agents disappear, and/or alter their physical appearance. Consequently, Secret Service agents very likely use invisibility technology when protecting the President and other VIPs. Such technologies may also be used by any extraterrestrial aliens recruited into the Secret Service. Is President Obama being guarded by aliens, or was it all just a trick of light? You decide!
© Copyright 2013. Michael E. Salla, Ph.D. Exopolitics.org
This article is copyright © and should not be added in its entirety on other websites or email lists. Permission is granted to include an extract (e.g., introductory paragraph) of this article on website or email lists with a link to the original.