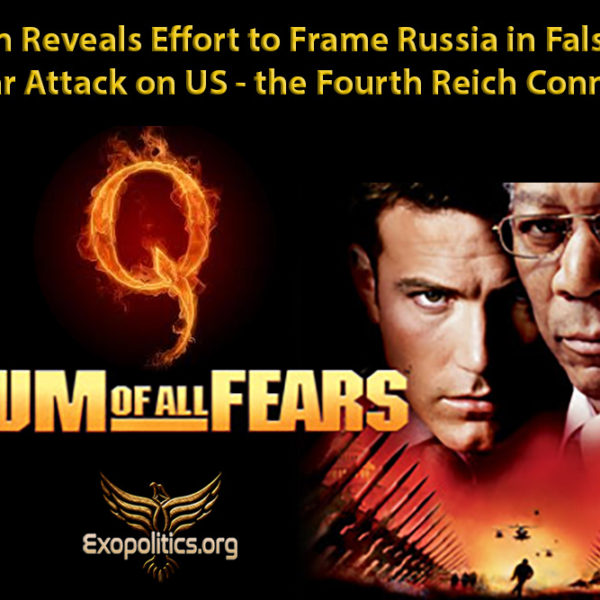 QAnon has repeatedly referred to the movie the Sum of All Fears in posts dating back to November 2017 that suggest the Deep State is involved in an effort to foment a nuclear false flag attack on the United States. In the most recent post QAnon explicitly says that a nuclear weapons facility being secretly assembled in Syria would use uranium that could be linked to Russia.
QAnon revealed that after a false flag nuclear attack on US territory, the uranium would be traced back to Russia, and the stage would be set for forcing the US military to launch a retaliation that would precipitate World War III.
Before examining QAnon's posts, it's worth repeating that the consensus of many analyzing his/her posts is that QAnon represents a group of very senior military intelligence officials working with the Trump Administration. According to Dr. Jerome Corsi, it was a group of three military generals that approached Trump to run for President in 2015, in order to help the US break free from Deep State control and prevent covert efforts to orchestrate World War III.
QAnon's posts reveal the inner thinking of senior military intelligence officials connected to the Trump White House. The posts provide the general public a unique opportunity to fathom what is really happening in the rarefied world of military intelligence and special operations, despite mainstream media efforts to distract the public through fake news reports.
In the movie, The Sum of All Fears, the US and Russia come to the brink of war when a nuclear device is detonated in the city of Baltimore. The nuclear attack is blamed on Russia and the world stands on the brink of World War III until the movie's main protagonist, a CIA analyst/Ben Affleck, shows the uranium used for the device was in fact a stolen US nuclear device.
Here's what QAnon wrote on April 30: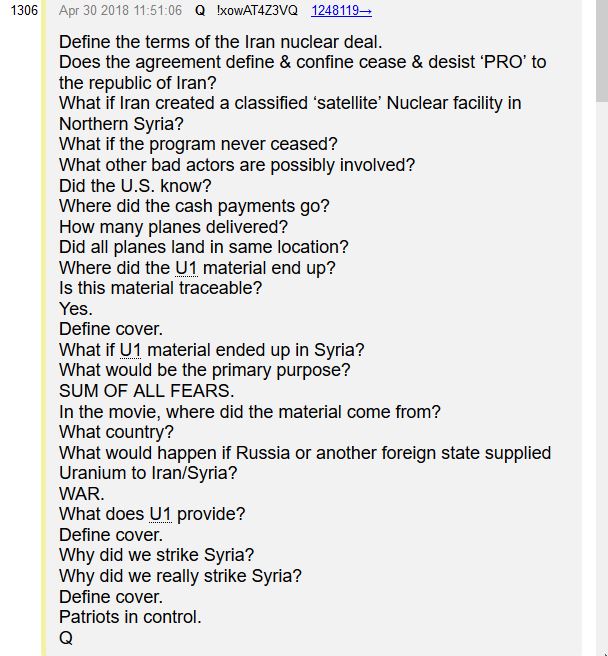 There is much detailed intelligence data contained in this April 30 post that needs to be unpacked.
First, QAnon tells us that Iran had secretly built a nuclear facility in northern Syria:
What if Iran created a classified 'satellite' Nuclear facility in Northern Syria?
What if the program never ceased?
What other bad actors are possibly involved?
The term "bad actors" is a reference to rogue operators that are linked to the Deep State, who enabled this nuclear facility to be secretly assembled. Presumably, Iran's and Syria's leadership was being tricked, manipulated or blackmailed, into building this secret nuclear facility that would be controlled by shadowy individuals linked to the Deep State.
It's worth pointing out that QAnon has repeatedly said that the Deep State involves a global Satan worshiping group linked to the Rothschild family. This group uses its vast wealth and occult power to compromise politicians and elites around the world, which are subsequently controlled to do the Deep State's bidding.
QAnon goes on to say that the nuclear material being used in this satellite Nuclear facility in Syria had been arranged by the Deep State:
Where did the U1 material end up?
Is this material traceable?
Yes.
Define cover.
What if U1 material ended up in Syria?
What would be the primary purpose?
SUM OF ALL FEARS.
Here QAnon asserts that the Uranium One (U1) deal reached between the Obama administration and Russia back in 2009, when Hillary Clinton was Secretary of State, was designed to supply Russia with uranium that could be traced back to the US. The Deep State plan was to use the U1 uranium at the secret nuclear facility in Norther Syria, to build a nuclear device that would be detonated in the US.
The next part of the April 30 post says:
In the movie, where did the material come from?
What country?
What would happen if Russia or another foreign state supplied Uranium to Iran/Syria?
WAR.
What does U1 provide?
Define cover.
In the movie the uranium came from a US source. In the secret Iranian nuclear facility in northern Syria, the U1 uranium sold to Russia by the Obama administration, provided a means of incriminating Russia. According to QAnon, this would have led to WAR – a military retaliation by the US covertly planned to escalate to World War III.
QAnon's next reference is important for understanding the real target of the US, French and British military strikes into Syria on April 14:
Why did we strike Syria?
Why did we really strike Syria?
Define cover.
Patriots n control.
Q.
QAnon is telling us that the chemical weapons justification used by President Trump to authorize the strike was a charade, a cover. The US military was really targeting the secret nuclear facilities ostensibly controlled by Iran, but were in fact Deep State assets.
This would help explain why the Russians stood down in the US coalition attack on its ally, Syria. Russia was briefed in advance, and very likely approved the plan to take out the secret Iranian nuclear facility which it could not do itself given its alliance with Iran in the Syrian Civil War.
Furthermore, in the movie, the actors involved in the false flag attack is connected to a secretive neo-Nazi group. In a March 10 post, QAnon also links the effort to frame Russia in a nuclear attack on the US to a secretive Nazi group.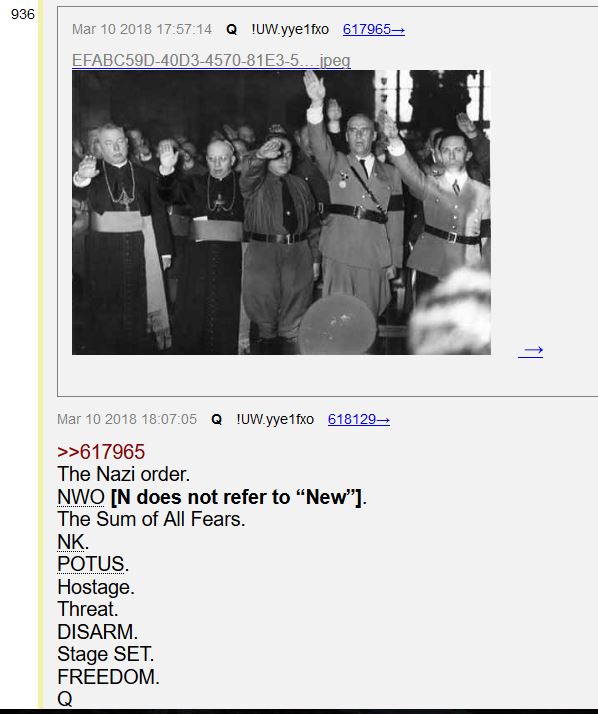 Here QAnon is suggesting that the North Koreans had likewise been helped by a Deep State/Nazi group that had supplied it secret nuclear assistance. After Kim Jong-Un realized that the Deep State had betrayed him by attempting to frame North Korea in a failed nuclear attack on Hawaii, the North Koreans decided to end their cooperation with the Deep State.
The failed false flag attack on Hawaii was therefore the real reason for North Korea's change of heart and decision to cooperate with President Trump. As discussed in a previous article, the U.S. military shot down the ballistic missile intended to frame North Korea, and stood down its forces rather than retaliate against the North Koreans.
This is the meaning of the stage being set for "FREEDOM" for North Korea. Apparently, the same thing is happening now in Syria and Iran, by the Deep State's Iranian satellite nuclear facility being destroyed in the US military strike.
The picture that is emerging from QAnon's April 30, March 10 and other posts is that the repeated references to The Sum of All Fears movie is revealing a secretive effort by the Deep State to contrive a nuclear war through a false flag attack on the US.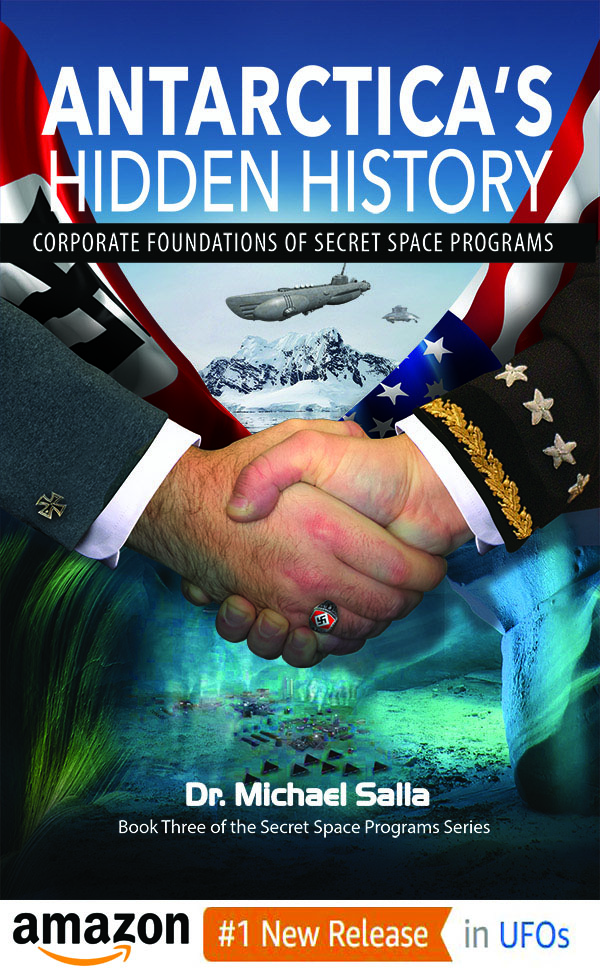 QAnon's information here dovetails well with my own research into a breakaway World War II Nazi group linked to occult secret societies that established underground facilities in South America and Antarctica.
This occult led Nazi group established a Fourth Reich possessing highly advanced weapons and aerospace vehicles that is a key pillar of a global control system established by Deep State Satan worshipers.
If I am interpreting QAnon's posts correctly, then it is clear that The Sum of All Fears movie was a Deep State initiative to hide the truth in plain sight, which is a well-established occult principle.
QAnon is telling us that there is a global network of Deep State actors who are Satan worshipers that work closely with a secretive Nazi group that survived World War II. This Dark Alliance is intent on fomenting a catastrophic World War. Recent events in Syria and North Korea, firmly point to Presidents Trump and Putin secretly cooperating to put an end to these evil Deep State plans.
© Michael E. Salla, Ph.D. Copyright Notice
Further Reading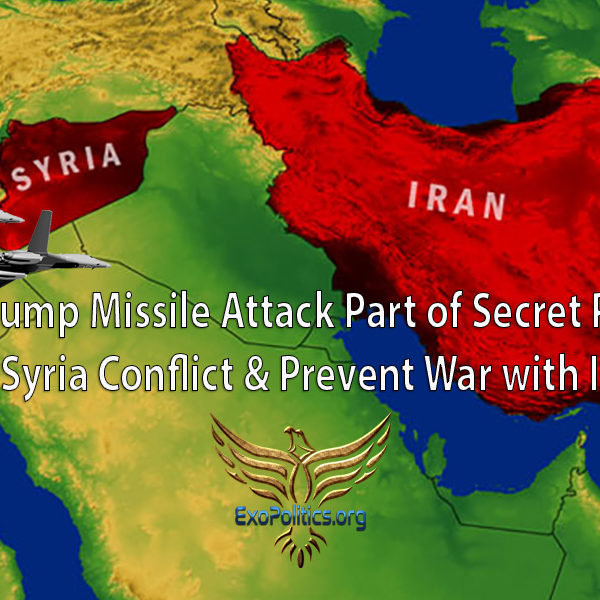 In the early morning hours of April 14, President Trump authorized an attack by a coalition of U.S., French and British military forces against Syria. The attack involved 103 cruise missiles fired upon Syrian facilities previously associated with chemical weapons productions. These facilities were allegedly involved in a chemical weapons attack nearly a week earlier on April 8, on Douma, a suburb of Damascus.
After the limited missile strike, Trump said the attacks had been successful and declared "mission accomplished". 
A perfectly executed strike last night. Thank you to France and the United Kingdom for their wisdom and the power of their fine Military. Could not have had a better result. Mission Accomplished!

— Donald J. Trump (@realDonaldTrump) April 14, 2018
Just as Trump had clearly signaled to the world via Twitter that he was about to launch an attack on Syria, he was now clearly transmitting via Twitter that the attack was completed with the mission goals achieved.
Many alternative media analysts accept that the April 8 chemical weapons attack was not orchestrated by the Syrian government, because it did not have any strategic purpose for doing so given recent battle field successes.  In their view, the chemical weapons attack was a false flag event staged by Deep State actors wanting to drag the US and its major allies deeper into the Syrian Civil War, as a prelude to a major attack on Iran.
So was Trump's attack really a prelude to the U.S. getting drawn more deeply into the Syrian and Iran conflicts via a very transparent false flag event, or was Trump's real goal to achieve an entirely different strategic purpose, to bring about a speedy end to the Syrian Civil War and prevent a new war with Iran?
In finding an answer we can first take a look at what QAnon, which is a group of US Military Intelligence officials leaking classified information, has to say about the missile strike. QAnon used a coded message to predict back on April 8, the day of the Douma chemical weapons incident, that 2 B-1 bombers would be involved in an upcoming Syria missile attack, and these would launch 19 missiles: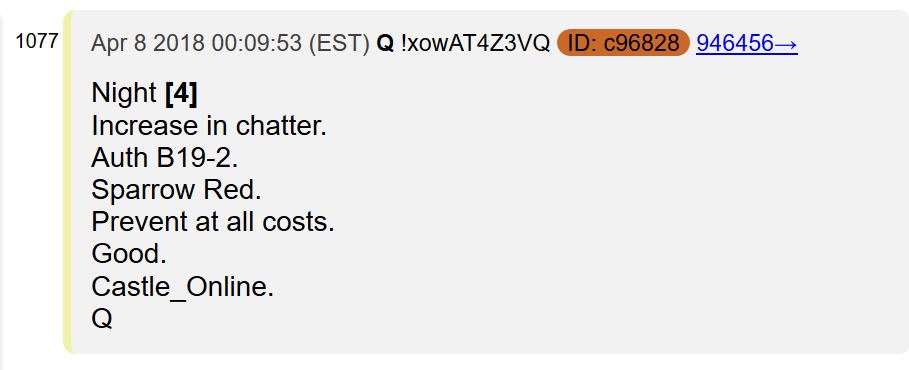 The post suggests that QAnon was aware of advance plans for the Syria attack, and the craft to be used in it. According to another Q Anon post, one that coincided with the April 14 missile attack itself, the U.S. Coalition strike was a limited military operation that would only involve missiles, no ground force or plane overflights of Syrian territory, and that we should trust Trump:

Once again, Q Anon refers to "Sparrow Red" which is likely a reference to an older kind of guided missile, AIM-7 Sparrow, used by many world militaries including Israel and Saudi Arabia.  While the AIM-7 Sparrow is an air-to-air missile not used in the attack itself, was the Sparrow reference signaling an intent to use older missiles launched by the B-1 bombers and surface ships in the U.S. French and British coalition so that many of these missiles could be shot down in a staged event coordinated with the Russians (Sparrow Red – see update)?
This appears to be exactly what happened if consider a statement put out by the Russian Ministry of Defense describing the results of the U.S., French and British missile strikes on Syria. The Russians said:
As evident by the available data, 103 cruise missiles have been launched, including Tomahawk naval-based missiles as well as GBU-38 guided air bombs fired from the B-1B; the F-15 and F-16 aircraft launched air-to-surface missiles.
The Tornado airplanes of the UK RAF launched eight Scalp EG missiles.The Syrian air defence systems, which are primarily the USSR-made AD systems, have successfully countered the air and naval strikes.
In total, 71 cruise missiles have been intercepted. The S-125, S-200, Buk, Kvadrat, and Osa Syrian AD systems were involved in repelling the attack. It proves high efficiency of the Syrian armament and professional skills of the Syrian servicemen trained by the Russian specialists.
Over the last eighteen months, Russia has completely recovered the Syrian air defence systems, and continues its development.
It is to be stressed that several years ago given the strong request by our western partners, Russia opted out of supplying the S-300 AD systems to Syria. Taking into account the recent incident, Russia believes it possible to reconsider this issue not only regarding Syria but other countries as well.

The most telling point in the Russian statement was that almost 70% of the U.S. coalition's missiles were shot down using old Russian air defense technologies.
These shoot down figures are publicly disputed by Pentagon sources, who instead have highlighted the missiles success in hitting their targets. Chief Pentagon spokesperson, Dana White, said:
This operation was carefully orchestrated and methodically planned to minimize potential collateral damage. I can assure you we took every measure and precaution to strike only what we targeted and we successfully hit every target.

So which is a more the accurate assessment of the missiles success? If we accept the QAnon information suggesting older missile technology was to be used, then it is likely that the Russian statement is more accurate.
Russia has said that given the strike, it now plans to move forward with upgrading the Syrian air defense system using their more modern S-300 technology.
This will significantly increase the defensive capability of the Syrian air defense system, to make it virtually impervious to the kind of limited air attack witnessed on April 14 using cruise missiles and modern aircraft.
The Russian intent to upgrade Syria's missile defenses will eventually change the strategic balance of power. Having a virtually impenetrable air defense system to limited air strikes will deny most foreign actors the ability to militarily intervene in the Syrian Civil War.
So the real loser from the missile attack may ultimately be Israel, which has launched over a hundred air attacks against Syrian forces and their main allies, Iran and Lebanon's Hezbollah, during the Syrian Civil War. This is because Russia has now been given a suitable rationale for upgrading the Syrian air defense system with their advanced S-300 system.
This will soon make it very difficult for Israel to intervene in the Syrian Civil War, as it has previously done with virtual impunity up until February 10 when one of its jets was shot down on after an attack on an Iranian site.

This means that Iran and Hezbollah will have a greater capacity to attack the remaining militia groups fighting the Syrian regime in order to end the Civil War, and allow them to move closer to the Israeli border. This will ultimately put pressure on Israel to reach an agreement with the Assad regime on unresolved issues with Syria.
In addition, the interception and destruction of almost 70% of the U.S. coalition's missiles shows that any state that possesses modern Russian air defenses can withstand the kind of limited missile attack witnessed in the Syrian strike.
This takes me now to what may have been the ultimate goal behind the missile strike – to show how a similar limited strike secretly being planned against Iran would be doomed to failure!
Again, it's worth taking a look at what QAnon has to say about the Syrian strike setting the stage for resolving the Iran issue as part of a secret plan in an April 14 post:

Iran is perceived as a major threat by Israel and Saudi Arabia. There have been fears since 2013 that they would collaborate in a surprise military campaign against Iran, designed to drag the U.S. into the conflict, despite the 2013 Geneva Agreement reached to limit Iran's nuclear programs. On November 17, 2013, The Sunday Times reported:
ONCE they were sworn enemies. Now Israel's Mossad intelligence agency is working with Saudi officials on contingency plans for a possible attack on Iran if its nuclear programme is not significantly curbed … As part of the growing co-operation, Riyadh is understood already to have given the go-ahead for Israeli planes to use its airspace in the event of an attack on Iran. Both sides are now prepared to go much further.

The problem with Israel and Saudi Arabia cooperating in a surprise attack to take out Iran's nuclear facilities is that Iran has a recently modernized air defense system, supplied by Russia, which protects its facilities.
In June 2016, Russia finally delivered its S-300 air defense system, after a 10 year delay due to U.S. requests.  In March 2018, the Iranians successfully test-fired the system as reported by a number of media outlets showing these were now operational:
Iran has successfully test-fired a sophisticated, Russian-supplied S-300 air defense system, the official IRNA news agency reported on Saturday. The drill took place during a recent military exercise named Damvand, and was attended by senior military commanders and officials according to Tasnim.
IRNA said the test targeted various flying objects including missiles. With a range of up to 200 kilometers (125 miles) the S-300 is capable of simultaneously tracking and striking multiple targets, according to  AP. Iran state TV aired footage of the missiles launching from the back of trucks. It said the test was carried out in Iran's central desert.
As many puzzle over the real motivations between Trump's limited missile strike against Syria in response to a widely perceived false flag incident, and his declaration of "Mission Accomplished", it is very likely that the immediate goal was not to deepen U.S. military involvement.
The purpose was to help promote an end the Syrian Civil War by exposing how sophisticated Syria's air defense abilities were becoming due to Russian assistance. This was quickly neutralizing Israel's air superiority in the region, and would pressure it to end its covert support of armed Syrian groups fighting the Assad regime.
The real strategic goal, however, was to pre-empt a surprise military strike against Iran by Israel and Saudi Arabia by revealing how effective Russia's advanced air defense systems had become. With Iran now deploying sophisticated S-300 air defense systems around its nuclear and military facilities, it would be a futile exercise for Israel and Saudi Arabia to launch a surprise attack given their limited aviation and missile technologies.
Consequently, rather than the Syrian missile strike being evidence of Trump being co-opted by Neocons into yet another Middle East war that is part of a Deep State agenda revealed to General Wesley Clark in 2001, the real purpose seems to be part of a White House/Military Intelligence plan that is aimed at bringing a speedy resolution of the Syrian Civil War, and preventing rogue military actions against Iran.
© Michael E. Salla, Ph.D. Copyright Notice
[UPDATE 4/17/18 Raytheon's AIM-7 Sparrow is an air-to-air missile so it could not have been used in the Syrian missile attack on multiple ground targets. The logo of Raytheon, that built the AIM-7 Sparrow is red text, so QAnon's reference to Sparrow Red may not be a reference to Russia, but may refer to Raytheon missile technologies used in the Syrian attack. Article updated accordingly.]
Further Reading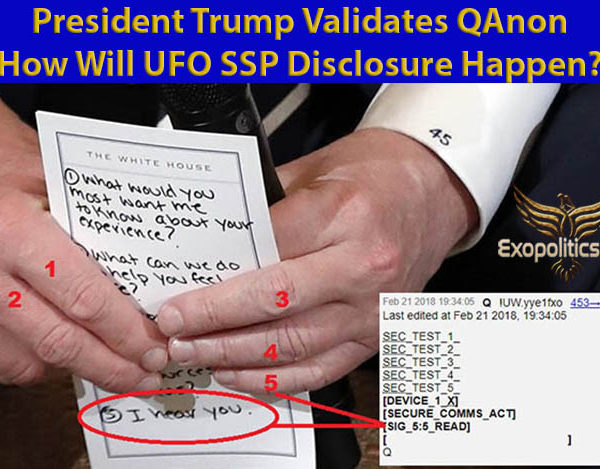 On February 21, President Donald Trump hosted a gathering of students, teachers and parents from the Majory Stoneman Douglas High School shooting tragedy. Just before the meeting began at 4:21 pm, President Trump was photographed showing some handheld notes on White House stationary with a list of five talking points he planned to use during the meeting.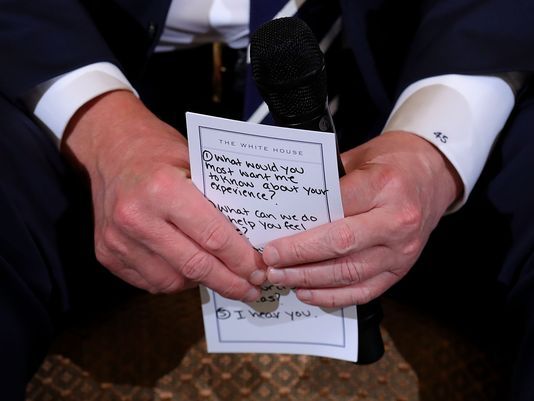 Unusually, Trump had the notes facing outward toward the cameras, rather than facing towards him which would be normal for any public speaker. This made it easy for the notes to be photographed leading to immediate media speculation about the appropriateness of Trump's talking points.

Only a few hours after the meeting, at 7:34 pm, EST, QAnon released a coded post referring to five security tests.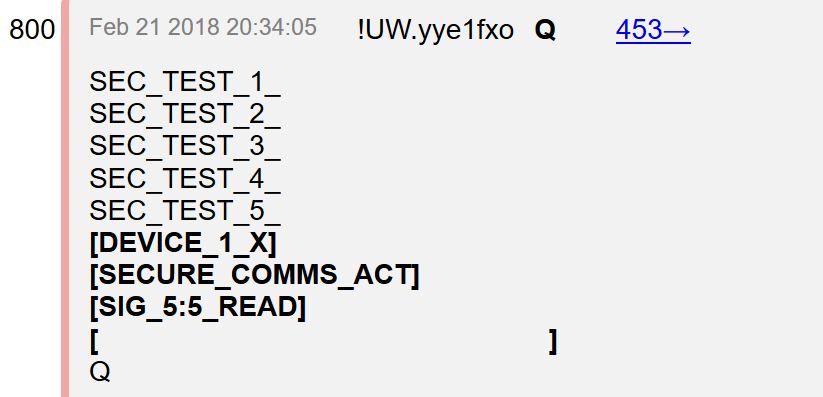 The next day, QAnon posted an image showing Trump holding the note, alongside the later coded message. Trump's hand placement, the five note's points, appeared to have a connection to QAnon's coded post.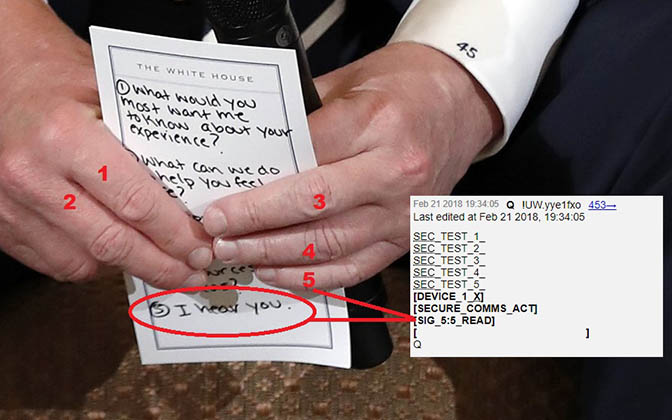 The message QAnon was transmitting was that Trump had deliberately turned his notes outward facing the camera in order to pass on a coded message.
QAnon was telling his audience that Trump was hearing the voices of the many estimated to number as much as twenty million (Q post 812), who have been following the QAnon material – "I hear you".
During the meeting itself, available on video, the notes are nowhere to be seen. Trump, only held the notes prior to the meeting's start. This tells us that these were just talking points for Trump to memorize before the meeting began and were then discarded.
It's possible that he accidently had the list of five points facing out prior to the start of the meeting, but its highly unusual for an experienced public speaker like Trump to do so. The more plausible explanation is that his action was deliberate.
Given the connection QAnon found in Trump's odd hand placement around the notes, and the coded message released only three hours later, this makes it clearer that Trump's action was deliberate and not accidental.
Consequently, it does appear that Trump was sending a coded message that corroborated the QAnon material, as investigative reporters such as Dr. Jerome Corsi contend.
If Trump was indeed passing on a coded message that both corroborated the February 21 security test, and that he was listening to people following the QAnon material, then some important conclusions can be drawn.
First, Donald Trump is aware of and endorsing the QAnon disclosures of classified information occurring on anonymous message boards. This conclusion supports the contention of Dr. Corsi that QAnon is a group of U.S. Army Military Intelligence officials that are disclosing classified information about real life events involving the White House.
Second, Donald Trump is actively participating in sending coded messages designed to legitimate the QAnon material, which confirms that his administration is directly connected with and supporting QAnon.
Third, President Trump is sanctioning the disclosure of classified information through QAnon's posts, which opens the door to read-in insiders to anonymously disclose classified information on a range of topics. This is significant since many insiders possessing classified information would not normally release it, unless authorized by a higher authority, such as Trump.
Finally, the Trump Administration is locked into a no holds barred struggle against Deep State actors and forces as explained in over 800 posts to date by QAnon.  These cover a multitude of issues concerning secret indictments, arrests of Deep State officials involved in pedophile networks, treasonous actions by Obama administration officials, and the January 13 false flag ballistic missile attack on Hawaii.
In addition, Corsi has claimed that Trump is very familiar with the cover-up of information concerning UFO's and Secret Space Programs. It's therefore very possible that QAnon will be the means by which advanced technologies secretly developed in Unacknowledged Special Access Programs will be disclosed to the world.
This leads us to a comment Trump made in his inauguration speech:  
We stand at the birth of a new millennium, ready to unlock the mysteries of space, to free the earth from the miseries of disease, and to harness the energies, industries and technologies of tomorrow.

It's therefore well worth closely monitoring QAnon's posts and President Trump's actions in supporting the release of classified information through anonymous whistleblowers, and what this is about to disclose about UFO's and secret space programs.
© Michael E. Salla, Ph.D. Copyright Notice
Further Reading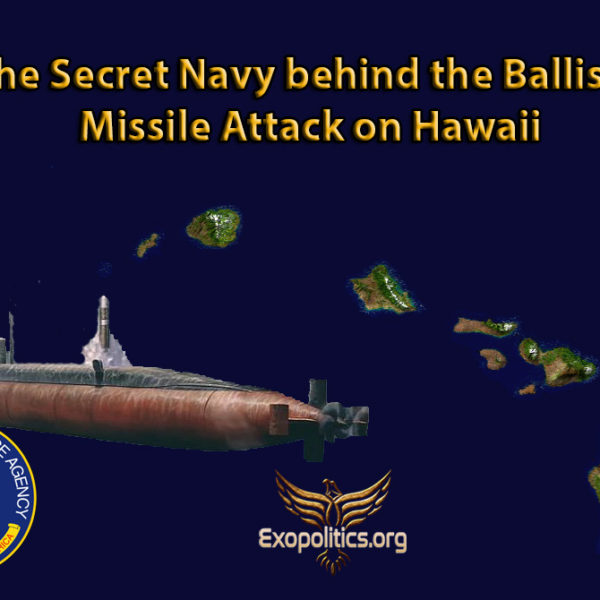 As information continues to emerge confirming that there was a ballistic missile attack against Hawaii that was intercepted on January 13, the investigation begins to shift from what happened, to who was responsible. In this article, I analyze various sources describing the attack, and identify the mysterious naval force that was most likely responsible for launching the ballistic missile, which presumably was nuclear armed.
In my January 17 article, I listed three alternative news sites referring to sources that all said that a ballistic missile was launched against Hawaii by a stealth submarine. The alternative news sources were radio host Dr. Dave Janda, Operation Disclosure (RV/Intelligence Alert), and the Public Intelligence Blog. The Operation Disclosure and Public Intelligence blog sites point to an Israeli submarine as responsible, while Dr. Janda said it was a submarine belonging to a rogue Chinese Navy faction.
Further corroboration for the ballistic missile attack explanation comes from former Forbes Magazine writer, Benjamin Fulford, who says that according to his insider sources, there was a submarine based attack:
One sign of this extreme tension came last week when "a missile from a cabal submarine was stopped from hitting Hawaii and the submarine was sunk," Pentagon sources say.  Media outlets around the world have reported that Hawaiian residents all received the following warning on their mobile phones:  "BALLISTIC MISSILE THREAT INBOUND TO HAWAII, SEEK IMMEDIATE SHELTER, THIS IS NOT A DRILL," but later this was reported to be a false alarm.  It was not—it was an attempt by "the cabal" to blame the attack on North Korea and use it as a trigger for their long-desired World War III, CIA sources say.
Both Fulford and the Public Intelligence claim that the ballistic missile was intended to simulate a North Korean attack suggesting the responsible submarine was in the vicinity of North Korea, either in the Sea of Japan or off the Japanese coastline.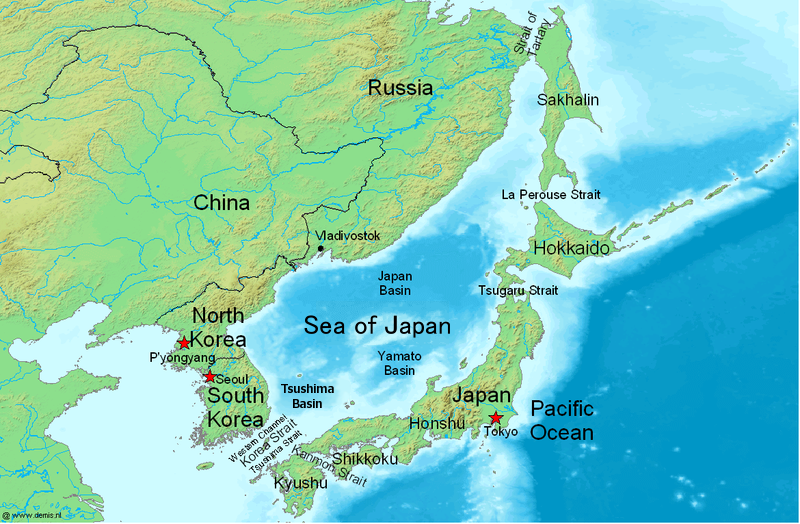 In determining the type of missile attack against Hawaii, yet another source refers to a Hawaii tourist boat about 100 miles out at sea that saw what appeared to be a meteorite exploding in the air shortly before the Hawaii Emergency alert went out Saturday morning, January 13. The additional source appeared as an update to the original Public Intelligence blogsite article about the Hawaii missile attack:
Word here in Hawaii is that a group of tourists and tour guides were on a boat 100 miles off shore Saturday morning around 8 AM when they witnessed what they thought to be a meteor blowing up over the ocean. It was reported on Hawaiian channel 2 but then removed from their website. Rumor is the launch came from an Israel Dolphin 2 submarine. Some college basketball games had a red alert across the screen from US Pacific Command declaring a missile launch in the Pacific near Hawaii.

This additional Hawaii source is vital in understanding what happened since it reveals that the missile was coming down from the upper atmosphere following a ballistic trajectory similar to a meteor. This helps confirm that a ballistic missile was involved rather than another type of nuclear delivery system such as a cruise missile which fly much closer to ground and have a far more limited range.
Of the sources cited so far, aside from Dr. Janda, all believe a faction of the Israeli Navy was behind the attack using a dolphin class submarine supplied by Germany. The USS Liberty attack during the 1967 Arab Israeli war is often cited as an example of Israel launching a false flag attack against the U.S. to embroil it in wars against Israel's regional enemies.
In a private email received on January 19, former CIA covert operative and Marine Intelligence Officer, Robert David Steele, says that the attack was a "Zionist submarine doing a USS Liberty on Hawaii".
In considering the possibility of a rogue Israeli submarine being responsible, it's important to review the armaments possessed by the class of submarines belonging to the Israeli Navy. In a news story describing Israel's possession of Dolphin class submarines purchased from Germany, its armaments are described as follows:
The Dolphin boats are equipped with six 533mm standard torpedo tubes and four 650mm jumbo tubes and can carry 16 weapons. The smaller tubes can fire torpedoes and Harpoon anti-ship missiles as well as other conventional weaponry, but its larger tubes are what makes the Dolphin class so special. From them, frogmen, remotely operated vehicles and especially large cruise missiles capable of carrying nuclear payloads can be deployed.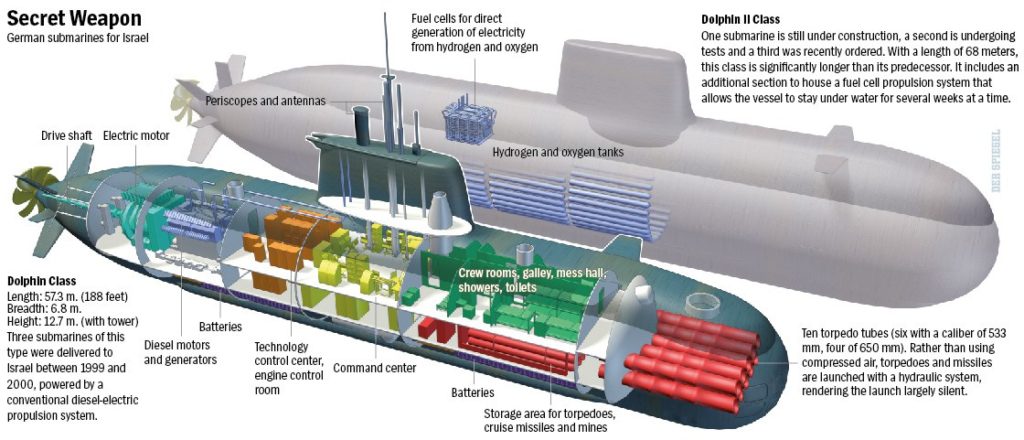 Israel's Dolphin Class submarines can carry cruise missiles which are well suited for Middle East operations, rather than ballistic missiles which are better suited for long distance targets thousands of miles away. Ballistic missiles require much larger "boomer submarines" to launch them, rather than the smaller Dolphin class submarines possessed by Israel.
The Dolphin 2 submarine is 69 meters (225 feet) in length, which is less than half the size of the Ohio class boomer submarines (170 meters/560 feet long) used by the US Navy to carry Trident ballistic nuclear missiles. Sea Launched Ballistic Missiles need vertical missile tubes as opposed to the more traditional horizontal torpedo tubes used for Sea Launched Cruise Missiles located at the front of the smaller Dolphin class submarine.


Consequently, it's unlikely that a renegade faction of the Israeli Navy launched the ballistic missile attack since their Dolphin class submarines simply don't have the capacity.
Furthermore, it's hard to imagine how a U.S. war against North Korea and/or China would advance Israel's national security interests, which are far more concerned about threats posed by major regional rivals such as Iran.
Dr. Janda describes a rogue faction of the Chinese Navy being responsible, and that after the missile had been intercepted and destroyed by the US. Missile defense system, the regular Chinese Navy destroyed the submarine.
This explanation is perhaps the scariest to consider since the US national security apparatus would almost certainly hold China responsible for such an attack despite any genuine factional divisions within the Chinese Navy.
The immediate U.S. response would have been, at the very least, a direct retaliatory nuclear attack against China's main regional ally North Korea, which would have been scapegoated for a Hawaii attack. After destroying North Korea's military infrastructure, the country would have then been subsequently overrun and occupied by the U.S. Military and its South Korean ally in an analogous way to Afghanistan after the 9/11 attack. 
China's strategic interests would have been severely setback in such a scenario. It's hard to imagine any Chinese military commander, rogue Navy faction or not, would risk a nuclear retaliatory strike by the U.S. that would set back China's steady emergence into a global superpower over the next decade or so. Patience is a characteristic that China's political leaders possess in abundance.
Consequently, I find it unlikely that a rogue faction of the Chinese Navy was behind the ballistic missile attack.
So who then launched the attack against Hawaii?
For an answer we need to consider legendary Hawaii Senator Daniel Inouye who in 1987 described the existence of a shadowy government within the U.S. with its own separate military assets.
There exists a shadowy Government with its own Air Force, its own Navy, its own fundraising mechanism, and the ability to pursue its own ideas of the national interest, free from all checks and balances, and free from the law itself.

Inouye was clearly convinced of a very highly classified U.S. agency that had the independent funding and wherewithal to develop its own Air Force and Navy outside the regular chain of military command.
In contrast to the assets of the regular U.S. Air Force and Navy, this covert fleet of ships and aircraft would be "dark", in terms of its security classification. It would therefore be appropriate to call it the "Dark Fleet" which is what secret space program insider Corey Goode says it is called by the U.S. military according to his confidential sources [Skype Communication Jan 18). He says that it is separate to another "Dark Fleet" which is a Secret Space Program that operates in Deep Space.
I need to point out that in 2017, I personally met some of Goode's confidential Earth Alliance sources. They provided many documents to prove they are deeply connected to NATO security operations and the European intelligence community. They have continued to provide Goode intelligence information since they consider him to be a genuine extraterrestrial contactee, and asset of a Secret Space Program Alliance known to exist by NATO officials.
What U.S. Government agency would have the ability to raise its own "Dark Fleet" outside the regular chain of military command and Presidential executive authority? The only U.S. agency capable of doing so is the Central Intelligence Agency (CIA). More specifically, we are talking about the CIA's Directorate of Operations (formally Clandestine Service) which runs all its global covert operations, where a Dark Fleet would have been developed to meet operational requirements.
The 1949 CIA Act comprised additions to those sections of the 1947 National Security Act that dealt with the creation of CIA. The 1949 CIA Act gave a Congressional stamp of approval to the creation of a 'black budget' it could spend without recourse to U.S. law as the following section make clear:
… any other Government agency is authorized to transfer to or receive from the Agency such sums without regard to any provisions of law limiting or prohibiting transfers between appropriations [emphasis added]. Sums transferred to the Agency in accordance with this paragraph may be expended for the purposes and under the authority of sections 403a to 403s of this title without regard to limitations of appropriations from which transferred. [50 U.S.C. 403f(a)]
Essentially, this gave the CIA the power to generate large amounts of money through covert means and launder it however it wished through the Pentagon and the U.S. bureaucracy. The funding was used for an unofficial "black budget" that by 2001 was estimated to be as high as $1.7 trillion annually.
In addition to having the financial means, the CIA has long been developing its own covert Air Force. This began in the mid-1950's when the CIA established Area 51, as the location to develop future fleets of spy planes with the aid of companies such as Lockheed, which today is the world's largest defense contractor.

In the 1960's the CIA began training personnel to develop skills necessary to operate its spy planes on U.S. aircraft carriers. CIA documents confirm that the U.S. Navy was training the CIA on how to operate spy planes on their carriers:
The above document went on to discuss how Kelly Johnson, Director of Lockheed's Skunkworks, helped the CIA launch its U-2 spy plane from the USS Kitty Hawk

Another CIA document shows the Navy's reluctance to allow the CIA to use its aircraft carriers to carry spy planes in trouble spots like the Mediterranean, thereby creating the operational necessity for the CIA to eventually acquire its own aircraft carrier to carry fleets of spy planes around the world.

These official CIA documents support the conclusion that by the 1970's the CIA's Directorate of Operations had its own squadrons of spy planes, and would have acquired its own aircraft carrier out of operational necessity that it could operate anywhere around the world without any kind of government oversight.
As far as the CIA having its own submarines, a Washington Times article from January 3, 1985 shows that two ballistic missile submarines, USS John Marshall and Sam Houston were handed over to a 2000 man Special Operations Force.

It can be guaranteed that the CIA's Directorate of Operations would have similarly justified the acquisition of ballistic missile capable submarines for its own covert operations around the world.
With the CIA's role in generating multiple black budgets, it could easily have diverted some of these funds to defense contractors for building ballistic missile capable submarines for exclusive use in clandestine operations. It's worth noting that Lockheed Martin builds the Trident II ballistic missiles for the Ohio class submarines currently possessed for by U.S. Navy.
As noted earlier, the CIA and Lockheed have developed a long and close relationship since their joint efforts to develop Area 51 for spy planes and other advanced technologies in the 1950's. Therefore it is very possible that the CIA's Dark Fleet possesses Trident II ballistic nuclear missiles developed by Lockheed Martin.
Consequently, Inouye's claims of a shadowy government possessing its own Air Force and Navy is very feasible given what we know about the CIA's history, and official documents showing its military assets, training and close relationship with defense contractors such as Lockheed Martin.
The CIA had the independent funding to create squadrons of spy planes that could operate from an aircraft carrier with the necessary support craft that altogether constituted a CIA controlled aircraft carrier battle group that included nuclear submarines.
So was the CIA's Dark Fleet behind the ballistic missile attack on Hawaii? I put this question to Corey Goode and he responded:
Yes, They DO have an Air Craft Carrier and destroyers and support vessels, a whole fleet….This stuff has been a part of recent briefings in the form of informed speculation as to what occurred in Hawaii/Japan. All are pretty convinced that rogue CIA sub fired missiles and MIC SSP [USAF/NRO/DIA Secret Space Program] took the missiles out. We are all waiting for specifics and confirmation but these are "read in" General/Colonel types doing the speculating.[Skype Communication 1/19/18)
The CIA's Directorate of Operations has long been the primary asset of what Inouye called the Shadow Government, but today is referred to as the "Deep State". Due to President Trump's December 21, 2017, Executive Order freezing the financial assets of all involved in human rights abuses and corruption,  Trump was not only declaring war against U.S. global elites involved, but also against the funding sources for the CIA's covert operations.
The CIA's black budget is made possible by human rights abuses and corruption around the planet that provides almost unlimited funds for its covert operations, including its Dark Fleet. Consequently, the CIA's Dark Fleet had the means, motive and opportunity to attack Hawaii with a ballistic nuclear missile that would embroil the Trump administration in a major regional war with North Korea and possibly China.
Significantly, on January 16, Japan's major public broadcaster also warned the public about an incoming ballistic missile attack. Once again, a false alarm was issued shortly after by government authorities.
It's quite possible that the same submarine responsible for the Hawaii attack, launched another missile attack, this time against Japan, presumably Tokyo. It was also brought down, probably by the same defense forces that tracked and destroyed the Hawaii bound missile. Again, the purpose would have been to simulate a North Korean attack thereby triggering a major regional war.
Such a war would distract the Trump administration and U.S. military from going after Deep State assets, and tie down the U.S. in a serious regional confrontation. Thankfully, the U.S. Navy and Air Force, along with the USAF run secret space program, were able to neutralize the attacks on Hawaii and Japan.
The multiple sources and documents cited above lead to a remarkable conclusion. A CIA created secret Navy launched ballistic missile attacks against Hawaii and Japan using a Dark Fleet created in the 1970's to support covert operations around the world.
Consequently, neutralizing the "Dark Fleet" and reigning in the CIA's Directorate of Operations must become a high priority goal for the Trump Administration and the Pentagon. A major step in doing so is for the truth to be officially released about ballistic missile attacks against Hawaii and Japan.

© Michael E. Salla, Ph.D. Copyright Notice
[Note: My thanks to Corey Goode for reading an earlier draft of this article and his helpful suggestions.]
Further Reading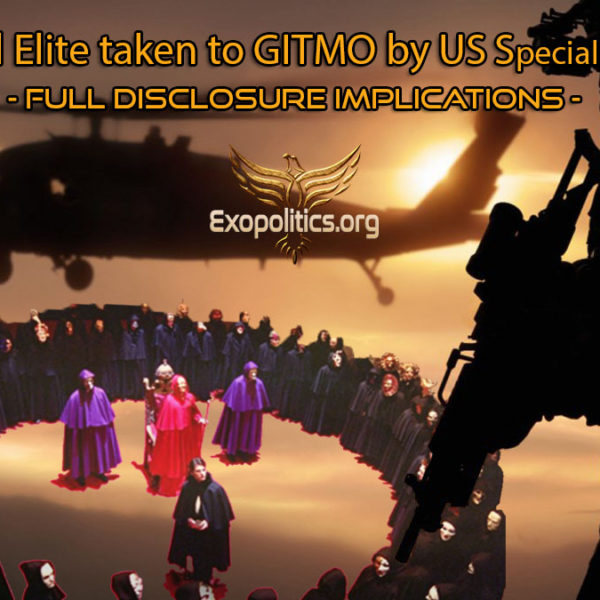 The internet has been buzzing with rumors that high level VIP members of the Deep State (aka Cabal/Illuminati/Global Elite) are being detained for human rights abuses and corruption, and are being taken by U.S. Special Forces to military prison at Guantanamo Bay Naval Base (Gitmo) as a result of thousands of sealed indictments. Multiple sources have been reporting on some of the key VIP figures taken there.
While these are still only rumors, recent events point to their plausibility.  If accurate, these secret investigations, arrests and extractions to Gitmo where they face extended detention and military justice has enormous political implications, and makes possible the release of suppressed information previously withheld by the Deep State.
One source of such rumors comes from David Todeschini, a former USAF veteran who wrote an expose about covert operations during the Vietnam War. He describes what he learned from a reliable FBI source about recent events at Guantanamo in a December 24, 2017 Youtube video, which he summarized as follows:
High-level confidential sources tell this reporter that the U.S. Military prison at Guantanamo Bay has been alerted to expect high-profile prisoners shortly – possibly as a result of over 10,000 Sealed FEDERAL indictments. 1,000 Marines accompanied General Mattis to Gitmo to provide security for "special prisoners".…
Another source for secret extractions to GITMO via sealed indictments is veteran journalist Dr. Jerome Corsi who tweeted:
#QAnon #Qanon8chan Something is happening at GITMO — flight records being shared on Subreddit post CBTS_stream HERE: https://t.co/3CnO7GpczZ Related to @realDonaldTrump executive order regarding confiscation of assets for those involved with human rights abuses

— Jerome Corsi (@jerome_corsi) December 29, 2017
A third source is Brenden Dilley, a radio host running for the US Congress, who received information from another anonymous whistleblower who has a track record for reliability. The whistleblower's information appeared in a December 27 post that was mistakenly attributed to QAnon [see update below for discussion of misattribution to QAnon] The post refers to recent VIP arrivals at Gitmo discussion:

What is worth emphasizing in the above post is that new residents began arriving at Gitmo on December 26, 2017, and more were expected. This was after President Trump had issued his Executive Order on December 21 declaring a "national emergency" in response to human rights abuses and corruption anywhere around the world.

Finally, we have former Forbes Magazine correspondent, Benjamin Fulford, who wrote on January 1, 2018:
In a historic moment of poetic justice, most of the U.S.-based top perpetrators of the fake "war on terror" have now themselves been renditioned to the U.S. Navy camp in Guantanamo Bay, Cuba, Pentagon sources say.  "The Rothschild assets George Soros, Peter Munk, Peter Sutherland, the Bushes, the Podestas, and many others may have been airlifted to Gitmo for military tribunals, as the Department of Defense spends $500M to upgrade the prison and send more military police and Marines," the sources say.

What can be distilled from these independent sources is that high level Deep State members, many of whom are part of a Pedophile Satanic global network, are being detained by U.S. Special Forces and taken to Gitmo where they are to be held indefinitely, while military justice is applied to their cases. In the process, Gitmo's holding facilities are being significantly upgraded with expansions and more guards to accommodate an infusion of VIP prisoners.
Among the first to refer to U.S. Special Forces being used to investigate and detain Deep State figures under the authority of sealed indictments was Secret Space Program whistleblower Corey Goode. He referred to such military investigations back on August 9, 2017 after being briefed by a source he described as retired FBI and career military:
[T]here were teams of US Special Forces that were conducting "domestic surveillance and investigations of a Satanic group that had infiltrated all aspects of government agencies and the military. These Special Forces teams have been in place since the middle of the election cycle…. I was informed that a secret report on how pervasive these infiltrations are is more shocking than what was expected. Strangely, this report also had notes from several secret grand juries that are active right now in D.C.
The report states that the conspiracy involves the majority of powerful people in within the UN, EU, US, State and local (City) power structures. These government organization are completely complicit in what is going on. All the way down to local Post Offices and Police Offices.

More recently, Goode says that his sources have told him that Gitmo is being upgraded to host VIP detainees, and includes wheelchair access for some of them, who are being detained by Special Forces working around the globe He explained in a November 5 communication with best selling author David Wilcock:
Secret Grand Juries were almost totally complete with their investigations when everything changed. They had sealed indictments being prepared when they received a cache of new info that gave them a wider net to cast.
Their investigation has since expanded dramatically. So much about the plans of a coup is known about by the Cabal that I don't know how much longer the Alliance can wait to act and prevent the Cabal from sneaking out of the country.
Some of the really bad ones have already left. Our SF [Special Forces] teams are planning on going in to some of these countries that are hiding these Cabal members and taking them by force.

Are such claims true? In scrutinizing public records what is known fact is that James Mattis, Secretary of Defense, did visit Gitmo on December 21 becoming the first Secretary of Defense to do so since 2002.  It was the same day that Trump issued his "Executive Order Blocking the Property of Persons Involved in Serious Human Rights Abuse or Corruption", where he declared:
I therefore determine that serious human rights abuse and corruption around the world constitute an unusual and extraordinary threat to the national security, foreign policy, and economy of the United States, and I hereby declare a national emergency to deal with that threat.

The timing suggests that this was more than coincidence, and raised a possible link between Mattis' visit and the Executive Order. Such a link is strengthened by an earlier visit to Gitmo in July 2017 by Attorney General Jeff Sessions who called Gitmo:
a "perfectly acceptable" place to detain new terrorist suspects, as opposed to holding them in the US and having his own Justice Department try them in civilian courts.
It is quite feasible that Gitmo would be used to house detainees under Trump's Executive Order. They could be treated similarly to terrorists under the Executive Order's "national emergency" which delegated authority to any US agency capable of enforcing the Order's primary function of cutting off the financial assets of targeted individuals and groups:
Sec. 8. … The Secretary of the Treasury may, consistent with applicable law, redelegate any of these functions to other officers and agencies of the United States. All agencies shall take all appropriate measures within their authority to implement this order.
Consequently, Trump's Executive Order provided a firm legal foundation for U.S. Special Forces to physically detain targeted individuals in the U.S. mainland and anywhere around the planet, and have them relocated to Gitmo when necessary.
Military law rather than US domestic law would apply those detained by U.S. Special Forces acting under the authority of Sealed Indictments and the December 21, Executive Order. This would be powerful leverage that could be used to gain confessions and cooperation from lower level Deep State operatives against their superiors who are being taken to Gitmo.
Another pertinent fact is that Todeschini claims that 1000 marines accompanied Mattis and will remain to provide special security for the VIP prisoners. Similarly, Fulford refers to both Marines and National Guard military police being taken to Gitmo.  
As far as USMC personnel being taken to Gitmo, a Miami Herald news story refers to a proposed upgrade at Gitmo that includes barracks for 848 prison troops to be ready in four years. This is very close to the alleged 1000 marines that Todeschini (and Fulford) claim have been sent there to guard the VIP prisoners.

There is also corroboration for the claim regarding National Guard military police being taken to Gitmo. On December 29, 2017, it was reported that the Arizona National Guard was deploying over four dozen military police to Gitmo for a nine month term.

A Department of Defense Report cited in a May 24, 2016 US Congressional statement, described the peak prison population at Gitmo was 684 prisoners in June of 2003, and this had been reduced to about 80 by 2016. More recent estimates of the Gitmo prison population is roughly 40 Islamic terrorists
The Miami Herald story from August 21, 2017 revealed that the Trump administration was planning to spend up to $500 million on upgrading Gitmo facilities. This included a Navy proposal to build a five bed hospital at a total cost of $250 million.
The fact that a five bed hospital is to be built at such significant cost does suggest that Trump plans to significantly expand the number of prisoners at Gitmo. These would not be suspected Islamic terrorists, however, but VIP prisoners behind international human rights abuses and corruption who will not be allowed medical treatment on the U.S. mainland.
Finally, we arrive at the key claim that thousands of sealed indictments have been prepared which have been used to authorize the detention and extraction of Deep State personnel. The Public Access to Court Electronic Records (PACER) system was scrutinized to confirm the existence of 4289 sealed Federal indictments by November 22, 2017, according to former FBI agent Hal Turner.
More recently, sources claim that this has risen to over 9000 sealed indictments as of December 24, 2017. This figure has not yet been substantiated, but it would be reasonable to conclude that the November figure may have significantly increased during December.
In conclusion, there is compelling evidence to support claims that leading figures from a Deep State international network of VIPs that are involved in child trafficking, human rights abuses, corruption and Satanic rituals are being investigated, detained and extracted to Gitmo via sealed indictments enforced by U.S. Special Forces.
The implications of these unfolding events for disclosure of classified technologies related to secret space programs, Antarctic bases hidden under the ice sheets and extraterrestrial life, all previously suppressed by the Deep State, are profound.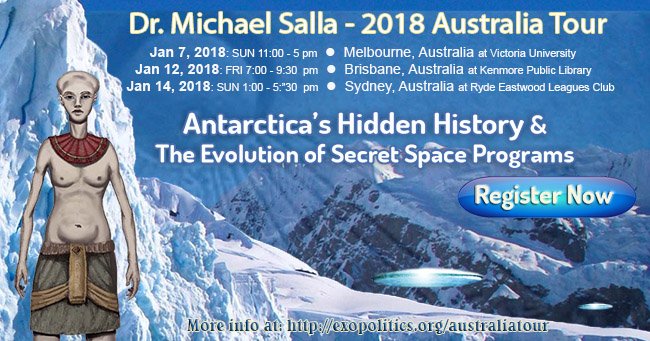 There is grounds for cautious optimism that the prospects of "full disclosure" will substantially increase as more corrupt Deep State officials are taken to Gitmo. Their removal from powerful global leadership positions will help greatly in ending their decades-long policies of denying the rest of humanity the benefits of advanced technologies that will revolutionize life all over the planet.
© Michael E. Salla, Ph.D. Copyright Notice
[Update, Jan 3, 2018: I received the following comment on my Facebook page about an alleged Q post on December 27, 2017. The commenter, Ann Schrock says that it is a misattribution since Q Anon has not posted since Dec 25. She says she transcribed the anonymous source for the December 27 quote and wrote:
"That info came from a 'source' who has/had been feeding Brenden Dilley, who was doing a Periscope on his personal twitter page. I watched and transcribed as I listened. I have no idea if this info is true, I simply wrote what I heard. It is for you to keep in mind…or don't."
Ann Schrock posted additional material which can be read here. While there is reason to believe the Brendan Dilley source is legitimate, the December 27 post was misattributed to QAnon. I have henceforth corrected the article and added this update to clarify the situation. Thanks to Ann Schrock for pointing out the error. M.S.]
Further Reading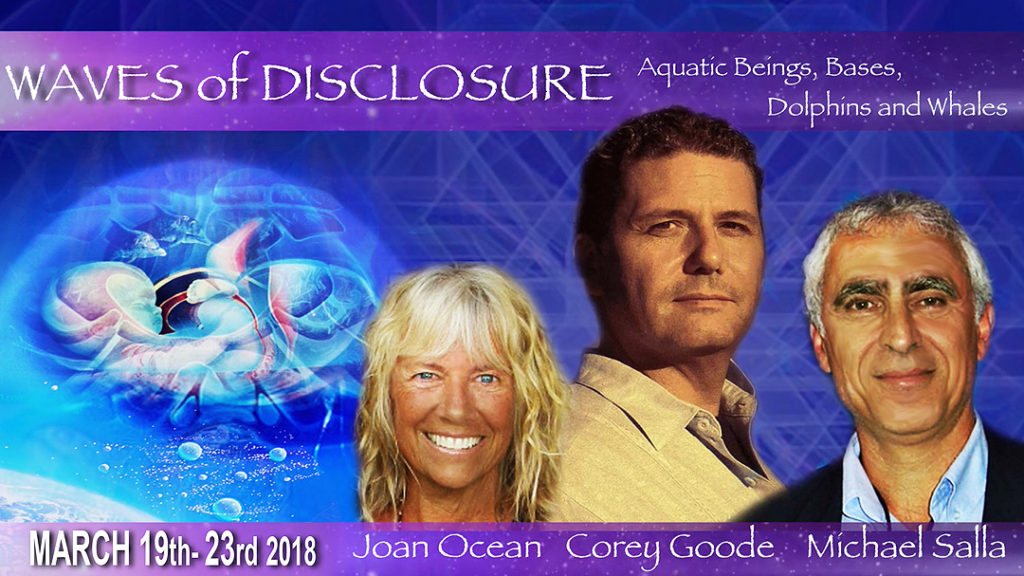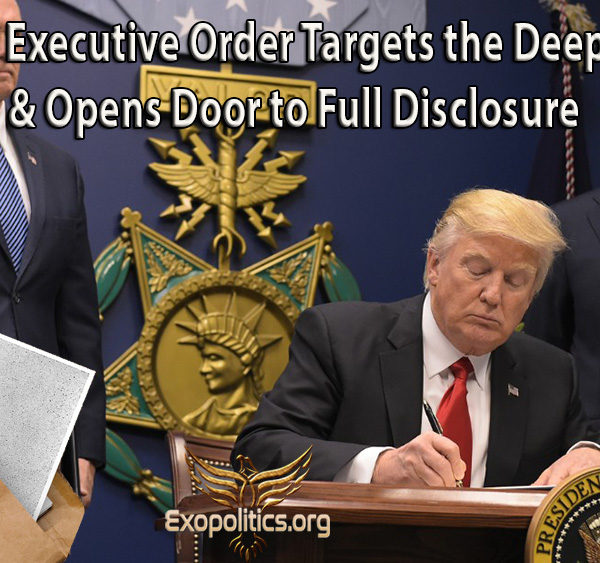 Something very profound happened in the U.S. on December 21 with the passage of President Donald Trump's "Executive Order Blocking the Property of Persons Involved in Serious Human Rights Abuse or Corruption".  The order declared a state of national emergency concerning human rights and corruption, and named specific individuals and organizations that would have their bank accounts and assets frozen regardless of where in the world the abuses had occurred.

While the mainstream media has largely ignored Trump's Executive Order, the alternative media has been paying close attention. Many have noted the Executive Order is far more significant than what it appears to be on the surface. Rather than just freezing the financial resources of foreign citizens linked to the Russian sphere of influence, as it superficially appears to do, it is really targeted at members of the "Deep State" (aka Cabal or Illuminati)  that have been involved in human trafficking, pedophilia and systemic corruption all over the planet.
The language of the Executive Order is very open ended in terms of how international corruption and human rights abuses threaten US national security:
I, DONALD J. TRUMP, President of the United States of America, find that the prevalence and severity of human rights abuse and corruption that have their source, in whole or in substantial part, outside the United States, such as those committed or directed by persons listed in the Annex to this order, have reached such scope and gravity that they threaten the stability of international political and economic systems…The United States seeks to impose tangible and significant consequences on those who commit serious human rights abuse or engage in corruption, as well as to protect the financial system of the United States from abuse by these same persons.
I therefore determine that serious human rights abuse and corruption around the world constitute an unusual and extraordinary threat to the national security, foreign policy, and economy of the United States, and I hereby declare a national emergency to deal with that threat.

Its annex identifies key individuals and organizations, several of whom are clearly associated with Russia. The Executive Order is linked to the Global Magnitsky Human Rights Accountability Act that emerged from the murder of a prominent dissident exposing human rights abuses and corruption in Russia.

This linkage can easily lead readers into falsely believing that the Executive Order is solely intended to target corrupt Russian officials, and corruption and human rights abuses by countries in Russia's sphere of influence.
Yet, as a number of alternative media sources point out, Trump's Executive Order goes well beyond the Russian sphere of influence. It is really targeting the Deep State, and fulfilling his 2016 campaign pledge to "drain the swamp" .

For example, Jim Stone, a freelance journalist, writes:
The executive order is presented as a national emergency up front, right in the beginning. At first it reads like he's going after foreigners which are named directly in an annex at the end. That's not what this is. The first part of the order only cements the second part of the order, to prevent American criminals from running away to foreign countries and being supported by foreigners.
To sum this up:
No swamp critter can accept help from another swamp critter in getting away … Child traffickers and other human rights abuses are covered, the stealing of and misuse of government funds is covered, all items are covered for foreigners and U.S. citizens, any foreigners who have assets in the U.S. that have done anything against the U.S. for the purpose of supporting the American swamp will have those assets seized, anyone in violation of anything in this executive order will have their assets seized… .

An anonymous whistleblower using the pseudonym MegaAnon says that the Executive Order has led to many powerful members of the Deep State waking up with no financial resources.
Guess what? The Swamp's financials FROZE OVER while they all slept last night, y'all.
It's gonna be a LOOOOOONG Christmas break for them… they were all broke before sunrise …
This covers kids/humans, drugs, arms/guns, WMD's/chemicals/Uranium, organs, etc.
Now if you want to know who in our swamp woke up with frozen accounts, foundations, "charities", side businesses and shell orgs/LLC's, etc. dig into the annex list…

The Executive Order and the language it uses really does mark a momentous event. Quite simply, it marks a transfer of political power from the Deep State to the U.S. military in terms of who is really in control of the U.S. Republic.
It's no secret that Donald Trump has surrounded himself with senior military officers who share his desire to "drain the swamp". His Chief of Staff, John Kelly, is a retired four star USMC general; his Secretary of Defense, James Mattis, is also a retired four star USMC general; his National Security Advisor, James McMaster, is an active duty three star US Army general; his head of the National Security Agency, Mike Rogers, is an active duty four star Navy Admiral; the head of the Secret Service, Randolph Alles is a retired two star Marine General; and the list goes on.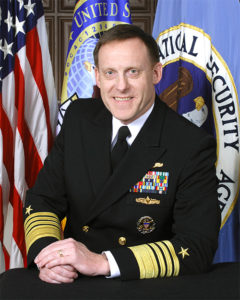 The role of Admiral Mike Rogers is particularly significant since he broke ranks with the US intelligence community back in late 2016 to warn Trump about a Deep State effort to undermine and even prevent him from coming into power by spying on his transition team. While Trump was President-elect, Rogers traveled to Trump Tower on November 17, 2016 to warn him of the Deep State plans.

The next day, the Washington Post reported on a recommendation by the Intelligence Community and Pentagon in October 2016 to sack Rogers. President Obama's Director of National Intelligence, James Clapper, and the Secretary of Defense, Ashton Carter, reportedly were dissatisfied with Rogers performance, including his visit to Trump:
In a move apparently unprecedented for a military officer, Rogers, without notifying superiors, traveled to New York to meet with Trump on Thursday at Trump Tower. That caused consternation at senior levels of the administration, according to the officials, who spoke on the condition of anonymity to discuss internal personnel matters.

CIA Director John Brennon was a key player in the effort to remove Rogers as illustrated by the Washington Post story which is the traditional official news outlet promoting CIA interests. To his credit, President Obama did not take action against Rogers.

Now more than a year after these back stage maneuverings, Rogers remains at the helm of the NSA closely monitoring the global activities of the Deep State and advising Trump and his National Security team.

This has been especially significant when it came to the Central Intelligence Agency which has long been the key U.S. institution in funding and enforcing the will of the Deep State.
In particular, the CIA's Clandestine Services and Counterintelligence divisions were instrumental in creating an unofficial "black budget" for funding highly classified projects and operations ever since the CIA's creation in 1947.
These two branches of the CIA have long been the secret enforcers of Deep State as best illustrated in the Kennedy Assassination. James Jesus Angleton, chief of the CIA's Counterintelligence office, played a direct role, while Richard Helms (Deputy Director of Plans) provided covert support for the operation.

Trump's elevation of former congressman, Mike Pompeo, to become CIA Director was intended to bring the CIA under direct Presidential authority. Pompeo was, however, effectively sidelined from exercizing any real power over the CIA's covert operations. It was Pompeo's more balanced approach to US-Russia relations that earned him the enmity of shadowy CIA groups.

The situation dramatically changed on Saturday November 18, when a number of USMC helicopters flew over the CIA's Headquarters in Langley, Virginia. A former FBI agent, Hal Turner confirmed through credible sources that the helicopters had "buzzed" the CIA HQ for roughly 30 minutes.
The intent was clear, the USMC was threatening the CIA's clandestine services division to get on board with the Trump administration or else. This is not the first time that the CIA has been intimidated by a US President threatening to unleash the US military against it.
In 1958, President Eisenhower threatened the CIA's Area 51 facilities in Nevada with invasion by the US First Army stationed at Colorado if the CIA did not fully disclose all its classified programs there. In a May 2013 video interview, a former CIA operative revealed what he heard Eisenhower tell his boss to relay to the mysterious MJ-12 Committee in charge of the Area 51 facility, for which the CIA provided operational security.
The clearest sign that the CIA is now firmly under Trump's control is President Putin thanking President Trump and Pompeo for thwarting a planned terrorist attack against a prominent St Petersberg cathedral. A December 17 Kremlin Press Release stated:
Vladimir Putin thanked Donald Trump for the information passed on by the United States' Central Intelligence Agency (CIA) that helped detain the terrorists who plotted to set off explosions at Kazan Cathedral in St Petersburg and other public places in the city. The information received from the CIA was enough to locate and detain the criminals.
The Russian President asked the US President to convey his appreciation to the Central Intelligence Agency director and the operatives of US intelligence services who received this information.

It is unprecedented for a Russian Head of State to publicly thank the CIA. The underlying message was clear, the CIA was now under the control of White Hats in the U.S. national security system and Putin was very grateful.
What we are witnessing with Trump's December 21 Executive Order is the final act of a well thought out plan to sideline the Deep State, "drain the swamp" , and reinstate direct Presidential authority over the U.S. national security system. Effectively, we are witnessing a handover of real power from the Deep State to the U.S. military via Donald Trump as Commander in Chief.
What is particularly noteworthy in the Executive Order is that this transfer of power is being done quietly behind the scenes with little mainstream attention. Key figures in the Deep State are finding their global financial resources frozen, and are being secretly detained via sealed indictments that now have worldwide impact due to Trump's Executive Order.
By late November, there were over four thousand sealed federal indictments being tracked by alternative news journalists such as Hal Turner. Many of these are being enforced by Special Operations Command personnel that are going around the planet arresting key Deep State figures.
All this leads to the question, what does all this mean for a seven decades-long suppression of the truth regarding extraterrestrial life and technology, the existence of a breakaway German colony in Antarctica, and the existence of multiple secret space programs?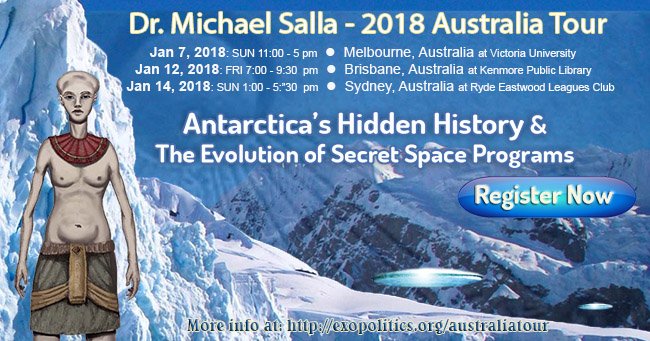 The way in which the Executive Order has been crafted for a specific target, and quietly enforced is that the U.S. military is wanting to keep much of what is occurring off the public radar. The primary reason for doing so is clearly to minimize disruption to the U.S. political system while the transfer of power takes place.
Once the transfer process is complete, we can expect some of the sealed indictments being publicly revealed, and Trump publicly declaring victory in his effort to "drain the swamp". We can expect a lot of unexpected retirements by indicted individuals who are currently making plea deals to escape imprisonment. Individuals involved in the most egregious human rights abuses such as child trafficking, will very likely be publicly exposed and tried.
As the transfer of power process moves forward, we can expect that more of the truth about secret space programs, Antarctica and extraterrestrial life will be disclosed. Based on how the U.S. military is dealing with key figures from the Deep State, it can be predicted that disclosure will take place in a gradual manner that does not disrupt the social fabric of US and stability of the global community.
Disclosure is inevitable, but with the U.S. military now increasingly in charge of the American end of the process, disclosure is likely to happen in a series of gradual steps that culminate in sweeping changes all across the planet as advanced technologies involving zero-point energy, antigravity propulsion and holographic healing are strategically released.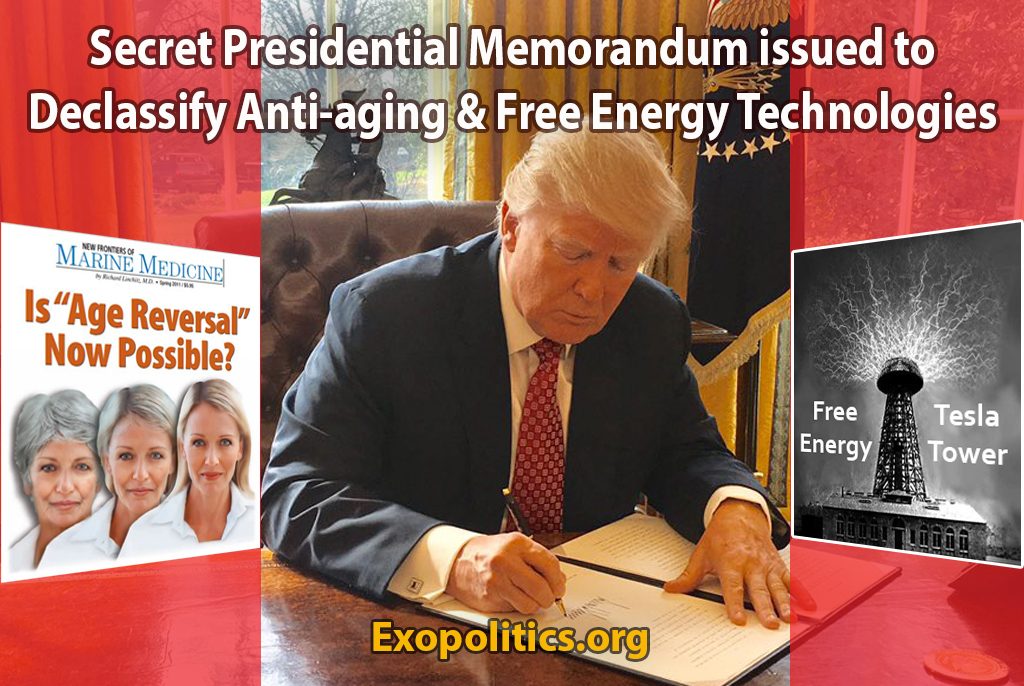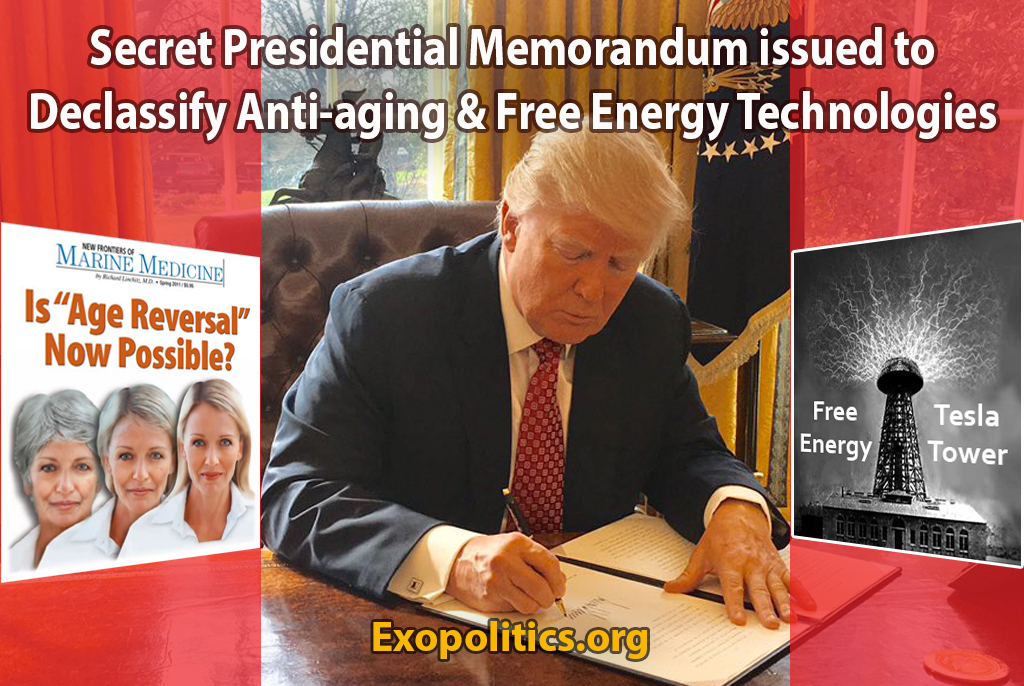 While removal of the Deep State and its corrosive global influence through human rights abuses and corruption is a welcome development, the outsized behind-the-scenes influence of the U.S. military in the Trump administration is a cause for concern in the long term. Predictably, disclosures that will occur throughout the remainder of the Trump administration will promote US national security interests largely defined through a military mindset.
President Eisenhower's greatest lament over the way classified projects involving advanced technologies were being managed in the U.S. was that excessive secrecy cut out the best people from the decision making process. Only full disclosure will prevent a similar problem from arising in the future where a new Deep State emerges, one dominated by military interests, with control over advanced technologies, which it uses to dominate the rest of humanity.
Full disclosure is essential for humanity transitioning from an insular planet dominated either by criminal syndicates or a military mindset, into to a more informed peaceful planetary society worthy of becoming a full member of a galactic community.
© Michael E. Salla, Ph.D. Copyright Notice
Further Reading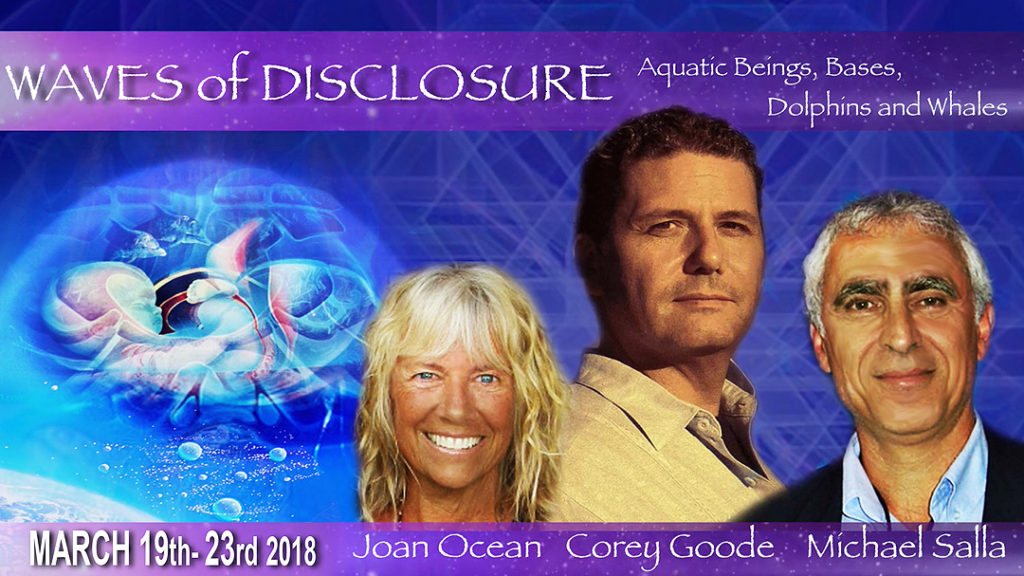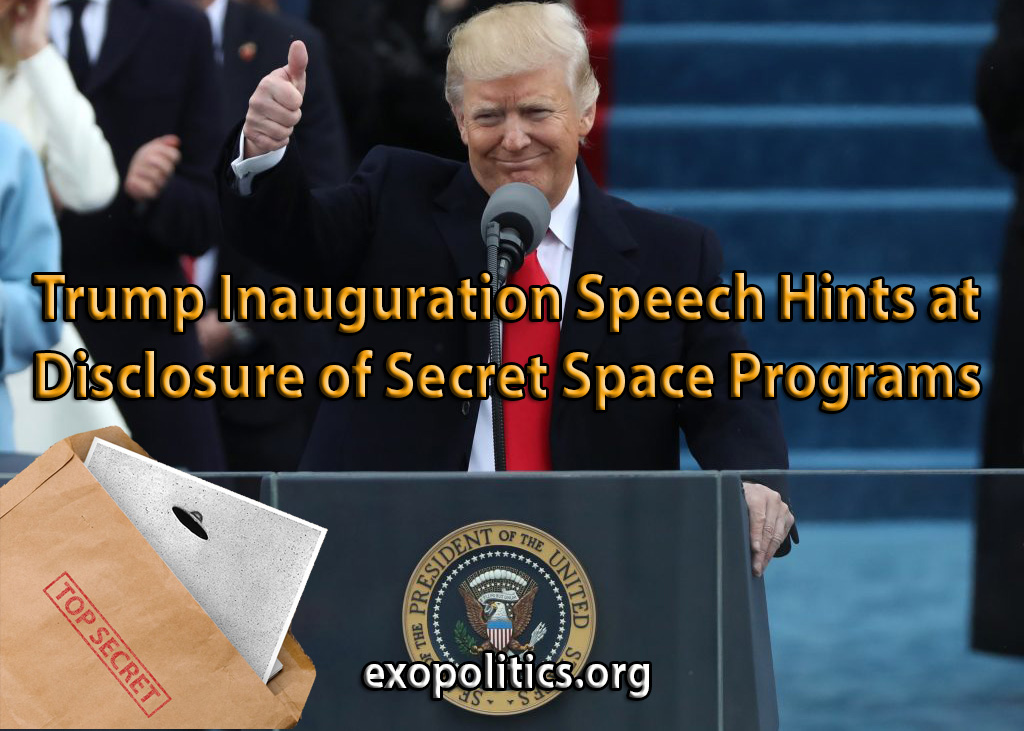 In his inauguration speech challenging the vested interests that control political life in Washington D.C., President Donald Trump spoke of a future where humanity has full access to the kind of advanced technologies allegedly used in secret space programs. Trump appeared to be hinting at the benefits official disclosure of these programs would bring to the U.S and the world, and that he was going to challenge the vested interests hiding these.
Back in December 2016, he had told presidential historian Douglas Brinkley that he planned to write a short speech himself. Later, Trump tweeted a picture of himself working on his speech alone, thereby indicating that its content would be his own creation.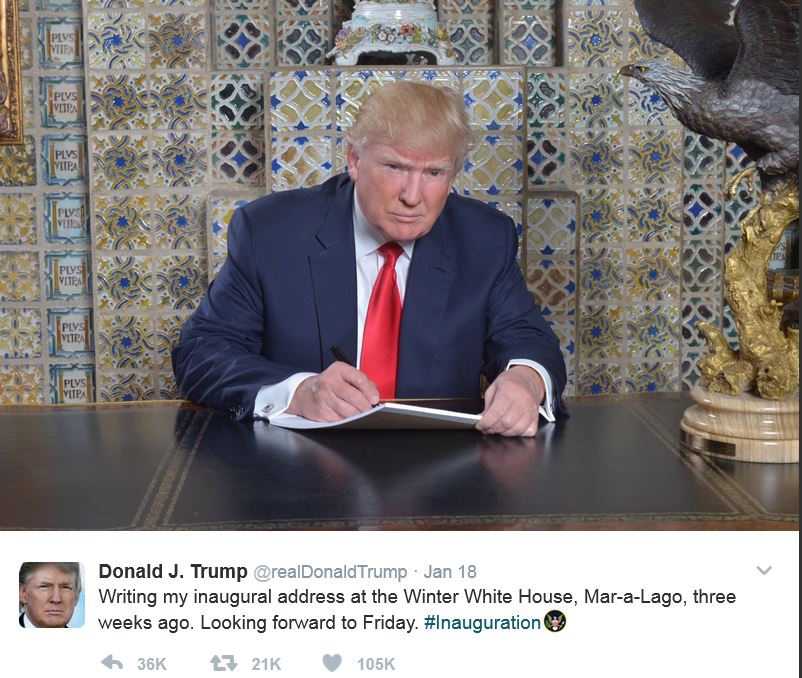 It is highly likely that Trump's speech writers would have polished his words, and added a few rhetorical flourishes to accentuate whatever points he wanted to make in the various drafts leading to the final product. Nevertheless the contents of his Inauguration Speech reveal much of what Trump really thinks about the future and hopes to achieve during his presidency.
Early in his speech, Trump was clear that Washington politics only benefited a small wealthy elite rather than the entire population:
For too long, a small group in our nation's capital has reaped the rewards of government while the people have borne the cost. Washington flourished, but the people did not share in its wealth. Politicians prospered, but the jobs left and the factories closed. The establishment protected itself, but not the citizens of our country. Their victories have not been your victories. Their triumphs have not been your triumphs. And while they celebrated in our nation's capital, there was little to celebrate for struggling families all across our land.

Trump affirmed his campaign pledge to revitalize American manufacturing industry and bringing high paying jobs back. He stated his opposition to Free Trade deals which have led to many U.S. corporations taking their manufacturing plants out of the U.S., and shipping their cheaply made foreign products back at a huge profit for a small group benefited by powerful Washington DC., lobbyists:
One by one, the factories shuttered and left our shores, with not even a thought about the millions and millions of American workers that were left behind. The wealth of our middle class has been ripped from their homes and then redistributed all across the world.

Towards the end of his speech, Trump uttered one sentence that contained his most developed vision of the future for America and its citizenry. He said:
We stand at the birth of a new millennium, ready to unlock the mysteries of space, to free the earth from the miseries of disease, and to harness the energies, industries and technologies of tomorrow.

Trump's use of the phrase "unlock the mysteries of space" may be just a rhetorical flourish to show his determination to rejuvenate the NASA space program and to assist the growing commercial space industry. Alternatively, it is a hint that he is aware that there is much more happening in space than the public have been informed about.
His use of the word "unlock" suggests that these mysteries are kept hidden in highly classified programs, and he now holds the keys to them. In that sense, he is sending the message that as the President and Commander in Chief, he holds all the keys and intends to use them to further his vision of the future. Once again, he was signaling his intent of confronting the "small group" hidden in Washington that benefit from keeping secrets from the public.
The next phrase used by Trump in the same sentence furthermore raises the possibility that he is aware of advanced healing technologies secretly developed in classified programs.
Witnesses and whistleblowers have described advanced healing technologies used in secret space programs that can regenerate limbs and organs, and cure any disease. For example, retired Aerospace Engineer, William Tompkins, says that from 1967 to 1971 he worked at the TRW Corporation, which had developed "life extension" pharmaceutical products that can cure any disease, and physically age-regress people.
Medical researchers such as geneticist, Dr. David Sinclair, have publicly demonstrated that age-regression is not science fiction, but is scientifically feasible. He states that testing on human subjects is only a few years away, without realizing the breakthroughs achieved in classified programs going as far back as five decades.
Trump further added that he planned "to harness the energies, industries and technologies of tomorrow." Again, was this a rhetorical flourish added by a speech writer, or was he hinting at advanced technologies used in secret space programs?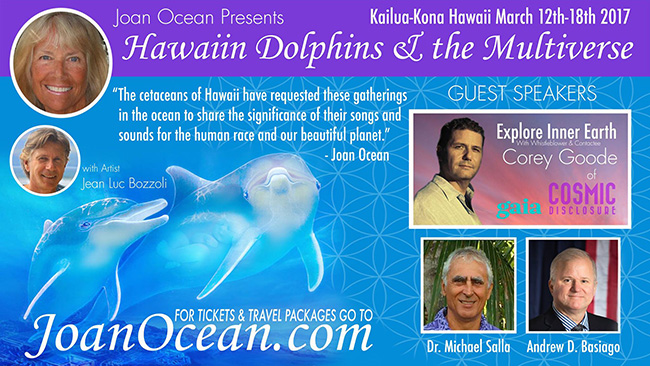 In discussing the "technologies of tomorrow" Trump appeared to be referring to more than just bringing back conventional manufacturing industries to generate new jobs. If some of the advanced technologies used in secret space programs such as antigravity and free energy were released, then this would revolutionize the automobile, aviation and energy industries. Tens of millions of jobs would be created in the U.S. alone.
Trump has promised to move quickly in achieving his campaign goals and the vision outlined in his Inauguration Speech. It appears that he has been made aware of advanced space technologies that have been kept secret from the American public, and the "small group" that benefits from this. As the newly installed Commander in Chief, he now holds the keys to unlocking these secrets, and ushering in a "new millennium" through an official disclosure process that does "Make America Great Again."
© Michael E. Salla, Ph.D. Copyright Notice
Further Reading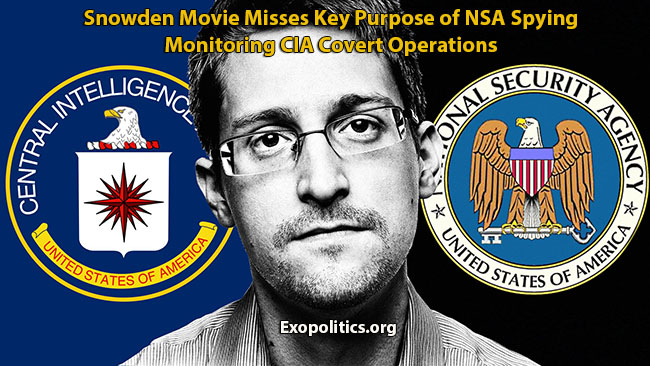 The movie Snowden by Oliver Stone performs a masterful job in depicting efforts by the National Security Agency (NSA) in comprehensively gathering up electronic communications between people and organizations in the U.S. and all over the world. Stone correctly displays the routine violation of U.S. constitutional rights such practices entail, and why Edward Snowden was motivated to become a whistleblower and leak official state secrets to journalists in order to reveal what was happening.
The movie frames the core issue raised by Snowden as personal privacy being a right protected by the US Constitution, except in cases where courts grant exceptions due to criminal activities or national security. In the case of the NSA, the Foreign Intelligence Surveillance Court (FISA) had become a judicial rubber stamp for NSA spying. Snowden, however, revealed that personal privacy is routinely violated without any FISA court rulings, and with no transparency and accountability in the process used by the NSA and the intelligence community more generally.

Subsequently, journalists such as Glenn Greenwald and Laura Poitras have seen their careers skyrocket as a result of their coverage of Snowden's releases, and the need to curtail state sanctioned violations of personal privacy on spurious national security grounds. In short, the NSA and intelligence community should not be allowed to spy on private citizens without solid legal justification.
This raises the question of why is the NSA and the intelligence community spying on private citizens, and violating U.S. constitutional norms in the process? What Snowden the movie suggests is that the "war on terror", which is used to justify individual surveillance, is a mere figleaf for more long-term cyber threats posed by China and Russia, and the need to give U.S. corporations a competitive edge against international rivals.
This is where Snowden and the journalists covering his revelations fail to see the big picture emerging from deeper forces at play when it comes to NSA spying on private citizens. First, we need to separate the military intelligence community comprising the NSA, Defense Intelligence Agency (DIA), etc., from civilian controlled organizations such as the Central Intelligence Agency.
While the chief purpose of the NSA, DIA and other military intelligence organizations is to conduct intelligence and counter-intelligence operations, it is the CIA which is uniquely tasked by the U.S. Congress to conduct covert operations. This is where the CIA will send its operatives into countries and organizations not merely to gather intelligence or perform counter-intelligence, but to conduct covert operations including sabotage, blackmail, coups, false flag operations, assassination, etc.
What further needs to be considered is that the CIA since its inception in 1947 under President Harry Truman, has conducted its covert operations without genuine oversight or transparency. There is literally no mechanism within the U.S. bureaucracy by which CIA covert operations can be understood, let alone accounted for. This led to Truman famously regretting his decision to enable the CIA to go beyond mere "human intelligence"  gathering. He said on December 22, 1963:
I think it has become necessary to take another look at the purpose and operations of our Central Intelligence Agency — CIA . . . For some time I have been disturbed by the way the CIA has been diverted from its original assignment. It has become an operational and at times a policy-making arm of the Government. This has led to trouble and may have compounded our difficulties in several explosive areas. . . . We have grown up as a nation, respected for our free institutions and for our ability to maintain a free and open society. There is something about the way the CIA has been functioning that is casting a shadow over our historic position and I feel that we need to correct it.

Coming one month after President Kennedy's assassination, Truman was ominously hinting at a CIA link to the national tragedy
In contrast to the CIA, military intelligence operations are conducted in conformity with the Uniform Code of Military Justice, and run according to a strict chain of command. Basically, at the apex of the NSA, and other military intelligence organizations, the officials running these agencies can be held accountable for their actions.
What further compounds the problem with CIA covert operations is who does the CIA work for? On the surface, the CIA works for the U.S. Congress and Executive Branch of Government including the U.S. President. That is largely correct when it comes to the CIA analytical division, what Truman pointed to as its "original assignment", but what about its covert operations division which has been known over the years by a number of names, the current one being the "National Clandestine Service"?
There is abundant evidence that CIA covert operations are controlled by a "Shadow Government," which has its own agenda, entirely separate to the "Representative Government," periodically elected. This "Shadow Government" involves elite groups and other mysterious forces who are presently accountable to no one, and want to keep things that way.
Deceased US Senator Daniel Inouye famously said:
There exists a shadowy Government with its own Air Force, its own Navy, its own fundraising mechanism, and the ability to pursue its own ideas of the national interest, free from all checks and balances, and free from the law itself.
When President John F. Kennedy attempted to gain access to the CIA's most closely guarded secrets about UFOs, he was assassinated in a covert action led by the chief of CIA counterintelligence, James Jesus Angleton. My book, Kennedy's Last Stand, documents how Angleton was following a set of directives given to him by a mysterious control group known as Majestic 12 to respond to Kennedy and any future President who might become a problem concerning control over the UFO topic.
Consequently, when it comes to answering the question, "why is the NSA spying on private citizens", the answer is more complex than the NSA simply wanting to know about citizens' private affairs in order to more effectively deal with global terrorism. The NSA and the military intelligence community is more interested in learning about covert CIA activities, and how this impacts U.S. national security.

This then adds a new layer of complexity to the Snowdon movie. Prior to becoming an NASA operative, Snowden was a CIA analyst who allegedly became disenchanted with its covert operations, and resigned. After resuming his work with the CIA, Snowden was transferred to the Hawaii branch of Booz Allen Hamilton, an NSA contractor, ostensibly for healthier working conditions.

This raises the questions, was Snowdon a CIA mole whose job was to expose NSA spying, or was he alternatively set up by the CIA so that he would eventually reveal the truth about the NSA data collection operations as a whistleblower?
The true goal of such a CIA covert operation then was not to reveal the NSA's spying activities in order to protect American civil liberties, but to curtail the effectiveness of the NSA's intelligence gathering on CIA covert operations. This was done in order to keep hidden not just CIA operatives, but the puppet masters behind the CIA covert operations whose power and influence extends to sitting U.S. Presidents. This was a lesson President Kennedy learned the hard way, and President-Elect Trump is already learning with the CIA's covert operations to undermine his incoming administration.
In this regard, former NSA employee and investigative reporter, Wayne Madsen, said:
The CIA's effort to deny Trump the presidency is being supported by a cavalcade of retired CIA officials, including former director Michael Hayden, former acting director Michael Morell, and former clandestine services officer Robert Baer. These and other former CIA officials would not be attacking Trump's credentials to serve as president without a wink and a nod from current CIA director John Brennan.

If the above analysis is correct, what this suggests is that Snowden is at best an unwitting dupe manipulated by the CIA, or at worst a CIA mole whose real mission was to impact NSA intelligence gathering operations which pose a threat to CIA covert operations.
It is understandable that if the U.S. military intelligence community was aware of the full extent of CIA operations involving sabotage, blackmail, false flag events, assassination, in the U.S. and around the world, that some of these operations would be neutralized. This is especially significant when it comes to the incoming inauguration ceremony of President Trump.
On the very day and time that Trump is to be inaugurated, news has emerged that the Army General commanding the D.C. National Guard is to be relieved of duty at 12:01 pm in the midst of the inauguration ceremony.
The U.S. Army general who heads the D.C. National Guard and is an integral part of overseeing the inauguration said Friday he has been ordered removed from command effective Jan. 20, 12:01 p.m., just as Donald Trump is sworn in as president. Maj. Gen. Errol R. Schwartz's departure will come in the midst of the presidential ceremony, classified as a national special security event — and while thousands of his troops are deployed to help protect the nation's capital during an inauguration he has spent months helping to plan.

The Washington Post interviewed Schwartz on Friday January 13, and reported his answers to his puzzling dismissal orders from an unknown Pentagon source:
"The timing is extremely unusual," Schwartz said in an interview Friday morning, confirming a memo announcing his ouster that was obtained by The Washington Post. During the inauguration, Schwartz would command not only the members of the D.C. guard but also an additional 5,000 unarmed troops sent in from across the country to help. He also would oversee military air support protecting the nation's capital during the inauguration. "My troops will be on the street," said Schwartz, who turned 65 in October. "I'll see them off, but I won't be able to welcome them back to the armory." He said he would "never plan to leave a mission in the middle of a battle."

The confusion already caused by this mysterious order received by Schwartz is a tell-tale sign of a CIA covert operation in the making.
While Snowden, Greenwald and Poitras are to be commended for their forceful advocacy of civil liberties, and unaccountable national security state encroachments upon these liberties, they fail to take into account the deeper layers of the global control system, whereby the CIA's covert operations are ultimately directed by a Shadow Government.
The CIA's covert operations have long been a rogue element in the U.S. national security system, one that the military intelligence community has attempted to monitor and curtail when appropriate. That is especially important with the incoming Trump administration and CIA covert actions already underway against it.
© Michael E. Salla, Ph.D. Copyright Notice
Further Reading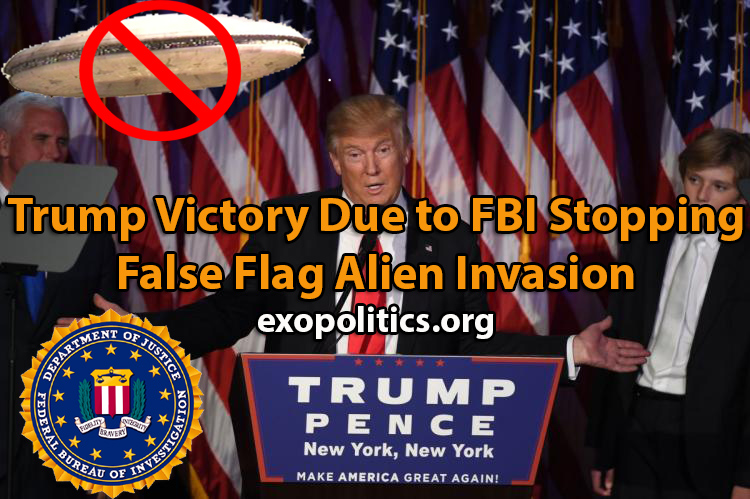 Donald Trump's win in last night's Presidential election caught most political pundits, media networks and Clinton supporters off guard. Many firmly believed polls that predicted a decisive Hillary Clinton victory. What the pundits and networks failed to do was factor in the true purpose behind FBI Director James Comey's puzzling intervention in the closing days of the Presidential campaign.
Undoubtedly, the most surprising event preceding the election was the October 28 letter by FBI Director Comey that Clinton was once again under federal investigation. The FBI had learned from a sexting investigation of disgraced congressman, Anthony Weiner, that one of his computers was shared with his wife, Huma Abedin, deputy chair of the Clinton campaign. It contained emails between Abedin, Clinton and others sent during her tenure as Secretary of State.
This was relevant to the FBI investigation of Clinton which had been closed earlier in July. Comey's letter to the heads of different Congressional Committees informing them of the re-opening, rocked the Clinton campaign and led to 11 days of the worst press experienced by Clinton during the entire campaign.
Then on November 6, only two days before the election, Comey once again called off the investigation, and lifted a cloud of uncertainty from the Clinton camp. Her supporters expressed a huge sigh of relief and believed the road to the White House was wide open once again.
Most were bewildered by Comey's puzzling behavior. Why did he say anything in the first place if there was nothing sufficiently incriminating in the Weiner/Abedin emails to change the earlier July decision to close the investigation?
Clinton supporters were angry at Comey, and believed he had blatantly interfered in the election to help the Trump campaign. Republicans, including Trump himself, criticized Comey for once again protecting Clinton.
Former Clinton insider, Larry Nichols, offered another criticism of Comey that helped understand Comey's puzzling behavior. Comey, according to Nichols, was running a psychological operation of misdirection, to help the Clinton campaign by steering the mainstream media away from the more damaging Wikileaks disclosures that were occurring.
While there is great appeal in Nichols explanation, certainly Alex Jones thought so, I don't believe Nichols is correct.
The damaging nature of many of the Wikileaks disclosures have been succinctly described by Abby Martin in a November  5 video (see below). While the Wikileaks disclosures certainly had damaging information about Clinton's campaign chair, John Podesta, they had little directly implicating Clinton herself. After all, Clinton could simply sack Podesta if she needed to do damage control in the closing days of her Presidential campaign.
Understanding the real purpose behind Comey's bizarre behavior requires analysis of a document leaked by Anonymous on October 18, which contained internal polling data by the Benenson Strategy Group conducted for the Clinton campaign. The document contained sensitive internal polls showing that the Clinton campaign was in deep trouble, and heading towards inevitable defeat.
The Benenson strategy document correctly predicted that Trump supporters would turn out in droves, and laid bare the fact that Clinton had only soft support among the American population. The document further pointed out that the public was aware that crowds had to be manufactured for Clinton's poorly attended campaign events.
The Benenson document recommended a number of salvage options designed to stop Trump supporters heading to the polls, and/or creating a national security crisis. The document began with a "non-recommended list" which contained a number of very alarming false flag scenarios involving a "Red Dawn" foreign invasion, a "Cobalt Rain" radiological attack, civil unrest, ZIKA virus, etc.
The recommended salvage option was "FIRESIGN" which uses advanced holographic technology to create a religious "awe effect." The plan was to use the FIRESIGN technology to create the illusion of an extraterrestrial invasion which would allow the creation of an emergency situation that would lead to cancelation of the Presidential election. President Obama would subsequently hand power directly over to Clinton once the alien invasion was put to a stop through the intervention of a secret space program run by the USAF.
Significantly, some of the Wikileaks emails contained information about two USAF Generals and the head of Lockheed Martin's Skunk works sharing information about this classified USAF program with the Clinton campaign through her campaign chair John Podesta.
In fact a meeting was held on January 25, 2016 revealing the existence of advanced technologies belonging to this USAF space program. This may be where the required information for staging a fake extraterrestrial invasion was acquired by the Clinton campaign, and passed on to the Benenson Strategy Group for developing a number of salvage strategies.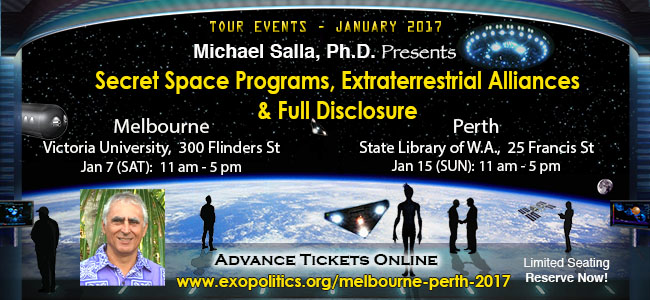 To date, the Benenson document has not been debunked, even though there are some anomalies found that raise questions over its legitimacy.
The success of the Trump campaign tells us that the projections in the document were correct after all. This suggests that the Benenson document contained factually accurate information including plans for false flag attacks.
So why did the false flag extraterrestrial invasion recommended by the Benenson document not go ahead in order to salvage the Clinton campaign? That's where Comey's October 28 announcement of the FBI reopening the investigation into Clinton becomes relevant.
Comey was sending the Clinton campaign a clear message – no dirty tricks for the election. Comey's letter was the proverbial shot across the bow of the Clinton campaign. No false flag event would be permitted. The FBI was going to use its very powerful resources to ensure a clean U.S. election.
The subsequent November 6 decision by Comey to once again close the investigation into the Clinton emails was likely due to an agreement being reached behind the scenes. The November 8 election would move forward without any manufactured national security crisis.
Consequently, Comey's intervention into the Presidential campaign put an end to plans for a false flag extraterrestrial invasion, and has led to a highly significant transfer of power to a political outsider, reviled by the political establishment of both major parties.  On January 20, 2017, President-elect Trump will gain the power to fully disclose the truth about classified projects involving secret space programs and extraterrestrial life.
© Michael E. Salla, Ph.D. Copyright Notice
Further Reading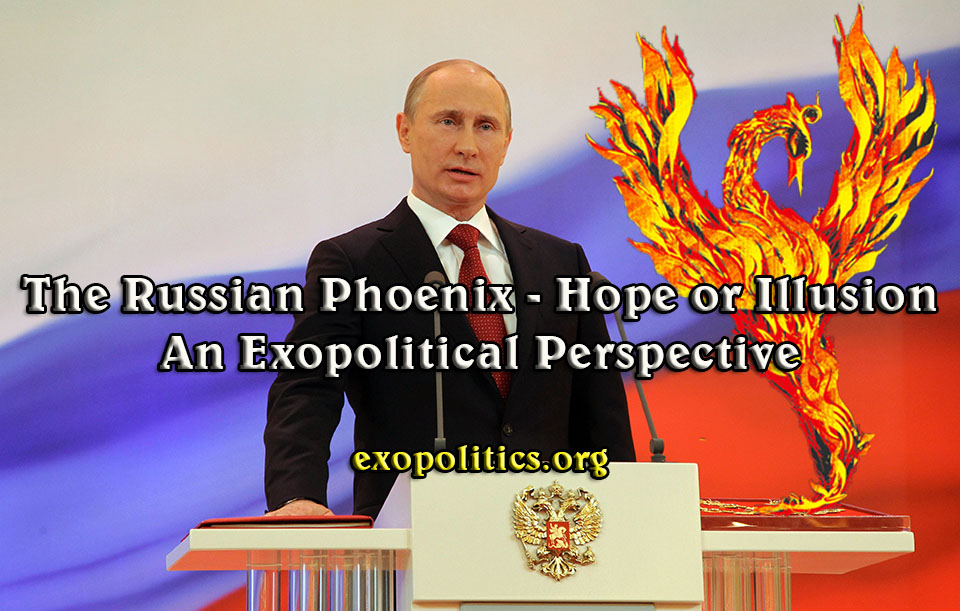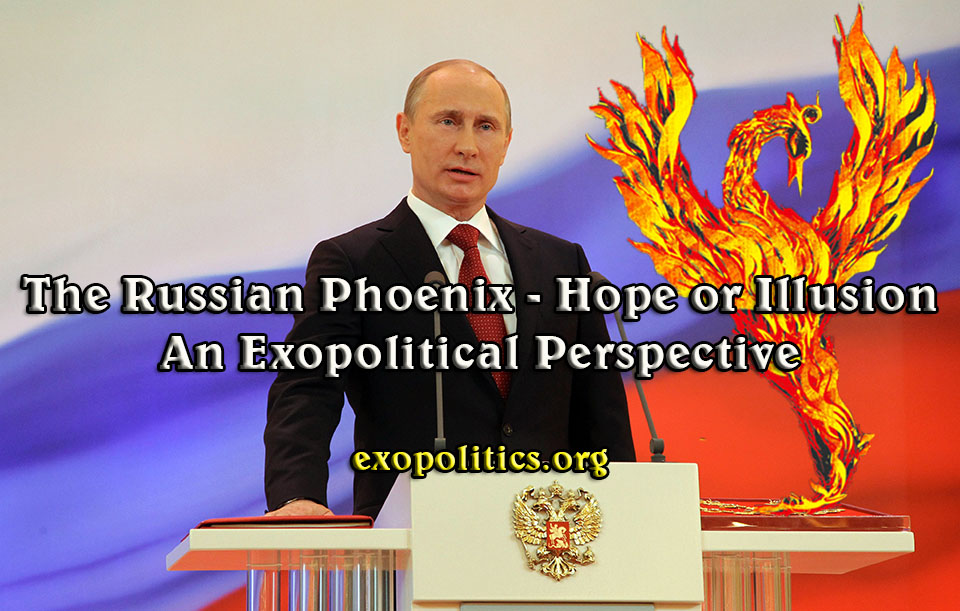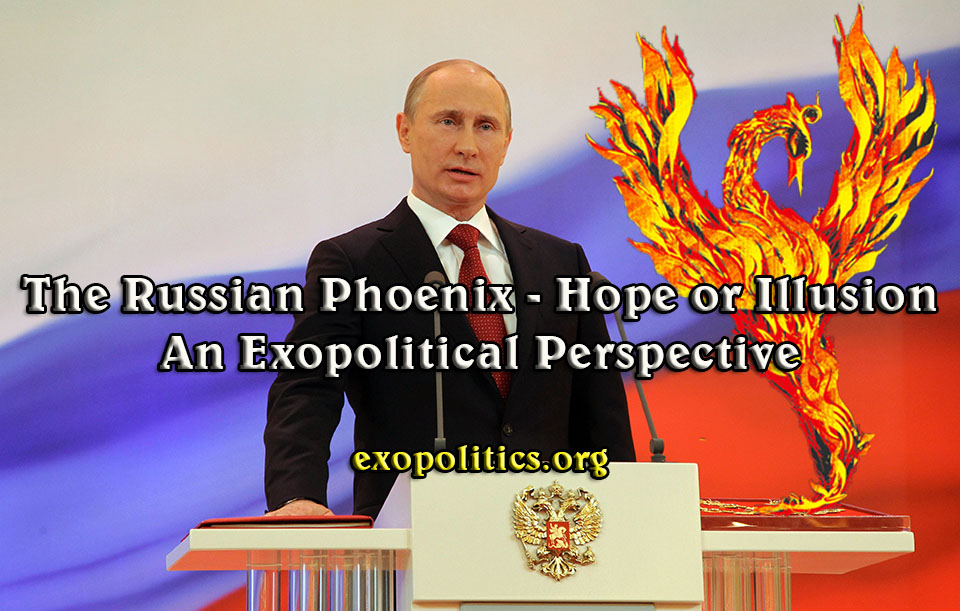 Under President Vladimir Putin, Russia has witnessed a remarkable rise back to becoming a first rate military power capable of challenging U.S. hegemony around the world. More importantly, Russia is a key element of a global alliance (BRICS) in challenging plans for a New World Order contrived by banking elites that form an "Invisible Government".  
This Phoenix-like resurgence of Russia has led to competing narratives about it being either a hope for a better planetary future, or conversely an illusory opposition to U.S. hegemony as part of a contrived power dialectic controlled by the Invisible Government. This has led to competing camps who either champion Russia's policies at a global level, or criticize them as being little more than controlled opposition to the Invisible Government.  
Helping chart a reasonable path through the competing narratives about Russia is a very well thought out article by Dr. Moti Nissani titled "The Russian Phoenix: Hope or Illusion?" Published on February 3, 2016, Nissani examines many of Russia's ambivalent approaches to helping its citizens, global debt bondage, mass media, the environment, etc.  
What Nissani doesn't do, however, is consider the exopolitical element behind the Invisible Government. In short, exopolitics is the study of extraterrestrial life and its political implications. If extraterrestrials secretly influence governments, as many researchers and whistleblowers claim, then a study of Russia's opposition to the Invisible Government needs to consider this possibility. 
Nissani starts his article with an anecdote of widespread perceptions about Russia by many around the world and numerous analysts: 
When I visit a barbershop in Beirut or Amman, and am asked 'where are you from?' (It used to be a painfully confusing and complex question to answer, just a few years ago), I now simply reply: "Russia," and people come and hug me and say, 'Thank you.' 
It is not because Russia is perfect. It is not perfect–as no country on Earth could or should be. But it is because it is standing once more against the Empire, and the Empire has brought so many horrors, so much humiliation, to so many people; to billions of people around the world . . . and to them, to so many of them, anyone who is standing against the Empire, is a hero. This I heard recently, first hand, from people in Eritrea, China, Russia, Palestine, Ecuador, Cuba, Venezuela, and South Africa, to name just a few places.
Nissani contrasts this positive narrative about Russia with another narrative of it being "controlled opposition" to a New World Order, which essentially offers an illusory or false choice. He quotes author Brandon Smith who writes about the false choice between Democratic and Republican parties in the U.S., and how this equally applies to the world arena: 
What truly disturbs me is that our movement can be so awake and aware of the false left/right paradigm while remaining astonishingly naïve and short sighted when it comes to the false East/West paradigm. There are no "sides" in any modern conflict, only proxies fighting on a global chessboard controlled by the same elitist interests…. War is meant to forcefully change the "inertia" of civilization, and thus, forcefully change the direction of civilization in a manner that benefits the engineers of the conflict…." 
 After examining a number of Russian policies that provide fodder for proponents of either narrative, Nissani offers a way out of the dilemma over the correct approach to Russia and its ambivalent policies. 
 He identifies Russia's timidity and caution in providing a full throated challenge to the "Invisible Government" that controls the U.S. and the world. He offers 11 explanations for this timidity, the second of which he appears to find most persuasive:  
2. A second, more convincing explanation for Russian puzzling timidity is again offered by the Saker: 
"I am sure that Putin fully realizes that, at least potentially, his policy of resistance, sovereignization and liberation can lead to an intercontinental nuclear war and that Russia is currently still weaker than the AngloZionist Empire.  Just as in the times of Stolypin, Russia desperately needs a few more years of peace to develop herself and fully stand up." 
This leads to Nissani completing his article by raising two questions over how to respond to Russia:  
The first question is: Should we—humanitarians or revolutionaries—sympathize with Russia in its current half-hearted struggle with the Invisible Government? … 
The second question is: Should we dedicate our meager resources exclusively to our own revolutionary program, or should we also divert some resources to Russia's dubious struggle for building an alternative to the Invisible Government?
He concludes with his final answer to the question of whether Russia presents hope or illusion for the rest of humanity: 
To sum up my own appraisal. Progressives and revolutionaries of every nation on earth ought to sympathize with the Russian government's struggle against the bankers. However, they cannot realistically expect that government to do their work for them. When it comes to the crucial struggle for survival, freedom, peace, and justice, they are on their own.
Nissani's article is impressive in its even handed coverage of issues related to Russia's half-hearted opposition to the Invisible Government. There is, however, a glaring deficiency which is critical for understanding Putin and Russia's apparent timidity here.  
If the "Invisible Government" comprises mere humans from elite banking families, as Nissani and most contemporary geopolitics researchers assume, then Russian timidity is truly an enigma which at best is simply a survival strategy to gain time to confront the international banking elite, or at worst "controlled opposition" at a global level designed to present an illusory choice to humanity.  
If, however, the "Invisible Government" comprises entities who genetically are more extraterrestrial than human, some of whom can live centuries if not thousands of years, then Putin's timidity becomes much more understandable. 
This is where the classic books, The Gods of Eden (1993) by William Bramley, and Rule by Secrecy (2001) by Jim Marrs, become helpful in understanding Putin and Russia. Both depict extraterrestrials as having intervened in human affairs since antiquity, and being directly involved in controlling human societies through hybrid rulers that maintained extraterrestrial influenced bloodlines. 
Direct historical support for Bramley and Marrs's radical thesis comes from the Ancient Egyptian historian Manetho, who wrote about the rule of Gods (extraterrestrials) and Demigods (human-ET hybrids) before the 30 human dynasties began around 3100 BC in Ancient Egypt.
Manetho cited the extremely long lives of the Gods and the Demigods, who first openly ruled human societies, before delegating leadership responsibilities to human elites. This gave birth to the concept of the Divine Right of Kings, who either through direct bloodline and/or extraterrestrial approval, could claim that their crowns were divinely sanctioned. 
Manetho's writings therefore give the first historical reference to the "Invisible Government." At the core of its membership are extraterrestrials and their hybrids who controlled human leaders from behind the scenes, and have done so for over 5000 years! 
This takes us to the modern era and the situation involving extraterrestrials and the Invisible Government. William Tompkins, a retired aerospace engineer, revealed that during World War II, he served on a covert Navy operation that deployed 29 spies in Nazi occupied Europe. The Navy spies not only learned about the secrets behind many advanced Nazi aerospace programs, but also that the Nazis had reached an agreement with a Reptilian extraterrestrial race called the Draconians. 
The Nazi-Draconian alliance led to the establishment of bases in Antarctica in 1939, and after the failed Operation Highjump Navy expedition in 1947, agreements were eventually imposed upon the U.S. Military Industrial Complex. This culminated in multiple secret space programs being developed as described in the book, Insiders Reveal Secret Space Programs and Extraterrestrial Alliances. 
What the testimony of Tompkins and others described in Insiders Reveal Secret Space Programs, is that the Soviet Union was left out of the loop when it came to advanced aerospace technologies acquired through secret agreements with Nazis and Reptilians. Essentially, the Invisible Government had chosen the U.S. and its NATO allies as the principal mechanism for establishing a New World Order that would in essence be a covert Fourth Reich. 
Consequently, the Soviet Union and its Warsaw Pact allies directly opposed the agenda of the Fourth Reich/Invisible Government which ultimately prevailed and orchestrated the collapse of the Soviet Union.  
The Phoenix-like re-emergence of Russia once again has led to the Russian people becoming a powerful opponent to the Invisible Government and its many global tentacles as exemplified in institutions such as NATO, European Union, Bilderberg Group, World Bank, International Monetary Fund, etc.  
However, Russia has lost its former East European allies and now has NATO on its borders, threatening to expand further into former Soviet Republics such as Georgia and Ukraine. This has required Russia taking a far more cautious approach than the former Soviet Union in opposing the NATO/Fourth Reich/Invisible Government agenda.  
Russia has slowly built up a new alliance of nations, the BRICS, in order to oppose the New World Order agenda in the economic sphere. Nevertheless, the Invisible Government through its many tentacles and extraterrestrial elements is a potent adversary, which is highly dangerous.  In his article, Nissani refers to the threat of a nuclear armageddon if Russia directly acts to expose and/or take on the Invisible Government.
In addition to thermonuclear weapons there are even more dangerous "torsion field" weapons developed in compartmentalized programs controlled by the Invisible Government that could be deployed. According to the historian, Dr. Joseph Farrell, these torsion field weapons were first actively developed by Nazi Germany.
If extraterrestrials are indeed a key element in either the composition or conduct of an Invisible Government, then Russia's response to the latter requires a deeper level of analysis than that provided by Nissani and conventional geopolitical analysts.  
This requires that we move from analyzing geopolitics as a two dimensional game of chess with clearly identified international actors and processes impacting one another, to a three dimensional chess game involving hidden extraterrestrial and non-terrestrial elements.
An exopolitical level of analysis to geopolitics is required that adequately identifies the extraterrestrial and other non-human elements influencing the Invisible Government, and how major nations such as Russia respond to these hidden influences. 
© Michael E. Salla, Ph.D. Copyright Notice
Further Reading