Hoax Secret Space Program Investigation Exposed by Documents & IT Experts
Daniel Liszt, founder of the Dark Journalist website, has published eight videos to date that have been highly critical of Corey Goode's claims of being a secret space program whistleblower, and having been chosen as a delegate for a group of extraterrestrials he calls the Sphere Being Alliance. Liszt's "impartial" investigation questions the credibility of Goode as a witness, and promotes the view that Goode is a pathological liar that has contrived his testimony.
Documents and expert witness statements included in this article is conclusive evidence proving Goode's professional background in the Information Technology (IT) industry, and his credibility as an IT consultant prior to his emergence as a whistleblower in 2014. Liszt's exclusion of these documents and failure to obtain any professional IT recommendations in his "impartial" investigation cast considerable doubt on his claim of being an investigative journalist seeking the truth about Goode's testimony.
In the first four videos of his series, Liszt presents and endorses the views of Project Avalon Founder, Bill Ryan, that Goode fabricated his background as an Information Technology (IT) consultant who earned a six figure salary during his career. According to Ryan and Liszt, Goode's claims that he was deprived of a well-paying IT career after being involuntarily outed as a secret space program whistleblower in 2014/2015 is contrived.
In particular, Ryan asserts that Goode was not an IT expert, and cites several sources in his three part interview with Liszt supporting his conclusion. In his initial article that gained Liszt's interest and support, Ryan wrote:
Ilie Pandia (who, like Paul, knows a LOT of technical, geeky stuff about computers and the net) then looked closely at some of his statements, and raised a flag that there was absolutely NO WAY he was an 'IT expert' as he had claimed. That simply wasn't true. This was the first time we'd realized there was a definite, proven, problem, and that Corey had been lying about his expertise. (Claims about expertise can of course only be refuted by someone who really is an expert.)

Ryan's italicized last sentence is very revealing. He refers to two individuals, presumably Project Avalon forum members who know "a LOT of technical, geeky stuff about computers and the net," who pass judgement on Goode's alleged IT expertise. There is a major assumption here by Ryan that his two sources are bona fide IT experts – which is not shown to be the case – and since they find problems with Goode's statements, Ryan reaches the conclusion that Goode had been lying about his IT expertise.
This immediately raises the question of fact checking whether there are documents and IT experts who can corroborate Goode's claims of working in the industry. As we will find out, Ryan ignores evidence suggesting this, as does Liszt who does not bother to investigate such evidence in his "impartial investigation" into Goode.
Finally, Ryan furthermore reached the conclusion that Goode, who was unemployed and on medication at the time of two interviews with Ryan's ex-wife, Christine Anderson, in 2014, was desperate for funds and wholly contrived his whistleblower testimony to raise money from a gullible public.
Liszt accepted all of Ryan's conclusions without any qualification, and gave them his imprimatur as a major revelation after completing his interview series with Ryan using sensational headlines such as "Bill Ryan Exposes Corey Goode: The Facts!" and "Secret Space Psyops: Celebrity Whistleblowers!" Liszt has since gone on to publish four more videos attacking some of Goode's key supporters and volunteers. In his eight part video series to date, Liszt presents himself as a bona fide journalist conducting an impartial investigation into Goode's claims in order to learn the truth.
Liszt asserts that his series exposes a major deception that is being conducted on the UFO community by Goode and supporters who wish to undermine legitimate research into the existence of secret space programs:
The secret space program narrative is being contaminated by what looks like a psychological operation meant to discredit this worthy research.

Liszt's video series has certainly gained much attention since his supporters and many viewers believe he is conducting an impartial investigation into Goode's SSP claims. However, there are major problems with Liszt's investigation in terms of available public documentation that refute key claims made by Ryan that Goode contrived his background as an IT consultant earning a six figure salary.
In reviewing documents and recommendations available on Goode's LinkedIn page, one reaches a very different conclusion to that reached by Ryan, who consulted two alleged IT savvy individuals. Liszt then uncritically accepted this information as fact.
The available documents show that Goode did indeed work in the IT industry as a consultant, that he was highly regarded in the industry as an expert who was given several awards. Importantly, his resume shows professional appointments and skills that would qualify him for the six figure salaries that Goode claims to have earned from his IT consulting career.
What is extraordinary in reviewing Liszt's eight videos is that he did not once refer to any of these documents, nor did he approach any of the companies that Goode claims to have worked for, which are clearly listed in his resume that is available online. Nor did Liszt attempt to contact independent third parties, IT experts, who publicly recommended Goode for work in the IT industry.
This is despite the fact that Ryan himself refers in his initial critique about the importance of consulting IT experts in assessing Goode's claims. Even though Ryan referred to two sources to refute Goode's claims, Liszt did not deem it worthy of exploring whether they were indeed IT experts, as Ryan assumes, and whether or not there were genuine experts supporting Goode's competence as an IT consultant.

Furthermore and most critically, Liszt did not contact Goode for clarification on his IT background in order to properly assess this vital aspect of Goode's work history, and his credibility, given Ryan's claim that Goode was "lying about his expertise".

This lack of basic investigatory rigor into Goode's work history and qualifications casts serious questions on Liszt's impartiality and professional integrity in investigating Goode's claims. Liszt's acceptance of Ryan's conclusion that Goode is a "pathological liar" on multiple issues, which includes his work history, appears to be an a prior assumption Liszt has adopted that underlies his entire investigatory series.
At this stage it is important to review documents and recommendations by third parties that are all publicly available for independent review when it comes to Goode's career as an IT consultant.

His resume shows a series of positions he has held as an IT consultant for various companies up to late 2013. For example, from July to Oct 2013, he worked at Darling International Inc., in Irving Texas as a "Systems Engineer, Microsoft (vmWare, Citrix & VEEAM)".
Immediately prior, from April to June 2013, Goode worked at Hilton Worldwide as a consultant in Citrix and other computer systems. He gained the position through Robert Half Technology which is a recruiter in the IT sector with approximately 5000 to 10,000 employees.

Goode's resume goes on to detail his IT work history all to way back to 1995, when from August to January 1998, he worked on the Help Desk of Stream International in the Dallas/Fort Worth Area giving Microsoft Support.
Goode has supplied documents showing the acknowledgements he received in various jobs. These include AmerisourceBergen Speciality Group where he worked from March 2006 to July 2008 in Frisco, Texas. His main responsibility was "Application Support Engineer," where he says he "Maintained the Web Server environment & troubleshoot Application issues via log files, configuration files, SQL queries & IIS & Server Configuration\Event monitoring tools."

Goode supplied the following document which is a June 7, 2007 letter of recognition for his first year of service from Dale Danilewitz, the Chief Information Officer at AmerisourceBergen. Regarding Goode's IT work, Danilewitz says in his typed letter: "Your work has contributed significantly to the success of AmericsourceBergen Speciality Group, and we are pleased to have you as a member of our team"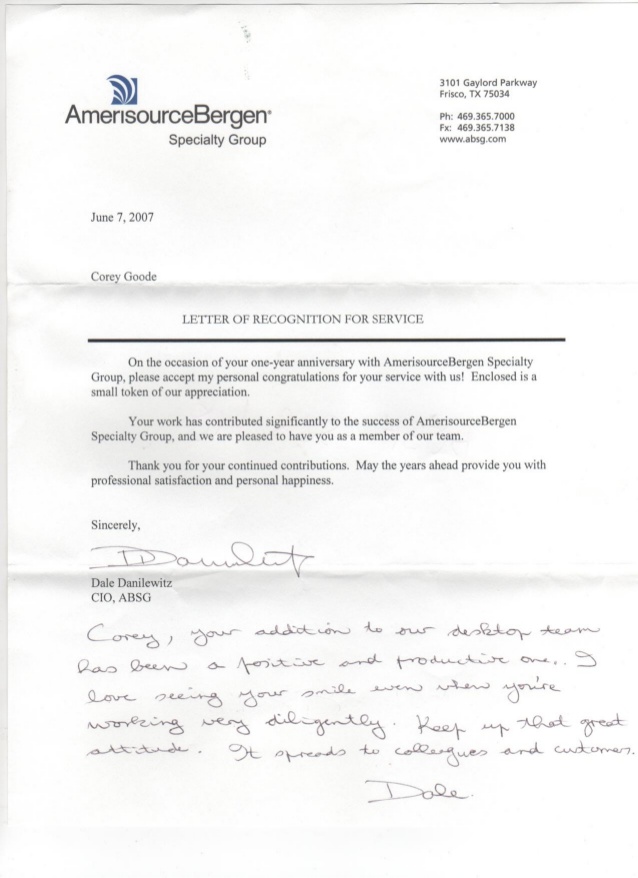 In his handwritten note at the bottom of the letter, Danilewitz writes: "Corey, your addition to our desktop team has been a positive and productive one." Here Danilewitz is acknowledging Corey's work as an IT specialist on the firm's "desktop team".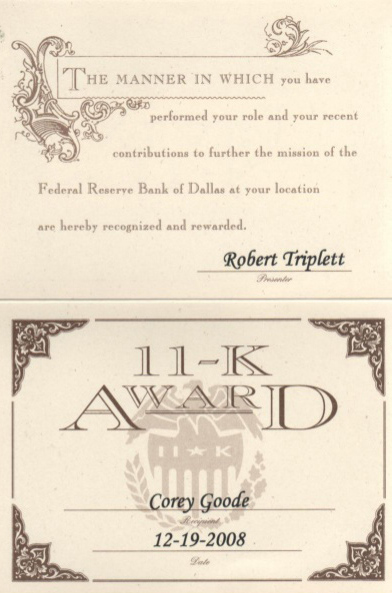 Goode also worked from July 2008 to March 2009 at the Federal Reserve Bank of Dallas as "Team Lead/Sr. Desktop Support III/Network Security." On December 19, 2008, he received an 11-K Award from the Federal Reserve for his "contributions to further the mission of the Federal Reserve Bank of Dallas at your location are hereby recognized and rewarded."The presenter of the aware was Robert Triplett, who is currently the Senior Vice President of the Federal Reserve Bank of Dallas.

In addition to the above documents, Goode's LinkedIn page also includes professional recommendations from former work colleagues who commented on his IT consulting expertise.
Among these is James Fomby who worked with Goode for over a year at Santander Consumer USA from April 2011 to April 2012. Fomby has a Bachelor of Computer Science degree from Southeastern Oklahoma State University, and since graduation in 1993, he has worked in the IT industry.
Fomby wrote the following professional recommendation which is found on Goode's LinkedIn page:

On June 11, 2017, I was able to communicate with Fomby by LinkedIn and he confirmed the accuracy of the recommendation he had written for Goode. When I asked about the salary Goode would have earned at the time, Fomby directed me to a website listing industry standard salaries for the position Goode held.


This is significant since it makes plausible Goode's claim that as an IT consultant filling temporary positions as detailed in his resume, he was later, by 2013, earning a six figure salary, in cumulative terms.
Other professional recommendations include Vic Blazier who is a Senior Consultant for Federal at VMware, and worked with Goode in May 2013 when Goode was consulting for a five month period at Hilton Worldwide. Blazier has the following to say about Goode as found on Goode's LinkedIn page:

Another independent IT expert, Glenn Mason worked with Blazier, and got to assess Goode's skills after looking at his resume and speaking with him personally. Mason wrote:

Yet, another IT expert who commented on Goode's IT background and expertise is Sam Zhong who said:

As the preceding documents and four professional recommendations make clear, Goode did work as an IT consultant who was highly regarded by his peers, and earned industry standard fees for his short term consultancy work at large corporations. This means that Ryan's claim, based on him speaking with two individuals who know "a LOT of technical, geeky stuff about computers and the net", that Goode lied about his IT background is demonstrably wrong.  

Importantly, Goode's wife Stacy provides important background details about his work history and experiences, especially in 2013, when he began recovering traumatic memories from his secret space program experiences. She describes in graphic detail the injury, surgery and recovery that Goode was in the midst of when he gave his first interview to Ryan's ex-wife Christine in 2014.
Significantly, Stacy confirms that Corey was earning a six figure salary through his IT consultancy work before his injury. This clearly supports his contention of earning a six figure salary before he stopped working in late 2013 due to a detached retina eye injury. This is all consistent with industry level salaries for positions held by Goode, which have been confirmed by documents and IT experts.
In a passing reference to Stacy's testimony in his most recent video, Liszt is very dismissive, and doesn't consider her information relevant to determining the truth about Goode's claims at all. As the preceding documents and recommendations suggest, however, her information is very relevant since it shows that Goode was a successful IT consultant up to late 2013, before going through surgery and recovering in 2014.
Stacy's testimony supports Corey's claim that when he was publicly outed in 2014/2015, his work prospects in the IT industry were severely impacted, since a Google search would reveal his controversial whistleblower testimony.
By willfully ignoring public documentation and not contacting independent third party experts with direct knowledge about Goode's IT background, both Daniel Lizst and Bill Ryan have publicly injured Goode's reputation as a credible person due to his former background in the IT industry earning a significant salary, and being widely respected by other IT consultants.
This appears to have been done on design in order delegitimize Goode's whistleblower testimony about secret space programs and being an extraterrestrial delegate. Goode's claims in this regard are certainly controversial, and people are entitled to request hard evidence to support them. However, in claiming to be conducting an impartial investigation, whereby documents and independent third parties which are vital to Goode's credibility are ignored, Liszt and Ryan are demonstrating a clear intent to delegitimize Goode's credibility.
Rather than Goode being part of a "psychological operation" to manipulate the general public over legitimate research into Secret Space Programs, Liszt has demonstrated by his actions that his "impartial investigation" is the deception being conducted here.
On a more personal note, from March 1989 to 1993, I was a Ph.D. candidate in the Department of Government, University of Queensland, Australia. I vividly recall often sitting in on meetings and presentations involving my academic peers from the School of Journalism. I learned first-hand from experts about Journalist ethics and integrity.
Liszt boldly claims: "As a journalist, my own objective is the truth." I can say that from a purely professional perspective, what Liszt has done in his alleged investigation of Goode, as far as his IT work history is concerned, holds little journalistic integrity. It amounts to a hoax investigation or psyop, similar to what Liszt was accusing Goode of conducting. This raises serious doubts about the validity of additional issues Liszt later raises concerning Goode's testimony and key supporters in his eight part series.
UFO researchers would do well to apprise themselves of proper journalist investigatory techniques before jumping to rash conclusions about cases such as Corey Goode, and accepting at face value the bona fides of alleged journalists such as Liszt, whose real objective is anything but finding the truth about secret space programs.  
© Michael E. Salla, Ph.D. Copyright Notice
Further Reading
Bill Ryan, Corey Goode, Daniel Liszt, Project Avalon, secret space programs