QAnon links US Attorney with thousands of sealed indictments decimating the Deep State
In a July 1 post, QAnon referred to the latest count of over 40,000 sealed indictments filed in U.S. Federal District Criminal Courts since October 30, 2017, and linked these to prosecutions being led by the U.S. Attorney for Utah, John Huber. Attorney General Jeff Sessions appointed Huber back on November 13, 2017 to work with the Department of Justice's Inspector General, Michael Horowitz, in investigating a wide range of criminal and civil law violations by government employees brought up by Republican lawmakers.
If QAnon's claim is shown to be accurate, then such a large number of secret indictments will have the effect of removing corrupt Federal officials, which will decimate the Deep State and its power over the US political and financial system.
It's worth beginning this examination by noting that the military intelligence group QAnon, has just been included in a Time Magazine listing of the "25 Most Influential People on the Internet". While there have been an increasing number of mainstream news articles debunking QAnon, the worldwide interest in QAnon's posts has been rapidly increasing due to mounting evidence that President Trump's White House is secretly behind the disclosures.
Just as the Deep State has been using the mainstream media to leak classified information that is damaging to the Trump White House, Trump is doing the same through QAnon in order to expose the Deep State. Therefore, the QAnon information represents a visible sign of a clandestine information war being conducted by the Trump Administration and the Deep State to gain public support for competing agendas.
In the July 1 post, QAnon asks who is filing all the sealed indictments, and points to an article published by Breitbart News, which has often been cited for close analysis by those following QAnon's disclosures.

QAnon mentions the number 470 right after posing the questions, "who is filing the indictments" and "Who has that kind of manpower"?
For an answer, QAnon steers us to the Breitbart article which refers to a March 29, 2018 letter written by Attorney General Sessions to the Chairmen of three Congressional Committees, which refers to 470 investigators that make up the staff of the Office of the Inspector General. The letter explains the power and authority of the Office of Inspector, and how these pertain to Department of Justice employees:
Congress created the Department's Office of the Inspector General explicitly for the purpose of, among other things, investigating alleged violations of criminal and civil laws by Department employees, including actions taken by former employees after they have left government service. The Inspector General's jurisdiction extends not only to allegations of legal violations, but also to allegations that Department employees violated established policies as well.
To carry out these duties, Title 5 of the United States Code provides the Inspector General with broad discretion and significant investigative powers. The office currently employs approximately 470 staff, a significant number of whom are lawyers, auditors, and investigators who may exercise wide discretion on matters under their jurisdiction. If the Inspector General finds evidence of criminal wrongdoing, he may refer it to a United States Attorney who can then convene a grand jury or take other appropriate actions. To be clear, the Inspector General has the authority to investigate allegations of wrongdoing, collect evidence through subpoena, and develop cases for presentation to the Attorney General and the Deputy Attorney General for prosecution or other action.
It's worth emphasizing that both current and former Department of Justice employees can be investigated by the Inspector General, who has the authority to refer findings for possible prosecution by a US Attorney. The Department of Justice employs over 113,000 employees (2012 figures), which when combined with former employees, makes an enormous number of people that can be investigated for wrongdoing on behalf of the Deep State.
This is where the appointment of Huber to work directly with Horowitz's office in investigating issues raised by Congressional lawmakers was very significant. The Breitbart article cited by QAnon explains why:
Professor Jonathan Turley, a top national legal expert on government investigations, commented on Thursday about Attorney General Jeff Sessions' decision to bring in U.S. Attorney John Huber. Turley called it "brilliant" to combine all the powers of the U.S. Department of Justice's inspector general with a prosecutor who can bring charges, seek indictments, and get results for President Trump far more quickly than a second special counsel.
The Breitbart article continued to elaborate upon how Huber's prosecutorial powers combines well with the Inspector General's investigative power:
As a U.S. attorney, Huber has full authority to empanel a grand jury and to file criminal charges. A grand jury can be empaneled anywhere, which means that it could be a group of citizens from deep-red Utah – in the heart of Trump country – instead of the D.C. Swamp that decides whether to hand down indictments for felony prosecution.
It's vital to understand that in Sessions' letter to Congress, he said that Huber would be leading a prosecutorial team that would include other senior prosecutors:
As noted in Assistant Attorney General Stephen E. Boyd's November 13, 2017, letter to the House Committee on the Judiciary, I already have directed senior federal prosecutors to evaluate certain issues previously raised by the Committee. In that letter, Mr. Boyd stated:
"These senior prosecutors will report directly to the Attorney General and the Deputy Attorney General, as appropriate, and will make recommendations as to whether any matters not currently under investigation should be opened, whether any matters currently under investigation require further resources, or whether any matters merit the appointment of a Special Counsel." Specifically, I asked United States Attorney John W. Huber to lead this effort.
In understanding the link between the alleged 40,000 sealed indictments and the appointment of Huber to work with the Office of Inspector General, it's worth emphasizing the November 13 starting date for Huber and the rapid rise of sealed indictments since October 31, 2017.
When examining the list of states where the sealed indictments have been filed, its clear that these are distributed all over the U.S., thereby suggestion that Huber's team comprises prosecutors drawn from many, if not all 50 states.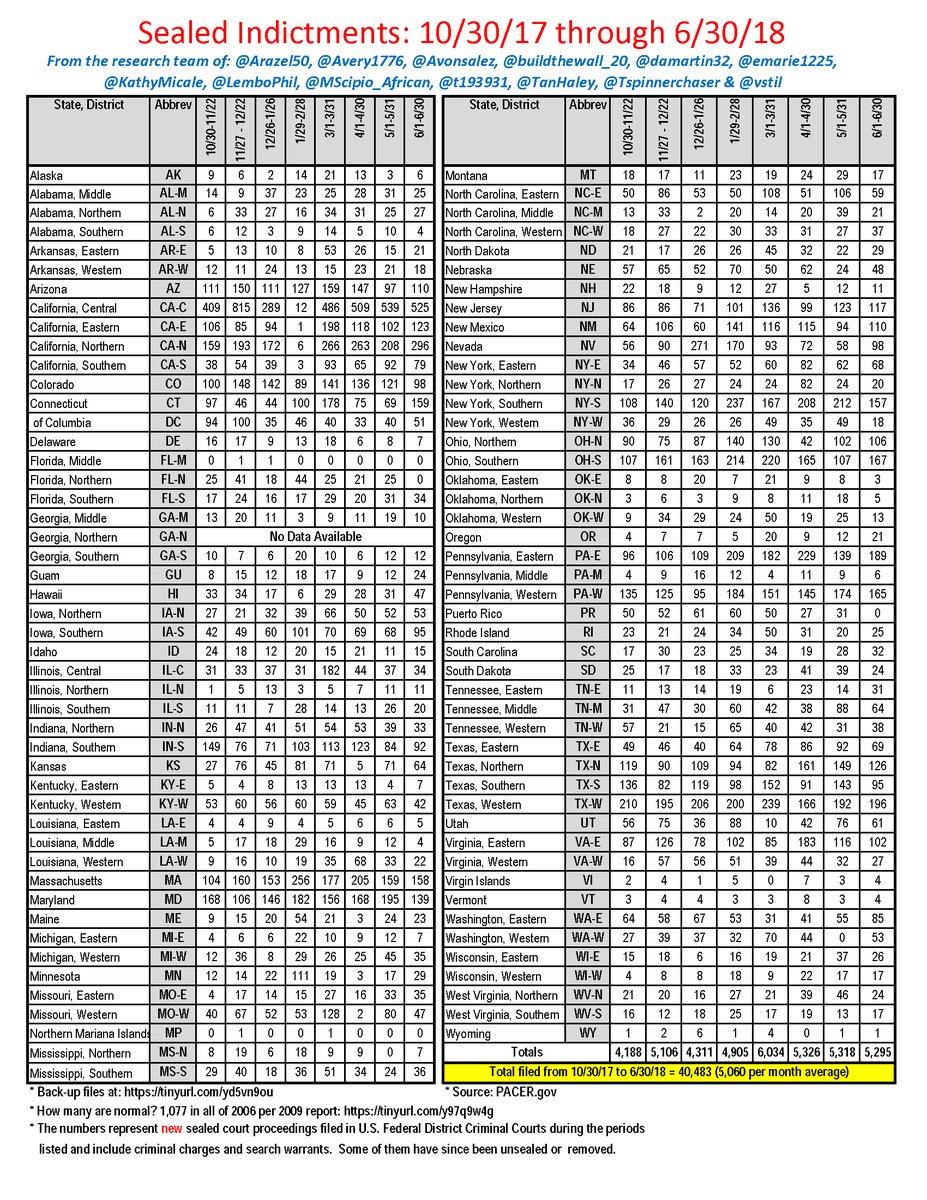 If the linkage posted by QAnon is accurate, then it can be assumed that many, if not the majority, of the sealed indictments are occurring as a result of the collaboration between Huber and the Office of Inspector General all over all the country, wherever crimes were committed. Essentially, Horowitz's staff does the bulk of the investigation, while the prosecution and convening of a grand jury is left to Huber's team.
As Professor Turley pointed out back in March, "a grand jury can be empaneled anywhere" by Huber. In another July 1 post, QAnon says that this is exactly what has happened by asking the following rhetorical question: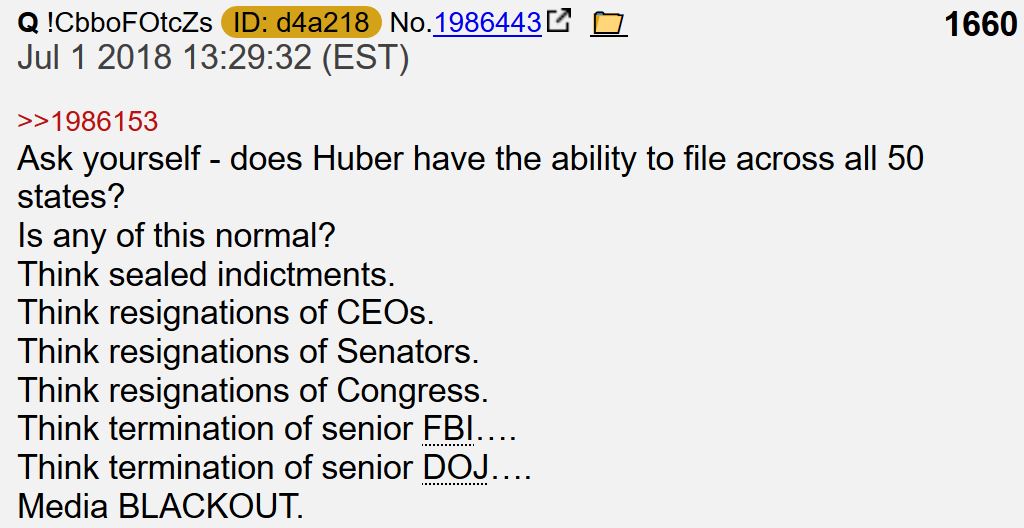 If QAnon is correct, then the sealed indictments initiated by Huber's team of prosecutors with the support of the Office of Inspector General, have been the catalyst for many powerful corporate figures, members of Congress, and Department of Justice officials mysteriously resigning.
QAnon has referred to lists of corporate, congressional and FBI figures who have resigned or been sacked. QAnon is telling us that these resignations/sackings are due to the sealed indictments that have been issued against (former) Department of Justice officials by Huber.
Indeed, when one reviews the lists, this is powerful circumstantial evidence that the sealed indictments have been issued and are forcing these resignations, and thereby undermining the power of the Deep State who used these officials. 
The following is a list of retiring Congressional representatives who, while not Department of Justice officials and thereby outside the investigatory purview of the Office of the Inspector General, presumably decided to retire in anticipation of the scandal about to emerge with the unsealing of the indictments where they have been implicated in some way: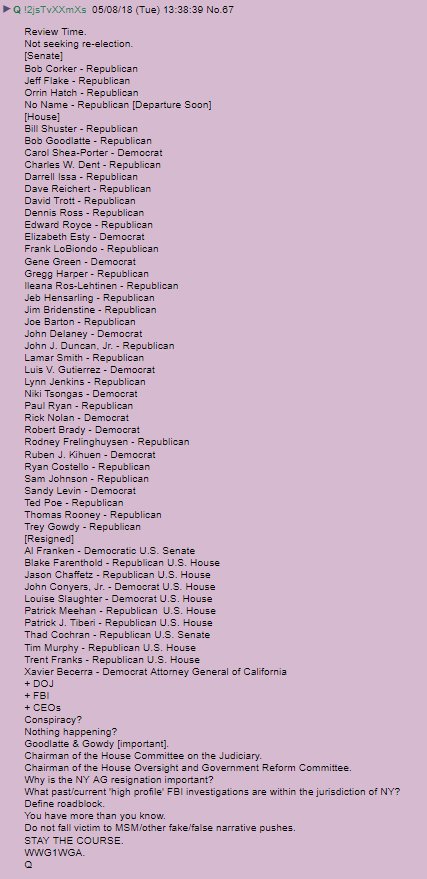 The following is a list of FBI officials, forced to resign or who had been sacked due to them being investigated by the Office of Inspector General, and the sealed indictments issued by grand juries empaneled by Huber: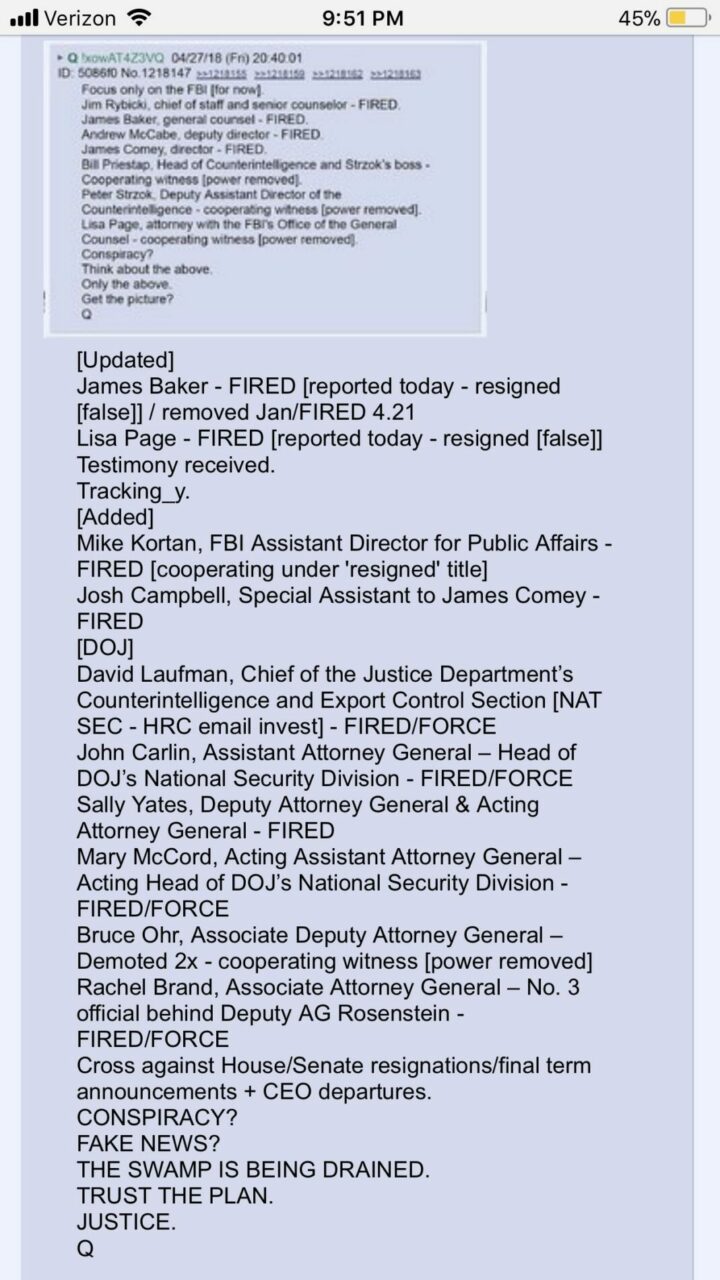 All this behooves us to ask whether what QAnon is telling us is possible. To find an answer we can begin with the website of the "Offices of the United States Attorneys", which explains the duty of grand juries only investigating criminal offenses in districts where they occurred:
The special grand jury has a duty under 18 U.S.C. § 3332(a) "to inquire into offenses against the criminal laws of the United States alleged to have been committed within that district."
This means that Huber could begin the prosecution process with the help of the 470 investigations from the Office of Inspector General who would gather the facts and evidence. Huber would then use senior prosecutors from his team to empanel grand juries in the districts where the offenses occurred.
Significantly, all Huber and his team would have to do to secure a sealed indictment is present key facts along with supporting evidence that a crime had been committed in a particular jurisdiction, as the following summary of Sealed Indictment Law clarifies:
In order to issue an indictment, the grand jury doesn't make a determination of guilt, but only the probability that a crime was committed, that the accused person did it and that he/she should be tried. District Attorneys do not present a full case to the grand jury, but often only introduce key facts sufficient to show the probability that the accused committed a crime.
The next question that arises is how many sealed indictments have been issued by Huber and his team? QAnon referred to the June 30 estimate of over 40,000 sealed indictments since October 31, 2017. Could Huber's team of senior prosecutors and the 470 staff in the Office of Inspector General be responsible for so many sealed indictments over the last eight months?
For an answer, it's important to point out that claims of up to 40,000 sealed judicial cases, which is well above the average of past years, are basically correct. This is acknowledged even by critics seeking to debunk QAnon's information, as exemplified by Mike Rothschild writing for the Daily Dot back on April 12, 2018.
While Rothschild's article critiques the claim of 25,000 sealed indictments asserted by QAnon supporters back in April 2018, it is helpful since it demonstrates that even critics acknowledge that PACER records do substantiate such large numbers of "sealed cases":
So then what about the massive number of sealed case found files in PACER? The #QAnon researchers aren't making them up – a random sampling of PACER records from the district courts of Washington, D.C. and the Eastern District of Virginia shows the number to be more or less accurate.
In distinguishing between "sealed cases" and "sealed indictments", Rothschild points out that the former may involve mundane legal secrecy requirements involving search warrants, phone tapping, witness protection, prosecuting juvenile cases, etc., ordered by a judge. In contrast, a sealed indictment involves a grand jury that has been empaneled, heard some of the facts and evidence brought before it, and issued an indictment that is covered by strict secrecy requirements in order for arrests to be made without the target being warned in advance.
In Rothschild's critique, he refers to the 1077 sealed cases that occurred in 2006, a typical year for sealed cases, that was analyzed in an October 23, 2009 report by the Federal Judicial Center. He points out that QAnon researchers conflated "sealed cases" with "sealed indictments":
So the conspiracy theorists number of sealed felony indictments in a "normal" year would seem to be right. Except reading on in the report makes it clear that many of those sealed criminal cases were NOT indictments.
In fact, the report only lists 284 out of 1,077 cases as "sealed indictments" that the writers were able to obtain no information on….
Essentially, the number #QAnon is using is factually correct, but leaves out vital context that explains that relatively few of the 1,077 are actual criminal indictments. Most are routine court matters.
So if only roughly 26% of "sealed cases" covered by PACER records in 2006 involved "sealed indictments", then we have a means of estimating how many sealed cases from 2017/2018 PACER records involve sealed indictments.
At the very least, applying the 26% figure to the over 40,000 Pacer records showing current "sealed cases", then we can estimate that there are at the very least 10,000 secret indictments currently in play. The actual figure may be much higher due to 2017/2018 having an inordinately large number of sealed cases due to some extraordinary judicial process at play.
Sessions' March 29 letter to Congress is evidence that the unusual judicial process, which has so inflated the number of sealed cases for 2017/2018, involves indictments initiated by Huber and his prosecutorial team, supported by 470 investigators from the Office of Inspector General.
In conclusion, a critical examination of PACER records, Attorney General Sessions' March 29 letter to Congress, together with the lists of retiring/sacked member of Congress, corporate executives, and FBI officials, provides compelling support for QAnon's claim that tens of thousands of secret indictments have been issued against corrupt officials controlled by the Deep State.
As these corrupt officials are removed from their influential positions, the Deep State's power is decimated, thereby opening the door for the truth to be disclosed on a great number of issues previously suppressed by the Deep State.

© Michael E. Salla, Ph.D. Copyright Notice
Further Reading
Deep State, Department of Justice, John Huber, Office of Inspector General, QAnon, Sealed Indictments