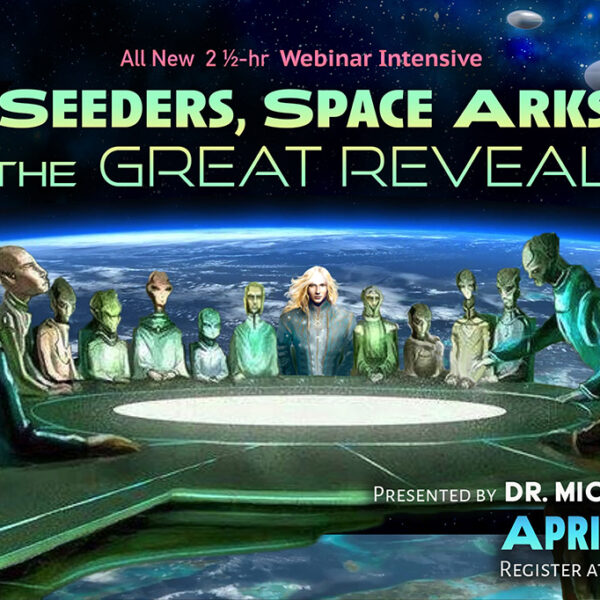 There is compelling evidence that up to 24 extraterrestrial civilizations seeded humanity and have overseen as many as 22 long-term genetic experiments responsible for the incredible diversity in races and ethnicities found on Earth. The 24 'Seeder' races (aka Elohim) have played significant roles in helping establish ancient civilizations such as Atlantis by sharing advanced technologies, plants, biological life, and spiritual knowledge, all of which is currently stored in huge space arks found all over our solar system … and upon the Earth.
At the end of each historical cycle of approximately 12,000 years, the Seeder ETs return to our solar system to observe how humanity has fared against 'negative' groups — Luciferian humans and their extraterrestrial allies—wanting to sabotage the genetic experiments. The Seeders appear at the turning point of each cycle to watch human civilization either succeed or fail.
A vital part of the return of the Seeders is the activation and public emergence of giant space arks that can perform two complementary functions at the end of an age. One is to evacuate those ready to join the Seeders in case of civilizational collapse or due to their 'starseed affiliation' in a planet wide 'Harvest'. Another function is to gift the successful 'graduating class' of humanity with new advanced technologies, plant life, and knowledge—the Great Reveal—which propels us into an incredible new golden age where humanity openly becomes part of the galactic community.
Join Dr. Michael Salla in this exciting new 2.5-hour webinar (includes 30-minute Q&A) which offers compelling historical evidence about the extraterrestrial Seeder races, examines eyewitness contactee accounts and whistleblower reports, and delves into recent events involving the space arks and positive behind-the-scenes developments which will impact everyone as they usher in the coming Great Reveal.
Presented on April 9, 2022
---
Watch Webinar Trailer
---
Past Webinars available on Vimeo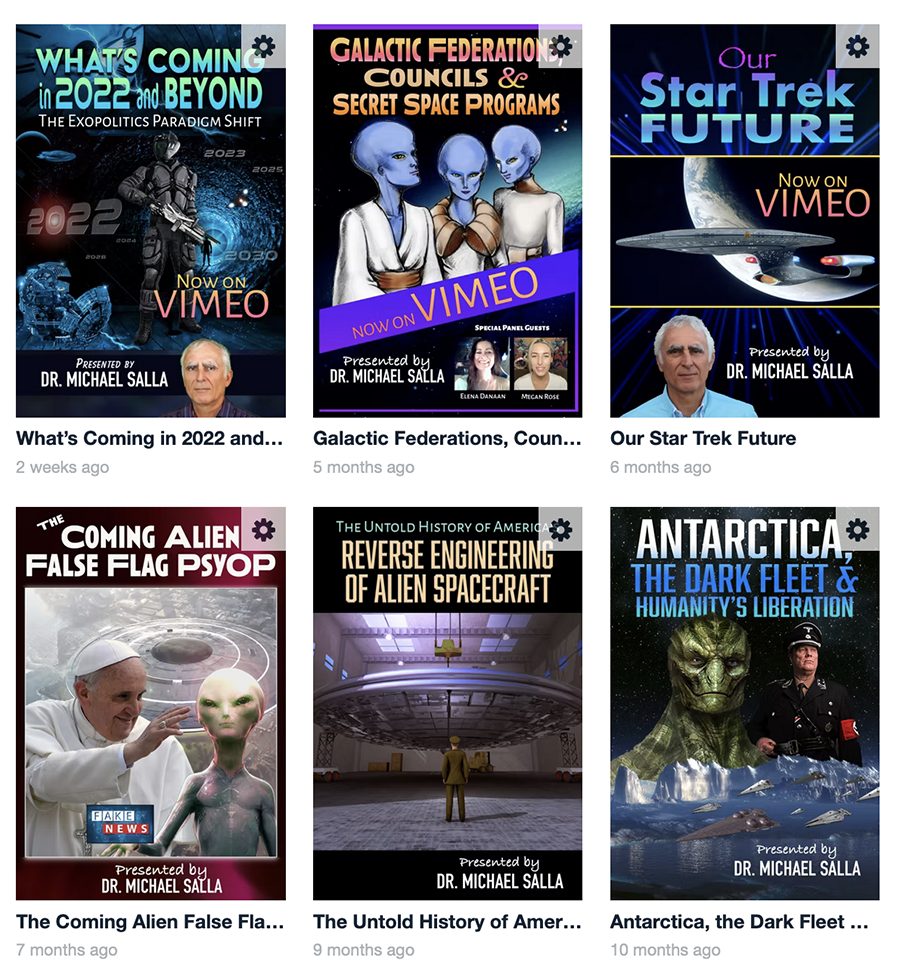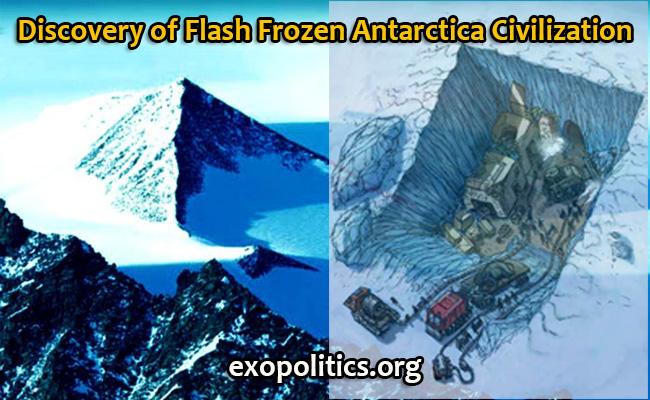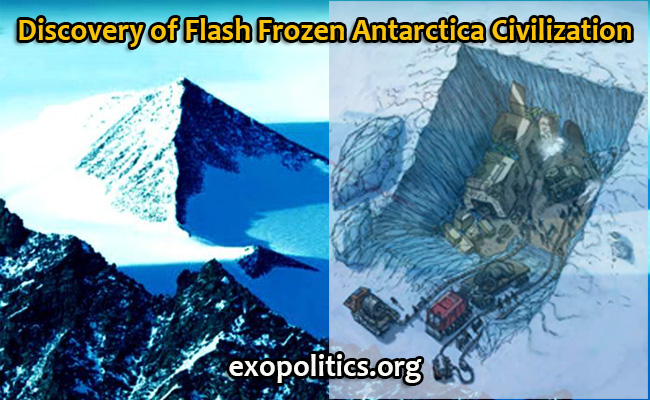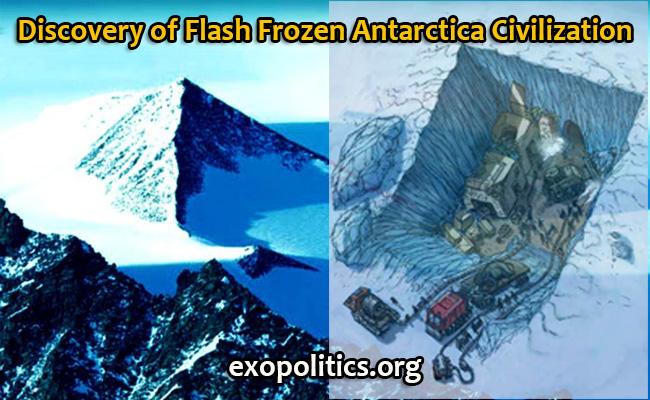 Discovery of an advanced civilization in Antarctica that was flash frozen has shocked political and scientific figures that have witnessed it, according to secret space program whistleblower Corey Goode in a December 11 update.
In part one, I described  how Goode's military abductor "Sigmund" from a USAF/DIA/NSA/NRO secret space program, had learned of the existence of more advanced classified space programs such as Solar Warden from Goode. During Goode's abduction on October 26, Sigmund revealed more information about his own activities, including time spent in Antarctica:
Furthermore he told me that he had been stationed at several military installations in Antarctica and had spent time in the very area where the Anshar had taken me on a reconnaissance flight.

Goode has previously written a report describing an extensive tour of Antarctica facilities controlled by the Interplanetary Corporate Conglomerate, another secret space program he discussed in depth, by an ancient Inner Earth civilization called the Anshar.

Sigmund then went on to describe recent discoveries in Antarctica, which explain the growing scientific, political and religious interest over the frozen continent:
He [Sigmund] stated that an extremely ancient series of cities had been discovered flash frozen deep under the ice-shelf.  He confirmed that there were also many animals and "pre-Adamites" preserved in the ice…. They were all flattened/ crushed or knocked over by the event that flash froze the area. They have tons of trees/ plants and wildlife frozen in place, like they were put on pause.
This is startling confirmation of the research conducted by Sir Charles Hapgood who has previously studied evidence of pole shifts that have led to the Earth's axis of rotation shifting dramatically in a short period, where sub-tropical areas might suddenly find themselves at the poles.
His 1958 book, Earth's Shifting Crust, featured a foreword by Albert Einstein endorsing the rigor of Hapgood's research. Hapgood summed up his theory as follows:
Polar wandering is based on the idea that the outer shell of the earth shifts about from time to time, moving some continents toward and other continents away from the poles. Continental drift is based on the idea that the continents move individually…A few writers have suggested that perhaps continental drift causes polar wandering. This book advances the notion that polar wandering is primary and causes the displacement of continents….This book will present evidence that the last shift of the earth's crust (the lithosphere) took place in recent time, at the close of the last ice age, and that it was the cause of the improvement in climate."

Hapgood's thesis that the last pole shift had happened at the end of the last ice age about 11,000 BC had apparently been startlingly confirmed by the discovery of a flash frozen Antarctica civilization.
Furthermore, this also confirms that the Oronteus Fineus map, which shows an ice-free Antarctica, is based on ancient historical records where Antarctica once possessed a thriving civilization before a devastating Pole Shift event.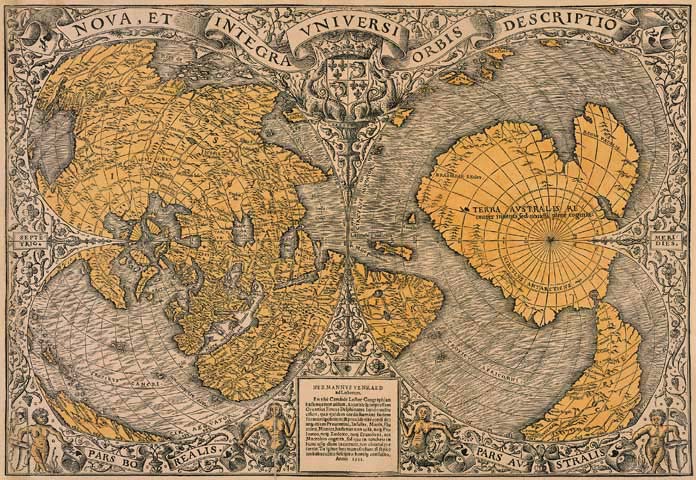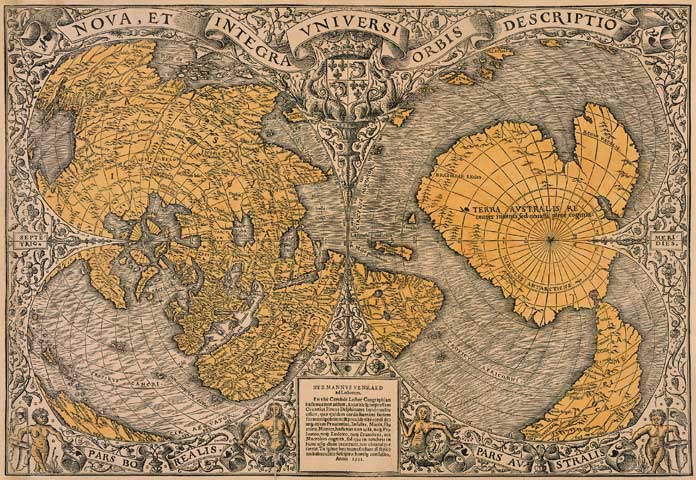 As to the question of when the Antarctica discovery was made, Goode says:
The first discoveries occurred some time back, not sure. They had an idea of what was below the ice after doing very high-tech scans from space. They had been excavating one site and discovered many, many others spread out across what used to be dry ground. This happened over time.
They have been studying what they are finding, and moving some of it out before bringing in various bigwigs from various secret societies. Then they do tours like the "Cabal Disneyland" they have in the stasis chamber in Ohio. They are continuing to excavate, but know what is around in the areas where they have cleared away the ice.
They are worried that all of the steam excavation could cause the surface of the ice shelf to collapse down on the sites they have uncovered. I think they would have to go public in some sort of a way to go bigger on this excavation and widen it.

Goode provided the following artistic sketch of the Antarctica discovery.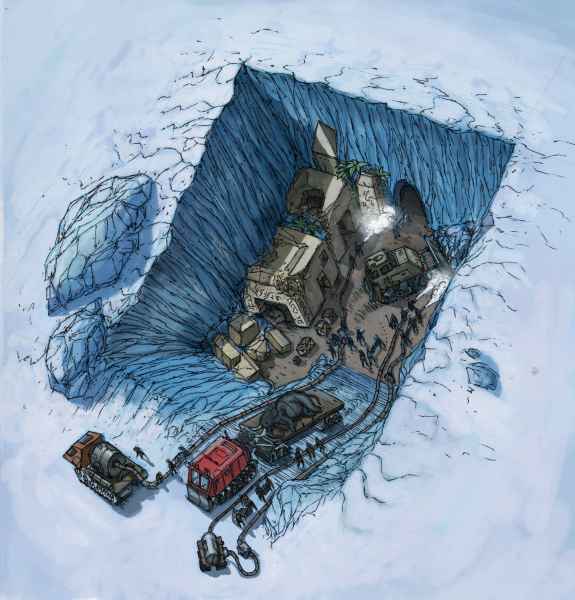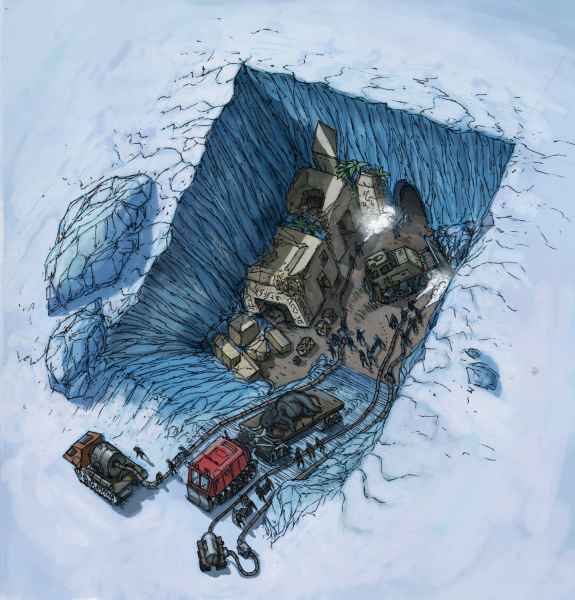 Such a discovery is clearly Earth-shattering news for the archeological community, and explains why prominent world figures such as U.S. Secretary of State  John Kerry, Astronaut Buzz Aldrin and Russian Orthodox Church Patriarch Kirill, have recently traveled to Antarctica to see the discoveries first hand. Goode asserts:
The finds in Antarctica are a major reason the World Political/Religious leaders have been brought down there to tour what has been found in the last year.
Goode went on to describe the inhabitants of this ancient Antarctica civilization according to Sigmund:
He described the "pre-Adamites" as beings with elongated skulls, with strangely proportioned bodies that were obviously not designed for Earth's gravity and atmosphere pressure. This group had apparently arrived here from another planet in our solar system that was no longer hospitable.
They arrived here approximately 55,000 to 65,000 years ago and began to create hybrids of their species and the developing human population.
Once again, this is a startling archeological discovery that confirms the elongated skulls found in places like Paracas, Peru, belonged to another species of humans, rather than being artificially created deformities.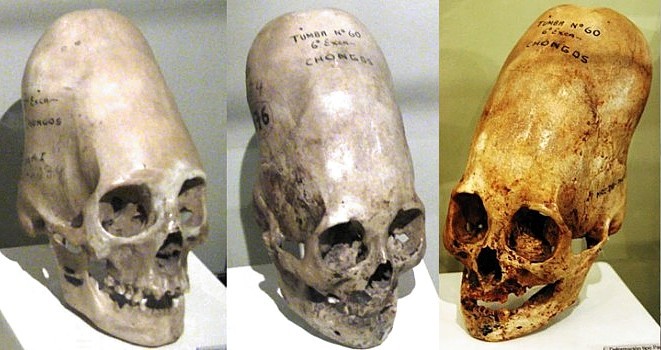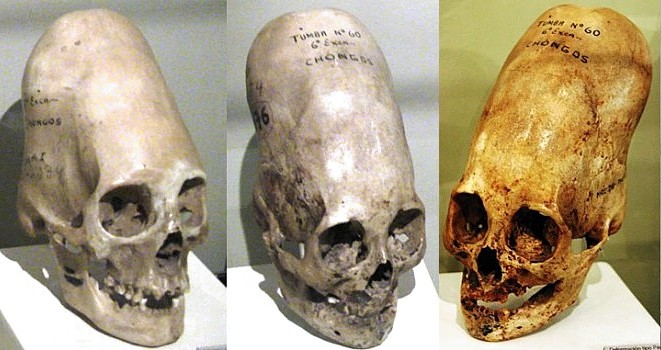 What is critical to understand according to Goode is that many of the Cabal view themselves as direct descendants of these pre-Adamite peoples, and consequently view the Antarctica discovery as an event that corroborates their uniqueness, and fitness to rule. Apparently, many pre-Adamites occupy very senior positions in the Vatican hierarchy where their identities are hidden by the elongated hats worn by Bishops and Cardinals.
Goode says that he has been told by a number of other sources that recent discoveries have indeed occurred in Antarctica, as claimed by Sigmund:
I have now had well over a dozen confirmations that indeed a HUGE F-ING discovery was made down in Antarctica. Indeed there are many, many types of ruins and artifacts strewn out across the continent/ group of islands and underground. … Many square miles of ruins have been detected w/only a small % that has actually been excavated.
The timing of an announcement of the Antarctica discovery is something appears imminent according to the following exchange between Goode (C) and David Wilcock (D):
D: "Will" as in they intend to make this part of the partial disclosure fairly early along?
C: I presume so, as they are not keeping a very tight lid on these discoveries very well and it's during a time of an agreed-upon agenda for partial disclosure.
While the Antarctica discovery raises the possibility that a pole shift may occur again with devastating global consequences, Goode has instead emphasized the sun ejecting its coronal shell as the more likely scenario for an "Ascension event". Apparently, predictions for the sun going dark for a number of days led to an exodus of the Cabal to hidden locations in Antarctica/South America in early 2016.

Regardless of questions of whether an Ascension event occurs, how it is triggered and how to best prepare, an official announcement of the Antarctica discovery is likely to be the first in a series of official disclosures that will rock establishment media and universities. While such an announcement may be intended to be part of a limited disclosure narrative, the more likely result is that it will open the door to full disclosure of ancient civilizations, both past and current such as the alleged "Anshar", as well as the truth emerging about secret space programs and extraterrestrial life.
© Michael E. Salla, Ph.D. Copyright Notice
Further Reading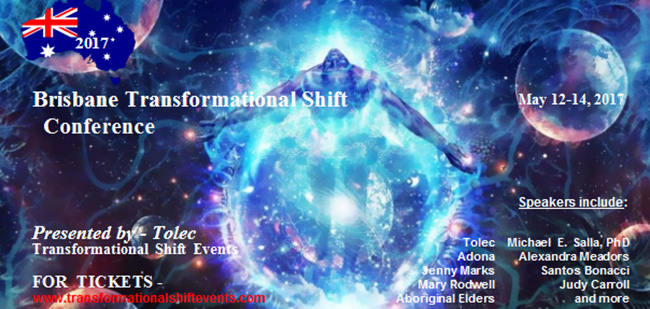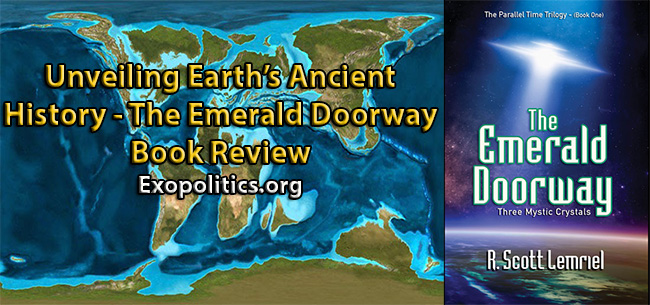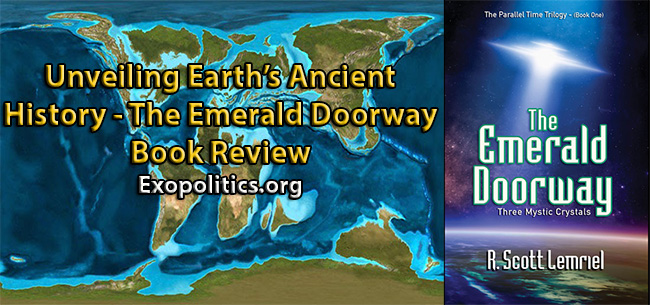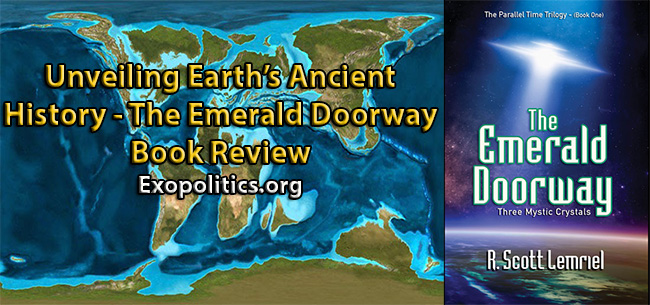 Scott Lemriel's latest book, The Emerald Doorway: Three Mystic Crystals is a fiction based on fact exploration of Earth's ancient history. Lemriel claims he has had extraterrestrial contact, out of body of experiences and telepathic communications with a number of higher dimensional beings who have provided him with information about exopolitical events dating from the distant past to the present. He has used this information as the factual backdrop for what reads as a highly entertaining Sci-Fi novel.
Lemriel begins his novel with a four star U.S. Air Force General, who is also the President's National Security Advisor, flying over the Bermuda triangle in a 747 passenger jet, which is nearly shot down by a spacecraft piloted by a hostile alien. The General is rescued by another group of aliens, and he demands answers to what had just happened.
The General subsequently meets with the same friendly aliens who take him through a hidden doorway at Mount Shasta to a parallel time dimension. The General is the introduced to advanced psychic technologies by a mysterious "Adept of the Ancient One," which allows him to holographically experience historical events to find his answers.
The General learns of the role of the hostile alien who 100,000 years ago came into possession of a powerful crystal which he used to hypnotically control others in his search for two more crystals that would give him absolute power. In his quest for power, the hostile alien foments galactic warfare, and brings about the destruction of the planet Maldek, whose remains form the current asteroid belt.
The alien also attempts to foment war between Atlantis and its mother colony, Lemuria, 100,000 years ago. However, a pole shift occurs that leads to the almost complete destruction of the Lemurian and Atlantean civilizations. The only survivors are those residing at an Atlantean outpost on an extinct volcano, and individuals who in the final moments before the cataclysm were able to ascend into a parallel time dimension.
As a result of the chaotic energies unleashed through the ancient pole shift, the hostile alien time travels 100,000 years into the Earth's present history. The story ends with the General learning about the nefarious alien's plans to create havoc on Earth, and he travels to Washington DC to warn the President. We will learn what happens in two future books that Lemriel plans to write to complete his trilogy.
Lemriel is a gifted writer and has produced a gripping story, which provides the reader with much historical information that may be substantially based on fact. Lemriel's extraterrestrial and higher dimensional contacts, which include the Seres that he described in his previous book, The Seres Agenda, have provided him with tantalizing historical information.
Click here for Part 2 of Video
The Emerald Doorway's version of Earth and Galactic history is entirely plausible, though the fiction based on fact writing style makes it very difficult to compare it with other accounts of humanity's ancient relationship with interstellar visitors.
For example, secret space program whistleblower Corey Goode, has revealed that he learned on "smart glass pads" he had access to during his 20 year covert service (1987 -2007) that human civilizations on Earth go back as far as 18 million years, and that major cataclysms have indeed wiped out entire civilizations on the surface, and survivors have escaped into Inner Earth locations.
Goode claims that he recently met with representatives of seven ancient civilizations in ongoing negotiations between them and a secret space program alliance. Could any of these seven civilizations be related to ancient Lemurian and Atlantean survivors from a major cataclysm approximately 100,000 years ago?  
Could the parallel time dimensions described by Lemriel, correspond to the inner Earth caverns where futuristic civilizations exist according to Goode? Finally, are the mysterious Adepts described by Lemriel, related to these ancient "Inner Earth" civilizations in some way? According to Goode, the Inner Earth beings are masters of remotely influencing surface humanity by telepathic communication to promote their own agendas.

To be fair to Lemriel, the comparison of historical information is not the chief purpose in writing his book. His goal is one of producing a highly entertaining novel that is a primer for those not yet ready to accept controversial information from whistleblowers and contactees about ancient historical events on Earth, galactic politics and its relevance to contemporary global affairs. In that sense, Lemriel's book succeeds admirably, and is a suitable gift for even the most ardent skeptic who will appreciate a good story.
The Emerald Doorway is available at Amazon. For further information visit Scott Lemriel's Website
© Michael E. Salla, Ph.D. Copyright Notice
This article is copyright © and should not be added in its entirety on other websites or email lists. Permission is granted to include an extract (e.g., introductory paragraph) of this article on website or email lists with a link to the original.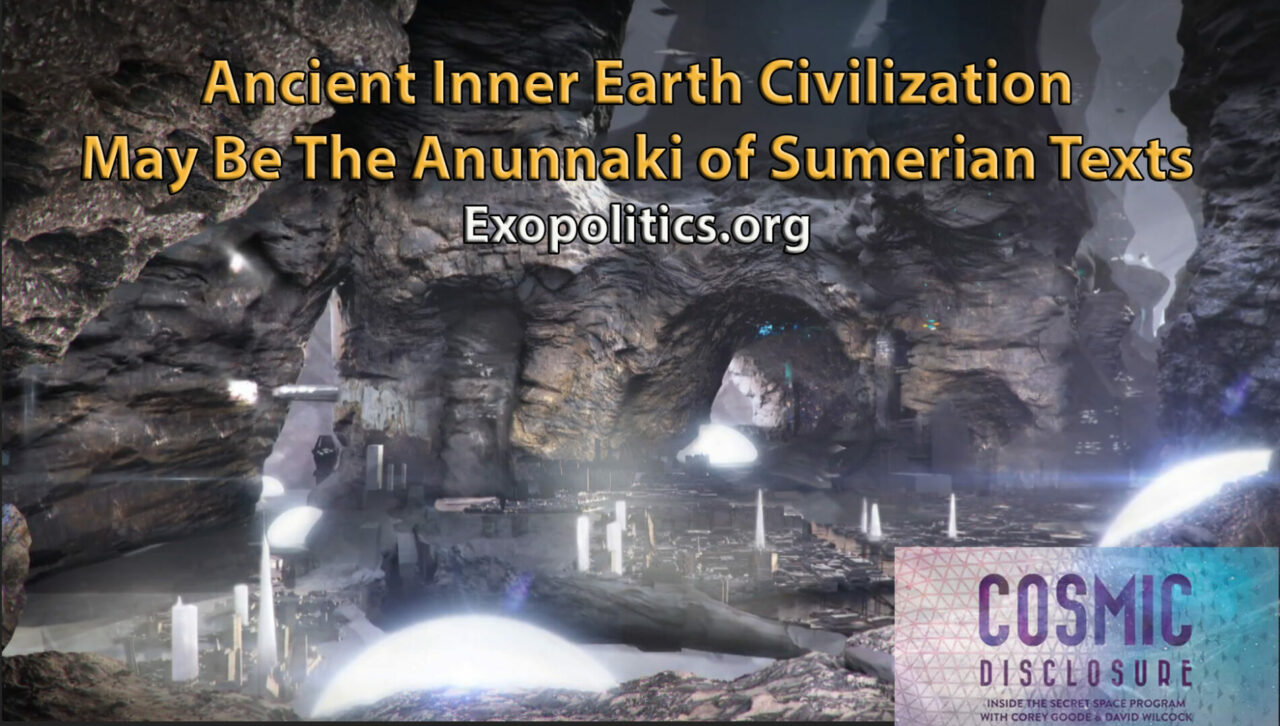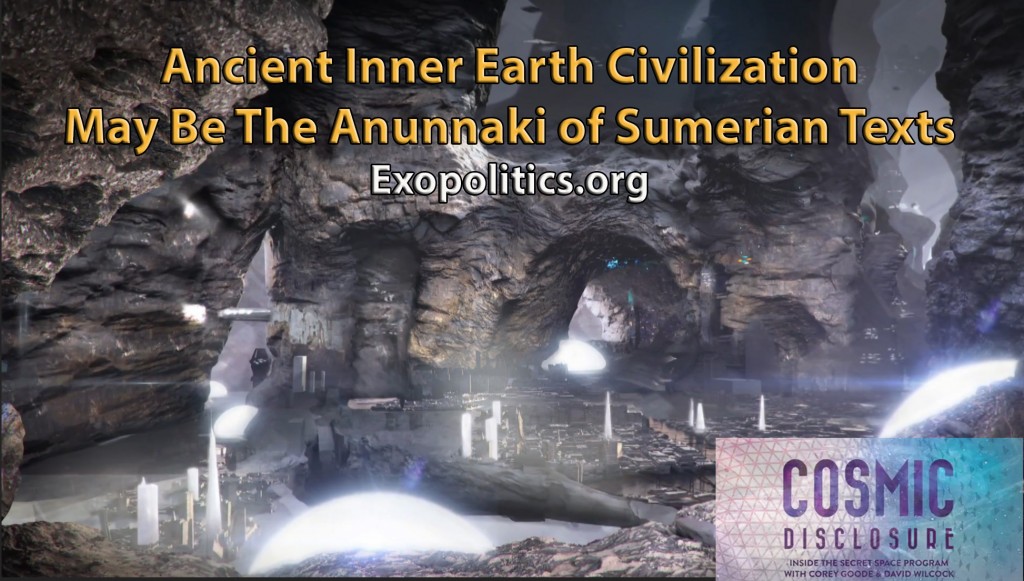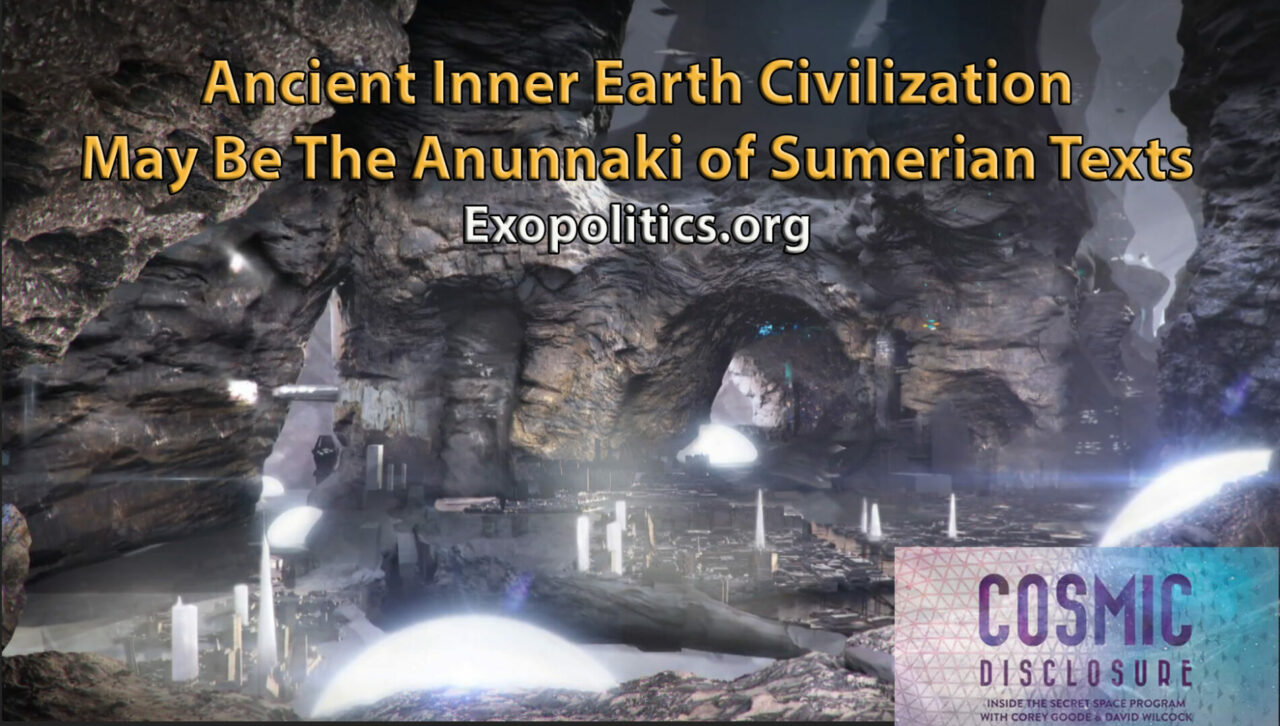 Secret Space Program whistleblower Corey Goode made an astonishing revelation in yesterday's episode of Cosmic Disclosure in which he described his extensive tour of a massive underground cavern system belonging to an Inner Earth Civilization dating back millions of years. These people of the Inner Earth had helped the Ancient Sumerians rebuild civilization after a minor cataclysm on the surface. In whole or in part, the representatives of the Inner Earth were suggesting they were the Anunnaki, who Zecharia Sitchin described in his famed Earth Chronicles series of books.
This and the previous episode of Cosmic Disclosure have focused on a Goode's meeting with select members of up to seven ancient Earth civilizations, and his subsequent tour of underground facilities, which took place in September 2015. Goode had earlier released a written report of this meeting on September 23. 
Last week, in the January 26 episode, Goode described key points in this meeting with the representatives, whose civilizations ranged in age from the youngest dating from approximately four ice ages ago, to the oldest enduring a staggering 17-18 million years.
Goode further described their various racial characteristics and pendant amulets (a form of technology), with specific symbols uniquely meaningful to each of the civilizations. In appearance, they seemed to represent all the major racial groups present on the Earth's surface. The oldest of the civilizations wore a Saturn-like amulet, while the youngest used an Omega symbol.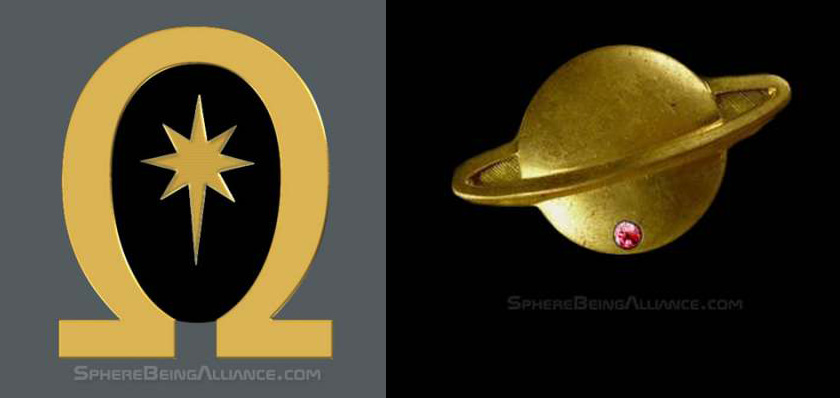 Detailing a private encounter he had after the meeting with a priestess from the hosting civilization, Goode told of accepting her request to link their minds together, because she wanted to experience a visit he had to a crystal cave while a child participant in the MILAB program that indoctrinated him.
After the "mind meld", the Priestess, "Kaaree" (Car-ee), offered to give Goode and his companion, Lt. Col. Gonzales (a pseudonym), a tour of three large caverns belonging to the oldest of the inner Earth civilizations.
The first cavern Goode and Gonzalez visited was massive in size, encompassing an area similar in size to the U.S. state of Texas, and it contained a futuristic looking city. Here huge buildings loomed along with, light domes, and people were walking about, with flying saucers and cigar shaped vehicles flying overhead. Remarkably, their craft could easily fly through the cavern walls. Goode's narration was accompanied by a number of illustrations in this latest Cosmic Disclosure episode.
Next, Goode and Gonzalez were then taken to a large garden-like agricultural area where they viewed crops being grown. The crops could feed an approximate population of millions, according to Goode's estimate.
Finally, they were taken to a large wildlife sanctuary with birds and other animals. There sky here was pale blue and a large obelisk stood in the center, which had a large energy source above it. This appeared to eminate the famed Vril force that Edward Bulwer Lyton wrote about in his 1871 novel, Vril, The Power of the Coming Race. Goode was told that this particular cavern had been terra-formed.
Towards the end of this tour, led by the priestess Kaaree, she told Goode how her people had helped the ancient Sumerians after a minor cataclysm on the Earth's surface. Kaaree revealed that the Sumerians had been taught agriculture and writing by the Inner Earth Civilization whose spoken language was a form of Akkadian/Sumerian.
This stands out as a paradigm shifting revelation from Goode given the literature produced by authors such as Zecharia Sitchin. After translating Sumerian cuneiform texts, Sitchin's interpretation convinced him that the Sumerians were helped in starting their remarkable civilization in 3800 BC by the Anunnaki, highly advanced beings who came from a planet called Nibiru, orbiting in the far reaches of our solar system.
The History Channel's Ancient Aliens series has widely popularized this view that alien visitors had helped the Sumerians build their civilization. When Goode explained this contradiction to our own historical understanding, Kaaree told him that he would need to visit their ancient library to get the answers he sought.
Goode will cover the library visit in the next episode of Cosmic Disclosure, and soon release the long awaited second installment on his written report of the inner Earth encounter first released on September 23, 2015.
For the moment, it is clear that one of the representatives from the Inner Earth civilization was plainly stating that they had brought civilization to the Sumerians. In addition, Kaaree was suggesting that her people had deceived the Sumerians into believing that they were gods from a planet, real or not, called Nibiru, which had a long period orbit around our sun– 3,600 years according to Sitchin's translations.
The February 2 episode of Cosmic Disclosure, and next week's, are likely to be very controversial due to the widely promoted belief that the Anunnaki were ancient aliens who visited the Earth, according to Sitchin's respected translations. It will be fascinating to learn the perspective of the oldest of the inner Earth Civilizations about the true history of our planet, and what happened in particular with the ancient Sumerians.
At this point, many readers may ask, can Goode's account be possibly true?
According to my own research and investigation, which I detailed in the book, Insiders Reveal Secret Space Programs and Extraterrestrial Alliances, there is much evidence and documentation to support Goode's testimony. More recently, another whistleblower has emerged, William Tompkins, who has provided documents in his autobiography, Selected By Extraterrestrials,  that corroborate major elements of Goode's claims.
Tompkins testimony is especially relevant when it comes to the Germany's pioneering role in the development of Secret Space Programs, and how they were helped by an alleged extraterrestrial race from Aldebaran that used the Sumerian language. If Goode's claims are accurate, then the alleged extraterrestrial race may in fact have been an inner Earth civilization masquerading as aliens.
Just as the Sumerians were possibly deceived into believing that the Annunaki were extraterrestrials from Nibiru, so too the Germans may have been deceived into believing that Nordic looking aliens from Alderbaran had made psychic contact. In reality, both the Sumerians and Germans had more likely made contact with one or more of the multiple Inner Earth civilizations that Goode recently encountered in September 2015. In conclusion, Sitchin's Anunnaki may have a very terrestrial explanation after all!
© Michael E. Salla, Ph.D. Copyright Notice
Further Reading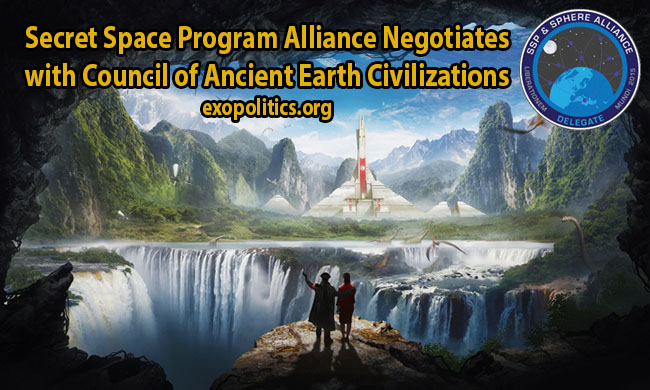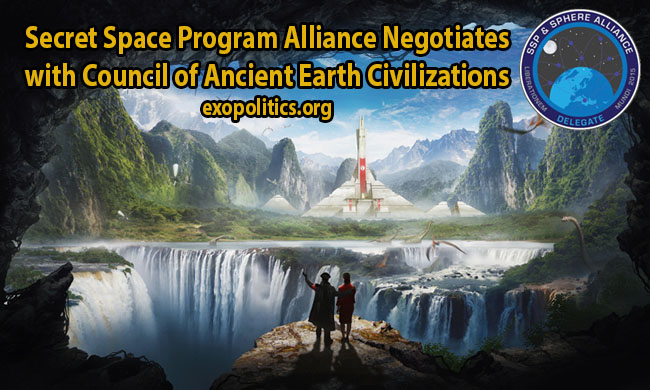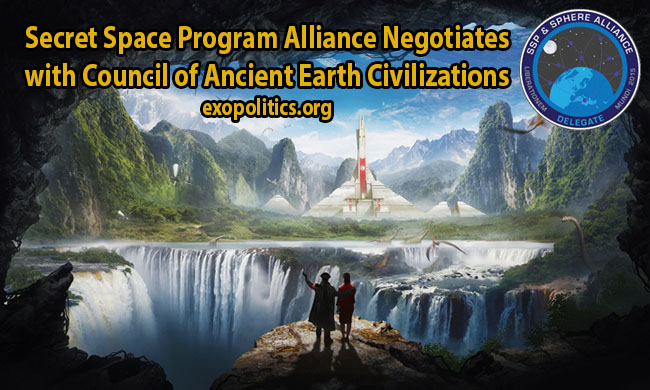 Human civilization has been divided into two distinct branches for millennia according to a report issued today by Secret Space Program whistleblower, Corey Goode. On the Earth's surface, civilizations have risen and fallen as a result of cataclysmic events, wars, influxes of refugees from other planets, and genetic experiments by visiting extraterrestrial civilizations. In the Earth's vast subterranean interior, another branch of humanity has found refuge and flourished for millennia, preserving ancient forms of knowledge and bloodlines dating back to a time before cataclysmic surface changes.
In his report, Goode describes a meeting held with a Council representing seven ancient human civilizations, which he described as the "Council of Ancient Earth Breakaway Civilizations." He describes the Council's vast historical perspective and why they limited or avoided interaction with surface humanity over the course of millennia.
Goode describes the distrust the Council has of surface humanity, which has been easily controlled and manipulated by secret societies (Cabal/Illuminati) that are aligned with an invasive extraterrestrial group called the 'Draconians', who are intent on exploiting surface humanity.
In order to protect themselves from the aggressive and warlike activities of surface humanity and a non-human subterranean race called the 'Raptors', the ancient breakaway civilizations claim they have had to pretend to be gods and/or extraterrestrials to hide their true locations.
Goode begins his report with a detailed explanation about the circumstances and events leading up to this meeting with the "Council of Ancient Earth Breakaway Civilizations." He describes how a break-down in relations between the different secret space programs, the influx of highly advanced weapons, and the emergence of the "Sphere Being Alliance," led to the ancient Earth civilizations feeling the strategic need to ally themselves more.
Their first step was to form a Council of the seven different ancient breakaway groups, which previously had different perspectives, and were isolationist in their political philosophies. Curiously, this relatively new Council did not include the ancient Mayan civilization that Goode had previously discussed extensively, who have played a very positive role in mitigating the effects of "service-to-self" extraterrestrial groups exploiting humans.
This new alliance would enable the ancient Earth civilizations to counter the increase in aggressive actions by the Illuminati/Cabal and their extraterrestrial allies, led by the Draconians. The latter were encouraging the Raptors to expand their subterranean domains of Earth, leading to territorial losses by the ancient Earth Civilizations. Goode describes the Raptors as a "particularly nasty race" that had "hideous reptilian features as well as a scrawny plume of feathers running down their backs."
Goode described in great detail how the subterranean Earth civilizations view themselves as racially pure in contrast to surface humanity:
They each described their perceptions of those of us on the surface as uncivilized barbarians who are diseased and genetically impure. They said they were the only ones who had preserved the various original earth human bloodlines.
Wave after wave of refugees from nearby planets had since co-mingled their genetics with the original humans of this planet, and had taken over the surface world like a plague.
Goode refers to four catastrophes on the Earth's surface that led to the formation of breakaway subterranean civilizations:
They stated that in the nearly 20 million years since the original human bloodlines had arisen on Earth, there had been four major cataclysms that had either changed the Earth's axis, rotation or orbital path around the Sun.
Each time one of these events occurred, the "elite" or priest caste kept their genetic line pure through isolating themselves beneath the ground. These small groups survived while their surface counterpart civilizations perished.
From time to time, these ancient civilizations would help surface humanity rebuild their destroyed societies according to what Goode was told:
Over oceans of time and smaller destructive events on the surface, which were still obviously catastrophic, nearly all signs of their former civilizations were erased from the memories of the survivors. Only myths and legends of advanced gods remained.
They stated that they would emerge from time to time to kick-start the civilization of the survivors who were the most closely related to them in terms of their genetics.
They claimed that these surviving races assumed they were the gods of their own ancient legends. It was decided that they would allow those they were assisting to believe they were gods, in order to keep their subterranean civilizations secret and secure.
Goode says that refugees from other worlds flooded the Earth's surface and intermixed with the surviving population after the cataclysms:
To add to this incredible story, they stated that more and more advanced groups began to arrive from outside our solar system during and after these cataclysmic events. These new groups began to take advantage of the situation, such as to farm and manipulate the genetics of the natives of this solar system.
They claimed that the Earth became the destination of the refugees from these other inhabited planets. Advanced ETs relocated these refugees here in several waves as cataclysms occurred on their home planets. The refugee races were genetically similar to the original humans of Earth, but were much more aggressive.
The ancient Earth civilizations knew about the Guardians or the "ancient Builder Race" that Goode has described in a number of Gaiam TV interviews:
The subterranean groups claimed that there had been an ancient civilization that had protected this region of the galaxy for literally billions of years. They were referred to as "The Guardians," and the Secret Space Program referred to them as the "Ancient Builder Race"…. This Guardian race was extremely advanced. There were no other ET groups who would even think of violating their region of space.
Surface humanity has changed from the time of the ancient Earth civilizations that had relocated underground. Surface humanity was now a threat:
The survivors of those inhabited worlds within our solar system relocated to the Earth. They were extremely aggressive, and began to reproduce and interbreed with the original humans that were on the Earth's surface.
It was not long before the subterranean groups saw this new mixed race as a threat to their existence. This new mixed race is the current surface population of the earth today.
The ancient human society explained why they had to deceive surface humanity in order to counter the agendas of extraterrestrials:
They continued to appear to certain distant genetic relatives on the surface as gods and ascended teachers, to help them develop their civilizations and themselves spiritually. This was done in the hopes that they might be able to overcome the aggressive part of their genetic programming. This effort has continued right up until the present time.
They decided to start presenting themselves at ETs from other star systems when the surface population became more technologically sophisticated. They say that will continue to do this to keep the people they make contact with looking to the stars, instead of beneath their feet.
The ancient human civilizations are not optimistic about surface humanity's chances of changing its aggressive behaviors despite the arrival of the Sphere Being Alliance who are believed by the former to be the ancient Guardians:
They stated that they are not optimistic that we will be able to do accomplish this, even with the continued energetic changes or return and assistance of the Guardians. This was quite surprising to hear, as they were obviously referring to the Sphere Alliance as the Guardians….
These subterranean groups are under the impression that after a full disclosure event and the removal of the manipulative ETs from our solar system, it will still take several generations for us to heal and evolve as a civilization. Only then will we be able to have open contact with their civilizations as equals.
The ancient breakaway civlizations are not happy that the Secret Space Program Alliance is acting as the intermediary to the Guardians/Sphere Being Alliance.
They were not exactly thrilled about forming this new council, or reaching out to the SSP Alliance Council to request contact with the newly-returned "Guardians."
Apparently the Guardians were not going to contact them on their own. If they wanted any access at all, they had to work with us as a team.
They flatly stated that they were doing this under duress. Their alliance was forced into existence by the vast array of problems they were having. This included the lethal resistance they were encountering from various subterranean ET refugees and "ancient pre-human Earth races."
Goode went on to explain that the ancient subterranean civilizations are frightened of surface humanity:
These people are frightened of us. We inherited very aggressive genetics from groups the refugee groups that were relocated to our planet as well as from genetic manipulation from groups such as the various "Grand Experiment ET's" and the Draco that they themselves do not possess.
There is much more in Goode's Report about the philosophy and activities of the ancient subterranean civilizations, and their relations with extraterrestrial visitors and surface humanity. Goode says that he also visited their library which will be the subject of part two of his report.
Corey Goode's latest report is certain to create much controversy over claims that individuals believing they have had contact with extraterrestrials, were actually being deceived by one or more of these ancient subterranean human breakaway civilizations.
Most controversial is the claim that subterranean humans are genetically purer than surface humanity, which enables them to access ancient technologies left behind by the "Builder Race." This reminiscent of the claims made by Edward Bulwer Lyton in his book, Vril: The Coming Race (1871), which had a powerful influence at the end of the 19th century.
Lyton's book depicted a subterranean human race that could harness the Vril Force to use highly advanced technologies. Lyton's book contributed to the rise of the German Vril Society and the eventual formation of the first secret space program in the 20th century. This historic process is outlined by Goode in an earlier email interview, and discussed in more detail in the new book, Insiders Reveal Secret Space Programs and Extraterrestrial Alliances.
If Goode's report of his most recent Secret Space Program meeting is accurate, then surface humanity will eventually openly interact with its subterranean ancestors. There will be many controversial issues to navigate, and past conflicts to resolve, as we all learn about a much richer and complex human history than anything previously imagined.
© Michael E. Salla, Ph.D. Copyright Notice
Further Reading