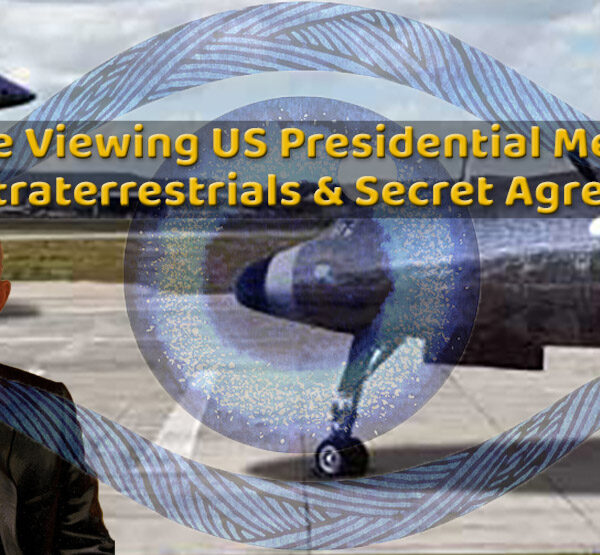 One of the least understand processes in the modern history of UFOs are secret meetings held between US Presidents and extraterrestrial visitors, and subsequent agreements that emerged from them. A number of insiders and eyewitnesses have come forward over the years to share their knowledge of these highly classified events, which continue to remain secret to this day and are hotly disputed among UFO researchers.
To this body of testimonial evidence that such meetings and agreements did occur, we can now add recent remote viewing sessions conducted by the Farsight Institute using a scientifically rigorous protocol. The data provided by Farsight gives us an independent means of evaluating the earlier body of testimonies concerning US Presidents meeting with and striking deals with extraterrestrials. Before discussing the recent Farsight remote viewing sessions on "Presidential Meetings with Extraterrestrials," I need to explain what was already known from multiple sources about such meetings
The first references to US presidents meeting with extraterrestrials came from a letter dated April 16, 1954, that was written by a highly respected metaphysical leader, Gerald Light, less than two months after President Eisenhower reportedly met with an extraterrestrial delegation at Edwards Air Force Base. Light's letter described his first-hand account of the meeting and the events that transpired after a delegation of human-looking extraterrestrials arrived in a flying saucer craft.
Light described expectations that the public would be told the truth by the Eisenhower administration, but a high-level cover-up was implemented instead. Unfortunately, there was no independent corroboration of the momentous meeting that Light says he witnessed. Consequently, Light's account was quickly dismissed, ridiculed, and forgotten by the general public.
Over the subsequent decades, anonymous whistleblowers would occasionally come forward to be interviewed by an intrepid journalist or brave UFO researchers, such as Timothy Good, who included the information in their newspaper articles or books. Good's 1991 book, Alien Contact, was among the first to release details of the Eisenhower extraterrestrial meeting. Very few individuals were willing to go on the record and face the scrutiny, ridicule, and risks associated with going public on such a highly classified topic.
Also, in 1991, a former top-level US Navy intelligence briefer, William Cooper, released his highly controversial book, Behold a Pale Horse, where he revealed some of the contents of official files he witnessed describing President Eisenhower meeting with different delegations of extraterrestrials at Edwards AFB and other locations in the 1954-1955 time period. Cooper said that the first delegation failed to reach an agreement with Eisenhower's administration but warned him of a second extraterrestrial group that would soon make contact. Eisenhower was told this latter group would be more willing to reach an agreement but prove to be treacherous, and take the planet down a very dark path.
Cooper said an agreement was eventually reached that permitted a limited number of alien abductions, but these increased exponentially as a result of the permission being given (see my January 2004 article).
Beginning in 2007 first-hand testimony emerged from a number of witnesses that had been present at Holloman AFB in February 1955, showing conclusively for the first time that a second meeting had indeed occurred. UFO researcher Art Campbell collected a number of these insider accounts of what transpired, along with documents corroborating their testimonies. In short, President Eisenhower was seen entering into a flying saucer that had landed, but few details emerged about what was discussed and the occupants of the craft.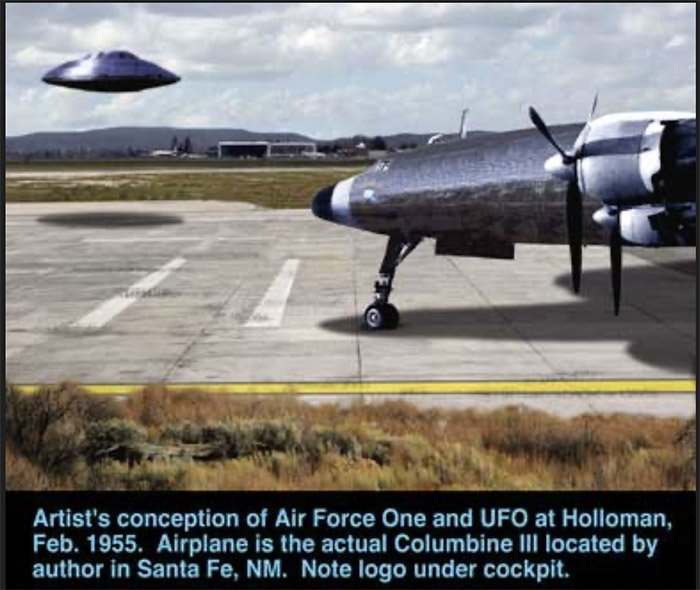 With the remote viewing data recently provided by Dr. Courtney Brown and his team of remote viewers, an independent means of corroborating such insider accounts is now available for the first time. Furthermore, a rare glimpse is provided into these highly classified meetings between US Presidents and extraterrestrials, and what was agreed to.
As explained in my previous article on the Farsight Institute's remote viewing protocols, all sessions are conducted under "blind conditions." The remote viewer is simply told to view a target, e.g., "Target X", without being given any details. Only the individual setting up the sessions, Dr. Brown, is aware of the target. Here are the two targets that were given to the five remote viewers that participated in the sessions.
Target 1: The first meeting between a US President and extraterrestrials from the Galactic Federation of Worlds during the 20th Century.
Target 2:
Part A: The highest level meeting between a US President and/or his representatives and Reptilian extraterrestrials and/or their representatives during the 20th Century.
Part B: The first meeting between a US President and/or his representatives and extraterrestrials from the Orion System during the 20th Century.
While there were significant differences among the remote viewers about particular details of the scenes they were witnessing, the broad picture they described had remarkable coherence. This is one of the stunning aspects of multiple remote viewing sessions of blind targets by highly trained and competent remote viewers. It is easy to understand why the US Intelligence Community has used remote viewing for decades to complement intel gathered by other traditional sources: human (HUMINT), electronic (ELINT), photographic (IMINT), etc.
In the case of Targets 1 and 2, the remote viewers were able to independently confirm that high-level human representatives (Eisenhower administration) met with different groups of extraterrestrials that arrived in spacecraft to remote locations where meetings took place. The extraterrestrials came from competing alliances; some were human-looking (Galactic Federation of Worlds), while others were Reptilians (Draco Empire) or allied with them (Orion Collective).
Some of the negotiations went badly (Galactic Federation), while others led to deals being struck (Draco and Orion). The successful extraterrestrial groups gave technologies in exchange for human genetics or being allowed to establish bases on Earth.
The human leader (Eisenhower) eventually felt great regret for giving away something valuable (humans) for what he recognized as technology trinkets. On the other hand, the extraterrestrials who secured an agreement (Draco and Orion) felt they had achieved a significant victory over their enemies (Galactic Federation).
This suggested that the human side (US) was negotiating from a position of weakness since they did not view any of the different extraterrestrial groups as enemies but as neutral bidders in a negotiation. In contrast, the Reptilian-allied extraterrestrials saw the (Earth) human side as naïve natural enemies to be manipulated and exploited while feigning technological support.  
After watching the remote viewers' observations, it needs to be appreciated they spoke in general terms about human and non-human subjects meeting and interacting in different locations, without naming specific groups or locations. It is only when Dr. Brown analyzes their data in relation to the two targets he had set for the sessions, that a clearer picture emerges of what had happened.

Here's how Dr. Brown summarized the remote viewing data:
You see, there was a meeting, not just one meeting, but a few meetings. The meetings were between various extraterrestrial groups and one or more US presidents and their representatives. The ETs were not all of one mind. They all wanted something. Some seemed to want to warn humanity not to strike a deal with other ET groups. Everyone wanted an alliance of some sort. But US leadership also wanted something, stuff.
Indeed, human leadership seemed desperate to strike a deal, and that desperation led to a deal that many now regret profoundly. This is one of the reasons for the continued secrecy. The deal was so bad that current human leadership is afraid to talk about it. So from the ET side, and the human leadership side, the silence continues.
What is remarkable here is that the remote viewing data corroborates much of what insiders have been revealing about secret meetings between the Eisenhower administration and extraterrestrials dating from 1954. The initial meeting with representatives from the Galactic Federation did not result in agreements, but subsequent discussions with the Reptilian and Orion alliances did.
The warnings from the first group of extraterrestrials (Galactic Federation) were disregarded, and the agreements reached with the second group (Draco and Orion alliance) came to be regretted by President Eisenhower.
It is known that President Eisenhower was very unhappy with the way the extraterrestrial issue was being managed by the Majestic-12 Group (MJ-12). While President Truman had created MJ-12 in September 1947, Eisenhower gave it much more power following the recommendations of national security advisors such as Nelson Rockefeller.
Video Introduction to Upcoming Webinar
Eisenhower expressed his disappointment privately to trusted military aides and even threatened to invade Area 51's S-4 facility where extraterrestrial technologies were being stored and studied by MJ-12 personnel. Advanced extraterrestrial technologies were being reverse engineered with limited success, as confirmed by Bob Lazar in 1989. Meanwhile, increasing numbers of people were being abducted by aliens and subjected to genetic experiments.
Eisenhower's realization that the deal with the extraterrestrials was a bad one led to his famous farewell address about the dangers of the Military Industrial Complex and warning President Kennedy about the MJ-12 Group.
Nevertheless, the agreements persist to this day, as evidenced by Dan Sherman, a former US Air Force electronic communications expert (1982-1994) who in 1998 revealed in his book, Above Black: Project Preserve Destiny, that the NSA had trained him to communicate with Gray extraterrestrials who reported on the abductions they were performing. When Sherman realized that there was a secret agreement between extraterrestrials and the US government that permitted abductions, he decided to resign and left the Air Force in disgust.
The agreements go far beyond merely allowing human subjects to be abducted for genetic experiments. According to multiple insider reports, the agreements also extend to soldiers being sent on missions to battle against Reptilian extraterrestrials with little chance of success, and millions disappearing annually into a slave trade that involves individuals being sent into remote deep underground bases (DUMBs) or off-planet locations (Moon and Mars) with no prospect of return.
All this makes it easier to appreciate Dr. Brown's conclusion that human political leaders are afraid to reveal the different agreements reached with extraterrestrials. The public reaction to learning the truth would be utter disgust and an immediate demand to terminate such agreements. The anticipated public response is very high among the factors that perpetuate the secrecy system that still remains in place decades after the initial agreements were first reached and periodically renewed in total secrecy, without the public learning anything about the agreements and their hidden provisions.
Dr. Brown's remote viewing sessions on "Presidential Meetings with Extraterrestrials" provide a valuable corroborating source of evidence that such meetings did in fact occur, and have resulted in agreements with manipulative extraterrestrial groups that continue to plague humanity's evolution and development. In the meantime, the extraterrestrial group (Galactic Federation) that was spurned by US officials in the 1950s, has been quietly waiting for the day that the earlier oppressive agreements would be publicly exposed, and be replaced by more equitable arrangements.
As humanity undergoes its Great Awakening and learns of the many dark activities of the Deep State and its allies, it will be important to include full disclosure of these secret agreements. Most critically, we need to befriend the Galactic Federation of Worlds whose representatives first warned us of the dangers of agreements with the Orion and Draconian extraterrestrial alliance, and have played an important behind the scenes role in assisting humanity's Great Awakening.
© Michael E. Salla, Ph.D. Copyright Notice 
[Note: Videos featuring remote viewing of Presidential Meetings with Extraterrestrials are available at Farsight Institute]
[Further Note: Video version of above article available on YouTube & Rumble]
Further Reading

---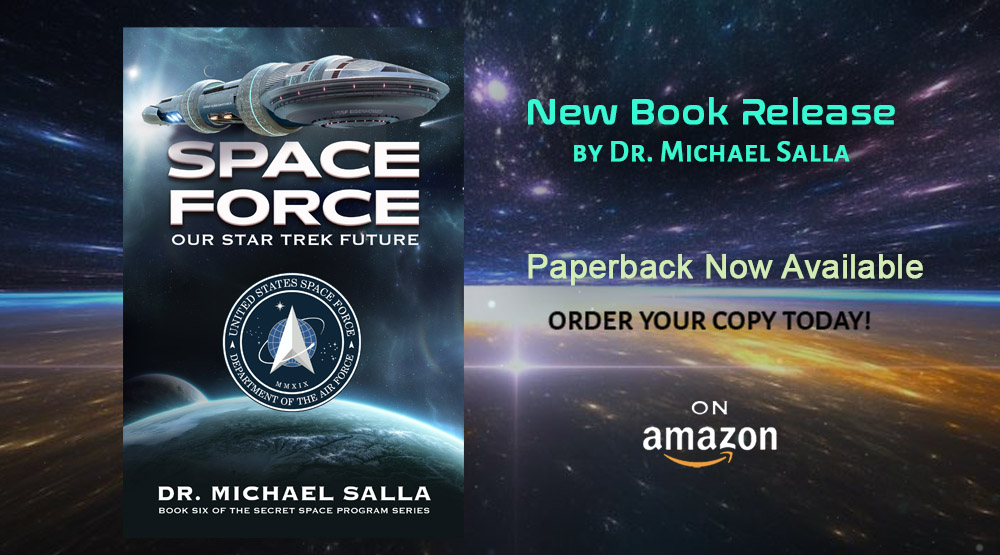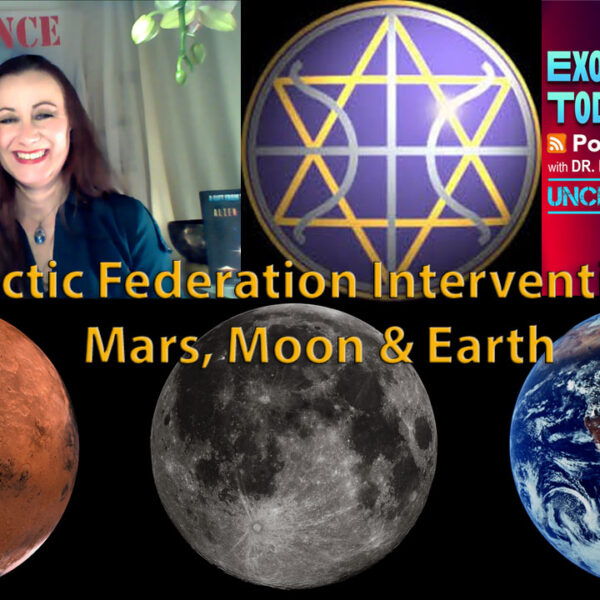 In this third interview on Exopolitics Today with Dr. Michael Salla, Elena Danaan discusses Galactic Federation operations against repressive extraterrestrial races on Mars, the Moon and Earth. Elena describes a Galactic Federation military intervention against Draconian (Ciakar) Reptilian and Tall Gray bases on Mars that she telepathically witnessed through her primary ET contact, Thor Han. She further explains how the Galactic Federation is able to intervene against advanced technologies built by the Deep State with the help of repressive alien groups designed to control and manipulate humanity. Finally, Elena discusses some spiritual techniques people can use to protect themselves against negative alien groups and how to raise one's frequency and consciousness.
Available on Rumble and YouTube
Earlier Exopolitics Today Interviews with Elena Danaan
Further Reading/Podcasts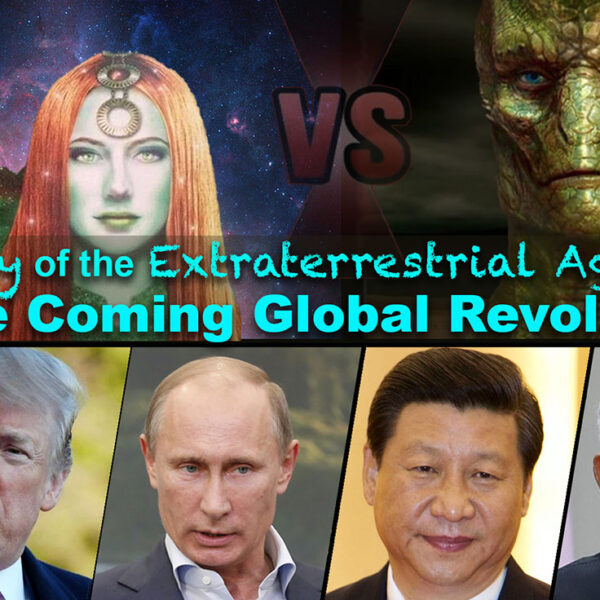 This short film presents the history of extraterrestrial intervention on Earth, and how competing factions have warred over humanity's destiny. Learn how Earth became a prison planet under the control of a negative group of extraterrestrials and their human proxies ( aka the Cabal/Deep State) that have historically manufactured poverty, disease and war. Discover what lies ahead as positive extraterrestrials work with an Earth Alliance of international leaders from major nations to free our planet, and usher in a new age of prosperity, freedom and becoming part of a Galactic Federation.
Available on Rumble and YouTube
Grateful thanks to Angelika Whitecliff for creating and producing this Short Film
---
Feb 27, 2021 Webinar Intensive: The Earth Alliance, Full Disclosure & the Coming Global Revolution – Now on Vimeo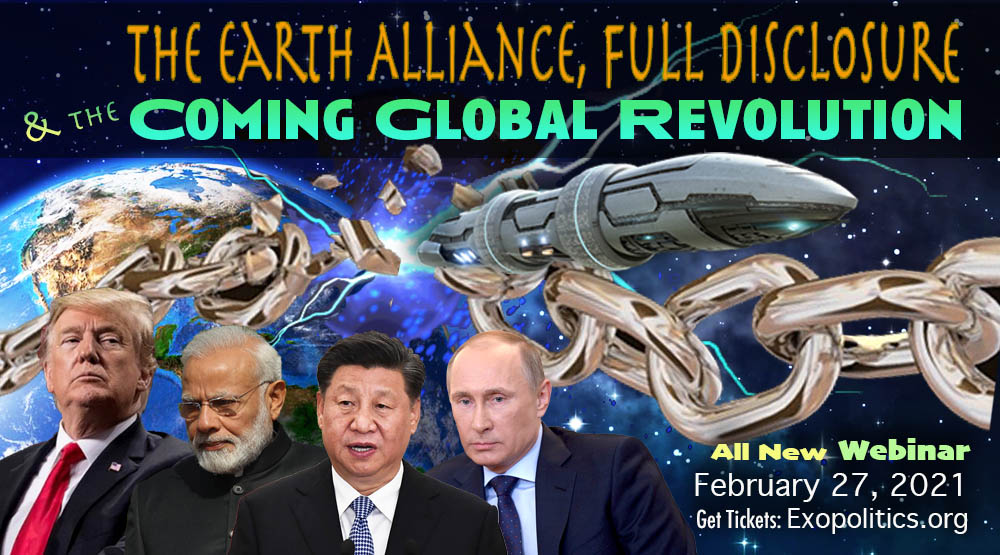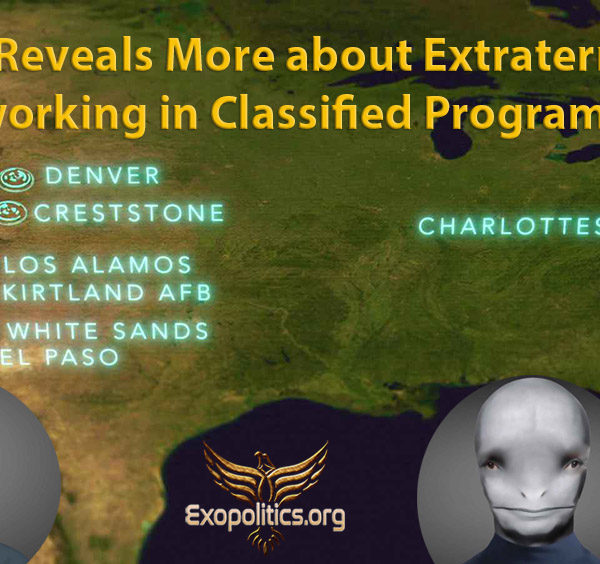 Emery Smith, a former US Air Force Surgical Assistant, has revealed more about his knowledge and face to face interactions with extraterrestrials he encountered while working on classified programs. He encountered the extraterrestrials at Kirtland Air Force Base, and other classified facilities in New Mexico such as White Sands and Dulce; along with Denver, Colorado and Charlottesville, Virginia, all of which he has previously discussed on Cosmic Disclosure (Gaia TV).
In the July 10 episode of Cosmic Disclosure, Smith talked about encyclopedic databases with extensive information on different extraterrestrial races he was shown after he began working on the classified programs in 1992 while stationed at Kirtland AFB:
After a few years in the projects and your clearance gets up and you're getting briefed on different scenarios and different types of extraterrestrials where they're saying they're extraterrestrials or beings from other than Earth origin, and also getting access to the most amazing libraries of encyclopedias that they have there – it's all on computer mainframes – you get to really understand that we're just a small, small part of such a wide and vast array of other beings that are spread out through the universe and multiverse.
Smith's information dovetails with what Corey Goode, another insider discussing classified programs involving extraterrestrial life and technology, says he encountered while working on a U.S. Navy created secret space program. Goode says he was given access to smart glass pads which contained classified encyclopedias on extraterrestrial life and advanced technologies.
Similarly, Clifford Stone, another whistleblower/insider says that he was given access to a First Aid manual with extensive medical data on 57 extraterrestrial races while working on a classified crash retrieval programs, Project Moon Dust and Operation Blue Fly, during his U.S. Army service from 1969 to 1990.
Importantly, Smith says that it was a corporation that was running the classified extraterrestrial and advanced technology programs at Kirtland. While he had a regular USAF assignment at Kirtland from 1990 to 1995, the classified work he did began in 1992, and was under the authority of a corporation.
Smith's information is consistent with the revelation of an anonymous archivist who described being employed in the mid-1980's for a six month period to professionally catalogue files about extraterrestrial life and technology possessed by a major aerospace company (later revealed to be Rockwell International).
In an interview with Project Camelot in May 2006, Mr X described his main purpose in cataloguing all kinds of records concerning extraterrestrial life and technology:
I just gathered and organized information. I think my purpose was to aid those in speculating and understanding the material gathered and to give those specialists an opportunity to learn from the material I gathered because it was organized. I helped our government to research by organizing the material to be gone through.
Two years after his initial interview, Mr X died in mysterious circumstances, and his identity was never publicly disclosed.  
Mr X helps us understand the role of corporations in developing encyclopedia-like databases used by those working inside classified programs such as Smith, Goode and Stone. It's worth emphasizing that Rockwell's aerospace  business was taken over by the Boeing Corporation in 1996.
The classified Rockwell extraterrestrial archives were very likely incorporated into Boeing's advanced technology division, Phantom Works, which was acquired after Boeings' merger with McDonnell Douglas aircraft company in 1997.
This means that the Boeing company, either through Phantom Works or another highly classified division, prepares the encyclopedia-like databases describing different extraterrestrial races that Smith, Goode and Stone had previously witnessed.
One of the races that Smith discussed at length in his July 10 interview with David Wilcock on Cosmic Disclosure are Reptilians who he says he encountered while working at classified facilities:
David: I find it very interesting: when we look at Indian history in the Mahabharata and the Vedas that we have what appears to be an evil Reptilian race called Rakshasas, but that there also was a benevolent Reptilian race called Nagas that they actually ended up making temples out of.
Emery: Right.
David: And you actually see lots and lots of stone inscriptions of what looks like humans, but then they have like a Reptilian tail like a snake. So do you think that these benevolent Reptilian ETs that you were talking about could have been there at the time of the Indian civilization where those texts were written?
Emery: Yeah, I 100% believe that. I know all the texts you're talking about. I know of the statues that you're talking about. I know of the amulets they made of them and some of the carvings down there.
So I agree that these Reptilians I'm associated with that I know are this . . . a little bit more docile, hybrid-type, human-type figures, and they were looked up [to] as gods.
David: Now, it's also interesting because Pete Peterson did say that there was a benevolent Reptilian race as well. And he had told me that they were very keenly interested in our religious development, our spiritual development, that they were very wise, very advanced, and they really seemed to want us to become ethical and to learn how to all get along with each other.
Emery: Yea, I can concur with that. They do have a religious background that I don't know everything about. But they're very strong about it and they do carry amulets and jewelry that show their belief in this system.
They also have sometimes special clothing for certain holiday-type things that they may wear, such as a scarf or a ribbon on their arm. And these things celebrate this religion that you speak of, which is the unity of all and one that they believe in.
And they believe even though they're of different genetic DNA, they also believe that everyone HAS their DNA. And they believe in the system that they were kind of the first ones in the solar system and universe that actually seeded it. And over billions of years, other formations of their genetic lineage has mixed around and is actually where WE come from.
And that's why you see sometimes in the medical society of people saying, "Well, we have the reptile part of the brain and this because we're associated with an iguana or something.
So it's very funny that this is all coming out in the questions that you ask because I do believe there's a correlation with this race, and we might have a little bit of that DNA in us to some extent….
The existence of an indigenous race of highly intelligent Reptilian beings that is involved in classified military/corporate programs has been discussed by many others.
My own research into the existence of an intelligent indigenous Reptilian race began with reports of human rights abuses occurring at the classified Dulce base facility, in New Mexico. In The Dulce Report (2003), I discussed how an indigenous Reptilian helped an alleged security guard, Thomas Castello, escape and tell the world about what was happening there.
Veteran Cryptozoology researcher, John Rhodes, has written extensively about Reptilians/Reptoids and his website has many articles that will help inform readers about what people all over the world have experienced in hundreds/thousands of encounters with intelligent Reptilian beings.
It's important to point out that Smith had no knowledge of an aggressive off world Reptilian race called the Draconians (likely the "Rakshasas" depicted in Vedic Indian texts). In contrast, both Corey Goode and William Tompkins have discussed Draconians as an imperialist extraterrestrial race that formed an alliance with Nazi Germany to establish a base in Antarctica using advanced antigravity technologies.

In my Dulce Report, I discussed how the Draconians, according to Castello, were in charge of the base there, and were using indigenous Earth Reptilians (the "Nagas" in Vedic Indian texts), to run the facility, where many abuses were occurring.
After discussing his knowledge of the Reptilians and his interactions with them at classified military/corporate facilities, Smith next talked about highly intelligent aquatic races that are extraterrestrial origin:
I think maybe I should talk about the more liquid-state planets that are associated with ETs. You know, everyone thinks ETs are all just of the 3D in this Earth-air atmosphere, and it's not the case.
You have beings that have to live in water or come from a water planet. You have these types of beings that come from the Pleiades system, and we call them Aquafarians – some of the first of these extraterrestrials that live in water. They don't need to, but their planet is 98% water.
He said that the "Aquafarians" originate from Pleiades and Sirius star systems:
The Aquafarians started in the Pleiades and then migrated, I know, to Sirius section. I don't know where in there, but I'm only telling you what I've read from the history of being in that library.
And I was fascinated, of course, with dolphins and whales. I have a really good connection with them. I've done a lot of underwater photography and have a great bond with these fish and the mammals.
Smith went on to assert that there are aquatic races that are indigenous to Earth who he also worked with at Kirtland and other classified facilities. He said that many legends about Mermaids are based on people accidently interacting with them, as the following dialogue with Wilcock illustrates:
Emery: Well, there are many types of water-type extraterrestrials. There are some that look like manatees, there are some that look like dolphins, and there are even some that do have a shape from the waist down that's kind of scaly and has fins on the outer edges of these beings. But from the chest up, they actually look pretty human.
David: Now, just to be clear, these are extraterrestrial live coworkers that you're seeing on these bases, correct?
Emery: Yes…. And I think this is maybe where the mermaids come from. You know, I think this mythological background of the history of these sailors seeing these beings could possibly have had a base here on the planet.
And there's a lot of cities that people are discovering, but the Cabal does not let people know this, that are underground, and it wasn't because they were flooded. It's because that's where they really were – these cities – under the ocean. I'm sorry, under the ocean.
And that also proves the fact that these extraterrestrials lived here and they flourished here at some point in time. And I know you know a lot about the history of the mermaids and some of the extraterrestrials over in Asia.
In the July 10, Cosmic Disclosure interview, Smith went on to give detailed descriptions of the different types of Aquafarian races he encountered, and even of the underwater autopsies he participated in.
Smith's revelations of him working with different types of extraterrestrials at classified facilities reveals the extent of diplomatic agreements that these races have secretly reached with the U.S. and other major nations. In an earlier article, I explained how these agreements may have legal standing under international law, despite never being ratified by the U.S. Senate.

Extraterrestrials have been secretly working with different elements of the military industrial complex in classified facilities for decades. The fact that many of these advanced extraterrestrial related projects are under the control of major aerospace companies who operate in strict secrecy with little to no government oversight is a major cause for concern.  
[Note: Emery Smith's interviews on Cosmic Disclosure can be found here.]
Michael Salla, Ph.D. Copyright Notice 
Further Reading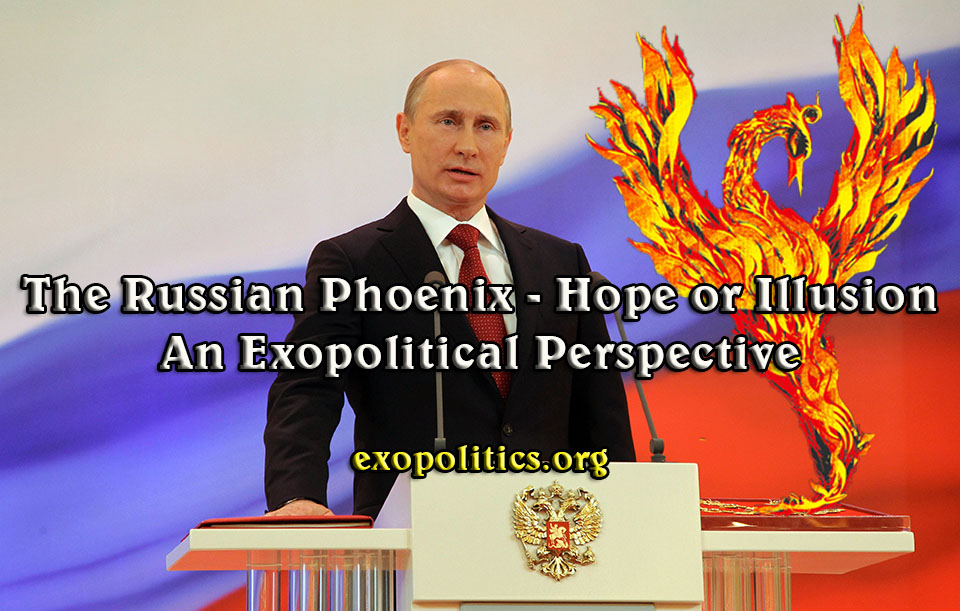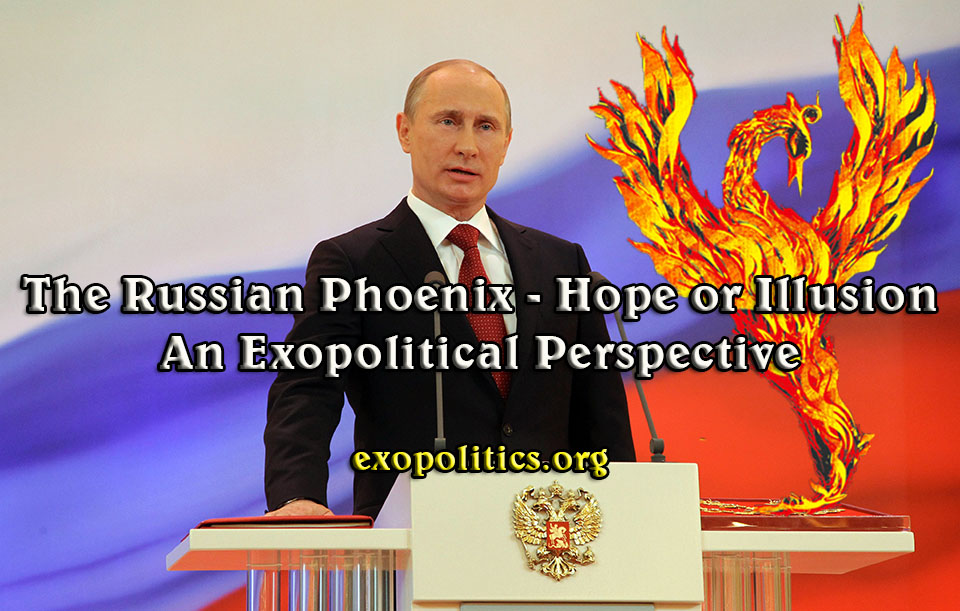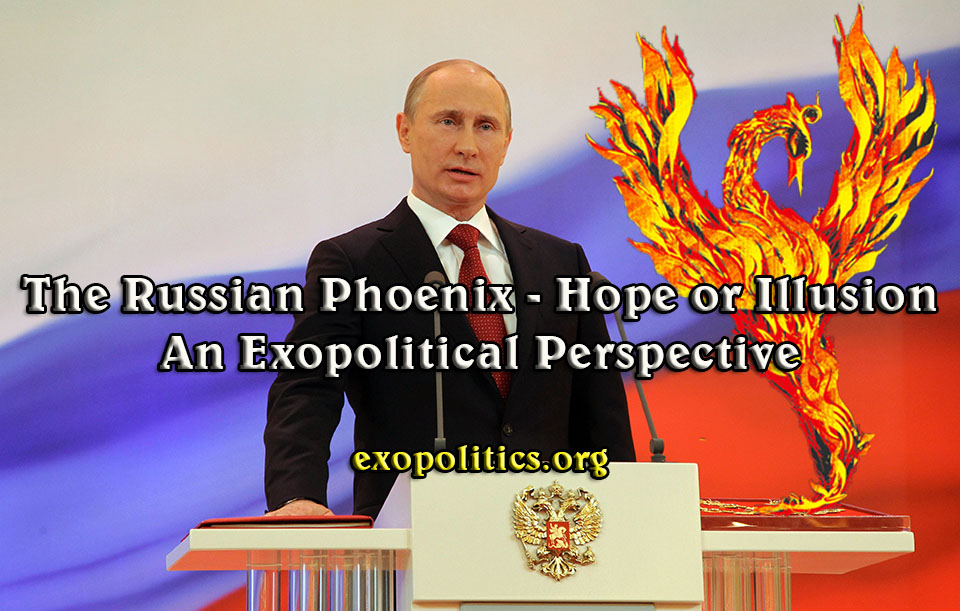 Under President Vladimir Putin, Russia has witnessed a remarkable rise back to becoming a first rate military power capable of challenging U.S. hegemony around the world. More importantly, Russia is a key element of a global alliance (BRICS) in challenging plans for a New World Order contrived by banking elites that form an "Invisible Government".  
This Phoenix-like resurgence of Russia has led to competing narratives about it being either a hope for a better planetary future, or conversely an illusory opposition to U.S. hegemony as part of a contrived power dialectic controlled by the Invisible Government. This has led to competing camps who either champion Russia's policies at a global level, or criticize them as being little more than controlled opposition to the Invisible Government.  
Helping chart a reasonable path through the competing narratives about Russia is a very well thought out article by Dr. Moti Nissani titled "The Russian Phoenix: Hope or Illusion?" Published on February 3, 2016, Nissani examines many of Russia's ambivalent approaches to helping its citizens, global debt bondage, mass media, the environment, etc.  
What Nissani doesn't do, however, is consider the exopolitical element behind the Invisible Government. In short, exopolitics is the study of extraterrestrial life and its political implications. If extraterrestrials secretly influence governments, as many researchers and whistleblowers claim, then a study of Russia's opposition to the Invisible Government needs to consider this possibility. 
Nissani starts his article with an anecdote of widespread perceptions about Russia by many around the world and numerous analysts: 
When I visit a barbershop in Beirut or Amman, and am asked 'where are you from?' (It used to be a painfully confusing and complex question to answer, just a few years ago), I now simply reply: "Russia," and people come and hug me and say, 'Thank you.' 
It is not because Russia is perfect. It is not perfect–as no country on Earth could or should be. But it is because it is standing once more against the Empire, and the Empire has brought so many horrors, so much humiliation, to so many people; to billions of people around the world . . . and to them, to so many of them, anyone who is standing against the Empire, is a hero. This I heard recently, first hand, from people in Eritrea, China, Russia, Palestine, Ecuador, Cuba, Venezuela, and South Africa, to name just a few places.
Nissani contrasts this positive narrative about Russia with another narrative of it being "controlled opposition" to a New World Order, which essentially offers an illusory or false choice. He quotes author Brandon Smith who writes about the false choice between Democratic and Republican parties in the U.S., and how this equally applies to the world arena: 
What truly disturbs me is that our movement can be so awake and aware of the false left/right paradigm while remaining astonishingly naïve and short sighted when it comes to the false East/West paradigm. There are no "sides" in any modern conflict, only proxies fighting on a global chessboard controlled by the same elitist interests…. War is meant to forcefully change the "inertia" of civilization, and thus, forcefully change the direction of civilization in a manner that benefits the engineers of the conflict…." 
 After examining a number of Russian policies that provide fodder for proponents of either narrative, Nissani offers a way out of the dilemma over the correct approach to Russia and its ambivalent policies. 
 He identifies Russia's timidity and caution in providing a full throated challenge to the "Invisible Government" that controls the U.S. and the world. He offers 11 explanations for this timidity, the second of which he appears to find most persuasive:  
2. A second, more convincing explanation for Russian puzzling timidity is again offered by the Saker: 
"I am sure that Putin fully realizes that, at least potentially, his policy of resistance, sovereignization and liberation can lead to an intercontinental nuclear war and that Russia is currently still weaker than the AngloZionist Empire.  Just as in the times of Stolypin, Russia desperately needs a few more years of peace to develop herself and fully stand up." 
This leads to Nissani completing his article by raising two questions over how to respond to Russia:  
The first question is: Should we—humanitarians or revolutionaries—sympathize with Russia in its current half-hearted struggle with the Invisible Government? … 
The second question is: Should we dedicate our meager resources exclusively to our own revolutionary program, or should we also divert some resources to Russia's dubious struggle for building an alternative to the Invisible Government?
He concludes with his final answer to the question of whether Russia presents hope or illusion for the rest of humanity: 
To sum up my own appraisal. Progressives and revolutionaries of every nation on earth ought to sympathize with the Russian government's struggle against the bankers. However, they cannot realistically expect that government to do their work for them. When it comes to the crucial struggle for survival, freedom, peace, and justice, they are on their own.
Nissani's article is impressive in its even handed coverage of issues related to Russia's half-hearted opposition to the Invisible Government. There is, however, a glaring deficiency which is critical for understanding Putin and Russia's apparent timidity here.  
If the "Invisible Government" comprises mere humans from elite banking families, as Nissani and most contemporary geopolitics researchers assume, then Russian timidity is truly an enigma which at best is simply a survival strategy to gain time to confront the international banking elite, or at worst "controlled opposition" at a global level designed to present an illusory choice to humanity.  
If, however, the "Invisible Government" comprises entities who genetically are more extraterrestrial than human, some of whom can live centuries if not thousands of years, then Putin's timidity becomes much more understandable. 
This is where the classic books, The Gods of Eden (1993) by William Bramley, and Rule by Secrecy (2001) by Jim Marrs, become helpful in understanding Putin and Russia. Both depict extraterrestrials as having intervened in human affairs since antiquity, and being directly involved in controlling human societies through hybrid rulers that maintained extraterrestrial influenced bloodlines. 
Direct historical support for Bramley and Marrs's radical thesis comes from the Ancient Egyptian historian Manetho, who wrote about the rule of Gods (extraterrestrials) and Demigods (human-ET hybrids) before the 30 human dynasties began around 3100 BC in Ancient Egypt.
Manetho cited the extremely long lives of the Gods and the Demigods, who first openly ruled human societies, before delegating leadership responsibilities to human elites. This gave birth to the concept of the Divine Right of Kings, who either through direct bloodline and/or extraterrestrial approval, could claim that their crowns were divinely sanctioned. 
Manetho's writings therefore give the first historical reference to the "Invisible Government." At the core of its membership are extraterrestrials and their hybrids who controlled human leaders from behind the scenes, and have done so for over 5000 years! 
This takes us to the modern era and the situation involving extraterrestrials and the Invisible Government. William Tompkins, a retired aerospace engineer, revealed that during World War II, he served on a covert Navy operation that deployed 29 spies in Nazi occupied Europe. The Navy spies not only learned about the secrets behind many advanced Nazi aerospace programs, but also that the Nazis had reached an agreement with a Reptilian extraterrestrial race called the Draconians. 
The Nazi-Draconian alliance led to the establishment of bases in Antarctica in 1939, and after the failed Operation Highjump Navy expedition in 1947, agreements were eventually imposed upon the U.S. Military Industrial Complex. This culminated in multiple secret space programs being developed as described in the book, Insiders Reveal Secret Space Programs and Extraterrestrial Alliances. 
What the testimony of Tompkins and others described in Insiders Reveal Secret Space Programs, is that the Soviet Union was left out of the loop when it came to advanced aerospace technologies acquired through secret agreements with Nazis and Reptilians. Essentially, the Invisible Government had chosen the U.S. and its NATO allies as the principal mechanism for establishing a New World Order that would in essence be a covert Fourth Reich. 
Consequently, the Soviet Union and its Warsaw Pact allies directly opposed the agenda of the Fourth Reich/Invisible Government which ultimately prevailed and orchestrated the collapse of the Soviet Union.  
The Phoenix-like re-emergence of Russia once again has led to the Russian people becoming a powerful opponent to the Invisible Government and its many global tentacles as exemplified in institutions such as NATO, European Union, Bilderberg Group, World Bank, International Monetary Fund, etc.  
However, Russia has lost its former East European allies and now has NATO on its borders, threatening to expand further into former Soviet Republics such as Georgia and Ukraine. This has required Russia taking a far more cautious approach than the former Soviet Union in opposing the NATO/Fourth Reich/Invisible Government agenda.  
Russia has slowly built up a new alliance of nations, the BRICS, in order to oppose the New World Order agenda in the economic sphere. Nevertheless, the Invisible Government through its many tentacles and extraterrestrial elements is a potent adversary, which is highly dangerous.  In his article, Nissani refers to the threat of a nuclear armageddon if Russia directly acts to expose and/or take on the Invisible Government.
In addition to thermonuclear weapons there are even more dangerous "torsion field" weapons developed in compartmentalized programs controlled by the Invisible Government that could be deployed. According to the historian, Dr. Joseph Farrell, these torsion field weapons were first actively developed by Nazi Germany.
If extraterrestrials are indeed a key element in either the composition or conduct of an Invisible Government, then Russia's response to the latter requires a deeper level of analysis than that provided by Nissani and conventional geopolitical analysts.  
This requires that we move from analyzing geopolitics as a two dimensional game of chess with clearly identified international actors and processes impacting one another, to a three dimensional chess game involving hidden extraterrestrial and non-terrestrial elements.
An exopolitical level of analysis to geopolitics is required that adequately identifies the extraterrestrial and other non-human elements influencing the Invisible Government, and how major nations such as Russia respond to these hidden influences. 
© Michael E. Salla, Ph.D. Copyright Notice
Further Reading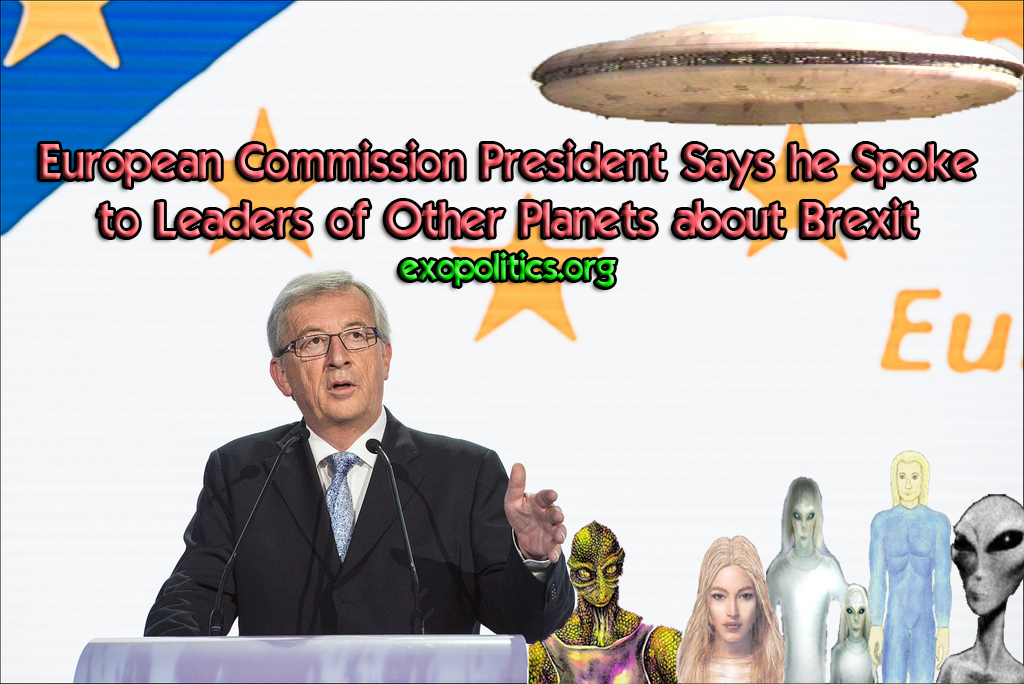 In a speech before the European Parliament discussing the consequences of the Brexit vote, the President of the European Commission, Jean-Claude Juncker, made the stunning comment that he had spoken about it to "leaders of other planets." Juncker's comment suggests that world leaders are in communication with extraterrestrials, which closely monitor global events and assess their geopolitical and 'exopolitical' impact.
Juncker's speech was given on June 28 at an emergency meeting in Brussels by the European Parliament. Here is what he said in French along with the English translation:
"Il faut savoir que ceux qui nous observent de loin sont très inquiets. J'ai vu et entendu et écouté plusieurs des dirigeants d'autres planètes qui sont très inquiets puisqu'ils s'interrogent sur la voie que l'union européenne va poursuivre. Et donc, if faut rassurer, et les européens, et ceux qui nous observent de plus… loin."
"It should be known that those who observe us from afar are very worried. I met and heard and listened to several of the leaders from other planets who are very concerned because they question the path the European Union will engage on. And so, a soothing is needed for both the Europeans and those who observe us from … farther away."

The official transcript released by the European Commission has been edited to remove the reference to "leaders from other planets". The transcript now reads:
J'ai vu et entendu et écouté plusieurs des dirigeants. Ils sont très inquiets ….

"I saw and heard and listened to several executives. They are very worried …"
Yet, when one listens to an audio loop of what Junker's actually said, he very clearly includes the phrase "dirigeants d'autres planets," which translates as "leaders of other planets," as pointed out by native French speakers discussing Junckers speech, and also by Google Translate.

There has been clearly an official attempt to cover up Juncker's admission to having spoken to "leaders of other planets," and making it appear as though he was instead referring to "executives" concerned about Brexit. So what did Juncker have in mind when he said he spoke with "leaders of other planets"?
One possible interpretation is that he meant to say that he had spoken with "other planetary leaders" outside of the European Union, and made a simple grammatical error as some contend. If so, then why wasn't the official transcript corrected to make it clear that he had misspoken? Furthermore, it is difficult to imagine a major world leader would make such a dramatic error in an important speech to the European Parliament without realizing it immediately and correcting that error on the spot.

Also, at several points in his speech, Junckers makes references to himself as a "human being" and not a robot or a machine, suggesting that some in his intended audience are not human as one native French speaker has noted in translating and interpreting his comments in a helpful thread on the Project Avalon Forum.

Taken on face value, Juncker's speech directly raises the issue that "leaders of other planets," or extraterrestrials, are very concerned by the Brexit issue and its implications for the European Union. It's worth exploring why this might be the case. There are two scenarios I wish to raise here.
One is that extraterrestrials require global unity as a precondition for revealing themselves to humanity, or having their existence disclosed. If so, then the effect of  Brexit is one of slowing down the process of global political unification, thereby delaying any official announcement of extraterrestrial life.
If the above a scenario is correct, then what becomes important is whether the extraterrestrials are acting out of positive or negative intent in making global political unity a precondition for revealing themselves.
While it appears logical that global political unity is required for any planet to be introduced to wider galactic life, as popularly depicted in many Sci Fi shows, it does not follow that having a world government is necessary for open contact to happen. Here we need to distinguish between 'global government' and 'global governance'. Our planet may already have achieved sufficient 'global governance' in terms of interlocking international treaties and institutions, thereby making 'global government' a moot point.
Nevertheless, if some extraterrestrial leaders genuinely desire global political unity before revealing themselves, then while Brexit does slow this process down, it appears disingenuous for aliens to make this a precondition.
The second scenario is that the European Union is a façade for a Nazi Fourth Reich which has secretly made alliances with a group of extraterrestrials called "Draconians." A retired aerospace engineer, William Tompkins, has provided documents supporting his claims that he participated in a covert U.S. Navy program with 29 spies in Nazi Germany who had discovered that the Third Reich had made secret agreements with Draconians.
A result of the alien agreements led to the Nazi's coming within a whisker of winning World War II, but had nevertheless been able to relocate much of their technological infrastructure to Antarctica before the War's end. This gave the breakaway Nazis the time they needed to achieve a decisive technological superiority over the U.S. military, as demonstrated during Operation Highjump in 1947.
Subsequently, the breakaway Nazi groups established a Fourth Reich through covert economic means, which involved both the infiltration of the U.S. Military Industrial Complex, and the creation of the European Union. In such a scenario, Brexit is a clear challenge to the Fourth Reich as I have argued elsewhere.
There are other scenarios that may help explain why "leaders of other worlds" are concerned about Brexit, and why Junckers chose the European Parliament as the forum to "leak" this information. Most EU Parliamentarians are not part of the official loop on what would clearly be highly classified discussions with advanced alien civilizations, yet Junckers chose to reveal this to them. Why?

Many will be tempted to dismiss Junckers' admission of having spoken with extraterrestrials as him simply misspeaking about confidential discussions with other world leaders. However, the clumsy attempt by the European Commission to remove the "leaders of other worlds" reference from the official transcript of his speech, no effort to clarify his real intent in the transcript, and overall context of his speech suggest otherwise.
Junckers speech needs to be taken at face value, and therefore provides startling evidence that we are moving from a world of 'geopolitics' to 'exopolitics' requiring new levels of analysis in understanding major political events on our planet such as Brexit, and the existence of extraterrestrial life.

© Michael E. Salla, Ph.D. Copyright Notice