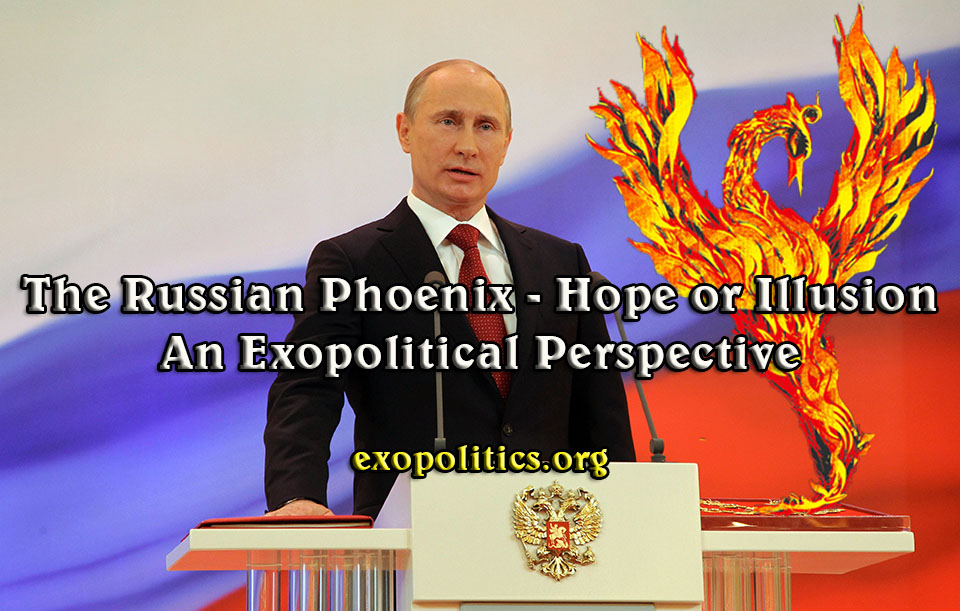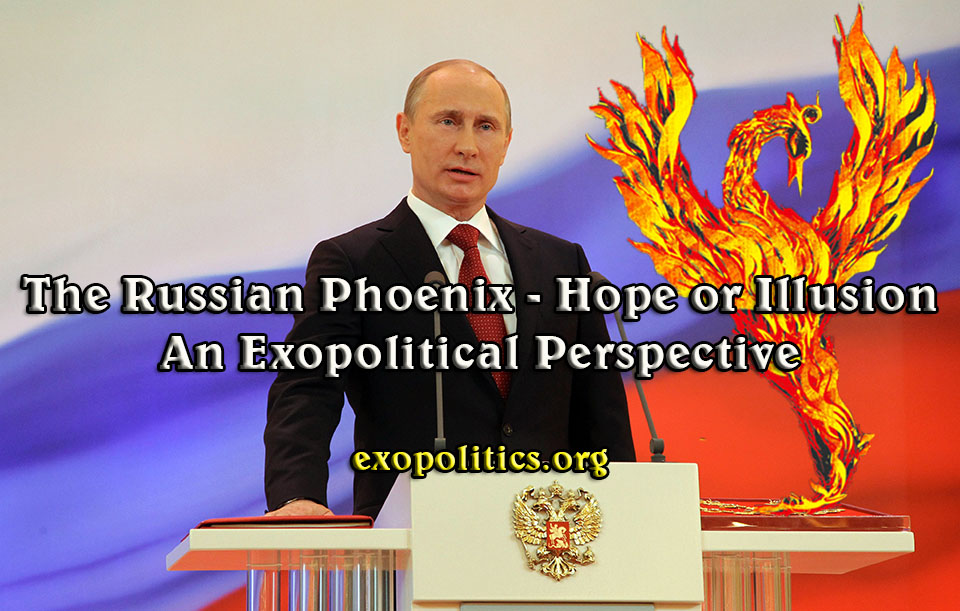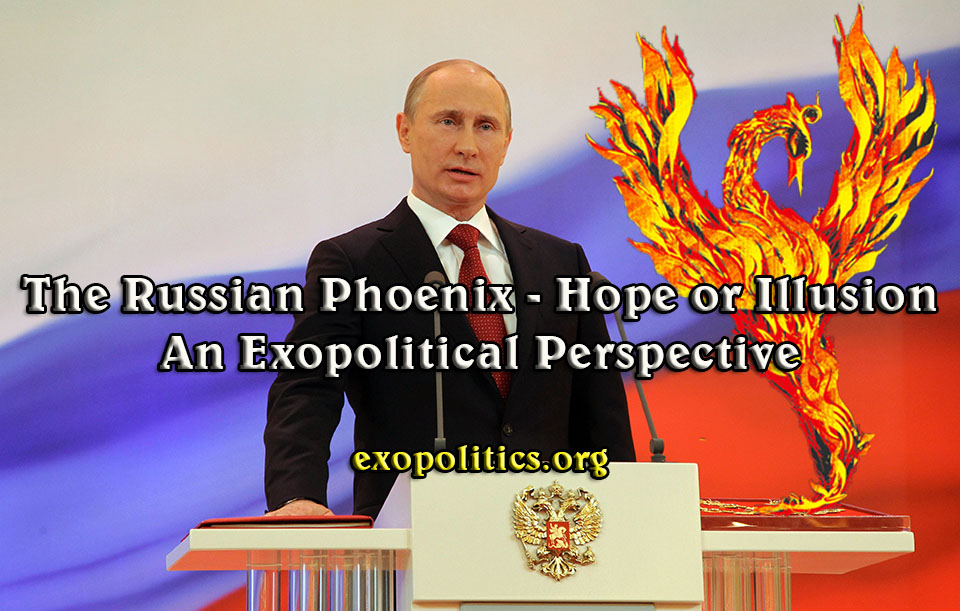 Under President Vladimir Putin, Russia has witnessed a remarkable rise back to becoming a first rate military power capable of challenging U.S. hegemony around the world. More importantly, Russia is a key element of a global alliance (BRICS) in challenging plans for a New World Order contrived by banking elites that form an "Invisible Government".  
This Phoenix-like resurgence of Russia has led to competing narratives about it being either a hope for a better planetary future, or conversely an illusory opposition to U.S. hegemony as part of a contrived power dialectic controlled by the Invisible Government. This has led to competing camps who either champion Russia's policies at a global level, or criticize them as being little more than controlled opposition to the Invisible Government.  
Helping chart a reasonable path through the competing narratives about Russia is a very well thought out article by Dr. Moti Nissani titled "The Russian Phoenix: Hope or Illusion?" Published on February 3, 2016, Nissani examines many of Russia's ambivalent approaches to helping its citizens, global debt bondage, mass media, the environment, etc.  
What Nissani doesn't do, however, is consider the exopolitical element behind the Invisible Government. In short, exopolitics is the study of extraterrestrial life and its political implications. If extraterrestrials secretly influence governments, as many researchers and whistleblowers claim, then a study of Russia's opposition to the Invisible Government needs to consider this possibility. 
Nissani starts his article with an anecdote of widespread perceptions about Russia by many around the world and numerous analysts: 
When I visit a barbershop in Beirut or Amman, and am asked 'where are you from?' (It used to be a painfully confusing and complex question to answer, just a few years ago), I now simply reply: "Russia," and people come and hug me and say, 'Thank you.' 
It is not because Russia is perfect. It is not perfect–as no country on Earth could or should be. But it is because it is standing once more against the Empire, and the Empire has brought so many horrors, so much humiliation, to so many people; to billions of people around the world . . . and to them, to so many of them, anyone who is standing against the Empire, is a hero. This I heard recently, first hand, from people in Eritrea, China, Russia, Palestine, Ecuador, Cuba, Venezuela, and South Africa, to name just a few places.
Nissani contrasts this positive narrative about Russia with another narrative of it being "controlled opposition" to a New World Order, which essentially offers an illusory or false choice. He quotes author Brandon Smith who writes about the false choice between Democratic and Republican parties in the U.S., and how this equally applies to the world arena: 
What truly disturbs me is that our movement can be so awake and aware of the false left/right paradigm while remaining astonishingly naïve and short sighted when it comes to the false East/West paradigm. There are no "sides" in any modern conflict, only proxies fighting on a global chessboard controlled by the same elitist interests…. War is meant to forcefully change the "inertia" of civilization, and thus, forcefully change the direction of civilization in a manner that benefits the engineers of the conflict…." 
 After examining a number of Russian policies that provide fodder for proponents of either narrative, Nissani offers a way out of the dilemma over the correct approach to Russia and its ambivalent policies. 
 He identifies Russia's timidity and caution in providing a full throated challenge to the "Invisible Government" that controls the U.S. and the world. He offers 11 explanations for this timidity, the second of which he appears to find most persuasive:  
2. A second, more convincing explanation for Russian puzzling timidity is again offered by the Saker: 
"I am sure that Putin fully realizes that, at least potentially, his policy of resistance, sovereignization and liberation can lead to an intercontinental nuclear war and that Russia is currently still weaker than the AngloZionist Empire.  Just as in the times of Stolypin, Russia desperately needs a few more years of peace to develop herself and fully stand up." 
This leads to Nissani completing his article by raising two questions over how to respond to Russia:  
The first question is: Should we—humanitarians or revolutionaries—sympathize with Russia in its current half-hearted struggle with the Invisible Government? … 
The second question is: Should we dedicate our meager resources exclusively to our own revolutionary program, or should we also divert some resources to Russia's dubious struggle for building an alternative to the Invisible Government?
He concludes with his final answer to the question of whether Russia presents hope or illusion for the rest of humanity: 
To sum up my own appraisal. Progressives and revolutionaries of every nation on earth ought to sympathize with the Russian government's struggle against the bankers. However, they cannot realistically expect that government to do their work for them. When it comes to the crucial struggle for survival, freedom, peace, and justice, they are on their own.
Nissani's article is impressive in its even handed coverage of issues related to Russia's half-hearted opposition to the Invisible Government. There is, however, a glaring deficiency which is critical for understanding Putin and Russia's apparent timidity here.  
If the "Invisible Government" comprises mere humans from elite banking families, as Nissani and most contemporary geopolitics researchers assume, then Russian timidity is truly an enigma which at best is simply a survival strategy to gain time to confront the international banking elite, or at worst "controlled opposition" at a global level designed to present an illusory choice to humanity.  
If, however, the "Invisible Government" comprises entities who genetically are more extraterrestrial than human, some of whom can live centuries if not thousands of years, then Putin's timidity becomes much more understandable. 
This is where the classic books, The Gods of Eden (1993) by William Bramley, and Rule by Secrecy (2001) by Jim Marrs, become helpful in understanding Putin and Russia. Both depict extraterrestrials as having intervened in human affairs since antiquity, and being directly involved in controlling human societies through hybrid rulers that maintained extraterrestrial influenced bloodlines. 
Direct historical support for Bramley and Marrs's radical thesis comes from the Ancient Egyptian historian Manetho, who wrote about the rule of Gods (extraterrestrials) and Demigods (human-ET hybrids) before the 30 human dynasties began around 3100 BC in Ancient Egypt.
Manetho cited the extremely long lives of the Gods and the Demigods, who first openly ruled human societies, before delegating leadership responsibilities to human elites. This gave birth to the concept of the Divine Right of Kings, who either through direct bloodline and/or extraterrestrial approval, could claim that their crowns were divinely sanctioned. 
Manetho's writings therefore give the first historical reference to the "Invisible Government." At the core of its membership are extraterrestrials and their hybrids who controlled human leaders from behind the scenes, and have done so for over 5000 years! 
This takes us to the modern era and the situation involving extraterrestrials and the Invisible Government. William Tompkins, a retired aerospace engineer, revealed that during World War II, he served on a covert Navy operation that deployed 29 spies in Nazi occupied Europe. The Navy spies not only learned about the secrets behind many advanced Nazi aerospace programs, but also that the Nazis had reached an agreement with a Reptilian extraterrestrial race called the Draconians. 
The Nazi-Draconian alliance led to the establishment of bases in Antarctica in 1939, and after the failed Operation Highjump Navy expedition in 1947, agreements were eventually imposed upon the U.S. Military Industrial Complex. This culminated in multiple secret space programs being developed as described in the book, Insiders Reveal Secret Space Programs and Extraterrestrial Alliances. 
What the testimony of Tompkins and others described in Insiders Reveal Secret Space Programs, is that the Soviet Union was left out of the loop when it came to advanced aerospace technologies acquired through secret agreements with Nazis and Reptilians. Essentially, the Invisible Government had chosen the U.S. and its NATO allies as the principal mechanism for establishing a New World Order that would in essence be a covert Fourth Reich. 
Consequently, the Soviet Union and its Warsaw Pact allies directly opposed the agenda of the Fourth Reich/Invisible Government which ultimately prevailed and orchestrated the collapse of the Soviet Union.  
The Phoenix-like re-emergence of Russia once again has led to the Russian people becoming a powerful opponent to the Invisible Government and its many global tentacles as exemplified in institutions such as NATO, European Union, Bilderberg Group, World Bank, International Monetary Fund, etc.  
However, Russia has lost its former East European allies and now has NATO on its borders, threatening to expand further into former Soviet Republics such as Georgia and Ukraine. This has required Russia taking a far more cautious approach than the former Soviet Union in opposing the NATO/Fourth Reich/Invisible Government agenda.  
Russia has slowly built up a new alliance of nations, the BRICS, in order to oppose the New World Order agenda in the economic sphere. Nevertheless, the Invisible Government through its many tentacles and extraterrestrial elements is a potent adversary, which is highly dangerous.  In his article, Nissani refers to the threat of a nuclear armageddon if Russia directly acts to expose and/or take on the Invisible Government.
In addition to thermonuclear weapons there are even more dangerous "torsion field" weapons developed in compartmentalized programs controlled by the Invisible Government that could be deployed. According to the historian, Dr. Joseph Farrell, these torsion field weapons were first actively developed by Nazi Germany.
If extraterrestrials are indeed a key element in either the composition or conduct of an Invisible Government, then Russia's response to the latter requires a deeper level of analysis than that provided by Nissani and conventional geopolitical analysts.  
This requires that we move from analyzing geopolitics as a two dimensional game of chess with clearly identified international actors and processes impacting one another, to a three dimensional chess game involving hidden extraterrestrial and non-terrestrial elements.
An exopolitical level of analysis to geopolitics is required that adequately identifies the extraterrestrial and other non-human elements influencing the Invisible Government, and how major nations such as Russia respond to these hidden influences. 
© Michael E. Salla, Ph.D. Copyright Notice
Further Reading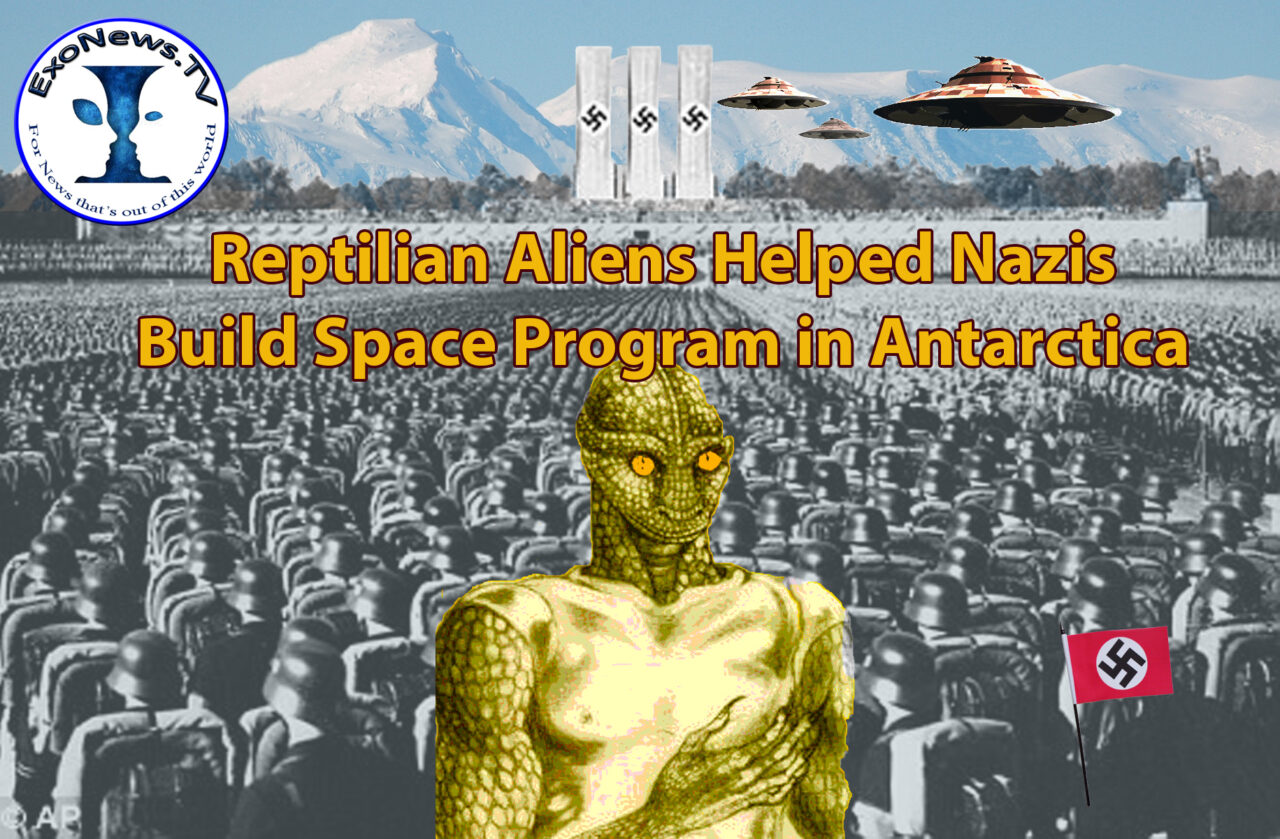 In the run up to World War II, German secret societies and the Nazi SS were guided to three large caverns in Antarctica by Reptilian extraterrestrials, according to former U.S. Navy intelligence operative William Tompkins. In his latest ExoNews TV interview, released today, Tompkins describes how the Reptilians helped the Germans/Nazis build underground bases in remote Antarctic caverns, which were located next to even larger caverns controlled by the Reptilians.
According to Tompkins, the U.S. Navy learned of the existence of these secret Antarctic bases from their spies embedded in Nazi Germany, who found that the Nazis/Germans used these remote bases to launch space missions to the Moon, other planets in our solar system, and, most remarkably, to distant interstellar locations.
Tompkins says that the Germans began moving equipment and supplies to Antarctica as early as 1913, which coincides historically with the Second German Antarctic Expedition from 1911-1913. This period also coincides with the increasing role of German secret societies in exploring remote global locations for occult knowledge.
The movement of equipment accelerated in the lead up to World War II. In his interview, Tompkins cites 1934 as the beginning of this acceleration, even though historical records point to 1938 as the launch of the Third German Antarctic Expedition:
The move from Germany to Antarctica was in operation from 1934 way before the war started. In fact some of the stuff went down in 1913.
In last week's ExoNews TV episode, Tompkins revealed that secret agreements had been reached between Hitler's regime and Draconian Reptilians. In this week's episode he discussed one of the major elements of this agreement:
Large portions of equipment were sent down there. But right next to them were three tremendous size caverns which the Reptilians had. Not Grays, but Reptilians. Germany got two more, about a tenth the size of the big Reptilians [cavern]. They were able to … [go] down, usually by submarine. They built these flat submarines, these regular class, so they could ship all this stuff down.
Tompkins remarkable information is consistent with Grand Admiral Karl Dönitz who referred on three occasions to an impregnable fortress being built for Hitler in a remote location using Germany's advanced submarine fleet. In 1943, Donitz is reported to have stated: 
… the German submarine fleet is proud of having built for the Führer, in another part of the world, a Shangri-La on land, an impregnable fortress.

The second occasion was in 1944, when he revealed how plans were in place to relocate Hitler so he could launch a new effort for his thousand-year Reich:
The German Navy will have to accomplish a great task in the future. The German Navy knows all hiding places in the oceans and therefore it will be very easy to bring the Führer to a safe place should the necessity arise and in which he will have the opportunity to work out his final plans.

Finally, Dönitz's remarks at his Nuremberg war crime trial clearly suggest that it was Antarctica where Germany's most advanced technologies had been secretly relocated by his submarine fleet. At the trial he boasted of "an invulnerable fortress, a paradise-like oasis in the middle of eternal ice."

Donitz's remarks were made plausible in 1966 by cartographer and artist Heinrich C. Berann for the National Geographic Society. In Berann's depiction of an ice-free Antarctica, he shows underwater passageways that run throughout the Antarctic continent. This provided a plausible way in which submarines could travel under the ice for considerable distances to Nazi Germany's "invulnerable fortress".

Donitz's claims are further supported by documents provided by an alleged German submarine crewman after the war, which described the instructions for U-Boat Captains to reach the Antarctica bases through the hidden passage ways. Below is an image of the document with the translated instructions.
In today's interview, Tompkins describes simultaneous flying saucer programs that had been developed by the Nazis. One was in Germany, while the second was in Antarctica. In his response to a question about where Germany's antigravity craft were being built, he said:
They built the prototypes in Germany. They built pre-protype, something which is ready for production, in Antarctica. They put this stuff in production in the countries all over Germany [Occupied Europe], and they continued to build similar vehicles in Antarctica.
Tompkins then shares one of the most astonishing secrets gained by the Navy spies embedded in Germany. With the help of the Reptilians, the Nazi's Antarctica program had successfully launched manned missions to the Moon, planets, and even other star systems.
Now the question was asked whether did we ever get to the Moon? You see it was in some way, it was well known that the Germans had a number of vehicles that flew out and came back. One of the first ones, they got into trouble, they crashed and the whole group died. But that was almost all coming from Antarctica. Way before, four years before, the war ended, they were always moving all of this stuff out. And so the flights, almost everything came from Antarctica with the same people. … I don't know if it was true or not, but it was stated by some of those fellows [Navy spies] that they had gone to other stars and come back.
Tompkins remarkable claims corroborate the testimony of secret space program whistleblower, Corey Goode, who claims that from 1987 to 2007, he had access to smart glass pads, which described the successful Nazi space program that operated out of Antarctica.
Goode said the Antarctica program was controlled by German secret societies rather than the Nazi SS:
As explained, the Nazi remnants that were made up mostly of Secret Societies that created a "Break Away Civilization," kept the most advanced technology secret from even their highest Military and Political leaders, setup enclaves in South America and Antarctica. The locations in Antarctica were some ancient civilization ruins that had remained occupied by certain groups in thermal area's that cause area's similar to lava tubes and domes under the glaciers.

Goode goes on to corroborate Tompkins claim that the Nazi bases were built adjacent to caverns controlled by another advanced civilization, the Reptilians:
There was an underground and under glacier city complex that was already occupied and setup in a couple of locations and the NAZI's renovated an area that was mostly crushed above the surface but had plenty of room under the domed ice, thermal underground energy and caverns (accessible via U-boat under the ice flows and openings that made it ideal for a hidden multipurpose base) that were perfect for them to secretly build out during the entire Second World War

What makes Tompkins claims difficult to dismiss are documents he has published in his book, Selected by Extraterrestrials, supporting his main claim that he participated in a covert Navy Intelligence program that disseminated Germany's advanced aerospace secrets to selected U.S. aerospace companies, think tanks and universities.
Furthermore, documents, and statements by Admiral Donitz, support Tompkins claims that Nazi Germany had succeeded in locating and building underground facilities under the Antarctic continent. The long route under the Antarctic ice sheets, which the German submarine fleet allegedly took to reach these hidden caverns, gives credence to Tompkins claims that Reptilian extraterrestrials had provided the Nazis with the information necessary to locate the hidden Antarctic caverns, and the under-ice passage ways to reach them.
In the next episode of ExoNews TV, we will hear from William Tompkins how the Nazis used slave labor in their hidden Antarctic bases, and that the Italian government had also developed a flying saucer program headed by the famous inventor, Gugliemo Marconi that was secretly operating out of hidden South American locations.
© Michael E. Salla, Ph.D.
Permission to Circulate in Full 
William Tompkin's autobiography. Selected by Extraterrestrials is available at Amazon.com
Further Reading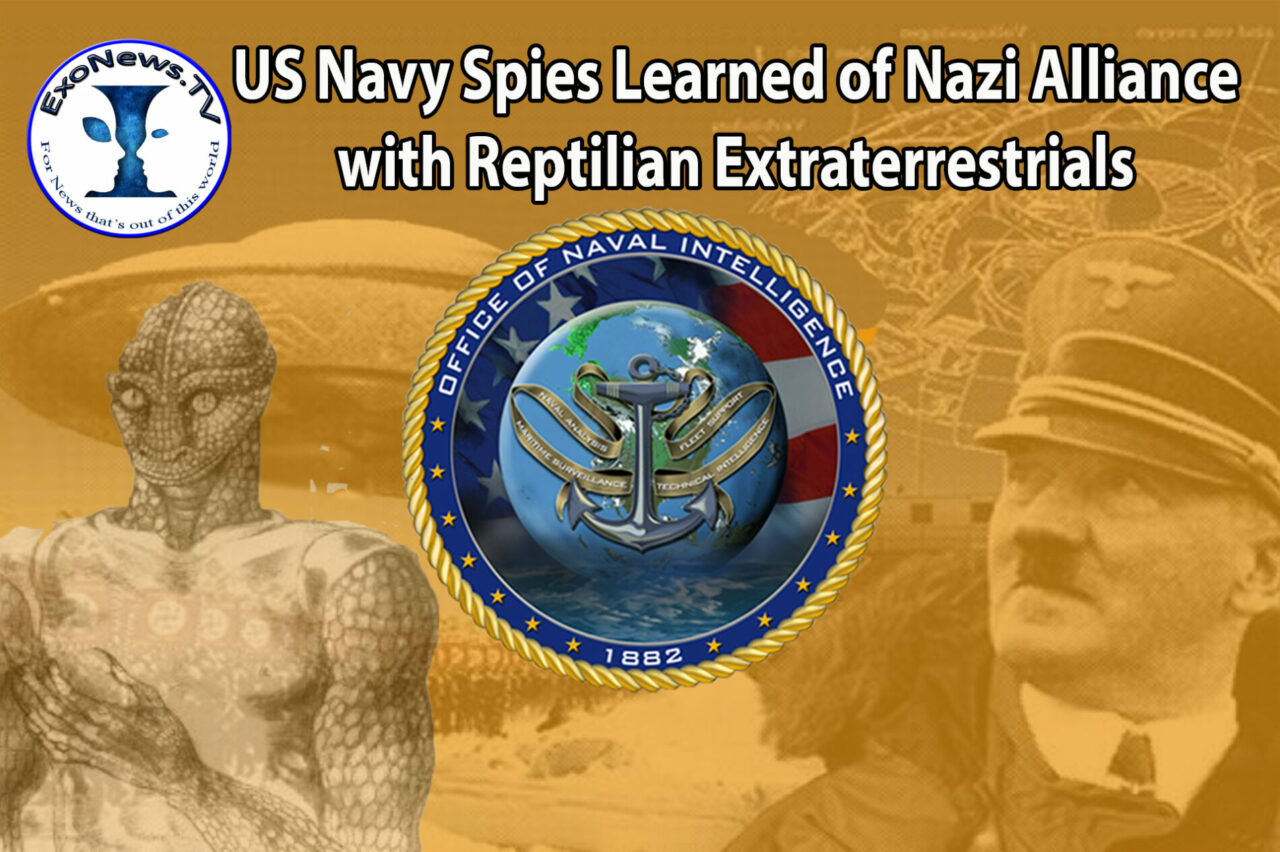 What follows is the transcript of William Tompkins responding to questions on the second ExoNews TV episode (see above) presenting his testimony.
Interview Date: February 25, 2016
Location: San Diego, California
Published on ExoNews TV – 4/4/16.
Interview Key:
WT: William Tompkins
RW- Dr. Robert Wood
MS – Dr. Michael Salla
[For introductory comments and video analysis click here]
MS – In an exclusive interview with ExoNews TV conducted in San Diego on February 25, Tompkins for the first time publicly revealed the role of Reptilian extraterrestrials in Nazi projects. The following interview extract features Tompkins answering questions from Dr. Robert Wood and myself.
WT – The fact that the Germans were given this information from the Reptilians. They set up the program, they designed the program to support Germany, and they are giving Germany the UFOs.
RW – Was this an alleged fact in any of the briefings you delivered?
WT – Yes….
MS – How did the Navy spies learn about the [Reptilian] extraterrestrials helping the Nazis? Did they see Reptilians, did they read briefing documents, or did they hear chatter among the German scientists about the Reptilians, how did they learn about that?
WT – OK, the SS had many separate classified meetings, get-togethers, whatever. They formed an organization, a little bit like signing this thing over here when we first started talking [Memorandum of Understanding]… The SS then interprets this into a whole series of programs, and this then is disseminated through their specific military communication, whether it's a major effort, or something that's off on the side. All of this is documented and put together.
Now in addition to that, they had, if you want to call them, "consultants", who are Reptilian consultants assisting on all of these different things that it takes to design and build these spacecraft carriers, and propulsion systems. So this is an extremely well developed program and documented like crazy. Getting copies of the documents was hard for them, hard for our spies. This was an open program in the upper level of the SS.
RW: It was compartmentalized.
WT: It was completely compartmentalized. It was well known there. People who had to do the work, had no knowledge at all of what it was for. They had to go do it, and so I guess it's a little bit like a company that has the engineers do their effort, and then supplies are gained. You get all the supplies to build it, and then you have people build it. Only the very tip of the top have the knowledge of what this thing is even for. So that guy is working with a Reptilian. His group is working with Reptilians. They are doing, making sure that the engineering is engineered in a way to accomplish this thrust effort or this propulsion system.
MS: So the Navy spies reported back on what they had seen, or whatever documents they had retrieved, and that this was their conclusion that agreements had been reached with Reptilians, and Reptilians were acting as consultants with some of the Nazi SS compartmented programs.
WT: Even more than that. One of the packages that I got had a statement type thing. I don't know how he got a hold of it. It was not the original agreement between the two countries, the extraterrestrials and Germany, but it alluded to this. You don't have many of those around. There was this tremendous program to, which the operatives got into, where there were university type facilities where hundreds of thousands, of even Russian girls, were brought into these facilities. Certain groups of the troops would get them pregnant, and this program was then to come out with massive numbers, the reason I'm saying this is because it takes a long time to have a baby, and so you are not planning to win the war next week, but that part of their program was set up and structured to parallel a Reptilian battle group program to go to other star systems' planets, and do the same thing that Germany was going to do to Europe, and to this planet.
Which is, in other words, it wasn't just taking over the United States and killing some Jewish people …
RW: They were going to do it again throughout the galaxy?
WT: Holy cats the thing went way beyond that [world conquest]. Again, what we just said about this was the tip of the iceberg of what they were doing. Already Reptilians were doing it to other stars' planets all over this area of the Galaxy…. These young kids, the operatives, they couldn't believe half of what they brought back, what was going on. But some of them were really good people, and they knew how to get into places and listen to what's going on, and finding what that guy he had talked to, or he heard, and going to so and so, because yes they were doing that over there. It goes to two countries away from an occupied country with a facility, a massive thing going,
And another part of it, they were even building boiler plate steel UFOs, 200 foot, 250 foot boiler plate steel, which is insane. But that group took the information that was given to them, and they didn't even figure out it should not be steel, but the propulsion unit floated it up, just like it was a feather, and they were on a learning curve that you could do these things all over using standard mathematical, or standard technical terms of the way you would normally do it.
Thousands of engineering groups were working different aspects to all of this. Some of them had the vehicles, others they gave them a vehicle to reverse engineer, so they could become familiar with everything from the inside out. And so different people, different organizations could handle these different matters. It was a massive program. The mission was to take over the planet, kill off all of the ones that were a problem, and the rest of them make slaves out of them. Everybody on your planet, then second phase was to leave the planet with large squadrons of UFOs, after you've got them all built, and do the same thing to other stars' planets. That's the German will [plan?]…
END TRANSCRIPT
---
Previous ExoNews TV Interviews with William Tompkins
Navy Disseminated Nazi Antigravity Secrets to Leading U.S. Companies & Think Tanks (for transcript click here, for introductory article click here )
Related Books
William Tompkins autobiography, Selected by Extraterrestrials, is available at Amazon.com
Michael Salla's Insiders Reveal Secret Space Programs and Extraterrestrial Life is available at Amazon.com
Copyright: Permission to freely distribute on Internet. Permission required for print & audiovisual reproduction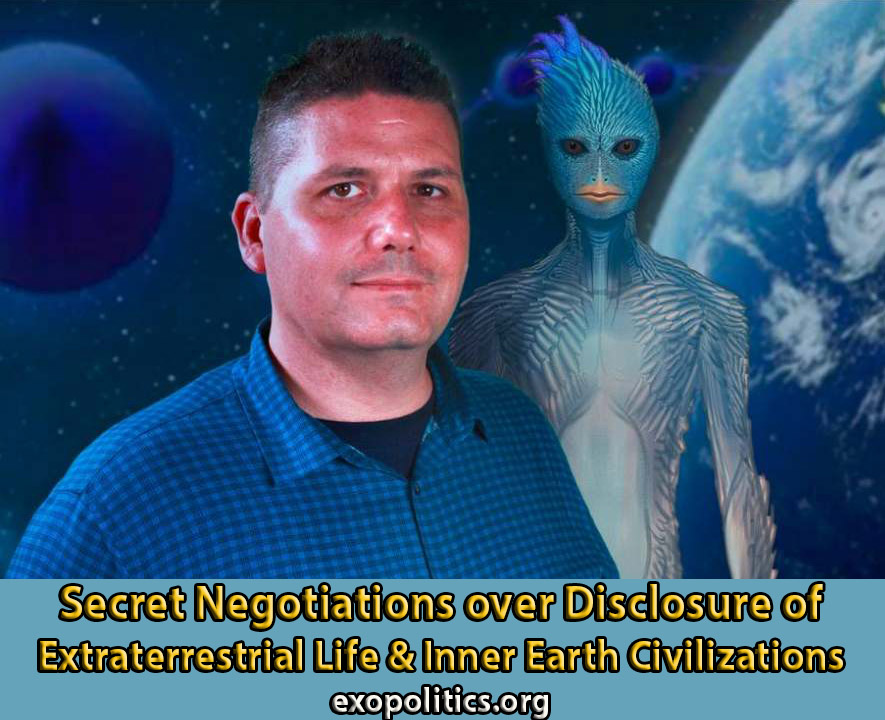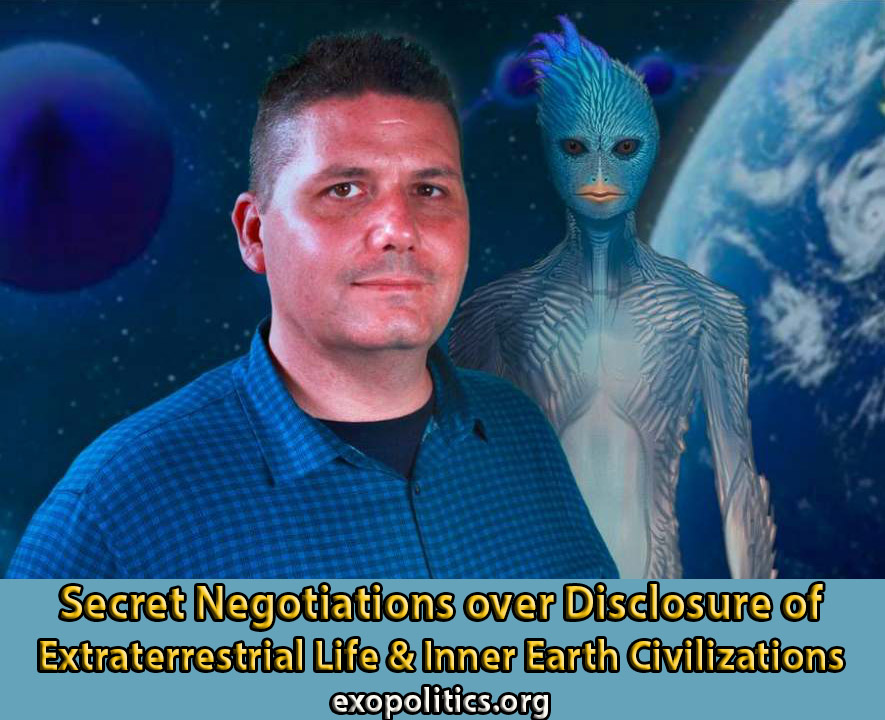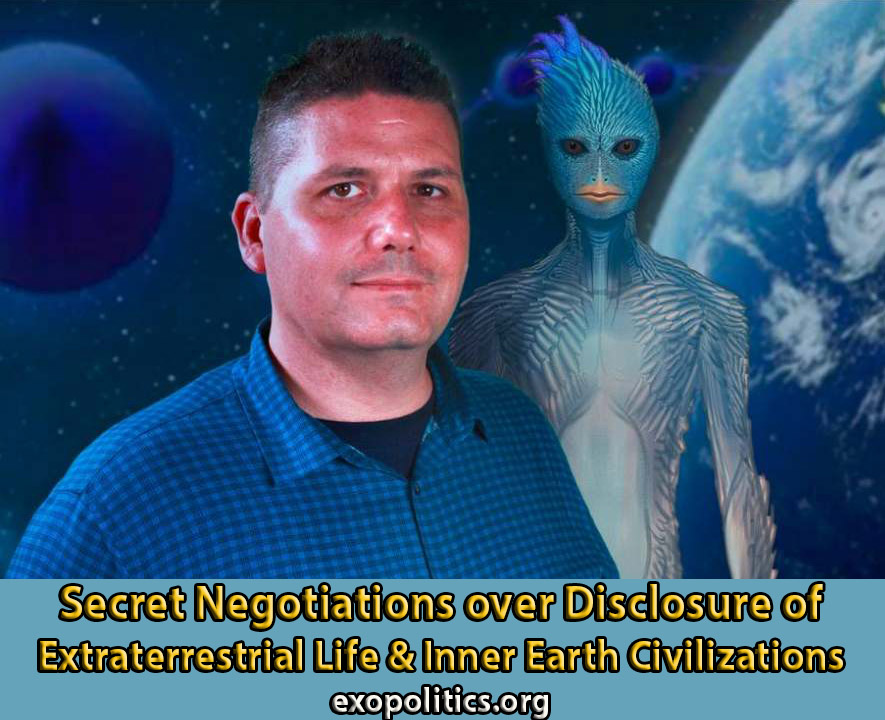 Different elite groups, secret space programs and ancient "Inner Earth" civilizations are currently negotiating over how much of the truth they are willing to reveal to humanity about their respective existence and the reality of extraterrestrial life. This is according to the latest startling update by Secret Space Program whistleblower, Corey Goode.
Goode claims that he was recently taken to the Kuiper Asteroid Belt where he witnessed a historic meeting between representatives of seven ancient Inner Earth civilizations, and a highly advanced group of extraterrestrials which Goode has previously referred to as the "Sphere Being Alliance". The Inner Earth groups venerate members of the Sphere Being Alliance – whom they refer to as the "Guardians" – because they have been the ancient protectors of human civilizations on Earth going as far back as 18 million years.
In his January 14 update, Goode refers to the Kuiper Belt meeting as the third in series of meetings that began in early September 2015, which he discussed in a report released on September 23.
I have had 3 meetings where the "Inner Earth Breakaway Civilizations" were present. In one such meeting we met at a base in the Kuiper Belt where representatives of these breakaway groups finally had their chance to meet with the "Guardians"… Gonzales and I stood there for the entire meeting exchanging perplexed glances as the "Guardians" and the breakaway civilization representatives interfaced. They stood there silent and motionless accept for the slight waving of arms and legs of the "Guardian".
In Goode's September 23 report, he described a very intense emotional "mind meld" he had with "Kaaree" (Car-ee), a priestess from one of the Inner Earth groups. She was also present at the Kuiper Belt meeting. He said that the Kuiper Belt meeting with the "Guardians" had similar emotional effect on the Inner Earth representatives:
Once the exchange was over the members of the breakaway civilization were visibly shaken and overcome with excitement at the same time. I felt much of the same emotions coming from them as I did after the "mind meld" I had with Kaaree where I shared experiences and information from my adolescence. I was able to speak briefly with Kaaree as they were leaving. She was a little flustered and only made a few comments on her way down the hall.
Goode went on to assert:
I asked her how it went and she replied that her group and some of the more negative groups that had formed this ancient breakaway council had "not been proper stewards" of this planetary sphere. She was in an extreme hurry to get back to the meeting where the rest of the ancient breakaway groups were gathered.
Goode's revelation that the "Guardians" told the Inner Earth beings that they have "not been proper stewards" is very significant. It suggests that the Inner Earth beings were being taken to task for one or more of their long standing policies dating back millennia. According to Goode's September 23 report, these could well include collaborating with elites from Secret Societies manipulating surface humanity, yet maintaining strict separation from the rest of humanity, and their emphasis on maintaining genetic purity by isolating themselves.
This kind of chastisement from the Guardians/Sphere Being Alliances apparently led to dissension among the representatives of the seven Inner Earth Groups attending this unprecedented Kuiper Belt meeting.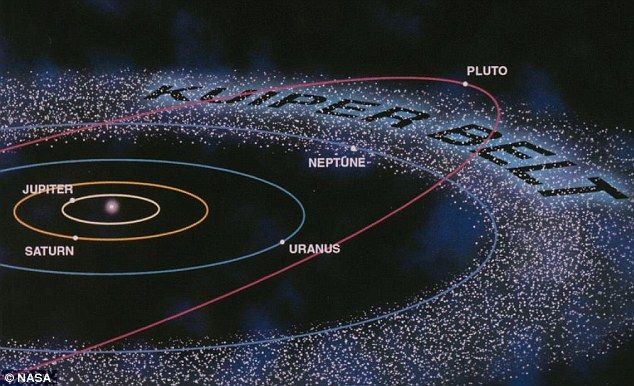 Goode describes what happened next:
It wasn't until later that Lt. Col. Gonzales told me that this was the last meeting these 7 groups had together before a few groups split away soon after this historic meeting.
According to Goode, the Inner Earth group that Kaaree belonged to has decided to change their isolationist policy and begin revealing themselves to surface humanity:
I met with Kaaree again not long after I was briefed on the above information. She made it clear that some of the ancient breakaway groups had decided to take a slow approach to revealing their true identity to those they are in contact with on the surface. They will visit the ones they visit in craft and reach out ethereally to those they are in remote contact with. They are starting with a test group to see how they respond to the news.
Goode went on to describe how humanity is at a critical juncture as negotiations between different secret space programs, ancient breakaway civilizations and elite groups controlling surface humanity, move towards their final conclusion:
The SSP Alliance and the Sphere Being Alliance has made it clear that we as a collective consciousness are choosing a path or future timeline. We are at a critical juncture to where our future could be one of a NWO 2.0 with some debt forgiveness, a bit of free currency and a new Babylonian Money Magic Slave System OR we have a full disclosure event during this time of social catalyst.
Goode made the following appeal in his January 14 update to help bring about "full disclosure," or otherwise the "Syndicates" (aka Cabal/Illuminati in control of surface humanity) will succeed in implementing a partial disclosure plan:
We are putting out the call for everyone to come together and get involved in whatever way they can. We need to stop focusing on our differences and focus on our common goal… The Full Truth! If we do not, we are giving "silent consent" to the negotiations between the Alliance and these Syndicates and their outcomes.
Goode says that he will soon release a long awaited conclusion to his September 23 report along with reports about more recent meetings he has attended.
While there is a great need to continue efforts to substantiate Goode's incredible claims, there is also a need to be open to the possibility that his revelations about secret negotiations over full or partial disclosure of alien life, classified space programs and ancient breakaway civilizations are genuine.
Given current global events, it's not hard to agree with Goode that humanity appears to be at an important cross roads – we are about to collectively decide how much of the truth we can handle about a great number of issues that have been previously withheld from us all.
© Michael E. Salla, Ph.D. Copyright Notice
Further Reading