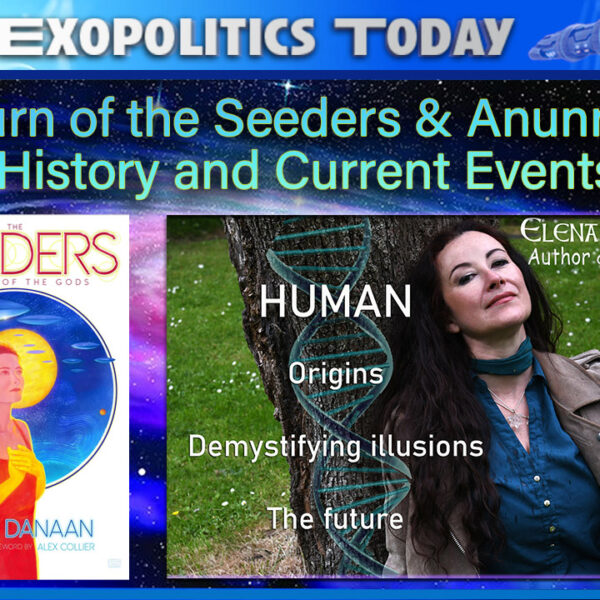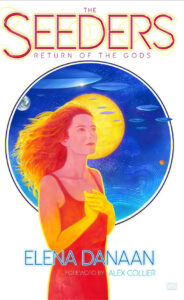 Elena Danaan's new book, The Seeders, is officially being released today on September 21 and covers the stunning return of a highly evolved intergalactic group of extraterrestrials involved in the genetic engineering of humanity. Elena describes her direct contact experiences with key members of the Seeders, especially Oona, who is an Altean member of the Seeders involved in the establishment of the Atlantean civilization.
In this Exopolitics Today interview Elena discusses key topics discussed in The Seeders including their composition and how they intervened over different historical epochs to establish human civilizations..Elena also answers questions about her direct contact experiences with Enki, whose faction of the Anunnaki has returned simultaneously with the Seeders to assist humanity in 'graduating' from Deep State control and manipulation.
Elena and Dr. Michael Salla discuss some of the controversy over Enki, whose positive role in historical texts is widely accepted by scholars, while his half brother Enlil was responsible for enslaving humanity and wanting to eliminate it in the Great Flood. Most significant is Elena's revelation that Enki has passed on the original Adamic DNA of humanity (aka the Holy Grail) to the Galactic Federation of Worlds, which is helping the Earth Alliance incorporate this into medical technology that is about to be disseminated to humanity. Restoration of this Holy Grail of human DNA would remove decades of covert genetic degradation by the Deep State and their extraterrestrial allies.
Premieres 10 am PDT – 1 pm EDT on
Audio Podcast on Apple, Spotify, or Google
The Seeders is available at Amazon.com in paper and electronic formats and can also be ordered from Elena Danaan's website at: elenadanaan.org/the-seeders-return-of-the-gods
For more Exopolitics Today interviews with Elena Danaan, click here.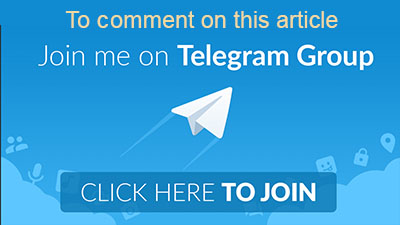 ---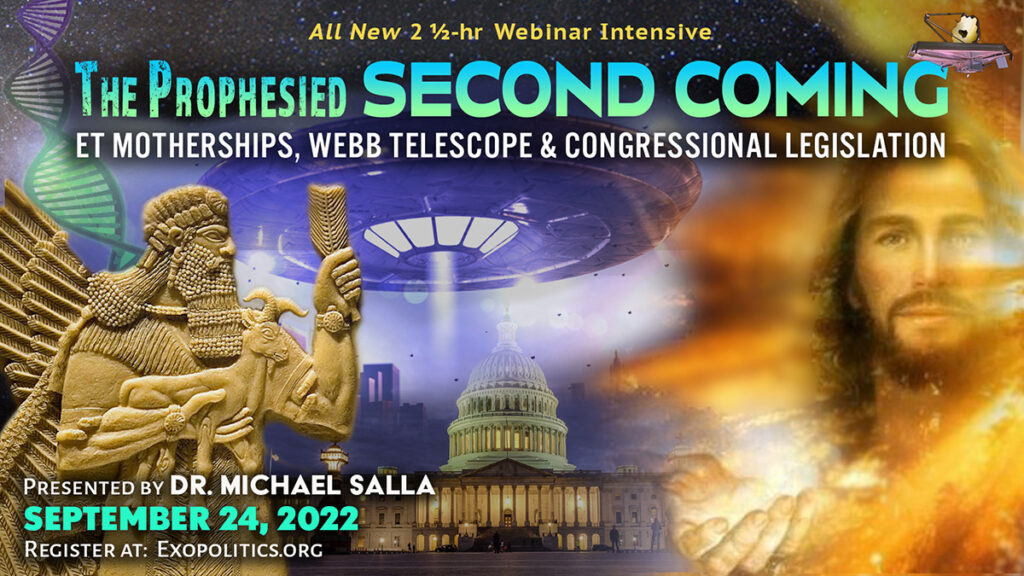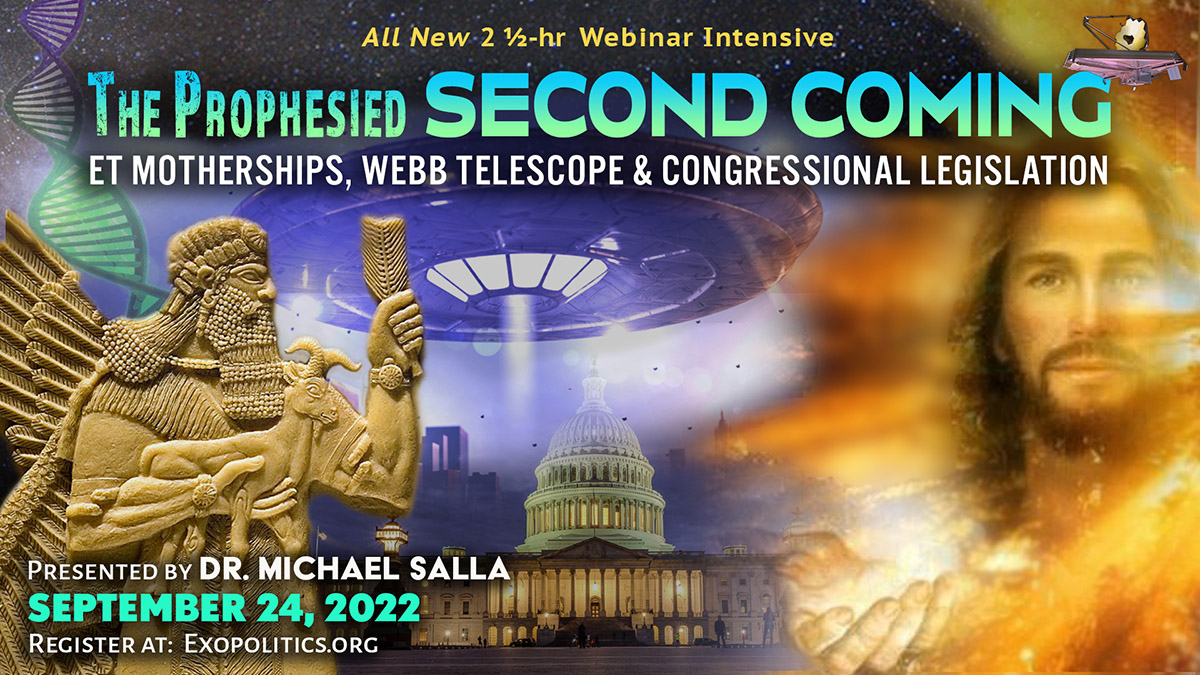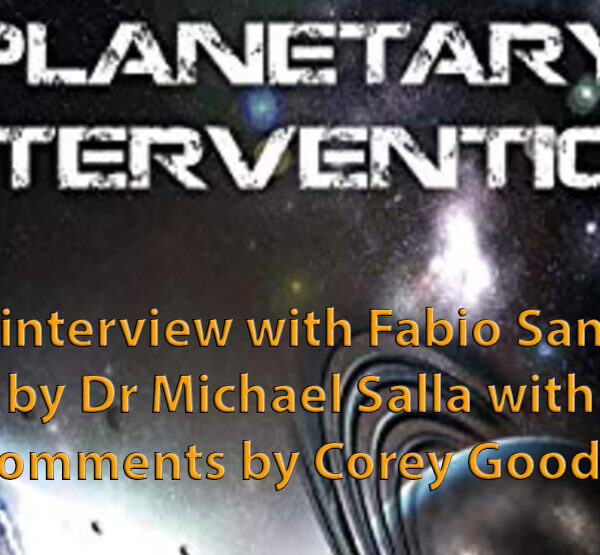 An insider using the pseudonym 'Daniel', who claims to be from a secret government group called 'Earth Force', shared his experiences with Fabio Santos, a Brazilian researcher, who wrote a book about them called Planetary Intervention. According to 'Daniel, Specialized Elite Earth Forces have provided perimeter support for Nordic extraterrestrials meeting with Earth officials, and battled Reptilian and Grey Aliens over crashed UFOs. Daniel also revealed the long history of Reptilians coming to Earth to hunt and kill humans as part of a secret agreement dating back more than a millennia that mirrors the Predator series of movies. 
In the following YouTube video, I interviewed  Fabio Santos about Planetary Intervention, and how and why he began researching Daniel's story. Corey Goode personally met with Daniel and Fabio during a recent visit to Brazil, and introduced me to their information. There are important parallel's between Daniel and Corey's testimonies which he mentions in his comments about the interview. More of 'Daniel's' experiences can be read in  Planetary Intervention.
Thanks to Corey Goode for setting up the interview.
Further Reading
---
[Note: In my upcoming February 27, 2021 Webinar, I will be discussing historic intervention by extraterrestrial civilizations in human affairs dating back centuries, and how this is particularly relevant today with an "Earth Alliance" working to free humanity in a global revolution.]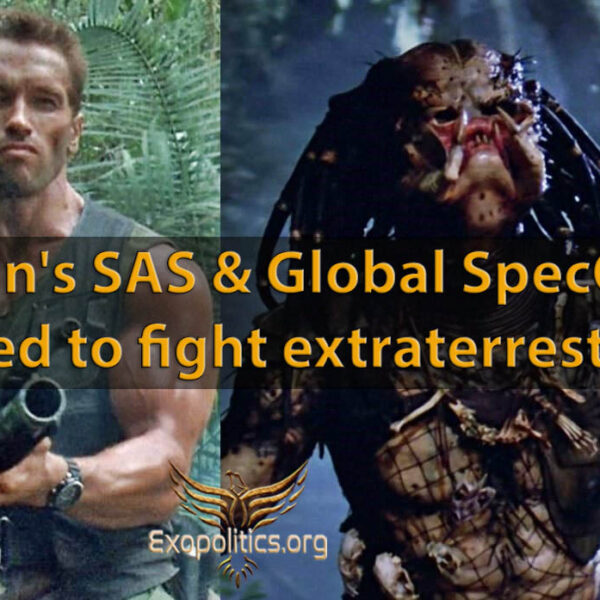 On January 9, Britain's Daily Star ran a story about elite SAS personnel being trained to fight any potential adversary including extraterrestrials. Rather than such training being based on a remote possibility, multiple sources have revealed that elite military forces from around the world have been secretly recruited, and trained to fight visiting extraterrestrials. In this Exopolitics Today podcast, Dr. Michael Salla discusses the news about Britain's SAS in the context of historic reports of firefights between military personnel and extraterrestrials.
Links discussed in  Podcast: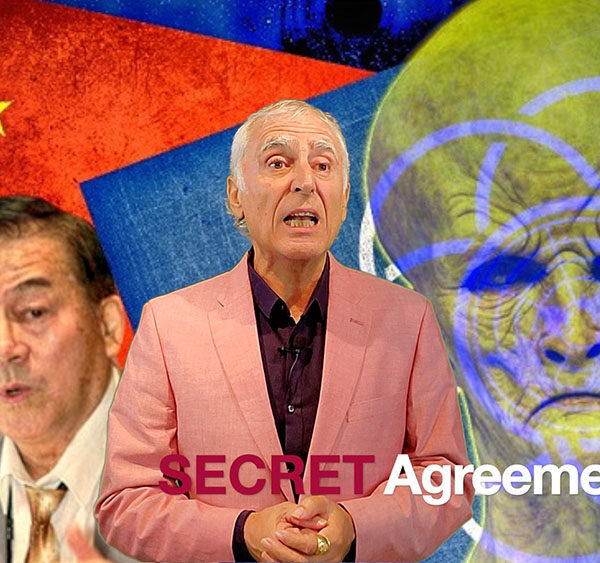 China has a rich ancient history with many legends of advanced flying technologies, mysterious underground civilizations and extraterrestrial contact. What is the truth behind these legends and are China's mysterious pyramids older than contemporary archeologists claim? Do China's pyramids possess hidden repositories of long forgotten technologies that are secretly being studied and reverse engineered by leading Chinese scientists with the help of extraterrestrial visitors? Why did Chinese military forces, with Soviet assistance, invade a large UFO base built by Agartha and did they take away flying saucer technologies? All these questions will be answered with persuasive evidence and facts about China's carefully guarded connections to ancient peoples, artifacts and the stars….
To purchase a recording of this Webinar click here.
More info at: http://exopolitics.org/china-ssp-webinars-july-2020/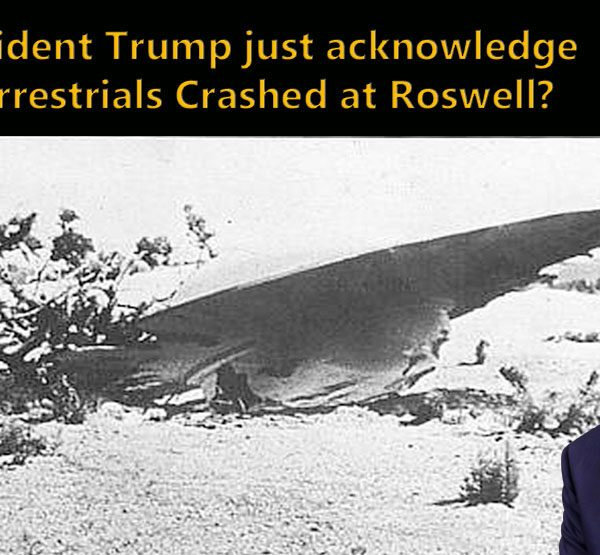 On June 18, President Donald Trump was interviewed by his son, Donald Trump, Jr., and was asked about the existence of alien/extraterrestrial life and its connection to the 1947 Roswell UFO incident. The President's answer appeared to support decades-long rumors of an extraterrestrial crash at Roswell, and even hinted that the truth might be declassified before he leaves office.
Trump's willingness to respond to such a controversial question, which was also answered by the mysterious military intelligence group Q(Anon) less than two years earlier, raises the intriguing possibility that a coordinated UFO disclosure campaign is underway where the world may soon learn the truth about what really happened at Roswell.
To begin with, it's worth pointing out that the initial news reports on the Roswell incident were based on an official US Army Air Force Press Release that reported a flying saucer had crashed per an intelligence assessment made by two of its officers.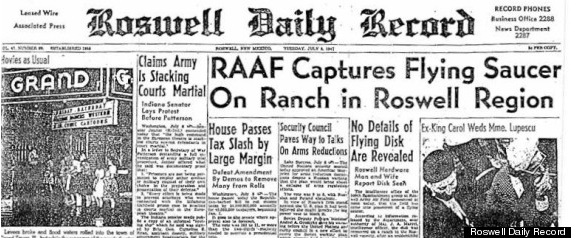 Only hours later, however, more senior Army Air Force officials came forward to refute the initial Press Release and claimed only a weather balloon had crashed. In this second Press Release, one of the two intelligence officers, Major Jesse Marcel, was shown crouching over the remains of a balloon appearing to settle the matter as a case of mistaken identity.
Over three decades later, in 1978, Major Marcel, came forward to reveal the truth about what he had seen. Ever since his public emergence there has been an intense debate over the reality of what happened at Roswell with growing evidence of an official government cover up.
The resulting controversy has turned the small New Mexico town of Roswell into a Mecca of UFO alien stories with a museum and annual conferences that have steadily grown over the years.
In raising the issue of aliens and Roswell, Trump Jr., indicated that he was genuinely intrigued by decades old reports of an alien crash and wanted to know the truth. In fact, he emphasized the personal importance of this issue to him, and he wanted an answer from his father. Here's the transcript of the dialogue between Trump Jr (DJT, Jr) and President Trump (POTUS):
[DJT Jr.] Before you leave office will you let us know if there are aliens, because this is the only thing I really want to know. I want to know what's going on. Would you ever open up Roswell, let us know what's really going on there.
[POTUS] So many people ask me that question.
[DJT, Jr.] It sounds almost ridiculous but it's actually the real question and what I got …
[POTUS] A cute question but it's actually, there are millions and millions of people that want to go there that want to see it. I won't talk to you what I know about it, but it's very interesting. But Roswell is a very interesting place, with a lot of people that would like to know what's going on.
[DJT. Jr.] So you're saying you may declassify, you'll take it.
[POTUS] I'll have to think about that one.
President Trump was clearly very cautious in his reply, but two things stand out. First, he said that he "won't talk about what I know about it" and that the truth about the incident is "very interesting".
Trump's acknowledgement that he knows something that he is not yet prepared to publicly disclose does indicate that he has received an official briefing on the topic, which is highly classified and which he has to think about declassifying.
What lends added plausibility to such a conclusion is a cryptic comment by the military intelligence group, Q(Anon), which is closely associated with the Trump administration and with the President in particular.
In a September 19, 2018 response to a series of random question on the 8chan forum, Q chose to respond to questions about extraterrestrial life and Roswell.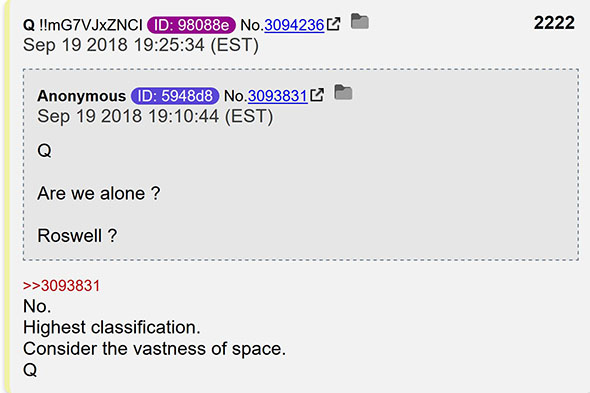 Q's response clearly suggested that extraterrestrial life is real and that what happened at Roswell has the "highest classification". More importantly, Q's response strongly suggests that President Trump has received a briefing by military-intelligence officials associated with Q who are revealing to him many secrets long kept hidden by the Deep State from US Presidents.
The fact that Q (Anon) picked a random question about Roswell to concretely acknowledge both its existence and the reality of extraterrestrial life in September 2018, along with  Trump., Jr. raising a similar Roswell question with POTUS in June 2020, emphasizing that it is the "only thing I really want to know"  does raise the possibility that the question and answer were orchestrated.
Critically, the raising of Roswell and extraterrestrial issues only five months before the most significant Presidential election in history does emphasize the intriguing possibility that President Trump is in a position to disclose the truth about what he knows. If so, Trump will go down in history as the "UFO disclosure" President.
© Michael E. Salla, Ph.D. Copyright Notice
Further Reading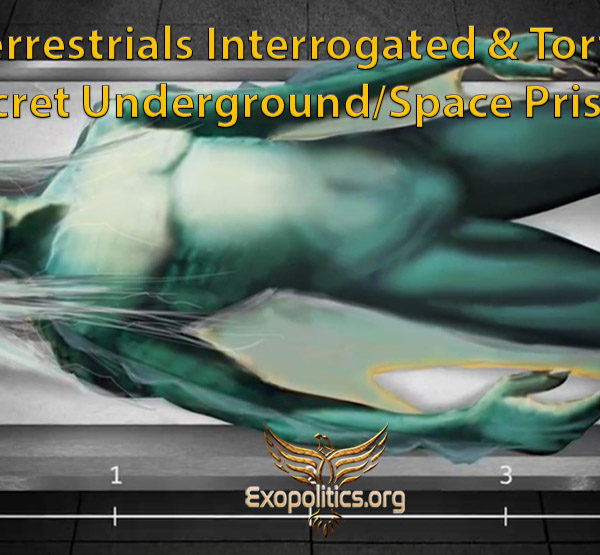 In another bombshell interview on the Cosmic Disclosure Gaia TV series, insiders Emery Smith and Corey Goode have revealed their direct knowledge and participation in classified programs that involved the detention, interrogation, torture and dissection of human looking extraterrestrials. Their stunning eyewitness accounts provide powerful evidence that atrocities have been occurring in classified programs against extraterrestrial visitors who are almost indistinguishable from modern humans.
The program host, David Wilcock, began by asking Goode to explain what the "Intruder Intercept and Interrogate Program" was all about.
It's a program that is similar in part to the Men in Black. What this Intercept and Interrogate Program does is that if an intruder flies into our [solar] system, doesn't give a friend or foe signal and is intercepted, they are taken from their ship. Or, what happens in most cases is that ETs have made it to the Earth and are here secretly blending in as one of us.
This group will go in retrieve the people that are here, we call the ETs people, the people that are here without permission, bring them up to a certain station, and their interrogation would begin to find out what was going on.
This group also acted as a police force for non-terrestrial groups that are here with permission. They helped keep them apart, and when they (ETs) had issues they acted just like police.
After describing the extraterrestrials, who were very human looking and could easily blend in to human society, Smith described encountering some of them in autopsies he was conducting for classified programs at Kirtland Air Force base and other facilities around the country.  He emphasized that they had showed obvious signs of torture:
Emery: … Some of the extraterrestrials that we were working on in the lab, doing dissections and what not, some of these full bodied human extraterrestrials would come in  and they would be very badly beaten where subdural hematomas, are being beaten in the back of the head. It looks like they were tortured, sometimes many broken bones.
I didn't find out until later on that these beings were coming from a prison or a withholding cell of some sort and were being interrogated…. After hearing your [Corey's] testimony, this is what we were receiving. Because usually they are in pretty good shape unless they were shot down or something. These were obviously, been beaten to death.
Corey: … A lot of the times the individuals that were being interrogated just died of stress and trauma … from the process. It was very disturbing. They were tagged and sent for study afterwards.
Emery: We had a few that they actually starved to death. I'm not sure what happened….
Corey: There are prisons that they have for them. Some of them, where they bring them like a conventional prison. That's where they need to further interrogate them for a while get more information or have them to trade off or to tip us off.
After Goode and Smith's mutual corroboration of human looking extraterrestrials being tortured at special prisons, some of which were in off planet locations, Goode went on to discuss how many extraterrestrials would end up at a cryogenic chamber on the Moon:
Fairly recently I was given an extensive viewing and tour of the Lunar Operations Command. It connected to two other commands. Lunar Operations Command they call LOC Alpha, and below ground in these lava tubes are two more called LOC Bravo and Charlie, and LOC Charlie has a research facility that is cryogenics, and one of the floors of that is a storage facility for some of these beings that they put into stasis
Emery: Right, there's a huge one of those where I worked [Kirtland AFB], a large cryomorgue, where these are kept in the hundreds, before they go into the lab. There's always enough bodies and there's always enough specimens, it's like an unlimited amount. It's like they can't keep with it, there's just so many going on. Hundreds of these rooms that I've worked in.
In response to a question, Goode explained how newly captured extraterrestrials are treated depending on whether they are cooperative or not:
What happens in an interrogation? If they are cooperative, if they say I'm  here. I have a small support team that's cloaked outside Jupiter, for example, please contact them, verify. In many cases we would hand them back over to their support group, give them a slap on the hand and say this is the process if you come in, legally I guess you can say.
Now the ones they want to further question they would keep in prisons, out of stasis, just like a normal prison. Some of these prisons were ships … Some of the asteroids that we had mined, then we ended up going in and creating partial cryo-prisons but mostly just regular type prisons. So there's a number of ways they keep these beings locked down.
Responding to another question from Wilcock as to whether any public figures are extraterrestrials, Goode and Smith gave the following answers:
Corey: I was told back when I was in this program they ae limited in how they interact with Society. Everything has to be preapproved. They can work in our companies and that kind of thing, but they can't hold places [positions] of power. That's for the ones that are coming here on an internship.
Emery: Absolutely, they are not allowed to have any influential positions. I would know. I would know right now for sure if someone of great power was an extraterrestrial, and they are not doing that to us. Maybe in the future they well, they have to step in and save the planet and save us, but right now there is nothing like that going on.  And the corruption shows that, around the world. They do, they have specific rules, like Corey said, that they cannot do certain things here.  
Goode explained that the majority of the beings detained in the Intruder Intercept and Interrogate program were human looking extraterrestrials, and the non-human ETs were handed off to Draco Reptilians for processing:
Most of them were human, they just looked human, various types of humans. About 10%, may 15%, were the types you hear described as aliens, very strange looking, evolved in a completely different environment. We  had Insectoids, we had different types of Reptilian beings, which we immediately turned over to the Draco. The insectoids, there was a certain type of insectoid, certain group, that was always turned over… There were a number of amphibians.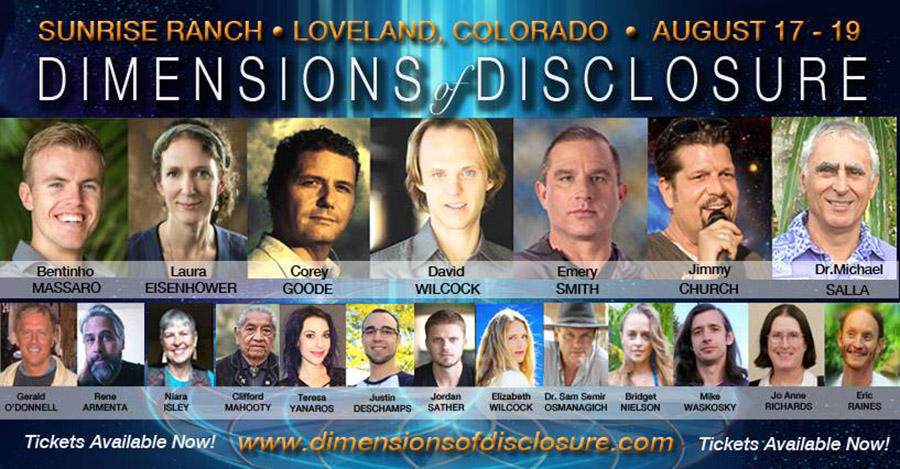 Goode and Smith's information about different types of extraterrestrials that have infiltrated Earth being monitored by a secret agency set up exclusively for that purpose, echoes what Dmitry Medvedev, the current Prime Minister of Russia, said about the existence of such an agency in December 2012:
Along with the briefcase with nuclear codes, the president of the country is given a special 'top secret' folder. This folder in its entirety contains information about aliens who visited our planet… Along with this, you are given a report of the absolutely secret special service that exercises control over aliens on the territory of our country…
Goode and Smith are not the first to claim that human looking extraterrestrials are being secretly detained, interrogated, tortured and killed in classified programs run by a mysterious quasi-governmental agency that operates over the entire planet.
One of the first references to this occurring was from researcher Frank Crawford who published his findings in the Spring 1991 edition of UFO Journal of Facts. He described the detention and torture of an alleged being from the Tau Ceti star system based on an interview with a military witness who served with the US Navy at the time, and who used the pseudonym, "Oscar".
The Tau Cetian/extraterrestrial was given the nickname "Hank" by Oscar who was assigned to a crash retrieval operation that occurred in 1961 where he found the injured Hank in his damaged spacecraft, and eventually confided the following story, as told by Crawford:
As Oscar told the story that began this article it became obvious that, because of his military background, the name given was for his protection. The account unfolded further to reveal horrible injustices to Hank and to Oscar himself. At the direction of [Frank] Drake the team conducted medical experiments such as spinal taps, marrow sampling, taking organ specimens and other exploratory surgery on Hank WITHOUT anesthesia. Oscar had spent many hours over three months communicating with and growing close to the alien.
One day he stepped between Drake and Hank with his .45 cal. pistol drawn and demanded an end to the torture. Drake withdrew but the next morning Oscar had new orders to depart immediately for Saint Albans Hospital in Radford, Va., where he was incarcerated for debriefing…. After spending time under psychiatric care, which would damage his military record, he was oddly enough given an honorable discharge.
 After having returned to civilian life he and his father embarked on a hiking trip to North Dakota. They purposely entered the restricted area surrounding the base where Oscar had been stationed. Perimeter patrol picked them up for removal from the area. While in their company Oscar asked how Hank was doing. One of the guards confided that the alien had died several months earlier.
Circumstantial support for the above story is that in 1960, Drake headed the OZMA program, which scrutinized radio frequencies from different star systems for any sign of extraterrestrial life. OZMA, was the precursor to the SETI program, and in April 1960 began searching for possible extraterrestrial radio signals from the stars Tau Ceti and Epsilon Eridani. It's feasible that the subsequent 1961 crash by Hank's craft was related in some way to Project Ozma's interest in Tau Ceti, which is similar in age to Earth's sun.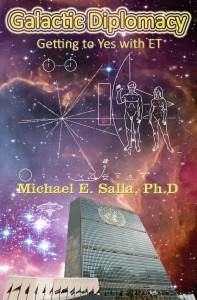 In addition, there are many stories of human looking extraterrestrials that have blended in with humanity, and have been under some form of official surveillance. Famed psychic Ingo Swann describes his encounter with a female extraterrestrial who was being monitored by two CIA agents working in a covert alien surveillance program which had previously employed Swann. His story and others are covered in my 2006 article, "Extraterrestrials Among Us", and in greater detail in my 2013 book, Galactic Diplomacy.
It's important to emphasize that both Smith and Goode were participants in classified programs that have conducted gross abuses of extraterrestrial visitors, and have courageously gone on the public record about these events. Smith in particular has provided documentation confirming his military service at Kirtland Air Force Base, which is one of the locations where the abuses occurred. Smith and Goode's eyewitness testimonies is compelling testimonial evidence that is admissible in a court of law or Congressional inquiry, and therefore deserve serious investigation.

Based on their and other witness testimonies, the detention, interrogation, torture and death of human looking extraterrestrials in secret prisons in classified underground facilities, on the Moon and elsewhere, date as far back as the 1960's if not earlier. Clearly, such an outrage needs to be exposed and immediately stopped, since there is no evidence that the visitors pose any genuine threat to humanity – other than exposing the decades long cover up of extraterrestrial life.
[Note: The August 15 Cosmic Disclosure interview featuring Emery Smith and Corey Goode can be found here.]
Michael Salla, Ph.D. Copyright Notice 
Further Reading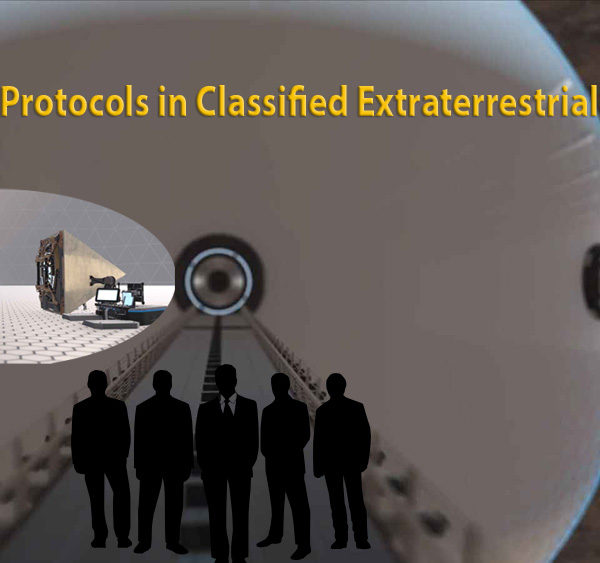 A former employee in a covert program has described the draconian security measures in place in extraterrestrial related projects, and the dire consequences for transgressing these. In the June 26 episode of Cosmic Disclosure, Emery Smith described what happened when he violated security protocols.
In previous episodes of Cosmic Disclosure, Smith described his involvement in a highly classified project during his military service as a Surgical First Assist based at Kirtland Air Force Base from 1992 to 1995.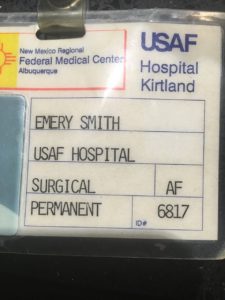 In addition to his regular military assignment he also worked in a classified program managed by a corporation, where he examined roughly 3000 tissue samples extracted from non-human  entities. He says that he worked on approximately 250 extraterrestrial bodies.
As described in a previous article, Smith has provided documentation proving his training and service as a Surgical First Assist, which makes him a credible eyewitness to events he has described. So far, the reaction of the mass media to Smith's stunning revelations has been consistent – silence.
Even the UFO research community has largely shunned Smith's testimony, despite all the credentials he brings to substantiate his military and medical background.
In the security violation incident described by Smith, he says that he befriended his commander in the classified project involving medical examinations of extraterrestrial tissues and bodies. This eventually led to the commander inviting Smith to view a captured extraterrestrial vehicle stored at Kirtland Air Force base in what Smith believed at the time to part of a recruitment effort to introduce him into a different covert project.
In the interview, Smith describes how he believed that his friendship with the commander of the covert project was acceptable despite him knowing that befriending co-workers was against security protocols:
You think because it's your commander inviting you to the barbecue, that – and he's been in it for 10, 20 years more than you – that everything's going to be all right, right? And that's not the fact. That is not a fact . . . that it's not all right.

Smith explained his belief that what the Commander was about to show him was part of a recruitment into a new project:
And one of the things he mentioned to me was this amazing craft that he was going to get me involved with possibly to work on and to actually try out the flight simulator of an alien reproduction vehicle.
In the interview, David Wilcock asked Smith about the security protocols surrounding him getting access to the extraterrestrial vehicle which was stored in a secure underground room at Kirtland AFB:
David: Okay. How did you get there if you're not cleared to be there? If you're not authorized to be there, how in the world would you get into that room?
Emery: There is a stipulation if you're escorted by someone of high authority. And a lot of the times, for emergency reasons, you have to go to certain places really quick.
And as long as you're with someone that has a clearance higher than you, then the responsibility falls under that person for legal issues and for everything….
Emery: But everyone knows that if you're not read into a project, it's very unlikely you would go see something without knowing everything about it. And I was NOT read into the project. I was read into the project clandestinely through my friend.
Smith further clarified how authority in such a corporate run classified projects on military bases is based on clearance rather than rank:
It's all based on clearance. You can be a captain and have the same clearance as a general or a colonel. You can be a sergeant and have the same clearance as a captain or a colonel.
Remember, it's the duties that you perform, and what is needed to get the job done. It's not about the . . . They don't use the military system of rank for these positions, okay?
They use the knowledge base and educational base of the people that are put in place to run these projects.
Smith's account here parallels what William Tompkins described about his work in a covert Navy espionage program during World War II. Tompkins' position as a "Disseminator of Aircraft Research and Information" carried with it an authority that was far beyond his lowly military rank as a 2nd class Petty Officer.
Smith says that his commander eventually showed him the captured extraterrestrial vehicle:
There was an actual extraterrestrial craft that they had captured and brought into one of the underground hangar operating rooms . . . the whole vacuumed one. And inside that, they were duplicating it in the same room, trying to reverse engineer the craft.
… they were duplicating it in the same room, trying to reverse engineer the craft… And it was a diamond-shaped craft, and it wasn't that big. It was probably no bigger than an 18-wheeler [large semi-tractor trailer]….
The craft that they were making next to it was just . . . They were trying to find out how it works and how it flies around.
And they were doing a lot of stuff with the actual electromagnetics of it. So they duplicated a half version. They cross sectioned a man-made half version, okay?
Smith's description of the craft he witnessed, both the diamond shaped extraterrestrial vehicle and the reverse engineered craft was captured in the following illustration.
Smith elaborated upon the large room and the thick walls that separated it from the rest of the facility:
… It's very secured, for sure. And I don't know why they have this room suspended away from walls maybe a hundred feet.
So you have this giant room now. You're walking into it with multiple catwalks from other doors that go into it.
And then you come there, and the same thing. These doors open up . . . the same doors that you just saw, another 24". And NOW you're in the bay…
Smith further added:
This is not a clean area, by the way. So you don't have to have your space suits in here. This is what we call a "dirty area". So you can just be in your uniform there.
His description of the facility was also illustrated in the June 26 episode of Cosmic Disclosure:
Smith described his excitement at the prospect of being recruited into a new program, and his confidence in the Commander's authority to recruit Smith in the manner he was experiencing. After all, this was the same person running the classified corporate program involving medical examinations of extraterrestrial tissues and bodies, who also had authority over the stored alien vehicles at Kirtland AFB.
Most would have made similar assumptions to Smith about the unique opportunity that was unfolding with what was being shown to him, despite the violation in protocol in befriending one's commander in a covert extraterrestrial related project:
David: What was your experience? Were you afraid to talk and to say how awesome this looked? Did you say anything to the commander?
Emery: Yes, I did say it. I said, "This is amazing! This is awesome! Thank you for allowing me to be part of this project." Because I was just an . . . I really just thought this is my first introduction maybe to this, and now I'm maybe going to be part of this in some way or another….
I was figuring on him being the ultimate commander here being in charge of anything. No one's higher than him. So how are any security going to say anything about this? Because I legitimately thought this was okay. And it was not.
Smith went on to explain how in the midst of him trying out the flight simulator for the alien reproduction vehicle, four or five very large men in suits walked unannounced into the classified facility. They proceeded to handcuff and blindfold both him and his commander, and assaulted Smith during his subsequent debriefing:
And these suits came in … suit and tie, four or five of them. They were all taller than me and bigger than me…. [Smith is 6' 4" inches/193 cm]….  I had a concussion and a big hematoma on the back of my head…. I was broken down enough until they took the blindfolds off, and I just remember looking up at them. And they just said never to repeat this again, "and if you say anything or do anything, you know what happens."
It's worth emphasizing that none of the men wore uniforms which is significant given that the underground room was located at Kirtland Air Force base, and his debriefing occurred at the base.
Smith's incident illustrates that despite the secure room/facility being on USAF property and using Air Force servicemen, it was a corporation that was firmly in charge of the facility and security.
This correlates with an incident described by Dr. Steven Greer where he and former astronaut Edgar Mitchell, were told in 1997, by Rear Admiral Thomas Wilson, that he was denied access to a covert project by corporate attorneys. Wilson was at the time the head of intelligence (J-2) for the Joint Chiefs of Staff, vividly illustrating how rank is inconsequential in gaining access to highly classified projects requiring need to know access.

Smith described how his silence over the brutal treatment he received during his debriefing, where he decided not to report it the base commander or senior Air Force personnel, saved him his covert job:
 I was petrified to go report it… I thought that was the next test.  And it was, because I didn't say anything. And that's how I got my job back, because I was able to keep a secret. And the secret hurt me….
I was restricted from ever trying to contact him [his commander] or his family ever again "for the duration of my life on Earth", quote unquote.
Smith responded to Wilcock's question about how the security violation changed his whole attitude to working in the corporate run project:
David: How did this event change you in terms of how . . . because you said you were very enthusiastic about your job. You felt like you were in an amusement park almost – an alien amusement park. How did this change that?
Emery: There was some sort of continuity breakdown, I thought. And I just didn't believe in them anymore. I didn't believe in the structure. Like, who the heck is behind this? Who is pulling the cords? Who is giving . . . You know, who is REALLY running this show down here? Who were those guys in the black suits?
I started getting mad, like going mad. I was trying to figure it out for myself and now I can't even talk to anybody about it. I can't even . . . To my own co-workers, I can't say anything….
Smith's account has many similarities to the testimonies of other whistleblowers/insiders that have worked on classified extraterrestrial related projects, where stringent security process are in place. His account parallels key elements of what Dan Sherman, Bob Lazar and Clifford Stone have described about their involvement in classified extraterrestrial related projects and the security protocols they experienced.
In examining Smith's testimony, one of the things that stands out is that he was informally being shown technology outside of his primary area of expertise and training in an apparent recruitment effort by his commander. It is not clear how someone trained as a Surgical First Assist who was recruited to examine extraterrestrial tissue samples and bodies, could transfer such skills into the reverse engineering of extraterrestrial craft.
Did Smith's commander genuinely believe Smith could make such a transition or was Smith being set up? After all, there are important elements in the Lazar case which makes it very plausible that his whole recruitment into the covert operation involving reverse engineering flying saucer craft at Area 51 was a set up. Lazar's friends and psychological profile would have been major red flags that he would break security protocols and eventually become a whistleblower.
Was Smith also identified as someone whose psychological profile would eventually lead him to becoming a whistleblower? Is Smith's coming out part of a sanctioned disclosure process by White Hats or others running covert extraterrestrial projects?
Regardless of the answers to such questions, Smith's testimony is ground breaking and reveals important information about a secure facility at Kirtland Air Force base conducting a variety of extraterrestrial related projects under the authority of corporations. He provides corroborating witness support for similar accounts by other whistleblowers/insiders describing what they encountered in classified facilities they were recruited to work in while enlisted in the USAF or other military services.

Smith's testimony also provides important clues for understanding topical issues such as 2004 Tic Tac incident involving a Navy battlegroup encountering several Anomalous Aerial Vehicles (UFOs), a case which is being closely scrutinized by the mainstream media and many UFO researchers. Was the vehicle an alien reproduction craft, part of secret space program, or an extraterrestrial vehicle?
Given Smith's credentials and credibility as a witness, it is hard to fathom why mainstream media, and most UFO researchers, are disinterested in what he has to say about covert extraterrestrial projects occurring at secure military facilities. One thing is becoming clearer by the day though, reverse engineering of extraterrestrial spacecraft has been secretly conducted for decades at multiple military facilities, with major aerospace companies in control, alongside stringent security procedures to keep it all secret.
[Note: Emery Smith's interviews on Cosmic Disclosure can be found here.]
Michael Salla, Ph.D. Copyright Notice 
Further Reading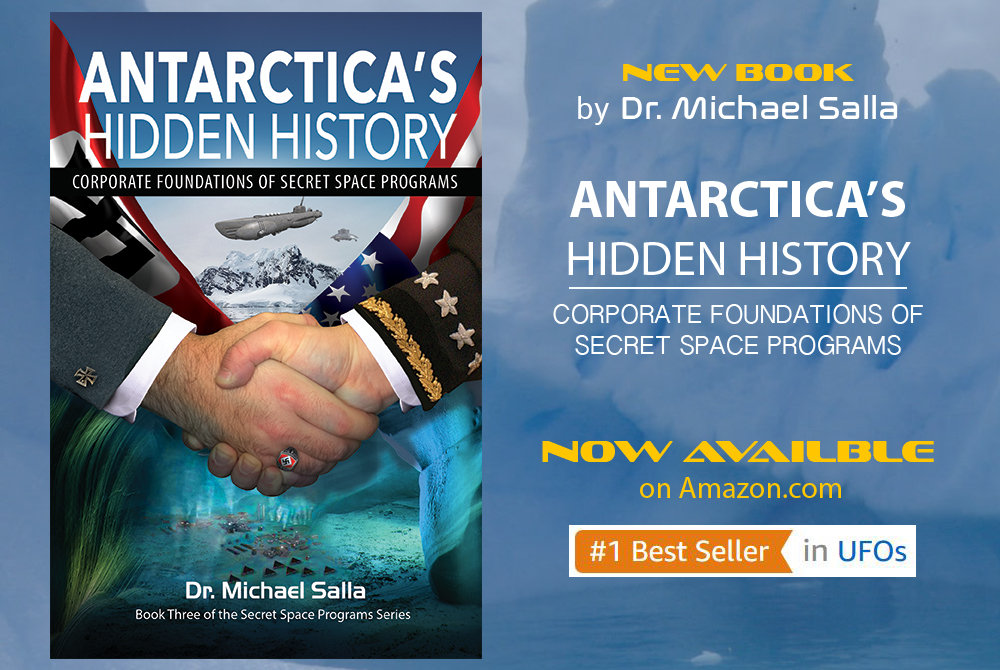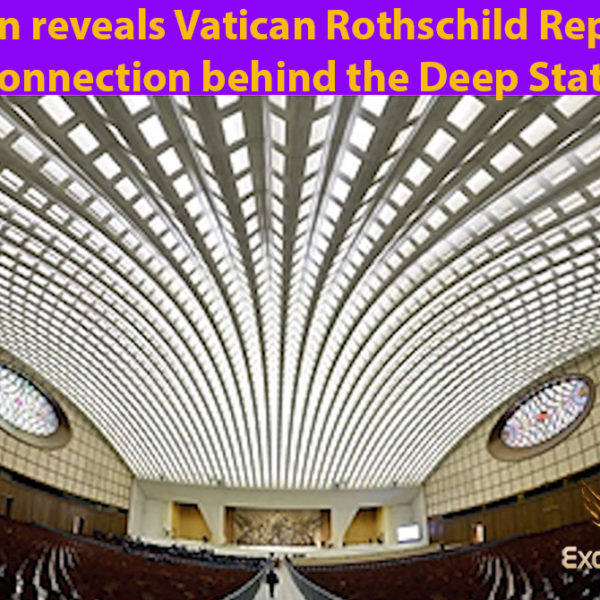 In a recent series of posts, the anonymous whistleblower (group) QAnon made an important connection between the Vatican, Rothschild family, and Reptilian symbolism. Many followers of QAnon, who fall into the camp of Christian patriots, perceive the connection as exposing an other-worldly Satanic influence over the Vatican, the Rothschilds, and other forces making up the Deep State.
Closer analysis, however, suggests that what QAnon is really referring to by the symbolism is a very physical "this-worldly" influence over the Deep State: Reptilian extraterrestrials.
To begin with, I need to point out what has become very clear to those closely following the QAnon posts, which first appeared on October 28, 2017. QAnon represents several military intelligence officials who are leaking sensitive information in a cryptic and coded manner due to the pervasive influence of the Deep State over many institutions of political, financial and cultural power.
QAnon's close relationship with President Donald Trump has been demonstrated in various public ways. This has signaled he supports the QAnon revelations and is very familiar with who is really behind the Deep State attempting to sabotage his Presidency. In regard to Deep State efforts to sabotage the Trump Presidency, I highly recommend reading Dr. Jerome Corsi's book, Killing the Deep State.
We are now ready to take a closer look at what QAnon is saying about the Vatican, Rothschilds and the Reptilian connection.
On April 3, QAnon made the following post where he attached an image posted by another anonymous source asking the question, "If Satanists took over the Vatican would you notice?"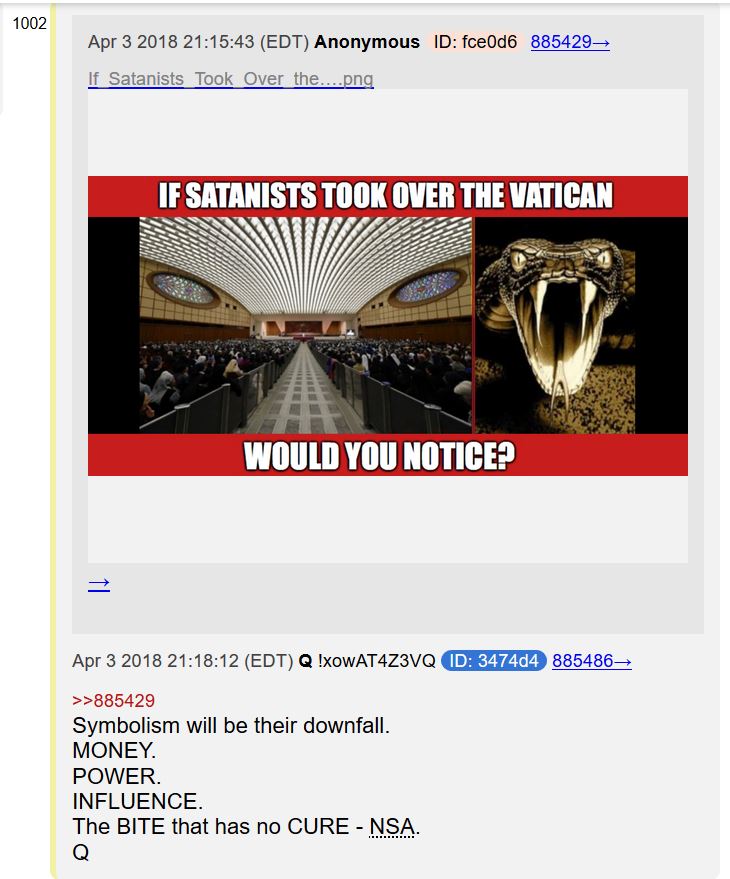 The image was of an auditorium built by the Vatican that was completed in 1971, with a seating capacity of 6,300. Named the Paul VI Audience Hall, it is filled with Reptilian imagery, and clearly alludes to a powerful influence exerted by such beings over the Vatican.
In the following video, the narrator gives five reasons why the Audience Hall's symbolism leads to the conclusion that the Vatican is run by Reptilian beings.
So does the symbolism in the Paul VI Audience Hall really show Reptilian control over the Vatican?
QAnon helps answer such a question by his response to the posted image: "Symbolism will be their downfall, MONEY. POWER, INFLUENCE." By emphasizing symbolism, QAnon is saying that we need to closely examine the Reptilian imagery in the picture in order to really understand who controls the Vatican.
QAnon's reference to "MONEY, POWER, INFLUENCE" points to a nexus of actors that underscore control of the Vatican. This is where another QAnon post becomes helpful in understanding this nexus of actors.
On April 4, QAnon posted the following: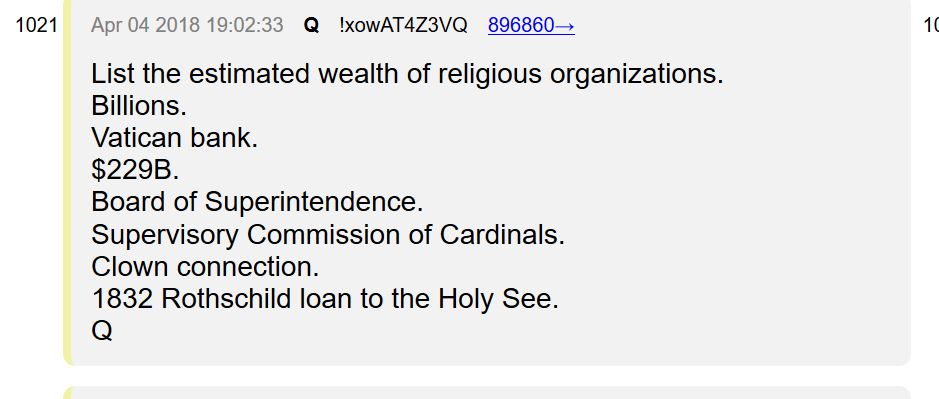 He pointed out that the Vatican Bank (Institute for the Works of Religion) is at the fulcrum point of its financial influence through its shady relationship with the CIA ("Clown connection").
Indeed, this close relationship between the Vatican and the CIA gave rise to Operation Gladio that was targeted against left wing organizations that threatened to tear Italy away from NATO, towards a closer relationship with the Soviet Union. To understand the Vatican's role in Operation Gladio, I highly recommend Paul Williams book, Operation Gladio: The Unholy Alliance between the Vatican, the CIA, and the Mafia.
However, QAnon's most intriguing reference was to the 1832 Rothschild loan. QAnon suggested here that the 1832 loan made the Vatican dependent on Rothschild financing at the time, and this dependence continues into the modern era. This is not surprising since at the time, the Vatican was desperate to maintain its diminishing temporal authority over the remaining territory of the Papal States (754-1870), which was increasingly being challenged by Italian secular nationalists.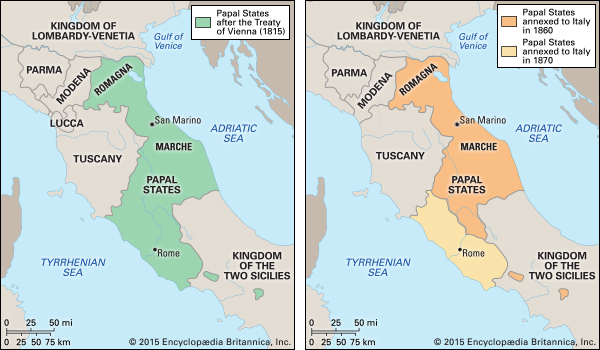 It was this effort to maintain political control over the Papal States that made the Vatican increasingly dependent on the Rothshchilds, who could move their agents into senior positions in the Catholic Church hierarchy. This included the Sovereign Military Order of the Knights of Malta, which continues to be a powerful force that links Rothschild finances with elites drawn from around the world.
QAnon is telling us that the Rothschild family influence is very important for understanding the financial power behind the Deep State, and how the Vatican is a key player in all this. However, there is more to the Rothschild family than simply possessing financial influence over the Vatican.
This is where it becomes very helpful to recount a story told by a former U.S. Air Force doctor, Bill Deagle, M.D., who described in a Project Camelot interview a mysterious encounter he had with a leading member of the Rothschild family, Baron Guy De Rothschild, in 1992:
I woke up in the middle of the night, bolt upright, and I sat up. And I had all the lights on because I'd have to periodically go to the restroom or whatever. I had all the lights on. And this guy was standing in front of me with what I call a $5,000 tuxedo, not a gray hair in his head, mid-50s, slim and trim.
I said: How did you get in here?
And he says: It's wonderful to see you, my son.
I said: You're not my father.
And I looked at this guy, and he looked like French nobility. Right? And I said: Who are you?
He says: I am the Baron Guy de Rothschild, the Pindar.
And I had this really kind of, what I call a check or a kind of a cringe in my spirit. And I knew right away, because I have this gift. Right? Without getting into a big long discussion, I knew right away.
I said: I know who you are. You're the representative of the Luciferic power that controls Earth.
He says: Yes, I am the CEO of Earth, Inc., and I am the man that sits in the 13th chair of the Druidic Council. I want you to be my understudy, and when I transcend I want you to take over my job.
And I said: No, I'm not going to.
He said: We know your bloodlines; we know your genetics; we know everything about you and you're a perfect replacement for me.
And I said: No!
What is interesting here is Rothschild's claim that he was the "Pindar" and was the "CEO of Earth, Inc". This suggests that he is merely running the Earth on behalf of others, but who?
For an answer, we can look to information about the Pindar supplied by British researcher David Icke. Icke wrote about the Pindar in The Biggest Secret after interviewing a former participant in Satanic occult ceremonies, Arizona Wilder. Icke wrote:
Pindar means 'Penis of the Dragon'…  Arizona says that Pindar, like all the reptilians when they shape-shift, has very powerful hypnotic eyes (the 'evil eye' of legend) and at sacrifices the victims face is turned to Pindar at the moment of death for him to steal the person's soul or energy through this 'evil eye' magnetic process…. Pindar attends the major Satanic ceremonies in Europe and then flies to California for the rituals there. [pp. 302-3]
The idea that a high ranking member of the Rothschild family, Guy de Rothschild, was a shape shifting Reptilian, or a hybrid of some kind, will come as to a shock to many who disbelieve that extraterrestrial life is a physical reality on Earth. 
This disbelief will be markedly the case for those coming from a Christian background, who ascribe the Satanic/Luciferian influence on Earth to other-worldly demonic entities associated with Hell, as described in Biblical passages.
However, only last week, Pope Francis declared that there is no Hell! In an interview, he was quoted saying:
They are not punished, those who repent obtain the forgiveness of God and enter the rank of souls who contemplate him, but those who do not repent and cannot therefore be forgiven disappear. There is no hell, there is the disappearance of sinful souls.
While the Vatican immediately tried to walk back the Pope's comments, his intent was very clear. Hell is no mere spiritual dimension where Satan rules and acts as a distant, but disruptive, influence on Earth through his legion of demonic spirits.
The Pope has clarified that Hell is a very physical reality and corresponds to the world created around us by sinful souls participating in Satanic rituals involving human sacrifice and pedophilia. The implication here is that Satan is a very physical being who is present on Earth, and has overlordship of the planet through hybrid intermediaries, such as the Pindar, which collectively make up the Deep State. 
In making his statement about Hell, Pope Francis appeared to be breaking ranks with the Vatican hierarchy, and alluding to the awful truth about covert Reptilian influence over the Catholic Church in a very physical and tangible manner.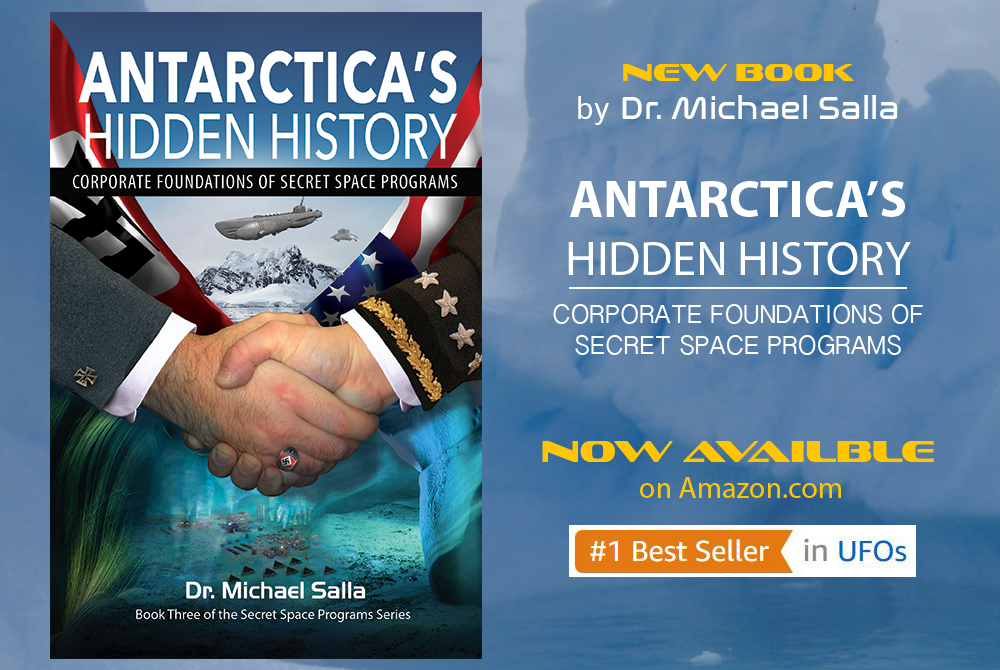 Further evidence of a Reptilian influence over Deep State officials involved in human sacrifice, comes from another former participant and victim in these dark ritualistic events, Cathy O'Brien. Her book, Trance Formation of America, shows the widespread belief of many political elites in secret Reptilian overlords.
In addition, John DeCamp's book, The Franklin Coverup, reveals how pedophilia and human sacrifice is used to compromise upcoming political leaders into a corrupt system in Washington DC.
If we connect all the threads emerging from QAnon's reference to the Vatican, Rothshchilds and Reptilian symbolism, then we reach some very disturbing conclusions.
The Vatican is largely under the influence of Reptilian extraterrestrial entities that have chosen to reveal themselves through symbolism, as found in the Paul VI Audience Hall.
Satan is one or more members of an extraterrestrial Reptilian race that has secretly ruled over humanity for centuries through human or hybrid intermediaries.
The Rothschild family is deeply implicated in this confluence of Satanic forces involving the Vatican and Reptilians, and one of its members plays the role of the Pindar, CEO of Earth, reporting to something like a Reptilian Board of Directors.
QAnon's frequent references to the evil of the Deep State, and allusions to Satan and Satanic practices, is his careful way of referring to Reptilian entities who have historically dominated the Deep State though a subservient clique of political, financial and cultural leaders. These elite figures have been compromised through their participation in rituals involving human sacrifice, as the condition for their elevation to high office.
We now finally have an explanation for why QAnon (U.S. Military Intelligence), despite clear Trump White House support, has to communicate using cryptic and coded language about its ongoing operations to "Drain the Swamp". QAnon is methodically exposing the historic power behind the Deep State – a very physical Reptilian extraterrestrial force – which still has influence through a subservient clique of leaders wishing to ingratiate themselves with their Reptilian overlords.
While many may be skeptical of the above conclusions, it does appear that QAnon believes that the time is ripe for the American Patriot community to be finally awakened to the truth, and therefore become active in exposing what really lies behind the Deep State in order to end its corrosive influence over human affairs.
© Michael E. Salla, Ph.D. Copyright Notice
Further Reading
Audio Version of the Above Article Appears Below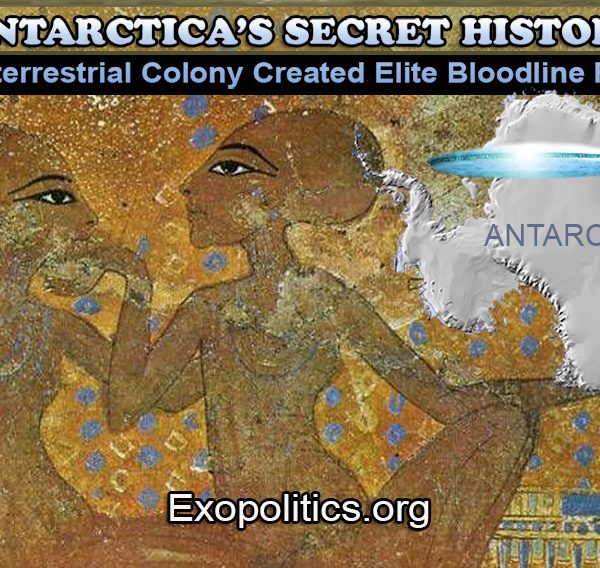 Secret Space Program whistleblower, Corey Goode, has revealed more startling information about Antarctica and its history as an extraterrestrial refugee colony established roughly 60,000 years ago. He asserts that the alien refugees found advanced "builder race" technologies there that were created over 1.8 billion years ago.
Equally intriguing is his claim that some of the extraterrestrial refugees are still alive today in stasis chambers, located inside 30 mile long motherships buried under 2000 feet of ice below Antarctica's Ross Ice Shelf.
In Goode's February 21, 2017 Cosmic Disclosure TV episode he stated that he continues to receive briefings from a USAF run secret space program about the excavations in Antarctica being conducted by archeologists, which began in 2002, In an earlier article, I described what Goode told me about the USAF briefings, and what he had encountered during a January 2017 visit to Antarctica with an Inner Earth civilization called the "Anshar".
In the Cosmic Disclosure episode, Goode provides more details and graphic depictions of what he personally witnessed in Antarctica. He describes the extraterrestrials as "Pre-Adamites", who were originally from Mars and a Super-Earth (Maldek) whose remains now form the Asteroid Belt. 
During their long history, he says that the inhabitants of Mars and Maldek fought a series of high tech wars back when Mars was a moon of Maldek. Approximately 500,000 years ago, these wars came to a climactic end with Maldek being obliterated.
Maldek's remains hit Mars with such force that the latter's surface cities on one side of the planet were totally destroyed, and most of its atmosphere was lost. This made life on Mars' surface very precarious at best, and led to planetary evacuation by the Martian survivors.
Billions of refugees from both Mars and Maldek found refuge on our present Moon. However, the time of the catastrophe our Moon was another satellite of Maldek, but it was artificially created with vast living areas in its interior as Goode has previously described.
The Pre-Adamites inhabited the Moon for approximately 440,000 years, and at some point during this period, according to information received by Goode, the Moon was moved into its present orbit around the Earth.
Eventually, another conflict forced the Pre-Adamites to the Moon, and they had to quickly move to the nearby Earth. They chose Antarctica to rebuild their civilization due in part to the existence of Ancient Builder race technologies, which were still functioning as Goode explained:
Then they [Pre-Adamites] end up on the Moon for a period of time. And then somehow they ended up getting chased off the Moon. There were some attacks that occurred, and after that they fled, but their craft were too damaged leave our solar system or make it to another planetary sphere. So since they had to crash-land on Earth, they decided that they would go to this one continent that still had working Ancient Builder Race technology that was . . . 1.8 billion years old.
The Pre-Adamites only had three motherships to use to establish their new colony on Earth after a crash landing in Antarctica. It was the technology in these motherships that gave the Pre-Adamites hope that they could rebuild their civilization:
Well, they only had the technology that they had on these three craft with them. That's all the technology they had. So they had to cannibalize and repurpose that technology from the spacecraft once they had crash-landed. And there were three that were extremely large. They were motherships.
This is where David Wilcock, the interviewer, had some corroborating information to share from another whistleblower, Dr. Pete Peterson, about the size and location of one of the discovered motherships:
David: And I want to point out, that this was one of the absolutely stunning details in which I start to ask Pete [Peterson] on the phone, "Do you know anything about Antarctica?"
And he independently says, "They're going to announce that they found a mothership." He only knew about one – a mothership that was 30 miles wide, mostly circular in shape – that's been found under the ice.
Goode describes the Pre-Adamites who settled Antarctica:
They range 12~14-foot tall. They have elongated skulls. They were very spindly, thin.
This suggests that the Pre-Adamites were likely the prior inhabitants of a lower gravity planet like Mars, which would facilitate gigantism. After spending over four hundred thousand years on the Moon with its even lower gravity field, the Pre-Adamites may have naturally increased in body height to finally result in their spindly 12-14 foot stature.
On Earth, because of its stronger gravity, the Pre-Adamites would find themselves at a clear disadvantage compared to the native inhabitants in terms of physical strength, speed and stamina. This meant that in terms of geopolitical power the Pre-Adamites would have to rely on the advanced technologies they had access to, the most advanced of which were located in Antarctica.
The Pre-Adamites soon needed hybrids to act as intermediates between themselves and the rest of the Earth's population. While the pure blood Pre-Adamites remained in Antarctica, close to their advanced technologies, the hybrid Pre-Adamites would be used to rule over humanity in the different colonies established around the planet, as Goode explained:
They had created hybrids because they could not operate in our environment very well. And they created hybrids of them and the humans that were here on Earth… all of the main Pre-Adamites that were pure blood were down in Antarctica … There was a group of these Pre-Adamites, of this Pre-Adamite bloodline, that was in the Central America, South America region, and there was another completely different bloodline group – both royals – in Asia and Europe.
This is consistent with what the Ancient Egyptian historian, Manetho, tells us about pre-dynastic times, the Gods directly ruled over Egypt, and then placed their off-spring, hybrids or demi-gods, in the leadership positions.
A similar scenario is described in the Sumerian King's List, which suggests that these historic documents are not mythical accounts of pre-history, but accurate historical records.
The Pre-Adamites, however, were not the only extraterrestrial race active on Earth 60,000 years ago according to Goode's sources. He says that among them was a non-human looking race, the Reptilians, who quickly emerged as the Pre-Adamites' primary rival in dominating planetary affairs.
Goode described the conflict between the Pre-Adamites and the Reptilians, and how to begin with, the Pre-Adamites having the upper hand due to their advanced technologies. However, the Reptilians would slowly gain ascendance after a series of "smaller catastrophes" that were a precursor to an even more destructive geological event that was to come:
Apparently these Pre-Adamites have been in conflicts with the Reptilians for a while. These Pre-Adamites they stated were not good guys at all, but were in some sort of a conflict with the Reptilians, and had actually kept the Reptilians in check here on the Earth during that time that they had crash-landed here.
There had been a couple other smaller catastrophes that happened where they had lost their power and the Reptilians always find an opportunity to come back in a moment of weakness.
During the major catastrophe (about 13,000 years ago) the Antarctica continent was flash frozen during a sudden pole shift, which cut off the Pre-Adamites' outposts around the world from their main base of power.
Now the Reptilians would become dominant in planetary affairs:
… But after these cataclysms that occurred on Earth, the Pre-Adamites and the Reptilians sort of had a truce or a treaty. And after that point, the Reptilians pretty much controlled all of Antarctica and the Pre-Adamites had zero ability to get access to their ancient technology, their libraries. Everything was down there.
Hybrids of the Pre-Adamites were able to escape the catastrophe in their global outposts, but those of the pure bloodline were stuck in Antarctica in their giant motherships.
This [Pre-Adamite] civilization controlled the entire planet. What little resources they had, they were able to control the planet. After this last cataclysm occurred, none of the survivors, Pre-Adamite survivors, had access to their technology.
So we mentioned the group that was in Asia, Pre-Adamite group, and there was another one in South America, Central America, they could no longer visit or communicate with each other. They were separated.
The elongated skulls found in South and Central America trace back to the Pre-Adamite hybrids who ruled over their colonies in these areas:
In South and Central America is where they had set up most of their enclaves. And they had been set up around other Pre-Adamite structures that were now destroyed because of the cataclysm. There were huge earthquakes that basically liquified the ground and a lot of the buildings, massive buildings, they had just fell apart and fell and sunk into the ground. They were running the hemisphere. They were mixing their genetics with some of the indigenous people of South and Central America. That's why we have elongated skulls beings that have a different colored skin but different genetic mix.
The two major Pre-Adamite colonies, one spanning Asia and Europe, while the other encompassed South and Central America, vied with each other in a competition between the bloodlines, which continues today through two major factions of the Illuminati:
And they had always had some sort of a competition between these two bloodline groups even before the cataclysm.This whole bloodline of these Cabal or Illuminati-type people, they trace their bloodlines through these Pre-Adamites.
If we accept that Reptilians are another extraterrestrial group that exercise great influence from behind the scenes, through their own hybrids, then we can see that the Earth's hidden rulers are divided into distinct factions with a long history of conflict stemming from rivalries.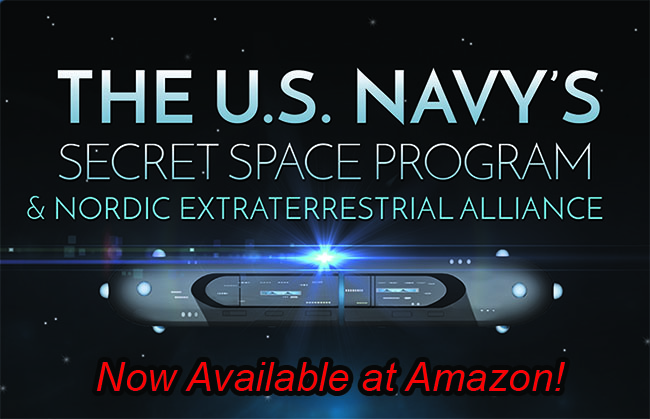 This is perhaps nowhere better exemplified than in the Book of Enoch, which describes different groups of "angels" at war with one another. In the Cosmic Disclosure interview, Goode and Wilcock exchanged the following on this subject:
David: So in the Book of Enoch, they're describing this group as the fallen angels.
Corey: Uh-huh.
David: So you're saying these Pre-Adamites with the elongated skulls, that that is the fallen angel storyline.
Corey: It is the fallen angel storyline, yes.
Many of the original refugee Pre-Adamites are currently in stasis in their motherships buried under the Antarctica ice:
Well, they had a number of beings that were in stasis. The information I received was that the surviving Pre-Adamites, the bloodline that originally came from another planet, had put themselves in stasis before this cataclysm occurred about 12,800 years ago. They have not awoken them yet. They're trying to decide what they're going to do.
Goode then goes into some detail about the "limited disclosure" plan, which involves sanitizing the archeological site of anything having to do with extraterrestrial life:
Now, another interesting note, we do have these archaeologists and employees of various universities that are down there excavating and documenting all of this, but what they have done, they being the Cabal, I guess you'll say, they have used these large electromagnetic submariines that I discussed earlier to take a lot of archaeological items that they had found in other digs that they were keeping suppressed from humanity, they had them in huge warehouses.
They were taking some of these artifacts down to Antarctica and seeding them. And this one large dig that these archaeologists are going to make public.
They are also removing any body that does not look human. And a lot of the human bodies, they don't look like they were slaves. They have tunics that have gold thread weaved in the tunics. They look royal.
The next step in this limited disclosure plan, according to Goode, is to slowly reveal in a many decades long process, the existence of secret space programs:
So they're planning on giving us a sanitized disclosure, and then over time they will disclose the Military-Industrial Complex Secret Space Program.
And after they do that, they'll say, "Oh, by the way, yeah, we've got this fairly advanced Secret Space Program, and while we've been out to other planets, we've found very similar ruins as we've found in Antarctica.
So they're going to try to trickle the information down over decades, and not immediately tell us about the ships they found and the high technology and non-humans.
What Goode has been told and personally witnessed in Antarctica tells us a lot about Antarctica's secret history, and the role of different extraterrestrial groups who established control over this vast icy continent almost double the size of the lower 48 US states. Goode also leaves us with a profound question to contemplate: "what happens when the Pre-Adamites are awakened in their stasis chambers and discover our current global civilization is very different to what they may desire?"
© Michael E. Salla, Ph.D. Copyright Notice 
Further Reading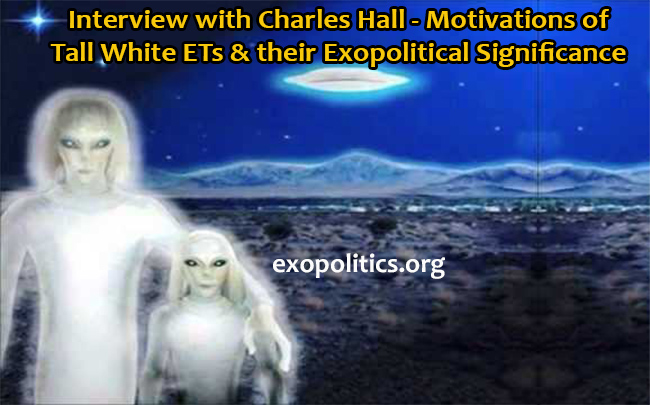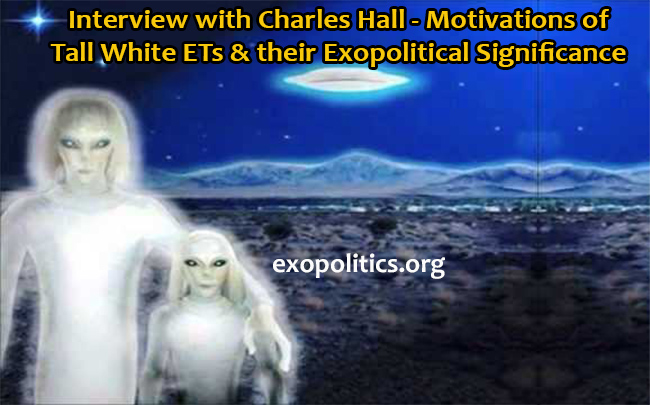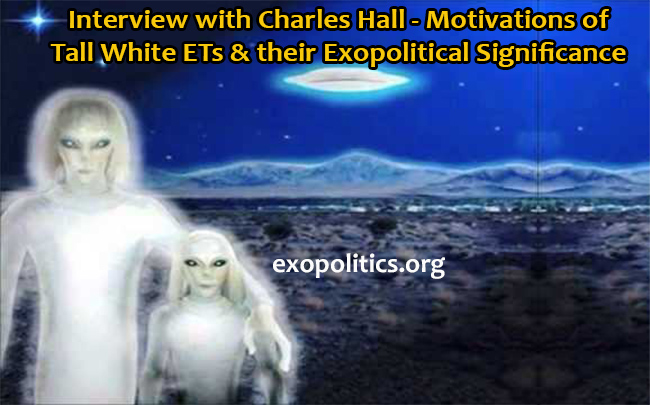 In a December 11, 2016 report, secret space program whistleblower Corey Goode described an announcement of the existence of Tall White extraterrestrials as an option being considered for a limited disclosure initiative orchestrated by the U.S. Air Force, Defense Intelligence Agency and the National Security Agency.  Goode said:
Another potential plan that is in the "optional" category involves the possible disclosure of a single ET group known as the "Tall Whites." This is the group that Charles Hall and others have met up with. The Cabal might try to introduce us to this group, explain they have been around for a really long time, and hope that they can get us to follow a mystical new religion offered by these beings. This would definitely not be in humanity's best interest.
In order to acquaint readers to Charles Hall and his testimony concerning the Tall Whites, and why Goode's conclusion about them is accurate, I have decided to re-post a series of articles and interviews about Hall's testimony, which began in November 2004. What follows is the second article in the series. The first article is available here.

Michael Salla, Ph.D.
Dec 26, 2016
---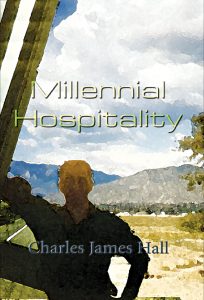 [Repost from Dec 3, 2004] What follows is based on an interview with Charles Hall on Dec 2, 2004, regarding the existence of the tall white extraterrestrials that he met while serving at Nellis Air Force base as a duty weather observer from 1965-67. His experiences are recorded in his three volume set of books, Millennial Hospitality. I had earlier read the first two volumes of his book series and recorded my impressions in a short article. I was put in touch with Charles Hall by Paola Harris who was the first major UFO researcher to thoroughly investigate the case.
In the interview, I asked a series of questions and recorded his replies by taking notes. My aim in conducting the interview was to get a better idea of the motivations of the 'tall whites' and their exopolitical significance on Earth. I begin this evaluation of my interview by first outlining my questions and Charles Hall's replies. I finish with my evaluation of his testimony and books which I believe is vitally important as a possible disclosure initiative that will attract much public attention and carries great exopolitical significance.
Michael E. Salla, PhD
December 3, 2004
*********************
Q. Why did you call the book a work of fiction?
He had to protect himself and men who served with him. He changed names to protect the innocent, including himself and other serviceman. People he replaced experienced severe psychological pressure and trauma. Some wouldn't want to be mentioned so he didn't give their correct names. He affirmed that everything in the books is true. It is as close to a documentary of events he experienced as possible.
Q. How did you recall all conversations recorded in the book?
He didn't keep a dairy, but kept a log book. He basically relied on memory in writing the book. He relived the emotions as he covered each experience, and this helped his recollection of events and conversations. Key episodes were basically etched into his mind. He had to summarize many conversations. Some conversations had to be reconstructed. Usually conversations with other airmen are summarized/reconstructed. Conversations with tall whites are close to verbatim since the Tall whites didn't talk much. Tall White men especially didn't speak much at all. Tall white women were more talkative than the men. If Tall Whites didn't wear their communication equipment, then they wouldn't communicate at all. Charles wanted to capture all the emotions he experienced and these are faithfully recorded in the book.
Q. When did you start writing the books?
He first tried telling people verbally about his experiences during 1965-68. When he got a word processor in 1985, he began the typing process using floppy disks. Writing was a slow process for technical reasons and also emotionally since he relived the experiences and this took much time. For example, it took six months before he could control his fears of the tall whites back in 1965.
Q. When did you finish the book?
Back in the 1980s he had trouble in finding a potential publisher for his planned autobiography and also had family responsibilities. In 2002 he became unemployed and began to edit, polish, and publish what he had written so far. The publisher he found, Firstbook.com allowed him to publish it as a 'print-on-demand' book where he controlled copyright, etc. He is still not satisfied with what has been published so far, and wants to edit the first volume one more time. Basically the book was work in progress since 1985 up until 2002. Final editing was done from late 2002 to early 2003.
Q. Did you ever take photos?
He never took any photos. When out there by himself he was worried about keeping himself alive and taking photos wasn't thought of. Initially he thought he was dreaming (that's why he believes Area 51 is called dreamland). This was a reason why he never thought about taking photos. Later when he realized that the tall whites were real, he talked himself out of it when he went back to his base, so he didn't think about photos.
Also, he didn't want to offend the tall whites and stayed on his best behavior. He didn't think taking pictures was prudent and might offend them, and they could destroy the evidence anyway since they always had access to his belongings.
Q. Did any of the other servicemen ever take pictures of Tall Whites that you were aware of?
He was not aware of that happening, but recalled a paperback book published back in early 1990s there is a set of pictures of tall whites which he believes are authentic. These were published by a New Jersey housewife who traveled to Albuquerque New Mexico and said that she waited on a public highway when she saw a scout craft and she took six pictures of the tall whites standing 6′ 6″. He believes photos are authentic. The implication was that some serviceman had taken the photos and sent them to the author who gave a cover story for how she got the photos. He couldn't recall the name of the book or the author.
Q. Have you ever been approached or briefed by agencies not to disclose the events on Nellis?
No. He said that weather information was never classified. As a weather observer he was never part of a classified project where security oaths were taken. The orders given to Charlie were classified, but nothing he did was ever to be classified. That was a decision taken by a committee including the tall whites and others in the Pentagon. The idea was that Charlie would be free to interact with the tall whites without being continually briefed. He said that the American generals would do anything to get technology transfers. Generals would permit tall whites to kill service men if they were offended, threatened or harmed. He described an incident in his book where a serviceman had to beg for his life when he yelled at a tall white child. The only reason the tall white didn't kill him according to Charles was that a tall white male came over to the tall white female and told her that since the serviceman hadn't hurt the child, the American generals wouldn't understand why she would kill the serviceman. Charles said that the generals however thought military servicemen were expendable, and wouldn't allow any killing by the tall whites to stop technology transfers.
Q. Were other servicemen killed by tall whites for offending them?
He explained an incident back in Sept 1965 near the mountain at Indian Springs where the tall whites had their main hangar. One of the cover stories for sightings of tall whites was that they were big horn sheep in the desert. One hunter wanted to shoot one of the 'sheep' and rented horses and went with his friend. The hunters eventually separated, and one hunter went near the hangar where the tall whites are based, and took a shot at one of the kids. The tall whites grabbed him and handed him to the human guards who were military personnel. The human guards shot him and gave a cover story for his accidental death. The guards found his friend and beat him up, and threw him into the brig for about six weeks.
Charles said that usually if one wasn't hurting anyone and was just unarmed and hiking, etc., tall whites wouldn't bother one. Basically, they would kill if threatened if any way. They believe in tit for tat. If you did nothing to scare or hurt them, the worst they would is to pleasantly scare you away.
Q. You say that the Generals were desperate for technology exchange with tall whites, why do you say that?
They would do anything to maintain good relations with tall whites to get technology.
The tall white 'Teacher' had conversations with Charles that demonstrated this. American generals wouldn't stop tall whites if they were intent on killing servicemen who had hurt any tall white child. Tall whites exchanged technologies such as radio and communications systems, but not faster than light speed technology. Technology exchange was done on the basis on only those technologies that would benefit Tall Whites, such as good radios and communications that they could use as well if necessary.
He gave the example that the tall whites would help with a nuclear powered craft but not propulsion systems for deep space travel. Anti-gravity technologies were not shared with the generals which were deep space capable. American generals were sometimes in the scout craft of the tall whites so the technology for the scout ships was shared to an extent since the scout ships were made on Earth using materials here with the assistance of the US military. Tall Whites sometimes participated in classified meetings and helped with technology development. Charles describes how much of the technology transfer occurs. Basically, the tall whites would participate in classified meetings by sitting in and helping with some well placed questions.
Q. In vol one, you describe an incident where mental images entered your mind about the Tall Whites in the frontier era, can you explain?
Charles described how he was reading the History of the West, and the history of Death Valley and Indian Springs, he remembered mental images of tall whites in the frontier era when the Tall Whites. These images just entered his mind when the tall whites were nearby, and left when the tall whites departed.
Q. In the book, you mention 1954 as the first time reports of the Tall Whites were made in the vicinity of Nellis. Is there any earlier date or evidence you would think would support the presence of the Tall Whites presence in the area?
He said that the legend of Range Four Harry (a description used for the tall whites by servicemen at the Nellis base) went back at least as far least 1954.
Q. Do you think these mental images you observed were real historical events or fabricated?
He felt that the mental images were based on real historical events. He noted that when the tall whites moved away, the images stopped. This suggested that the tall whites were feeding him these images to give him historical information that they wanted to pass on.
Q. Do you believe that Tall Whites have been in the Indian Springs area for a couple of hundred years?
Yes. He was told that Pamela (a tall white) was born in that valley during the James Madison era. They like the valley because it's hot and that is an important requirement for them.
What do you think the motivations of the Tall Whites are in terms of their presence on Earth?
They used the base as a place for their deep space craft. Same as the way US Navy would use a base in the Pacific. They used the base to refuel, repair and refit their deep space craft. He talked about the long distances in space and need for a base on a planet like Earth where they can get supplies, make repairs, etc. Since deep space craft arrived and left on schedule, this meant they were engaged in commerce.
Q. Basically you believe they just wish to use Earth as a base for their deep space travel, and don't have any ulterior motive to colonize the Earth or dominate national governments?
Yes, that's his belief. From the tall white's point of view, they are very happy with what they have, and their long life span – ten times longer than we do. They took ten times longer to age and also to heal. They were amazed at how quickly Hall could heal, and he described how they watched him closely when he bruised himself and healed within a day.
Charles argues that the tall whites like to keep to themselves, and don't have any interest in dominating the Earth or taking over governments. They just want to maintain friendly relations with the US government so they can continue to use the base. He affirms that they are not interested in dominating or colonizing the Earth.
Q. In vol three, you describe an incident where you were burned by microwave weapons, can you elaborate?
He explained how the pencil weapon can be used by the tall whites to cause great pain, death, or sleep. He describes an incident where a CIA guard tried to help a tall white female in getting up the stairs at the Congressional building, but the guard inadvertently hurt the tall white and she threatened CIA guard who had to beg for his life. He explains that the pencil weapon can be used to stimulate calcium atomic frequencies to cause great pain like being burned, but one was not actually burned. When the iodine setting is used by the stun gun it can cause one to bleed to death. He compared this to the black plague when people would bleed to death due to arteries being weakened and blood would leak out causing death. In an email, Charles clarified how the pencil weapon works: "The pencil weapon could be set to stimulate the atomic frequencies of Sodium, Calcium or Iodine. Stimulating the Sodium atoms caused immense pain because it caused the nerves to discharge. If the weapon is set high enough, it can cause instant death. Stimulating the Calcium atoms caused the reverse (i.e. sleep, calmness, relaxation etc ) because it causes the nerves to reset and relax. Stimulating the Iodine atoms, of course, as described in book three, causes death by internal bleeding because it causes chemical changes that allow the blood to pass through the walls of the arteries in and around the thyroid gland."
He said that tall whites tempers can change very quickly from friendly to hostile. The pencil weapon was used against Charles in a misunderstanding that was described in his book where but the iodine setting was used which caused internal bleeding. He recalls seeing a friendly tall white female approach him when he was lying hurt and she did a kind of graceful dance around him. In an email he described that tall white as "a young female, probably equivalent to a human young woman of age 19. she stood approximately 5'10 – 5′ 11" tall. She had a male companion who I always guessed was her brother because the two of them looked like fraternal twins. She and I were completely unafraid of each other. On a number of
evenings when I was making the morning balloon run, she would come up and stand beside or near me or slightly behind me. Frequently she would come within arm's length and still not show the slightest fear of me. Likewise, when she came in that close, I also did not feel any particular fear of her either. Her brother, by comparison, was always noticeably afraid of me and always kept his distance from me ( usually he stayed back at least 50 – 60 feet ). He obviously liked me, but also, he obviously never trusted me. For example, he would never turn his back to me when he was anywhere in my area ( i.e. within a 100 feet ).
Q. If this could occur to you after all the trust that was developed with the Tall Whites, what does that suggest for most members of humanity?
The idea that Tall Whites can turn on one and use weapons even despite all the good things that have been done is generally correct. Tall Whites differ very much in temperament and personality as do humans. He explained an incident involving a tall white general who wouldn't brook any discussion and could be cruel if he felt he was not being obeyed to the letter. Yet the tall white doctor was quite friendly and would approach very closely. So basically the tall whites are quite varied in terms of personality.
The tall white captain described in Charles book was a nice enough guy, but he only came around humans when it was necessary. He only wanted to know about humans to the extent it would help him do his job. A cultural difference was evident as in cases where Americans might befriend a Japanese, but wouldn't want to socialize with Japanese. He stressed that tall whites vary tremendously in personality.
Q. When was the last time you directly communicated with a Tall White?
He referred to what was described in book three which is when he left for military service in Vietnam in 1967. Subsequent to then, he has had no communication with the tall whites.
Final Comments by Charles Hall.
There are many episodes he had that he didn't include in the book. For example, in 1965 American generals were showing Tall White Generals through the military barracks that he slept in. When that first started happening, he thought he was dreaming. He remembers Generals talking to Tall Whites about taking Air force officers with the tall whites on scout craft. In an email, Charles elaborated on this: "The American Generals were deiscussing the possibility of the tall whites taking two young American Officers on board the Tall White's Black Deep Space craft ( ie. to another nearby star ). I personnally saw the American Genrals themselves with their tall white counterparts boarding and deboarding the white scout craft." He thought the discussion was too risky to include since it included what he felt was sensitive material that was probably classified.
He stressed how the tall whites would follow agreements to the letter. He gave the example of an agreement he had with the tall whites. They would basically never sneak up behind him and scare him, and he would be sure to never do the same to him to them. This agreement was closely followed in all the interactions Charles had with the tall whites and helped him survive. Basically, he believed the tall whites could be trusted once they had agreed to something.

Evaluation and Exopolitical Analysis of Charles Hall
I found Charles Hall to be very credible and compelling in his response to questions. He displays great integrity and is quite sincere in describing solely the facts concerning his experiences. He described his experiences with the Tall Whites in a very objective manner, and the emotional reality of the experiences were quite vivid and conveyed much information about his state of mind and the seriousness of the experiences he had. The emotions that Charles objectively described in great detail conveyed the extent to which what he was experiencing shook his world view, and the world views of those around him.
Charles knowledge of the tall white's interaction with the US Air force generals is very enlightening in terms of the way agreements were followed to the letter. It appears that the tall whites are quite legalistic and this appears to be something that the US military finds to be helpful in working with them. This is very significant in the technology exchanges which Hall describes were vitally important for the US military. The tall whites were quite clear that only certain categories of technology would be shared. Categories that presumably would not give the US military deep space capabilities. According to Charles, this technology exchange involved the US collaborating in the construction of scout craft used by the Tall Whites. Providing the required material for the tall whites presumably would have helped US scientists understand the principles of space flight. Since this is what Charles observed in the mid 1960s, it may be presumed that larger constructions may have been more recently attempted that have more advanced propulsion systems than nuclear power. The exopolitical question here is what would the tall whites gain or have gained in return for allowing US authorities to collaborate in building larger space craft. If technology for smaller scout craft was given in exchange for basing rights, what Earth resources would be or have been traded for larger constructions using more advanced propulsion systems?
Charles Hall comes across as very thoughtful and very intelligent. He has a Master's degree in nuclear physics and believes he has worked out some of the main principles of the tall white's deep space propulsion system. He doesn't pull any punches in describing the intimidating behavior of the Tall Whites, and their readiness to use deadly force to protect themselves and especially their children against potential threats – intended or otherwise. Even surprising or scaring tall white children could lead to tall white adults intimidating humans with their advanced weaponry as his book makes clear.
Significantly, in his book he describes how the tall whites would threaten to kill humans who scared or disobeyed them [for quotes click here]. In the interview, however, he focused on how the tall whites would only respond when they were threatened in some way. He stressed the principle of "tit for tat" that the tall whites followed which is well understood in human society and is a principle found in biblical documents (lex talionis). It appeared that in the interview, Charles was portraying the tall whites in a more reasonable light than described in his book. While it was clear that Charles was being as objective as possible, the discrepancy between his book narration and the interview in terms of the conditions when tall whites threatened to kill or intimidated military servicemen and humans in general, suggested he was painting a more sympathetic picture of their behavior than in the book. This is something I hope he can clarify later since it helps contextualize the motivations of the tall whites on Earth.
Charles describes the tall whites as having no ulterior designs on the Earth in terms of colonizing it or taking over governments. He stressed the analogy of the use of overseas bases by the US military such as in the case of US bases in Italy or the Pacific. The idea was that the use of such bases was purely done to facilitate the operations of the US military, while recognizing local sovereignty and customs. So just as the US government/military has no ulterior motive for control of Italy through its base there, so too the tall whites have no ulterior motivation to control the Earth.
This is quite a controversial argument since the control of bases throughout different periods of history is quite contentious, and was part of the dynamics that drove colonialism. Indeed, the existence of military bases in the Saudi Arabia were a major factor influencing regional perceptions of US motivations in the Middle East, and influenced events in Afghanistan and Iraq. If the tall whites need the Earth as a base for their deep space operations and commerce, then it would be naïve to believe they have no interest in influencing human affairs, and political institutions. Human history shows that when foreign powers establish bases on one's territories, it's hard to get such powers to leave, and to prevent them from interfering from local political affairs. We may have already achieved that point due to agreements reached between the secret committees managing extraterrestrial affairs and the tall whites.
Charles believes that the tall whites have been on Earth since at least the early 1950's, and possibly as long as a hundred years or more based on what some Tall Whites related to him, and mental images he received when reading about local history of Indian springs. This will be a critical question to explore since obviously the time of the first appearance of the Tall Whites on Earth will influence our assessment of their ultimate goals here. If they have been here for a century or more as Hall suggests and which he was influenced to believe from the tall whites, then it would be fair to assess that they have no ulterior design on controlling the Earth. Presumably, they could have easily taken over control of the Earth in the early 19th century. If however the tall whites appeared subsequent to the 1954 Eisenhower-ET agreements (see here) then it is very likely that the Tall Whites have ulterior motives which go significantly beyond merely resupplying and repairing their deep space craft on route to other interstellar locations. The use of time travel technologies might be used by the tall whites to buttress the idea that they have been on Earth for centuries, but this could be entirely fabricated.
I believe that the tall whites were associated with the 1954 Eisenhower-ET meetings and that they subsequently established their base in the Indian Springs area of Nevada in that time period. It was clear that Charles was subtly influenced by the tall whites to believe they have been present in different periods of US history. The ability of the tall whites to refer to earlier historical periods and their presence is possibly due to advanced technologies such as time travel which they can use to influence our perceptions of their historical presence. This will be naturally controversial but is vitally important as knowledge of the tall whites becomes more widespread, and their exopolitical significance is discussed.
In sum, my view is that Charles Hall testimony is vitally important information that has great exopolitical significance, and is likely to gain widespread public interest. Already, various media outlets are treating the Charles Hall story as a major disclosure event, and Hall's obvious integrity, clarity and coherence is generating much public interest. Hall's disclosure of his experiences at Nellis Air Force base at Indian Springs from 1965-67 will likely play a major role in public disclosure of the extraterrestrial presence, and will help shape public perceptions of extraterrestrials and their presence on Earth.
© Michael E. Salla, PhD
December 3, 2004
http://162.144.207.78/~exopoli3
drsalla@exopolitics.org

Forward as you wish. Permission is granted to circulate among private individuals and groups, post on all Internet sites and publish in full in all not-for-profit publications. Contact author for all other rights, which are reserved.