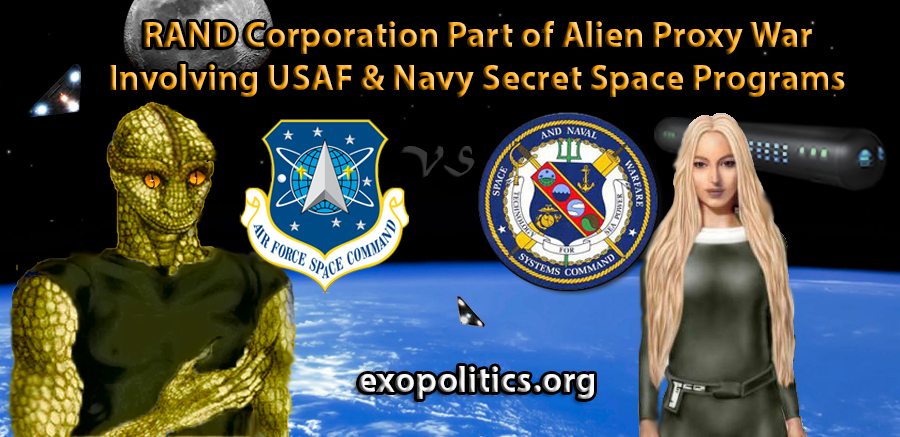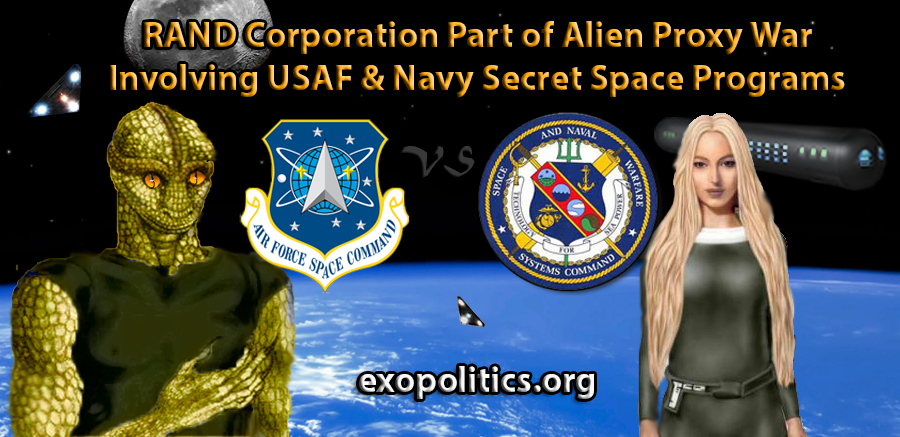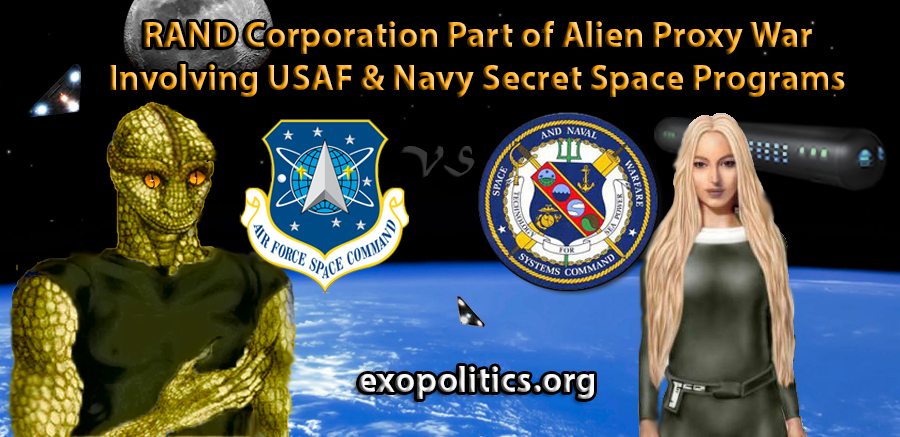 [Click here for Part 1] In a September 19 phone interview, William Tompkins said that in addition to two generals, two admirals were in the Douglas Working Group created shortly after the February 1942 Los Angeles UFO incident, which ultimately led to the formation of Project RAND in 1945. The RAND Corporation website, however, only mentions two generals, Curtis LeMay and Lauris Norstad, in the creation of Project RAND. There was no mention of Navy admirals involved in Project RAND, even though according to Tompkins, the Navy was a major player in the study of antigravity craft both during and after World War II.
During World War II, Tompkins says that he made multiple visits to Naval facilities in China Lake and Pennsylvannia, which were closely examining the briefing packets he was delivering based on the debriefings of 29 spies in multiple Nazi aerospace projects. Clearly, the Navy was interested in developing antigravity craft, but its role would be unacknowledged, as far the official history of the RAND Corporation was involved.
Only Army Air Force officials would be acknowledged by official RAND historians, and this was reflected in the growing influence of the soon to be created U.S. Air Force, which had its own ideas in how to deal with extraterrestrial visitors and the Nazi presence in Antarctica.
By late 1947, a decision was made to separate RAND from Douglas, as the RAND website explains:
By late 1947, it seemed as though Project RAND—which was already operating fairly autonomously—should consider separating from Douglas. In February 1948, the Chief of Staff of the newly created United States Air Force wrote a letter to the president of the Douglas Aircraft Company that approved the evolution of Project RAND into a nonprofit corporation, independent of Douglas.

According to Tompkins the separation was not as smooth a transition as the RAND website depicts. He said in his September 19 interview that roughly two thirds of the personnel working in Project RAND moved over to the Santa Monica facility for the newly created RAND Corporation, while one third remained with Douglas at its own facilities in Santa Monica.
It is this remnant of Project RAND that formed the secret Douglas think tank, Advanced Design, which Tompkins began working for in early 1951 after joining Douglas only months earlier in late 1950. Tompkins likened the separation of Project RAND from Douglas as a traumatic divorce, as he describes in his book, Selected by Extraterrestrials (p.58):
I had been flying up to Douglas, from Naval Air Station North Island San Diego, since spring 1943… Now seven years later, it had been over a year since the divorce. The atmosphere in the Tank was thick with overwhelming tension and resentment. The personnel who had been forced to stay with the family [Douglas Aircraft Company] were hit the hardest. Those who wanted to stay, but who had to leave, also had strong feelings.
Tompkins went on to describe his surprise in 1951 when he learned of the antigravity projects being secretly studied by the Douglas scientists and engineers in its classified think tank, and how a separate think tank [RAND Project] had been created to study antigravity technology:
We were totally unaware that this strange, out-of-this-world thing had ever existed inside a classified engineering area, inside an aircraft company, one which in turn, must have existed inside another classified area. Another Think Tank, comprised of other people, was also tasked to evaluate the unbelievable events. [Selected by Extraterrestrials, p. 58] 
Tompkins has supplied a document confirming that antigravity technology was indeed being studied by the Douglas Aircraft Company during this period. The document (on right) reveals that Tompkins superiors in the Douglas think tank, Elmer Wheaton and W.B. Klemperer, were researching UFO reports and antigravity studies in open source material.

What Tompkins says next in his book is very revealing in terms of the antagonistic relationship that quickly developed between the RAND Corporation and the Douglas think tank formed out of the personnel remaining from Project RAND:
For years, this was a thorn in our sides. We were subjected to continuous interruptions in our conference rooms, by other people who appeared there to evaluate our studies and concepts. [Selected by Extraterrestrials, p. 58] 
Elsewhere in his book, Tompkins describes acts of industrial sabotage that set back the Navy's efforts to work with Douglas Advanced Design think tank in designing future Navy Space Battle groups.
On the one hand, human-looking extraterrestrials that appeared Scandinavian, and were hence described by Tompkins as "Nordics", were helping Douglas engineers in designing kilometers-long space carriers and cruisers. Tompkins says that the Nordic extraterrestrials were cultivating the U.S. Navy as future allies in the military conflicts that were occurring with Draconian Reptilians, elsewhere in the galaxy.
On the other hand, according to Tompkins, the Draconians, along with their Nazi allies, were sabotaging projects that Douglas Advanced Design were working on for the future Navy space battle groups. The RAND Corporation, according to Tompkins testimony, was linked to this industrial sabotage, suggesting that RAND and the USAF, was being influenced by the Draconian extraterrestrials and Nazis.
There are two major issues to consider here when evaluating Tompkins incredible testimony about Nordic and Draconian extraterrestrials using the U.S. Navy and Air Force as proxies in a galactic conflict. Both directly relate to the history of the RAND Corporation and its current activities.
First, it is well known that former Navy Secretary, James Forrestal, who became the inaugural Secretary of Defense in September 1947, was locked in a number of bitter policy struggles with Stuart Symington, the first Secretary of the U.S. Air Force (from September 1947 to April 1950).
What is not well known, according to Tompkins, is that Forrestal was in charge of the Navy espionage program on the Nazi antigravity programs and their alliance with Draconian Reptilians during World War II. Tompkins says that the findings of the Navy espionage program led directly to Forrestal's order to establish the Office of Research and Inventions in May 1945 (image below).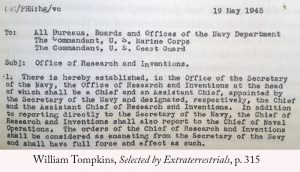 Forrestal's role in the Navy's espionage program was very likely a significant factor in his promotion to Secretary of Defense since he was more aware of the nuances and extent of the problem. Forrestal was in favor of the four military services (Army, Navy, Air Force and Marines), which emerged from the 1947 National Security Act, working together to solve the Nazi and extraterrestrial problem, and to reveal more of the truth to the general public.
Tompkins believes that Forrestal was being directly influenced by Nordic extraterrestrials who even met with him. However, Forrestal was in a small minority among the policy makers dealing with the Nazi and extraterrestrial problem through an appointed committee set up by President Truman in 1947 that was called Operation Majestic 12 (see Truman Memo on right).

Symington was firmly opposed to Forrestal's policies, and was a direct factor in the events that led to his sacking as Secretary of Defense on March 28, 1949, and "assassination" two months later. Significantly, this was the same period when the Navy and Army Air Force collaboration in Project RAND came to an end, and the RAND Corporation was launched under Air Force dominance in early 1948.
In my September 19 phone interview, Tompkins estimated that 75% of the projects explored by the Advanced Design division at Douglas was sponsored by the Navy, while 25% were sponsored by the USAF. The situation at the RAND Corporation was almost the exact reverse, with the USAF being the major sponsor of military projects.
The second issue to consider about a proxy extraterrestrial war involving rival USAF and Navy antigravity programs, is a number of whistleblower testimonies that the USAF led the way in a secret treaty with a group of extraterrestrials directly connected with the Nazi Reptilian alliance. In February 1955, a meeting occurred at Holloman Air Force Base where President Eisenhower secretly negotiated a treaty with a group of Nazi linked extraterrestrials called the Tall Grays.

As described in the book, Insiders Reveal Secret Space Programs and Extraterrestrial Alliances, this treaty was really a negotiated surrender. It emerged as a direct result of UFO flyovers in the summer of 1952 where squadrons of Nazi flying saucers flew over Washington DC., on successive weekends, and the USAF could do nothing to intercept and shoot down the craft.  
The 1955 treaty led to the infiltration of the U.S. Military Industrial Complex by Nazi operatives. The goal was to utilize the manpower and resources of the U.S. for the Dark Fleet and its expanding interplanetary colonies and interstellar missions in support of the Draconian extraterrestrials as described at length by Corey Goode and Tompkins.
As stated by a number of whistleblowers, the USAF worked directly with extraterrestrials and Nazis behind the 1955 agreement to develop squadrons of antigravity spacecraft in the 1960's and 1970's for a USAF run secret space program. This cooperation largely continues to the present day, and comprises antigravity craft such as the TR-3B flying triangle operating out of Area 51 in Nevada.
The RAND Corporation continues to help the USAF develop a coherent policy in terms of global research and development related to its secret space program, which is entirely separate to the very public NASA space program. RAND would, in collaboration with the US Air Force, secretly study antigravity designs that could in future help develop squadrons of USAF antigravity spacecraft.
In contrast, up to the early 1960's, the US Navy worked with Douglas Aircraft's Advanced Design in designing space battle groups with kilometers-long space carriers and cruisers as Tompkins has recently revealed. The U.S. Navy ultimately succeeded in developing kilometers-long ships for its space battle groups out of its classified research facilities in China Lake, California, and Wasatch Mountains, Utah in collaboration with major corporate aerospace contractors such as Northrup Grumman and Boeing (which inherited the old Douglas think tank with its merger with McDonnell-Douglas in 1997).
This success, according to Tompkins, would not have been possible without the covert assistance of Nordic extraterrestrials. According to Tompkins, and Goode, the first space battle groups were deployed in the mid-1980's, and there are currently eight in operation in the Navy's Solar Warden program.
Tompkins has further revealed that Navy's annual "West" meetings in San Diego, where leading aerospace companies come together to share their research and development findings, has among its purposes, the goal of finding the latest technologies that may be of use for the Navy's secret space program. Tompkins says that he has attended all of these Navy West meetings since the year 2000, and plans to attend again in 2017 where he has clearance to attend classified meetings.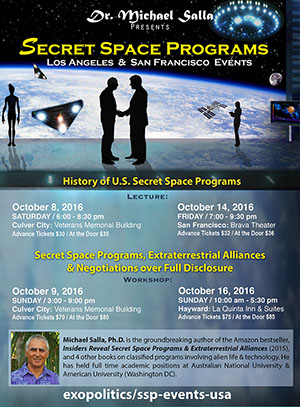 Thanks to Tompkins ' remarkable testimony we know more of the real history of the RAND Corporation and some of the internal dynamics of the conflict happening behind the scenes involving the US Navy and Air Force. Both services effectively became proxies for different extraterrestrial groups that had infiltrated the U.S. Military Industrial Complex, who respectively wanted to either assist or sabotage/delay the development of U.S. secret space programs.
[Click here for Part 1]
© Michael E. Salla, Ph.D. Copyright Notice
Announcement: Documents and whistleblowers revealing the creation of antigravity spacecraft belonging U.S. secret space programs, and the role of RAND and other corporations, will be presented in an upcoming lecture and workshops in Los Angeles (Oct 8-9) and San Francisco (Oct 14 & 16) by best-selling Amazon.com author Dr Michael Salla. More info here.
Further Reading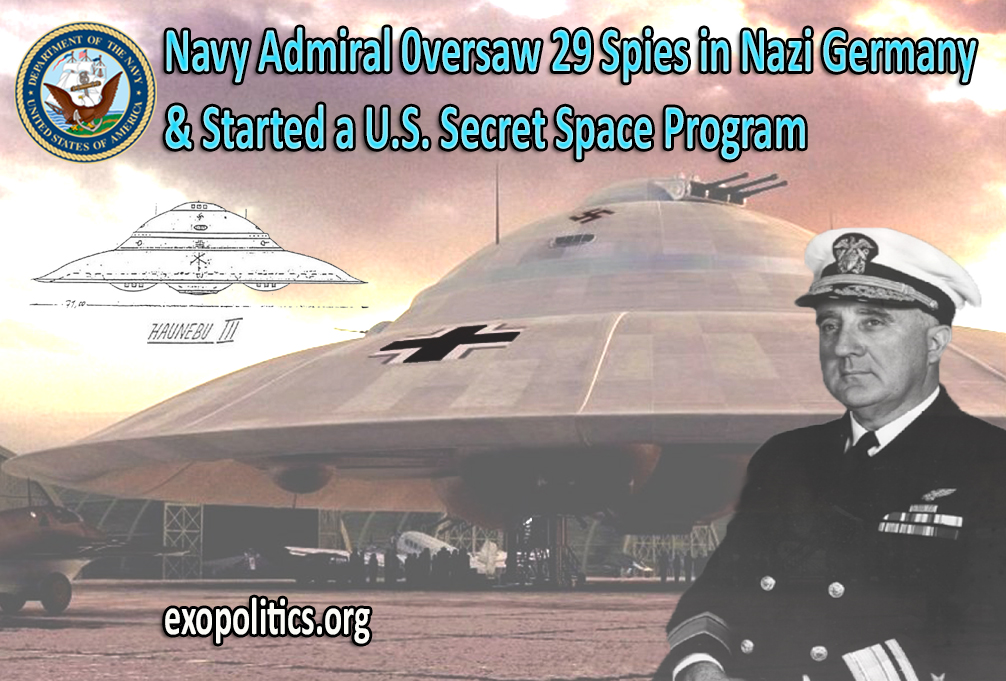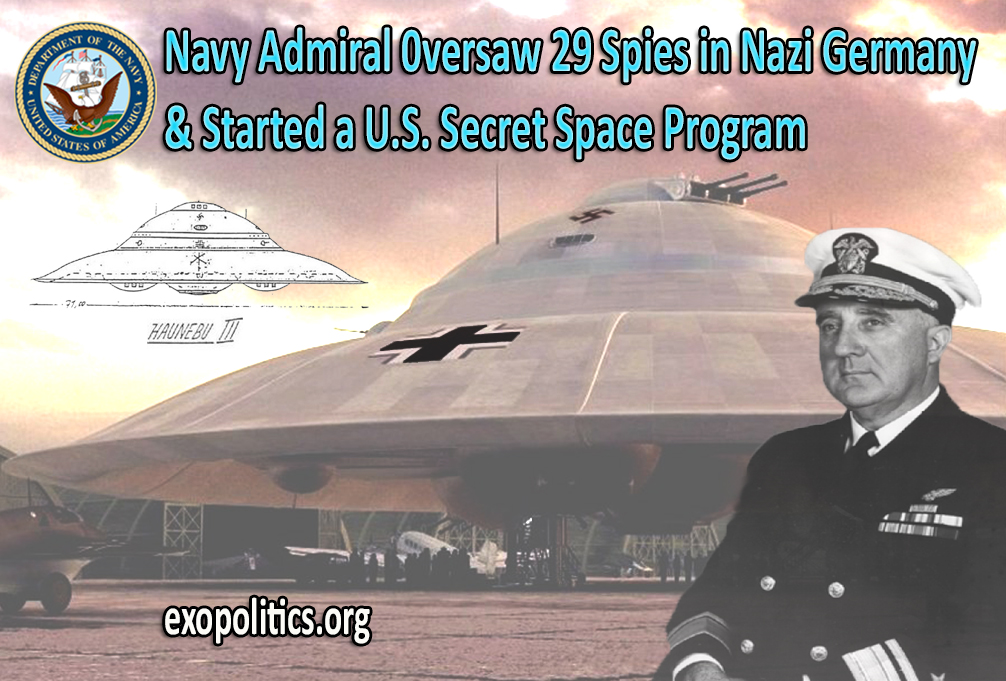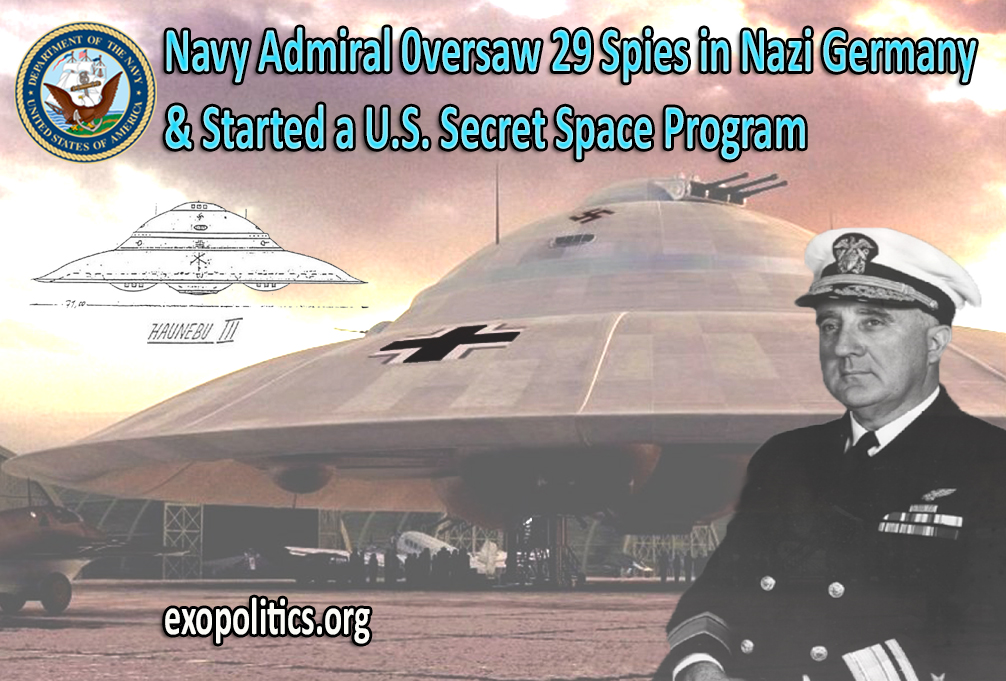 Rear Admiral Rico Botta was an extremely busy man during World War II. In addition to his official daytime naval duty as "Assembly and Repair Officer" at Naval Air Station, San Diego, in the evenings he led a covert Navy program operating with 29 spies embedded in Nazi Germany's most advanced aerospace programs which were developing antigravity flying saucers.
According to retired aerospace engineer, William Tompkins; from 1942 to 1946, Admiral Botta seamlessly performed his official and covert Navy duties. The covert program learned from the Navy operatives (Lieutenants in rank) that the Nazis had developed up to 30 prototypes of antigravity craft, some of which were capable of space flight.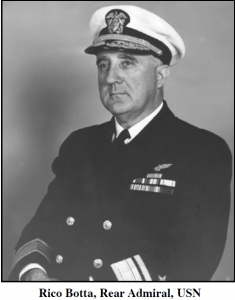 It was Admiral Botta's duty to understand both the war and post-war potential of the Nazi aerospace programs, and disseminate the relevant technical information acquired by the spies to his Navy superiors, and also select U.S. aerospace companies, think tanks and government laboratories.
Tompkins job was to assist Admiral Botta by physically taking the briefing packages created during the covert program to organizations with the technical expertise to understand the Nazi designs and prototypes, assess their feasibility, and incorporate them into the war effort, if possible.
Tompkins did this approximately 1200 times. Each late night debriefing session was run by the Admiral, with one or more out of a pool of three Navy captains in attendance, along with Tompkins and a stenographer to record the sessions.
After the official end of WWII, Botta went on to play a key role in starting a U.S. Navy led secret space program filling a number of positions until his final "official" assignment at Naval Air Material Center, Philadelphia, from 1950 until his retirement in 1952.
Admiral Botta's covert program was first publicly revealed in December 2015 by Tompkins in his book, Selected by Extraterrestrials.
Here Tompkins released a document  revealing his mission orders as a Disseminator of Naval Aircraft Research and Information, and explained how he would deliver briefing packages to various aerospace organizations.
Tompkins also released a document issued by Navy Secretary James Forrestal, which formalized the technology acquisition program headed by Admiral Botta within the newly created Office of Research and Inventions on May 19, 1945.

Yet more documents he released are two exit passes signed by Admiral Botta, which gave Tompkins permission to exit the Naval facility with his "briefing packages."
These two exit passes confirm Admiral Botta's direct role in the covert Navy program. It is hard evidence that Botta was leading a covert program at Naval Air Station, San Diego, which was authorized by Secretary Forrestal, as Tompkins has claimed.
Confirming Botta's role in the covert program described by Tompkins has been elusive up until recently. Botta's background and expertise would remain a mystery until researchers at Rense.com combined their efforts to find an official biography on him. 
Botta's biography was published on the website of the "Golden Eagles," an organization formed by naval aviators back in 1956.  Curiously, Botta's biography was only made available in March 2016, four months after Tompkins' Selected by Extraterrestrials was published and publicly identified Admiral (Rico) Botta (mistakenly spelled in the book as "Rick Obatta").
This occurrence, five years after the Golden Eagles website first appeared in 2011, is oddly coincidental, and suggestive of "official approval" for the release of Botta's biography into the public arena.

Despite the curious timing of its release, there is no reason to question the accuracy of Botta's biographical details as found on the Golden Eagles website.
Evaluating Admiral Botta's various commands and expertise will help considerably in determining whether or not he was capable of running the covert Navy Spy program alleged by Tompkins, and whether Tompkins testimony itself is credible.
One of the first issues to address about Admiral Botta's background is his rank while stationed at Naval Air Station, San Diego. His official position as "Assembly and Repair Officer" in normal circumstances would be filled by a Captain.
This is confirmed in the citation for his award of the "Legion of Merit" after WWII for his time at San Diego:
The President of the United States of America takes pleasure in presenting the Legion of Merit to Captain Rico Botta, United States Navy, for exceptionally meritorious conduct in the performance of outstanding services to the Government of the United States as the Assembly and Repair Officer, U.S. Naval Air Station, San Diego, California from 31 December 1942 to the termination of hostilities in August 1945.

Yet, on January 11, 1946, after the award of his Legion of Merit, Botta was retroactively promoted to Rear Admiral, spanning back to June 30, 1943. The Congressional record refers to the retroactive promotion due to a temporary assignment which meant that his position as 'Assembly and Repair Officer" had aquired flag officer responsibilities.
It's feasible that his temporary appointment as Admiral was due to the wartime responsibility of "Assembly and Repair Officer" expanding significantly beyond the normal command level involved during peacetime operations. This is certainly the view of WWII historians such as Ken McCanliss, who points out that Botta is among "a list of 58 Navy flag officers who were given retroactive promotions reflecting war time rank."
It's also possible that his temporary rank of Rear Admiral was due to him performing additional duties of extreme importance to the Navy, commensurate with the rank of Rear Admiral. This is what Tompkins' two May 1945 documents suggest in terms of a covert technology acquisition program that reported directly to Secretary Forrestal.
According to Tompkins, Forrestal directly intervened in ensuring Botta's temporary promotion to Rear Admiral since that was required for the covert program that Botta would head. It would certainly make a difference for Tompkins' briefing packages to be taken seriously if he was working for a Rear Admiral, rather than a Navy Captain, when he delivered them to leading aerospace companies.
Furthermore, Botta's background as an Australian citizen (he emigrated to the U.S. in 1908 at age 18), and not being a graduate of the U.S. Naval Academy, would likely have created additional hurdles to advancement to flag officer rank.
Botta's promotion supports Tompkins claim that in addition to Botta's official "daytime" duties, he also performed covert duties at night, in running the Navy spy program out of Nazi Germany, which required a flag officer to be in command. It's worth emphasizing that Tompkins recalls that when he began working under Botta in 1942, the latter wore the uniform of an admiral.
We can now examine some of Botta's other Naval assignments to assess whether he was capable of running a covert espionage program out of Germany to learn about its aerospace secrets.
According to his biography, Botta worked for the Bureau of Aeronautics for two periods. First from 1921 to 1924, and the second time from 1937 to 1942. During his second stint, he worked in the Engineering Division Material Branch and later was the head of the Power Plant Design Section.

Here is what we know of the Bureau of Aeronautics from Wikipedia:
The Bureau of Aeronautics (BuAer) was the U.S. Navy's material-support organization for naval aviation from 1921 to 1959. The bureau had "cognizance" (i.e., responsibility) for the design, procurement, and support of Naval aircraft and related systems.
These two assignments confirm that in 1942, Admiral Botta had nearly nine year's experience in a variety of areas associated with aircraft engineering, design and power supply. This had contributed to him developing a "superior and outstanding technical knowledge" as described in his "Legion of Merit" citation:
Captain Botta, by his superior and outstanding technical knowledge and skill, his great administrative ability and his constant devotion to duty enabled this Department to meet the ever increasing demands of the Fleet Air commands for combat aircraft of the latest type and with the latest combat-proved changes installed.

The citation is consistent with what Tompkins claims Botta was doing at the Naval Air Station with the covert operatives in Nazi Germany. It refers to Botta learning about the "latest type" of combat aircraft and changes to improve combat readiness for US Navy aircraft.
Consequently, if the Navy had spies embedded in Nazi Germany, then Admiral Botta would have been an ideal choice as someone who could debrief them, adequately assess the technical information involved, and pass on relevant information to select aerospace companies and think tanks for further study and development, as Tompkins contends.
Admiral Botta's career after WWII took him into positions that were directly involved in the study of antigravity technology that could help start a US Navy secret space program.
One of the Navy research centers that Tompkins says he took his briefing packages to during the war was the Naval Air Material Center, Philadelphia, Pennsylvania. The Naval Air Material Center was located at the Philadelphia Naval Shipyard, and during WWII was responsible for developing new aircraft technologies.
On July 1, 1950, Botta became the commander of the Naval Air Material Center, suggesting that he would be assisting it with developing experimental aerospace technologies, especially with regard to antigravity technologies.
Here is what was publicly known about experimental aviation projects at the Naval Air Material Center in 1944: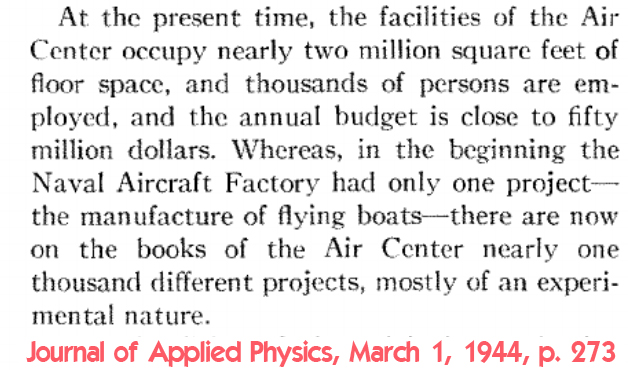 When Admiral Botta took over command of the Naval Air Material Center on July 1, 1950, he was in charge of a facility that was capable of running up to a 1000 experimental aviation projects. Not only is this powerful confirmation that Botta had the expertise to run a covert program with 29 operatives embedded in Nazi Germany's secret aerospace programs, but also that he continued to work on such projects well into the 1950's.
I therefore agree with Major George Filer's [USAF ret.] assessment of the significance of Botta's postwar assignments:
His [Botta's] leadership likely helped the Navy to lead in the development of disk craft and spaceships.

Tompkins claims that while employed at the Advanced Design think tank at Douglas Aircraft Company from 1951 to 1961, he worked on unsolicited proposals sent to the U.S. Navy for kilometers-long antigravity spacecraft. This suggests that Tompkins' proposals were assessed and developed, at least up to 1952, at the Naval Air Material Center run by his former boss, Admiral Botta.
A review of Admiral Botta's expertise, experience and military commands shows that it is very feasible that he ran a covert Navy operation out of Naval Air Station, San Diego, from 1942 to 1946, as Tompkins claims. Furthermore, Botta's post WWII assignments suggest that he continued to work on Navy aerospace projects associated with the antigravity space craft first developed by Nazi Germany.
It can be reasonably concluded that not only did Admiral Botta run a covert espionage program during World War II learning about Nazi Germany's successful development of antigravity space craft, but he also played a leading role in developing similar craft for the U.S. Navy.
Consequently, a review of Admiral Botta's background supports Tompkins claims that he (Tompkins) was directly involved in a covert Navy espionage program that learned about Nazi Germany's antigravity secrets, and passed these on to senior officials and leading aerospace companies, for the development of a secret space program run by the U.S. Navy.
© Michael E. Salla, Ph.D. Copyright Notice
Further Reading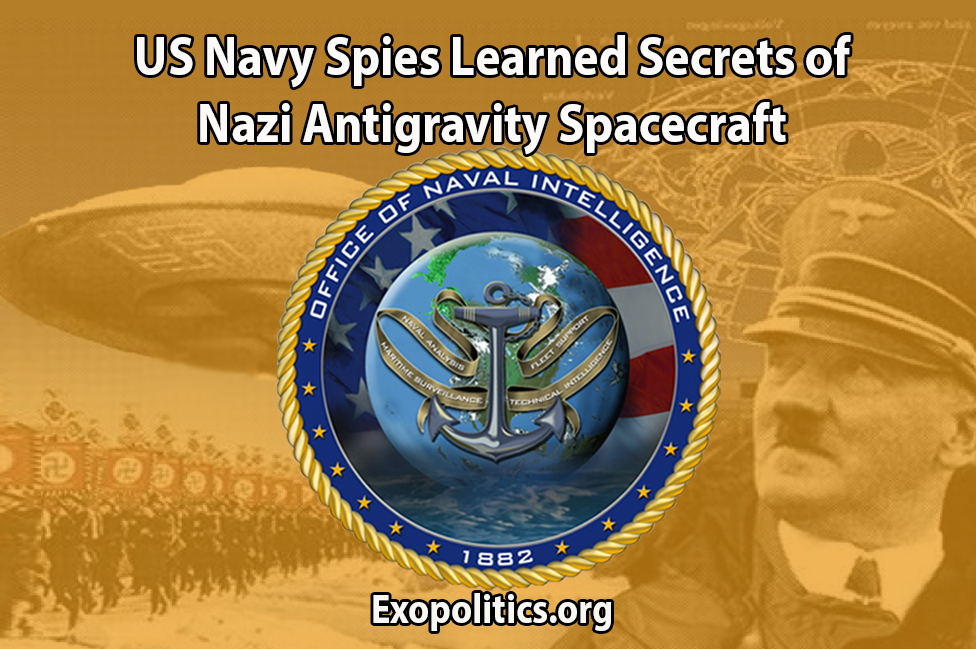 During World War II, a top secret espionage program was led by the United States Navy to infiltrate the black programs of Nazi Germany that were successfully building antigravity space craft capable of interplanetary flight. Covert naval operatives were embedded inside a number of Nazi Germany's advanced aerospace programs and tasked to report back what they had seen. This information was then relayed onto various U.S. corporations specifically contracted by the Navy that would begin designing and eventually building a variety of antigravity vehicles, including kilometer long space carriers.
These startling claims have been made by ex-Navy "information disseminator" William Tompkins, who in December 2015, released the first volume of his autobiography titled Selected by Extraterrestrials: My life in the top secret world of UFOs., think-tanks and Nordic secretaries. Tompkins says that he approached a Navy Admiral in 2001 to see if he had approval to write about his experiences:
Early in 2001 I called on Admiral Hugh Webster, Navy League Corporate Director, Washington DC and San Diego CA. We had a five hour meeting on my ongoing book–writing concerning the extraterrestrial threats to our planet. After Admiral Webster read portions of my document and backup technical documentation, I asked Hugh, "How much of this can I include in a published book?" He said. "Bill; TELL IT ALL. This is most important to our country. Don't leave anything out." [back cover]
Tompkins first public appearance was on the Jeff Rense show on December 14, 2015 (also Dec 23 & Jan 6 – pt 2), where he describes some of his book's disclosure filled content.  Tompkins went into detail about how he was recruited into the Navy's covert espionage program during WWII to study and reverse engineer Nazi-designed antigravity space craft.
Tompkins story begins in 1932, when he was only nine. He says he was taken by his father to the Navy's deep water breakwater in Long Beach California where he began the first of many public tours of aircraft carriers, battleships, cruisers and destroyers, which were anchored. The public was not allowed to take photos of the ships whose gun placements and radar designs were still classified.
Possessing a photographic memory, Tompkins says that he walked all around the ships and took notes of what he observed, and soon after began reproducing scaled models. Eight years later, Tompkins had built many flawlessly accurate detailed models of the navy ships he had seen, and his father was displaying them in a Hollywood Department store.
After the Navy learned about the model ships in 1941, displaying top secret details, they interrogated both Tompkins and his father, and the models were withdrawn from public circulation. The Navy top brass were nevertheless greatly impressed by Tompkins remarkable talent.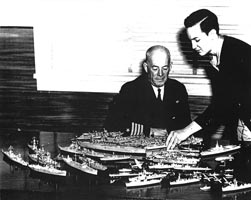 A March 26 article in the Evening Outlook newspaper of Santa Monica featured a photograph of Tompkins (now 17) showing some of his ship models to Navy Captain G.C. Gearing, Commandant of the 11th Naval District in San Diego.
Rear Admiral C. A. Blakeley was quoted in the Evening Outlook story:
It is with considerable interest and pleasure that I, together with officers of my staff, examined several of the ship models. Craftsmanship such as you have evidenced shows that you are a keen student of detail and naval construction. Best of all, however, you are doing something worthwhile as a young American—you are helping to build into the American mind the importance of the nation's first line of defense to each American, young and old.

His photographic memory and ability to reproduce complex ship designs were extraordinary, and a U.S. Naval Intelligence Officer, Lt. Perry Wood, understood the contribution Tompkins could make to the Navy's pursuit of advanced technology:
Early in 1942, naval intelligence officer Lt. Perry Wood, understanding the technical capabilities and historic research necessary to create the ship models, put together a mission package that resulted in Bill's induction into the navy. After completing boot camp in San Diego he was assigned a position in naval intelligence on advanced technology projects. [source]

Tompkins abilities had come to the attention of the Navy's senior leadership. This included the then Secretary of the Navy, James Forrestal, and Admiral Rick Obatta whose responsibilities, according to Tompkins, included covert intelligence projects run out of North Island Naval Air Station at San Diego.
Tompkins claimed Admiral Obatta placed him on his personal staff for four years (1942-46), and quickly elevated him to a leadership position in a covert intelligence program:
Though only a third class seaman, he replaced a Commander at North Island Naval Air Station in San Diego.

Tompkins said that his mission statement was directly ordered by Secretary Forrestal:
The mission statement read in part, "To compile and maintain a continuous survey of the activities of experimental research laboratories, other governmental agencies, educational scientific institutions, manufacturers and research engineers. To undertake upon his own initiative, or at the request of any bureau or office of the Naval Air Forces, studies of specific instrumentalities and techniques for the purpose of outlining research projects."

In his December 14 interview on Rense, Tompkins claims that he participated and documented all meetings attended by Admiral Obatta, one or two Captains, and the naval operatives reporting on what they had observed in Nazi Germany.
Tompkins subsequently told this writer on January 16 that there were 28 Naval operatives with the rank of Lieutenant used in the covert program. They all had German ancestry, which allowed them to easily infiltrate Nazi Germany.
Tompkins' mission was to reproduce the complex extraterrestrial data that was given to the Nazi SS, which were either described by the naval operatives or contained within the documents they possessed, and then take these reproductions to different corporate Navy contractors. The contractors would proceed to design, reproduce and test various elements of the anti-gravity spacecraft, which were at various stages of production in Nazi Germany facilities in Europe, South America and Antarctica.
What the naval operatives were further reporting is astounding. Tompkins claims operatives revealed in the top secret debriefings that up to and during the World War II, there were two flying saucer programs under development. The first was a largely civilian effort that predated the Nazi rise to power in 1933, while the second was led by the Nazi SS.
Tompkins said that the civilian German space program had been inspired by a Nordic group of extraterrestrials who were communicating through young female German mediums.
The second program was assisted by a group of extraterrestrials called the Reptilians, who had reached secret agreements with Hitler.
In 1939, Tompkins asserts that the Nazi SS was given the location of three large caverns in Antarctica by the Reptilians, and proceeded over time to move the bulk of the German secret space programs there.
By 1942, when it became clear that the war was lost, the Nazi's accelerated their efforts to relocate the best scientists, engineers and vital resources to Antarctica, and Argentinian caverns, through specially built submarines capable of carrying very large cargoes. 
Tompkins through the Naval operatives learned that the Germans achieved great success and failures in their space program efforts. Of particular note was the first space flight to Mars in late April 1945, which had a crew of 30, including three Japanese astronauts. This stunning achievement ended in disaster when the spacecraft crash landed, resulting in the death of the entire crew.
After he reproduced the ship design information he had gained from the covert Navy operatives spying on the German space programs, Tompkins says he then took these designs to various top secret Naval development centers and corporate facilities. These included Douglas Aircraft Company at El Segundo and Santa Monica, Lockheed, North American aviation, and an underground Naval facility supported by Caltech at China Lake.
From 1950 to 1963, Tompkins started as a draftsman, and later became section chief with the Douglas Aircraft Company. Here he says that he worked with two attractive female Nordic extraterrestrials who were employed as secretaries, and they telepathically guided him in the designs for the more advanced space craft that would eventually be secretly built by the U.S. Navy.

Tompkins experience at Douglas with the two "Nordic secretaries" suggests that the U.S. Navy had reached a secret agreement with a friendly group of extraterrestrials in the early 1950s to develop their own space program. It would become the counter to the Nazi/German space program in Antarctica, which was being helped by Reptilian extraterrestrials.
Tompkins story sounds incredible, but key elements have been verified by the book's editor, Dr Bob Wood who first began investigating Tompkins' information in 2009. Serendipitously, Dr Wood was employed with Douglas Aircraft (later McDonnell Douglas) over a 43 year period, and worked at Douglas at the same time as Tompkins, even though the two had never met prior to 2009.
Among Dr. Wood's assignments, while at Douglas, was to research UFO reports to determine the feasibility of flying saucer designs for the aerospace industry. He was assigned this task by the Douglas aerospace company after he met with chief executives:
One day after I reported to a couple of VP's on how we were doing, one of them asked me personally if I was doing anything interesting outside of my job. 'You're not going to believe this, but I've read about 50 books on UFOs', I said, and 'the amazing conclusion I have come to is that they are very real extraterrestrial craft'. The only thing that's uncertain is whether we find out how they work before or after our competitor Lockheed. After a moment of silence one of them (VP) said, 'how much would it cost to take a look at that question'? Therefore we started a project, quite low key to take a look at the question of how they work.

Dr. Wood was able to corroborate the names of engineers, scientists and projects at Douglas, which Tompkins referred to. Tompkins was also able to supply documents that confirmed that he was a principal of a U.S. Navy project from 1942 to 1945, as he claimed, and that Douglas was interested in designs of kilometer long spacecraft carriers.
The significance of Tompkins claims cannot be understated. They corroborate the key claims of a number of notable whistleblowers with alleged knowledge of secret space programs. In particular, Tompkins material adds substantive weight to the testimony of Corey Goode, whose groundbreaking claims were investigated in the book, Insiders Reveal Secret Space Programs and Extraterrestrial Alliances.
According to Goode, he learned about the history of the secret space program he served on from "smart glass pads" that he was given access to during his covert service from 1987 to 2007. These smart glass pads contained intelligence briefings, which Goode later revealed in his testimony. The information closely corresponds to what Tompkins says he heard at the debriefings he participated in involving covert naval operatives working in Nazi Germany from 1942 to 1946.
One of Goode's key claims is that Nazi Germany had developed not one, but two flying saucer programs. The first was a civilian program led by Maria Orsic, a young woman with exceptional psychic gifts who established communications with aliens claiming to be from Aldebaran. This resulted in the design and building of the first flying saucer craft under the auspices of the Vril Society.
Similarly, Tompkins claims that one of the German programs was a civilian program run by female psychics in communication with extraterrestrials. Tompkins confirmed to the writer on January 16, that the leader of this group was Maria Orsic as depicted on page 67 of Insiders Reveal Secret Space Programs and Extraterrestrial Alliances. Both Goode and Tompkins claim that the second space program was run by the Nazi SS.
Furthermore, both Goode and Tompkins claim that the Germans relocated their most advanced space program assets to Antarctica and South America, prior to and during World War II.
Tompkins book also corroborates Goode's claim that the first successful missions to the Moon and Mars were undertaken by the German secret space programs in the early to mid-1940s.
In addition, Tompkins, like Goode, claims that Operation Highjump was an unsuccessful naval military expedition to locate and destroy Nazi bases in Antarctica. 
Tompkins claims are truly extraordinary revelations by a former employee of Douglas Aircraft Company, TRW Systems, and other aerospace companies working on classified programs for the U.S. Navy. The fact that his claims have attracted the support of Dr. Robert Wood, another former Douglas Aircraft employee, is highly significant.
The drawings Tompkins has supplied in his book is documentary evidence in support of his claims that a secret space program was indeed developed by the U.S. Navy, as a result of espionage by its covert operatives, of what the Nazis had pioneered in their own highly classified antigravity technology programs prior to and up to the conclusion of World War II.
© Michael E. Salla, Ph.D. Copyright Notice
[Update – 3/29/2016 – Thanks to William Tompkins who provided many suggestions for improving the accuracy of the above article]
Further Reading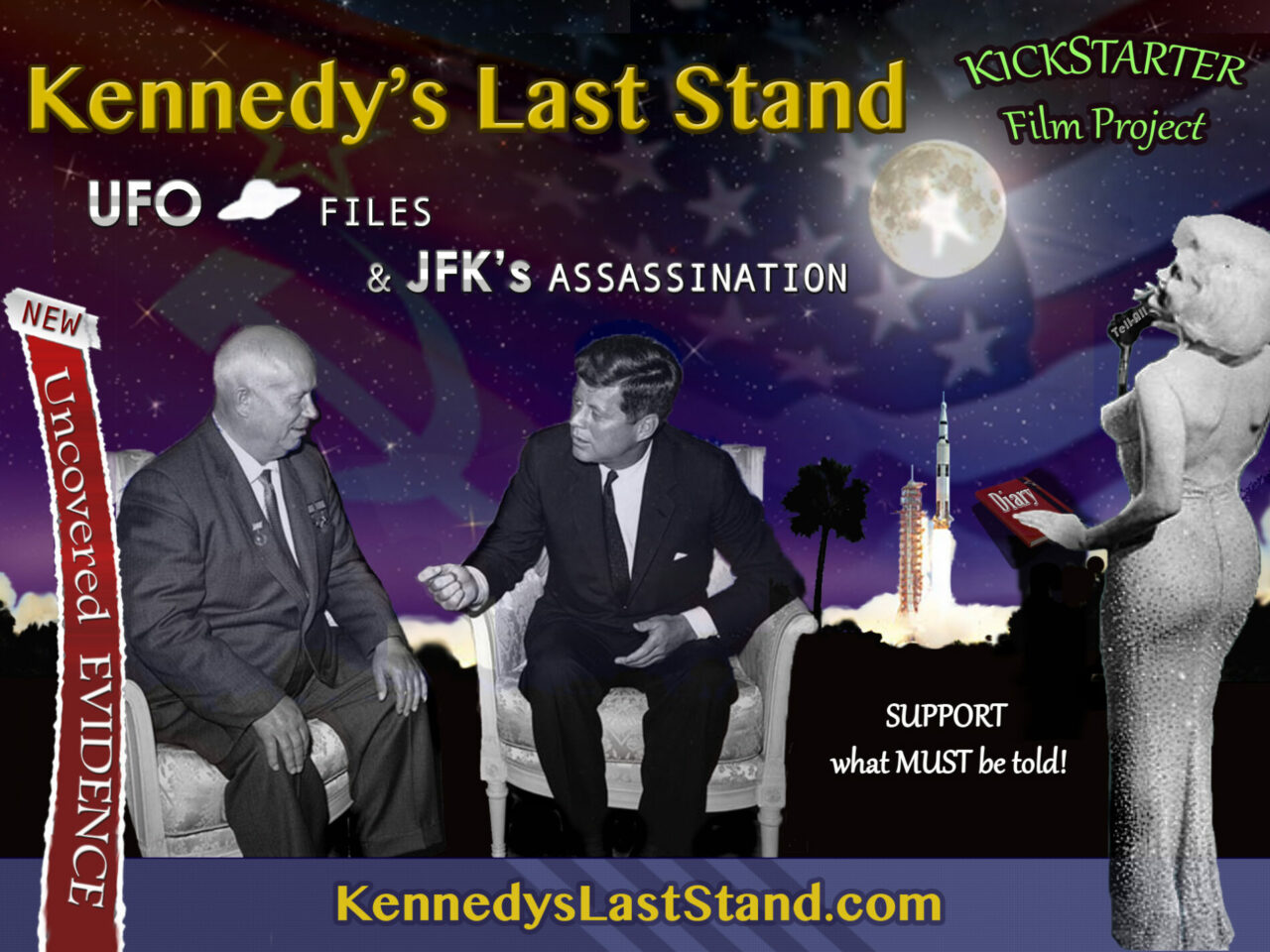 FOR IMMEDIATE DISTRIBUTION
[March 20, 2015 – Kaimu-Kalapana, Hawaii] Today the moon's shadow blocks the sun in a total or partial eclipse, depending on location, as well as the spring equinox. Today is also the official launch of a Kickstarter campaign for the making of a unique documentary film about how John F. Kennedy's presidency was eclipsed by the dark shadow of a sinister force operating behind the scenes in the US government.
The planned documentary begins with Kennedy's World War II experiences that laid the foundations for a powerful behind the scenes battle during his presidency to access the nation's deepest national security secrets. Kennedy's Last Stand is a documentary film project that will introduce evidence never before revealed about how President Kennedy learned about classified UFO files during World War II; and why his multiple attempts to gain access during his presidency to UFO related projects and files became a key factor in his assassination.
Kennedy's Last Stand will be the first JFK assassination documentary to examine the close personal friendship between John Kennedy and James Forrestal, who became the first Secretary of Defense in 1947. The film will cover how Forrestal introduced Kennedy to the UFO issue during a trip to Germany in July 1945 when JFK witnessed advanced NAZI technologies that were repatriated to the U.S. under Operation Paperclip – an Operation Forrestal helped orchestrate as the then Secretary of the Navy.
Kennedy's Last Stand will examine new evidence confirming the relationship between Marilyn Monroe and the Kennedy brothers, and how Monroe learned from Kennedy that he had seen retrieved a UFO craft and extraterrestrial biological entities. Monroe's threat to give a Tell All Press Conference in Aug 1962 led to her murder in a way that implicated Robert Kennedy, who visited her twice during her final hours to retrieve a red diary with the President's UFO secrets.
This film will reveal for the first time in any documentary how Kennedy's dramatic Sept 1963 initiative to cooperate with the Soviet Union's Nikita Khrushchev on joint space and lunar missions included a secret attempt to share access to classified UFO files previously denied to his administration.
Finally, smoking gun documentary evidence that Kennedy was assassinated before his efforts to gain access to classified UFO files succeeded will be examined along with the shadowy force and key figures behind his assassination.
Kennedy's last Stand will be approximately 45 mins in length, and is planned to be released shortly before the Nov 22 anniversary of JFK's assassination.
To learn more or to support this Kickstarter project, please visit the Kickstarter Film Project webpage, or the official film website – www.KennedysLastStand.com.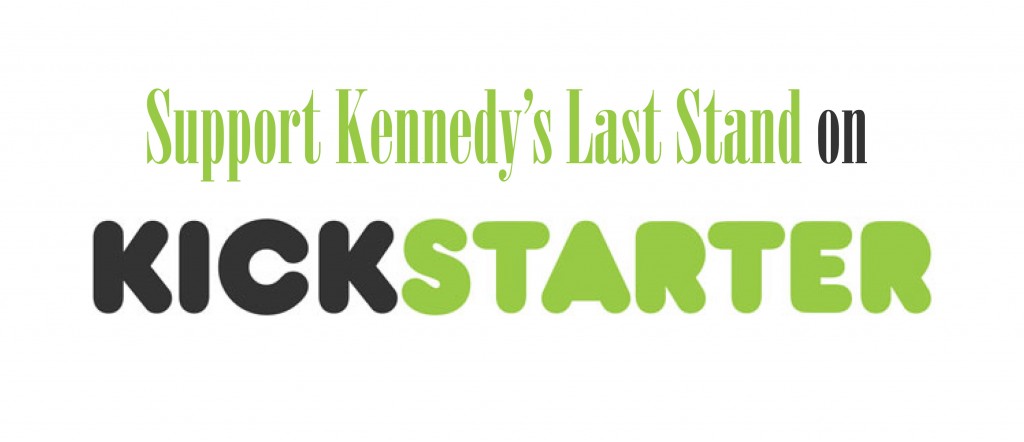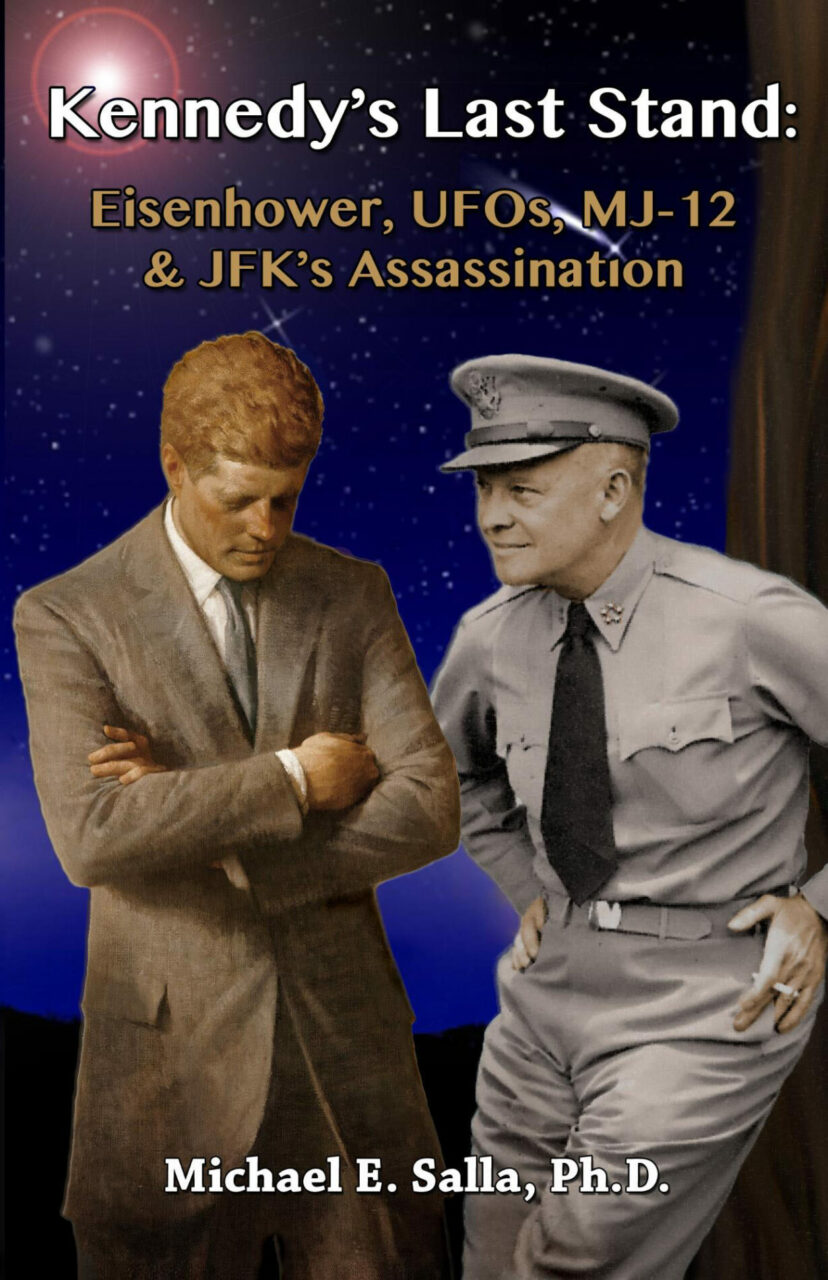 Just before the start of his first term on January 20, 1993, President-Elect Clinton made a strange request to close family friend and lawyer Webster Hubbell: "If I put you over there in justice I want you to find the answer to two questions for me: One, who killed JFK. And two, are there UFOs."  According to Hubbell, "Clinton was dead serious."  The key to unlocking the mystery of President Kennedy's assassination and a possible UFO connection lie in events that occurred 18 years earlier in post-war Germany.
In the summer of 1945, John F. Kennedy was a guest of Navy Secretary James Forrestal in a post-war tour of Germany. Kennedy personally witnessed technological secrets that have still not been disclosed to the general public. These secrets stemmed from technologies that Nazi Germany had acquired from around the world, and were attempting to develop for their weapons programs. The advanced technologies stunned the military government running the U.S. zone of occupied Germany. How did the Nazis develop them? The answer according to the father of German rocket design, Herman Oberth, shocked U.S. military officials. The Nazis had help from "the people of others worlds" – some of the technologies were extraterrestrial in origin.
 In searching for answers to who killed President Kennedy we need to start with the death of his mentor, James Forrestal in 1949. Forrestal became the first Secretary of Defense in 1947, a position he held until March, 1949. Forrestal was a visionary who thought Americans had a right to know about the existence of extraterrestrial life and technologies.  Forrestal was sacked by President Truman because he was revealing the truth to various officials, including Kennedy who was a Congressman at the time. Forrestal's ideals and vision inspired Kennedy, and laid the seed for what would happen 12 years later.
After winning the 1960 Presidential election, Kennedy learned a shocking truth from President Eisenhower. The control group set up to run highly classified extraterrestrial technologies, Majestic-12, had become a rogue government agency. Eisenhower warned Kennedy that Majestic-12 had to be reined in. It posed a direct threat to American liberties and democratic processes. Kennedy followed Eisenhower's advice, and set out to realize James Forrestal's vision. The same forces that orchestrated Forrestal's death, opposed Kennedy's efforts at every turn. When Kennedy was on the verge of succeeding, by forcing the CIA to share classified UFO information with other government agencies on November 12, 1963, he was assassinated ten days later.
Kennedy's Last Stand is a book about how two American Presidents, Eisenhower and Kennedy, confronted "black world" operations outside of the control of "white world" constitutional government representatives. Kennedy's Last Stand reveals how JFK tried to realize his friend's and mentor's vision of a world where humanity openly knows about extraterrestrial life. The book reveals for the first time, the principal government officials responsible for denying that vision, and orchestrating the assassination of President Kennedy.
Kennedy's Last Stand: Eisenhower, UFOs, MJ-12 and JFK's Assassination by Michael E. Salla, Ph.D., becomes available at Amazon on October 22, 2013 – one month before the 50th anniversary of the JFK Assassination.
Click here for book reviews.
Now Available from  Amazon or order your personally autographed copy here!