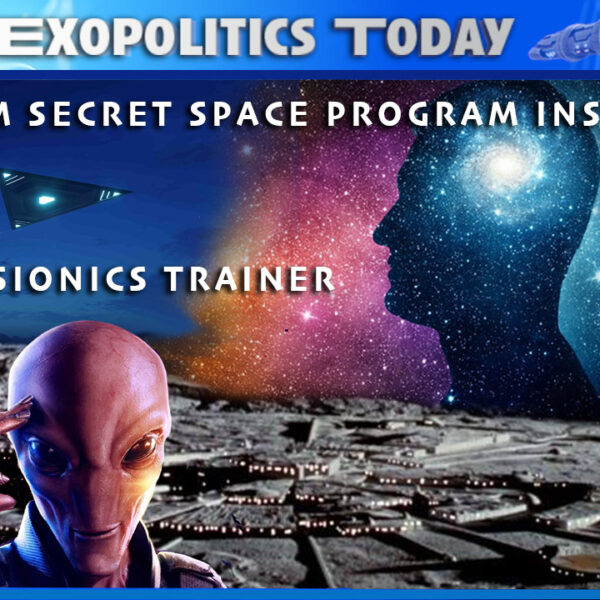 Randy Cramer claims to have completed a 20 and back tour of duty with a secret space program where he attained the rank of Captain in the USMC special section. He was sent to Lunar Operations Command in 1987 for his induction and spent the next 17 years as a supersoldier protecting Mars corporate colonies from attacks by indigenous Reptilian and Insectoid species.
Randy says that he subseqently spent 3 years as a pilot of various types of spacecraft that belonged to the Solar Warden space fleet. He asserts that he next completed a ten year assignment performing rescues or assassinations in special space operations. Randy has undergone a lie detector test which confirmed that he was not being deceptive and he discusses the results in the interview.
Interview available on Rumble, YouTube & Odysee

Audio Podcast on Apple, Spotify, or Google
Randy Cramer currently teaches psionics courses. More info is available on his website: universityofconsciousevolution.com
Further Reading/Interviews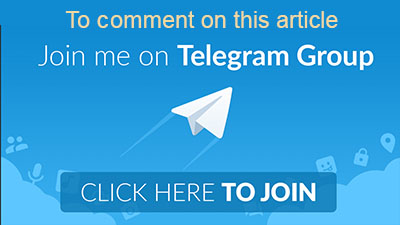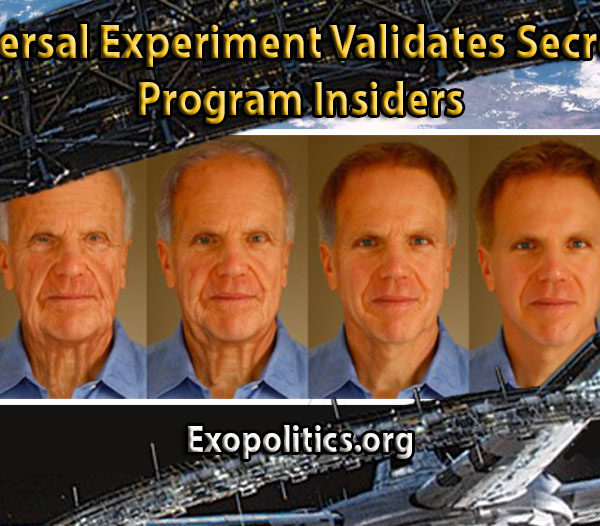 A clinical study which had the effect of reverse aging nine human subjects has been announced in a news article by the prestigious science journal Nature. The result of the study provides stunning corroboration of the testimonies of multiple insiders who claim that they were age-regressed after completing 20-year tour of duties in secret space programs.
The study involved a cocktail of drugs used on nine participants, as explained in the Nature news article authored by Alison Abbot on September 5:
For one year, nine healthy volunteers took a cocktail of three common drugs — growth hormone and two diabetes medications — and on average shed 2.5 years of their biological ages, measured by analysing marks on a person's genomes. The participants' immune systems also showed signs of rejuvenation.
The results of the cocktail of common drugs allegedly came as a surprise:
"I'd expected to see slowing down of the clock, but not a reversal," says geneticist Steve Horvath at the University of California, Los Angeles, who conducted the epigenetic analysis. "That felt kind of futuristic." The findings were published on 5 September in Aging Cell.
Horvath is cited in the Nature article describing the robust results indicating age reversal had in fact taken place:
Horvath used four different epigenetic clocks to assess each patient's biological age, and he found significant reversal for each trial participant in all of the tests. "This told me that the biological effect of the treatment was robust," he says. What's more, the effect persisted in the six participants who provided a final blood sample six months after stopping the trial, he says.
Previous scientific studies have commented on the use of various drugs and gene therapies used on mice and how age-reversal had occurred on various organs.
In an article published back in March 2016, I commented on how the rodent study impacted the testimonies of the first three individuals who came forward to testify that age reversal had been used on them in secret space programs: Michael Relfe (2000), Randy Cramer (2014) and Corey Goode (2015).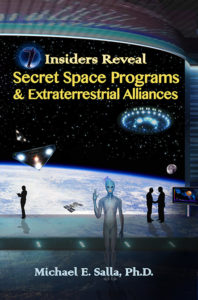 In my book, Insiders Reveal Secret Space Programs (Sept 2015), I compared the testimonies of Relfe, Cramer, and Goode in terms of the drug cocktail that was used on them over a two to three-week period to age reverse them. For example, Goode said that he was given a drug cocktail while he was held immobile and unconscious, and it had the effect of age regressing him 20 years in 2007. He was then returned back in time to when he began his covert service in December 1986.
Recently, Cramer underwent a lie detector test which found no deception in his retelling of his alleged involvement in a secret space program.
Soon after my book's publication, William Tompkins, a retired aerospace engineer, emerged and explained his involvement in the development of different drugs that could be used for age-regression in a classified project conducted by the aerospace company TRW from 1967-`1971.
In addition to Relfe, Cramer, and Goode, I have found a number of former military servicemen who believe they went through an age-reversal program at the end of a 20 year covert assignment in a secret space program. To date only one has agreed to come publicly forward – Michael Gerloff who served in the US Marine Corps and as an Army Ranger before serving as a police officer.
Gerloff's testimony of having been recruited during USMC boot camp, has had the effect of triggering others to recall similar experiences. They have approached me with their stories but have decided to remain anonymous due to concerns over their current careers if they publicly start discussing their involvement in a 20 and back program.
At the time of the 2016 age regression study on rodents, clinical studies on humans were forecast to be years away. The news article published in Nature suggests that such studies have begun even though the September 2019 clinical study was framed to be an accidental byproduct of the experiment's original intent.
The result of the experiment using a cocktail of three drugs is stunning validation for insiders such as William Tompkins, Corey Goode, and the growing list of others who claim they have been involved in either the development or use of age reversal drugs used in secret space programs.
Prior to his surprising death in August 2017, Tompkins says that he was told that plans had been made for age-reversal drugs to be released into the public arena. With the publication of the clinical study showing age regression on nine human subjects, it appears that we are getting much closer to the day that age reversal and other life changing technologies are released into the public arena.
© Michael E. Salla, Ph.D. Copyright Notice
Further Reading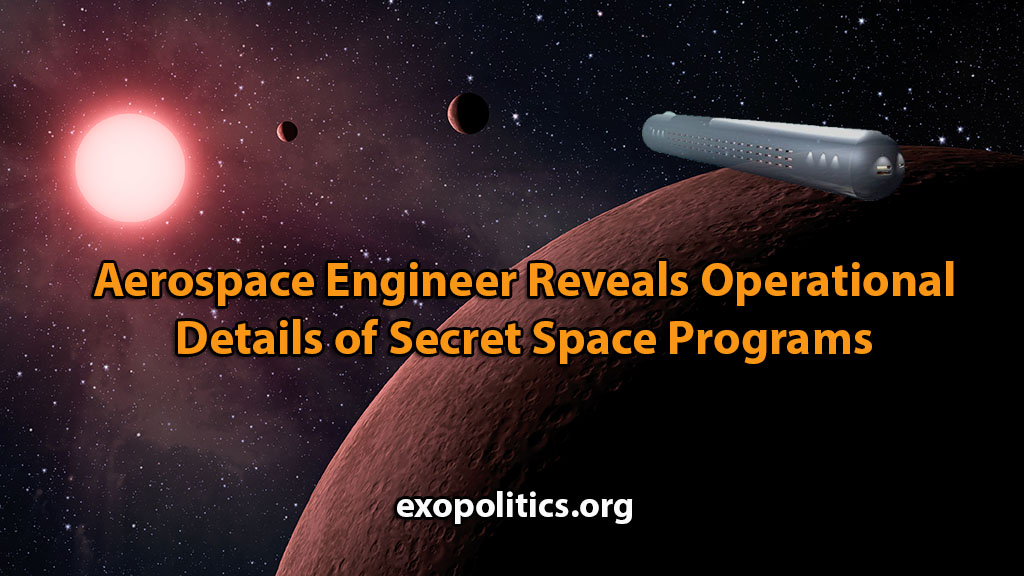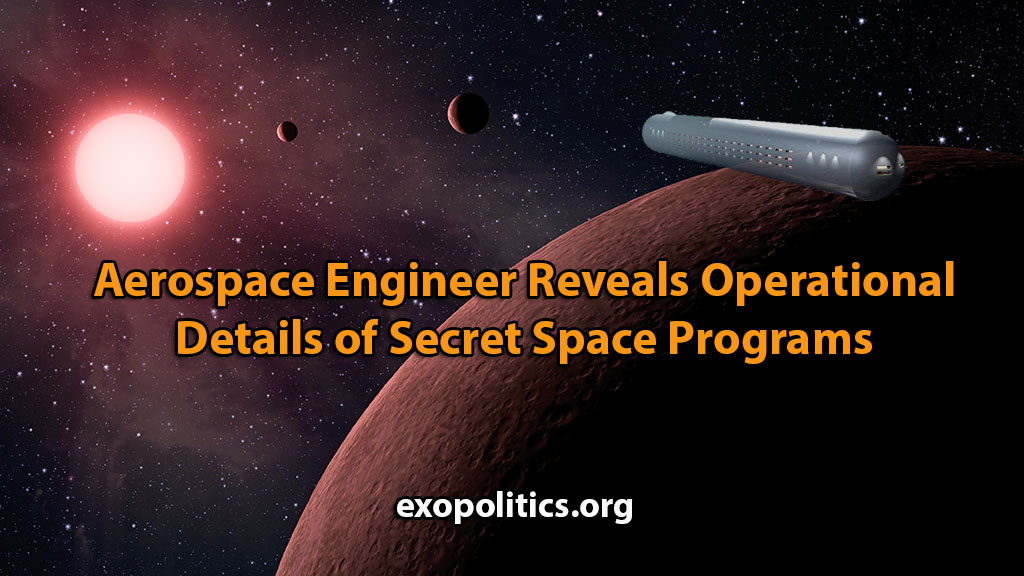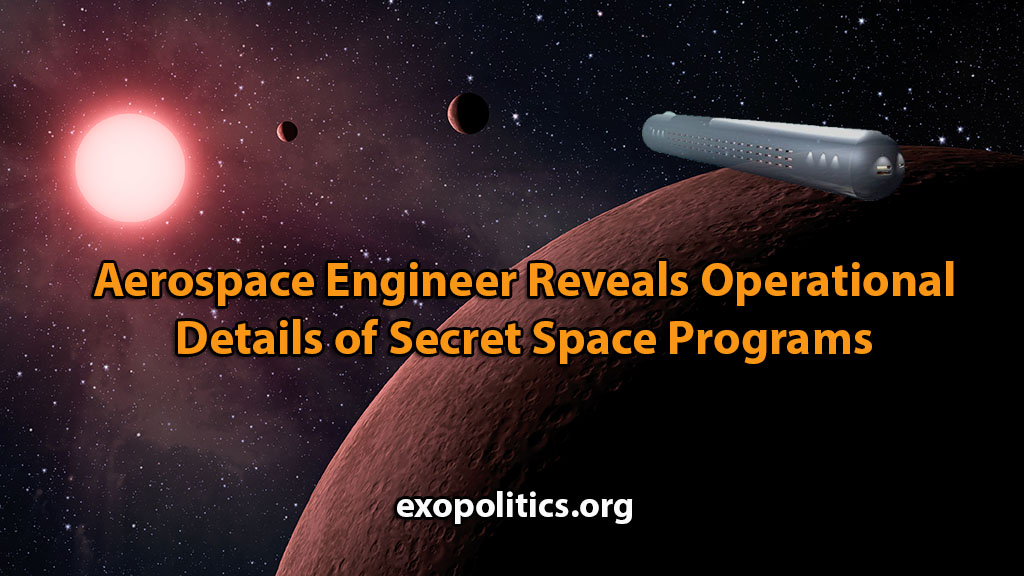 Retired aerospace engineer, William Tompkins, has just given his most detailed account yet about the operations of secret space programs on the September 27 episode of Cosmic Disclosure. Many of Tompkins' revelations corroborate the earlier testimony of the show's primary whistleblower, Corey Goode, who first publicly came forward in late 2014.
Previously, Tompkins has described in his book, Selected by Extraterrestrials, and in subsequent interviews, his involvement in two space programs. First came his assignment in intelligence operations on a German/Nazi led secret space program during the World War II, much of which was relocated to Antarctica. This space program evolved into what Goode later described as the "Dark Fleet."
After the War, Tompkins became directly involved in the development of a U.S. Navy secret space program called "Solar Warden," where he provided the early draft designs for kilometers long spacecraft and non-terrestrial bases, while working at the Douglas Aircraft Company from 1951 to 1963. Solar Warden, according to Tompkins, became operational in the early 1980s.
Tompkins's role in these space programs is supported by a number of documents provided in Selected by Extraterrestrials, and others provided in a March 2016 interview. In addition, FOIA documents have just been made available (to be described in an upcoming article), which confirm key details about Tompkins involvement in a Navy led espionage program aimed at infiltration of Nazi antigravity research projects during World War II.
Tompkins' revelations about the current operations of secret space programs derive from two periods in his life. First is his time at the helm of the Rogue Valley (Medford), Oregon chapter of the U.S. Navy League from 1985 to 1999. During this period, he was given briefings about operations of secret space programs and extraterrestrial life, and shared some of this information through a "Special Projects Committee"; with retired Navy, Marine and USAF officers and their children.
Corroboration for Tompkins' statements about the Navy League Special Projects Committee comes both from related documents and two retired Navy officers who confirmed key aspects of his testimony. Furthermore, Tompkins says that Admiral Hugh Webster, who ran the U.S. Navy League chapter in San Diego and was an executive officer for it nationally, was initially briefed about the Navy's secret space program by Tompkins in 1985. Webster subsequently began a similar operation in San Diego, and became part of the Navy's covert operations.
The second period in which Tompkins learned about the operational details of the Navy's secret space program began in 2000, when he moved to San Diego, giving him more opportunities to work directly with Webster. It was Admiral Webster who gave Tompkins permission to write his autobiography and reveal all he knew about the Navy's secret space program.
Tompkins has further disclosed that he is a participant in the Navy's annual "West" meetings in San Diego, where leading aerospace companies come together to share their research and development findings. Among the purposes of these meetings is the goal of finding the latest technologies that may be of use for the Navy's secret space program.
Tompkins says that he has attended all of these Navy West meetings since the year 2000, and plans to attend again in 2017 because he still has clearance to be present at classified meetings. Tompkins is currently 93, with a sharp mind, excellent memory and still physically healthy. It would be fair to say that he is considered to be a "wise elder" among those running current operations with the Navy's secret space program.
Given Tompkins' background, and continuing involvement with the Navy's Solar Warden program, his statements about its current operations bear special significance.
These are some of the highlights of what he revealed during his Gaia TV interview.
Thousands, thousands, not just a few, thousands of people have joined the Navy here in the United States. They joined the Space Navy. They signed up for a 20-year tour. So these folks, men and women, were given a lot of examinations and a lot of information on what they were going to need.
Many of them went to the Moon, our Moon, and facilities there and got checked out and organized and established where is the best place they're going to go, what their criteria is going to be, what major area they're going to develop, like what class in the university. And then they get sent to a Mars facility for a short time.

Tompkins' comments here are especially noteworthy. They corroborate the testimony of Goode, who asserted that there are thousands of personnel involved in the Navy's secret space program. He and another alleged whistleblower, Randy Cramer, spoke of an operations center on the Moon called Lunar Operations Command, and both claim they were taken there in 1987 for their formal inductions.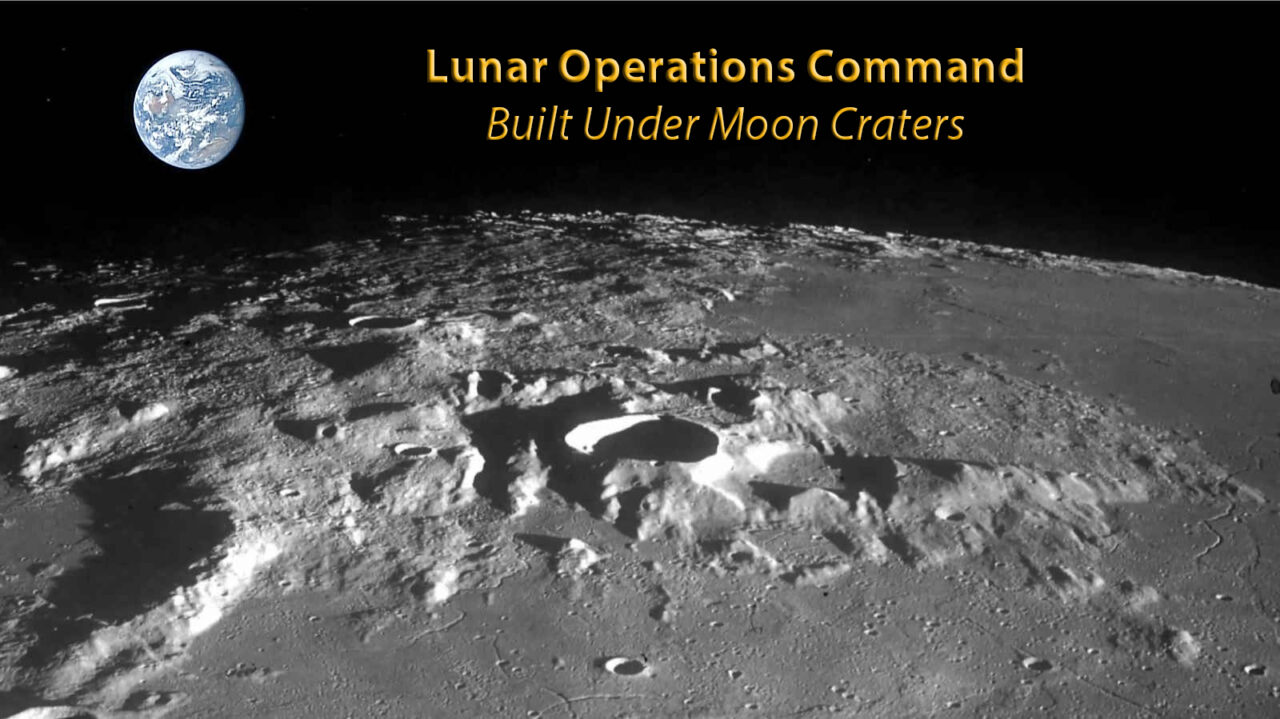 During his interview, Tompkins describes how secret space program personnel are assigned after the induction:
And then they get assigned to a specific base. And they work for a short time in the base before they're assigned a naval cruiser, or a naval attack vehicle, or even a naval spacecraft carrier, which are one, two, and four kilometer long class. And we have eight of those battle groups out there. So there's plenty of room for new people to come aboard….

The above statement corroborates what Goode claims he underwent after his induction at Lunar Operations Center. He was assigned to the research vessel, the Arnold Sommerfeld, where he spent six years performing a number of science and exploratory missions in the solar system.
Tompkins next corroborates Goode and Cramer's claims, along with a third whistleblower, Michael Relfe, about what happened at the end of their 20 and back programs:
So at the end of the 20 years, they have an option for another 20 years. They could go for another 20 years. Or they have the option to come back to Earth where they were born and where they entered the Navy.
And then they make this decision they want to come back. So they age regress. They're now 20 years older than when they joined the Space Navy, okay? And so they take several weeks or several months, and they reverse their age back to 21 when they joined the Navy….
And now, during that several weeks returning, their minds, not painfully, but their minds are played with to where 90.99 [likely meant to say 99.99 percent] of their memory for the last 20 years out in space is removed.

In the book, Insiders Reveal Secret Space Programs and Extraterrestrial Alliances, a chapter is devoted to a comparative study of the testimonies of Goode, Cramer and Relfe. Tompkins' testimony adds a significant level of credibility to what each of these individuals had to say about how they were treated at the end of their secret space program 20 year tours of duty.
Before the close of the interview, Tompkins revealed his knowledge about a corporate run space program that emerged to rival the Navy's Solar Warden program:
But the corporations, at the same time they were doing the military mission programs, they were doing other programs which could possibly allow them to nullify the space programs of the military, like Solar Warden.
And these people, then, utilizing all the advances in space systems, military wise, developed the capability to move off the planet and mine materials on other planets in the solar system and/or continue on out into the galaxy through the 12 closest stars, Alpha Centauri being the first, and mining or extracting materials, or whatever, and making money.
This same group of top corporate people of all these companies that are doing the jobs, that they are getting paid for, were paralleling the space missions for industrialization – making money… We've got corporate operations operating parallel to missions to solar system planets and other stars' planets, doing the same thing.
Tompkins testimony here corroborates what Goode revealed in early 2015; that there is a corporate run space program he called the Interplanetary Corporate Conglomerate. Previously, in April 2014, Cramer claims he was assigned to a Mars military base from 1987 to 2004, to protect five corporate run colonies there he described as the Mars Colony Corporation. Similarly, Relfe says that during his time on Mars, from 1976 to 1996, he was part of a military operation to protect Mars colonies.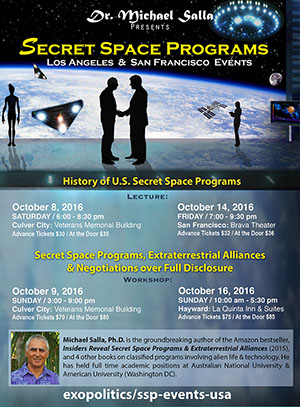 Bill Tompkins' detailed knowledge of current operations of the Navy's secret space program, a corporate run program, and his willingness to now relate this information is a significant development for all who have been closely following his testimony. It is a major scoop for Cosmic Disclosure that Tompkins chose to reveal his knowledge there first, and it certainly helps substantiate the earlier testimony of Goode and others concerning Solar Warden and parallel secret space program operations.
[Note: To watch William Tompkins on Cosmic Disclosure, click here. For transcript click here.]
© Michael E. Salla, Ph.D. Copyright Notice
Announcement: Documents and whistleblowers revealing the creation of antigravity spacecraft belonging U.S. secret space programs, with special reference to the testimony of William Tompkins, will be presented in upcoming lectures and workshops in Los Angeles (Oct 8-9) and San Francisco (Oct 14 & 16) by best-selling Amazon.com author Dr Michael Salla. More info here.
Further Reading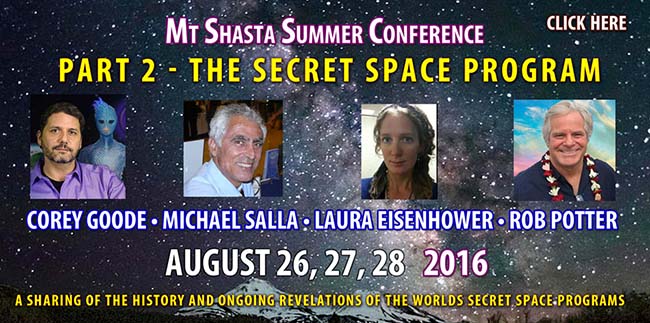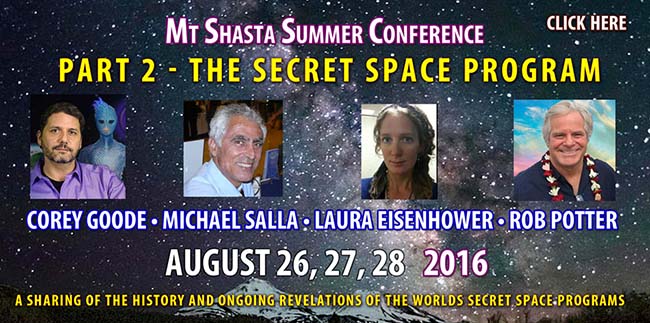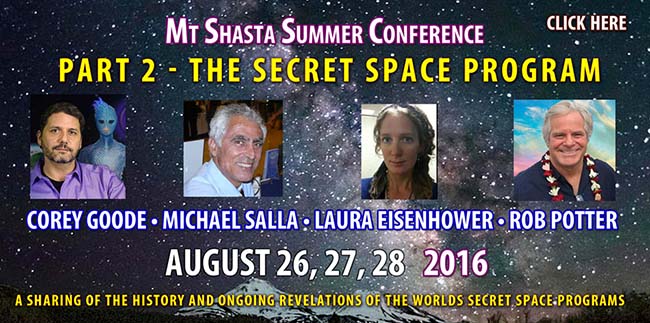 In July and August this year, successive conferences will be held at Mount Shasta focusing on Extraterrestrial Contact and Secret Space Programs. The organizer of the events, Rob Potter, has been working for nearly four decades with different contactees in the USA, and, more recently, South America. He has a wealth of experience about who's who in the field of benevolent extraterrestrial contact.
What follows is the transcript of an interview I did with Rob on June 17 about why he decided to organize these two conferences, what attendees can expect, who the speakers are, and what they will be presenting.
As one of the featured speakers, I also touch upon some of the material I will be discussing about secret space programs and how credentialed whistleblowers like William Tompkins are now appearing, who substantiate what has been previously disclosed, and the connection with extraterrestrial contact.
Rob's conferences in the pristine wilderness of Mt Shasta offer a very rare opportunity for participants to hear cutting edge information about extraterrestrial life and secret space programs, while being able to relax in magnificent surroundings.
Also, there is always the unexpected opportunity such surroundings provide for contact to occur in unique ways, as is suitable for each participant if they are ready for it!
Most want open contact with extraterrestrial life and full disclosure of secret space programs to occur. These two conferences are a step in that direction and I hope you can support them by attending and/or letting others know.
Michael E. Salla, Ph.D.
Permission granted to distribute article in full or in part freely.
---
Rob Potter Interview with Dr. Michael Salla
June 17, 2016
Transcribed by Sam Ritchie
Dr. Michael Salla: Rob, you are organizing an event at Mt. Shasta for a Bolivian contactee, Luis Mostajo Fernando, in July [29-31]. So why have you decided to work with South American contactees?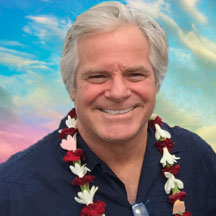 Rob Potter: Well, I have to tell you from a very early age when I first found out about things in the UFO field in the 1978, '79 era, when Fred [Bell] started talking more about the UFO experiences, I heard about the Great White Brotherhood. And I was in contact with George Hunt Williamson, and he had a group in Peru that was talking about the Inner Retreats, the Great White Brotherhood, and I actually had correspondence and they had an invitation, and my heart and soul wanted to go there, but I was 19 or 20 or something, and I could really even muster plane fare down there. It just called to me.
So when I heard about Luis Maertens, and actually through you had some contact – your feedback and your article with him really inspired me. And I went down last summer and met Luis and it was absolutely incredible.
We went to this hot springs called Urmirri, which is kind of an Outer Retreat of the Great White Brotherhood and my summer group had a contact/ sighting there. I just feel his message is so humble. There's no looking for any type of fame or attention. He's absolutely the genuine real deal, and reminds me very much of Frank Stranges, another Venusian contactee of Commander Valiant Thor, which is a little more business oriented.
Luis is all heart and he explains a lot of stuff. He has repeated physical contact with not only Venusians, but Tau Ceti, Alpha Centauri and the Pleiades – physical contacts.
He has, like Corey, been put into a Blue Sphere in Machu Picchu, many years ago, where he was transferred to Ganymede portal, the Jupiter portal, which is a major Confederation training center and contact. He has been to the Inner Retreats of the Great White Brotherhood in the mountains of Illampu, down there, in what's called The Temple of Purity.
He has also been several times to meet the Master Soromez, who is one of the ancient Atlantean masters, 40,000 years old, who is the primary caretaker of one of the Golden Discs of the Sun. There may be more. But there's one down there that's very important.
And I just absolutely adore him. He came to Hawaii this winter and people just gave him a standing ovation. He really revealed the divine feminine in his presentation.
I want his message to get out to the public. That's why he's coming, because he's a real contactee and his information doesn't go into anything at all in regards to cover-up, government stuff. It's all positive.
Dr. Salla: Yes, it's fascinating that he has had for a number of years now these experiences, and he's reported getting into these devices that are similar to the Blue Spheres that Corey Goode's been talking about. Luis and the other South Americans call them Xendras, [link] but effectively it does something very similar to what Corey's described. So it just shows that there is a real continuity here between what different contactees are experiencing.
Rob: Yeah, it's like a plasma scalar, or some sort of field portal, and it's blue. So it seems Corey's not the first person to be traveling in blue orbs spheres.
Dr. Salla: Exactly. One of the things that I found fascinating with Luis when I read his material and learned about his contact experiences was how he first met these extraterrestrials from the Galactic Confederation and he mentioned they have a base on Ganymede, one of the moons of Jupiter.
And he said that one of these beings, actually one of these extraterrestrials, facilitated his contact with this ascended master or master of wisdom, whatever you want to call him, Soromez, from one of the ancient civilizations.
And I thought it was really peculiar, but [it's] not the first time that I've come across this where extraterrestrials actually introduce contactees to these masters of wisdom who are indigenous to our planet. And it strikes me as really strange. Why is it that we as a species aren't ready to meet these ascended beings from our own world and we need to have extraterrestrials, off-world visitors, kind of do the introduction.
Rob: Well, I think that it may not be necessary in every case, but I think in Luis's particular contact, he also had contact with Oaxcl. He's a Venusian and he's been to Venus too, but I think for me, when I look at this, it confirms for me the greater plan and the unity of the benevolent races.
It goes back, again, to the quarantine. And this has to do with several things. One is, you know, most civilizations live on the interior, according to Valiant Thor, other worlds. And if you're on the surface, you can be exposed to radiation. And it seems as though that certain historical events and our misuse of nuclear power have kind of denigrated our DNA, as well as what we call the quarantine, where . . . I don't know what to call them other than evil. Some people call them hostile forces. I don't want to go into religious stuff, but let's just say, I would concur with Cobra that we're being kind of held hostage and that the benevolent forces are absolutely dying to communicate with us and to embrace us once again into the greater galactic family, but due to the hostile, bellicose nature of not only the government, but kind of humanity's misled reality, has created a situation for them that open contact with us would not be safe for them or for us at this time .
And there is required a certain level of maturity that when they introduce themselves to us, the technology has to come. We've already got it in the hands of a small elite crew in the Secret Space Nazi International Corporate Conglomerate Program that are misusing this. They're using it for their own power, their own aggrandizement, and there is a lack of respect for the surface population and what we are. They call us 'useless eaters'.
We are still taking oil out of the ground in greed. We are not quite ready for that technology. And they want to give it to us, but it has to be done in a proper way and we cannot be misusing it. We must be trained in the universal laws of Ubuntu, like we are our brother's keeper. We have a law of allegiance; a law of allowance that provides for freewill. You can do what you want as long as other people are not hurt.
So we have to kind of mature or ripen in wisdom as a people. I think they could contact us immediately and begin this process, but the mass media, people's ignorance, superstition and fear, are some of the reasons, but I think primarily, it has to do with the safety of the surface population. As you know, Michael, in the past many people were murdered for the information that Corey's is getting out and many are still working behind the scenes.
And god bless the military and the Secret Space Program guys. They are doing their best as they see it from their military viewpoint.
So we do have contact directly. It doesn't have to be an ET contact, but we do have contacts directly with ascended masters. It's historical visions of like over Egypt – the Coptic Church of the Ascended Master Mary during a time of great strife between the Coptic Christians and the Muslim. Mary appeared over the most famous Coptic Church in Egypt. I actually visited there near Luxor and the apparition sighting managed to calm the tensions down. It was kind of a mystical light appearance to calm the ignorance of religious intolerance. So that's a female ascended master showing. We also have other ones as well.
I'll say this. The inner earth group called The Great White Brotherhood, from my understanding, was formed about 10,000 years ago, and was part of this 40-race group that came here to really try to clean up the Earth's hostile environment and to begin what's called the Rahma Mission of direct contact with the masses.
Normally, they contact the world through their governance, but our governance is corrupt. So they've decided to do what's called the Rahma Mission and that's contacting individuals like Frank Stranges, you know, any individual contactee, Alex Collier, Fred Bell, Frank Stranges, could probably fall under that individual contactee umbrella that is bringing the messages directly to the people. And so many more now. It's really just increasing.
Dr. Salla: Luis, Ricardo Gonzalez, Sixto Paz Wells, and other South American contactees, emphasize spiritual exercises and personal transformation as a key for extraterrestrial contact and understanding of what UFOs are all about. So how does that mesh with the more scientific tradition in North America, especially the U.S., of relying on physical evidence to understand what's happening with UFOs?
Rob: Yeah, I would have to say maybe it doesn't mesh with the scientific minded orientation that is materialistically oriented . It's coming from One. But I think we do have to have both. I mean, the way we are in our consciousness and the way we think with the one sided approach of dualistic material. And that's kind of where we've gone is in limited view that can only be proven by materialistic scientific means.
We have made science our god and we don't allow faith or intuition. Science only takes you so far. There's only . . a close-ended never ending cycle. Intellect [and logic] are steps on an endless ladder and throughout the materials world you will never end your learning or growing in intellectual awareness, but wisdom, and spiritual experience, comes from the soul.
And the science of the soul is learning about the ancient knowledge, which is galactic and human . . . We have a historical human aspect to the spiritual development, but it's been hidden. It's been attacked. The people involved in it have been burned at the stake and ostracized, so there have been what are called mystery schools or occult, which simply means hidden, just like the Jesuits and the breakaway civilizations which are self serving in their secrecy. The lineages of Light have been forced to keep their teachings more or less secret out of a need for safety and to be free from persecution through out the ages.
And these teachings are available. For one who seeks, one can learn these teachings. For me, through Fred Bell, I came in through the spiritual. I was looking for communion with spirit. And the true nature of the self, who we are and where we came from. And he led me to Alice Bailey, which some people find controversial, Madame Blavatsky, and, of course, Manly Hall's book and also the first important book he told me to read was "The Autobiography of the Yogi".
And this book very clearly unified the universal Christ in all religions and that's where I came from in my search for truth. And I was thinking, personally I thought, back then that we have to get rid of technology. It's a mess. We need to go back to the Native American ways and become very close with the land. And we can sacrifice some of our toxic comfort that we've created for a harmonious non-invasive spiritual connection of family that we would have.
There are different principles that are involved in that. So I came to it through that and then when I started having my out-of-body-experiences with the Pleiadians, and the contact experiences, it was very inter-dimensional and very hard to process intellectually.
They showed me some things and I was like, "Ah-h-h. We CAN be spiritual and harmonious with nature. And we can time travel and live with abundance, prosperity and very high technology."
So it became apparent to me that they can be fused. So it's wisdom. And one of the teachings of the Hindus is called the Jnana and the Bhakti. The Jnana is the intellectual process of realizing God and having everything together. And Bhakti is the devotional or faith-based aspect, where all you do is pray and chant and sing and dance and commune with spirit through your heart and feelings.
They say that in the end the Bhakti must become the Jnani and the Jnani must become the Bhakti. We must fuse our wisdom and experience with our intellectual side. The other thing we have to realize is that not everything can be explained. There are unknowable things and yet we can connect to this vast wisdom – this pool of omnipotence, omniscience and omnipresence.
Through our own living flame, or the word of God, that lives within us, which some people call the Atman – there's different names for this direct connection. The soul, the essence of who we are – is part and parcel of everything. We're a holographic reflection. And if we can connect to that, then we can intuitively know – we don't intellectually think about every action, but we're just choosing the proper course of wisdom and love in our daily actions through our accumulated ability, awareness, to connect to the universal Source.
So wisdom and love, intuition and faith, are just as important as the scientific things. So I think you can come at it from both ways and eventually the intellect has to succumb to the greater reality on a certain level.
Dr. Salla: Right. I agree that there has to be some balance between the two and I like the way you approach it. And so you've met a number of U.S. contactees. You mentioned Fred Bell. So have you found that there are differences between the South American contactees and the North American contactees?
Rob: I wouldn't say particularly in general. I think the Southern American contactees, Luis Fernando Mustojo Maertens – I love that he's got four names – and you've got Sixto Paz Wells, Ricardo Gonzalez, primarily that I know of. I'm sure there are others, but these gentlemen have been contacting the same individuals under the umbrella of the same mission and been getting a lot of similar information.
So in that sense, they're very similar.
The Venusian, Valiant Thor, has several contacts. Dr. Frank Stranges is one of the only public figures I know. I know the names and individuals of some others that were on what is called the Council of Twelve from Dr. Frank. And there's a gentleman in Switzerland that's mentioned. But there contacts are very similar because they're very spiritual oriented, although they do encompass world affairs and are observing what's going on.
I met Daniel Fry back in the day. Gabriel Green was one of my greatest mentors. And he and the Bill Tompkins story we mentioned privately, Frank Chile my friend, what a great guy. I just love Frank. He was always so warm, always so enthusiastic, and he could just tell tale upon tale upon tale of benevolent space family contact.
Michael Elegion to a lesser extent. He's had physical contact. He's not directly permanently in contact, like Dr. Frank or Fred. And, again, you have Alex Collier, let's see, Daniel Fry, Gabriel Green . . . Those are some of my primary teachers. Dr. Frank Stranges and Fred, and I did get to meet Alex personally some years ago. And then he's come to my conference.
There's a difference between a telepathic communication and a physical contactee that just has that real experience of that decontamination – the process of going up and the communication and some of them on mother ships. It just leads to this absolute presence that you just look at them and you . . . you know, for people who intellectually look at them from a distance and "that's all hooey", as you know from your multiple contactee experiences and you have your own experience with Luis there where a ship came in on cue like with our group in South America.
We hope to have that happen at Shasta this summer, but there's this presence. Would you agree that they just have this look in their eye and their stories don't change, and it's very powerful. I mean, I've had limited experiences and my stories don't change. But I have not had that on-going face-to-face contact.
So I just have to say that the face-to-face ones are the most bona fide for me. I would say that most of them that I know of – and I'm not talking about abductees, I just don't go with the Travis Walton and the Whitley Strieber, bless them. But I'm not in to any Grey implant abduction scenarios left, right or center. I think that process needs to be clarified as a difference between face-to-face contact.
I think they're all, almost every single one that I know, has been benevolent. I think they have their own perspectives and what their missions are with the Earth people. And they have their own approaches. And not every single one of them knows every bit of history of ever minutae on the Earth and many of those groups wh are contacting individuals don't know what the other groups are doing with the other contactees!
So we have this . . . We don't have a unified, blanket come down where every contactee says this and that and this and that. They all have a slightly different perspective on different things and are revealing different things.
But I would generally say that most of them come in peace with love in their hearts. And of these groups, I think the Venusians are pretty up there. The Pleiadians, you know, they have different historical things and what they revealed and what they don't reveal and who they contact. You know, the Venusians are very, just generally, always extremely positive. And their civilization for some of them is based on the astral plane so they're well above anybody from Planet X or the Pleiades or some of these physical civilizations. They're in a higher dimension. They're kind of beyond the physical plane already in a sense.
So it's discernment and a processing things through our hearts. But I think if we look at the benevolent contacts, Sheldan Nidle, although he repeats a lot, my sources have indicated – one of my Venusian contacts indicated – he's the real deal. And he has very positive intentions and I'm not sure about what he's saying – the intel. It seems kind of repetitive to me, but I know Sheldan personally and he's a sincere, honest guy.
Dr. Salla: Yes, he's been around for a long time, but I do like what you said about the difference between the contactees with benevolent extraterrestrials or those who've had friendly contact experiences – the difference between that experience and those with telepathic communications.
You know, one of the things I've found with the contactees that I've met is that in their presence there's this really beautiful, uplifting energy. It's just that everyone gets lifted up to new possibilities and it really reminds me of being in … ashrams or when you're in the presence of very spiritually-evolved people that it really is something very special when you're around these people and like you said, their eyes light up and it's a wonderful experience.
And I'm not surprised that these people were chosen by the extraterrestrials for those kinds of qualities, because really they're ambassadors. They're galactic ambassadors.
Rob: Yes, I can tell you they all have personal problems, struggles, and they're all not perfect and they deal with a lot of stuff. But at the end of the day, they subjugate to the mission and their spiritual connection is strong. But they have . . . They've gone through their doubts.
Fred used to say that it was very difficult to come back off the ship. So he switched pretty early on. He got to go to the planet Lyra in the Pleiades and he actually piloted the ship once over the Air Force base we stopped and he went up for a ride.
He didn't like coming down like Alex Collier. You know, the famous quote Alex is getting off the ship. He's crying. He doesn't want to come back and I love this quote from I think it was Vyasis or Moranae, excuse me Alex if I err. whoever it was, but they said, "Alex, the pain you carry is the love that you withhold."
And that's a very high statement and easily said intellectually, adored, but to actually process that in a physical body and to really do that is not so easy. I could talk about love and light and understand the process and meditate as much as I can. And then there's the human element where we all, not everyone maybe, not you, Michael, but we all – I certainly fall short and I react. People attack me on the Internet and sometimes I just go . . . I respond . . . I probably shouldn't and should just let it go.
Some people say I'm sending them, you know, porno. I can't even create my own website. Me hacking stuff is ridiculous. But, you know, I take personal offense sometimes and I should not return anger with a snide comment. But we're all human, so . . .
A lot of the contact experience is a tremendous burden and Luis's really good at it. He's always so light and loving. Dr. Frank was the same way – just always full of joy and love for God and their eyes . . . It's a powerful thing.
Dr. Salla: Right. So you've decided to hold the event with Luis at Mt. Shasta in July. And I then that's going to be followed, I think a month later, with the Secret Space Program event at Mt. Shasta at the end of August. So why did you choose Mt. Shasta for the two summer conferences?
Rob: Well, for me, actually, my son was . . . I lived there in 1995 to kind of just get out of the rat race. I was a beach boy. I never thought I would get into this mountain living so much and Mt. Shasta I thought was a short trip, but I fell in love with the mountains. I'm a beach boy and now I'm a mountain man.
There's something so powerful there. I had so many experiences with some close contacts and some energetic overshadowing. I lived in the unique location called Morningstar. And I was having a lot of, let's say, ascended master and ET-type revelations there. And it's a spiritual pilgrimage location due to the fact that there is one of the largest underground bastions of the Galactic Confederation, The Great White Brotherhood, is the Mt. Shasta and adjacent area complex.
They have never been breached. They are extremely loving and powerful and will play a very big part in the future for education of humanity.
I've lived there on and off for 20 years. I could never really support myself. My son was born there so I'd always go back and forth during the summer and run out of money and then go back to my healing work in Southern California. I just love it.
And I have great connections there. And it just kind of happened. I started small and I'm in my sixth conference, or seventh this summer with these two. I've been very careful and prudent not to overextend myself and they've been successful.
And the great thing about these conferences, as you know, Michael, the presenters are one thing, but it's the energy. You're meeting 150 people who are the black sheep, understanding the spiritual information, who have felt isolated with their inner understanding. Sometimes there are sightings and communications.
And here they get to go and everybody you see, almost everyone, is very positive. And they can share stories and reaffirm their knowledge that they've gathered, that others are assimilating the same process.
And, of course, we're in the shadow of Mt. Shasta. James Gilliland, when he was coming, I mean, we were having light shows every night come on down. If you want to go out and watch UFOs."Power up!" And do that kind of thing. You could see it.
And I just love Shasta. I think it's a great environment. It's a little pricey because people have to travel there plus the conference fees, but I think it's well worth it. Lifetime relationships are established. We have a Facebook page and people keep in touch
There's a sense that . . . I like to bring the spiritual aspect to it – the process of attaining wisdom, of meditation. And the mystical side of developing ourselves through understanding our – let's call it our – esoteric anatomy of our glandular functions and how the process of contact can take place for us individually and to reaffirm that in a group setting. That's one of the reasons I love it. Plus, it's just darn beautiful.
Dr. Salla: Right. Yes, I know. I have been there last year at the event. The vibration is really wonderful. The people are great. And it's very friendly and very open and I can't help but think that this is the kind of environment for people that are attracted there would actually be something that would lead to some kind of physical contact.
Of course, you mentioned the Inner Earth civilization and, of course, extraterrestrial, or the flying saucer craft are seen directly there…. We could imagine that there might actually be some contact, so do you think that this is one of the things that you would like to happen whether it's at this conference or one of the future conferences that there would be a kind of contact event at your Mt. Shasta conference?
Rob: Well, I can tell you that Luis is famous for programmed contacts and that kind of contact is very possible this year. The Forest Service is giving us permission and I'm aligned with them. We're not going to be going into any general public areas. We're going to a non-disclosed location on a certain day at a certain time.
The second conference is more intellectual and we don't have a contactee like Luis, who can literally bring them in, but we will stay on the property, which is very nice. So there's a possible contact.
I'd like to say that in Dr. Frank Stranges meetings, I know for a fact I met two people from Venus there. They were telepathically communicating with me. They were from Venus, but I was kind of . . . One of them I was kind of having a cat and mouse thing. It was a girl, actually. My girlfriend at the time was jealous. Like, "What the heck stop flirting with her ?" I just shook my head. You can't explain that kind of thing.
We had a dialect/telepathy and she kind of led me into certain areas of research. She was one on the cover of a famous picture of Valiant Thor. I believe they called her Jill. But she was in Dr. Frank Stranges inner circle meeting, and she just lit up the room, smiled at me. Every time I turned she just smiled like, "Good for you, Rob. You figured me out. But don't say anything and let's just have our regular conversation." And that's the way it was.
And there was another gentleman who initiated me in to the Order of Melchizedek, which is a thing and he wasn't there for the two days. He came on the last day. He wasn't there before lunch, but he was there from the after-lunch to the next break and then he was gone.
He had long blond hair to his shoulders. Extremely good looking – a guy. And when it came to put all the members put their hand on the other members and there's a prayer and I made a pledge and an invocation, and this guy put his hand on top of my head and he locked eyes with mine and I was kind of thinking, "Oh, it's this." I was kind of embarrassed. I had forgotten that I had signed up for it.
Something told me, "Take this very seriously." And when he put his hand on my head, there were electrical currents. It was a very positive experience and I thought, "I kind of want to find that guy after the thing," and they kind of blocked my remebering ability to do the Jedi mind-trick and blocked my mind and I couldn't look for him.
They're very much like us. I can promise there's probably been an ET or two at my conferences. You'll never know. It's just not important that that be revealed at this time. But they're watching these type of things – especially with Luis, Alex, James. Of the guys that come to my conference, I think those guys have a very strong connection.
Cobra as well. You know, there's a feeling that they're watching these meetings very closely looking at people's reactions to see who's presenting, how it's being presented, and if it's coming off in a grounded way at the same time with a spiritual content. So there are contacts going on at these groups. I would say they're not openly public, but who knows.
I would like . . . Maybe we're with Luis, we'll get one of those South American contacts he's famous for where the UFO goes over the hill and three people have a contact. By the time the rest of the group gets there, they're gone. But it could be very cool.
Dr. Salla: Yes. Why does information about Secret Space Programs have a catalyzing affect on people in the New Age and the UFO communities? People can't seem to get enough of that information of these classified programs, so is that a sign of a global awakening?
Rob: Yeah, I think this, again, is coming from the research perspective, people are going to have felt a lot of the ETs is secret government stuff, which it has been, but I think that there is a . . . it's more realistic for us to think about that. The revelations that they're getting in regards to hyperspace and the science, the hard science, like on my website the Secret Space Program . . . If you click on that slider banner, there's a gallery of photos.
I was contacted in 2011, by a guy who owned a company. And he gave me all these pictures of the technology. And you can see the advanced different technologies that they were using and lots that probably weren't revealed. They showed little saucers and stuff.
I think people really understand now. They're coming in through this government cover-up, the Nazi development of this technology, which goes to the mystics, the Thule Society, those women that started it with a spiritual intent and it got basically railroaded and hijacked. The contacts, all of a sudden, switched to the tall, long-nosed Greys and the hostile groups with the Hitler, you know, superior race vibe going on that really skewed the possible benevolent revelation that could have come forward at the time.
People are getting a little education and they'll come in to the more spiritual positive elements once this dirty deeds, done dirt cheap-type of stuff that's going on with the Secret Space Program, the Nazis, and that whole thing that's been, you know, joining with the Dracos, allowing humans to be abducted and implanted, you know, the energetic loosh that David Wilcock talks about sucking people's life force through fear of little children, pedophilia and murder for these Earth-based elitist . . . This stuff is so heinous, it's just, you know, it's hard to turn away, but it's something that needs to be exposed.
I think the reason this is coming out now is humanity needs to understand this seamy underbelly so that we can expose it to the light of day and like a bit of mold, in the sunshine it will just dissipate and blow away. People will stop paying attention to these negative actions of the elitist criminals and simply un hook from The Matrix and the control system will be revealed for what it is and people will no longer . . . They're going, you know what, I don't care about my job at this point. I'm just fed up. I'm a slave." And they're out and they're making their own way.
So I think part of it is for humanity to gather traction into understanding the level of cover-up. I mean, if we take Corey Goode's information, imagine the billions of dollars that have been made on pharmaceuticals. Imagine the pain and suffering that has gone into little children with cancer and all of these horrible diseases that people have had.
And the Venusians offered this to us in '57. They said, "We're going to offer you help The Confederation wants to give you free energy, communication, transportation technology that kind of benevolent interaction, but you have to put away nuclear power and end all of your wars. That's a prerequisite."
And they just said, "Sorry, we're not going to do it. We wouldn't be in power." And they said, "Yeah, give us your technology."
And they said, "No, when we give it, we land and it goes to everyone."
And they said, "Well, we're already getting it from the Dracos, the Greys and Reptilians. Screw you. Stay away. You land and we're going to hunt you down and kill you."
And some of the people in the military, who have been following this, many of them have been compartmentalized. Many of the higher Commander Bethune, Admiral Webster, . . . I forget some of the names, the main guys. They haven't been happy with the cover-up, but the military mind likes secrecy and power and there's an aspect of that that when they figured it out, it was so hard . . . Who are you going to take out, because it wasn't a political person.
The presidents and the people in the front, except for George Bush, Cheney and some of these higher . . . like the Clintons . . . are definitely in on the program and understand what's going on for their own selfish aggrandizement. They sell their souls and create wars and all the false flags that are going on, this Orlando thing, and all that.
We have to understand that some of the individuals in there have . . . you know, who do you contact and create a cadre of resistance within the military? It is a tough nut to crack.
Some of them have been in contact with these space families and the secret technology program and developing spiritual consciousness along side of technology.
So I think there's a cadre of them and they're so secret and have been working in the underground space program who have not liked what's been going on. The themes, the general tone of secrecy and murder and keep the power at all costs, because people can't handle it. I have to agree with Cobra, that's a lie.
Randy Cramer, I adore him. He is a true patriot and that's a guy I want on my side. He says that the Marines have analyzed demographic data, blah, blah, blah, and the disclosure has to come a certain way or there will be chaos in the streets.
I feel there's chaos on the planet. There's murder, death and destruction, and people will be able to process the truth. And unlike Jack Nicholson: "You can't handle the truth." People can handle the truth.
It's going to be difficult. There will be certain things that will be shocking, but we need to have this full disclosure. And, Michael, again, I told you before, I think you are the finest writer in the field of exopolitics in that you're very grounded. You lend a sympathetic ear and you maintain your integrity as a journalist.
And I think the more enlightened and aware people out there who can do that as we move forward, we just seeing a massive explosion now of this information. It's getting to go . . . It's going viral, but it's still fringy and there's a lot of people who want to get involved very quickly and come up to speed, but they don't have the wisdom and experience or discernment so sometimes the storyline is not as grounded to many people . . . It'll all happen in it's own sweet time.
Dr. Salla: Yes, it's definitely something that's mushrooming. There's a snowball effect here. I've noticed there just seems to be more and more people being drawn to this field – the Secret Space Programs. It certainly is something that people have more attention for.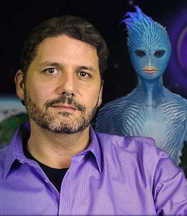 Well, Corey is going to be the featured speaker at your August Secret Space Program conference. Now, what can the public expect to hear from him and how interactive is it going to be for the audience and the speakers?
Rob: Well, the great thing is, Michael, you are coming as well. So you have, besides David Wilcock, you have the most insider contact with Corey and are dialoguing with him in regards to the history.
Now, Corey has kind of been thrust into this position. He's an empath. I think he's becoming more comfortable speaking, but he has kind of a shy side. And the great thing is you're going to be able to lay the groundwork for him and I offered for him to do a presentation. I'm not sure what he's going to present. But, we will be having at least four hours with Corey on Saturday and Sunday, which will include – and he'll be there Friday night too – direct questions from the audience.
We're going to hand out 3×5 cards, and we're going to vet them for the more interesting questions. But I'm expecting a 150 to 160 people, if all goes well.
You can write multiple questions. And we're going to vet them a little bit. They need to kind of be on point. And we're going to have some great questions and let Corey answer them. We'll probably have a microphone for follow-up questions, but it gets kind of time delay. So I think I'm going to read the questions directly to Corey on stage there.
Corey has a wonderful team around him. We're going to have it professionally video-taped and sound. And I've tried to do this several times, but I think this time we're really going to pull off a great recording for people who can't make it to actually see it. The live stream energy won't be there, but I think we're going to pull it off this time. We cannot live stream unfortunately, folks. It's deep in the forest and there's no cell phone or Internet connection there.
So I think we can look forward to wonderful conversations with Corey on stage. He did say he wants to, for those involved in the Disclosure Project . . . Some of the primary people will be meeting there for the first time. And I think we're going to have a private luncheon or two for those people who are involved in wanting to become part of the general populace to serve the awakening to the general populace – they're our brothers and sisters.
This is real. We're not fringe. We're not crazies. And this needs to be revealed to the public. At the very least we're going to get free energy and get rid of nuclear power.
Andrew Basiago says teleportation devices come in pretty quick. There's lots of toys that can come from that, but for me, it's an understanding of liberation and letting the truth come out. Let those Nazis go ahead and keep their little program and do their thing and we're going to surpass them because we're oriented in love, fellowship, unity and the common good of all.
Dr. Salla: About a month ago you did an interview with both Corey Goode and Cobra. So what did you learn from the interview? What are the highlights? What were the main lessons for those wanting to corroborate information about Secret Space Programs?
Rob: Well, one of the things I learned is that they're both extremely busy. Just coordinately that thing took me three months on time. Corey is . . . a good family man and he takes his family life seriously and it was hard to get them together, but . . . And I love Cobra. I've supported him for years. I have, you know, some differences of opinion a little bit here and there. I'm a little more . . . I'm very comfortable with the word 'God'. I don't think it's a machine. I think it's a living, loving creation and certain aspects of the spiritual lineages of Light, I think, are important.
But this was a very Secret Space Program-oriented one. When I normally give an interview, I have a conversation with Cobra or something, and a lot of people think I'm just an interviewer and that's not my personal style.
I have my own experience and I want . . . I use the interview to educate myself. So I generally have conversations and give backgrounds to questions that the audience wouldn't know if I was to say, "Hey, Bob Renaud said this and . . ."
Unless there's a background, people don't get it. So usually do that. For this interview, due to them both asking the same questions, I was very regimented and disciplined and I asked direct questions to both of them.
And what I was trying to get from that interview, was a spiritual aspect to what's going on with the good guys. Corey talks about it, but his information has been woefully – at least what I've seen so far – not sharing benevolent contact. It's like we're getting a birdseye view, but we really don't know what they're talking about.
We see these good guys doing this and that, but there's really no personal . . . like Alex Collier's very personal interactions with Morenae and Vysayus. How he's feeling and what they're thinking about us is bereft in Corey's dialogue. It's mostly very much like, "I went up there and I did this and that." He's not briefed on where he is going or anything so it is tough for him. So I was trying to get more of that from Corey.
And Cobra shared that side of his knowledge of the Confederation, and Corey and them basically supported each other in a lot of information in regards to the control Matrix and the technology that's used.
They had some differences in views in what Corey calls the artificial intelligence and Cobra calls the primary anomaly in regards to it being a technology or a universal natural source. And I had to side with Cobra on that in that I feel that it is a technology that is run by, let's call them, powerful fallen beings in direct opposition to what is considered universal law and order.
And this is something that's still not clear to us. We're beginning to see the differences here and we probably won't get clarity and all of us are going to have, "Oh, I really didn't see that one coming," as contact, first contact, moves to the forefront and open, transparent interplanetary culture exchange takes place as oppose to the piecemeal stuff when we finally do get our benevolent Elohim, Seraphim, Family and the various non-material and material beings openly communicating it will be clearer. When our interaction history with various groups and the timelines are laid bare to us as a populace through open disclosure. Even through the United Nations, albeit a readjusted United Nations, Then with a open and free mass media that's not controlled and we can actually judge for ourselves. And, of course, there'll be face-to-face contacts.
We really just need to be sure that when it's done it's done properly. I would really suspect that if disclosure, ETs, are presented to us from Obama and the Queen of England, I'm really going to . . . I would have to agree with Alex that it's a false flag introduction that may come forward.
I know they have plans for that. They've had a lot of plans that haven't come through, though, so it's very possible that the good guys may be able at some point to directly intervene when it's safe enough to reveal the truth to humanity. And we can decide on our own and be happy and not happy with some of our historical contacts and get it cleared up. What's the difference between the Sumerian's contact and the Atlantean time.
And the Biblical stories have to be put into perspective of what's happening – the men of renown, David and Goliath, the giant cyclops. All those kinds of things will be cleared up and we'll definitely probably get a book of who's who from where and how long they've been here and their histories and struggles to become a super civilization, and we'll take our place amongst the stars as brothers and sisters and equals with our space family out there.
It's an exciting time, but it's confusing. Keep your hands and arms inside the spaceship at all times.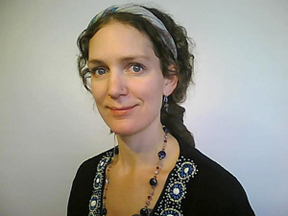 Dr. Salla: Well, one of the other presenters is going to be Laura Eisenhower, the great-granddaughter of President Eisenhower. So why is her information important for learning about Secret Space Programs? And what are we going to hear from her?
Rob: Well, I love her. I like to call her a tigress for the Light. She is enthusiastic. She's deep metaphysical and I actually spoke with one of my upstairs contacts the other day – upstairs, downstairs kind of thing – and they said she definitely brings the divine feminine and the Sophia energies and has a deep understanding of the mystical and religious and spiritual experience.
William James . . . all spiritual and mystical experiences have certain things in common they are transcendental are ineffable. You can't talk about them. They're transcendental in nature. And this is the aspect that goes beyond reason. It's kind of like a swoon. It's like a direct feeling consciousness. It's kind of like, how can you explain what happens when really good music hits your soul? It touches you. It just moves you.
I mean, you could say, "Well, the resonance of the sound vibrations effect the typhonic membrane etc." Some times you know, you've got to get into the feeling and that's where the women come in. Men are centered in reason and women consciousness is centered in feeling. The grey matter in the brain, and you have grey matter in your diaphragm, and if you, huh, huh, you watch and athlete when they pant from that kind of animalistic diaphragm, that's the center of feeling at the tip of the breastbone and that's where women are typically very much more in tune than the masculine.
Not that men aren't aware or can't be with feeling and women can't have giant intellects and be super intelligent, but until we integrate those aspects within ourselves in a positive way, the women are very in tune with feeling. Sometimes men think it's too much and don't acknowledge feeling and women think we're just thick idiots because we're not processing information from the grey matter in our diaphragm.
Laura has . . . her bona fides by her genetic grandfather and her being approached by the Secret Space Program on Mars as well . Her and I are the same way when it comes to sometimes stream of consciousness talking and all of her views on the government. She goes right to the point . . . I mean, false flags, media control, vaccinations. She's like me, just bomp, bomp, bomp, bomp. We align on almost everything.
And she is . . . got the heart space too. And women need a voice. I really am impressed and love her to death.
I've been trying to get her to come for years and I'm just so happy she can come this year. We're looking forward to some great stuff from her.
Dr. Salla: Right. Well, in my presentation, I'm going to be covering a lot of the material from William Tompkins. One of the things I've found really very supportive coming from him was how much his information dovetails with Corey Goode's. Bill actually read my book, Insider's Reveal Secret Space Programs . . . a lot of it is based on Corey's testimony. And he was really shocked at how much it matched with his own experiences in going back, right back to 1942 when he was working with the U.S. Navy… He finished working with the Navy League, [after leaving] the aerospace industry, around the year of 2000.
So it's synchronicity and corroboration there, and what Tompkins brings in is a lot of documents, a lot of credible people, that actually support his testimony, or support him as a witness. One of the things that I did was I was able to track down a couple of the Navy officers that actually worked with Bill Tompkins when he was up in Medford, Oregon, not all that far from the Mt. Shasta area.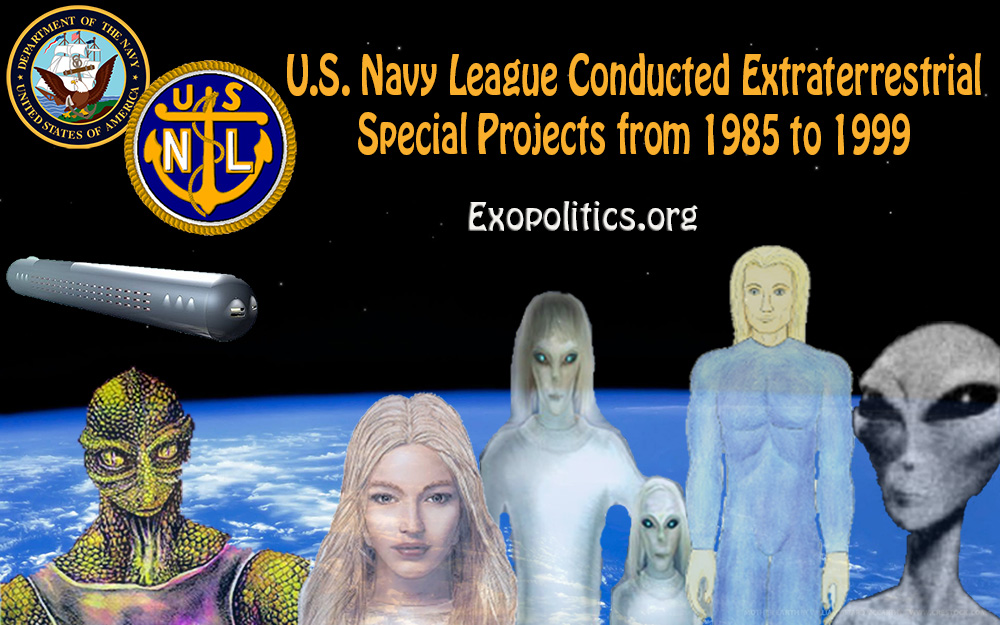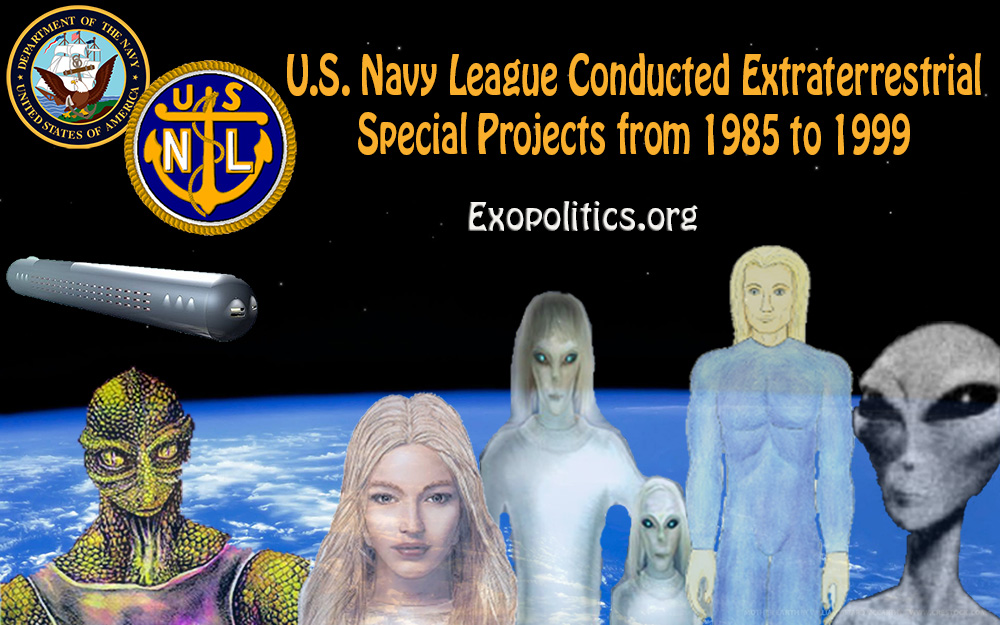 And actually there's an interesting connection there with Mt. Shasta. It's that . . . these [two] Navy officers said that Tompkins was the real deal. He was talking about extraterrestrials and that Tompkins was in charge of these special projects. Tompkins had a document basically showing that the Navy League actually was discussing these special projects. And he discussed some of them.
But one of the special projects that I thought was very interesting was that he said that a lot of the mainly retired Navy officers and the reserve Navy officers there … were pilots. And so one of the special projects was to actually track extraterrestrial visitors, or more correctly we'd say, just the flying saucers, that were entering and leaving Mt. Shasta.
That they observed these hidden entryways into Mt. Shasta. And so they had these planes up there trying to find out where the ETs were entering and leaving, and I think some of those might have been Earth civilizations. That they also actually had these off-road vehicles going up Mt. Shasta to find out, or to … find these hidden entryways.
So definitely there's this very interesting connection with Shasta. So I'll be talking about his information.
But what I find very encouraging with William Tompkins coming forward now . . . a year after Randy Cramer first came forward and then Corey Goode came forward in September of 2014. Then in December of last year, Bill Tompkins book appears, "Selected by Extraterrestrials".
It seems to me, that this is part of [an orchestrated plan]. . . I mean you couldn't plan it better, because in a way, Randy Cramer, Corey Goode, present their experience, but they have no documents. There's no kind of professional aspect of who they are as individuals in terms of education, careers, that support, directly supports, their testimony. But they put the story out.
And then a little bit later you have Bill Tompkins coming on the scene supporting what Corey has said, what Randy Cramer has said. But in Tompkins case, he actually has the background, the professional background. He has the documentation, the corroborating witness testimony.
So what I think is happening here, it's almost like there's this divine script happening, because there's a lot of professional people that say, "Ah, Corey Goode and Randy Cramer, you know, nonsense. Where's the hard evidence?"
Those same people, when you present the data with William Tompkins, they're eyes pop out … they say, "Well, really?" Well, this guy's the real deal. And he's actually supporting what Corey has said, what Randy has said.
So I think what Tompkins does is he opens it up to a much wider audience and to me it's like this is really an incredibly divinely scripted process where these Secret Space Program whistleblowers start coming out, each one supporting what the other one has said, but opening it up to a slightly new audience because of their own backgrounds.
Rob: Absolutely, and you are a primary part of that. I want to go back to the Shasta thing a little bit. Back in the '50s there was a road called Military Pass, and the government, they have an underground base there.
Andrew Basiago said that there's obviously a giant command center there. They're watching. They're impotent. They could take their tunnel boring machines, and I promise you they have, and they've gone nowhere. They get stopped. The machines will overheat. They just won't start. They've given up, I'm pretty sure, on any attempt to breach the Inner Earth civilization there, which I believe is completely benevolent.
If you've lived there for any period of time, if I have girlfriends that come close with me and they want evidence, eventually they show up and Shasta was one of the more particularly profound displays. I was with a girl and she wanted to believe and all this kind of stuff. She was kind of an atheist. She had a spiritual experience, and then she came back and was questioning me and we were over at Lake Siskiyou there and a large, golden disc went from the top of Mt. Shasta, kind of swooped down over the town, moving at a high rate of speed, and came right by us and she was like, "What was that?"
And I go, "What do you think it was?"
"Ah, ah . . ."
I said, "Maybe it was an eagle carrying a gold coin reflected from the sunlight." You know, and she finally is just like laughed and she got it. There's lots of stuff up there and if you have an open mind and an open heart, you're going to see phenomenon. And the focus is not phenomenon. The focus is, "Who's inside there? What are they doing? What is their thinking?" And if we process this information on your own over time, "How can they move so fast?" and all this stuff. Then you go into the other Secret Space Program, which is the benevolent contactees that have been on-going and paralleling the government's program.
The interesting thing about William Tompkins is also his direct interaction with what he calls the Nordics. Who they are, but, you know, I think he's protected. He's 93 years old. I was a little concerned about his age and we talked about having him come, but I might have made a mistake in not bringing him, but you can certainly share his information and maybe we can get him to come up as a personal visit, a journey.
But it certainly seems a very, very powerful aspect to have this synchronistic back up, and I agree with you 100% that this is a divinely orchestrated in a synchronistic way. And the mass media just can't stop it.
Dr. Salla: Right. Well, I'm really looking forward to the conference and presenting some of the incredible information that is coming out now. It really is picking up. There seems to be this kind of incoming of galactic energies, a heightening of awareness, the raising of vibrations, frequencies. People seem to be more open to various possibilities. So I'm very interested in presenting some of that material that I've got. I've been learning from Corey, from Bill Tompkins, and others.
So in terms of the conference logistics, how do people learn about it and how do they register?
Rob: Well, they can go to your website, and to my website, , I'm having a migration to my new site and I've been hacked, emails. Some weird stuff going on right now that is not functioning, But there's plenty of seats left. Just go there and choose. You can camp on-site or off-site, if you like.
And we'll probably have some two-day passes available towards the end near the conference date but at this point they're not available. It's a three-day event. Folks, you want to intend to stay all three days.
I'm think about having Laura Eisenhower kind of be our top speaker or ending speaker on Sunday night and lead a nice spiritual closing to all of our kind of intellectual, historical and these technological space program information. So she's going to probably be closing it out before dinner on Sunday night.
We have great food there. We have dinners and then we have two fire circles that can be opened. And people just have a blast out there, singing and talking, dancing and playing music and the forest is so beautiful and the moonlight and a lot of the fun takes place in between the speakers, at the lunches, at the lake. And in the evening time especially, I have a world-class jazz musician, Clive Stevens, coming. This brother played at the World Jazz Day. He plays with people like Stan Getz, the Marsalis brothers, Herbie Hancock. He's top-notch, world-class, and he's going to be presenting some very high-end music as well as Ryan Marchand.
So we have some fun times in the evening, some cool slide shows. It's going to be a blast. So check it out at Michael's site. You can check it out on and type in 'Shasta Summer Conference Part 2 [or click here]
It's on my website under 'Upcoming Events'. Just get your ticket. They are going much faster than any other conference I've ever had. We still have tickets, but if you're coming, you might want to make your plans. I suggest people maybe look into, if you're on a budget and want to stay in a hotel, you can get the Motel 6. It's a 40-minutes drive each day, but camping – it's a bit rustic up there. But we do have showers, toilets and food, and a very nice hall.
Thank you, so much, Michael. It's been an honor to be with you here today.
Dr. Salla: Well, thanks, Rob. Aloha, and I look forward to catching up at Mt. Shasta.
Rob: All right, folks. We'll see you up there. And God bless you all.
---
Mt Shasta Conference Registration Pages
Part 1- Ancient Wisdom Teachings – July 29-31
Part 2 – The Secret Space Program – Aug 26-28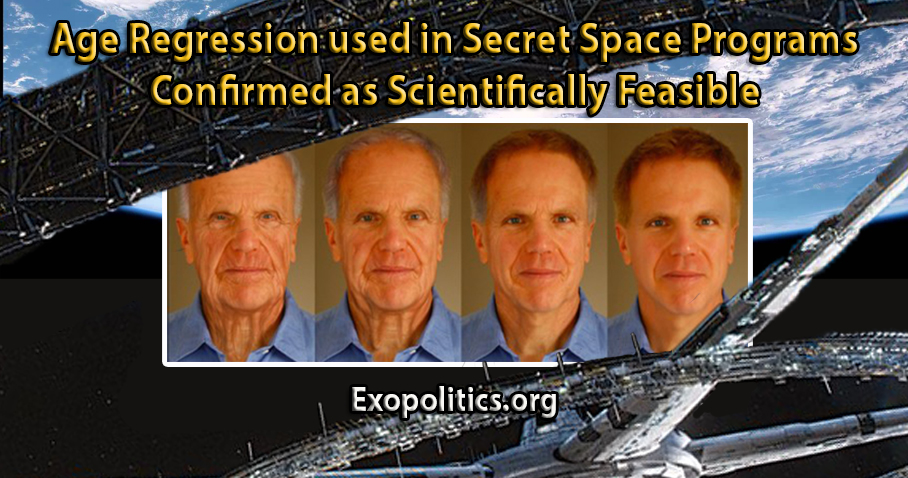 Due to recent breakthroughs in genetic research, the claims of three whistleblowers, who say they underwent an age-regression process in secret space programs, have become that much more plausible. The whistleblowers, Corey Goode, Randy Cramer and Michael Relfe, all say that they were age-regressed to become 20 years younger at the end of their respective tours of duty in secret space programs.
Recently, geneticists have identified the genes that control the aging process, and in stunning experiments, the results of which have been released in peer reviewed scientific journals, have demonstrated that they were able to reverse the aging process to varying degrees of success.
The results of these experiments make it plausible that the three whistleblowers did indeed undergo an age-regression process using classified medical technologies in secret space programs, as they claimed.
The lead genetic scientist in the publicly announced age reversal studies is Dr. David Sinclair, who discussed in an interview the results of his genetic experiments first conducted on mice:
We've discovered genes that control how the body fights against ageing and these genes, if you turn them on just the right way, they can have very powerful effects, even reversing ageing – at least in mice so far…  We fed them a molecule that's called NMN and this reversed ageing completely within just a week of treatment in the muscle, and now we're looking to reverse all aspects of ageing if possible.
He explained how this process could also be done safely for humans:
We've gone from mice into early human studies actually. There have been some clinical trials around the world, and we're hoping in the next few years to know if this will actually work in people as well … They show that the molecules that extend lifespan in mice are safe in people.
Professor Sinclair went on to say in his interview that drugs based on the nicotinamide mononucleotide (NMN) molecule could be successfully developed "to restore youthfulness in human cells."
Sinclair's view that NMN based drugs will eventually be developed for safe use by humans is stunning in its implications. He may well be in the midst of developing the fabled elixir of life, which accounts for him quickly being elevated into the world's 100 most influential people according to Time Magazine.
It's important to point out that Sinclair's pioneering genetic research is open source and unclassified. This means that is very likely, if not almost certain, that classified research in the field of age reversal/regression technology is far more advanced than anything achieved by Sinclair and his peers.
In several private interviews with William Tompkins, a former U.S. Naval Intelligence operative who subsequently worked with leading aerospace contractors for more than four decades, he revealed that he worked on a classified study developed by the company, TRW, on age regression drugs from 1967-1971.
Tompkins said that he first came across the development of age-regression technologies when he participated in the debriefings of U.S. Navy spies, from 1942 to 1945, at the Naval Air Station, San Diego. These spies revealed the existence of age-regression studies that were then secretly underway in Nazi Germany.
At the time, Tompkins job was to distribute briefing packets to U.S. companies and think tanks with expertise in the areas used by the Nazis for developing their breakthrough technologies. Tompkins said that the Massachusetts Institute of Technology (MIT) was among the academic research centers delivered briefing packets by him. Therefore it is possible that scientists at MIT have been aware of the Nazi age-regression studies since 1942!
Significantly, Sinclair's breakthrough in age-regression studies was achieved while he was a post-doctoral fellow at MIT under Dr. Leonard Guarente at M.I.T.  Was this merely coincidence, or was Sinclair helped or encouraged while at MIT to develop the insights into the age reversal potential of genetic manipulation?
Recently, Tompkins has privately disclosed to me that classified "age-regression" drugs have been developed. He says these drugs have been used for some time in the "20 year and back" tours of duty in secret space programs. This is consistent with the age-regression process described by Goode, Cramer and Relfe, which involved medication administered to them over a two week period where they were physically immobilized.
Even more recently, Tompkins says the drugs have been refined so that they can be used for more extensive age-regression periods. For example, reversing a 90 year old back to where s/he has the physical body of a 27 year old is now possible. Tompkins says that there is a covert U.S. Navy sanctioned disclosure process underway to release these age-regression technologies into the public sector. It is, therefore, possible that Sinclair's research may have been stimulated by this covert Navy initiative during his time at MIT.
At the very least, Sinclair's pioneering age-reversal experiments and identification of the NMN molecule that can be used for developing "age-regression" drugs means that the claims of Goode, Cramer and Relfe no longer appear so outlandish, and are indeed scientifically feasible.
© Michael E. Salla, Ph.D. Copyright Notice
Further Reading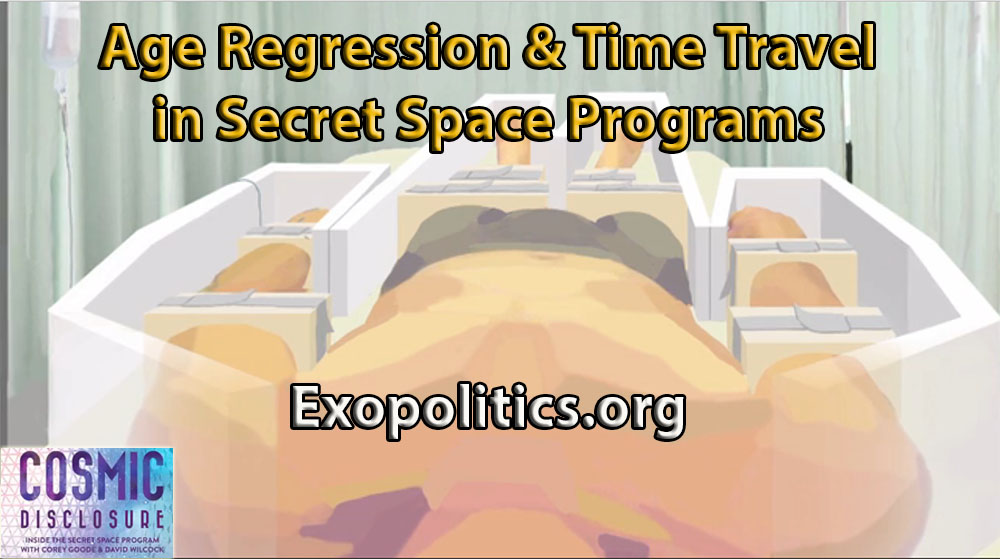 In yesterday's episode of Cosmic Disclosure, Corey Goode described the age regression and time travel technologies used for his "20 [years] and back" tour of duty in several secret space programs. He comprehensively detailed the process used as a standard operating procedure for the many thousands recruited into these programs, and then returned back to 'normal' civilian or military life at the time of their initial recruitment, with their memories wiped.
This is not the first time Goode has discussed the physical age regression and time travel used in the secret space programs. In my email interview with him published on April 14, 2015, he first publicly described at length the standard operating procedure used for the "20 and back" tours of duty."
His account was compared with another alleged secret space program whistleblower, Randy Cramer, who explained an almost identical age regression and time travel process to Goode's. Cramer, like Goode, claims the processing happened to him in 2007 at a secret base on the Moon, called Lunar Operations Command.
In the highly popular Insiders Reveal Secret Space Programs and Extraterrestrial Alliances, Goode's and Cramer's testimonies are compared with another whistleblower, Michael Relfe, who was the first to claim having an experience of a "20 and back" tour of duty with a secret space program. Relfe described serving from 1976 to 1996, before being age regressed and time traveled back. His testimony first publicly appeared in 2000 in the two volume book, The Mars Records.
Goode's account of the age regression and time travel process for the "20 and back" program in the March 22 episode of Cosmic Disclosure offers additional information to what has been previously described by him and other whistleblowers. His most recent testimony is therefore very helpful in better understanding what appears to be the standard operating procedure used in secret space programs.
Goode described the process at the end of a 20 year service term, they were first debriefed, made to sign non-disclosure agreements, and given assurances that they would be looked after once they returned. They were also promised many benefits such as scholarships, financial reimbursements, etc. Goode said that none of these promises made to him were kept. This is identical to the claims made by Relfe and Cramer regarding what they were promised before undergoing the age regression process.
Goode described how he was physically immobilized for two weeks, while a variety of pharmaceutical products were used on him. The Cosmic Disclosure episode provided an artistic depiction of how he looked while he was in this immobilized state. At the end of the two weeks, Goode described waking up feeling groggy, but now being 20 years younger.
Significantly, when he awoke, his physical environment was completely different since he had been time traveled back 20 years, to when he first began his secret space program service. He describes then being again debriefed, having his memories wiped for the first time, and finally he had screen memories put in place. Goode was then transported back to only a few minutes after he was first taken in 1986, just before his 17th birthday.
Goode said that people recruited to the "20 and back" tours of duty were either civilians as in his case, or serving members of the U.S. military, who have been covertly recruited during their normal military service. This is consistent with Relfe's claim that in 1976 he enlisted in the U.S. Navy, and was then covertly recruited into a secret space program.
Upon his return, after serving out his "20 and back" tour of duty, Relfe says that he next completed his six year service in the Navy, and was honorably discharged in 1982. Relfe has documentation to confirm his military service, but has not yet released this into the public arena.
Goode described how upon his own return in 1986, from his "20 and back" service, he first woke up as a sixteen year old feeling confused, and then after several weeks, started regaining the bulk of his memories.
Goode says that he was among a small group of people who the blank slating technologies simply didn't work on, despite repeated efforts. In our April 2015 interview, he elaborated on why he decided to withhold telling others about his memories due to the chaos this would cause him, and the likely intervention of those covertly monitoring him. He described how others who regained their memories would either be re-abducted and put through the blank slating process again, intimidated into keeping silent, or eliminated.  
Goode says that for many others, who have completed the standard "20 and back" tours and subsequently undergone the blank slating process, they start to regain all of their memories after 20 years in "normal life" has elapsed.  It is very significant here that both Relfe and Cramer, experienced "total recall" after 20 years had passed since their secret space program service.
At this stage, it is worth asking what evidence exists to support Goode's incredible claims about the existence of age regression technologies used for "20 and back" tours of duty? So far, we have the independent whistleblower testimony of two others, Relfe and Cramer, who claim that they experienced an almost identical process.  
In Insiders Reveal Secret Space Programs, I analyze their respective claims and conclude that there is no cross contamination of their testimonies, and that each is offering a truly independent account of what they recall had happened to them during their 20 year tours of duty. While their testimonies are compelling, and help to corroborate Goode's recollections, it is fair to say that conclusive evidence has still not been found.
However, this situation appears to be changing with the emergence of the latest whistleblower testimony of William Tompkins, who has provided documentation to support his participation in a variety of U.S. Navy and aerospace corporate projects related to secret space programs. His book, Selected by Extraterrestrials, provides some of Tompkins documentation to back up his incredible claims.
Significantly, in my private interviews with Tompkins, he has described the development of age regression technologies by one of the aerospace companies he worked with. Tompkins says that while he worked with TRW from 1967 to 1971, they began developing age regression technologies based on information gained from Nordic extraterrestrial groups that were helping in the development of the U.S. Navy's Solar Warden space program.
Tompkins said he assisted TRW in developing age regression technologies, using his expertise in systems engineering to help coordinate the different groups and departments covertly involved in the project. Tompkins described these technologies as pharmaceutical in nature, which is consistent with the testimonies of Goode, Cramer and Relfe who state they underwent multiple injections of pharmaceutical products.
Tompkins is presently writing about his experiences at TRW and its involvement in the development of age regression technologies in what will be the second volume of his autobiography. Significantly, TRW was taken over by Northrup Grumman in 2002, which is the corporation, according to Tompkins, primarily involved in building secret space carriers and battle groups today.
Importantly, Northrup Grumman is now also involved in developing the age regression technologies for personnel recruited into secret space programs. According to Tompkins, age regression will be among a select group of technologies, including free energy and antigravity, which are planned to be publicly disclosed in the next few years due to a U.S. Navy sanctioned disclosure initiative dating back to 2001, if not earlier.
Corey Goode's latest Cosmic Disclosure episode is a detailed exposé of a range of technologies used for "20 and back" tours of duties. The corroborating support of both Relfe and Cramer's prior whistleblower testimony reveals the standard operating procedure used for the application of age regression technology in secret space programs. Finally, Tompkins' testimony casts significant light on the historical research and development of age regression technology, and of covert plans to soon release this previously highly classified information into the public arena.
© Michael E. Salla, Ph.D. Copyright Notice
Further Reading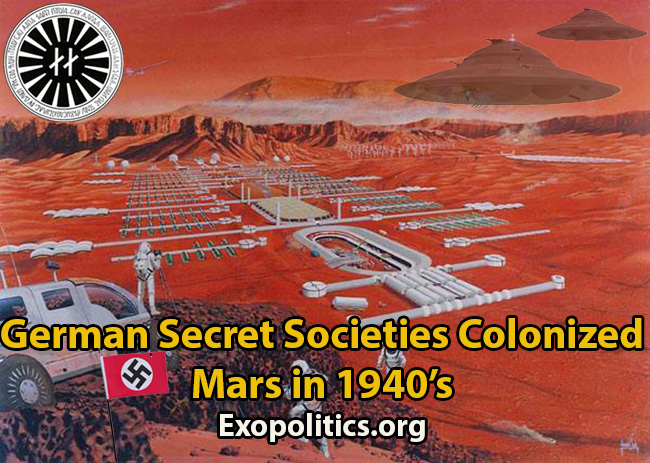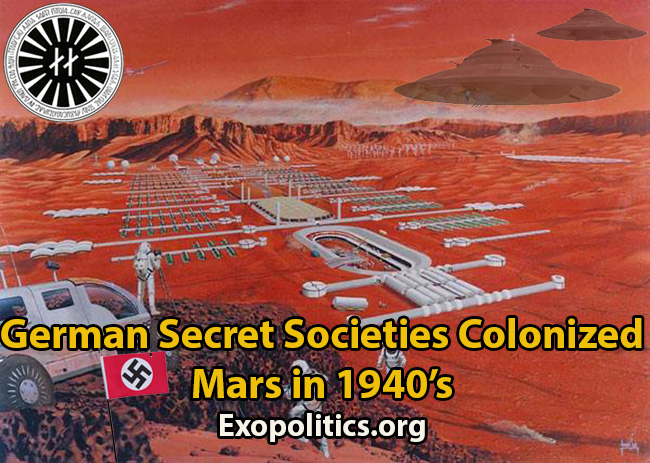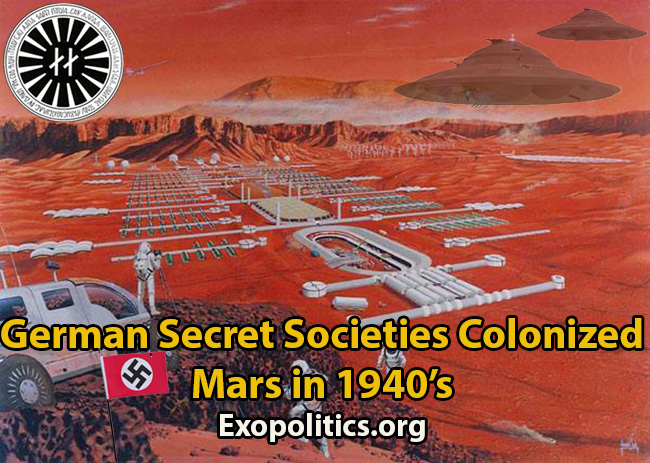 In his latest interview on Gaiam TV's Cosmic Disclosure, whistleblower Corey Goode describes in detail the attempts by a secret German space program to establish bases on Mars during the Second World War era. He claims that during the subsequent colonizing effort, the Germans fought fierce territorial battles with resident Martian species that inhabited large lava tubes that ran throughout Mars subterranean regions.
Goode says that during the early 1940's, while the Second World War was still being fought, German secret societies –Thule, Vril and Black Sun – had successfully established a base on the moon, and used that as a launching pad for missions to Mars. Travel time between the Moon and Mars was several hours for the Germans. Goode contrasted this with the contemporary secret space program which has cut this travel time down to a matter of minutes!
Goode describes information about the early German colonization events acquired from "smart glass pads" he had access to during his space service as an "intuitive empath" from 1987 to 2007. He says that German documents and photographs, detailing these Moon and Mars missions, were archived on the smart glass pads.
Goode previously described the power of the German secret societies in Hitler's Germany. The Thule, Vril and Black Sun societies had created a space program that was wholly independent of the Nazi SS effort to weaponize flying saucers for the war effort.
These German secret societies had established bases in Antarctica and South America that escaped the bulk of the fighting during the Second World War. Well-hidden and protected in these remote locations, the Germans had forged ahead in developing advanced space travel technologies using antigravity and space-time portals.
German secret society efforts in establishing a parallel space program was previously described by Goode in a May 20, 2015 email interview, earlier episodes of Cosmic Disclosure, and discussed in detail in the book, Insiders Reveal Secret Space Programs (2015).
In the November 10, 2015, episode of Cosmic Disclosure, Goode provides more information than earlier revealed about the challenges the early German colonists faced in establishing their bases on Mars and the Moon.
After establishing a presence in Mar's equatorial regions, he describes how the Germans encountered harsh sand storms that were highly electrically charged. The lightning storms wreaked havoc with the electronics of their technologies. Goode's testimony is supported by NASA research that has confirmed that tremendous lightning bursts do occur during Mars dust storms.
Consequently, the Germans began searching elsewhere on Mars for more suitable areas for their bases. They found that the Northern and Southern regions, above the 20th parallel, offered a more hospitable environment for building bases, well away from the huge electrical Martian dust storms. The Germans discovered an ancient lava tube system about 10 times the size of lave tubes on Earth, and relocated their bases here.
Mars lava tubes and other subterranean regions were not uninhabited though. The Germans encountered two intelligent resident species that they had to wage fierce territorial battles against while establishing their bases. Goode described the two species as Reptilian and Insectoid. These brutal battles led to the loss of many German personnel and resources up until the late 1950s, when the U.S. military industrial complex began helping the German secret societies on Mars.
In mid-1952, the Germans had conducted a series of flying saucer flights over Washington D.C. in a show of force. This led to the beginning of official relations with the German secret societies. During the Eisenhower administration, the U.S. capitulated to the Germans key demands, which led to the infiltration of the military-industrial complex.
With the industrial might of the U.S. now behind them, the German secret societies were able to finally consolidate their Mars bases and protect them from the resident Martians.
Is there any evidence supporting Goode's incredible claims? First, we can look to other whistleblowers who also claim to have spent time on Mars while serving with secret space programs.
Goode's testimony has a number of important parallels with the testimony of an earlier Mars whistleblower Randy Cramer, who says that he spent 17 years on Mars (from 1987 to 2004) in an elite military unit that defended civilian colonies from resident Martians.
In an April 2014, series of interviews (six months prior to Goode's public emergence in September), Cramer said that his unit regularly fought territorial battles with two intelligent Mars species, Reptilians and Insectoids – the same two identified by Goode.
Cramer described the resident Martians as fiercely territorial who would go to battle if their territory was threatened. At other times, they would leave the human colonists alone. Again, this is consistent with Goode's claims regarding German battles with the Martians.
While Cramer did not mention any German connection, he made it clear that the military unit he served with was subservient to a corporate entity that was in charge of Mars operations. This is consistent with Goode's claims about an "Interplanetary Corporate Conglomerate" that runs Mars, which had been earlier infiltrated and taken over by German secret societies and their Nazi SS supporters.
The SS had introduced slave labor practices that were common in Nazi Germany and at the German secret society bases in Antarctica and South America. According to Albert Speer, the Armaments Minister for Nazi Germany. the Nazi SS had plans to continue these slave practices well after the war.
Cramer's and Goode's testimonies about secret space program battles with indigenous Martians are consistent with a third whistleblower, Michael Relfe, who claims that he spent 20 years on Mars (from 1976 to 1996). Relfe describes fighting a variety of native and extraterrestrial threats to the secret space program running Mars operations. Goode's, Cramer's and Relfe's testimonies are compared and contrasted in chapter 13 of Insiders Reveal Secret Space Programs.
In addition to the testimonial evidence by Cramer and Relfe, which is consistent with Goode's claims, there is also important circumstantial evidence. From June 11 to 12, the British Interplanetary Society conducted a symposium on the theme, "How to Overthrow a Martian Dictatorship."
The scenario depicted by the British Interplanetary Society was of a corporate run space program on Mars that was dominated by leaders who behaved as dictators who exploited workers as slave labor. The scenario has many similarities to the ones described by Goode and Cramer about Mars being run by corporations that use elite military forces as space mercenaries to fight their battles.
The symposium was covered by Richard Hollingham, a writer with the British Broadcasting Corporation, who alluded to a MI-6 connection. The symposium coincided with a June 22 report by Goode regarding his inspection tour of a current Mars base that appeared to be run as a dictatorship. It is more than likely that the corporate practices on Mars bases today are connected to their antecedent, the early German bases that continued the Nazi practice of using slave labor.
These Cosmic Disclosure episodes with Goode blowing the whistle on key historical events withheld from the general public, if true, must change our world view to deal responsibly with the future.
Two other alleged secret space program whistleblowers support Goode's claims, along with compelling circumstantial evidence, which includes NASA data supporting his claim of a thin breathable atmosphere on Mars. For now, there is good reason to conclude that Goode is revealing a true insider's perspective on the role German secret societies played in establishing bases and colonizing Mars in the 1940s.
© Michael E. Salla, Ph.D. Copyright Notice
Further Reading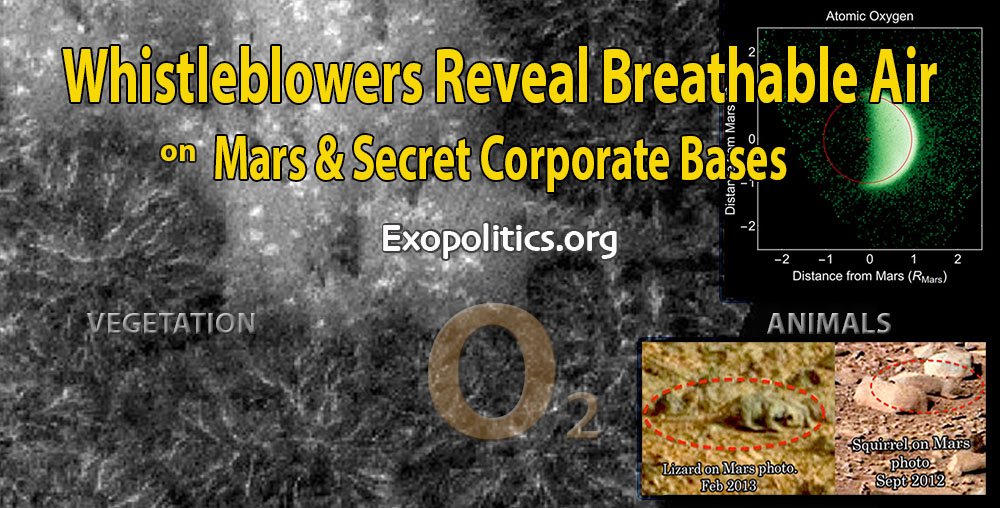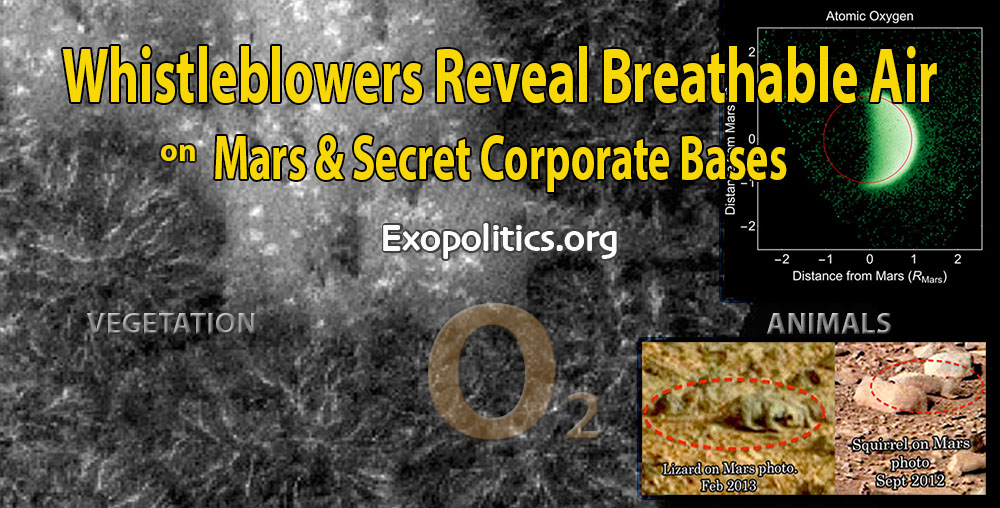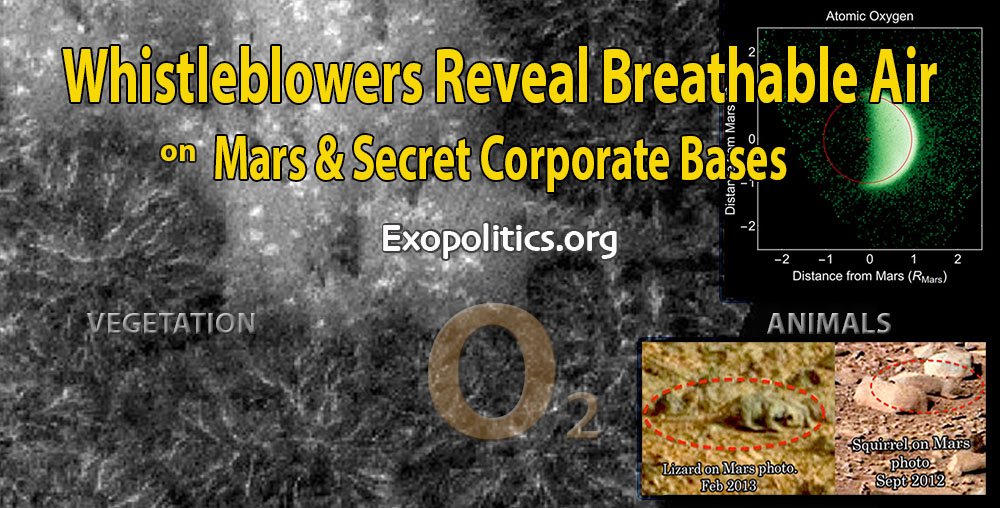 Today a transcript was released of an interview featuring Randy Cramer (aka Captain Kaye) who claims to have spent 17 years on Mars in the initial phase of a 20 year tour of duty from 1987 to 2007 with a secret space program. The transcript of the interview conducted on April 8, 2014, makes it possible to more easily compare Cramer's claims with that of another more recent whistleblower, Corey Goode (aka GoodETxSG), who also says he spent time at secret bases established on Mars during his own 20 year tour of duty over the same time period with another secret space program. A comparison of their testimonies shows consistency in their respective claims of secret bases on Mars run by corporations. Most surprising is that their claims of Mars having a breathable atmosphere hospitable to small animal life and vegetation, is supported by NASA's own Mars orbiter and rover images.
According to Cramer, the first landing on Mars occurred in the mid 1960's, and led to further exploratory missions before the establishment of a mining operation around 1975 that was run by what he described as the "Mars Colony Corporation":
My understanding is that we were on Mars the very first time around the mid-60s, but really didn't try to do anything serious, or really prepared to do anything with that until the 1970s. My understanding is that our first exploratory mission that was sent there to stay any length of time was 1970. Then after a few years it was decided that we were ready to go ahead and establish a Mars Colony Corporation foothold, and set up a few settlements and attempt to do some mining, and extract some resources to make it pay for itself. Apparently that was about 1975, when the Mars Colony Corporation set foot on Mars and started its first mining operation.
The military force that Cramer claims to have served under, the "Mars Defense Force," he says is controlled by the Mars Colony Corporation, and not any regular military space program run by the US or any multinational alliance.
If Cramer is accurate, the situation on Mars is therefore analogous to the scene depicted in the movie Avatar – a corporate conglomerate runs mining operations on a moon, Pandora, using contracted military personnel as its own private army. The way Cramer and his division was told to treat the native Martian inhabitants who used minimal advanced technology, again was very similar to Pandora. The native Martians would be attacked if they interfered in any way with the mining operations of the Mars Colony Corporation.
Corey Goode claims that one of five secret space programs he was exposed to during his tour of service is run by an Interstellar Corporate Conglomerate (ICC). He describes it as follows:
Focused mainly on development and aquisition of technology by any means. Develop and Produce Technology for Commerce with Earth and Off World Groups in a Barter System and left nothing off the table that they were willing to trade. Very powerful, very classified, and always had all of the latest technology and "Toys" at their disposal.
The ICC came into existence around the same time as Cramer claims the Mars Colony Corporation emerged in the mid-1970s. Goode explains how the ICC controls military forces on Mars just as Cramer described the situation with the Mars Defense Force and the Mars Colony Corporation. While the terminology used by Cramer and Goode to describe the corporate entity running Mars differs, the way the corporate entity functions is very similar.
The security personnel that are assigned to Mars serve under corporate leadership according to both Cramer and Goode. The military groups that will be returning to their previous organizations (secret space programs) are kept isolated from the population and personnel who live and work on the corporate colonies, bases and industrial facilities that they protect. In a June 22 report of a recent inspection tour of a Mars corporate facility, Goode describes how the Interplanetary Corporate Conglomerate had its own security personnel running the base in a manner similar to a draconian police state.
The emergence of private companies to take over significant aspects of secret space programs is a logical development of the secrecy surrounding these programs. The massive funding necessary for establishing and maintaining off-planet space programs cannot come from the normal appropriations process used by the US and other national militaries. The latter have to answer to lawmakers in their funding requests, and typically have to deal with public scrutiny of their "official black budget" funding of classified programs through the Department of Defense. In 2013, Edward Snowden released NSA files revealing that the black budget used to fund the intelligence community and classified programs was $52.16 billion for fiscal 2013.
The large scale funding required for establishing bases on Mars, or other celestial bodies, would far exceed the $52 billion "official black budget," and require going outside the normal Congressional funding process to maintain secrecy, at least in the USA. A 2003 report revealed a second "unofficial black budget" and estimated it to be an astounding average of $1.7 trillion per year from 1998-2000, At the time, that was more than five times the entire budget for the Department of Defense which in 2001 was $291 billion. The "unofficial black budget" is almost certainly likely used to fund secret off-world programs such as Mars, the moon and elsewhere.
Companies taking over various aspects of secret space programs could do so without legislative scrutiny and oversight. As long as the companies controlling mining and other aspects of secret space programs could make profits on such activities, then stock holders would be unlikely to pose any long term problem. If Corey Goode's testimony about the existence of the Interplanetary Corporate Conglomerate is accurate, then it appears that many classified space activities and assets are already being exploited for profit.
The most significant similarity between Cramer's and Goode's testimonies concerns the Martian atmosphere. According to Cramer, when he landed on Mars, he exited and directly experienced the Martian atmosphere:
It was that particular time that we came out, it was, it felt like a hot day but there was a very cold wind that was blowing and you felt like you came out at 8000 or 9000 feet or something like that. The air was very thin, but totally breathable. I was really quite surprised to be honest, to have them just open up the door and say alright head for that other door and have us walk right outside but we did.
This is what Corey Goode says about his experience on Mars:
There is a thin atmosphere (like being at very high altitudes on Earth) but the atmospheric pressure is very low as is the temperature most of the time. There are times depending on Mars season and weather that make it possible for very short exposure time on the surface…. I would imagine that some have slightly acclimated to it. I would not want to spend any amount of time outside of the light duty suits we wore especially if you were doing anything physically exertive. There were some small wild life and vegetation that we observed in the general location of where the construction was being done.
According to NASA, Mars atmosphere is 95% carbon dioxide with only a trace amount of oxygen 0.13% – not enough to sustain life. On October 14, 2014, NASA's MAVEN spacecraft, released data about oxygen being released from Mars upper atmosphere into space. According to NASA, this oxygen is due to the breakdown of water and carbon dioxide molecules in the upper atmosphere. Another explanation is that oxygen is being produced on Mars surface by vegetation that varies in size with the seasons, and whose oxygen eventually dissipates as it rises.
Dr Thomas Van Flandern former Chief Astronomer for the United States Naval Observatory released his research findings about photos from the Mars Global Surveyor spacecraft that there was current vegetation on Mars in the form of shrubs, and trees that varies with seasons. In an April 5, 2001 Press Conference at the National Press Club, Washington DC., he presented his evidence of vegetation on Mars along with his analysis of evidence of artificial structures.
Van Flandern also revealed the strong opposition to him publishing his findings in peer reviewed scientific journals – a clear way to minimize the ground breaking results that there was photographic evidence of life on Mars. Despite Van Flandern's professional standing in the astronomical community, NASA and the scientific community ignored his pioneering research revealing vegetation on Mars that fluctuated with seasons.
There have been a number of Curiosity Rover images that appear to show small animals on the surface of Mars such as lizards, squirrels and even ducks which helps confirm Goode's claims of small wild life and vegetation. The Curiosity Rover images support Cramer's and Goode's claims that Mars has a thin breathable atmosphere. Perhaps, most importantly, their testimonies and Curiosity Rover images confirm that Mars surface is producing oxygen, whose levels fluctuate with the seasons. The oxygen eventually finds its way into the upper atmosphere before being dissipated into space. The oxygen observed by the MAVEN spacecraft is therefore not exclusively a result of the breakdown of water and carbon dioxide, but also due to Mars fluctuating surface oxygen levels.
Another significant aspect of Cramer's testimony is his claim that Martian sunsets and sunrises are purple, while the daytime sky is normally red due to the heavy amount of iron oxide in the atmosphere which blocks shorter wavelengths such as blue. Here's what he said about the Mars sunset:
… there's a period of time for maybe 15 or 20 minutes depending on the season when the sun is dropping below the horizon and it goes from red to purple. For about 15 mins everything turns this amazing shade of purple.
Again, this matches with Goode's experiences on Mars.
The sky was a light blue to lavender and pinkish especially during sunset when there wasn't a lot of dust in the upper atmosphere (which occurred frequently when we were on the surface).
On May 15, Curiosity Rover made headlines by releasing its first color photos of the Martian sunset. While NASA and the media described these as blue sunsets, as one can easily see in the following video, the overall sky during the sunset takes a progressively purplish tinge as the sun continues to dip towards the horizon. This is similar to what Cramer and Goode claimed, and helps corroborate their testimonies.
To date, there has been no hard evidence or documentation to substantiate Randy Cramer's claims. In his interviews he appears sincere, consistent, and attentive to details in the experiences he is describing. Furthermore, his testimony has similarities with other Mars whistleblowers who have come forward such as Michael Relfe and Corey Goode. In particular, the similarities with Relfe's and Goode's testimonies suggest that one or more secret space programs exist where personnel are recruited for 20 year tours of duty, before being returned to normal civilian life through age-regression and time travel technologies with their memories removed.
It's highly unlikely that Cramer is making up his testimony, but there is a possibility that some of his "recovered memories" are implanted screen memories designed to mislead him and others about various aspects of secret space programs. It's possible that genuine information is mixed with false screen memories in Cramer's revelations about secret bases on Mars. This is certainly what I believed about Cramer's bizarre claim of having experienced two head transplants while serving on Mars, until I learned that such a medical procedure is viable and will be soon attempted.
In the absence of hard evidence or documentation to confirm Cramer's testimony, detailed analysis of his claims such as the color of Martian sunsets/sunrises and a thin breathable Martian atmosphere with scientific data will be helpful. Finally, a cross-comparative study with the claims of other secret space program whistleblowers such as Goode and Relfe, will further help confirm his claims. An earlier comparison with the claims of Goode, showed that there was no possibility of cross contamination, and that their testimonies were genuinely independent. Combining scientific analyses with comparative studies of Cramer's and other whistleblower testimonies will help reveal the reveal the truth about secret bases on Mars.
© Michael E. Salla, Ph.D. Copyright Notice
Further Reading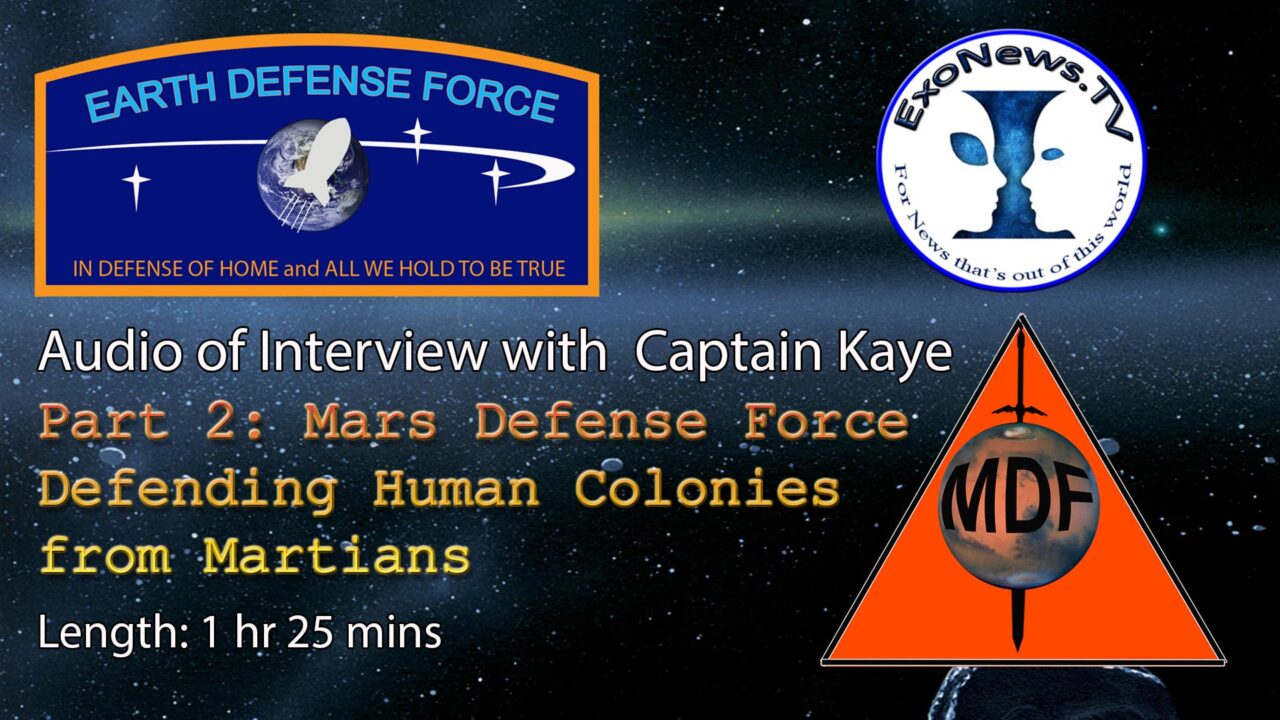 This is part 2 [click here for part 1] of the transcript of the explosive original testimony of Randy Cramer (aka Captain Kaye) who claims he served on Mars as part of an elite Mars Defense Force for just over 17 years. The main purpose was to protect a "Mars Colony Corporation" that had five civilian settlements on Mars from indigenous Martians. In the interview, Cramer describes how he traveled to secret Moon base to sign papers committing him to a 20 year tour of duty. He was then transported to a military base on Mars where his unit engaged in territorial battles with the native Reptilian and Insectoid Martians. This was Cramer's second interview in a five part series where he described his training as a child super soldier to serve as a member of an elite Marine Corps unit that provides personnel for a secret space program with military bases on the Moon, Mars and other parts of the solar system.
Original Skype Audio Interview published through ExoNews.TV at https://youtu.be/YCTYkYcYuI0
Abbreviations:
M.S. Michael Salla, Ph.D.
R.C. Randy Cramer (Capt, USMCss)
[0.00] – Red timestamp refers to the time in the interview
Note. Randy Cramer used the pseudonym Captain Kaye in the five part series of interviews published in April 2014. Linguistic redundancies such as "you know", "so", "and", "ah," etc. have been removed when appropriate for correct grammar and ease of reading. An ellipsis … will signify removed text to correct grammar or eliminate reduncies. Timestamps will enable the reader to locate the relevant audio passages.
Formatting: All questions are bold highlighted, and normal text is the response by Randy Cramer (Captain Kaye).
© Michael E. Salla, Ph.D. Copyright Notice
---
Transcript of Interview conducted via Skype
M.S. Right, now of course you arrived there on Mars around 1987, and 1975 was when Aries Prime was set up. Now this of course was during the Cold War, so was the Soviet Union a part of the Earth Defense Force and the running of Aries Prime?
[35.41]
R.C. Absolutely. Yes, the US, Russia, China, Germany, I mean everybody cooperated together. Absolutely it was taking place, and I have had this question a lot. How is it that these people cooperate, while at the same time, everyone is fighting. Like, who's lying or is it just a show> I think the real answer to that is that the people who have separated themselves from regular state authorities over decades ago to establish the parallel organizations, are so separate that the people who don't know what's really going on, are really fighting with each other. They are all having all kinds of problems with each other, and hate each other, and want to kill each other. The people who have set themselves about that have done that other thing, which is we are going to cooperate for mutual goals and benefits, and try to sort out all these other problems down below over time by keeping them separate. So that's just a little aside that explains why they do that.
[38.50]
M.S. I see, so at this point you are going to begin your official duties so what is it that you are now officially recruited into?
[37.02]
R.C. At that point I arrive at Aries Prime, and at that point we all get informed that we are now members of the Mars Defense Force (MDF). The MDF is the specific military organization, private contracted military organization which is specifically contracted to serve under the MCC [Mars Colony Corporation] to protect and defend the Mars Colony Corporation and its interests. We got informed you are now a member of the Mars Defense force, you will be assigned a chit, a little card, paper work that is going to tell which shuttle you are going to get on. Then you are going to get on that shuttle and that shuttle is going to take you to a station and that station is where you are going to be probably for the next 20 years, and when you get to that station then you will get informed exactly what you are doing, and exactly who you are working [with], and receive all necessary training equipment, etc., when you get there.
[38.11]
So I get my chit, I got my stacks of paper work, wandering out on to the tarmac again, being directed towards which shuttle I got to be on. This time, these vehicles are pretty small as far as not being much bigger than half a bus. They're like half a city bus, they're not that big. I think these things only sat about 20 guys, plus a pilot and a co-pilot up front and rows of seats kind of facing each other with a door out the back. So you come up, get in, sit down. Seats aren't even all full in this particular vehicle, there are only like 15, 16 people, so we had a few empty seats. Unlike the larger vehicle which was a very smooth, very quiet lift-off, take-off, landing, not a lot of movement or momentum or disturbances, this vehicle was kind of loud and you could definitely feel that you were kind of shaking and moving when it lifted up off the ground… [It] seemed to do most of its maneuvering at between 15-20 feet off the ground, it was a kind of low to the ground vehicle. I think it could go higher but staying low to the ground meant it was less a target, … [inaudible] could be a target for anything that was higher in the air.
[39.47]
We spent like what seemed like … three or four hours of flying across this red rocky landscape. So we got to forward station Zebra which is where I spent the next 17 plus years of my life as a member of the special tactical operations division of 098 Forward Station Zebra which also housed in a sister division unit which was less than a 100 feet from the main station. So that there are kind of like two separate stations right next to each other, which [was] division 097. Our sister division was 097, we were division 098 Special Tactical Operations Division, Mars Defense Force, Forward Station Zebra.
[40.50]
We got there and we are introduced to that facility and again we are met by some young enlisted people who are already stationed there, walked us around, took us into the interior of the structure and then walked us around what I call, we called, "the horseshoe" because the main living quarters in the barracks was in the back, farthest retreat point as you come in the front, and the farthest at the back point of the station in a kind of horseshoe shape, so that the two horseshoe ends did come around and there was a hallway that connected them so they kind of formed a horseshoe shape…
[41.32]
They led us down the horseshoe, and as we walked around we're calling out names and pointing into the individual barracks for the squads which were 16 all the way around. There were alpha, bravo, charlie, delta, all the way around, and went down. They were calling out "so and so alpha", "so and so bravo." We get to delta and it was me and another guy. It was like, Cramer, Hansen, Delta Squad. So we went in there and they said wait here for the rest of your team to get back, and you'll get briefed by them and told what to do. I could go into [great] detail into these sorts of things, but long story short, the rest of the squad came back. We met, familiarized ourselves, all realized that we were going to have to be friends, and that was the first day I got to meet my squad and realize what was going to happen.
[42.32]
The next day was our first training day where we got to familiarize ourselves with the powered body armor, environment suits and the hand-held gauss rifles or magnetic propelled weapons, and practiced our simulations putting on and taking off our body armor, firing weapons, and shooting against what were supposedly known threats at the time. Got a briefing from the base intel officer on where we were, and what we were doing, what the threats were going to be… He explained to us the Mars Colony Corporations job is to extract minerals and resources that those folks do, and your job is to kill anything that tries to get in the way of that.
[43.27]
We were informed that the native species of Mars were numerous as it turns out. There's a number of living things that live on Mars now. The surface is still kind of sparse compared to what it used to be before the grand accident, as I kind of think of it. Which at another place in the story it will be more appropriate to tell that part, talking about the history of Mars as I've come to understand it, or came to be told it. So we were given a briefing on who and what's what. So it turns out there were two main evolved species other than us who were living on this planet that we might have to contend with.
A native Reptoid species and a native Insectoid species that don't necessarily live in the same areas, but have their own nests and hives, whatever they wanted to call them at the time.
[44.28]
We were essentially treated to the typical [briefing], these are the native savages and beasts that you're going to have to deal with. We weren't given any kind of impression that these evolved or civilized cultures, or had high knowledge, or philosophy, or technology or anything. Just that these tended to be a really big pain in the butt that we were going to have to deal with. I learned later that that was not the case. These were a very evolved species, had quite a bit of intelligence, quite a bit of culture, quite a bit of civilization. We were not given that as a briefing.
[44.28]
We were explained what the main tactic and strategy of Mars was, and the way these beings worked on Mars was a constant testing of boundaries. Wherever your boundaries meet up against, a forward station meets up with the boundary of a Reptoid or Instectoid species, lair or hive, is going to be a place of contested space, where they will challenge that space. They will challenge that space as far as to raid and completely overwhelm your own hive or nest, as they like to call it. But they have a strategy, which is you don't go in and completely eliminate somebody's nest, you don't kill everything inside the nest. If you actually get inside somebody's hive or nest; or in our case our base, your goal is to kill all the soldiers, or kill all the army ants so to speak, or you kill, or break all the eggs in the hatchery, the next fringe generation of warriors. You're not trying to eliminate or knock out the species since that would create a vacuum of space, and you don't know necessarily what's going to come in and occupy that neighboring space again because most of everyone is fairly contained where they're at.
[46.35]
There's not a lot of a need to have a hive or nest to expand there, or there and there. There's a lot of isolationist, we're OK here [sentiment]. You stay where you are, and we'll occasionally test your area, and test your space, and we'll occasionally reduce your level to be a threat to us by stomping on all your eggs, or by stomping on all your soldiers so you have to breed or grow a bunch more. That maintains a certain balance of safety, and a certain balance of "we can all grow and get along without anyone having to get too crazy or out of line." It keeps everyone in a constant state of war and conflict, and threat, and attack and defense. Our main strategy, as we were told, was to defend those borders, and to occasionally raid somebody else's nest and follow those same conditions. If we raided … somebody's lair or nest we were not expected to wipe them out with every technology we had. We were supposed to do the same thing which is to stomp on the eggs, or step on all the little hatchlings, and set them back a couple of generations long enough [so] that it will be x number of months or whatever before they are going to be able to formulate any kind of offensive again.
[47.50]
We were informed that that was the way it was going to be and we were going to be spending quite a bit of time doing that. After the intel briefing on here's where you are, here's who you are fighting, and here's where you're going to be fighting it, we got a speech from the old man, the colonel of the base. A nice old guy, I mean a guy I still respect to this day quite a bit, who gave us his big speech on who we are, why we're here. To be honest, it was a fairly motivating speech. He said a lot of positive things about who we are, and why we were there, what good we were doing there for our people on our planet back home, and why we should be proud of what we're doing and where we are. Again, it was a good speech, I felt fairly motivated by it. So after we got everybody's introduction speeches, then like I said, the next day it was straight … [unintelligible] figuring out how to work all the equipment …  We probably had our first skirmish by the fifth day I was there.
[48.52]
M.S. You mentioned that the Reptoid and Insectoid races that were there were indigenous. I'm assuming that they don't have anything to do with off-world Reptoid and Insectoid races that do have advanced spacecraft that travel through our galaxy, and have been reported to be interacting with people on Earth. That these indigenous Martian Reptoid and Insectoid races are some kind of indigenous development over many, many millennia.
[49.26]
R.C. Yes, definitely, at that point I can go into a little more detail into what I understand to be the Martian history as it was told to me. I have to jump a bit ahead I guess otherwise it will be this very long story. So I'll just jump ahead into this really interesting part. Some years later, well into my second decade of my service … at the time I had gone from being a plebe in a fire team, to the squad leader of Delta Squad and we were captured, intentionally by the Reptoid species who referred to themselves as the Gah Luka [phonetic] which is as much as we think of ourselves as Earthlings because we live on Earth, Gah Luk is the name they call their planet, their home, so they really just call themselves people of home, the children of Gah Luka.
[50.42]
When we got captured, which remember was intentional, they decided that they had enough of whatever game playing we'd been doing over these years and it was time to get closer to who this hairless pink ape was that had landed and was giving them trouble. Again, they're not savages. They're very, very intelligent. In fact, they're the remnants of the older ancient Martian species which was very advanced and had really advanced technology and space travel technologies. Advanced enough that they nearly destroyed themselves when they blew out their atmosphere. When the atmosphere got blown out, that essentially changed the pressure balance…. The pressure change made the oceans boil, and made the high pressure, low pressure systems so fast that 800 mph winds [blew]. While all of that air and moisture pushed out away from the planet and then gravity trying to pull it back in, some number of hours or days … was [all] that it took for the atmosphere [to] restabilize and create another bubble around it. By that time, everything had swirled around and thousand mph winds for who knows for how long, destroying every living thing on the surface.
[52.10]
If they had not already taken serious effort to have very deep and strong, completely secure, hundreds of feet underground, bases or cities of their own, they would never have survived because everything on the surface was absolutely annihilated. My understanding of what happened at that point is the surviving Reptoids who were all underground at that point, there was a moment of realization and awakening for them to go "wow, we just killed our planet." That was not very cool of us…. There was pretty much a division, and I won't say right down the middle. There was two sides that formed out of this. There was those who said, "wow, we've done a bad thing and we're going to have to pay our penance for this, and we're going to have to stay here and fix this. We are going to have to stay here and heal our planet, and re-terraform our planet… If it takes the next ten, twenty, whatever thousand years, well that's our responsibility and what we are going to have to do in order to fix what we've done which is actually kill everything on the surface of the planet."
[53.22]
The other faction was, "hell no, we're getting out of here. Everything is dead, it's gone, goodbye, it's over. We might as well leave." They picked up and left. It's entirely possible or even likely that some of them came here [Earth], and that … one of the many species of Reptoids that came here ten or twenty thousand years ago that may or may not be friendly, giving us some trouble, certainly could have been some of those Martian Reptoids who left when that happened. I'm pretty sure it wasn't only them, and I'm pretty sure there's more species that have done more harm to us than they have. But if anything, they could be one of those mid-level management illuminati type species, or something that could be here on Earth, that could be an answer for that.
[54.25]
But the ones that stayed, really changed their ways to be honest. The sort of difference between the northern tribes and the southern tribes, as they are known now, is that the southern tribe have decided that to appease their planet that they should return to the old ways. So much of their choice to fight with primitive weaponry, or to fight using more primitive warlike techniques is a very specific stance on their part to do what they think, which is to be true to the old ways of their world and of their planet in order to have this old warrior philosophy, and this old way of living, than having war, since obviously the new way got everybody killed… So  their philosophy is Luddite, "let's go back, forward was bad, so let's go back, that's the way we should fix this." So the southern tribes, I wouldn't say they're the friendliest or really the folks there that we would want to try and make good relationships with, or have positive relationships with, because they're not interested in it. They are interested in a life of war, that's what they do and they believe that's being true to their planet, and their true being is to be warlike.
[55.48]
The northern tribes are a little more varied, a little more different, and in some cases more mystical, more spiritual … and so when we were captured it was to get to the bottom of who we were and what was going on in our heads so that they could decide whether to wipe out this interloper that had come, this invasive species. Or whether it was something that should cohabitate and learn from this experience on their world as well. It was through a kind of lengthy process, a pretty painful torturous process, they weren't nice about it at first. They were really wanting to get to the bottom of it. So there were a number of days where I was hung up with my arms, like this, in a stress position, being asked questions for a number of days before being let down, and allowed to mingle with the community and given a chance to participate as a member of the group. I felt really blessed, given that opportunity, and got to spend enough time to learn quite a bit, and in that period of time was also taken by a leader of that Reptoid tribe to meet the Insectoid tribe, and got to meet them for the first time through the Saurians, as a liaison, as a go-between. That was really interesting.
[57.13]
The Insectoids were essentially a subterranean species who were coming along as far as higher intelligence, and their ability to manipulate their own biology, and ability to organically grow and hatch things the way they wanted to. They were very advanced for an insect species that don't use any kind of electronic technology … we were surprised at the kind of thing that can be accomplished. Essentially, when the Reptoids were driven underground by the surface being destroyed, that allowed in the time of re-terraforming the surface, the opportunity for the insects to come to the surface and they started building large hives out on the surface to expand. The fact that the Reptoids nearly annihilated themselves is what allowed it [Mars] to become a two species planet…. This other species was able to sort of come out, secure some space; and according to the Reptoids own system of what they believe are laws [of] how their planet works, the insects could defend and maintain their space by playing with the same rules of respect and strength, then it was OK. They could set out their space and they could all cohabitate together, and still have the occasional skirmish or invasion of one another since that's what you do sometimes.
[58.50]
There was also interestingly quite a good peace treaty between most of the northern tribes and the insects. The insects and the northern tribes didn't fight much. They really had their shit together. Anyway, I could blah blah about that, but I'll let you ask another question or go on.
[59.05]
M.S. Essentially, your primary responsibility when stationed at Forward Station Zebra was to participate in any Martian surface hostilities and to protect the Mars Colony Corporation, the different outposts they had there. I guess this may be what happened later, was there off world battles that you were a part of, or you knew were occurring and this was something you would support in some way, or later on became directly active in? 
[59.45]
[R.C.]To my knowledge at the time, we weren't given a lot of details in our daily briefings on what was happening outside of the Martian surface, or what was happening too far outside of our zone. We even didn't get reports on what was happening at the other stations, or what was happening with the other settlements. We got really limited information on what was happening in our zone, and our area that our forward station was responsible for. We got the impression from everything else that was going on, that there was also a battle happening in the skies, with certain peoples. We couldn't necessarily have a lot of information of who was fighting or shooting at who. I guess I should say this, the conflict itself, we didn't understand who everybody was in this game, because while there were a native Reptoid species, and a native Insectoid species, and us, there also was an invasive Reptoid species which for several years we did not understand was separate from the native species.
[1:01.03]
For a number of years we just assumed that a reptile was a reptile was a reptile, and they were all part of the same group, even if they were different in size, shape or color. They just must be different kinds of ranks, or distinctions, or individual races, that they are working with. We presumed for a long time that all the reptiles were the same, and they weren't. There was an invasive Reptoid species, they were Draconians, Alpha Draconians. For a long time we thought the two reptiles were the same. The Draconians were really trying to play off, getting everyone else to fight with each other. So the more hostility, the more crazy action, they could encourage us to take against each other, the native saurian, the native insects, and us, was good for them. It took quite a bit of time to realize through good intelligence that was not the case, and we needed to sort of rethink what was happening. Our goal definitely was to defend everything and anything that threatened, but I just want to make the distinction that what we thought that was, wasn't exactly what that was. It was partly because of bad intelligence, and partly because of species ignorance, like they all have the same thing … [without realizing] they were two completely different species.
[1:02.39]
We didn't know that the native reptiles and the invasive reptiles were fighting, and the insects and the invasive reptiles were fighting, and trying to get us to fight with each other, to keep us from fighting them. We didn't realize that if we were under attack from the air, it wasn't the same reptiles that were trying to attack us from underground, across the sand. So it was pretty confusing for while, as far as who was doing what, and what was fighting. Day to day operations was that if anything comes close, suit up, go out, fight with it. If anything comes to raid or invade, go through the protocols of defending the space until it's over, then do the same thing the next day if you have to.
[1:03.23]
M.S. There have been a number of sources that have described a human indigenous race on Mars that historically, at a time of devastation, that it's possible that they emigrated to the Earth, and some of them went underground. Did you ever come across any kind of evidence, or any information about an indigenous human looking Martian race?
[1:03.49]
RC. Not an indigenous one. It was explained to me that many different species have touched the surface of Mars over the years. Just like many species have touched the surface of the Earth over the years. So Mars is no exception to that. They certainly had a number of other Reptoid, Mammalian and other types of species that have come there, hung out for a while, stayed for a while, had conflict, then left. There were certainly times when the native Reptoids were not as advanced … [inaudible] add technology, help them, hinder them, use them … they've had kind of the same story but in their own unique way that we have in that way.
[1:04.46]
M.S. So you're stationed at [Forward] Station Zebra for 17 years and you're doing all this fighting, suiting up to do battle with whoever is threating the Mars Colony or Aires Prime or other settlements, in your down time, what did you do for recreation. Did you travel to Aries Prime, and just hung out? What was happening in the down time?
[1:05.18]
R.C. Oh, sure, we never left the station ever, unless it was military related, we had to go out to defend something, and come back. We never left. All our down time and recreation time was spent in the horseshoe pretty much. Luckily, there were the simulators which we used for training, could also be used for recreation. They're essentially a kind of holographic experiential system that you hook into. There's headgear, and a kind of body thing that you sit into, and you engage in this completely virtual experience that has the ability because it's completely hooked into your central nervous system, to train muscle memory at the same time. So we actually did a lot of training in the simulators in which going through the virtual simulated experiences are actually doing all the same messaging, electro, bioelectrically through our bodies, at least doing the same training as muscle memory. The weight of information that is transmitted in the simulators, is faster than real time. So you can actually do 12 hours of training in a simulator, in three hours of actual time. So those same simulators are also used for recreation. OK, so where do we want to go today? Let's go hang out on the beach. Ok, let's go hang out at the beach. You plug into the simulator and hang out at the beach for the afternoon.
[1:06.56]
M.S. I see, so for example female companionship, were females allowed on the station, or was it using these simulators?
[1:07.10]
R.C.  It was absolutely mixed co-ed group. Men and women were assigned to the special tactical operations division there. Again, I would say in the supersoldier categories you still had this kind of two thirds, almost male, to a third female ratio. There definitely were more men than there were women, but in order to deal with that, in order to deal with what otherwise would have been a pretty competitive situation, the rules and regulations were pretty much set up for a very liberal approach to soldiers having sex with each other, both hetero and homoerotic in ways that were considered as long as it's in your off-time, and it's in such a way, do whatever you need to do to get your hormones out of the way. Otherwise there were too many fights and people were knocking each other out in the hallways over things that didn't really matter. So it was a very liberal policy towards interaction. A very liberal policy towards sexual interaction and in your off-time you could pretty much do what you want. We did have a mixed bunch.
[1:08.32]
M.S. After spending 17 years on Forward Station Zebra what rank did you attain, what responsibilities did you have, and what happened that precipitated the next transition in your own off-world activities.
[1:08.53]
R.C.  I'm realizing that the question you asked me earlier I didn't get to finish, [I can finish] by answering this question. In my capacity in special tactical operations division, I moved all the way up to Sergeant-Major after a 17 year 3 month period of time. Just a little over 17 years. At that time, a horrible disaster occurred. I'm going to have to choose my words carefully here. It wasn't an accident, it wasn't a natural disaster, but suffice to say that my division 098, our sister division 097, and two other divisions from a neighboring station 096 and 095, which is about 244 per division. 16 squads of 16 persons each which I think is 244 [actually 254] times four, nearly, just under a thousand of us. When it was over, out of that thousand, there were less than 35, [of] which I was a surviving member. It was a really bad thing which everyone got killed. At that point, it was over, the division was done. If they were going to rebuild the division, they were going to have to rebuild from scratch. There was no way you were going to take the six or seven guys out of the division that was left and watch the entire rest of the division get massacred, and put them back in, and be a part of the next division. That just wasn't going to happen.
[1:10.57]
I had a superior officer who came to me when I was in my Med-bed recovering, and asked me if I wanted to go to a flight school and fly. I didn't have to bat an eye. I was like of course I want to fly. He said, "great, as soon as you're done here, the docs clear you here, we're going to send you off to OCS [Officer Candidate School] Officer School, and you get to go fly. The last almost three years of my time, in my 20 year tour, I got to spend as a pilot, an officer, as a captain. At that point [OCS] was still in a marine air corps division … The Air Corps division interestingly enough, I think was modelled after a US Air Force program but contained a number of pilots and officers from other branches of the military. While we all got to wear the same uniform, we had distinctive ribbons and patches that identified exactly which service and country we were from. Unlike what it was like on the ground. On the ground we all had a completely different uniform, an MDF uniform, that didn't have any of that insignia or marking on it. But when we moved to the flight division, that was different. We were more clearly identified as where we were from, and from what country we were from so that everyone… It was way more of an international mixing together. So that's to answer the question about things that were happening in the air. Yeh, that last few years I got to spend in the air, in various skirmishes around the solar system, and doing a few interesting things in that capacity, Including the bombing of the Zeta base on Ganymede, which to my knowledge, our problems with the Zetas ended when we bombed the f. out of their base on Ganymede.
[1:13.05]
M.S. I was going to leave questions about the last three years of your service for another part, a final concluding part, but I wanted to finish this part by finding out [about] this final battle where your division was wiped out with approximately a thousand casualties. Firstly what did that battle involve, was it the indigenous races there on Mars? Finally, what was the fall-out for the Mars Colony Corporation, were the Corporations activities destroyed, or inhibited by what happened to the Mars Defense Force.   
[1:13.51]
R.C. All very good questions. Essentially at this time, just before this mission occurred, the war was over. A war which I had spent 17 years as a part of, but had started way before I did. My understanding, [it] raged for over 25 years. That was over, we had actually signed treaties with the native Reptoids and the native Insectoids, and had recognized the invading Reptoids [Draconians] as the bad guys, and had all got together and signed a treaty. [We] ganged up on them [Draconians], three against one, and drove them completely out of the Martian sphere for good. That was huge, that was a big applause moment and we essentially got told, "OK, we need you guys to go in to this Reptoid Hive which was supposed to be a much older, older site that had artifacts that are really old, that the scientists want." [It] was not uncommon for them to find some area or ruin that had some old archeological facets, technologies that they would send us in to try and extract or get. Sometimes it would be just junk, and sometimes some interesting weird stuff. Sometimes it would be, oh, crap, there's a nest of them here, and we'd run away, because we didn't bring enough guys.
[1:15.34]
We ended the war and instead of ending the war, they were like, OK, go get this thing at this site and we are sending four divisions, a thousand of you. Which is pretty weird to send a thousand guys on a go pick-up an object kind of mission. Most of us thought that was pretty weird and most of us had a bad feeling about what we were doing. We thought "wait, wait, wait, we don't want this to be misinterpreted. We signed a treaty with these guys and we ganged up on the real bad guys with these guys, do we really want to risk [that] by sending a thousand guys to one of their older, more ancient temple sites that they've asked us not to go into? They're not going to receive that very well." Some of us were concerned. I certainly being a senior enlisted person protested to my command officer, to the command staff, and I protested to the old man [the commanding Colonel], used whatever weight I carried with him to say, "look, look, I don't think this is a good idea. I think this is dirty, I don't think we are going to make out with this, and we should know better that meeting these guys in the field, that they hold back, nine times out of ten. If they really come at us mad, we're done. They're really powerful warriors and most of the time they really fight restrained because if they really came at us with barrels it would be all over quickly. It's no fun for them in that way." Knowing that, I was not interested in walking into whatever we were walking into. But the old man really agreed with me, that he didn't like it either. He said, "I got my orders, now you got yours, and do what I know you do best and get in there, get your job done and get out. If there's a problem, get out. I trust you to command your people, and I trust you to be a top guy down there on the ground, and I … can't be there which is why you're going to be there, and that's why I hope this is going to go as badly as I think it will either. But, we all got our orders, so go do it."
[1:17.44]
RC. We essentially had to come at this large underground ancient site through a series of tunnels and caves that kind of went down to it. We didn't want to send everyone through one direction, plus that would have bottled us up in the smaller caverns we couldn't fit more than six or eight guys across. You got a thousand guys, that makes crowded hallways. We try to keep … directions as we could. Sure enough, we get into this main domed building area which is essentially like standing inside something the size of the superdome or the astrodome or whatever. Some kind of domed sports arena. It was just that big and that round or so. We all kind of got down inside and we're trying to communicate with HQ to figure out what's next, and that's when all the communications went dead, and our radios and our signals were jammed, and we all started looking at each other going this can't be good. Then all round this large domed roof, at even intervals, what appeared to be rocky surface became doorways. I'm not sure if that was a solid holographic, or not a solid holographic, or what looked like solid wall, was all of a sudden not solid wall, and was doorways going all the way round this room. Like streams coming out of a drainpipe, from each hole come floods of these very large, very mean, very angry Martian [Reptoid] warriors, swaying around in both hands large bladed weapons. They just started moving around and surrounding everybody and moving in a big circle, a spiral, and swinging. An outer circle of all of our people just starting dropping and being cut, [we] tried to pull in, and pull in, try to get some distance to try to manage to fight and defend. No, it was like being caught inside a blender.
[1:20.38]
By that stage we, the egg heads, had developed a localized wormhole technology so a lot of our transporting of troops at that stage in the game, was being done by a localized wormhole phenomenon. But they [Reptoids] had completely jammed out ability to communicate, were jamming our ability to send localized troop transport coordinates … Someone managed to get their radio going correctly, or managed to get another signal on another frequency so they were able to connect to HQ, and try and communicate what was going on, and what we should do, what was happening. They kept telling us to stay put, not like we could do anything else, and any minute now they would have figured out how to get the wormholes back open and get us out of there.
[1:21.35]
Well what happened was the craft that uses the localized wormhole phenomenon [was jammed] so they had to use the larger ship transport wormhole phenomenon which created this large ship sized wormhole right above us. [It] sucked up the survivors, what was left at that point. The circle kept getting smaller and smaller, and then whoever got caught in the event horizon of that ship wormhole was sliced right off wherever they touched the event horizon. The next thing I know we're on the Med-bay pad and medics coming in … [Randy gets very emotional] I can see her top half, blood coming out of her so fast that she went pale so fast, and lifeless so fast. All I could do was yell, "medic, medic, I need a medic over here. I got people dying." It was chaos, and everybody died except the 35 or so of us that didn't. My understanding was that this was a dumb command decision by people at the MCC who wanted whatever this thing that was so special … they were willing to violate treaty space, [what] we had already decided was treaty space, by sending a thousand guys to their death.
[1:23.10]
To my knowledge I think the MCC really suffered from that. I don't think the native Martians would have chosen at that point to say, "you betrayed it, we're going to wipe you out now." I think they would have said, "well, we killed all your guys who came into our temple, like we told you not to. That will teach you that lesson." I would imagine that anyone else who thought … [inaudible] a harsh response from them at that point. They essentially … [inaudible] parameters of the treaty. I seriously doubt that would degrade back into war based on the treaty we filed, but it would be seen as an overstep that was responded with, "well your guys came over here like they shouldn't and we killed them all like we told you we would if you did. Don't do it again."
[1:23.56]
M.S. Well thanks for sharing that. I think a lot of the listeners would appreciate knowing exactly what it was that happened, even though the details are obviously a very moving and traumatic for you, a lot of viewers would benefit to know what exactly happened, and what the ramifications were. So I'm going to bring this part to a close, and then we will come back for another part to look at the final three years and wrap things up. I want to thank you Captain Kaye, and we'll be back soon.
End of Transcript
Further Reading
Videos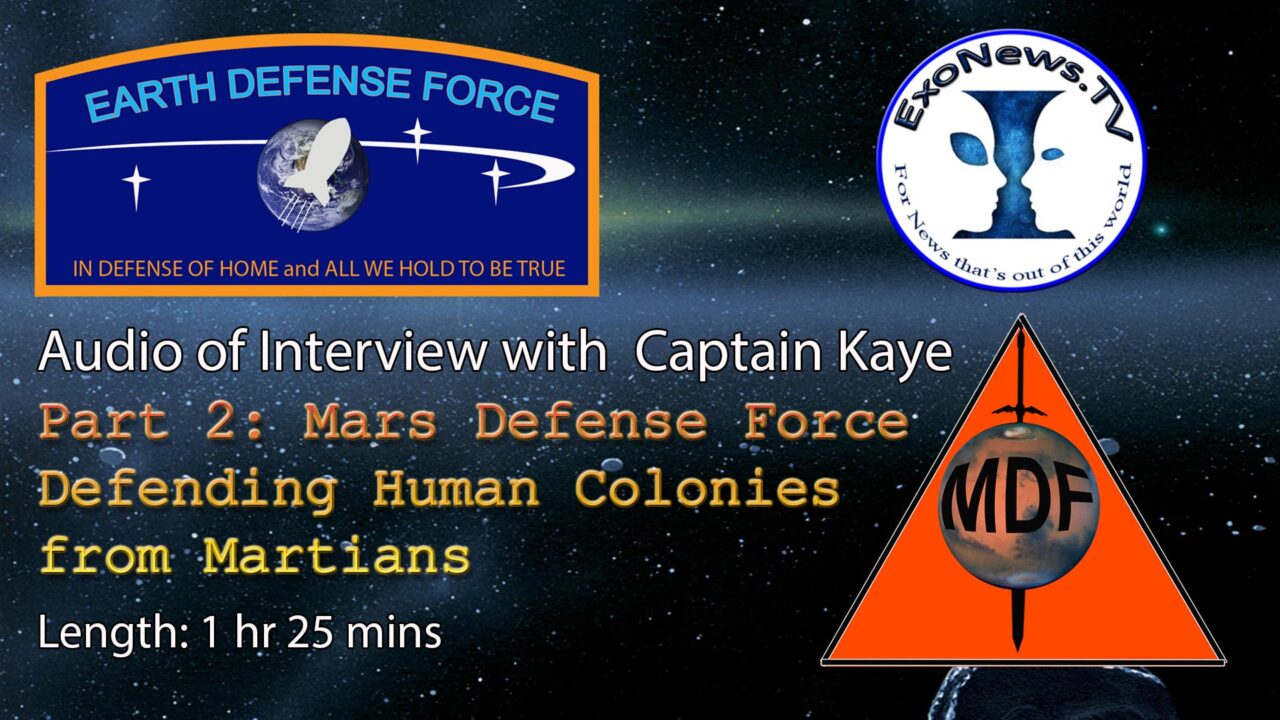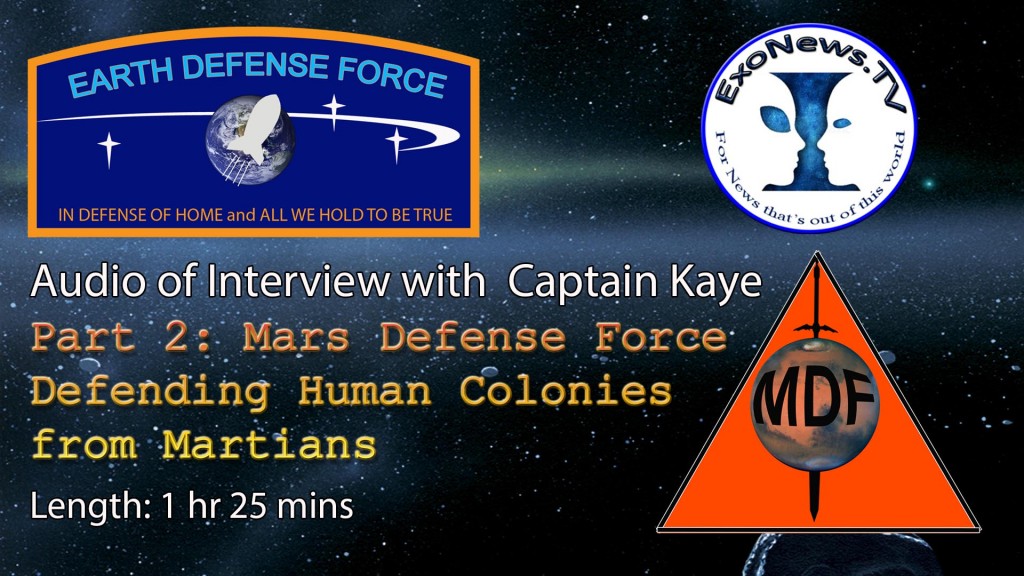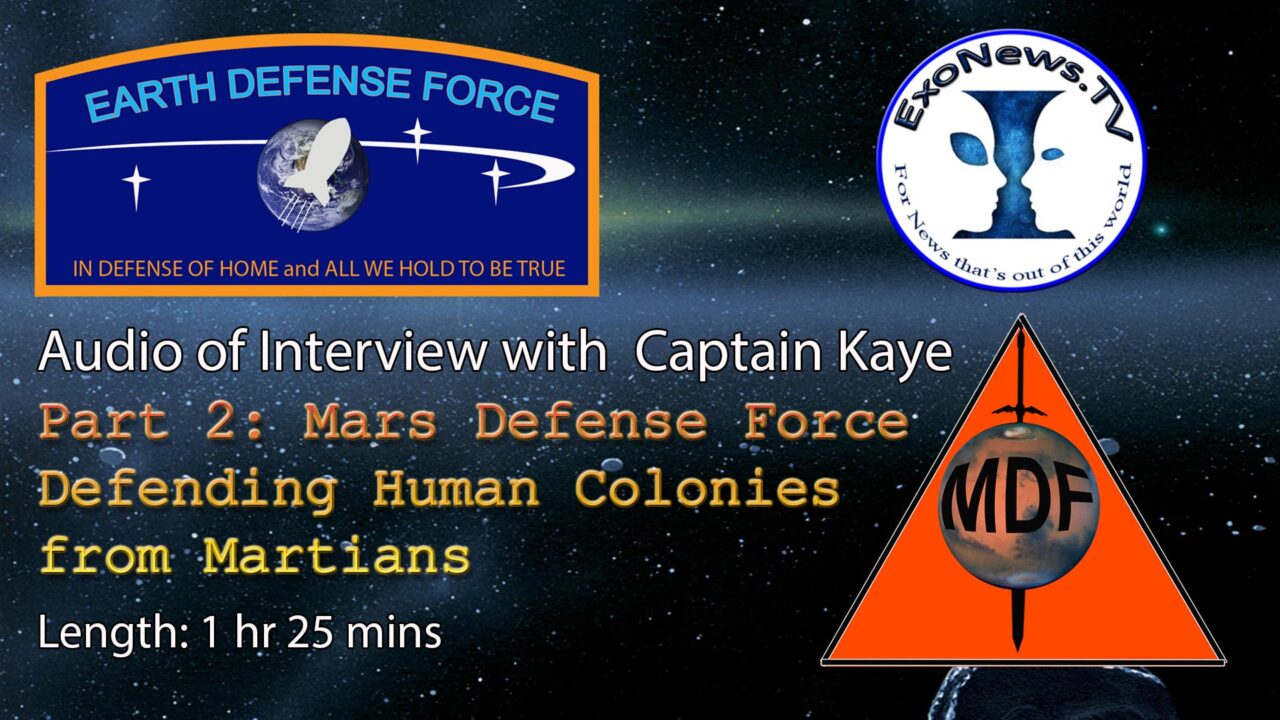 This is the transcript of the explosive original testimony of Randy Cramer (aka Captain Kaye) who claims he served on Mars as part of an elite Mars Defense Force for just over 17 years. The main purpose was to protect a "Mars Colony Corporation" that had five civilian settlements on Mars from indigenous Martians. In the interview, Cramer describes how he traveled to secret Moon base to sign papers committing him to a 20 year tour of duty. He was then transported to a military base on Mars where his unit engaged in territorial battles with the native Reptilian and Insectoid Martians. This was Cramer's second interview in a five part series where he described his training as a child super soldier to serve as a member of an elite Marine Corps unit that provides personnel for a secret space program with military bases on the Moon, Mars and other parts of the solar system.
The audio of the skype interview was released on April 8 2014, and was the first time Cramer had come forward with his "total recall" of events that occurred during his 20 year service from 1987 to 2007. In an earlier interview with Eve Lorgen in 2006, Cramer used the pseudonym "Zed" and described what he recalled at the time of his contact experiences with several extraterrestrial races. Cramer claims that in 2014, he was authorized to reveal his secret space program experiences through his military superiors in the USMC special section.
Original Skype Audio Interview published through ExoNews.TV at https://youtu.be/YCTYkYcYuI0
Abbreviations:
M.S. Michael Salla
R.C. Randy Cramer (Capt, USMC ss)
[0.00] – Red timestamp refers to the time in the interview
Note. Randy Cramer used the pseudonym Captain Kaye in the five part series of interviews published in April 2014. Linguistic redundancies such as "you know", "so", "and", "ah," etc. have been removed when appropriate for correct grammar and ease of reading. An ellipsis … will signify removed text to correct grammar or eliminate reduncies. Timestamps will enable the reader to locate the relevant audio passages.
Formatting: All questions are bold highlighted, and normal text is the response by Randy Cramer (Captain Kaye).
© Michael E. Salla, Ph.D. Copyright Notice
---
Transcript of Interview conducted via Skype
[Click here for Part 2]
[0.24]
M.S. We are back with Captain Kaye and we are going to be discussing, what is the series of events that happened after he completed Project Moonshadow around the age of 17, and when he went off to do his service with the US Marine (Corps) special section. Randy why don't you tell us what happened once you completed or graduated from the Project Moon Shadow.
[0.53]
R.C. Sure, it was a pretty short span of time between completing the program and then I would say there was about a 90 day period where a lot of the final testing, where OK, we've spent as much time as we going to spend training this thing, and spent as much time as we have building it, now we have to really see if it's going to do what it's going to do under a lot of different conditions. So there was an interesting 90 day period of going to a lot of different places as far as ecozones, as far as temperatures, environmental zones around the planet, to see how we operate under different conditions, and different scenarios. Sometimes working with or playing war games with other special forces units. In some cases actual live fire training exercizes where for us it's a testing exercise, but for somebody else in another country it's very real and they're dead because of it. They were the live fire exercise that we got to be tested on. But certainly considered not a threatening enough force that you're going to send your high tech machinery and get them damaged or something. You can pretty much guarantee that if they're not broken, the other team is going to have no chance of winning.
[2.27]
Armed forces around the world have lots of AK47s and no shoes. These guys are not very equipped against skilled armed forces. If you're in a test scenario, sure, why not send five of your supersoldiers against 50 of those guys and see how they do. Because you know your guys are going to win, but you want to see how they test under live conditions that's a safe test. So after 90 days of that, then I was picked up under a regular routine pick up in the middle of the night, and then taken to Lunar Operations Command, and checked [into] a small living quarters area which is not much more than a jail cell size, but not a jail cell, I mean much more civilized than that. Not meant to make you feel like a caged animal, but about the same size … [with] a sink and a bathroom off to the side, a little desk and a chair. Your typical set up, like a college dorm or anything. We're checked into that and told to wait until the sound of the bell out in the hall, and that was when everyone was supposed to come out and go to the hallway at the end of the door.
[3.52]
Before that, two military personnel, but again [wearing] whatever sort of LOC jumpsuits, battleship gray with some gold fringe. There were two of those they looked like maybe standard security guards, not much more than that or anything else. They weren't heavily armed, but they had side arms. They escorted us, me, one at a time, as far as I could observe seeing other people coming and going in the same hallway being escorted by another two of these individuals in their gray suits with the gold fringe, and was taken to a large waiting area outside what was clearly a large bank of cubicles in which a lot of bureaucrats in various military uniforms were pushing paperwork. A lot of people were sitting around waiting for their names or their numbers to be called up, to be signaled to come and speak to these people. It's a fairly large well lit area where everything is done, in yellow or goldish colors. That was the color scheme at that time anyway. Fashion or any other thing could have changed that by now, but at the time it was meant to be and sort of feel like a bright sunflower yellow. Like you're waiting for the dentist or something, but in a really big room.
[5.28]
After some time of waiting, you're called to come and sit down in a cubicle and have a junior officer in a uniform which I don't quite recognize, but he identified [himself] as being an Air Force officer. This is an Air Force uniform that I'm not familiar with as far as seeing in the regular part of the Air Force. So I'm suspecting this had something to do again, with a parallel Air Force branch and what their uniforms look like, but since I'm not super familiar with them, I'm only guessing at that.
[6.02]
He then pulls out a stack of paperwork and says, here's your contract, I'm supposed to go over this with you, and talk about any questions you have, and get you to initial and sign in the right places, and then you move along. There was some kind of discussion of him saying, OK, this is what you are going to do, you're signing for a 20 year tour of service, but again don't worry, it's going to be alright. You'll be done, we'll wipe all those ugly memories out of your head that you're not going to want to remember anyway, and then we'll interject you back to right after we took you and age reversal, and you'll get to live your whole life all over again, and it'll be fine. You won't lose any time, you won't lose any years, and in fact you'll come back to a nice cushy job. We'll take care of you, you'll be fine. Lots of reassurances that it's no big deal. Everyone does this every day, it's just the way we do things now. A certain amount of explaining what's in the paper work, and what's in the contract, and [you] just initial and sign in all the right places.
[7.01]
After not much debate or discussion, I had a few questions and he answered them, and eventually I realized as he was explaining, "look, you know, we sign this paperwork and you can move out of here. You can walk out of here to do your next thing, or we can sit here and talk a really long time about the paperwork that you have to eventually sign anyway." He was a nice enough guy, he wasn't being a jerk about it or anything. But it was clear, this has to be done. Paperwork has to be signed, and if I have any questions, ask them, but it really doesn't matter. Just sign and we'll move on. And so after that was done, then being escorted back to the temporary living quarters, and then being told to go ahead and take a break. Again wait for a bell in the hall, and then kind of dozing off, not sure for how long, hearing the bell in the hallway and then going out, going down to a long hallway, doorway at the end of this hallway. Everyone who is in these temporary quarter living rooms is coming out into the hall, and heading on down.
[8.07]
Then we open up to larger doors, which then opens up to a much larger room, a hangar bay essentially – we were right off the hangar bay. There's a very large vehicle, I would call it more of a delta or bat wing shape, as opposed to round shape or disc shaped. More of a delta triangle, but maybe wider. What you would call a bat type shape, but pretty tall as far as from the bottom to the top part of the vehicle, I would say it was thirty, thirty-five feet. It looked like it was multiple stories and levels inside which appeared to be the case when we were inside, and the wingspan was probably, hard to judge distances like that, from that level, but I'd say it was easily between four hundred and five hundred feet wide, wingspan, from tip to tip. Then nose to tail, less than 150 feet. The front section had a large rounded nose on it, and you could see there was a slightly curved window, surface was curved, that appeared to be where the pilots might be sitting or operating from. It was pretty high up, kind of like [the cockpit] in a 747 which is up higher than the main part of the vehicle, kind of similar to that, but again with the dimensions I stated.
[10.00]
So I got in there, there were lots of reclining lounge seats, that sort of memory foam thing. You kind of sink in, you hear this air moving sound that kind of gets to form around, it gets a good grip apparently on your body. There's some strap ends, and after some time of everybody fiddling and getting ready, once everyone is secure, there's a few people that help everyone get sorted out if anyone is confused. Then the lights in the vehicle dim, and not unlike in an airplane, you hear the pilot over the speaker saying, "welcome everybody I'll be your captain for this shuttle flight from Lunar Operations Command to your next station which you will not have clearance to know until we arrive. As soon as you arrive you'll have security clearance to know where your destination is, but until we go there, you're not cleared. Before we leave we are not cleared to know where the destination is, but the moment we arrive at our destination, then we're cleared to know where we are." I think that was very amusing, in my own sort of way. I get amused about the way they do security, and make these levels of secrecy and clearance.
[11.22]
He did something interesting, which I wasn't expecting. He said, "none of you are going to see home for a very long time, it's going to be a while. And so before we go we're going to take one last look, and everyone is going to take one last good look at home, and give us a moment to think about why you want to come back, and why you want to protect the people and the family that are there, and why this is something worth fighting for," or something to that effect. He said then, "we'll pause and take a good long glance for a minute, and then we'll be off, and won't be back for 20 years."
[12.07]
Interestingly enough, the feeling inside the vehicle when he pulled out of the hangar bay and positioned himself at whatever distance he was from the earth, whatever perfect distance they wanted so that when the visual array came on, and the ceilings became a projection of what the vehicle was seeing in front of it. You had, not unlike in a planetarium when you are lying back in a chair and you, by artificially having that space projected on the ceiling, can have [a] feeling or experience that you're in space, or that space is around you. When you're moving you get that sense you're having artificial movement or something like that. Pretty much a similar way by having a big projection, a very clear projection in front of you of what's happening. You really had a sense that we were all hovering in space in these chairs, staring out at Earth, getting our big look for the last time, and it was awe-inspiring. It absolutely stands out as one of the most amazing moments in my entire life. The moment I was at the perfect position, staring at the planet and being able to see it in its entirety. And not in a picture, it was there. It was moving and the clouds were moving, and the lightning storms were flickering and there's activity that's moving very slowly or very slight of it so far away you can't see but you know it's there, and there's an ability to see that's not anything like you could see it any other way. I mean seeing it in a picture is not the same, seeing a really good high definition image on a big screen just isn't the same. Having the sense of being so huge that you are right there looking at it, Having that image be so clear that it looked like you were looking at the real image and the ceiling wasn't there, but it was there, I'm sure. It was just awesome.
[14.24]
You know it was amazing to see that there was this entire thing that's alive, it's very clear from looking at Earth from space that she's alive. That's not just because there's life on the surface of her, or just because we live there. There's something very clear when you see this giant ball in space that it's alive, and that there's all kinds of people there. You don't see borders. It's a world without borders when you're staring at it from space. There's no lines that divide the countries. So you don't look at it and think there's America, there's the United States. Hey there's Germany. You say oh wow, that's North America connected to South America, that's Europe connected to Asia, and connected to Africa. You really just see that it's all connected and doesn't have dividing lines, and from that perspective, whatever anybody could be bickering or arguing about down on the surface seems incredibly small, literally incredibly small, and you just get this sense that wow, I'm really in a special place. Not just staring at this thing, not just looking at her, but I'm in special place that I get to do something where I get to help keep her safe, and everyone who lives there safe, and all life that lives there now safe, and maybe if I'm lucky, all people who will ever live there, and all life that will ever live there safe in the future because of something that I do now. That just stuck with me, and struck me. I had a moment where I felt awe inspired, awe struck and that irregardless of however this was going to end up, this was OK, and this was special and I felt alright about that, and I felt completely OK with being in that special position. I was OK with that responsibility. I was happy about that. I was OK with it. It was just an amazing experience.
[16.22]
M.S. You want to maybe explain a little about Lunar Operations Command. I mean is it on the Farside of the Moon, is it an underground facility, how big is it?
[16.34]
R.C. That's a good question and I can't answer all those questions because I only had seen a certain amount of it. What I saw coming in to land was a certain sizable base on the surface, in which there's a large, large landing platform. It's kind of terraced up from the ground, from the lunar surface, and the platform, you could have put three or four of these things [triangular shaped craft] on top of there. It was probably almost a square mile platform on which to land things on, or at least half that or more. Then there were some smaller vehicles, kind of lined up in a row. A few, almost concert-like buildings, but they were huge, they were really big, they had a rounded feature. A couple of very large squarish rectangular buildings that didn't seem anything extraordinary or unusual, and then once inside, a number of hallways, elevators, that clearly went down to the subsurface, below the lunar surface. I got the impression from the times I was there, and the areas I got to see that the place was absolutely massive. That station that I was at was at least the size of a medium city, at least. There was probably more than one of those medium size city complexes on the back side of the moon that we have something to do with, and are terrestrial controlled, but there are also, from what I understand, because the backside of the moon has been used for so long, by so many different species.
[18.44]
It's kind of like Antarctica, it has these different areas where different countries and people can say we got this area, and we got this, and everybody respects everybody's claim or area. So there are a number of areas that have been habituated by a number of different ETs that have had bases there for a long time, and they're not going anywhere, apparently. Whether people are friendly or hostile, it's kind of a neutral territory, so there's places where those who don't get along with others, cannot/be not too far from each other. But they don't attack each other, they respect each other's neutral space there on the back side of the moon, for whatever reason that the contracts, diplomatic arrangements is for that.
[19.30]
I think it because it goes back such a very long time that everyone respects it. From what I also understand there's been a couple times when war did come to the back side of the moon and it was bad enough in such a way that everyone said no, no, not here. This is neutral space for everybody to do what they need to do, but we can't fight here or else we could risk losing the whole thing to somebody else or something. I think that was the deal. So I think it's a pretty interesting mix of who's there, what's there, we're there. What's spread out over just what I've seen and what has been discussed with me. Clearly, not even all of what is there and what's known about it has been part of my knowledge, my privy to what I've been briefed on. That's about as much as I know about Lunar Operations Command.
[20.24]
M.S. The Shuttle craft that was taking you to its destination, do you know what the capacity of that was?
[20.32]
RC. I would have to guess because it was clearly multiple floors or levels in the interior and where I was at was clearly one area, and one floor and one interior, and whether the levels above and below were the same, or whether they were occupied by other cargo, storage, machinery or technology, I don't know. If I was going to guess I would have to say that it had a capacity to move a capacity between a thousand and two thousand troops at a time. Maybe more.
[21.17]
M.S. OK, that's quite big.
[21.20]
R.C. It was definitely built to move bodies for the most part. Again I'm only presuming maybe some other parts were also cargo. But it was definitely designed to move a lot of people the way it was set up.
[21.32]
M.S. With the papers that you signed was there any kind of description as to which particular service you were signing up for? Was it a more nebulous entity? What details do you remember from the papers that you signed? Who were you signing the next 20 years over to?
[21.54]
R.C. I was signing the next 20 years over to the Earth Defense Force, as a marine, as a United States Marine. That's a question I asked, so I'm glad you asked this question …. I was like, "OK, who am I working for, what am I going to be here, help define this for me." He said, "well you're a marine, right," and I said "Yes". He says, "you're still going to be a marine, you will always be a United States Marine, that is always what and who you will be." He said, "but this is a contract, we are contracting you to the Earth Defense Force. The Earth Defense Force, once you've contracted to them, will have the ability to sub-contract you to one of the other organizations that needs people, or parcel you out to any number of EDF stations throughout the solar system." He was like, "ah, most of them are boring, you'll probably going to be guarding nothing, or listening to nothing, or you might get a really boring job on the ground somewhere." He was really very [much] playing whatever was going to happen down, or wherever I might be, down. Which, not knowing where other people end up, I can't say whether that's part of the routine recruiters do, or whether he's just trying to be honest. I think he was more just trying to get me to be happy with whatever his answers were so I would initial and sign so he could go on to the next person.
[23.17]
He said, "you're going to be a member of EDF, and depending on where they send you from that point, will depend on what uniform you wear, and what people call you and what rank and so forth you hold. But you'll always be a marine, and you may be something else temporarily or you may have to do something else temporarily. You're going to know that as soon as you get to where you're getting." Part of his explanation was, "look, I can't tell you what you're doing next because I'm not cleared for that."
[23.51]
He said, "all I know is that when you sign these papers it will set other actions into motion so that when you board the shuttle that leaves, another set of papers will be issued to you that will be opened upon your arrival. Those will be your new orders and your new assignment, and everything that you need to know. But before you leave, you don't have a need to know that yet. It's going to be in another file and when you get there, that will be handed to you, and you'll get to know where you are, and someone will explain that to you."
[24.24]
So he was vague enough, but tried to be reassuring enough that I wasn't going to lose my identity, or that I was not going to be a marine, or sign over to some other organization that would compromise my values or ethics as a marine. He wanted me to feel comfortable about that, and just secure in the knowledge that we do this every day and it's all going to be normal and fine, and it's just go to be fine which is what he wanted me to be reassured of. But he was vague enough because they weren't cleared to know that answer yet, so I wasn't going to find out until I got to the destination.
[25.07]
M.S. So at that point in time, your knowledge of the Earth Defense Force was that similar to some kind of multinational covert agency dealing with space operations, kind of analogous to the United Nations where you can have different branches of the US [military] serving in different capacities, peacekeepers, advisers and so forth. In a sense, this is what was happening in space with the Earth Defense Force.
[25.33]
R.C. Yes, correct. My knowledge is that was basically correct and that again since my actual knowledge or briefing on this information at this time, at that time, was limited. I did get a debriefing when I got back 20 years later which, there was a little bit more. There was a farewell ceremony, a kind of big thing. I do remember at that time getting a little more of a speech about the goals and purpose of the Earth Defense Force and why it was put together. Essentially, in a similar way that these other separate parallel organizations were created. The Earth Defense Force was a parallel yet separate organization that was created mostly out of bodies out of the United Nations. Probably centered around the Security Council, because they're the Security Council and they co-opt anything that has to do with defense and security. So pretty much out of the Security Council, the bodies that would form the EDF were formed and put together. This parallel organization was formed and stationed off of Lunar Operations Command so they would have as little contact with the surface as possible so that there would be as little possible bleed for security as possible. It would essentially create this sphere around the planet, and outside the planet to protect it from all things that might be harmful which we had come to know by that time. There were a few things that we should be concerned about and that just standing around with open arms was not going to be a good policy. We should have some kind of perimeter defense for whatever is coming next, or for whatever our next step into the intergalactic brotherhood is. You don't necessarily want to do that without a guard dog on your front yard.
[27.26]
M.S. OK, so what was the destination and what was revealed to you when you arrived there.
[27.33]
R.C. The destination was Mars, it was the Mars Colony Corporation headquarters. There were five settlements, the main settlement was called something like Mars Prime; no sorry, it was Aries Prime. They are real creative. Instead of calling it Mars they called it Aries. So Aries Prime was the primary settlement, and the first settlement where the Mars Colony Corporation headquarters was. Then there were four additional settlements where I never set foot on. From Aries Prime [where] we were, we landed, and set foot on to a platform there and walked in to a very large facility right across the open Martian plateau which was hot, and [with] a cold breeze and thin but breathable air. The temperature range is quite wide so you really don't spend any time out in the open Martian desert without an environment suit. Absolutely not, it's pretty fatal to do so. I think that there was some dome shielding protection and we were kind of like down Aries Prime, down in a crater almost. There's a natural canyon wall that kind of comes up round, it sunk in so the wind doesn't hit it too hard. It was that particular time that we came out, it was, it felt like a hot day but there was a very cold wind that was blowing and you felt like you came out at 8000 or 9000 feet or something like that. The air was very thin, but totally breathable. I was really quite surprised to be honest, to have them just open up the door and say alright head for that other door and have us walk right outside but we did.
29.57
M.S. Was the Martian terrain as we see in NASA photographs, with the red sky, and the reddish soil?
[30.07]
R.C. Yes, absolutely. It's red, red, red everywhere because certainly all that iron oxide that's left on the surface. It makes the main reflection red everywhere you look, and so not unlike, I'm trying to think now. Yes it was red sand, rocky, sandy from very fine textured sand to big boulder rocks, and very red. The only exception is sunrise and sunset, which for some strange reason, I shouldn't maybe say a strange reason because it's physics I suppose, there's a period of time for maybe 15 or 20 minutes depending on the season when the sun is dropping below the horizon and it goes from red to purple. For about 15 mins everything turns this amazing shade of purple. The Martian sunsets for that reason, they're not that bright, because the sun is pretty far away, but also amazed at how much light, being that far away, you still have. I distrust some of the things that people say about life on other planets and living on other planets, having been to another one and going, you know this is little different than what I thought it would be and what people said it is. Yes that sun is dimmer farther away, but it's still amazing how [much] light you cast when you stick out your hand, or how much shadow is being cast when you look to see behind you to see what your shadow has cast. It's still quite a lot of light but that purple thing really at sunset and at sunrise, is just really amazing, it's really cool, and it's short you only get to see one time of day, but it's kind of dim purple everywhere.
[32.18]
M.S. Can you tell us about Aries Prime. When was that settlement first established, who are the colonists, and was it run by a particular country like the US, or was it multinational, or was it a corporate entity in charge.
[32.34]
R.C. My understanding is that the Mars Colony Corporation, again like every other part of the EDF [Earth Defense Force] is put together from parcels, service persons, scientists, advisors, engineers, business people, anybody that you want to put into the pool to be utilized, is put into the pool, and from those pools, decision makers pull out names and make lists of people that decide to do things. My understanding is that the Mars Colony Corporation was set up by multinational interests so that of all these different countries that participate they got together with their various parcels of business people, engineers, mining people, military advisors, intel people to get together because we need to form the Mars Colony Corporation so that we can go there and make it profitable. You know we can't just spend trillions of dollars going to Mars for purposes of exploration without finding ways of extracting resources from it and make it pay for itself. Otherwise it's just not going to go. So it was put together, all those various individuals, I don't know exactly who they were, or who picked them, or what that process is other than whatever individual processes those countries have to put people into the pool, and which ever committees out of the [UN] Security Council, the EDF, or MJ-12 or ACIO [Advanced Contact Intelligence Organization] will get to decide then who does what.
[34.18]
The Mars Colony Corporation was set up in about 1974/1975. My understanding is that we were on Mars the very first time around the mid-60s, but really didn't try to do anything serious, or really prepared to do anything with that until the 1970s. My understanding is that our first exploratory mission that was sent there to stay any length of time was 1970. Then after a few years it was decided that we were ready to go ahead and establish a Mars Colony Corporation foothold, and set up a few settlements and attempt to do some mining, and extract some resources to make it pay for itself. Apparently that was about 1975, when the Mars Colony Corporation set foot on Mars and started its first mining operation. That was 1975 to my understanding, as I was briefed.
[35.21]
Further Reading
Videos