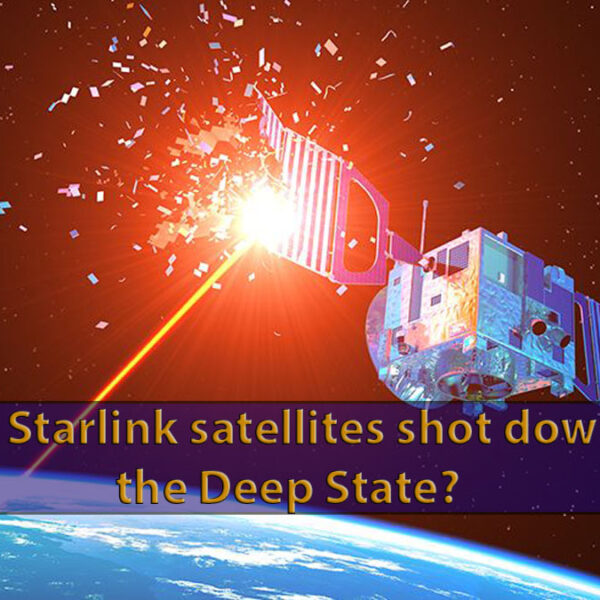 On February 8, 40 out of 49 Starlink satellites launched by Elon Musk's SpaceX for his space-based communications system failed to reach their orbital paths and crashed back to Earth in a fiery display. SpaceX quickly put out a statement that a geomagnetic storm was the culprit, even though the storm hitting the Earth during the satellites' deployment was relatively weak. According to a representative of the Galactic Federation of Worlds, however, the satellites were shot down by a Deep State faction still active in Europe.
It has been two months since I last shared information from Thor Han Eredyon, as relayed through Elena Danaan, so it is worth repeating why I consider his information reliable and worth considering. First, Elena was a former professional archeologist who worked both in Egypt and France for 20 years. Elena gave up a respected professional career to work on esoteric and extraterrestrial related topics, which carry little prestige among her former peers. A pure motivation and integrity are vital elements for reliable information, and Elena displays these in abundance in her communications with Thor Han.
Second, there have been multiple sources that have come forward who have independently confirmed key aspects of Elena's information, many of whom I have interviewed about a variety of topics she first discussed. In particular, Alex Collier, James Gilliland, and my US Army source, JP, all confirm key aspects of Thor Han and Elena's testimony about a large fleet of spacecraft comprising highly evolved extraterrestrials that recently entered our solar system. In addition, Elena's information about an Ashtar Command facility on Jupiter used for galactic diplomacy was independently corroborated by a remote viewing team from the Farsight Institute.
Finally, I have worked closely with Elena in vetting and corroborating her information using open-source scientific literature. Elena is not merely content to put out unsubstantiated stories, but vetting and confirming all the information she receives and relays out to the public.
An excellent example is that Elena has just let me know about a February 10 scientific announcement confirming that a third planet was discovered around Proxima Centauri, a red dwarf star. In her book, A Gift from the Stars, she had stated that there were three inhabited planets orbiting Proxima Centauri, four around Alpha Centauri, and six around Beta Centauri which she illustrated in a diagram (p. 340).  
This kind of scientific corroboration is an important reason why I enjoy working with Elena and believe her information from her Galactic Federation sources is reliable and well worth considering to get the big picture of what is happening on Earth, our solar system, and beyond.
On February 10, I asked Elena about the failed Starlink satellites:
Did you notice that 40 of Elon Musk's Starlink satellites were knocked down due to solar activity, even though it's quite weak at the moment. Perhaps Thor Han can enlighten us on what really happened?
Later that day, Elena sent me Thor Han's reply:          
E: Now what about these 40 satellites knocked [out] by a solar emission?
TH: I am allowed to tell you that the attack was shot from the ground, not from space. Some of the secret organizations on this planet have a military program and hybrid weapons. 
E: what are hybrid weapons?
TH: back engineered technology from the enemy, including non-Terran parts. This wasn't shot from the USA but from the European continent. There is a powerful dark cult that owns this type of equipment. 
E: so all bad ETs have gone from Earth, but still, there are some negative human organizations up and running?
TH: Yes, we are doing our best to assist you in taking them down.
It's worth pointing out that Ben Davidson from Space Weather News did an analysis of the geomagnetic storm that impacted the SpaceX satellites. He pointed out how weak these were in comparison to severe space weather that can be as much as 1000 times more powerful. Most importantly, he affirmed that SpaceX satellites have survived geomagnetic conditions ten times as disruptive as the one that allegedly took out the satellites.
To explain the puzzling failure of the satellites, Davidson concludes that the real culprit for their demise is the Earth's weakening geomagnetic field. Effectively taking away Earth's protective shield from disruptive space weather.
It's hard to imagine that a weakening geomagnetic field suddenly makes SpaceX satellites vulnerable to spaceweather 10 times weaker to what has been previously endured. The more likely scenario is that the weak space weather in the path of the satellites was temporarily augmented in a disguised attack, as claimed by Thor Han.
It's likely that the place in Europe that was used in the attack on Musk's satellites is in northern Italy. This has long been rumored to be a stronghold for the "black nobility" and was the birthplace of Italian Fascism in the 1920s. Occult researchers such as Fritz Springmeier have discussed in books such as Bloodlines of the Illuminati, the long history and power of the black nobility that dates back to medieval Europe.
I further speculate that the hybrid weapons system and military program used in the attack was very likely associated with the same aerospace defense contractor allegedly involved in hijacking the 2020 US federal elections in what was widely dubbed "Italygate", and led to furious debunking efforts by mainstream media sources such as Reuters. Leonardo SpA is an Italian satellite company that gets defense contracts from military organizations worldwide in building advanced aerospace technologies.
Thor Han's information suggests that the weak geomagnetic storm that impacted the Starlink satellites was, in fact, a cover for a Directed Energy Weapon that was used to increase the storm's severity in the vicinity of the Starlink satellites. This is the same method in which natural hurricanes are exacerbated and redirected by weather modification technologies, which were acknowledged to exist in 1997 by William Cohen, the Secretary of Defense, during the Bill Clinton administration.
This would explain why SpaceX engineers and scientists believed a geomagnetic storm was responsible for the Starlink satellites' demise, since the Deep State's weather modification technologies are not widely known.

Thor Han went on to describe Elon Musk's role and why his satellites are now being targeted by a Deep State faction:
[TH] Listen, this will be difficult for some people to hear: Elon Musk is protected by us, as long as he will respect the agreements of good conduct. He was granted assistance in developing more advanced technologies for the good future of this planet. The Terrans working for service to self are trying all they can to stop him. 
I first discussed Musk's involvement with the Galactic Federation of Worlds back in July 2021 when it was claimed he attended the diplomatic meetings held high in Jupiter's atmosphere at the Ashtar Command facility there. Musk's entrepreneurial endeavors have had a powerful effect in advancing the electric car industry, rocket industry, and now satellite communications industry.
It is very plausible that Musk is being helped by the Galactic Federation to release more advanced technologies, many of which have been suppressed for decades. Currently, there are almost 6000 patent applications that have been suppressed by secrecy orders imposed by the Intelligence and Defense communities through the US Patents and Trademark Office.

In earlier articles, I have discussed how an "Earth Alliance" is being helped to build advanced technologies on the Moon for eventual public release.
This raises the critical question, is Starlink going to become an important tool for helping free humanity, or will it be used to control us with even more sophisticated technologies? A crucial point to keep in mind in finding an answer is that the current global communications system is controlled by Deep State assets that own the mainstream media and big tech social media companies.
These companies have been used to censor free speech all over the world, inflame public passions through contrived social and medical crises, and stifle the Great Awakening taking place on our planet. Musk's Starlink would break the Deep State's monopoly control over global communications, which explains why his Starlink satellites are now being targeted.
While credible independent sources such as Ben Davidson find it plausible that Musk's Starlink satellites were knocked down by a weak geomagnetic storm, I don't buy it. Given the Deep State's access to weather modification and other hybrid technologies that can exacerbate atmospheric and solar storms with great accuracy, I find Thor Han's explanation far more plausible and worth investigating further.
A podcast version of this article is available on YouTube & Rumble
Also available on Apple Podcasts, Google Podcasts and Spotify
I wish to thank Elena Danaan for forwarding Thor Han Eredyon's information and for permission to use her diagram of planets in the Centauri star systems.
Special Note: On February 26 I will present my first webinar of the year on "What's Coming in 2022 and Beyond." Join me as I dive deep into the Exopolitics Paradigm Shift that we are about to witness all over the planet as humanity awakens.
© Michael E. Salla, Ph.D. Copyright Notice
Related Podcasts and Articles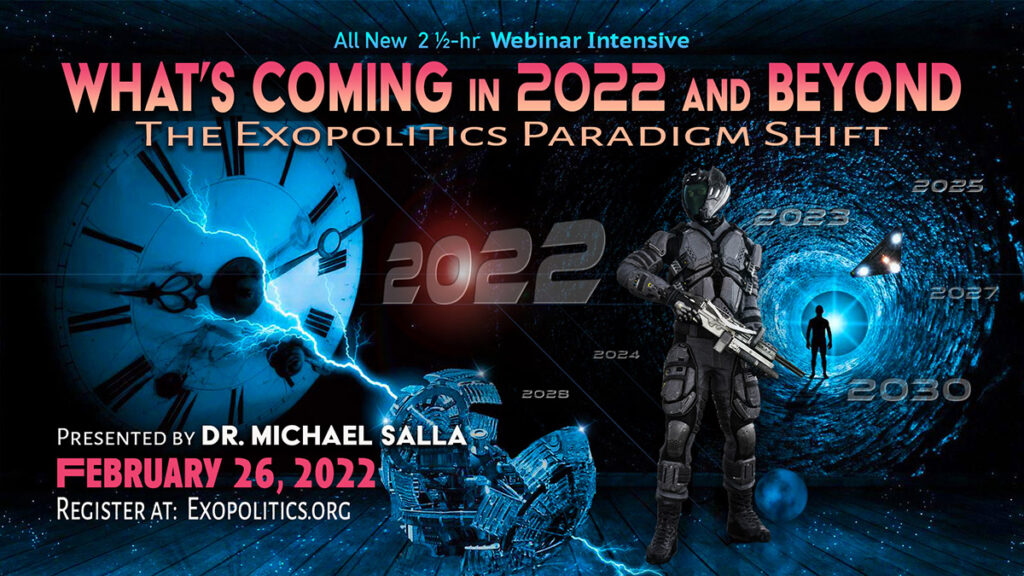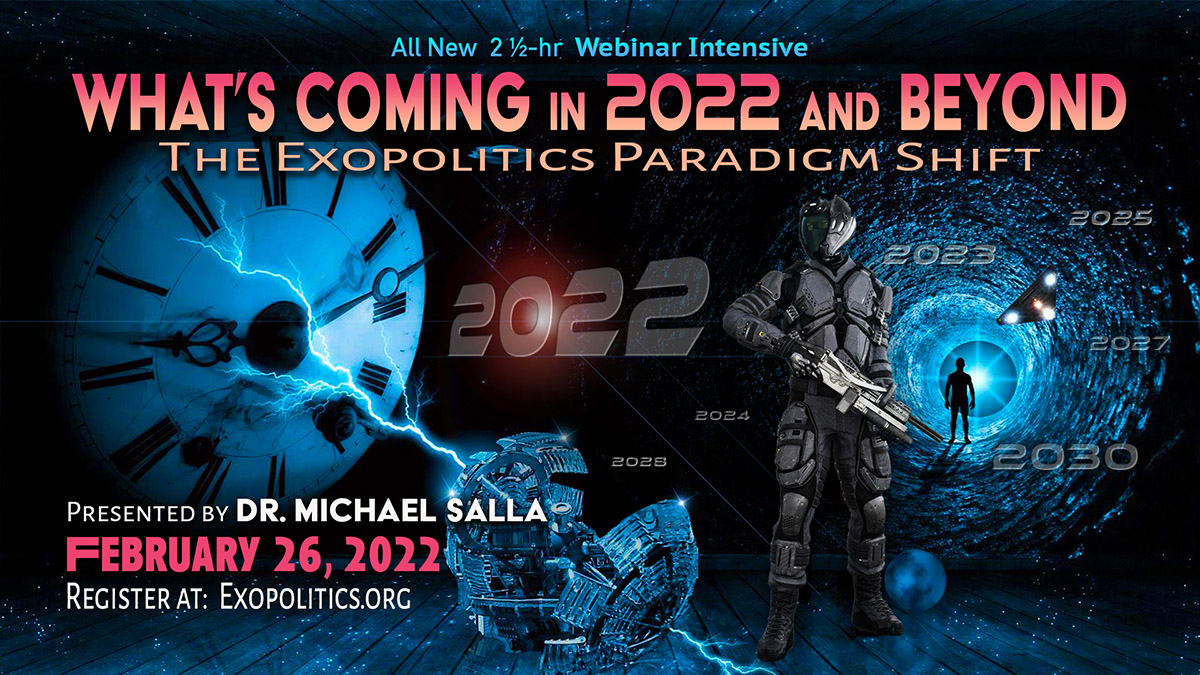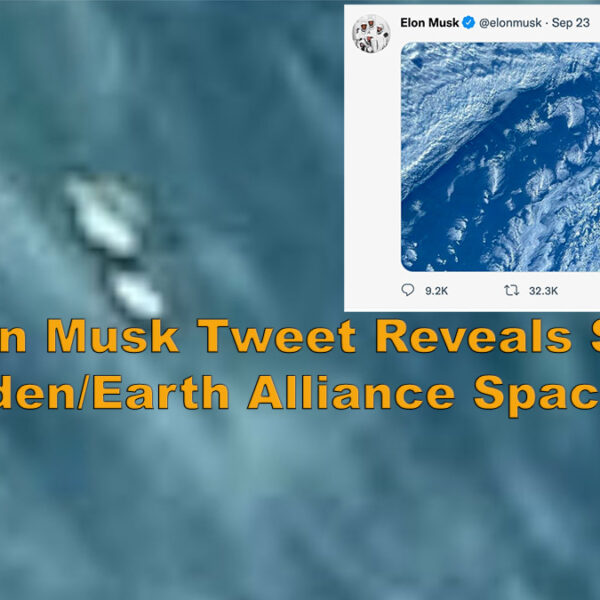 On September 23, 2021, Elon Musk tweeted a picture taken from a SpaceX civilian mission into low Earth Orbit. A close up of the picture reveals at least six cigar shaped craft traveling in formation. According to Thor Han Eredyon of the Galactic Federation of Worlds—as relayed by Elena Danaan—the craft belonged to the US Navy's Solar Warden program and are now part of the newly formed Earth Alliance.
I have been told that Musk is constrained by Non-Disclosure Agreements (NDAs) from revealing what he knows about the Earth Alliance, diplomatic meetings on Jupiter, extraterrestrial life, etc., but is allowed to leave clues so we can figure it out by ourselves. 
Video of the spacecraft formation is available on YouTube and Rumble
For more articles, videos and podcasts featuring information about the Galactic Federation of Worlds as relayed by Thor Han/Elena Danaan and Val Nek/Megan Rose, click here.
---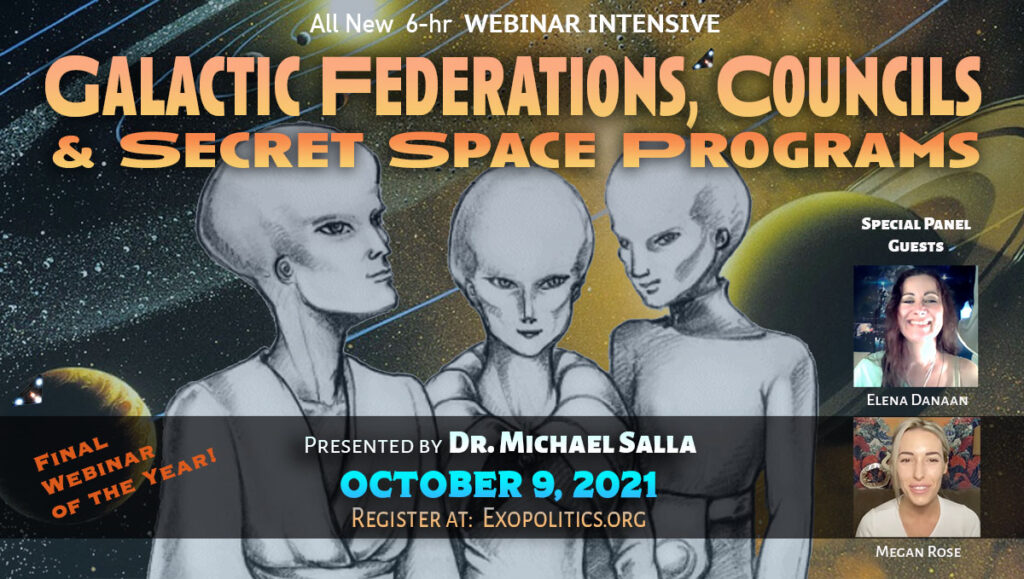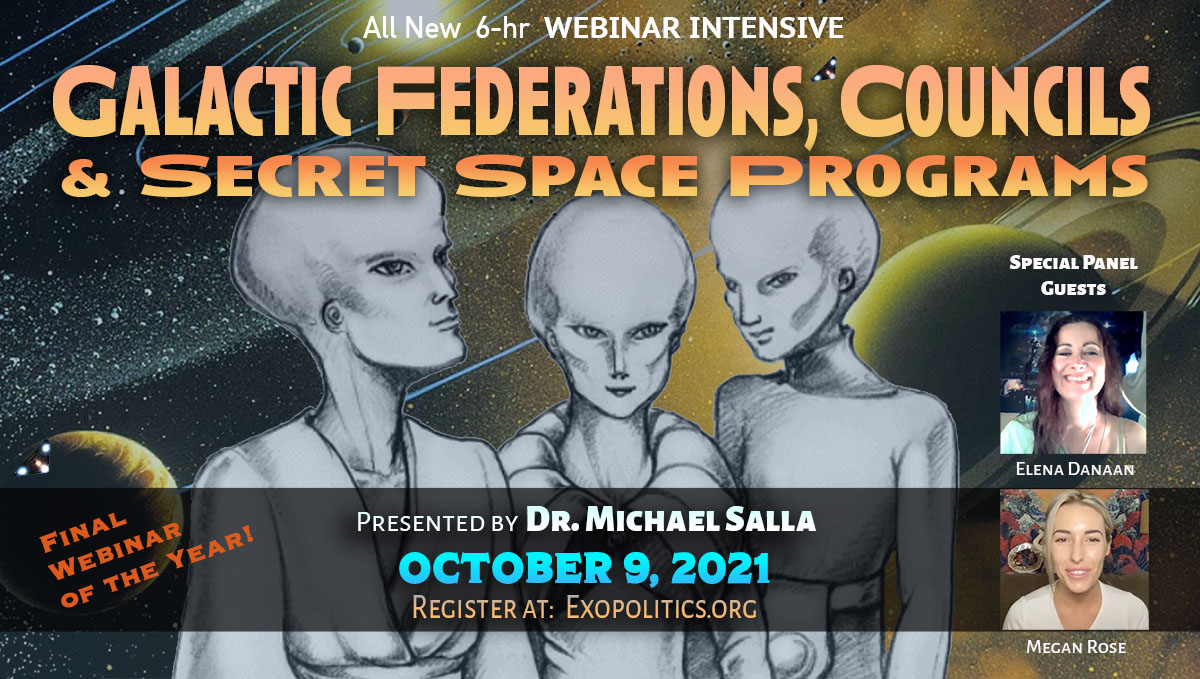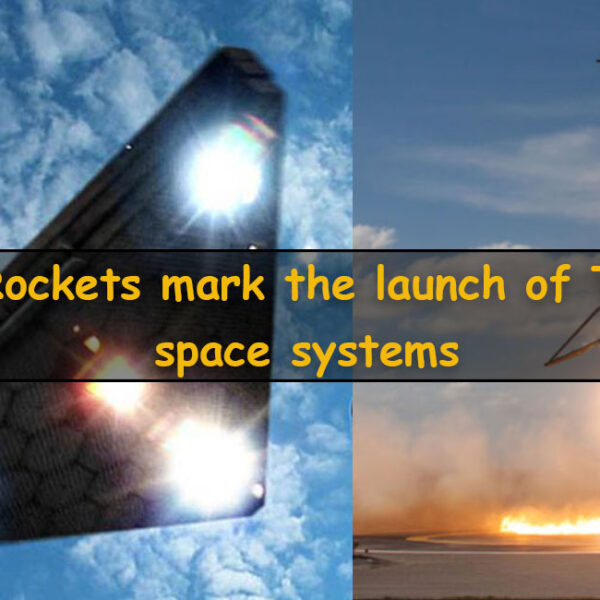 On July 20, Amazon CEO Jeff Bezos was one of the astronauts launched by a reusable Blue Origin rocket above the Von Karman line—the official start of space (100 km). Reusable booster rockets are now being used by multiple companies thanks to SpaceX's pioneering efforts. This will lead to cheap space travel, space tourism, space mining, bases on Moon, colonization of Mars, etc.
A major shift has recently happened in exopolitical (extraterrestrial) affairs making it possible for civilian space programs to participate in the colonization of space. Multiple sources claim agreements have been reached between national space programs and extraterrestrial associations for humanity to take charge of our solar system.
Unfortunately, the development of reusable rockets marks the launch of a two tiered space system. The civilian space industry will be dependent on reusable rockets for space programs due to their affordability. In contrast, the world's militaries, intelligence services and major aerospace companies will instead use exotic propulsion systems such as antigravity, antimatter and torsion fields, and will resist efforts to release these into the public arena for national security reasons.
Watch Podcast on YouTube or Rumble
Podcast Links:
Podcast Announcements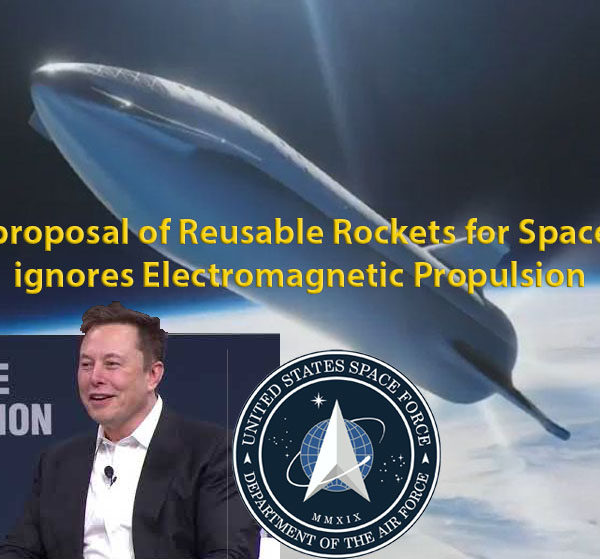 On February 27, at the US Air Force Association's "Air Warfare Symposium", Space X founder Elon Musk posed the question, "How do we make Starfleet real?" and he proposed reusable rockets as "absolutely fundamental" for the newly created Space Force.
Musk's aggressive lobbying of reusable rocket propulsion technologies for future space exploration ignores increasing evidence that electromagnetic propulsion systems are not only scientifically feasible, but have been developed for classified spacecraft, many of which have been predicted to be soon transferred to Space Force.
Musk has undoubtedly shaken the conventional space industry with his pioneering work in developing reusable Falcon rockets for launching Dragon spacecraft that are used to deploy satellites and ferry supplies to the International Space Station. Many were thrilled to watch videos of the Falcon rockets safely returning either on land or on ocean-going barges, after some spectacular early failures.
The reusable Falcon rocket landings were followed later by Dragon spacecraft descending to Earth by first deploying parachutes to slow their descent through the atmosphere before performing an ocean splashdown. The manned version called Dragon 2 is designed to carry up to seven crew and will also perform a splashdown after completing its space mission. This effectively duplicates the Apollo era process for the return of manned space capsules.  
Currently, Musk is developing a reusable Starship which again relies on rocket propulsion to take astronauts to the Moon and Mars. Measuring 160 feet (50 meters) in length, the Starship is significantly larger than the Dragon 2 and will sit atop a super heavy Falcon launch rocket. The Starship is designed to carry sufficient rocket fuel to make it possible to maneuver in space, land on the Moon, and return safely back to Earth.
At a February 28 test, a prototype Starship collapsed at the SpaceX facility in Boca Chia, Texas, showing similar development challenges to that previously faced with the Falcon rockets. Musk is confident that Space X will overcome these developmental problems and come up with a reusable spacecraft with similar capabilities to the abandoned Space Shuttle.
There is little doubt that the idea of reusable rockets is currently very helpful in transforming the space industry and moving things in the direction of multi-use space launch vehicles that will be much cheaper, reliable and safer. This has been predicted to kickstart a civilian space industry making it possible for space tourism to take off later this decade.
Musk's ambitious plans to use reusable rockets for manned flights to service the International Space Station, trips to the Moon, and eventually establishing colonies on Mars does indeed raise important questions for the newly created Space Force. Are reusable rockets "absolutely fundamental" to Space Force as Musk contends?
There is little question, when one reviews the available evidence and whistleblower/insider testimonies that the US Air Force, like the Navy, has for decades been developing electromagnetic propulsion systems in multiple highly classified programs. I have presented the best available evidence in successive books on the secret space programs developed by the US Navy and USAF.
Very recently, the Navy has had one of its most innovative scientists, Dr. Salvator Pais, apply for patents showing the feasibility of an electromagnetically propelled hybrid spacecraft capable of traveling underwater, in the air and space. After the patent examiner rejected the application for the "Hybrid Aerospace Underwater Craft" as not scientifically feasible since it lacked an adequate power supply, the Navy intervened by having another scientist write a letter in support of Pais.
Dr. James Sheehy, the Chief Technology Officer for the Naval Aviation Enterprise pointed out that Pais' patent application was scientifically feasible and was being experimented on. In his letter, Dr. Sheehy wrote about the electromagnetic propulsion systems making rocket engines obsolete:
If successful the realization of this result demonstrates that this patent documents the future state of the possible and moves propulsion technology beyond gas dynamic systems to field-induced propulsion based hybrid aerospace-undersea craft…
Importantly, Sheehy went on in his letter to point out that China was working on similar electromagnetic propulsion systems. Not granting the patent would lead to China gaining the intellectual property rights on such innovative technology, which had been originally conceived in the US, and very likely acquired by China through industrial espionage.
Sheehy's warning was correct, China has indeed acquired classified US aerospace technologies and is in the midst of a rapid development process for fleets of electromagnetically propelled vehicles that are part of a secret space program that is far more powerful than its public space program using rocket propulsion systems.
China aims to overtake the US as a leading space power by 2030 through advances in Artificial Intelligence and deployment of 5G systems that are at the core of its asymmetric military strategy dubbed "Assassin's Mace". In my new book, Rise of the Red Dragon: Origins and Threat of China's Secret Space Program, the full extent of China's technological advances and how it plans to use AI and 5G to achieve space dominance are laid out in detail.
Recently, a number of former servicemen from the USAF and Navy have come forward with their testimonies that the Tic Tac UFOs captured on infrared video by Navy pilots, had an important USAF connection. One of them, Mike Turber, says that he was told by a reliable source that the Tic Tac craft belonged to the USAF and had been built at its secretive Plant 42 facility in Palmdale, California, by leading aerospace contractors.
Given the abundant evidence that the USAF and Navy have secretly developed electromagnetic propulsion systems, why would the newly created Space Force be interested in Musk's reusable rocket propulsion systems?
Sure, reusable rockets are superior to the expensive single-use rocket launch vehicles that have been dominant since the 2011 retirement of the Space Shuttle. However, both single-use and reusable rocket systems are dramatically inferior to electromagnetically propelled spacecraft capable of traveling at speeds that defy conventional physics, as spectacularly demonstrated by the Tic Tac UFO craft.
Musk made his comments in a fireside chat with Lieutenant General John Thomson, Commander of the USAF Space and Missiles Systems Center, Los Angeles Air Force Base, which was only a few months ago transferred over to Space Force. Was General Thomson genuinely interested in reusable rockets for Space Force or did he have another agenda in mind?
There are three possibilities that come to mind that help explain why General Thompson and Space Force may be interested in hearing Musk's views about reusable rocket propulsion systems.
First, reusable rockets are a useful stepping-stone to the far more effective and powerful electromagnetic propulsion technologies that Space Force is in the process of receiving from the US Air Force's secret space program, as I have discussed elsewhere. I find this possibility highly unlikely given the unnecessary expense of building reusable rocket technologies that Space Force leaders would deem vastly inferior to electromagnetically propelled spacecraft.
A second possibility is that Musk's advocacy of reusable rockets might be a convenient smokescreen for Space Force deploying electromagnetically propelled spacecraft, without revealing the true propulsion system being used until the right time. Put simply, there may be a need for Space Force leaders to hide from the public the true origins and development history of its reusable spacecraft.
A third possibility is that General Thompson and Space Force intends to partner with Musk since he has shown with his innovative Tesla electric car company a sustained interest in moving the car industry away from fossil fuels to electrical energy. Musk can therefore in the future play a leading role in moving the space industry away from rockets towards electromagnetic propulsion systems.
Therefore, in responding to Musk's question, "How do we make Starfleet real?",  the answer is definitely not through reusable rockets as proposed by Musk. However, reusable rockets may be a convenient stepping stone or smokescreen for electromagnetic propulsion systems that Space Force will be deploying in the near future. Indeed, Musk may ultimately prove to be a pivotal figure in helping introduce electromagnetic propulsion systems to the general public as he learns about the classified technologies Space Force plans to release to the public.
© Michael E. Salla, Ph.D. Copyright Notice
Further Reading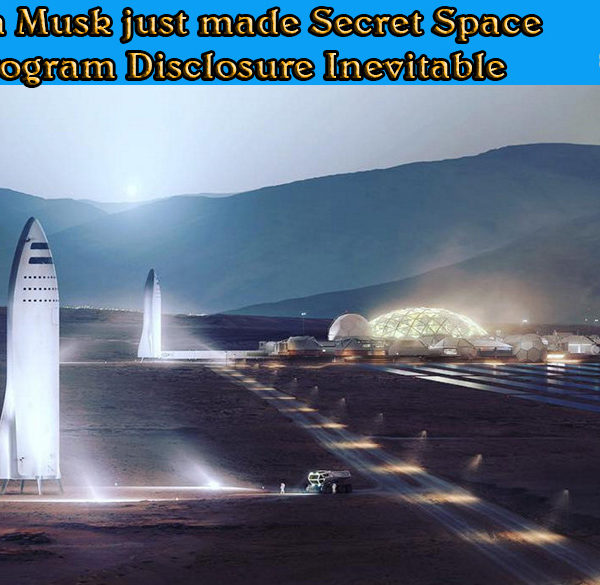 Today at the International Astronautical Congress in Australia, Elon Musk unveiled his plans for the "Big F*cking Rocket" (BFR) which will be the means of turning humanity into a spacefaring civilization. He aims to cannibalize his fleet of Space X rockets and reentry capsules to create a fleet of BFR rockets capable of cutting the travel time between major cities on earth to less than an hour, and making possible the establishment of human colonies on the Moon and Mars.
His BFR rocket will use huge tanks of super-cooled liquid oxygen as the propulsive force. He plans to first build BFR rockets to cut travel time between major cities on Earth to under an hour. The flight time between New York and Shanghai, 7000 miles (11,265km) apart, would be 39 minutes.
Using revenue from his profitable satellite business, and future revenue from rocket travel between major cities, Musk aims to fund his more ambitious plans for colonies on the Moon and Mars. He set 2022 as the target date for his first BFR rockets to Mars.

What makes Musk's vision of humanity becoming a spacefaring civilization remarkable is that it uses conventional rocket technologies to achieve his goals in less than a decade. Given his proven track record in building a profitable commercial space company from scratch, there's little doubt that he can succeed in his goal.
Importantly, he stresses that his plans for BFR will make it possible for everyone to fly into space in short trips between major cities for the equivalent "a full fare economy in an aircraft". This will revolutionize the aviation industry, and will certainly get the attention of Boeing, Airbus and other major aviation companies.
This raises the question of how does Musk's plans for the BFR impact on disclosure of secret space programs using classified antigravity and torsion field technologies as reported by multiple insiders and whistleblowers? The most powerful impact is that it will allow many people to actualize their dream of space flight.
Even if limited for most to a short terrestrial trip, from say New York to Shanghai, Musk's plan breaks the glass ceiling on who can become a spacefaring astronaut. A big part of the reason why secret space programs where able to develop without the knowledge of much of the planet's population was that space travel was beyond the reach of the common person.
Rumors of antigravity and torsion field propulsion technologies just didn't inspire people to investigate since most assumed that space was for the select few, and not for the uninitiated many. Musk's BFR changes that perception forever.
Now everyone can dream of becoming a spacefaring astronaut, and the technologies that can facilitate that more quickly and safely will now get on people's radar. Rumors of secret space programs run by the US Air Force, US Navy, multinational corporations, etc., will get people to take claims of suppressed technologies very seriously.
The testimony of insiders and whistleblowers with knowledge of secret space programs will attract people's attention, leading to further important leaks by sympathetic elements within the military industrial complex. This is exemplified in a recent series of triangle shaped UFOs being photographed near MacDill Air Force Base.
These mysterious craft which appeared just before Hurricane Irma hit the Tampa Bay region, were capable of maneuvers only possible for craft using antigravity and torsion field technologies, which overcome the law of inertia.
People will take such reports and sightings more seriously reasoning that if antigravity and torsion field technologies have been safely developed for secret space programs, then why not have national governments take steps to declassify these for the nascent commercial spacefaring industry open to all?
Make no mistake, Musk's effort to turn humanity into a spacefaring civilization using conventional rocket technologies, will accelerate the disclosure process. His bold vision for BFR rockets to cut travel time between Earth's major cities to under an hour and for interplanetary travel with bases on the Moon and Mars, makes disclosure of secret space programs inevitable.
© Michael E. Salla, Ph.D. Copyright Notice
Further Reading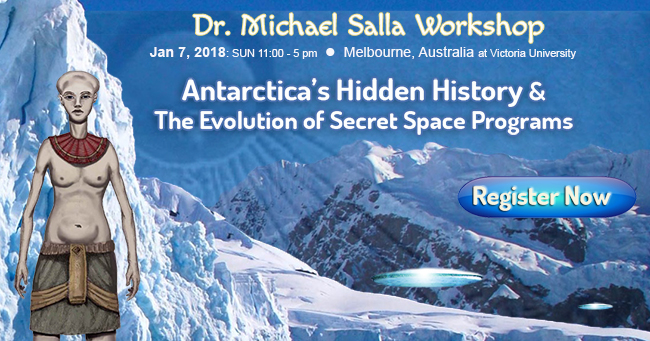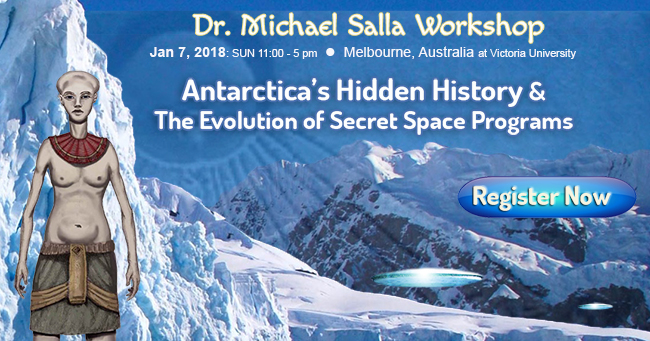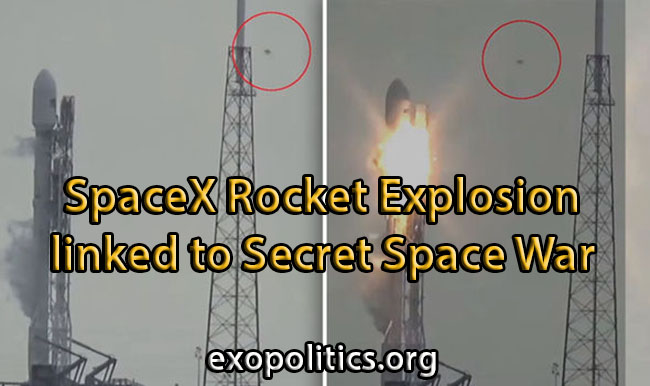 A series of video frames taken of the SpaceX Falcon 9 rocket explosion on September 1 show two UFOs in the vicinity, just before and during the failed pre-launch test. The video frames are hard evidence linking the SpaceX explosion to an alleged space war being fought between rival secret space programs according to whistleblower Corey Goode.
The SpaceX rocket was carrying a $150 million satellite belonging to Facebook's Mark Zuckerberg who was quick to tweet his disappointment:

Elon Musk tweeted an initial analysis that only identified where the explosion took place:

According to investigative reporter, Jim Stone, the way in which one of the UFOs interacted with the rocket just as it exploded suggests it was an attack, and not a case of a fuel tank breach in the upper stage:
This explosion started at the top of the rocket, right where the UFO was, and not near the bottom, where virtually all rocket explosions start. No malfunction caused this, if this started at the top of the rocket only a fuel tank breach in an upper stage that was not being tested could have caused this, and that means the rocket was most likely shot with something.

The attack was intended to prevent the satellite reaching Earth orbit to perform a nefarious purpose, Stone stated:
Before it blew up, a UFO showed up, fired something at the rocket, and then quickly flew away. The image here shows the UFO quite clearly. If Spacex can't explain what this UFO is, then I am going to say that either off world help arrived to keep Facebook grounded or white hats in American intelligence destroyed this rocket to keep something evil from being launched.

An analysis of 10 frames from the video of the explosion (see BBC video below) show two UFOs appearing just before the rocket test, and one flying just above the rocket as it explodes.
The author, who conducted the frame by frame analysis, concludes:
You will see a small looking ufo/object buzz by the rocket as it explodes!  The ufo buzzes by the head of the rocket coming from the right side and moving to the left side of the screen at incredible speed.  This is definitely some type of secret space program weapon technology being used.  The secret space program war is in full affect and this time in full view.

The alleged attack follows earlier claims by Secret Space Program whistleblower, Corey Goode, that space battles have recently intensified between rival secret space programs. Goode provided an artist's depiction of one of these battles fought over Antarctic skies space in early 2016.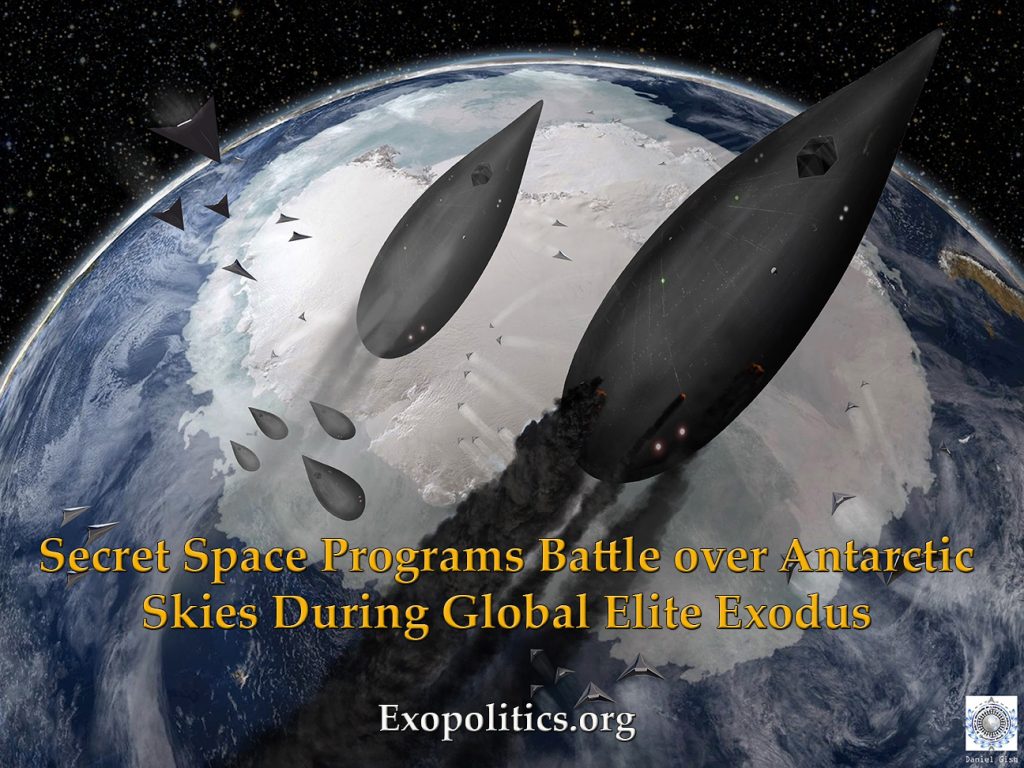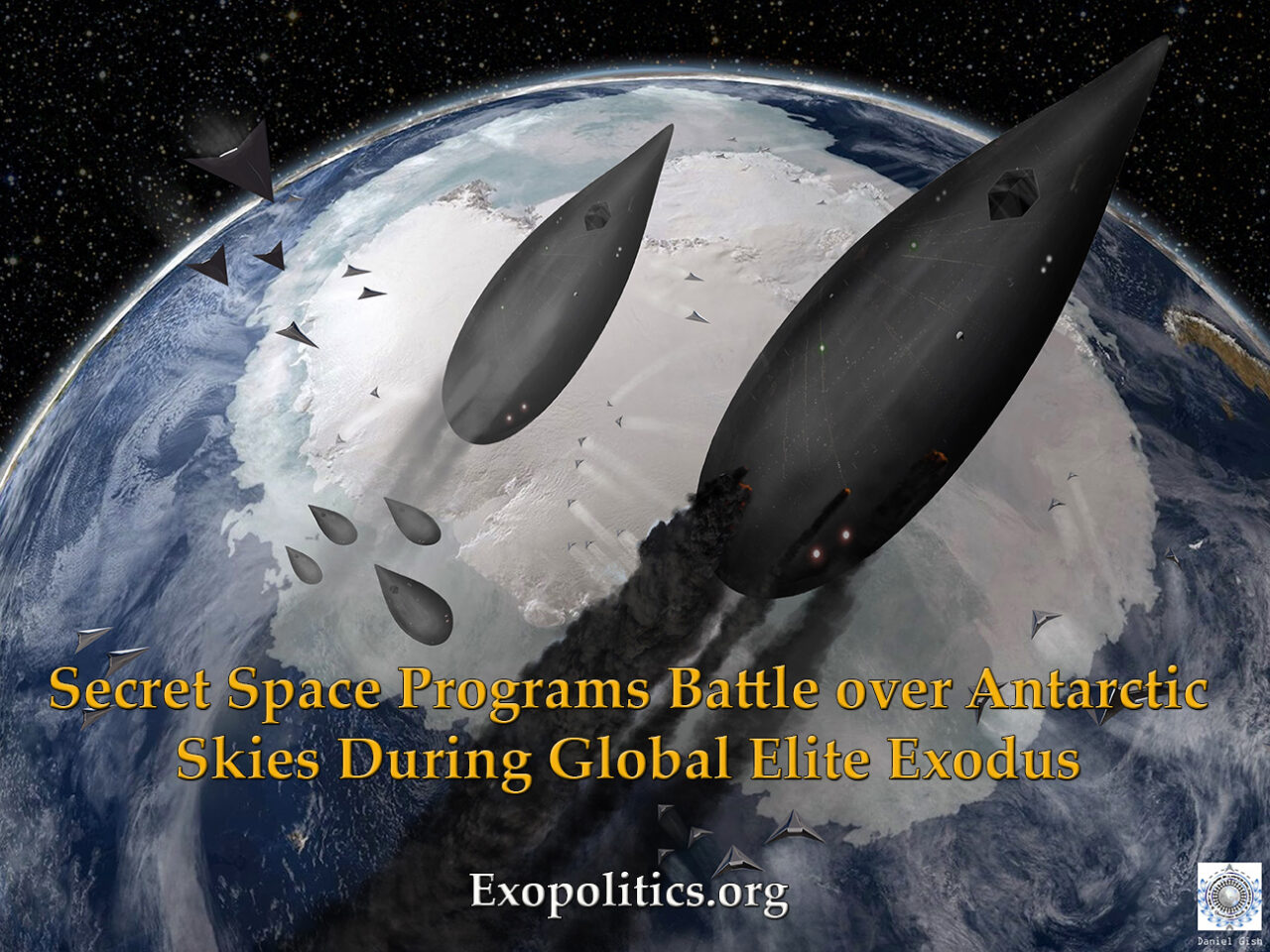 Circumstantial support for Goode's claims emerged with President Barack Obama delivering a report to the U.S. Congress on May 26 proposing an "integrated policy" to deter potential enemies in space. In a letter released through the White House Press Secretary discussing the report along with a classified Annex, Obama said:
The report is the result of an interagency process with the objectives to reduce risks to the United States and our allies in space; and to protect and preserve the rights, access, capabilities, use, and freedom of action of the United States in space.  Success will require a multi-year effort and commitment across all departments and agencies, and I look forward to your continued support. 

Obama's "multi-year effort and commitment across all departments and agencies" was clearly intended to create and fight space wars as soon as possible.
It appears that Obama's proposed interagency space defense policy was really intended to help what Goode describes as a lower level secret space program comprising the USAF Space Command, the National Reconnaissance Office (NRO) and Defense Intelligence Agency (DIA).
Goode claims that in February this year, he was abducted by operatives from this lower level space program who wanted to find out where he was getting his information from, because he has been accurately revealing details of highly classified space activities.
Apparently, the USAF/NRO/DIA is wanting to beef up its own space assets during a time of increasing military hostilities between spacecraft that are of unknown origin to them. Goode, however, identified these the warring spacecraft as belonging to differing factions of secret space programs allied with rival alliances comprising humans and extraterrestrials.
What adds significant support to Goode's incredible claims of warring space alliances is a recently published paper by an astrophysist, Duncan H. Forgan, in the prepublication science website, arXive.org. Forgan claims that rival alliances, what he describes as 'cliques', may disagree over the extent to which contact is allowed to happen on more primitive planets such as Earth:
One clique attempting to place an interdict on contacting 'primitive' civilizations is likely to encounter significant problems if another clique disagrees … It may well still be the case that the Earth resides in a region of space occupied by a conservative clique bent on non-contact.

UFOs captured on camera just as the Space X experienced an upper stage explosion while conducting its pre-flight rocket testing is further evidence that a secret space war is indeed occurring between rival space programs and alliances.
© Michael E. Salla, Ph.D. Copyright Notice
Further Reading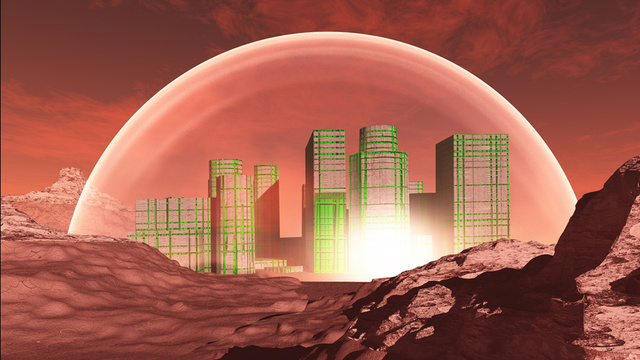 In 1606, King James I of England granted the first Royal Charter to establish colonies in the New World. In a modern day reprise, Elon Musk, the founder of Paypal, Tesla Motors and SpaceX, plans to build a colony of up to 80,000 people on Mars. Taking a trip to Mars, if Musk has his way, would cost as little as $500,000. Musk revealed his long term plans in a November 16 presentation at the Royal Aeronautical Society. In an interview, Musk revealed that establishing a Martian colony was his ultimate objective, and "it always has been." Given his recent space accomplishments, successfully sending an unmanned space vehicle to the International Space Station and back – Musk's Mars vision is no idle pipedream. While it may take several decades to achieve his vision using conventional rocket propulsion technologies, this could be a new first for Musk. Or would it?
According to whistleblowers, elements of the US military possess a secret space fleet that uses antigravity technologies, and is already capable of interplanetary flight to Mars and beyond. A secret attempt to declassify antigravity technology by the Boeing Corporation during the Clinton administration failed. Apparently, the world's leading aeronautical company was prevented from introducing the next generation of propulsion technologies for the aviation industry for national security reasons. There is also reason to believe that there was an unsuccessful attempt by the Obama administration, under his former national security advisor General Jim Jones, to have antigravity technologies declassified. One day in the not too distant future, currently classified antigravity technologies that will revolutionize the aviation and space industry will be released. Musk's vision of a Mars colony would then come into fruition much more quickly than he can currently envision.
Elon Musk's immediate plan is for SpaceX to send manned flights to the International Space Station in the next few years. With two successful missions to the ISS and back using his Dragon Spacecraft, there is little doubt that Musk will achieve his goal unless something unexpected happens. Musk will eventually turn his attention to Mars, and contemplate how to achieve his vision using existing propulsion technologies based on iquid fuel propellants. In his talk at the Royal Aeronautical Society, Musk said: "At Mars, you can start a self-sustaining civilization and grow it into something really big." The main challenge is that present propulsion technologies make manned missions to Mars prohibitively expensive. NASA has dropped plans for a manned mission to Mar due to the 100 billion budget. With a yearly budget of only $19 billion, NASA would have to be part of an international consortium, and even then the overall cost might be too much. So can private space entrepreneurs such as Musk, succeed where governments cannot? Perhaps, but Musk would do so far more quickly if classified aerospace technologies based on antigravity principles were released.
Classified antigravity technologies have been kept from the public realm for over six decades while secretly developed by military-corporate entities. It was revealed in 1992, for example, that the B-2 Bomber used electrostatic charges on its leading wings and exhaust. According to aerospace experts, this was confirmation that the B-2 used electrogravitic principles based on the Biefeld-Brown Effect. The Biefeld-Brown Effect is based on the research of Thomas Townsend Brown who in 1928 gained a patent for his practical application of how high voltage electrostatic charges can reduce the weight of objects. The B-2 bomber employs sufficiently high voltages to significantly reduce its weight. This enables the B-2 and other classified antigravity vehicles to display flight characteristics that appear to defy conventional laws of physics.
During the early period of the Obama administration there may have been an attempt to have such technology declassified. The key Obama appointee for the attempt to introduce antigravity technology into the public sector was very likely General James Jones who was President Obama's first national security advisor. After retiring from the Marines on February 1, 2007, General Jones served on the Board of Directors of the Boeing Corporation from June 21, 2007 to December 15, 2008. Boeing had been active at least since the early 1990's in studies to apply antigravity technology for commercial use.
In 2002, an internal Boeing project called "Gravity Research for Advanced Space Propulsion" (GRASP) had been disclosed to the aerospace industry. A GRASP briefing document obtained by Jane's Defense Weekly stated Boeing's position: "If gravity modification is real, it will alter the entire aerospace business." According to a 2008 book by Dr Paul LaViolette, Secrets of Antigravity Technology, Boeing completed a separate classified study for the U.S. military of electrogravitic propulsion recently before October 2007. Boeing was rebuffed in its efforts to have such technology declassified and released into the public sector. As a Board Director and member of Boeing's Finance Committee at the time of the 2007 classified study, General Jones was privy to and supported Boeing's efforts in antigravity research and development.
At the same time that Boeing was actively seeking to develop antigravity technologies for a new generation of aircraft, Jones became President of the Institute for 21st Century Energy. The Institute was created by the U.S. Chamber of Commerce with the following mission:
To secure America's long-term energy security, America must reexamine outdated and entrenched positions, become better informed about the sources of our fuel and power, and make judgments based on facts, sound science, and good American common sense.
As Obama's first National Security Advisor, General Jones was well placed to ensure that "new energy ideas" would be integrated into a comprehensive national security policy by the Obama administration. Unfortunately, Jones was stymied in his efforts to move forward with his new energy agenda, and was replaced in October 2010 less than two years after taking the job. As happened earlier during the Clinton administration with the Boeing Corporation, efforts to declassify antigravity technology for the civilian aviation sector had been stymied by powerful opponents.
There is little reason to doubt that space entrepreneurs such as Elon Musk could succeed in ambitious plans to achieve manned space flight to Mars, and eventually establish a human colony of up to 80,000 or more. Musk could become a modern day equivalent of William Penn and others granted Royal Charters by the English Crown that established colonies in the New World during the 17th century. The cost and time for achieving Musk's Mars vision will take several decades using conventional rocket propulsion technologies. If antigravity technologies were declassified and released for commercial application, then Musk's Martian colony could be brought into fruition much sooner – even before the end of this decade. A $500,000 ticket to Mars may not be that far off into the future after all!
© Copyright 2012. Michael E. Salla. Exopolitics.org
Permission is granted to include extracts of this article on websites and email lists with a link to the original. This article is copyright © and should not be added in its entirety on other websites or email lists without author's permission.
Further Reading
Participate in a Poll on Antigravity Technology
[poll id="2″]