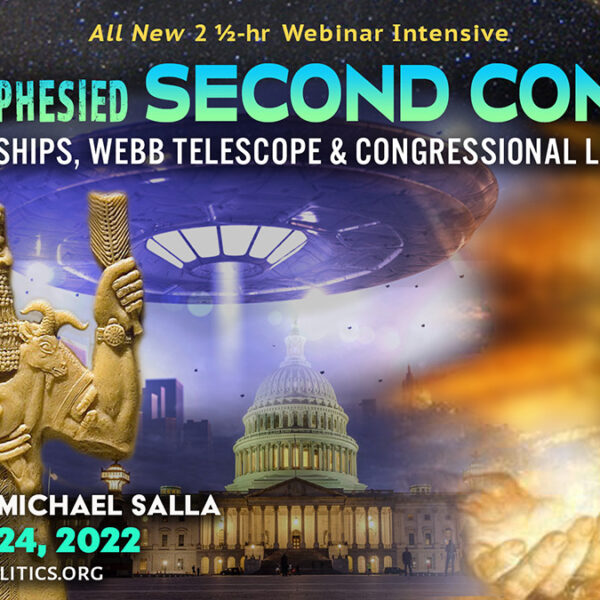 NEW WEBINAR
The US Congress recently passed legislation for the official study of Unidentified Aerospace-Undersea Phenomena which are deemed an expanding national security threat. Meanwhile, the James Webb Space Telescope has been releasing unprecedented close-up images of Jupiter showing large anomalies, some of which are claimed to be craft belong to a large fleet of intergalactic motherships that arrived in our solar system and parked around the gas giant in October 2021.
Multiple sources reveal the intergalactic fleet comprises approximately 24 civilizations from different galaxies that have been involved in the genetic seeding of humanity stretching far back into remote antiquity. The 'Seeders' or 'Guardians' have been described as gods in multiple religious and indigenous traditions, which tell of their early activities and accomplishments. Embedded deep within these traditions are prophecies about the return of the gods. These prophecies are especially significant when it comes to major world religions describing a "Second Coming" involving their founding prophets or avatars.
Since the Seeders arrival in our solar system, some of the massive motherships appear to be interacting with the Sun, which is destined to play a critical role in major global events about to take place on Earth. In addition, several Seeder motherships have now parked themselves around Earth and are exerting a powerful behind the scenes influence on global events. All this helps explain the recent rush in legislation passed by the US Congress concerning UFOs as an expanding national security threat.
In this 2.5 hour webinar intensive, Dr. Michael Salla will analyze UFO/UAP legislation passed by the US Congress, Webb Telescope images of Jupiter, the most recent activities of the ET Seeders, and how their return dovetails with prophecies of a Second Coming as described in major religions and indigenous traditions.
Additional topics to be discussed include:
Jesus of Nazareth's extraterrestrial connection and his prophesied Second Coming;

The Second Coming as depicted in Hindu, Buddhist and Islamic Traditions and the connection to ET life;

The Return of Nibiru and the Enki faction of the Anunnaki;

The Reaction of the Enlil faction of the Anunnaki to the return of Enki and the Seeders;

How Solar Activity is being mitigated by the Seeders in order to wake humanity up in a non-chaotic manner;

The Role of the James Webb Space Telescope in revealing the existence of extraterrestrial life and the arrival of the Seeders;

Possibility of millions disappearing worldwide as space time portals begin opening, a partial planetary evacuation, and solar flare activity dramatically increasing;

Will a false flag alien event be a contrived Second Coming?

The relationship between the Second Coming and the Spiritual Awakening of Humanity.
Now Available for Pre-Order on Vimeo
Watch Webinar Trailer/Short Film on Rumble, YouTube or Odyssee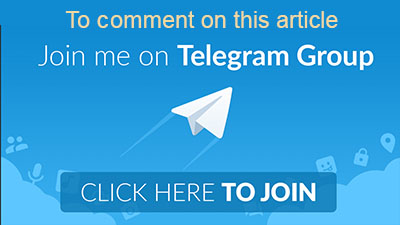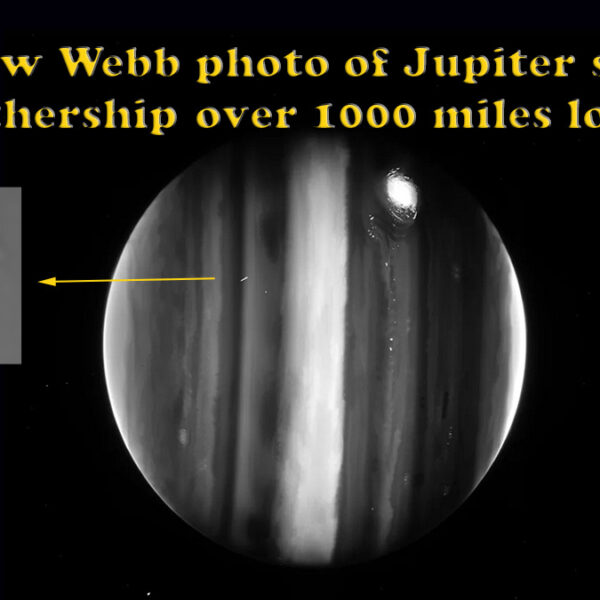 On July 27, 2022, the James Webb Space Telescope released an image of Jupiter's Great Red Spot using one of its infrared cameras. The image contains a cylindrical-shaped object floating high above Jupiter's atmosphere that appears to be more than a thousand miles long. The image corroborates claims of giant spacecraft recently arriving in our solar system and parking in the vicinity of Jupiter.
Space.com was among the first news outlets to release the new Webb image of Jupiter and explained that it was taken using the Near Infrared Camera. In addition to the Great Red Spot, Webb was also studying bands in the gas giant's atmosphere. However, the Webb image also caught a very large cylindrical-shaped object whose direction of motion could be traced directly to the Giant Red Spot.
The object appears white in the filter, as does the Giant Red Spot. Also, the thing seems to be very close to Jupiter, which makes possible an estimate of it being several thousand miles in length. If the object is closer to the Webb telescope, which is one million miles away from Earth, facing away from the sun, then that would make it harder to estimate the object's true size. Importantly, the object is unlike any of the smaller objects making up Jupiter's bands or near the Giant Red Spot.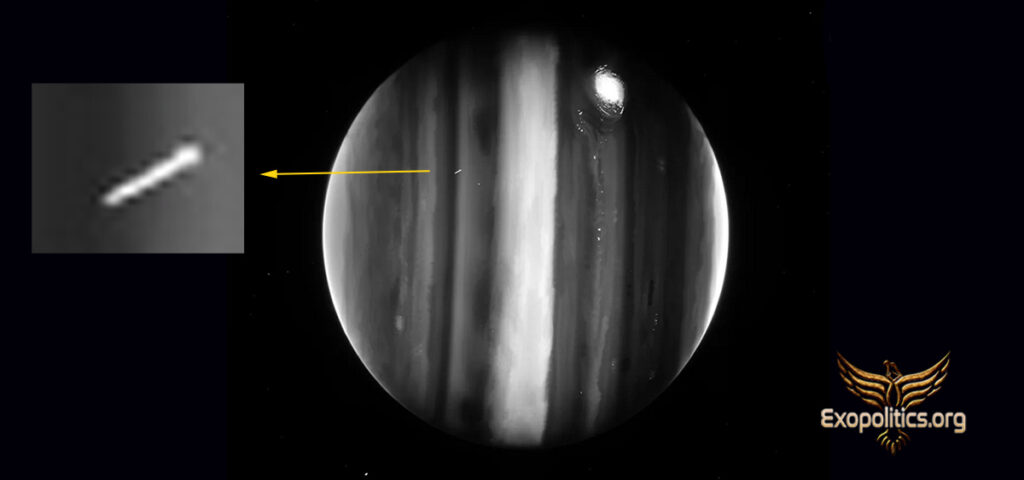 One of my sources, JP, who currently serves with the US Army, sent me the above Webb picture of Jupiter and believes it is a mothership drawing energy from the Red Spot. This is what he told me via Skype:
The red spot is hotter than most areas.
Atmospheric gravity waves and lightning-driven acoustic waves. 
A great source of energy for the ships
This is amazing you can [can't] see if the ship is heading towards the storm or coming out from the storm but you can see the direction.
JP traveled to Jupiter's moon Ganymede in September 2021 for a covert assignment to meet with representatives of an incoming extraterrestrial fleet. JP said that US Space Command has been setting up facilities on Ganymede to meet and liaise with members of the extraterrestrial fleet, some of whom he met during his assignment.
JP subsequently told me "that we were going to be shown soon all these ships and that people were going to see them" and, incredibly, some of these motherships are 6,000 miles long according to JP. This suggests that the Webb image is part of a disclosure initiative to reveal the truth about extraterrestrial visitation.
This is supported by NASA's current program to use the Webb Telescope to study the distant universe and our solar system, with Jupiter being a particular focus of attention.
If the cylindrical object is a mothership that is several thousand miles in length, as JP contends, then its size would make it capable of accommodating millions of people and thousands of smaller spacecraft.
The Webb image and JP's data about Jupiter corroborates information previously released by Elena Danaan concerning the composition of the extraterrestrial fleets she described as belonging to the Seeder races (aka Intergalactic Confederation). She provided an illustration of the different craft and beings that belonged to the Seeder fleets, one of which had a cylindrical design.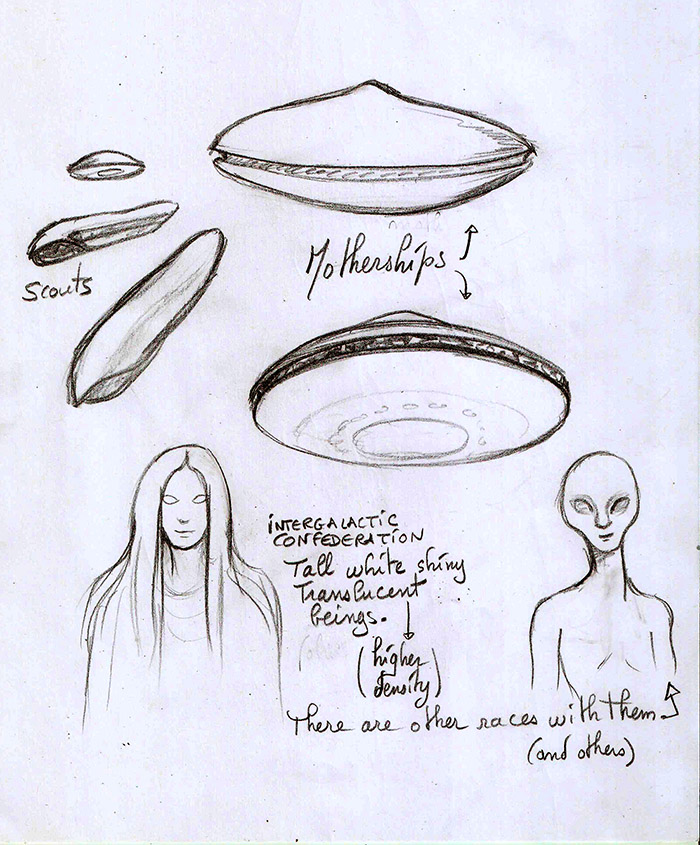 In an August 31 Skype conversation, Danaan said that the cylindrical shaped scout craft of the Intergalactic Confederation are 20 miles long and that the saucer-shaped mother ships are far bigger than that.
This is the second Webb image of Jupiter that shows a very large anomaly high above its atmosphere. The first image from July 13 showed a massive moon-sized dark area between Europa and Jupiter. According to information Danaan received from her contact Oona (a member of the Intergalactic Confederation), the object was a mix of large rocks and spacecraft parked in Jupiter's orbit.
In conclusion, estimating the size of the cylindrical-shaped object photographed above Jupiter is difficult as we can't be sure whether it's closer to Jupiter or the Webb telescope. If the object is close to Jupiter, then it's likely to be thousands of miles in length, as claimed by JP. If the object is closer to the Webb Telescope, then it could be a 20-mile-long cylinder shaped Intergalactic Confederation scout craft as described by Elena Danaan.
If JP is correct, we can expect to learn the truth soon about that and many other extraterrestrial spacecraft that have recently arrived in our solar system, as the Webb Telescope is releasing images that are part of an official disclosure initiative. The disclosure of a newly arrived extraterrestrial space fleet with giant mother ships parked around Jupiter would have an enormous impact on global politics, science and technology, and world religions.
To learn more about the role of extraterrestrial civilizations in historically shaping human society especially in relation to historic texts from around the world describing creator gods and their return, I highly recommend my August 13, 2022 webinar, "World Religions and Extraterrestrial Contact."
© Michael E. Salla, Ph.D. Copyright Notice
Video Version of this article is available on YouTube & Rumble.
Podcast version available on Apple, Spotify and Google.
Many thanks to Elena Danaan for permission to include her drawing of different spacecraft and extraterrestrials comprising the Intergalactic Confederation fleet parked around Jupiter.
[Update Aug 4, 2022 – A higher resolution version of the JSWT image of Jupiter found in the Space.com article is available here or click image below to expand]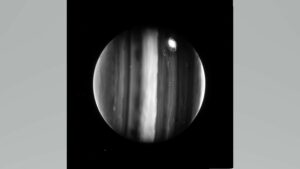 [Update Aug 2, 2022 – Below is a close up of the object floating above Jupiter in JWST photo I discussed in the above article. Notice shadow it casts. Shows object is very close to Jupiter, rather than something closer to the JWST, or dust on the camera lens. Clear evidence of a giant mothership parked around Jupiter.]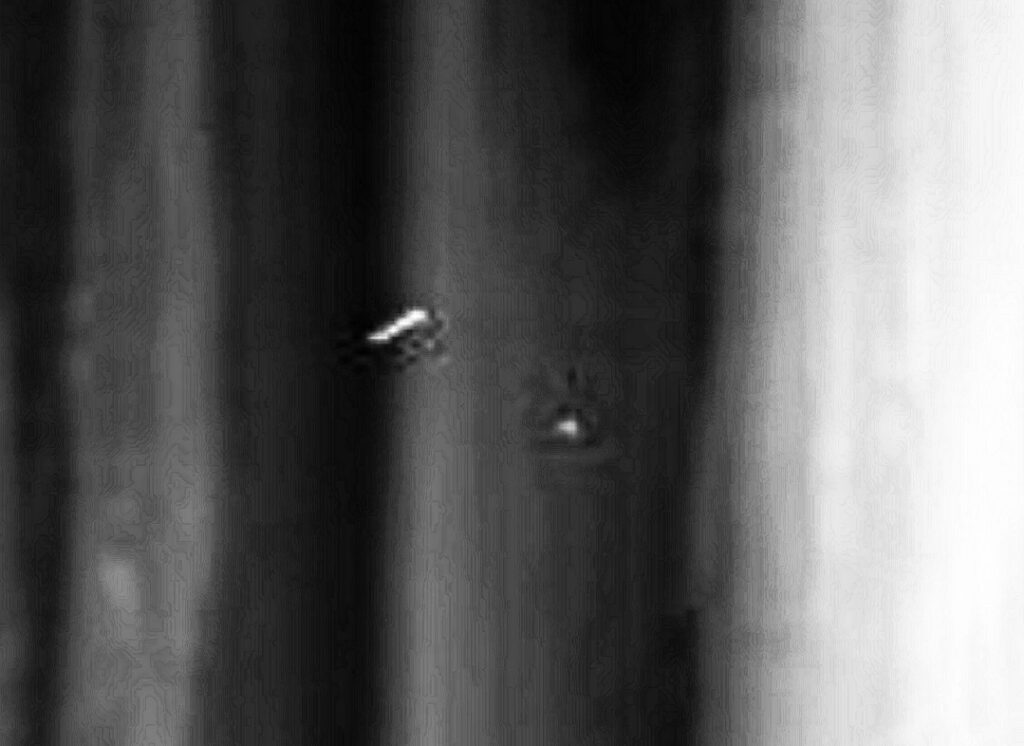 Related Articles & Podcasts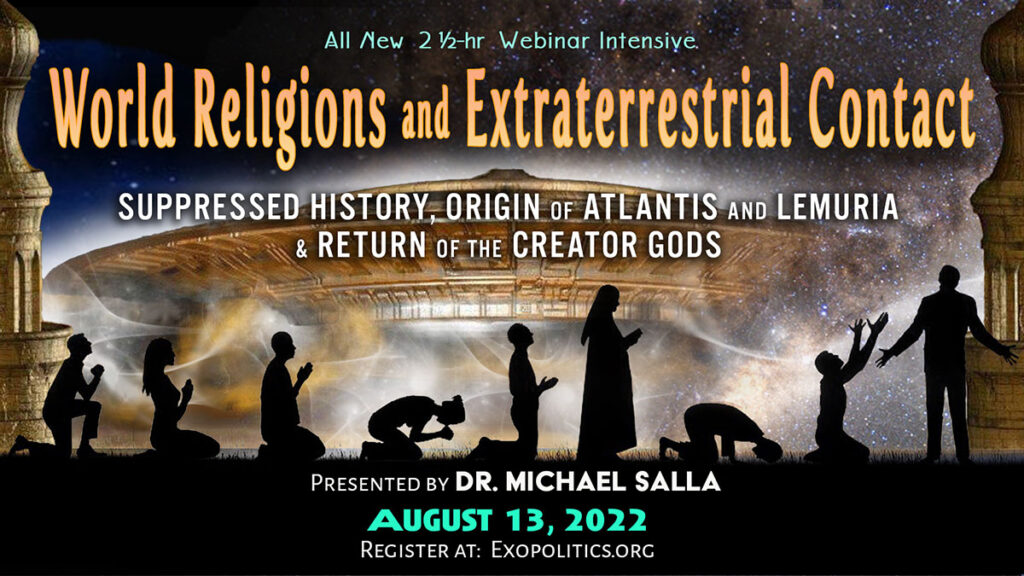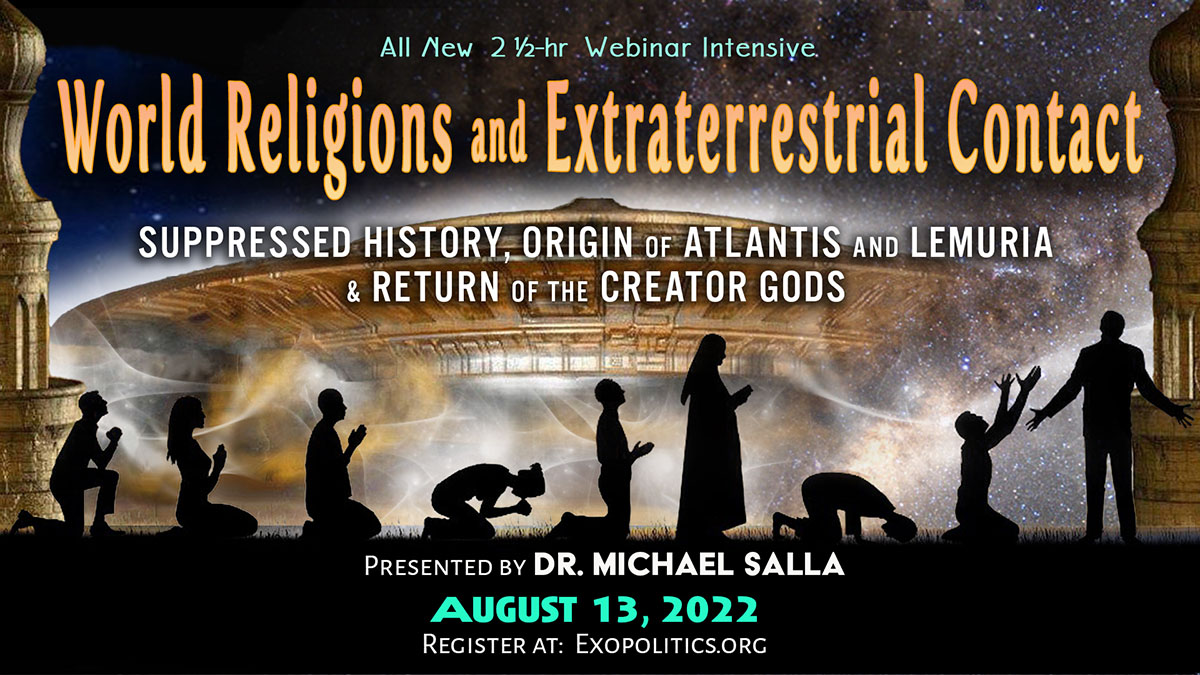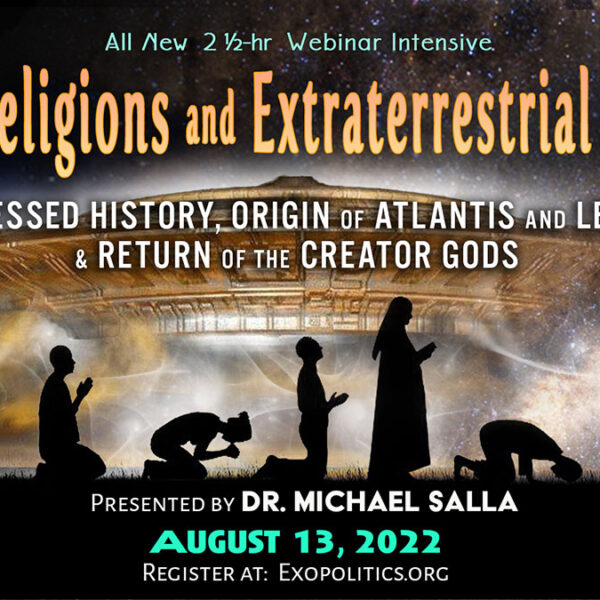 The destruction of the Georgia Guidestones and the initial images coming from the James Webb Space Telescope intersect as critical milestones in a titanic behind-the-scenes struggle to shape public perceptions about extraterrestrial life and humanity's future. At center stage is the returning "creator gods," bringing with them the true historical past of humanity's origin. This event's looming impact on world religions will be utterly profound.
The Abrahamic religions (Judaism, Christianity & Islam) have a rich history of biblical stories describing extraterrestrial contact that were covered up in later centuries in a deliberate effort to promote monotheism and eliminate any vestiges of the polytheistic past involving multiple creator gods bioengineering humanity. In contrast, Vedic and Buddhistic religious traditions are far more open with their historical accounts of otherworldly contact, where the extraterrestrials are described as avatars, devas and bodhisattvas, working with the creator gods that seeded humanity.  
Even earlier in history, the ancient civilizations of Atlantis and Lemuria played a pivotal role in humanity's evolution as a species. Understanding their extraterrestrial origin and later cover-up will help us to better understand how religions have shaped and altered the known past, culminating in the showdown of current events and narratives. Despite these efforts, a great consciousness shift is now taking place globally and it is directly linked to the returning creator gods.
Today, the looming 'discovery' of extraterrestrial life by the Webb Telescope will bring into focus our forgotten ancient history involving multiple creator gods, and will challenge the narrative of major world religions. This is especially important, given multiple sources confirming the return of the Seeders/Elohim/Anunnaki/Guardians to our solar system to the area around Jupiter and the role the Webb Telescope is playing in revealing this startling development to an unaware planetary population through high-resolution imagery.
In this all-new webinar, Dr. Michael Salla will present how major world religions have historically dealt with different creator gods and the civilizations they seeded, and how they covered them up to varying degrees. This history and modern-day impact of multiple creator gods from as many as 24 off-world civilizations will be examined in light of the ongoing struggle between the Deep State and the Earth Alliance to implement contrasting agendas when it comes to announcing the existence of extraterrestrial life, and what we can expect in the months ahead.
Now Available on Vimeo
Watch Webinar Trailer
---
Past Webinars by Dr. Michael Salla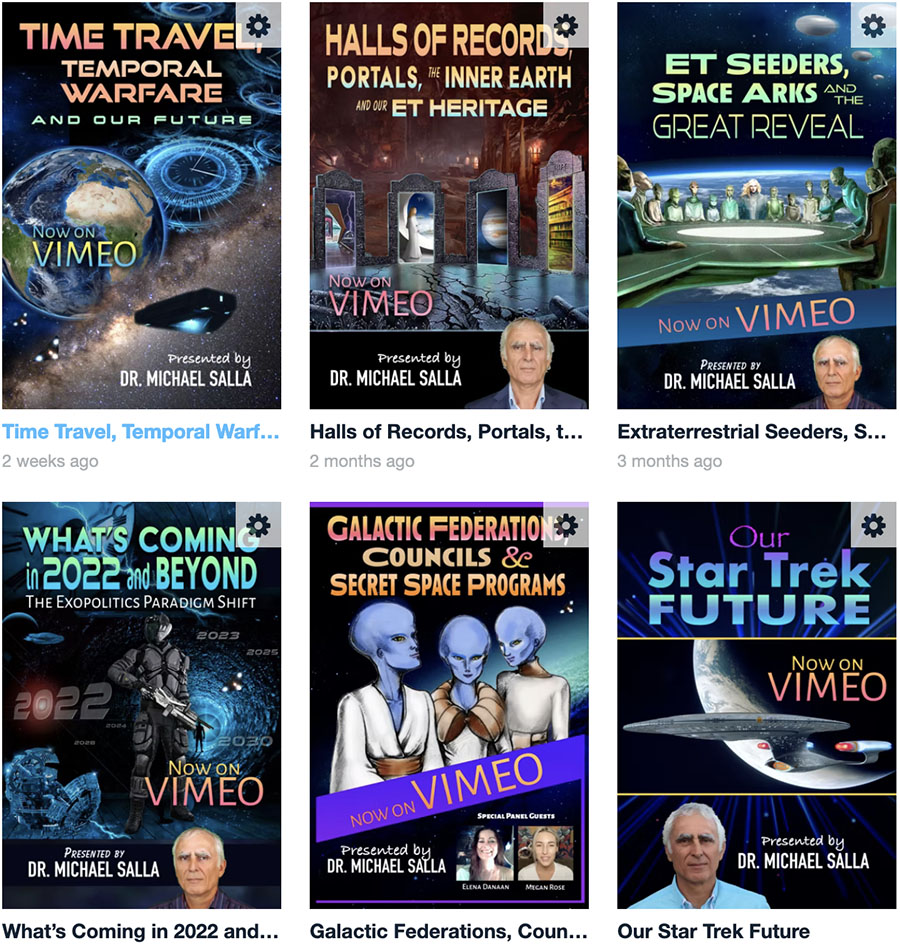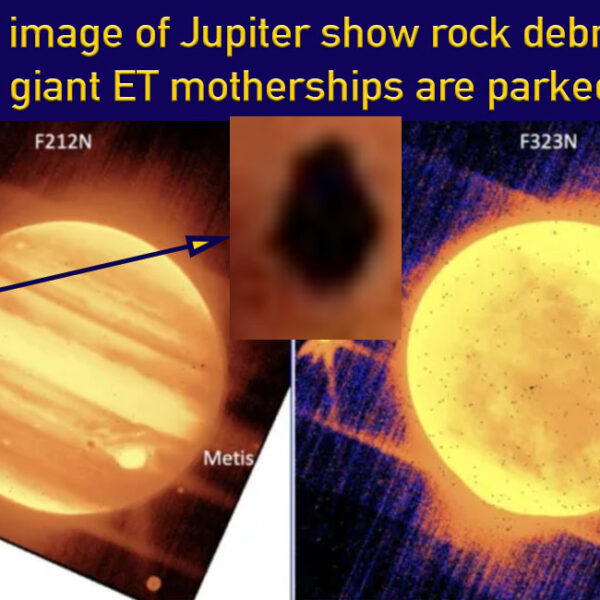 On July 12, NASA held an international live stream releasing the first official images from the James Webb Space Telescope showing distant exoplanets, galaxies, nebula, and a glimpse deep into our universe. The next day, NASA stealthily released an image of Jupiter taken by the Webb Telescope, which showed a noticeable dark field just above the gas giant's atmosphere. Was it a shadow, as NASA appeared to claim, or something entirely different – part of a newly arrived extraterrestrial space fleet secretly parked around Jupiter?
According to the NASA webpage announcing the release of the first Webb Telescope images:
These listed targets below represent the first wave of full-color scientific images and spectra the observatory has gathered, and the official beginning of Webb's general science operations. They were selected by an international committee of representatives from NASA, ESA, CSA, and the Space Telescope Science Institute. These first images from the world's largest and most powerful space telescope demonstrate Webb at its full power, ready to begin its mission to unfold the infrared universe.
The NASA live stream began with a "deep field" image showing a portion of the universe "teeming with galaxies," which, according to Jane Rigby, a Webb Operations Scientist, had "a sharpness and clarity we never had."
Next was an image of a gas giant exoplanet (WASP 96b) transiting its star, which is about 1,120 light years away from Earth. The Webb Telescope provides a far more detailed spectroscopic analysis of the background sun and subsequently deducing the exoplanet's atmosphere than was possible with its predecessor, the Hubble Space Telescope. According to a NASA Press Release, an analysis of the exoplanet's transit shows telltale signs of water in its atmosphere.
Many scientists have claimed that the additional clarity and sharpness provided by the Webb Telescope makes it possible for the future detection of biosignatures and even technosignatures from distant exoplanets. In the future, the Webb Telescope will examine exoplanets in the habitable region of their solar system to determine if extraterrestrial life exists.
The third image released by the Webb Telescope showed a planetary nebula (aka Southern Ring Nebula) approximately 2,500 light years away. The fourth image showed a grouping of five galaxies called Stephan's Quintet, the closest of which is about 40 million light-years away.
The fifth and final image showed the Carina Nebula that is in the process of creating new stars, which was yet again a distant region, approximately 8,500 light-years away.
NASA decided not to release images of Jupiter during the live stream, which would have given the most detailed images of our solar system's largest planet to date. This was disappointing as multiple sources have claimed that Jupiter has recently experienced something extremely rare—it is surrounded by newly arrived fleets of giant spacecraft belonging to extraterrestrial Seeder races!
However, on the next day, July 13, NASA stealthily released an image taken of Jupiter by the Webb Telescope. The image showed Jupiter along with several of its moons, Europa, Metis, and Thebe. It also showed a faint ring around Jupiter.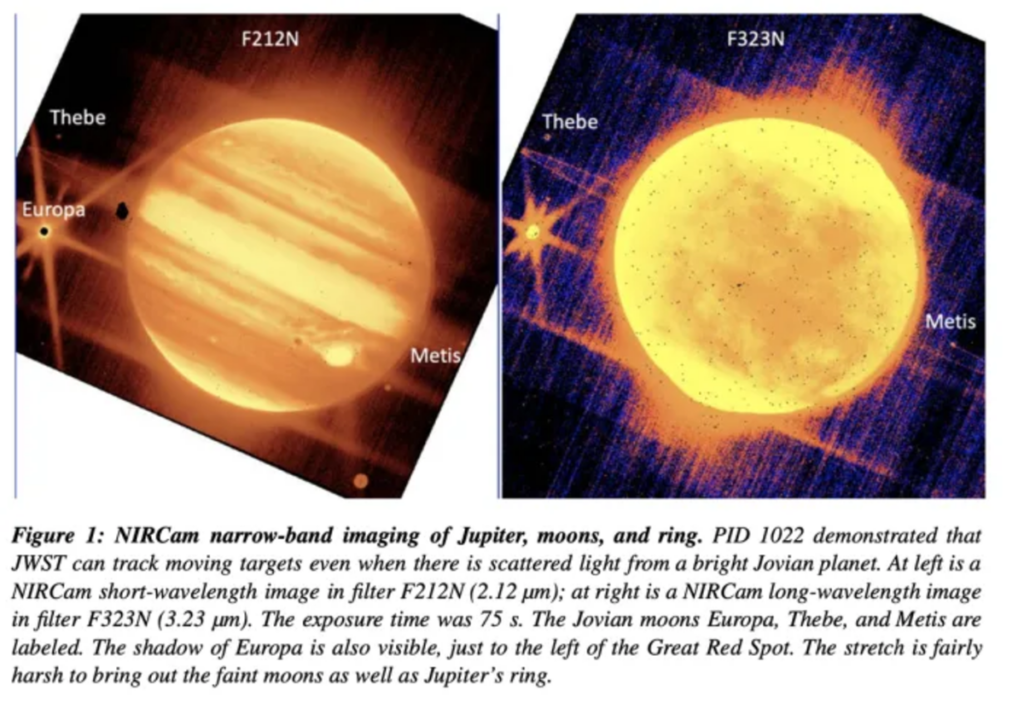 What immediately got my attention was a large dark area just above Jupiter's atmosphere near Europa. The caption in the NASA image said, "the shadow of Europa is also visible, just to the left of the Giant Red Spot." However, the dark area was nowhere near the red spot. What was it?
I asked Elena Danaan and Jean Charles Moyen, two contactees with different groups of extraterrestrials, whether any of their sources could explain the dark area. Danaan replied first that Oona, a representative of the Intergalactic Confederation, had a message to share. She publicly released Oona's message in a July 13 live stream on YouTube. Here's the complete message of what Oona had to say about the mysterious dark area, along with information about newly arrived space fleets that had parked in the vicinity of Jupiter.
Salutations to who will read this communication I am transmitting now. Here first Altean emissary Oona speaking on behalf of the Intergalactic Confederation, Council of the Twenty-Four.
There are one hundred and thirty-eight motherships part of the Nataru Alliance in your star system named Sol, with their fleets. This number represents several thousands of crafts.
Five hundred and fifty vessels of the Intergalactic Confederation have entered your star system and are stationed in orbit of your planet named Jupiter, and four are at the present moment in orbit of your planet Terra.
In previous articles (here & here), I discussed the newly arrived motherships from the Intergalactic Confederation, aka the Seeders or Guardians. My most credible source is a current US Army serviceman, JP, who says that he was sent on a covert mission to Jupiter's moon, Ganymede, where US Space Command has set up facilities to greet and liaise with the newly arrived extraterrestrial visitors.
It's important to emphasize that JP's information is not channeled but direct hands-on experience acquired during a classified space mission led by US Space Command. As I've previously described, JP is being encouraged to disclose his participation in highly classified missions into space or travel to hidden space arks on Earth by covert operatives. Nevertheless, his immediate Army superiors frown on what they perceive to be his unauthorized disclosures of classified information, thereby putting him in a delicate situation requiring anonymity.
Along with Elena Danaan and JP, other contactees have described being told by their extraterrestrial contacts that newly arrived space fleets have parked in the vicinity of Jupiter. These include Alex Collier, James Gilliland, Jean Charles Moyen, and David Rousseau, all of whom confirmed in interviews that large numbers of extraterrestrial spacecraft had recently arrived.
Going back to the Webb Jupiter image, Oona next explained what it was:
The recently disclosed image of your planet Jupiter displays the cloud of orbital rocks, plus the defense grid of the ships from the Ashtar outpost, plus some of our motherships. The majority of our fleet is behind the planet Jupiter, hidden from your sight. The disclosure of this image is not an error but a move from the Terran Alliance in charge of the program.
Terran instances may name our ships "cold spots", there is truth. More visuals to come. The plan is on schedule. One step at a time.
We are holding your hand and you must not look back. Instead, look up. In the greater design of the universe, you are already on the other side of the bridge.
In love, Oona.
Close examination of the darkened area shows that it is not a shadow, as suggested by NASA, but a large dark field orbiting Jupiter just above its atmosphere. A "cloud of orbital rocks" that is part of a defense grid belonging to a floating city controlled by the Ashtar Command, which I've previously discussed, along with large motherships parked next to the rocks, is very plausible.
Support for Oona's observation comes from Moyen, who said that his principal extraterrestrial source, Victor, told him that the dark spot was "a big mothership."
The James Webb Space Telescope image of Jupiter may provide the first photographic evidence showing some of these spacecraft secretly parked in the vicinity of Jupiter. If Oona is correct about the covert disclosure program that is underway, we can anticipate more images of Jupiter to be released, revealing even more details of the giant spacecraft parked around Jupiter and its moons.
© Michael E. Salla, Ph.D. Copyright Notice
Many thanks to Elena Danaan for permission to include her message from Oona concerning the Webb Space Telescope image of Jupiter.
Video Version of this article is available on YouTube & Rumble.
Podcast version available on Apple, Spotify and Google.
[Update 7/17/2022 – A high resolution version of the above image showing Jupiter and its moons along with a large dark area is available here. A different filter shows the area in question here.]
Related Articles & Podcasts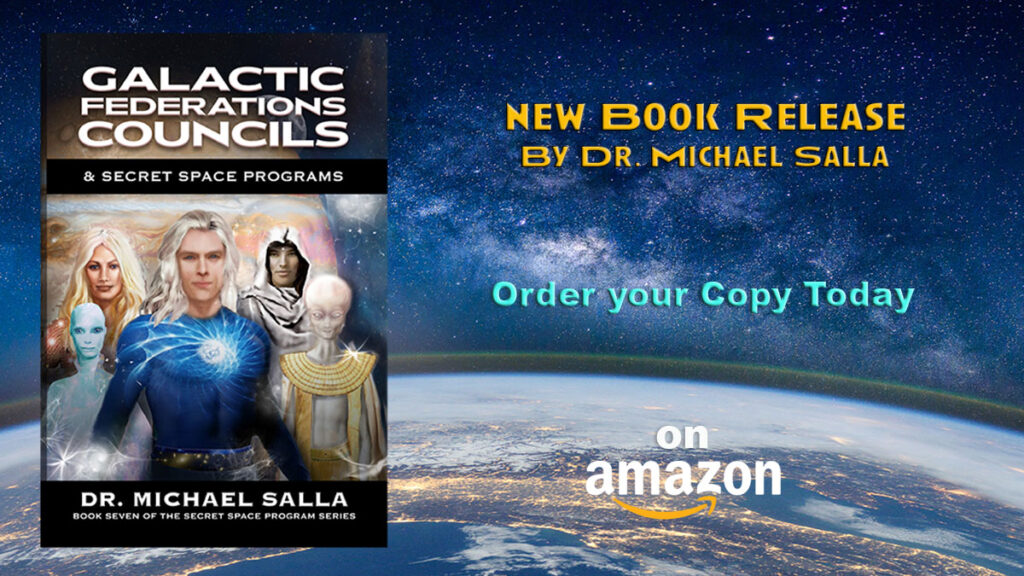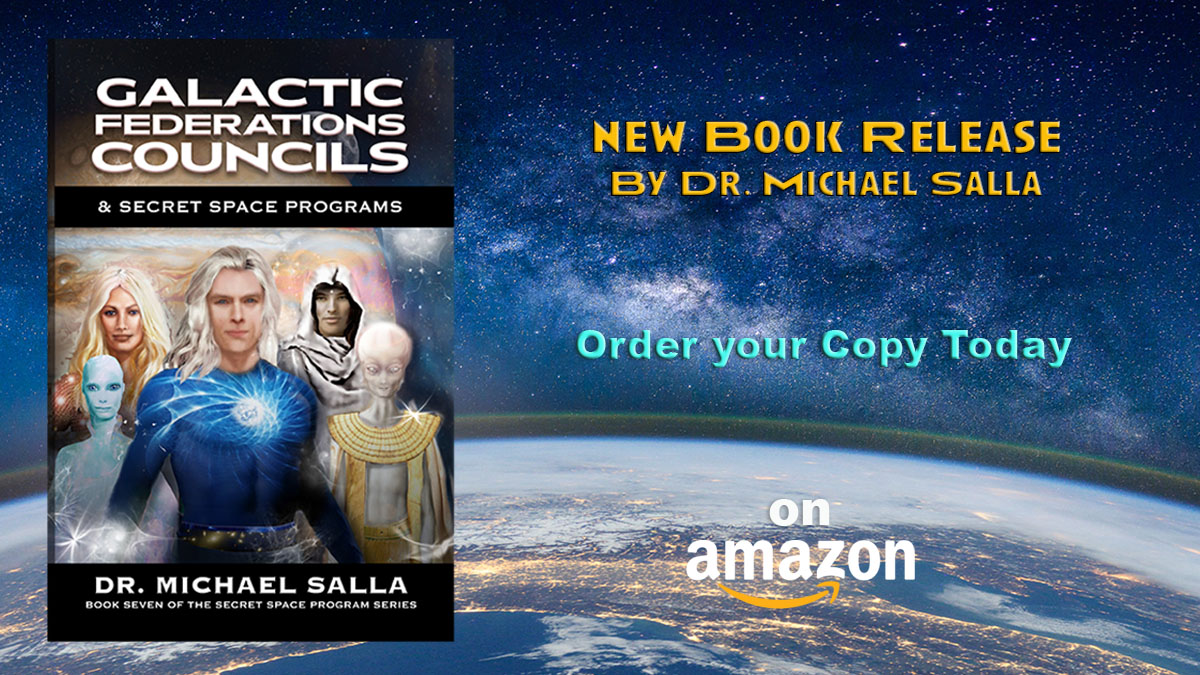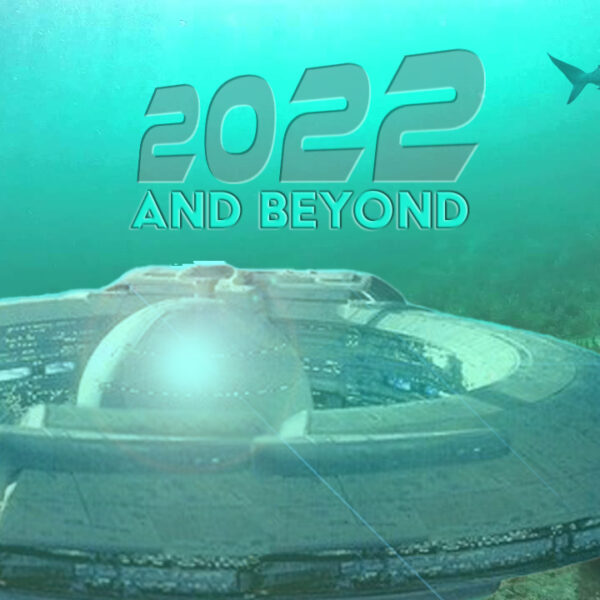 This is the official trailer to "What's Coming in 2022 and Beyond: The Exopolitics Paradigm Shift" a live webinar scheduled for February 26, 2022.
Available on YouTube and Rumble
To learn more about this webinar click here. To register click here.
My heartfelt thanks to my talented wife, Angelika Whitecliff, for creating this trailer.