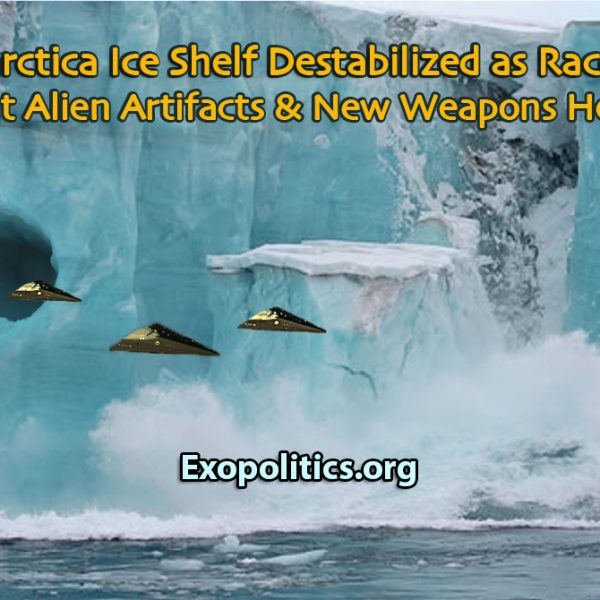 By Dr Michael Salla and Corey Goode
A multinational effort to excavate key regions of Antarctica in search of artifacts from a flash frozen alien civilization created by refugees is destabilizing the continent's massive ice shelves, according to secret space program whistleblower Corey Goode. He furthermore reveals that secret military bases in Antarctica are using some of the artifacts for weapons development in violation of the 1959 Antarctic Treaty, which stipulates that the continent's resources will be only used for scientific purposes.
This article is the third in a series [click for Part One and Part Two]. Corey's written contribution to this final installment has led to it being our first collaborative writing venture. To identify who is writing for the reader, I [Michael Salla] will take the role of the narrator and distinguish when Corey is directly contributing in his own words, as opposed to me paraphrasing his briefing material.
Disclosure of the Antarctica ruins is still imminent, Corey reports, as a number of key variables impact on when and how much is to be revealed to the world about the discoveries while maintaining secrecy about the ongoing military programs to weaponize alien artifacts.
In a detailed briefing given to me on March 16, 2017, Corey shared additional details about the "Pre-Adamite" civilization supplementing the data he previously put out. This new information was originally slated for release in an article, "Endgame III", as the sequel to the popular Endgame II article and video which focused on secret Antarctica excavations.
Corey said earlier that the extraterrestrial civilization, identified by him as Pre-Adamites, first arrived 55,000 to 60,000 years ago and established outposts all over Antarctica which notably has a land mass almost twice the size of the contiguous United States. He described them as standing approximately 12-14 feet in height and possessing elongated skulls.
Corey also described how they created a hybrid species, Homo Capensis according to anthropological classification, which became ruling elites, or demigods, in ancient South American, Asian and European societies.
In the March 16 briefing, Corey began by explaining that the Pre-Adamites had established their main base right over "Ancient Builder Race" technology, which included a "stargate" or "wormhole" device very similar to that depicted in the popular Science Fiction show, Stargate SG-1.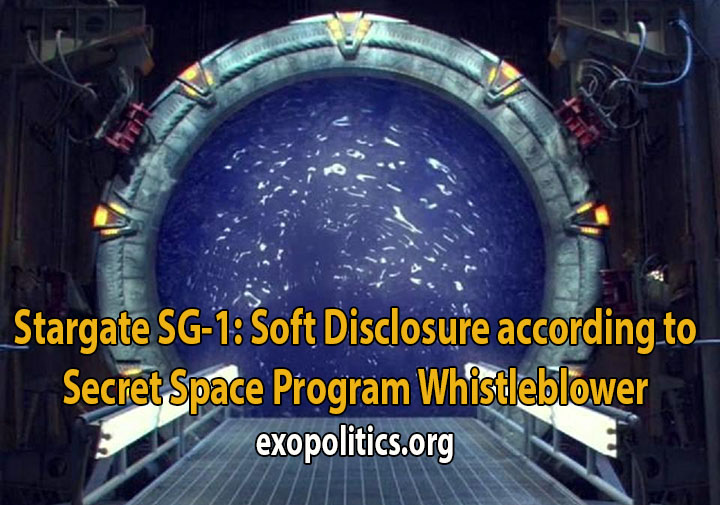 Corey said that this show was an example of a soft disclosure in which the U.S. Air Force took the lead in revealing key elements of the technologies developed by the Ancient Builder Race, who had established a travel grid throughout the galaxy using traversable wormholes hundreds of millions, if not billions, of years ago.
When the Pre-Adamites first arrived in Antarctica, they quickly asserted control through their advanced technologies over this area populated by human settlements at the time.
With their advanced medical technologies, the Pre-Adamites then began many genetic experiments, and created hybrids that became a servant class. Corey previously released his description of the flash frozen bodies of the bioengineered hybrids (Homo Capensis) during his latest visit to Antarctica in early January of this year.
Corey explained that the Pre-Adamite programs interrupted 22 genetic experiments being run by human-looking extraterrestrials first established 500 thousand years ago. In a prior report, Corey elaborated that a "Super Federation" comprising 40-60 of these races had established competing genetic engineering programs with surface humanity.
Corey also described how the Pre-Adamites engaged in conflict with the human-looking ETs running their 22 genetic experiments, as well as Reptilians doing likewise, for global influence.
Given that the Pre-Adamites had established a physical presence on Earth, this gave them an advantage in establishing ruling bloodlines over the Americas, Asia and Europe, as explained in a previous article.
At the same time, humans who had escaped into the Earth's interior to avoid multiple surface catastrophes monitored how the different extraterrestrial races competed against each other for influence and power over surface humanity who was still recovering from global catastrophes.
One of the Inner Earth races that pride themselves on their pure human bloodlines, the Anshar, had a historic connection to the human settlements in Antarctica. However, the Anshar did not cooperate with the Pre-Adamites because they considered them to be sociopaths in terms of their treatment of the native Antarctica population and other regions of surface humanity where they had established colonies.
Corey said that the Pre-Adamites treated humans in antiquity in a similar manner to how modern humans treat dogs in terms of cross-breeding for multiple purposes. The Pre-Adamites, along with the Reptilians, were a big problem for all humanity.
The Anshar were part of a confederation of worlds that sought to make things better on the planet by providing knowledge and technological assistance as described in Sumerian cuneiform texts.
In a previous article, I discussed how the Anunnaki (as described by Zecharia Sitchin in his Earth Chronicles series) involved the Anshar and other off world groups, according to Corey's sources. To help clarify this point, Corey adds:
Anunnaki was a generic term that meant ET or those that come from heaven. This definition will upset some people, so be aware… The Reptilians, the Nordics, The Ebens and the Anshar were interacting with the ancient Sumerians to assist them in the recovery of their civilization after the great catastrophe that destroyed Atlantis. The Anunnaki were indeed the Reptilians, but the other groups that interacted with them were also referred to by this same name (according to my info in the programs).
Corey said that a small number of Pre-Adamites survived the catastrophe that flash froze Antarctic regions by going inside stasis chambers located in the largest of their three motherships. These ships are miles long, and not 30 miles long as reported earlier.
The additional information released by Corey suggests there are many risks in waking up the Pre-Adamites who would likely attempt to reassert their authority by utilizing their advanced technologies, including the little understood "Builder race technology". Here, Corey adds:
The groups in charge of these excavated locations are taking precautions, i.e. Mini-Nukes with "deadman's Triggers", in case these beings become hostile (for reference, see the movie Prometheus).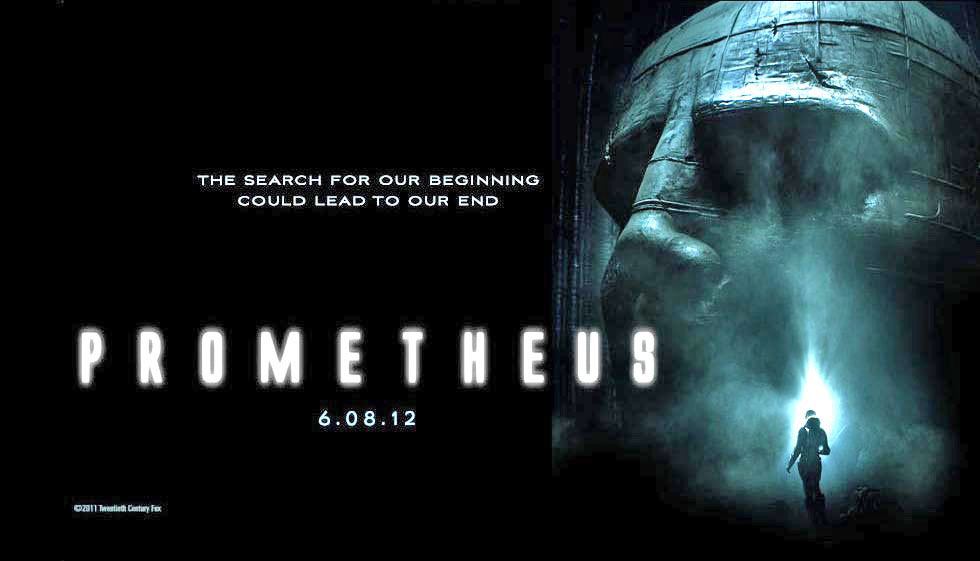 This leads us directly to the secret excavations currently underway of the Pre-Adamites' bases and ships.
Secret Antarctica Excavations
Corey disclosed that excavations are occurring in multiple places in Antarctica by different nations, which in some cases are in direct competition to get the most advanced technologies. The goal is to eventually disclose some of these, but many technologies, especially those that are clearly extraterrestrial in origin will be not be released, at least to begin with.
Corey said that all the nations involved in the Antarctica excavations are capable of making a disclosure announcement on their own, but they are all participating in negotiations to do so in a coordinated manner.
Corey thinks the Antarctica disclosures will begin in tandem with prosecutions of the elites involved in pedophilia, human trafficking and other crimes, which includes the blackmailing of leading politicians, academics, industrialists and military officials. He says that the recent Trump administration action to sack 46 District Attorneys was due to their inaction in moving forward with such prosecutions.
Alternatively, the Russians, the Chinese, or smaller nations could begin the Antarctica announcements, if negotiations drag out and the U.S. fails to move forward. The former nations are part of what Corey describes as the Earth Alliance. This group has rapidly grown in prominence with economic power mounting in Asia as global Cabal/Illuminati's power centers in Europe and North America continue to gradually wane.
This is best illustrated by a battle that took place over Antarctica skies in early 2016. It began when Teardrop-shaped ships came out of the sea in the Ross Ice Shelf area and sought to escape into deep space. These ships flew out of bases belonging to a corporate run space program called the "Interplanetary Corporate Conglomerate".
The ships in turn belonged to the Cabal/Illuminati, who are allied to another program called the "Dark Fleet". They were filled with global elites seeking to escape anticipated global chaos caused by upcoming Solar events.
Dozens of delta-shaped craft suddenly appeared as the Cabal/Illuminati's Dark Fleet vessels reached the upper atmosphere. The teardrop-shaped ships were badly damaged in the battle and had to turn back and return to their Antarctic bases. Corey said the delta-shaped craft inflicted far more damage than thought possible by such small craft.
Corey also stated that the only thing known for certain about the attacking delta-shaped craft was that they were built using Earth based technology on par with that possessed by the Interplanetary Corporate Conglomerate. This technology solely came from Russia/China and Asian syndicates belonging to an Earth Alliance. Thus, the battle revealed that the Earth Alliance had succeeded in bridging the technological gap with the most advanced space technologies recognized to exist.
On a map of Antarctica [see below], Corey has marked six bases belonging to the Interplanetary Corporate Conglomerate, which he was taken to visit by an Anshar spacecraft in early 2016. The largest of these bases is the size of small industrial city and located near Pre-Adamite ruins. More ruins, some of which are poking out of the ice, are not too far from other bases marked by Corey.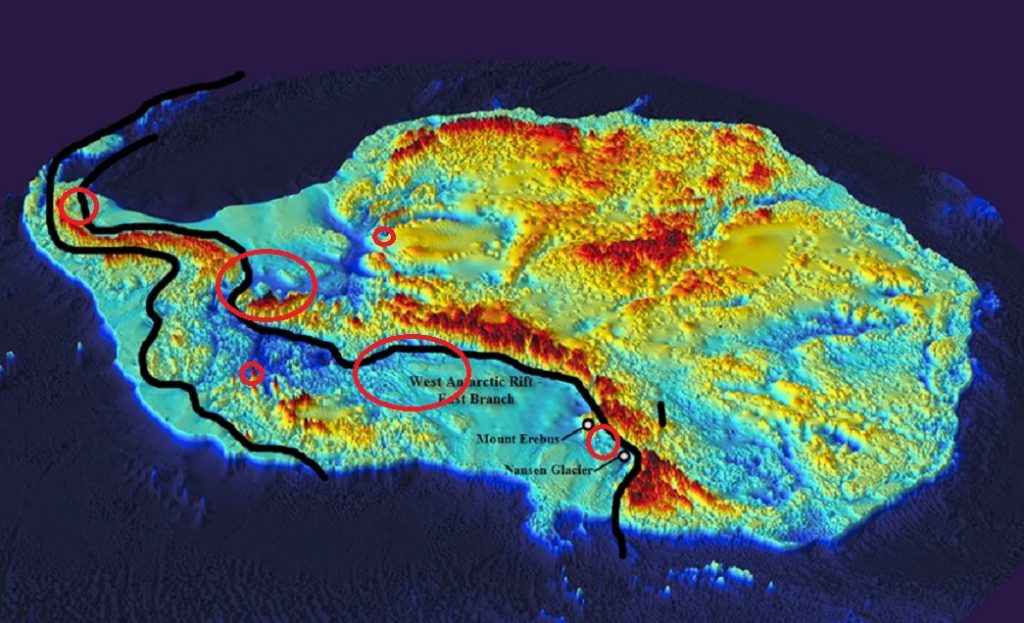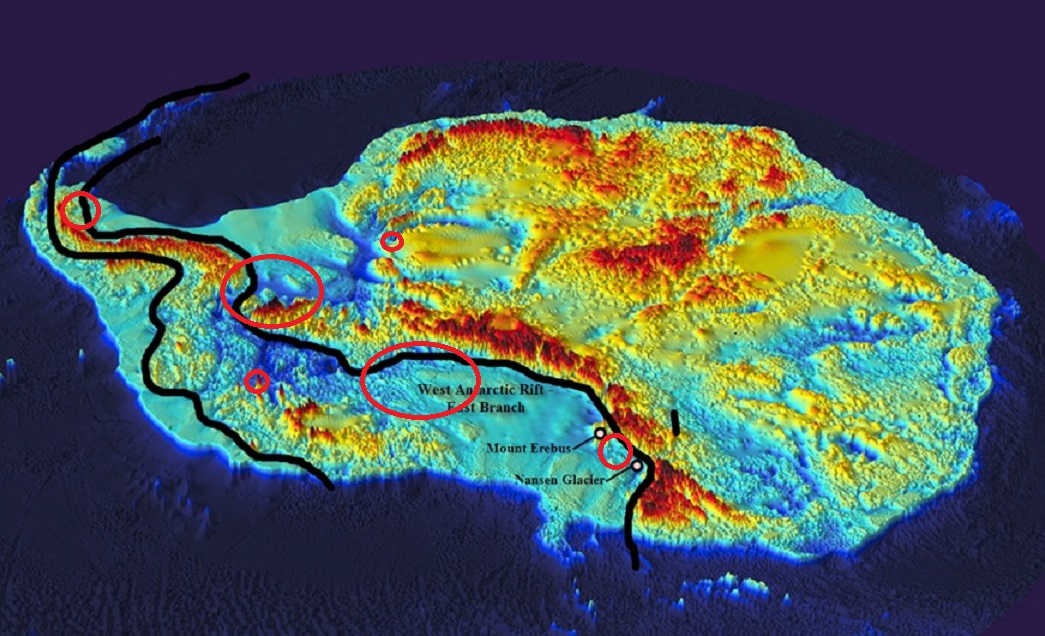 The bulk of the secret excavations are occurring within the Ross Ice Shelf. This shelf exists over land rather than ocean and drilling is occurring through more conventional science research projects like ANDRILL.
Corey described two processes which are simultaneously occurring that are having a powerfully destabilizing effect on the Ross Ice Shelf and other ice shelves across the continent.
One process utilizes a natural phenomenon that involves harnessing powerful geothermal vents caused by volcanic activity deep below Antarctica's landmass. The vents are releasing enormous quantities of heat that are being directed to melt the ice cover, and are forming large caverns under the ice shelf. This has led to geothermal tunnels being formed all the way to the surface.
One of these tunnels, caused by geothermal vents that reach the surface, is located roughly 5 miles from the South Pole. It is the same tunnel/hole witnessed by an anonymous Navy officer and flight engineer, Brian, who first reported his experience to Linda Moulton Howe in a letter on January 2, 2015. She has subsequently interviewed him and gained more information about his Antarctica experiences.
In short, he described flying a rescue mission from Davis Station to West Antarctica where he overflew the South Pole. He and his colleagues witnessed a large hole in the ice, as he described in his original letter:
Another unique issue with South Pole station is that our aircraft was not allowed to fly over a certain area designated 5 miles from the station. The reason stated because of a air sampling camp in that area. This did not make any sense to any of us on the crew because on 2 different occasions we had to fly over this area. One time due to a medical evacuation of the Australian camp called Davis Camp. It was on the opposite side of the continent and we had to refuel at South Pole and a direct course to this Davis Camp was right over the air sampling station. The only thing we saw going over this camp was a very large hole going into the ice. You could fly one of our LC130 into this thing.

Corey said that he saw the bottom of the same hole when the Anshar took him into Antarctica in January 2017.

The other process, which is also destabilizing the Ross Ice Shelf, is the use of large pressurized steam hoses to reach the Pre-Adamite ruins. Corey elaborates:
They are connected to large pressurized tanks in which large bags of water are hit with microwave beams to cause them to explode with steam—opening large areas. Fine tuned excavations have been done with men holding pressurized hoses shooting steam. The melting ice is causing rivers to run under the ice shelf and lubricate it, causing it to slide even more, as well as producing collapse from the weight of the ice above as the ice heats up from the geothermal activity.
In addition, there are excavations being conducted by other nations across Antarctica, which again are having a destabilizing effect on all of Antarctica's ice shelves. Basically, the base temperature of the ice shelves are on the rise leading to ice melting, and adding to the resulting water sludge acting as a lubricant for the ice shelves to move.
According to research scientists with the Mandrill project, the Ross Ice Shelf is moving at one foot per day.  This is creating problems as the shelf moves over the Pre-Adamite excavation sites because the tunnels created to reach these have to be constantly lengthened as the ice shelf moves.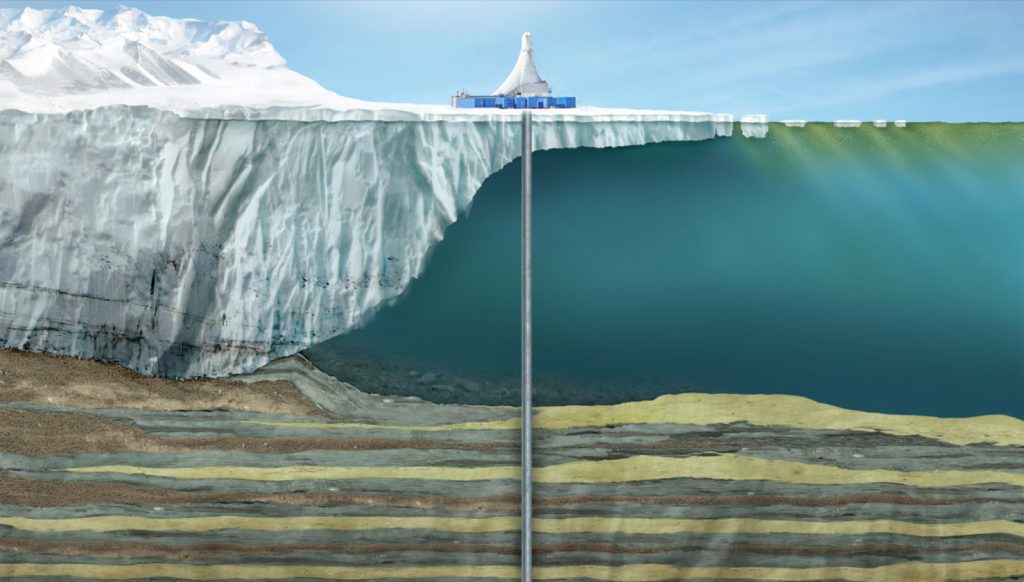 Corey was told that disclosure announcements will begin with sanitized releases about the excavations of the Pre-Adamite ruins by leading scientists that have been working on the excavations since 2002. Documentaries of it will feature only the terrestrial elements of the Pre-Adamite civilization (all evidence of alien life and technology has been removed and will be kept secret).
The Antarctica disclosure was to be followed by a limited disclosure initiative concerning the Military Industrial Complex Secret Space Program (MIC SSP) comprising the U.S. Air Force, National Reconnaissance Office, National Security Agency and Defense Intelligence Agency.
As discussed in Part One of this series, however, Corey explained that a senior official in the MIC SSP, dubbed "Sigmund", now suspects that a more advanced Navy space program exists and wants to uncover the truth before the limited disclosure initiative moves forward.
Consequently, while there is growing momentum behind a "limited disclosure" of the Antarctica excavations, there is also uncertainty over how this will occur. Will it begin with the prosecutions of U.S. elites involved in human trafficking, the Earth Alliance revealing its own Antarctica discoveries, or will there be some wild card events such as the Ross Ice Shelf melting far more quickly than anticipated, revealing more of its hidden mysteries involving a Pre-Adamite civilization?
Corey has added important information about the Pre-Adamites and their connection to the "Homo Capensis". World Bank whistleblower Karen Hudes first identified this group as a non-human species secretly exerting global influence. Corey explains:
I recently received confirmation that the scrolls that were removed by the Inner Earth group were very important genetic/bloodline databases that are super important to the human/Pre-Adamite hybrids that control much of the world through religion (Vatican) and the financial system (London). Didn't Karen Hudes say she knew of a person with an elongated skull in London?

The Elite had planned on making an announcement in the future that these ET's were gods and they were demi-gods and we should worship and serve them. They were going to use the bloodline scrolls to prove their lineage and setup this system.

Military Bases in Antarctica and Weaponizing Alien Artifacts
Corey points out the major violations occurring in terms of breaking the Antarctic Treaty, which proscribe the weaponization of Antarctica. Article I in the treaty says:
1. Antarctica shall be used for peaceful purposes only. There shall be prohibited, inter alia, any measures of a military nature, such as the establishment of military bases and fortifications, the carrying out of military maneuvers, as well as the testing of any type of weapons.

Furthermore, Corey points out that:
… the R&D installations (much like Project Iceworm) are highly against the Antarctic Treaty that states no weapons will be tested or developed in Antarctica. Also, for over 50 years 'American Shadow Government Groups' have controlled a former NAZI base for their secret space program and turned it into a major 'Space Port' that not only houses advanced ICC spacecraft, but also manufactures and repairs certain types of these vessels.
These Antarctica bases form an Antarctica version of Area 51. Significantly, Lockheed Martin, the same corporation that helped establish Area 51 as a secret aerospace development facility in the mid-1950's, was in 2011 given a two billion dollar contract to manage Antarctica operations for the National Science Foundation.  This suggests that Lockheed Martin is using its National Science Foundation contract, as a cover for a highly classified and illegal aerospace weapons development program in Antarctica's Area 51.
What Corey reveals above is indeed a violation of the Antarctic Treaty which also states in Article X:
Each of the Contracting Parties undertakes to exert appropriate efforts, consistent with the Charter of the United Nations, to the end that no one engages in any activity in Antarctica contrary to the principles or purposes of the present Treaty.

This is where provisions in the Antarctic Treaty become problematic since there are a number of non-signatory groups that operate military bases in Antarctica. Corey explains:
There are a number of other space ports in Antarctica that belong to breakaway Nazi remnants, as well as 'Non-Terrestrial' groups that have huge bases down there. It is not just the Reptilian, as has been reported in the past. The Reptilians inhabit giant caverns in Western Antarctica.
This situation clearly creates problems once a group like the Cabal/Shadow government/military begin cooperating with one or more of the non-Treaty parties operating in Antarctica in developing advanced weapons systems.
Corey says that revealing the extent of military activities in Antarctica …
will make some Alliance people very happy and a lot of the negative human groups very worried. This is a major violation of that treaty that could have huge ramifications (Cuban Missile Crisis type responses). We are already amidst a shadow civil war that is in extreme danger of becoming an overt civil war that some plan to lead into a world war as a last ditch effort to depopulate the planet, and consequently reassert their control over the survivors. The negative groups have never been so close to defeat.
In closing, it is important to emphasize that ongoing scientific excavations of the Pre-Adamite civilization has enormous implications for the planet. The alien artifacts, which include Pre-Adamites in stasis chambers, are highly sought after by various groups. Some want to use these artifacts to disclose a sanitized version of an advanced "human" civilization that was flash-frozen in Antarctica to kick start the world economy, and arguably act as a distraction from upcoming criminal investigations.
Other groups (Cabal/Shadow Government) want to gain access to the alien artifacts in order to create a new world religion where the Pre-Adamites are revived and even presented as Gods to be worshipped. Finally, there are military groups that wish to weaponize the alien artifacts for use in ongoing space programs, and for a decisive advantage in facing a possible future world war.
Despite these contentious situations, it is important to focus upon the best possible outcome and as Corey states, "The negative groups have never been so close to defeat."
© Michael E. Salla, Ph.D. & Corey Goode.  Copyright Notice 
[This article is the third in a series – click for Part One and Part Two].
Further Reading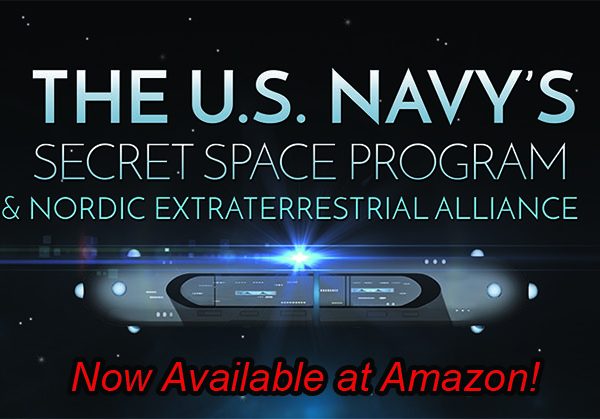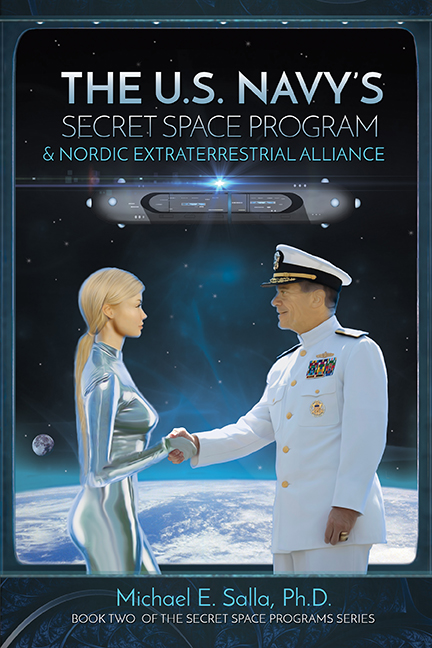 Will disclosure take place to bring about a better future for all of us?
There is extraordinary hope in our midst. The Los Angeles Air Raid on February 24/25, 1942 opened an unprecedented chapter in the evolution of the U.S. Navy. In response to this incident, a covert research program to investigate the feasibility of exotic antigravity propulsion technologies was developed.
In addition, Navy operatives were embedded in Nazi occupied Europe to learn about the Germans' advanced saucer programs, and they discovered the Nazis were receiving assistance from two extraterrestrial groups with very different agendas.
The debriefing of the operatives took place at Naval Air Station, San Diego, and were led by Rear Admiral Rico Botta. He instructed a "Disseminator of Naval Research and Information", William Tompkins, to take confidential briefing packets to select think tanks, corporations and university departments around the country.
Later, Tompkins worked with a number of leading aerospace companies to design massive spacecraft for a secret U.S. Navy space program, which fatefully came to be assisted by extraterrestrial visitors described as "Nordics".
An extensive number of documents substantiate Tompkins' claims of the existence of a covert Navy program to study, design and build deep space battle groups. They became operational in the 1980's. Now the Navy has a new goal to enact a plan to level the playing field, and the election of President Donald Trump may just be the wild card they needed to reveal … everything!
About the Author: Dr Michael Salla is a former university professor in international relations, and is the author of Insiders Reveal Secret Space Programs and Extraterrestrial Alliances (Book 1 in Secret Space Program Series, 2015), which has received over 200 reader reviews; and author/editor of nine other books dealing with 'Exopolitics', International Conflict, U.S. Foreign Policy  and Global Peace.
The U.S. Navy's Secret Space Program & Nordic Extraterrestrial Alliance is approximately 320 pages in length, and is Book 2 in the Secret Space Programs Series. Cost of paperback version is $19.95.
Release Date: March 1, 2017!
Now Available at Amazon.com. For Paperback edition click here. For Kindle Edition, click here.
Click here to Order Autographed Paperback Copy from Exopolitics.org.  Free U.S. Shipping for all orders over $25.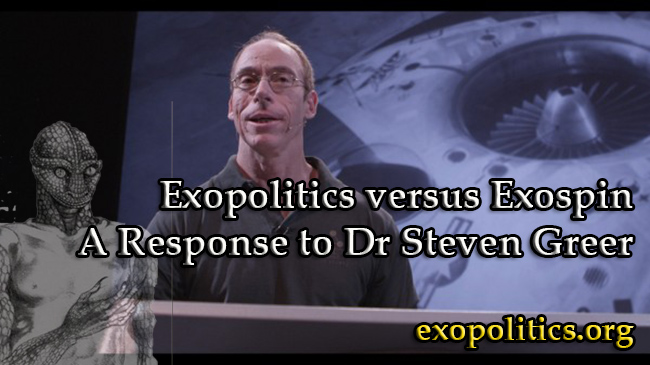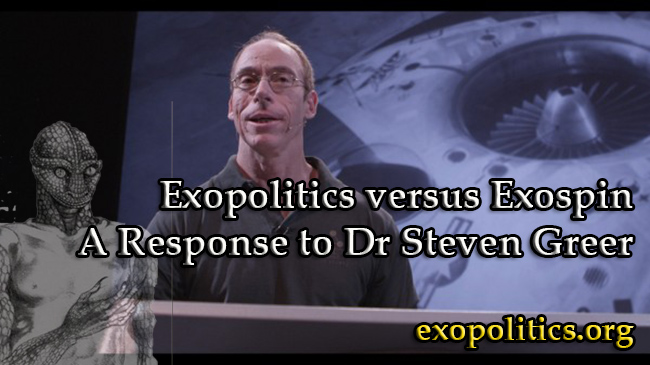 [
Originally published, May 2, 2006
] In January 1994, I remember visiting the Jakarta office of Mr Irawan Abidin, the former Director of Foreign Information in the Indonesian Ministry of Foreign Affairs. I had just arrived from a two week field trip to the former Indonesian territory of East Timor researching alleged human rights abuses. I had found ample evidence of abuses through the traumatized testimonies of many East Timorese I had spoken with.
Mr Abidin assured me that systematic human rights abuses were not occurring in East Timor and that such claims were spurious accusations orchestrated by discontented Timorese expatriates who were the former ruling elite. I politely explained to him what I had been told in my fieldwork involving interviews with dozens of private citizens, but he insisted that such claims were gross exaggerations and people were basically content in East Timor. He handed me a Ministry publication to support his position and exhorted me to tell the world how content people were with Indonesian rule in East Timor.
In reading Steven Greer's recent public statement, "Exopolitics or Xenopolitics" where he openly criticizes me as someone supporting xenophobic approaches to Exopolitics, I had a feeling of déjà vu with my earlier meeting with Mr Abidin concerning my research into alleged human rights abuses.
In his May 2 statement, Greer claims:
While there are certainly diverse opinions regarding why any given extraterrestrial civilization may wish to visit Earth at this time in our history, recent public comments by Michael Salla have added a virulent strain of fear-based xenophobia, based on the flimsiest of documentation.
Dr Greer further states:
He has maintained that a nefarious and injurious group of ETs have made a secret pact with covert humans – and have a harmful agenda towards the human race." This, and more. The Disclosure Project has over 450 military, government and corporate insiders who have first-hand knowledge of actual UFO/ET events and projects. We find it odd that not a single one of these insiders can confirm the xenophobic rumors proffered by Salla.
I accept Dr Greer's implicit invitation to engage in a public debate with him concerning the evidence supporting the diverse motivations and activities performed by extraterrestrial visitors. I think such a debate is healthy and can lead to greater cooperation between exopolitical researchers and activists who have long been polarized into mutually antagonist camps of those exclusively viewing extraterrestrials as benign visitors helping humanity evolve, and those generally viewing extraterrestrials as committing systematic human rights abuses.
I will avoid personalizing such a debate which can only be a distraction and focus only on the arguments offered by Dr Greer and myself in discussing the substantive issues raised in his public statement and my own public research.
To begin, in his statement Greer explicitly refers to his database of 450 whistleblower cases as the source for his exopolitical view that extraterrestrials visiting Earth are exclusively benign advanced civilizations sincerely desiring humanity to evolve into a mature, sovereign and independent galactic species.
It's worth pointing out that Dr Greer has only released the identities and testimonies of a comparatively small sample of that database in his Disclosure book (which has almost 70 testimonies, less than 20% of his alleged database). I have privately corresponded with Dr Greer on a number of occasions where he has repeatedly dismissed the data I have forwarded to him that some extraterrestrials are violating the rights of individuals, and that agreements with covert agencies have indeed been reached where these agencies have become complicit in such violations.
Dr Greer claims that his database of 450 military, government, and corporate whistleblower cases do not support the idea that extraterrestrials are engaging in such human rights violations, nor that some extraterrestrials have reached agreements with covert government agencies. He boldly claims that "not a single one of these insiders can confirm the xenophobic rumors proffered by Salla."
This is a gross misrepresentation of the data possessed by Dr Greer. This can be easily demonstrated by the case of Lt Col Philip Corso who is prominently featured as a Disclosure Project witness, and is arguably the most widely known and significant whistleblower to ever emerge in UFO research.
According to Greer, Corso did not confirm that some extraterrestrials were engaging in activities that violated individual rights which for Greer are xenophobic claims. That is a gross misrepresentation of Col Corso's position as evidenced in statements such as the following in his soon to be published private notes:
… the aliens have shown a callous indifference concerning their victims. Their behavior has been insidious and it appears they might be using our earth and manipulating earth life. Skeptics will excuse them that possibly they are benevolent and want to help, however, there is no evidence they have healed anyone or alleviated human ailments. On the other hand, they have caused pain, suffering and even death.
I have privately corresponded with Greer on Corso's testimony but he has repeatedly dismissed this information and now boldly states that not a single one of these insiders can confirm such allegations. As the above quote and other selections from Corso's testimony demonstrate, Greer is incorrect.
The case of Corso is not isolated. For example, with regard to allegations of human rights abuses and of a shooting war involving extraterrestrials at an underground facility in New Mexico, Dulce, made by whistleblowers such as Phil Schneider, Greer includes these among the list of xenophobic rumors.
Unfortunately, another prominent Disclosure Project whistleblower, Dan Morris, not only confirms the existence of the Dulce facility, but also that Schneider did indeed work there and was eliminated for disclosing classified information about such bases and what had occurred there with resident extraterrestrials.
In Greer's' Disclosure book, Morris says:
There are other people who have been eliminated for what they know. One was a friend of mine. Phil Snyder (sic) who worked out here in New Mexico building the tunnels – the biggest one that he was involved with was the Dulce underground facility (Disclosure, p. 359).
Another area where I have privately corresponded with Greer concerns alleged covert agreements between some extraterrestrial groups and covert government agencies. According to Greer's statement, this is part of the xenophobic rumor mill I am spreading on the flimsiest of documentation.
We do not have to look too far to find evidence of such covert agreements among Greer's list of Disclosure Project witness. In addition to Corso who claims that the government had been forced into a "negotiated surrender" with extraterrestrials, and of Morris's claims of extraterrestrials residing at the underground Dulce facility, we find the example of Capt Bill Uhouse, another Disclosure Project witness, who describes how extraterrestrials would come into classified meetings to give hints to scientists and engineers concerning the reverse engineering of extraterrestrial technology.
Similarly, Sgt Clifford Stone has testified how upon his induction into covert projects concerning extraterrestrials, he was taken into a secure facility under the Pentagon where he was taken to have a telepathic communication with a gray extraterrestrial where he blanked out and was then threatened with death if he disclosed what had happened.
The above examples demonstrate that Greer selectively filters out or ignores the testimonies of some Disclosure Project witnesses who describe invasive extraterrestrial behaviors, and agreements between extraterrestrials and covert government agencies.
More significantly, Greer excludes from his database an extensive number of whistleblowers that have publicly discussed extraterrestrials performing egregious activities, e.g., Paul Bennewitz, Phil Schneider, Robert Dean, John Lear, "Connor O'Ryan", Dan Burisch, Charles Hall and others.
For example, in the case of Charles Hall, Hall described numerous instances where Tall White extraterrestrials willfully intimidated, threatened or injured military servicemen who were unfortunate enough to accidentally run into the Tall Whites that roamed the Nellis AFB hidden facility and deliberately stalked servicemen.
In addition to manipulating his database by filtering Disclosure Project witness testimonies and excluding the testimonies of other whistleblowers revealing abusive extraterrestrial activities and covert government agreements, Greer regularly dismisses evidence from researchers with extensive field work expertise such as Dr David Jacobs, Budd Hopkins, Dr Karla Turner, Whitley Strieber, and others analyzing case studies of abductees whose rights have been systematically violated by extraterrestrials.
Dr Jacobs for example has examined hundreds of abduction case studies over several decades to reach his conclusion that the behavior of extraterrestrials consistently violates accepted human rights standards and is a long term threat to human sovereignty. According to Greer, Dr Jacobs work can be easily dismissed as part of the undocumented xenophobic rumor mill based on flimsy evidence, yet Jacob's work is well documented.
Also, Greer regularly refers to the Military Abductions (MILABs) phenomenon offered by Dr Helmut Lammer to support his thesis that all alleged abuses attributed to extraterrestrials can be ascribed to MILABs imitating extraterrestrials or to individuals projecting psychological traumas onto benign extraterrestrial visitors. This is a distortion of the evidence provided by Dr Lammer who does not exclude the possibility that extraterrestrials are violating human rights during the abduction phenomenon, only that the military is attempting to replicate extraterrestrial methods and violating human rights in the process.
Furthermore, Greer does not refer to the extensive research of those such as Zecharia Sitchin, Dr Arthur Horn, William Bramley, Jim Marrs, and others who have examined archeological records and argued that humanity has been seeded by extraterrestrial groups who have violently competed among themselves for control of the Earth.
Indeed, these sources point to a long historical presence where humanity has been used as an exploitable resource by some extraterrestrial groups whose motivations and activities are certainly questionable when it comes to the question of human rights violations.
Finally, in addition to dismissing the data on different categories of researchers documenting extraterrestrial violations of human rights in the modern and ancient era, Greer dismisses the testimonies of a great number of alleged contactees describing the nefarious activities of some contemporary extraterrestrial visitors. Contactees such as Howard Menger, Enrique Castillo Rincon, Eduard "Billy" Meier, "Prof Hernandez", Brian Scott, and many others whose testimonies have been documented and investigated by competent researchers.
In sum, by filtering the testimonies of Disclosure Project witnesses on invasive extraterrestrial activities and covert agreements; excluding the testimonies of whistleblowers openly describing invasive extraterrestrial behaviors; excluding the extensive data offered by reputable researchers of the abduction phenomenon; ignoring the data of exo-archeologists, and dismissing the relevance of many 'contactee' testimonies, Greer is engaging in a willful attempt to distort the public conclusions concerning the true motivations and activities of the extraterrestrial visitors.
While his effort to spin data concerning extraterrestrial activities in a positive light may be perceived by some to be well intentioned, it is in reality both naive and dangerous to distort public perceptions in this manner given the extensive data suggesting that extraterrestrials have been involved in systematic human rights violations and that some government agencies have been complicit in these.
Based on the data I have examined in my Exopolitics research, I have arrived at the conclusion that extraterrestrials are as varied as humans in terms of their motivations and interactions with humanity. Some extraterrestrials are highly ethical and principled as Dr Greer contends.
I have pointed out in a number of my research papers that many extraterrestrial groups are advanced evolved beings genuinely wishing to assist humanity in its evolution, and have not entered into covert agreements with government agencies where they believe advanced extraterrestrial technology will be misused by irresponsible government agencies. These extraterrestrials appear to be in the majority which would replicate the social dynamics of human societies where a majority a citizens are law abiding.
This is where in his statement Greer distorts the nuances in my research and argues as follows:
I feel a point has been reached where silence only redounds to the further empowerment of a message of fear, hatred, prejudice – and the unwitting buttressing of the argument for weapons and war in space.
So Greer believes that my analysis buttresses the argument for the weaponization of space. The deliberate targeting of extraterrestrial visitors by covert government agencies using advanced weapons is a major concern which I have pointed out on a number of occasions in my recent papers.
On the other hand, there appears to be a minority of extraterrestrial visitors, who view humans as a biological resource to be exploited and have entered into covert agreements with a number of government agencies who easily exploited due to the latter's desire for advanced technologies.
Extraterrestrials entering into such agreements have demonstrated little genuine desire to assist humanity in its evolution to a mature planetary civilization. There is credible evidence that covert agreements have led to various government agencies becoming complicit in some of the more egregious extraterrestrial activities such as what had or is occurring at the alleged Dulce facility.
The solution is not a military campaign using space weapons, but a political solution based on political disclosure of the extaterrestrial presence and the public accountability of public officials making key decisions in the management of extraterrestrial affairs.
The truth concerning alleged covert agreements between some extraterrestrial visitors and government agencies makes for a far more complex exopolitical situation than Dr Greer is willing to concede or support. That is understandable since the data is seldom conclusive, important whistleblowers or witnesses are intimidated into silence, which altogether compounds the difficulty of researchers seeking to document their sources and reach reliable conclusions.
Nevertheless, the available data is overwhelming that such agreements exist, and that some extraterrestrial visitors are violating human rights with the complicity of government agencies. Greer laments that:
"The facile acceptance of every story as true- no matter how dangerously xenophobic – is irresponsible and can only serve the agenda of those who wish to see the populace dis-informed, panicked and cowed into eventually accepting a military, space-based solution to the ET problem."
He further argues that trying to distinguish between different categories of extraterrestrial visitors to discern their motivations and activities is a form of racism. He claims:
Today, we see racist appellations applied to certain alleged ET groups – The Grays! The Reptilians! The Tall White Ones! Must we go down this tired, dirty path again? Must we replay the sordid history of human racism, prejudice, and xenophobia as we begin our first steps towards the stars?
Unfortunately, Greer overlooks the solid research data that points to as many as 60 or more different extraterrestrial races actively interacting with or monitoring Earth. This data is supported by credible whistleblowers such as Clifford Stone and Robert Dean.
To conclude that all extraterrestrial visitors are uniform in their benign activites and motivations is greatly mistaken, and it appears Greer wishes to assert such a fallacious view on the general public and use his status to punish or intimidate researchers arguing a contrary position.
I have presented my research concerning the motivations and activities of different extraterrestrial visitors and their varying degrees of involvement in covert government agreements in a 17,000 word report. The data is impressive and credible, and cannot be simply dismissed by a strongly worded rhetorical flourish of 1400 words as evidenced in Greer's May 2 statement.
While I respect the important work Dr Greer has done through the Disclosure Project in encouraging many credible whistleblowers to come forward, I disagree both with his research method and his conclusions. Greer claims with regard to my research that:
The facile acceptance of every story as true- no matter how dangerously xenophobic – is irresponsible and can only serve the agenda of those who wish to see the populace dis-informed, panicked and cowed into eventually accepting a military, space-based solution to the ET problem.
Greer's opinion here greatly distorts the data presented by several of his own Disclosure Project witnesses as explained above, in addition to the work of many other whistleblowers, researchers and witnesses, which are supported to varying degrees by available documentation.
I certainly don't accept all data concerning alleged abuses by extraterrestrial visitors, but conclude that there exists credible and substantiated data supporting this conclusion. Rather than get into an acrimonious turf war over what can and can't be said or accepted in exopolitics research, I invite Dr Greer to respond to my criticisms of his research method so I and the general public can gain a more accurate picture of the true motivations and activities of extraterrestrial visitors.
I think a scholarly debate over the pros and cons concerning the data pointing to the varied motivations and activities of extraterrestrial visitors, and their alleged agreements with covert government agencies is highly valuable. Greer dismisses those holding contrary views on alleged extraterrestrial abuses or covert agreements as xenophobic, racist, and supporting military solutions to extraterrestrial visitation.
This strikes me as a form of political spin or "exospin", that replicates methods used by the mouthpieces of repressive regimes such as Mr Irawan Abidin of the former Suharto government in Indonesia. I contend that exopolitics is the scholarly analysis of all credible data concerning the extraterrestrial presence, not a highly selective approach that supports a preconceived conclusion of only advanced benign extraterrestrial visitors to our planet. The latter is not objective exopolitical scholarship but exospin of the most disingenuous kind.
Michael E. Salla, PhD
www.exopolitics.org
May 5, 2006
***
Forward as you wish. Permission is granted to circulate among private individuals and groups, post on all Internet sites and publish in full in all not-for-profit publications. Contact author for all other rights, which are reserved.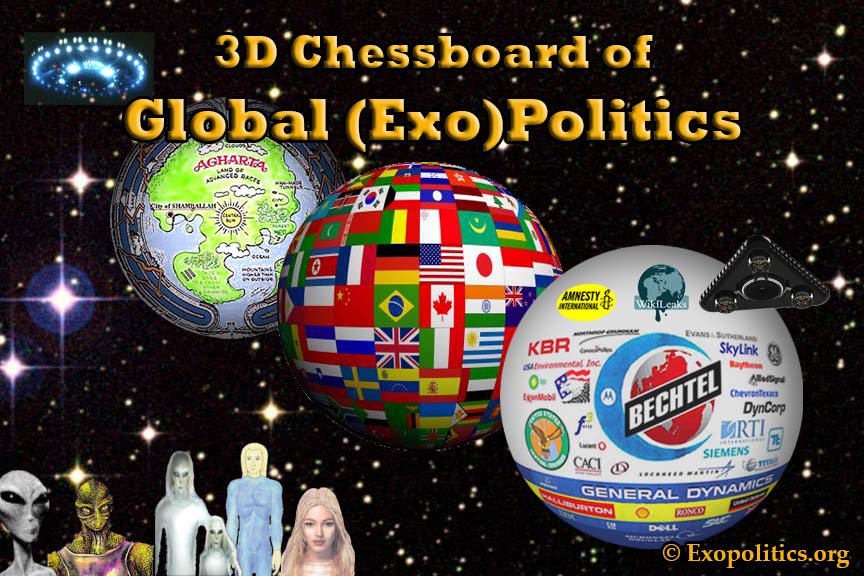 The above video published today on Youtube outlines how global politics needs to expand beyond the traditional scholarly focus on nation states, transnational corporations, non-state actors, international organizations, and social movements.
Global politics requires three dimensional thinking, as depicted in the fictional 3D Chess of Star Trek, in order to factor in how both advanced subterranean civilizations and extraterrestrial civilizations influence political events on Earth.
Dr. Michael Salla has held full time university positions teaching both graduate and undergraduate students key concepts in global politics. He combines his scholarly expertise in global politics with his more recent research in exopolitics, to produce a remarkable 3D understanding of global (exo)politics.
More info at: exopolitics.org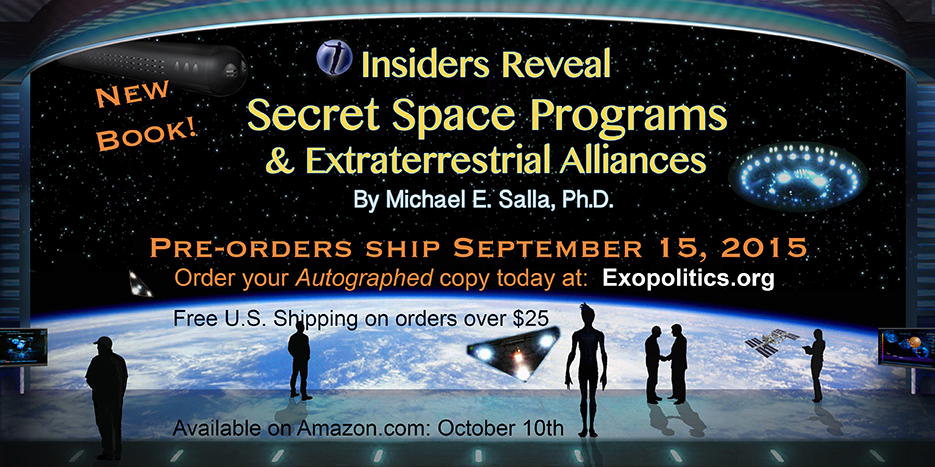 President Ronald Reagan made a startling admission in his Presidential Diary on June 11, 1985:
Lunch with 5 top space scientists. It was fascinating. Space truly is the last frontier and some of the developments there in astronomy etc. are like science fiction, except they are real. I learned that our shuttle capacity is such that we could orbit 300 people.
NASA's Space Shuttle program at the time held a maximum of eleven people per shuttle, and only five were built for space flight. Even if all five took off together, it would be impossible to place and maintain 300 astronauts in orbit.
Finding the truth behind Reagan's extraordinary revelation requires diving deep into the shadowy world of highly classified aerospace programs. The problem in doing so is not only that public documentation is at best scant, if available at all, but that possession of documentary evidence of such programs can be illegal. There are severe penalties for possessing and/or disclosing classified documents to anyone unauthorized to view them. It takes a brave whistleblower to come forward to disclose what he or she knows about classified aerospace programs.
A new book, Insiders Reveal Secret Space Programs & Extraterrestrial Alliances, introduces a number of whistleblowers who have made extraordinary claims regarding secret space programs that they either directly served in and/or were briefed about. In particular, the book investigates the extraordinary claims of Corey Goode concerning five secret space programs that he was directly involved with and/or been briefed about.
Goode says he completed a 20 year tour of duty from 1987 to 2007 in several of these programs. He reveals that in the course of his duty, he came into direct contact with different extraterrestrial groups and alliances that interacted with one or more of the space programs. Goode's position allowed him unrestricted access to "Smart Glass Pads" that had extensive information about highly classified history, science, medicine and other topics related to secret space programs and extraterrestrial life.
Goode further claims that in early 2015, he was made the delegate of an alliance of newly arrived extraterrestrial visitors. This included a group called the "Blue Avians," who facilitated meetings that he attended between the different secret space programs and/or different extraterrestrial alliances. He says that these new visitors have superior technologies in comparison to anything previously witnessed, and have implemented a solar system wide quarantine, which directly impacts all the space programs and other extraterrestrial groups, in tandem with the entire citizenry of Earth.
Available public documents along with other whistleblower testimonies help corroborate many of Goode's claims, and provide an overall context for understanding the full scope of the multiple secret space programs. His testimony provides clear answers as to what Reagan was briefed about in 1985, and why the latter's repeated offers of global cooperation to face an alien threat led to the sharing of classified space technologies that ended the Cold War.
Classified space programs have been an integral part of a complex jigsaw puzzle concerning UFOs, extraterrestrial life, ancient civilizations and advanced aerospace technologies, which have long defied any coherent understanding. Now finally, we have something to put all the pieces together with the disclosures of secret space program whistleblower, Corey Goode. A detailed investigation of Goode's and other insider testimonies reveals the big picture of a parallel world of secret space programs and extraterrestrial alliances.
Learn from this book: how the Vril/Nazi flying saucer programs in the 1930's gave birth to the 'Dark Fleet'; how Project Paperclip scientists both helped and hindered the development of the US Navy's 'Solar Warden'; how the MJ-12 Group was behind the creation of the 'Interplanetary Corporate Conglomerate'; and how Ronald Reagan was instrumental in the creation of the 'Global Galactic League of Nations' space program. Finally, learn how the Sphere Being Alliance and other extraterrestrials interact with these and other programs. The full disclosure of secret space programs and extraterrestrial alliances will unshackle the chains of deception holding humanity back from reaching its highest potential as galactic citizens.
About the Author: Dr Michael Salla is a former university professor in international relations, and is the author of Kennedy's Last Stand: Eisenhower, UFOs, MJ-12 & JFK"s Assassination (2013), which has received many "outstanding" reader reviews; and author/editor of eight other books dealing with 'Exopolitics', International Conflict, U.S. Foreign Policy  and Global Peace.
Insiders Reveal Secret Space Programs and Extraterrestrial Alliances is published by the Exopolitics Institute and is approximately 420 pages in length. Cost of paperback version is $18.95.
Click here to order your Autographed Copy.  Free U.S. Shipping for all orders over $25.
Also available at Amazon.com in paperback and Kindle editions. 
Please Note: a percentage of all book sales go to Corey Goode in financial support as he continues his whistleblower disclosures.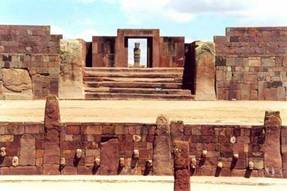 [Repost from GalacticDiplomacy.com] From Oct 18-25, 2008, I traveled to Bolivia to participate in a seven day retreat led by Luis Fernando Mostajo that was located at Lake Titicaca, Bolivia. Fernando claims to have physically met with representatives of both the Confederation of Planets and with 'Elders' or 'Ascended Masters' associated with an ancient Pre-Incan civilization in the Andes.
In his taped presentation at the 2008 Earth Transformation Conference in Hawaii, Fernando described his physical encounters with members from both of these groups. According to Luis Fernando, the Confederation of Planets has bases on both Venus and Ganymede, one of the moons of Jupiter.
He says he was taken to both locations by a teleportation device and exposed to the teachings of advanced ethical extraterrestrial visitors. In both cases the extraterrestrials looked like Nordic humans.
Luis Fernando says that during one of his encounters he was told by the extraterrestrials of the existence of a retreat run by 'Elders' at Lake Titicaca. The Elders were from the pre-Incan 'Tiahuanaco civilization', and were also the final remnants of the even older Atlantean civilization.
The Elders were also part of a Great Solar Brotherhood that was an association of 'Ascended Masters' – or beings that had achieved a high degree of self-mastery over life and death – throughout the Galaxy. Fernando says that he subsequently physically met with 'Soromez' an 'Elder' or "Ascended Master" from Tihuanaco who had also lived much earlier in Atlantis.
Luis Fernando was taken to an underwater location at Lake Titicaca where he witnessed a well preserved remnant of the Tiahuanaco civilization that served as an initiation center.
Tiahuanaco once pervaded the Bolivia region of the Andes and was a Solar culture that was, according to Fernando, aided by extraterrestrial civilizations. In his 2008 Hawaii presentation, Luis Fernando showed simulations of the solar rituals and practices that used solar energies in numerous ways.
He described that underwater remnant of Tiahuanaco at Lake Titicaca (in the Bolivian 'minor' part of the Lake) as an Eternal city holding much sacred wisdom that would share this as humanity became ready.
During the seminar, I and other participants were taken to a number of locations around Lake Titicaca, the Andes, and the archeological remains of the Tiahuanaco civilization near La Paz, Bolivia. We were all excited by the remnants of the Tiahuanaco civilization which available evidence clearly pointed to being an important pre-Incan Solar culture.
The elongated human skulls in the museum pointed to an extraterrestrial influence insofar as their physiology appeared to have been emulated by the inhabitants of Tiahuanaco.
A number of important ceremonies and rituals involving the sun were evidenced in the ruins, and displayed a remarkable knowledge of astronomy and solar alignments. Furthermore, there was a very sophisticated irrigation system and other technological artifacts that were possibly influenced by extraterrestrials as Luis Fernando contends. The Tiahuanaco civilization according to a number of Bolivian archeologists predates the Sumerian civilization. Only 10% of Tiahuanaco has been excavated so far and further excavations may lead to a radical rewriting of human civilization.
The most remarkable part of the seminar was the retreat established by Fernando on the shore of Lake Titicaca called Wiñayamarka [near Huarina, located on the 'minor' part of the Lake – see map far below].
At Wiñayamarka he led a number of exercises and initiations at specially constructed monolithic structures and temple. Participants were able to energetically integrate into the remarkable energies in this spectacular and remote Andean location. During the evening sky-watching event, a number of UFOs were sighted. One in particular flared up in spectacular fashion, and another held for several minutes an almost stationary position where it appeared to blink energy which a number of seminar participants felt.
The highlight of the retreat was a boat trip on Lake Titicaca where the retreat group was taken to an uninhabited island which according to Fernando is the closest physical point to both the Lake Titicaca Lodge of the Great White Brotherhood and a Galactic Confederation Base. The proximity of the bases belonging to the Ascended Masters and the Galactic Confederation are due to their close cooperation. At the Island, a number of exercises were conduced which allowed visitors to energetically connect with the ascended masters at the Great White Brotherhood Lodge.
Luis Fernando has assembled an impressive collection of photographs and witness testimonies supporting his claims of physical contact with Ascended Masters and extraterrestrials belonging to a Confederation of Planets.
The seminar and initiations I experienced with Luis Fernando, and the interviews with his assistants, give me confidence in his claims. I look forward to further journeys to Bolivia where I can further investigate his remarkable experiences.
What follows is an interview with Luis Fernando based on a series of questions I asked Fernando during my visit to Bolivia and his responses concerning his contacts and knowledge of Ascended Masters and the Confederation of Planets. His responses were translated from Spanish.
For his original Spanish response click here. He has also added some comments about further planned retreats in 2009.
Michael E. Salla, M.A. Ph.D.
President & Founder, Exopolitics Institute
December 3, 2008
---
Interview With Luis Fernando Mostojo Maertens
by Michael E. Salla, Ph.D.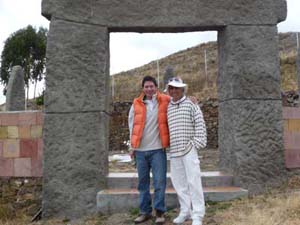 Acronyms
L.F. – Luis Fernando Mostajo Maertens (pictured above on left)
M.S. – Michael E. Salla, Ph.D. (on right)
 
M.S. You have established a retreat at Lake Titicaca called Wiñayamarka, what was your main purpose in doing this?
L.F. The extra and intra-terrestrial contact experience which I initiated since 1977, left a great responsibility in my hands, the same which is oriented to the sharing of the essence of the message that I shall receive in the different opportunities in which I physically was with the Extraterrestrial Guides such as the Guides of the White Brotherhood. A message directed to Hope and Alternatives.
Of Hope due to the fact of having had contact, for this suggests to us, that there are civilizations that have overcome the problems found in the environment in which we live, for us as human beings can do it. On the other hand of Alternatives, for the way we can overcome the actual conflicts of our society, is learning to reorganize the way in which we think, feel and act, giving back to men the capacity to finally reveal their past, understand their present and consequently plan their future.
To all this process of teaching and learning the Extraterrestrial Guides and the Guides of the White Brotherhood have called INTERIOR PREPARATION, a lot of experiences and knowledge that have started generating nowadays in specific places, predestined since before to live this preparation and initiation in the luminous path of knowledge and love.
The Minor Lake of the Lake Titicaca is a very important part of a Continental Platform constituted by a network of physical places in which the Elder Guides and the Extraterrestrial the External Retreat of the Internal Government of the White Brotherhood.
So that this External Retreat is a kind of prelude to meeting with the wise Amautas and the extraterrestrial Guides, a good place to prepare for initiation and solar awakening.
Wiñaymarka was the name suggested by the Guides and this name in the Aymara language means Eternal City. 
M.S. You refer to Wiñayamarka as an externalization of an inner retreat or 'lodge' at Lake Titicaca established by the Great White Brotherhood, why is that?
L.F. When we talk about the exteriorization of the Great White Brotherhood (The Externalization of The Hierarchy ???), we must understand that all of us are related within this process of awakening and transformation, with a higher or lower level of consciousness. The important thing here is to realize the role that each of us has to play as a human being, assuming the responsibility of our own destiny, finally accessing an evolutionary level which allows us to participate actively in the Cosmic Plan of which the Guides of the White Brotherhood and the Extraterrestrial Guides form an essential part.
The Elder Guides showed me that during this time of the transformation of humanity, these places that have always been predestined, should become intermediate points of contact between them and different preparation groups worldwide.
So that the frequency and vibration levels lead to greater participation and accessibility for most that are eager in their own tasks, waiting in silence for the call, and awakening in the interior of this Luminous Circle which is in itself the Great White Brotherhood.
M.S. You have said that the Great White Brotherhood moved their lodge from the Himalayas to the Andes and Lake Titicaca after the Second World War. Why did this happen?
L.F. The cosmic energy is neutral in general, more when it enters the planet it acquires and decomposes into two polarities, the feminine and the masculine, positive or negative.
The positive or masculine energy is concentrated in the mystical and millenary Himalayas of the Tibet, that is why for millennia, great part of the ancestral knowledge and wisdom has been transmitted to humanity, however and according to my contact experience with the Guide Soromez at Lake Titicaca, a little before the China invasion to the Tibet, in the 50's decade, this initiation activity was transferred to the Americas, and within the Americas along all the width and length of the Andean Range, and within the Andean Range, particularly to the Lake Titicaca, where the Female cosmic energy polarity is hooked.
The fact that the activity starts to center in the feminine quality of the energy represents the beginning of the awakening of the sensitive and spiritual part of humanity. 
M.S. You claim to have physically met with Soromez, one of the Ascended Masters at Lake Titicaca, and to have been to the 'Eternal City' or underwater retreat, can you explain what happened?
L.F. After a great process of preparation and even of physical contact experiences with the Extraterrestrial Guides, in 1984, just when I happened to be in the middle of an inter-dimensional trip in the city of Orea in Siris – Venus, I was told about the existence of an Interior Retreat very close to the city I live in, La Paz – Bolivia.
Etel, the Venus guide manifested to me that in the Lake Titicaca we could find the process of the awakening of men and that my mission in return, reflected the need of getting in to contact with the beings that live in the Retreat. It was the same Extraterrestrial Guides who told me for the first time about the existence of the Great White Brotherhood and the relation that they would have with the Elder Guides of this marvelous Interior Government, within the carrying out of the Cosmic Plan on Earth.
As I had been forewarned, in the beginning of June of that year (1984), he contacted me through a holographic projection in my own home, an elder guide called Soromez. He manifested living in the Interior Retreat of Lake Titicaca, known as the Solar Retreat. The Elder Guide was the messenger and guardian of an extraordinary information related to the real Story of Humanity but at the same time of knowledge and wisdom referred to the conscious management of the energies as well as the knowledge of the facts of the establishment of a new time.
It was a lot of new impressions that I began to receive, but in that first encounter the most extraordinary thing was that I was invited to physically enter the Internal Retreat, in the third week of June, during the winter solstice.
For this extraordinary journey, I was given coordinates and specific guidelines for moving up to an island in the middle of the Minor Lake where I would be waiting and where I was able to discover later passages that connect to the same Solar Retreat, a sort of beautiful building, similar to the golden age of the Tiahuanaco culture.
I was contacted by the old masters who appeared there, rather than an individual founder. I learned later that many of them are direct descendants of a more ancient civilization known as Atlantis, builders of Tiahuanaco.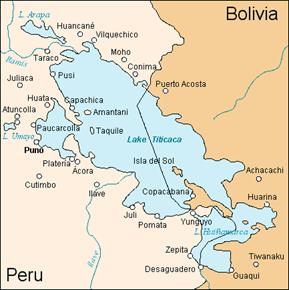 At this very important meeting, my vision and responsibility changed completely.
The Elder Guides had asked me to create an intermediate meeting and contact points that initially would be known as Centers of Light. The most important stage of the fulfillment of the mission would be to form External Retreats, a kind of externalization of the Internal Government. Places where the activity taking place in the Internal Retreats, would start to be reflected in the External Retreats, as is already happening within the so-called Interior Preparation.
Furthermore, a real initiation process within the Great White Brotherhood aimed at the sharing and handling of tasks to groups on Earth worldwide, would fulfill the process of transformation and pass on wisdom and truth to the new humanity. 
M.S. Why do the Ascended Masters at Lake Titicaca wish for people to travel to there and receive a 'Solar Initiation' at Wiñayamarka?
L.F. Wiñaymarka as we commented, in the Aymara language means Eternal City, Wiñaymarka is also the name of the Minor Lake. The interesting thing of all this is that the same geologists say that the Minor Lake might have been formed in an artificial manner, something that in contact with the Guides and the extraterrestrial Guides was confirmed.
Thousands of years ago the Minor Lake was created in an artificial manner protecting and guarding in a mundane way the Major Temple or the Solar Initiation Center that back then was the hub and capital of the Mayan Empire. This great center of initiation was protected for posterity, for in it you can find, as I was able to show in 1984, a marvelous spiritual tool known as the Solar Disc. The Solar Disc is a sort of enabler that was created by the Great White Brotherhood and the Extraterrestrial Guides who are permanent within the radius of action of the Interior Retreat of Lake Titicaca.
The Disc would help the initiate in the discovery of his/her own mission and in the "redimensioning" of their body.
The being inside the radius of action f such a potent level of energy, helps implicitly in the awakening of the interior codes and levels, being itself the water of the Sacred Lake a conductor of these life programs for the New Time. 
M.S. Can you explain why the Lake Titicaca Lodge of the Great White Brotherhood is so close to a Galactic Confederation base?
L.F. In the Lake Titicaca you can not only find the Solar Retreat of the White Brotherhood, but also a great base of the World Confederation of the galaxy.
According to the communication and information received by the extraterrestrial guides, the relevance of the ships of the Lake Titicaca, not only provides them a permanent interaction and coordination of the tasks with the Interior Government of the White City, but it will also help the strengthening of the cosmic energy in the epicenter of the same cosmic energy or feminine in this part of the planet. The energy of Love.
That is why the interaction of the contact groups in Wiñaymarka, the External Retreat is permanent with the Confederation ships, having landed on more than one occasion at the Temple of Solar Initiation, radiating special energies which happened to us recently Michael, in our journey [October 18-25, 2008]. 
M.S. In what way does traveling to Lake Titicaca to receive a Solar Initiation prepare one for open contact with extraterrestrial life? [see photo for 2008 ceremony]
L.F. Already, being here elevates our vibratory frequency. In this trip, as we have experienced the Solar Initiation, the lines of the possibilities of decodifying internal codes are facilitated. Thus constituting for each moment many opportunities for the consumption, revelation and the overcoming of stages, at the same time initiating new paths within the luminous path of realization.
M.S. You mention 2012 as an important date for humanity. Why does the Great White Brotherhood and the Galactic Federation view this date as important?
L.F. In the year 2005, after having lived a real UFO wave in all this Andean sector, the messages of the Guides and Masters were revealing. On one hand, they manifested that the cosmic energy in the Minor Lake had been completely activated and on the other hand, they anticipated that starting this year, we were starting to live the most crucial, defining and definitive seven years in the historical process of Humanity.
A time of great transformations, not only in the conscience and way of life of our society, but most important yet, it is a time of opportunity.
Opportunity of change, opportunity of awakening, of service, of integration and unity, OF COMMITMENT AND OF ACCOMPLISHMENT OF HANDING ON THE RESPONSIBILITY OF TAKING FORWARD THE LAST AND DEFINITE STAGE OF THE REALIZATION OF MEN TO THE SAME MEN, the confidence of the White Brotherhood and the World Confederation finally deposited on the Instructors and Earth Guides so that the zone would assume the definite transition of the planet towards its new evolutionary state.
All the prophecies conclude here, but at the same time a new hope is born with the final agreement of the existing bases of a New Humanity. The year 2012 the Confederation and the White brotherhood will be once again reunited in a new Council having to do with the Incandescent Sacred Flame of Light of the Solar Disc in the Lake Titicaca and will be in the anticipated dates of the great solar tsunami, that in connection with our own Interior Sun we can united and together say unanimously, as an prayer quire to God, Mission Accomplished!
The recent one week retreat in October 2008 at the Andes and Lake Titicaca at Wiñaymarca was the beginning of a great experience where we live side by side with the extraterrestrials guides and the Masters of the White Brotherhood.
The most important thing of this experience, is that it was the beginning of a series of retreats in the next year (2009). We will arrange three specific dates in March, June, and September. And so on for every year until we reach 2012.
Each retreat will be very important, it will be one in a life time opportunity, an open gateway to the extra- and intra-terrestrials.
But above all … the contact with one's Self, a truly essential procedure for solar initiation.
This is an invitation to all those who feel a deep vibration, to share and live in a brand new era of light in the evolution of the human race.
Love and Peace
[
Originally published on December 3, 2008
]