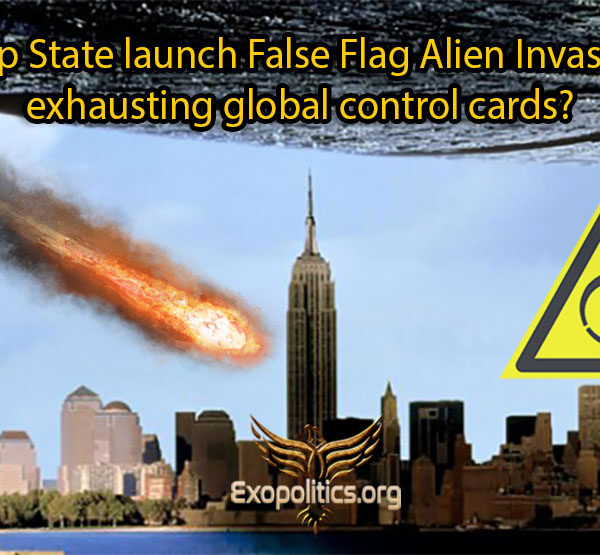 Shortly before his death in 1977, Werner Von Braun, a pioneer in both German and US  rocket programs, warned that a group of global controllers, aka Deep State, would systematically move through a series of false flag events or "cards", that would be played in a sequence designed to ultimately militarize space and usher in a New World Order.
Von Braun gave his famous warning to Carol Rosin, who, from 1974 to 1977, was a corporate manager at Fairchild Industries, Inc., a major aerospace contractor that Von Braun had joined two years earlier. Rosin says that Von Braun asked her to be his spokesperson after being diagnosed with terminal cancer and revealed an elaborate plan by the US military industrial complex to weaponize space.
In a recorded video interview from December 2000 for the Disclosure Project, Rosin described the following sequence of false flag events Von Braun explained to her:
The strategy that Wernher von Braun taught me was that first the Russians are going to be considered to be the enemy. In fact, in 1974, they were the enemy, the identified enemy. We were told that they had 'killer satellites.' We were then told that they were coming to get us and control us — that they were 'commies.'
Then terrorists would be identified, and that was soon to follow. We heard a lot about terrorism.
Then we were going to identify Third World-country 'crazies.' We now call them 'nations of concern.' But he said that would be the third enemy against whom we would build space-based missiles.
The next enemy was asteroids. Now, at this point, he kind of chuckled the first time he said it. Asteroids — against asteroids we are going to build space-based weapons.
And the funniest one of all was what he called aliens, extraterrestrials. That would be the final scare. And over and over and over during the four years that I knew him and was giving speeches for him, he would bring up the last card. Carol, the last card is the alien card. We are going to have to build space-based weapons against aliens and all of it is a lie.
As to identifying the group orchestrating this series of contrived global events, Rosin was reluctant to give names but said:
The room was filled with people in the revolving door game. There were people that I had seen once in a military uniform and other times in a gray suit and an industry outfit. These people play a revolving door game. They work as consultants, industry people and/or military and intelligence people. They work in the industries and they revolved themselves through these doors and right into government positions.
Rosin's description of what was taking place in the boardroom of Fairchild Industry is very revealing about the company's key role within the military industrial complex, and how the Deep State operates by manipulating global events and mainstream media narratives.
The sequence of contrived global events described by Von Braun reflected how far forward in time the Deep State projects its plans. Now almost 50 years later, we see the sequence described by Von Braun being played out in real time.
Russia, terrorism and rogue nations have collectively dominated decades of news cycles. More recently, we are witnessing an increasing number of stories of killer asteroids just missing the Earth in the mainstream media. The most recent examples are three massive killer asteroids heading towards the Earth and predicted to fly close by on June 6,8, and 20, any of which could cause cataclysmic damage.
Additional "cards" can be found in the Deep State playing deck described by Von Braun back in the 1970s. This includes a global pandemic, which was discussed in the City of London by a high-level group of bureaucrats in 2005 as part of a covert Deep State plan to usher in a New World Order.
Von Braun's warning alerts us to the threat of an alien invasion being used as the final card in a long sequence of contrived events that would justify the weaponization of space, and the establishment of a New World Order desired by the Deep State.
Now there is a steady stream of news articles pointing to the possibility of an alien invasion in a post-COVID world. The potential for such an event occurring in the run-up to the 2020 election is a distinct possibility given the Deep State's determination to remove the Trump administration by any means possible.
A paper leaked on October 18, 2016, allegedly by a major Democratic consulting firm, the Benenson Strategy Group, discussed the possibility of a staged alien invasion keeping Trump supporters home and helping the Clinton campaign win the 2016 election.
The paper reviewed some of the advanced holographic technologies that could be used in staging such a false flag event. While the paper's authenticity remains disputed, it nevertheless showed how the alien invasion card could be used for electoral purposes.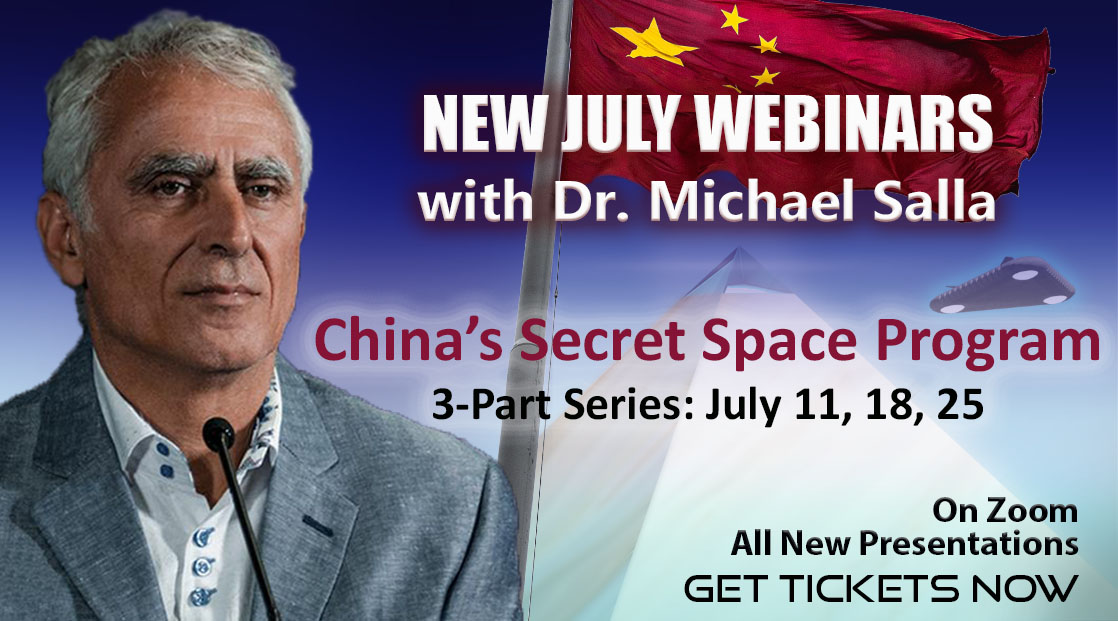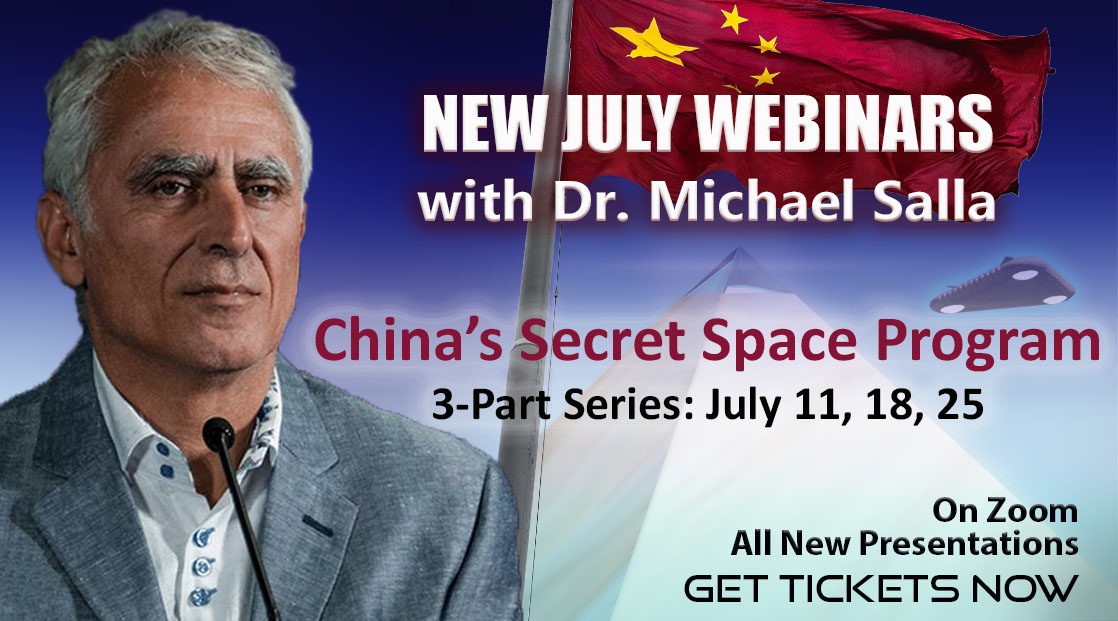 As we approach the November 3 US Presidential Election, could the alien invasion card be played as Von Braun warned about back in the 1970s? Or did Von Braun have an entirely different purpose for telling Rosin about the alien invasion card being used by the military industrial complex?
Rather than heroically attempting to prevent the militarization of space, was Von Braun a double agent for an Antarctica-based breakaway German Colony wanting to prevent the US military from ever threatening their secret space program?
© Michael E. Salla, Ph.D. Copyright Notice
[Note: Audio version of the above article is available here]
Further Reading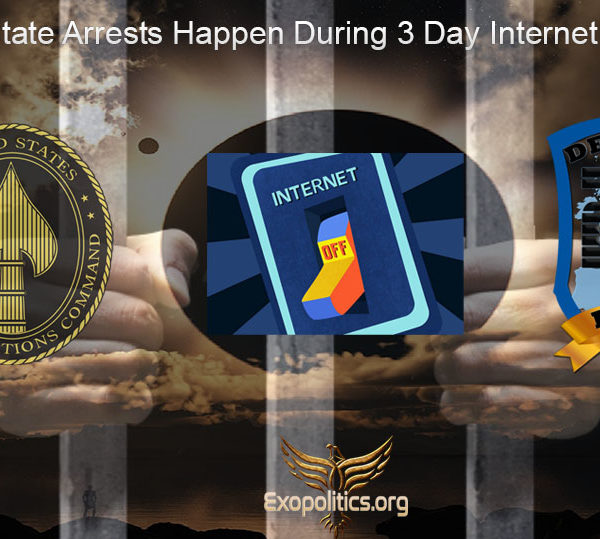 Planned military arrests of Deep State figures have been put on hold until an impending three day shutdown of the internet, according to information presented by David Wilcock in a March 29 webinar. Even more startling is Wilcock's assertion that at the end of the shutdown, there will be a series of major disclosures covering a spectrum of issues ranging from Deep State crimes to the release of suppressed technologies used in secret space programs. How likely is the sequence of events proposed by Wilcock?
Wilcock's webinar was watched live by approximately 35,000 viewers, with a total of over 645,000 views to date since its airing. He provided an update to the Defender Europe 20 military exercises, which he explained provided the necessary personnel and equipment that would be used in conjunction with U.S. special forces to raid the European fortresses of senior Deep State figures hiding from secret indictments issued by U.S. grand juries.
As I briefly mentioned in my previous article on Wilcock's webinar series, the Defender Europe 20 exercises were significantly cut back as a result of the COVID-19 pandemic. Nevertheless, Wilcock's claim that newly arrived U.S. personnel and equipment could provide armored support for U.S. special forces conducting mass arrests is still plausible.
According to a March 17 news release by the U.S. Army:
In response to the current outbreak of the COVID-19 virus and recent guidance by the United States Secretary of Defense, we have modified exercise Defender-Europe 20 in size and scope. As of March 13, all movement of personnel and equipment from the United States to Europe has ceased…. As we make the appropriate adjustments, the linked exercises to Exercise Defender-Europe 20 – Dynamic Front, Joint Warfighting Assessment, Saber Strike and Swift Response – will not be conducted. We anticipate the involved U.S. armored brigade combat team already deployed to Europe will conduct gunnery and other combined training events with Allies as part of a modified Allied Spirit exercise.
In short, most of the exercises that made up Defender Europe 20 have been canceled, except for the Allied Spirit exercise, which comprises the bulk of six thousand U.S. soldiers shipped to Europe along with "approximately 3,000 pieces of equipment via sea from the United States." Many of the 3,000 pieces of equipment are 70 ton Abrams tanks to be used in Allied Spirit.
Could a U.S. armored brigade, which normally numbers up to 5,000 personnel, provide the armored support for special forces raiding Deep State compounds to conduct the mass arrests that Wilcock originally contended?
Wilcock cited a number of anonymous sources known to him and secret space program insider, Corey Goode, that confided to him the sequence of events leading up to the mass arrests under the Defender Europe 20 exercises. I have personally met one of the sources, a former NATO general, who Goode introduced me to in September 2017.
After conducting my due diligence, I was able to verify that the General was a retired military official, who has been informally briefing Goode and Wilcock, about events in Europe and around the world. I have also, on occasion, had the General's briefings passed on to me for review and background information in conducting my secret space program research.
In addition, it's worth pointing out that another of Goode's active sources works within the Defense Intelligence Agency, and had passed on to him two Defense Intelligence Reference Documents that were released for the first time into the public arena in December 2017. They were marked "Unclassified: For Official Use Only," and their release much surprised the papers' author, Dr. Eric Davis, who pointed out that only a serving public official could have taken such an action, as I have previously pointed out.
The release of the DIA papers was done in Goode's words, "to slowly 'read in' certain people in the DOD/DIA to Special Access Programs." The DIA papers provided powerful corroboration for key elements of Good's remarkable secret space program testimony, which I investigated at length and documented in the book, Insiders Reveal Secret Space Programs (2017).
Nevertheless, many leading UFO researchers have disingenuously ignored Goode's role in releasing these official DIA documents, and instead made disparaging comments of him starting a "blue chicken cult" based on little more than public deception.
This is despite the fact at least one active DIA official and a retired senior NATO official accept Goode's core claim about him being the liaison for a group of higher dimensional entities comprising "Blue Avians" and others belonging to a "Sphere Being Alliance", that are intent on transforming political power structures on Earth, our solar system and galactic neighborhood.
In his webinar, Wilcock explained what had been revealed to him from Goode's sources, particularly the General, after the bold pronouncements made in Wilcock's previous webinars concerning the Defender Europe 20 exercises as the cover for mass arrests taking place, which I covered in my previous article.
In his March 29 seminar, Wilcock described the delay to the timing of the mass arrests, as explained to him by the General:
The first glimmer that I got was from Corey Goode on Saturday, March 21 he has multiple sources feeding us information. I had already done the video and discussed Defender Europe 20 as if arrests were already happening. That was the first video we did, the general, we have a couple of guys we call the general, but the general called and laughed and said no, it's not happening yet. Nobody's been arrested in Europe yet (1:39:19). But he was amazed that I got all those details right.
He said the final stage will involve about three days where we do not have access to regular phone calls you can make emergency calls to 911 … but you are not going to have the internet or the phone.
Wilcock went on to explain that during the three days of darkness, the Presidential Broadcast System will be used to inform people of what is happening:
They want you to know about his so that you don't freak out and commit suicide I guess…. So there will be an emergency presidential broadcast system that they will use. The QAnon source talked about this on December 19, 2019. They will use a national presidential alert system, and why was this created and tested for political and information warfare.
During these three days they believe that they're going to be able to get everybody. They've got it all planned out how they're going to get this thing done. They think they can get it all done in three days. It might take a little bit longer, but they probably will get it done in three days and it's going to be fast. Probably 24 hours a day shifts that these soldiers are working.
Wilcock cited a text message received from Corey Goode March 21, who summarized what he had been told about the upcoming internet shutdown and mass arrests:
I sure hope arrests are going on. I was also told recently that all communications (except 911) would go offline. I am not sure if they mean cell comm's only … that the internet would slow to a crawl during any actual mass arrests. Then the National Emergency network would come on like you said in the video. With the Virus scenario, they may not need to take comm's down or shut down electricity in regions. This virus, the cabal's last ditch effort … may be the perfect screen to do the arrests. I am just hearing majorly conflicting information on that from my contacts.
The General was hearing in the beginning but then said 'it was called off'.
I am also hearing that there are very strange troop movements, Nat Guard but also elite Marine units that specialize in breeching compounds have been seen moving about in a frantic manner on their base (can't remember which one).
That FEMA was gearing up some of the camps that were set aside but they are not being setup in a 'pattern' that would be expected for a pandemic. So, prisons?
So much speculation even among the top brass because over a week ago all briefings (Proper ones) stopped and 'Comm's went down' … Silent Running.
Was also told to expect a lot of strange E.Q.'s [earthquakes] around areas that you would expect secret bases to be at.
Comm's being down and troop movement is going on for sure.
It is way toooo much overkill for a virus outbreak of this magnitude.
The General was even saying that there were rumors of using this situation for an economic reset of some kind.
The critical point in Goode's information here is that the COVID-19 pandemic is a last-ditch effort by the Deep State to create the necessary international chaos necessary to implement their New World Order.
In another article,  I discussed how the origins of the pandemic could be traced back to a 2005 meeting in the City of London, where Deep State figures discussed a plan that had been developed for implementing their New World Order. The key point was that the elaborate sequence of events involving a global pandemic needed to be implemented in full in order to achieve success for the creation of a New World Order.
Not doing so would lead to failure. Consequently, the release of the COVID pandemic is indeed a last ditch effort by the Deep State to overwhelm nation states. Not only is the Deep State plan destined to fail, which we see already with China successfully emerging out of the lockdowns that initially crippled their economy, but the lockdowns do provide an opportunity for Deep State figures to be arrested, as proposed by Wilcock.
Wilcock points out that while some will panic, thinking that the impending mass arrests are tantamount to a military takeover, it is the opposite:
They are not going to tell you this is the mass arrests. So some people are going to have a serious dark night of the soul when we go through these three days because they're worried that this is the end okay, and this is martial law and this is a government takeover that's not what it is. The real takeover was going to happen if the illuminati had not been opposed by this amazing group of military and intelligence officials not just from the U.S. but all over the world that are working to make sure these plans don't succeed, which once again after the only three days what  we are hearing is that everybody's going to get the truth. These eight-hour chunks of data they're going to run three times a day you got to watch the whole eight hours to get the data and once you've done that you'll basically now be aware of what's really going on, who these people are, what they were trying to do, and how they're being stopped.
It's clear, according to the information provided by Wilcock, that something very important was originally planned in Europe with the Defender Europe 20 military exercises, until these were significantly scaled back due to the COVID-19 pandemic. According to Goode's General, the arrests were called off.
Nevertheless, significant U.S. military resources and personnel have been shipped to Europe and could under the remaining  Allied Spirit exercise provide the necessary armored firepower to back up U.S. special forces in storming Deep State compounds in Europe, as Wilcock originally contended.
Could this happen duringa three day internet shutdown, which both Wilcock and Goode's sources predicted? If so, then their advance warning will be very helpful in navigating the uncertain times that lie ahead as the covert civil war between the Deep State and the Military White Hats/Trump Administration comes to a stunning conclusion, while the bulk of the citizenry in the U.S., Europe and much of the planet are experiencing unprecedented national lockdowns.
The arrest and removal of the Deep State officials from positions of power would certainly have major implications for the disclosure of thousands of suppressed advanced technologies dealing with new energy sources, health, and exotic propulsion systems. The possibility that the whole planet will soon learn the truth about secret space programs and extraterrestrial life is quite high if the scenario laid out by Wilcock comes to pass.
© Michael E. Salla, Ph.D. Copyright Notice
Update – 3/31/20.  In my initial version of this article I erroneously wrote that David Wilcock said the mass arrests would follow the three days of darkness, rather than during them. Thanks to readers that alerted me to the error which has been corrected.
Further Reading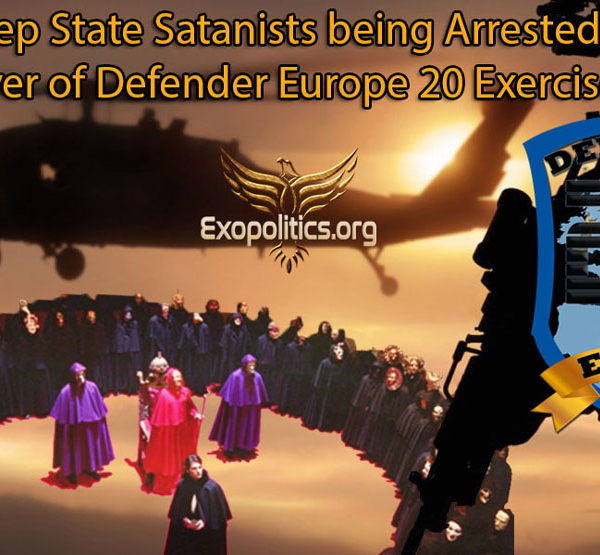 While much of Europe has been closed off due to the Coronavirus pandemic, elite military forces from 17 NATO and partner countries are using the Defender Europe 20 Military Exercizes as a cover to arrest leading Deep State Satanists entrenched in fortified European compounds, according to a New York Times best-selling author. David Wilcock made his startling claim in his latest video live-streamed on March 19, to his 288,000 You Tube followers.
In his video presentation, Wilcock cites at length a March 15 English language summary of an article by Manlio Dinucci, who wrote about the Defender Europe 20 Exercices on March 3 for the Italian web newspaper Ill Manifesto. The March 15 article summarizing Dinucci's earlier Italian language article is titled "30,000 American Troops Arrive in Europe Amidst COVID-19 Crisis", and begins as follows:
Manlio Dinucci writing in the Italian web newspaper, Il Manifesto on March 3rd, 2020, reports that despite Trump's travel ban 20,000 American troops will be traveling to Europe in the next few days–joining the 10,00 already there.
Despite the travel advisories issued by the U.S. State Department for Americans traveling to northern Italy and elsewhere in Europe, Dinucci is again cited from his original March 3 article:
However, one category of U.S. citizens is exempted from these rules: the 20,000 soldiers beginning to arrive from the United States in European ports and airports for the Defender Europe 20 exercise, the largest U.S. troop deployment in Europe in the last 25 years. Including those already present, about 30,000 U.S. troops will participate in April and May, flanked by 7,000 troops from 17 NATO member and partner countries, including Italy.
The author of the English language article citing Dinucci, who uses the pseudonym, Poppalloff, subsequently points out:
None of these troops have been issued with Bio/Hazchem suits or masks, which seems a little reckless of the American Government if COVID-19 is really the threat that we are being told that it is…
Dinucci is then cited again:
"The 30,000 U.S. soldiers, who "will spread through the European region," are in fact exempted from the preventive COVID-19 regulations that apply to civilians. The assurance given by the U.S. Army in Europe that "we are monitoring the Coronavirus [COVID-19]" and that "our forces are in good health" is enough.
At the same time, the environmental impact of a military exercise of this magnitude is ignored. U.S. Abrams tanks will participate, weighing 70 tons, with depleted uranium shells. Each tank consumes 400 litres of fuel per 100 km, producing heavy pollution to deliver maximum power." 
Popalloff, in summarizing Dinucci,  points out the suspicious nature of many European citizens being in locked down in their homes, while elite NATO troops are able to travel around without any restrictions at all. Popalloff, concludes his/her article by saying that the "pandemic is obviously a cover story for some kind of powerplay by the 1%."
The implication here is that the Coronavirus pandemic, the European lockdowns, and the NATO exercise all combine into a nefarious coup being covertly orchestrated by the 1% (the Deep State), and people need to be concerned about what is really happening behind the scenes.
In contrast, Wilcock cites extensively from the March 15 English language summary of Dinucci's earlier March 3 article, and reveals what he has been told by his own insider sources, who tell a very different story of what is really happening behind the scenes:
What we're getting from our briefings folks is that this is a targeted effort for the mass arrests that I've been telling you about this whole time. That's why they're there. There 37,000 troops from 18 countries including the US. … you better believe those are elite soldiers they're very trained. What are they doing? They're going to the places where the Deep State is. They're infiltrating their strongholds and they are arresting people.
Wilcock goes on to discuss the use of Abrams tanks in the Defender Europe 20 Exercise for a purpose that is very different to the coup that Dinucci proposed was underway:
"U.S. Abrams tanks will participate, weighing 70 tons, with depleted uranium shells." Ok, well that's weird, why do they need tanks. It's a military exercise, the biggest one in 25 years. Well maybe they're going into to be going into some people's stronghold's folks. Some of these guys that are billionaires, they're Satanic. If you start to learn about this, that's what's really going on. You got to bust in through those compounds, you got to get these people. You got to arrest them. Hopefully, they don't provide armed resistance, they're not going to make it, okay.
This is not a coup, this is not the end of the world. It's saving the world. These people already tried to kill the planet. So if you think this is a coup, that's okay, but they already fired their best shot and I don't believe this is the end of the world at all.
This is the crux of Wilcock's analysis of current events in Europe that involve an unprecedented shut down of people's movements and businesses, while NATO is simultaneously conducting its largest military exercises in the last 25 years. The well-protected compounds of Deep State officials, many of whom are practicing Satanists, who frequently conduct child sacrifices, are being raided by elite military special forces under cover of the NATO exercises.
Of the two explanations offered so far for the massive NATO exercises occurring in the midst of the coronavirus pandemic and lockdown in Europe, Dinucci/Poppalloff's concerns that these are a cover for a coup by the 1% (Deep State) and Wilcock's diametrically opposing view that Deep State officials are being arrested under cover of the military exercizes, I find Wilcock's assessment to be far plausible. This is despite reports that NATO leaders have cancelled a number of Europe Defender drills due to Coronavirus concerns.
Importantly, Wilcock's assessment is consistent with ongoing revelations from the military intelligence group QAnon, which has worked closely with the Trump White House since first coming forward in October 2017. In a number of articles, I have pointed out my reasons for concluding that QAnon comprises White Hats within the U.S. military who are locked in a behind the scenes civil war against the Deep State, whose senior leadership comprises practicing Satanists.
If one accepts what QAnon has revealed in multiple posts which advises readers to "prepare for the storm", and the taking down of Deep State leaders, then Wilcock's assessment is more likely than the alternative offered by Dinucci and Poppalloff.
Fortunately, I believe we will not need to wait long to learn the truth about what's happening in Europe with the scaled-back NATO drills, the unprecedented Coronavirus lockdown, and alleged mass arrests of Deep State leaders occurring behind the scenes.
The world wants to learn the truth about who is really behind the Coronavirus pandemic, and the U.S. military also has strong reasons to reveal the truth given that an increasing number of Chinese officials are accusing the U.S. Army in the initial spread of the Coronavirus in Wuhan during the October 2019 World Military Games.
© Michael E. Salla, Ph.D. Copyright Notice
Note: An audio version of this article is available here.
Further Reading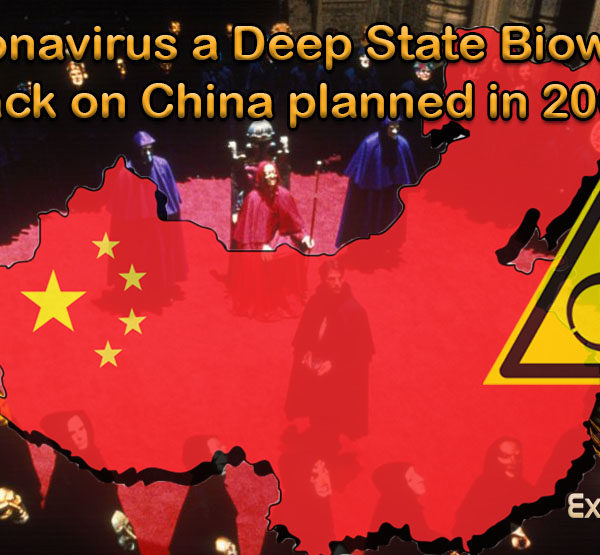 In an interview and letter made available in 2010, an anonymous official within the City of London revealed a secret plan supported by high-level Masons to support a biological warfare attack against China designed to cripple its economic growth and growing military power. The biological weapon was to be part of a timeline of both contrived geopolitical events and a natural disaster that would eliminate half of the planet's population.
The whistleblower was first interviewed in January 2010 by Bill Ryan from Project Camelot, who released a transcript along with his video summary of the interview the next month. The interview was followed by a letter from the whistleblower to Kerry Cassidy, who made it available through the Project Camelot website on March 19, 2010.
Prior to his interview, Ryan was able to confirm the whistleblower's credentials as a former serviceman with the British military who later accepted a senior position in the City of London, which is an autonomous financial enclave within the Greater London.
In his interview, the whistleblower described a meeting held in June 2005 involving high-level Masons who were discussing how to put into effect a timeline of events developed by a more senior group of unknown persons:
From what I heard, they weren't a decision-making group. They were like an action group. They were people who needed to come together now and then to discuss together what needs to be done, or what is getting done, and what should be getting done. And then they disperse and go back and do what they need to do, as a result of these
The whistleblower [W] explained to Bill Ryan [B] a planned biological weapons attack on China after a contrived limited nuclear war in the Middle East planned to occur sometime before 2012 that involved the direct participation of China and the US after Israel launched a preemptive attack against Iran:
W: … it's in this ensuing chaos of a post-nuclear exchange that these biological weapons will be deployed in such a fashion where there will be no structure, no safety-nets, for anybody to counter this type of biological onslaught.
And it should be mentioned, for those who are not aware, that biological weapons are just as effective as nuclear ones; it just takes a while longer — that's all.
B:  Yes. Now, the deployment of the biological weapons following the ceasefire, is that something that happens covertly, like all of a sudden people will start getting ill and no one knows where it came from? Or is this an overt weapon deployment that would be very obvious?
W:  I don't think it would be overt, because the Chinese people are going to be hit by the flu! So there'll be a worldwide flu epidemic, perhaps, with a country like China — or China, because China is mentioned — being the one that's going to suffer most.
Thankfully, the predicted nuclear war in the Middle East never happened due to White Hats in the US military, preventing Israel from launching a preemptive (nuclear) attack against Iran. According to the whistleblower, Iran had been secretly assisted by China in gaining several nuclear weapons.
During the Bush Administration (2001-2009), for example, Admiral William Fallon, head of US Central Command (2007-2008), famously declared during his Senate confirmation hearing that an attack against Iran "will not happen on my watch."
Later during the Obama Administration (2009-2017), to his great credit, President Obama resisted powerful behind the scenes efforts to give Israel the go-ahead for launching a preemptive (nuclear) attack against Iran. Instead, Obama participated in high-level diplomatic negotiations that resulted in the multinational Iran nuclear deal (Joint Comprehensive Plan of Action) in July 2015 that warded off a possible Israeli attack for years to come.
President Donald Trump ended US participation in the Iran nuclear deal on May 8, 2018, and the US and Iran have engaged in a number of subsequent military skirmishes. The most serious was the US assassination of the leader of Iran's Quds Force, Major General Qasem Soleimani, and Iran's quick military retaliation.
Fortunately, Trump and Iran's leaders have avoided crossing the threshold into outright war, and Israel has again been restrained from attacking Iran.
In his interview, the whistleblower stressed that the timeline of events that were to be activated had to happen in the precise order desired by those that put the plan together. If the events didn't happen in the correct order, then they were destined to fail.
This takes us to the present moment where China appears to have been attacked by a bioweapon, which is linked to the rollout of a 5G network in the city of Wuhan. In a previous article, I pointed out the link between 5G and biowarfare, and the likelihood that the Coronavirus (Covid-19) was a biological weapons attack.
Senior Chinese officials have also recently begun promoting the idea that the Coronavirus was a foreign-sourced bioweapons attack, and have pointed to the US and its participation in the Military World Games held in Wuhan in October 2019. However, as former US Marine Corps Intelligence Analyst and CIA Case Officer Robert David Steele has declared, President Xi Jinping knows that the real culprit is not the Trump administration, but rogue elements in the US tied to the Deep State.
The similarity between the events in China and what the whistleblower described back in 2010 is uncanny, and firmly implicates the City of London in a Deep State attack on China. However, as the whistleblower pointed out, the group of City of London officials was merely an action group. The real culprits behind the planned bioweapon attack were higher-level groups associated with elite banking families on the European continent, especially in Italy and the Vatican, working closely behind the scenes with, according to the whistleblower, extraterrestrial entities!
The Vatican has long been rumored to be working closely with extraterrestrial visitors, as I have explained in another article. The whistleblower learned that extraterrestrials are much involved in the high-level planning of geopolitical events as he highlighted in his summary of the planned timeline discussed at the 2005 meeting:
Let me summarize what was discussed at the meeting:
Iran will be attacked, possibly within 18 months. China will come to the aid of Iran, to protect its own interests. Nuclear weapons will be used either by Iran or China, with Israel provoking the first use. Much of the Middle East will be laid to waste. Millions will die within a very short period of time. And for some reason this is here, and I can't tell you why: China will move forcibly into parts of Russia to extend ceasefire lines. Thereafter, biological weapons will be deployed against China. China will "catch a cold".
And my own understanding is that there's some sort of malevolent ET alliance at work for 50 years by the UK and US and other Western powers, and this includes Japan.
And, again, when we talk about a malevolent ET alliance that's in the context of black projects, and this is an exchange of technologies that's been going on for some considerable time. So there is an involvement there, and that involvement I can't fully explain myself.
And I also understand that there are more humanitarian and altruistic ET entities working against this timeline and are somehow maintaining a precarious balance without taking any direct intervention themselves. And again, I can't fully explain that but it's a certain intuitive feeling that this is working and there's other aspects of my experience that's led me to make that statement — but that's another story.
So what we're talking about is the Western powers seeking a 'perfect war' — doing so throughout the 20th century right up till the present day, because this timeline goes way back. So we're talking decades or hundreds of years of time where this timeline has been in use.
And also I think it's quite important to associate the timeline with its other reference which I've heard several times now: it's called THE ANGLO-SAXON MISSION. I feel that's important to add because that may ring some bells with some people as I don't think it's been mentioned before.
As a result of military White Hat and "altruistic extraterrestrials", the above timeline never happened. Consequently, what are we to make of the 2020 Coronavirus pandemic, and the Deep State's plan for a biowarfare attack against China discussed back in 2005 in response to the latter's rapid economic and military growth, which continues to alarm Western national security officials as detailed in my upcoming book, Rise of the Red Dragon: Origins and Threat of China's Secret Space Program.
One explanation is that as a result of a global awakening to the machinations of the Deep State, the latter's nefarious timeline of events has been derailed. This means that the biowarfare attack against China planned to happen after a limited nuclear war in the Middle East that would have severely weakened China and many nations in responding to a global pandemic, has instead occurred as an isolated event.
Consequently, China and many other nations have been able to use all their national resources to respond to the Coronavirus, making it all but certain that it will be eventually contained. China, in particular, implemented strict protocols that appear to have turned the tide in the fight against the Coronavirus, as Chinese officials are eagerly pointing out.
This takes me to a startling prediction made by the psychic Sylvia Brown in 2008, only three years after the City of London meeting, which appears to describe what we are now witnessing:
In around 2020, a severe pneumonia-like illness will spread throughout the globe, attacking the lungs and the bronchial tubes and resisting all known treatments. Almost more baffling than the illness itself will be the fact that it will suddenly vanish as quickly as it arrived, attack again ten years later, and then disappear.
As mentioned earlier, China understands that it was the Deep State rather than the Trump Administration that was behind the bioweapons attack. The 2010 revelations by the whistleblower firmly point the finger at the Deep State, and their accomplices in the City of London, elite banking families in Italy called the Black Nobility and the Vatican.
It's not coincidental that the Coronavirus outbreak in Italy, which has recorded the most deaths outside of China, began in the provinces most associated with the Black Nobility and the rollout of 5G as observed by the blogsite, "State of the Nation":
Northern Italy, especially the international financial capital of Milan and all of Lombardy, have been strictly quarantined because this region is the ancestral home of the all-powerful Black Nobility.  Very few are aware but it is Milan and Venice that really rule the financial powerhouses of London and New York City.  They locked down both of those Italian power centers in order to control all movement into and out of the region.  This unprecedented quarantine was planned years in advance by way of the purposeful rollout of 5G throughout the greater Milan metro area…. In other words, wherever the military deployment of 5G has taken place, the numerous 5G super-hotspots will provide a very conducive environment for the coronavirus bioweapon to be released into the population with the desired effect.  Just look at where the Coronavirus is exploding the most—countries that have the most 5G Hotspots!
This raises the possibility that the Coronavirus outbreak in Italy may be the Chinese military's retaliation against the Deep State's bioweapon attack, and the role played by the Black Nobility in attacking China.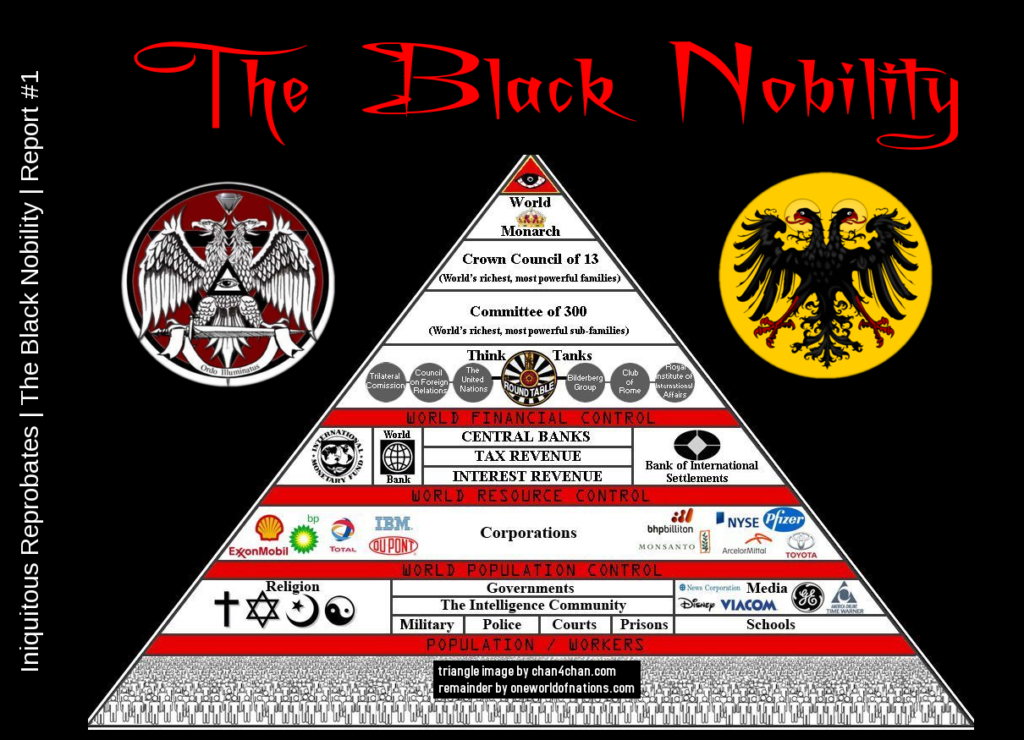 It appears, however, that the bioweapon attack on China will not have the desired effect as originally conceived in the plan heard by the British whistleblower in 2005. Rather than a key step in a sequence of geopolitical events leading to global devastation, the Coronavirus is proving to be an isolated event that is being contained by nations and is raising many questions over its true origins.
Ultimately, as people investigate the true origins of the Coronavirus and the Deep State's plan to attack China, there will be a global awakening as pointed out by the State of the Nation blogsite:
The bottom line here is that March Madness 2020 appears to be the beginning of the end of the New World Order agenda.  It really is a do or die situation for the power elite now that they have totally committed to staging an unsustainable global pandemic.  It they do not have the adequate enforcement mechanisms in place to police this pandemic as they conceived it, they're in HUGE trouble.  Because when the dust settles, every inhabitant of the planet is going to be asking some serious questions.  There are no NIMBYs with this pandemic so everyone will want answers that will only lead back to that British officer's damning 2010 letter.

Consequently, rather than the Coronavirus being part of an elaborate set of events designed to implement a New World Order controlled by the international banking elite through major Western nations, it appears to be a last ditch desperate effort by the Deep State that is doomed to fail. The exposure of the Deep State behind the Coronavirus pandemic will only accelerate the exposure and demise of key figures and institutions behind the Deep State, and an unprecedented awakening of global humanity.
© Michael E. Salla, Ph.D. Copyright Notice
Note: An audio version of this article is available here.
Further Reading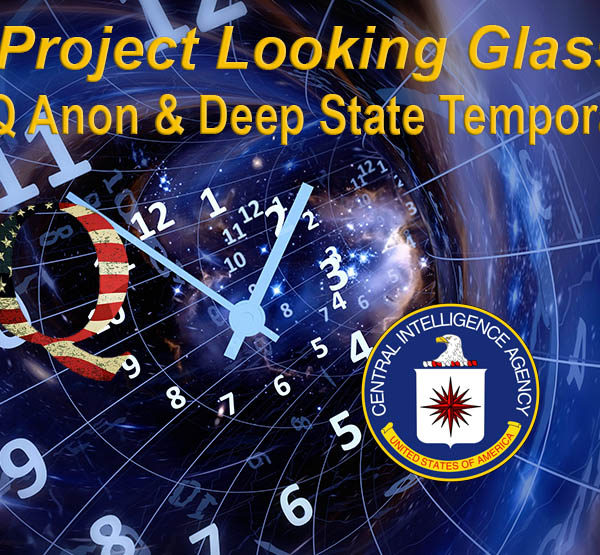 Soon after returning into the public arena with posts on the newly created 8kun channel, Q(Anon) made a very brief reference to a "Project Looking Glass". Despite the post's brevity, there is much behind this highly classified project that is relevant to the QAnon movement and the efforts of the Deep State to marginalize it and remove President Donald Trump from power.

In post 3585, QAnon wrote:
Q !!mG7VJxZNCI ID: 9b601a No.7352963
Nov 11 2019 19:49:10 (EST)
https://twitter.com/fillasaufical/status/1194044070039085057
Project Looking Glass?
Going Forward in Order to Look Back.
Q
The twitter link was to a tweet by Clark Petrounov, who claimed that what he first thought was a reference to a date in a Q post, 11.11.18, was an IP address belonging to the Department of Defense Network Information Center. The implication was that military servers were in some way involved in hosting the 8kun channel through which Q has once again resumed posting after 8chan was shut down due to different internet companies refusing to host it on their cloud servers.
Dang! So that was an IP Address. Not a date! #MilitaryPrecision@POTUS #QAnon #KAG #WWG1WGA #TheGreatAwakening #MAGA #Trump #Trump2020 pic.twitter.com/MBYUuZollm

— Clark Petrounov ? (@fillasaufical) November 12, 2019
Many believe that Q, based on multiple posts, is a group linked to US Army Intelligence working closely with the Trump White House. At first glance, it would be logical that military intelligence is helping 8kun to emerge online since that 8chan/8kun was the only venue on which Q posts. However, it's unlikely that the US military would do this in any transparent way, given the legal and political implications of supporting a posting board that many in the general public have been convinced by the mainstream media to be a venue for radical right-wing radicals.
Nevertheless, by referring to Petrounovu's tweet, Q was sending a clear message that the military intelligence community is in some way helping 8kun establish a new internet presence, perhaps by protecting it from DOS (Denial-Of-Service) attacks. This is where Q's reference to "Project Looking Glass" becomes very significant.
The first public reference to a "Project Looking Glass" came from the legendary UFO whistleblower Bob Lazar back when he first emerged into the public realm in 1989 when he identified it as one of the classified projects run out of the S-4 facility at Area 51. In an interview Lazar (L) replied to a question about the project as follows:
C: Wasn't there something about "Looking Glass" project "Looking Glass"?
L: Yeah, that was later on… when we started getting into the heavy physics of it because gravity distorts space and time and what they were trying to do, and I say look back in time and some people conjure up images of a time tunnel… they're looking at distorting time in microseconds to see whatever event they were trying to observe through a gravitational lens… so that was a different project they were dealing with that… but that was essentially playing with gravity distorting time.

While Lazar was not himself involved in Project Looking Glass, others have come forward to reveal what they knew about classified military experiments to distort time to peer into the past.
Among these was Preston Nichols, who was involved in a classified project called Montauk that was first publicly revealed in his 1992 book: Montauk Project: Experiments in Time.
Nichols explained that the Montauk Project ran from 1971 to 1983 at Montauk Air Station, Long Island, New York, and involved many human subjects in bizarre military experiments. Some of these experiments involved humans being trained to use extraterrestrial technology, such as a chair that significantly enhanced psychic abilities so one could do extraordinary things like distorting or warping time to look into the past or future.
Nichols explained what happened when the psychic Duncan Cameron sat in the Montauk chair:
Duncan would start out sitting in the chair, then the transmitter would be turned on. His mind would be blank and clear. He would then be directed to concentrate on an opening in time from say, 1980 (then the current time) to 1990. At this point, a 'hole' or time portal would appear right in the center of the Delta T antenna – you could walk through the portal from 1980 to 1990. There was an opening that you could look into. It looked like a circular corridor with a light at the other end. The time door would remain as long as Duncan would concentrate on 1990 and 1980. (Montauk Project, pp. 88-89).
Basically, psychics were placed in the Montauk Chair and were, in this way, able to peer into different historical periods to gain information of interest to their military intelligence handlers.
There was a lot more to Montauk than merely viewing the past and future, as suggested by Nichol's reference to being able to walk through the time portal. A recent documentary called "The Montauk Chronicles" describes the many bizarre experiments that occurred there, and the first-hand testimonies of many participants, the majority of whom were terribly abused. In fact, thousands of children were involuntarily pulled from the streets and were lost or killed after being sent through the "time portals."
The Montauk Project, however, is not the earliest reference to extraterrestrial technology being in the possession of the US military, which allowed it to view events in different historical periods.
In a 1964 television interview, George Van Tassell, who claimed to have had physical contact with human-looking extraterrestrials, says that they showed him technology that could be used to view a visual scene from any historical time period, which the US Navy had in its possession.
Van Tassell says that the technology was quickly classified by the Navy and the inventor was forced to work for it. The time travel/viewing technology described by Van Tassel in his 1964 interview is very similar to what was decades later described by Lazar as "Project Looking Glass" which he said was also run by the U.S. Navy.
If we accept the testimonies of Lazar, Nichols, van Tassell, and others, then it is clear that the US military intelligence community has been conducting "Project Looking Glass" since at least the early 1960s.  Returning to Q's November 11 post, is Q suggesting that the military intelligence community is using Project Looking Glass technology against the Deep State?
This is what Jordan Sather declares in his most recent video on his popular Destroying the Illusion youtube channel. He suggests, rather optimistically, this is why the Deep State has been befuddled by Q and the military intelligence community.
While I agree with Sather that Q and military intelligence community is using Project Looking Glass technology in a covert civil war with the Deep State, it is worth emphasizing that the Deep State has been using Project Looking Glass technology even longer than the US military intelligence community.
The earliest reference to the kind of technology discussed in Project Looking Glass actually comes from Italy in the 1950s! A Dominican priest by the name of Father Pellegrino Ernetti invented a Chronovisor by electronically modifying the frequencies of chants by Benedictine monks when viewed on a TV-like monitor. By manipulating the frequencies, Ernetti discovered one could look into the past. He claims to have witnessed the crucifixion of Christ and other historical events in this way.
In the book, Father Ernetti's Chronovisor: The Creation and Disappearance of the World's First Time Machine, Peter Krassa, investigates Ernetti's amazing discovery. He explains how the technology was turned over to the Vatican hierarchy, which in turn passed it on to the Central Intelligence Agency. It's worth emphasizing that the then chief of the CIA counter-intelligence division, James Jesus Angleton, handled both the Vatican and the Israeli desks during his long service from 1954 to 1975.
The CIA developed Chronovisor technology for the control group running extraterrestrial related projects, Majestic -12, one of the principal arms of the Deep State. Given that the CIA is the key agency for raising black budget funds for the entire military-industrial complex, it would have been easy to siphon off sufficient funds to conduct its own Project Looking Glass project.
Indeed, this is precisely what occurred, according to Andrew Basiago, a practicing attorney, who says he was involved in a Project Pegasus from 1967-1971 as a six-year old. He says that the chronovisor developed by Father Ernetti was refined by the CIA, in collaboration with the then Advanced Research Projects Agency (ARPA/now DARPA).
Basiago claims that in 1970, he and other Project Pegasus child participants visited various classified facilities hosting chronovisors:
In Fall 1970, the children in my group first began accessing past and future events via third and fourth-dimensional Ernetti-Gemelli chronovisors situated at the General Manufacturing Company in Convent Station, New Jersey; a public auditorium under construction in Morristown, New Jersey; and the ITT Defense Communications facility in Nutley, New Jersey.
Basiago's assertion of visiting a classified facility run by ITT in Nutley, New Jersey in 1970 received surprising corroboration by no less a personage than famed radio host Art Bell, who was at the time employed by ITT in a classified NATO communication project. This was information Bell had never before publicly revealed. He was clearly shocked as Basiago revealed during a live radio interview on August 14, 2015, how he encountered Bell working on a classified project at the Nutley facility in 1970 when Basiago was only 8/9 years old.
Basiago asserts that chronovisor technology was one among many ways in which the CIA and its intelligence partners could view the past and future in order to gain intelligence data and to also attempt to manipulate history through time travel experiments.
Consequently, it's worth emphasizing that both the military intelligence community (Q) and the Deep State/CIA are using time distorting technologies to peer into the future to anticipate each other's moves. This would explain why many of Q's predictions have not panned out, and the Deep State appears to have warded off the most damaging revelations made by Q.
The conclusion is that we are not just witnessing an information war between Q/military intelligence/Trump administration and the Deep State/CIA/Majestic 12, but also a temporal war. Q's reference to "Project Looking Glass" invites members of the Patriot movement to dive deep into the highly classified world of time-distorting technologies and their connection to visiting extraterrestrial life.
© Michael E. Salla, Ph.D. Copyright Notice
Go to Part Two
Further Reading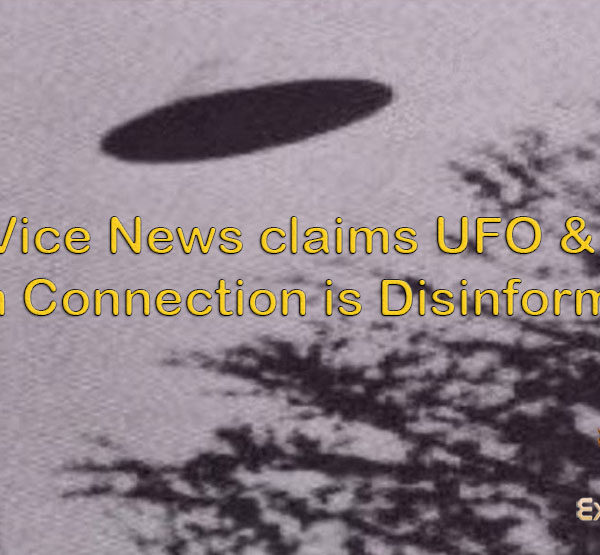 On October 29, MJ Banias from Vice News wrote an article claiming that "QAnon and UFO Conspiracies Are Merging". Banias promotes an alleged "disinformation expert" to make the case that questions arising from a linkage between the Deep State, UFOs and QAnon are harmful, and those investigating such questions are merely opportunists.
Jordan Sather from Destroying the Illusion is a particular target for Banias' article that devotes much time to him and his comments connecting QAnon and UFOs. I also get a dishonorable mention for one of my articles linking Trump, QAnon and UFO's, as does Dr. Steven Greer, founder of the Disclosure Project. In fact, I wrote about the Q Anon and UFO connection here.

Sather's YouTube channel has nearly 200,000 followers thus making him a juicy target for those from the mainstream media threatened by the growing popularity of alternative media sources, which are routinely labeled as "fake news".
It's worth mentioning that the "fake news" term was initially pushed by mainstream media sources wanting to delegitimize the alternative media which the US and the global public were increasingly visiting to inform themselves on multiple issues. The breaking point was Hillary Clinton's presidential election loss, which was largely attributed to alternative media support for Trump's campaign.
The "fake news" label has been subsequently used to demonetize, shadow-ban and remove countless alternative media websites, YouTube channels and social media pages to ensure that the 2020 election goes more along the path desired by those controlling the mainstream media.
QAnon has exposed the mainstream media as tightly controlled in multiple posts showing that many journalists get talking points sent to them each morning at 4 am, which are then used to craft their news articles. For example, in a January 18, 2018 post (561), QAnon wrote:
MSM is FAKE NEWS.
Propaganda.
Talking points [4am] – private email addresses.
Paid contractors.
JUDGEMENT DAY.
Q
Those journalists faithfully writing up their (4 am) talking points to the satisfaction of their media handlers are "paid contractors" who are subsequently promoted, honored and rewarded in multiple ways.
This perspective promoted by QAnon helps explain why President Trump has been so strident in publicly attacking the mainstream media as fake news. He well understands that many celebrated media pundits are nothing more than hacks receiving 4 am talking points to focus exclusively on in their writing and news commentary.
Trump is the proverbial prophet warning of the coming Judgement Day, foretold by QAnon, that will expose the media hacks that are "paid contractors" for the Deep State.
Sather responds to Banias' article with an entertaining Youtube video deconstructing the multiple fallacious points in his article. It's well worth watching to understand why Banias and Vice were targeting Sather over QAnon and the UFO connection.
What I found particularly interesting was Banias' promotion of Ben Decker from the Global Disinformation Index who is cited extensively as a "disinformation expert" who can get to the truth behind conspiracy theorists. Banias wrote:

Disinformation experts say that the intersection of conspiracy theories is common, and can be particularly dangerous.
"I think that intersectionality is really important when discussing various online conspiracy theories whose relevance is partially handcuffed to the news cycle," Ben Decker, lead analyst for the Global Disinformation Index said.
Interestingly, when going to the Global Disinformation Index one finds no reference to Decker in the "about" page. The only references to him are five articles he has written on the GDI site since May 3, 2019. We don't know anything about Decker other than him writing some articles in 2019, yet this is enough to make him a "disinformation expert" according to Banias.
We know that Global Disinformation Index has only been in existence since early 2019. It is a UK registered not-for-profit organization that acknowledges receiving funding from the UK government, philanthropy, and companies. GDI's funding is a red flag raising the possibility that the GDI is a front sponsored by one of the UK's intelligence services conducting online disinformation.
We do know for a fact that the intelligence community from the UK, as well as other "Five Eyes" countries, do conduct "online deception" aka disinformation. This was confirmed in a 50-page document titled "The Art of Deception: Training for a New Generation of Online Covert Operations" that was part of the Edward Snowden document dump back in February 2014.
The document was authored by the British equivalent of the NSA, the Government Communications Headquarters (GCHQ) and shared among signals intelligence services from the US, Canada, Australia, and New Zealand. The document is quite revealing, as summarized by the journalist, Glenn Greenwald:
Among the core self-identified purposes of JTRIG are two tactics: (1) to inject all sorts of false material onto the internet in order to destroy the reputation of its targets; and (2) to use social sciences and other techniques to manipulate online discourse and activism to generate outcomes it considers desirable.
Destroying the reputations of different targets by the use of social science methodologies is precisely what the content of the articles by Decker and the Global Disinformation Index attempts to do. Greenwald concludes:
… these GCHQ documents are the first to prove that a major western government is using some of the most controversial techniques to disseminate deception online and harm the reputations of targets. Under the tactics they use, the state is deliberately spreading lies on the internet about whichever individuals it targets, including the use of what GCHQ itself calls "false flag operations."
What Greenwald is warning us about is that the intelligence community has many online operatives creating false narratives where targets are labeled "fake news".
The "Art of Deception" has three powerpoint slides that show UFO photos dating as far back as 1950. The fact that the photos take up three of the 50 slides of the "Art of Deception" document indicates that the UFO issue is covered in some detail in the training of online covert operatives in the use of psychological warfare techniques.
This is not a surprise to any familiar with a 1953 report issued by a CIA convened panel investigating reports of flying saucers, as UFOs were widely known at the time. The Robertson Panel delivered a report, the Durant Report, that recommended debunking the UFO (aka flying saucer) phenomenon for national security reasons. The Report stated:
The "debunking" aim would result in reduction in public interest in "flying saucers" which today evokes a strong psychological reaction. This education could be accomplished by mass media such as television, motion pictures, and popular articles.… Such a program should tend to reduce the current gullibility of the public and consequently their susceptibility to clever hostile propaganda.
The Report's references to a "strong psychological reaction" and "gullibility of the public" show the CIA/Deep State's emphasis on conducting psychological warfare operations to deceive the public when it comes to the UFO issue. This strategy is a national security policy that continues to the present day as reflected in "The Art of Deception" document.
This takes us back to the Global Disinformation Index whose content and unknown funding sources raise strong suspicions that it is linked to the GCHQ's online deception program. By frequently referring to Decker and the GDI as authoritative sources on disinformation, the Vice's Banias is, in fact, promoting "disinformation experts" that are very likely part of an "online deception" campaign by the British intelligence community.
By making the argument that the linkage of QAnon and UFOs is a harmful threat, Banias is merely providing a new twist to the decades-long psychological warfare policy of discrediting UFO researchers and reports. Banias' use of alleged disinformation experts, who can be linked to a GCHQ online deception program, suggests he is either simply naïve or has begun receiving 4 am talking points.
© Michael E. Salla, Ph.D. Copyright Notice
Further Reading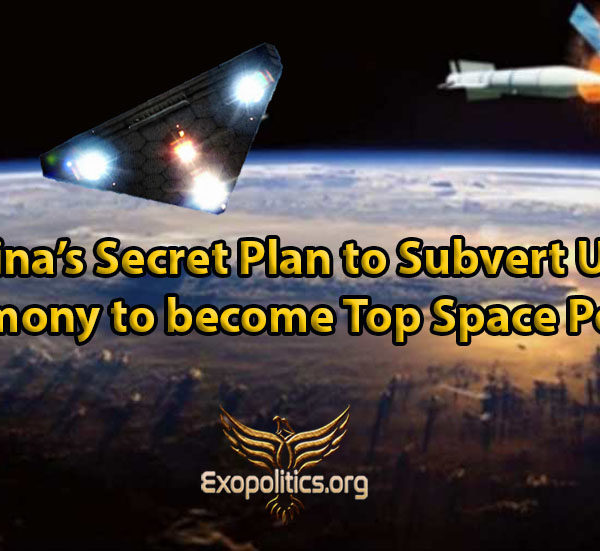 China is painstakingly implementing a 100-year strategic plan aimed at overtaking the United States as the world's dominant superpower or hegemon by 2049 according to Michael Pillsbury's authoritative 2015 national best seller, The Hundred Year Marathon. Pillsbury's keen insights not only provide a foundation for understanding how China plans to supplant the US, but how it is covertly responding to the existence of secret space programs developed by the US military industrial complex, and what China plans to do in response in order to achieve dominance both on Earth and in space.
Pillsbury is a China expert who has worked with the US Department of Defense, State Department, and Congress for over four decades, since 1975. A fluent Mandarin speaker, he has had unrivaled access to top Chinese military and political leaders during his professional career and is very familiar with the policies and plans of China's ruling Communist Party elite, especially the military hawks who exert great influence behind the scenes. Currently, Pillsbury is a top advisor to President Donald Trump on US-China relations.
Pillsbury begins his highly detailed book by describing how top Chinese leaders cunningly use the historical period of the Warring States (475-221 BC) to develop their strategic planning for engaging with the US. In short, the Warring States period was a time when up to seven ethnic Chinese kingdoms competed amongst themselves for hegemony and dominance over their rivals.
Pillsbury explains how a ruling hegemon (the US in contemporary times) would be undermined by an aspiring hegemon (China), by means of stealth, cunning, and deception as practiced by different kingdoms during the Warring States period. He cogently explains how such goals require long term thinking by China as the aspiring hegemon that lacks the political and military power to directly confront the ruling US hegemon until it has been sufficiently weakened by internal and external strife.
Chinese military and political leaders began their 100-year marathon in 1949, Pillsbury explains, after the victory of the Communist Party and the establishment of the People's Republic of China. Initially, China relied on the Soviet Union to help it industrialize and to modernize its vast military. After their political falling out in the 1960's and military clashes along their shared borders, China's Communist Party began secret overtures to the West.
It was Chairman Mao who covertly reached out to President Nixon, Pillsbury points out, and not the other way around as many erroneously believe. Initial relations between China and the US were genuinely positive since both had much to fear from the Soviet Union. All that changed with the 1989 Tiananmen Square protests and the collapse of the Soviet Union in 1991.
Chinese school textbooks changed dramatically. Previously positive descriptions of US history and democratic ideals, which had been extensively cited by Chinese students at the Tiananmen protests, were now overwhelmingly negative. Future generations of Chinese students were indoctrinated to believe that the US has been humiliating and abusing China since the mid-1800s.
Previously positive descriptions of President Lincoln (1861-1865), for example, were now overwhelmingly negative. Pillsbury explained how Chinese students came to be taught the ridiculous proposition that Lincoln was busy undermining China's sovereignty, during the US Civil War. Essentially, China's Communist Party was ensuring that there would be no repeat of the Tiananmen Square protest were the youth were citing positive US democratic ideals and personalities, which had been deeply embarrassing to Party elders.    
Pillsbury then explains how China opened its doors to western industries and economic innovation as part of its modernization effort. Using strategies taken directly from the Warring States period, the Communist Party feigned openness to democratic political ideals, while ruthlessly clamping down on ethnic minorities and political dissidents, and blocking genuine democratic reforms.
The goal was to lure Western nations into a false sense of complacency where the common assumption was that China would inevitably change in the future as its huge economy opened to Western influence. Pillsbury emphasized that such future democratic changes were a chimera since the Chinese military and political elite were driven not by Western ideals, but by their understanding of what history revealed about how an aspiring hegemon needed first to undermine and then supplant a ruling hegemon.
He points out that China had no intention of helping the US and its allies establish a stable world order, but instead aimed at undermining it so as to usher in a world order where China would be the dominant power.
Pillsbury provides many examples of how China has assisted various rogue states and groups around the world, such as Afghanistan's Taliban. Just as the U.S. secretly used extremist groups to weaken the Soviet Union during the Cold War, now China was covertly doing the same through economic development and arms supplies to nations that challenged US policies.
As far as economic development is concerned, Pillsbury explains how China is at the forefront of industrial espionage, counterfeiting efforts, theft of intellectual property, hacking and other unscrupulous practices. The goal is to help China's state-owned enterprises (which numbered over 140,000 companies in 2011), cheat, steal, manipulate, and outmaneuver Western companies that establish a commercial presence in mainland China.
When it comes to outer space, Pillsbury explains how China has been using these unscrupulous practices to develop its own conventional space program, with the goal of projecting a military presence into space. While the Trump administration is in the midst of creating of Space Force as the sixth branch of the US military, China has had an "Aerospace Force" up and running since 2014.
China's Aerospace Force was created as the fifth branch of Peoples Liberation Army (PLA) as explained in an article titled "China's Military Creates New Space Force" published in The Diplomat by Zachary Keck on September 10, 2014. A speech by President Xi was summarized by a Chinese space expert cited by Keck as a clear endorsement of Chinese militarization of space in response to US and other nations already having done so:
The United States has paid considerable attention and resources to the integration of capabilities in both air and space, and other powers have also moved progressively toward space militarization… Though China has stated that it sticks to the peaceful use of space, we must make sure that we have the ability to cope with others' operations in space.
The problem is that Pillsbury, and the US public more generally, is largely unaware of the extent of the US military's true presence in outer space, and mistakenly assume that Space Force will be the official start of US militarization of space. However, as I have extensively documented in my Secret Space Program Book series, both the US Air Force and the US Navy have independent secret space programs that have projected their respective military power deep into space.
These two parallel US military-run space programs have been in operation since the 1970s, while the general public was hoodwinked into believing that the only US presence in space was through NASA's civilian-run space program.
China, however, is well aware of the truth behind covert US military space operations once it began sending satellites into Earth orbit in the 1970s. China's growing space surveillance capacities allowed it to track US military space operations, especially the construction of secret military space stations operated by the USAF and the National Reconnaissance Office (NRO).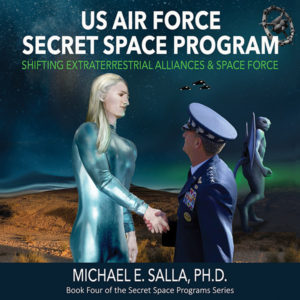 In Book Four of my series, the USAF Secret Space Program, I discuss 825 declassified NRO documents that show how the USAF and NRO used the allegedly discontinued Manned Orbiting Laboratory project as the cover for sending laboratory modules into space that could be configured to establish Von Braun type space stations, i.e., modules assembled into a circular configuration.
These secret USAF/NRO space stations provide ideal weapons platforms capable of extending US military force all over the planet from the high ground of space. China, like other major nations with satellite surveillance capacities, is well aware of the USAF/NRO space stations and their potential military capabilities.
China insists that it is only attempting to match the US militarization of space, but given the gap between the development of the US military's presence in space, and China's more recent efforts, it will take China many years to catch up. This is why Pillsbury's book is important since it outlines the unscrupulous practices China is willing to adopt in order to bridge the gap in space technologies.
For example, the real scandal behind the hacking of the Hillary Clinton email servers during her tenure as Secretary of State (2009-2013), is the role played by China,  and the likelihood that it was all part of an elaborate pay-to-play scheme to leak classified space technologies. As I have written previously, Clinton had security access to Talent Keyhole space technologies classified within Special Access Programs (SAPs) and discussed these in emails stored on her servers.
This was corroborated by no less than the Inspector General for the US Intelligence Community who identified the various security levels of emails stored on Clinton's hacked servers:
To date, I have received two sworn declarations from one [intelligence community] element. These declarations cover several dozen emails containing classified information determined by the IC element to be at the CONFIDENTIAL, SECRET, and TOP SECRET/SAP levels. According to the declarant, these documents contain information derived from classified IC element sources.
According to the anonymous military intelligence group  QAnon, Clinton was indeed involved in a pay-to-play scheme with China to leak advanced technology secrets.
Conclusion
Pillsbury's conclusions dictate the different steps the US needs to take to stop China from achieving its goals and appear very sensible given what he has outlined. His influence can be seen in President Trump's increasingly tough policies on China, which have ushered in a new era in US-China relations.
Despite the incisive analysis provided by Pillsbury, there are a number of deficiencies in his book which largely reflect a conventional world view that nation-state behaviors are driven by public officials nominally in charge of major political, military and economic institutions.
Pillsbury shows no understanding or recognition of the existence of a Deep State and how it manipulates public officials to pass policies that promote a hidden agenda. A good example is how President Trump's first two years in office were hamstrung by Russia collusion claims that poisoned prospects of Trump and Putin collaborating to solve major world problems. The Deep State had no intention of the US and Russia collaborating on the world scene and used compromised public officials to promote a false narrative that was aided and abetted by the mainstream media.
Most disturbing is growing evidence that the Deep State is actively assisting China in its covert efforts to lie, steal and cheat its way to technological parity with the US both on Earth and in outer space. It's no accident that Clinton and other leading US politicians such as Joe Biden and Diane Feinstein have been accused of helping China gain access to sensitive technologies, which is precisely what the Deep State wants as QAnon has been revealing for well over a year.
Is it a good or bad thing if China continues to use unscrupulous practices to catch up to what the US military has secretly developed and deployed in space? From a Chinese national security perspective, it is entirely understandable why China is doing whatever it can to bridge a technological gap in outer space since this gap makes China vulnerable to US political and military pressure.
From the US national security perspective, China is a totalitarian communist state that is profiting from the West's naivety in opening their economies in the forlorn hope that China will usher in democratic reforms. The danger is that as China grows into the world's largest economy, it will use its economic clout to prop up repressive political systems that will be natural allies to its one-party totalitarian system.
China's totalitarian system is something that the Deep State desperately wants to expand onto the world stage since a concentration of political power will be far easier to infiltrate and take over than democratic political systems with their complex system of checks and balances,  as exemplified in the US.
That is why the Deep State is currently helping China bridge the technology gap with the US, and helping them develop a secret space program that rivals what the US Air Force and Navy have secretly developed. Space is where the real battle between the ruling hegemon (US) and the aspiring hegemon (China) will be determined, and where China's plans to supplant the US as the ruling hegemon will be ultimately resolved.
© Michael E. Salla, Ph.D. Copyright Notice
Further Reading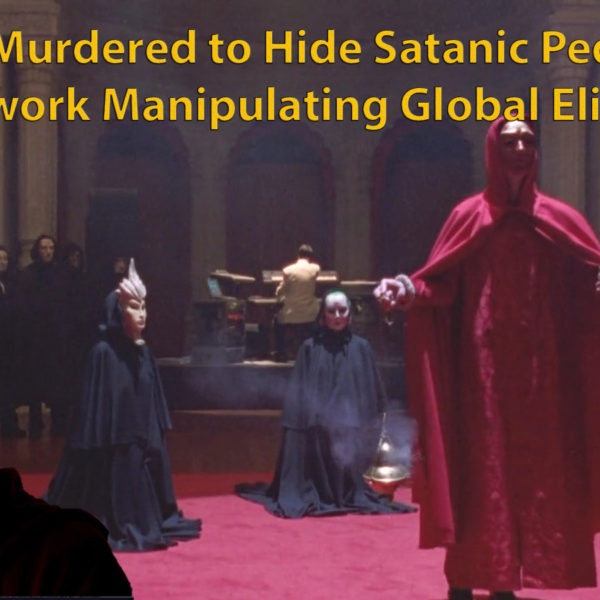 Jeffrey Epstein's suicide/murder came as a shock to all that believed his imprisonment was an effective means of protecting him from global elites that wanted to silence him and prevent his upcoming trial from ever going forward. The shock from Epstein's surprising death was even more palpable after the release of 2000 pages of documents on July 9 naming some of the prominent global figures implicated in the international sex ring involving minors.
Especially disturbing was that his alleged suicide/murder came only two weeks after an earlier incident where he was found unconscious after a previous apparent suicide/murder attempt on July 25. His suicide/murder has led to outrage over apparent lapses at the Metropolitan Correctional Center Manhattan, a Federal facility, that left him alone and vulnerable in the early morning hours of August 10.  
Such lapses include no camera surveillance during the critical hours when the event happened, guards not conducting the regular 30 minute checks of his cell, and his cellmate being transferred out of the cell only hours before his suicide/murder.
Epstein's suicide/murder throws a spanner into efforts to expose the full extent of the sex trafficking network that he helped set up, and which would have exposed many prominent individuals. Those identified as having sex with minors procured by Epstein include former President Bill Clinton; Britain's Prince Andrew; the former Governor of New Mexico, Bill Richardson; and former US Senator/Ambassador George Mitchell.
Many are rightly incredulous that Epstein could have committed suicide or been murdered, and are seriously considering the possibility that it was all staged and he is still alive. Some believe Epstein may have been taken into protective custody by White Hats in the US military in order to reveal his secrets without being silenced. Others claim Epstein has been taken to Israel in a secret deal with the Mossad, where only a limited number of Deep State secrets will be exposed.
While rumors and unsubstantiated theories swirl over what really happened to Epstein, one of the things we know for sure is that the trial which would have provided an opportunity for state's evidence to be presented exposing his criminal activities will never happen. The stunning disclosures of the full range of his activities that many expected to emerge in a trial may never occur.
While it is possible that key subordinates such as Ghislaine Maxwell may ultimately be arrested and brought to trial, it's difficult to imagine that such trials would have anything near the impact of Epstein's.
While media attention has been firmly focused on the widespread sex trafficking that Epstein was involved in with the help of Maxwell and others, there was a deeper and darker layer to his activities, which the mainstream media has avoided.
This darker layer concerns the Satanic Ritual Abuse (SRA) that occurred on Epstein's private island of Little St James, which I discussed in a previous article based on what the military intelligence group QAnon has revealed. While pedophilia is the initial means by which elites are compromised by the Deep State so they can be exploited, SRA takes such exploitation to a far deeper level.
Elites that participate in SRA are fast-tracked into the most senior positions in the Deep State's global network. This promotion system is what former Deep State insiders such as Ronald Bernard, a former successful Dutch banker, have revealed with their startling firsthand testimonies.
Bernard explained how the only way he could be promoted in the murky world of international finance, which is largely controlled by the Deep State, was to participate in the abuse of children. The thought of harming children through SRA is what led to Bernard's emotional breakdown, separation from the Deep State, and why he later decided to come publicly forward.
In sum, the first tier of compromised global elites are those that have been caught up in the sex rings involving minors. The 2000 pages of court documents released on July 9 reveal some of the global elites that were caught up in these sex rings.
The second tier, which is far more influential, comprises elites that have participated in SRA, and risen to more senior positions in the Deep State. According to QAnon, the Rothschild family sits at the apex of this international network of Satanic worshippers and practitioners of SRA. Lynn de Rothschild has been cited by QAnon as a prominent Satanist with deep ties to Epstein, Maxwell, the Clinton family and other members of the global elite.
At this point, we need to consider how a global sex trade in minors and SRA are connected to Secret Space Programs and the existence of extraterrestrial life. In a previous article, I explained how SRA is related to the Vatican and Reptilian extraterrestrials who have great influence over the Catholic Church hierarchy.
There is also the galactic slave trade that involves the disappearance of millions of children from around the world every year as also explained previously. Most children are taken off-planet to be used as slaves, while a smaller number are recruited for SRA at elite gatherings such as regularly occurred at Epstein's Little St James Island.
While the Deep State can deal with the exposure of its global sex trade in minors and have a few prominent individuals exposed, it will do everything possible to stop the exposure of the SRA occurring worldwide that is used to control prominent elites. In addition, the Deep State wants to hide the truth about the Reptilian extraterrestrial element in SRA, and the galactic slave trade that supplies a large pool of minors that elites can sacrifice in their SRA gatherings. These far deeper secrets are what the Deep State hopes to hide with Epstein's murder.
© Michael E. Salla, Ph.D. Copyright Notice
Further Reading