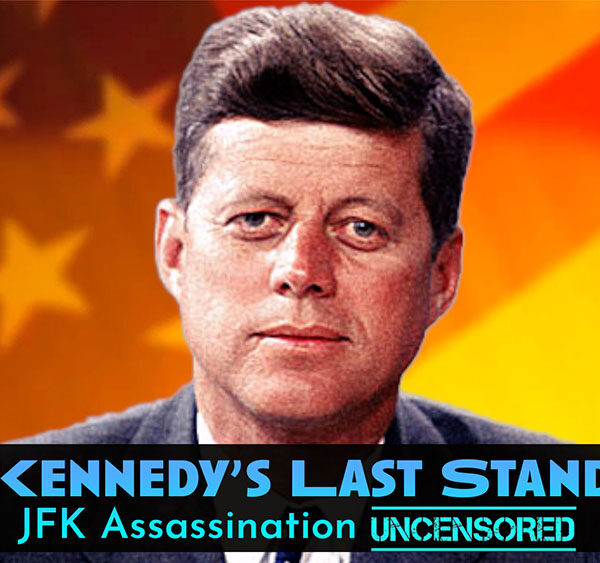 After winning the 1960 Presidential election, Kennedy learned a shocking truth from President Eisenhower. The control group set up to run highly classified projects involving captured Nazi flying saucers and extraterrestrial technologies, the Majestic-12 Group, had become a rogue government agency. Eisenhower warned Kennedy that MJ-12 had to be reined in. It posed a direct threat to American liberties and democratic processes. MJ-12 opposed Kennedy's efforts at every turn. When Kennedy was on the verge of succeeding, by forcing the CIA to share classified UFO information with other government agencies due to an agreement with the Soviet Union on joint lunar missions reached on November 12, 1963, he was assassinated ten days later.
In this four-hour webinar you will learn the dramatic and long hidden truths behind the Kennedy Assassination, including damning evidence only declassified in 2017/2018 by the National Archives.
Webinar: November 22, 2020 (Sunday)
11 am – 3.30 pm PST/ 2 – 6.30 pm EST USA (Includes Q&A at the end)
To Register click here.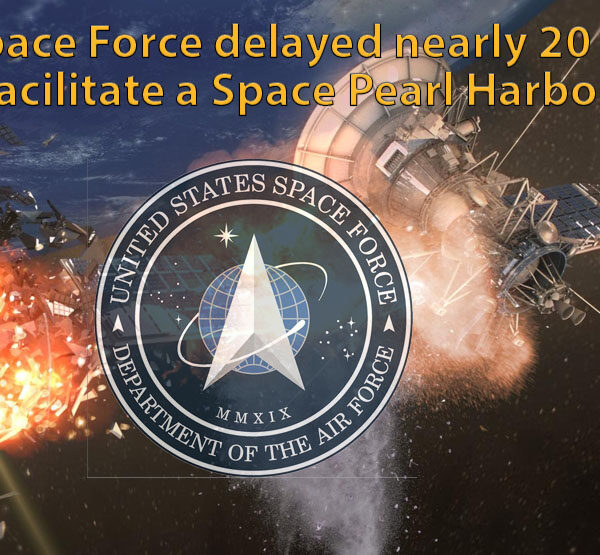 The recently established United States Space Force is widely considered to be the brainchild of President Donald Trump, which has subsequently aroused suspicion, if not outright opposition, by those believing it to be a grandiose vanity project with no genuine national security significance. However, the first proposal for a Space Force dates back to a bipartisan "Space Commission" established during the Clinton administration that delivered a detailed report on January 11, 2001, recommending a new military space service to be called "Space Corps". The chief goal of the Space Corps would be to prevent a future "Space Pearl Harbor".
What is even more intriguing in tracking the historical origin of Space Force is that the Space Commission was headed by Donald Rumsfeld, a former Secretary of Defense (1975-1977), who has a mysterious history in UFO investigations, the study and reverse engineering of captured extraterrestrial technologies, and in recruiting individuals for secret space programs. Rumsfeld's leadership of the Space Commission, and his second appointment as Secretary of Defense (2001-2006) under President George Bush, led to Commission members believing that legislation for creating a Space Force was imminent.
What happened eight months later completely derailed any hope for prospective legislation creating a Space Corps, the September 11 attack, which evidence suggests was a false flag attack orchestrated by the Deep State. Only a day earlier, Rumsfeld had admitted on live T.V. that the Pentagon couldn't properly account for a missing 2.3 trillion dollars. This had led to much speculation whether one of the motivations for the September 11 attack was to prevent serious investigations into the missing trillions.
Given Rumsfeld's leadership role in proposing the creation of a Space Corps, his subsequent second appointment as Secretary of Defense, and his exposure of the missing trillions, a question that can be asked is whether another key purpose of the Deep State in launching the September 11 attack, was to stop the creation of a Space Corps? If so, then it appears that a Space Pearl Harbor is a scenario that the Deep State has been facilitating since at least 2001, and they were laying the groundwork for U.S. officials acknowledging such a threat while effectively doing nothing to prevent it.
It's worth beginning with what the Commission report had to say about the creation of a military space service. The Report's title is "Commission to Assess United States National Security Space Management and Organization", and it was delivered nine days before the end of the Clinton administration on January 20, 2001.
The Report opens by affirming that its members were appointed in a bipartisan basis by the ranking members from both parties sitting on the Armed Services committees of the House of Representatives and Senate. It concentrated on space security and emphasized the importance of preventing a "Space Pearl Harbor" from a major adversary:
"An attack on elements of U.S. space systems during a crisis or conflict should not be considered an improbable act. If the U.S. is to avoid a "Space Pearl Harbor" it needs to take seriously the possibility of an attack on U.S. space systems. The nation's leaders must assure that the vulnerability of the United States is reduced and that the consequences of a surprise attack on U.S. space assets are limited in their effects." Space Commission Report, pp. viii-ix
In order to fully prepare for future contingencies in space, and any surprise attacks, the Commission report called for the establishment of a "Space Corps" as a new military service within the Department of the Air Force that would later evolve into a separate department:
"A Space Corps within the Department of the Air Force may be an appropriate model in its own right or a useful way station in the evolution toward a Space Department. One model is the Army Air Force's relationship to the Army during World War II. Existing Air Force space forces, facilities, units and personnel, and military space missions could be transferred to a Corps. A Space Corps could have authority for acquisition and operation of space systems, perhaps to include both DoD and Intelligence Community systems, while leveraging existing Air Force logistics and support functions." (Space Commission Report, p.81)
What's surprising here is the remarkable similarity in what the Commission recommended,  with President Trump's proposal for a Space Force that was presented 18 years later.
In Space Policy Directive-4, issued on February 19, 2019, Trump declared:
"the Department of Defense shall take actions under existing authority to marshal its space resources to deter and counter threats in space, and to develop a legislative proposal to establish a United States Space Force as a sixth branch of the United States Armed Forces within the Department of the Air Force. This is an important step toward a future military department for space."

This two-step evolutionary process is an important clue that Space Force was not merely a spontaneous creation of Trump's that appeared to be the case the first time it was raised by him in a "not really serious" manner at a speech at USMC Miramar Air Station in March 2018:
My new national strategy for space recognizes that space is a war-fighting domain just like the land, air and sea. We may even have a Space Force.… You know, I was saying it the other day cause we're doing a tremendous amount of work in space. I said 'maybe we need a new force, we'll call it the space force.' And I was not really serious, and then I said 'what a great idea, maybe we'll have to do that.'

The similarities between Trump's Space Policy Directive-4 and the Space Commission Report 18 years earlier suggest that Trump was briefed by those familiar with the Report and the idea of a military space service still had serious backing within the Pentagon.
It's important to emphasize the critical role played by Rumsfeld, who was appointed Chairman of the Commission, making its recommendations for a Space Corps. Rumsfeld's importance is outlined by the reporter John Tirpak, who wrote about the Space Commission report for Air Force Magazine on March 1, 2001:
Over the past decade, military space has generated a stream of reports from blue-ribbon panels. However, the recommendations of this one could carry considerable weight because its chairman, Donald H. Rumsfeld, has become Secretary of Defense…. Rumsfeld resigned as chairman of the panel when President Bush tapped him to head the Pentagon, a scant two weeks before the commission published its final Report. However, the Report is said to reflect much of Rumsfeld's thinking on space organization issues and could well serve as a blueprint for reorganization of military space.

Rumsfeld's role led to General Ronald Fogelman, a newly retired USAF Chief of Staff (1994 -1997) and prominent member of the 2001 Space Commission publicly stating the creation of a Space Corps was imminent:
The commission's chairman-Donald Rumsfeld-is now the Secretary of Defense, and so military space issues are fresh in his mind, said Fogleman. He added that some sort of restructuring likely will happen soon.
"If I were a betting man, I would bet you that in the [Defense Department] legislative proposal that comes to the Hill this year, this will be in there," Fogleman said.
On September 10, 2001, Rumsfeld appeared on live television, saying that the Pentagon could not account for 2.3 trillion dollars in the fiscal year 1999.
This was money that could not be tracked by the Pentagon Inspector General, who had described similar anomalies with the Pentagon budget in 1998 and 2000. In my 2003 Black Budget Report, I explained how the missing trillions were part of a massive CIA run unofficial black budget created to fund a second Manhattan Project – a vast number of Unacknowledged Special Access Programs involving research and development of retrieved extraterrestrial technologies.
Rumsfeld said in his interview that he would wage a bureaucratic war to bring about changes to properly track money flowing through the Pentagon.
Rumsfeld's remarkable admission was overshadowed the next day by the September 11 attack. His admission raises a number of possible explanations for this sequence of events and the effective shelving of a Space Corps for years to come.  
One explanation is that Rumsfeld was among a group of "White Hats" wanting to expose or redirect some of the black budget money flowing through the Pentagon to fund new projects such as his proposed Space Corps that would prevent a future Space Pearl Harbor.
A second explanation is that Rumsfeld was a "Black Hat" fully briefed about the upcoming false flag attack and wanted to release the news about the missing trillions at a time when it would be completely overshadowed by the upcoming false flag attack and the global war on terror that would subsequently dominate the Bush administration.
Finally, Rumsfeld was a "Gray Hat" who had to simultaneously play the conflicting roles of running the Pentagon's global war on terror, which effectively prevented a Space Corps being created, while behind the scenes doing what was possible to nurture the idea of a future Space Corps.
The latter explanation is strengthened by the circumstances surrounding Rumsfeld's sacking on December 18, 2016, due to him backing successive troop withdrawals from Iraq, and opposition to the surge recommended by senior military advisors that was implemented by his successor, Robert Gates, in January 2007.
Whatever the precise relationship between Rumsfeld, the missing trillions, funding a Space Corps, and the September 11 attacks are, one thing is clear. The subsequent war on terror led to Pentagon prioritizing funding for military interventions throughout the Middle East and North Africa. Potential funding for the creation of a Space Corps was shelved, and it was resurrected nearly two decades later by President Trump.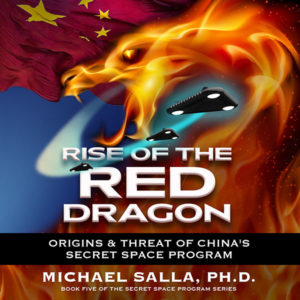 In the meantime, China has secretly built a large Space Navy which will soon be capable of conducting the Space Pearl Harbor envisaged in the 2001 Space Commission report. China's secret Space Navy was revealed by Lt General Steven Kwast (USAF ret.) in a September 2019 lecture:
China is our competition. Russia is our competition. They see the power of the economy of space … and they are rushing to that future…. China has already built the organization, and has the strategy, the doctrine and the technology, and the builders for their guardian force in space. They are building a navy in space with the equivalent of battleships and destroyers that will be able to maneuver and kill and communicate with dominance.

Will Space Force be funded and expanded in time to prevent such an attack from occurring? Will it be able to successfully integrate a small but highly advanced number of antigravity spacecraft that were part of a USAF secret space program developed and deployed in the 1970s?
Currently, the U.S. Congress has not passed defense appropriations bills necessary for funding new projects envisaged by Space Force for 2021.  The delay has led to a rebuke of the Congressional delay by the Chief of Space Operations, General Jay Raymond, who is concerned that new Space Force projects will be delayed well into 2021.
Is this Congressional delay yet another stratagem by the Deep State to slow down the roll out of Space Force in order to facilitate a debilitating Space Pearl Harbor strike by China and/or another major adversary in the near future? 
© Michael E. Salla, Ph.D. Copyright Notice
[Note: for audio version of this article, click here]
Further Reading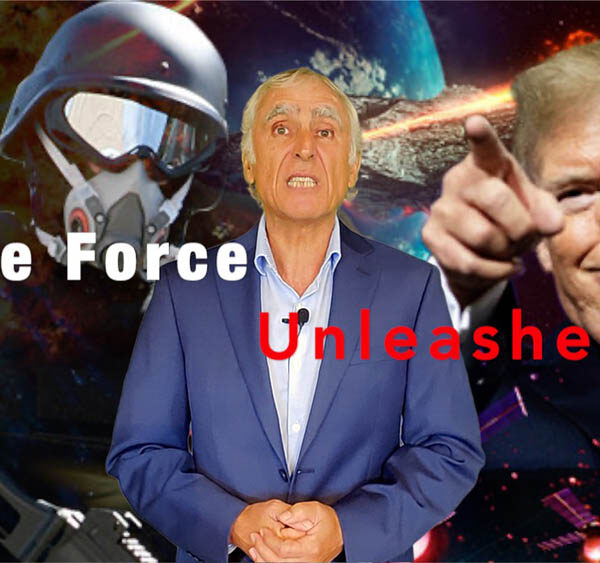 The history of Space Force and the role of the Deep State in stopping its creation dating back to the Clinton administration has been untold until now. The upcoming webinar, "Why Space Force Terrifies the Deep State & Rogue Secret Space Programs" explains the origins of Space Force, its recent creation, Deep State opposition, how China has been helped to develop the capacity for a Space Pearl Harbor, space weapons used in false flag events, and many more related issues. Find out why Space Force can't be stopped.
Webinar Date and Time: September 26, 2020 (Saturday)12 noon – 4.30 pm PDT/ 3 – 7.30 pm EDT USA (Includes Q&A at the end)
To Register visit: https://tinyurl.com/y5ovuvg7
More info about upcoming and past webinars at: https://exopolitics.org/webinars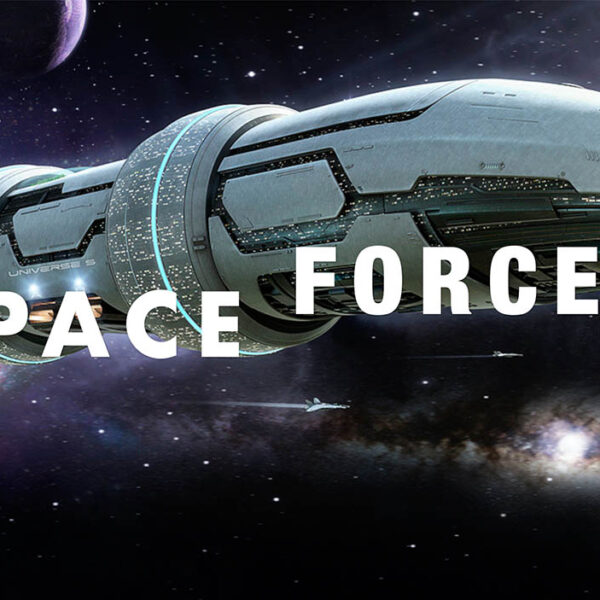 As the United States Space Force continues to develop with the assignment of personnel, resources and funding, and absorbs a decades long USAF Secret Space Program, how will it impact the Deep State and rogue corporate-run SSPs that have previously manipulated the global public, staged false flag operations, and been involved in nefarious human trafficking practices? Watch this video for an introduction to the real intent and purpose behind the creation of Space Force and its global impact.
September 26, 2020 (Saturday)
12 noon –  4.30 pm PDT/ 3 – 7.30 pm EDT USA  (Includes Q&A at the end)
Cost: $55. To Register click here
*This LIVE event will be recorded, and attendees are able to watch unlimited replays for 60 days.
To view and purchase past webinars click here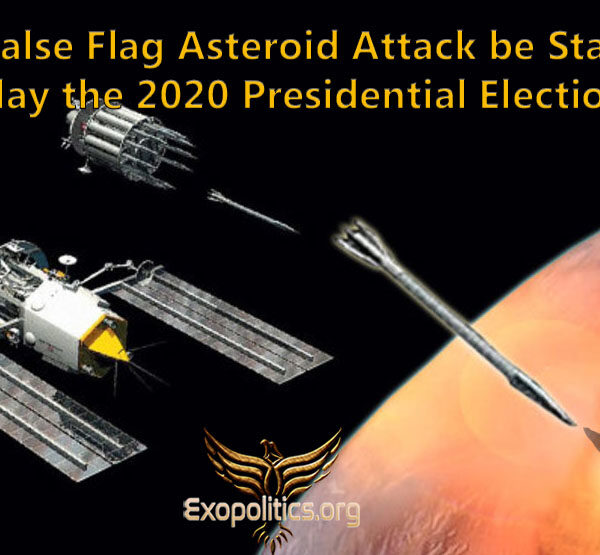 On November 4, 2016, NASA, FEMA, the Department of Energy, Jet Propulsion Laboratory (JPL), U.S. Air Force, and the California Governor's Office of Emergency Services collaborated in a planning exercise simulating a destructive asteroid impact set for September 20, 2020. The exercise planners envisaged that the asteroid, up to 800 feet (250 meters) in size, would hit somewhere along a narrow band across Southern California or just off the Pacific Coast.
Here's what the NASA/JPL news release had to say about the simulated asteroid impact hypothesized to take place in three weeks time:
The exercise simulated a possible impact four years from now — a fictitious asteroid imagined to have been discovered this fall with a 2 percent probability of impact with Earth on September 20, 2020. The simulated asteroid was initially estimated to be between 300 and 800 feet (100 and 250 meters) in size, with a possibility of making impact anywhere along a long swath of Earth, including a narrow band of area that crossed the entire United States.
In the fictitious scenario, observers continued to track the asteroid for three months using ground-based telescope observations, and the probability of impact climbed to 65 percent. Then the next observations had to wait until four months later, due to the asteroid's position relative to the sun. Once observations could resume in May of 2017, the impact probability jumped to 100 percent. By November of 2017, it was simulated that the predicted impact would occur somewhere in a narrow band across Southern California or just off the coast in the Pacific Ocean.
This is not the first or only simulated asteroid impact exercise designed by scientists and government agencies. A more recent asteroid impact exercise occurred in 2019 and hypothesized an asteroid impact for New York City on April 29, 2027. An asteroid similar in size to that envisaged earlier back in November 2016, would hit with a destructive force ranging from 100 to 800 megatons.
It's worth noting that the largest hydrogen bomb test in history, the 1961 Tsar Bomba, had a destructive force of 50 megatons. "Coincidentally", Russia just released classified footage of the Tsar Bomba showing its destructive effects in the remote Arctic region of Novaya Zemlya. Clearly, if an asteroid were to hit the continental U.S. or just off the Pacific Coast with anywhere near an 800 megaton destructive yield, an entire region would be devastated with an extremely high death toll.

What gives the September 20, 2020 asteroid impact simulation great relevance today is not the approaching target date for a  hypothetical asteroid impact, but a series of worrying scientific and political developments. These developments firmly point to a major false flag attack that is about to be unleashed by the Deep State in a last-ditch effort to prevent the 2020 Presidential election from occurring.
In evaluating the possibility that an asteroid impact is about to be staged in real life for a political agenda, it's worth pointing out that Dr. Werner von Braun, former head of NASA's Marshall Flight Center, was the first to reveal that a false flag asteroid attack would one day be staged by the Deep State.
In 1974, he confided in Carol Rosin, a former executive to Fairchild Industries, about a sequence of false flag events that would be orchestrated by the Deep State in order to promote their agenda for the weaponization of space. [link to earlier article]
Von Braun said that an asteroid attack would be orchestrated once the Deep State had exhausted earlier contrived threats posed in turn by the Russians, terrorists, and nations of concern. When such threats no longer carried the political justification for massive military spending, a new scenario would be thrust upon the American public in order to maintain and even increase military spending further. This would ultimately lead to the weaponization of space, according to Von Braun.
What makes Von Braun's warning particularly important given the September 20 date set in the 2016 asteroid impact exercise is the closing of over 100 of the Earth's largest observatories due to the COVID-19 crisis. There appears to be no real health justification for such unprecedented closures. After all, night-time telescopes are largely automated involving relatively few astronomers.
What makes this situation even more remarkable is the recent "accidental damage" to the Arecibo telescope in Puerto Rico. On August 11, 2020, a large cable snapped, making the observatory unusable for the foreseeable future. This means that at this critical time, when asteroids are regularly being reported to be just missing the Earth, there are currently very few astronomers observing the night sky.
According to Steven Jonowieck of the McDonald Observatory in Texas:
If everybody in the world stops observing, then we have a gap in our data that you can't recover … This will be a period that we in the astronomy community have no data on what happened.
Jonowieck's comment is critical since it confirms that there is no independent astronomical data on what is currently happening in space.  What makes this even more telling is that in the 2016 Asteroid Impact exercize set for September 2020, observatories played the key role in identifying and tracking the asteroid before its destructive impact.
Here's what Shepard Ambellas, from Intellihub, had to say about the recent closing of observatories:
Defying all logic, a number of telescopes and observatories around the world remain closed amid the coronavirus pandemic while the impact risk of near-earth Earthbound objects remains at an all-time high. Over 100 telescopes have been reported to have been shut down in a move that virtually makes no sense and now one of the world's largest radio telescopes named the Arecibo Observatory has been rendered inoperable after sustaining damage after cable unexpectedly snapped creating about a 100-foot long gash in the dish itself, furthering fueling the problem…
To make matters worse, the Puerto Rico-based telescope was tracking a near-Earth object when it went offline. Withal, there has never been a more perfect time for an asteroid to strike and the Department of Defense, the White House, and other agencies are aware.
With the closure of so many observatories, if the Deep State was planning to stage a false flag asteroid attack, this would be the perfect time for it. There would be relatively few professional astronomers with data that could refute the narrative put out by government agencies and mainstream news sources if a false flag event were to occur.
For example, if covert space weapons such as "Rods of God", were used to simulate an asteroid strike, there would be few astronomers with data to challenge a contrived official narrative orchestrated by the Deep State using their worldwide media assets.
Why now? One powerful reason is the Deep State's assessment through internal polling that Donald Trump is going to easily win the 2020 Presidential election. This is supported by multiple polls showing that Trump is making major inroads among independent and minority voters with his law and order approach. Joe Biden is also showing no real desire to get out to meet with voters, seriously tackle Trump head-on, and there are even calls now for him to abandon the debates.
Even impartial left-leaning observers, such as Dr. Jonathan Turley, a Georgetown University Professor, are mystified by the Democratic Party's lack of desire to condemn the riots and violence that has affected major urban areas and led to social chaos. This is leading to a massive swing to Trump as the law and order President.
It's as though Democratic leaders have abandoned any hope of winning the election and are promoting widespread social chaos in the hope of pinning the blame on Trump in a desperate Hail Mary move.
What the above circumstantial evidence suggests is that rather than have Trump win another election, the Deep State is instead about to unleash a major false flag operation to prevent the 2020 election from occurring.
This would create even more chaos since the U.S. Constitution has no provision for President Trump remaining in office beyond January 20, 2021. This would also impact the House of Representatives and 1/3 of Senators who are facing reelection on November 3, and whose terms expire on January 3, 2021.
This is how Alan Dershowitz, a retired Harvard University Professor, who has Deep State ties through his close association with the convicted pedophile, Jeffery Epstein, frames the issue:
What does the Constitution provide in the event that an emergency precludes an election before the end of a term of the president? … We begin, of course, with the words of the Constitution…. the 20th Amendment says "the terms of the president and vice president shall end at noon" on January 20. Nothing could seem clearer…
But if there is no election, there is no president elect nor vice president elect. Congress does provide for a line of succession to the White House "if by reason of death, resignation, removal from office, inability, or failure to qualify," there is neither a president nor a vice president…. However, even if Congress has the authority to fill this gap in the Constitution, it is unclear that it has done so with the existing law, because the line of succession begins with the House speaker.
But there would be no House speaker if there were no election, because there would be no House, all of whose members would be up for election in November. The terms of all members of the House would end, as stated in the Constitution, on January 3…
There would, however, be a Senate, with a majority of its members not up for election in November and, therefore, still serving their terms. This is important as the next in line would be the president pro tempore of the Senate, which is Charles Grassley. However, if there were no election, there may be a Democratic majority among the remaining senators not up for reelection, unless sitting governors or state legislators were allowed to fill vacant seats, which is another issue.

Dershowitz is pointing out that without an election, it would be up to the rump of U.S. Senate to select the next U.S. President. The two-thirds of the Senators that would still be serving until their terms ended either on January 3, 2023 or 2025, would make the necessary choices.
Out of the 65 sitting U.S. Senators who are not up for reelection in 2020, 33 are Democrats, 30 are Republicans, and 2 are Independents – Bernie Sanders and Angus King. Both Sanders and King caucus with the Democrats. This means that in the scenario of an abandoned 2020 Presidential election, after January 3, the current Majority Leader, Mitch McConnel, and President Pro-Tempore, Chuck Grassley, would be replaced by Democrats who would now be the majority party with a voting advantage of 35 to 30.
The new President Pro-Tempore of the U.S. Senate would be either Chuck Schumer (current Senate Minority Leader) or the replacement to the current Democratic Whip since Richard Durbin is among those who would lose his current position (Senate Minority Whip).  Being fourth in the Presidential line of succession, after the positions of President, Vice President, and House Majority Leader positions all become vacate on January 3 and 20, 2021, Schumer or Durbin's replacement would  become the new President. New federal elections would then be scheduled according to the timetable and agenda of the now Democratic-controlled Senate.
What strengthens such an alarming scenario, which would nullify President Trump's reelection campaign, is Nancy Pelosi's recent strange claims about the Presidential chain of succession and Continuity of Government, which were made in a recent interview on MSNBC:
"Whether he [Donald Trump] knows it or not he will be leaving ,.. Just because he might not want to move out of the White House doesn't mean we won't have an inauguration ceremony to inaugurate a duly elected President of the United States."… Pelosi's statements were made after she had attended last month's Continuity of Government meeting in which the Pentagon had revealed to top officials in the chain of succession to the presidency that there is a chance for a potential disaster to strike before the elections which could cripple the U.S and other countries.

Pelosi appears to be alluding to some Continuity of Government crisis that leads to Trump's removal from office and the installation of a "duly elected" President after some natural disaster.
In sum, Von Braun's warning of a future false flag asteroid impact, the closure of over 100 major observatories, swarms of recent asteroid near misses, the self-defeating electoral strategy of the Democratic Party in encouraging riots and social chaos, Joe Biden's bizarre absence from serious politicking, Nancy Pelosi's strange reference to Continuity of Government and Presidential succession rules, and finally Alan Dershowitz's description of how the abandonment of the 2020 election would force Trump to leave office on January 20, 2021, all point to a Deep State plan to prevent Trump from being re-elected.
A contrived asteroid strike on the U.S. using covertly deployed space weapons controlled by the Deep State would lead to catastrophic destruction and almost certainly the abandonment of the November 3 federal elections.
The Deep State strategy would then be to run out the clock so that on January 20, Trump's position as President is vacated as required by the Constitution. There would also no longer be a serving House of Representatives, and all that would be left is a rump U.S. Senate that would be controlled by the Democratic Party.
Could such a diabolical plan actually succeed in both deceiving the American public through a false flag asteroid attack and preventing President Trump's all but inevitable reelection?
Currently, the U.S. Space Force is in the process of integrating all space assets from the different military services in a comprehensive way that would prevent such a false fIag event from occurring. Historically, the Deep State has used assets from the U.S. military, intelligence community, and major aerospace corporations for false flag attacks such as the September 11, 2001 "terrorist attack", and the failed January 13, 2018, Hawaii ballistic missile attack.
Space Force will eventually end that practice as far as military space assets are concerned. Space Force's rapid integration process is something that greatly worries the Deep State as I will explain in my upcoming September 26 webinar, "Why Space Force Terrifies the Deep State and Rogue Secret Space Programs".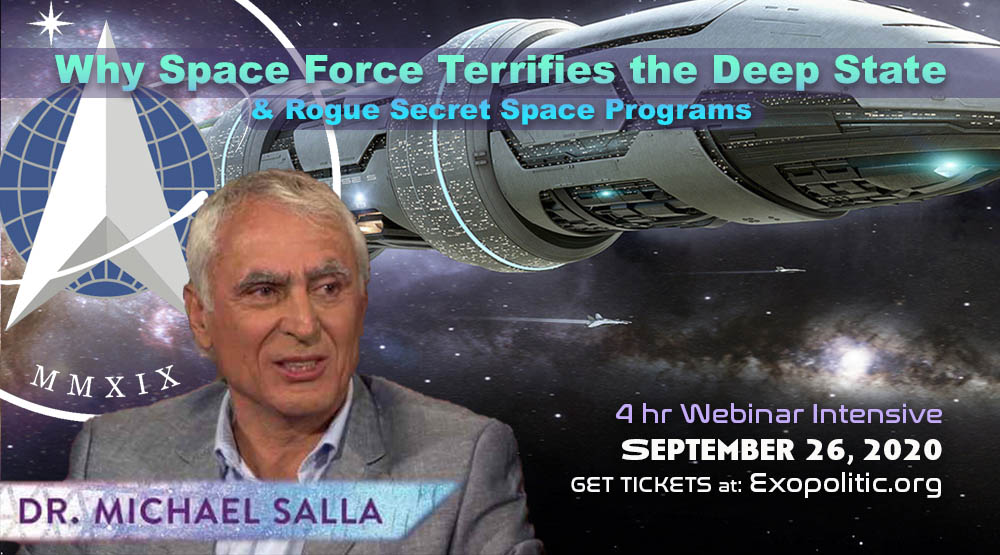 However, the Deep State still has significant space assets from the U.S. intelligence community, major aerospace corporations, and even foreign powers (China), that it could co-opt for a false flag asteroid impact event. Space Force and "White Hats" in the U.S. Military Industrial Complex will have to closely monitor these "rogue" space assets to ensure they would not be coopted into such a false flag event.
There is compelling circumstantial evidence pointing to a Deep State plan to launch a false flag asteroid attack, or some other contrived "natural disaster", sometime between September 20 and the November 3, 2020, federal elections. However, widespread public awareness of such a diabolical plan and proactive intervention by Space Force or White Hats can prevent such a plan from being successful.
© Michael E. Salla, Ph.D. Copyright Notice
[Note: Audio version of the above article is available here]
Further Reading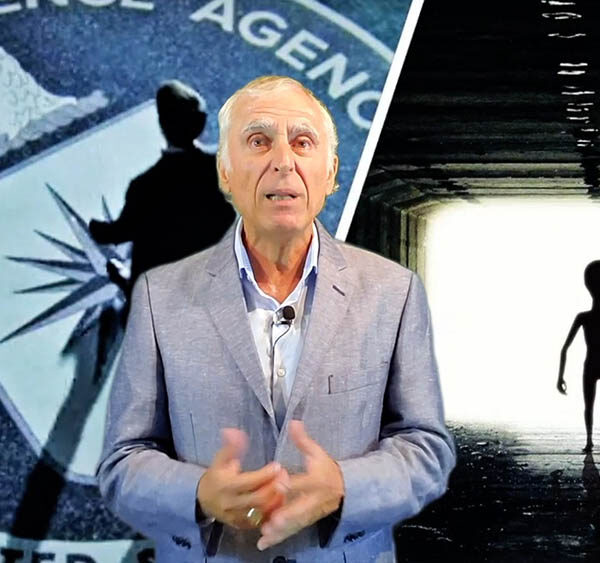 White Hats and the Deep State have competing plans to unveil a very limited disclosure of the truth behind Secret Space Programs and extraterrestrial life. The goal is not so much to inform, but to misinform the general public through a limited hangout that keeps the full truth hidden for decades to come. Learn about these competing agendas and how they contrast with full disclosure.
To purchase a recording of this Webinar click here.

More info here.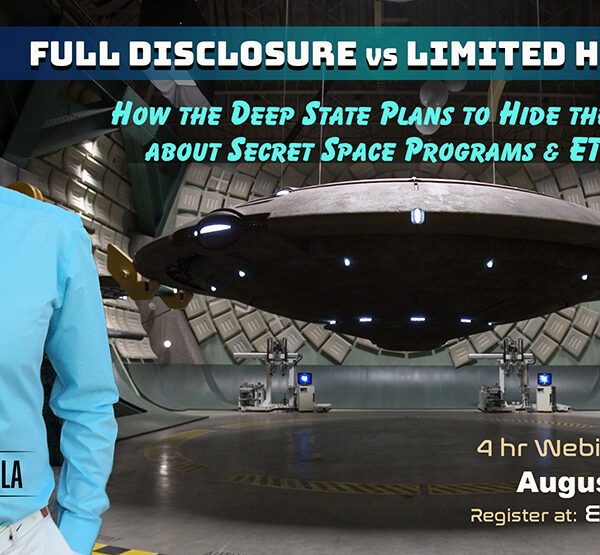 Full Disclosure vs Limited Hangouts:
How the Deep State Plans to Hide the Truth about SSPs & ET Life
August 22, 2020 (Saturday)
12 noon – 4:30 pm PDT / 3 pm – 7:30 pm EDT
On July 25, the New York Times revealed a bombshell report on the US Congress and Pentagon being briefed by an astrophysicist, Dr. Eric Davis, on a corporate run reverse engineering study of a captured off-world vehicle. The report immediately generated international media attention and speculation over links to the famed Roswell UFO crash.
Dr. Davis' classified briefings can be directly linked to a US Senate Bill requiring the Intelligence Community delivering a comprehensive report on Unidentified Aerial Phenomena (UAPs aka UFOs) within 180 days.
The New York Times story follows an earlier report on the Advanced Aerospace Threat Identification Program released in December 2017 that focused on three videos showing US Navy pilots interacting with UAPs during training exercises in 2004 and 2015. The two New York Times stories are linked and involve similar issues and sources, and have transformed the UFO issue into something taken seriously by major media outlets and policy professionals.
The New York Times stories are part of a Deep State plan to unveil a very limited disclosure of the truth behind Secret Space Programs and Extraterrestrial Life. The goal is not so much to inform, but to misinform the general public through a Limited Hangout that keeps the full truth hidden for decades to come.
In this four-hour Intensive you will learn:
The origins of Dr Eric Davis' knowledge about a corporate-run alien reverse engineering program.
Why Vice Admiral Thomas Wilson was denied access to a UFO program despite his leadership position at the Defense Intelligence Agency and Joint Chiefs of Staff.
The connection to Bob Lazar's 1989 revelations over a reverse engineering program at the S-4 facility at Area 51.
How the 2004 and 2015 Navy UFO videos are linked to US Air Force craft secretly manufactured at Plant 42 by Lockheed Martin's Skunkworks.
Why major media is focusing on the threat posed by UAPs and how this threat is associated with alien life by major figures linked to Tom DeLonge's To the Stars Academy.
Werner Von Braun's warning of a False Flag Alien invasion and the likelihood we may soon experience a contrived extraterrestrial event taking place.
The connection between corporate reverse engineering programs and Lt. General Michael Flynn, and why the Deep State targeted him for removal from any leadership position in the Trump Administration.
What we are most likely to experience leading up to and immediately after the 2020 Presidential Election.
4 hours (Presentation with Q&A at the end)
COMPLETED – To purchase a recording of this Webinar click here.
---
"Get Your Answers" Q&A Debrief
August 23, 2020 (Sunday)
12 noon – 2:00 pm PDT / 3 pm – 5:00 pm EDT
In this special Debrief session, attendees will be able to ask Dr. Salla questions on ANY topic. To make this event more personal, enrollments are limited to only 30 people.

This is an interactive format in which participant questions will steer all the topics covered by Dr. Salla, whose expertise in secret space programs, international politics, Q, insiders, extraterrestrial contact and more spans a career of over 30 years and 13 books, including the bestselling Secret Space Programs Series.
The field is wide open to you, so prepare your questions and get ready for a personalized Debrief where you can "Get Your Answers" with Dr. Salla in this engaging limited attendance Zoom session.
2 hours
Limited to 30 attendees – We recommend you book early!
Webinar recording available to attendees for 30 days after live event.
COMPLETED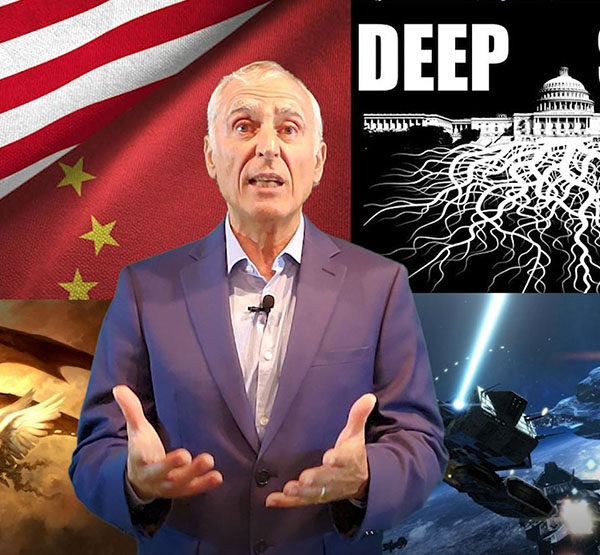 What are the origins of China's Secret Space Program, and how did the Deep State help China at critical points in its economic and scientific development? Why did the Deep State sponsor China's rise from a Technological Backwater into a Military Superpower in Space? How does Biblical Prophecy fit into the Deep State's plans for China? Answering these questions is critical to understanding unfolding events taking place today before our eyes! 
To purchase a recording of this Webinar click here.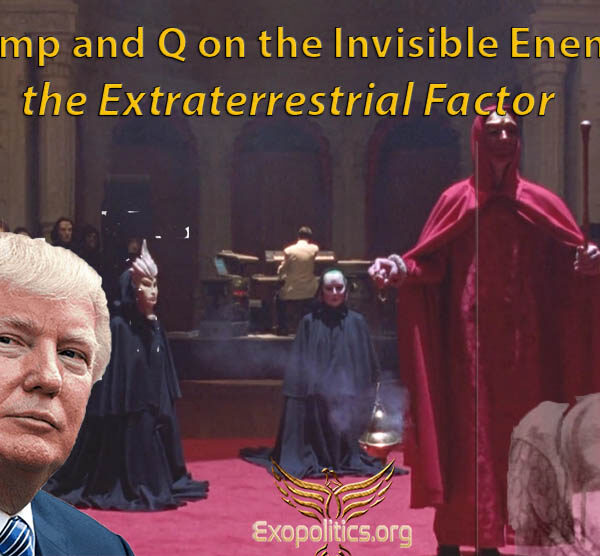 There have been multiple references to an "invisible enemy" by President Donald Trump and Q (aka QAnon), which White Hats in the US military-intelligence community are presently fighting in an "information war". While mainstream news outlets claim Trump is merely referring to COVID-19 as the "invisible enemy" that has afflicted the US and the rest of the planet, what emerges from examining the wider context of his remarks and Q posts is that the real enemy Trump is alluding to is a Deep State which has a non-human dimension that is behind the "plandemic".
Trump's repeated references to the invisible enemy have been noted by mainstream media outlets as merely a rhetorical flourish to combating the COVID-19 virus. For example, Jack Shafer, writing for Politico, said on April 9:
Ever since President Donald Trump made his bootleg turn on coronavirus in mid-March, finally conceding the magnitude of the pandemic, he has attempted to brand the contagion as an "invisible enemy."
Trump first used the phrase in a March 16 coronavirus task force press conference, saying, "No matter where you look, this is something—it's an invisible enemy." Obviously a conscious coinage designed to add Trumpian seasoning to headlines, the president made sure to return to the phrase about a minute later, saying, "I just say this: We have an invisible enemy."
Ever since, Trump has used the expression in letters, remarks, interviews, tweets, video blogs, but especially in the campaign-style pressers about the virus he's been staging almost daily since his turnaround. According to the Factbase database, Trump has exploited the expression at least 44 times in what looks like his effort to anthropomorphize the virus into a sentient thing with evil intentions on mankind.
Is this what Trump is doing with his repeated references to an "invisible enemy" merely alluding to something so small it can't be seen? Or is he referring to an invisible enemy that orchestrated the emergence of COVID-19?
Trump's repeated references to World War II in the lead up to the following quote provides a context suggesting that he is referring to something far more sinister behind the global virus than merely an accidental natural occurrence:
In World War II young people in their teenage years volunteered to fight. They wanted to fight so badly because they loved our country. Workers refused to go home and slept on factory floors to keep assembly lines running…. We must sacrifice together because we are all in this together and we'll come through together. It's the invisible enemy. That's always the toughest enemy: the invisible enemy. But we're going to defeat the invisible enemy. I think we're going to do it even faster than we thought. And it will be a complete victory.
The wider context of Trump's remarks on the invisible enemy point to it as the Deep State, which he and his administration have been battling even before his Presidential inauguration.
The civil war between the Trump Administration and the Deep State is a battle between those wanting to  free humanity from an oppressive group of global controllers that has enslaved humanity through its domination of the mainstream media, and political, financial, cultural and religious institutions for centuries, if not millennia.
Authors such as as Jim Marrs, Rule by Secrecy (2001) and William Bramley, Gods of Eden (1993), have presented compelling evidence exposing the global controllers/Deep State as elite ruling bloodline families that trace their ancestry back to extraterrestrial colonists banished to Earth millennia ago. They both reveal that in humanity's far distant past, extraterrestrials directly ruled over humanity, and then installed human-alien hybrids to rule as proxies as described in historical documents such as Sumer's "King's List "and Manetho's chronicle of pre-dynastic Egyptian rulers.
These hybrid proxy rulers evolved to become the ruling bloodline families that have controlled humanity from behind the scenes using ancient knowledge and technologies handed down from their extraterrestrial overlords – Reptilian entities, according to Marrs and others.
In the 1930s and 1940s, these bloodline families gained access to more recent and powerful extraterrestrial technologies acquired through off-planet visitors attracted to Earth's rapid industrialization, and looming development of atomic weapons.
First, Germany, Italy, and then the US, Britain, Soviet Union/Russia and China all gained access to extraterrestrial technologies that became the most highly classified secrets in their respective military industrial complexes. The advanced technologies were all developed in compartmentalized programs controlled by ruling elites who had no intention of sharing such technologies with the rest of humanity but merely appropriating them for their exclusive use.
In the US, these newly acquired extraterrestrial technologies were used to further the national and global control agendas of the ruling bloodline families. Influential national leaders who did not support the elite control agenda, such as the first US Secretary of Defense, James Forrestal, and President John F. Kennedy, were eliminated in a staged suicide and assassinated in public to warn off other national leaders from resisting the global control agenda implemented by the Deep State.
In Kennedy's Last Stand, I explain how and why both Forrestal and Kennedy, who enjoyed a warm friendship, were killed by the Deep State for their respective efforts to disclose or gain access to classified extraterrestrial technologies, and reveal the principal figures and entities behind their respective assassinations.
Today China has been heavily infiltrated by the Deep State which has compromised its leading scientific and military institutions. It's no accident that the epicenter for the emergence of the COVID-19 virus is China, which the Deep State has been covertly supporting since the Communist Revolution, as I explain in my book, Rise of the Red Dragon and upcoming Webinar series.
This takes us to President Trump, who was recruited by the US military intelligence community in 2015 to help free the US from the power of the Deep State, which I have discussed previously. Trump surrounded himself with both Deep State figures and White Hats to disguise his true intentions.
The contrived efforts by the Deep State to first prevent Trump from being elected, and then removing him from office is well illustrated in the Russia Collusion hoax, the sham investigation of his first National Security Advisor, Lt. General Michael Flynn, and the contrived Ukraine impeachment charges.
As we approach the November 3, 2020 election, the Deep State has finally unleashed its deck of global control cards to prevent Trump from winning re-election. The Covid-19 "plandemic" and civil unrest through a contrived race war are both driven by an incessant mainstream media narrative run by the Deep State to manipulate the general public into giving up their civil liberties. Image of 2020 calendar!
The Deep State has also arranged for major social media platforms to censor citizen journalists and alternative media, which are increasingly viewed as truth tellers by the awakening public who are disgusted by the non-stop fear porn generated by the mainstream media.
This is where Q and the global movement it has spawned becomes important for understanding the "invisible enemy" that is locked in a behind the scenes life and death struggle with the Trump administration.
Most who follow Q accept that it represents a group of individuals connected to the military intelligence community and officials that are closely tied to President Trump. Multiple images provided by Q are originals taken inside Trump's Oval Office and Air Force One corroborating claims that the President is directly involved. Many believe that one of the signatures used by Q, Q+, is Trump himself.
Q, like Trump, has referred to the "invisible enemy" that is attempting to enslave humanity. In a June 29 post (#4545) Q wrote:
If America falls so does the world.
If America falls darkness will soon follow.
Only when we stand together, only when we are united, can we defeat this highly entrenched dark enemy….
We are living in Biblical times.
Children of light vs children of darkness.
United against the Invisible Enemy of all humanity.
Q
Clearly, Q is not referring to the COVID-19 virus, but is instead describing a powerful group of individuals and organizations, the "children of darkness" aka the Deep State.
Q also quotes in its entirety a letter addressed to Trump from the former Papal Nuncio to the US, Archbishop Carlo Maria Vigano that similarly refers to the "Deep State" as an invisible enemy attempting to enslave humanity:
There are faithful Shepherds who care for the flock of Christ, but there are also mercenary infidels who seek to scatter the flock and hand the sheep over to be devoured by ravenous wolves. It is not surprising that these mercenaries are allies of the children of darkness and hate the children of light: just as there is a deep state, there is also a deep church that betrays its duties and forswears its proper commitments before God. Thus the Invisible Enemy, whom good rulers fight against in public affairs, is also fought against by good shepherds in the ecclesiastical sphere… United against the Invisible Enemy of all humanity, I bless you and the First Lady, the beloved American nation, and all men and women of good will.
Vigano equates a demonic "Deep Church" exerting a corrupting influence over honest clergymen wanting to serve humanity, with the Deep State doing the same with official government service.
Significantly, Q has alluded to a Reptilian extraterrestrial influence over the Vatican in an April 3, 2018 post (1002) that contained a meme with a serpent and the question: "If Satanists Took Over the Vatican Would you Notice".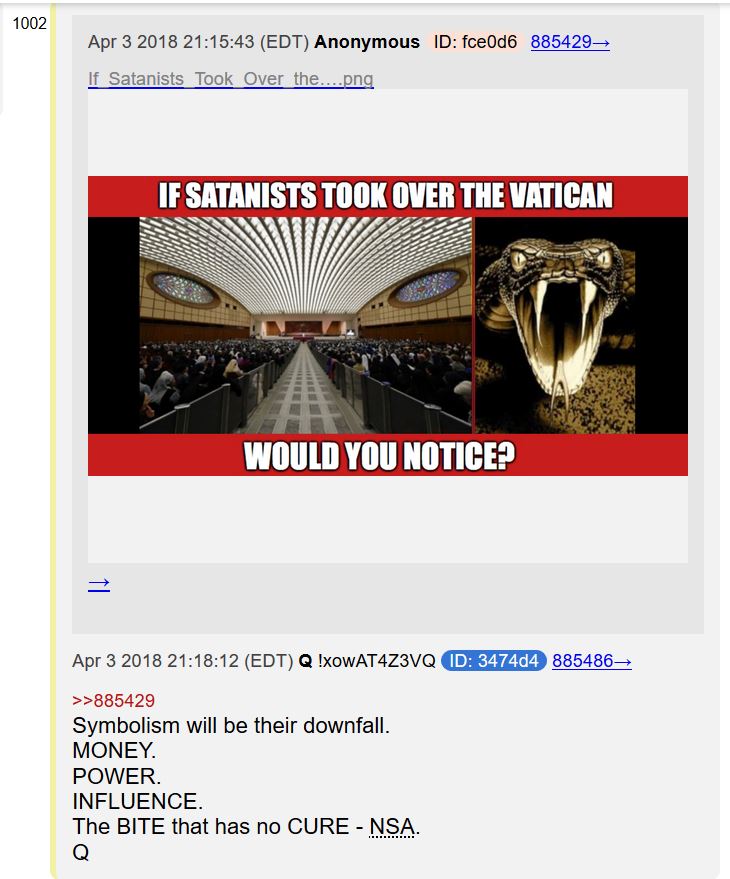 In an article examining Q's post, I explain how the serpent imagery fits in with multiple insider claims of Reptilian extraterrestrials secretly controlling the Vatican.
It's clear from examining President Trump's repeated references to an invisible enemy, and similar references by Q and Archbishop Vigano, that he is referring to the Deep State as the true threat to humanity. An examination of the individuals and groups comprising the Deep State reveals a significant extraterrestrial factor in its origins and operations.
If Trump and White Hats succeed in defeating the Deep State, humanity will have freed itself of an ancient invisible enemy that has manipulated human affairs through contrived global events for centuries if not millennia. We are truly living in biblical times, as Archbishop Vigano asserts, where the children of light are locked in a spiritual war against the children of darkness.
© Michael E. Salla, Ph.D. Copyright Notice
[Note: Audio Version of the above article is available on YouTube]
Further Reading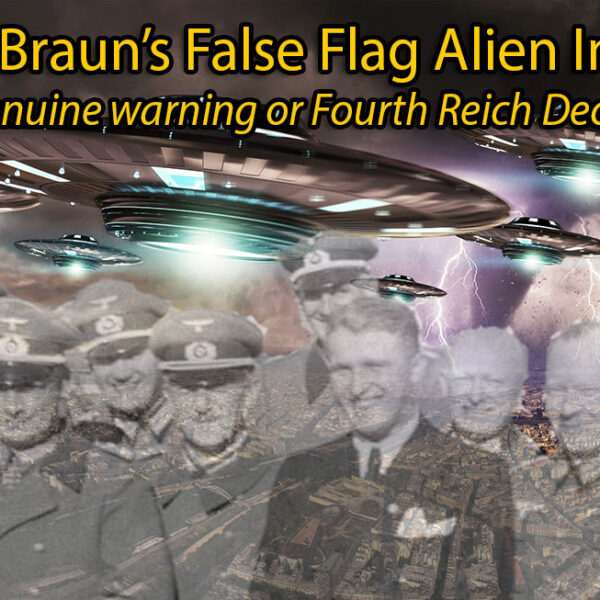 From 1974 – 1977, Werner Von Braun began privately telling Carol Rosin, a colleague at a major aerospace company Fairchild Industries, about a sequence of contrived global false flag "cards" such as asteroid impacts and extraterrestrial invasion, which would lead to the militarization of space and usher in a New World Order. Now more than 40 years later, the sequence predicted by Von Braun appears to be on the verge of playing out as mainstream media increasingly speculate about asteroid strikes and an alien invasion in what many believe are cases of predictive programming.
Given Von Braun's background as a former Nazi and the existence of a breakaway Nazi colony in South America and Antarctica in the post-World War II era seeking to establish a Fourth Reich, a key question is whether Von Braun's warning was genuine or whether it was part of a deception by the Fourth Reich.
In answering such a question, it's important to understand why Von Braun went to work with Fairchild Industries, where he learned about the planned sequence of false flag cards being discussed at boardroom meetings as described by Rosin in Part 1 of this series.
After NASA made the decision to end the Apollo Program, Von Braun decided to retire on May 26, 1972, six months before the launch of Apollo 17, the last moon landing mission. He had been the Director of NASA's Marshall Space Flight Center (1960-1972), where he led the largely German engineering teams designing the Saturn V rockets that would power the Apollo Program.
Von Braun joined Fairchild Industries as a Vice President for Engineering and Development. Fairchild Industries was one of the aerospace contractors that was secretly involved in building a ring-shaped "Von Braun" space station based on Von Braun's early designs for the USAF and the National Reconnaissance Office, as explained in chapter 13 of my book, the US Air Force Secret Space Program.
What is not widely known about the Apollo Program is that it was used as a very effective cover for massive amounts of funding, resources, and personnel covertly being transferred to Antarctica to help the expansion of a breakaway German Space Program hidden in underground bases.
In chapter 12 of the US Air Force Secret Space Program (2019), I detail how the Apollo program was used as part of an agreement reached between the Eisenhower Administration and the Antarctica based German colony, also known as the Fourth Reich.
Von Braun's job at NASA was to mislead the US public about the potential of rocket propelled space travel, while ensuring the German space program in Antarctica had all the resources and personnel it needed for its electromagnetically propelled spacecraft to start space colonization on the Moon, Mars, and elsewhere in our solar system. Put simply, while the Apollo program got Americans to the Moon, it got Germans to Mars and beyond.
In return for its covert help through the Apollo program, the US military gained scientific assistance in its efforts to study and reverse engineer captured extraterrestrial technologies from former Nazi scientists who were brought into the US under Operation Paperclip (1945-1959). Many were secretly working for the Fourth Reich either voluntarily or were coerced to do so.
Werner Von Braun was among a select group of Operation Paperclip scientists who were asked to evaluate the remains of the 1947 Roswell Crash for the US (Army) Air Force as revealed in a leaked Majestic 12 document called the Counter Intelligence Corps/Interplanetary Phenomenon Unit Report:
Select scientists from the General Advisory Committee of the Atomic Energy Commission, most notably DR. J. ROBERT OPPENHEIMER, was interviewed at LZ-2 (second Roswell UFO crash site) as well as other members. Among PAPERCLIP specialists identified at LZ-2 were DR. WERNER VON BRAUN (Fort Bliss); DR ERNST STEINHOFF (AMC [Air Materiel Command, Wright Field]) and DR. HUBERTUS STRUGHOLD (AEROMEDICAL LAB, RANDOLPH FIELD).
This leaked Majestic document has an authenticity rating "Medium-High Level of Authenticity" according to a scale developed by Dr. Robert Wood and his son Ryan using a number of criteria developed for evaluating leaked government documents.
What helps corroborate the document's account of the role played by Von Braun in evaluating the Roswell debris as an expert scientific consultant is a former NASA Spacecraft Operator, Clark McClelland, who asked Von Braun about the Roswell UFO crash.
Von Braun told McClelland about the incident on the condition that no details would be revealed until after his death.
Dr. Von Braun explained how he and unnamed associates had been taken to the crash site after the bulk of the military personnel had left the scene. They did a quick once over of the site, Van Braun stated. He related how the exterior of the space craft was not metal as we know it, but appeared to be made of something biological, like skin….
And yes, there were alien bodies which were being kept in a medical tent near the UFO. The beings were small, very frail, and reptilian in nature. Von Braun compared their skin to rattlesnakes that he and his group had encountered at White Sands.
 Von Braun was puzzled by the nature of the debris. The material was very thin, aluminum colored, similar to chewing gum wrapping, according to the scientist.
The leaked Majestic 12 document and McClelland's recollection does show that Von Braun and other Paperclip Scientists were actively advising the US [Army] Air Force on recovered alien technologies from Roswell and other locations from July 1947.
Dr. Arthur Rudolph was also a German rocket scientist that was brought into the US in Operation Paperclip. He worked at both NASA's Kennedy Space Center and Marshall Space Flight Center as the chief architect for the Saturn 5 engines that powered the Apollo program and as Von Braun's Special Assistant up to January 1969. Rudolph has been identified as working with the US Air Force in studying and reverse engineering a captured extraterrestrial spacecraft, especially after his "official" retirement in 1969.
David Adair, who designed an "Electromagnetic Fusion Containment Engine" for the US Air Force in 1971, describes how Rudolph was leading a highly classified scientific effort to reverse engineer a captured extraterrestrial spacecraft stored at Area 51. Adair described how Rudolph had authority over senior Air Force officials and was being actively helped by the CIA.
So, if German Paperclip scientists were helping the USAF study and reverse engineer alien technologies, were they genuinely assisting, or were they double agents sabotaging US efforts?
William "Bill" Tompkins, a draftsman/engineer with Douglas Aircraft, TRW, and other leading aerospace companies during the 1950s-70s, describes how the German Paperclip scientists occupying senior corporate positions would sabotage industry efforts to build electromagnetic and torsion field propulsion systems.
And even at Douglas and over at TRW, and all these other companies, General Dynamics included, some top-level people were throwing negatives on everything that we were attempting to do. So, you must ask the question: "Why do we have so much of this sabotage happening at such a high level in technology in the country, and in the whole military?" And, who is telling them to try to stop everything, try to cut it down when we're trying to help ourselves? (Selected by Extraterrestrials, Vol 2, p. 92)
The power of a mysterious Fourth Reich over Operation Paperclip scientists, some of whom were forced to sabotage US R&D efforts is illustrated by McClelland who says he personally witnessed the former Nazi SS general Hans Kammler in the mid-1960s at the NASA office of Dr. Kurt Debus, head of the Kennedy Space Center. Kammler had escaped from Nazi Germany before its collapse to South America and Antarctica to help the Fourth Reich expand its underground bases there.
McClelland described the powerful influence exerted over the German scientists working for NASA who feared Kammler and the shadowy Fourth Reich:
I opened his office door and saw two people I had not seen at KSC [Kennedy Space Center]. He introduced me to both men. He only gave me their first names during the introduction…. One was introduced to me as Sigfried and the other was introduced as Hans…. Both had the look of Nazi High Command Officers…. Today I am certain of who these two men were. I eventually learned from other German scientists that one of them me was Siegfried Knemeyer. He was a very high ranking Nazi Oberst Officer in the Luftwaffe… The other man was difficult to recognize until I saw an older photo of him after he had later entered the USA. He was in my opinion Heinz (Hans) Kammler…. There were rumors after WWII that Kammler had made a deal with General George Patton to turn over German Top Secret technology for his support in getting Kammler into the USA. That may have actually happened. I personally believe it did happen. (The Stargate Chronicles, ch. 15).
What emerges from the testimonies of Adair, McClelland, Tompkins, and others is that the US military industrial complex had been successfully infiltrated by the Fourth Reich using Operation Paperclip scientists who were either forced or willingly working as double agents.
While the German scientists appeared to be providing technical assistance for US rocket and other advanced aerospace programs, many were sabotaging US industry efforts to replicate the advanced aerospace technologies the Nazis had reverse engineered from extraterrestrial spacecraft.
This naturally raises the question of whether Von Braun had truly broken free of all Nazi influences while heading the Marshall Space Flight Center and building the Saturn V rockets for the Apollo program, or whether he was a double agent.
Adair's recollection of a warning given to him by Von Braun about Rudolph does suggest that as the inaugural Director of the Marshall Center, Von Braun was being handled by Rudolph who was the project director for the Saturn V rocket, and later Von Braun's Special Assistant:
The thing is, von Braun warned me that if during my rocket work, I should encounter a man named Dr. Arthur Rudolph, I should be extremely careful because he was so dangerous.
It appears that Von Braun and other German Paperclip scientists were intimidated by Rudolph – an ardent Nazi – who was almost certainly recruited by Kammler as a key operative for the Fourth Reich. Rudolph's covert mission was to coerce Paperclip scientists to do the bidding of the Antarctic Germans or face severe consequences.
If Von Braun either voluntarily or was coerced to work as a double agent for the Fourth Reich, this raises the question of what his true agenda was when he met Carol Rosin at Fairchild Industries in 1974.
Was Von Braun truthful to Rosin in warning her of a Deep State plot to stage an alien false flag invasion to justify space weapons, or was he attempting to sabotage US military efforts to one day bridge the defense technology gap with the German secret space program?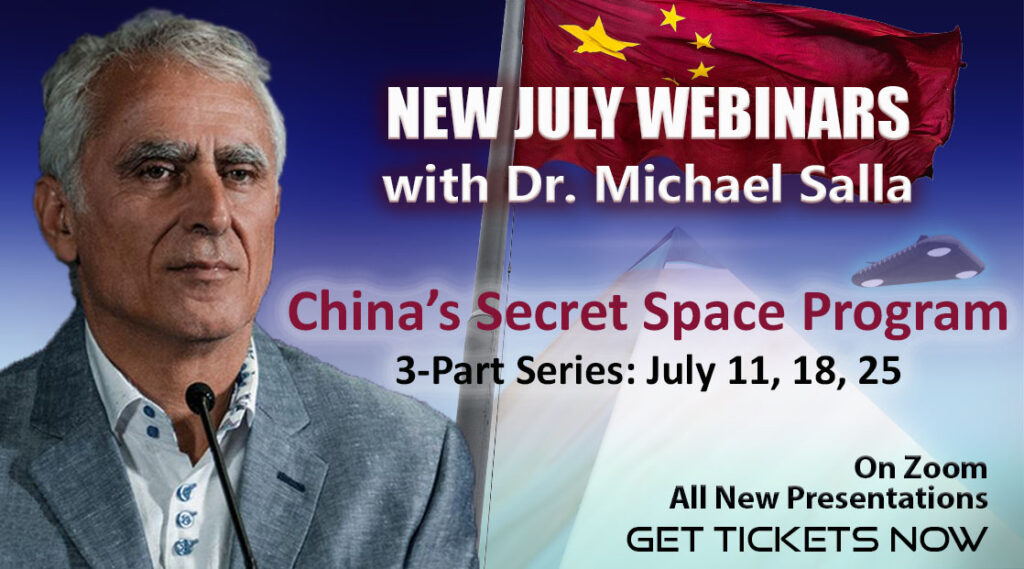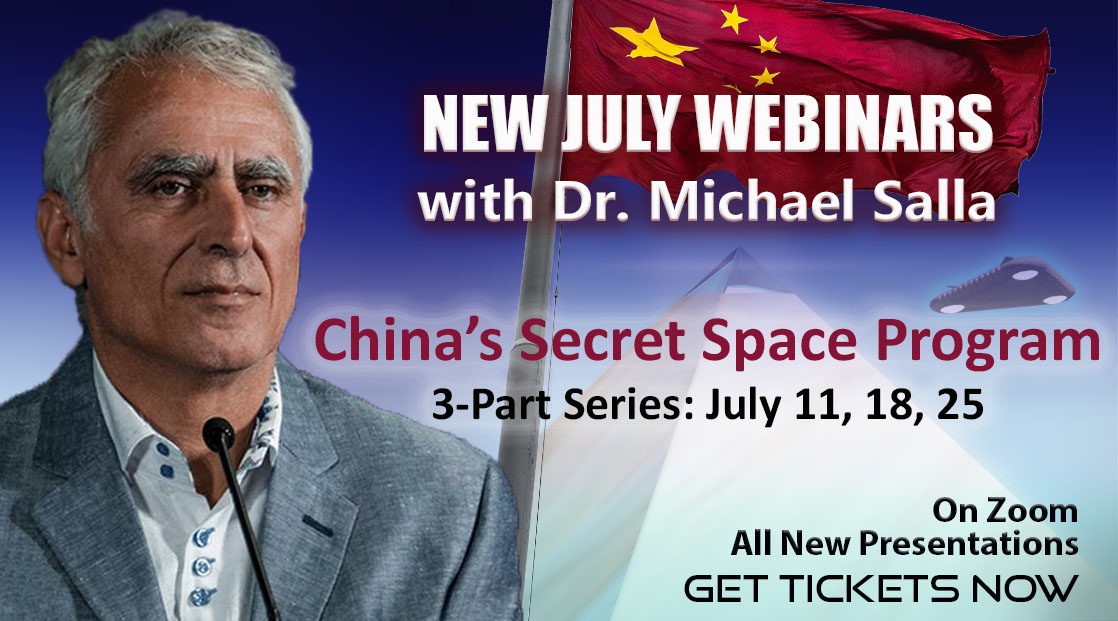 The Apollo Program took away valuable resources from scientific research and development of electromagnetic and torsion field propulsion systems, which the Germans had mastered for their Antarctica space fleet described by various insiders as the "Dark Fleet" or "Nacht Waffen" (Night Weapons)
Understanding Von Braun's true role in the US Apollo and German Antarctic space programs is vital context for analyzing his subsequent opposition to space weapons, as recalled by Rosin. Was Von Braun genuinely committed to eliminating weapons in space as he convinced Rosin during the final years of his life, or was he a double agent secretly working for the Fourth Reich Antarctic Germans?
Just as Von Braun and other former Nazi scientists convinced the US Congress and the scientific community that rocket propulsion was the key to future space travel, as a distraction from the true potential of electromagnetic and torsion field propulsion systems, was Von Braun sowing the seeds for handicapping a future US military space program that could one day threaten or rival the German's Dark Fleet/Nacht Waffen through advanced space weapons?
© Michael E. Salla, Ph.D. Copyright Notice
[Note: Audio version of the above article is available here]
Further Reading