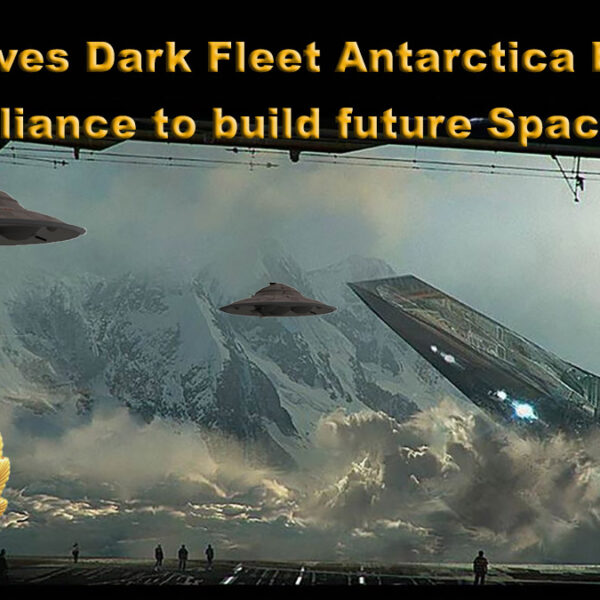 On September 24, I received a new update about recent developments in Antarctica concerning former Dark Fleet bases taken over by China, and how these were being turned over to the Earth Alliance as a result of the Jupiter Agreements. The update was released by Val Nek, from the Galactic Federation of Worlds, through Megan Rose who again relayed the information.
After receiving the report, I asked a series of questions which were relayed back to Val Nek. I received his answers on September 25, and immediately began experiencing severe computer hacking. The cursor on my computer would move independently and I could not use the programs necessary for creating articles and videos despite activating my McAffee anti-virus program, and twice rebooting my computer.
Thankfully, after an hour or two, the problem disappeared. I suspect my computer was hacked and its functions restored after a third party intervened. The incident was a reminder of the importance of the information I was receiving and the need to release it publicly as quickly as possible. Without further ado, here is what Val Nek [VN] reported on Sept 24.
VN: I am happy to report that with many successful missions that the bases in Antarctica are cleared and in control of the [Earth] Alliance. The Alliance has worked alongside members of the Federation to clear the Dark Fleet and its allies from its numerous bases. This is not new information but rather relevant to agreements made with China, what you have called the Artemis Accords.
While China is not currently a party to the Artemis Accords, these are the foundation of the multinational alliance that has been created around the US as the hub. Both China and Russia at first opposed the Accords, but after their popularity led to the Galactic Federation choosing the US as the leader of the 14 spacefaring nations and aerospace corporations present at the July Jupiter meetings, China had to consequently shift its position. This was necessary if China was to receive any advanced aerospace technologies from the Federation, after the Draconian Empire (Ciakharr) and Orion Alliance (Tall Grays) had to leave our Solar System, developments which were covered in previous articles.
China's compliance with the Jupiter Agreements as a condition for receiving new aerospace defense technologies is directly addressed by Val Nek:
As I have previously mentioned, China had limited access to the new space station and other zones as outlined in the Jupiter Agreements. Part of the reason for limited access was also their interest in taking control of the Dark Fleet bases and expanding their space program in this area. As many know, this area has been used by the Dark Fleet and the Ciakahrr Empire for human experimentation, technological manufacturing and also human trafficking.
Val Nek described in an earlier update publicly released on September 8, that a number of planetary defense outposts were being built for global security and surveillance purposes. These defense outposts (large space stations) would use advanced cloaking technologies, and control an impenetrable shield preventing the Draconians and Orions from future infiltration using interdimensional portal technologies.
The Federation was helping the Earth Alliance build the necessary defense technologies in Earth Orbit and on the Moon, to deal with a potential return of our former planetary overlords. If China was to benefit from the defense technologies being shared by the Federation, it was obliged to cooperate, especially when it came to the former Dark Fleet bases in Antarctica that had been used for nefarious purposes.
Val Nek continued:
Our agreements with them [China] were very strict, they must agree to relinquish control of certain areas of these bases and they will have access to the stations built by the Alliance and the corporations. This is important as the Federation's goal is to unify the space programs and countries so that they work together for the good of humanity and one day join membership in the Federation. It is important to note that once a planet or species joins the Federation, they are obligated to work for peace and balance in the universe and are no longer a threat to the rest of the galaxy. China agreed to these terms and is now working alongside the Alliance.
These cooperative principles are fully described in the Galactic Federation's Prime Directive, which was released on September 6, by Val Nek's colleague Thor Han to Elena Danaan. Surprisingly, I found that the fictional Prime Directive developed in the Star Trek series and released in text form in a 1986 book, The Federation, was based on the real Prime Directive that was later released by Thor Han. According to Thor Han, the book authors, Bernard Menke and Rick Stuart, and/or Gene Roddenberry had been given the real Prime Directive.
My analysis of the two prime directives showed they derived from the same source, as explained in an extract from my September 9 Webinar, Our Star Trek Future. The comparison is available on YouTube & Rumble.
Analysis of the Federation's Prime Directive makes clear why China is obliged to cooperate with the US led Earth Alliance if it is to receive advanced defense technologies from the Federation. This led to the handover of Antarctica's former Dark Fleet bases, as Val Nek explains:
I know Dr. Salla will find it very interesting as to what we are using these bases for. I can report that some of the manufacturing for the star fleet will take place here. As your planet and its governments have proven to be very complicated and interesting, it was also necessary for China to agree to our terms due to its availability of certain supplies. To my knowledge, there is much production of many supplies, that are shipped from this country all over Terra. This has proven to also be the case with building the star fleet.
China is working with the Alliance to manufacture these materials and supplies. Much of the human work force from the Dark Fleet have also [been] opted to be employed by these programs in the interest of keeping their jobs. Our ships, the technology to build these ships, is also readily available in Antarctica, which makes it a feasible place to start production of these materials. This is good news and we continue to move forward.
It is now clear that one of the inducements that led to China agreeing to join the US led Earth Alliance was that it would play a key role in building the future planetary defense technologies out of Antarctica bases that were previously owned by the Dark Fleet. China's recent history of becoming the world's manufacturing hub for consumer products, made it a logical choice to do the same in the secretive world of advanced spacecraft construction.
As I discuss in my 2020 book, Rise of the Red Dragon: Origins and Threat of China's Secret Space Program, China has been secretly building large exotically propelled spacecraft in remote locations in order to one day challenge US space dominance.
I asked Val Nek five questions about his update and what follows are his responses.
1 Does he know what happened to the slaves, workers, etc., at the Antarctica bases once the Dark Fleet and Ciakharr left? How many people were involved, thousands, tens of thousands, etc.?
VN: The exact number I cannot say. It was in the tens of thousands, this includes the slaves but also workers as well. Most, if not all, the slaves had been experimented on. This also includes humans, but hybridized species of humans as well. Like the super soldiers from Mars, these people are being cared for by the Alliance in medical facilities. I can also say that hybrids or humans, most have undergone a great deal of mind control, with implants placed in the cerebral cortex. This requires the Federation to assist the Alliance in deactivating the implant and assimilating the brain to its original function. 
The hybrids, of course, require the Federation to intervene since they carry genomes that are unknown to the Terran military and therefore providing medical treatment would not be appropriate. The Alliance and the Federation have the ability to transport medical treatments to these bases to give them proper treatment. What your people call med beds, is the technology, or very similar technology, that is being used. The workers have been given new employment options with the Alliance in these areas. Their help is useful in explaining the facilities and how they operate in some cases. Of course, these people are employed personnel and are not elite workers who directly reported to the Dark Fleet.
In an earlier article, I described some of the human rights abuses that were occurring at these Dark Fleet and Corporate run Antarctica bases. The scale of the human suffering that occurred was massive, but to date no one has been brought to justice for these crimes. Thankfully those victims that survived are being taken care of in Federation facilities.
The Q and A continued:
Can Val Nek say how many Dark Fleet bases were taken over by the Chinese and their approximate locations, e.g., Queen Maud Land, West Antarctica, etc.?
VN: This information I am not at liberty to disclose completely…. I can say between 3-5 bases were handed over to the Alliance and their respective locations I cannot say, but you are welcome to speculate. When we are able to disclose the purpose for these bases, if the time comes, it may help your inquisition.
It's worth separating these three to five former Dark Fleet bases, to the six large industrial bases used by a corporate consortium that built interstellar craft for the Dark Fleet, which Corey Goode said he witnessed back in January 2016 during a visit to Antarctica. The latter are still in the possession of the corporations, which will now play a role in building interstellar capable spacecraft for the Earth Alliance as a later response by Val Nek confirms.
My Q & A with Val Nek continues:
Val Nek referred to certain parts of these former Dark Fleet bases first handed off to China, have now been turned over the Earth Alliance as required by the Jupiter Agreements. Does that mean China still controls other sections of the bases where it can do what it likes under certain limitations?
VN: China does not have complete control over any bases at this time. The agreements are written as such. The goal of the Federation is to ensure that the countries work together and are organized in how they approach their respective space programs. China was reluctant, at first, to relinquish control, as I mentioned previously, they had many self interests. While the United States was chosen to be the leader of these countries and their programs….they are exactly that, leading the space fleet with the intention of unity and peace between the countries of Terra.
China originally claimed some bases in Antarctica, through no legal agreements, and quickly handed them over after the Jupiter Agreements. Many of your countries use their military assets against each other, for land and conquest. The Federation has found this way of doing [things] very interesting, considering the much more hostile threats to planet Terra in the galaxy. We are making change and progress together, moving forward as one planet.
Clearly, Val Nek was referring to the respective leaders of the Earth Alliance being made to recognize the overall strategic situation concerning Earth in the wider Galaxy, and that there was no real alternative to international cooperation to dealing with potential future threats, despite significant political, cultural and economic differences between Earth's major nations.
The next question addressed the fate of corporate bases in Antarctica used to build the Dark Fleet's interstellar craft:
The Dark Fleet worked very closely with a Corporate Consortium that was building many of the large starships for the Dark Fleet. Has this Corporate Conglomerate handed over their facilities to other companies/Earth Alliance, or have they realigned themselves to now build spacecraft for the Earth Alliance?
([Megan Rose] Val Nek is amused by this question)
VN: I cannot disclose this information in the interest of Megan's safety and ongoing operations.
My speculation here is that the corporate consortium (aka Interplanetary Corporate Conglomerate) that built the Dark Fleet, is now using the same facilities to build interstellar craft for the Earth Alliance. After all, corporations are driven by the profit motive and can quickly adapt to the needs of new customers and new conditions. Presumably, the corporate executives implicated in the use of slave labor, genetic experiments or other abuses that occurred when Dark Fleet vessels were being built have been retired and/or brought to justice for their complicity in such crimes. This is a very sensitive issue and it's understandable why Val Nek was hesitant to provide more details for Megan's safety.
My final question and Val Nek's response follows:
To understand the big picture, the mass production of antigravity and advanced health technologies is now happening on the Moon and Antarctica and is to be distributed by the Earth Alliance. Similar facilities on Mars have been destroyed or taken over by the Indigenous Martians while similar ship building facilities on Ceres have been left for its residents to use as they wish. Is there a timetable for when the advanced technologies being mass produced on the Moon and Antarctica will be released to the rest of humanity?
VN: Yes indeed, the indigenous Martians are in the process of taking back control of their planet, the same as planet Terra. I cannot give an exact timetable, as it depends on the corporations and their manufacturing speed, among a few other variables. We have a goal in mind of course, as I have mentioned previously, the corporations chosen have the infrastructure to meet our time requirements and demands. I have also stated previously that there is a time constraint and we wish to accomplish these projects relatively quickly. I can say that most with a logical perspective, considering how large this operation is, would be pleased with the time constraints and goals that we have put in place.
We know from a September 7 update from Val Nek, that the space fleets (Starfleet) being built on the Moon—and now also in Antarctica—combine both indigenous Earth and Galactic Federation defense technologies. Without knowing too much about the classified construction technologies being used on the Moon and Antarctica to build an entirely new generation of spacecraft for the Earth Alliance, we can get an idea of the timeline from estimates of how long it takes to build new generations of nuclear-powered submarines and aircraft carriers.
Recently, Australia reached agreements with the US and the UK to build a new fleet of nuclear powered submarines as part of the new AUKUS Alliance, thereby greatly upsetting France, which was going to build a conventional diesel powered submarine fleet for Australia instead. Production of the first Australian nuclear submarines is expected to take the rest of this decade to complete.
I believe the nuclear submarine building project is a cover for Australia participating in the massive starship construction process that the Earth Alliance has begun. The timetables for the respective launches of Australia's nuclear submarines and the Earth Alliance's "Starfleet" are likely to be similar. This is not accidental. Australia is a vast continent and it would not be surprising if remote locations were to be used to complement what was secretly being built on the Moon and under the ice shelves of Antarctica.
It's also worth pointing out that secret space program insider William Tompkins said that the next generation of Solar Warden space carriers would be ready for deployment in the early 2030s. All this gives us an idea for estimating how long it will take to build new fleets of spacecraft for the Earth Alliance.
However, it can be expected that advanced medical technologies—currently being mass produced on the Moon as discussed in a prior update by Val Nek—can be released much earlier than the completion of the Earth Alliance's future Starfleet. Doing so, would predictably increase public support for the massive spacecraft construction secretly underway on the Moon, Antarctica, and perhaps Australia as well.
I wish to thank Megan Rose for relaying Val Nek's update and answers to my questions. Her website is MeganRoseMedium.com
Note: On October 9, I will hold my final webinar for 2021 on the topic of "Galactic Federations, Councils & Secret Space Programs." The Webinar will conclude with a special panel featuring Megan Rose, Elena Danaan, and myself.
© Michael E. Salla, Ph.D. Copyright Notice
[Podcast Version of this article available on Apple, Google, & Spotify. Video Version is available on YouTube and Rumble]
Related Articles & Podcasts
For a complete list of articles and interviews concerning the Galactic Federation and/or featuring Megan Rose, Elena Danaan and other sources click here.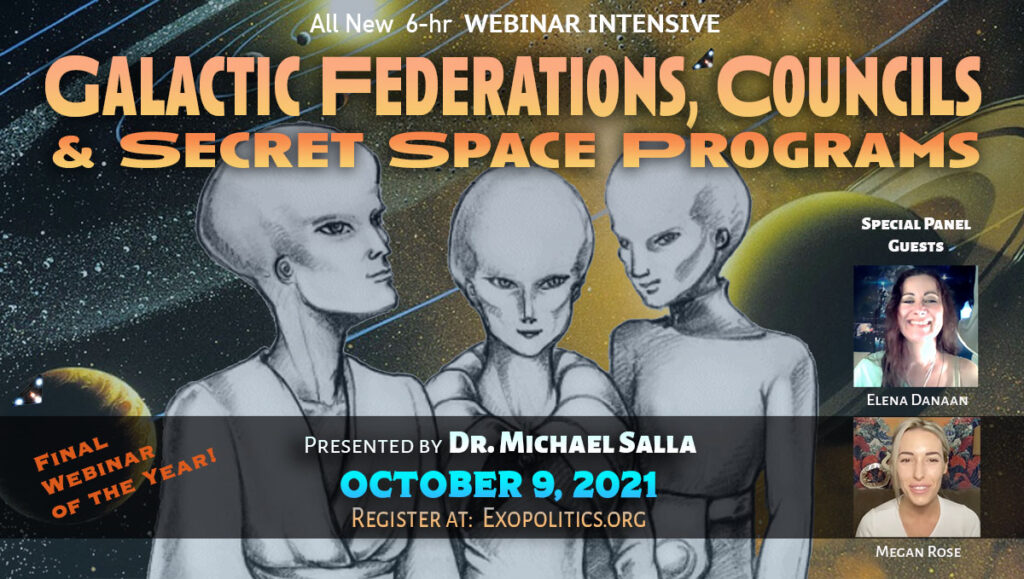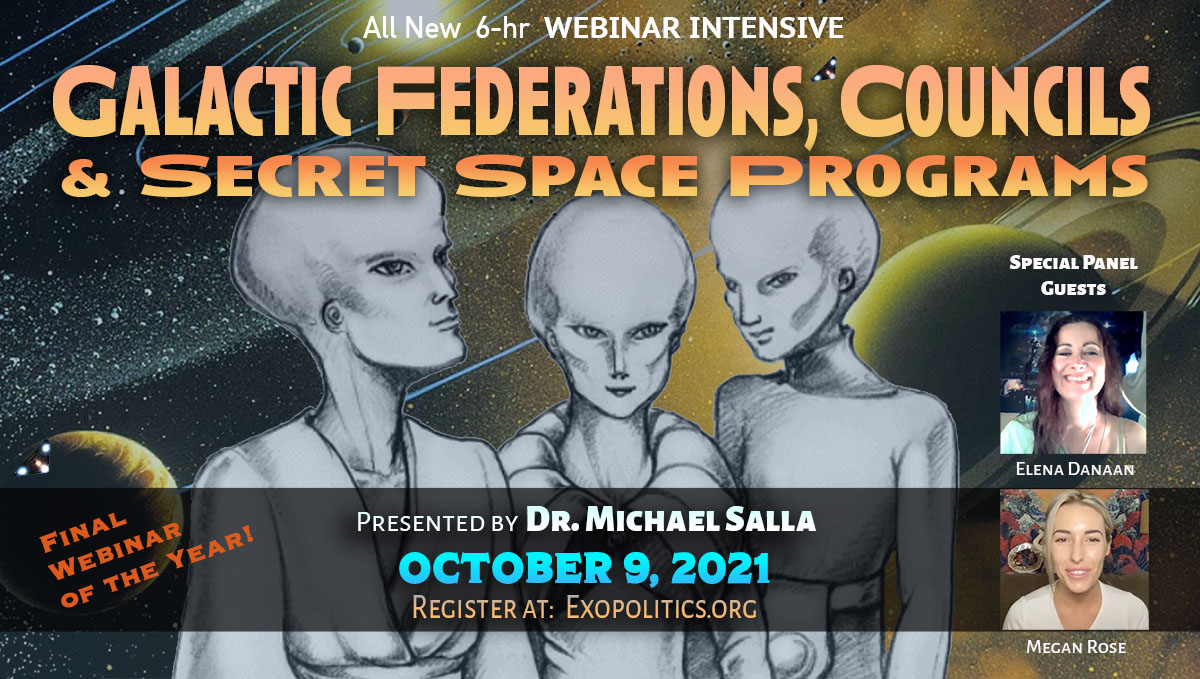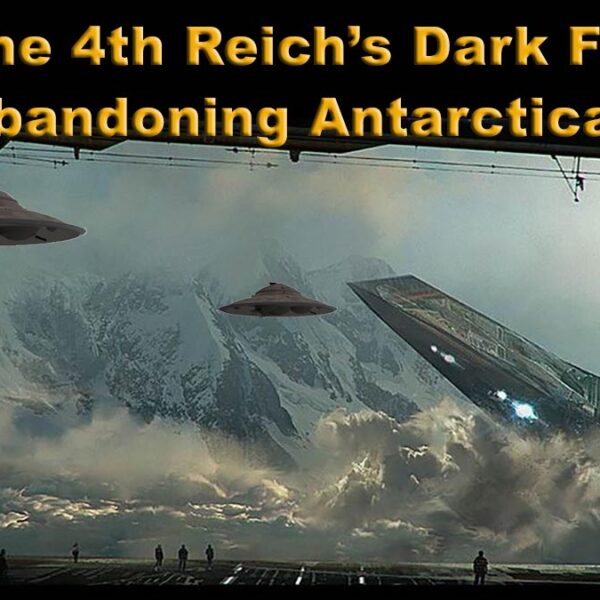 According to Elena Danaan, a former professional French archeologist who claims to be a contactee with the 'Galactic Federation of Worlds', an exodus of a German 4th Reich controlled "Dark Fleet" is currently underway that is creating a power vacuum that different nations are trying to fill by building bases in Antarctica. Her information comes from an extraterrestrial from the Taygeta star system in the Pleiades she identifies as 'Thor Han', and a current resident at the US McMurdo base who goes by the name 'Frank', and whose last name I will keep private.
On June 6, Elena received an email from Frank informing her of an unusually high number of people entering and leaving Antarctica through McMurdo, which is the largest base in Antarctica, and maintains a year-round shipping port through which transport ships arrive with personnel and supplies bound for the US and other national bases.
This is what Frank told Elena in an email that was later forwarded to me:
I want to let you know that the Chinese have 5 bases here already and are setting up 4 more immediately during the absolute worst time of year. There are Chinese everywhere down here and up until a month ago I never saw even one.
Also of note, now Turkey has been sending in troops independently and so are quite a few other countries from Africa & South America all of them want to set up bases here and are bringing in the infrastructure to do so. 
Everybody seems to want to get in on whatever is down here as soon as possible to not be left out. I am more certain than ever now that the mad rush is because there is definitely something here. I noticed more and more German speaking people coming through as well. Numbers have always decreased in the winter time down here not increased.
What immediately got Frank's attention was that a significant number of the personnel leaving Antarctica were German-speaking and they were bound for South America—Argentina in particular. This struck Frank as highly unusual given what Elena and others had said about a German-controlled Dark Fleet in Antarctica that was in an escalating military conflict with an 'Earth Alliance' and the Galactic Federation.
Elena passed on to me Frank's information and contact details, and then communicated with her primary extraterrestrial contact, Thor Han, asking him what was happening in Antarctica. This is her summary of what followed:
I straight away informed Michael Salla and I put them both in contact. On that same evening, I requested a contact with Thor Han, picking his thoughts about this news. Thor Han confirmed that as a consequence of the Dark Fleet being harshly hit by the Alliance and the Federation, the German (4th Reich) presence in Antarctica is abandoning their outpost. He told me that there was an exodus going on, towards colonies out of this solar system, through a portal (jump door as he calls it). He said that the Reptilians based in Antarctica were leaving too.
Thor Han said that some very secret groups in some governments know about the existence of such a portal in the South Pole (and now they want it of course), used to escape to other colonies such as Aldebaran, but he said that even Aldebaran, since they became recently the main Dark Fleet headquarters, is cutting apart from the Antarctica group. Thor Han said that it is in their mentality to cut an "infected limb". There are now formidable resources down there, to be taken, if all these baddies are leaving…
It should be pointed out that Aldebaran was the original stellar location from which Maria Orsic made contact with human-looking 'Nordic' extraterrestrials in the early 1920s. As a result of these communications, the first Vril space-time devices were built that could transport personnel to Aldebaran.
After Hitler came to power in 1933 and coopted the Vril space program, he reached agreements with Draco Reptilian extraterrestrials, and the Nazi SS began building weaponized flying saucer craft for the war effort. Meanwhile, the most advanced aspects of the Vril and Haunebu space programs were relocated to Antarctica to continue developing interplanetary and interstellar craft.  
Consequently, it should come as no great surprise that the Dark Fleet today has a major base in the Aldebaran star system, in addition to bases in our solar system such as Mars and the planetoid Ceres. This is especially if there is a portal from Antarctica to a planet in the Aldebaran star system.
Elena continued her summary of her June 6 communication with Frank as follows:
Of course, I asked Frank this crucial question: as he mentioned noticing an increased presence of German-speaking people at McMurdo, did he think they could come from inland Antarctica, in the intent to leave the continent. If this was verified, it would make tremendous sense. I believe only the high grades are authorized to leave through the portal, and the population of this breakaway civilization had no other option than to leave by regular boats and planes.
And the fact that everyone wants a part of the cake, now that the baddies are fleeing away, could also explain the sudden rush of all these countries to Antarctica. Thor Han also said that the Earth Alliance had been sending military troops to the South Pole since a while now, to help kick the baddies out, and this confirmed also that my friend had noticed these last months a growing activity of US soldiers going to the South Pole.
If Elena's information is correct that the Dark Fleet is conducting an exodus out of Antarctica, then it would not be a great surprise that German-speaking workers would be among the first to leave. Presumably, senior scientific personnel would leave through spacecraft and portals—as Elena described—and low-level scientific and maintenance personnel would leave via conventional means such as transport ships out of McMurdo. This apparently was what Frank was witnessing just as the Antarctic winter was beginning.
On June 8, Frank emailed both Elena and I and wrote:
[A]lthough many foreign countries are pouring in here right now Elena was correct these German folks are all leaving. I want to ask them if they plan to return in the spring but most of them won't even talk to me about anything and carry themselves like I am not good enough to talk to them. Very cold personalities and if they speak English, they won't around me. But I do not see any Germans coming in through McMurdo just leaving.
This is how Elena summarized her communications from Frank in response to Thor Han's message:
We received another message from Frank saying that Thor Han was right, the Germans were all arriving from inland Antarctica and leaving the continent on boats to South America. They were very secretive and wouldn't talk to anyone. This was really happening… The Dark Fleet was being hammered by the Earth Alliance and the Galactic Federation, on Earth, Mars and in this star system, and the Antarctica exodus was the very proof that all of this was real.
In previous articles and interviews, I have discussed Elena's information about the Galactic Federation of Worlds viewing the Earth, Moon and Mars as the epicenters of a future galactic tyranny, and subsequently wanting to liberate their respective populations from negative extraterrestrial influences.
In subsequent updates, Frank has confirmed that the German-speaking people leaving Antarctica were being shipped out to Argentina, and they continued being very secretive about their movement.
My own research on the German breakaway civilization in Antarctica—based on information provided by Corey Goode, Dr. Pete Peterson, William Tompkins, Vladimir Terziski, and others—has shown that a significant German 4th Reich presence was established during World War II, and has been maintained through subsequent agreements with the US and other major nations.
I provide the details on these historic processes, agreements and events in my 2018 book, Antarctica's Hidden History: Corporate Foundations of Secret Space Programs. More recently, in May 2021, I updated my information about the Dark Fleet's history in a four-hour webinar that is now available on Vimeo.
The multinational Antarctic Treaty (1961) was, in fact, a cover for the pacification of Antarctica in order to protect the German breakaway colony from any future military attacks similar to the failed Operation Highjump (1946/1947) and Operation Taberlan (1944-1946) missions launched by the US and United Kingdom.
In the subsequent decades, the German Antarctica bases were greatly expanded with an influx of personnel and resources from the US and other countries that developed very large industrial manufacturing facilities for spacecraft that would be supplied to the "Dark Fleet", a large corporate-run program Goode called the "Interplanetary Corporate Conglomerate" (ICC), and a multinational civilian scientific space program that more recent insiders such as Spartan 1 and 2—interviewed by Linda Moulton Howe—have revealed exists in Antarctica and is run out the National Security Agency (NSA) headquarters in Fort Mead, Maryland.
Unfortunately, many of these 4th Reich/Dark Fleet facilities used slave labor in clear violation of the Antarctic Treaty, which Goode was the first to reveal back in October 2017. In fact, he says that he was briefed about an earlier attempted exodus in May 2016 that was neutralized by a fleet of unknown advanced spacecraft, presumably belonging to the Earth Alliance that battled Dark Fleet/ICC vessels over Antarctica.
It is, therefore, very possible that the German-speaking workers that Frank saw leaving McMurdo in early June 2021 were evacuating the Dark Fleet bases due to recent setbacks. Indeed, their secretive behavior, according to Frank, suggests they were leaving highly classified bases hidden somewhere in the huge Antarctica continent.
In addition to Frank's information, is there any other corroboration for Elena's remarkable revelations of the Dark Fleet leaving Antarctica? There are two distinct bodies of circumstantial evidence that support such an exodus is indeed taking place.
The first is exposure of the Deep State effort to rig the 2020 US Federal elections so as to implement their New World Order, which would have enabled Dark Fleet operations to continue out of Antarctica indefinitely. The 4th Reich's interest in the US presidency and its importance for continued Dark Fleet operations was all but openly revealed when President Obama's then Secretary of State, John Kerry, visited Antarctica at the height of the November 2016 Presidential election.
It has become clear given subsequent events that Kerry's real purpose was to brief the 4th Reich about Trump's looming presidency, and outline the Deep State's master plan to neutralize and eventually remove Trump from power. Consequently, the 4th Reich was a key element in the Deep State orchestrated coup to remove President Donald Trump from power through a rigged election.
The forensic election audit currently taking place in Maricopa County is expected to confirm that widespread election fraud did take place. This will spark further forensic audits in other US counties and states, which will reveal the full extent of what had occurred.
The scale of the US election fraud will not only shock the global public and lead to quick restoration of a Trump administration, but will spark multiple criminal prosecutions of Deep State figures from around the world complicit in the botched election rigging effort.
The looming prosecutions will further identify the COVID-19 pandemic as a key element in the failed coup attempt. Deep State figures in the scientific, political and mainstream media that were involved in creating and perpetuating the pandemic hoax are similarly expected to be exposed and prosecuted. This will only compound the fallout for the 4th Reich once it is determined that it was involved in staging the COVID-19 pandemic as part of a plan to remove Trump.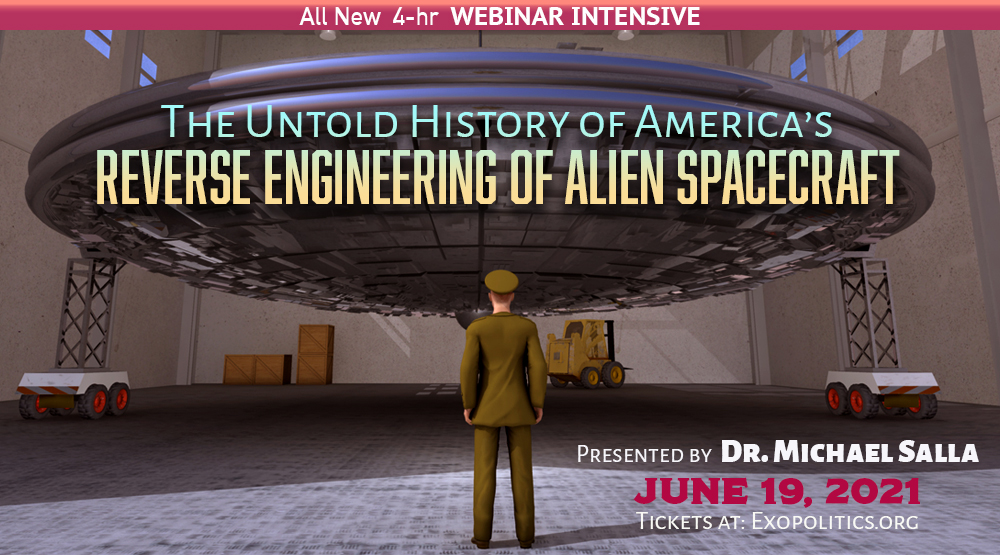 The second political process that is occurring, which Frank identified in the first email cited above, is the recent influx of countries such as China and Turkey into Antarctica. What was very strange was that this was occurring right now, during the onset of winter, the worst time of year. Only a month earlier, there were few Chinese seen at McMurdo, according to Frank, now they were everywhere. Recent mainstream media stories do confirm that both China and Turkey are building new bases in Antarctica, with China aiming to become the dominant presence there.
The sudden influx of personal and resources into Antarctica during the start of the winter months does point to the different countries trying to fill a newly created power vacuum. It would make sense that the 4th Reich is turning over its Dark Fleet assets in Antarctica to countries that are most sympathetic to its political agenda and activities: China, Turkey, and countries from South America and Africa would be suitable candidates.
The information from Frank about events that are currently unfolding in Antarctica is highly unusual and significant. It corroborates the much more startling information from Elena Danaan about a Dark Fleet exodus currently underway in Antarctica. Consequently, my confidence in the accuracy of Elena's information from her Galactic Federation of Worlds contact, Thor Han, has been enhanced from what I have learned from Frank. I will seek further independent corroboration for this incredible information and report on it when it becomes available.
© Michael E. Salla, Ph.D. Copyright Notice 
Note: Podcast Version Available on YouTube & Rumble
Further Reading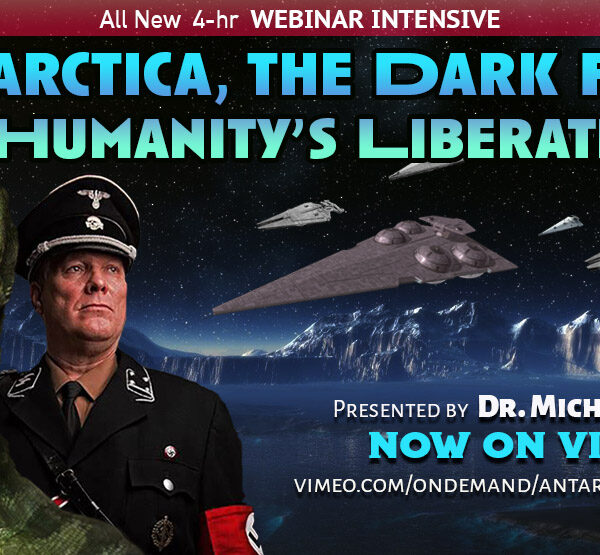 Select highlights from Antarctica, the Dark Fleet & Human Liberation Webinar held on May 22, 2021. Highlights cover Operation Highjump, how the Dark Fleet began overflights of US territory including Washington DC, secret negotiations with Antarctic Germans and different extraterrestrial groups, and more. 
The full webinar recording along with bonus features is now available on Vimeo
Highlights video available on Vimeo, YouTube and Rumble
---
Upcoming Webinar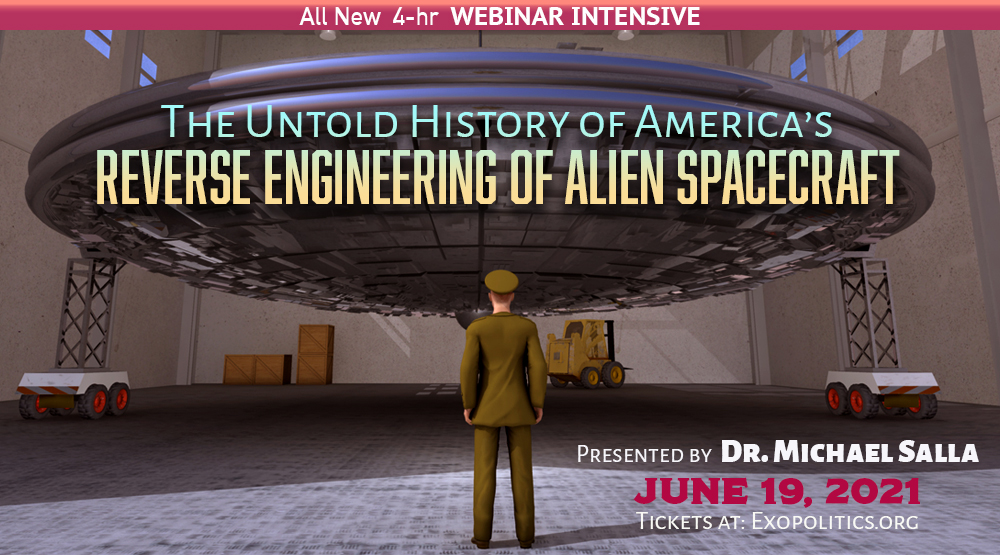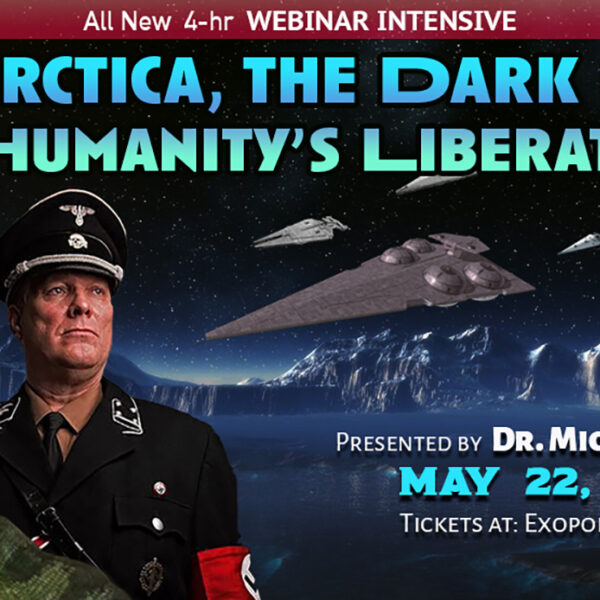 Aloha all, I'm sure many of you have been paying close attention to the numerous mainstream media reports about UFOs sighted near Navy and other US military facilities, which are all going to be covered in a comprehensive June report by the Director of National Intelligence. 60 Minutes just did a segment, the New Yorker published an extensive article, and even former President Obama is weighing in on the UFO topic. It's become very clear that depicting UFOs (aka UAPs) as a major national security threat is the new narrative being pushed by the Deep State, and it's going to escalate big-time next month when the UAP report is delivered to the US Senate Intelligence Committee.
The main element of the emerging "UFOs are a major national security threat" narrative is that policy makers really don't know what the UFOs are. We are being told that Pentagon officials are scrambling to determine what they are too—they could be extraterrestrial, Chinese, or even Russian craft.
The big fake reveal is going to be that the US actually retrieved a downed extraterrestrial craft, but heck, after decades top scientists couldn't figure out its workings. Of course, that's why Bob Lazar's testimony about his time at Area 51's S-4 facility in 1988 is being given such lavish mainstream attention, since he is on the record saying that the technology was way too advanced for the S-4 scientists to understand. But hey, maybe the Chinese or Russians got one and did work out how to reverse engineer it . . . and so . . . the US has a big national security problem!!
Of course, those in the loop know that most UFOs being sighted over the territory of the US and its major allies are actually reverse engineered antigravity spacecraft which were acquired in various ways—UFO crashes, secret agreements, etc.
After more than seven decades of close study and cooperation with different extraterrestrial groups, different national scientific communities, and a breakaway German colony in Antarctica, the US military finally developed its own squadrons of antigravity craft. However, you won't hear that in the coming June Pentagon UFO report, which instead is going to perpetuate a big lie about the origins of UFOs.
This why the topic I chose for my upcoming May 22 webinar deals with the real origin and history behind it all. When the June Pentagon report releases, people shouldn't be fooled again.
Join me and learn what really happened in Antarctica in 1946/1947 when Operation Highjump was sent by the US to find and destroy the underground German Fortress that Admiral Karl Donitz had bragged about during World War II and at his Nuremburg Trial. Richard Byrd's Task Force 68 experienced a crushing military defeat delivered by flying saucer craft belonging to the Nazi's Dark Fleet and their extraterrestrial allies. Soon after, Dark Fleet craft flew over US territory, forcing the Truman and Eisenhower administrations to negotiate—leading to secret agreements in the 1950s that have been renewed ever since.
It's a remarkable story and I plan to cover it in well documented detail in my May 22 Webinar, "Antarctica, the Dark Fleet and Humanity's Liberation." The webinar will be especially helpful for those wanting to know how historical events in Antarctica tie in to emerging "UFOs are a national security threat narrative" being heavily promoted by the major media and Deep State officials. Humanity's Liberation from very negative forces associated with the Dark Fleet needs to begin with a thorough understanding of Antarctica, how it has contributed to our current global situation, and why positive extraterrestrial groups became concerned and are helping us today learn the truth.
I hope you can join me this Saturday for my webinar. It will be broadcast live from my home studio here on the Big Island of Hawaii via Zoom. I promise you an exciting journey through undisclosed historical events in Antarctica, how it all pertains to the official disclosure narrative about to be unleashed in the US, and finally what it all means for humanity's liberation.
Michael Salla, Ph.D.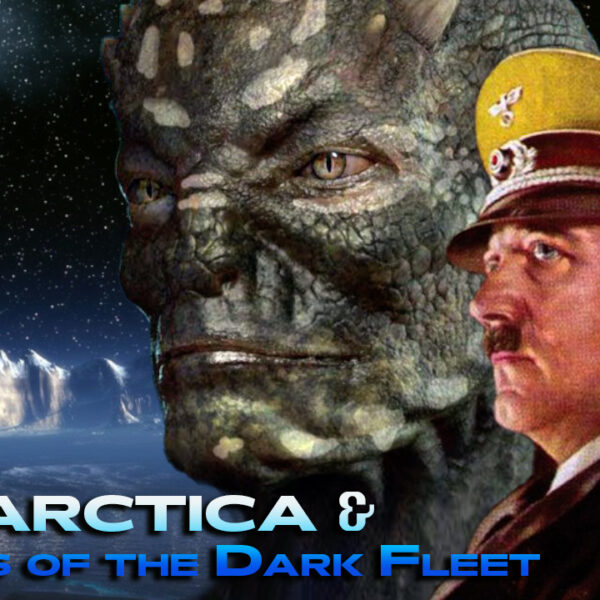 I'm delighted to announce the release of a short film presenting the recent history of Antarctica and how a breakaway German colony established a presence in an extensive underground cavern system, and used it as a base of operations for building a fleet of reverse engineered alien spacecraft. The German "Dark Fleet" has evolved over decades to become a powerful force on Earth and in Deep Space. Learn why the existence of the Dark Fleet is to be exposed as a necessary condition for humanity entering a golden galactic age where we interact with highly advanced extraterrestrial civilizations who share advanced life changing technologies.
Premieres Today at 10 am Pacific, 1 pm East Coast, USA 
 Watch on YouTube, Rumble or Vimeo
I wish to thank my inspired and incredibly talented wife, Angelika Whitecliff, for the many hours she devoted to creating this short film and raising public awareness of these critical issues.
Michael Salla, Ph.D.
Related Articles/Short Films
May 22, 2021 Webinar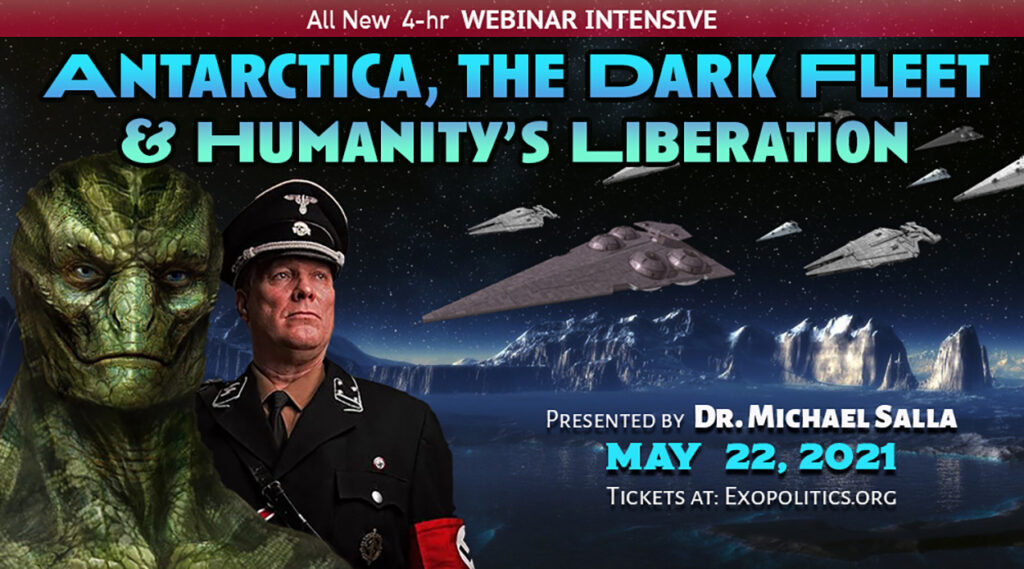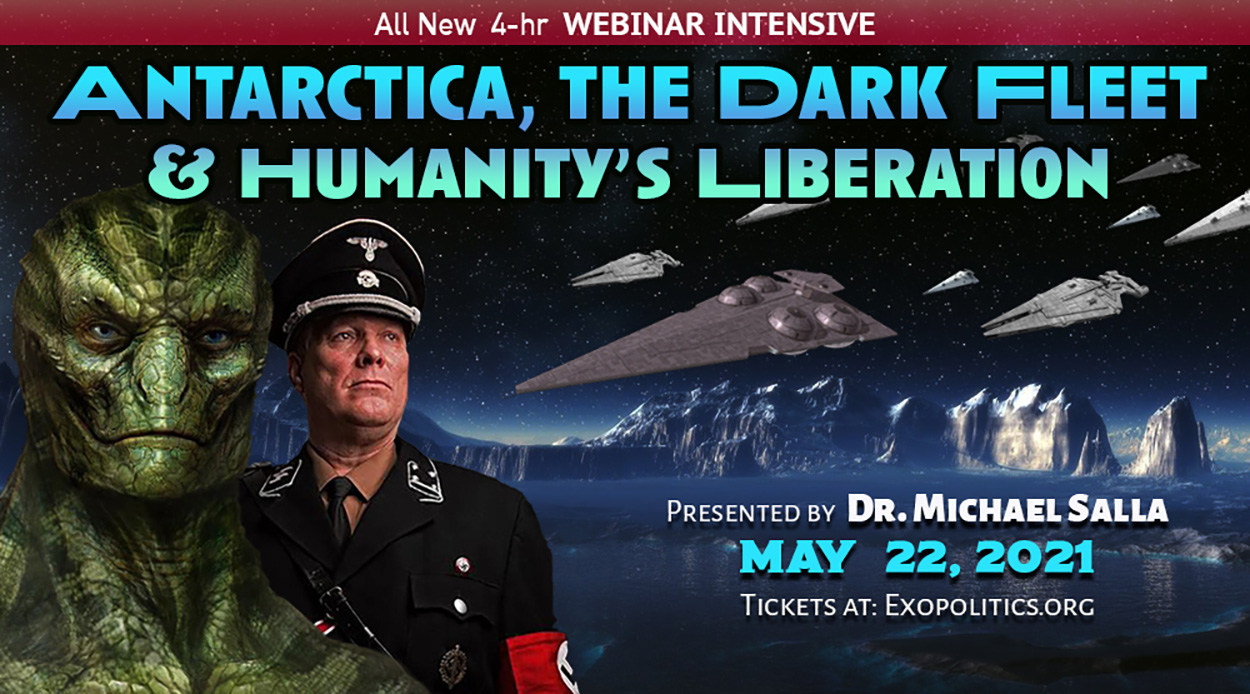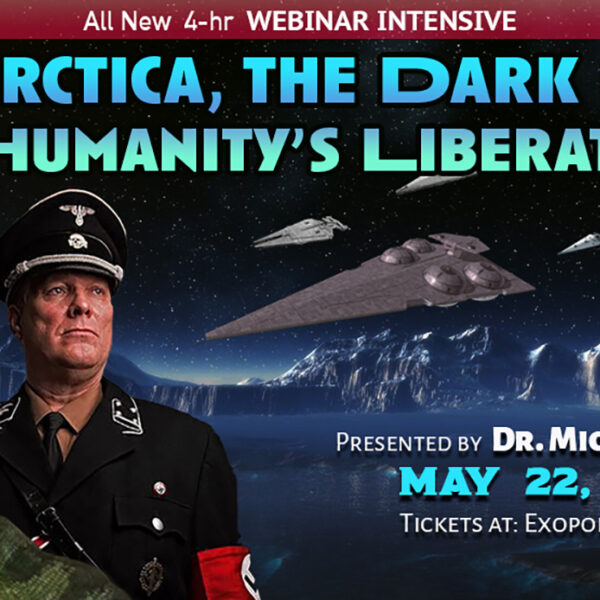 At the end of the Second World War, Antarctica became the hub for a secret alliance between a breakaway German colony and different extraterrestrial groups. With the aid of their alien allies, the Germans were able to develop a powerful Dark Fleet that routed the combined military forces of the US and its allies on the Antarctic continent. In the aftermath of defeat, the German-Extraterrestrial alliance pressured the US into persisting agreements that have spanned successive Presidential administrations.
The Dark Fleet has since grown into a powerful military space force with bases in Antarctica, on the Moon, Mars and elsewhere in our solar system. Furthermore, the Dark Fleet is behind a "galactic slave trade" involving millions of missing people, and regularly conducts interstellar operations against peaceful planetary civilizations. If left alone, the Dark Fleet and its extraterrestrial alliance would grow to become the epicenter of a tyranny that would eventually span the galaxy. However, powerful resistance forces are amassing.
In this 4-hour Webinar Intensive, Dr. Michael Salla will explain the history of Antarctica and the Dark Fleet, and how these have become the hub of this evolving galactic tyranny. He will explain how humanity's liberation from this dark alliance and its web of nefarious activities on Earth and in space are being covertly assisted by multiple extraterrestrial civilizations and higher dimensional forces. Today we at the precipice because of a titanic struggle between opposing forces of light and dark, and every awakened individual is being called to make a difference by learning about the issues and becoming active.
About the Presenter: Dr. Michael Salla is the author of the bestselling Secret Space Programs Book Series & founder of Exopolitics.org
Webinar Date: May 22, 2021

This LIVE event will be recorded, and attendees are able to watch unlimited replays for 60 days.
To view and purchase past webinars click here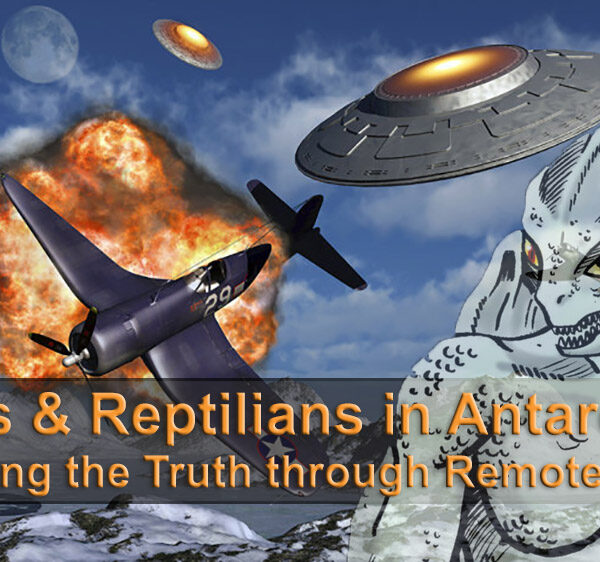 The Farsight Institute has just released the results of multiple remote viewing sessions focusing on the true history of Antarctica in terms of a breakaway German colony established there with the help of extraterrestrials during the World War II era. The remote viewing sessions were conducted using a rigorous blind scientific protocol developed by Dr. Courtney Brown, and the results were, frankly, very impressive.
The consistency of the results with what whistleblowers and insiders had previously revealed, and the additional details they provide about the events that occurred in Antarctica leading up to and including Admiral Byrd's Operation Highjump expedition from August 1946 to February 1947, makes the remote viewing data very helpful in reaching a more accurate understanding of our history.
Dr. Brown provided two targets to five remote viewers who were not given any details about the targets, so they could not front-load their own biases and opinions about it. Here is how he explains the scientific protocol used for all remote viewing sessions:
Blind Conditions for All Remote-Viewing Data: All remote viewing for this project (as with all projects conducted at The Farsight Institute) was conducted under totally blind conditions. The viewers were told nothing about the project or specific targets while they were conducting their remote-viewing sessions. They were only instructed that there is a target, and that they should remote view it.

In the Antarctica remote viewing sessions, there were two targets that the five remote viewers would focus on.
Target 1. The most advanced Nazi base in Antarctica, circa the end of World War II.
Target 2. The most significant battle between the Nazi forces in Antarctica and US forces, circa the end of World War II or after.
It's important to emphasize that the five remote viewers were instructed to focus respectively on Target 1 and Target 2 without being told anything about either target.
It needs to also be pointed out that it is not unusual to get remote viewers to focus on historical events in remote locations. CIA documents obtained through the Freedom of Information Act confirm that the CIA hired remote viewers to gain intelligence on events on Mars as far back as one million years ago. Clearly, those within the intelligence community appreciate the importance of remote viewing data to better understand events that transpired decades, centuries, and even millennia ago. 
In the two-part video series that has just been released, Dr. Brown provides his introductory remarks to each target and what the five remote viewers found. At the end of each segment of five presentations, he gives his own summary and analysis about each target. The following trailer introduces the two-part video series that spans four hours and what was discovered.

In Part 1, the five remote viewers presented their data on what they had witnessed. They all described seeing large artificial structures in a remote cold, snow-covered mountainous region. Saucer-shaped craft were sighted in the vicinity, and several remote viewers witnessed them either landing or proceeding into a large underground facility that was accessed through a mountain entrance.
One of the underground facilities was a large urban dwelling, dwarfed by even larger industrial manufacturing areas nearby, all connected by a transportation system of some kind. The five remote viewers all described seeing humans and extraterrestrials interact in various situations and those key individuals in command positions. The attitude of the humans was a mix of fear, anger, and arrogance. The extraterrestrials had an attitude of superiority, dominance, and boredom in working with humans.
None of the remote viewers explicitly mentioned Antarctica or Nazis. However, the descriptions they gave of the location and people involved for Target 1 were clearly indicative of both. While there were some variations in reports of the area, structures, humans, and extraterrestrials each of the remote viewers witnessed, collectively, they provided impressive details on Target 1: "The most advanced Nazi base in Antarctica, circa the end of World War II."
Dr. Brown provided his analysis and summary of what the five remote viewers had observed in relation to Target 1:
What we found out is that there was a huge Nazi presence in Antarctica at the end of World War II. Moreover, they had help, extraterrestrial help, and in fact, very surprising extraterrestrial help. Clearly, the Nazis could not have established a powerful military presence in Antarctica without outside assistance, the environment was just too inhospitable. So they got help but we ultimately found out that they got help from two very different extraterrestrial groups.
One of the extraterrestrial groups helping the Nazis was Reptilian, while the other group was a human-looking group working with both the Nazis and Reptilians. 
The remote viewing data aligns closely with what William Tompkins said he, and members of a covert Naval espionage team stationed at Naval Air Station San Diego during World War II, was told by nearly 30 navy spies embedded in top aerospace corporations in Nazi Germany.  The spies revealed that Reptilian extraterrestrials had helped Hitler's regime establish a base in Antarctica during the war and guided the Germans to precise locations where they could establish a large base—Admiral Donitz's impregnable Shangri-la from which the Germans could one day rebound from their impending military defeat in Europe: "The German submarine fleet is proud of having built for the Führer, in another part of the world, a Shangri-La on land, an impregnable fortress."

Tompkins' testimony is backed by multiple insiders and historical documents that I discuss in detail in Antarctica's Hidden History: Corporate Foundations of Secret Space Programs (2018). Therefore, the remote viewing data is an additional source of evidence supporting claims that the Nazis had established a breakaway colony in Antarctica, which continued operations well beyond World War II.
The five remote viewers next proceeded to Target 2, again without being given any details of what they were looking for. This time the five witnessed large aerial battles over the remote mountainous region in a cold, snowy terrain. One side of the battle possessed flying saucers coming both from outer space and from undersea locations that were piloted by a mix of humans and extraterrestrials, while the other side comprised conventional aircraft piloted exclusively by humans, a number of naval ships, and ground forces.
The side led by humans was described as military in orientation and behavior, and possessed aircraft, ships, and ground troops. Before the battle, the leader of the human side was confident and determined to fulfill his mission of finding and destroying the underground facilities of the other side—the secret German Antarctic base.
The results are consistent with what is known about Admiral Byrd's Task Force 68, which comprised 13 ships, 33 aircraft, and 4700 US servicemen in Operation Highjump, and the secret orders he had been given to find and subdue any German bases in Antarctica. Given memories of the comprehensive military defeat of Nazi Germany, it's understandable why Byrd and his expedition would have had high confidence about their chances of success.
The remote viewers described the excitement and glee of the extraterrestrials whose craft were technologically vastly superior, as contrasted to the craft of the human (US Navy) pilots that were courageous but quickly became despondent as the battle progressed. The remote viewers described the extraterrestrial craft as possessing LASER weapons that disintegrated both the human aircraft and ground forces advancing towards the German base.
The remote viewers described a very one-sided affair where the flying saucers both toyed with and destroyed all the conventional aircraft. One of the remote viewers, Aziz Brown (Dr. Brown's son), compared the battle to what was depicted in an episode of the popular sci-fi series, Stargate SG-1, where invading extraterrestrial spacecraft were met by human-piloted US Air Force fighters. In contrast to the genuine battle depicted in Stargate SG-1, Aziz Brown reported the battle he witnessed in association with Target 2 as a massacre.
The remote viewers described the aftermath of the battle and the attitudes of the respective leaders. The commander of one of the extraterrestrial flying saucer craft was in a very celebratory mood, while the human leader of the losing side was devastated. Several of the remote viewers described the top commander of the flying saucer craft as a very tall, powerful Reptilian who was ecstatic with the result.
There is one historical photo showing a downed US Navy airplane that crashed during Operation Highjump. While the Navy asserted that the downed craft was an isolated accident, according to the remote viewers, Antarctica was strewn with such debris from the destroyed aircraft and routed ground forces.
Dr. Brown again provided his analysis of the data at the end of Part 2 of the video series.
You have now seen all of our data regarding the Nazis in Antarctica and their extraterrestrial allies. To be honest, it is not too surprising to see that the Nazis found support from the Reptilians.
He went on to explain the dynamics of the evolving relationship between the Reptilians, the Nazis, and the US military as a result of Operation Highjump:
The Reptilians had no long-term interest in the Nazis, they were a means to an end…. You see by helping the Nazis with their Antarctica base they gained two things. First, they gained a small but dependable slave military force that they could dispatch wherever they wanted, even off-planet in the future. But second, and this is a really important part, they could scare the daylights out of the American military and political leadership. You see, it was clear at the end of the Antarctica battle that the Nazis could use their new aircraft and weapons to challenge the entire U.S. military. Indeed, the US military would be powerless against such a technological advantage.
Why then did the Nazis not actually do it? Why did they not actually invade the continental United States and blow the US military out of the water so to speak? Well, it's simple, their Reptilian allies did not allow it. The Reptilians didn't want the Nazis to control anything. They just wanted the US military and political leadership to be so frightened that they would agree to absolutely anything in order to get some of that advanced technology.
Brown's analysis is consistent with insider reports that the Nazis and their extraterrestrial allies allowed most of the naval ships of Operation Highjump to escape the destruction inflicted on aircraft and ground forces. The ships and surviving personnel would be able to return to the US and warn national security leaders about the new enemy in Antarctica.
Indeed, Admiral Byrd revealed some of the truth when he stopped in Chile and gave an interview where he referred to significant casualties and a new enemy that the US would have to face.
Adm. Byrd declared today that it was imperative for the United States to initiate immediate defense measures against hostile regions.
The Admiral further stated that he didn't want to frighten anyone unduly but it was a bitter reality that in case of a new war the continental United States would be attacked by flying objects which could fly from pole to pole at incredible speeds.
Admiral Byrd repeated the above points of view, resulting from his personal knowledge gathered both at the north and south poles, before a news conference held for International News Service."

This takes me to the second group of extraterrestrials helping the Nazis that participated in the aerial battle witnessed by the five remote viewers. Dr. Brown said:
What is most surprising is that some of our data suggests that some support for the Nazis came from a group of extraterrestrials who we know as the Pleiadians. Now understand that we have a much broader view of the Pleiadians at the current time. They were not all of one mind during that time period. Moreover, the Pleiadians now seem to be thoroughly upset with everything that some of their kind did with the Nazis back in the day. In general, we have found that contemporary Pleiadians are good people who want the best for humanity, all of humanity.
Dr. Brown's comments here are puzzling since none of the remote viewers mentioned Pleiadians helping the Nazis. All the remote viewers mentioned were human-looking extraterrestrials helping the humans (Nazis) in the underground structures and the subsequent battle in the remote cold snowy mountainous regions (Antarctica).
According to the available literature, the human-looking extraterrestrials helping the Germans described them as coming from the Aldebaran star system in the constellation Taurus, not the Pleiades constellation.  This was made clear in the psychic communications of Maria Orsic, who established the initial contacts with the Aldebaran extraterrestrials that kickstarted the development of the advanced spacecraft that would eventually be incorporated into the secret weapons programs of Nazi Germany and taken secretly to Antarctica.
Is Dr. Brown simply mistaken in his assertion that a rogue Pleiadian group helped the Nazis? Possibly, but it's worth pointing out that according to Elena Danaan, who claims to be a Pleiadian contactee, there is indeed a rogue group of Pleiadians that are working with Reptilians. She describes them as coming from Alcyone, one of the solar systems making up the Pleiades constellation, and also asserts that they have long been helping the Cabal/Deep State:
They named themselves "Taal Shiar"… and name their planet "Taalihara" orbiting around the star Alcyone…. They tried to build their own little empire from there, I think that was quasi impossible regarding to the overpowering threat of the Orion and Ciakahrr [Draco Reptilian] empires. By opposition to their brothers Taygetans [the main Pleiadian group], they did not join the GFW [Galactic Federation of Worlds] and instead allied with … malevolent groups. They are involved in the misdeeds of the Cabal on Terra [Earth] and a painful disgrace to the Man races. They also gave a world in the Alcyone system to a reptilian presence. [A Gift From the Stars, p. 250]
The information provided by the team of remote viewers working with Dr. Brown gives rich insights into historical events that took place in Antarctica around the end of World War II, the establishment of a secret German space program in underground locations, and the assistance to the Germans by both human-looking and Reptilian extraterrestrial groups.
The remote viewing data provided by Dr. Brown and his team of well-trained remote viewers following a rigorous scientific protocol provides a highly valuable means of intelligence gathering on esoteric topics and important historical events involving extraterrestrial life. The data provides answers to many important questions while also raising further controversial issues to explore. Most critically, remote viewing data helps us sidestep the blanket suppression of information about the true history of human extraterrestrial interactions implemented by national security forces in all major countries. For these reasons, Dr. Brown and his remote viewing team deserve our thanks and support.
© Michael E. Salla, Ph.D. Copyright Notice 
[Note: Videos featuring remote viewing of Nazis and Reptilians in Antarctica are  available at Farsight Institute]
Further Reading
---
New Webinar: Antarctica, the Dark Fleet & Humanity's Liberation – May 22, 2021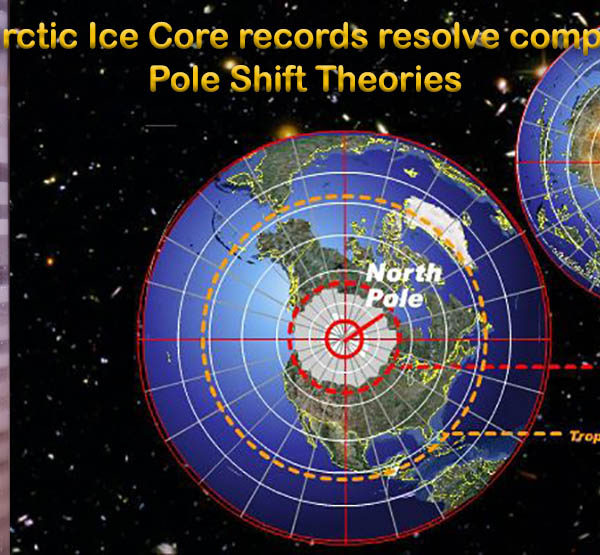 A declassified CIA document called The Adam and Eve Story has generated much controversy over predictions of an upcoming pole shift (aka crustal displacement) and catastrophic events that may sweep the planet in the not distant future. The 57-page document is based on a book authored by Chan Thomas in 1963. In it, Thomas proposed a pole shift scenario that differed in significant ways with what Charles Hapgood had earlier proposed in his pioneering 1958 book, The Earth's Shifting Crust.
Hapgood's theory, which was endorsed at the time by Albert Einstein, proposed that the geophysical poles periodically move by as much as up to 40 degrees through crustal displacements. This phenomenon was brought about by the increasing weight of the polar ice caps which accumulate more and more ice over the millennia until they eventually generate sufficient centrifugal force due to the planet's rotation, to make the crust move over the mantle as Einstein explained in the book's foreword.
In The Adam and Eve Story, Chan proposed that the pole shift was much greater, as much as 90 degrees with the poles shifting into the equatorial zone in less than a day. Chan has proposed the poles would flip back and forth in this way so that Antarctica would eventually return to the South Pole region, and the Arctic would do likewise.
Each time the geographical poles did one of these 90 degree flips, there would be catastrophic winds and tidal waves all over the planet, especially in the equatorial region where the Earth's spin was  1000 mph. Water and wind would continue to move in the westerly direction through the law of inertia, sweeping over the landmasses that traveled over the equatorial region during the shift as Thomas explained:
In ¼ to ½ a day the poles move almost to the equator, and all hell lets loose. The atmosphere and oceans don't shift with the shell – they just keep on rotating West to East – and at the equator that speed is 1000 miles per hour. It has to be, normally, to make one rotation per day. So, while the shell shifts with the poles going toward the equator, the winds and oceans go eastward, blowing across the face of the earth with supersonic speeds, inundating continents with water miles deep….
You can see, then,  that ice ages are not a matter of advancing and retreating ice; it's simply that different areas of the Earth are in polar regions at different times, for different durations of time, with the changes between positions taking place in a fraction of a day. [The Adam and Eve Story, pp.13-14]
The following video illustrates what happens during one of these 90 degree shifts, and what Thomas was proposing for what's to come. One can easily see how devastating such a 90 degree shift could be and why the CIA may have been motivated to suppress such information.
According to Ben Davidson, author of the popular Earth Catastrophe series, this flipping back and forth would address paleomagnetic studies that show that the magnetic poles have been in their present locations for millions of years. Davidson concluded that this made Thomas' pole shift theory much more compelling than Hapgood's. In fact, Davidson believed Hapgood was putting out his theory as a "limited hangout" by the CIA in order to put the truth out in a way that later could be easily discredited.
Unfortunately for Davidson, ice core samples from Antarctica clearly support Hapgood and not Thomas' theory. Ice core samples from East Antarctica date back as much as 1.5 million years. The following diagram illustrates ice core samples taken from different Antarctic regions and show how far back in time the ice sheets date.
The results from the ice core drill sites show that East Antarctica has been covered by ice for hundreds of thousands years, with Lake Vostok having some of the oldest discovered ice (220,000 years). Older ice core samples than those recorded in the above map have subsequently been found both at Lake Vostok (400,000 years), and the Dome C area (800,000 years) as shown in NOAA records.
A subsequent 2013 study asserted that ice core samples of up to 1.5 million years are most likely to be found in the Dome C area of East Antarctica. Put simply, scientists agree that East Antarctica has been covered by ice sheets for at least 1.5 million years, and likely much longer than that.
In contrast, the ice core samples in West Antarctica are only a few centuries old, with only one so far matching the age of many of the East Antarctic sites. This site is in the drilling area designated Boyd whose ice was found to be 70,000 years old as the above map illustrates.
The ice core records show conclusively that much of the Antarctic continent has been located in the polar zone (latitudes greater than 66 degrees) for at least 1.5 million years, and not in the equatorial zone (O-23 degrees latitude) as proposed by Thomas. Hapgood's theory offers a better explanation for why only part of Antarctica has been ice-free for significant periods. But how do we explain the 70,000 year old ice sample found in the Byrd region of West Antarctica?
To find a definitive answer to where the geographical poles have been located and then move via crustal displacements to new positions, preserving some but not all the ice accumulated before the displacement, we can turn to the work of Rand and Rose Flem-Ath, authors of When the Sky Fell.  
In their well-documented book, they used a range of archeological and fossil records to show where ice sheets have been found over the last 100,000 years, and how these positions had changed due to crustal displacements as first proposed by Hapgood. To date, I have found no other authors laying out such a compelling case for using available scientific data to track the respective positions of the geographic poles during the last 100,000 years.
Their findings provide a clear explanation for the varying ages found in the ice core samples extracted from different regions of Antarctica; and why Hapgood, rather than Thomas, provides a more accurate explanation for how the crustal displacement theory works.
First, I begin with Flem-Aths' illustration of the positions of the North and South poles prior to 91,600 BC. It shows how the bulk of East Antarctica was inside the Antarctic circle, while West Antarctic lay in the temperate zone – similar to the present day location of New Zealand. Note the South Pole was located just off the coast of East Antarctica at the time, while the North Pole was located in Alaska.
Importantly, the Dome C area containing some of the oldest ice core samples found to date was located within the Antarctic circle, thereby preserving much of the ancient ice sheets acquired over the previous 1.5 million years or more.
The next diagram shows the Antarctic continent in relation to the South Pole after a crustal displacement led to a pole shift around 91,600 BC. Consequently, during the period from 91,600 BC to 50,600 BC, much of lower region of West Antarctica, along with the Transantarctic mountains, lay within the Antarctic circle, while the Palmer peninsula and significant areas of East Antarctica lay within the temperate zone.
Once again the physical South Pole was located over the ocean, rather than the Antarctic continent – this time off the coast of West Antarctica – adjacent to the Ross Sea. The geophysical pole had moved approximately 40 degrees from off the coast of East Antarctica to just off the West Antarctic coast during the 91,600 BC pole shift.
This is very close to what Hapgood had proposed was the crustal displacement that would occur during a pole shift.  Significantly, it is far less than the 90 degree pole shift claimed by Thomas.
Importantly the Dome C area remained entirely within the Antarctic circle thereby preserving its ancient ice sheet. Furthermore, the Byrd area where the 70,000 year old ice sample was found, had been moved from its prior location in the temperate zone prior to the 91,600 BC pole shift, to deep inside the Antarctic circle. This allowed the accumulation of ice to begin, thereby accounting for its estimated age.
The next pole shift occurred around 50,600 BC, and an illustration provided by the Flem-Aths shows the approximate locations of the poles from 50,600 BC to 9,600 BC.
Around 50,600 BC, the South Pole has flipped back to the other side of the Antarctic continent, where it again lay just off the coast of East Antarctica. An approximate 30 degree pole shift had occurred, which is again consistent with Hapgood's estimate for the cyclic crustal displacements that the Earth undergoes. It's important to emphasize that the 50,600 BC pole shift was far less than the 90 degree shift predicted in Thomas' theory.
Most of East Antarctica was again located inside the Antarctic circle, both preserving its ancient ice sheets and allowing them to expand. The Byrd region, containing the 70,000 year old ice core sample, was now located just outside the Antarctic Circle. Its marginal position marginally inside the temperate zone, which would allow the Byrd region to preserve the bulk of its ice sheets similar to the glaciers of southern New Zealand.
The period from 50,600 BC to 9600 BC is significant since it corresponds to the last time major portions of the Antarctic continent lay outside the polar circle. The bulk of West Antarctic lay in the temperate zone, and its coastal area would therefore have been ice free. Significantly, West Antarctica's coastline and interior would have been navigable, just as the 1513 Piri Reis Map showed.
In the following diagram, the Piri Reis map is superimposed over a map of the globe showing how the Antarctic coastline from the tip of the Palmer Peninsula, all the way down its eastern flank to East Antarctica was known to ancient sea captains.
Also vital to understand is that this period, 50,600 BC to 9600 BC corresponds to the Atlantean civilization that Plato wrote about in his famous dialogues, Critias and Timaeus. Plato explained Atlantis' extensive island system and waterways deep into its interior, and how it was the hub for a mighty empire that ruled over much of Africa, Europe, and Asia.
This finally takes us to the 9600 BC pole shift that led to the entire Antarctic continent, being moved to wholly inside the Antarctic circle. The magnitude of the Earth crustal displacement moving the South Pole from its previous location just off the East Antarctic coast to its present location was approximately 20 degrees. Again, significantly less than what Thomas was proposing in his crustal displacement theory.
The Flem-Aths contend that Atlantis was located in Antarctica and that the remnants of this legendary lost civilization today lie under the West Antarctic ice sheets. This is consistent with what several whistleblowers and insiders have been revealing concerning the discovery of a flash-frozen civilization under the ice sheets.
If the Flem-Aths and others are right that Plato's Atlantis is buried under the Antarctic ice, this gives us a means of estimating the devastation that would be caused by a crustal displacement of approximately 20 degrees. It would be sufficient to wipe out the coastal regions all over the globe such as the low-lying archipelagos such as Atlantis, but allow those living in elevated or mountainous regions to survive the subsequent tsunamis, earthquakes, and hurricanes accompanying a pole shift.
When ice core samples are examined in relation to what we know about Earth crustal displacement theories proposed by Hapgood and Thomas, they lead to a clear conclusion. The examination of ice core samples from different parts of Antarctica support Hapgood's theory that earth crustal displacements happen periodically, and involve Pole Shifts of up to 40 degrees.
The Flem Aths book, When the Sky Fell, gives us a means of tracking the most significant pole shifts over the last 100,000 thousand years, and illustrates how these have occurred in a manner that is consistent with what ice core samples tell us.
Thomas' theory that the Earth regularly experiences 90 degree pole shifts that flip the poles back and forth from equatorial regions is not supported by Antarctic ice core records. While it is comforting to know that the Earth is unlikely to experience anything like the cataclysmic 90 degree pole shift predicted by Thomas, it is sobering to know that even a 20 degree pole shift devastated the worldwide Atlantean civilization 11,600 years ago.
The likelihood that we will soon experience a pole shift due to another crustal displacement caused by solar activity, cosmic rays, collapse of the Earth's magnetic field, activity from the Earth's core, and/or a rapid melt off of the West Antarctic, appears to be quite high as I have suggested in previous articles examining Davidson's Earth Catastrophe series.
This calls for an unprecedented level of transparency by governments in sharing data about Antarctica's history, what is known about prior pole shifts, and the disclosure of suppressed technologies that would enable the bulk to humanity to prepare and escape from impending cataclysmic events.
© Michael E. Salla, Ph.D. Copyright Notice
Further Reading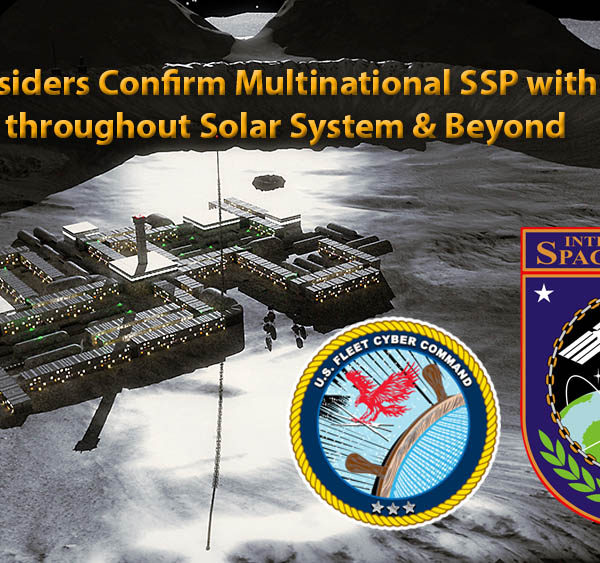 In the third instalment of a remarkable Earthfiles Youtube series on Antarctica, Emmy Award Winning Investigative Journalist, Linda Moulton Howe, has released more stunning video testimony from two anonymous Navy insiders/whistleblowers about a multinational coalition that has a secret space program with bases in Antarctica, on the Moon, Mars and even beyond our solar system.
In accord with their wishes, Howe has not disclosed their identities and has instead used the pseudonyms Spartan 1 and 2, and featured backlighting and voice altering technologies in their interviews. Howe has confirmed through official documentation they have supplied her that Spartan 1 served as a US Navy Seal from 1984 to 2004, when he retired with the rank of Commander. Spartan 2 served with the US Marine Corps (which falls under the Department of the Navy) and as an intelligence specialist from 1992 to 2016.  
Spartan 1 claims he visited Antarctica in August 2003 where he witnessed a large octagon shaped structure buried 50 feet under the Beardmore Glacier, which extended down deep into the interior of Antarctica, as discussed in part 1 of Howe's series.
Spartan 2 appeared for the first time in part 2, and discussed covert activities run out of the 8th floor of the NSA headquarters in Fort Meade, home of US Cybercommand, both of which are involved in running the space operations of a multinational alliance and the interstellar trade it conducts.
One of these multinational missions involved a trip to the interstellar object Oumuamua, which was discovered to be an ancient derelict spacecraft, as discussed in my previous article.
Spartan 1 described a secret base on the far side of the Moon used by a multinational alliance:
From my understanding, it's both above and below ground. It's a multi-structured facility that goes deep into the planet's [Moon's] crust. [Timestamp 6:16]
Spartan 2 also explained what he knew of the Moon base:  
I was told that the dark [far] side of the Moon there's not just above ground structures, there's also an operation going. They're building a mothership up there. They're mining materials. [Timestamp 9:02]
He went on to assert that there are 2500 individuals working on the Moon on such operations, statements Spartan 1 agreed with.
The moon base statements by both Spartan 1 and 2 suggest that neither has actually visited the Moon base themselves, but they know about it from documentation, briefings and/or through a first-hand source they encountered during classified missions or intelligence work.
Spartan 2 has repeatedly referred to his primary contact as a senior official in U.S. Cyber Command called Kim (or Ken) who has briefed him on the classified operations of the multinational space force.
In response to questions about when the building of the Moon base began and which countries were using it, Spartan 1 responded:
It goes back to the coalition, it's been happening for years. A lot of the times when stuff was going up, and we were told it was going up to the International Space Station, it wasn't. It was going up to this moon… I would have to say it's a multinational group… Great Britain, France, Germany, United States, Canada [Timestamp 7:04]

There were 15 countries that signed the International Space Station Intergovernmental Agreement on January 29, 1998. In addition to those named by Spartan 1, other nations that signed the founding documents are: Russia,  Norway, Spain, Sweden, Italy, the Netherlands, Brazil, Denmark, Japan, and Belgium.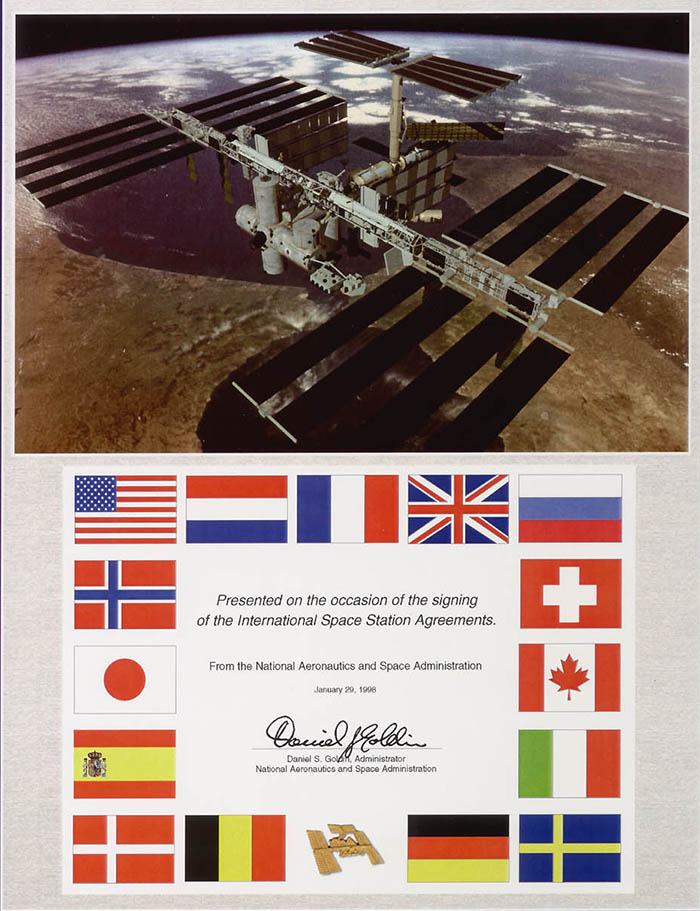 In part 2 of Howe's video series, Spartan 2 said that the multinational collation has had "a space fleet in existence for the last 25 years" [Timestamp 9:01] This dates back to 1994,  just four years before the formal signing of the agreement establishing the International Space Station, and just three years after the formal dissolution of the Warsaw Pact and the Soviet Union.
Remarkably, this corroborates what secret space program insider Corey Goode has been publicly asserting since 2015. He was the first to reveal the existence of a multinational alliance that operates interstellar missions. Goode called this multinational alliance the "Global Galactic League of Nations", and he claims to have visited one of their interstellar bases on an exomoon during his 20 year and back service (1987-2007).

An entire chapter in my 2015 book, Insiders Reveal Secret Space Programs and Extraterrestrial Alliances analyzed Goode's claims about the multinational alliance, its operations, and how it was formed as result of a covert agreement reached that ended the Cold War.
Spartan 1 went on to explain the activities occurring at the secret moon base:
I think they're training, and as far as where they go…. I know it's many light years away. [Timestamp 8:02]

His statement that operations are conducted "many light years away" is very significant given Goode's earlier claims of having visited an Exomoon in an unknown solar system run by the multinational alliance.
The testimonies of Spartan 1 and 2 furthermore corroborates what Goode and other secret space program insiders have been saying about a secret base on the Moon called Lunar Operations Command (LOC). Goode says he has been taken multiple times to the LOC, and in January 2018 was given an extensive tour of much of the facility that exists deep underground. 

Also, Spartan 1 and 2 discussed portals, or stargate technology found in Antarctica. One of these portals is located in the vicinity of the Wilkes Land magnetic anomaly, which Spartan 1 elaborated on:
What I've heard is that it's a portal. A portal takes you from one structure to another vessel outside of our atmosphere. Like an invisible elevator. This particular portal was underground inside a structure… It had a frame. It had hieroglyphics… The frame of this portal acted like a wormhole from point A to point B. [Timestamp 15:45]

He described the portal as very similar to the surface of a Moon Pool, where rather than moving through it into water, one walks through the vertically aligned portal. He described it as follows: "I'm sure you've seen the movie Stargate…. Exactly same thing except the frame is square." [Timestamp 17:48].
Similarly, Emery Smith, a former US Air Force Surgical Assistant, says that he performed portal missions for a multinational corporate alliance, and described the portals as rectangle shaped.
Spartan 1 and 2 also discussed coming Earth changes and the widespread destruction this is expected to create, and how the multinational coalition has created many staging posts around the planet in case of an emergency situation requiring the immediate planetary evacuation of personnel and resources, not unlike that depicted in the movie, 2012.
The dire scenario described by Spartan 1 and 2 is similar to earlier revelations of Goode and others who disclosed foreknowledge possessed by secret space program leaders about a coming Solar Flash event and/or pole shifts, both geomagnetic and geophysical.  
Many of the revelations of Spartan 1 and 2 corroborate earlier claims by Goode, William Tompkins, Pete Peterson, Emery Smith and other insiders who have bravely come forward to share their knowledge of secret space programs and the role of Antarctica in these operations.
The testimonies of Spartan 1 and 2 shed a lot of light on the multinational coalition behind these secret space programs, which can be traced to signatories of major international treaties such as the Antarctic Treaty and the International Space Station Intergovernmental Agreement.
In Antarctica's Hidden History (2018), evidence was presented that the signing of the Antarctic Treaty was used as a cover for secret agreements reached between the Eisenhower administration and a breakaway German nationalist group in Antarctica. This led to the start of extensive cooperation between US and European companies, especially German companies linked to the breakaway Antarctic group.
Both Spartan 1 and 2's testimonies corroborate that such a coalition had indeed been established and that Antarctica was a hub for its subsequent operations, which culminated decades later with the emergence of a multinational space fleet emerging from the end of the Cold War and the signing of the International Space Station Intergovernmental Agreement.
Linda Moulton Howe's interview series of Spartan 1 and 2 cast is vitally important in understanding the major nations and governmental agencies involved in secret space programs, off-world activity and what may lie in the future for our planet itself.
© Michael E. Salla, Ph.D. Copyright Notice
Further Reading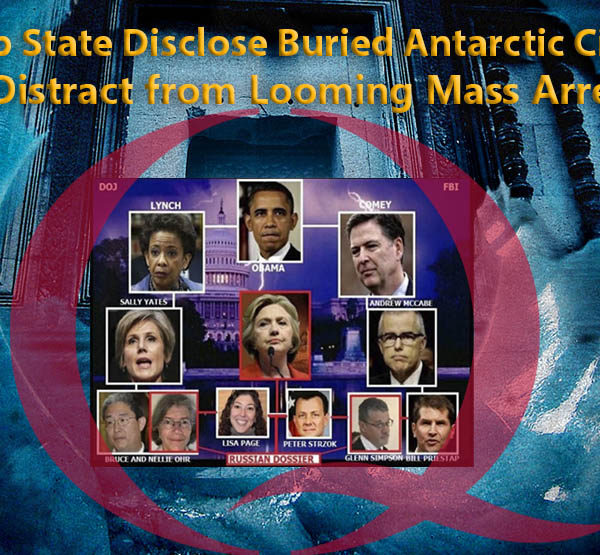 Multiple independent sources have claimed that the Deep State has authorized disclosure of a buried civilization in Antarctica as a means of distracting the mainstream media and general public from looming mass arrests, which will involve charges of subversion, child trafficking and a host of other serious crimes against compromised government officials according to the military intelligence group Q Anon.
A large Octagon shaped structure that is estimated to be 62 acres in size and buried under 50 feet of ice near the Beardsmore Glacier in West Antarctica appears to be the catalyst for such an announcement. Two whistleblowers, a Navy Seal and a US Marine Corps special operator, using the pseudonym Spartan 1 and Spartan 2 have emerged and shared their testimonies with veteran UFO researcher Linda Moulton Howe about the Octagon and the buried technological wonders of Antarctica.
Spartan 1 described entering the Octagon in 2003 to extract a scientist in a video released by Howe on January 23, 2018. Spartan 1's account of the ancient age and advanced technologies found in the structure, which had multiple layers stretching deep down into the two mile ice sheet was covered in an earlier article.
In the live streaming on February 20, where more of Spartan 1's testimony was released, he described how a submarine was used to travel from the coastline under the ice sheet to enter the structure at an entry point approximately two miles beneath the ice. This corroborates historic claims that submarines where initially used by Nazi Germany to travel from the Antarctic coast line deep under the ice sheets to establish hidden bases in naturally formed caverns since the early 1940's.
Howe also released the testimony of Spartan 2 who referred to Antarctica containing "wonders beyond what most can comprehend" with "ties to space and technology beyond belief". [Timestamp 22:06]
New York Times best-selling author David Wilcock released his own video of Howe's stunning interview with Spartan 1 and 2, which quickly amassed over 300,000 views by time of writing. After the release of his video, Wilcock was told by his insider sources that an official announcement about the Antarctic discovery had finally been authorized by the Deep State:
Additionally, just since this video went live, we have gotten additional briefings that the Deep State folks are apparently indeed moving forward with the plan to do the Antarctic Atlantis and undersea ruins disclosure in the near future. We heard for some time that they might do this when they are really in trouble, and that time is now.
In early 2017, secret space program insider Corey Goode says he was taken to Antarctica where he got to see first-hand the flash frozen civilization that had been discovered in Antarctica. Goode said that in 2002, scientists and archeologists were allowed to visit the buried artifacts and begin excavations and study the remains. This is consistent with what Spartan 1 later revealed about his August 2003 mission to go and retrieve a government scientist who had been earlier dropped off at the buried Octagon structure to study it.
Goode was the first to claim that the Antarctic ruins and excavations would be revealed in a partial disclosure initiative in order to distract the mass media from looming mass arrests and criminal cases involving Deep State officials:
The Partial Disclosure plan includes … The unveiling of ancient, high-tech ruins in Antarctica that have been newly excavated. This will prove that "Atlantis" was very real, and far more advanced than we thought….
The rapidly-escalating downfall of high-level elite human trafficking rings is bringing these issues to the immediate forefront. The Cabal has run out of time – and they know it.
For many years they have planned on using a partial disclosure to distract and inspire the public if the full nature of their crimes were to become known.
Another researcher with his own independent insider sources about recent discoveries in Antarctica is author Steve Quayle who told radio host, Dave Hodges about what his sources are telling him about an impending announcement, which was also a political deception contrived by the Deep State. Hodges announced in a February 22 video that:
… there is a great deception coming and it has to do with revelation about aliens, but it's not going to be a real revelation, it's going to be a fake revelation. There is going to be announced fossilized findings, geological findings that connect Antarctica to Mars… It's a political purpose, it's great deception…. I don't know when they are going to release this. Steve got a heads up that it's coming from inside sources.
In sum, Wilcock, Goode and Quayle all claim that an announcement about ruins discovered in Antarctica are impending, and that this is related to a political deception of some kind.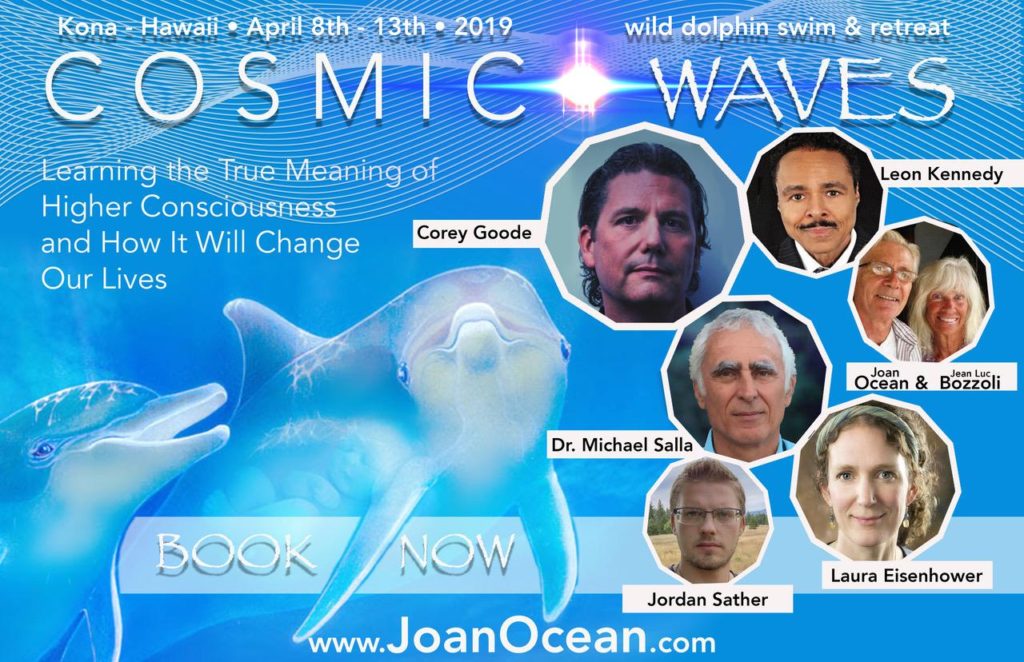 As to the question of why the time appears to have arrived for a political deception involving disclosure of discovered Antarctic ruins, we can turn to Q Anon who has described the great changes that are about to occur.
Q has posted (#2856) that once the Robert Mueller investigation delivers its report of alleged Russian subversion of the 2016 Presidential election, that many long-awaited events will occur:
DO NOT TRUST THE FAKE NEWS MEDIA.
YOU ARE THE MAJORITY.
MUELLER > DECLAS > OIG > TRUTH > JUSTICE
THE GREAT AWAKENING.
YOU ARE THE NEWS NOW.
Q
The Mueller Report is expected to open the door to declassification [DECLAS] of multiple documents including unredacted versions of the FISA applications based on the contrived Steele Dossier which was used to justify surveillance of the Trump Presidential campaign.
This will not only expose Deep State officials involved concocting an "insurance policy" in case Trump won the election, but will also expose the roles of Britain and Australia – not Russia – in subverting the outcome of the 2016 U.S. Presidential election.
Next in Q's sequence of predicted events is the release of the unedited original version of the June 14, 2018, Office of Inspector General (OIG) report on FBI and Department of Justice (DOJ) actions relating to the 2016 election.
The release of these and other documents will lay out the "Truth" about the Deep State's effort to subvert the 2016 election, and the criminal actions taken by compromised officials.  
This in turn will lead to the final stage in Q's predicted sequence of events, "Justice", which will involve the US Attorney for Utah, John Huber, moving forward with the release of up to 60,000 sealed indictments. This is expected to trigger the prosecution of thousands of former officials and Deep State figures involved in a variety of crimes including subversion, human trafficking, and pedophilia in both military and civilian courts.
In a February 18, post (#2803), Q outlined the ramifications of all the information about to be released to the public:
Q !!mG7VJxZNCI ID: 809f7f No.5257078
Feb 18 2019 23:25:17 (EST)
Look for 'Placeholder' updates @ /PatriotsFight
Indictments, arrests, and DECLAS will force WW coverage.
Leaks, bribery, collusion re: media will force resignations w/ follow up criminal prosecution.
Q
On February 26, as President Trump landed in Vietnam for a summit with North Korea's Kim Jung Un, Q posted [#2903] that the next 21 days were going to be historic:
It's going to be HISTORIC!
Planned long ago.
[-21]
Within the next 21 days BIG BIG BIG HAPPENINGS are going to take place.
Q
In conclusion, according to Q Anon, we are on the verge of witnessing the collapse of the Deep State's efforts to subvert the Trump administration, and the exposure of the criminal actions of many former FBI and DOJ officials in these efforts. In addition, the role of British and Australian Deep State officials in the subversion efforts will only serve to accentuate an anticipated world wide media frenzy over what is about to be revealed.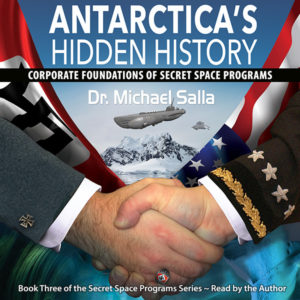 This is an overview of the political context by which we can now better understand why the Deep State has decided to move ahead with disclosure of the discovery of a long-buried civilization in Antarctica. Such announcements will help distract the mass media and the general public from what is about to be revealed in the coming criminal and military trials of former government officials who concocted an "insurance policy" to remove Trump from the Presidency.  
The simultaneous public emergence of two military insiders, Spartan 1 and 2, discussing technological wonders discovered in Antarctica, including a 62 acre Octagon shaped structure lying only fifty feet below the ice, raises the possibility that this may be among the first of the ancient artifacts about to be revealed by the Deep State.
While any official announcement concerning discovery of an advanced ancient civilization buried in Antarctica is to be welcomed, it's always important to be mindful of the political agenda behind such disclosures.  
© Michael E. Salla, Ph.D. Copyright Notice
Further Reading