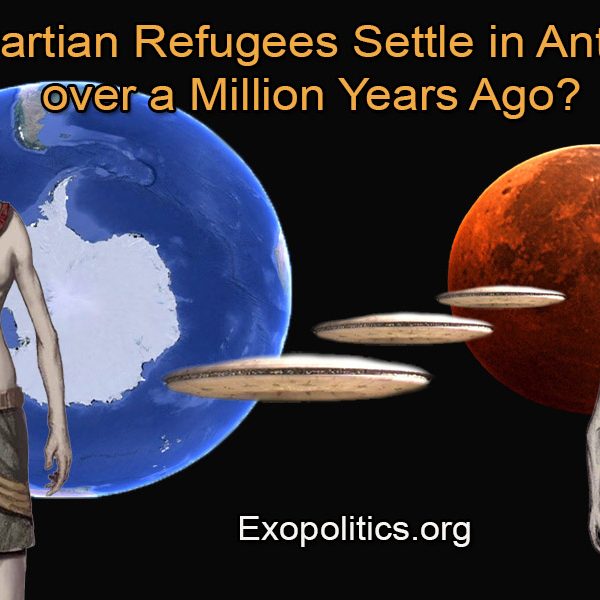 The remote viewing of Mars revealed in a May 22, 1984 CIA document gives details of a planet wide-catastrophe that led to many refugees leaving in spacecraft to safer locations over a million years ago. This leads to the intriguing possibility that a flash-frozen civilization recently found in Antarctica with cannibalized spacecraft nearby was the remnants of a colony originally established by Martian refugees.
Such a scenario is consistent with the claims of Secret Space Program whistleblower Corey Goode who says that extraterrestrial refugees have been finding sanctuary on Earth for at least five hundred thousand years, and that preparations are currently underway to officially disclose excavations of a flash-frozen Antarctica civilization.
Back in March 28, 2016, Goode described various insider sources that had told him about the influx of refugees from other planets during Earth's history:
And it seems that more recent information that I've gotten is telling us that the Earth received refugees, at different points in history, from a couple of different planets, at least, in our solar system where the planets failed and inhabitants left and came to Earth as refugees.
Goode said that Mars was one of the planets from which the refugees originated. The Martians were highly advanced technologically with antigravity spacecraft. They engaged in aggressive warfare that led to planetary catastrophe and refugees leaving for Earth. Goode relates what he was told by inhabitants of the "Inner Earth":
And the people in the Inner Earth Council stated that the different inhabitants of the planets in our solar system were extremely advanced technologically and extremely aggressive, and that they destroyed their civilizations and had to be relocated here as refugees by other ET races that came in.
According to Goode, Mars in particular was hit by a series of environmental catastrophes that were related to devastating wars with the inhabitants of a nearby "Super Earth", around which both Mars and our current Moon orbited up to 500,000 years ago. The "Super Earth" orbited the sun in the area of the asteroid belt as it exists today between Mars and Jupiter.
Mars at the time had abundant water and oxygen rich atmosphere to host a large population on its surface. The existence of abundant water and oxygen on Mars in its distant past has been recently corroborated by scientists.
The events that led to the Super Earth's destruction also wiped out much of the surface population on Mars, and removed the bulk of its atmosphere according to what Goode read on "smart glass pads", which he had access to during his 20 year secret space program service.
It was postulated that Mars was most likely a moon of that Super Earth, and that it was damaged heavily on one side by massive impacts. And that most likely also stripped away its main atmosphere at the time, and it never recovered.
The force of the Super Earth's destruction propelled Mars into its present planetary orbit.
So was there a Super Earth that was destroyed in a titanic battle, which resulted in one of its moons being sent into Earth orbit, and another being sent into its present orbit as the planet Mars?
The first major scientist to seriously research the possibility that the asteroid belt is the remains of a former planet is Dr. Thomas Van Flandern, who was the chief astronomer at the U.S. Naval Observatory. He wrote several academic papers on what he described as the "Exploded Planet Hypothesis", which suggested that the main asteroid belt in our solar system arose from the destruction of a large planet around which Mars once orbited:
Putting all this evidence together, we have strong hints for two original planets near what is now the main asteroid belt: hypothetical "Planet V" and "Planet K". These were probably gas giant planets with moons of significant size, such as Mars, before they exploded… The above summarizes evidence that Mars was not an original planet, but rather a moon of a now-exploded planet occupying that approximate orbit. Many of these points are the expected consequences of having a massive planet blow up nearby, thereby blasting the facing hemisphere and leaving the shielded hemisphere relatively unscathed. Especially significant in this regard is the fact that half of Mars is saturated with craters, and half is only sparsely cratered.
Van Flandern's Exploded Planet Hypothesis lends scientific support to Goode's claims about both the Moon and Mars being two former moons of a Super Earth. The CIA's remote viewer's claims of the history of Mars is therefore supported to varying extents by both Goode and Van Flandern's information.
The remote viewer, as discussed in part one, described a planet with violent storms and volcanic activity that was very green. This certainly sounds like Earth, which at the time was likely the only planet in our solar system that would fit such a description. This leads to the question of whether the escaping Martians established colonies on Earth, at least one of which was in Antarctica.
In the remote viewers' description of Mars, he described them as very tall and thin, and also possessing spacecraft used to transport refugees to the safe location – Earth. This is consistent with what Goode claims to have encountered when he was taken to Antarctica in early January 2017 to see first-hand what was being secretly excavated.
In a January 24 private briefing, Goode confirmed his earlier reports about a "Pre-Adamite civilization" found flash-frozen in Antarctica which was very tall and thin. He described three 30 mile long oval-shaped spacecraft nearby that appeared to have been cannibalized.
Such large ships would have been ideal space arks carrying many thousands of fleeing Martians as described by the remote viewer.
In earlier interviews, Goode described being taken into the interior of Antarctica, well under two miles of ice, and witnessed that it was volcanically very active, and that abundant thermal energy was available to be used as a power source. In the following graphic illustration of what he witnessed at a secret Antarctica base, the steam vents show the intense thermal energy used as a power source.
Goode's description of continued volcanic activity in Antarctica  is supported by abundant scientific evidence. For example, on February 19, an NPR report discussed NASA scientists conducting experiments around Mount Erebus due to flowing lava under its icy exterior, which they believe is similar to what is likely to be encountered by NASA probes on the moons of Jupiter and Saturn.
Also, a second volcano was discovered under half a mile of Antarctic ice which is also still active and can erupt at any time.
Goode's accounts of what he witnessed in Antarctica during separate visits is consistent with the scenario described by the CIA's remote viewer. The Martians had to flee their dying world on spacecraft to another planet – Earth  – that was volcanically very active at the time. Apparently, Antarctica, if it was chosen as a safe location for a colony of the refugee Martians, was located in a more tropical location that was both very green and volcanically active approximately one million years ago.
The descendants of the Martian refugees living in Antarctica were apparently caught off-guard by a sudden "pole shift" that happened approximately 12,000 years ago and led to them being flash-frozen.

Goode has said that major announcements about discoveries in Antarctica are forthcoming which are expected to release some but not all of the truth about the discovered flash frozen civilization. His claim is supported by internet mining expert Cliff High whose "predictive linguistics" model led him to conclude in January that major announcements about Antarctic discoveries are forthcoming.
If refugee Martians did flee to Earth a million years ago and settled in Antarctica, official disclosure of these events would revolutionize our understanding of world history. The digital release of declassified CIA documents detailing remote viewing experiments do contribute in an incremental way to the disclosure process. The truth about historic events in Antarctica would help significantly in our global civilization avoiding a similar fate to what prior civilizations have encountered on Earth and elsewhere in our solar system.
© Michael E. Salla, Ph.D. Copyright Notice
Further Reading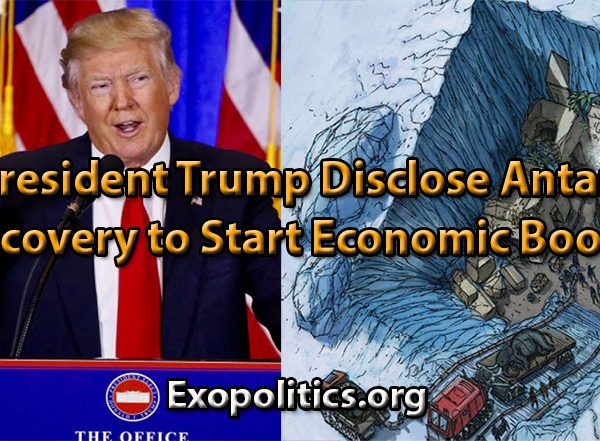 According to Secret Space Program whistleblower, Corey Goode, preparations have been underway since 2002 to publicly announce the discovery of a flash frozen civilization in Antarctica. Goode's startling claim has received support from internet data mining expert, Cliff High, who, in a January 2017 report, refers to an economic boom caused by an Antarctica announcement in the next year or so.
Goode and High's information leads to the intriguing possibility that President Donald Trump will authorize a major announcement about an Antarctica discovery in order to rejuvenate America's manufacturing industry.
On December 11, 2016, Goode revealed that he had learned about a major excavation underway in Antarctica of a flash frozen civilization that was technologically highly advanced, and involved extraterrestrial life. He said that since 2002, teams of scientists and archeologists have been excavating the ruins which are buried under two miles of ice.
Critically, in early January 2017, Goode says he was taken to Antarctica to see the ruins for himself by an Inner Earth civilization he calls the "Anshar". Goode said that bodies and artifacts that are extraterrestrial in origin were being removed and replaced by terrestrial objects from warehouses secretly located elsewhere around the planet. The goal appears to be one of both sanitizing the area of any extraterrestrial evidence, while seeding artifacts that steer scientific analysis towards a desired agenda.
Circumstantial support for Goode's claim of a major Antarctica discovery being excavated comes from a series of recent VIP visitors to Antarctica in 2016. The list includes then US Secretary of State John Kerry, Apollo Astronaut Buzz Aldrin, Russian Orthodox Church Patriarch Kirill, and Australia's Governor General, Sir Peter Cosgrove.
There have also been visits to locations near Antarctica by former presidents Barack Obama who traveled to Bariloche, Argentina, and Bill Clinton who visited Christchurch, New Zealand.
In prior years, other VIP visitors included Prince Harry of Great Britain (2013) and King Juan Carlos of Spain (2004).
Goode's startling claims are further supported by Cliff High's January report examining recent internet trends. High describes his research method as the art of predictive linguistics which he explains as follows:
Predictive Linguistics is the process of using computer software to aggregate vast amounts of written text from the internet by categories delineated by emotional content of the words and using the result to make forecasts based on the emotional 'tone' changes within the larger population. A form of 'collective sub-conscious expression' is a good way to think of it. Predictive linguistics can be used to forecast trends at many different levels, from the detail of sales to individuals, all the way up to forecasts about emerging global population trends.
High issues monthly reports called "Asymmetric Linguistic Trends Analysis Intelligence Report." In his January 2017 Report titled "Sci-fi World" he had some very significant things to say about the global impact of a discovery in Antarctica:
The new data sets have 'The (Antarctica) Discovery' providing more than 'new technologies' and 'economic boom period'… There is some suggestion from the data that a 'hoard' or 'trove' of 'knowledge' discovered is going to 'transform humanity' over these next '4'/four decades (and beyond)'…
Given Trump's desire to revitalize the US manufacturing industry, it can be predicted that he would jump at the chance to roll out the Antarctica discovery during his administration once he is briefed about it.  This is consistent with High's reference to an "economic boom period" and the release of technologies that will "transform humanity."
High goes on to describe an ongoing debate over how much and when to release information about the Antarctica discovery:
There are a number of sets within the Antarctica and The Discovery sets that may be describing a 'battle' that is now, and will continue to take place over 'how much', and 'if', and 'when' the 'information' about The Discovery is to be 'released' into the wilds of humanity. However, the data is quite clear that the 'arguing' and 'discord' will all be 'wasted time' as it is describing 'individuals' who just 'take it upon themselves' to 'awaken humanity' with "The Discovery."
High's above analysis is very consistent with Goode's report that the Antarctica discovery is on the verge of being publicly announced, and preparations for this have been underway since 2002.
High's analysis further supports Goode's earlier claims that elites are locked in fierce debates over how much and when to release advanced technologies that have been discovered, or developed in Secret Space Programs.
Finally, Goode's account of his 2017 Antarctica visit is an example of High's reference to "'individuals' who just 'take it upon themselves' to 'awaken humanity' with 'The Discovery'" in the case that official disclosure is unnecessarily delayed by disagreements.
A major question that arises is when and to what extent will Trump be briefed about such a discovery? An important clue is Secretary Kerry's Antarctica visit during the 2016 Presidential election. While the visit was ostensibly for him to learn about global environmental trends, it is clear that what he was witnessing had relevance for the U.S. elections then underway.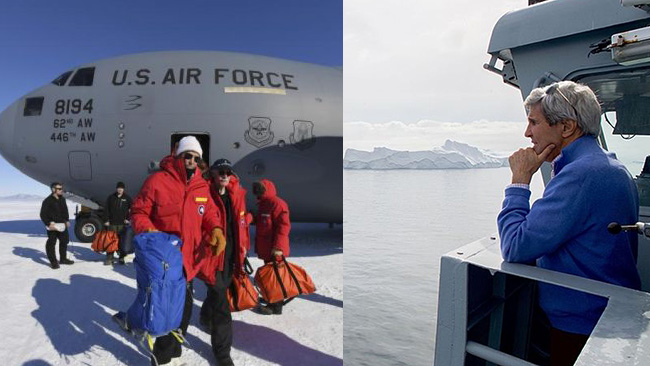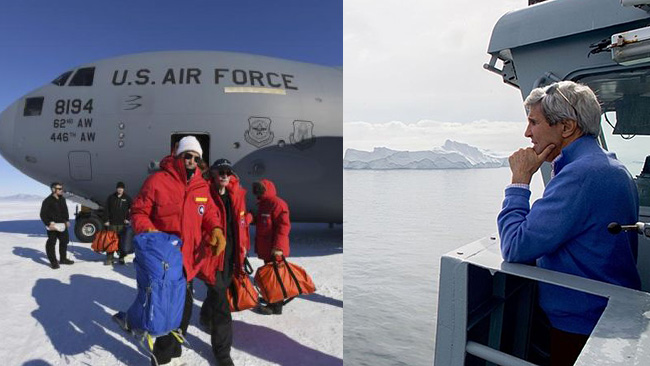 Kerry or the US State Department officials who accompanied him will eventually brief Kerry's successor, Rex Tillerson, who on January 23 received a close Senate Committee vote of approval, and this week is scheduled to be officially confirmed as the next Secretary of State. Once Tillerson is briefed about the Antarctica discovery, he will pass on the information to Trump and his National Security Council.
Significantly, Trump issued a Presidential Memorandum on January 28 reorganizing the National Security Council which he chairs, and includes the Secretary of State.  In an unprecedented move, his reorganization included his chief strategist, Stephen Bannon, as a permanent member of the NSC.
Bannon in particular, is very likely the person who will most forcefully argue for disclosure of such information as a key element of Trump's long term political and national security strategy once raised in any NSC meeting.
Given Trump's stated policy objective of rejuvenating America's industrial manufacturing capacities, it is highly unlikely that he would pass up the opportunity to initiate an industrial revival by officially disclosing the Antarctica discovery.
Consequently, it can be predicted with high confidence based on Goode's revelations and High's predictive linguistics model, that Trump will at some point in his Presidential administration disclose the discovery of a flash frozen civilization in Antarctica with advanced technologies. Not only will such an announcement stimulate an economic boom, it is also likely to open the door to an official disclosure process of even more advanced technologies used in secret space programs and visiting extraterrestrial life.
© Michael E. Salla, Ph.D. Copyright Notice
Further Reading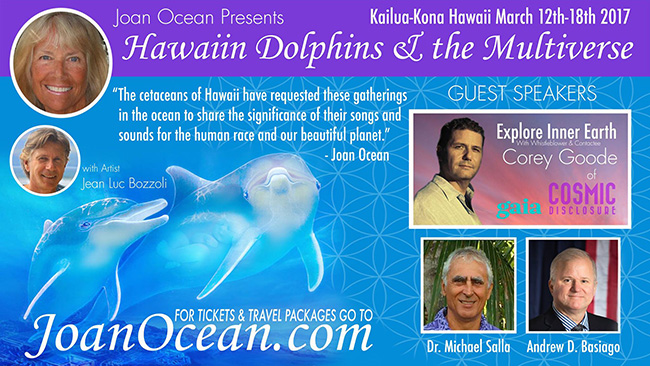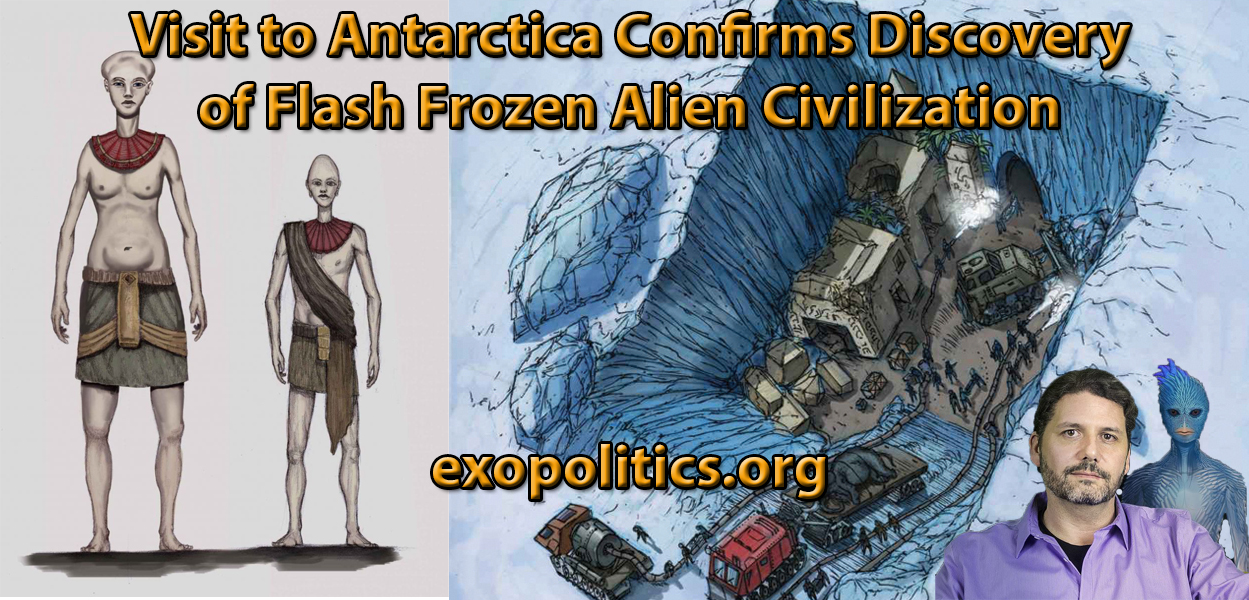 In early January 2017, secret space program whistleblower Corey Goode says he was taken to Antarctica to witness the first scientific excavations of ruins from an ancient flash frozen civilization buried under two miles of ice. While the discovery of the ruins date back to the first Nazi German expedition in 1939 according to Goode, it is only since 2002 that excavations by archeologists and other scientists have been allowed, The archeologists have allegedly prepared documentary films and academic papers whose release will astound the scientific community.
In a December 11, 2016 update, Goode describes how he had been earlier made aware of the Antarctica excavations from multiple sources, and then had the excavations also revealed to him by a senior officer within a USAF led secret space program he dubbed "Sigmund", Sigmund led a covert mission involving multiple abductions and debriefings of Goode who was being tested for the fidelity of his information.
After being satisfied about the accuracy of Goode's information and sources, Sigmund unexpectedly shared some of his knowledge about the Antarctica excavations. It involved a civilization led by 10-12 foot tall "Pre-Adamites" with elongated skulls.
Three oval shaped motherships about 30 miles in diameter were discovered nearby revealing that the Pre-Adamites were extraterrestrial in origin, and had arrived on Earth about 55,000 years ago. One of the three ships has been excavated and found to have many smaller spacecraft inside. The Pre-Adamite civilization, at least that portion of it based in Antarctica, had been flash frozen in a cataclysmic event that had occurred roughly 12,000 years ago.
Goode has also been told by his contacts that the most advanced technologies, and the remains of Pre-Adamites themselves have been removed from one archeological site that will be made public. Teams of archeologists have been working with what is left, and told to keep secret what else they had seen.
In addition, select ancient artifacts from other locations will be brought in from vast warehouses and seeded into the archeological site for public release. In their impending announcement about the Antarctica excavations, emphasis will be on the terrestrial elements of the flash frozen civilization in order not to shock the general population too much.
According to Goode, the announcement is likely to be timed as a distraction from upcoming war crimes trails against global elites as leaks emerge about international pedophile rings and child trafficking.

Up until recently, everything Goode knew about the Antarctica excavations had been shared to him by insider sources or Sigmund. That changed in early January 2017, when Goode was himself taken to Antarctica to witness the ruins and the excavations underway,

In a short personal briefing on January 24 and subsequent dinner discussion which included David Wilcock, Goode related some of the details about his most recent Antarctica trip. He has previously reported on an earlier visit to Antarctica where he got to see five of the working underground bases belonging to the Interplanetary Corporate Conglomerate, a corporate run secret space program based in Antarctica.
Goode says that shortly after New Year, 2017, he was taken to Antarctica by an "Anshar" spacecraft. The Anshar are one of the seven Inner Earth civilizations that Goode has met with. He has in earlier reports described being taken to the main underground city belonging to the Anshar, where he witnessed their advanced technologies.
Goode has described his multiple encounters with Kaaree, a High Priestess of the Anshar, who has acted as his guide and friend in many trips into the Earth's interior, Antarctica and into deep space.
Another key figure in Goode's revelations is "Gonzales," who is a U.S. Navy Lieutenant Commander that was Goode's initial contact with a Secret Space Program Alliance comprising the Navy's Solar Warden Program along with defectors from other secret space programs.
After being exposed due to Goode's involuntary abductions and interrogations by "Sigmund", Gonzales has become a liaison between a Mayan Secret Space Program and the SSP Alliance, which no longer requires his presence on Earth.
In his early January 2017 visit, Goode says he was joined by Kaaree, Gonzales, and two other Inner Earth Civilization representatives. One of whom belonged to an Asian-looking race that Goode has described in his initial meeting with representatives from the seven Inner Earth civilizations.
Goode and the others were taken by the Anshar spacecraft to an unexcavated portion of the ruins. This was an area that the nearby scientific teams have not yet reached so it was still pristine, and showed the full extent of a civilization that had been flash frozen.
Goode described seeing bodies twisted and contorted in various flash frozen states. The catastrophe had clearly been unanticipated.
He said that the Pre-Adamites were very thin. He stated it was evident from examining their bodies that they had evolved on a planet with a much lower gravitational environment.
In addition to the pre-Adamites, Goode also saw many different types of normal sized humans, some of whom had short tails, while others had elongated skulls similar to the Pre-Adamites. The conclusion Goode drew was that the Pre-Adamites were conducting biological experiments on the indigenous humans of the planet.
Gonzales had an instrument for taking biological samples that he plunged into the various frozen bodies. He also carried a camera and took many photos. The biological material and photos would be given for study by Secret Space Program Alliance scientists.
In addition, there were scrolls of a metallic alloy that were rolled up with some kind of writing in them. The Anshar and other Inner Earth representatives were collecting as many of these scrolls as possible.
In earlier reports, Goode has described the Anshar Library as being quite extensive and having many ancient artifacts from multiple civilizations. The Anshar was adding the historical records of this flash frozen civilization to their library.
In addition, Goode said that his party was not witnessed by the scientists and archeologists working on the excavations in another part of the Antarctica ruins. The Anshar ship had traveled through the ice to get to the ruins. Goode recalled how the ship could easily move through walls using their advanced technologies.
The significance of Goode's January trip to Antarctica is that it was confirmation for what he had been earlier briefed about from various sources and the USAF officer, Sigmund. The Antarctica excavations was quite real and Goode was now the first primary witness to it. It is expected that more details about Goode's trip to Antarctica and the Pre-Adamites will be released by David Wilcock in his upcoming article, "Endgame III."
Goode's visit and confirmation of the Antarctica discovery is highly significant. It is disturbing confirmation of Charles Hapgood's theory that pole shifts have been a regular occurrence in Earth's history. The flash frozen Pre-Adamite civilization was not the only case of this type of catastrophe that had impacted an ancient civilization.
The visit of many dignitaries to Antarctica in 2016, including then Secretary of State John Kerry, Buzz Aldrin, Patriarch Kirill, and many others in previous years, is circumstantial evidence that a major discovery has been made in Antarctica. Thanks to Corey Goode, we now have first-hand witness testimony of the full extent of the Antarctica discovery, and the scientific excavations underway since 2002 that are expected to announce some elements of the discovery very soon.
© Michael E. Salla, Ph.D. Copyright Notice
[Update – 1/26/16. In response to reader questions about why photos weren't taken during Corey Goode's Antarctica visit, he told me that 'Gonzales' was taking many pictures of the Pre-Adamites and artifacts. These were not shared with Corey. Article updated accordingly]  
Further Reading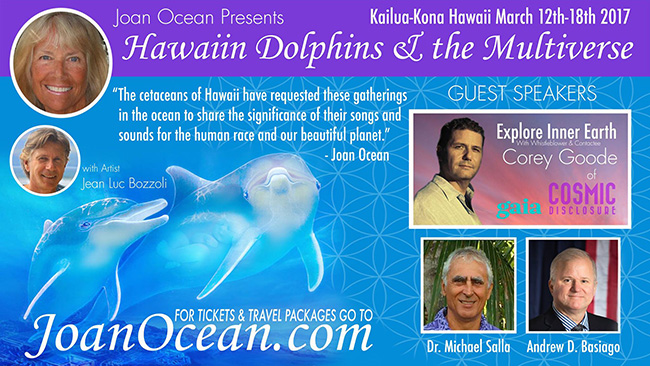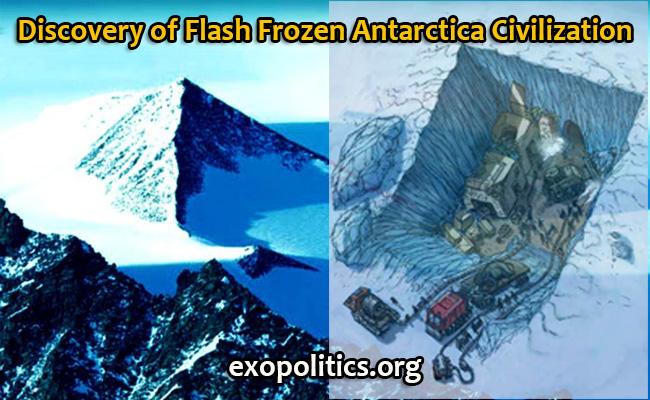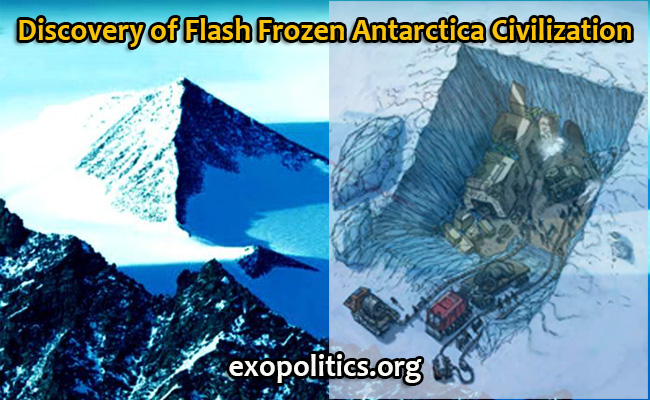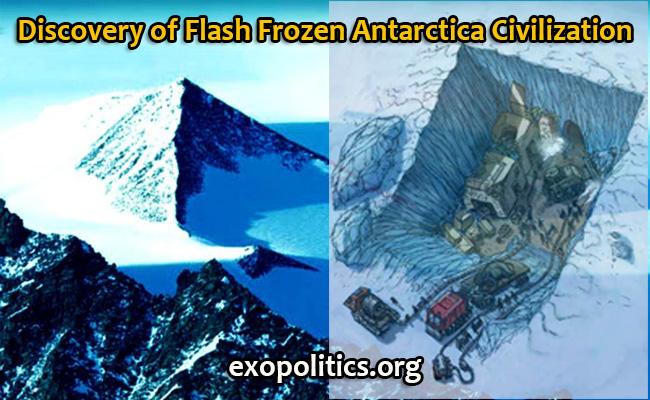 Discovery of an advanced civilization in Antarctica that was flash frozen has shocked political and scientific figures that have witnessed it, according to secret space program whistleblower Corey Goode in a December 11 update.
In part one, I described  how Goode's military abductor "Sigmund" from a USAF/DIA/NSA/NRO secret space program, had learned of the existence of more advanced classified space programs such as Solar Warden from Goode. During Goode's abduction on October 26, Sigmund revealed more information about his own activities, including time spent in Antarctica:
Furthermore he told me that he had been stationed at several military installations in Antarctica and had spent time in the very area where the Anshar had taken me on a reconnaissance flight.

Goode has previously written a report describing an extensive tour of Antarctica facilities controlled by the Interplanetary Corporate Conglomerate, another secret space program he discussed in depth, by an ancient Inner Earth civilization called the Anshar.

Sigmund then went on to describe recent discoveries in Antarctica, which explain the growing scientific, political and religious interest over the frozen continent:
He [Sigmund] stated that an extremely ancient series of cities had been discovered flash frozen deep under the ice-shelf.  He confirmed that there were also many animals and "pre-Adamites" preserved in the ice…. They were all flattened/ crushed or knocked over by the event that flash froze the area. They have tons of trees/ plants and wildlife frozen in place, like they were put on pause.
This is startling confirmation of the research conducted by Sir Charles Hapgood who has previously studied evidence of pole shifts that have led to the Earth's axis of rotation shifting dramatically in a short period, where sub-tropical areas might suddenly find themselves at the poles.
His 1958 book, Earth's Shifting Crust, featured a foreword by Albert Einstein endorsing the rigor of Hapgood's research. Hapgood summed up his theory as follows:
Polar wandering is based on the idea that the outer shell of the earth shifts about from time to time, moving some continents toward and other continents away from the poles. Continental drift is based on the idea that the continents move individually…A few writers have suggested that perhaps continental drift causes polar wandering. This book advances the notion that polar wandering is primary and causes the displacement of continents….This book will present evidence that the last shift of the earth's crust (the lithosphere) took place in recent time, at the close of the last ice age, and that it was the cause of the improvement in climate."

Hapgood's thesis that the last pole shift had happened at the end of the last ice age about 11,000 BC had apparently been startlingly confirmed by the discovery of a flash frozen Antarctica civilization.
Furthermore, this also confirms that the Oronteus Fineus map, which shows an ice-free Antarctica, is based on ancient historical records where Antarctica once possessed a thriving civilization before a devastating Pole Shift event.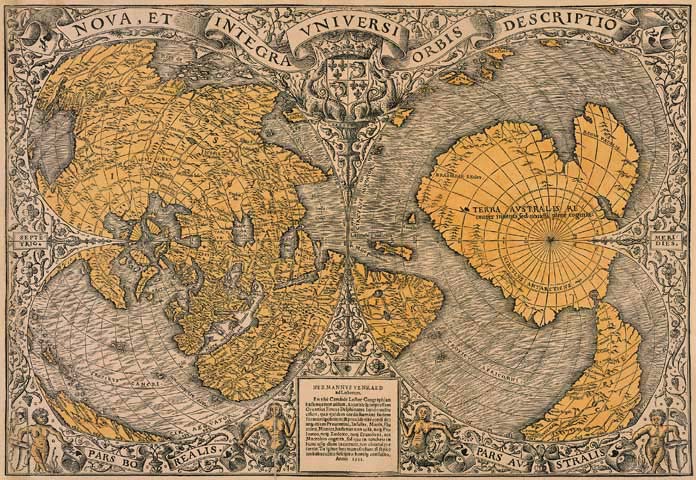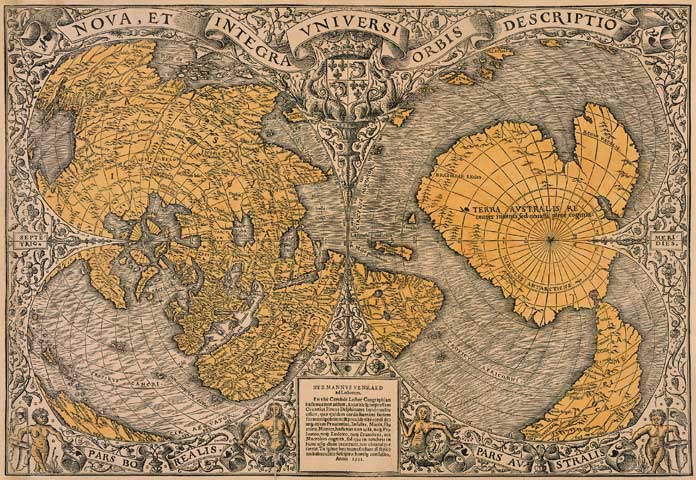 As to the question of when the Antarctica discovery was made, Goode says:
The first discoveries occurred some time back, not sure. They had an idea of what was below the ice after doing very high-tech scans from space. They had been excavating one site and discovered many, many others spread out across what used to be dry ground. This happened over time.
They have been studying what they are finding, and moving some of it out before bringing in various bigwigs from various secret societies. Then they do tours like the "Cabal Disneyland" they have in the stasis chamber in Ohio. They are continuing to excavate, but know what is around in the areas where they have cleared away the ice.
They are worried that all of the steam excavation could cause the surface of the ice shelf to collapse down on the sites they have uncovered. I think they would have to go public in some sort of a way to go bigger on this excavation and widen it.

Goode provided the following artistic sketch of the Antarctica discovery.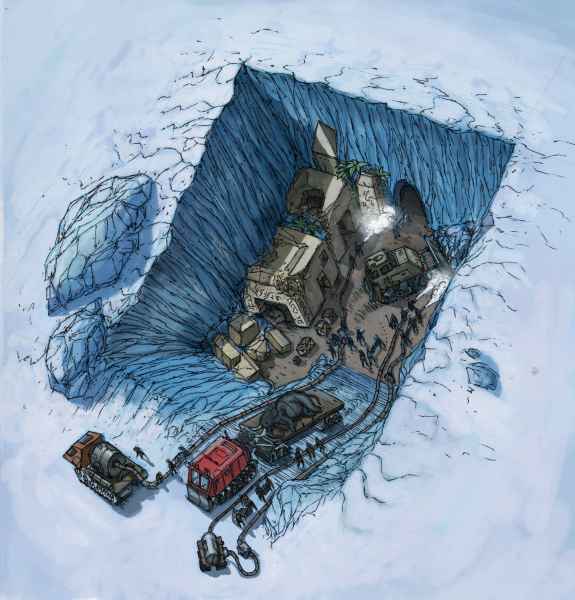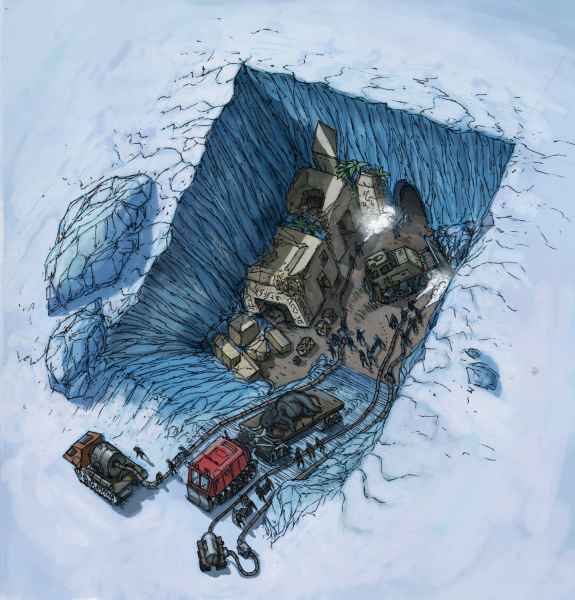 Such a discovery is clearly Earth-shattering news for the archeological community, and explains why prominent world figures such as U.S. Secretary of State  John Kerry, Astronaut Buzz Aldrin and Russian Orthodox Church Patriarch Kirill, have recently traveled to Antarctica to see the discoveries first hand. Goode asserts:
The finds in Antarctica are a major reason the World Political/Religious leaders have been brought down there to tour what has been found in the last year.
Goode went on to describe the inhabitants of this ancient Antarctica civilization according to Sigmund:
He described the "pre-Adamites" as beings with elongated skulls, with strangely proportioned bodies that were obviously not designed for Earth's gravity and atmosphere pressure. This group had apparently arrived here from another planet in our solar system that was no longer hospitable.
They arrived here approximately 55,000 to 65,000 years ago and began to create hybrids of their species and the developing human population.
Once again, this is a startling archeological discovery that confirms the elongated skulls found in places like Paracas, Peru, belonged to another species of humans, rather than being artificially created deformities.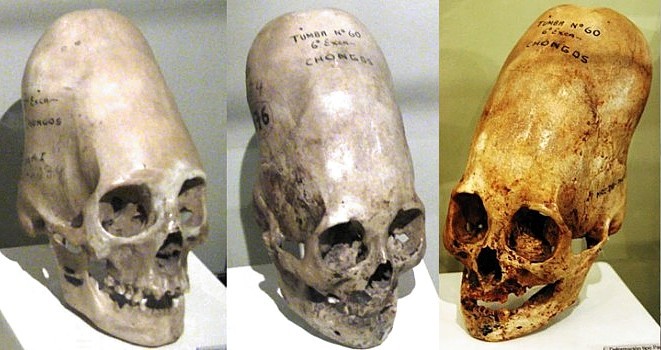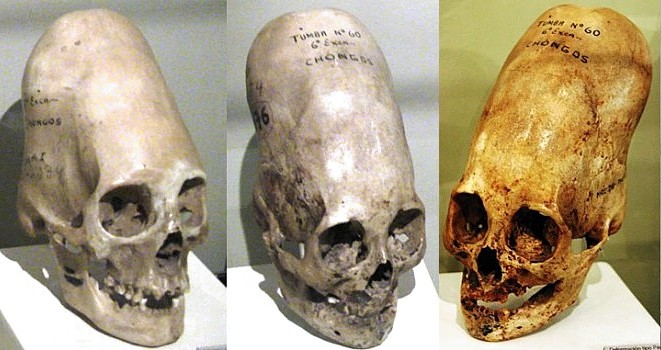 What is critical to understand according to Goode is that many of the Cabal view themselves as direct descendants of these pre-Adamite peoples, and consequently view the Antarctica discovery as an event that corroborates their uniqueness, and fitness to rule. Apparently, many pre-Adamites occupy very senior positions in the Vatican hierarchy where their identities are hidden by the elongated hats worn by Bishops and Cardinals.
Goode says that he has been told by a number of other sources that recent discoveries have indeed occurred in Antarctica, as claimed by Sigmund:
I have now had well over a dozen confirmations that indeed a HUGE F-ING discovery was made down in Antarctica. Indeed there are many, many types of ruins and artifacts strewn out across the continent/ group of islands and underground. … Many square miles of ruins have been detected w/only a small % that has actually been excavated.
The timing of an announcement of the Antarctica discovery is something appears imminent according to the following exchange between Goode (C) and David Wilcock (D):
D: "Will" as in they intend to make this part of the partial disclosure fairly early along?
C: I presume so, as they are not keeping a very tight lid on these discoveries very well and it's during a time of an agreed-upon agenda for partial disclosure.
While the Antarctica discovery raises the possibility that a pole shift may occur again with devastating global consequences, Goode has instead emphasized the sun ejecting its coronal shell as the more likely scenario for an "Ascension event". Apparently, predictions for the sun going dark for a number of days led to an exodus of the Cabal to hidden locations in Antarctica/South America in early 2016.

Regardless of questions of whether an Ascension event occurs, how it is triggered and how to best prepare, an official announcement of the Antarctica discovery is likely to be the first in a series of official disclosures that will rock establishment media and universities. While such an announcement may be intended to be part of a limited disclosure narrative, the more likely result is that it will open the door to full disclosure of ancient civilizations, both past and current such as the alleged "Anshar", as well as the truth emerging about secret space programs and extraterrestrial life.
© Michael E. Salla, Ph.D. Copyright Notice
Further Reading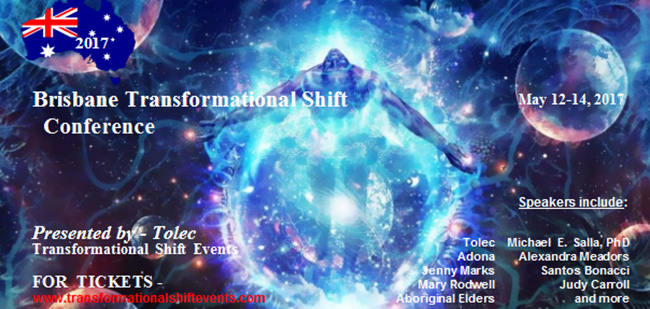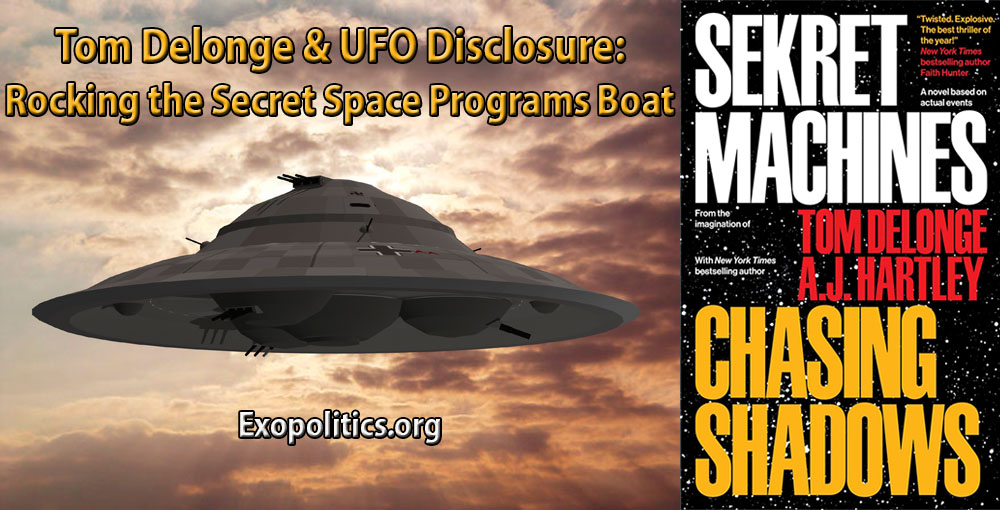 Rock star Tom DeLonge co-authored the book, Sekret Machines: Chasing Shadows, which is the first in a multimedia series of books and documentaries promising to blow the lid off a cover up of Secret Space Programs and the UFO phenomenon. A close reading of the "fiction based on fact" Sekret Machines, suggests that what it more accurately does is expose the reader to the first level of a multilayered set of Secret Space Programs.
DeLonge, a former lead vocalist for Blink 182, is the creator of the Sekret Machines multimedia disclosure initiative, and has enlisted top writers such as A.J. Hartley and Peter Levenda to co-author up to six books. In the preface of Sekret Machines and interviews, Delonge describes how he is being helped by a team of ten advisors with direct links to corporations and Department of Defense entities involved with the U.S. development of a secret space program, and knowledge of a similar program simultaneously developed in Russia and the former Soviet Union.
Sekret Machines is the product of what the advisory team is telling Delonge about their knowledge of the secret space programs that evolved in the US and Russia. According to DeLonge, their revelations are officially sanctioned by those with need to know access, and therefore the most authoritative disclosure yet to emerge on the topics of UFOs, extraterrestrial life and secret space programs.
This leads to the all-important question: is what the advisory team telling DeLonge the full truth about these topics, or only the first layer of the proverbial onion when it comes to secret space programs involving U.S. corporations and different branches of the U.S. military?
Delonge's secret space program revelations in Sekret Machines need to be carefully compared to what credible sources have to say about these programs. In particular, the testimonies of whistleblowers who have publicly revealed themselves, thereby allowing close public scrutiny of their claims, provide a template for evaluating DeLonge's revelations. There are two who stand out at the moment as the most credible independent sources of information on secret space programs: William Tompkins and Corey Goode.

Tompkins, a former aerospace engineer, has provided multiple documents, some dating back to the early 1940's, which support his claimed involvement in the development of U.S. Navy and corporate funded initiatives related to secret space programs. Tompkins says that he was involved in various stages in the design, engineering and construction of a secret space program called "Solar Warden," up to the time it became operational in 1984.
Two retired Navy officers recently confirmed Tompkins' subsequent claims of leading "Special Projects" relating to advanced aerospace topics, while holding a number of leadership positions with the U.S. Navy League from 1985 to 1999.

Goode has provided first hand testimony of direct involvement in the operations of these programs from 1987 to 2007, and more recently in negotiations between Solar Warden and other space related programs. While Goode has provided no documents to directly support his testimony, he has been extensively vetted by a number of sources.
These include the managers of Gaia TV and best selling author David Wilcock, who found him to be credible and subsequently approved a series of interviews called Cosmic Disclosure, which just began its second year. My own analysis of Goode's testimony in relation to other whistleblower revelations, public documents and circumstantial evidence was also positive, as detailed in the book, Insiders Reveal Secret Space Programs.
What follows is a two part series of articles comparing DeLonge's version of the history of a corporate funded U.S. secret space program, and what Tompkins and Goode have previously disclosed.
The Role of Nazi Germany in developing a Secret Space Program
In Sekret Machines, Delonge's revelations coincide closely with the "high octane speculations" of the historian, Joseph Farrell, who has closely studied many Nazi-era documents in a series of books. We are told by DeLonge and Farrell that Nazi Germany was partly successful in developing an antigravity torsion field device called the Bell – Die Glocke. While it was not successfully weaponized in time to assist the Nazi war effort in Europe, it was secretly transported to South America, and eventually Antarctica in an effort by the Nazis to establish a covert Fourth Reich.
The development of the Bell project continued at secret Nazi facilities funded by gold and corporate funds taken out of Germany by Deputy Fuhrer, Martin Bormann, which has been well documented by Paul Manning in the book, Bormann in Exile, and more recently by Farrell in The Third Way.
In Sekret Machines, DeLonge describes how the Nazi Bell project was relocated to Antarctica after South American facilities were compromised by covert allied teams in 1946. The Nazi were able to develop several operational flying saucer craft in Antarctica that were capable of reaching incredible speeds and were highly maneuverable in the atmosphere.
Operation Highjump, led by Admiral Richard Byrd, was successful in locating the Nazi bases in Antarctica in early 1947, according to Delonge. While Operation Highjump suffered casualties, it was able to destroy the Nazi facilities and flying saucer prototypes, and take back to the U.S. the recovered booty in terms of scientists, technical information, and resources related to the Nazi Bell research and development program.
Subsequently, the breakaway Nazis no longer provided a significant military challenge to U.S. geopolitical dominance and secret research into antigravity craft using principles of torsion field physics.
This is where DeLonge's version of events in Antarctica and genesis of a U.S. secret space program diametrically differs with Tompkins and Goode's revelations. According to the latter, Nazi Germany had two secret space programs that ran concurrently during WWII.
The Bell experiments and research in Nazi occupied Europe was part of an unsuccessful "wonder weapons" program led by Heinrich Himmler's SS that was under the direct control of the civil engineer and SS Lieutenant General, Hans Kammler.
In Antarctica, in contrast, another secret space program was headed by German Secret Societies that had successfully developed advanced aerospace technologies with the help of two different extraterrestrial races. One was a group of human looking Nordics, while the other was a species of Reptilians called Draconians.
While the Nordics were the first to help the German Secret Societies in the 1920's by providing designs of antigravity spacecraft through mystics such as Maria Orsic, it was the Draconians in the 1930's who ultimately became more influential with the Nazi regime and German Secret Societies.
According to Tompkins, after agreements has been reached with Hitler, the Draconians provided actual working models of flying saucers, and information about underground bases in Antarctica where these models could be reverse engineered during World War II.
Both Tompkins and Goode insist that the German Secret Space Program in Antarctica continued independently of what was happening in Europe under Kammler and the Nazi SS, which was essentially a second-tier weaponization program that was ultimately unsuccessful. At the same time, the first tier German Space Program located in Antarctica had succeeded in reverse engineering the flying saucer designs and prototypes they had acquired.
The Germans subsequently began building fleets of antigravity vehicles capable of deep space missions to the Moon, Mars and beyond. According to Tompkins and Goode, the Reptilians had helped the Germans develop sophisticated weapons platforms for their Antarctica based spacecraft.
The long term goal was that the armed German space craft would eventually join Reptilian interstellar fleets in galactic conflicts. Goode has described the German space fleet as the "Dark Fleet", due to it being so highly classified that relatively little is known about it, even to the present day. 
Consequently, Operation Highjump was a dismal failure with the German flying saucers comprehensively destroying the Navy's best fighter planes at the time. Tompkins and Goode's version of events in Antarctica is supported by KGB files citing the ease with which the German flying saucers shot down the Navy aircraft.

Byrd's expedition returned empty handed, and with a powerful lesson that the Antarctica based Germans would be a powerful geo-political force for years to come.
As mentioned earlier, this is a very different account of the Nazi presence in Antarctica to what is found in Sekret Machines. Why the discrepancy? For an answer we need to move on to the next major element in Sekret Machines – the secret development of the TR-3B "Locust" dual purpose antigravity aircraft and space craft.
© Michael E. Salla, Ph.D. Copyright Notice
Further Reading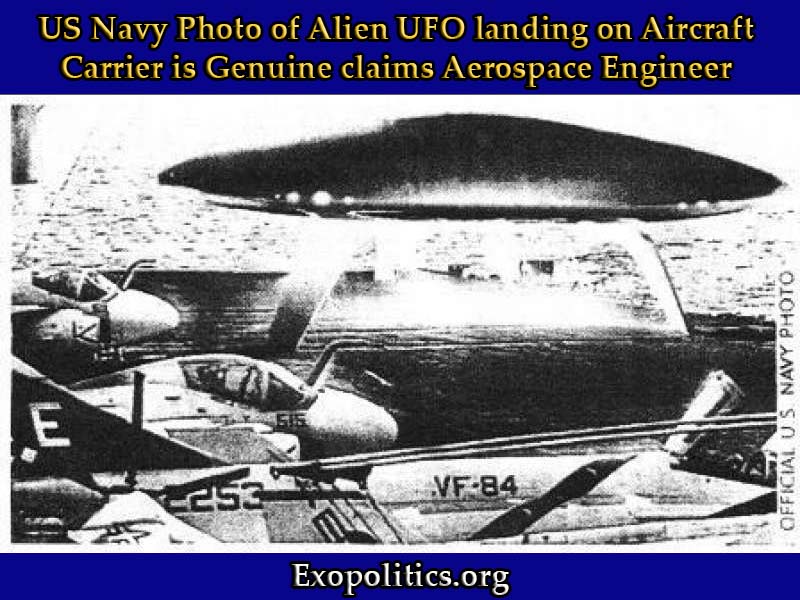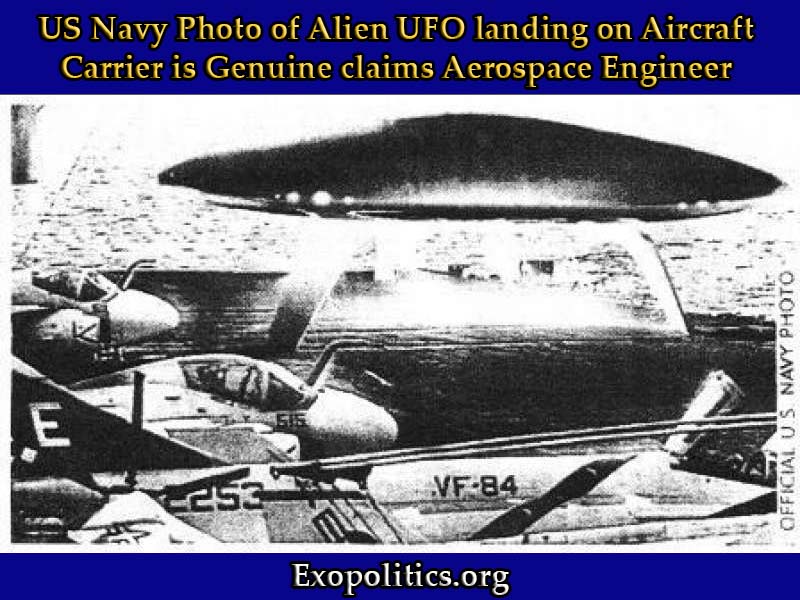 An alleged photo of a flying saucer landing on the flight deck of an aircraft carrier is genuine, according to William Tompkins, a retired aerospace engineer who had a four decade career with leading U.S. corporations up until 1984.
Tompkins career began with service as a Naval Intelligence operative, from 1942 to 1946, where he provided intelligence briefings to select U.S. aerospace corporations about antigravity spacecraft being secretly developed in Nazi Germany.He has supplied several documents supporting his claims that he was assigned such a covert mission and operated out of Naval Air Station, San Diego.
Tompkins discussed the photo in a radio interview on May 4, and claimed that it was taken from one of what were regular incidents on U.S. Navy aircraft carriers – landings by friendly "Nordic extraterrestrial UFOs":
It's one of quite a number of Nordic extraterrestrial UFOs that have landed on US Navy aircraft carriers. And what you're looking at . . . You're looking at it from the bottom of the bridge of the carrier because those older ones were much further forward than the photographs you've got later on.
Tompkins explains how the extraterrestrial craft would land, and transport the admiral of the naval battle group up to the mothership in space to hold discussions with commanders of a "Nordic Space Navy".
It's a long story. They came from one of their starships. So they came down to talk to the admiral that's the commander on that particular battle group. And they did their other program and their meetings and our admiral left with the captain taking over the ship and some other people and they took off in that vehicle and they went back out to the mothership. And, of course, they brought them back later.
Tompkins emphasized the regularity of such landings due to the small chance they could be witnessed while the ships were at sea:
Like I'm just saying, there's a whole story of all of these . . . because . . . The UFOs landed on our aircraft carriers many times. Okay? It's nice because nobody can see them doing it.
On the right side of the photo are the words "Official U.S. Navy Photo" suggesting that someone linked to the Navy had arranged for its release into the public arena.
Another one of the May 4 radio guests, Frank Chille, described how he got first got a copy of the photo, and what he knew about it belonging to the U.S. Navy:
There's a little bit of a side story on the disk that landed on the aircraft carrier. Believe it or not, that original photograph was shown to me by Graham Bethune more than 15 years ago… And I held it in my hands. He allowed me to make a copy of it. It was on very think paper and on the flip side it said, "U.S. Navy, top-secret, eyes only, 1955".
Graham Bethune was a U.S. Navy Commander, now deceased, who had after his retirement, released some of the most famous photographs in UFOlogy. His photographs from the 1989 Nashville, Tennessee sighting, for example, are among the best ever released of actual flying saucer craft.
Bethune gained access to many Navy photographs during his distinguished military career which included 12 years as "VIP Transport Plane Commander" and six years with the Naval Bureau of Aeronautics.

He subsequently worked for years to help disclose UFO related information, and there is no reason to believe he would fabricate the photo of a UFO landing on an aircraft carrier.
Chille described the circumstances under which Bethune allowed him to make a copy 15 years ago, and what happened when he first shared it with Tompkins in May 2016:
And Graham always had some incredible photographs, but he let me make a photograph of that, but he never told me the background on it. When I told Bill [Tompkins] about it, he said, "Frank." He says, "can you get the photograph to me?" He says, "I think I know the story behind it." And he got the photograph today and he said this dovetails right into his book, starting on page two.
On pages two to three of his book, Selected by Extraterrestrials, which was published in December 2015, Tompkins describes an incident very similar to that depicted in the photo.
A large flying saucer hovered over the aircraft carrier group led by the USS Coral Sea. 5000 Navy personnel saw the hovering flying saucer according to Tompkins. He next described telepathic communications being established between the commanding officers of the aircraft carrier battle group and the hovering flying saucer, before ending his story.
In the May 4 radio interview, Tompkins confirmed that the photo was of the USS Coral Sea (CV-43), similar to what he had described in Selected by Extraterrestrials, prior to him seeing Bethune's photo:
Actually, the aircraft you're seeing there on the flight deck, those are A-6s, which are an attack-type of aircraft… And that ship is the USS Coral Sea.
The Grumman A-6 Intruder fighter aircraft came into Naval service in 1963, which suggests the photo was taken on or after 1963. The 1955 date Chille recalled on the back of the photo, as an astute reader pointed out in a comment to an earlier version of this article, "would not refer to the date of the photo, but would refer to the date of the classification guide which established the level of the document being stamped."  
Tompkins confirmation that the photo released by Commander Bethune to Chille is genuine is highly significant. It reveals that the U.S. Navy was actively cooperating with a Nordic extraterrestrial race as early as 1963.
Furthermore, Tompkins claims that during his work from 1951 to 1963 at a secretive think tank at Douglas Aircraft Company called Advanced Design, he was being assisted by two Nordic female extraterrestrials who were posing as ordinary secretaries. They were covertly assisting him in designing kilometer long space craft that would be later built for the Solar Warden space program in the 1980's.
Consequently, during the decades it took for the design and construction of secret space battle groups, it appears that the U.S. Navy was working closely in gathering intelligence on the operations and missions of Nordic extraterrestrial space battle groups.
Tompkins also says that the Nordics were in locked in a galaxy wide conflict with Reptilian extraterrestrials, who had allied themselves with Nazi Germany during World War II, and assisted the Germans in building a secret space program in Antarctica.

The photo of a flying saucer landing on an aircraft carrier, if based on a genuine incident, would be hard evidence that the U.S. Navy has since the 1960's, been actively cooperating with a group of friendly "Nordic" extraterrestrials which had identified the Navy as allies in a wider galactic conflict.
© Michael E. Salla, Ph.D. Copyright Notice
[Update 5/1916 – Further research has shown the flying saucer landing on aircraft carrier photo is a doctored version of an April 1975 photo of the USS Roosevelt. While the photo is doctored, it may be based on a genuine incident. More details here. Article has been revised accordingly.]
[Update 5/13/16 – A reader has provided a comment that answers the apparent discrepancy between the date on the back of the photo (1955) and the naval service of the A-6 aircraft (1963-1997). The date refers to the Navy classification guide used to classify the photo, not when the photo was taken. Article has been revised accordingly.]
Further Reading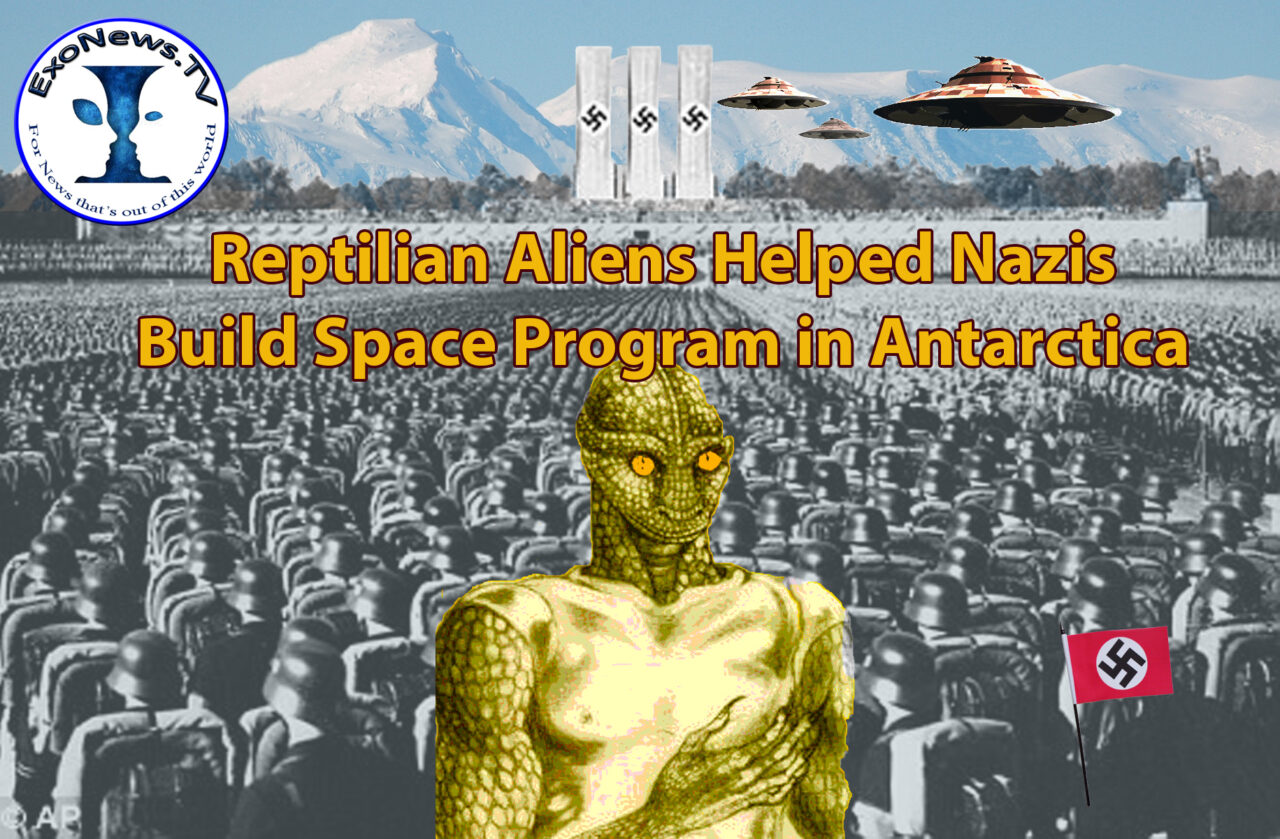 What follows is the transcript of William Tompkins responding to questions on the third ExoNews TV episode (see above) presenting his testimony.
Interview Date: February 25, 2016
Location: San Diego, California
Published on ExoNews TV – 4/14/16
Interview Key:
WT: William Tompkins
RW- Dr. Robert Wood
MS – Dr. Michael Salla
[For introduction and analysis of Tompkins Testimony click here]
…
MS – The following interview extract features Tompkins answering questions from Dr. Robert Wood and myself on Germany's Space program in Antarctica. …
Did the Navy Spies talk about the Nazis landing on the Moon, landing on Mars?
WT – The operatives found this data and they bring it back to the Admiral's secret office at the top of the building. You can see the building from when you land over at North Island. These fellows were all over the occupied areas in Germany, and they found all of this equipment. They found the program for extended life. That wasn't really an extended life. It was a life program that the extraterrestrials were already doing.
RW – Did the Nazis have this technology?
WT – Yes, it was no big deal at all….
The move from Germany to Antarctica was in operation from 1934 [Note: The Third German Antarctic Expedition occurred in 1938-1939] way before the war started. In fact some of the stuff went down in 1913 [Note: The Second German Antarctic Expedition was from 1911-1913]. Large portions of equipment went sent down there. But right next to them were three tremendous size caverns which the Reptilians had. Not Grays, but Reptilians. Germany got two more, about a tenth the size of the big Reptilians [cavern]. They were able to … [go] down, usually by submarine. They built these flat submarines, these regular class, so they could ship all this stuff down. Here they were shipping stuff down, right after the turn of the century.
Whether they had convinced themselves that they didn't care or they weren't interested in the war, whatever it was, like the Vril Society, they had almost 90 percent of everything that it takes to build extraterrestrial vehicles, whether they were saucers or cigars.
They had that down to Antarctica by 1932. Some of it was going down. Not the main programs, but they had copies of everything that was necessary to build these. They were building these, in production, all over the occupied countries. The production facilities were [using] slave labor… The German population didn't know anything about this. It was all classified.
RW – Were the UFOs [built] in Germany or down in Antarctica?
WT – The people in Germany knew nothing about it. In Antarctica they knew everything.
RW – Where were the UFOs, the craft, being built? In Germany?
WT – They built the prototypes in Germany. They built pre-protype, something which is ready for production, in Antarctica. They put this stuff in production in the countries all over Germany [Occupied Europe], and they continued to build similar vehicles in Antarctica…
Now the question was asked whether did we ever get to the Moon? You see it was in some way, it was well known that the Germans had a number of vehicles that flew out and came back. One of the first ones, they got into trouble, they crashed and the whole group died. But that was almost all coming from Antarctica. Way before, four years before, the war ended, they were always moving all of this stuff out. And so the flights, almost everything came from Antarctica with the same people.
MS – So during the war years, from Antarctica the Germans were basically launching these craft, the Moon was one of many destinations they tried [reaching].
WT – Yes, I don't know if it was true or not, but it was stated by some of those fellows [Navy spies] that they had gone to other stars and come back.
MS – So that would be corroboration that the so called Andromeda Device which was based on some principle of teleportation actually was viable that they were able to use the Andromeda Device to get to other star systems like Alderbaran, and come back?
WT – Yes …
MS – In the next episode of ExoNews TV, we will hear from William Tompkins how the Nazis used slave labor in their hidden Antarctic bases, and that the Italian government had also developed a flying saucer program headed by the famous inventor, Gugliemo Marconi that was secretly operating out of hidden South American locations.
END TRANSCRIPT

---
Previous ExoNews TV Interviews with William Tompkins
US Navy Spies Learned of Nazi Alliance with Reptilian Extraterrestrials during WWII (for transcript click here, for introductory article click here )
Navy Disseminated Nazi Antigravity Secrets to Leading U.S. Companies & Think Tanks (for transcript click here, for introductory article click here )
Related Books
William Tompkins autobiography, Selected by Extraterrestrials, is available at Amazon.com
Michael Salla's Insiders Reveal Secret Space Programs and Extraterrestrial Life is available at Amazon.com
Copyright: Permission to freely distribute on Internet. Permission required for print & audiovisual reproduction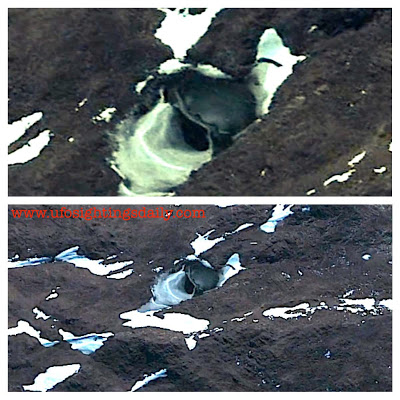 On Google Earth one can find two large entrances that extend below the Antarctic surface and ice near the coastline. For some observers, they are natural caverns formed over time by the intense Antarctic weather conditions. Not so according to Scott Waring owner of the popular UFO Sightings blog. In a post released yesterday, Waring claimed that they might be entrances to an alien base or a secret facility of some kind. He highlighted a video containing close-ups of the two large entrances. In the video, there is also an image of what Waring believes to be a huge saucer shaped object buried under melting ice near Antarctica. While there is no Google Earth image available of the mysterious buried UFO, the cave/base entrances are available for independent analysis. If the latter are indeed entrances to underground bases, then it would appear that claims that UFOs have bases in Antarctica, and may have even helped fleeing World War II Nazis escape a punitive U.S. Naval expedition, are not so far-fetched after all.
Let's begin by examining the two large entrances discovered on Google Earth which are highlighted in a Youtube video uploaded on June 8 by Stephen Hannard showing various angles of the entrances. These entrances are available for independent confirmation at the following Google Earth coordinates (-66° 36′ 12.58″, +99° 43′ 12.72″ and -66° 36′ 12.58″, +99° 43′ 12.72″) They show entrances into the rocky underground. The first is approximately 30 meters high and 90 meters across. The video also shows a UFO allegedly found by Google Earth, but it is claimed that the image was removed and is no longer available.
According to Waring in his blog post:
Very interesting and intriguing images from Google Earth, which seem to show two possible entrances to an alien base or at least an entrance to something, and a huge saucer shaped object buried in the ice. If there are Alien bases in the Antarctic it would follow that there are ET craft their also.
Waring's comments appear to accept a connection between the two large entrances and the alleged crashed UFO found in melting ice on South Sandwich Islands. The video shows no obvious connection other than all were allegedly discovered using Google Earth – the UFO, as mentioned earlier, is no longer available for independent confirmation. There is no independent confirmation that the UFO is genuine.
Nevertheless, the two entrances are clearly genuine and immediately raise the question over their artificiality. According to Hannard's Youtube video, one of the entrances looks as though it has a metal canopy or dome covering it. This suggests that it is artificial. So if one or both of the entrances are artificial, then who built them? Are they recent, or some artifact from a bygone age when Antarctica was not covered by ice. Interestingly, the famous Piri Reis map show Antarctica without ice suggesting that its ice sheets are a geologically recent phenomenon.
One intriguing possibility is that the entrances are related to post-World War II events related to an alleged NAZI exodus to Antarctica, and a brief military confrontation between the US Navy and UFOs based under or near Antarctica.
An extraordinary 2006 Russian documentary revealed new information about the US Navy Antarctica expedition of 1946/47 – Operation Highjump. The Naval expedition was headed by famed polar explore Admiral Richard Byrd whose expedition ended after only 8 weeks with "many fatalities" according to initial news reports. Rather than deny the heavy casualty reports, Admiral Byrd revealed in a press interview in Chile that his Task Force had encountered a new enemy that "could fly from pole to pole at incredible speeds."
After the Soviet collapse in 1991, the KGB released previously classified files that cast light on Operation Highjump. A 2006 Russian documentary made public for the first time a 1947 secret Soviet intelligence report commissioned by Joseph Stalin of the Operation Highjump mission to Antarctica. The intelligence report, gathered from Soviet spies embedded in the US, revealed that the US Navy had sent the military expedition to find and destroy a hidden Nazi base. On the way, they encountered a mysterious UFO force that attacked the military expedition destroying several ships and a significant number of planes. Indeed, Operation Highjump had suffered "many casualties" as stated in initial press reports from Chile. While there is a possibility the report resulted from US disinformation fed to a known Soviet mole, the more likely explanation is that the report exposes the first known historical incident involving a battle between US naval forces and an unknown UFO force stationed in underground facilities in or near Antarctica.
The mysterious entrances found in Antarctica by Google Earth may be nothing more than naturally formed entrances into caverns that extend under the Antarctic surface and ice. The entrances, on the other hand, may be artificially constructed entrances into underground UFO bases. If the latter option is correct, then perhaps we have an historical answer to where the mysterious UFO forces came from that attacked Admiral Byrd's Operation Highjump expedition in early 1947.
© Copyright 2013. Michael E. Salla, Ph.D. Exopolitics.org
This article is copyright © and should not be added in its entirety on other websites or email lists. Permission is granted to include an extract (e.g., introductory paragraph) of this article on website or email lists with a link to the original.
Further Reading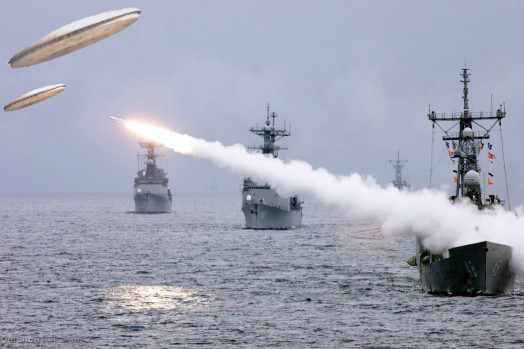 I recently wrote an article directly referring to John Kettler's claims of a UFO war in Antarctica and the Pacific Ocean where a coalition of US led naval forces are battling hostile extraterrestrials. In it, I stated my reservations over his extraordinary claims, but did acknowledge one historic incident in 1947 where there did appear to be a genuine battle between Admiral Byrd's Operation Highjump, and a mysterious group of UFOs. While the lack of supporting evidence suggests Kettler's claims are part of a psychological operation promoting a false flag event, the 1947 incident was something to seriously consider before reaching any final conclusion. I concluded my article by writing: "great vigilance is required on the part of those investigating claims of battles between a US led alliance of naval powers, and hostile extraterrestrials based in undersea bases in Antarctica and/or the Pacific Ocean."
Kettler has just written another article titled: "UFO War–A Ghastly New Foe! Great Victories!" In it he claims:
The UFO War has taken quite a turn since the Reptoid attack which cost the U.S. a frigate and 250+ people making the ship's complement. In shootdown after shootdown in which survivors have been recovered, there have been NO Reptoids found. What has been found has driven one person, so far, to kill himself and sent others off the deep end. NOT kidding! … They call them Blobs.
Who are the "Blobs" battling the US Navy and allies? Kettler gives this assessment: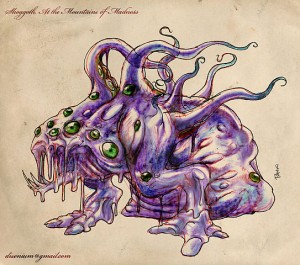 Blobs are intelligent, dexterous (observed deftly playing with a computer keyboard) and use technology highly advanced by our standards. Their antigravity craft, equally at home underwater or in the air, have no force fields, but whatever they're made of, they're very tough. Their engineering is superb. According to the Eloah, the Blobs have bases below fresh water, on the ocean bottom (pressure=5000 atmospheres at 30,000 foot depth) and underground. Blobs presently have no space travel capabilities, but they did in the past and are attempting to regain that capability.
What are the sources supporting Kettler's extraordinary claims? According to Kettler, "the information here comes primarily from highly sensitive military, intelligence and scientific sources, supplemented by nonterrestrial ones. The government's official policy is total and ongoing denial."
No where else in his article does Kettler describe or attempt to substantiate his sources. I decided to respond directly to Kettler's latest article by posting a comment critical of his use of anonymous sources to support claims of a dangerous new extraterrestrial enemy battling US led naval forces. Here is what I wrote:
You say: "The information here comes primarily from highly sensitive military, intelligence and scientific sources, supplemented by nonterrestrial ones." There is a slippery slope when we use anonymous sources. When these sources take us down the negative ET route, then our BS meter needs to be refined accordingly. Why would anyone ONLY accept anonymous sources whose credibility, accuracy is not open to scrutiny by independent researchers? Dr Greer's Disclosure Project set a high standard by making public whistleblower reports where the sources could be checked, scrutinized, etc. That guaranteed that we weren't being spun a story or fed disinformation. That is the major problem with John Kettler's recent claims of a UFO war. No way of confirming any of Kettler's anonymous sources are legit, and not feeding him/us disinfo.
Kettler decided to respond at length. To see his full response, click here. I've extracted portions of his response to see whether they cast light on the legitimacy of his sources, and Kettler's own credibility as a researcher exposing classified information dealing with extraterrestrial life.
In his response, Kettler began by giving details about his father's background working for a military defense contractor, and then commented on his own professional experience working with both Rockwell and Hughes corporations for an eleven year period as stated in his bio. First, Kettler explained that he had received clearances for a Special Access Program:
At Rockwell, I worked on the B-1B, the Advanced Tactical Fighter, Advanced Close Air Support program and the crown jewel of Rockwell, the NASP, National Aerospace Plane, single stage to orbit, hydrogen powered craft which took off from and landed on runways. My work was handling the threats to the NDVs (NASP Derived Vehicles). This program was a SAP (Special Access Program) which addressed a family of military hypersonic vehicles covering Mach 4+-orbital. It had four levels of clearance, and I had all four.
This certainly would have given him knowledge with classified information pertaining to advanced aviation projects. He then went on to describe his highest level of clearance:
I've held TS clearance myself and was being cleared for TS/SCI (Top Secret/Sensitive Compartmented Information) when I left Rockwell, my health in ruins, June 20, 1989…. In order to fool me, you'd have to be able to fake your way through an incredibly broad and diverse range of topics, and I can talk anything from hand grenades to deep space surveillance–for starters!
Kettler acknowledges that the highest security classification he attained while working at Rockwell and/or Hughes was Top Secret. So it is very strange indeed that he claims that he is able to vet people with Sensitive Compartmented Information (SCI) on a range of topics related to extraterrestrial life and technology. There is a very large gap between clearances for SAPs/SCI dealing with advanced aerospace projects, and classified projects dealing with extraterrestrial life. More importantly, one needs to be able to demonstrate need-to-know to gain access to information/projects outside their direct area of work. One can get an idea of how this system operates by reading about the case of Admiral Thomas Wilson, then head of intelligence for the Joint Chiefs of Staff, who was denied access to a UFO/extraterrestrial project in 1997. Put simply, Wilson was unable to demonstrate that he had a need-to-know to gain access, even though he had access to most other highly classified projects and SCI known to the Joint Chiefs of Staff.
If a Navy Admiral and intelligence chief is denied clearance for a highly classified alien related project since he could not demonstrate need-to-know, what chance would there be for a civilian contractor with aerospace companies to have access to information on covert alien programs? More to the point, having only ever gained a Top Secret clearance, would Kettler be qualified to vet anyone with SCI/classified alien information, to learn if they are telling him the truth? No, certainly not, but he claims that he is able to do so. In fact, Kettler claims that he has regular communications with people with SCI clearances dealing with the alien issue. He writes:
At the levels from which I get my stories, the information seldom leaves the SCIF (Sensitive Compartmented Information Facility), in which no notes may be taken, no copies made, someone always has to be with you, and everything you see has to be signed for. At this stratospheric level, practically everything is carried in finely honed memories.
So Kettler claims that his sources have SCI clearance for alien related information, and have been secretly conveying this to him in clandestine communications. Relying on their memories of what they have witnessed, read or experienced, and Kettler's own abilities to vet such information – while not having had direct access himself to such information – Kettler believes he is able to relay accurate information from his anonymous sources.
In conclusion, John Kettler is basically saying, "you need to trust me since I have the professional experience and skills to both ferret out the truth about alien related projects, and vet the sources relaying it. The truth is that hostile extraterrestrials are out there doing atrocious things, and the US Navy and its allies are heroically defending our way of life, and the world itself in an expanding war in the Pacific Ocean, and now in Antarctica.
Well sorry Mr Kettler, while there is no reason to doubt that your professional career exposed you to classified material on some advanced aerospace projects, this is a far cry from alien related projects that are deeply compartmentalized and hidden by strict need-to-know security procedures. According to whistleblowers who have chosen to come forward and reveal classified information about alien projects – for example, Philip Corso , Dan Sherman and Clifford Stone – such projects have far higher clearance levels than anything related to advanced military or civilian aerospace projects. Sherman in particular points out that alien related projects are embedded within more conventional classified projects with SCI/SAP clearance levels, and use the latter as a cover. Without having had direct access to SCI on alien projects, how could Kettler possibly vet people who claim to have had such access? There is no reason to doubt Kettler's sincerity that he has been told some amazing stories about aliens, but until such sources come forward, then there is a very strong possibility that he is being used as a means of disseminating disinformation.
John Kettler's claims of an undeclared UFO war, backed up entirely by anonymous sources represents a diminishing standard of research in the field of UFOs and exopolitics. While it is understandable that some sources choose to remain anonymous for reasons of personal security, it is dangerous to rely exclusively on such sources. This is especially the case when it comes to claims concerning hostile extraterrestrials given evidence that plans for a false flag alien event have been planned for several decades. Kettler's refusal to reveal sources concerning hostile extraterrestrials battling US led naval forces may be entirely to protect these from exposure and harm. Alternatively, Kettler is being used as a willing dupe in spreading disinformation concerning hostile extraterrestrials by sources that have been tasked to manipulate him as part of a psychological warfare operation. Kettler's reflexive response to my raising such a possibility suggests that it is more likely that he falls into the latter category of a disinformation asset, rather than a truth teller.
© Copyright 2012. Michael E. Salla. Exopolitics.org
Permission is granted to include extracts of this article on websites and email lists with a link to the original. This article is copyright © and should not be added in its entirety on other websites or email lists without author's permission.
Further Reading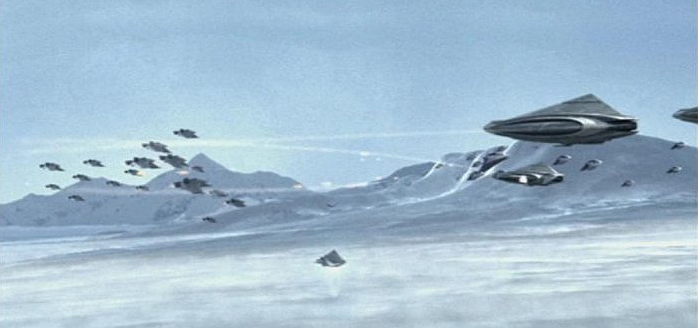 According to John Kettler, a former US military contractor and scientist, there is an expanding UFO war that is now taking place in waters off Antarctica. Kettler cites unnamed "sensitive sources" to substantiate his claims that a US led coalition of naval forces is militarily engaging with hostile extraterrestrials. This UFO war is an extension of alleged naval battles off the coast of San Francisco earlier reported by Gordon Duff from Veterans Today who refers to his own unnamed "reliable" sources. There is little more than a collection of unnamed sources supporting such allegations, and there is good reason to conclude that Kettler's and Duff's claims are part of a psychological warfare operation that may be related to planning for a false flag alien event. There is one historical incident that casts light on whether or not Kettler's claims are part of a psychological warfare program being slowly unveiled to the world. There is new evidence that Admiral Richard Byrd's famed 1946/1947 naval expedition Operation High Jump did encounter and battle a mysterious UFO force in Antarctic waters.
According to John Kettler, who has written a series of articles claiming that the US Navy along with its allies are battling hostile extraterrestrials based in underwater locations in the Pacific:
The UFO War continues to expand, with heavy action in the Antarctic Ocean … according to highly sensitive sources. Two submarines of the Chinese PLAN (Peoples Liberation Army Navy) have been slammed together, resulting in injuries, but no fatalities, to the submariners inside them.
Kettler goes on to claim:
Last night, 20 UFOs, traveling at 25,000 mph, left the Antarctic Ocean in a group and went to Guadalajara, Mexico. Another group of 15, flying at the same speed, went to Argentina. This morning, 12 more emerged and went to Chile.
Duff made similar claims to a UFO war in the Pacific that he originally reported in September.
Now an Asian intelligence agency reports that a combined fleet operation between the US and China has been going on, a full combat operation against what we are told is a "highly unfriendly extra-terrestrial threat." The verifications of the fleet operations have been many, there have been no confirmations from the US side though the ships have been seen by every vessel that makes it offshore. The true nature of both the threat and the extent of the multinational military force used is beyond any imaginable classification level.
Kettler also wrote an article titled, "UFO War Explodes Through Entire Pacific Ocean! Now A Coalition War!," where he claimed:
UFO War in the Pacific has now become a five-nation coalition war through the Pacific Basin, per supersensitive terrestrial sources. Naval forces involved include the U.S. Navy (U.S.), PLAN (People's Liberation Army Navy) (China), JMSDF (Japanese Maritime Self-Defense Force) (Japan), ROKN (Republic of Korea Navy) (South Korea) and ROCN (Republic of China Navy) (Republic of China/Taiwan)… Total is around 200 ships, including two U.S. aircraft carrier battle groups, many additional surface combatants (frigates through cruisers), numerous submarines and multiple URGs (underway replenishment groups) to keep all the warships fueled, munitioned, crews fed and supplied with multitudes of items. The UFO War is an unprecedented kind of coalition war–with all the headaches and political delicacies that entails.
Given that Kettler, along with Gordon Duff, only cite unnamed sources in support of an expanding UFO war in the Pacific and now Antarctica, it is tempting to dismiss their claims as part of some agenda to make the general public believe in hostile extraterrestrials attacking the US military and allies. There is one historical incident that does give circumstantial support for Kettler's and Duff's claims. In 1947, a US naval expedition did appear to engage in a UFO war – one where the US Navy apparently suffered significant casualties and had to withdraw.
An extraordinary 2006 Russian documentary was recently translated into English. It revealed new information about the US Navy Antarctica expedition of 1946/47 – Operation Highjump. The Naval expedition was headed by famed polar explore Admiral Richard Byrd whose expedition ended after only 8 weeks with "many fatalities" according to initial news reports. Rather than deny the heavy casualty reports, Admiral Byrd revealed in a press interview in Chile that his Task Force had encountered a new enemy that "could fly from pole to pole at incredible speeds."
After the Soviet collapse in 1991, the KGB released previously classified files that cast light on Operation Highjump. A 2006 Russian documentary, recently translated, made public for the first time a 1947 secret Soviet intelligence report commissioned by Joseph Stalin of the Operation Highjump mission to Antarctica. The intelligence report, gathered from Soviet spies embedded in the US, revealed that the US Navy had sent the military expedition to find and destroy a hidden Nazi base. On the way, they encountered a mysterious UFO force that attacked the military expedition destroying several ships and a significant number of planes. Indeed, Operation Highjump had suffered "many casualties" as stated in initial press reports from Chile. While there is a possibility the report resulted from US disinformation fed to a known Soviet mole, the more likely explanation is that the report exposes the first known historical incident involving a battle between US naval forces and an unknown UFO force stationed near Antarctica.
In the Soviet intelligence report, never before known testimony by two US Navy servicemen with Operation Highjump was revealed. The most revealing was Lieutenant John Sayerson, a flying boat pilot, who is quoted as saying:
The thing shot vertically out of the water at tremendous velocity, as though pursued by the devil, and flew between the masts [of the ship] at such a high speed that the radio antenna oscillated back and forth in its turbulence. An aircraft [Martin flying-boat] from the Currituck that took off just a few moments later was struck with an unknown type of ray from the object, and almost instantly crashed into the sea near our vessel…. About ten miles away, the torpedo-boat Maddox burst into flames and began to sink… Having personally witnessed this attack by the object that flew out of the sea, all I can say is, it was frightening." [Our Real "War of the Worlds"]
There is a serious question mark over whether or not another USS Maddox served with Operation Highjump, and a further question arises over whether the US misled Soviet authorities with false intelligence in 1947. Despite these unresolved questions, there is a very real possibility that the 1947 Soviet report is substantially accurate. If so, then we have a historical precedent for the US Navy battling an unknown UFO force in Antarctic waters.
The lack of confirmed sources makes Kettler's and Duff's claims of an undeclared war between hostile extraterestrial forces and a US led naval coalition in Antarctica and/or the Pacific, something to be seriously questioned, if not dismissed altogether. This is especially so given whistleblower testimony that a UFO false flag war has been planned for several decades. The likelihood that Kettler and Duff are unknowingly disseminating misinformation about hostile extraterrestrials as part of a false flag UFO scenario is high as I have written earlier.
The alleged 1947 UFO battle in Antarctica involving the US Navy either really happened or was US misinformation fed to the Soviets during the Stalin era, and later released to the general public in 1991. If the Soviet report is based on disinformation, then its release serves to promote international conditions for a future false flag UFO operation. If the Soviet report is substantially accurate, then the historical precedent of a 1947 UFO US Navy battle suggests that it would be unwise to simply dismiss Kettler's and Duff's claims as disinformation. In either case, great vigilance is required on the part of those investigating claims of battles between a US led alliance of naval powers, and hostile extraterrestrials based in undersea bases in Antarctica and/or the Pacific Ocean.
© Copyright 2012. Michael E. Salla. Exopolitics.org
Permission is granted to include extracts of this article on websites and email lists with a link to the original. This article is copyright © and should not be added in its entirety on other websites or email lists without author's permission.
Further Reading