In early 2022, Tony Rodrigues published his book, Ceres Colony Cavalier, in which he described in detail his "20 and back" experiences as a slave, both on Mars as a military auxiliary fighting against indigenous insectoids and then serving with a German-led Dark Fleet. Rodrigues' book came to the attention of Dr. Courtney Brown, who subsequently organized a remote viewing project to investigate two of the book's core claims. The results greatly surprised Dr. Brown who concluded Rodrigues' testimony was accurate and carried much significance for full disclosure.
First, a brief overview of Rodrigues' story is appropriate. His traumatizing experiences began in 1981 when he was only nine years old and in 4th grade. Rodrigues was involuntarily recruited into a "twenty and back" program as punishment for something he did to one of his classroom peers. He publicly embarrassed the son of a high-level member of the Illuminati who used his influence to have Rodrigues covertly recruited. Rodrigues says that he was soon after abducted by three Gray aliens and one small Reptilian ET.
He was then genetically tested to determine what skills he possessed, which could be used in covert 'support' programs and eventually for one of the secret space programs once he got older. Ceres Colony Cavalier describes in detail how Rodrigues was subsequently manipulated, sexually abused, and humiliated as a slave used by different individuals and groups.
After briefly serving on Mars as a slave fighter for a mercenary military force protecting corporate bases from indigenous Martians—which included highly intelligent insectoids—Rodrigues says he was taken to Ceres, a planetoid in the asteroid belt. He worked at Ceres for 13 years with a German-led freighter crew that was part of the "Dark Fleet." For more about Rodrigues' experiences, check out my earlier interviews with him.
In setting up the remote viewing project to investigate Rodrigues' core claims, Dr. Brown emphasized that it would incorporate blind scientific protocols. None of the four expert remote viewers knew anything about the targets or subjects being investigated. Nor did Dr. Brown contact Rodrigues or communicate with him.  
The two targets for the remote viewing sessions were:   
Target 1: The interior of the asteroid Ceres.
Target 2: The interaction between the personality currently known as Tony Rodrigues and the "Bugs" on Mars as described on pages 185-193 in his book, Ceres Colony Cavalier.
In the first part of the remote viewing session, the four remote viewers also focused on several characters, locations, and ships identified in the book. The remote viewers were only given alphanumeric targets, locations, and subjects such as Target 1, Subject K, etc. Only Dr. Brown knew what the alphanumerics corresponded to in terms of the material discussed in Ceres Colony Cavalier.
After the four remote viewers, Intysam, Aziz Brown, Shantae, and PrinCess Jeanee shared the visuals of what they had seen concerning Target 1 (Base on Ceres) and the different subjects, locations, etc., Dr. Brown offered the following synopsis:  
OK, so it seems like the asteroid or planetoid known as Ceres has quite a bit of hollowed out interior. There is a base on the inside. Moreover, it seems like there is some support for the memories of Tony Rodrigues that suggests that the base has a number of extraterrestrial species, and that the administration of the base is done by former Europeans. Indeed, former German Nazis.
Apparently, pulling pieces together, these are the same Nazis that we reported on the Farsight mysteries project called Operation High Jump, a slave mercenary military force that was organized by the Reptilians. I understand that such Nazis or "IS-BEs' are just like anyone else, so they can be placed in new bodies as each body wears out. So having former Nazis still hanging about is entirely possible.  
This is remarkable independent corroboration for Tony Rodrigues' core claim that he spent 13 years serving on a merchant marine spacecraft operating out of a large underground base on the planetoid Ceres. Crucially, the remote viewing confirmed that the base and vessel were controlled by former German Nazis that operated a secret space program called the "Dark Fleet" that Rodrigues and others have described.
The second half of the Farsight remote viewing project focused on Rodrigues' claim of a military engagement with intelligent insectoids on Mars. Once again, the remote viewers were only given alphanumeric terms to investigate the target and subjects that Dr. Brown was seeking information about— e.g., Target 2, Subject A, etc.
After the four remote viewers described the military engagement on Mars with the insectoids in terms that closely matched what Rodrigues described in Ceres Colony Cavalier, here's what Dr. Brown concluded:
So what can we say to pull things together? From our point of view, our data seemed to indicate the activities, places, and events that are reported by Tony Rodrigues in his book Ceres Colony Cavalier actually exist and happened. Now let's be clear that we only checked two things: the existence of the base inside Ceres, and the activities on Mars reported by Mr. Rodrigues, but given the significance and centrality of those two things and his writings, it seems a reasonable bet to say that the rest of the things described in the book by Mr. Rodrigues have a high probability of being accurately described as well—which given what he says regarding some of those other things is more than a little bit bone-chilling. Nonetheless, it is what it is.
It is vital not to underestimate the importance of Dr. Brown's conclusion here. Independent investigation by multiple expert remote viewers had just confirmed Rodrigues' core claims about his involuntary service on Mars and Ceres. While this did not confirm the entire scope of Rodrigues' book, it did point to the high likelihood of its accuracy, especially when it came to claims of slave labor.
On the topic of slave labor, Dr. Brown went on to make some vital points to keep in mind:
Now it is natural to ask what can be done to stop these things from happening, these twenty-year long-term abductions into slavery, or at least to influence these things in a positive manner. There really is only one thing that can change all of this—disclosure. The negative or oppressive extraterrestrials can get away with all of this for one reason and one reason only. They are doing it secretly, apparently, with the consent of some human authorities. As long as the bulk of humanity sticks its head in the sand, they will keep doing it. Disclosure that is the single thing that is needed to pull humanity back into the drivers seat.
Dr. Brown is correct that only full disclosure can prevent this covert program that involves the exploitation of abducted individuals used as slaves from continuing in the future. Secrecy makes such exploitation possible, and only full transparency can bring about the end of such abusive practices. The rest of humanity needs to wake up to the big picture of how extraterrestrial life has long been interacting with us, led to the creation of multiple secret space programs, and how these battling entities involve both positive and negative factions.
In the meantime, I highly recommend reading Tony Rodrigues, Ceres Colony Cavalier, to understand what is happening to slaves in space and on Earth and watching Farsight's latest remote viewing project "Supersoldiers of Ceres."
A video version of this article is on YouTube & Rumble
Audio Podcast on Apple, Spotify, or Google
© Michael E. Salla, Ph.D. Copyright Notice
[Note: On April 9, I will be holding my next live webinar which focuses on the arrival of extraterrestrial Seeder races, activation of ancient arks in our solar system, and finally the Great Reveal which is about to happen. Click here or banner below for more info.]
Related Articles/Podcasts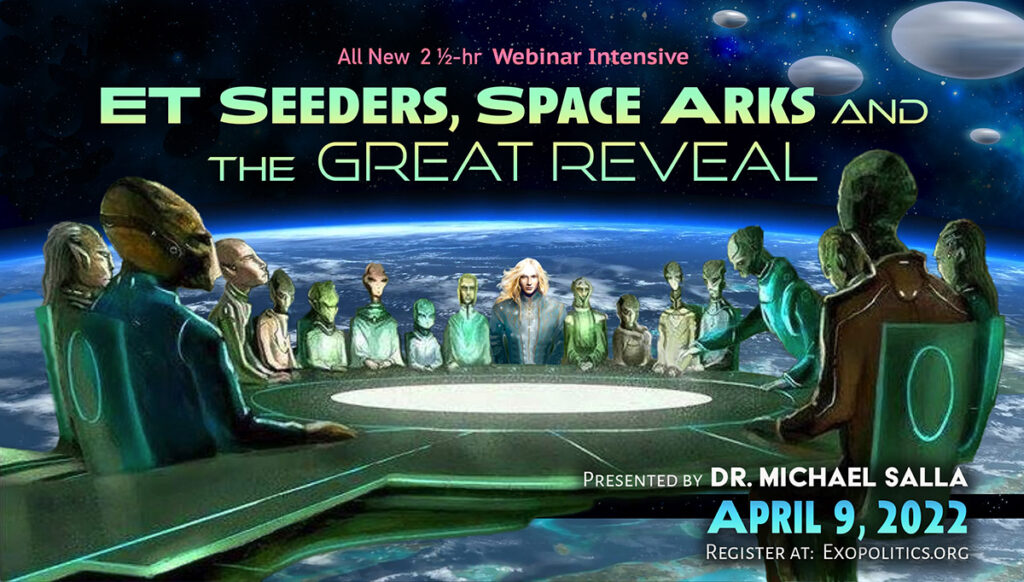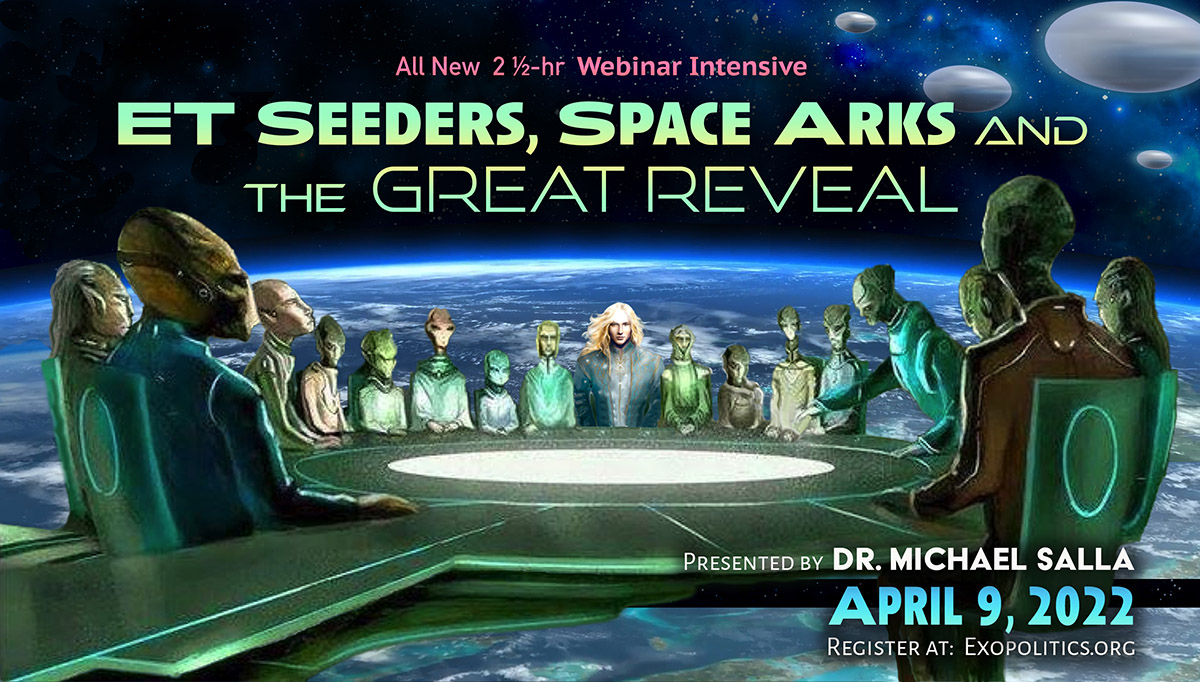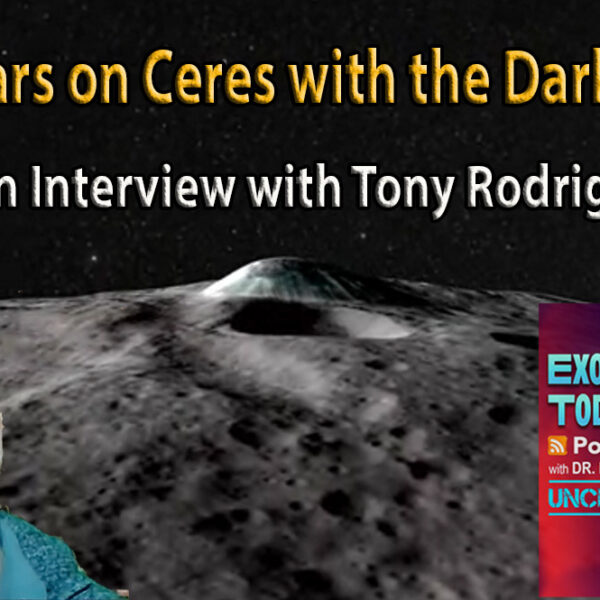 In this Exopolitics Today interview, Tony Rodrigues discusses the 20 years he spent as a slave which included 13 years working on a cargo space vessel based out of the Dark Fleet Ceres Colony. Tony begins by discussing his time in Peru and Seattle, Washington where he was exploited as a psychic and them as a sex slave before being "sold off" to the Dark Fleet. He discusses regular visits to Antarctica which was considered "High Command" by Dark Fleet personnel. He also describes routine visits to the US Navy facility at Diego Garcia where supplies were picked up for Dark Fleet operations. Tony has just released an autobiographical book account of his "20 and back" as a slave used by the Cabal and Dark Fleet.
Premieres Today at 8 am PST / 11 am EST on YouTube & Rumble
Audio Podcast for Apple, Google, Anchor & Spotify available here
Tony Rodrigues book, Ceres Colony Cavalier, is available on Amazon . His website is here.

Earlier Interviews with Tony Rodrigues

---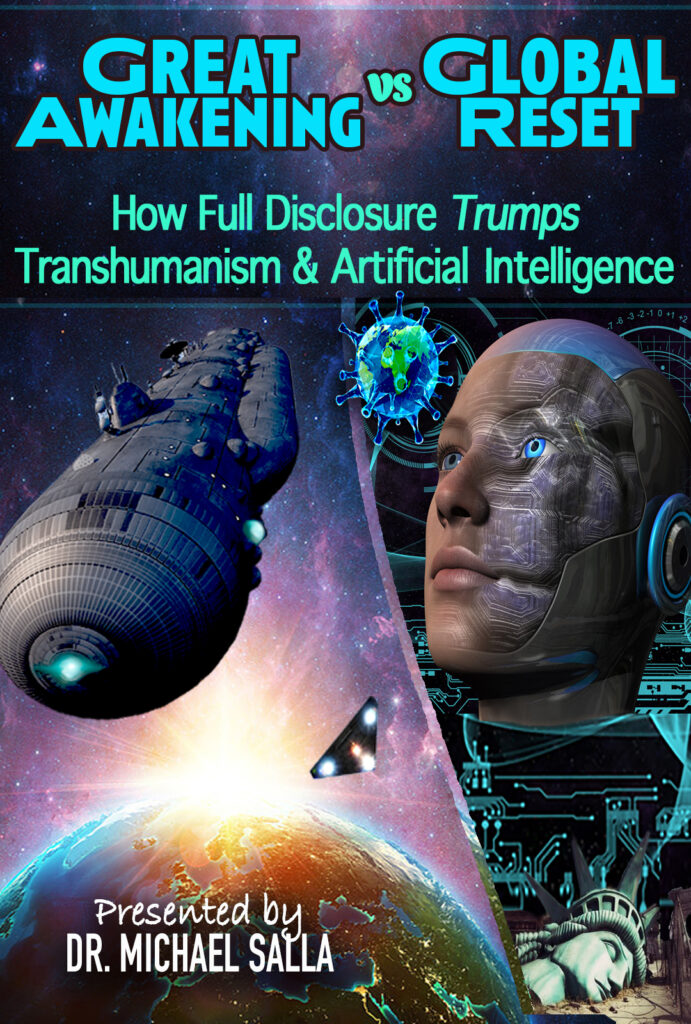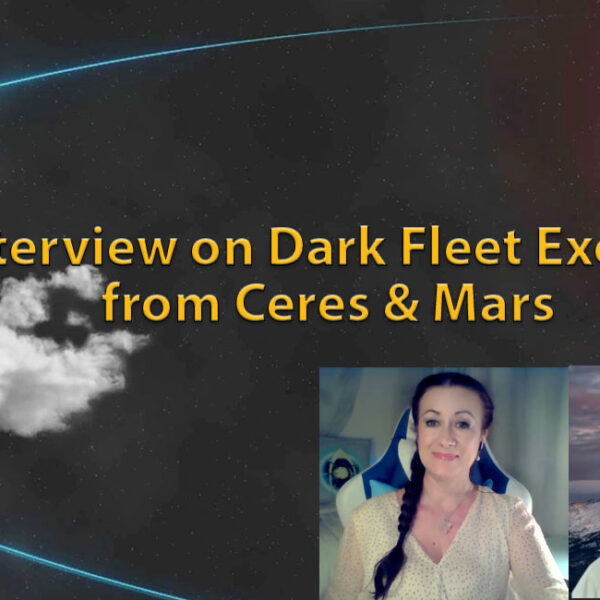 The latest intelligence from the Galactic Federation of Worlds is that the planetoid Ceres, has just been liberated, according to extraterrestrial contactee and former French archeologist, Elena Danaan.  In this Exopolitics Today interview, Elena presents the most recent intel she has received from her primary Federation contact, Thor Han Eredyon about Ceres and Mars. Tony Rodrigues, who claims to have spent approximately 13 years on Ceres as a slave for the Dark Fleet, along with having spent several months on Mars, is also interviewed about his experiences.
Both Elena and Tony are questioned by Dr. Michael Salla about their reactions to the latest updates from the Galactic Federation, and what it means for humanity's expansion into space. Find out how the Galactic Federation works with the Earth Alliance in liberating worlds formerly controlled by the Dark Fleet and their extraterrestrial allies. Learn what happens when a world is liberated from its former overlords, and what expectations the Galactic Federation has for Earth nations in taking control over our solar system. Discover how the Artemis Accords fit into unfolding events in our solar system.
Interview available on YouTube or Rumble
The telepathic messages from Thor Han read out by Elena Danaan during the interview are the following. 
Aug 21 2021
"The fate of the Ceres colony has been debated with great attention, until lately coming together with a common decision, with the Zenae Council and the Earth Alliance.
It was decided that in reason of a large civilian colony, settled for a period of time long enough to officially name them as planetary residents, Ceres would not be evacuated. Instead, we will force the Nachtwaffen military personnel to leave, by means of agreements in the first place, or force if necessary. We firmly believe that Ceres needs to officially become a free world, and it will eventually."
Aug 26 2021
"Mars is free, Deimos is being evacuated."
"The situation on Mars is chaotic at the moment, as the local Martian resistance is rushing to take hold of the underground facilities that have been evacuated. All human personnel was safely sent back to Terra and will be replaced. There is now a situation where the Martians need to comply to the recent agreements reached between their leaders, the Galactic Federation of Worlds, and the new Terran corporations allowed to settle colonies and conduct their scientific and commercial operations. I trust this will go well, for this is a new era of prosperous and empowering cooperation for the Martians' benefit. They just need to calm down now, in this euphoric celebration of their victory."
Elena Danaan's website is available here. Tony Rodrigues' website is here.
Earlier Exopolitics Today Interviews with Elena Danaan

Earlier Interviews with Tony Rodrigues on ExoNewsTV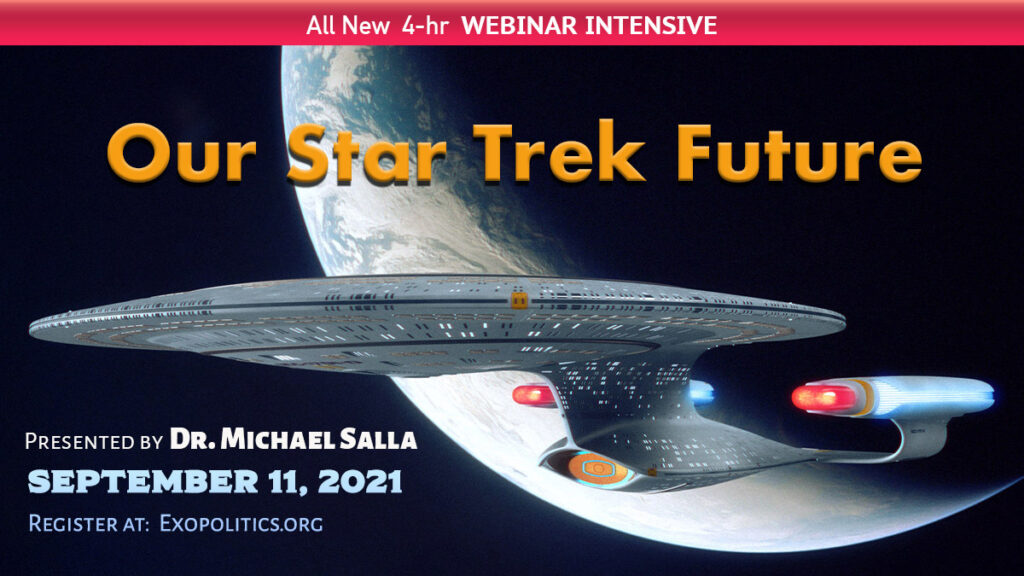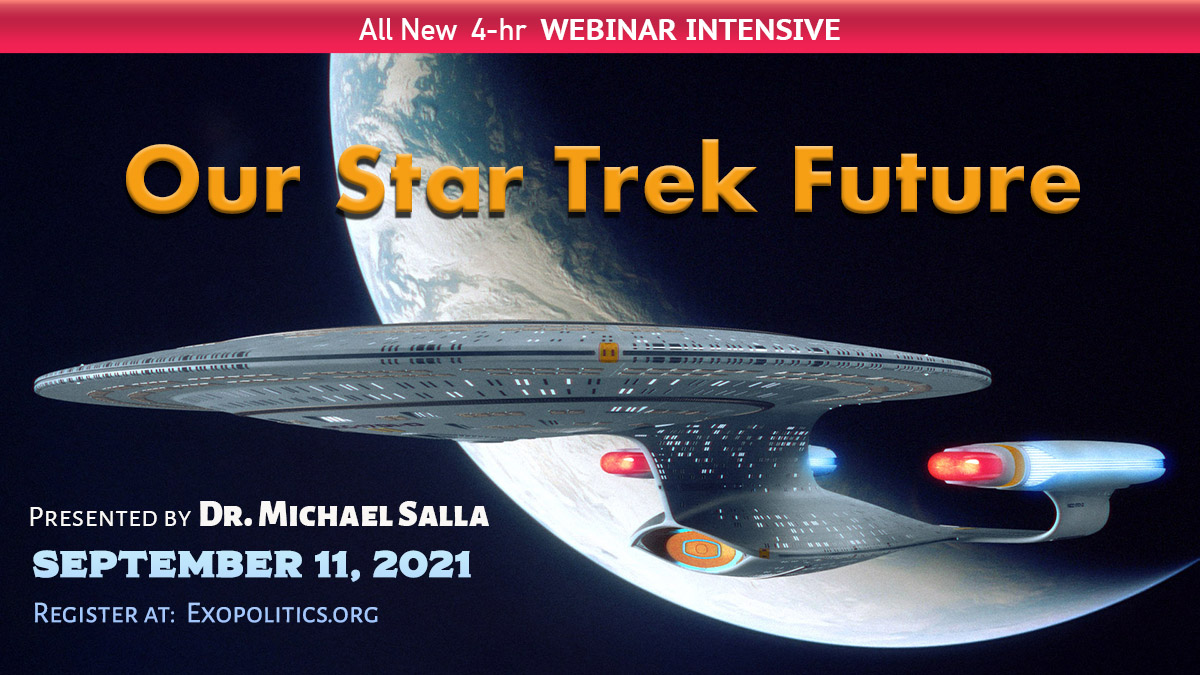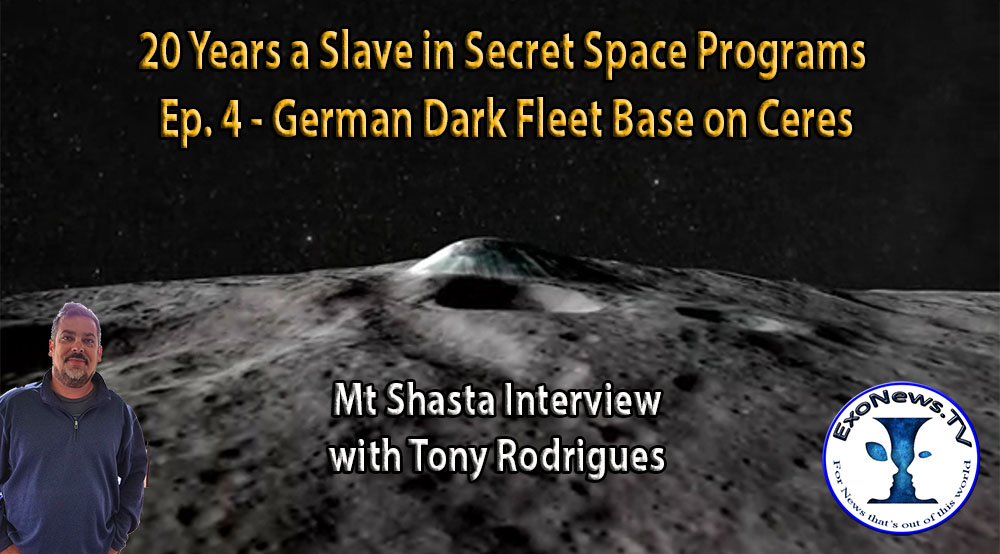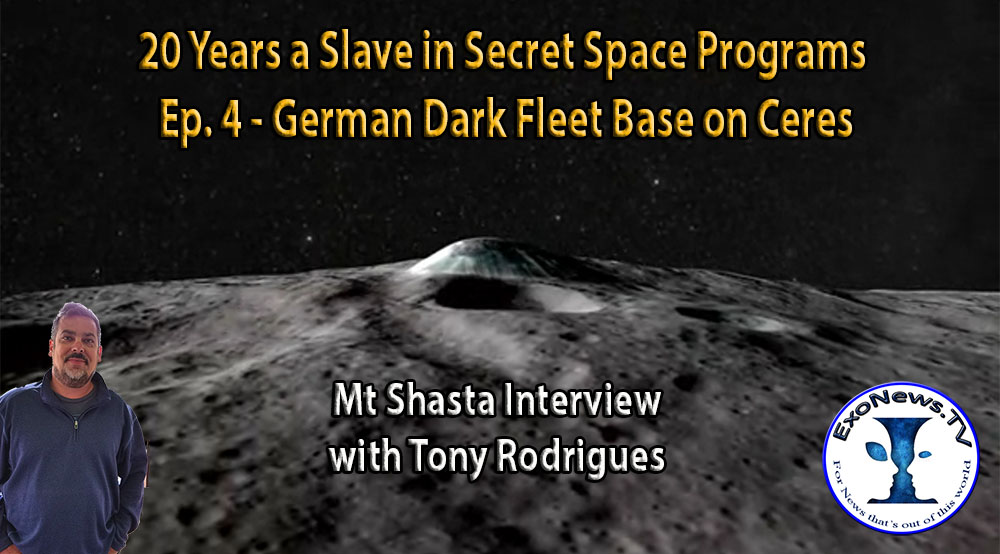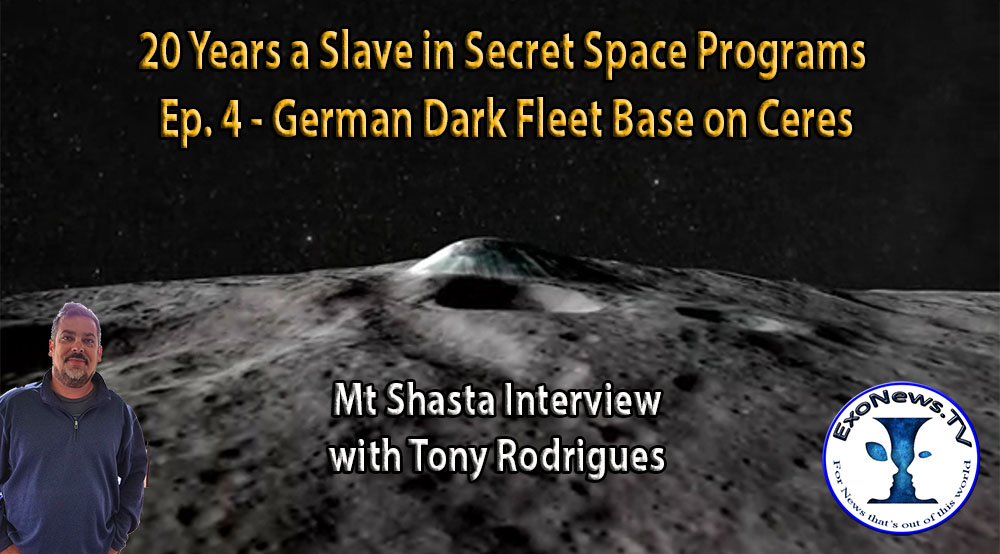 [Updated on 11/28] Three new ExoNews TV episodes have been released of Tony Rodrigues who claims he was used as slave labor for several secret space programs, one of which was German-run program known as the Dark Fleet, which was originally built in Antarctica. In two earlier episodes (parts one & two) he discussed the first seven years of his alleged "20 and back" program where he says he was used as a drug courier in Peru, sex slave in Washington State, and finally taken to the Moon when he turned 16 to be trained for space operations.
In these additional episodes from an ExoNews TV interview conducted on August 29 at Mt Shasta, California, he discusses his memories of being on a secret corporate base on Mars, and anther base on the Asteroid Belt planetoid Ceres, as well as his service on an alleged Dark Fleet Merchant Spacecraft called the Max Von Laue.
His account of the brief period he spent on Mars has similarities with the claims of Randy Cramer who says he spent 17 years stationed there as a super soldier in a military base that was kept totally separate to civilian bases run by a corporation. In part two of this five part series, Rodrigues described his brief month-long stay at the Mars military base, where he claims that he fought alongside the super soldiers as a "slave soldier" in a failed military program.
In part three, Rodrigues states that after his slave soldier program was ended, he spent a month or so completing aptitude testing on the Mars corporate colony base called Aries Prime, which Cramer was the first to publicly identify. Gray extraterrestrials identified his innate abilities which would determine the kind of future space missions he would perform.
In part four, Rodrigues says after the completion of his aptitude testing, he was sent to the planetoid Ceres through an advanced portal shuttle system from Mars, where from 1990 to 2001, he served as a crew member of a merchant space craft led by German officers that were part of the Dark Fleet.
In part five, Rodrigues  he describes his memories of time spent on a German speaking "Dark Fleet" merchant vessel called the Max Von Laue which performed interplanetary and interstellar trade missions. Among the alleged missions was one involving a nuclear attack on a Mayan colony located in the Pleiades star system.
After the release of the first two video installments of Rodrigues claims, there were doubts raised by a reliable source as to whether he was indeed a participant in a "20 and back" program.
Such doubt has been accentuated recently with claims by Dr. Steven Greer that psychotronic holographic technologies are used to create realistic scripts that are downloaded into unwitting victims, who then come forward with fabricated memories.
Greer's description of the development of these technologies and their use in secret space program testimonies was the subject of a November 13 lecture, where he said these scripts are manufactured to be "seductive and interesting". He asserted:

You've got to have multiple points of corroboration, and the bigger the tale the more the proof you got to have. Now what I would say is it that I believe that these men are sharing what they believe to be true. I also know how easy it would be to provide information that is scripted about that, and that is seductive and interesting.

His insistence that "multiple points of corroboration" are necessary for validating witness testimony is a valid one. However, controversy erupted from Greer's lecture when he claimed that the testimonies of Corey Goode and William Tompkins were corrupted by scripted memories. I responded to Greer's claim in a two part series addressing them first for Goode, and then for Tompkins whose testimony has many similarities to Goode's.
My conclusion was that Greer's accusations lacked direct evidence, were driven by bias against any claims of predatory extraterrestrials, and were purely conjectural. This was especially so in the case of Tompkins whose testimony has "multiple points of corroboration" with independent witnesses and documents.
Nevertheless, Greer raised a legitimate concern in his lecture about advanced psychotronic holographic technologies that could produce realistic scripts to contaminate whistleblower testimonies about secret space programs.
This certainly was a major concern that Goode had previously raised when he was told by his insider source, "Gonzales" (a pseudonym) that a disinformation campaign was underway to contaminate the field of secret space programs research with false whistleblower testimonies:
Gonzales suddenly got a very serious look on his face and stated that he had a few things to discuss with me. He, too, stated that there was an operation underway to water down the info we have disclosed, as well as to discredit me personally by flooding the internet with fake SSP insiders.

A new generation of Manchurian candidates, who genuinely believed their false memory scripts, could indeed make it very difficult in finding the truth about what is really happening in secret space programs.
Rodrigues memories as a slave for an involuntary "20 and back"  space program raises the question, are his memories genuine or scripted?
Before attempting to answer this question, I wish to raise a third possibility first brought to my attention by my exopolitics colleague, Alfred Webre, J.D. He publicly postulated that Randy Cramer's memories of service in a "20 and back" secret space program were not a result of his own direct experiences, but were the memories of a dead Mars supersoldier. Weber said:
Specific memories of a deceased member of the Mars Defense Force have been downloaded and implanted into Randy, although Randy is not yet conscious that this is the case…. This was done as a well-intentioned disclosure effort by officials within the Mars Defense Force to let the public know about the Exopolitical situation on Mars and Earth.

It's important to note that Weber's thesis here is not that Cramer's memories were downloaded into him for disinformation purposes, but are part of a sanctioned disclosure program by a covert group of "White Hats".  I analyzed Webre's claim regarding Cramer in my book, Insiders Reveal Secret Space Programs and Extraterrestrial Life (pp. 335-36).
Weber's thesis that memories of secret space program personnel can be extracted for subsequent downloading into another body is very plausible. His thesis suggests that rather than fabricated scripts, as Greer was suggesting, the memories of dead secret space program personnel could be downloaded into unwitting victims who are then led to believe they were part of a "twenty and back" program.
The advantage between real memories versus manufactured scripts, is that the memories would have genuine emotions attached to them, as opposed to computer generated scripts. This would make for a much more compelling witness, who would feel genuine emotions as they recalled another person's memories, which they believe to be their own.
So coming back to the question of Tony Rodrigues' memories, we have four possibilities: 1. they are genuinely his own experiences; 2. they are manufactured scripts that are part of a disinformation program; 3. they are another person's memories downloaded into him into a sanctioned disclosure initiative; and 4. they are entirely fabricated by Rodrigues himself as part of an elaborate scam.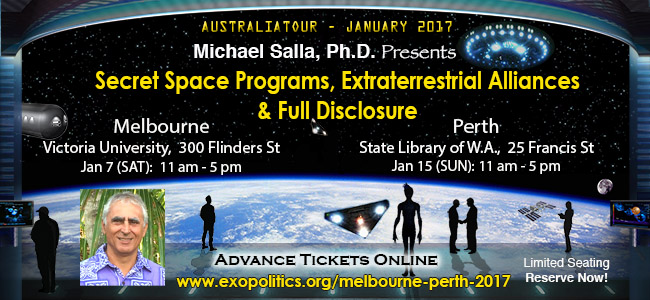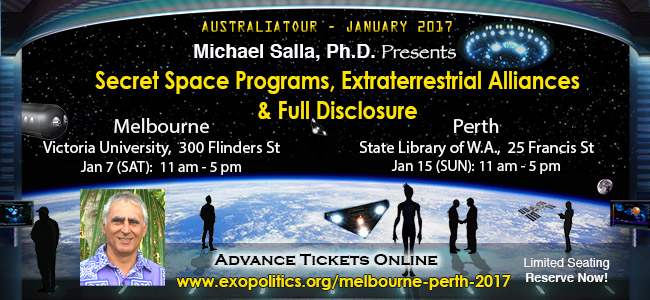 I was first contacted by Rodrigues on August 15, 2015, who shared his story. A red flag was quickly raised by due to an inconsistency in his narration of an encounter around 1997-2001, between the merchant spacecraft he claims he served on, and the Arnold Sommerfeld, the Solar Warden research vessel that Goode says he served on for six years (1987-1993).
I then spent then next year vetting his testimony along with two other researchers, Morgan Starr and Rob Potter. We collectively conducted numerous phone, email and in-person interviews, closely examining his testimony for consistency, and attempted to determine his sincerity. Importantly, we tried to find any ulterior agenda in him coming forward.
I personally met Rodrigues for the first time at the Mt Shasta Secret Space Program conference from August 26-28. I closely examined his body language, emotions, consistency in retelling his story, and motivation for coming forward. A colleague, Duke Brickhouse, J.D., also participated in the vetting process at the Mt Shasta conference.
Our collective conclusion was that Rodrigues was being truthful, sincere and consistent in describing events he recalls experiencing during a twenty and back secret space program. This ruled out, in our opinion, the possibility that Rodrigues was perpetrating an elaborate scam.
Among the things that impressed me in Rodrigues story was his description of the older generation of German spacecraft as retrofitted submarines. This was consistent with Tompkins' description of the first US Navy space craft being retrofitted Nautilus class nuclear submarines which he shared in an unpublished interview. As far as I'm aware, Rodrigues was the first person to reveal this very significant piece of information.
Another impressive feature of Rodrigues story was that says that the white spots on Ceres are water geysers which he personally saw during his time flying over the planetoid. This is consistent with early scientific data on the white spots which remain an enigma for planetary scientists.
Finally, Rodrigues account of being used as a sex slave in Seattle, Washington State from 1985 to 1988 (see part one) is perhaps the most significant aspect of his testimony insofar as it is verifiable.
After the Mt Shasta conference, Rodrigues traveled to the Seattle area location where he claims he was forced into sex slavery and recalled many locations he had been forced to work at during his "20 and back" timeline. In this current timeline, Rodrigues says that he had never previously visited Washington State.
In phone reports to Brickhouse and myself, he confirmed that he knew his way around the area where he was previously exploited, and recalls the names of the people who had run the child sex operation. Additionally, he says that through Google Earth, he was able to locate the town and environment where he was forced to work for the Peruvian drug trade from 1981 to 1985.
If there is independent confirmation of Rodrigues time in Peru and Washington, or for his alleged space service on Mars and Ceres, that will help considerably in establishing "multiple points of corroboration" for his story, and the accuracy of his memories. As mentioned in earlier articles, there are multiple corroborating points for insiders such as William Tompkins and Corey Goode.
Until multiple points of corroboration are found for Rodrigues testimony, there remains the possibility that his memories may be contaminated by manufactured scripts, or implanted memories from another person. This requires caution and discernment in using Rodrigues testimony to understand aspects of secret space programs, such as the German-run Dark Fleet, about which little is known.
[ExoNews TV episodes with Tony Rodrigues: Part 1, Part 2, Part 3, Part 4, Part 5]
[Updated on 11/28/16 with addition of Part 5]
This article may be freely circulated in its entirity.
Further Reading