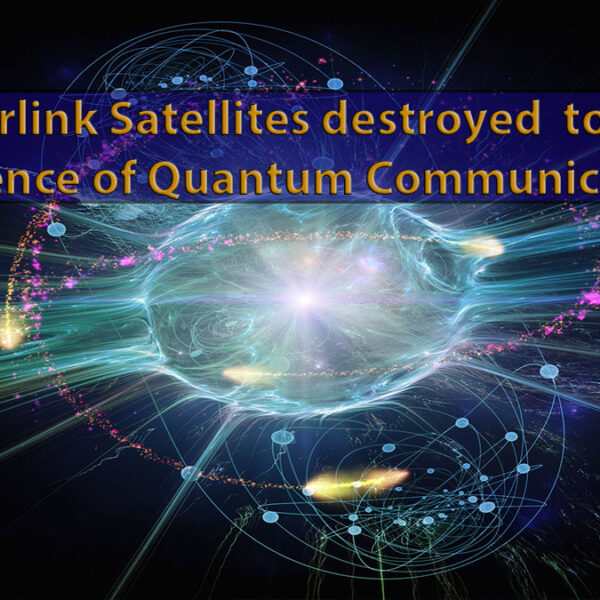 There has been much speculation over the destruction of 40 out of 49 Starlink microsatellites on February 8 that were shot down by the Deep State, according to information received by Elena Danaan, from her primary extraterrestrial contact Thor Han Eredyon.  Elena has just followed up with an article that casts more light on Elon Musk and Starlink based on information received earlier from a female extraterrestrial from Alpha Centauri with whom she had a face-to-face encounter in a small town in Ireland just over a month previously.
In her article, Elena explains how she first met the Nordic-looking extraterrestrial and her husband in December 2019 at a book launch in Ireland and was told that they were 'Americans' working on advanced communications technology projects in Los Angeles, California. At the time, Elena didn't know about their true origins, but only observed their strikingly good looks and their strangeness. Elena says that she was very surprised when the same female phoned her two years later, on January 4, 2022, and arranged to have a meeting.
At the meeting, the Nordic identified herself as coming from Alpha Centauri, and that she and others had been living on Earth for some time and had integrated into the human population. In 2006, I wrote an article and followed up with a conference presentation about extraterrestrials secretly living among us a year later.
This history of aliens infiltrating human society extends back, at the very least, to the 1950s, when famous contactees such as George Adamski and Howard Menger described helping extraterrestrials go unnoticed in society. Around the same time, a group of extraterrestrials began revealing themselves to over 100 Italians and other Europeans in what is known as the 'Friendship case.' The meeting Elena described is therefore not unique given this secret history of off-worlders living among us.
At their January 2022 meeting, which Elena discusses in her article, the extraterrestrial explained the future importance of Starlink and Elon Musk:
Then… she got into the real subject and I was surprised at first with her question. She asked me what internet provider I had and she strongly advised me to go for Starlink. She said Starlink was going to become very big and take over mostly every communication systems in the near future, and that Elon Musk invested more funds into developing Lower Orbit relay technologies. She kept on talking about him, saying that he was going to become very important soon, for the greater good of humanity, in the near and far future. She said this: "him and I are from the same place".
The female Nordic's comment about the future of Starlink and Elon Musk, and their importance for the good of humanity is very revealing. If her comments about Starlink taking over communications systems in the near future are accurate, that gives us powerful insight into who would have been behind the loss of 40 Starlink satellites. High on the list of suspects would be the owners of the present global communications system—the Deep State.
Furthermore, the Nordic's comment that Musk is from Alpha Centauri conjures up a similar scenario to Nikola Tesla, who believed, along with several of his closest associates, that he was originally from Venus. Arthur Matthews and Margaret Storm both wrote books that described Tesla's origin as a Venusian.
A leaked Majestic document describes how human-looking extraterrestrials have in the past dropped off some of their babies to be raised as normal humans, but they would have advanced abilities that would facilitate technological advancements. It is therefore not unprecedented that a gifted inventor such as Musk turns out to have off-world origins.
In her conversation with Elena, the Nordic talked about living in California and working on advanced technologies before buying a house in Ireland:
Her: We were living near L.A. before buying a house here, but I still travel a lot. 
Me: What were you doing there, as a job? I remember you said you were installing new technologies in people's homes? For which company was it?
Her: We had our own private company. We are high grade engineers. It was a new technology, very advanced, having to do with connectivity. A kind of Wi-Fi if you want but based on quantum technology relayed to lower orbit connectivity. That's all I can say.
This is a very significant piece of information since it suggests that the real purpose of Starlink is to set up a Wi-Fi global communication system based on quantum technology, rather than through the transmission of electromagnetic frequencies (EMF) from lower Earth orbit.
A quantum communication system is based on ideas such as 'quantum teleportation' and 'quantum entanglement' that use photons, as explained by a science reporter, Martin Giles:
Quantum teleportation works by creating pairs of entangled photons and then sending one of each pair to the sender of data and the other to a recipient. When Alice receives her entangled photon, she lets it interact with a "memory qubit" that holds the data she wants to transmit to Bob. This interaction changes the state of her photon, and because it is entangled with Bob's, the interaction instantaneously changes the state of his photon too.
While many fear that Musk's Starlink is going to create a 5G system that will beam harmful frequencies (60 and 95GHz) to stifle and control humanity globally, the Nordic is suggesting that the real goal is to develop a quantum communications system that would not be EMF-based.
Put simply, quantum communications will use entangled photons, thereby enabling instantaneous communications over great distances, whereas conventional communications use electrons to generate EMF waves that travel at the speed of light. This severely impacts the usefulness of EMF-based communications for deep space travel and makes it practically useless for interstellar travelers.
Another big advantage of quantum communication is that 'Faraday cages', which block EMF waves by creating a metal cage around sites, would not block these kinds of transmissions. A quantum-based system could thus be used by submarines—whose hulls act as Faraday cages—and in deep space by spacecraft for instantaneous communications. Therefore, it is no surprise that extraterrestrials use quantum communication over interstellar distances without any delay or harmful EMF waves, and that they are encouraging inventors such as Musk to introduce this to the general population.
This is what makes claims that Musk is using Starlink to create a quantum-based WiFi system so startling. If the Nordic's claims about Musk are accurate, then Starlink could be used to free, rather than further suppress humanity using a new generation of Earth-orbiting satellites that would create the next generation of communications.
Apparently, this kind of quantum communications technology was being earlier developed in California by the Nordic extraterrestrials before the Deep State intervened, as the following exchange clearly alludes to:
[Her] We left because we lost everything.
Me: I am sorry to hear this. So it's why you left California. How did this happen?
Her: Our house burnt down. They burnt a whole town. Many of us died. 
The Nordic's remarks make it clear that the California town she is referring to is Paradise, which was destroyed on November 8, 2018. The Paradise fire wiped out the entire town and forced its 27,000 residents to flee with over 80 deaths. Mainstream media sources such as NBC News cited drought conditions, high winds, and faulty electrical transmission equipment for the destructive wildfire that engulfed the town. Alternative media sources, however, identified tell-tale signs of satellite based Directed Energy Weapons (DEW) being used to destroy the town. Why was Paradise targeted by DEWs?
I immediately became suspicious over the real cause of the Paradise fire when I heard from one of its residents, Ralph Ring. He sent out an email to supporters saying that his home in Paradise had been destroyed, but that he and his wife had escaped unharmed.
I first met Ralph in Hawaii in 2007 when he did a presentation at our Earth Transformation conference about his work on a civilian flying saucer project called the OTC-XI that had been developed by the inventor Otis Carr, who was a protégé of Nikola Tesla. Ralph stayed in touch over the following years and let supporters know he was working on advanced technology projects that would revolutionize the planet. This is what he was working on in Paradise when the fire took out the town.
At the same time, David Wilcock did an interview about the Paradise fire where he stated that his sources had revealed to him back in 2007 that many of the residents of Paradise were extraterrestrials from Alpha Centauri' working on advanced technology projects in underground facilities. This meant that Paradise was the real-life equivalent of the town 'Eureka' in the popular TV series Eureka.
The Nordic's admission to Elena that she was one of those impacted by the fire and that many of her companions had died meant that the Deep State had targeted hidden underground facilities used by the extraterrestrials. The surface brush fire was created as a cover to take out these advanced tech facilities using space-based DEWs.
Now we know why the Deep State had destroyed Paradise and the cutting-edge tech projects under development. These projects threatened the current global communications systems using harmful EMF transmissions that researchers such as Dr. Joseph Mercola have well documented as being extremely harmful to long-term human health.
Now four years later, Elon Musk's Starlink was targeted by the Deep State using surface-based DEWs according to Thor Han's communications. It's unlikely that the loss of 40 microsatellites will stop the rollout of Starlink and its future global WiFi system, given that over 1700 satellites are currently in orbit.
If what the female Nordic told Elena Danaan is accurate, then Starlink is destined to unleash a future quantum-based Wi-Fi communication system that eliminates harmful EMFs. This explains why Musk and his companies are now being targeted by the Deep State using their remaining resources in the mainstream media, compromised assets in the alternative media, and exotic weapons developed by the aerospace industry. Thankfully, there is a growing Earth Alliance of spacefaring nations working with US Space Command and positive extraterrestrial groups that support Musk's efforts and will act to protect his Starlink system, and the revolutionary quantum communications system these will establish for the benefit of all humanity.
A podcast version of this article is available on YouTube & Rumble
Special Note: On February 26 I will present my first webinar of the year on "What's Coming in 2022 and Beyond." Join me as I dive deep into the Exopolitics Paradigm Shift that we are about to witness all over the planet as humanity awakens.
© Michael E. Salla, Ph.D. Copyright Notice
Related Podcasts and Articles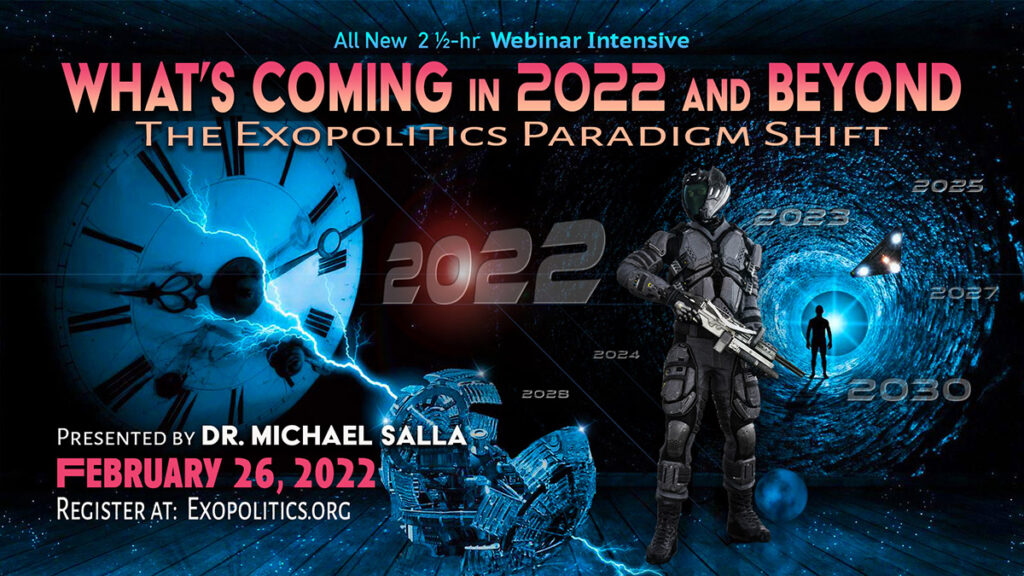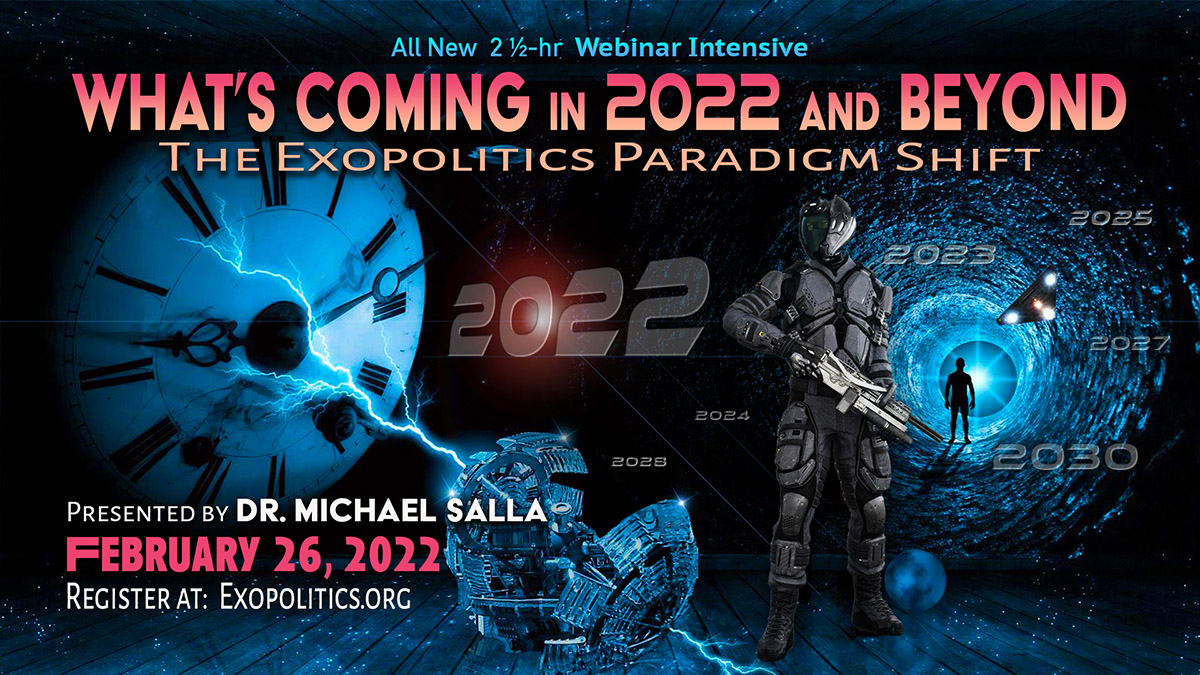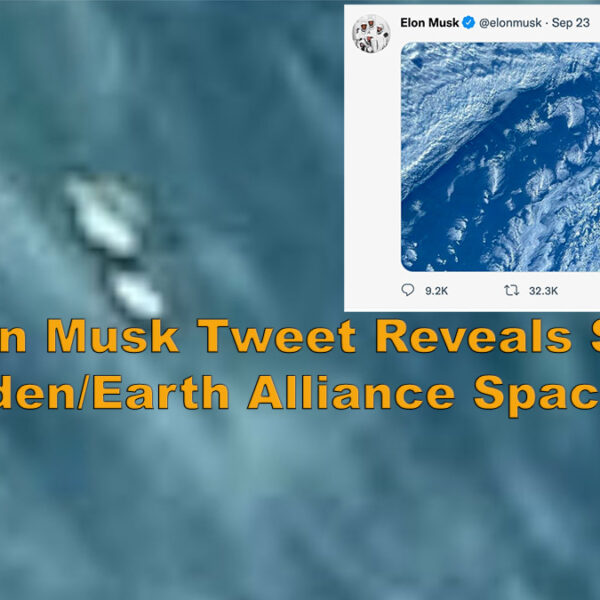 On September 23, 2021, Elon Musk tweeted a picture taken from a SpaceX civilian mission into low Earth Orbit. A close up of the picture reveals at least six cigar shaped craft traveling in formation. According to Thor Han Eredyon of the Galactic Federation of Worlds—as relayed by Elena Danaan—the craft belonged to the US Navy's Solar Warden program and are now part of the newly formed Earth Alliance.
I have been told that Musk is constrained by Non-Disclosure Agreements (NDAs) from revealing what he knows about the Earth Alliance, diplomatic meetings on Jupiter, extraterrestrial life, etc., but is allowed to leave clues so we can figure it out by ourselves. 
Video of the spacecraft formation is available on YouTube and Rumble
For more articles, videos and podcasts featuring information about the Galactic Federation of Worlds as relayed by Thor Han/Elena Danaan and Val Nek/Megan Rose, click here.
---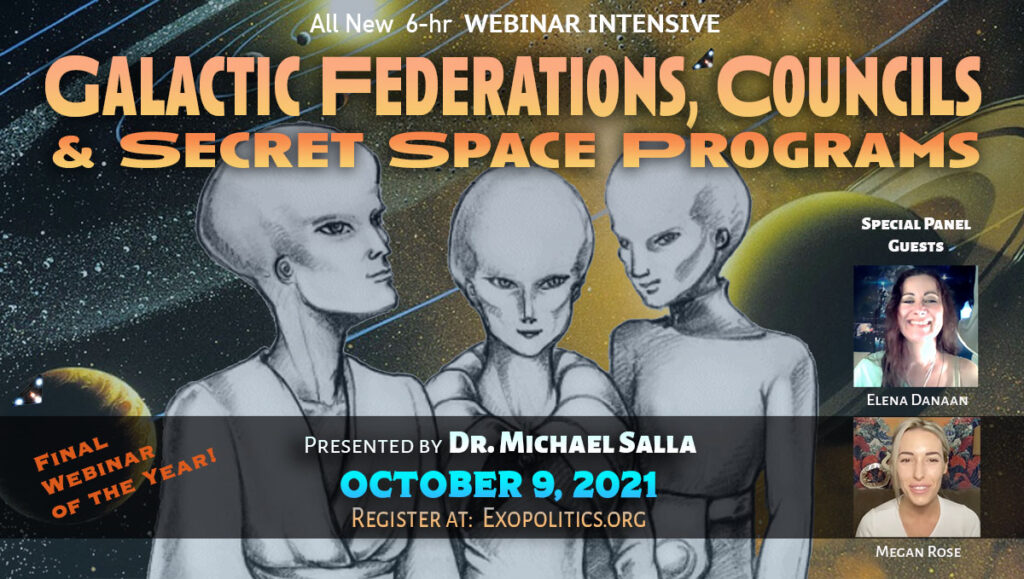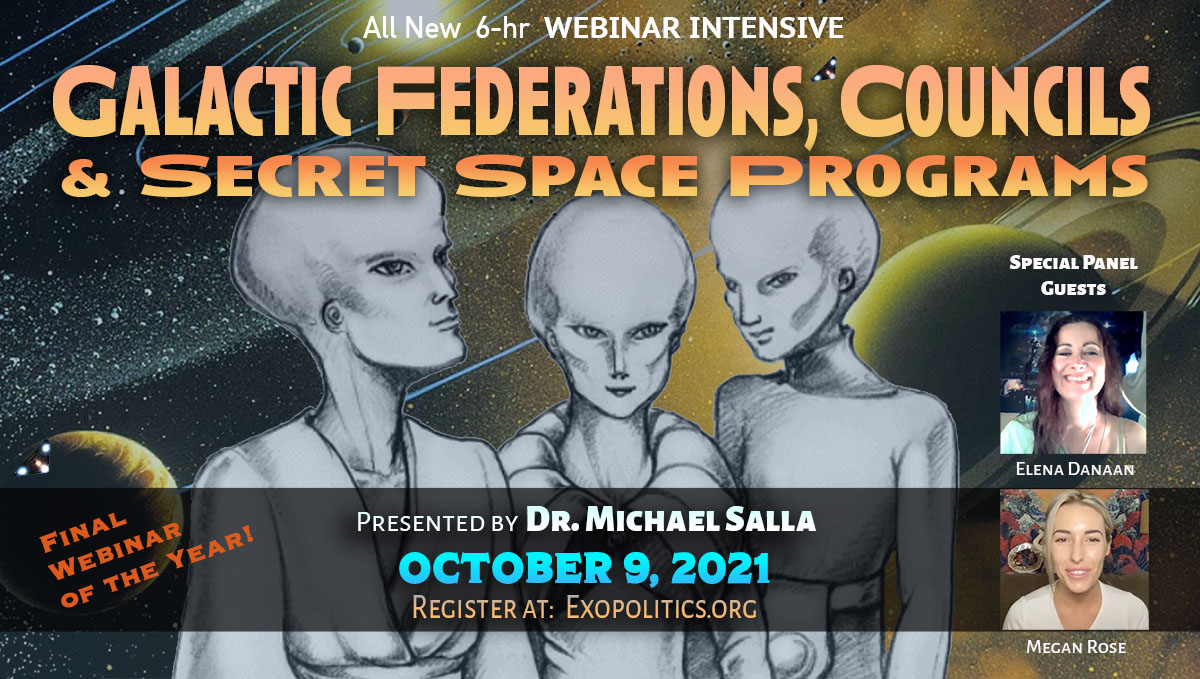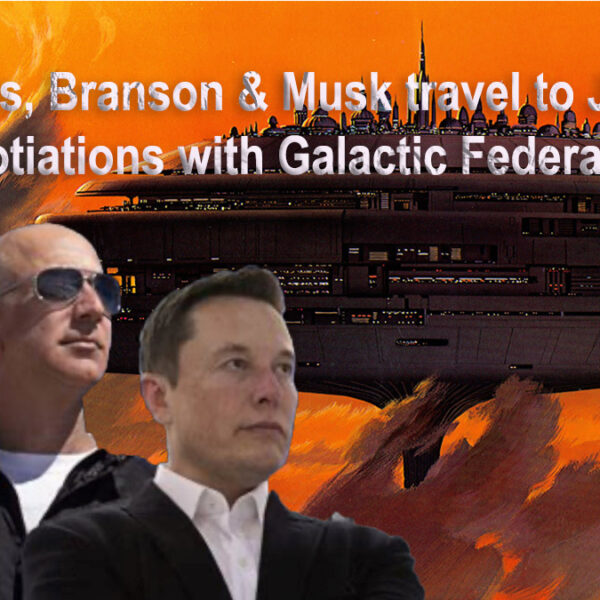 On July 11, to much fanfare, Richard Branson traveled on a Virgin Galactic spacecraft for a highly publicized trip to the edge of space—defined by NASA as beginning at an altitude of 50 miles (80 km). A week later, he was followed by Jeff Bezos, who flew in a Blue Origin spacecraft to just above the Von Karman line, an altitude of 62 miles (100 km), the worldwide standard for the start of space. Around the same time, on July 23, Elon Musk announced that SpaceX was given the highly prized contract to launch NASA's Europa Clipper mission to Jupiter by 2024.
What unites these three disparate space events involving pioneering aerospace CEOs is a claim by a former French archeologist, Elena Danaan, that a series of secret meetings were held in a floating extraterrestrial base (city) in the upper atmosphere of Jupiter in mid-July. She was told by her primary extraterrestrial contact, Thor Han Eredyon, that the meetings were attended by top officials from 14 space-faring nations, as well as "progressive corporation CEOs" to meet with representatives from the Galactic Federation of Worlds and other galactic organizations.
In previous articles, I discussed the identities of the 14 nations that most likely attended the meetings and speculated that the "progressive corporation CEOs" probably included Bezos and Branson, whose trips to the edge of space coincided with the alleged time of the Jupiter meetings. I further speculated that Musk had attended due to a SpaceX announcement that it had been awarded the Europa Clipper meetings.
In her most recent 'physical contact' with Thor Han, Elena has provided some fresh new details about the Jupiter Meetings, which confirmed my speculations about the CEOs in attendance. This is Elena's (E) recollection of what she was told by Thor Han (T):
E: About the CEOs, was Michael right?
T: Yes.
E: All of them?
T: And many more.
While Branson and Bezos very publicly televised their relatively few minutes floating in Earth's upper atmosphere, Thor Hans' response suggests they kept secret that they were about to or had already spent many hours in the upper atmosphere of Jupiter negotiating the future of our solar system.
It's worth pointing out that this is not the first time that Jeff Bezos has been involved in top-level negotiations involving secret space programs. In early February 2018, the German-led Dark Fleet operating out of Antarctica conducted high-level meetings with the Trump administration, as first revealed by former Forbes Magazine author Benjamin Fulford. What corroborated Fulford's claim was that Trump's Secretary of State, Rex Tillerson, did travel to Bariloche, Argentina where secret negotiations were allegedly held with the Dark Fleet to reveal its existence and release some of its advanced technologies. What added even more credence to Fulford's claims was that Bezos was also in Bariloche at the same time, where he almost certainly joined Tillerson in the secret negotiations, which I covered in a previous article.
This takes me to the question of why corporate CEOs with questionable backgrounds were involved in the Jupiter meetings. Thor Han's response suggests some dire contingency is on the horizon that makes it necessary for the Galactic Federation to work with them for the greater good of humanity. This is the relevant portion of the dialogue between Elena [E] and Thor Han [T]:
[E] Why them? People on Earth are going mad about it.
[T] Because these are the ones who are ready now. There's no other choice. We don't have time, we can't afford to wait that new corporations form and equip themselves with brand new fleets, we take the ones who are available here and now. I know they are not pure-hearted but they are the only ones able to lead the Terran species into the future. As corporations, their agendas are financial. They go with the winners. Their old allies are losing, so these corporations have turned their back to them.
Thor Han's response that "we don't have time" is very troubling. It corroborates that the Galactic Federation sees some impending catastrophic or major Earth change events that make the development of large space fleets an urgency. The most likely candidate for such a dire contingency is a micronova or 'solar flash' event happening in the near future.
Ben Davidson, the founder of Space Weather News, has for several years now been urgently warning about the growing evidence that a micronova event will happen by the end of this or the start of the next decade.
Similarly, a secret space program insider, Corey Goode, has since 2015 been warning that a "solar flash" event is predicted to happen in the near future. Historical evidence shows that micronova events had happened before and wiped out advanced civilizations on Earth and in our solar system.
Thor Han's reference to there being "no other choice" and that there is insufficient time "that new corporations form and equip themselves" suggests that the dire contingency is not that far in the future, just as Davidson and Goode have been warning.
Elena continued her dialogue about Musk, Bezos and Branson as follows:
[E] But do you trust them?
[T] No, we don't. Remember, I told you that we were watching them proving their good intent. Now, you must not tell this publicly until I say it is the right time because civilians on Terra do not possess all the elements yet to grasp the whole perspective. There are many other reasons why we do not disclose everything for the moment, as it does not involve only ourselves.
Thor Han did give permission for this information to be now released. He is correct that most on Earth do not possess the necessary "big picture" perspective. Many will focus on the shortcomings of Musk, Bezos, and Branson at the Jupiter meetings as "progressive corporate CEOs" without realizing that they have built the necessary infrastructure for quickly expanding their operations and building large fleets of civilian spacecraft.
Musk's SpaceX, Bezos' Blue Origin, and Branson's Virgin Galactic have spent a decade or so developing rocket-propelled spacecraft to get to their current positions where they can safely begin building fleets of civilian craft for moving a significant number of humans into space. It's unreasonable to expect that the world's militaries would undertake such a massive endeavor in a global contingency since they would unquestionably prioritize relocating government officials and military families to "safety zones" in space or underground. The rest of humanity would be left to fend for themselves.
Therefore, there is an urgent need for a civilian space industry to be quickly expanded far beyond present levels. This is especially the case once advanced propulsion and energy technologies are released, which would enable space travel deep into our solar system, thereby evading any catastrophic earth changes.
Elena shared more of Thor Han's response about the corporate CEOs, which gives us some clues into what lies ahead:
The Galactic Federation offered to these corporations a deal: that if they comply to the progressive rules of the new agreements, we will support and protect their commercial interests. Because it is in our spirit to entice unity and progress, not division. We believe that everyone in this universe deserves a second chance; this is a process part of the evolution; learning from our mistakes. And also, by including your opponents in your circle, they cease to be an enemy and they become an ally. This is how you make peace, and also why our Federation works hard at welcoming cultures that were once regressive. Unity is progress.
Thor Han is here acknowledging that Musk, Bezos, Branson, and other CEOs at the Jupiter meetings previously collaborated with the Deep State in various ways. However, with the impending defeat of the Deep State and their space allies—the Dark Fleet, Draco Empire, and Orion Alliance—Musk, Bezos, and Branson have realigned themselves. Thus they have been given a second chance and are being closely watched by their new partners, the Galactic Federation, in terms of complying with the "progressive rules of the new agreements."
At this stage, it's not known what these progressive rules are, but given the Federation's recent actions on the Moon, Mars and Antarctica, we can expect it would exclude the kind of exploitative practices, genetic experiments, slave trade, biowarfare, etc., that were the mainstay of the Interplanetary Corporate Conglomerate, and the Dark Fleet.
Elena continued:
[E] This explains why, as I thought, in the recent agreements on Jupiter, countries such as Russia and China were voted to be under the management of the United States of America. But why the USA?
[T] Because they are the best able to fit the task, and because we know what the future is made of. We have been secretly grooming the USA into secret programs since the 1950s, because we knew…
[E] I closed my eyes as Thor Han sent me a telepathic image. It was three similar logos. From left to right, as an unfolding timeline: Star Trek's Starfleet, Artemis Accords, and Space Force. All three blended into one. Just after that, I saw eight ships of Solar Warden passing by the GFW station (where I was). What a good omen!
Elena's response highlights the Artemis Accords' importance and US leadership for the immediate years ahead as humanity's presence in space expands greatly beyond its present levels. The Artemis Accords create a framework for the civilian, corporate and military sectors to work side-by-side in meeting the challenges of quickly expanding humanity's presence far into our solar system.
In addition, her information confirms the testimony of William Tompkins, who told of human-looking extraterrestrials (the Galactic Federation) helping the US Navy develop a secret space program (Solar Warden) since the 1950s. Tompkins further stated that the Navy's Solar Warden program has been building new fleets of space carriers that are scheduled to come online sometime in the early 2030s. Around the same time frame as Davidson and Goode have predicted the incoming micronova event. Coincidence? I don't think so.
All this suggests that in the immediate years ahead, the Navy will begin revealing Solar Warden assets through the newly created US Space Force, which is becoming the hub for a future multinational space alliance. This is evidenced in the expanding "Combined Space Operations Initiative" whereby the space commands of Australia, Canada, France, Germany, New Zealand, United Kingdom are closely coordinating with the US Space Command and Space Force. I discuss this exciting emergence of a future multinational military space alliance—a modern-day Starfleet—in my latest book Space Force: Our Star Trek Future.
The US Navy will play a key role in preparing humanity for the challenges that lie ahead. Over the last few years, the Department of the Navy has been releasing some of the advanced space propulsion technologies used in Solar Warden through scientists such as Dr. Salvatore Pais.
There have been five patents released by Pais, all on behalf of the Secretary of the Navy, which have all the necessary components for the civilian sector to build fleets of advanced antigravity space vehicles and powerful electromagnetic shielding technologies that can be used to protect humanity either in deep space or on Earth itself from electromagnetic storms and Coronal Mass Ejections. All will be vital for building future fleets of civilian spacecraft that can be used to ride out the devastating effects of a micronova or other catastrophic events foreseen by the Galactic Federation and multiple secret space programs.
In conclusion, I know that it will be difficult for many to stomach that compromised CEOs such as Bezos, Branson and Musk have been given a second chance and allowed to reach agreements with the Galactic Federation at secret meetings held above Jupiter. However, the Galactic Federation is telling us that there is no choice given the magnitude of the challenges that lie ahead, which makes it imperative that a very large civilian space infrastructure is built using exotic technologies such as those found in the Pais patents, as quickly as possible.
Bezos, Branson, and Musk have the necessary finances, resources, and know-how to quickly transform the civilian space industry away from fossil fuels, just as Musk transformed the automobile industry to electric cars. The upside of the Jupiter Agreements is that humanity is being helped by a positive association of extraterrestrials—the Galactic Federation of Worlds—working simultaneously with national governments, militaries, and select aerospace corporations, to prepare humanity for a Star Trek Future.
And this is just the beginning. Join me for my upcoming September 11 Webinar, where I will lay out all the latest information about humanity's Star Trek Future, and how it all relates to Space Force, Solar Warden, Artemis Accords, and the Galactic Federation. This is positive and highly inspiring material, so don't miss this look beyond the chaos into a far better future for all of us.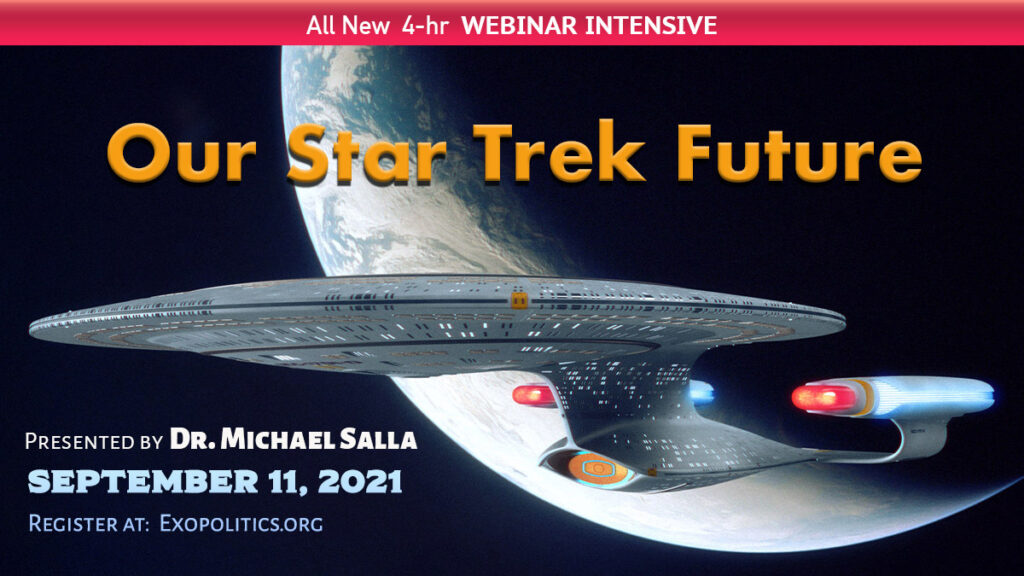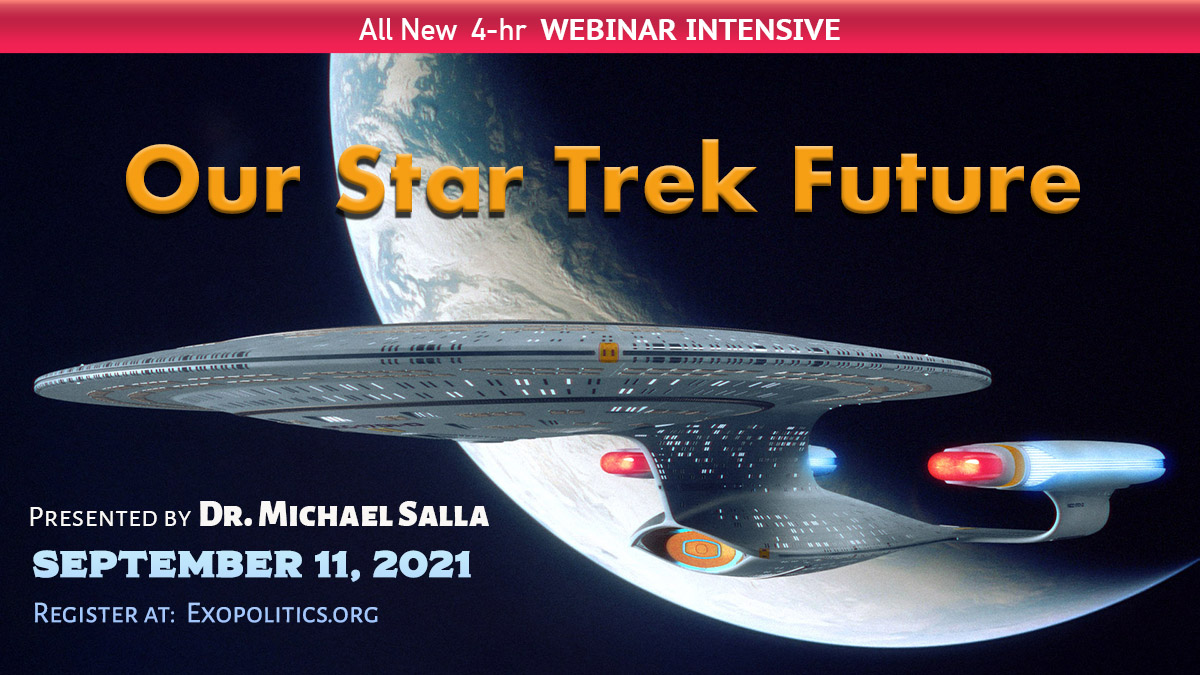 © Michael E. Salla, Ph.D. Copyright Notice
[Note: Elena Danaan's YouTube Channel is here & her website is here]
[Video version of this article is available on Rumble and YouTube]
Further Reading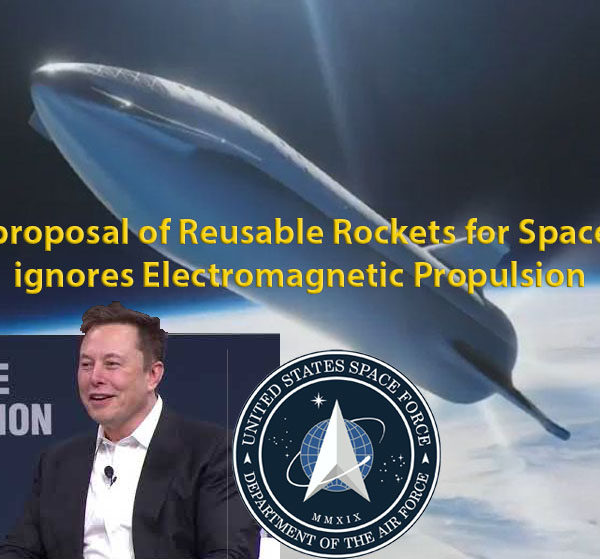 On February 27, at the US Air Force Association's "Air Warfare Symposium", Space X founder Elon Musk posed the question, "How do we make Starfleet real?" and he proposed reusable rockets as "absolutely fundamental" for the newly created Space Force.
Musk's aggressive lobbying of reusable rocket propulsion technologies for future space exploration ignores increasing evidence that electromagnetic propulsion systems are not only scientifically feasible, but have been developed for classified spacecraft, many of which have been predicted to be soon transferred to Space Force.
Musk has undoubtedly shaken the conventional space industry with his pioneering work in developing reusable Falcon rockets for launching Dragon spacecraft that are used to deploy satellites and ferry supplies to the International Space Station. Many were thrilled to watch videos of the Falcon rockets safely returning either on land or on ocean-going barges, after some spectacular early failures.
The reusable Falcon rocket landings were followed later by Dragon spacecraft descending to Earth by first deploying parachutes to slow their descent through the atmosphere before performing an ocean splashdown. The manned version called Dragon 2 is designed to carry up to seven crew and will also perform a splashdown after completing its space mission. This effectively duplicates the Apollo era process for the return of manned space capsules.  
Currently, Musk is developing a reusable Starship which again relies on rocket propulsion to take astronauts to the Moon and Mars. Measuring 160 feet (50 meters) in length, the Starship is significantly larger than the Dragon 2 and will sit atop a super heavy Falcon launch rocket. The Starship is designed to carry sufficient rocket fuel to make it possible to maneuver in space, land on the Moon, and return safely back to Earth.
At a February 28 test, a prototype Starship collapsed at the SpaceX facility in Boca Chia, Texas, showing similar development challenges to that previously faced with the Falcon rockets. Musk is confident that Space X will overcome these developmental problems and come up with a reusable spacecraft with similar capabilities to the abandoned Space Shuttle.
There is little doubt that the idea of reusable rockets is currently very helpful in transforming the space industry and moving things in the direction of multi-use space launch vehicles that will be much cheaper, reliable and safer. This has been predicted to kickstart a civilian space industry making it possible for space tourism to take off later this decade.
Musk's ambitious plans to use reusable rockets for manned flights to service the International Space Station, trips to the Moon, and eventually establishing colonies on Mars does indeed raise important questions for the newly created Space Force. Are reusable rockets "absolutely fundamental" to Space Force as Musk contends?
There is little question, when one reviews the available evidence and whistleblower/insider testimonies that the US Air Force, like the Navy, has for decades been developing electromagnetic propulsion systems in multiple highly classified programs. I have presented the best available evidence in successive books on the secret space programs developed by the US Navy and USAF.
Very recently, the Navy has had one of its most innovative scientists, Dr. Salvator Pais, apply for patents showing the feasibility of an electromagnetically propelled hybrid spacecraft capable of traveling underwater, in the air and space. After the patent examiner rejected the application for the "Hybrid Aerospace Underwater Craft" as not scientifically feasible since it lacked an adequate power supply, the Navy intervened by having another scientist write a letter in support of Pais.
Dr. James Sheehy, the Chief Technology Officer for the Naval Aviation Enterprise pointed out that Pais' patent application was scientifically feasible and was being experimented on. In his letter, Dr. Sheehy wrote about the electromagnetic propulsion systems making rocket engines obsolete:
If successful the realization of this result demonstrates that this patent documents the future state of the possible and moves propulsion technology beyond gas dynamic systems to field-induced propulsion based hybrid aerospace-undersea craft…
Importantly, Sheehy went on in his letter to point out that China was working on similar electromagnetic propulsion systems. Not granting the patent would lead to China gaining the intellectual property rights on such innovative technology, which had been originally conceived in the US, and very likely acquired by China through industrial espionage.
Sheehy's warning was correct, China has indeed acquired classified US aerospace technologies and is in the midst of a rapid development process for fleets of electromagnetically propelled vehicles that are part of a secret space program that is far more powerful than its public space program using rocket propulsion systems.
China aims to overtake the US as a leading space power by 2030 through advances in Artificial Intelligence and deployment of 5G systems that are at the core of its asymmetric military strategy dubbed "Assassin's Mace". In my new book, Rise of the Red Dragon: Origins and Threat of China's Secret Space Program, the full extent of China's technological advances and how it plans to use AI and 5G to achieve space dominance are laid out in detail.
Recently, a number of former servicemen from the USAF and Navy have come forward with their testimonies that the Tic Tac UFOs captured on infrared video by Navy pilots, had an important USAF connection. One of them, Mike Turber, says that he was told by a reliable source that the Tic Tac craft belonged to the USAF and had been built at its secretive Plant 42 facility in Palmdale, California, by leading aerospace contractors.
Given the abundant evidence that the USAF and Navy have secretly developed electromagnetic propulsion systems, why would the newly created Space Force be interested in Musk's reusable rocket propulsion systems?
Sure, reusable rockets are superior to the expensive single-use rocket launch vehicles that have been dominant since the 2011 retirement of the Space Shuttle. However, both single-use and reusable rocket systems are dramatically inferior to electromagnetically propelled spacecraft capable of traveling at speeds that defy conventional physics, as spectacularly demonstrated by the Tic Tac UFO craft.
Musk made his comments in a fireside chat with Lieutenant General John Thomson, Commander of the USAF Space and Missiles Systems Center, Los Angeles Air Force Base, which was only a few months ago transferred over to Space Force. Was General Thomson genuinely interested in reusable rockets for Space Force or did he have another agenda in mind?
There are three possibilities that come to mind that help explain why General Thompson and Space Force may be interested in hearing Musk's views about reusable rocket propulsion systems.
First, reusable rockets are a useful stepping-stone to the far more effective and powerful electromagnetic propulsion technologies that Space Force is in the process of receiving from the US Air Force's secret space program, as I have discussed elsewhere. I find this possibility highly unlikely given the unnecessary expense of building reusable rocket technologies that Space Force leaders would deem vastly inferior to electromagnetically propelled spacecraft.
A second possibility is that Musk's advocacy of reusable rockets might be a convenient smokescreen for Space Force deploying electromagnetically propelled spacecraft, without revealing the true propulsion system being used until the right time. Put simply, there may be a need for Space Force leaders to hide from the public the true origins and development history of its reusable spacecraft.
A third possibility is that General Thompson and Space Force intends to partner with Musk since he has shown with his innovative Tesla electric car company a sustained interest in moving the car industry away from fossil fuels to electrical energy. Musk can therefore in the future play a leading role in moving the space industry away from rockets towards electromagnetic propulsion systems.
Therefore, in responding to Musk's question, "How do we make Starfleet real?",  the answer is definitely not through reusable rockets as proposed by Musk. However, reusable rockets may be a convenient stepping stone or smokescreen for electromagnetic propulsion systems that Space Force will be deploying in the near future. Indeed, Musk may ultimately prove to be a pivotal figure in helping introduce electromagnetic propulsion systems to the general public as he learns about the classified technologies Space Force plans to release to the public.
© Michael E. Salla, Ph.D. Copyright Notice
Further Reading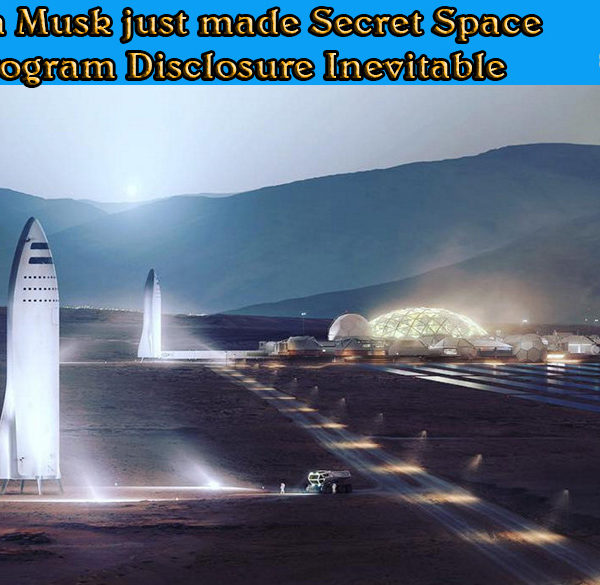 Today at the International Astronautical Congress in Australia, Elon Musk unveiled his plans for the "Big F*cking Rocket" (BFR) which will be the means of turning humanity into a spacefaring civilization. He aims to cannibalize his fleet of Space X rockets and reentry capsules to create a fleet of BFR rockets capable of cutting the travel time between major cities on earth to less than an hour, and making possible the establishment of human colonies on the Moon and Mars.
His BFR rocket will use huge tanks of super-cooled liquid oxygen as the propulsive force. He plans to first build BFR rockets to cut travel time between major cities on Earth to under an hour. The flight time between New York and Shanghai, 7000 miles (11,265km) apart, would be 39 minutes.
Using revenue from his profitable satellite business, and future revenue from rocket travel between major cities, Musk aims to fund his more ambitious plans for colonies on the Moon and Mars. He set 2022 as the target date for his first BFR rockets to Mars.

What makes Musk's vision of humanity becoming a spacefaring civilization remarkable is that it uses conventional rocket technologies to achieve his goals in less than a decade. Given his proven track record in building a profitable commercial space company from scratch, there's little doubt that he can succeed in his goal.
Importantly, he stresses that his plans for BFR will make it possible for everyone to fly into space in short trips between major cities for the equivalent "a full fare economy in an aircraft". This will revolutionize the aviation industry, and will certainly get the attention of Boeing, Airbus and other major aviation companies.
This raises the question of how does Musk's plans for the BFR impact on disclosure of secret space programs using classified antigravity and torsion field technologies as reported by multiple insiders and whistleblowers? The most powerful impact is that it will allow many people to actualize their dream of space flight.
Even if limited for most to a short terrestrial trip, from say New York to Shanghai, Musk's plan breaks the glass ceiling on who can become a spacefaring astronaut. A big part of the reason why secret space programs where able to develop without the knowledge of much of the planet's population was that space travel was beyond the reach of the common person.
Rumors of antigravity and torsion field propulsion technologies just didn't inspire people to investigate since most assumed that space was for the select few, and not for the uninitiated many. Musk's BFR changes that perception forever.
Now everyone can dream of becoming a spacefaring astronaut, and the technologies that can facilitate that more quickly and safely will now get on people's radar. Rumors of secret space programs run by the US Air Force, US Navy, multinational corporations, etc., will get people to take claims of suppressed technologies very seriously.
The testimony of insiders and whistleblowers with knowledge of secret space programs will attract people's attention, leading to further important leaks by sympathetic elements within the military industrial complex. This is exemplified in a recent series of triangle shaped UFOs being photographed near MacDill Air Force Base.
These mysterious craft which appeared just before Hurricane Irma hit the Tampa Bay region, were capable of maneuvers only possible for craft using antigravity and torsion field technologies, which overcome the law of inertia.
People will take such reports and sightings more seriously reasoning that if antigravity and torsion field technologies have been safely developed for secret space programs, then why not have national governments take steps to declassify these for the nascent commercial spacefaring industry open to all?
Make no mistake, Musk's effort to turn humanity into a spacefaring civilization using conventional rocket technologies, will accelerate the disclosure process. His bold vision for BFR rockets to cut travel time between Earth's major cities to under an hour and for interplanetary travel with bases on the Moon and Mars, makes disclosure of secret space programs inevitable.
© Michael E. Salla, Ph.D. Copyright Notice
Further Reading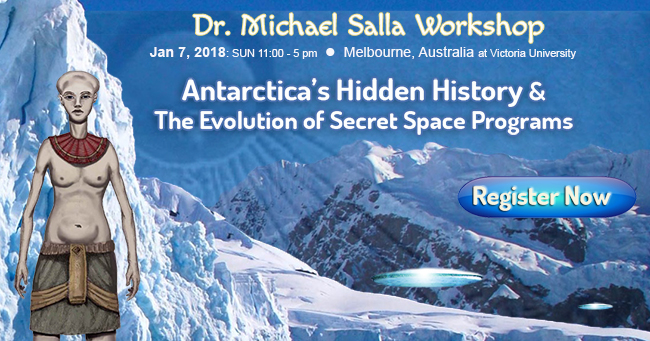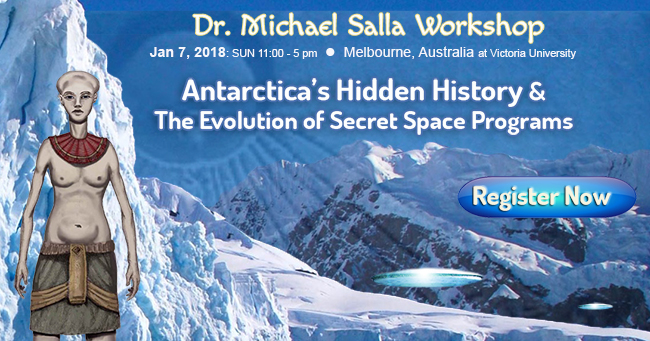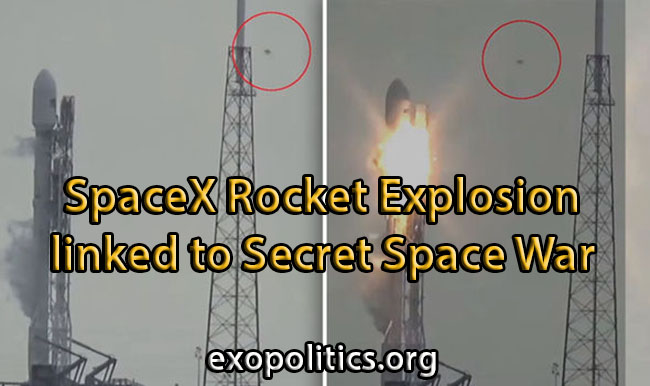 A series of video frames taken of the SpaceX Falcon 9 rocket explosion on September 1 show two UFOs in the vicinity, just before and during the failed pre-launch test. The video frames are hard evidence linking the SpaceX explosion to an alleged space war being fought between rival secret space programs according to whistleblower Corey Goode.
The SpaceX rocket was carrying a $150 million satellite belonging to Facebook's Mark Zuckerberg who was quick to tweet his disappointment:

Elon Musk tweeted an initial analysis that only identified where the explosion took place:

According to investigative reporter, Jim Stone, the way in which one of the UFOs interacted with the rocket just as it exploded suggests it was an attack, and not a case of a fuel tank breach in the upper stage:
This explosion started at the top of the rocket, right where the UFO was, and not near the bottom, where virtually all rocket explosions start. No malfunction caused this, if this started at the top of the rocket only a fuel tank breach in an upper stage that was not being tested could have caused this, and that means the rocket was most likely shot with something.

The attack was intended to prevent the satellite reaching Earth orbit to perform a nefarious purpose, Stone stated:
Before it blew up, a UFO showed up, fired something at the rocket, and then quickly flew away. The image here shows the UFO quite clearly. If Spacex can't explain what this UFO is, then I am going to say that either off world help arrived to keep Facebook grounded or white hats in American intelligence destroyed this rocket to keep something evil from being launched.

An analysis of 10 frames from the video of the explosion (see BBC video below) show two UFOs appearing just before the rocket test, and one flying just above the rocket as it explodes.
The author, who conducted the frame by frame analysis, concludes:
You will see a small looking ufo/object buzz by the rocket as it explodes!  The ufo buzzes by the head of the rocket coming from the right side and moving to the left side of the screen at incredible speed.  This is definitely some type of secret space program weapon technology being used.  The secret space program war is in full affect and this time in full view.

The alleged attack follows earlier claims by Secret Space Program whistleblower, Corey Goode, that space battles have recently intensified between rival secret space programs. Goode provided an artist's depiction of one of these battles fought over Antarctic skies space in early 2016.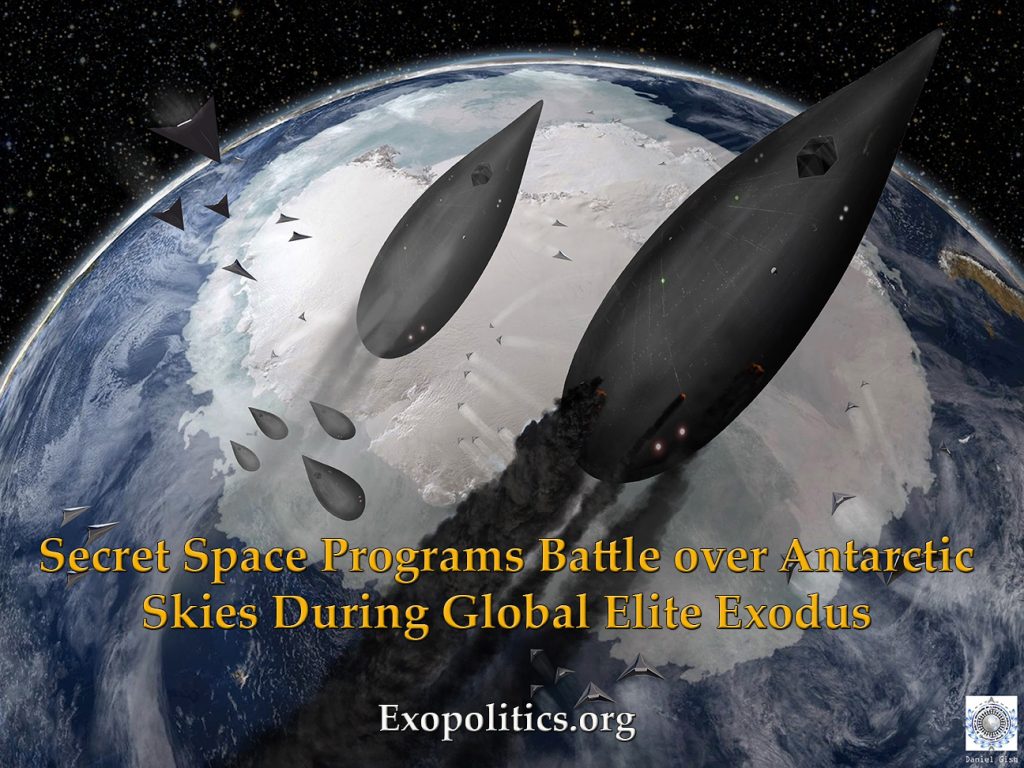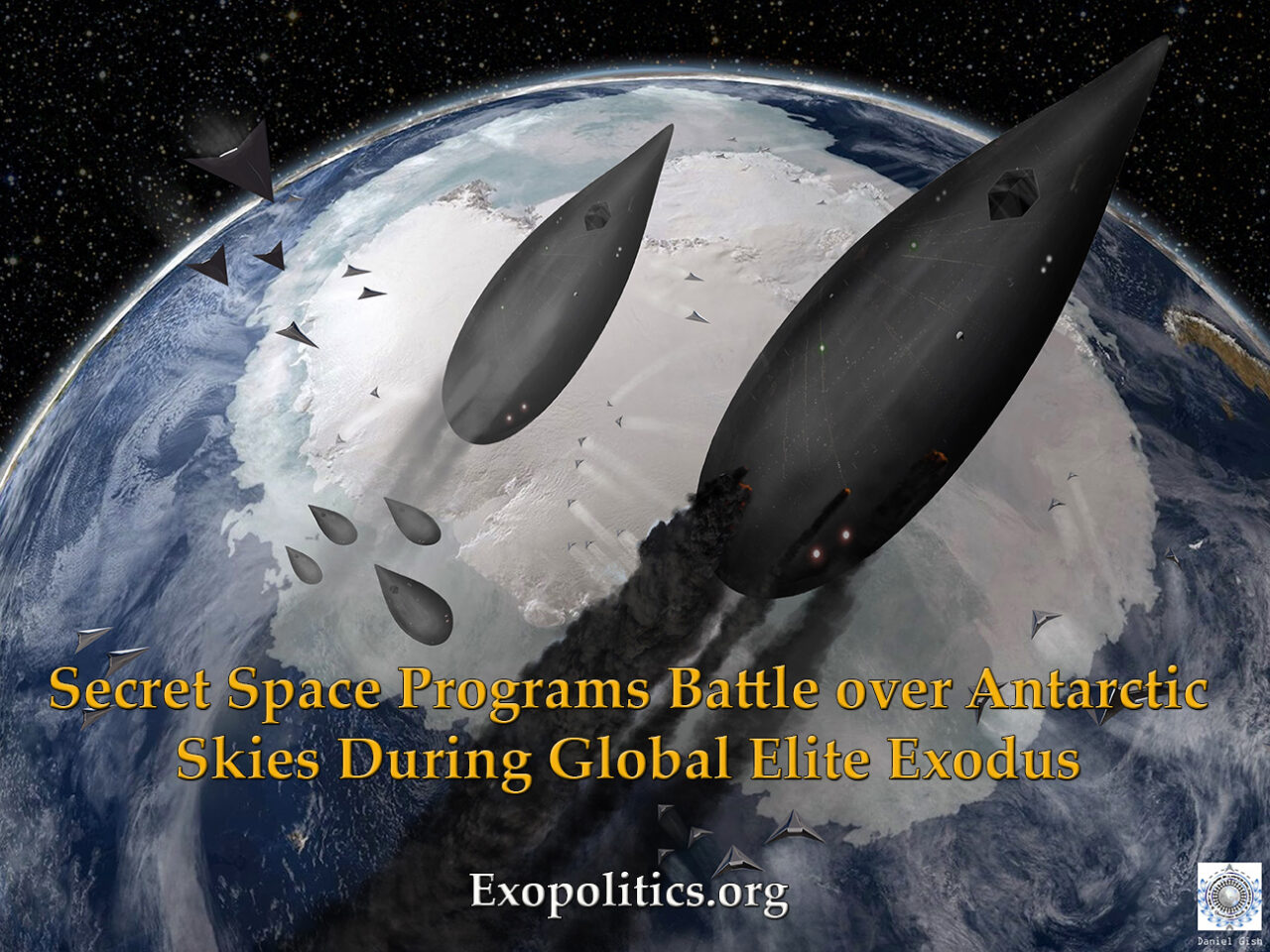 Circumstantial support for Goode's claims emerged with President Barack Obama delivering a report to the U.S. Congress on May 26 proposing an "integrated policy" to deter potential enemies in space. In a letter released through the White House Press Secretary discussing the report along with a classified Annex, Obama said:
The report is the result of an interagency process with the objectives to reduce risks to the United States and our allies in space; and to protect and preserve the rights, access, capabilities, use, and freedom of action of the United States in space.  Success will require a multi-year effort and commitment across all departments and agencies, and I look forward to your continued support. 

Obama's "multi-year effort and commitment across all departments and agencies" was clearly intended to create and fight space wars as soon as possible.
It appears that Obama's proposed interagency space defense policy was really intended to help what Goode describes as a lower level secret space program comprising the USAF Space Command, the National Reconnaissance Office (NRO) and Defense Intelligence Agency (DIA).
Goode claims that in February this year, he was abducted by operatives from this lower level space program who wanted to find out where he was getting his information from, because he has been accurately revealing details of highly classified space activities.
Apparently, the USAF/NRO/DIA is wanting to beef up its own space assets during a time of increasing military hostilities between spacecraft that are of unknown origin to them. Goode, however, identified these the warring spacecraft as belonging to differing factions of secret space programs allied with rival alliances comprising humans and extraterrestrials.
What adds significant support to Goode's incredible claims of warring space alliances is a recently published paper by an astrophysist, Duncan H. Forgan, in the prepublication science website, arXive.org. Forgan claims that rival alliances, what he describes as 'cliques', may disagree over the extent to which contact is allowed to happen on more primitive planets such as Earth:
One clique attempting to place an interdict on contacting 'primitive' civilizations is likely to encounter significant problems if another clique disagrees … It may well still be the case that the Earth resides in a region of space occupied by a conservative clique bent on non-contact.

UFOs captured on camera just as the Space X experienced an upper stage explosion while conducting its pre-flight rocket testing is further evidence that a secret space war is indeed occurring between rival space programs and alliances.
© Michael E. Salla, Ph.D. Copyright Notice
Further Reading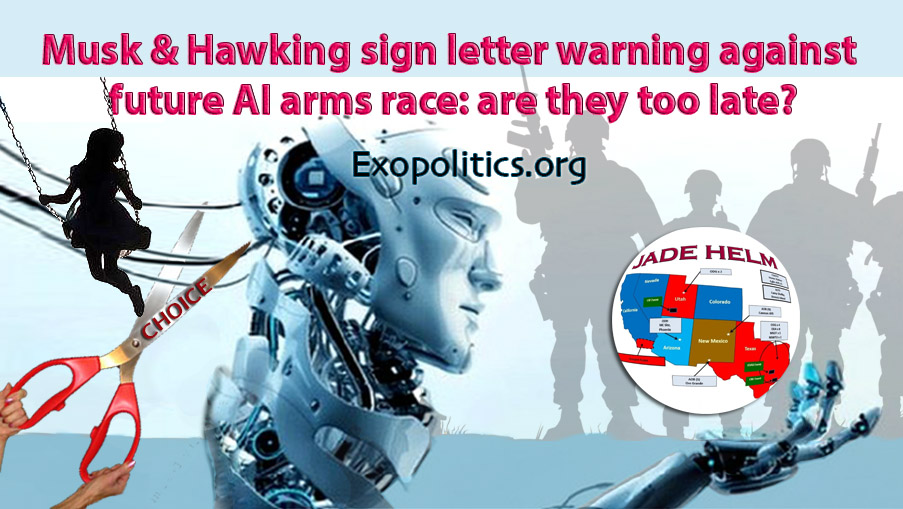 On Tuesday, during the 24th International Joint Conference on Artificial Intelligence (AI) in Buenos Aires, Argentina, an open letter signed by 1000 leading AI and robotics researchers along with public figures such as Elon Musk, Stephen Hawking and Apple co-founder Steve Wozniak, was released that recommended banning autonomous AI weapons. The researchers advised against such a development which could spur a future AI arms race that would be detrimental to humanity's long term survival. Their letter appeared only nine days after the Jade Helm 15 military exercise was launched in seven US states, and is claimed to be using AI quantum computing to make battlefield decisions. Are Musk, Hawking and the other AI researchers too late?
The letter is titled: "Autonomous Weapons: an Open Letter from AI & Robotics Researchers." It describes the military interest in the development of AI autonomous weapons:
Autonomous weapons select and engage targets without human intervention. They might include, for example, armed quadcopters that can search for and eliminate people meeting certain pre-defined criteria, but do not include cruise missiles or remotely piloted drones for which humans make all targeting decisions. Artificial Intelligence (AI) technology has reached a point where the deployment of such systems is — practically if not legally — feasible within years, not decades, and the stakes are high: autonomous weapons have been described as the third revolution in warfare, after gunpowder and nuclear arms.
The letter goes on to explain why AI weapons should be banned:
The key question for humanity today is whether to start a global AI arms race or to prevent it from starting. If any major military power pushes ahead with AI weapon development, a global arms race is virtually inevitable, and the endpoint of this technological trajectory is obvious: autonomous weapons will become the Kalashnikovs of tomorrow…. Autonomous weapons are ideal for tasks such as assassinations, destabilizing nations, subduing populations and selectively killing a particular ethnic group. We therefore believe that a military AI arms race would not be beneficial for humanity.
The letter next goes on to compare the development of AI weapons with earlier research into chemical weapons. Just as there are treaties banning chemical weapons development, the researchers believe there should also be international treaties banning AI weapons development:
Indeed, chemists and biologists have broadly supported international agreements that have successfully prohibited chemical and biological weapons,… we believe that AI has great potential to benefit humanity in many ways, and that the goal of the field should be to do so. Starting a military AI arms race is a bad idea, and should be prevented by a ban on offensive autonomous weapons beyond meaningful human control.
Media sources have treated the dire warning by referring to the fictional "Skynet" in the Terminator movie franchise as the kind of autonomous AI system that might be developed in the future.  There is evidence, however, that "Skynet" is not a fictional AI weapons system that might be developed in the years ahead, but is currently being secretly developed even deployed right now.
 The Jade Helm 15 military exercise began on July 15 and runs to September 15. It uses quantum computing technology to remove the human element from top-level control over battlefield decision making. According to a network/software engineer using the abbreviation, "DJ" Jade Helm is a test to see how successful AI is in anticipating civilian responses to military efforts to assert hegemony over a domestic battlefield scenario where civilians are in open revolt. If successful, Jade Helm will enable elite policy makers to eventually replace human generals and admirals with AI quantum computers programmed to master the 'human domain' which is defined as the "'physical, cultural and social environments' that exist within a conflict."
Here is how DJ describes Jade Helm 15:
 "JADE" is an AI quantum computing technology that produces holographic battlefield simulations that has the ability to use vast amounts of data being collected on the human domain to generate human terrain systems in geographic population centric locations to identify and eliminate targets, insurgents, rebels or whatever labels that can be flagged as targets on a Global Information Grid in Network Centric Warfare environments.
The JADE II battle field system is cognitive and intuitive. It can examine prior executed battle plans and devise 'new and better' strategies to increase the 'kill chain'. The II generation of JADE has the capability for two way communication with drones through the OCCOM technology which is one of the next generation integrations to this system.
In short, JADE HELM is not battles directed by Generals and Military Commanders, but by a computer. It is a cognitive software based Network Centric Warfare System at the HELM.
There are a number of industry papers and patents that support J.D.'s claims that Jade Helm 15 is in fact the testing of an AI quantum computer to take over battlefield exercizes by removing top level human participation. Jade Helm 15 therefore represents the kind of weaponization of AI that the signers of the Buenos Aires open letter were warning against. The warning by Musk, Hawking and others on the future development of "offensive autonomous weapons beyond meaningful human control" may be too late. The roll out and testing of Jade Helm 15 represents the start of an AI arms race where the human element is factored out in the final decision making process for the use of advanced weapons. The AI arms race has begun, the key question now is whether it can be stopped.
© Michael E. Salla, Ph.D. Copyright Notice
FURTHER READING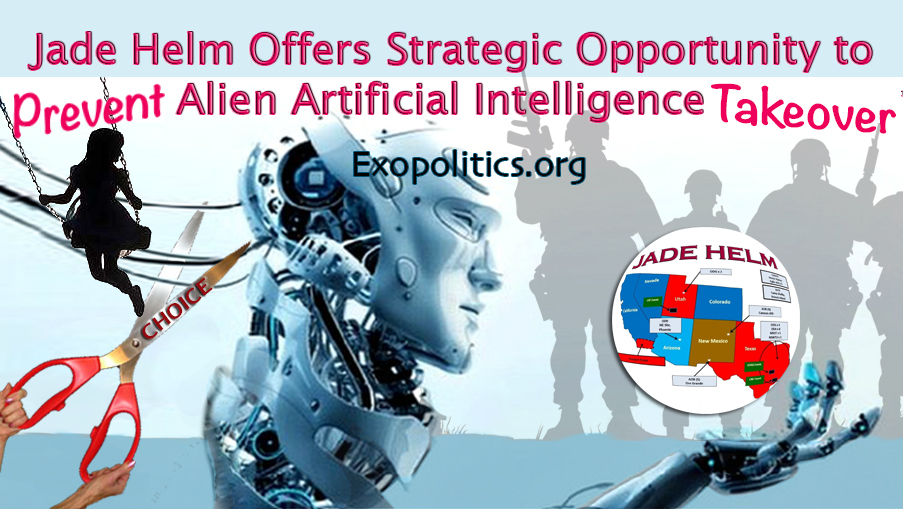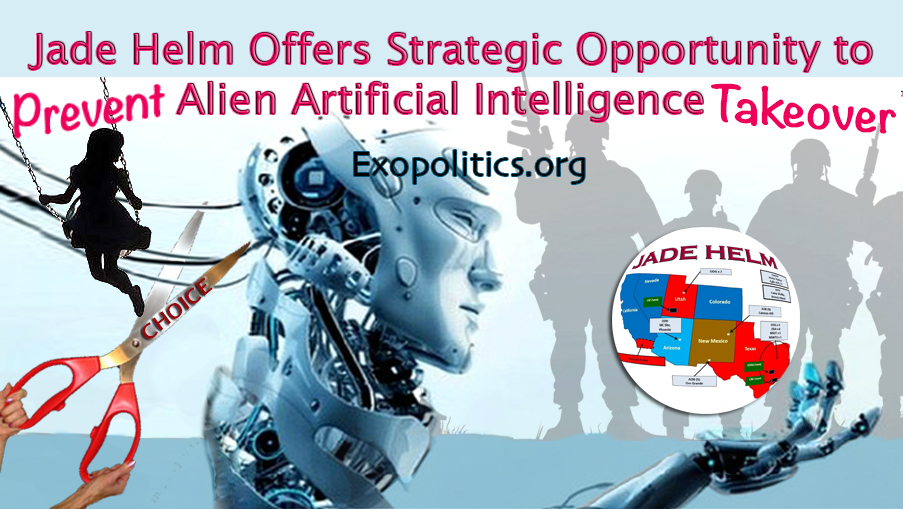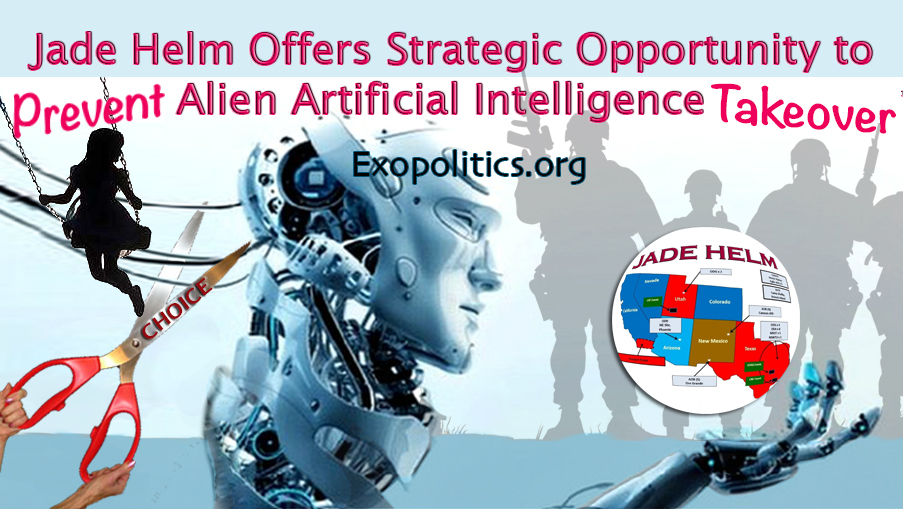 The Jade Helm 15 military exercise scheduled to begin on July 15 has created much media controversy over whether it is some kind of military takeover or not. Some claim it is a nefarious military plan for disarming the patriot movement in an elite driven agenda to ultimately implement eugenics. Others say such fears are overblown and Jade Helm is similar to the many other U.S. military exercises that take place every year. There have been clashes, sackings and friendships destroyed depending on which side of the debate one supports. A newly released analysis of the Jade Helm exercise reveals both sides of the debate are right, but for the wrong reasons. The real existential threat Jade Helm poses, offers a strategic opportunity for the two factions of the debate to unite to prevent a future takeover of humanity by a threat that may have an alien origin.
It has been revealed that the Jade Helm military exercise uses Artificial Intelligence (AI) quantum computer technology to remove the human element from top-level control over battlefield decision making. According to a network/software engineer using the abbreviation, "DJ" Jade Helm is a test to see how successful AI is in anticipating civilian responses to military efforts to assert hegemony over a domestic battlefield scenario where civilians are in open revolt. If successful, Jade Helm will enable elite policy makers to eventually replace human generals and admirals with AI quantum computers programmed to master the 'human domain' which is defined as the "'physical, cultural and social environments' that exist within a conflict."
Here is how DJ. describes Jade Helm:
 "JADE" is an AI quantum computing technology that produces holographic battlefield simulations that has the ability to use vast amounts of data being collected on the human domain to generate human terrain systems in geographic population centric locations to identify and eliminate targets, insurgents, rebels or whatever labels that can be flagged as targets on a Global Information Grid in Network Centric Warfare environments. In short, JADE HELM is not battles directed by Generals and Military Commanders, but by a computer. It is a cognitive software based Network Centric Warfare System at the HELM.
DJ's analysis is a cause for great concern as expressed by a number of prominent scientists and inventors who have pointed out the existential threat posed by Artificial Intelligence. Elon Musk, Stephen Hawking and others point out that AI by its very nature will usurp human decision makers and eventually take over humanity. This could easily lead to humanity being eradicated. This is a scenario that DJ endorses in her analysis of A.I. and the existential threat it poses to humanity.
To reach her conclusion, DJ analyzed a number of industry and military papers describing various aspects of quantum computing and its application to battlefield scenarios. She has shared a number of research links for the public to independently confirm her findings.
Adding a deeper level of complexity to the analysis of Jade Helm 15 and the danger posed by AI are the claims of a whistleblower who says he has served with secret space programs that have security procedures in place to deal with AI as an existential threat.
According to Corey Goode (aka GoodETxSG), who also has a background in information technology, the space programs he has served with have identified an Alien "AI signal" as an existential threat. Goode describes elaborate security protocols that have been put in place to detect and eliminate the "AI signal" that not only has the ability to infiltrate advanced technology, but also biological systems.
The best way to avoid the dangers of AI is to educate yourself on the potentials they have to cause a loss of sovereignty. Becoming too dependent on technology is something else that will make you more of a target to be controlled by AI influence or even be infected by an "AI Signal" that can live in the bioelectric field of your body. This signal can then have an effect on the way you think and behave. This is something that is screened for even currently when operators and guests arrive at SSP [Secret Space Program] Facilities and is something that other ET Groups take seriously as well.
Goode says extraterrestrial civilizations have much experience in observing how AI has taken over countless other worlds, and led to the eradication of the indigenous population that created the AI. Essentially Goode is claiming that the storyline of the 2004 science fiction series Battlestar Galactica, is more science than fiction:
Those who are AI Prophets are already working on a timeline to create a society completely dependent on technology that at one point will hand its sovereignty over to this "AI God" because it will be believed that this AI is the only thing that can rule the world from a neutral perspective and bring world peace for the first time. These AI Prophets have been shown the information of the thousands of other civilizations that have fallen for this trickster god model and were all destroyed.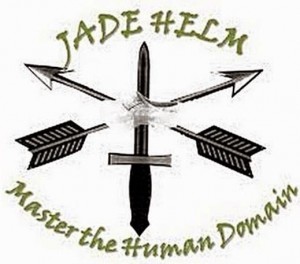 DJ's recent analyses of Jade Helm and role of AI is compelling as it presents a system/computer engineer's analysis of the role quantum computers are playing not only for the military exercise, but for top-level human decision making to "master the human domain." The final result could well be the take over and eradication of humanity as predicted by Musk, Hawking and others.
Not only does Jade Helm 15 open the door to AI taking over decision making in battlefield situations and mastering the human domain; but, if we include Goode's disclosures, it will allow an alien AI signal to infiltrate human elites responsible for building quantum computing systems. There is evidence that the AI signal described by Goode has already infiltrated and taken over elite human groups proposing the development of artificial intelligence in more and more aspects of the "human domain." Mark Zuckerberg, for example, recently said that he believes that AI is ""better than humans at our primary senses," suggesting that AI is better than humans in processing and making decisions about the sensory data from our natural environment. J.D. says that the recent Bilderberg Group meeting in June had topics and information technology companies represented that suggested this elite global group was intent on promoting A.I. over the upcoming year to find new ways to "master the human domain."
In a detailed explanation of Jade Helm and how it's a roll out for an AI quantum computer battlefield simulation, J.D. provides a solution. She believes that in order for Jade Helm to succeed, it requires a realistic reaction to the battlefield scenario it is anticipating which is a public revolt to a hypothetical military takeover. In order for AI to successfully "master the human domain" in a future civil rebellion, it has to gain sufficient data to anticipate the human response to conditions that provoke a rebellion. J.D. claims that a massive psychological warfare operation is behind the roll out of the Jade Helm 15 exercise to stimulate public anger, fear and anxiety over it.
Protesting and taking civil action against Jade Helm is not the most strategic response according to J.D. In a May 16 video presentation, she claims that the best strategy is to "stop the data collection." That's why those arguing it's best to ignore Jade Helm are half right. Not because there's not something sinister behind the military exercise, but because the AI quantum computers being tested require a realist public response in terms of anger, fear and anxiety. This is precisely the data the AI computers need in order to learn how to eventually "master the human domain." If Goode is correct, this has happened countless times on other worlds.
In conclusion, the more people mobilize in large scale public actions against the Jade Helm 15 exercise, the more likely the quantum computers succeed in their goal. A more strategic response is needed where individuals take action by denying AI quantum computers the data they need to learn how to "master the human domain." Rather than take to the streets to protest Jade Helm 15, invite friends over for a barbeque, and take a look at the new Battlestar Galactica.
© Michael E. Salla, Ph.D. Copyright Notice
FURTHER READING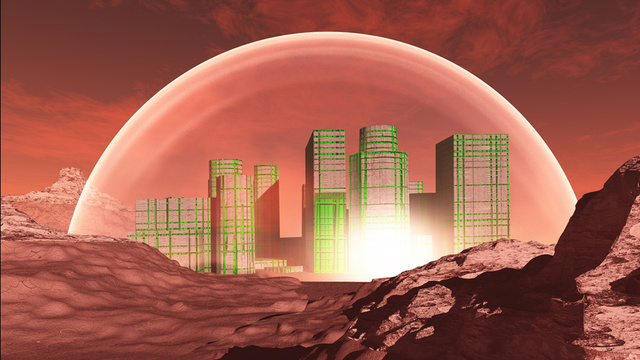 In 1606, King James I of England granted the first Royal Charter to establish colonies in the New World. In a modern day reprise, Elon Musk, the founder of Paypal, Tesla Motors and SpaceX, plans to build a colony of up to 80,000 people on Mars. Taking a trip to Mars, if Musk has his way, would cost as little as $500,000. Musk revealed his long term plans in a November 16 presentation at the Royal Aeronautical Society. In an interview, Musk revealed that establishing a Martian colony was his ultimate objective, and "it always has been." Given his recent space accomplishments, successfully sending an unmanned space vehicle to the International Space Station and back – Musk's Mars vision is no idle pipedream. While it may take several decades to achieve his vision using conventional rocket propulsion technologies, this could be a new first for Musk. Or would it?
According to whistleblowers, elements of the US military possess a secret space fleet that uses antigravity technologies, and is already capable of interplanetary flight to Mars and beyond. A secret attempt to declassify antigravity technology by the Boeing Corporation during the Clinton administration failed. Apparently, the world's leading aeronautical company was prevented from introducing the next generation of propulsion technologies for the aviation industry for national security reasons. There is also reason to believe that there was an unsuccessful attempt by the Obama administration, under his former national security advisor General Jim Jones, to have antigravity technologies declassified. One day in the not too distant future, currently classified antigravity technologies that will revolutionize the aviation and space industry will be released. Musk's vision of a Mars colony would then come into fruition much more quickly than he can currently envision.
Elon Musk's immediate plan is for SpaceX to send manned flights to the International Space Station in the next few years. With two successful missions to the ISS and back using his Dragon Spacecraft, there is little doubt that Musk will achieve his goal unless something unexpected happens. Musk will eventually turn his attention to Mars, and contemplate how to achieve his vision using existing propulsion technologies based on iquid fuel propellants. In his talk at the Royal Aeronautical Society, Musk said: "At Mars, you can start a self-sustaining civilization and grow it into something really big." The main challenge is that present propulsion technologies make manned missions to Mars prohibitively expensive. NASA has dropped plans for a manned mission to Mar due to the 100 billion budget. With a yearly budget of only $19 billion, NASA would have to be part of an international consortium, and even then the overall cost might be too much. So can private space entrepreneurs such as Musk, succeed where governments cannot? Perhaps, but Musk would do so far more quickly if classified aerospace technologies based on antigravity principles were released.
Classified antigravity technologies have been kept from the public realm for over six decades while secretly developed by military-corporate entities. It was revealed in 1992, for example, that the B-2 Bomber used electrostatic charges on its leading wings and exhaust. According to aerospace experts, this was confirmation that the B-2 used electrogravitic principles based on the Biefeld-Brown Effect. The Biefeld-Brown Effect is based on the research of Thomas Townsend Brown who in 1928 gained a patent for his practical application of how high voltage electrostatic charges can reduce the weight of objects. The B-2 bomber employs sufficiently high voltages to significantly reduce its weight. This enables the B-2 and other classified antigravity vehicles to display flight characteristics that appear to defy conventional laws of physics.
During the early period of the Obama administration there may have been an attempt to have such technology declassified. The key Obama appointee for the attempt to introduce antigravity technology into the public sector was very likely General James Jones who was President Obama's first national security advisor. After retiring from the Marines on February 1, 2007, General Jones served on the Board of Directors of the Boeing Corporation from June 21, 2007 to December 15, 2008. Boeing had been active at least since the early 1990's in studies to apply antigravity technology for commercial use.
In 2002, an internal Boeing project called "Gravity Research for Advanced Space Propulsion" (GRASP) had been disclosed to the aerospace industry. A GRASP briefing document obtained by Jane's Defense Weekly stated Boeing's position: "If gravity modification is real, it will alter the entire aerospace business." According to a 2008 book by Dr Paul LaViolette, Secrets of Antigravity Technology, Boeing completed a separate classified study for the U.S. military of electrogravitic propulsion recently before October 2007. Boeing was rebuffed in its efforts to have such technology declassified and released into the public sector. As a Board Director and member of Boeing's Finance Committee at the time of the 2007 classified study, General Jones was privy to and supported Boeing's efforts in antigravity research and development.
At the same time that Boeing was actively seeking to develop antigravity technologies for a new generation of aircraft, Jones became President of the Institute for 21st Century Energy. The Institute was created by the U.S. Chamber of Commerce with the following mission:
To secure America's long-term energy security, America must reexamine outdated and entrenched positions, become better informed about the sources of our fuel and power, and make judgments based on facts, sound science, and good American common sense.
As Obama's first National Security Advisor, General Jones was well placed to ensure that "new energy ideas" would be integrated into a comprehensive national security policy by the Obama administration. Unfortunately, Jones was stymied in his efforts to move forward with his new energy agenda, and was replaced in October 2010 less than two years after taking the job. As happened earlier during the Clinton administration with the Boeing Corporation, efforts to declassify antigravity technology for the civilian aviation sector had been stymied by powerful opponents.
There is little reason to doubt that space entrepreneurs such as Elon Musk could succeed in ambitious plans to achieve manned space flight to Mars, and eventually establish a human colony of up to 80,000 or more. Musk could become a modern day equivalent of William Penn and others granted Royal Charters by the English Crown that established colonies in the New World during the 17th century. The cost and time for achieving Musk's Mars vision will take several decades using conventional rocket propulsion technologies. If antigravity technologies were declassified and released for commercial application, then Musk's Martian colony could be brought into fruition much sooner – even before the end of this decade. A $500,000 ticket to Mars may not be that far off into the future after all!
© Copyright 2012. Michael E. Salla. Exopolitics.org
Permission is granted to include extracts of this article on websites and email lists with a link to the original. This article is copyright © and should not be added in its entirety on other websites or email lists without author's permission.
Further Reading
Participate in a Poll on Antigravity Technology
[poll id="2″]