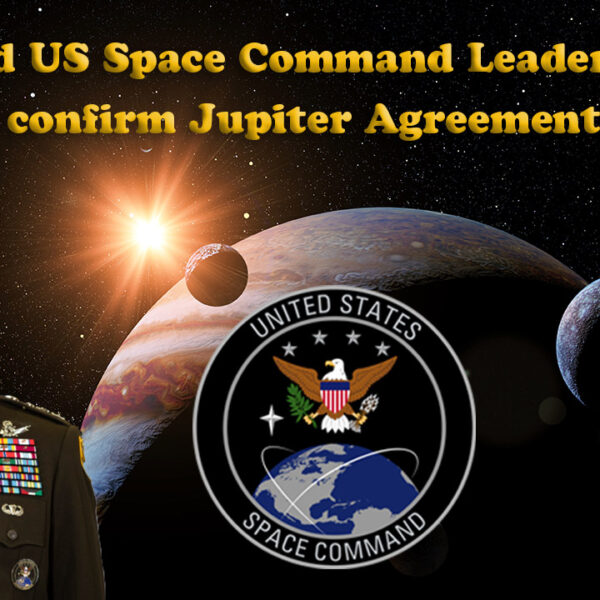 This week, US Space Command leader, General James Dickinson confirmed that over 100 agreements have been reached with different countries, agencies, and corporations for space related activities. Only a month earlier, General Dickinson allegedly attended a series of meetings above Jupiter where comprehensive agreements were reached between the Galactic Federation of Worlds and 14 spacefaring nations, including CEOs from major aerospace companies.
The goals of the Jupiter Meetings/Agreements were to regulate space activities in our solar system and release advanced technologies to the civilian sector. The US was chosen as the lead nation for heading the Executive Committee of six nations that would be responsible for managing humanity's expansion into the solar system.
In this episode of Exopolitics Today, Dr Michael Salla examines Gen Dickinson's recent statement and explains why it is compelling circumstantial evidence that the Jupiter meetings did occur.
Exopolitics Today Podcast available on Rumble and YouTube
Further Reading/Podcasts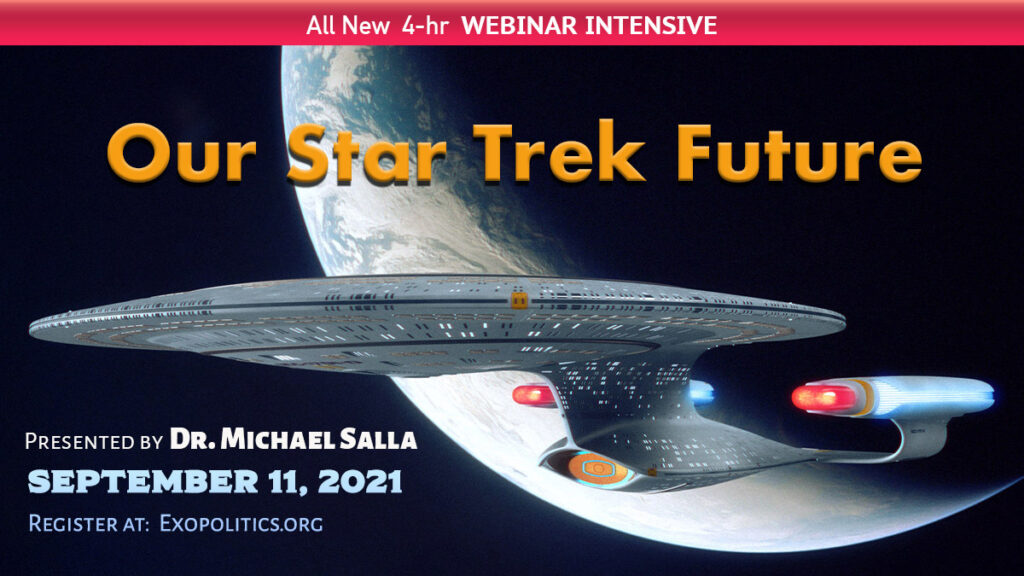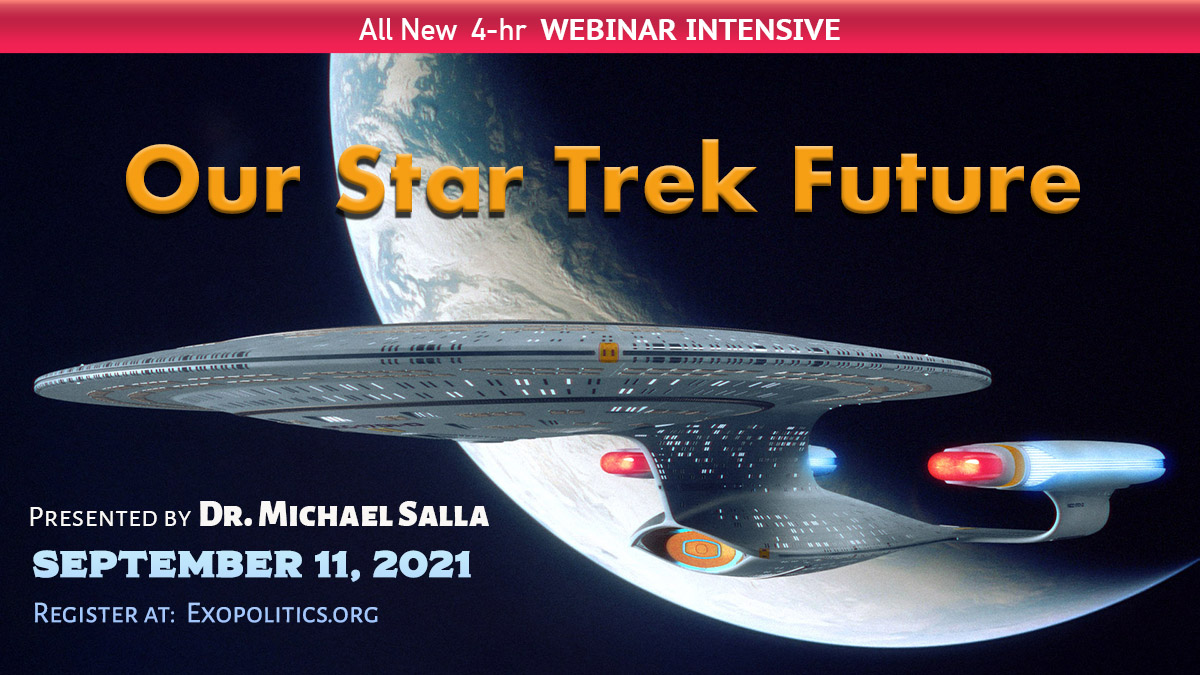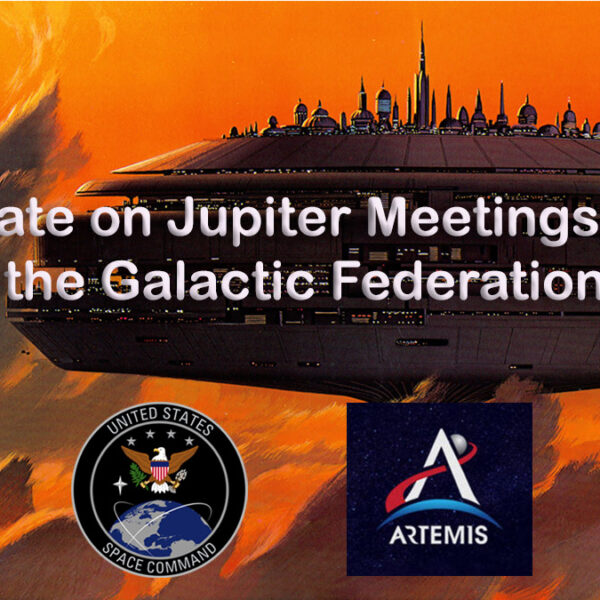 More information has become available that better clarifies what happened at a set of secret meetings that took place in the upper atmosphere of Jupiter in mid-July involving representatives from different spacefaring nations and the Galactic Federation of Worlds. Elena Danaan, who first released news of the dramatic meetings from her extraterrestrial contact, Thor Han Eredyon, has provided a diagram along with further explanatory comments that help considerably in getting a better idea of the different nations, corporations, and organizations that participated in the meetings, and the selection process for the nation that would be chiefly responsible for coordinating humanity in taking responsibility for the solar system – the USA.
In a prior article, I discussed the information received by Elena from her primary extraterrestrial contact, Thor Han, a ship commander from the Galactic Federation of Worlds who escorted some of the Earth delegates to the meetings. We also discussed the meetings in an interview released on Aug 6 (available on Rumble and YouTube).
As explained in my earlier article, these meetings are similar in function to the Yalta Conference held during the final stages of World War II. In the current scenario, these "galactic diplomacy" meetings discussed restructuring our solar system with the impending defeat of the Dark Fleet, Draco Empire, Orion Alliance, and their corporate partners, the Interplanetary Corporate Conglomerate (ICC). I've discussed these developments in previous articles, along with corroborating evidence, which you can read here and here.
After our interview, Elena sent me a diagram explaining the sequence of meetings that took place above Jupiter. The diagram succinctly describes what happened, along with her comments for each stage of the meetings. Based on the sequence of meetings, it appears that the chief purpose was a selection process to determine which spacefaring nation would be primarily responsible for coordinating all human space operations and liaising with the Galactic Federation.
Here is how Elena summarized the meetings in her own words based on Thor Han's initial messages and what she has subsequently learned.
There was a series of meetings and this had been going on for a while. Each Terran group attending these meetings combined space force military officials and progressive corporation CEOs. There were twelve meetings at first, occurring as twelve separate groups. Each group was composed of officials from galactic institutions, auditing a specific Earth nation's representatives in the space military and corporate domains.
Put simply, the Galactic Federation was reviewing Earth's spacefaring nations in terms of their respective capabilities, histories and leadership potential. In his initial message to Elena, Thor Han said, "there are actually fourteen countries involved in space programs, who were represented there." In other words, the 12 meetings involved representatives from 14 countries with space programs with officials from the Galactic Federation, and other extraterrestrial organizations.
These are the 12 countries that have signed the Artemis Accords, which are a set of bilateral agreements between the US and other spacefaring nations, which set out the guidelines for how signatories are to behave and coordinate in space affairs: Australia, Brazil, Canada, Italy, Japan, Luxembourg, New Zealand, United Arab Emirates, South Korea, Ukraine, United Kingdom, and the United States.
There are also six countries that have national space programs but to date have not signed the Artemis Accords. These are: China, France, Germany, India, Israel, and Russia.  Of these, only China and Russia are not expected to sign on to the Accords anytime soon, but that could quickly change with the outcome of the Jupiter meetings.
If only 14 out of these 18 nations participated in the Jupiter meetings, then two possibilities come to mind for why four did not participate. First, it can be speculated that some of the smaller nations, e.g., Luxembourg and New Zealand, delegated to larger neighboring nations to represent their space interests. 
A second possibility is that the European Space Agency, headquartered in Paris, officially represented the interests of France, Germany, Italy, and Luxembourg. While the United Kingdom does participate in some European Space Agency programs, it maintains a separate national space program and works closely with the US NASA program.
By "progressive corporation CEOs", Thor Han was very likely referring to representatives from companies such as SpaceX, Blue Origin, and Virgin Galactic, as opposed to CEO's from older larger aerospace corporations such as Boeing, Airbus, Lockheed Martin, Northrup Grumman, etc., which worked with the now-discredited Interplanetary Corporate Conglomerate, a major ally of the German Dark Fleet.
Prominent CEOs such as Elon Musk, Jeff Bezos, and Richard Branson therefore almost certainly attended the Jupiter meetings. This is supported by recent flights into space by both Bezos and Branson. Branson flew to the edge of space (defined by US authorities as 50 miles altitude) on July 11 in a Virgin Galactic craft. He was followed by Bezos, who flew into space on July 20 in a crewed Blue Origin flight. These two very public space flight events, it turns out, were covers for Branson and Bezos to attend the Jupiter meetings.
Musk very likely attended the Jupiter meetings using another mode of transportation and cover story. The cover story appeared on July 23, when Musk announced that SpaceX had been awarded a contract to launch NASA's "Europa Clipper" mission to Jupiter's moon Europa in October 2024. That means that around the same time Branson and Bezos were involved with their trips to the edge of space, Musk was working with NASA officials on an announcement concerning a future mission to Jupiter. A plausible cover story for Musk secretly flying to Jupiter to attend the meetings.
What's noteworthy here in NASA's announcement of the Europa Clipper mission is its recent behavior of increasingly awarding contracts for space exploration to SpaceX or Blue Origin rather than older established aerospace corporations. This is critical circumstantial evidence that there has been a major change in how space is being managed by national governments and the aerospace corporations they are supporting through the contractual process.
Elena went on to explain what happened after the initial set of 12 meetings.
Then, three big meetings occurred: the first of the three meetings was a gathering of six selected nations' programs. The second meeting gathered a selected group of four from this previous group of six, to decide who would be best able to lead the group of six. The third and final agreement was between the galactic representatives and the winning nation selected from the previous group of four.
Elena says that Thor Han was forbidden from identifying the different nations participating in the meetings. It can be speculated that the six nations that participated in the first of the three final meetings were those with the oldest and largest functioning national space programs. These are in order of their first satellite launches: Russia (1957), the United States (1958), France (1962), Britain (1962), China (1970), and Japan (1970).
It should be noted that the first five nations from this group of six, are all permanent members of the United Nations Security Council. Each has a long history of being deeply involved in Security Council decisions concerning international affairs. It is therefore no great surprise that this same group of nations would perform a similar function for regulating human activities in our solar system.  
It can be further speculated that the four countries that participated in the penultimate meeting out of which the Galactic Federation would choose the nation that would be given the responsibility of coordinating all Earth's nations in space affairs were the US, Russia, China, and France.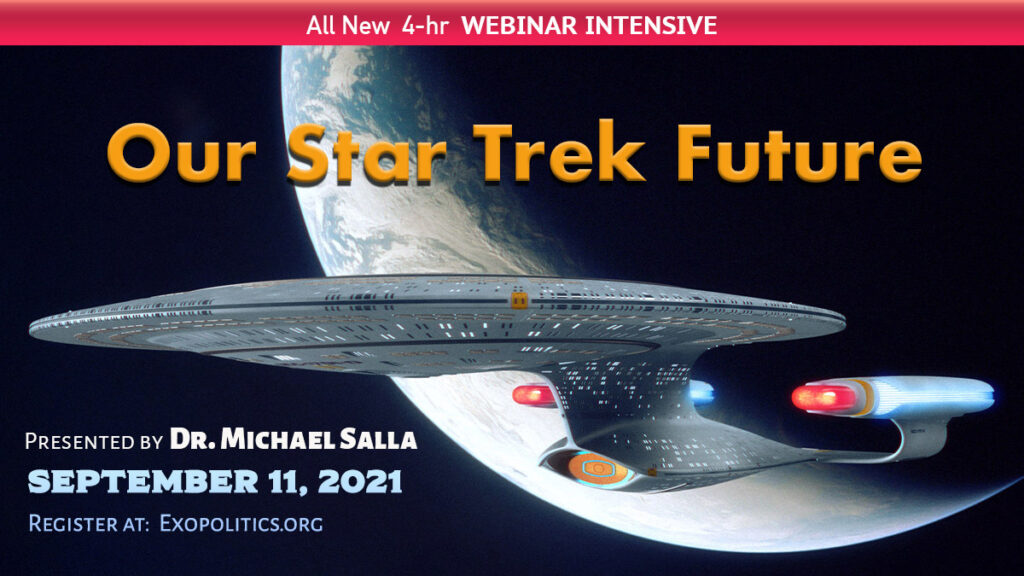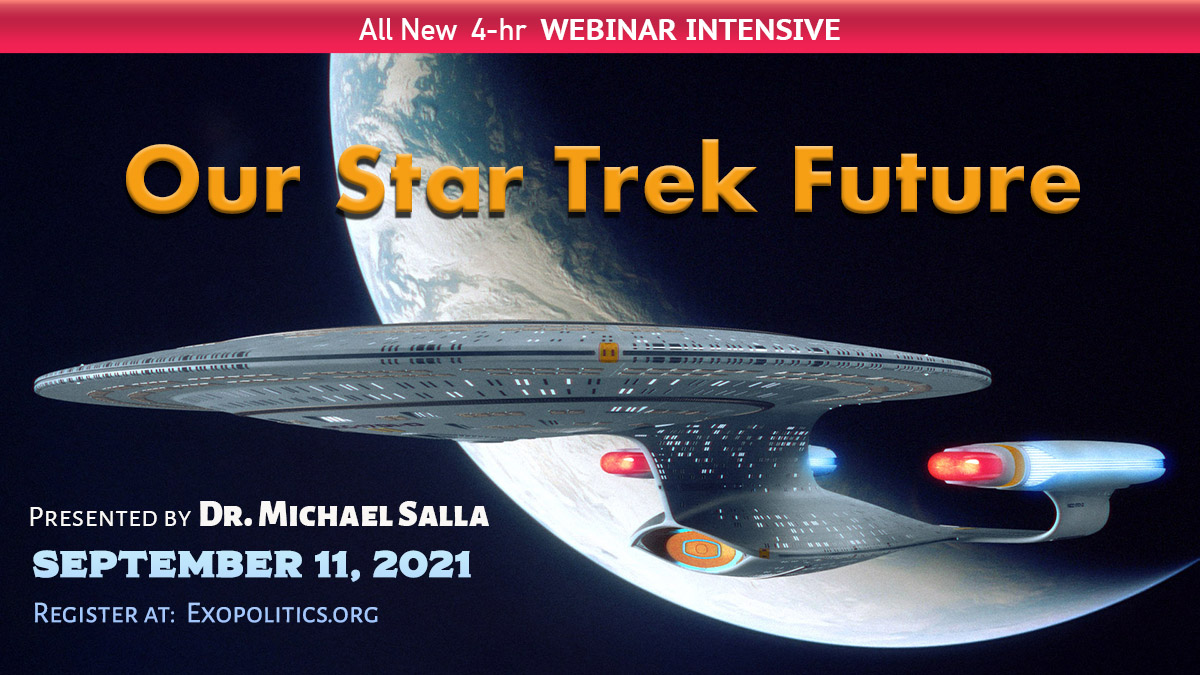 From this group, the Galactic Federation chose the US as the nation with the most support from the total group of 14 nations and the CEOs of the space companies in attendance.
Elena went on to give more details about the different galactic organizations that met with the 14 Earth delegations in choosing the leadership team that the Galactic Federation would coordinate with in the future:
So the delegations of the Galactic Federation of Worlds, Council of Five and Andromedan Council, audited separately different Earth officials responsible for Space forces and progressive corporations, to determine safety zones and who would serve best the interests of the many. The Galactic Federation of Worlds only wants to work with a unified global civilization, not with a compound of different rival space forces playing power games.
Thor Han said that there are actually fourteen countries involved in space programs, but a top six have programs that were recognized by the Galactic Federation of Worlds as most progressive and durable, and fit to join forces with them. The eight remaining others were in for commercial accords benefiting the many. Thor Han was also speaking about a "horizontal" coalition of these top six, coming up as a unified space department under the leadership of the US.
What makes the scenario described by Elena and Thor Han credible is that it is consistent with what is known about the Artemis Accords, which are growing in popularity among spacefaring nations. This growing space alliance is organized around the US at its core.  In contrast, an attempt by Russia and China to promote a rival international space coalition through their joint International Lunar Research Station initiative has gathered no support.
It's therefore very understandable why the Galactic Federation and affiliated galactic organizations—Andromeda Council and Council of Five—would choose the US as the go-to nation for future collaboration between the Federation and the rest of humanity.
Finally, Elena drew a graphic of what Thor Han saw departing after the penultimate meeting. Three spacecraft were seen carrying the unsuccessful delegates of the nations not chosen to lead the Earth in future coordination with the Galactic Federation. Elena says that two of the craft carried the Russian and Chinese delegations that were unhappy with the outcome. The third craft, according to Elena and my speculation, carried the French delegation. The cigar-shaped craft presumably belonged to the US Navy's Solar Warden space program.
In conclusion, there is significant circumstantial evidence that the Jupiter meetings happened in mid-July involving 14 nations and CEOs of relatively new aerospace companies. First, the number of nations in attendance (14) is close to the number of known spacefaring nations (18). Second, the flights to the edge of space by Richard Branson and Jeff Bezos were very likely cover stories for them physically attending the Jupiter meetings. Third, Musk's announcement of SpaceX's selection to launch the 2024 Europa Clipper Mission shows that Jupiter was very much on his mind during the meetings.
Finally, the growing acceptance of the Artemis Accords by leading spacefaring nations—with the exceptions of China and Russia—makes it very plausible that the Galactic Federation chose the USA as the go-to nation for future communications and coordination in deep space.
© Michael E. Salla, Ph.D. Copyright Notice
[Note: I wish to thank Elena Danaan for illustrating the sequence of meetings held above Jupiter, and of some of the craft used to transport delegates, and kindly giving me permission to use them in this article. Elena's YouTube Channel is here & her website is here.]
[Video version of this article is available on Rumble and YouTube.]
Further Reading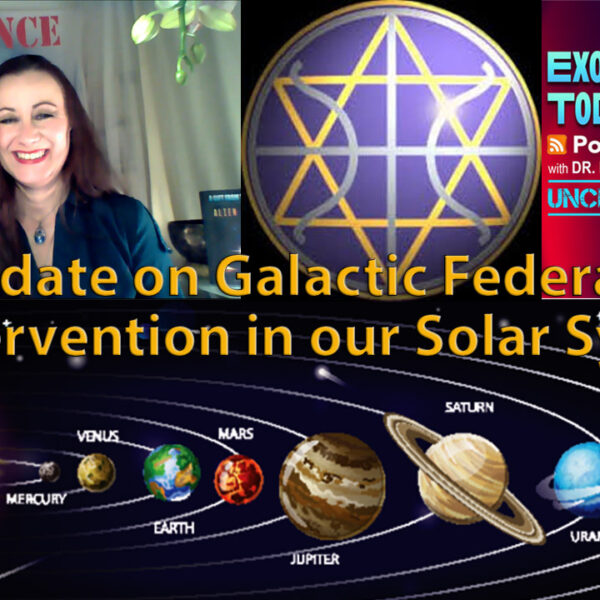 In this Exopolitics Today interview, Elena Danaan begins by giving a short account of her work as a professional archeologist for 20 years, and what she learned during her time in Egypt and evidence of extraterrestrial life. She goes on to give a comprehensive update on ongoing "Galactic Federation of Worlds" intervention on the Earth, Moon, Mars, Phobos and recent diplomatic meetings on Jupiter, which handed over responsibility of the solar system to a consortium of space faring nations making up the Artemis Accords.
Elena discusses how regressive extraterrestrial alliances—the Draco Reptilians and Orion Alliance—have been forced to abandon many of their outposts in the solar system. This has not only impacted the German-led "Dark Fleet" but also the Interplanetary Corporate Conglomerate (ICC), which used Antarctica and Mars as major bases of operations. Both the Dark Fleet and ICC have been forced to evacuate facilities on Earth, Moon, Mars, and elsewhere in the solar system according to Elena. On Mars, this has led to major bases being evacuated and the liberation of a captive slave work force.
Elena's startling information is corroborated by major developments in space as explained by Dr Michael Salla, who gives an account of how the Artemis Accords has led to major spacefaring nations quickly setting up space commands that aim to work alongside the US Space Command. Critically important is the eclipse of large aerospace companies such as Lockheed Martin, Northrup Grumann, Boeing, etc., that were affiliated with the ICC, and the rise of new aerospace companies such as Space X and Blue Origin which are being contracts by NASA to achieve important goals under the Artemis Accords.
The truth that emerges is that the Galactic Federation is encouraging the Earth Alliance/Artemis Accords nations to work with new "progressive companies", rather than those previously associated with the discredited ICC. What is vitally important about Elena's information is that it is real time observations by a member of the Galactic Federation who has been given permission to reveal the truth of what is happening today on Earth, the Moon and elsewhere in our solar system.
Interview available on Rumble and YouTube
Earlier Exopolitics Today Interviews with Elena Danaan
Further Reading/Podcasts
---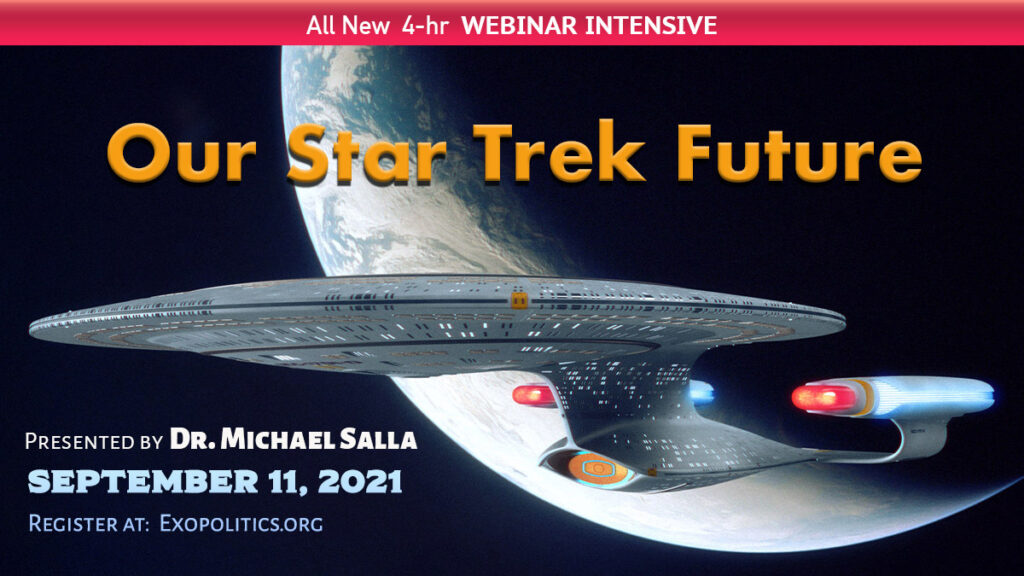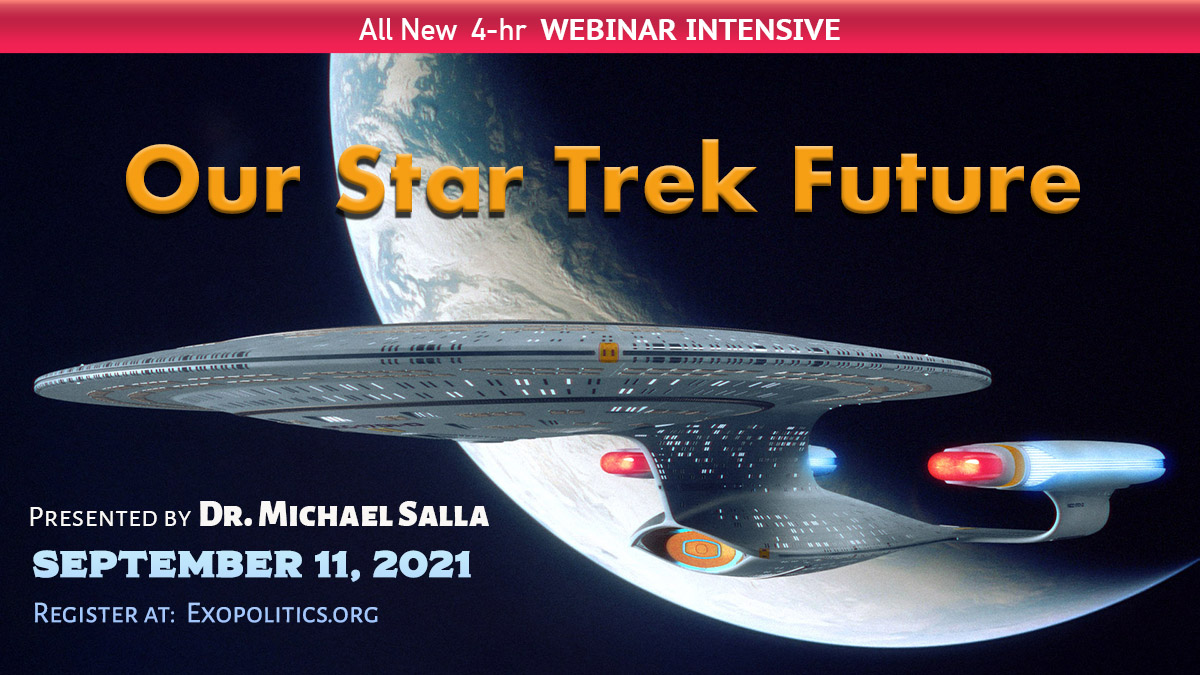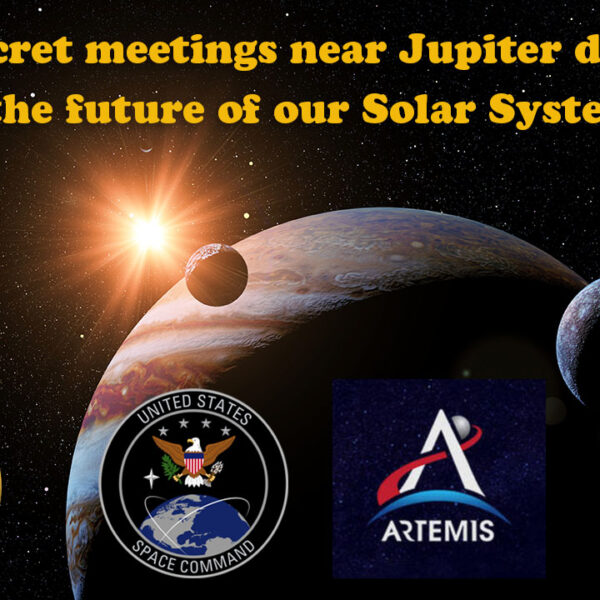 Three months before the collapse of Nazi Germany during World War II, the three great allied powers, the USA, the Soviet Union, and Great Britain, met at Yalta on the Crimean Peninsula to discuss the post-war order of Europe that would be based on the principle of national self-determination. According to a former professional archeologist and 'contactee', Elena Danaan, a similar set of meetings have just concluded near the planet Jupiter to discuss the new order in our solar system that will emerge with the impending military collapse of the Dark Fleet and its Draconian, Orion, Deep State, and corporate allies.
She says the Galactic Federation of Worlds met recently with the representatives of the Earth Alliance and an alliance of secret space programs in a set of 12 meetings to discuss the new order in our solar system. It's worth pointing out that the existence of a Galactic Federation was recently acknowledged by the founder of Israel's space program, Professor/General Haim Eshed, and he further added that it was working directly with the US Presidential administration of Donald Trump.
Furthermore, I have discussed the escalating military conflict between the Galactic Federation of Worlds with rival space coalitions—Dark Fleet, Draconian Empire, and Orion Alliance—in a prior article distinguishing between different galactic associations and their historical interactions.
Elena contacted me on July 17 with the dramatic news of the meetings that had been completed near Jupiter and the different nations that were involved through their respective space programs. She said the final meeting had concluded only a day earlier with an agreement being reached that would establish a multinational space alliance between the major Earth nations under US leadership.
This is what Elena wrote in her first email:
Agreements have been passed on Jupiter yesterday between the different progressive galactic coalitions and Terran military forces, to share the use and the protection of this star system, regarding to economic and military domains, in preparation for the future. Territories of action have been set. Terran Humans are officially taking ownership of their system. The US was the lead representative in these series of meetings; they were chosen by the GFW because of their abilities, resources, and goals, best able to guarantee a sustainable and glorious future for off-world humankind.
Long years of secret collaboration with the nations of Terra have come to completion, but we still need to bring closure to this war for the liberation of this system. Until then, we will need to work hard, and when this day comes, we will all be ready to step into a new era of fraternity and cooperation together.
What corroborates Elena's remarkable claims here are the recent signings of the Artemis Accords among countries with functioning space programs. These are bilateral accords negotiated between spacefaring nations and the United States that were first signed on October 13, 2020, between the US and seven nations: Australia, Canada, Italy, Japan, Luxembourg, United Arab Emirates, and the United Kingdom.
Since the launch of the Artemis Accords, Brazil, South Korea, New Zealand, and Ukraine have all subsequently signed the Accords. Another major spacefaring nation, India, is also considering joining the Artemis Accords.  It's worth emphasizing that the Accords result from several years of negotiations between the US and other nations that began in earnest during the Trump administration and continue under the current Biden administration.
What the Artemis Accords have created is the founding principles of a multinational space alliance that will be established under US leadership. The Accords make possible the pursuit of joint economic and scientific activities in space along with a multinational military alliance that will protect these activities through "safety zones," as I have discussed previously.
The recent signing and expansion of the Artemis Accords, after several years of negotiations, closely matches what Elena claims has just happened near Jupiter, where the Galactic Federation and other progressive space alliances such as the "Andromeda Council" have recently reached agreements.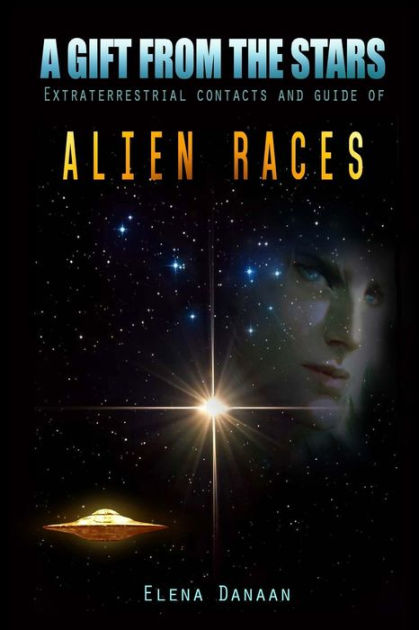 To help clarify what had just happened, Elena sent me a second email on July 17 with additional information she had received about the meetings from her primary extraterrestrial contact, Thor Han Eredyon. She has earlier explained that she receives regular communications through a brain implant, which had been re-purposed from an alien abduction that occurred when she was nine years old, and from which she had been rescued by Thor Han and his Federation companions. I highly recommend reading her book, A Gift From the Stars, to learn about her background and continued communications with Thor Han.
Elena was told:
Thor Han wasn't part of these meetings; he was just part of the escort for the representatives of the GFW [Galactic Federation of Worlds], and he stayed in orbit of Jupiter. But he knows this:
There was a series of meetings, and this had been going on for a while. There were twelve meetings in total, first occurring among specific groups, separately, and then these last days, three big meetings: the first gathering everyone, the second a selected group, and the third the final agreements with the leading selected group. Each group was made of space force military officials and (progressive) corporations' CEOs.
So, a delegation of the GFW has been auditing separately different Earth representatives, military officials responsible for space forces, as well as heads of certain progressive corporations to determine safety zones and who would serve best the interests of the many.
It's very significant that Elena used the term "safety zones" to describe the areas of multinational space cooperation, and what served the interests of most nations. This is identical to the language used in the Artemis Accords, something she was not familiar with prior to our communications.
It's also very important to point out that major nations have been recently forming space commands, where their respective military forces are increasingly working together in space related issues. Britain (2021), Germany (2021), Italy (2021), and Australia (2022) have all recently joined the US (1985/2019), France (2010), Russia (2011) and China (2015) in setting up space commands for integrating their military activities in space.
Most significantly, in October 2020, NATO set up a Space Center that will run all its space operations out of Ramstein Air Base in Germany. All these recent military developments concerning outer space corroborate Elena's remarkable claims.
Her second email went on as follows:
The GFW only wants to work with a unified global civilization, not with a clutter of different rival space forces playing power games. Thor Han said that there are actually fourteen countries involved in space programs, who were represented there, but a top six have programs recognized by the GFW as most progressive and durable, and fit to join forces with them. The eight others were just in for commercial reasons benefiting the many.
Thor Han was also speaking about a "horizontal" coalition of these top six, coming up as a unified space department. Would we be witnessing, as you said it Michael, the birth of Starfleet?
It's understandable why the Galactic Federation of Worlds would be insisting on a "unified global civilization" that partners with it in space affairs, rather than the current situation of competing spacefaring nations with conflicting agendas. The formation of an alliance of spacefaring nations working within a unified command structure makes much sense.
Based on current membership of the Artemis Accords it can be guessed that four of the six countries identified as the "most progressive and durable" would be the United States, France, Britain, and Japan—all of which have space commands either functioning or in process of being launched. The other two would be China and Russia, which I will shortly elaborate on.

In my book, Space Force: Our Star Trek Future (2021), I explain how the multinational space alliance being currently created under US leadership is the antecedent of a future Starfleet, not unlike that envisaged by Gene Rodenberry. In fact, I present evidence that Rodenberry's Starfleet was modeled on a future multinational space coalition that he was clandestinely briefed about in the 1960s!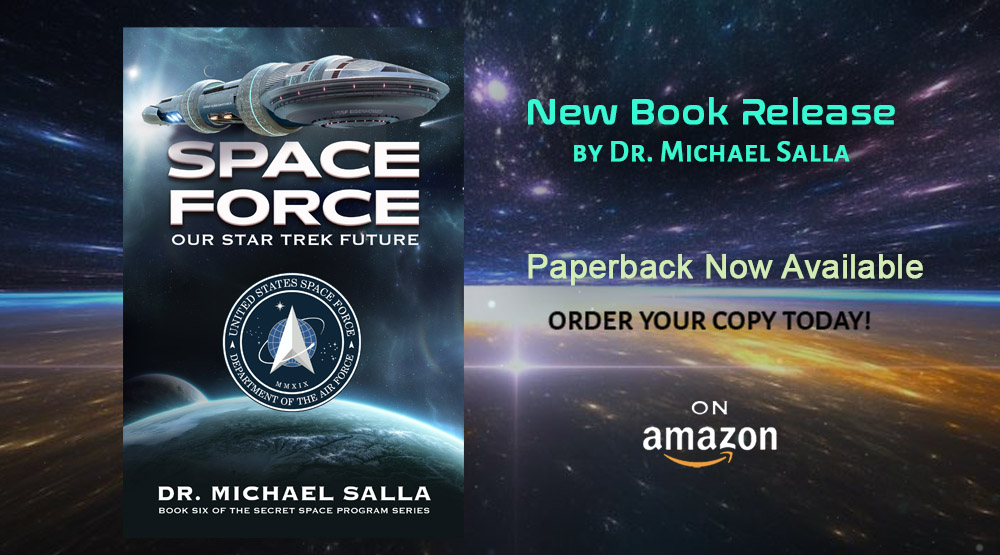 The other eight nations participating in the Jupiter meetings would be drawn from Artemis Accord members or other nations.
This leads to the critical question of what kind of leadership role do China and Russia play in this emerging multinational space alliance collaborating directly with the Galactic Federation and other positive space organizations? Elena's message from Thor Han provides us with an answer:
Thor Han showed me also the only visual memory he had of these events: viewed from his ship, three ovoid crafts leaving the orbit of Jupiter after the second of this series of three ultimate meetings. Each craft had Earth military delegates onboard, by country. He didn't tell me what the third was, but two of them were carrying Chinese and Russian officials, and he was told that both these crowds were very unhappy. He said that the USA won the responsibility to organize the new Earth's united space coalition.
What corroborates Elena's information here is that no other spacefaring nation has joined China and Russia in their proposed International Lunar Research Station initiative launched with their bilateral agreement reached in June 2021. Only the US has succeeded in creating a multinational space coalition through the Artemis Accords, which Russia declined to join since it was "too US-centric," and China was excluded from joining due to its continued theft of intellectual property and industrial espionage. Consequently, it does not come as a great surprise that Chinese and Russian delegations "were very unhappy" with the agreements reached near Jupiter that gave the critical leadership role to the USA.

In addition to the circumstantial evidence presented so far that corroborates Elena's claims, we need to further consider whether it's feasible that a Yalta-like set of meetings and agreements have just been reached? Yalta clearly created a precedent that even in the midst of savage fighting during the final three months of World War II, the allied powers were already actively planning for a post-war order free of Nazism.
We appear to be in a very similar situation right now with a covert war being fought on Earth, the Moon, and Mars, wherever the Dark Fleet, the Draconian Empire, and Orion Alliance have established bases or assets. These bases were created as far back as the 1940s because of agreements reached with Nazi Germany, and have since expanded with major multinational corporations secretly building the space assets for different customers—the Dark Fleet, Orion Alliance, etc. Significantly, these corporations have built privately run secret space programs themselves and have become space powers in their own right.
According to earlier information released by Elena, these Dark Fleet-Draco-Orion bases have come under attack and are at various points of liberation. This is consistent with claims by a number of insiders that the Dark Fleet and their corporate allies have been cut off from their interstellar partners, which has led to dwindling resources and significant defections. It also matches with data released by remote viewers associated with the Farsight Institute discussing the current exopolitical situation.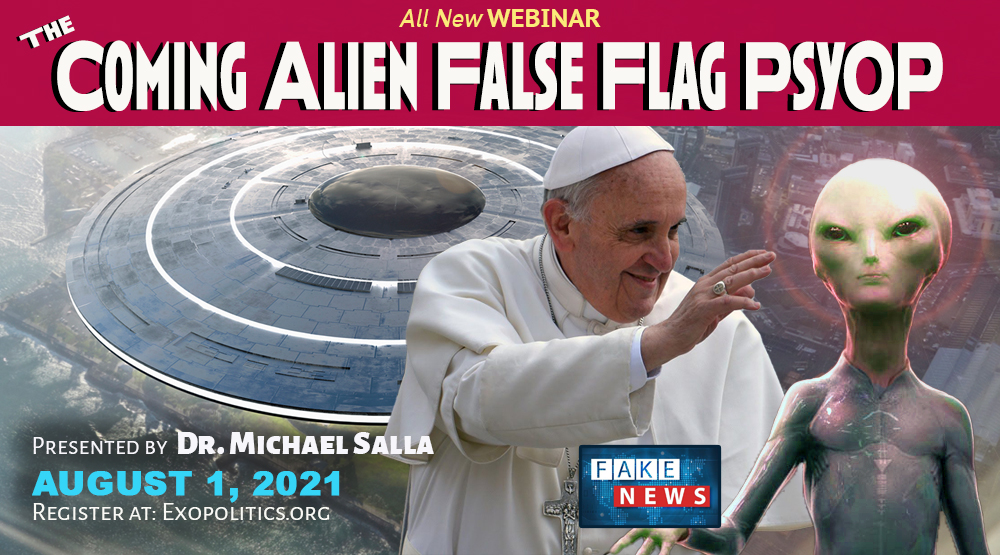 In conclusion, with the continuing global blackout of information concerning extraterrestrial affairs (exopolitics) on Earth and in deep space, it's very difficult to confirm Elena Danaan's startling information that secret meetings and agreements are occurring in space involving Earth's major space powers and corporations. Nevertheless, her latest information is supported by much circumstantial evidence, what other secret space program insiders have been recently claiming, and remote viewing data. While this doesn't confirm her remarkable claims, it does make them worth investigating further for those wanting to know what is currently happening in deep space right now.
© Michael E. Salla, Ph.D. Copyright Notice
[Update Aug 17, 2021 – An earlier version of this article mistakenly excluded Russia and China from the group of six nations that were considered the "most progressive and durable". The selection process is described more clearly here. I have updated the above article accordingly.]
[Note: Elena Danaan's YouTube Channel is here & her website is here]

[Video version of this article is available on YouTube or Rumble, and Audio Podcast version on Apple, Google or Spotify]
Further Reading