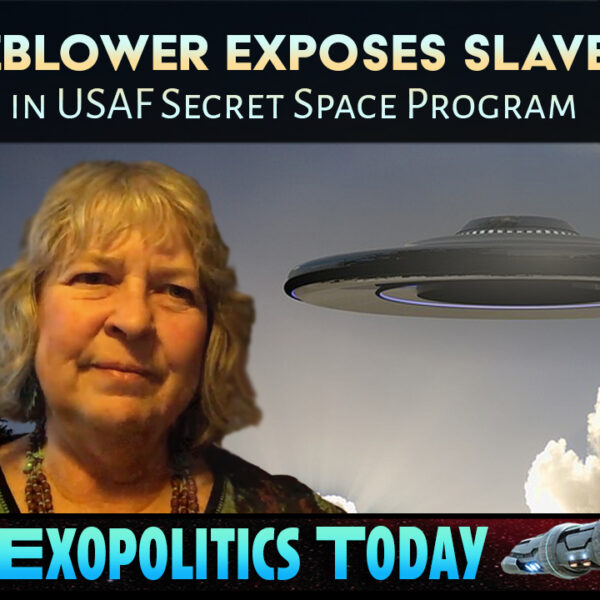 Niara Terela Isley served in the US Air Force from 1979 to 1983 and specialized in the newly developed "autotrack radar" designed to lock on to and track surface-to-air missiles and anti-aircraft artillery using precision LASER technology. After completing her training, she was stationed at Nellis Air Force Base, from which she assigned on a rotational weekly basis to Tonopah Test Range in Nevada over a three month period in 1980.
At Tonopah she was asked to attempt to track advanced aerospace vehicles including up to ten flying saucers with the cutting edge autotrack radar. After completing the task she was assigned by superiors—where the autotrack radar was unable to lock onto the flying saucer craft— she was taken to the Area 51/S-4 facility where she was subjected to trauma based mind control that involved her memories being wiped. Later she remembered that she was used as slave labor in a highly classified program that involved Gray and Reptilian extraterrestrials. During this 3 month period, she later recalled being taken to the Moon where she and others were used as slave labor.
Niara also has memories of having served on Mars in a 20 and back program. Her abuse only ended when it was recognized by one of the extraterrestrials that she was affiliated (a starseed) with a human looking group of extraterrestrials that the USAF wanted to have positive relations with. Niara has documents and photos proving her service with the USAF and her being stationed at Nellis AFB from which her trips to Tonopah took place.
Premieres Today at 8 am PST – 11 am EST on YouTube & Rumble
Podcast version available on Apple, Spotify and Google
Niara Terela Isley's book, Facing the Shadow, Embracing the Light: A Journey of Spirit Retrieval and Awakening is available on Amazon . Her Facebook page is here.

Related Podcasts and Articles
---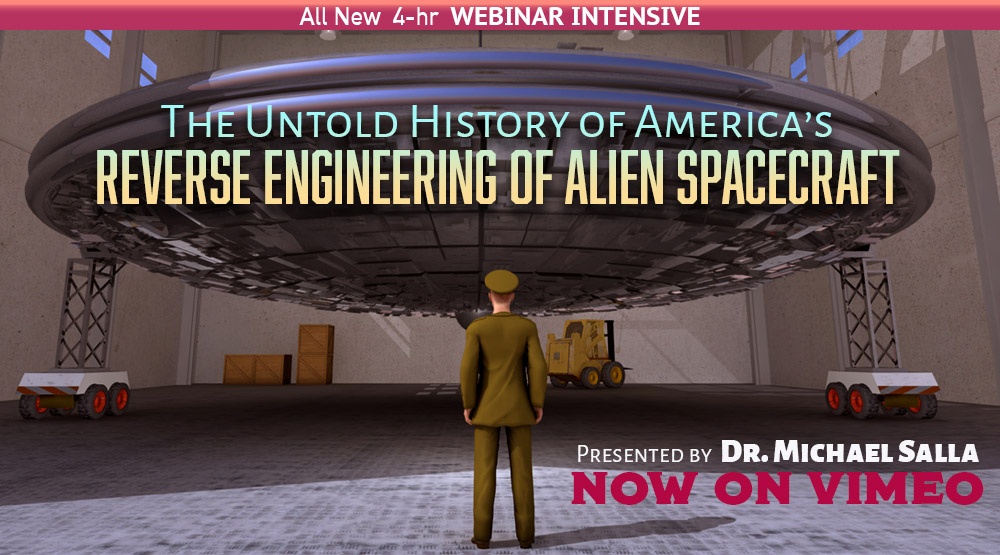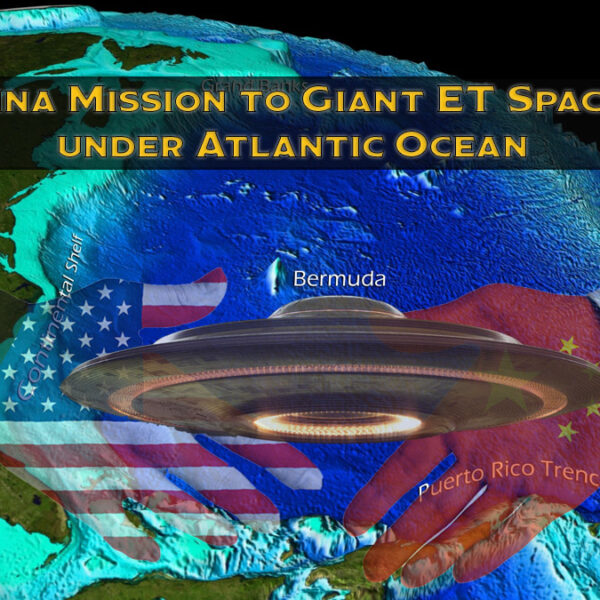 On January 10, 2022, my US Army insider, JP, revealed that he participated in a classified mission to an extraterrestrial space ark located under the Atlantic Ocean off the Florida coast in the vicinity of Bermuda. This was the second space ark that he has encountered in covert military missions – the first involved a space ark found on the Moon, as reported in an earlier article.
JP described how the mission began with an official briefing he received at the military base where he is currently serving. Then he was taken by Osprey helicopters to a large donut-shaped platform in the Atlantic, which was placed directly over a submerged space ark. JP estimated to be at least a mile long ovoid-shaped.
What follows are extracts from our skype call where he described different aspects of the mission. Here is the first extract where he describes being taken to some kind of large platform suspended over the space ark:
I think he was one of the pilots that flew us to the ships, these massive boat ships I was telling you about that has a big surface. They're huge. We got there and then they line up everybody in formation. You can see the painting on the floor. This ship is the same ship that I visited a couple years ago but now it had paintings on the floor saying OK Chinese and then it says Russian but it says in their language. Like where the formation is so everybody formation. So I was in a where you know United States park square. Well everybody forms up. There's at least 20 or 30 people United States and there are at least 15 Chinese….
JP recognized the ocean platform as the same one he was taken to by a triangle shaped antigravity spacecraft around 2014, which is when he first told me about the platform. Rather than being allowed to descend from the platform to whatever lay beneath, he was denied entry by a senior military officer (a General) and told to leave. At the time, JP was a civilian.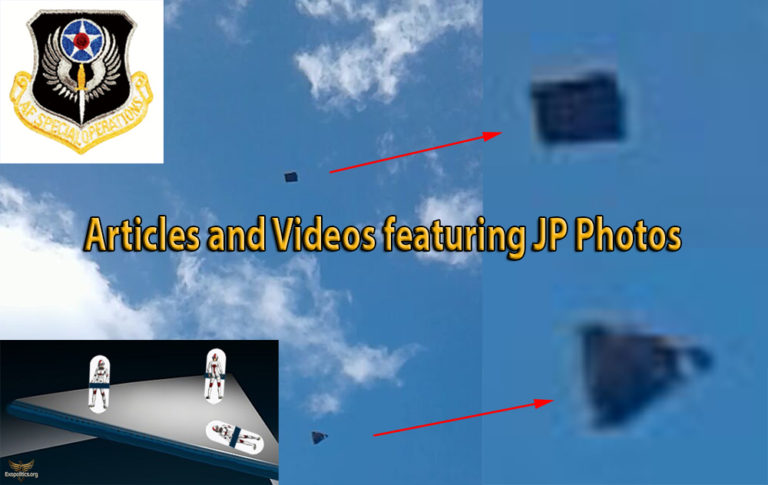 JP next described an elevator that carried mission members from the surface down into the interior of the craft. Personnel were mainly drawn from the US and China. Apparently, China had been allowed access to the space ark found under the Atlantic as a reciprocal favor after it had allowed US access to the space ark found by its Yutu 2 Rover described in an earlier article.
What follows is what JP had to say about the US China deal, and his 2014 trip where he was denied entry into the platform:
Because of the Chinese they let us go on the moon and because they helped us investigate that ship now we have to let them investigate the one we found here in the Atlantic. It is a deal that we made with the Chinese that you know all if we go over there now we let you go on this massive ship that we're gonna do the mission with and it started this you know start this mission. So there was just talking with Chinese generals and uh about the deal about. OK, you let us on the Moon but now we're gonna let you on this ship, but there's stuff here in this location that was not on the moon that is gonna be groundbreaking. Like it's it's crazy the technology that is in this particular ship that is in the Atlantic that got activated with all these other ships that got activated.
M: OK so it's the similar ship to what was found on the moon just a massive kind of sphere shaped extraterrestrial craft.
JP: it's bigger. 
M: It's bigger.
JP: It's bigger
M: And this is like somewhere in the Atlantic near the Bermuda area and it's at the bottom of the ocean.
JP: Bottom of the ocean, there's a ship that we get on right where the Ospreys land, and they land there and then there's like an elevator. It looks like a donut this massive ship that we get on it looks like a massive donut, but in the middle there is a in the middle there's like an elevator, like an oil rig kind of thing looking thing and then there's an elevator that goes down to this massive ship that is under the Atlantic.
M: Oh, so this ship or craft that you were taken to is actually floating above the extraterrestrial craft at the bottom of the ocean
JP: Yeah there's this is how I was talking about that everybody lights up, remember I got in trouble one day because I think "Shen" or "Lovent" I don't know who it was, but we were like they were talking, like oh you shouldn't be here. Remember I was telling you about the guy that was doing the briefing, he saw me he got mad that I was there, and they took me back. Yeah I wasn't supposed to be there
M: He was a general right I think you said he was a general.
JP: He was a general.
MS: Yeah that he was briefing everyone and it's like said what are you doing here you shouldn't be here.
JP: Yeah exactly.
MS: OK, so that that structure it's like you say it's like a mining rig. It's just built over the abandoned ship or the you know the ET craft and they go to it down the middle like a mining rig, like a rig.
JP: Yeah.
It's important to note that the Atlantic ark is much larger than the one found on the Moon, both were activated when a large fleet of spacecraft arrived and parked in the vicinity and Ganymede, which involved another mission that JP participated in.
JP next explains what happened when he traveled down the elevator with the rest of the mission members which also included a group of indigenous Aztec looking Indians into the interior of the giant space ark:
We were there talking and everybody it's like talking about the discovery and how it got activated and how you hear the humming noise because everybody is like really scared to go into this ship, because once you get close to it it's like is going like a wave like if it's stuck in time like. You look at your hands and you wave it and you can see your hand in a wave like if you're stuck in time so a lot of people are really scared to go into the ship but when a group of us we went. You know I was dressed in black, we change, they took us to his room uh on the back part of the donut part of the ship and they put us in roll, and then we went through um like sprays and disinfecting and all that because whatever was in this ship we didn't want to bother it with anything that you know infected or if there is something living', cause they found like oxygen like really pure pure pure pure oxygen inside this ship and they're thinking that is plants that are still living. Type of like not fungi but like a Algae kind of plant,and one of the scientists they were telling me that this fungi kind of plant it is glows in the dark in this glowing it's stuck to the walls. It is connected to this to the moldavite type of rock that is is on the walls and it's glowing. The whole ship like a like a light blueish greenish color that goes on and off and humming and we didn't need those drones that we used on the moon because in this massive ship it was more activated than the other ones.
MS: So you did go inside, or the elevator from the from the surface ship goes all the way from the surface of the ocean into the ship.
JP: Yeah into the surface into the ship into the ship so after we change these black clothes they put us elevator and everybody was nervous, everybody's looking at each other. The Chinese they were laughing, they were laughing at us like making fun of us they're like oh you pussies. You know like huh they're laughing turn off I remember seeing Mexican looking people there as well. But they didn't speak Spanish they spoke a like a like an ancient Aztec language, and they were really short, and you can still see the paint on their faces but they had these suits on to. So I guess when because scientists already went onto that ship but they couldn't open certain locations that's what happens and when they came up they were talking about oh wow time is different down there you can see your hands like multiple times when you wave it like the type of matrix you know. Like time is really slow and when you jump it takes a couple seconds to jump back down like it's crazy, and then we started going down, and then and you look around and then when it goes to the ocean and two or three or four seconds it turns black, puh, so that's how fast it goes. It goes really fast and we have to buckle up.
I'm in an elevator but we're standing up there's no seats so we stand on the walls and you buckle up and you stay standing up and it goes down and you can feel your ears popping, like it pops, like really fast but and then the elevator has this pressurized, it pressurizes itself and then you could see it turning small because of the pressure but it's the type of metal that is really unbreakable, it doesn't break the type of metal so when it goes down the pressure it doesn't it doesn't squeeze the elevator but when it goes up and down you can see expanding and turning small.
There was a time dilation effect that mission members experienced inside the craft, and the air was compressed to facilitate their trip into the interior of the craft that would have been pressurized to some degree to withstand the enormous ocean pressures at the bottom of the Atlantic.
Once inside the space ark, JP revealed that the Mexican Aztec looking members recognized some the hieroglyphic writing and reacted very emotionally to what they were seeing. He again elaborated on the space time effect in the Ark:
MS:  So when you're down there what do you see?
JP: We see the lights of the algae like all around the place and then the little Mexicans they started pointing at the wall on these kind of writings that they were familiar with. So we went over there with them, and they were like touching it and they were like crying and happy and they were like looking at it, and they were like A curia Marte I remember that particular word "A curia Marte", "A curia Marte" and and they were like touching it and they were really happy. That's a particular phrase that I remember, A curia Marte, A curia Marte, A curia Marte. They were crying and say that word. They were like almost dancing because they saw this particular writing. I think it was a missing writing on their temples and Mexican or or one of these Aztec writings that they they they were like really looking for, and I guess the ruins the ruins is actually connected to a tunnel, a tunnel that goes in, goes in the earth, but we wasn't allowed to go in there.
The little Mexicans looking people that try, the Indians, they went in, and they were only allowed to go in there because I think it was sacred to them that that particular area where they went under and then when they went under they never came back and everybody was like wow OK what do we do now what do we tell upstairs when when we come back and they're not coming back, and we were like oh crap oh shit, what we're gonna do, we're gonna say,
And then the Chinese they were starting walking towards over there but and then they started going slow, like everything was going like time, and then the one of the Chinese came back and he was out of breath. He was like, he was like, really mad that they couldn't go, and then … they started arguing with one of our guys. Saying, "hey you guys promised us that … we were gonna go in there and investigate everything the same way we … you know we went to the moon and we're not getting access." So they were getting mad because they weren't … getting access, but it wasn't our fault the ship itself lets certain people in and certain people out.
This is a fascinating observation by JP about how the extraterrestrial ark would react to different visitors. The Mexican Aztec group was allowed to proceed far ahead, presumably because their genetics and/or frequencies were acceptable. However, when the Chinese tried to do the same, they were blocked by the craft which recognized some incompatibility. Could this have anything to do with Communist China's materialistic philosophy influencing behavior and beliefs, thereby precluding them access deeper into the craft on their own?
JP continued his account of what happened as the multinational mission members moved forward in their exploration of the Ark:
So, when we went in we started going through and everything started going slow, like … slow motion, and we felt like a peace and happiness. And then the Chinese, after we started going in, the Chinese were behind us, following us. So, we were going little by little and then in the distance you could see like lights of certain kind of like crystals like Moldavite, like shining into the walls and it was beautiful, and you could see certain kinds of plants that glow. Amazing, it's mind blowing the experience, and everybody was like almost in a chain, because we were like holding each other to get to this particular spot. And after we got to a particular place where it was full plants that glow, we saw the little Mexicans like out in the distance, but we couldn't reach them. We scream, we talked to them but they couldn't hear us, but we still saw them keep going but it's slow motion, but they probably, like was … gone, but we could still see the reflection of their bodies, like leaving, like disappearing, like you could see it disappear.
This disappearance of the Mexican Aztec group was unanticipated, but the Mexican scientist/translator accompanying them stayed with the mission.
JP described recognizing one of the Chinese scientists as the same person he witnessed during his visit to the ancient space ark found on the Moon:
So we got to this location and then the Mexican scientists that was there, he stayed with us and the other little people that were Mexicans they left and we could we didn't see it no more and we were also investigating the walls the writings of the walls and that same Chinese archeologist that was on the moon he was there as well, I saw him. But the guy that I was with in the moon he was not there. There was another different guy there, investigating the writings and all that and we were there just to, you know, to be with him and make sure everything is you know he does his work right, and the other guy was told to watch over the Chinese because they wanted a particular information that they didn't tell us that they found on the Moon.
It is noticeable that even though the US and China were conducting a joint mission to explore the submerged craft, there were deep suspicions on both sides that the other was holding out on key information vital to mission success. It appears that this is going to be a perennial problem between the US and China as they collaborate in joint missions vital to planetary security.
In the next extract from our Skype call, JP responded to one of my questions:
MS: What was it about the ship that activated. I mean you said you know the scientists or the military got very interested or that this craft activated so before they were there they saw it and they were inside and it wasn't activated, so when it activated what happened?
JP: Well everything started glowing. Everything you could see the writings glowing because you know the writings they're like, they're like carved but because of the algae that's grow on them and it glows you can see, you can see, you can see the language easier with the glowness of the algae that is on top of the writing. So you can see it with more perfection. So that's what really intrigued scientists. That there were some parts that they didn't know that there was writing, there were writings you know, and they found some similar language of the Aztecs.
The strange hieroglyphic writing could be clearly seen glowing under the algae that covered it.

I next asked JP to describe what he was feeling when inside the craft:
MS: So, when you're inside the craft you know you said you felt good can you talk more about your feelings, you know, what you were sensing?
JP: Similar to what we felt near that Ganymede, in that particular building. You feel that happiness, and similar to what you feel on the Moon, but it was more intense. What we felt here on this ship.
MS: Yeah, well when you say more intense … just describe what was going on.
JP: It was you see everything slow and you feel so happy that you feel like crying that you feel, like good. Only people that were mad was the Chinese because they wasn't  given access, but you could also see their face that they were astonished with what they received. They were happy, they were almost crying, but not like these two little Mexican people, they are really happy. They were like dancing, and they were like you know they were really happy…. Then I remember looking at these other writings, I remember seeing it actually in Ganymede, because it looked really similar to these writings and I felt so much bliss like if everything was connected. Like I felt like [when] I was on the moon and Ganymede, like the same feeling.
MS: OK, just remind me when you're on the moon, when you're on Ganymede, you went to some different locations and spots on the on the surface of Ganymede, different locations were any of these kind of similar like ships, similar ships or were [they] just similar technology?
JP:  Similar technology, it … is the same type of technology but I think this was even more like … older. You can tell it's more older, … like the wear of it. It's older and so I think there's, like the same, I think the same age
JP described how he and a few other individuals had the ability to activate the ark by simply being physically close to it. JP described how the ark lit up in areas that he walked into, but this was not the case with other personal. 
MS: So when you went down there … your job was to accompany or assist a archaeologist studying the writings?
JP: There are some things that were activated when I got there.
MS: Tell me about that, well you know … when you arrive things began to activate.
JP: Yes, things became to light up when I was, like with certain people go no lights turn on, but when I went certain lights came on, and they were like what the hell. People were like the hell you know, like there were like surprise… it was weird but it was good feeling….  It was certain lights on the walls that were not on and they glowed on when I arrived.
MS: OK, alright so … actually your physical presence is part of the activation process or maybe you have genes or there's something you carry.
JP: Also, with the Chinese there was a guy that I could not see his face he had a hoodie and he was with the Chinese and he was also activating … you know lights and all that. And then when I … wanted to see his face always he never let me see his face. Never ever let me see this guy's face, like I couldn't see his face. He had a hoodie and he was also working with the Chinese but on the other side you could see the lights activating when he waved his hand. Like he knew what he was doing like activating the lights and he knew that you know what he was doing. I did not know. I just walked in and like turn on and but I think there's certain people around the world that have, you know, that they can activate these ruins
Some have inquired about the rather mundane roles JP appeared to play in his covert missions to Ganymede and the Moon, given his low military rank and rather dreary armed escort duties for archeologists studying the strange hieroglyphic language. One of the things JP shared in our communications since 2008, is that he was often taken by human-looking extraterrestrials into large hemisphere structures, which he described as arks. He witnessed ancient plants, animals and technologies that were being preserved for a future time. He also said that he met several other individuals being taken to these arks—one of whom was a Chinese national.
JP said he was taken to these large arks for a time when they would become important for humanity in dealing with planet-wide contingencies. JP began sharing this information with me around 2014, and I kept this information to myself since no one else was talking about it.
US covert operatives, however, have monitored JP's extraterrestrial contacts and our communications since 2008. This is best evidenced in photos of classified triangle and rectangle shaped spacecraft he photographed near MacDill Air Force Base in 2017 that he sent to me for public release with the active support of covert operatives.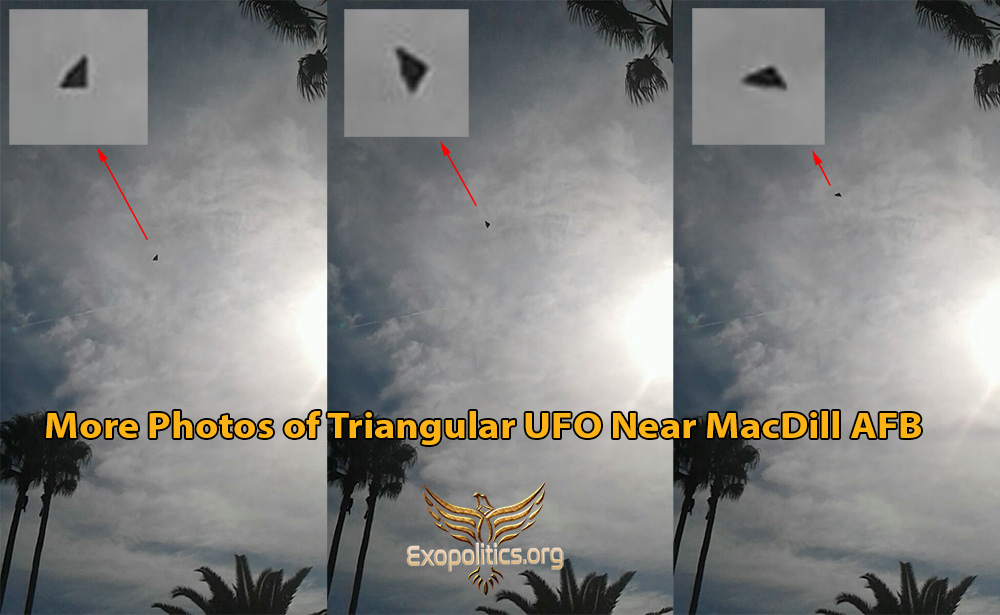 This leads me to believe that JP is doing far more than simply escorting scientists to these ancient arks and performing mundane escort duties. Due to his earlier access or innate genetic traits, he carries some energetic frequency, vibration, or code that activates parts of the craft he visits, thereby facilitating the safety and success of missions to these ancient space arks.
What is intriguing about JP's January 10 mission to one of the ancient extraterrestrial arks being found under the Atlantic Ocean is that it matches with information released by Thor Han Eredyon through Elena Danaan on January 4. When asked by Elena where the ancient arks could be found on Earth, Thor Han replied:
South-America, Central Europe, North-West of Russia… One under the waters of the Atlantic Ocean. This one is the biggest. There are others as well but I won't tell any precise coordinates, it is not my responsibility but that of the Earth Alliance.
Less than a week before JP's mission, Thor Han had already independently confirmed that a space ark was under the Atlantic and it was the largest of all those hidden throughout our planet. I found this to be stunning corroboration since JP had first told me about a location in the Atlantic to which he was taken around 2014 where a massive circle shaped platform was suspended over the top of something big.
He wasn't allowed to enter the floating structure when he was taken there by covert operatives. In short, JP had learned about something hidden in the Atlantic years before Thor Han's statement.
In conclusion, JP's trip inside the Space Ark located under the Atlantic Ocean is likely just the first step in these arks being revealed. Their activation signals that there is a timetable now in play, and it's up to the Earth Alliance to reveal them. The Ark's location does raise the question of any possible connection to ancient Atlantis, UFO sightings in the area, and of course the famed Bermuda Triangle. I hope to soon learn from others who may have insight into what lies hidden deep beneath the Atlantic which the US Navy is keeping hidden from American citizens and the world.
A video version of this article is available on YouTube & Rumble
Audio Podcast for Apple, Google, Anchor & Spotify available here
© Michael E. Salla, Ph.D. Copyright Notice
Related Articles/Podcasts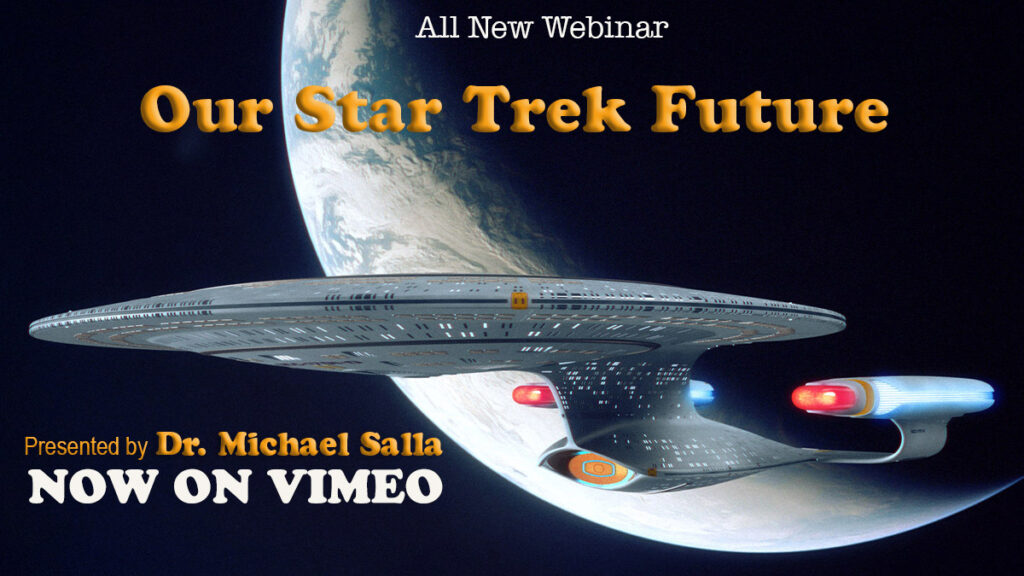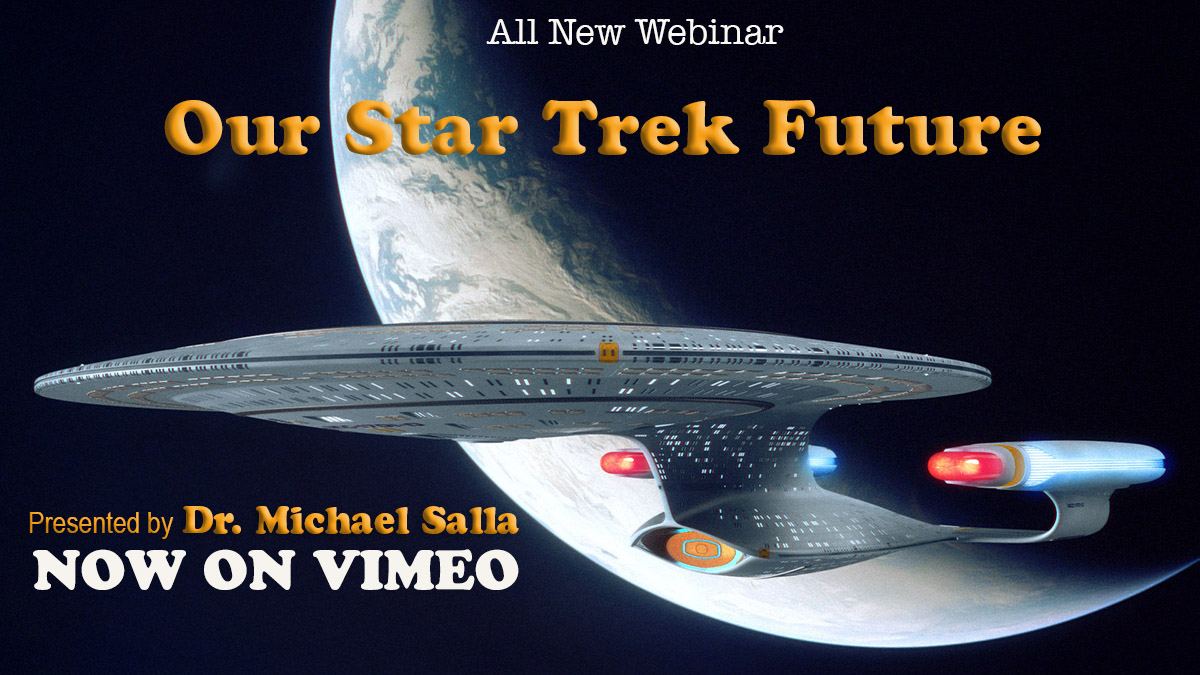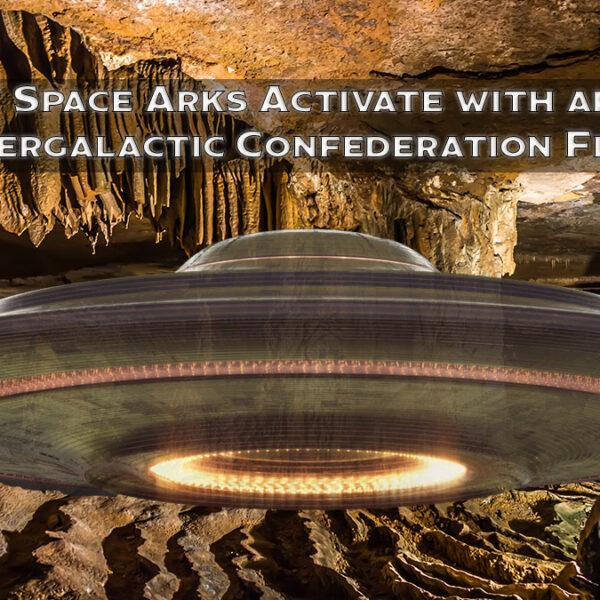 On January 4, 2022, I received an important update about ancient space arks being discovered on the Moon, Mars, Antarctica, and other locations in our solar system. According to Thor Han Eredyon, a Galactic Federation pilot, whose messages are relayed through a former professional French archeologist, Elena Danaan, these huge space arks are activating due to the recent arrival of a large fleet of spacecraft belonging to an Intergalactic Confederation—parked in the vicinity of Jupiter and its moon, Ganymede.
Thor Han's update is startling corroboration for information recently released by my US Army insider, JP, who visited one of these activated space arks on the Moon in joint secret missions being conducted by the US, China and other members of an "Earth Alliance" led by US Space Command.
Elena passed on to me the following messages she received from Thor Han early Tuesday morning about the activation of these ancient space arks:  
Jan 4, 2022
At 1 am, I am contacted by Thor Han telepathically via my implant.
TH: I have clearance to answer your question about the ancient vessels that activated. Those studied by the Terran scientists. It is exciting to watch them and to guide them, as they uncover a past that was hidden for long millenniums. Terran culture has been ready for a long time but now that threatening shadows are leaving your world, truth can be unveiled in the open. Finally. The Earth Alliance unfolds the plan elaborated together with the Intergalactic Confederation and the Galactic Federation of Worlds of Nataru [Milky Way Galaxy], exposing what was hidden until this day.
A long time ago, the Intergalactic Confederation had several colonies in this star system. On Naara (Venus), Terra, its moon, Tyr (Mars) and the fifth planet. Great wars occurred with the Anunnaki and the colonies left. But before leaving, they gathered the essential of their knowledge in arks they buried deep, on the planets I mentioned. These arks preserved the essential information necessary to rebuild the glory of these colonies, if one day this was to happen.
Thor Han's information corroborates what JP was told in a classified briefing he attended before departing for a Moon mission on December 23, 2021, which I discussed in an article one week later. JP entered the giant spherical spacecraft—estimated to be over two aircraft carriers in size—accompanied an archeologist studying its hieroglyphic style writing. JP was one of the military escorts accompanying scientists from the US and China sent to investigate the spacecraft that had activated.
There have been several people wondering about the rather mundane roles JP has played in covert missions to Ganymede and the Moon, given his low military rank and rather dreary armed escort duties for scientists.
One of the things JP shared in our communications since 2008, is that he was often taken by human-looking extraterrestrials into large hemisphere structures, which he described as arks. He witnessed ancient plants, animals and technologies that were being preserved for a future time. He also said that he met several other individuals being taken to these arks—one of whom was a Chinese national.
JP said he was taken to these large arks for a time when they would become important for humanity in dealing with planet-wide contingencies. JP began sharing this information with me around 2014/2015, and I kept this information to myself since no one else was talking about it. US covert operatives, however, monitored JP's extraterrestrial contacts and our communications (see here and here). This leads me to believe that JP is doing far more than simply escorting scientists to these ancient arks and performing mundane escort duties. Due to his earlier access, he carries some energetic frequency, vibration, or code that facilitates the safety and success of missions to these ancient space arks.
Thor Han's reference to arks belonging to ancient Intergalactic Confederation colonies that were forced to leave millennia ago due to great wars in our solar system is also very revealing. Just as Egypt's Sphinx has long been rumored to be a repository of ancient Atlantean technology, so too there are technological repositories of ancient cultures hidden throughout our solar system.
It's helpful to keep in mind that the Atlantean civilization was said to be an offshoot of one of the 24 extraterrestrial civilizations making up the Intergalactic Confederation. According to the Council of Nine information channeled through Phyllis Schlemmer, in her book, The Only Planet of Choice (1993), Altea established the Atlantis colony on Earth. Thor Han's information is telling us that Altea and other extraterrestrial seeder races have similar colonies scattered and hidden throughout our solar system.
Thor Han continued his message as follows:
When the fleet from the Intergalactic Confederation approached this star system, the arks activated. It was time. The return of the Seeders marks the beginning of a new era, when Terrans are ready to receive the long-time hidden knowledge. No rules are broken when the Terrans make their own research and discover the keys by themselves. You understand, this knowledge and technology couldn't fall in the wrong hands. The arrival of the Seeders occurs when the enemy has lost all power and possessions in this star system. The time is right, now. Also, I was authorized to tell you that two great archaeological discoveries are imminent on Terra, this year. It will change the way Terrans look at the chronology of their History. What they believed was truth carved in stone will flow like water.
Thor Han's message reveals that these ancient arks were well-hidden and kept away from the Dark Fleet and its extraterrestrial allies that until recently dominated our planet. Most importantly, the Cabal/Deep State that controlled powerful secret space programs looked for these arks but were unable to find these ancient vessels.
Now that the "Dark Alliance" has been forced to leave our solar system, the hidden ancient technologies are being activated so they can be found and explored by the Earth Alliance that was created in July 2021 as a result of the "Jupiter agreements". Now the time has arrived for these technologies to be openly shared so humanity can learn about long forgotten extraterrestrial colonies, their advanced cultures, and technologies—before devastating wars led to their demise.
Elena next had a Q and A with Thor Han:
E: What you just said, this last sentence, it's a metaphor that foretells a story, right, I know you: "What they believed was truth carved in stone will flow like water." (TH laughs). Can you talk about what is in these arks?
TH: Great technology that will change everything.
E: What do these arks look like?
TH: Elongated and some are miles long. Crystal technology.
E: What do you mean?
TH: The Intergalactic Confederation largely uses crystalline materials to transcend densities, that a built structure can simultaneously exist in several densities.
E: Such as the crystalline architecture I saw inside of the motherships of the Intergalactic Confederation? Does that mean these ships are solid in different densities at the same time?
TH: Correct. Terrans haven't yet discovered all the capacities of crystals. Core engines are powered by crystals, portals are made of fluid crystals, time devices, pyramidal energy generators, and more. These density belts that we wear, are made with nano-crystals. The fabric of our suits, our weapons, the skin of our ships …  
What's crucial here is that JP said that when he entered one of these arks found on the Moon by China's Yutu 2, the crystal inside of it was Moldavite. He said it created a pleasant vibration that helped elevate consciousness. It's very possible, given JP's earlier exposure to arks, that he carried the right frequency that would be recognized by the ark's consciousness.
The Q and A continued:
E: So these buried ships have activated at the arrival of the Intergalactic Confederation.
TH: They received the signal and responded by resonance, due to the simple proximity of the mother fleet. Remember what I showed you, certain ships are living entities. They woke up. Although, your people knew already about some of these locations. We left some clues for them to find. The Dark Fleet found one of these arks, under the ice of Antarctica, but they could never activate its power and use its potential. One of the reasons why the Intergalactic Confederation was waiting.
This is very meaningful given that JP received coordinates from an unnamed Lt Colonel that pointed to a structure in Antarctica that was in an area used by the Dark Fleet until recently. Could the apparent structure shown in the coordinates be linked to one of the Arks hidden underneath or nearby?
Another possible location emerges from the testimony of two special operators that spoke with Veteran UFO researcher Linda Moulton Howe, and whose testimonies were released in January 2019. They revealed their participation in missions to a massive Octagon-shaped structure found near Beardmore glacier, Antarctica, in 2003. This is how Howe initially reported the discovery:
In 2003, a U.S. Navy Seal Special Operation team traveled to Antarctica to investigate a perfectly geometric 8-sided octagon structure discovered by ground penetrating radar near Beardmore Glacier, about 93 miles from the American McMurdo Station.
Another previous team of engineers and scientists had dug out the top layer of one octagon made of a pure black substance that was built on top of two more black octagonal structures that went down deep into the 2-mile-thick ice.
Only part of the Octagon-shaped structure, the Navy Seal stated, had been uncovered so far by the archeological teams, with the rest buried under the ice and extending far below. Ground penetrating radar had shown the structure to be an Octagon in shape, and covering an area of 62 acres (about 0.5 square kilometers).
The Navy Seal described the walls and doors as being covered by hieroglyphs that were about eight inches (20 cm) high and about two inches (5 cm) deep. The hieroglyphs were neither Egyptian nor Mayan, but appeared similar to both in terms of depicting animals and other strange symbols. Similarly, JP said that the large spacecraft he witnessed on the Moon was filled with hieroglyphs that were being recorded by the archeologist he escorted. This makes it possible that the ancient octagon structure described by the Navy Seal was one of the arks discovered by the Deep State and their Dark Fleet allies.
Elena continued her Q and A with Thor Han:
E: How many arks are on Earth?
TH: I am not allowed to tell you, and don't try to read my mind!
E: I won't, you know I respect the rules. But I know already there is one in Egypt somewhere.
TH: South-America, Central Europe, North-West of Russia… One under the waters of the Atlantic Ocean. This one is the biggest. There are others as well but I won't tell any precise coordinates, it is not of my responsibility but that of the Earth Alliance.
E: You won't be in trouble, right?
TH: No. What I am telling you is validated by my superiors. Since you were calibrated on military frequency, they are listening to all our conversations passing through your device.
E: Is there anything else that you can tell me, that the world doesn't know yet?
TH: Each revelation comes in time. There is a plan. Terran civilians will come this year to the complete realization and acceptance of other positive galactic cultures. Politically many changes are on the way. But I must say no more, for the safety of the plan. The Earth Alliance is in charge, of pretty much everything. Be patient.
E: Thank you, I will pass on this info to Michael.
TH: Give him my warm salutations. One day we will meet, but not yet.
Thor Han's statement that this year, 2022, will be when there will be "complete realization and acceptance of other positive galactic cultures" is very telling, given that the Galactic Federation has sophisticated time travel technologies it can utilize for its future projections. His optimistic statement indicates that the Deep State's hold on political power around the planet is crumbling, and that soon the walls of secrecy will collapse.
Consequently, the Intergalactic Confederation and other extraterrestrial races will be revealed to the public in joint disclosures coordinated with the Earth Alliance, and US Space Command. Critically, some of these disclosures will involve announcements about the discovery of advanced technologies found in ancient arks that were built by humanity's ancestors many millennia ago.
A video version of this article is available on YouTube & Rumble
Thanks to Elena Danaan for permission to publicly release Thor Han's message. Elena created a video simulating the telepathic conversation between her and Tho Han which is available on her YouTube channel.
© Michael E. Salla, Ph.D. Copyright Notice
Related Podcasts and Articles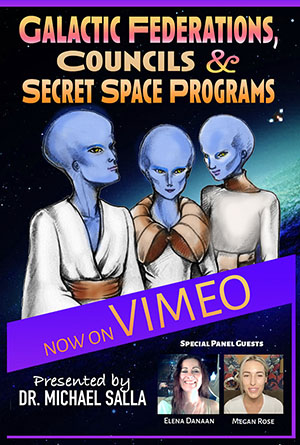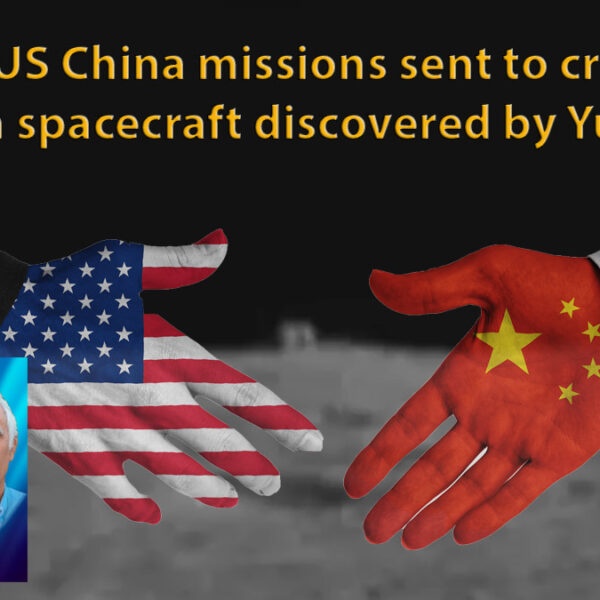 In November 2021, a photo from China's Yutu 2 Rover was released showing a cube-shaped object found on the farside of the Moon. According to JP, a pseudonym for my longtime source who currently serves with the US Army, China's space force (the People's Liberation Army Strategy Support Force) and US Space Command have recently begun joint missions to explore the object, and that he participated in one of the first missions.
JP claims that early in the morning of December 23, he was sent to a secret research facility on the Moon on a triangle-shaped antigravity vehicle, and was then taken to the giant spacecraft that was partially submerged under the lunar surface. JP says part of the craft's exterior had been discovered by China's Yutu 2 rover, and that a joint operation to explore the craft, which was the size of two aircraft carriers had begun between US Space Command and the PLA's space force.
JP said the giant alien spacecraft was discovered when it began to activate after an extraterrestrial fleet entered our solar system in October, and parked itself between Jupiter and Ganymede. JP participated in an earlier classified mission to Ganymede where he met with some of the extraterrestrial visitors. In this Exopolitics Today interview, JP discusses his role in the classified Moon mission and what he witnessed first-hand.
Podcast version will be available on Apple, Spotify and Google
If anyone else currently serving in the US military would like to contact me regarding their own knowledge and/or experiences regarding recent Moon, Ganymede or other solar system missions, I can be reached at drsalla@exopolitics.org
Heartfelt thanks to my wife, Angelika Whitecliff, for her creative visuals and editing of this interview.
Michael Salla, Ph.D.
[Update 5:45 pm, 12/31/2021 – JP has just informed me that he is currently facing disciplinary measures for releasing information about the classified Moon mission into the public arena. There are those in his direct military chain of command that assert the information was not supposed to be publicly released and want to punish him. Despite JP getting into trouble for his actions, and having to do "unpleasant jobs" as punishment, he intends to continue to reveal information, but emphasizes the need for his continued anonymity. He says that he is being protected by a lot of "white hats" that want the information to come out. I am working on another update concerning information JP received about Antarctica, which the "white hats" want to come out.]
Related Articles/Podcasts
---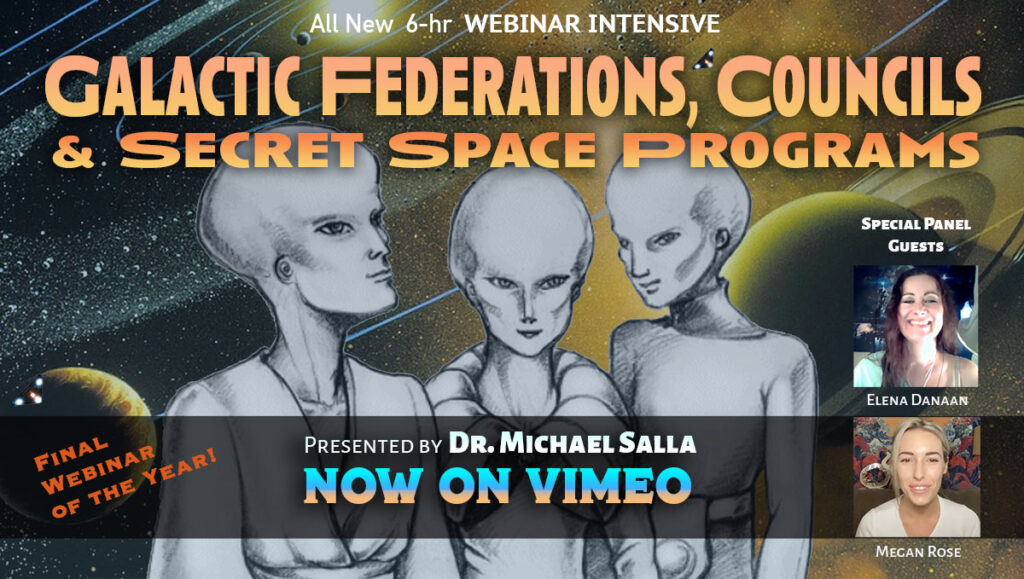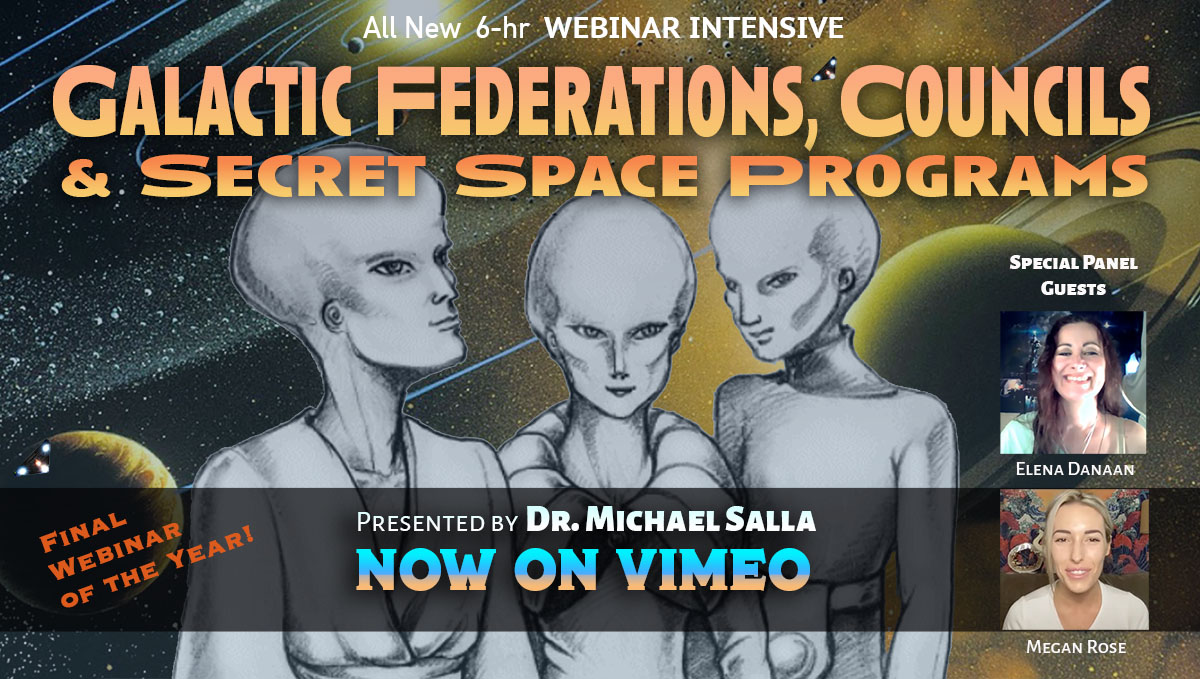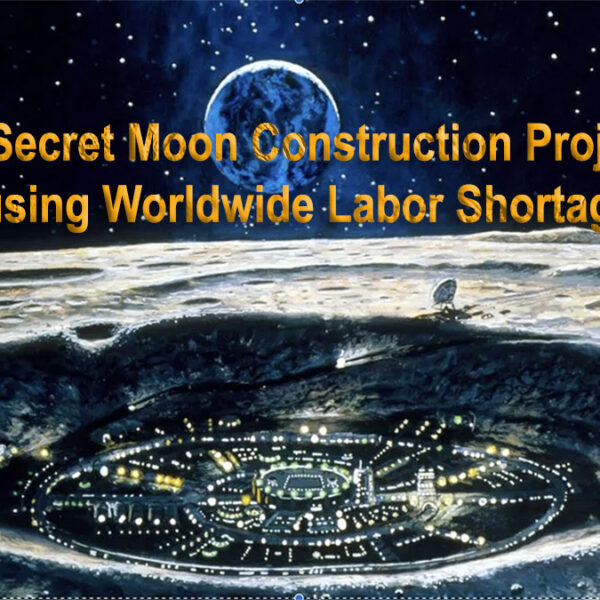 Thousands of small businesses have closed down in the US and around the world due to stringent lockdowns and other health restrictions caused by official government policies concerning the Covid 19 virus. Such business closures would normally result in a surplus of workers in a depressed labor market, where wages contract as millions compete for fewer available jobs. However, the opposite has happened in the US, which has greatly puzzled economists and financial experts.
Today, thousands of companies are desperate for labor and are offering bonuses and inducements for new workers to sign on.  This is how Newsweek explains the current US situation:
The labor shortage was a reversal from the earlier impact of the pandemic on labor. Initially, COVID-19 devastated the working class and parts of the private sector middle class; the harsh lockdowns imposed in many places caused upwards of one third of small businesses to close down permanently and decimated the service industry.
But as the economy has recovered, despite high unemployment over 6 percent and over 8 million fewer positions, there's a shortage of workers, including 7.4 million unfilled jobs.

The manufacturing sector has been particularly hard hit as explained by Arvind Kaushal, a Booz & Company manufacturing analyst who says that as many 600,000 new manufacturing jobs can't be filled. In particular, there's a shortage of welders, and this is expected to worsen so that by 2024 as many as 400,000 welding jobs won't be filled.
What's causing the labor shortage, especially in the manufacturing sector involving skilled blue collar jobs such welders? Are there enormous construction projects happening behind the scenes siphoning off hundreds of thousands of welders and other construction workers to classified facilities? The answer to these questions is literally out of this world.
In early September, I received intel drops from Val Nek, a representative of the Galactic Federation of Worlds, as relayed by one of his contactees, Megan Rose. In his September 7 update, he said that the Federation was helping humanity build a Starfleet, as well as new bases on the Moon and in Earth orbit for planetary defense. Val Nek said:
As you know, I have been working with US military officials to train and implement a fleet to protect and defend Terra. I want to reiterate that we have implemented technology to protect planet Terra. The star fleet, as you call it, is designed with higher density technology, making many of the new ships undetectable to the enemy. The enemy is unable to track or locate these ships due to the higher frequency. The ships have the capability to materialize and dematerialize in a lower density when necessary. This technology was given to the Terrans and must be built/produced by Terrans [so] as to be in accordance with the laws of the Federation.
Importantly, Val Nek identified the US as the leader in setting up a combined planetary defense force, as decided in the Jupiter Agreements reached in July 2021. Val Nek's intel is even more crucial to understand that even though the Galactic Federation can help humanity by sharing advanced defense-related technologies, these have to be built by humanity, aka 'Terrans' to abide by the Federation's Prime Directive, which was revealed in an earlier article.
All this defense construction is being done secretly and in remote locations such as the Moon. Hence the need for hundreds of thousands of workers, especially welders, for building the ships, bases, and technologies that would be part of a planetary defense force, aka Starfleet. This raises the question of how could so many workers be secretly shipped to the Moon?
In my September 10 article commenting on Val Nek's information, I cited one of my long-time sources, JP, who currently serves with the US Army and says that he and other military personnel have been doing an extensive number of classified construction-related missions to the Moon. He revealed that hybrid shuttlecraft have been built that combine human and extraterrestrial technologies for ferrying significant numbers of personnel and resources to and from the Moon. I further explained that JP's testimony is independent evidence corroborating Val Nek's information.
In a subsequent update on September 11, Val Nek revealed even more about the secret construction activities occurring on the Moon:
I can now report that Lunar Operations Command is in the process of being remodeled into a medical facility for the Terran military. There are technologies, as you know, being manufactured. I repeat again, that these technologies are advanced technologies from the Federation and are being manufactured by the Terran people. The technology that will be present in Lunar Operations Command are medical technologies. It will be used as a medical base for the Terran military.

Advanced health technologies would be vital for a planetary defense force equipped to fight against an invading extraterrestrial force. What is happening in addition to building medical facilities and technologies for the "Terran military" is that these advanced technologies are also being built for release to the rest of humanity, the "Terran people."
As in the case of building advanced military technologies, the advanced health technologies would have to be built by the "Terran people," in accordance with the Prime Directive of the Galactic Federation.
The mass production of advanced health technologies for both the combined military forces of the "Earth Alliance"—aka the Terran military/Starfleet—and the rest of humanity would also require many thousands of workers.
Given the scale of what is being mass produced on the Moon in terms of spacecraft and bases for planetary defense, and medical technologies for both military and civilian use, Val Nek's information provided a hint to the puzzling question of why the US was experiencing a labor shortage, especially of welders.
After receiving this intel, I wondered if all this secret mass production on the Moon could be related to the worldwide labor shortage. I asked Val Nek, and received his answer through Megan on September 18 as follows:
Indeed, we are requiring more personnel to complete these projects. They are projects that are on a massive scale and indeed require many laborers as you call them. While the Federation is not responsible for recruitment, I cannot confirm where exactly the personnel is coming from. But I can say that it would be likely they are also recruiting for a military presence in space as there is a shortage there also. The Corporations are also likely to start offering competitive pay and benefits since they will be mass producing these machines. They will likely require many personnel with an understanding of science and physics. That is all. I salute you. 
Val Nek is here confirming that that many laborers, which would include skilled workers such as welders, are required to build the various technologies and facilities for a planetary defense force. That would include both a real-life 'Starfleet' and also advanced medical technologies for widespread use by both the military and civilian sectors.
The scenario that appears to be unfolding today, according to Val Nek's intel, has eerie similarities to what was depicted in the movie Independence Day: Resurgence. In it, humanity fought off an invading extraterrestrial force, and over the next twenty years, built a comprehensive planetary defense force. Before the invaders returned, a positive group of extraterrestrials approached, offering to assist in our planetary defense. Was the movie a soft disclosure by White Hats/Earth Alliance for the situation we presently face as a planet?
There has been some skepticism towards the intel drops from Val Nek through Megan Rose. The information is startling, yet it provides a very plausible explanation for why there is a labor shortage in the US and around the globe occurring right now. The fact that welders are prominent among the missing US laborers is powerful circumstantial evidence supporting Val Nek's intel that a planetary defense force, a Starfleet, is being secretly built on the Moon and other construction facilities under US leadership.
It's highly unlikely that such a secret will hold for much longer, which does suggest that we are about to witness an incredible series of disclosures in the months ahead, where many advanced technologies, both with military and health applications, will be released to the world.
I wish to thank Megan Rose for relaying Val Nek's answer to my question. Her website is MeganRoseMedium.com
© Michael E. Salla, Ph.D. Copyright Notice
[Podcast Version of this article available on Apple, Google, & Spotify. Video Version is available on YouTube and Rumble]
Related Articles & Podcasts
For a complete list of articles and interviews concerning the Galactic Federation and/or featuring Megan Rose, Elena Danaan and other sources click here.
If you want to learn about the Galactic Federation's history, composition and activities in relation to current global events, then I recommend my upcoming Webinar.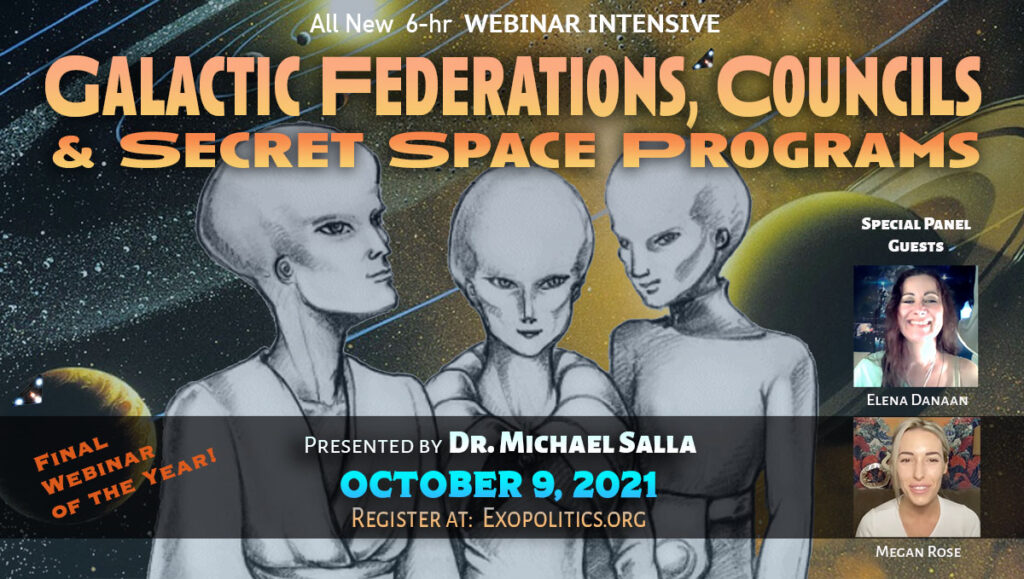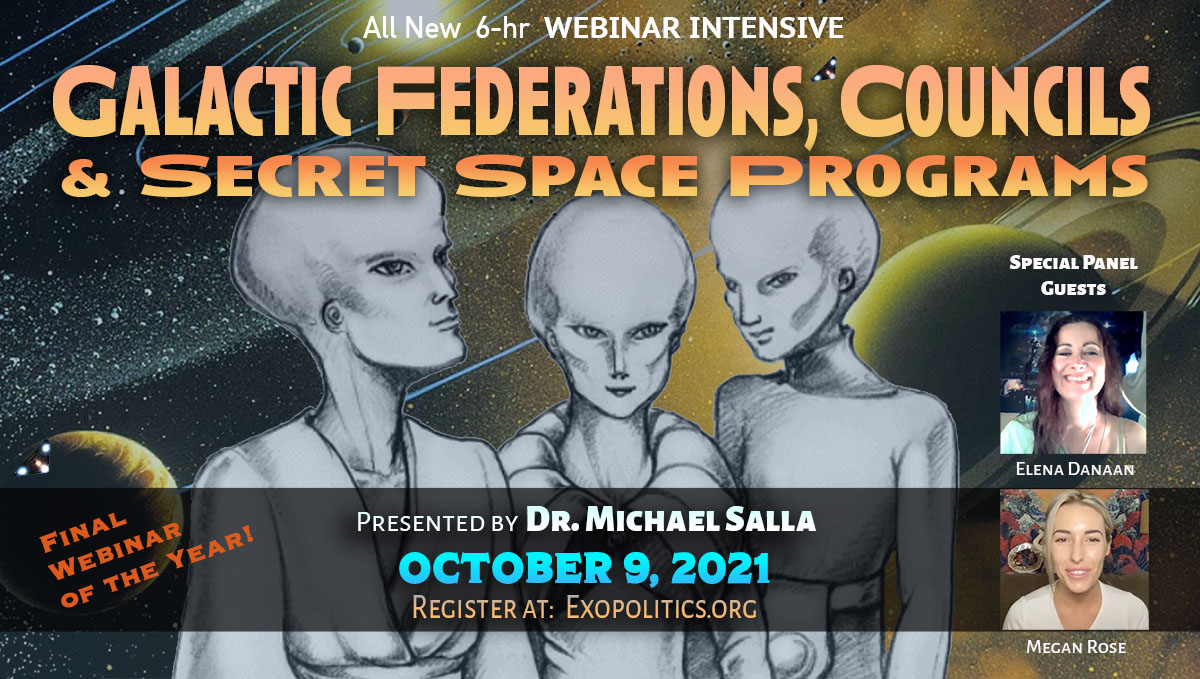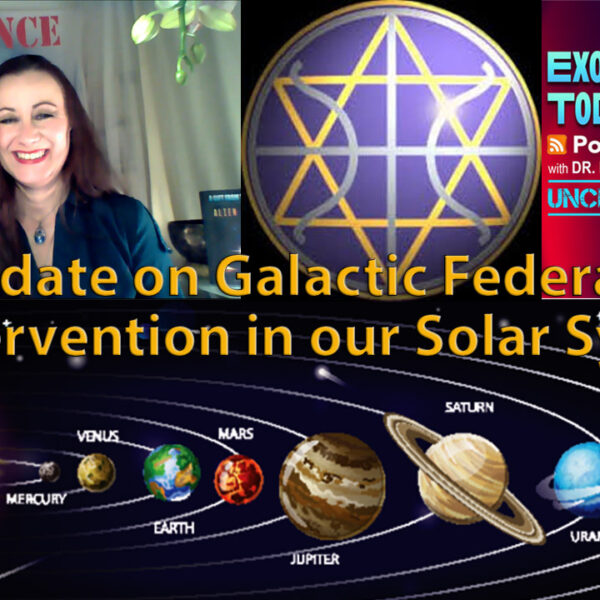 In this Exopolitics Today interview, Elena Danaan begins by giving a short account of her work as a professional archeologist for 20 years, and what she learned during her time in Egypt and evidence of extraterrestrial life. She goes on to give a comprehensive update on ongoing "Galactic Federation of Worlds" intervention on the Earth, Moon, Mars, Phobos and recent diplomatic meetings on Jupiter, which handed over responsibility of the solar system to a consortium of space faring nations making up the Artemis Accords.
Elena discusses how regressive extraterrestrial alliances—the Draco Reptilians and Orion Alliance—have been forced to abandon many of their outposts in the solar system. This has not only impacted the German-led "Dark Fleet" but also the Interplanetary Corporate Conglomerate (ICC), which used Antarctica and Mars as major bases of operations. Both the Dark Fleet and ICC have been forced to evacuate facilities on Earth, Moon, Mars, and elsewhere in the solar system according to Elena. On Mars, this has led to major bases being evacuated and the liberation of a captive slave work force.
Elena's startling information is corroborated by major developments in space as explained by Dr Michael Salla, who gives an account of how the Artemis Accords has led to major spacefaring nations quickly setting up space commands that aim to work alongside the US Space Command. Critically important is the eclipse of large aerospace companies such as Lockheed Martin, Northrup Grumann, Boeing, etc., that were affiliated with the ICC, and the rise of new aerospace companies such as Space X and Blue Origin which are being contracts by NASA to achieve important goals under the Artemis Accords.
The truth that emerges is that the Galactic Federation is encouraging the Earth Alliance/Artemis Accords nations to work with new "progressive companies", rather than those previously associated with the discredited ICC. What is vitally important about Elena's information is that it is real time observations by a member of the Galactic Federation who has been given permission to reveal the truth of what is happening today on Earth, the Moon and elsewhere in our solar system.
Interview available on Rumble and YouTube
Earlier Exopolitics Today Interviews with Elena Danaan
Further Reading/Podcasts
---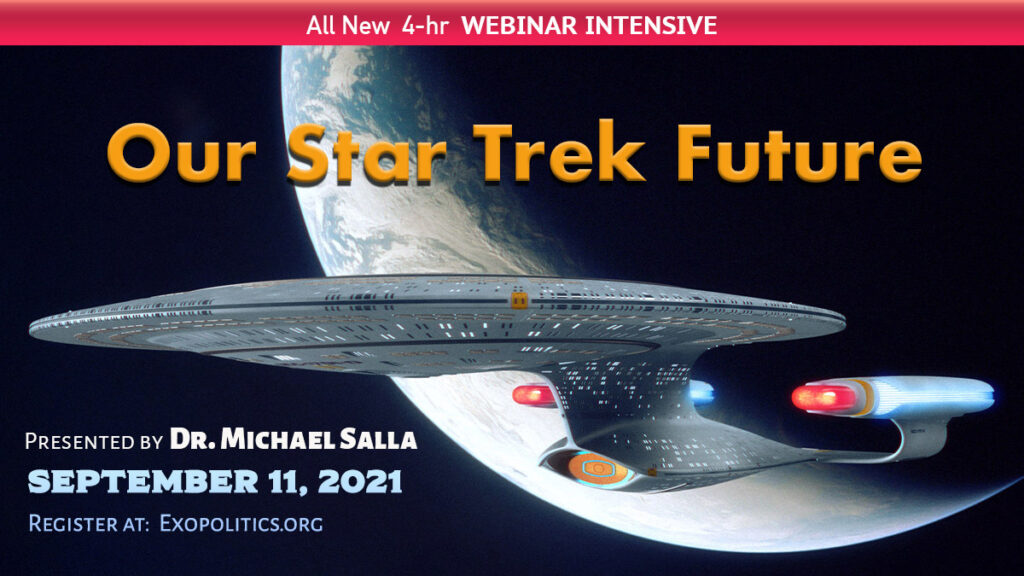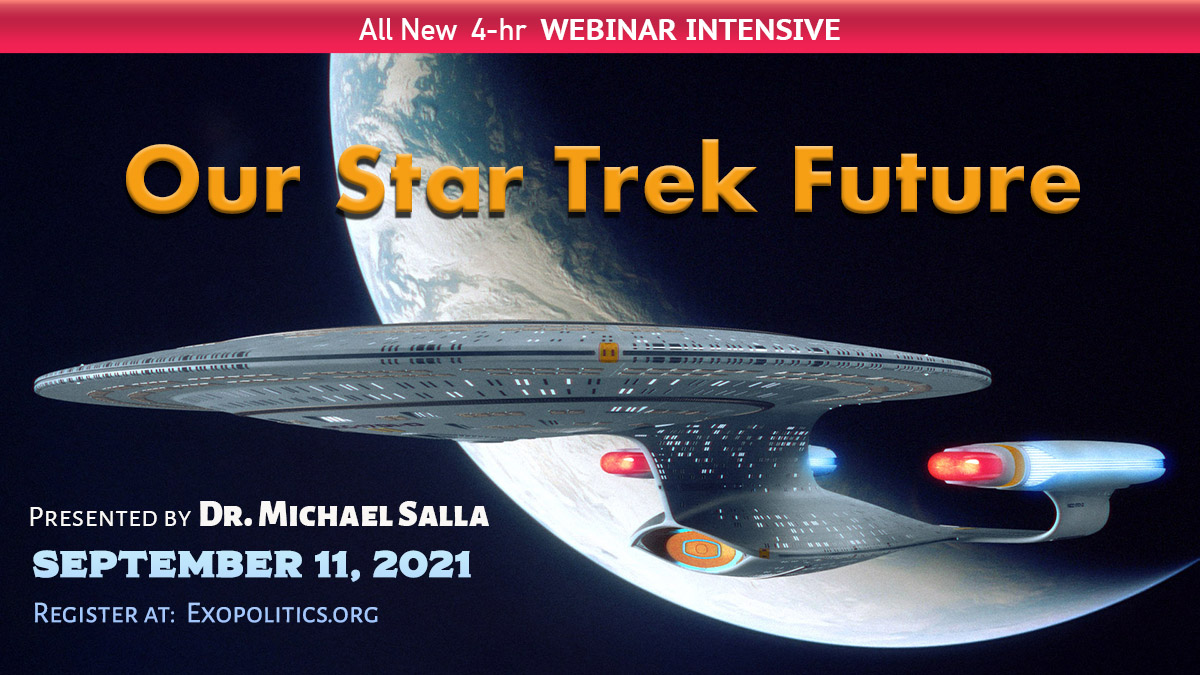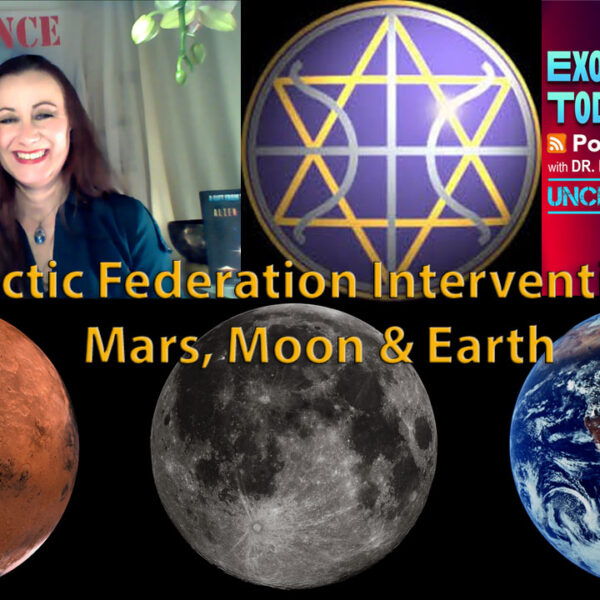 In this third interview on Exopolitics Today with Dr. Michael Salla, Elena Danaan discusses Galactic Federation operations against repressive extraterrestrial races on Mars, the Moon and Earth. Elena describes a Galactic Federation military intervention against Draconian (Ciakar) Reptilian and Tall Gray bases on Mars that she telepathically witnessed through her primary ET contact, Thor Han. She further explains how the Galactic Federation is able to intervene against advanced technologies built by the Deep State with the help of repressive alien groups designed to control and manipulate humanity. Finally, Elena discusses some spiritual techniques people can use to protect themselves against negative alien groups and how to raise one's frequency and consciousness.
Available on Rumble and YouTube
Earlier Exopolitics Today Interviews with Elena Danaan
Further Reading/Podcasts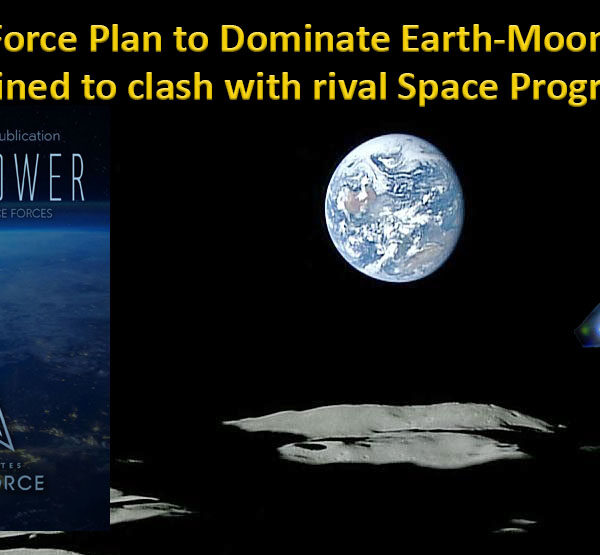 On August 10, the newly created U.S. Space Force released its "Spacepower Doctrine," defining its core identity and missions in space. Space Force will consider outer space to be a warfighting domain wherein military force will be projected into the Earth-Moon orbital environments to protect U.S. national interests and security.
In the short term, this means Space Force will compete with the rival aerospace forces established by China and Russia for space superiority. In the long term, Space Force is destined to clash with secret space programs run by a shadowy consortium of transnational corporations, and an even more elusive "Dark Fleet".
The latter is claimed by multiple insiders to belong to a German breakaway colony that transferred from Antarctica to Mars, taking with it, millions of people recruited by false inducements or forced into a life of slave labor.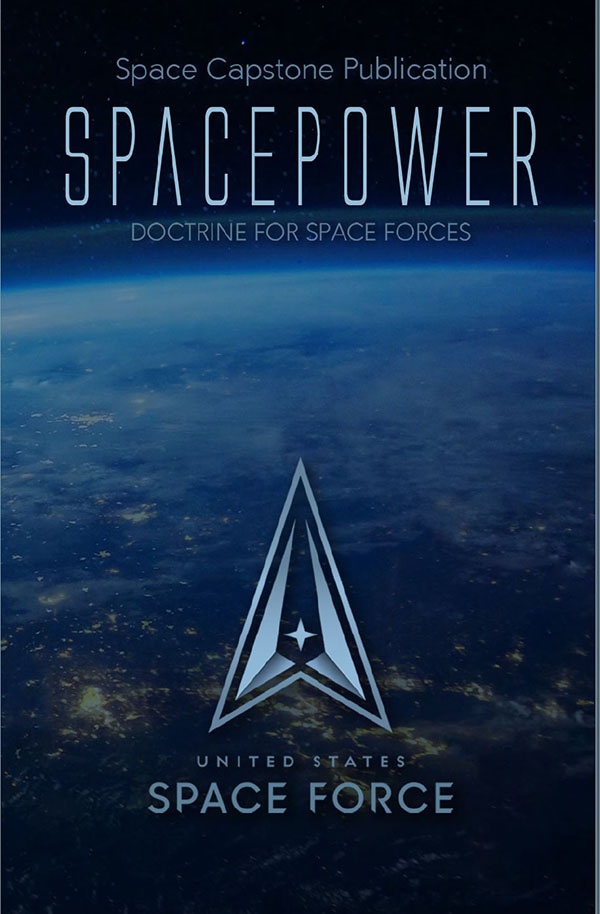 The 40-page document titled "Space Capstone Publication: Spacepower Doctrine for Space Forces" sets the tone for what follows with a 1962 statement by former President John F. Kennedy:
The eyes of the world now look into space, to the moon and to the planets beyond, and we have vowed that we shall not see it governed by a hostile flag of conquest, but by a banner of freedom and peace. [p. xiv]
The primary purpose of the document is described as follows:
The Space Capstone Publication is the inaugural doctrine manual for the United States Space Force, providing a basis for training and education, and informs decision-making, mission analysis, objectives, and the development of military space strategy in support of national security, national defense, and national military strategies. [p. xiv]
The document describes how space has dramatically changed from a domain involving peaceful cooperation and scientific exploration by the international community:
Space was once a sanctuary from attack, but the emergence, advanced development, and proliferation of a wide range of demonstrated counterspace weapons by potential adversaries has reversed this paradigm. Today, space, like all other domains, is realized to be contested due to the increasing threat to orbiting assets by adversary weapons systems. There is no forward edge of the battle area behind which military spacecraft can reconstitute and recover. Spacecraft remain in orbit through peace and war where they are potentially at risk from adversary counterspace capabilities and the hostile space environment. [p. 7]
The document goes on to explain how Space Force plans to integrate other nations sharing common interests similar to how the NATO Alliance was formed around the U.S. as the driving force to prevent aggression from the Warsaw Pact:
Military space forces are the warfighters who protect, defend, and project spacepower. They provide support, security, stability, and strategic effects by employing spacepower in, from, and to the space domain. This necessitates close collaboration and  cooperation with the U.S. Government, Allies, and partners and in accordance with domestic and international law. [p. xiii]
Space Force, however, plans to be far more than merely a multinational military operation:
Spacepower requires explorers, diplomats, entrepreneurs, scientists, developers, and warfighters. Military space forces — protectors of America's space interests — are first and foremost the warfighters who protect, defend, and project U.S. spacepower. These professionals must simultaneously commit themselves to two demanding professions: warfighting and the mastery of space. [p. xiv]
Space Force's overall mission is stated to be vital to long term U.S. national interest:
Access to space is essential to U.S. prosperity and security — it is a national imperative. The many benefits our Nation derives from space include mass communications, financial and economic information networks, public safety, weather monitoring, and military technology. Like any source of national power, the United States must cultivate, develop, and protect these benefits in order to secure continued prosperity. [p. 12]
Space is considered to be the future of economic growth and entrepreneurial activity, which is high among Space Force's core goals:
Today, the entirety of economic and military space activities is confined to the geocentric regime; however, commercial investments and new technologies have the potential to expand the reach of vital National space interests to the cislunar regime and beyond in the near future. As technology marches forward, U.S. military spacepower must harmonize with the other instruments of power to protect, defend, and maintain the Nation's strategic interests in space. [p. 14]
As far as future military conflict in space is concerned and the role of international law, this is what Space Force's capstone document has to say:
Military spacepower is inextricably linked to war. Military space forces must operate in this new warfighting domain to contribute to winning our Nation's wars. Thus, war's enduring nature and modern character shape and define military spacepower… [p. 16]
In keeping with international law, the United States acknowledges that the use of space is for peaceful purposes, while preparing for the reality that space must be defended from those who will seek to undermine our goals in space. [p. 17]
The capstone document provides an expansive view of potential enemies in space, and what Space Force needs to be prepared to do to protect U.S. interests:
Space warfare targets the mind of an adversary and seeks to neutralize their capability and will to resist. Military space forces compete against thinking actors who threaten our Nation's prosperity, security, or political aims. Thus, military space forces must prepare to outwit, outmaneuver, and dominate thinking, competent, and lethal aggressors who are attempting to thwart U.S. actions…
Military spacepower cannot unilaterally win wars, but like landpower, seapower, airpower, or cyberpower, its success, absence, or failure could prove catastrophically decisive in war. Because military spacepower has the potential to be the difference between victory and defeat, it must be viewed with equal importance as military power in any other domain. This observation is the strategic imperative for creating the United States Space Force as an independent military Service capable of maximizing military spacepower as a distinct and vital formulation of military power. [p. 21]
Evaluating the full significance of the capstone document requires appreciating both the near and long term challenges that Space Force has to face. In the short term, Space Force has to deal with the aerospace forces of both China and Russia, which have been modernizing rapidly with the growth in their respective economies.
China's economy, measured in Purchasing Power Parity, has already overtaken the U.S., and it is steadily increasing its military expenditures, especially in space which it considers to be the strategic high ground and the U.S. military's Achilles Heel.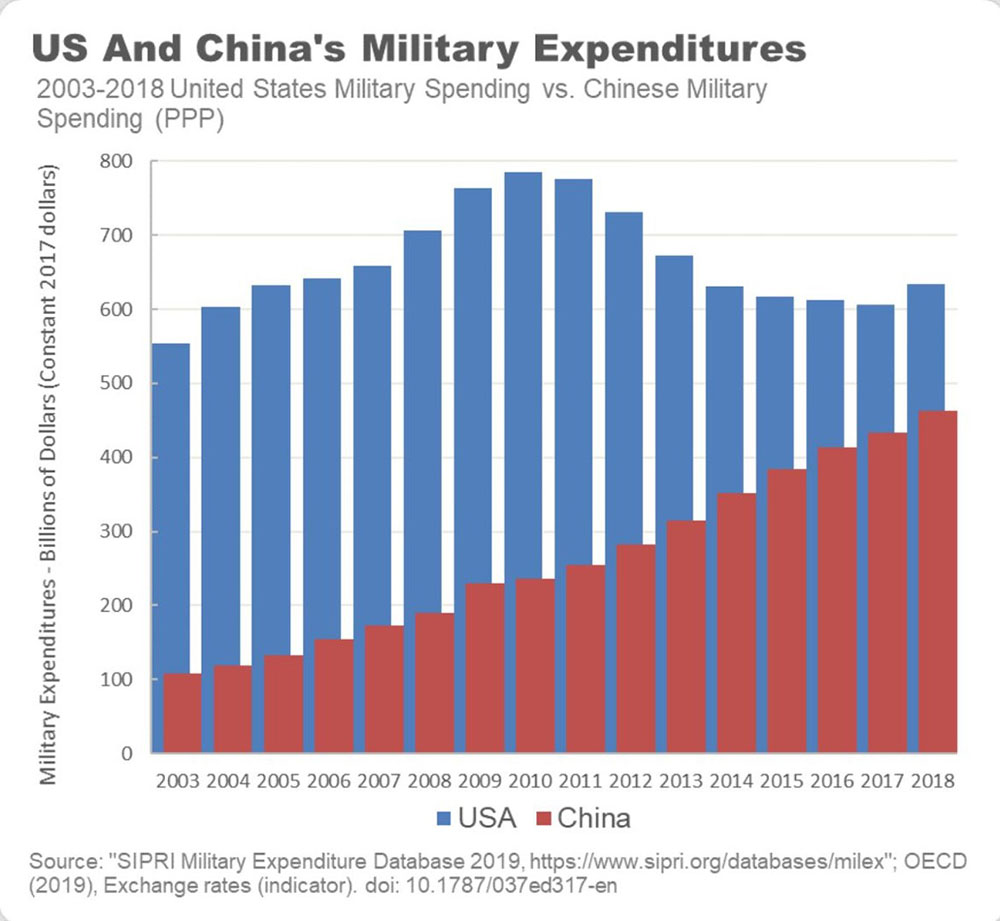 The possibility of China launching a "Space Pearl Harbor" is something that weighs heavily on the minds of U.S. military strategists, as I discuss at length in Rise of the Red Dragon (2020). Space Force's immediate goal will be to protect the U.S. satellite grid from a surprise Chinese attack, which would otherwise incapacitate the U.S. military all over the planet.
However, it is the long-term challenges to Space Force that are the most intriguing, and require considering a much wider scope of covert activities that have been occurring in space that date back to the World War II era.
It is crucial to keep in mind that Space Force will be covertly absorbing a Secret Space Program (SSP) established by the U.S. Air Force. The USAF SSP, which I described at length in the U.S. Air Force Secret Space Program and Shifting Extraterrestrial Alliances (2019), has covertly deployed squadrons of spacecraft using advanced antigravity propulsion, new energy technologies, and electromagnetic weapons systems.
These craft were reverse engineered from captured German and extraterrestrial spacecraft acquired after the end of World War II. Major US aerospace corporations collaborated with a transnational corporate consortium to secretly build these advanced craft for the USAF. The most advanced craft, however, were built for other customers, including a corporate-run SSP called the Interplanetary Corporate Conglomerate.
For much of its history, the USAF SSP operated covertly, performed ad hoc missions, had dubious legal standing, was funded by a CIA controlled black budget, and worked closely with the Deep State, a transnational corporate space program, and breakaway German colony in Antarctica.
All that changed in 2017, when the USAF learned about a far more powerful and better equipped US Navy SSP deploying battle groups led by kilometer long space carriers. Leaders of the USAF SSP realized that they had been deceived by the Deep State and their corporate/German allies who had not provided the most advanced technologies to them, as promised. See my 2019 book for more details on why the USAF SSP shifted its allegiance.
The emergence of Space Force will eventually end the chaotic and ad hoc operations of the USAF SSP, and transfer all of the latter's space assets into the control of a highly disciplined, transparent and lawfully established military space service working for U.S. national interests.
The ramifications of the Space Capstone Publication are therefore vitally important when considered in the context of how the assets of the USAF SSP were historically used to aid rogue operations contrived and controlled by the Deep State.
The long-term challenges faced by Space Force are fivefold. First, it will have to deal with nation-state peers such as China and Russia, which have the capability of launching a Space Pearl Harbor.
Second, Space Force will need to manage the more technologically advanced space programs of rogue non-state entities, the Interplanetary Corporate Conglomerate and the Dark Fleet, which possess fleets of more advanced and powerful spacecraft.  
Third, Space Force is destined to eventually merge with the US Navy SSP, whereby it becomes fully capable of handling threats posed by national rivals, rogue space entities, and aggressive extraterrestrial civilizations.
Fourth, Space Force will eventually have to confront an illicit galactic slave trade where millions of humans are taken off-planet each year and traded into a life of slavery. Will history repeat itself whereby Space Force emerges as a modern day Royal Navy whose 19th century West Africa Squadron intercepted slave ships on the high seas, but now ends the slave trade in Deep Space?
Finally, how much and when will Space Force leaders disclose to the American and World publics the truth about the dire situation confronting humanity with multiple secret space programs and extraterrestrial civilizations interacting with one another, and humanity?  Will Space Force be a conduit for full disclosure or limited hangouts that deceive humanity for years to come?
© Michael E. Salla, Ph.D. Copyright Notice
[Note: for audio version of this article, click here]
Further Reading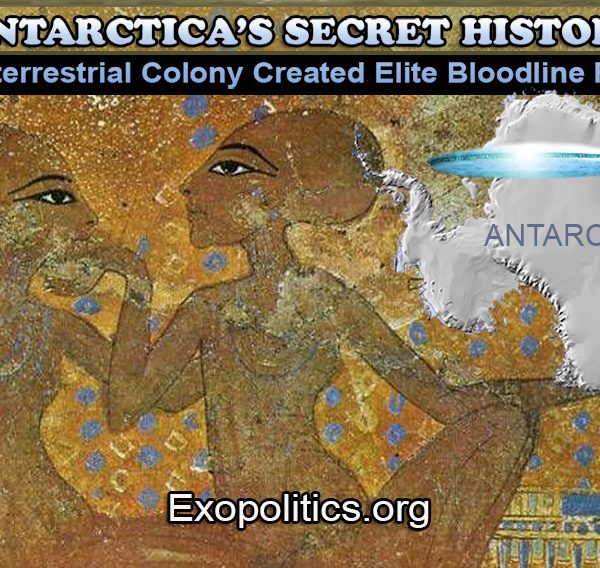 Secret Space Program whistleblower, Corey Goode, has revealed more startling information about Antarctica and its history as an extraterrestrial refugee colony established roughly 60,000 years ago. He asserts that the alien refugees found advanced "builder race" technologies there that were created over 1.8 billion years ago.
Equally intriguing is his claim that some of the extraterrestrial refugees are still alive today in stasis chambers, located inside 30 mile long motherships buried under 2000 feet of ice below Antarctica's Ross Ice Shelf.
In Goode's February 21, 2017 Cosmic Disclosure TV episode he stated that he continues to receive briefings from a USAF run secret space program about the excavations in Antarctica being conducted by archeologists, which began in 2002, In an earlier article, I described what Goode told me about the USAF briefings, and what he had encountered during a January 2017 visit to Antarctica with an Inner Earth civilization called the "Anshar".
In the Cosmic Disclosure episode, Goode provides more details and graphic depictions of what he personally witnessed in Antarctica. He describes the extraterrestrials as "Pre-Adamites", who were originally from Mars and a Super-Earth (Maldek) whose remains now form the Asteroid Belt. 
During their long history, he says that the inhabitants of Mars and Maldek fought a series of high tech wars back when Mars was a moon of Maldek. Approximately 500,000 years ago, these wars came to a climactic end with Maldek being obliterated.
Maldek's remains hit Mars with such force that the latter's surface cities on one side of the planet were totally destroyed, and most of its atmosphere was lost. This made life on Mars' surface very precarious at best, and led to planetary evacuation by the Martian survivors.
Billions of refugees from both Mars and Maldek found refuge on our present Moon. However, the time of the catastrophe our Moon was another satellite of Maldek, but it was artificially created with vast living areas in its interior as Goode has previously described.
The Pre-Adamites inhabited the Moon for approximately 440,000 years, and at some point during this period, according to information received by Goode, the Moon was moved into its present orbit around the Earth.
Eventually, another conflict forced the Pre-Adamites to the Moon, and they had to quickly move to the nearby Earth. They chose Antarctica to rebuild their civilization due in part to the existence of Ancient Builder race technologies, which were still functioning as Goode explained:
Then they [Pre-Adamites] end up on the Moon for a period of time. And then somehow they ended up getting chased off the Moon. There were some attacks that occurred, and after that they fled, but their craft were too damaged leave our solar system or make it to another planetary sphere. So since they had to crash-land on Earth, they decided that they would go to this one continent that still had working Ancient Builder Race technology that was . . . 1.8 billion years old.
The Pre-Adamites only had three motherships to use to establish their new colony on Earth after a crash landing in Antarctica. It was the technology in these motherships that gave the Pre-Adamites hope that they could rebuild their civilization:
Well, they only had the technology that they had on these three craft with them. That's all the technology they had. So they had to cannibalize and repurpose that technology from the spacecraft once they had crash-landed. And there were three that were extremely large. They were motherships.
This is where David Wilcock, the interviewer, had some corroborating information to share from another whistleblower, Dr. Pete Peterson, about the size and location of one of the discovered motherships:
David: And I want to point out, that this was one of the absolutely stunning details in which I start to ask Pete [Peterson] on the phone, "Do you know anything about Antarctica?"
And he independently says, "They're going to announce that they found a mothership." He only knew about one – a mothership that was 30 miles wide, mostly circular in shape – that's been found under the ice.
Goode describes the Pre-Adamites who settled Antarctica:
They range 12~14-foot tall. They have elongated skulls. They were very spindly, thin.
This suggests that the Pre-Adamites were likely the prior inhabitants of a lower gravity planet like Mars, which would facilitate gigantism. After spending over four hundred thousand years on the Moon with its even lower gravity field, the Pre-Adamites may have naturally increased in body height to finally result in their spindly 12-14 foot stature.
On Earth, because of its stronger gravity, the Pre-Adamites would find themselves at a clear disadvantage compared to the native inhabitants in terms of physical strength, speed and stamina. This meant that in terms of geopolitical power the Pre-Adamites would have to rely on the advanced technologies they had access to, the most advanced of which were located in Antarctica.
The Pre-Adamites soon needed hybrids to act as intermediates between themselves and the rest of the Earth's population. While the pure blood Pre-Adamites remained in Antarctica, close to their advanced technologies, the hybrid Pre-Adamites would be used to rule over humanity in the different colonies established around the planet, as Goode explained:
They had created hybrids because they could not operate in our environment very well. And they created hybrids of them and the humans that were here on Earth… all of the main Pre-Adamites that were pure blood were down in Antarctica … There was a group of these Pre-Adamites, of this Pre-Adamite bloodline, that was in the Central America, South America region, and there was another completely different bloodline group – both royals – in Asia and Europe.
This is consistent with what the Ancient Egyptian historian, Manetho, tells us about pre-dynastic times, the Gods directly ruled over Egypt, and then placed their off-spring, hybrids or demi-gods, in the leadership positions.
A similar scenario is described in the Sumerian King's List, which suggests that these historic documents are not mythical accounts of pre-history, but accurate historical records.
The Pre-Adamites, however, were not the only extraterrestrial race active on Earth 60,000 years ago according to Goode's sources. He says that among them was a non-human looking race, the Reptilians, who quickly emerged as the Pre-Adamites' primary rival in dominating planetary affairs.
Goode described the conflict between the Pre-Adamites and the Reptilians, and how to begin with, the Pre-Adamites having the upper hand due to their advanced technologies. However, the Reptilians would slowly gain ascendance after a series of "smaller catastrophes" that were a precursor to an even more destructive geological event that was to come:
Apparently these Pre-Adamites have been in conflicts with the Reptilians for a while. These Pre-Adamites they stated were not good guys at all, but were in some sort of a conflict with the Reptilians, and had actually kept the Reptilians in check here on the Earth during that time that they had crash-landed here.
There had been a couple other smaller catastrophes that happened where they had lost their power and the Reptilians always find an opportunity to come back in a moment of weakness.
During the major catastrophe (about 13,000 years ago) the Antarctica continent was flash frozen during a sudden pole shift, which cut off the Pre-Adamites' outposts around the world from their main base of power.
Now the Reptilians would become dominant in planetary affairs:
… But after these cataclysms that occurred on Earth, the Pre-Adamites and the Reptilians sort of had a truce or a treaty. And after that point, the Reptilians pretty much controlled all of Antarctica and the Pre-Adamites had zero ability to get access to their ancient technology, their libraries. Everything was down there.
Hybrids of the Pre-Adamites were able to escape the catastrophe in their global outposts, but those of the pure bloodline were stuck in Antarctica in their giant motherships.
This [Pre-Adamite] civilization controlled the entire planet. What little resources they had, they were able to control the planet. After this last cataclysm occurred, none of the survivors, Pre-Adamite survivors, had access to their technology.
So we mentioned the group that was in Asia, Pre-Adamite group, and there was another one in South America, Central America, they could no longer visit or communicate with each other. They were separated.
The elongated skulls found in South and Central America trace back to the Pre-Adamite hybrids who ruled over their colonies in these areas:
In South and Central America is where they had set up most of their enclaves. And they had been set up around other Pre-Adamite structures that were now destroyed because of the cataclysm. There were huge earthquakes that basically liquified the ground and a lot of the buildings, massive buildings, they had just fell apart and fell and sunk into the ground. They were running the hemisphere. They were mixing their genetics with some of the indigenous people of South and Central America. That's why we have elongated skulls beings that have a different colored skin but different genetic mix.
The two major Pre-Adamite colonies, one spanning Asia and Europe, while the other encompassed South and Central America, vied with each other in a competition between the bloodlines, which continues today through two major factions of the Illuminati:
And they had always had some sort of a competition between these two bloodline groups even before the cataclysm.This whole bloodline of these Cabal or Illuminati-type people, they trace their bloodlines through these Pre-Adamites.
If we accept that Reptilians are another extraterrestrial group that exercise great influence from behind the scenes, through their own hybrids, then we can see that the Earth's hidden rulers are divided into distinct factions with a long history of conflict stemming from rivalries.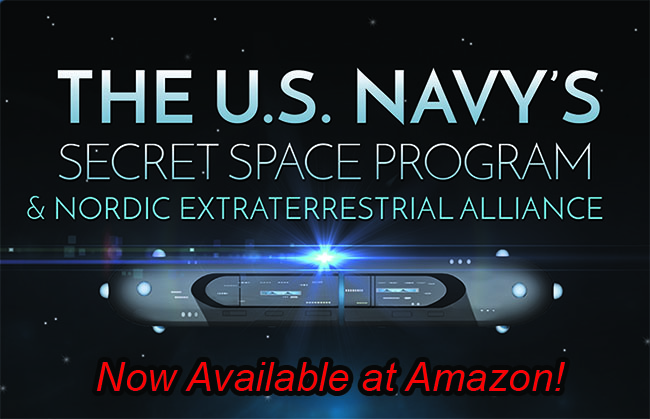 This is perhaps nowhere better exemplified than in the Book of Enoch, which describes different groups of "angels" at war with one another. In the Cosmic Disclosure interview, Goode and Wilcock exchanged the following on this subject:
David: So in the Book of Enoch, they're describing this group as the fallen angels.
Corey: Uh-huh.
David: So you're saying these Pre-Adamites with the elongated skulls, that that is the fallen angel storyline.
Corey: It is the fallen angel storyline, yes.
Many of the original refugee Pre-Adamites are currently in stasis in their motherships buried under the Antarctica ice:
Well, they had a number of beings that were in stasis. The information I received was that the surviving Pre-Adamites, the bloodline that originally came from another planet, had put themselves in stasis before this cataclysm occurred about 12,800 years ago. They have not awoken them yet. They're trying to decide what they're going to do.
Goode then goes into some detail about the "limited disclosure" plan, which involves sanitizing the archeological site of anything having to do with extraterrestrial life:
Now, another interesting note, we do have these archaeologists and employees of various universities that are down there excavating and documenting all of this, but what they have done, they being the Cabal, I guess you'll say, they have used these large electromagnetic submariines that I discussed earlier to take a lot of archaeological items that they had found in other digs that they were keeping suppressed from humanity, they had them in huge warehouses.
They were taking some of these artifacts down to Antarctica and seeding them. And this one large dig that these archaeologists are going to make public.
They are also removing any body that does not look human. And a lot of the human bodies, they don't look like they were slaves. They have tunics that have gold thread weaved in the tunics. They look royal.
The next step in this limited disclosure plan, according to Goode, is to slowly reveal in a many decades long process, the existence of secret space programs:
So they're planning on giving us a sanitized disclosure, and then over time they will disclose the Military-Industrial Complex Secret Space Program.
And after they do that, they'll say, "Oh, by the way, yeah, we've got this fairly advanced Secret Space Program, and while we've been out to other planets, we've found very similar ruins as we've found in Antarctica.
So they're going to try to trickle the information down over decades, and not immediately tell us about the ships they found and the high technology and non-humans.
What Goode has been told and personally witnessed in Antarctica tells us a lot about Antarctica's secret history, and the role of different extraterrestrial groups who established control over this vast icy continent almost double the size of the lower 48 US states. Goode also leaves us with a profound question to contemplate: "what happens when the Pre-Adamites are awakened in their stasis chambers and discover our current global civilization is very different to what they may desire?"
© Michael E. Salla, Ph.D. Copyright Notice 
Further Reading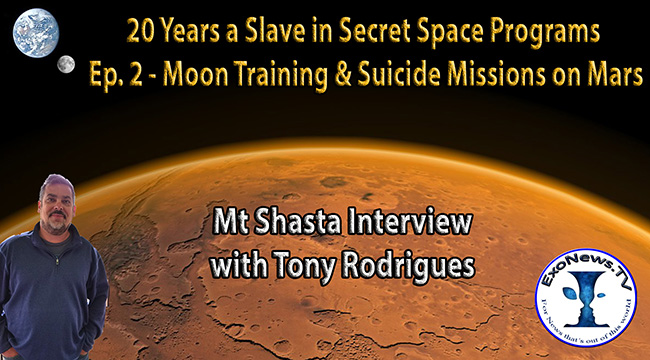 In this second episode of an interview with Tony Rodrigues conducted at Mt Shasta on August 29, we continue to learn critical information about how personnel are treated in secret space programs. Rodrigues says that he completed a 20 and back program from 1981 to 2001 in a number of covert programs including service with the least known of the programs, what has been called the "Dark Fleet".
Unlike prior participants of secret space programs who have come forward, Michael Relfe, Randy Cramer and Corey Goode, Rodrigues did not undergo a formal military induction process where he signed recruitment papers outlining the terms of his service, and the process by which he would be returned to civilian life.
Instead, Rodrigues was forced into service as a slave where he had no rights, and had to do whatever his superiors desired, as exemplified in the first episode where he was used as a drug courier and then as a sex slave.
In this episode, Rodrigues resumes his story after a three year period in Seattle, where in 1988, at age 16, he was again taken to the Moon, and given rudimentary training as a slave soldier who would be expected to perform suicide missions against insectoid and other extraterrestrial species.
The advanced healing technologies in these programs allowed for seriously injured slave soldiers to be rapidly healed so they could perform multiple missions.
After his short training on the Moon, Rodrigues was taken to Mars where he was expected to conduct suicide missions which would support regular Mars super soldiers in their battles with insectoids and other indigenous races.
In the following interview segment, Rodrigues describes his trip to the Moon and training there, before being taken to Mars to perform what amounted to suicide missions.
Click here for Part 1 of this series of interviews
Announcement: Documents and whistleblowers revealing the creation of antigravity spacecraft belonging U.S. secret space programs, and the testimony of whistleblowers will be presented in an upcoming lecture and workshops in Los Angeles (Oct 8-9) and San Francisco (Oct 14 & 16) by best-selling Amazon.com author Dr Michael Salla. More info here.
This article may be freely circulated in its entirity.
Further Reading