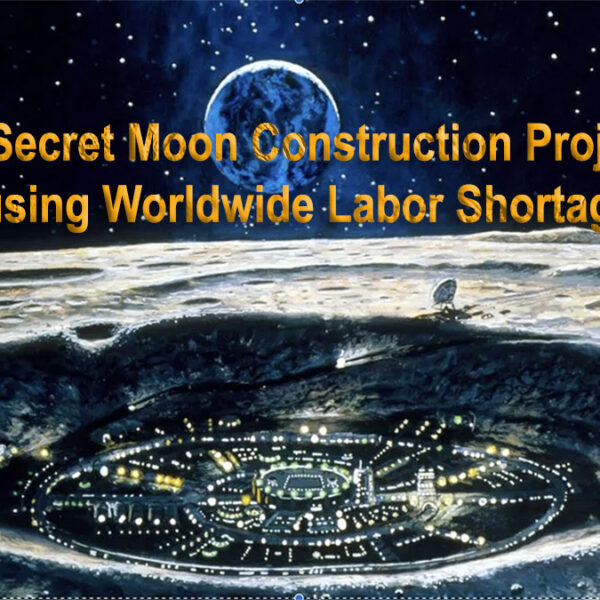 Thousands of small businesses have closed down in the US and around the world due to stringent lockdowns and other health restrictions caused by official government policies concerning the Covid 19 virus. Such business closures would normally result in a surplus of workers in a depressed labor market, where wages contract as millions compete for fewer available jobs. However, the opposite has happened in the US, which has greatly puzzled economists and financial experts.
Today, thousands of companies are desperate for labor and are offering bonuses and inducements for new workers to sign on.  This is how Newsweek explains the current US situation:
The labor shortage was a reversal from the earlier impact of the pandemic on labor. Initially, COVID-19 devastated the working class and parts of the private sector middle class; the harsh lockdowns imposed in many places caused upwards of one third of small businesses to close down permanently and decimated the service industry.
But as the economy has recovered, despite high unemployment over 6 percent and over 8 million fewer positions, there's a shortage of workers, including 7.4 million unfilled jobs.

The manufacturing sector has been particularly hard hit as explained by Arvind Kaushal, a Booz & Company manufacturing analyst who says that as many 600,000 new manufacturing jobs can't be filled. In particular, there's a shortage of welders, and this is expected to worsen so that by 2024 as many as 400,000 welding jobs won't be filled.
What's causing the labor shortage, especially in the manufacturing sector involving skilled blue collar jobs such welders? Are there enormous construction projects happening behind the scenes siphoning off hundreds of thousands of welders and other construction workers to classified facilities? The answer to these questions is literally out of this world.
In early September, I received intel drops from Val Nek, a representative of the Galactic Federation of Worlds, as relayed by one of his contactees, Megan Rose. In his September 7 update, he said that the Federation was helping humanity build a Starfleet, as well as new bases on the Moon and in Earth orbit for planetary defense. Val Nek said:
As you know, I have been working with US military officials to train and implement a fleet to protect and defend Terra. I want to reiterate that we have implemented technology to protect planet Terra. The star fleet, as you call it, is designed with higher density technology, making many of the new ships undetectable to the enemy. The enemy is unable to track or locate these ships due to the higher frequency. The ships have the capability to materialize and dematerialize in a lower density when necessary. This technology was given to the Terrans and must be built/produced by Terrans [so] as to be in accordance with the laws of the Federation.
Importantly, Val Nek identified the US as the leader in setting up a combined planetary defense force, as decided in the Jupiter Agreements reached in July 2021. Val Nek's intel is even more crucial to understand that even though the Galactic Federation can help humanity by sharing advanced defense-related technologies, these have to be built by humanity, aka 'Terrans' to abide by the Federation's Prime Directive, which was revealed in an earlier article.
All this defense construction is being done secretly and in remote locations such as the Moon. Hence the need for hundreds of thousands of workers, especially welders, for building the ships, bases, and technologies that would be part of a planetary defense force, aka Starfleet. This raises the question of how could so many workers be secretly shipped to the Moon?
In my September 10 article commenting on Val Nek's information, I cited one of my long-time sources, JP, who currently serves with the US Army and says that he and other military personnel have been doing an extensive number of classified construction-related missions to the Moon. He revealed that hybrid shuttlecraft have been built that combine human and extraterrestrial technologies for ferrying significant numbers of personnel and resources to and from the Moon. I further explained that JP's testimony is independent evidence corroborating Val Nek's information.
In a subsequent update on September 11, Val Nek revealed even more about the secret construction activities occurring on the Moon:
I can now report that Lunar Operations Command is in the process of being remodeled into a medical facility for the Terran military. There are technologies, as you know, being manufactured. I repeat again, that these technologies are advanced technologies from the Federation and are being manufactured by the Terran people. The technology that will be present in Lunar Operations Command are medical technologies. It will be used as a medical base for the Terran military.

Advanced health technologies would be vital for a planetary defense force equipped to fight against an invading extraterrestrial force. What is happening in addition to building medical facilities and technologies for the "Terran military" is that these advanced technologies are also being built for release to the rest of humanity, the "Terran people."
As in the case of building advanced military technologies, the advanced health technologies would have to be built by the "Terran people," in accordance with the Prime Directive of the Galactic Federation.
The mass production of advanced health technologies for both the combined military forces of the "Earth Alliance"—aka the Terran military/Starfleet—and the rest of humanity would also require many thousands of workers.
Given the scale of what is being mass produced on the Moon in terms of spacecraft and bases for planetary defense, and medical technologies for both military and civilian use, Val Nek's information provided a hint to the puzzling question of why the US was experiencing a labor shortage, especially of welders.
After receiving this intel, I wondered if all this secret mass production on the Moon could be related to the worldwide labor shortage. I asked Val Nek, and received his answer through Megan on September 18 as follows:
Indeed, we are requiring more personnel to complete these projects. They are projects that are on a massive scale and indeed require many laborers as you call them. While the Federation is not responsible for recruitment, I cannot confirm where exactly the personnel is coming from. But I can say that it would be likely they are also recruiting for a military presence in space as there is a shortage there also. The Corporations are also likely to start offering competitive pay and benefits since they will be mass producing these machines. They will likely require many personnel with an understanding of science and physics. That is all. I salute you. 
Val Nek is here confirming that that many laborers, which would include skilled workers such as welders, are required to build the various technologies and facilities for a planetary defense force. That would include both a real-life 'Starfleet' and also advanced medical technologies for widespread use by both the military and civilian sectors.
The scenario that appears to be unfolding today, according to Val Nek's intel, has eerie similarities to what was depicted in the movie Independence Day: Resurgence. In it, humanity fought off an invading extraterrestrial force, and over the next twenty years, built a comprehensive planetary defense force. Before the invaders returned, a positive group of extraterrestrials approached, offering to assist in our planetary defense. Was the movie a soft disclosure by White Hats/Earth Alliance for the situation we presently face as a planet?
There has been some skepticism towards the intel drops from Val Nek through Megan Rose. The information is startling, yet it provides a very plausible explanation for why there is a labor shortage in the US and around the globe occurring right now. The fact that welders are prominent among the missing US laborers is powerful circumstantial evidence supporting Val Nek's intel that a planetary defense force, a Starfleet, is being secretly built on the Moon and other construction facilities under US leadership.
It's highly unlikely that such a secret will hold for much longer, which does suggest that we are about to witness an incredible series of disclosures in the months ahead, where many advanced technologies, both with military and health applications, will be released to the world.
I wish to thank Megan Rose for relaying Val Nek's answer to my question. Her website is MeganRoseMedium.com
© Michael E. Salla, Ph.D. Copyright Notice
[Podcast Version of this article available on Apple, Google, & Spotify. Video Version is available on YouTube and Rumble]
Related Articles & Podcasts
For a complete list of articles and interviews concerning the Galactic Federation and/or featuring Megan Rose, Elena Danaan and other sources click here.
If you want to learn about the Galactic Federation's history, composition and activities in relation to current global events, then I recommend my upcoming Webinar.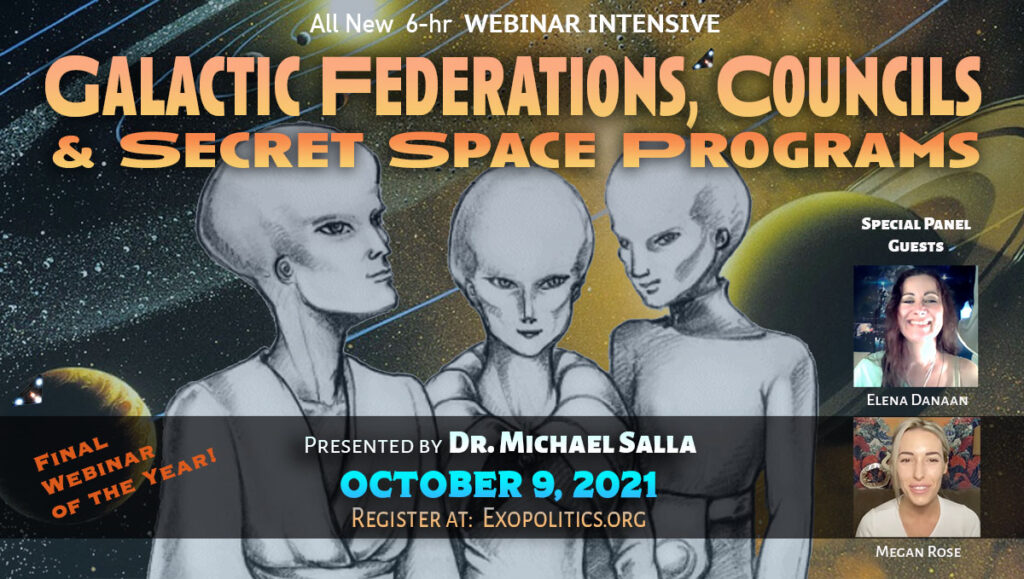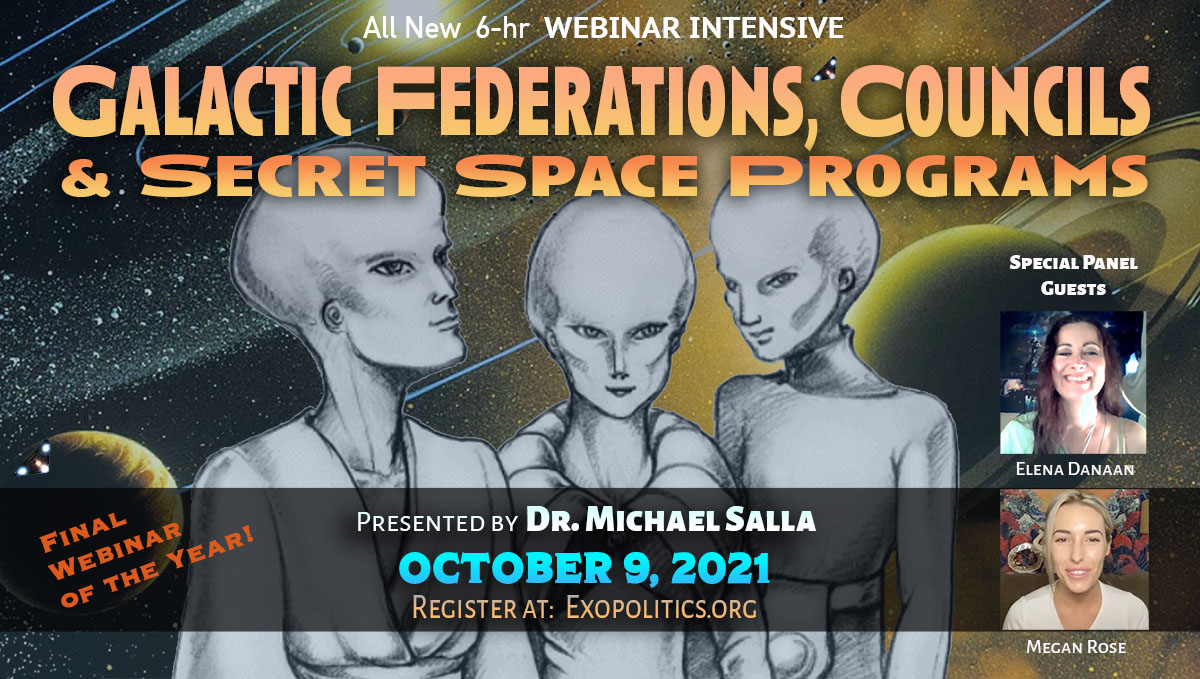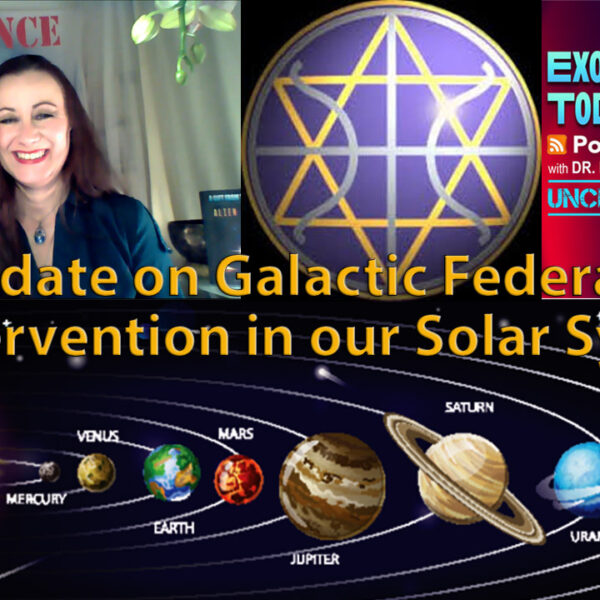 In this Exopolitics Today interview, Elena Danaan begins by giving a short account of her work as a professional archeologist for 20 years, and what she learned during her time in Egypt and evidence of extraterrestrial life. She goes on to give a comprehensive update on ongoing "Galactic Federation of Worlds" intervention on the Earth, Moon, Mars, Phobos and recent diplomatic meetings on Jupiter, which handed over responsibility of the solar system to a consortium of space faring nations making up the Artemis Accords.
Elena discusses how regressive extraterrestrial alliances—the Draco Reptilians and Orion Alliance—have been forced to abandon many of their outposts in the solar system. This has not only impacted the German-led "Dark Fleet" but also the Interplanetary Corporate Conglomerate (ICC), which used Antarctica and Mars as major bases of operations. Both the Dark Fleet and ICC have been forced to evacuate facilities on Earth, Moon, Mars, and elsewhere in the solar system according to Elena. On Mars, this has led to major bases being evacuated and the liberation of a captive slave work force.
Elena's startling information is corroborated by major developments in space as explained by Dr Michael Salla, who gives an account of how the Artemis Accords has led to major spacefaring nations quickly setting up space commands that aim to work alongside the US Space Command. Critically important is the eclipse of large aerospace companies such as Lockheed Martin, Northrup Grumann, Boeing, etc., that were affiliated with the ICC, and the rise of new aerospace companies such as Space X and Blue Origin which are being contracts by NASA to achieve important goals under the Artemis Accords.
The truth that emerges is that the Galactic Federation is encouraging the Earth Alliance/Artemis Accords nations to work with new "progressive companies", rather than those previously associated with the discredited ICC. What is vitally important about Elena's information is that it is real time observations by a member of the Galactic Federation who has been given permission to reveal the truth of what is happening today on Earth, the Moon and elsewhere in our solar system.
Interview available on Rumble and YouTube
Earlier Exopolitics Today Interviews with Elena Danaan
Further Reading/Podcasts
---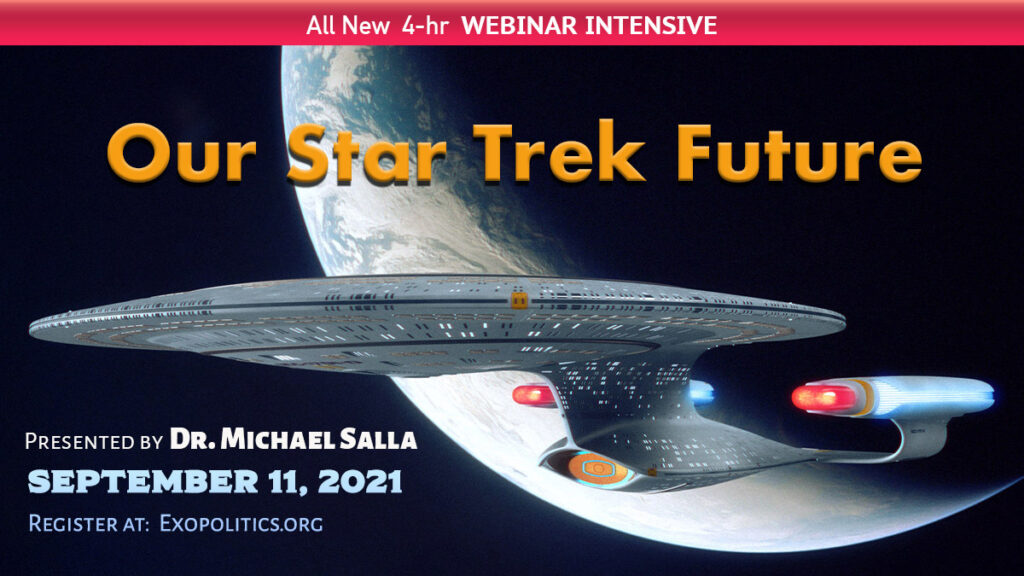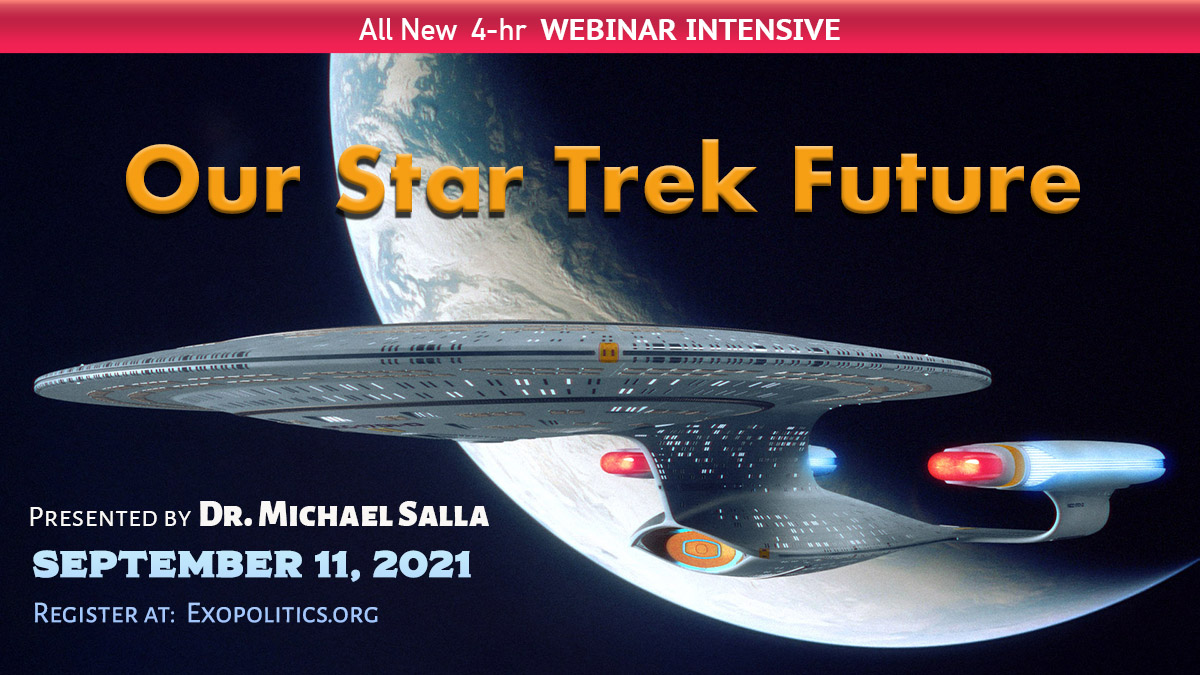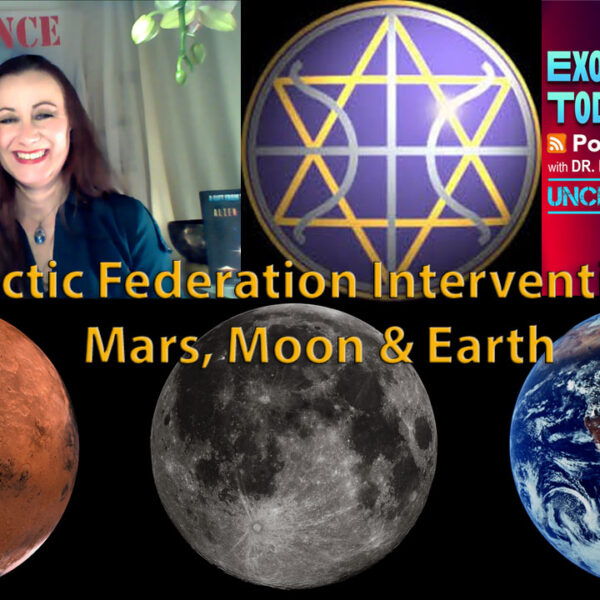 In this third interview on Exopolitics Today with Dr. Michael Salla, Elena Danaan discusses Galactic Federation operations against repressive extraterrestrial races on Mars, the Moon and Earth. Elena describes a Galactic Federation military intervention against Draconian (Ciakar) Reptilian and Tall Gray bases on Mars that she telepathically witnessed through her primary ET contact, Thor Han. She further explains how the Galactic Federation is able to intervene against advanced technologies built by the Deep State with the help of repressive alien groups designed to control and manipulate humanity. Finally, Elena discusses some spiritual techniques people can use to protect themselves against negative alien groups and how to raise one's frequency and consciousness.
Available on Rumble and YouTube
Earlier Exopolitics Today Interviews with Elena Danaan
Further Reading/Podcasts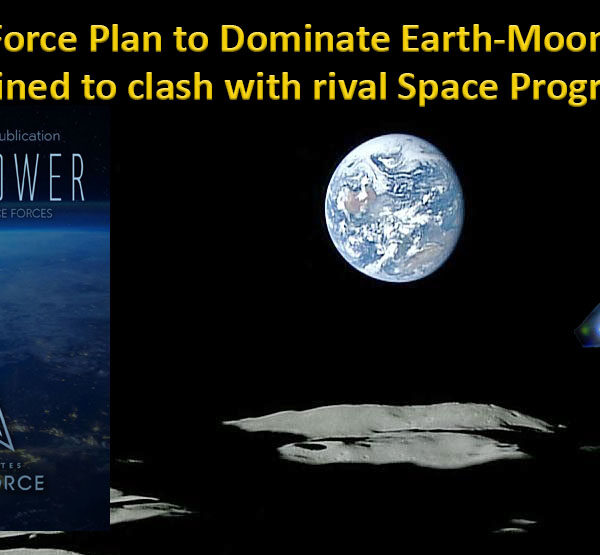 On August 10, the newly created U.S. Space Force released its "Spacepower Doctrine," defining its core identity and missions in space. Space Force will consider outer space to be a warfighting domain wherein military force will be projected into the Earth-Moon orbital environments to protect U.S. national interests and security.
In the short term, this means Space Force will compete with the rival aerospace forces established by China and Russia for space superiority. In the long term, Space Force is destined to clash with secret space programs run by a shadowy consortium of transnational corporations, and an even more elusive "Dark Fleet".
The latter is claimed by multiple insiders to belong to a German breakaway colony that transferred from Antarctica to Mars, taking with it, millions of people recruited by false inducements or forced into a life of slave labor.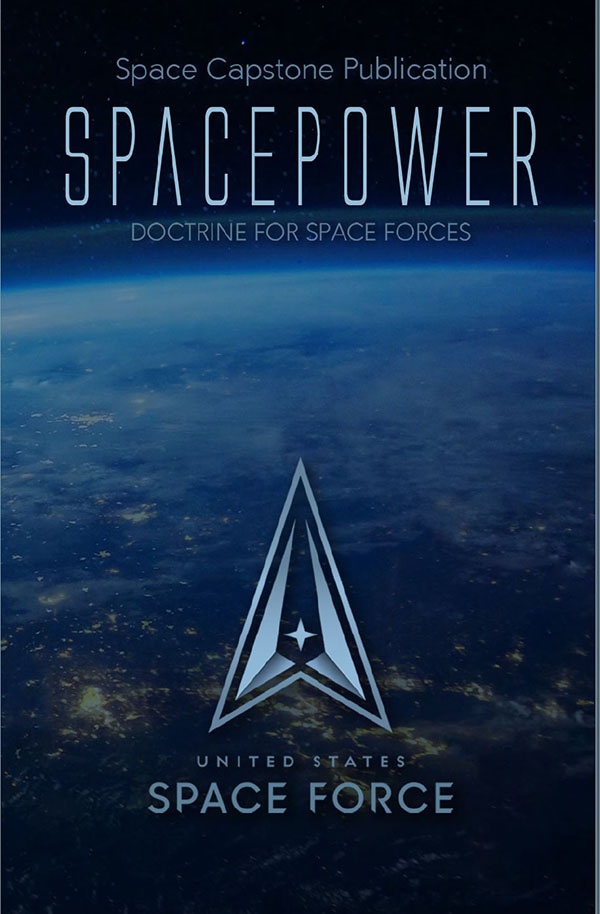 The 40-page document titled "Space Capstone Publication: Spacepower Doctrine for Space Forces" sets the tone for what follows with a 1962 statement by former President John F. Kennedy:
The eyes of the world now look into space, to the moon and to the planets beyond, and we have vowed that we shall not see it governed by a hostile flag of conquest, but by a banner of freedom and peace. [p. xiv]
The primary purpose of the document is described as follows:
The Space Capstone Publication is the inaugural doctrine manual for the United States Space Force, providing a basis for training and education, and informs decision-making, mission analysis, objectives, and the development of military space strategy in support of national security, national defense, and national military strategies. [p. xiv]
The document describes how space has dramatically changed from a domain involving peaceful cooperation and scientific exploration by the international community:
Space was once a sanctuary from attack, but the emergence, advanced development, and proliferation of a wide range of demonstrated counterspace weapons by potential adversaries has reversed this paradigm. Today, space, like all other domains, is realized to be contested due to the increasing threat to orbiting assets by adversary weapons systems. There is no forward edge of the battle area behind which military spacecraft can reconstitute and recover. Spacecraft remain in orbit through peace and war where they are potentially at risk from adversary counterspace capabilities and the hostile space environment. [p. 7]
The document goes on to explain how Space Force plans to integrate other nations sharing common interests similar to how the NATO Alliance was formed around the U.S. as the driving force to prevent aggression from the Warsaw Pact:
Military space forces are the warfighters who protect, defend, and project spacepower. They provide support, security, stability, and strategic effects by employing spacepower in, from, and to the space domain. This necessitates close collaboration and  cooperation with the U.S. Government, Allies, and partners and in accordance with domestic and international law. [p. xiii]
Space Force, however, plans to be far more than merely a multinational military operation:
Spacepower requires explorers, diplomats, entrepreneurs, scientists, developers, and warfighters. Military space forces — protectors of America's space interests — are first and foremost the warfighters who protect, defend, and project U.S. spacepower. These professionals must simultaneously commit themselves to two demanding professions: warfighting and the mastery of space. [p. xiv]
Space Force's overall mission is stated to be vital to long term U.S. national interest:
Access to space is essential to U.S. prosperity and security — it is a national imperative. The many benefits our Nation derives from space include mass communications, financial and economic information networks, public safety, weather monitoring, and military technology. Like any source of national power, the United States must cultivate, develop, and protect these benefits in order to secure continued prosperity. [p. 12]
Space is considered to be the future of economic growth and entrepreneurial activity, which is high among Space Force's core goals:
Today, the entirety of economic and military space activities is confined to the geocentric regime; however, commercial investments and new technologies have the potential to expand the reach of vital National space interests to the cislunar regime and beyond in the near future. As technology marches forward, U.S. military spacepower must harmonize with the other instruments of power to protect, defend, and maintain the Nation's strategic interests in space. [p. 14]
As far as future military conflict in space is concerned and the role of international law, this is what Space Force's capstone document has to say:
Military spacepower is inextricably linked to war. Military space forces must operate in this new warfighting domain to contribute to winning our Nation's wars. Thus, war's enduring nature and modern character shape and define military spacepower… [p. 16]
In keeping with international law, the United States acknowledges that the use of space is for peaceful purposes, while preparing for the reality that space must be defended from those who will seek to undermine our goals in space. [p. 17]
The capstone document provides an expansive view of potential enemies in space, and what Space Force needs to be prepared to do to protect U.S. interests:
Space warfare targets the mind of an adversary and seeks to neutralize their capability and will to resist. Military space forces compete against thinking actors who threaten our Nation's prosperity, security, or political aims. Thus, military space forces must prepare to outwit, outmaneuver, and dominate thinking, competent, and lethal aggressors who are attempting to thwart U.S. actions…
Military spacepower cannot unilaterally win wars, but like landpower, seapower, airpower, or cyberpower, its success, absence, or failure could prove catastrophically decisive in war. Because military spacepower has the potential to be the difference between victory and defeat, it must be viewed with equal importance as military power in any other domain. This observation is the strategic imperative for creating the United States Space Force as an independent military Service capable of maximizing military spacepower as a distinct and vital formulation of military power. [p. 21]
Evaluating the full significance of the capstone document requires appreciating both the near and long term challenges that Space Force has to face. In the short term, Space Force has to deal with the aerospace forces of both China and Russia, which have been modernizing rapidly with the growth in their respective economies.
China's economy, measured in Purchasing Power Parity, has already overtaken the U.S., and it is steadily increasing its military expenditures, especially in space which it considers to be the strategic high ground and the U.S. military's Achilles Heel.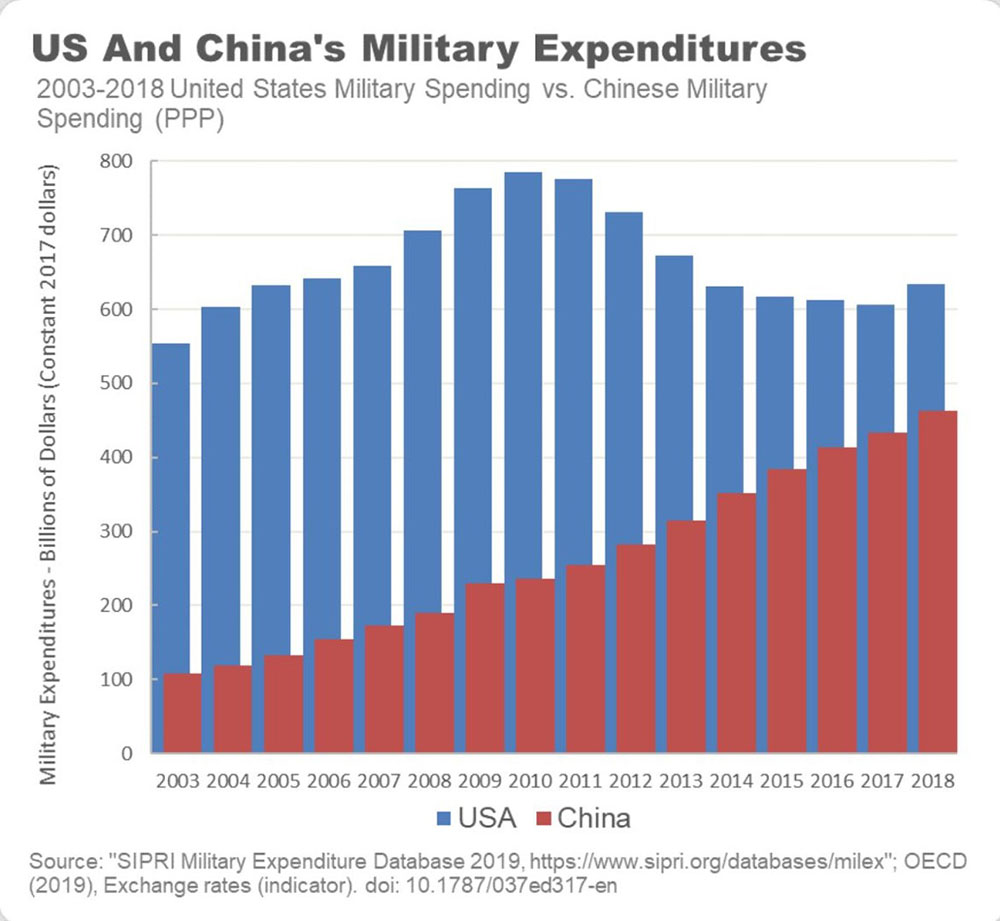 The possibility of China launching a "Space Pearl Harbor" is something that weighs heavily on the minds of U.S. military strategists, as I discuss at length in Rise of the Red Dragon (2020). Space Force's immediate goal will be to protect the U.S. satellite grid from a surprise Chinese attack, which would otherwise incapacitate the U.S. military all over the planet.
However, it is the long-term challenges to Space Force that are the most intriguing, and require considering a much wider scope of covert activities that have been occurring in space that date back to the World War II era.
It is crucial to keep in mind that Space Force will be covertly absorbing a Secret Space Program (SSP) established by the U.S. Air Force. The USAF SSP, which I described at length in the U.S. Air Force Secret Space Program and Shifting Extraterrestrial Alliances (2019), has covertly deployed squadrons of spacecraft using advanced antigravity propulsion, new energy technologies, and electromagnetic weapons systems.
These craft were reverse engineered from captured German and extraterrestrial spacecraft acquired after the end of World War II. Major US aerospace corporations collaborated with a transnational corporate consortium to secretly build these advanced craft for the USAF. The most advanced craft, however, were built for other customers, including a corporate-run SSP called the Interplanetary Corporate Conglomerate.
For much of its history, the USAF SSP operated covertly, performed ad hoc missions, had dubious legal standing, was funded by a CIA controlled black budget, and worked closely with the Deep State, a transnational corporate space program, and breakaway German colony in Antarctica.
All that changed in 2017, when the USAF learned about a far more powerful and better equipped US Navy SSP deploying battle groups led by kilometer long space carriers. Leaders of the USAF SSP realized that they had been deceived by the Deep State and their corporate/German allies who had not provided the most advanced technologies to them, as promised. See my 2019 book for more details on why the USAF SSP shifted its allegiance.
The emergence of Space Force will eventually end the chaotic and ad hoc operations of the USAF SSP, and transfer all of the latter's space assets into the control of a highly disciplined, transparent and lawfully established military space service working for U.S. national interests.
The ramifications of the Space Capstone Publication are therefore vitally important when considered in the context of how the assets of the USAF SSP were historically used to aid rogue operations contrived and controlled by the Deep State.
The long-term challenges faced by Space Force are fivefold. First, it will have to deal with nation-state peers such as China and Russia, which have the capability of launching a Space Pearl Harbor.
Second, Space Force will need to manage the more technologically advanced space programs of rogue non-state entities, the Interplanetary Corporate Conglomerate and the Dark Fleet, which possess fleets of more advanced and powerful spacecraft.  
Third, Space Force is destined to eventually merge with the US Navy SSP, whereby it becomes fully capable of handling threats posed by national rivals, rogue space entities, and aggressive extraterrestrial civilizations.
Fourth, Space Force will eventually have to confront an illicit galactic slave trade where millions of humans are taken off-planet each year and traded into a life of slavery. Will history repeat itself whereby Space Force emerges as a modern day Royal Navy whose 19th century West Africa Squadron intercepted slave ships on the high seas, but now ends the slave trade in Deep Space?
Finally, how much and when will Space Force leaders disclose to the American and World publics the truth about the dire situation confronting humanity with multiple secret space programs and extraterrestrial civilizations interacting with one another, and humanity?  Will Space Force be a conduit for full disclosure or limited hangouts that deceive humanity for years to come?
© Michael E. Salla, Ph.D. Copyright Notice
[Note: for audio version of this article, click here]
Further Reading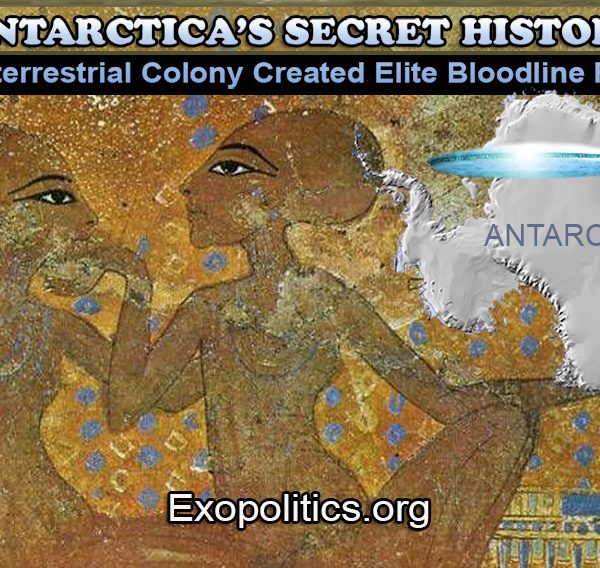 Secret Space Program whistleblower, Corey Goode, has revealed more startling information about Antarctica and its history as an extraterrestrial refugee colony established roughly 60,000 years ago. He asserts that the alien refugees found advanced "builder race" technologies there that were created over 1.8 billion years ago.
Equally intriguing is his claim that some of the extraterrestrial refugees are still alive today in stasis chambers, located inside 30 mile long motherships buried under 2000 feet of ice below Antarctica's Ross Ice Shelf.
In Goode's February 21, 2017 Cosmic Disclosure TV episode he stated that he continues to receive briefings from a USAF run secret space program about the excavations in Antarctica being conducted by archeologists, which began in 2002, In an earlier article, I described what Goode told me about the USAF briefings, and what he had encountered during a January 2017 visit to Antarctica with an Inner Earth civilization called the "Anshar".
In the Cosmic Disclosure episode, Goode provides more details and graphic depictions of what he personally witnessed in Antarctica. He describes the extraterrestrials as "Pre-Adamites", who were originally from Mars and a Super-Earth (Maldek) whose remains now form the Asteroid Belt. 
During their long history, he says that the inhabitants of Mars and Maldek fought a series of high tech wars back when Mars was a moon of Maldek. Approximately 500,000 years ago, these wars came to a climactic end with Maldek being obliterated.
Maldek's remains hit Mars with such force that the latter's surface cities on one side of the planet were totally destroyed, and most of its atmosphere was lost. This made life on Mars' surface very precarious at best, and led to planetary evacuation by the Martian survivors.
Billions of refugees from both Mars and Maldek found refuge on our present Moon. However, the time of the catastrophe our Moon was another satellite of Maldek, but it was artificially created with vast living areas in its interior as Goode has previously described.
The Pre-Adamites inhabited the Moon for approximately 440,000 years, and at some point during this period, according to information received by Goode, the Moon was moved into its present orbit around the Earth.
Eventually, another conflict forced the Pre-Adamites to the Moon, and they had to quickly move to the nearby Earth. They chose Antarctica to rebuild their civilization due in part to the existence of Ancient Builder race technologies, which were still functioning as Goode explained:
Then they [Pre-Adamites] end up on the Moon for a period of time. And then somehow they ended up getting chased off the Moon. There were some attacks that occurred, and after that they fled, but their craft were too damaged leave our solar system or make it to another planetary sphere. So since they had to crash-land on Earth, they decided that they would go to this one continent that still had working Ancient Builder Race technology that was . . . 1.8 billion years old.
The Pre-Adamites only had three motherships to use to establish their new colony on Earth after a crash landing in Antarctica. It was the technology in these motherships that gave the Pre-Adamites hope that they could rebuild their civilization:
Well, they only had the technology that they had on these three craft with them. That's all the technology they had. So they had to cannibalize and repurpose that technology from the spacecraft once they had crash-landed. And there were three that were extremely large. They were motherships.
This is where David Wilcock, the interviewer, had some corroborating information to share from another whistleblower, Dr. Pete Peterson, about the size and location of one of the discovered motherships:
David: And I want to point out, that this was one of the absolutely stunning details in which I start to ask Pete [Peterson] on the phone, "Do you know anything about Antarctica?"
And he independently says, "They're going to announce that they found a mothership." He only knew about one – a mothership that was 30 miles wide, mostly circular in shape – that's been found under the ice.
Goode describes the Pre-Adamites who settled Antarctica:
They range 12~14-foot tall. They have elongated skulls. They were very spindly, thin.
This suggests that the Pre-Adamites were likely the prior inhabitants of a lower gravity planet like Mars, which would facilitate gigantism. After spending over four hundred thousand years on the Moon with its even lower gravity field, the Pre-Adamites may have naturally increased in body height to finally result in their spindly 12-14 foot stature.
On Earth, because of its stronger gravity, the Pre-Adamites would find themselves at a clear disadvantage compared to the native inhabitants in terms of physical strength, speed and stamina. This meant that in terms of geopolitical power the Pre-Adamites would have to rely on the advanced technologies they had access to, the most advanced of which were located in Antarctica.
The Pre-Adamites soon needed hybrids to act as intermediates between themselves and the rest of the Earth's population. While the pure blood Pre-Adamites remained in Antarctica, close to their advanced technologies, the hybrid Pre-Adamites would be used to rule over humanity in the different colonies established around the planet, as Goode explained:
They had created hybrids because they could not operate in our environment very well. And they created hybrids of them and the humans that were here on Earth… all of the main Pre-Adamites that were pure blood were down in Antarctica … There was a group of these Pre-Adamites, of this Pre-Adamite bloodline, that was in the Central America, South America region, and there was another completely different bloodline group – both royals – in Asia and Europe.
This is consistent with what the Ancient Egyptian historian, Manetho, tells us about pre-dynastic times, the Gods directly ruled over Egypt, and then placed their off-spring, hybrids or demi-gods, in the leadership positions.
A similar scenario is described in the Sumerian King's List, which suggests that these historic documents are not mythical accounts of pre-history, but accurate historical records.
The Pre-Adamites, however, were not the only extraterrestrial race active on Earth 60,000 years ago according to Goode's sources. He says that among them was a non-human looking race, the Reptilians, who quickly emerged as the Pre-Adamites' primary rival in dominating planetary affairs.
Goode described the conflict between the Pre-Adamites and the Reptilians, and how to begin with, the Pre-Adamites having the upper hand due to their advanced technologies. However, the Reptilians would slowly gain ascendance after a series of "smaller catastrophes" that were a precursor to an even more destructive geological event that was to come:
Apparently these Pre-Adamites have been in conflicts with the Reptilians for a while. These Pre-Adamites they stated were not good guys at all, but were in some sort of a conflict with the Reptilians, and had actually kept the Reptilians in check here on the Earth during that time that they had crash-landed here.
There had been a couple other smaller catastrophes that happened where they had lost their power and the Reptilians always find an opportunity to come back in a moment of weakness.
During the major catastrophe (about 13,000 years ago) the Antarctica continent was flash frozen during a sudden pole shift, which cut off the Pre-Adamites' outposts around the world from their main base of power.
Now the Reptilians would become dominant in planetary affairs:
… But after these cataclysms that occurred on Earth, the Pre-Adamites and the Reptilians sort of had a truce or a treaty. And after that point, the Reptilians pretty much controlled all of Antarctica and the Pre-Adamites had zero ability to get access to their ancient technology, their libraries. Everything was down there.
Hybrids of the Pre-Adamites were able to escape the catastrophe in their global outposts, but those of the pure bloodline were stuck in Antarctica in their giant motherships.
This [Pre-Adamite] civilization controlled the entire planet. What little resources they had, they were able to control the planet. After this last cataclysm occurred, none of the survivors, Pre-Adamite survivors, had access to their technology.
So we mentioned the group that was in Asia, Pre-Adamite group, and there was another one in South America, Central America, they could no longer visit or communicate with each other. They were separated.
The elongated skulls found in South and Central America trace back to the Pre-Adamite hybrids who ruled over their colonies in these areas:
In South and Central America is where they had set up most of their enclaves. And they had been set up around other Pre-Adamite structures that were now destroyed because of the cataclysm. There were huge earthquakes that basically liquified the ground and a lot of the buildings, massive buildings, they had just fell apart and fell and sunk into the ground. They were running the hemisphere. They were mixing their genetics with some of the indigenous people of South and Central America. That's why we have elongated skulls beings that have a different colored skin but different genetic mix.
The two major Pre-Adamite colonies, one spanning Asia and Europe, while the other encompassed South and Central America, vied with each other in a competition between the bloodlines, which continues today through two major factions of the Illuminati:
And they had always had some sort of a competition between these two bloodline groups even before the cataclysm.This whole bloodline of these Cabal or Illuminati-type people, they trace their bloodlines through these Pre-Adamites.
If we accept that Reptilians are another extraterrestrial group that exercise great influence from behind the scenes, through their own hybrids, then we can see that the Earth's hidden rulers are divided into distinct factions with a long history of conflict stemming from rivalries.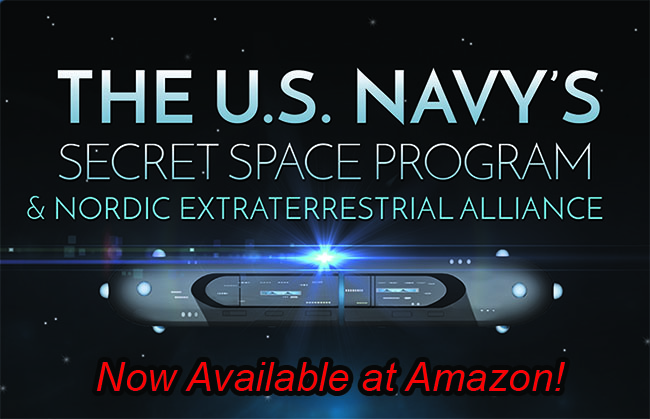 This is perhaps nowhere better exemplified than in the Book of Enoch, which describes different groups of "angels" at war with one another. In the Cosmic Disclosure interview, Goode and Wilcock exchanged the following on this subject:
David: So in the Book of Enoch, they're describing this group as the fallen angels.
Corey: Uh-huh.
David: So you're saying these Pre-Adamites with the elongated skulls, that that is the fallen angel storyline.
Corey: It is the fallen angel storyline, yes.
Many of the original refugee Pre-Adamites are currently in stasis in their motherships buried under the Antarctica ice:
Well, they had a number of beings that were in stasis. The information I received was that the surviving Pre-Adamites, the bloodline that originally came from another planet, had put themselves in stasis before this cataclysm occurred about 12,800 years ago. They have not awoken them yet. They're trying to decide what they're going to do.
Goode then goes into some detail about the "limited disclosure" plan, which involves sanitizing the archeological site of anything having to do with extraterrestrial life:
Now, another interesting note, we do have these archaeologists and employees of various universities that are down there excavating and documenting all of this, but what they have done, they being the Cabal, I guess you'll say, they have used these large electromagnetic submariines that I discussed earlier to take a lot of archaeological items that they had found in other digs that they were keeping suppressed from humanity, they had them in huge warehouses.
They were taking some of these artifacts down to Antarctica and seeding them. And this one large dig that these archaeologists are going to make public.
They are also removing any body that does not look human. And a lot of the human bodies, they don't look like they were slaves. They have tunics that have gold thread weaved in the tunics. They look royal.
The next step in this limited disclosure plan, according to Goode, is to slowly reveal in a many decades long process, the existence of secret space programs:
So they're planning on giving us a sanitized disclosure, and then over time they will disclose the Military-Industrial Complex Secret Space Program.
And after they do that, they'll say, "Oh, by the way, yeah, we've got this fairly advanced Secret Space Program, and while we've been out to other planets, we've found very similar ruins as we've found in Antarctica.
So they're going to try to trickle the information down over decades, and not immediately tell us about the ships they found and the high technology and non-humans.
What Goode has been told and personally witnessed in Antarctica tells us a lot about Antarctica's secret history, and the role of different extraterrestrial groups who established control over this vast icy continent almost double the size of the lower 48 US states. Goode also leaves us with a profound question to contemplate: "what happens when the Pre-Adamites are awakened in their stasis chambers and discover our current global civilization is very different to what they may desire?"
© Michael E. Salla, Ph.D. Copyright Notice 
Further Reading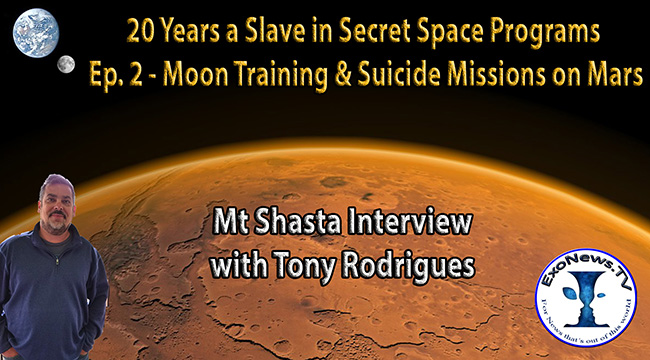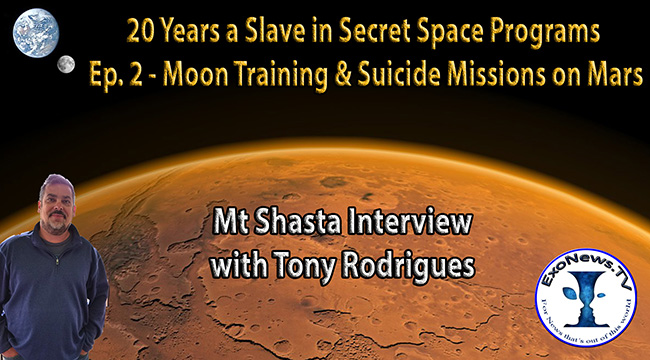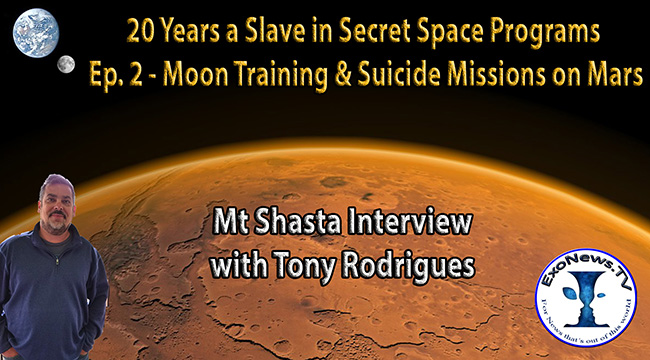 In this second episode of an interview with Tony Rodrigues conducted at Mt Shasta on August 29, we continue to learn critical information about how personnel are treated in secret space programs. Rodrigues says that he completed a 20 and back program from 1981 to 2001 in a number of covert programs including service with the least known of the programs, what has been called the "Dark Fleet".
Unlike prior participants of secret space programs who have come forward, Michael Relfe, Randy Cramer and Corey Goode, Rodrigues did not undergo a formal military induction process where he signed recruitment papers outlining the terms of his service, and the process by which he would be returned to civilian life.
Instead, Rodrigues was forced into service as a slave where he had no rights, and had to do whatever his superiors desired, as exemplified in the first episode where he was used as a drug courier and then as a sex slave.
In this episode, Rodrigues resumes his story after a three year period in Seattle, where in 1988, at age 16, he was again taken to the Moon, and given rudimentary training as a slave soldier who would be expected to perform suicide missions against insectoid and other extraterrestrial species.
The advanced healing technologies in these programs allowed for seriously injured slave soldiers to be rapidly healed so they could perform multiple missions.
After his short training on the Moon, Rodrigues was taken to Mars where he was expected to conduct suicide missions which would support regular Mars super soldiers in their battles with insectoids and other indigenous races.
In the following interview segment, Rodrigues describes his trip to the Moon and training there, before being taken to Mars to perform what amounted to suicide missions.
Click here for Part 1 of this series of interviews
Announcement: Documents and whistleblowers revealing the creation of antigravity spacecraft belonging U.S. secret space programs, and the testimony of whistleblowers will be presented in an upcoming lecture and workshops in Los Angeles (Oct 8-9) and San Francisco (Oct 14 & 16) by best-selling Amazon.com author Dr Michael Salla. More info here.
This article may be freely circulated in its entirity.
Further Reading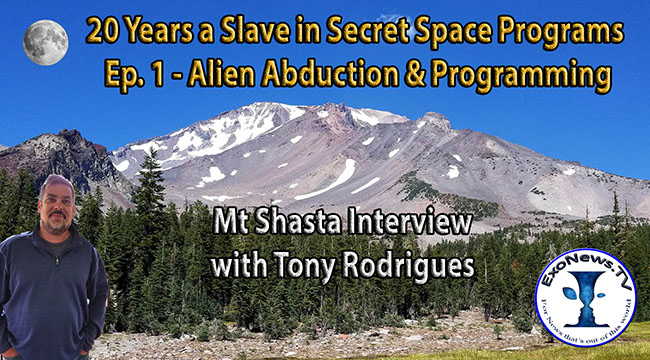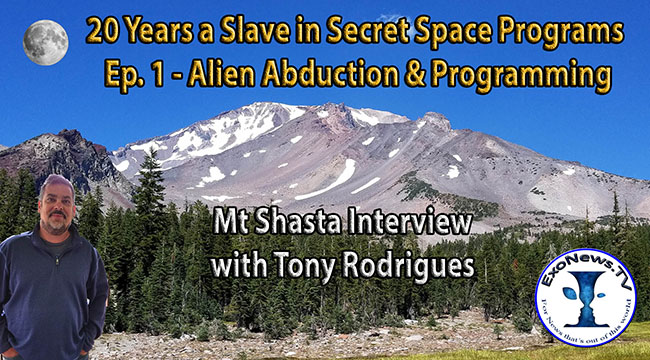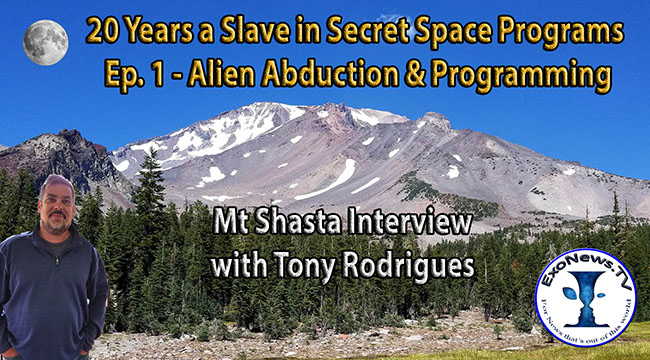 A new witness to secret space programs has publicly come forward to give details about how these programs operate in recruiting and treating personnel who are considered to be 'slaves' with no rights.
Tony Rodriques claims that in 1981, when only nine years old and in 4th grade, he was involuntarily recruited into a "twenty and back" program as punishment for something he did to one of his class room peers.
He publicly embarrassed the son of a high level member of the Illuminati and Rodrigues says that he was soon after abducted by five aliens. He was then genetically tested to determine what skills he possessed, which could be used in covert 'support' programs and eventually for the secret space programs themselves when he got older.
Rodrigues says that he was first forced to work as a psychic for a drug running operation out of Peru for four years, before being recruited as a sex worker in the area of Seattle from age 13. When he turned 16 years old, in 1988, he was taken to the Moon to be tested for any skills he possessed that would be of most benefit for service in the secret space programs.
After briefly serving on Mars as a slave fighter for a mercenary military force protecting corporate bases from indigenous Martians, he says was taken to Ceres, a planetoid in the asteroid belt, where he worked for 13 years with a German led freighter crew that was part of the "Dark Fleet," which was initially set up by Nazi Germany during World War II.
The first public reference to the "Dark Fleet" was by Corey Goode who listed it as one of five secret space programs he was familiar with in early 2015. The existence of a Nazi linked secret space program was subsequently confirmed by William Tompkins in early 2016. Both Goode and Tompkins said that slave labor was used extensively by the Dark Fleet.
I was first contacted by Rodrigues on August 15, 2015, and have spent more than a year vetting Tony's testimony with the support of two other researchers, Morgan Starr and Rob Potter, who released the first audio interview of Rodrigues on Sept 23. Our conclusion is that Rodrigues is being truthful, sincere and consistent in describing events he recalls experiencing during a twenty and back secret space program.
Rodriges was publicly identified by Rob Potter on the last day of the Secret Space Program Conference held at Mount Shasta from August 26-28. I subsequently interviewed him for Exonews.TV from the speaker lodge at the conference on the morning of August 29.
In this first episode in a five part series on ExoNews TV, Rodrigues explains the event that led to his involuntary recruitment into a twenty and back program, and his first trip to the Moon in 1981.
In the next episode, we will learn what happened to Rodrigues when he was taken seven years later, in 1988, when he was 16, to the moon where he was trained for his first assignment for a secret space program with military and corporate facilities on Mars.
Michael E. Salla, Ph.D.
Announcement: Documents and first hand witness reports revealing the creation of antigravity spacecraft belonging U.S. secret space programs, and the testimony of witnesses, will be presented in an upcoming lecture and workshops in Los Angeles (Oct 8-9) and San Francisco (Oct 14 & 16) by best-selling Amazon.com author Dr Michael Salla. More info here.
This article may be freely circulated in its entirity.

Further Reading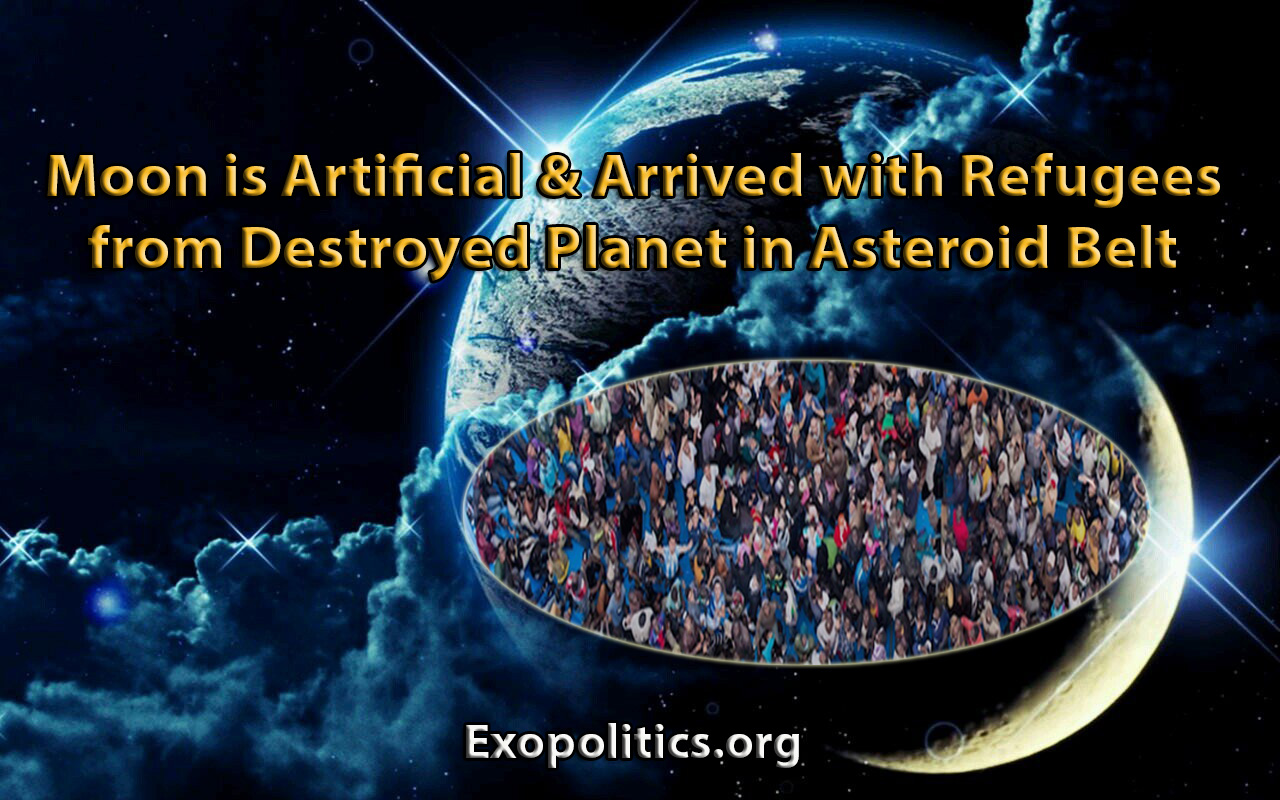 According to secret space program whistleblower Corey Goode, there was once a "Super Earth" in the asteroid belt with human looking giants who were involved in a devastating galactic war that destroyed their planet. Goode claims in yesterday's episode of Cosmic Disclosure that many of the giants fled the destruction via one of their artificially created moons, which was sent into an orbit around the Earth approximately 500,000 years ago.
Goode says that the smart glass pads he read during his 20 year service with different secret space programs from 1987 to 2007 provided two explanations for the moon's artificial nature. One was that it was a hollowed out natural moon, and the second was that it was a giant orbiting space station.
Goode then says that waves of refugees from the Super Earth began arriving on Earth during different stages in the period spanning the former planet's destruction. One of these waves was associated with the arrival of the Moon that was teeming with refugees.
The refugees arrival on Earth created armed conflict with advanced indigenous human groups that had previously escaped into the Earth's interior from cataclysms, and were helping survivors on the surface rebuild society. In previous episodes, Goode says that these breakaway "Inner Earth" groups date as far back as 18 million years, inhabit vast caverns as large as the U.S. state of Texas, and possess advanced space craft.
In addition, different extraterrestrial groups had established colonies on the Earth's surface where long term genetic experiments had begun – 22 according to Goode and the contactee, Alex Collier. The arrival of the different extraterrestrial groups and their genetic manipulation of surface humans had previously created conflict between the Inner Earth civilizations and the extraterrestrial human hybrid colonies on the surface.
The arrival of the Moon with refugees possessing advanced technologies threatened to upset the delicate balance of power that had been achieved on the Earth between the Inner Earth and surface civilizations. There were subsequent military battles between the Inner Earth civilizations, extraterrestrial visitors and the Super Earth refugees on the Moon, according to Goode.
Evidence of these ancient Moon battles can be witnessed today in the form of the remnants of giant crystal domes, huge towers and square structures, which Goode says he directly witnessed while flying over the moon's surface. Support for Goode's astounding claim comes from the research of Richard Hoagland who has conducted extensive digital analysis of much NASA lunar imagery, which he concluded revealed the remnants of giant glass/crystal structures all over the Moon:

Goode's incredible claims about the history of the Moon are part of a two part series of Cosmic Disclosure episodes on a Super Earth that once orbited the sun in the region of the asteroid belt. The previous episode discussed how Mars was also once a moon orbiting the Super Earth.
Mars at the time had sufficient water and oxygen rich atmosphere to host a large population on its surface. The events that led to the Super Earth's destruction also wiped out much of the surface population on Mars, and removed the bulk of its atmosphere according to what Goode read on the smart glass pads. The force of the Super Earth's destruction propelled Mars into its present planetary orbit.
Goode and Wilcock's discussion of the destruction of a Super Earth reveals astonishing historical facts that are very helpful for understanding our real galactic history. So was there a Super Earth that was destroyed in a titanic battle, which resulted in one of its moons being sent into Earth orbit, and another being sent into its present orbit as the planet Mars?
The first major scientist to seriously research the possibility that the asteroid belt is the remains of a former planet is Dr. Thomas Van Flandern, who was the chief astronomer at the U.S. Naval Observatory. He wrote several academic papers on what he described as the Exploded Planet Hypothesis, which suggested that several asteroid belts in our solar system arose from the destruction of planets stretching all the way back to the beginning of the solar system:

Putting all this evidence together, we have strong hints for two original planets near what is now the main asteroid belt: hypothetical "Planet V" and "Planet K". These were probably gas giant planets with moons of significant size, such as Mars, before they exploded. We have hints of two more asteroid belts, probably from the explosions of two more planets ("Planet T" and "Planet X") beyond Neptune. And we have hints for two extra-large gas giant planets, "Planet A" and "Planet B", that exploded back near the solar system beginning.

Van Flandern elaborated on his proposal that Mars was once a moon of a destroyed planet in the asteroid belt:
The above summarizes evidence that Mars was not an original planet, but rather a moon of a now-exploded planet occupying that approximate orbit. Many of these points are the expected consequences of having a massive planet blow up nearby, thereby blasting the facing hemisphere and leaving the shielded hemisphere relatively unscathed. Especially significant in this regard is the fact that half of Mars is saturated with craters, and half is only sparsely cratered. Moreover, the crustal thickness has apparently been augmented over one hemisphere by up to 20 km or so, gradually tapering off near the hemisphere boundaries.

Van Flandern's Exploded Planet Hypothesis lends scientific support to Goode's claims about both the Moon and Mars being two former moons of a Super Earth.
If Goode is correct, then prior to the Moon's arrival approximately 500,000 years ago, the Earth had no moon. Indeed, there is historical evidence that the Moon was a late arrival to the Earth. Immanuel Velikovsky found numerous historical references to pre-lunar cultures on Earth, some of which he described as follows:
The period when the Earth was Moonless is probably the most remote recollection of mankind. Democritus and Anaxagoras taught that there was a time when the Earth was without the Moon. Aristotle wrote that Arcadia in Greece, before being inhabited by the Hellenes, had a population of Pelasgians, and that these aborigines occupied the land already before there was a moon in the sky above the Earth; for this reason they were called Proselenes.
Apollonius of Rhodes mentioned the time "when not all the orbs were yet in the heavens, before the Danai and Deukalion races came into existence, and only the Arcadians lived, of whom it is said that they dwelt on mountains and fed on acorns, before there was a moon."
Plutarch wrote in The Roman Questions: "There were Arcadians of Evander's following, the so-called pre-Lunar people."
Goode's revelations about a Super Earth and the cataclysmic events surrounding its destruction are shocking. If accurate, as the research of Dr. Van Flandern and additional independent evidence suggests so far, then Goode has opened the door to better understanding the real history of our Earth, Moon, Mars and the solar system more generally.
Goode and Wilcock's Cosmic Disclosure series continues to surprise and enlighten as it discloses many aspects of galactic history discovered by secret space programs, which are for the first time allowing much of this information to be released to the general public through Goode and other whistleblowers.
© Michael E. Salla, Ph.D. Copyright Notice
Further Reading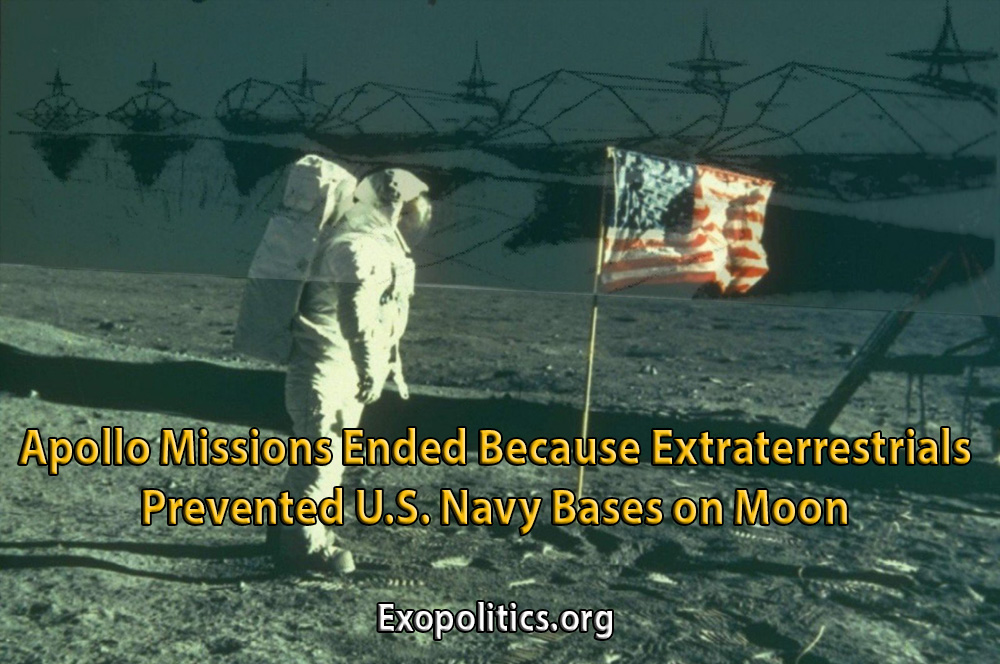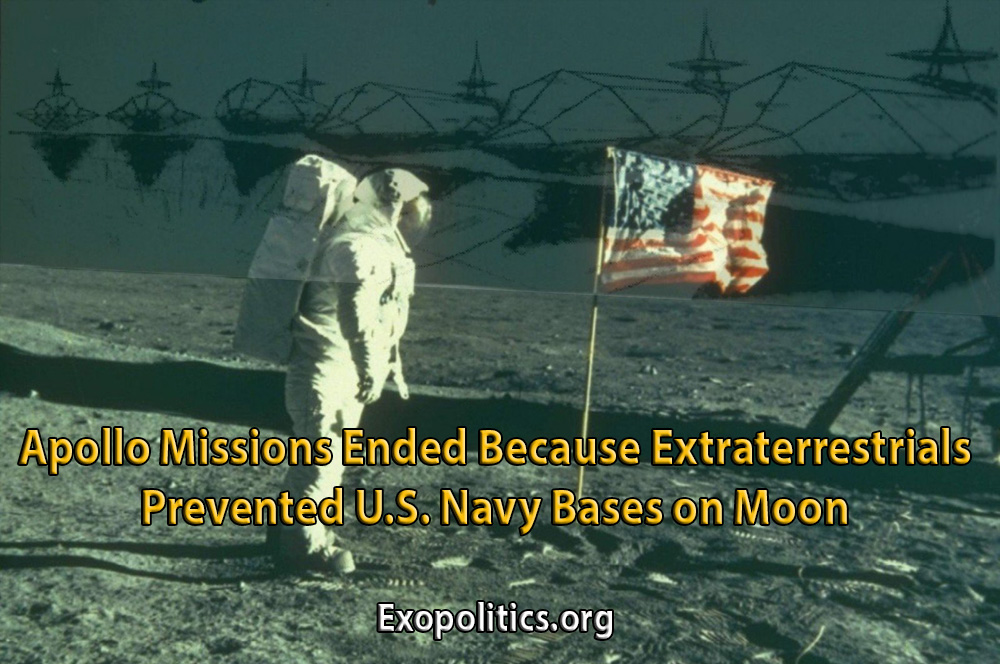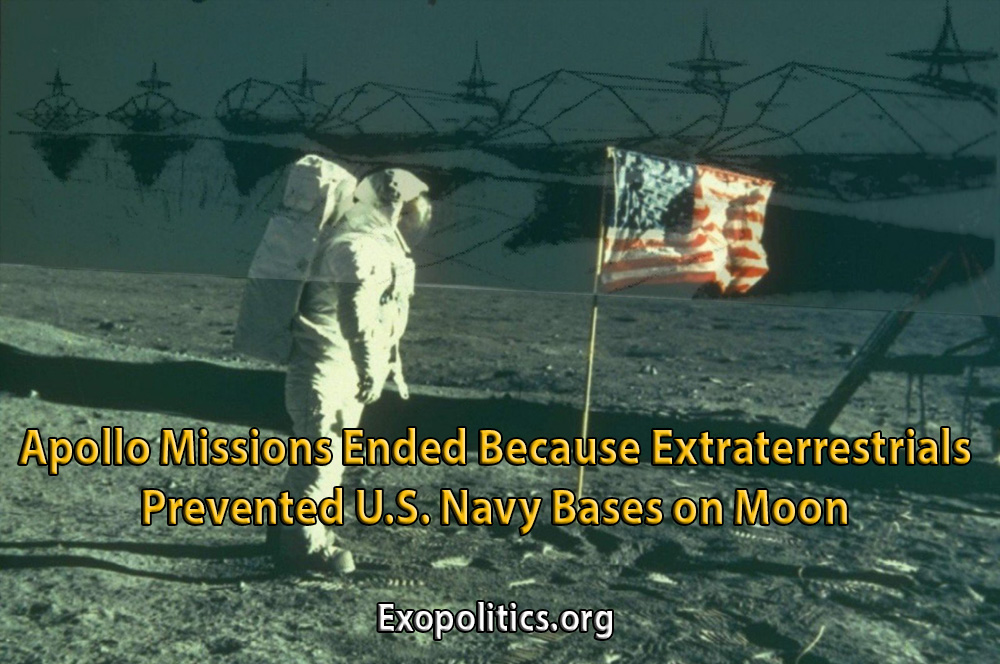 The U.S. Navy planned to put 10,000 people on the Moon in the early 1970's as part of a secret lunar bases program that was to be established through the NASA Apollo program. According to William Tompkins, a top aerospace designer who worked for major NASA corporate contractors during the Apollo era, the covert Navy plan came to a crushing end during the Apollo 11 mission when Neil Armstrong and Buzz Aldrin were met by a fleet of menacing extraterrestrial spacecraft.
Tompkins' account of what really happened on the Moon is explained in his recently published autobiography, Selected By Extraterrestrials. At the time of the Moon landing, Tompkins worked for TRW, a leading aerospace corporation that built the first NASA satellite, Pioneer 1.
TRW was responsible for a range of critical components used in Apollo spacecraft, and its personnel were in the operations center for Apollo missions. Tompkins was a TRW employee from July 1967 to March 1971, and describes his role in helping design the Launch Operations Center at Cape Canaveral, Florida.
Earlier, during the final two years of his 12 year employment at the Douglas Aviation Company (1950-1963), Tompkins' innovative designs for planned Apollo missions had greatly impressed Dr. Kurt H. Debus. In July 1962, Debus had become the first Director of NASA's Launch Operation Center (renamed the Kennedy Space Center after the JFK Assassination), a position he held until his retirement in November 1974.
In 1963, Debus appointed Tompkins to a Working Group for the future Launch Operations Center. The two held many confidential meetings over the future of the Apollo program, and discussed its real mission as part of an ambitious Navy space program called "NOVA" for secretly establishing military garrisons on the Moon, Mars and nearby star systems.
The Apollo Moon landings were only the first stage of an ambitious four stage plan for NOVA. Stage 2 of NOVA was to put 10,000 people on the Moon. Stage 3 was to place bases on Mars and other planetary bodies in the Solar System. Finally, Stage 4 was to place manned Navy bases in 12 adjoining star systems.  
To support his radical claims, Tompkins provided several documents in his autobiography. The first is a 1963 Douglas Aviation Company study of the launch vehicles to be used in the covert NOVA program.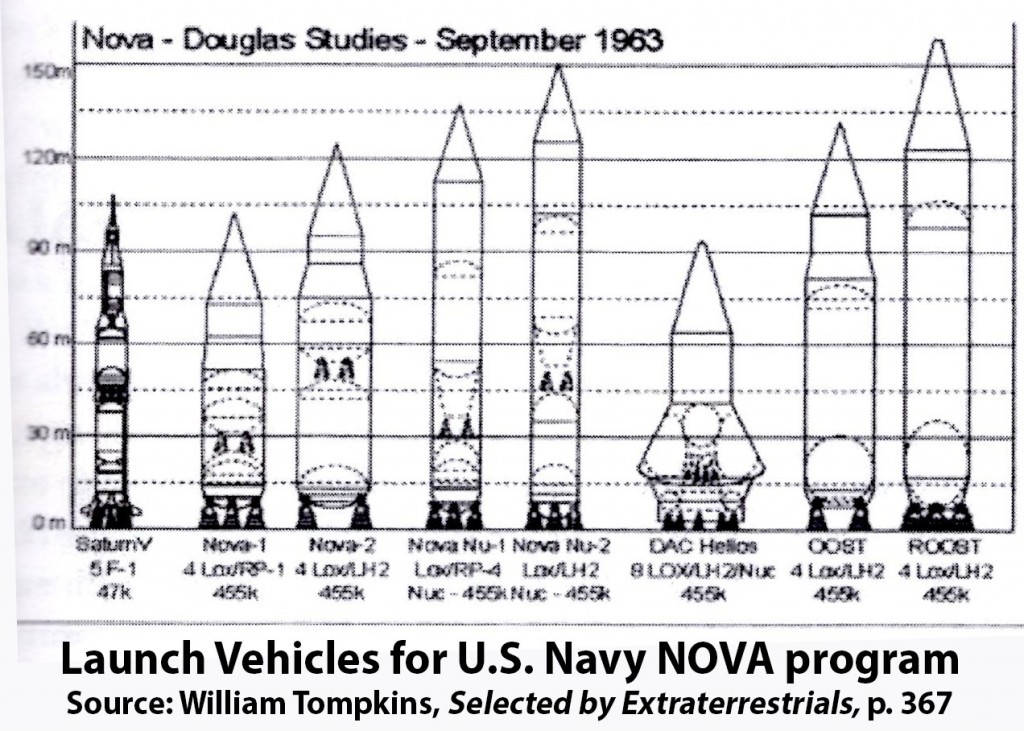 The second is an April 15, 1963 Memorandum from the Douglas Aviation Company. It confirms Tompkins' appointment by Dr. Debus to the Launch Operations Center and the designs he was working on for NASA.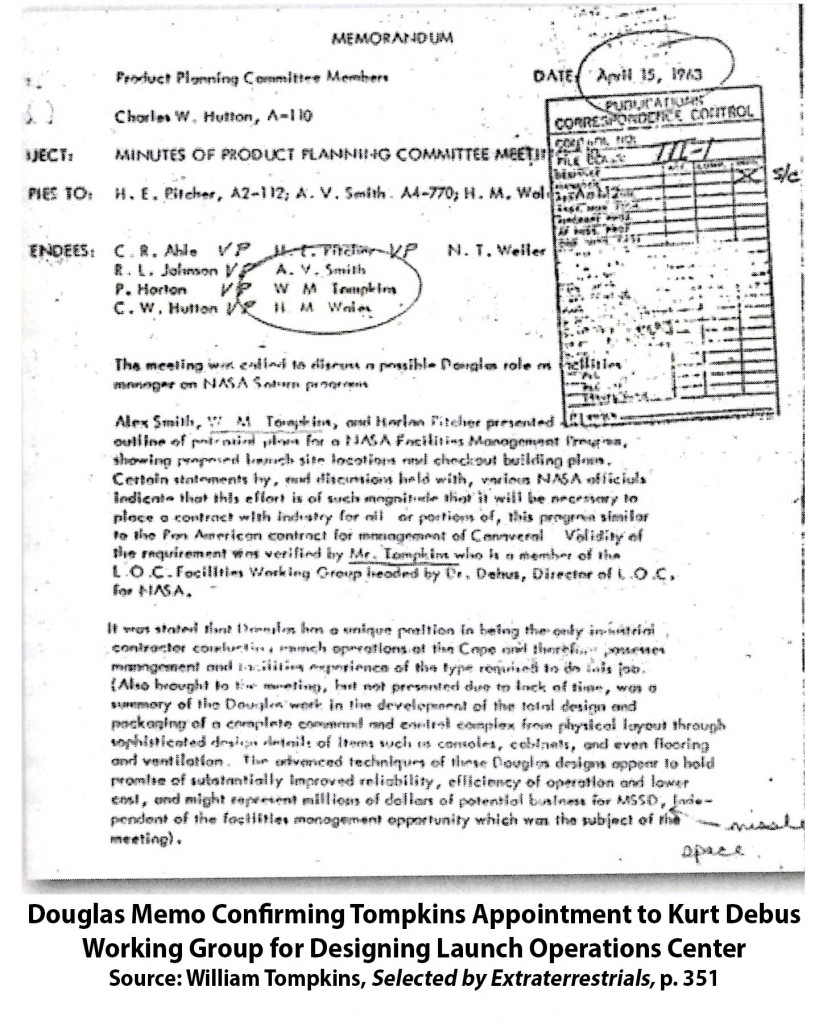 Tompkins describes what he designed for the Apollo Missions and NOVA:
As Engineering Section Chief, I conceived dozens of missions and spaceships designed for exploratory operations to the planets that orbit our nearest stars. I designed a station to be built on Mars, massive NOVA vehicles and equatorial launching facilities. I also designed multiple 2,000-man military bases for our Moon… I designed the checkout and launch-test systems for the Apollo Moon Saturn V, SIV-1B and reassembly with the command control Moon vehicle, a near complete redesign of the major facilities operations for the entire Launch Control Center. (Selected by Extraterrestrials, p. xix)
During the Apollo 11 Moon landing in July 1969, Tompkins says he was in the NASA Launch Operations Center at Cape Canaveral as part of a large TRW contingent. He states that television cameras from the Apollo Lander provided a live feed of what was being witnessed by Armstrong and Aldrin.
Tompkins explains how Armstrong and Aldrin were met by a fleet of extraterrestrial spaceships that were ominously close to the Apollo Lunar Lander:
The Landing Module (LEM) actually impacted the Moon surface in the Sea of Tranquility Crater, which had tremendous size vehicles parked around part of its rim. When astronaut Neil Armstrong made that First Step for Man on the Moon he looked up to the edge of the crater and said to mission control: "There are other ships here, they are enormous. The public did not hear that statement or see the massive alien starships. Armstrong panned his camera in a 360 degree motional all around the crater and the CIA then classified the information as way above top secret. " (Selected by Extraterrestrials, p. 418)
Tompkins drew a picture of what he witnessed on the Apollo live feed camera along with other TRW and NASA personnel.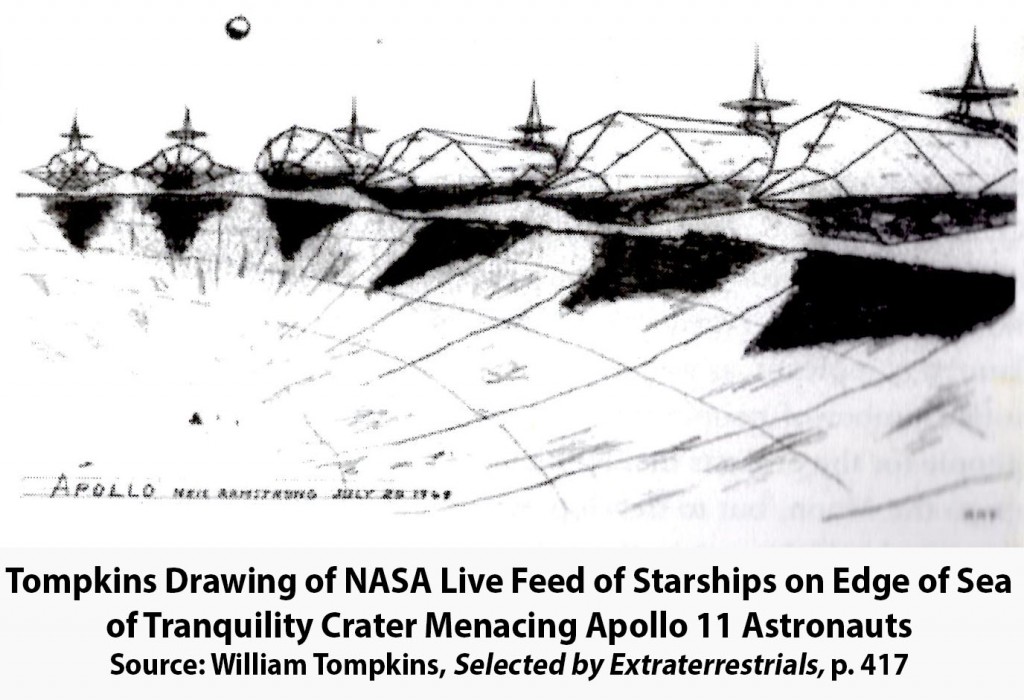 How this extraterrestrial action effectively put an end to the covert Navy plan, thereby endings its support for the Apollo program, is described by Tompkins:
The Extraterrestrials put up their "NO TRESPASSING" sign but allowed us to make several other additional Apollo landings to pick up a few rocks and play in the sand. The action of the extraterrestrials stopped our plans to build our manned Naval Base on the Moon. (Selected by Extraterrestrials, p. 428)
What Tompkins claims he saw happen via the NASA live feed of the Moon landing is consistent with HAM radio intercepts of the live feed, and the claims of former NASA employee Otto Bender.
According to Bender, the Apollo 11 astronauts transmitted that they were being watched by large alien vehicles. Bender confirmed that HAM radio operators had indeed intercepted VHF signals transmitted from Apollo 11 to NASA's Houston headquarters with the following message, which NASA screened from the public:
Mission Control: What's there ? Mission Control calling Apollo 11.
Apollo 11:  These babies are huge, sir … enormous….Oh, God, you wouldn't believe it! I'm telling you there are other space craft out there… lined up on the far side of the crater edge… they're on the moon watching us.
In an August 27, 2012 blog post, Dr Stephen Greer revealed that he spoke with close relatives of both Armstrong and Aldrin who had been told the truth about what the astronauts had seen on the moon:
Close friends and very close family members of both Neil Armstrong and Buzz Aldrin have separately told me that indeed there were numerous, large UFOs around the crater where the Lunar Module landed and that these were seen by both Armstrong and Aldrin. I have also spoken to military officers that have seen the footage of this event – but it has never been made public.

Greer's testimony is significant since it supports Tompkins' claim that there was a live video feed recording what Armstrong and Aldrin were seeing.
So why did NASA eventually terminate the Apollo missions if extraterrestrial visitors were there and watching the Earth? The answer according to Armstrong, as relayed by an unnamed Professor at a NASA symposium, is as follows:
Professor: What really happened out there with Apollo 11?
Armstrong: It was incredible … of course, we had always known there was a possibility … the fact is, we were warned off. There was never any questions then of a space station or a moon city.
Professor: How do you mean "warned off"?
Armstrong: I can't go into details, except to say that their ships were far superior to ours both in size and technology – Boy, where they big! … and menacing …. No, there is no question of a space station.
Professor: But NASA had other missions after Apollo 11?
Armstrong: Naturally – NASA was committed at that time, and couldn't risk a panic on earth…. But it really was a quick scoop and back again. (Above Top Secret, p. 186)
The unnamed Professor was first quoted by Timothy Good in his ground breaking book, Above Top Secret (1987), and he corroborates Tompkins' claim that NASA was warned off the moon, and that there were plans to build a "moon city." The city was in fact planned to be a U.S. Navy base that was part of the NOVA program.
The extraterrestrial occupants of the large star ships intimidating the Apollo 11 mission did not want the U.S. Navy establishing a beachhead for future military bases on the Moon. By preventing the U.S. Navy in moving forward with its plan to put 10,000 people on the Moon using a number of NOVA rocket launchers throughout the 1970's, the NOVA program effectively came to a crushing end in July 1969.
It would take the U.S. Navy more than a decade before it could complete the construction of its first antigravity space vehicles as part of its Solar Warden program. According to Tompkins and other whistleblowers, the first U.S. Navy space battle groups were deployed in the early 1980's during the Reagan Administration, thereby establishing a U.S. Navy presence in deep space for the first time.
© Michael E. Salla, Ph.D. Copyright Notice
Further Reading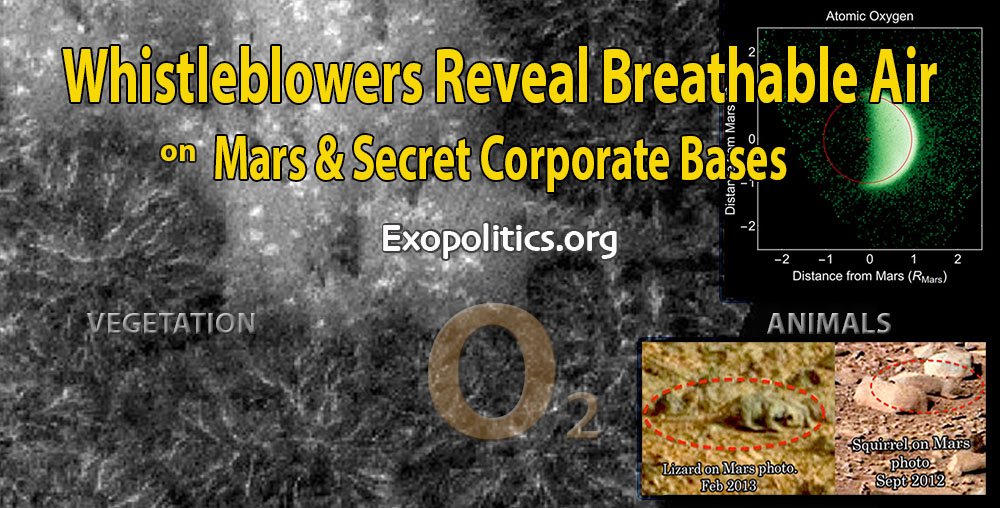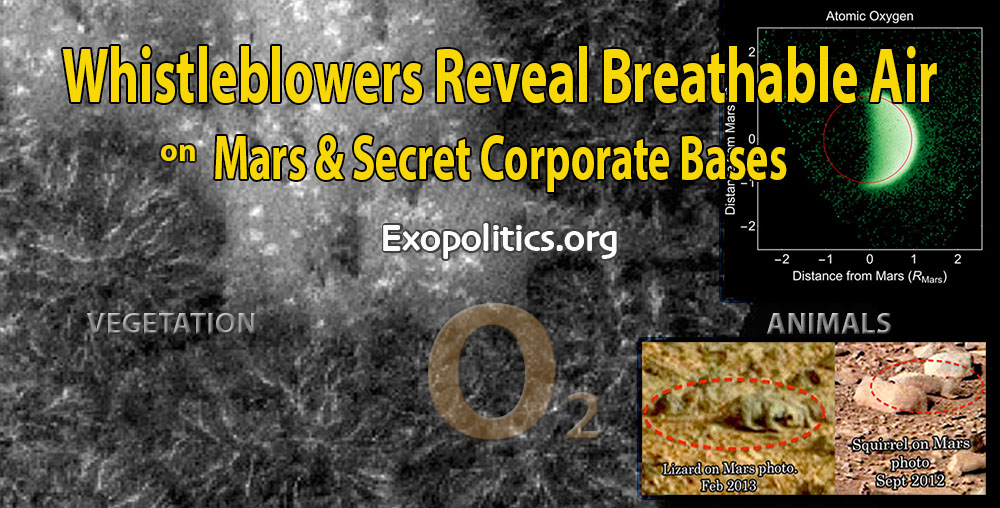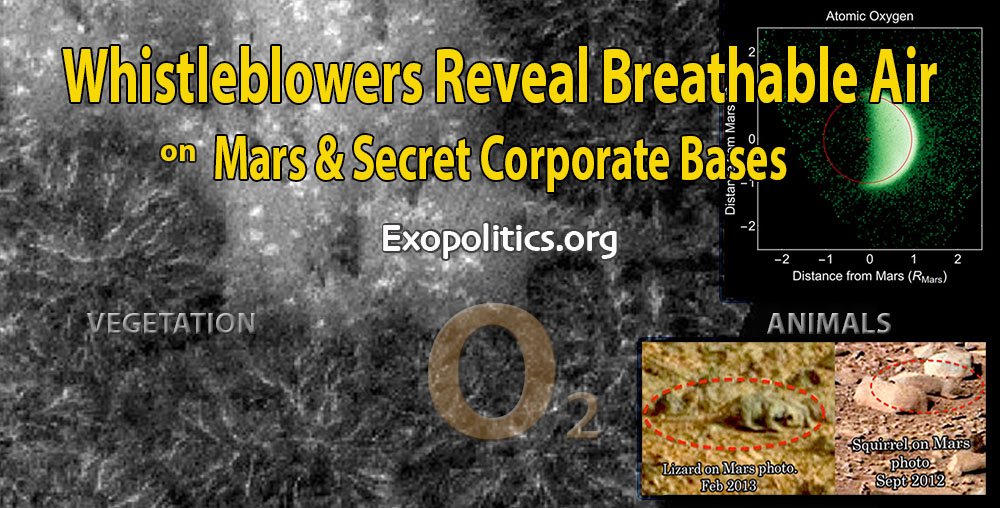 Today a transcript was released of an interview featuring Randy Cramer (aka Captain Kaye) who claims to have spent 17 years on Mars in the initial phase of a 20 year tour of duty from 1987 to 2007 with a secret space program. The transcript of the interview conducted on April 8, 2014, makes it possible to more easily compare Cramer's claims with that of another more recent whistleblower, Corey Goode (aka GoodETxSG), who also says he spent time at secret bases established on Mars during his own 20 year tour of duty over the same time period with another secret space program. A comparison of their testimonies shows consistency in their respective claims of secret bases on Mars run by corporations. Most surprising is that their claims of Mars having a breathable atmosphere hospitable to small animal life and vegetation, is supported by NASA's own Mars orbiter and rover images.
According to Cramer, the first landing on Mars occurred in the mid 1960's, and led to further exploratory missions before the establishment of a mining operation around 1975 that was run by what he described as the "Mars Colony Corporation":
My understanding is that we were on Mars the very first time around the mid-60s, but really didn't try to do anything serious, or really prepared to do anything with that until the 1970s. My understanding is that our first exploratory mission that was sent there to stay any length of time was 1970. Then after a few years it was decided that we were ready to go ahead and establish a Mars Colony Corporation foothold, and set up a few settlements and attempt to do some mining, and extract some resources to make it pay for itself. Apparently that was about 1975, when the Mars Colony Corporation set foot on Mars and started its first mining operation.
The military force that Cramer claims to have served under, the "Mars Defense Force," he says is controlled by the Mars Colony Corporation, and not any regular military space program run by the US or any multinational alliance.
If Cramer is accurate, the situation on Mars is therefore analogous to the scene depicted in the movie Avatar – a corporate conglomerate runs mining operations on a moon, Pandora, using contracted military personnel as its own private army. The way Cramer and his division was told to treat the native Martian inhabitants who used minimal advanced technology, again was very similar to Pandora. The native Martians would be attacked if they interfered in any way with the mining operations of the Mars Colony Corporation.
Corey Goode claims that one of five secret space programs he was exposed to during his tour of service is run by an Interstellar Corporate Conglomerate (ICC). He describes it as follows:
Focused mainly on development and aquisition of technology by any means. Develop and Produce Technology for Commerce with Earth and Off World Groups in a Barter System and left nothing off the table that they were willing to trade. Very powerful, very classified, and always had all of the latest technology and "Toys" at their disposal.
The ICC came into existence around the same time as Cramer claims the Mars Colony Corporation emerged in the mid-1970s. Goode explains how the ICC controls military forces on Mars just as Cramer described the situation with the Mars Defense Force and the Mars Colony Corporation. While the terminology used by Cramer and Goode to describe the corporate entity running Mars differs, the way the corporate entity functions is very similar.
The security personnel that are assigned to Mars serve under corporate leadership according to both Cramer and Goode. The military groups that will be returning to their previous organizations (secret space programs) are kept isolated from the population and personnel who live and work on the corporate colonies, bases and industrial facilities that they protect. In a June 22 report of a recent inspection tour of a Mars corporate facility, Goode describes how the Interplanetary Corporate Conglomerate had its own security personnel running the base in a manner similar to a draconian police state.
The emergence of private companies to take over significant aspects of secret space programs is a logical development of the secrecy surrounding these programs. The massive funding necessary for establishing and maintaining off-planet space programs cannot come from the normal appropriations process used by the US and other national militaries. The latter have to answer to lawmakers in their funding requests, and typically have to deal with public scrutiny of their "official black budget" funding of classified programs through the Department of Defense. In 2013, Edward Snowden released NSA files revealing that the black budget used to fund the intelligence community and classified programs was $52.16 billion for fiscal 2013.
The large scale funding required for establishing bases on Mars, or other celestial bodies, would far exceed the $52 billion "official black budget," and require going outside the normal Congressional funding process to maintain secrecy, at least in the USA. A 2003 report revealed a second "unofficial black budget" and estimated it to be an astounding average of $1.7 trillion per year from 1998-2000, At the time, that was more than five times the entire budget for the Department of Defense which in 2001 was $291 billion. The "unofficial black budget" is almost certainly likely used to fund secret off-world programs such as Mars, the moon and elsewhere.
Companies taking over various aspects of secret space programs could do so without legislative scrutiny and oversight. As long as the companies controlling mining and other aspects of secret space programs could make profits on such activities, then stock holders would be unlikely to pose any long term problem. If Corey Goode's testimony about the existence of the Interplanetary Corporate Conglomerate is accurate, then it appears that many classified space activities and assets are already being exploited for profit.
The most significant similarity between Cramer's and Goode's testimonies concerns the Martian atmosphere. According to Cramer, when he landed on Mars, he exited and directly experienced the Martian atmosphere:
It was that particular time that we came out, it was, it felt like a hot day but there was a very cold wind that was blowing and you felt like you came out at 8000 or 9000 feet or something like that. The air was very thin, but totally breathable. I was really quite surprised to be honest, to have them just open up the door and say alright head for that other door and have us walk right outside but we did.
This is what Corey Goode says about his experience on Mars:
There is a thin atmosphere (like being at very high altitudes on Earth) but the atmospheric pressure is very low as is the temperature most of the time. There are times depending on Mars season and weather that make it possible for very short exposure time on the surface…. I would imagine that some have slightly acclimated to it. I would not want to spend any amount of time outside of the light duty suits we wore especially if you were doing anything physically exertive. There were some small wild life and vegetation that we observed in the general location of where the construction was being done.
According to NASA, Mars atmosphere is 95% carbon dioxide with only a trace amount of oxygen 0.13% – not enough to sustain life. On October 14, 2014, NASA's MAVEN spacecraft, released data about oxygen being released from Mars upper atmosphere into space. According to NASA, this oxygen is due to the breakdown of water and carbon dioxide molecules in the upper atmosphere. Another explanation is that oxygen is being produced on Mars surface by vegetation that varies in size with the seasons, and whose oxygen eventually dissipates as it rises.
Dr Thomas Van Flandern former Chief Astronomer for the United States Naval Observatory released his research findings about photos from the Mars Global Surveyor spacecraft that there was current vegetation on Mars in the form of shrubs, and trees that varies with seasons. In an April 5, 2001 Press Conference at the National Press Club, Washington DC., he presented his evidence of vegetation on Mars along with his analysis of evidence of artificial structures.
Van Flandern also revealed the strong opposition to him publishing his findings in peer reviewed scientific journals – a clear way to minimize the ground breaking results that there was photographic evidence of life on Mars. Despite Van Flandern's professional standing in the astronomical community, NASA and the scientific community ignored his pioneering research revealing vegetation on Mars that fluctuated with seasons.
There have been a number of Curiosity Rover images that appear to show small animals on the surface of Mars such as lizards, squirrels and even ducks which helps confirm Goode's claims of small wild life and vegetation. The Curiosity Rover images support Cramer's and Goode's claims that Mars has a thin breathable atmosphere. Perhaps, most importantly, their testimonies and Curiosity Rover images confirm that Mars surface is producing oxygen, whose levels fluctuate with the seasons. The oxygen eventually finds its way into the upper atmosphere before being dissipated into space. The oxygen observed by the MAVEN spacecraft is therefore not exclusively a result of the breakdown of water and carbon dioxide, but also due to Mars fluctuating surface oxygen levels.
Another significant aspect of Cramer's testimony is his claim that Martian sunsets and sunrises are purple, while the daytime sky is normally red due to the heavy amount of iron oxide in the atmosphere which blocks shorter wavelengths such as blue. Here's what he said about the Mars sunset:
… there's a period of time for maybe 15 or 20 minutes depending on the season when the sun is dropping below the horizon and it goes from red to purple. For about 15 mins everything turns this amazing shade of purple.
Again, this matches with Goode's experiences on Mars.
The sky was a light blue to lavender and pinkish especially during sunset when there wasn't a lot of dust in the upper atmosphere (which occurred frequently when we were on the surface).
On May 15, Curiosity Rover made headlines by releasing its first color photos of the Martian sunset. While NASA and the media described these as blue sunsets, as one can easily see in the following video, the overall sky during the sunset takes a progressively purplish tinge as the sun continues to dip towards the horizon. This is similar to what Cramer and Goode claimed, and helps corroborate their testimonies.
To date, there has been no hard evidence or documentation to substantiate Randy Cramer's claims. In his interviews he appears sincere, consistent, and attentive to details in the experiences he is describing. Furthermore, his testimony has similarities with other Mars whistleblowers who have come forward such as Michael Relfe and Corey Goode. In particular, the similarities with Relfe's and Goode's testimonies suggest that one or more secret space programs exist where personnel are recruited for 20 year tours of duty, before being returned to normal civilian life through age-regression and time travel technologies with their memories removed.
It's highly unlikely that Cramer is making up his testimony, but there is a possibility that some of his "recovered memories" are implanted screen memories designed to mislead him and others about various aspects of secret space programs. It's possible that genuine information is mixed with false screen memories in Cramer's revelations about secret bases on Mars. This is certainly what I believed about Cramer's bizarre claim of having experienced two head transplants while serving on Mars, until I learned that such a medical procedure is viable and will be soon attempted.
In the absence of hard evidence or documentation to confirm Cramer's testimony, detailed analysis of his claims such as the color of Martian sunsets/sunrises and a thin breathable Martian atmosphere with scientific data will be helpful. Finally, a cross-comparative study with the claims of other secret space program whistleblowers such as Goode and Relfe, will further help confirm his claims. An earlier comparison with the claims of Goode, showed that there was no possibility of cross contamination, and that their testimonies were genuinely independent. Combining scientific analyses with comparative studies of Cramer's and other whistleblower testimonies will help reveal the reveal the truth about secret bases on Mars.
© Michael E. Salla, Ph.D. Copyright Notice
Further Reading