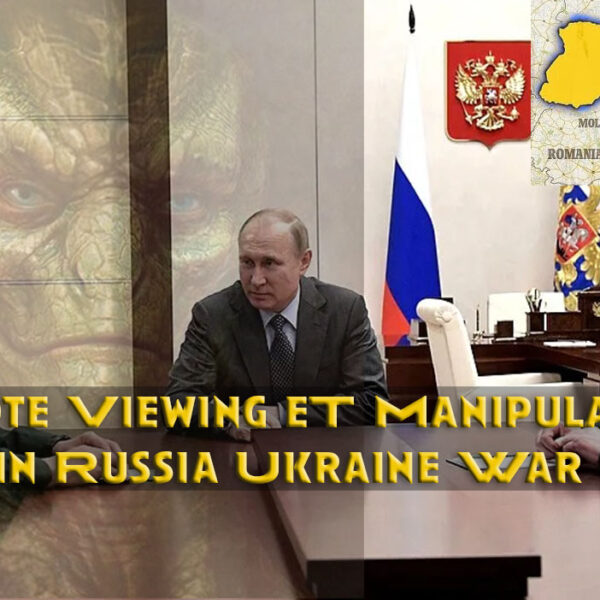 On April 16, the Farsight Institute released a remote viewing project concerning President Vladimir Putin and his inner circle over the decision to intervene in Ukraine militarily. The "Vladimir Putin and His Inner Circle" project involved four highly trained remote viewers who identified an extraterrestrial factor influencing President Putin and his chief advisors. According to Farsight Institute Director, Dr. Courtney Brown, the extraterrestrial interference is part of a plan to entice human leaders into new agreements that will perpetuate secrecy and enable future manipulation to occur without being exposed.
In his introduction to the remote viewing project, Dr. Brown stated:
This project started with the Russian invasion of Ukraine. It just did not seem rational in any logically oriented sense of the word. Ukraine was not threatening Russia, and the invasion cost Russia an enormous amount in terms of international prestige, its economy, and even its concern about NATO, a defense alliance that previously was struggling for a reason to exist. Quite a few people have even questioned if President Putin is mentally stable. Basically, the entire Ukrainian war thing has been confusing to just about everyone.
The question of whether Ukraine was genuinely threatening Russia through its plan to join NATO is a controversial one. Certainly, from the perspective of the mainstream news narratives, Ukraine was an innocent victim needlessly attacked by a more powerful neighbor that launched a brutal invasion. As I will show, however, the situation is far more complex than mainstream media has been telling us.
The remote viewing project showed the danger of world leaders being covertly influenced via 'neural engagement' by manipulative extraterrestrials who operate behind the scenes. In the concluding remarks to the remote viewing project, Dr. Brown pointed out the dangers of this scenario continuing indefinitely under the current global secrecy system, which effectively prevents more benevolent extraterrestrials from intervening on humanity's behalf to end such manipulation.
In the Vladimir Putin and his inner circle project, the four remote viewers­—Intysam, Aziz Brown, PrinCess Jeanee, and Shantae—were given a list comprising an alphanumeric target and several subjects. Only Dr. Brown knew that the target was "President Vladimir Putin of Russia at the moment when he makes the final decision to invade Ukraine in the year 2022."
Though conducting the sessions separately and independently, the remote viewing team showed remarkable consistency in identifying President Putin and his inner circle being influenced by different extraterrestrial entities through a form of "neural engagement." Essentially, the extraterrestrials were able, to varying extents, to get into the minds of Putin and his inner circle comprising Sergei Shoigu, Russia's Defense Minister, Alexander Bortnikov, Director of the Russian Federal Security Service (FSB/FSS), and Valery Gerasimov, chief of the General Staff.
The four remote viewers described how manipulative extraterrestrials had varying degrees of success depending on how stressed, worried, and agitated President Putin and his inner circle was at the time of Russia's "special military operation" into Ukraine. Only, Bortnikov largely escaped the influence of the manipulative extraterrestrials due to his calm demeanor and methodical approach to the issues at stake.
The results and consistency of the remote viewers' data regarding multiple subjects are remarkable, given that all the sessions were conducted using a blind scientific protocol. This protocol prevents "front loading," which Dr. Brown asserts will inevitably happen when remote viewers are made consciously aware of their subjects and targets. This blind scientific protocol is why Farsight's remote viewing sessions are an important tool for exopolitical research and analysis, which seeks to understand the big picture of extraterrestrial intervention on Earth.
In the remote viewing session, the four remote viewers focused on the state of mind of President Putin and his inner circle, and the influences on them in the final decision to approve Russia's military intervention. It was clear that extraterrestrials exploited these Russian leaders at a time of great tension and influenced them in their decision-making over the Ukraine crisis. Yet, we do not know what the different issues were and how these were evaluated for the final decision to intervene militarily.
Crucially, we don't know if a similar process was happening behind the scenes among Ukraine's political and military leaders, and among key NATO member states that acerbated tensions in the immediate period leading up to Russia's military intervention.
In his concluding comments, Dr. Brown raised several critical points:
So, at this point, it should be clear that our remote viewing data do suggest that there has been a lot of mental manipulation of Russian leadership by certain extraterrestrials. They seem to be investing a lot in this project, and the Ukrainian war seems to be something they are involved with. Now the question is, why? Why would certain extraterrestrials want to trigger a Russian invasion into Ukraine? Is that all there is, a war in one European country or is there something bigger going on?
Friends, if you have long followed Farsight's activities, you know that we have seen situations in which certain extraterrestrials have acted to manipulate human leadership by first creating a crisis and then by offering to solve the crisis for a price…
Those agreements open the door to establishing underground extraterrestrial bases that have been heavily involved in the massive and highly exploitive experiments involving what appears to have been millions of earth humans. Moreover, such agreements with extraterrestrials were not limited to those signed by US leadership only as seemingly suggested by others…  
You see there are other extraterrestrial groups who could intervene and stop the Reptilians and their allies from exploiting humanity if the secrecy ended and humans asked for assistance from those more positively oriented extraterrestrials. Those more positively oriented extraterrestrials demand that free will be respected and they require that humanity openly request the assistance. From their point of view, if a species volunteers to become a slave race that is OK as long as it is an act of free will, but all that is coming apart as more and more people become aware of the fraudulent agreements that were made between governmental leaders and the oppressive extraterrestrials.
Up to this point, I agree with the conclusions made by Dr. Brown in his evaluation of the remote viewing data. Indeed, repressive extraterrestrial groups do use neural engagement to control and manipulate human leaders. This manipulation has been happening for a long time, as observed by several researchers such as William Bramley in the Gods of Eden (1989) and Jim Marrs in Rule by Secrecy (2000).
This takes me to the Ukraine crisis and why extraterrestrials intervened, according to Dr. Brown:
So the oppressive extraterrestrials are certainly on the lookout for establishing a new set of agreements that would further delay any involvement by the more positively oriented extraterrestrials, and this leads us to our current crisis between Ukraine and Russia. You see, if the Russian leadership is being manipulated into conducting a senseless war against Ukraine, it is only a matter of time before the Russian military faces the possibility of defeat as the rest of the world acts to assist Ukraine in its defensive efforts.
The idea that Russia has embarked on a "senseless war against Ukraine" has been heavily promoted in mainstream media narratives, which widely assert Putin is another Hitler and is driven by similar despotic, even demonic, impulses. Indeed, the idea that negative extraterrestrials influenced President Putin and his inner circle to embark on an unjustified brutal invasion will be interpreted by many as a validation of this mainstream media narrative.
However, a deeper analysis of the Ukraine crisis suggests that this negative extraterrestrial influence extends far beyond President Putin and his inner circle, and at the very least, dates from events in Ukraine that occurred in early 2014.

The violent ousting of the democratically elected President, Viktor Yanukovich, who had attempted to bridge the gap between Ukraine's fervently nationalist west with the Russophile east, created the destructive political dynamic that led to civil war and the present-day crisis.
This destructive process is well described in the political analyses of well-informed East European history and politics scholars, such as Professors John Meiersheimer and Stephen Cohen. Both warned of the dangers of civil war if Ukraine was forced into making a stark binary choice between a future of integrating with the European Union and NATO, or establishing closer ties with the Russian Federation.
In addition, Oliver Stone's documentary, Ukraine on Fire, graphicly describes the political dynamics that got us to the present-day crisis, and the sinister forces operating behind the scenes to acerbate the conflict.
Prior to Russia's February 24, 2022, "special military operation," there is compelling evidence that the Ukrainian military was poised to retake the rebel Donbas region by a lightning military campaign. This was made feasible by the US and key NATO members encouraging Ukrainian leaders to take a hardline approach to the rebel-held areas, which had been promised political autonomy in the 2014 Minsk Accords—promises that were never implemented.
In short, the US/NATO encouraged Ukraine's leaders to avoid reaching any political solution with the rebel-held areas and instead seek a military solution to their Donbas problem. NATO provided necessary training and armaments to make it possible for Ukraine to pursue a military solution similar to Croatia's "Operation Storm" that successfully retook the Serb-held area of Krajina in August 1995.
In addition to the alarming news that Ukraine was contemplating restarting its nuclear weapons program, there was also the problem of multiple Pentagon-funded biolabs in Ukraine. After US officials initially denied that the Pentagon was funding biolabs, Victoria Nuland the Under Secretary of State for the Biden administration, confirmed that this was indeed happening, albeit for defensive purposes only. Both of these developments were naturally of great concern to President Putin and his inner circle.
Finally, there is also evidence that a "space ark" with incredibly advanced ancient technologies had been found in southern Ukraine in the Kherson Oblast, as several sources have stated. Indeed, Kherson was the first Ukrainian city taken by the Russian military. The addition of a space ark that NATO sought to control only worsened the already dangerous situation in Ukraine.
All the above factors predictably would have weighed heavily in the decision-making of President Putin and his Inner Circle, which led to their fateful decision to go ahead with the "special military operation," ostensibly for denazification and demilitarization of Ukraine.
At this point, I wish to state that I disagree with President Putin and his inner circle's decision to launch a "special military operation" against Ukraine. He gave what negative extraterrestrials and their Deep State minions desperately wanted and had taken years to contrive—a new war that would directly pit NATO and Russia against one another.  
Nevertheless, I understand why Vladimir Putin and his advisors felt cornered, stressed, vengeful, and agitated; and why they believed they had no other alternative to the choice that was made. This is where Farsight's remote viewing is most helpful, as it gives important answers to what qualitatively tipped the scales towards Russia's fateful military actions. In contrast, President Putin had previously been far more restrained in his relations with Ukraine, NATO, and the US.
This is where Dr. Brown's conclusion gives a long-time solution that prevents this scenario from playing out again or degenerating into a future nuclear war:
You may wonder why humans and particularly human national leadership, is so easily duped. The answer is simple, secrecy. As long as the extraterrestrial presence is kept secret from the larger population then it is possible for human leadership to be continually duped time after time using neural engagement when necessary. The only thing that can stop this from happening is disclosure.
The end of secrecy means disclosure. Spilling the beans, so to speak. This is all that matters, disclosure. What human leadership needs to understand is that what has been happening to Vladimir Putin and his inner circle is likely happening in various ways to all important human leadership. That is all human leaders, including all presidents and prime ministers, are not safe from manipulation. No one is safe.

I agree that full disclosure is vital to end extraterrestrials manipulating world leaders through neural engagement, contriving unnecessary wars, imposing exploitative agreements, and keeping the secrecy system in place for decades to come. Full disclosure will end such egregious practices and, most importantly, promote world peace and open contact with extraterrestrial visitors.
Video version of this article is on YouTube & Rumble
Audio Podcast on Apple, Spotify, or Google
© Michael E. Salla, Ph.D. Copyright Notice
To watch the Farsight Remote Viewing project on "Vladimir Putin and his Inner Circle," click here.
Related Articles/Podcasts
---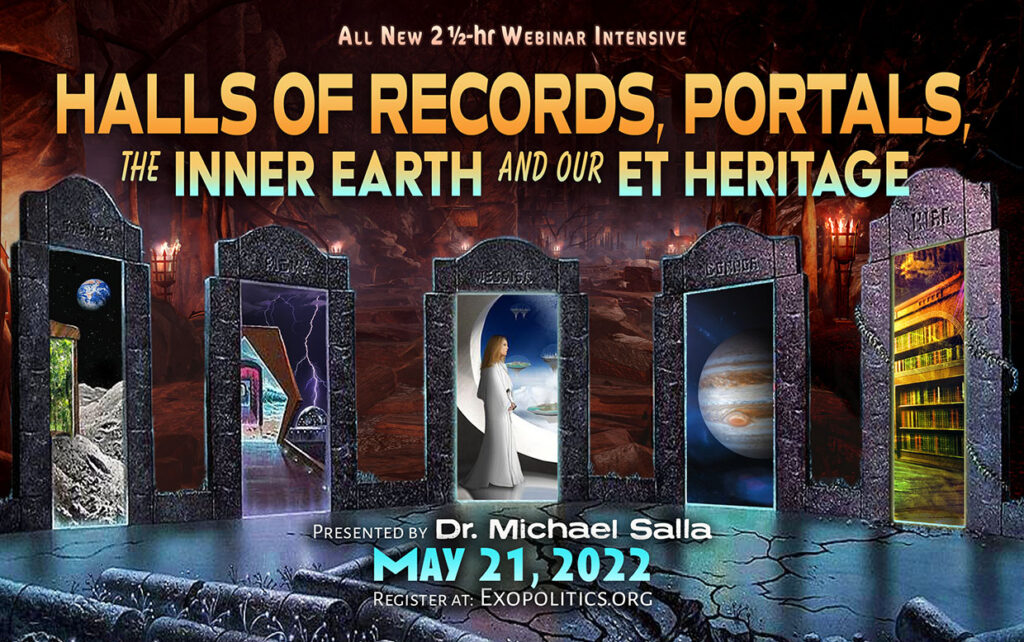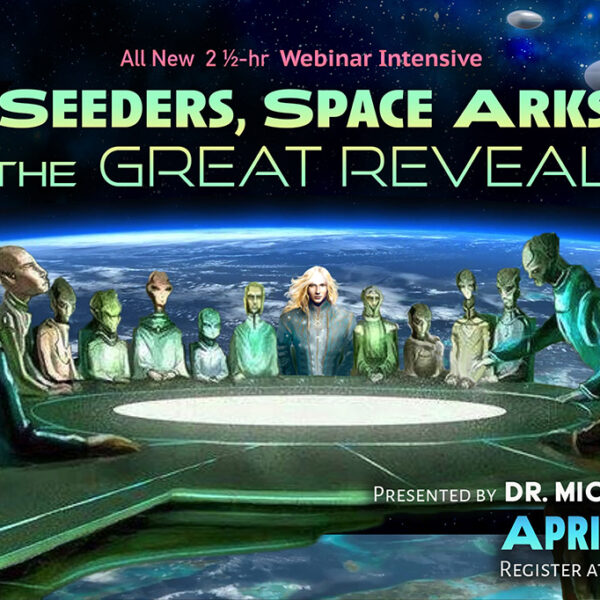 Much has happened since I first announced the ET Seeders, Space Arks & the Great Reveal webinar two weeks ago. Scientists have reported a massive heat dome hovering directly over East Antarctica, leading to significant melting of the ice sheet. The heat dome is centered over the Vostok region, with Antarctica's largest freshwater lake directly underneath it—two miles down.
According to two of my sources, contactees Jean Charles Moyen and Elena Danaan, there is a space ark parked next to the lake, which they were taken to over the last few days. They saw some of the contents of the ark, which has begun activating after lying in hibernation for thousands of years. In my April 1 article, I show that their claims are consistent with scientific data about a large magnetic anomaly at one end of Lake Vostok first detected in 2001—which many researchers have speculated to be an enormous ancient city.
What's important to note about the Vostok region and the lake directly under it is that Russia has long controlled the area through its Vostok Research Station, operating since 1957.  A new Russian research station was built in 2019/2020 and has led multinational missions in drilling through the ice sheet to explore the lake. Rather than a freshwater lake being the target of these scientific expeditions, the hibernating space ark was Russia's primary interest. Russia has been gathering intel for future covert military missions to gain access to the ark!
This is where information from my US Army source, JP, becomes critical. In addition to traveling to two arks under the Atlantic Ocean and on the Moon as a member of multinational missions, he learned about an ark discovered near the city of Kherson, Ukraine, at Oleshky Sands National Park, which was discussed in my March 3 article. JP says that the Russians are activating the Vostok ark by traveling to it through a portal device found inside the recently captured Ukraine ark.
JP stresses that the arks are all connected through portals enabling instantaneous travel between them. He has stressed the interconnectedness of these activating space arks, which means that the countries controlling each of them must share access with other nations for the linked network of space arks to reveal all of their secrets. This appears to be a critical function  for these arks. Their ancient builders did not want the arks to be found and controlled by any one nation, but by a unified global civilization.
There is so much information flooding in right now that it's hard to keep up with all the updates and exopolitical developments. This is electrifying info, and I will be releasing more articles and podcasts about new developments in the days and weeks ahead—these are always free, so subscribe to my website or podcast channels to receive them.
At next Saturday's webinar, I will integrate all the newest data to help everyone understand the mindblowing exopolitical picture happening on our planet and in the solar system. It really is incredibly exciting how everything is building to a "Great Reveal" involving the ET Seeder races and ancient space arks that will change life on our planet forever. Join me for the April 9 webinar, which is how you can best support my expolitics research. There is still time to register for what will be a groundbreaking webinar.
Michael E. Salla, Ph.D.
NOW AVAILABLE ON VIMEO

---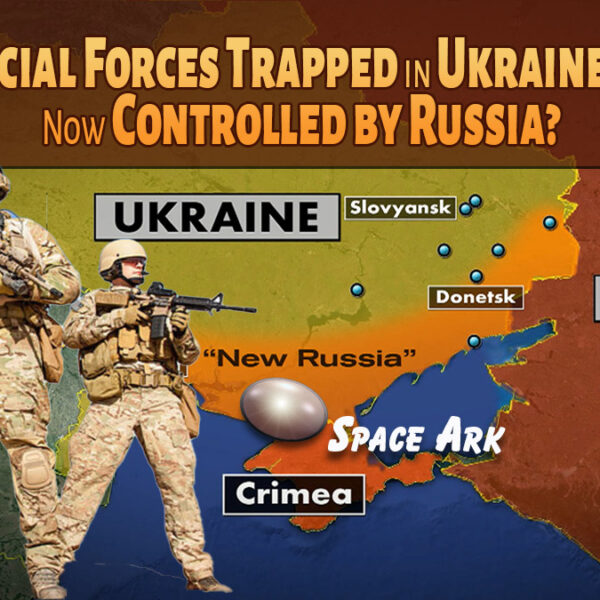 In this interview my long time source JP, who currently serves with the US Army, explains that an ovoid shaped space ark under the Ukraine desert (Oleshky Sands) near the city of Kherson has been taken over by the Russian army. JP says that a team of US special forces were sent on a covert mission to the Ark, prior to the invasion, and went missing.
The Ark possesses exotic plant life and the Russian military also seeks to control another smaller space ark located near the city of Kiev according to what JP heard in a classified briefing. He says that Russia already possesses a space ark in its own territory which possesses exotic technology. JP says that Russia is denying the US access to the space arks under its control in order to gain concessions on US geopolitical policies.
JP describes another space ark in central Brazil (Caldas Novas) and says that all the space arks are being activated and form an integrated network that will eventually float into the sky in what will amount to a global disclosure event. He says that the arks and the extraterrestrial fleet connected to them represent a benign force and will help humanity enter a new golden age.
Note: Just prior to the release of this interview, JP informed me that the US special team had been found and had safely left Ukraine.
Interview available on YouTube & Rumble
Listen to Podcast on Apple, Spotify, or Google
To learn more about JP and his disclosures, along with supporting photos & video click here. 
My deep appreciation to my wife, Angelika Whitecliff, for creating this video.
Michael Salla, Ph.D.
Related Articles/Podcasts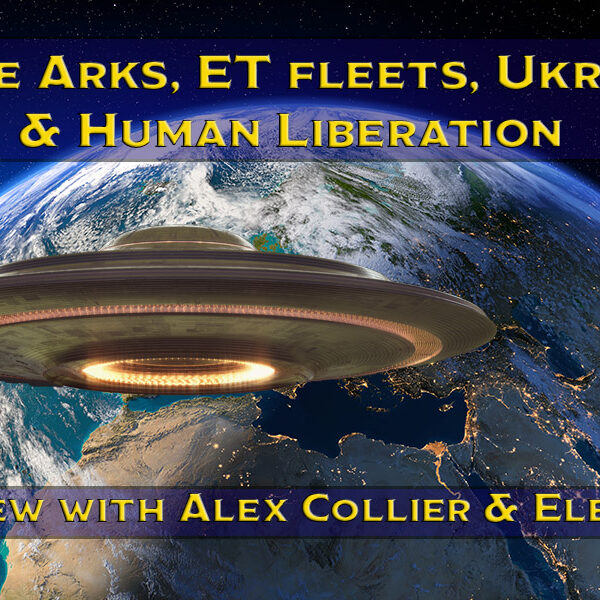 In this Exopolitics Today interview, Alex Collier and Elena Danaan discuss their latest intel regarding space arks, extraterrestrial fleets, Ukraine and humanity's liberation. Alex and Elena's contacts with extraterrestrials from the Andromeda Council and Galactic Federation of Worlds give them some of the most up to date and valuable information about what is really happening in space and on Earth today.
Premieres March 7 at 11 am PST- 2 pm EST USA on YouTube & Rumble
Listen to Podcast on Apple, Spotify, or Google
Alex Collier's website is AlexCollier.org
Elena Danaan's website is ElenaDanaan.org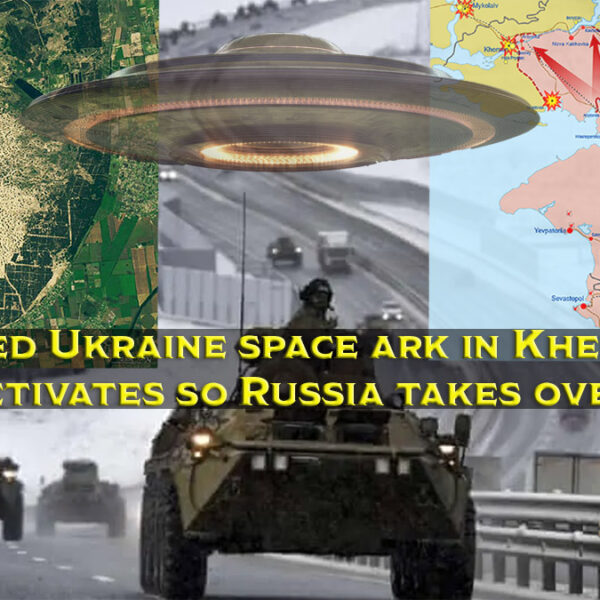 News reports have confirmed that the Russian army has captured the Ukrainian port city and region (oblast) of Kherson, where an ancient space ark is claimed to be buried. According to two independent sources, the space ark is buried under Oleshky Sands National Nature Park, which is only 25 km (15 miles) east of Kherson. The space ark is said to be activating and predicted to eventually begin flying into the air.
Kherson is strategically important to the Russian military as it contains a fresh-water canal to the nearby Crimean peninsula, which is the only warm water port of the Russian Navy. Russia's capture of Kherson is vital for ensuring the long-term viability of its Crimean facilities, but also fulfills a new strategic imperative – to gain access to and control the alleged space ark.
I was first told about the Ukraine space ark by my long-time source JP who currently serves in the US Army and has been on covert missions to two other space arks. One mission was to the Moon, and two others have been to the Bermuda Triangle area of the Atlantic Ocean. All three missions were jointly conducted by the US and China, and the second Atlantic Ocean mission included Russia, which had found its own ark but was not giving the US access.
On February 2, JP gave me coordinates (46°35'19″N 33°03'01″E) to a space ark he was told exists in Ukraine. The coordinates are for the Oleshky Sands, which is the only natural sand desert in Ukraine and has long been a tourist attraction. The origins of the sandy desert have puzzled geologists, and there has been speculation that it is a result of historical overgrazing by sheep.
JP later described what he was told about the Ukrainian space ark in briefings and by others participating in the covert missions to ancient arks being found all over our solar system and on Earth. On February 24, he left me the following voice message describing his new intel about space arks being found in Russia and Ukraine:
Remember I was telling you about the ark? There was Russians surrounding the ship that we were on [in the Atlantic Ocean]. They really wanted information. That's why they went down to the [Atlantic] ark with us. We gave them the opportunity to come down. We didn't have no problem, you know, bringing the Russians in and sharing information; because, we know that this was huge, worldwide, huge, you know this is humongous.
So all the world leaders need to know about this. But they did not keep their side of the promise right now, taking us to their ark, but now with this happening in Ukraine —that ark that is over there, I guess they want that information for them. We were about to go to that ark.
Don't be surprised if it starts activation, Oleshky desert national park, and probably gets to be one of the first ships to go up in the air. Everybody sees. Now that the nations in the world [attention] is … on Ukraine, this is probably going to be one the first ones that's going to go up, and everybody is going to see it. Everything is going to come to a halt. Everybody is going to be shocked because of this
JP's revelation that the space ark found in Ukraine is activating and US military authorities were ready to go in to investigate is very telling in terms of why Russia chose to intervene now. Even more astounding is his prediction that the Ukrainian ark will eventually begin flying into the air. Indeed, with the world's attention currently on Ukraine, a flying space ark will instantaneously become a global event of profound significance.
On February 26, during my "What's Coming in 2022" webinar, I publicly revealed for the first time what JP had told me about the Ukrainian space ark. I subsequently received important corroborating information from Thor Han Eredyon, a Fleet Commander of the Galactic Federation of Worlds, as relayed through Elena Danaan, a former French archeologist.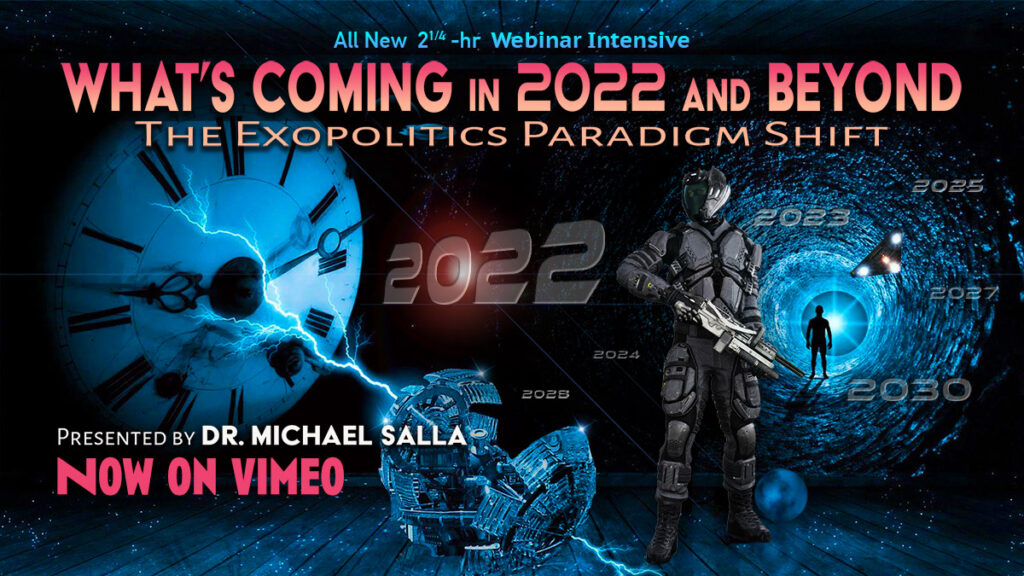 Two days after my webinar, Elena relayed to me the following information from Thor Han about Russia's military intervention into Ukraine and the Deep State's (DS) involvement with the ark:
This is not an invasion of Ukraine but part of the cleansing operations. The DS was attempting to activate the Ark, which they had found many years ago, buried underneath the sand in the lower southern part of Ukraine. The ark activated, so it was time Putin got his hands on it. There is a second ark in the north of Russia, but Putin already has control of it.
Thor Han's information corroborated what JP had been told about two space arks found in the region — one in Russia and another in Ukraine. It's very significant that the Deep State has had a strong influence over Ukraine since 2014 and was attempting to activate the space ark found in a sandy region of southern Ukraine—Oleshky Sands.  
On March 1, Thor Han revealed more about the buried Ukraine space ark:
Putin has his hands on the other ark in the north of Russia, and he has been taught by positive extraterrestrials how to use this technology.
It is information without consequence because this ark in north Russia is secured and in good hands, contrarily to the Ukrainian ark, which, through to this day (March 01, 2022) is in the hands of the Earth Alliance, it is still fought for by the DS military based in the south of Ukraine, near the ark "buried in the sand."
Thor Han's information corroborates what JP had been told about Russia's control over a space ark found in its own territory. By March 2, Russia had defeated the Ukrainian military and had gained full control over Kherson, including Oleshky Sands National Nature Park.
Kherson is the first Ukrainian city to fall to the Russian military, which is highly significant given claims of an ancient space ark found in the nearby Oleshky Sands.
The discovery of a space ark that is activating under Oleshky Sands provides an understanding of why Russia has decided to militarily intervene in the Ukraine civil war that has been ongoing since 2014. Something dramatic must have happened behind the scenes to motivate Russia to intervene in a civil war that was essentially frozen as a result of a lack of progress on implementing the Minsk Agreement signed by Russia, France, Germany, Ukraine, and the Organization for Security and Cooperation in Europe.
While some claim that the Ukrainian army was preparing a lightning military campaign to retake the contested Donetsk and Lugansk administrative regions (Oblasts) of Ukraine, others claim that US-sponsored Biolabs were the real target of the Russian attack. While these are plausible scenarios, neither one adequately explains why Russia conducted a full-scale military intervention from three directions after eight years of sitting on the sidelines.
The discovery of a buried space ark and Russia's desire to take full control of it offers a more compelling explanation for Russia moving in and taking over Ukrainian territory far from the contested Donetsk and Lugansk regions.
Russia's rapid takeover of Kherson is powerful circumstantial evidence that supports the revelations of JP and Thor Han/Elena Danaan about an ancient space ark found under the Oleshky Sands National Nature Park, and that this was the decisive factor in Russia's surprise military intervention into Ukraine.
A podcast version of this article is available on YouTube & Rumble
© Michael E. Salla, Ph.D. Copyright Notice
I wish to thank JP and Elena Danaan for passing on their information about the discovery of ancient space arks.
[3/11/2022 Note: In an earlier version of this article I incorrectly stated that the date JP gave me the coordinates to the Ukraine ark was Feb 11, 2022. It was actually Feb 2.]
Related Articles/Podcasts
To learn more Ukraine and what's coming in 2022 and beyond, I recommend my February 26 webinar which is now available on Vimeo.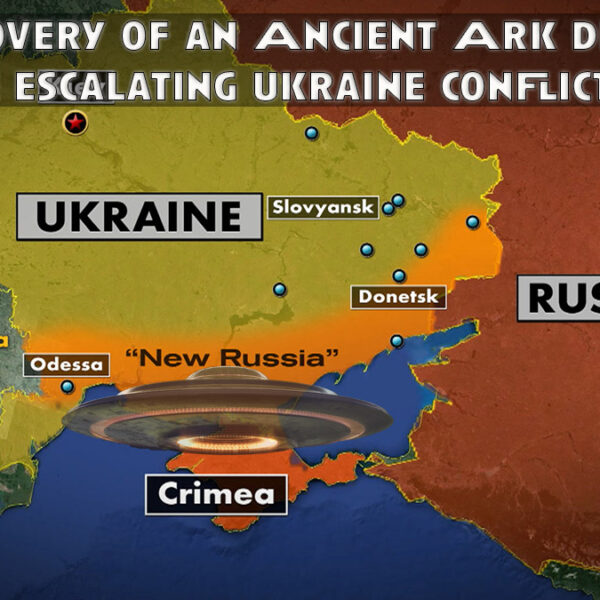 On March 19, 2003, two months after I wrote my first research paper on "The Need for Exopolitics," the US led a multinational coalition into Iraq. I quickly learned that the real reason for the invasion was very different from the declared public rationale—to stop Iraq from developing weapons of mass destruction. The US sought to take control of a 'stargate' and ancient cuneiform texts filled with information about extraterrestrial technologies found in the remains of buried Sumerian cities.
Today we are being told that Russia's intervention in Ukraine is all about it protecting Russian speakers in Eastern Ukraine from rabid Ukrainian ultra-nationalists being encouraged by the US. The real reason, once again, is more about exopolitics than either of the two narratives coming from both sides in the rapidly worsening conflict. It has been claimed that an ancient space ark has been found in Ukraine, and Russia wants to assert control. What are the space arks, and why are they suddenly being found now all over our solar system and on Earth, after millennia of lying dormant?
We are on the cusp of an exopolitics revolution, where information concerning extraterrestrial life is going mainstream. The James Webb Space Telescope has just deployed and, by July 2022, will start relaying data about exoplanets. It's expected to detect biosignatures, which will wake up the long-sleeping academic community that intelligent extraterrestrial life can be found throughout our galaxy. Also, the US military and intelligence community are creating a joint office for investigating UAPs (aka UFOs) in response to Congressional legislation passed in December 2021. These UAPs are officially depicted as a national security threat, thereby laying the groundwork for a military response and increased spending. Could this lead to a hoaxed alien invasion—something that has been predicted since the mid-1990s?
Today, the Artemis Accords and increasing cooperation between the Space Commands of a bloc of US-led nations is taking us into a Star Trek future. One where humanity's open expansion into space will take place in a way that is predicated on US dominance and western values, thereby preventing China from becoming the preeminent space power. Deals have been struck with extraterrestrial organizations to recognize US leadership as humanity takes responsibility for our solar system. How and why was the US chosen to play this role?
At the same time as these agreements were being made, large fleets of ancient extraterrestrial visitors arrived to watch humanity's 'graduation' into the galactic community. Their arrival has triggered the activation of ancient space arks, which carry the secrets of long-forgotten civilizations and technologies stretching back tens of thousands, if not millions of years. The visitors are closely watching humanity's collective response to the discovery of the ancient arks. Will discoveries of the arks and the race to control them lead to a new major global war or increased international cooperation predicated on disclosing what is being found? Is the discovery of an ancient ark really driving the conflict in Ukraine?
Join me this Saturday as I tackle these and many other questions about what is coming in 2022 and beyond, and the coming exopolitics paradigm shift in my first webinar for 2022.
Michael Salla, Ph.D.
---
Webinar Trailer
More information about the February 26 Webinar is available here.
For earlier webinars by Dr. Michael Salla, click here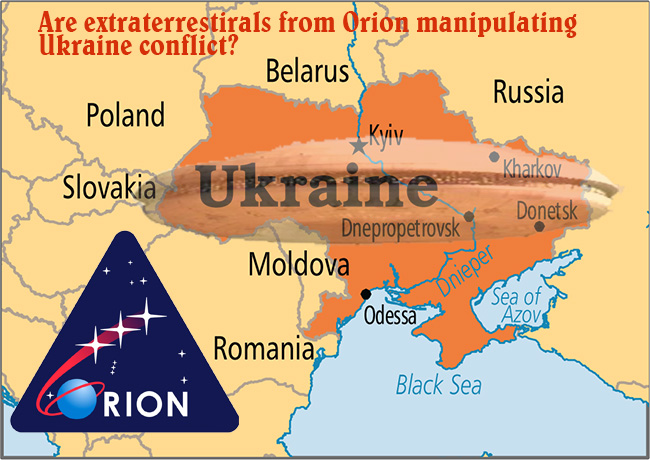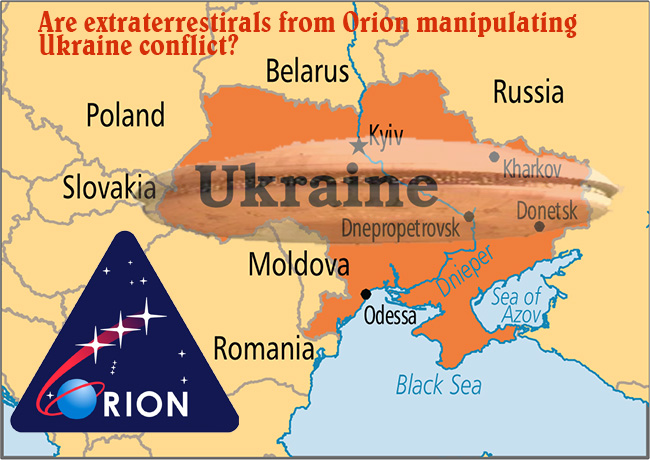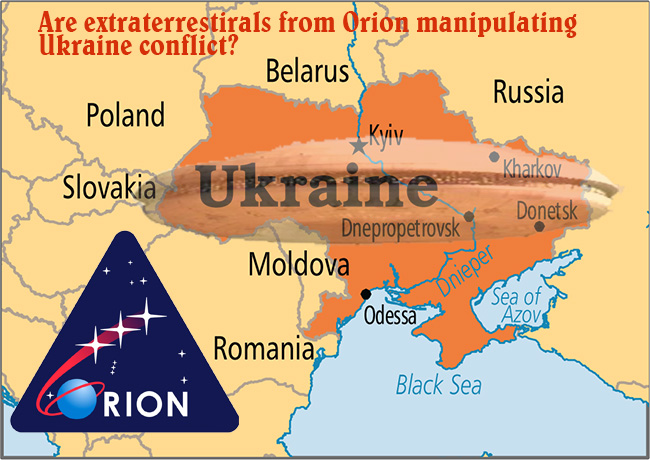 In an article published today on ExoNews.org, Richard Cook, a former NASA engineer and U.S. Treasury official for over two decades, shared some unusual insights about what is driving the Ukraine conflict. Cook's analysis takes us much further than the geopolitical machinations of great powers jockeying for regional influence. He goes far beyond the musings offered by the mainstream media focusing on the psychology of key political leaders. Cook goes to the heart of a problem confronting humanity. An extraterrestrial presence that has both benign and malevolent factions, the latter of which acts as a third force that manipulates political elites and nations into self-destructive wars.
In his article titled, "Making Sense of Ukraine Through a History of Extraterrestrial Intervention," Cook elaborates on the Ukraine conflict. He uses communications from the RA material to elaborate upon the different extraterrestrial factions that have intervened in human affairs in our recent history. He identifies two main factions. The first of which he explains:
The RA Material explains that the influx of UFOs/ETs starting around the time of World War II was prompted by the acquisition by mankind of nuclear energy and weapons. This led the higher-vibration beings who stand watch to make their presence known on planet earth. According to RA, these beings constitute a "Council of Guardians" whose headquarters are on the rings of Saturn. Other sources call this Council "The Nine." Working with them are other extraterrestrial entities who together form the "Confederation of Planets in the Service of the Infinite Creator."
With regard to the negative faction, Cook explains:
But the opening of the protective gates around earth has also allowed negative entities to slip through. Chief among these, says RA, have been the Crusaders of Orion. These are beings of self-serving character who try to gather disciples interested in manipulating, controlling, and enslaving others. In fact, RA adds, a majority of the UFO appearances of modern times have been of these Crusaders. These are the ones responsible for abductions, animal mutilations, and gloom-and-doom-type channelings. They are allowed by the order of things to prey on human beings, but only by appealing to people's weaknesses, such as pride, lust, etc. It is the weak-minded who fall for their deceptions and try to use black magic to contact them.
Cook's analysis then identifies the hidden hand of the third force behind the Ukraine conflict, the "Crusaders of Orion":
But why is Russia seen increasingly as an enemy? Didn't we rejoice when the Soviet Union fell and its component states went democratic? Wouldn't it make more sense to embrace Russia as the return of a long-lost friend to the fold of well-intentioned nations? Instead, it almost seems as if powerful elements behind the scenes want to foment a major war with Russia and possibly China. It makes no sense. The negative frame of mind this attitude signifies is harmful to the point of being pathological. Is it too much to speculate that the hand of the Chariots of Orion is fueling the fire with fear and war-hysteria? Are they stirring the pot just for the delight in seeing people suffer?
Cook's analysis finally takes us into the real predicament facing humanity today. Most people have been induced into a kind of sleep paralysis where they are not awake to the third force manipulating human affairs:
Also according to RA, the Confederation inspired earth's scientists to bring forth the technology that gives humanity the opportunity for the leisure required for spiritual pursuits. But technology has been perverted by the Crusaders' minions for economic exploitation and weapons of war. They use such "gadgets" as television and advertising to keep humanity asleep. Even the internet is used for negative as well as positive purposes. In the Ukraine incident, the Western media are working overtime to demonize Russia and its leaders. Leaders of the Republican Party mock President Obama for his supposed weakness in not being more aggressive, saying, as did former Secretary of State Condoleezza Rice, that the American people "cannot afford to be war-weary." This is worse than insanity in a world on the brink.
Cook's article is very helpful insofar as it introduces the reader to a third force manipulating political elites from both sides to embark on self-destructive wars. In an earlier article, I discussed how a hacked phone call between the Estonian Foreign Minister and the European Union's Foreign Affairs chief, revealed how a shadowy third force was behind the sniper attacks against both protesters and police. I concluded that "the chaos in the Ukraine may be a result of a secret exopolitics conflict between Putin's Russia and the international power elite responsible for maintaining secrecy about UFOs and extraterrestrial life." Cook's analysis casts light on who is behind this international power elite, or third force, manipulating national governments and populations.
While some may question the authenticity of the channeled information the makes up the RA material, it does provide helpful insights into the hidden forces behind international conflict. Cook's article is an invitation to investigate the possibility of a third force manipulating international conflict, along with the likelihood that it is other worldly in origin.
© Copyright 2014. Michael E. Salla, Ph.D.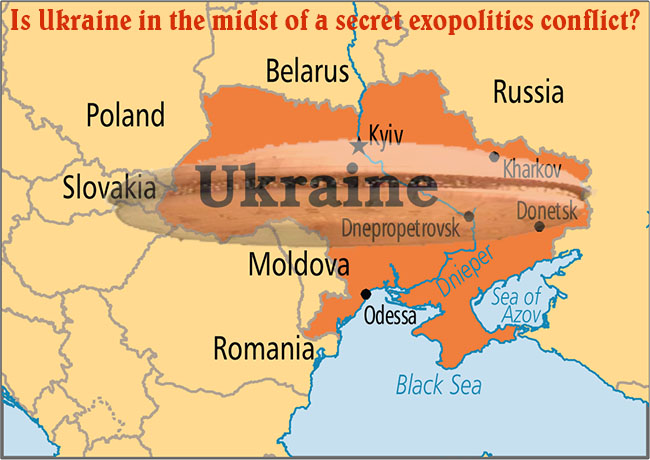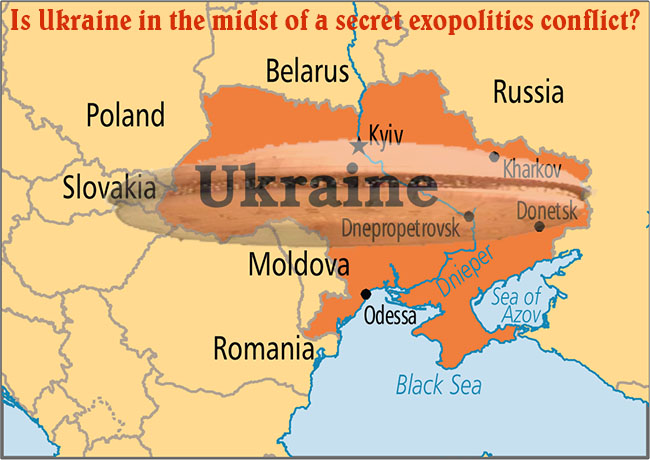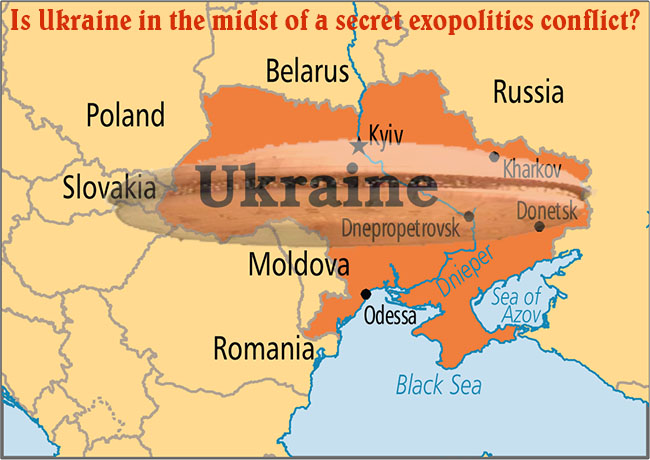 A hacked phone call between the Estonian Foreign Minister and EU Foreign Affairs chief, Catherine Ashton, reveals that snipers responsible for the death of protesters were not from the deposed Ukrainian government. The hacked phone call was made available to the RT news service and today was the subject of a number of news reports. The hacked call reveals that the snipers targeted both protesters and police. According to the call, there was a need to investigate, but there was no incentive among the new Euromaidan approved Ukrainian transition government to do so. The hacked call reveals that a mysterious third force was operating to destabilize the previous Ukrainian government run by President Yanukovych by making it appear responsible for the sniper attacks.
According to Kurt Nimmo from Infowars.com, the sniper attacks were part of an Operation Gladio type operation run by covert operatives designed to create chaos that would promote a pro-European agenda. In this case, the goal was to discredit the Ukrainian government run by Viktor Yanukovych, in order to ultimately detach Ukraine from the Russian sphere of influence. The hacked phone call is evidence of a covert operation by a mysterious third force – an international power elite – intending to undermine the Russian Federation and the policies of President Vladimir Putin. While the immediate target of the covert operation is fairly transparent, fathoming the deeper agenda is more difficult. One possibility is that the covert operation may ultimately be a response to what has been described as Putin's "exopolitics agenda."
The startling revelations in the hacked phone call were made by the Estonian Foreign Minister, Urmas Paet, after doing a fact finding tour of the Ukraine on February 25, and interviewing key witnesses. Among those interviewed was Olga Bogomolets who was the chief doctor for the Maidan mobile clinic giving medical assistance to wounded protesters. Bogomolets had earlier turned down the position of Vice Prime Minister of Ukraine for Humanitarian Affairs offered by the Euromaidan appointed government. Paet told Catherine Ashton:
And second, what was quite disturbing, this same Olga [Bogomolets] told as well that all the evidence shows that the people who were killed by snipers from both sides, among policemen and then people from the streets, that they were the same snipers killing people from both sides."
Paet went on to explain more of Bogomolets' astounding reveleations:
There is now stronger and stronger understanding that behind the snipers, it was not Yanukovych, but it was somebody from the new coalition … So that she then also showed me some photos she said that as a medical doctor she can say that it is the same handwriting, the same type of bullets, and it's really disturbing that now the new coalition, that they don't want to investigate what exactly happened,"
The hacked phone call reveals that European governments are aware that the Yanukovych administration was likely not responsible for the sniper attacks on Euromaidan protestors. The newly appointed Ukrainian government is reluctant to investigate since this would bring into question its own legitimacy in orchestrating the removal of President Yanukovych and his administration. The ultimate result is that the Ukraine is now experiencing chaos as a result of divided loyalties between the current and former government administrations.
In a previous article titled, "Russia's military intervention in Ukraine and exopolitics," it was claimed that President Putin had taken proactive action in response to what he claimed was covert actions authorized by an international power elite. Furthermore, it was claimed that Putin was quietly implementing an "exopolitics agenda" of leaking information about extraterrestrial life to the Russian and world publics. In doing so, Putin was challenging a seven decades old secrecy policy implemented by the same international power elite responsible for the Ukraine crisis. If the article's claims about Putin's "exopolitics agenda" is accurate, that provides a possible answer to the deeper agenda behind the covert operation involving sniper attacks on Euromaidan protestors. Ultimately, the chaos in the Ukraine may be a result of a secret exopolitics conflict between Putin's Russia and the international power elite responsible for maintaining secrecy about UFOs and extraterrestrial life.
© Copyright 2014. Michael E. Salla, Ph.D.
This article is copyright © and should not be added in its entirety on other websites or email lists. Permission is granted to include an extract (e.g., introductory paragraph) of this article on website or email lists with a link to the original.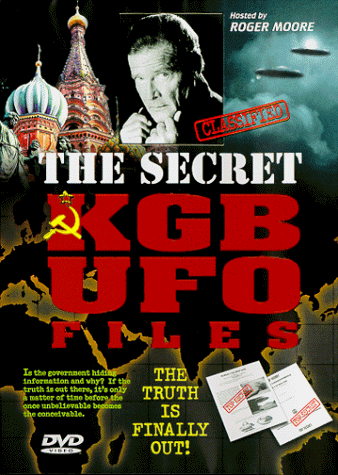 In a Press Conference televised today, Russian President Vladimir Putin declared that it was unlikely that Russia would take over Ukraine's Crimean Peninsula. He declared: "We have reinforced protection of our military facilities, because we were receiving threats and saw that gunmen from terrorist organizations were coming,"   Russia's military actions in the Crimea has sparked international condemnation with Western leaders calling for a coordinated response, and taking symbolic diplomatic actions to punish Russia. In contrast, President Putin declared in his Press Conference that the recent events in Ukraine was an "illegitimate state coup" orchestrated by the intelligence communities of the U.S. and Europe that arranged for the overthrow of Ukrainian President Viktor Yanukovych.  According to Putin, Russia's military intervention was merely a proactive measure to defend Russian nationals in a territory that has been historically part of the Russia. U.S. Secretary of State, John Kerry attacked Russia for brazenly violating the sovereignty of a U.N. member state on trumped up charges. Kerry today stated, "not a single piece of credible evidence" supported Russia's intervention, ironically forgetting that the same could be said for the U.S. led invasion of Iraq based on non-existent weapons of mass destruction.
Ukraine is but the latest in a series of former territories of the Soviet Union that have been courted with membership offers to the European Union (EU) and promised eventual membership of NATO. As former Soviet era territories continue to join the EU and eventually NATO, the effect is to gradually squeeze the Russian sphere of influence, and make Russia subservient to the agenda of the Western power elite.  In the chess board of international politics, Ukraine is but a pawn in a grand strategy to checkmate Russia. Why? What makes Russia so politically dangerous to the Western power elite? Is it Russia's nuclear arsenal? Is it Russia's political tradition of standing up to forces of international banking and the Western power elite? Or is it another deeper form of international politics being played out with Russia – exopolitics? Is Russia's main threat to the Western power elite a carefully orchestrated policy of slowly leaking information concerning UFOs and extraterrestrial life to its citizenry and the world?
To find the truth of whether Putin's Russia is quietly pursuing an "exopolitics" agenda by leaking information extraterrestrial life, we need to begin with events in the early 1990's. As the Soviet Union collapsed in December 1991, and 15 independent states emerged, the Soviet KGB dissolved and in the process lost control over a vast collection of files. Many of these leaked KGB files concerned the formerly Soviet era taboo subjects of UFOs and extraterrestrial life. The motivation for many KGB officers in leaking these files was largely monetary. A number of western media outlets were willing to pay large sums for information from Soviet era archives concerning UFOs and extraterrestrial life. Several thousand dollars for leaked documents, photos or videos would mean former KGB agents could feed themselves and their families for a few months in the uncertain times ahead as the Russian Federation found its footing in a capitalist international system. Roger Moore, the former James Bond star, took a film crew to Russia, then led by Boris Yeltsin, and found some of these files.
Moore's documentary, The Secret KGB UFO Files, was released in 1998 and revealed some of the best UFO footage ever captured on film. It showed a crashed UFO in a remote rural location being filmed and retrieved by Soviet army units led by KGB officers. One also saw video of an autopsy being conducted of a dead alien, and other evidence of Soviet knowledge about UFOs and extraterrestrial life.
Later documentaries would reveal even more formerly classified KGB information such as the US Navy battling UFOs in Antarctica during the Operation Highjump expedition in 1946/47, and even secret meetings between U.S. government authorities and extraterrestrial ambassadors.
In 1997, the famous Italian stigmatist and self-declared "contactee," Giorgio Bongiovanni was given permission to interview high ranking military officials and former KGB agents about extraterrestrial life. He met with Russian officials at the Anti-Aircraft Academy of Defense in Tver, Russia and discussed evidence of UFOs and extraterrestrial life possessed by the Russian government. Photos and videos of alien life were shown to him revealing that both the Soviet Union and USA were aware of and covering up evidence of alien life. Permission was also given to film the interview and it was released with the title: "UFO Disclosure in Russia."
Under President Boris Yeltsin, whether by historical accident or deliberate state policy, an exopolitics agenda was being quietly implemented. With permission by Russian authorities, Soviet era UFO files were being leaked to independent researchers and film crews revealing the truth about alien life visiting our world.
A little known KGB Colonel, Vladimir Putin, rose quickly in the Yeltsin administration. His first major appointment was on 26 March 1997 when he was appointed Deputy Chief of the Presidential Staff. Putin continued to be rapidly promoted and on 25 July, 1998 was appointed head of the FSB, one of the successor agencies to the KGB. He became Prime Minister on 9 August 1999 and Yeltsin announced his desire that Putin would succeed him. After Yeltsin's abrupt resignation in December 1999, Putin became acting President, and was elected President on 26 March 2000.
Putin appears to have quietly continued Yeltsin's exopolitics agenda of allowing alien related information to be leaked to the public. Senior officials in the Russian Federation have been allowed to come forward on national TV to offer their frank assessment on the subject of extraterrestrial life visiting Earth. One of these officials was Kirsan Ilyumzhinov, the sitting Governor of the Russian Republic of Kalmykia, the only Buddhist region in Europe.
In an extraordinary television interview conducted in May 2010, Ilyumzhinov claimed that in 1997 he was taken from his penthouse apartment on board an extraterrestrial vehicle. Ilyumzhinov claims that the extraterrestrials he met were humanoid and gave him a tour of their ship, and even took him to another world. According to Ilyumzhinov, his experience is backed by three witnesses who searched for him at his home after he had boarded the alien spaceship. Most revealing is that Ilyumzhinov appeared on Russia's no.1 rated television station, Channel One, which is 51% controlled by the Russian government. The interviewer, Vladimir Pozner, began the segment with questions about Ilyumzhinov's experience. This reveals that the host and producers knew in advance of what had happened, and wished to discuss it on air. Significantly, there was no censorship of Ilyumzhinov's experience which was immediately made available on the Channel One website. At the very least, this signifies that the Russian government was open to public debate on extraterrestrial life sparked by its most prominent television station. More importantly, the airing of Ilyumzhinov's experience signaled that Putin, who was Prime Minister at the time, and his successor President Dmitry Medvedev, were pursuing an exopolitics agenda to prepare Russian citizens for eventual public disclosure of extraterrestrial life.
In 2012, after Putin had been re-elected as President of the Russia Federation, his predecessor and now serving Prime Minister, Medvedev, startled a television hostess with his frank comments about UFOs and extraterrestrial life. After completing an on-air interview with five television reporters on December 7, 2012, Medvedev continued to respond to reporters and made some off-air comments without appearing to realize that the microphone was still on. He was then asked by one reporter if "the president is handed secret files on aliens when he receives the briefcase needed to activate Russia's nuclear arsenal," Medvedev responded:
Along with the briefcase with nuclear codes, the president of the country is given a special 'top secret' folder. This folder in its entirety contains information about aliens who visited our planet… Along with this, you are given a report of the absolutely secret special service that exercises control over aliens on the territory of our country… I will not tell you how many of them are among us because it may cause panic.
Just over a month after his startling on-camera admission, Medvedev opened the 2013 World Economic Forum held in Davos Switzerland, January 23-27. An 80-page analysis of 50 risks for the next 10 years had been distributed to attendees. The Global Risks 2013 report is lengthy list of prognostications of what world leaders need to plan for to avoid "systemic shocks and catastrophic events". Among the list are five X factors that according to the report, "no country alone can prevent." One of the X factors was the discovery of extraterrestrial life.
In understanding why the US and its Western allies are trying to encircle, pressure and intimidate the Russian Federation, we need to appreciate that this is the means by which Putin's exopolitics agenda can be stopped. If Russia continues to allow senior officials to reveal the truth about extraterrestrial life and to leak Soviet era UFO files, this threatens a carefully developed and enforced policy of over seven decades of international secrecy.
While the international media depicts Western democracies led by the US as free and open societies, the reality is that when it comes to the issue of extraterrestrial life, the West is anything but free and open. In contrast, the Russian Federation is far more forthcoming when it comes to the issue of alien visitation to our planet. Unfortunately, the Ukraine is being used a pawn in an internationally orchestrated effort to weaken and intimidate the Russian Federation so it can be easily pressured to fall in line with the dictates of the international power elite on issues such as extraterrestrial secrecy. Putin understands this and that is why he proactively intervened in the Ukraine to defend Russian interests in this strategically vital nation. In allowing an exopolitics agenda implemented by his predecessor, Boris Yeltsin, to continue, President Vladimir Putin, and his chief ally Prime Minister Dmitry Medvedev, are doing humanity a great service.
© Copyright 2014. Michael E. Salla, Ph.D.
This article is copyright © and should not be added in its entirety on other websites or email lists. Permission is granted to include an extract (e.g., introductory paragraph) of this article on website or email lists with a link to the original.
Further Reading