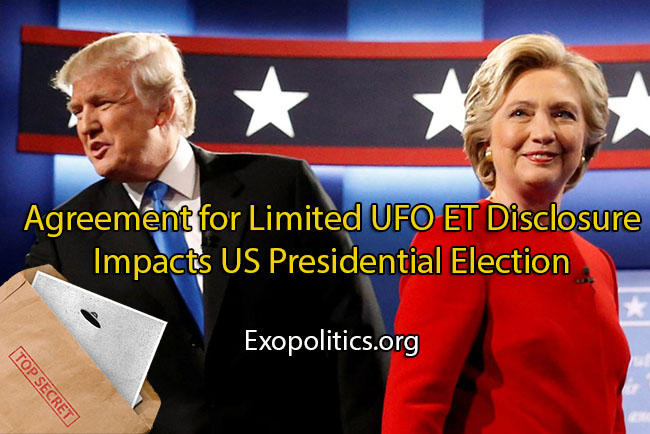 In a November 3 update, secret space program whistleblower Corey Goode has received new information suggesting we are on the verge of an official disclosure of information about a secret space program run by a consortium of military and corporate entities in the USA., and its major global allies. The release will be the first stage in a gradual disclosure process that has been negotiated behind the scenes between different institutions and global elites with greatly diverging agendas on how much and how quickly the disclosure process should move forward.
What gives Goode's latest update special significance are recent Wikileaks documents revealing confidential emails between Clinton Presidential campaign chair, John Podesta, with two U.S. Air Force generals and the head of Lockheed Martin's Skunkworks, who are working behind the scenes with rockstar Tom DeLonge on a UFO disclosure initiative linked to the 2016 Presidential election.
DeLonge says he is being assisted by ten high level insiders to reveal the truth behind a secret space program run out of Area 51, using antigravity TR-3B dual purpose aircraft and spacecraft. Thanks to Wikileaks, we now know that Major General William McCasland (USAF ret.), former head of the Air Force Research Laboratory at Wright Patterson Air Force Base, is working with DeLonge. As is Rob Weiss, current head of Lockheed Martin's Skunk Works, which has important research and development facilities at Area 51. 
Another USAF officer assisting DeLonge is Major General Michael Carey who wrote an endorsement for DeLonge's co-authored book, Sekret Machines, released in April this year. We now know the names of three of the alleged ten senior advisors from the U.S. military industrial complex that are assisting DeLonge. The Wikileaks documents confirms that DeLonge has indeed found high level support for his UFO disclosure initiative, which is part of an officially sanctioned UFO disclosure process. All this is directly relevant to Goode's latest update.
According to Goode, he was taken to meetings where he met his former primary contact within a "Secret Space Program (SSP) Alliance," a Lt. Col. Gonzales (a pseudonym) who briefed him on a series of developments concerning the negotiation process over UFO and extraterrestrial disclosure over the last four months.
Goode said the following discussion occurred:
Gonzales then gave me a summary-type of briefing on what had recently occurred in Cabal meetings. It seems as though these groups are making some progress in how to transition into a new economy. These groups had also recently agreed on moving forward with a partial disclosure that would roll out over 50 to 100 years. They don't agree on how to do a partial disclosure yet, but have started to inform members of lower secret space programs (Military Intelligence/DIA/NSA programs) that they will likely be revealing themselves to us in the near future.
Goode describes how personnel in these "lower secret space programs," are simply out of the loop about the more advanced SSPs that he worked for from 1987 to 2007. Goode says he now prefers to use the term "Military Industrial Complex (MIC) SSPs" for the following reason:
Although these groups are predominantly earth-based, and have been compartmentalized from having any knowledge of the SSP I experienced, they are not "lower" in any sense other than on the level of secrecy they are allowed access to.
The cover-up and compartmentalization is so effective that it is nearly impossible to explain to them that other, more advanced SSPs exist. It is akin to violating a deeply held religious belief.
Gonzales told Goode more about the type of disclosure that had been agreed upon and how much of the truth about extraterrestrial life was to be disclosed:
Gonzales stated that all sides had agreed on a "Rolling Disclosure." These groups had decided there would very likely be a public uprising unless they disclosed this information to humanity in bite-sized pieces.
These groups had further decided that there would be a limited ET disclosure, which would include a race of human-like beings that has worked very closely with various nations of the world for some time.
This is where Gonzales became more specific about how much is to be revealed about the secret space program run by the USAF:
This group has decided that prior to any ET introductions, they will first disclose one of the MIC SSP's. In fact the leadership of one of these secret space programs has been informed that they will be disclosed. The program that these groups plan on disclosing is one that is controlled by the Air Force, the DIA and the NSA.
It consists of a number of unmanned as well as manned satellites. This will include at least two manned space stations that are only about 50 to 100 years more advanced than the ISS (International Space Station).
A disclosure of manned space stations using cloaking and other advanced technologies would definitely dominate the international news cycle. It would usher in revolutionary changes for the aerospace industry, and greatly impact a new generation of space enthusiasts.
However, such a disclosure would be far less than what Goode and others like William Tompkins have been publicly revealing about more advanced secret space programs with kilometers-long space carriers capable of interstellar travel.
Tompkins, in particular, has provided documents that reveal that the U.S. Navy began working with major corporations such as Douglas Aircraft Company in the 1950's to design such craft, which were eventually built in secret facilities in the Wasatch Mountains of Utah.
This is where Goode says he was told about a discrediting campaign being initiated against all those speaking out about the more advanced SSP programs:
In order for this partial disclosure narrative to be successful, these groups have agreed that all other narratives must be squashed vigorously. They must discredit those sharing their experiences and knowledge of the wider activities going on within our solar system.
If they attempt the partial disclosure narrative prior to this discrediting campaign, they would have people standing up asking "What about the slave trade? What about the negative non-terrestrials that have been reported to have controlled our planet"
Coincidentally, long time disclosure advocate, Dr. Steven Greer, recently criticized both Goode and Tompkins as mind control victims who have had scripted experiences about secret space programs downloaded into them. Greer said:  
In the early 1990's I met a man in the intelligence community who had developed for the intelligence community an electronic system that by 1956 would enable them to completely target people and give them experiences that were scripted, and this of course begins to explain a lot of the experiences of people like Corey Goode and Bill Tompkins, and others you've been hearing about have had. These people … were victims of these programs, but the programs were designed to create a sort of scripted Armageddon, have people have experiences that they truly believe are real but are completed scripted by the intelligence community.
While Goode has never said mind control techniques have not been used upon him, the same can't be said for Tompkins who was never been subjected to such invasive procedures during his four-decades long Navy and corporate aerospace career up to 1984, and subsequent work with the U.S. Navy League.
So far, I have privately interviewed three retired Navy officers, Rear Admiral Larry Marsh, Captain Larry Boeck, and Commander Art Lumley, who all have confirmed Tompkins bona fides as a highly respected figure in U.S. Navy circles for decades, and agreed to have their names released to attest to this. Importantly, Boeck and Lumley confirmed that Tompkins was regarded as an expert on the extraterrestrial subject back in the 1990's when he was President of the Rogue Valley Council Navy League.
Admiral Marsh told me that Tompkins' creation of the Rogue Valley Council Navy League in 1991 was considered a very important event for the Navy, and led to him leaving his assignment as Commander of Naval Base Seattle and Submarine Group Nine at Bangor, Washington, for three days to travel to Medford, Oregon to meet with Tompkins and officiate at the launching ceremony. I highly doubt an active U.S. Navy admiral would leave two important Navy commands to humor a mind control victim.
Unfortunately, it appears that Dr. Greer, by accident or design, is aligned with a discrediting campaign launched by the MIC SSP's against the full disclosure efforts of Goode, Tompkins and others.
In his November 3, update Goode next explains the rationale for delaying full disclosure:
The real reason they want to drag out disclosure over an extended period is that they have committed crimes against humanity.
Specific, damning information was pointed out that would affect everyone involved in the Alliance. This was the Cabal's greatest trick in attempting to block the full data dumps from being released.
A prolonged exposure of the truth will allow many of the individuals involved to die before their crimes would ever be fully released. They would escape any possibility of prosecution for what they have done.
Goode also goes on to describe the Presidential election and that Donald Trump is being secretly backed by the SSP Alliance:
Gonzales and I spoke about a few other topics that I need to keep quiet for now. I am able to mention that he confirmed that Donald Trump is indeed being backed by the Alliance.
Trump is certainly not entering into this battle free from his own baggage. He has said and done a variety of things that are upsetting to people. He does not, however, represent a group that actively seeks to kill billions of people by starting World War III as soon as possible.
Goode describes how the mainstream media depiction of Trump is part of a "rigged system":
It has been quite astonishing to see the difference between what Trump is actually saying and how the controlled mainstream media interprets reality. This has created a great deal of confusion and frustration in people who are only now starting to see how rigged "the system" really is.
Nevertheless, the constant stream of leaked documents is alerting the alternative media and the attentive public to the truth. One of these documents was leaked by Anonymous, and concerned a top consulting firm for the Clinton Presidential Campaign, the Benenson Strategy Group, discussing options for salvaging the flagging Clinton campaign according to internal polling. Goode said:
A recent document leaked by "Anonymous" purports to be from the Clinton Foundation, revealing a staggering drop in support for Hillary throughout the month of October. This trend has undoubtedly greatly accelerated since the head of the FBI, James Comey, re-opened the criminal investigation against Hillary with new emails right before Halloween. The leaked document presented various potential solutions to this drop in support, including a mass distraction through the use of a fake alien invasion.
Goode next delivers shock revelation, the FBI is actively working with Putin's Russia to help get the truth out, and this was part of what motivated the FBI Director Comey's letter reopening the investigation into the Hillary Clinton emails.
This has led to surprising public declarations of collusion between Russia and the FBI – something that we have been revealing for years now as a key aspect of the Alliance.
Finally, Goode describes another abduction incident he was subjected to by the MIC SSP trying to confirm data from three abduction incidents in early 2016 where Goode inadvertently outed three SSP Alliance operatives. Goode's accurate data led to some doubts in the MIC SSP about whether Goode was telling the truth about a Secret Space Program Alliance with more advanced technologies than were being used in the MIC SSP.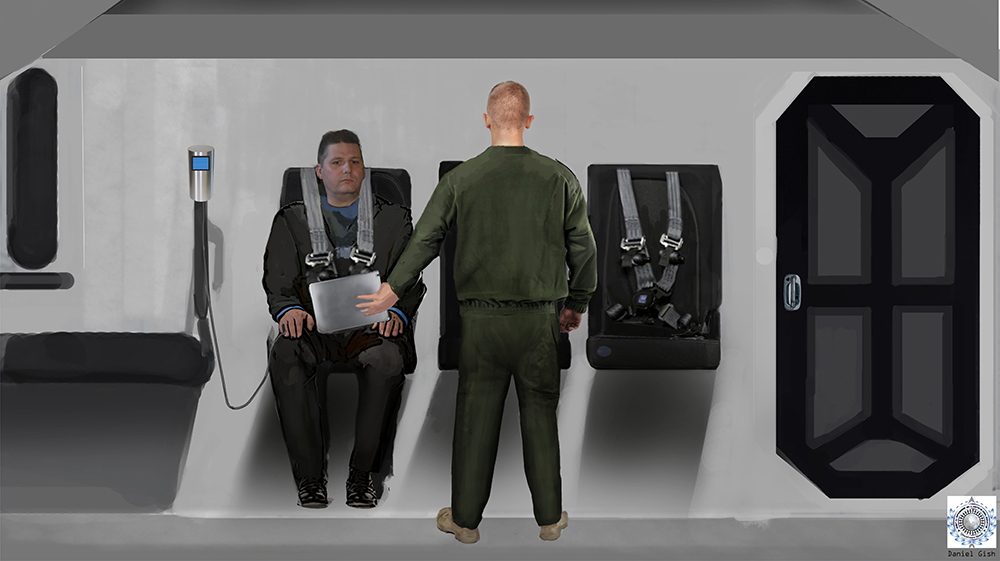 Consequently, a more senior USAF officer from the MIC SSP interrogated Goode, and he describes what happened:
As I was focused on what they were doing, another person came into the room. The two airmen snapped to attention.
All three of the men were wearing Air Force uniforms without any patches to indicate who they were. The last person to enter the room had white hair, a white goatee beard, and a very serious look on his face.
He sat in the chair next to me while the two airmen once again took hair and blood samples from me. After putting away the samples, they were told to leave the room.
The man who was obviously in charge addressed me by my first name. He began to ask random questions about the LOC [Lunar Operations Command] and the status of the SSP Alliance.
This seemed to me like some sort of old school lie detector test. "You know,' he said, "in the intelligence circles you are laughed at and ridiculed."
He continued saying similar things as he was watching my facial expressions and eyes very closely. This also seemed like some sort of psychological or lie detector test.…
I asked how I should address him and he looked at me as if I was an idiot. He said, "Just call me Sir."
I asked him why I was being picked up again, and why he was so skeptical after the last time when I was tricked into outing three members of the SSP Alliance.
He stated he was here to repeat the process of gathering evidence and then keep the chain of custody of the evidence. He stated this was to rule out the possibility that the previous team had made a mistake or had tampered with the results.
He went on to say that he could not accept that I was telling the truth. The information I had provided was too far outside the scope of his briefings. He stated that it was possible that the SSP Alliance was merely a few people from his own program who had gone rogue.
One of the people I had originally identified was indeed in one of the programs he oversees. I had no idea what to say in reply as he sat there quietly looking at me as though he was staring into my soul.

Goode says after being injured when leaving the spacecraft where the interrogation was held, he was picked up by a Mayan-run SSP with Gonzales, who was now the liaison between it and the SSP Alliance. Gonzales explained that the interrogation had been allowed to go forward as part of a plan. Goode guessed the plan's goal:
I asked what plan he was referring to, and why wasn't I in on it. He said he couldn't go into the details and to please trust him for a little longer. He would soon let me in on whatever the agenda for this plan was.
It is possible that my interrogation was a means through which valuable intel is making its way into the MIC SSP groups, in order to help them understand that other SSPs actually do exist.
The white-haired man in charge seemed so baffled by my claims that he wanted to make absolutely sure the proof was there – and oversaw the whole process.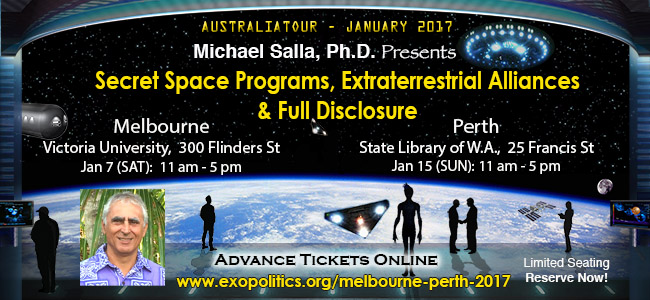 In conclusion, based on Goode's latest report, it does appear that official disclosure efforts concerning a secret space program run by the USAF, NSA, DIA and the NRO, are being accelerated. Agreement has been reached and efforts are underway to discredit Goode, Tompkins, and others revealing details about a more advanced space program run by the US Navy/SSP Alliance, while moving forward with the more limited disclosure information being revealed to public figures like Tom DeLonge and Steven Greer by USAF insiders and others.
Finally, next week's Presidential election is going to be very significant for secret space program and extraterrestrial disclosure. The Clinton campaign is already, according to the leaked Podesta emails, an active participant in DeLonge's "limited disclosure" initiative, which is backed by at least two retired USAF generals.
A win by Hillary Clinton is likely to accelerate this limited disclosure initiative, and possibly lead to one group of extraterrestrials being publicly disclosed, as claimed by Goode. The risk here, as Goode and others point out, is that Clinton's hawkish Russia policy may lead to military hostilities which would extend the disclosure process indefinitely, and even precipitate a third world war.
A win by Donald Trump, on the other hand, will have many unpredictable outcomes, both positive and negative. One of the more undesirable being heightened racial tensions in the U.S. leading to widespread civil unrest. One of the more desirable outcomes, however, which is backed by Goode's SSP Alliance, is a full disclosure of all secret space programs and extraterrestrial life. That would certainly revolutionize life on the planet and "Make America Great Again." 

© Michael E. Salla, Ph.D. Copyright Notice
Further Reading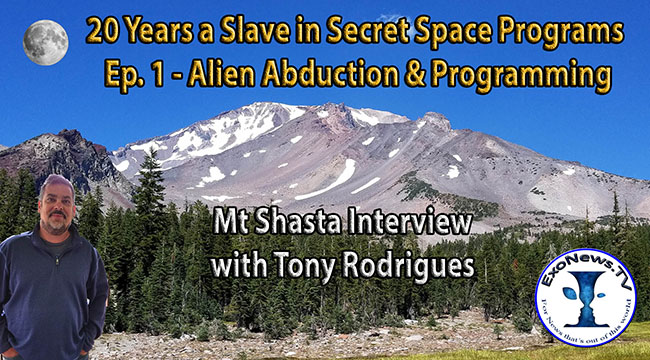 A new witness to secret space programs has publicly come forward to give details about how these programs operate in recruiting and treating personnel who are considered to be 'slaves' with no rights.
Tony Rodriques claims that in 1981, when only nine years old and in 4th grade, he was involuntarily recruited into a "twenty and back" program as punishment for something he did to one of his class room peers.
He publicly embarrassed the son of a high level member of the Illuminati and Rodrigues says that he was soon after abducted by five aliens. He was then genetically tested to determine what skills he possessed, which could be used in covert 'support' programs and eventually for the secret space programs themselves when he got older.
Rodrigues says that he was first forced to work as a psychic for a drug running operation out of Peru for four years, before being recruited as a sex worker in the area of Seattle from age 13. When he turned 16 years old, in 1988, he was taken to the Moon to be tested for any skills he possessed that would be of most benefit for service in the secret space programs.
After briefly serving on Mars as a slave fighter for a mercenary military force protecting corporate bases from indigenous Martians, he says was taken to Ceres, a planetoid in the asteroid belt, where he worked for 13 years with a German led freighter crew that was part of the "Dark Fleet," which was initially set up by Nazi Germany during World War II.
The first public reference to the "Dark Fleet" was by Corey Goode who listed it as one of five secret space programs he was familiar with in early 2015. The existence of a Nazi linked secret space program was subsequently confirmed by William Tompkins in early 2016. Both Goode and Tompkins said that slave labor was used extensively by the Dark Fleet.
I was first contacted by Rodrigues on August 15, 2015, and have spent more than a year vetting Tony's testimony with the support of two other researchers, Morgan Starr and Rob Potter, who released the first audio interview of Rodrigues on Sept 23. Our conclusion is that Rodrigues is being truthful, sincere and consistent in describing events he recalls experiencing during a twenty and back secret space program.
Rodriges was publicly identified by Rob Potter on the last day of the Secret Space Program Conference held at Mount Shasta from August 26-28. I subsequently interviewed him for Exonews.TV from the speaker lodge at the conference on the morning of August 29.
In this first episode in a five part series on ExoNews TV, Rodrigues explains the event that led to his involuntary recruitment into a twenty and back program, and his first trip to the Moon in 1981.
In the next episode, we will learn what happened to Rodrigues when he was taken seven years later, in 1988, when he was 16, to the moon where he was trained for his first assignment for a secret space program with military and corporate facilities on Mars.
Michael E. Salla, Ph.D.
Announcement: Documents and first hand witness reports revealing the creation of antigravity spacecraft belonging U.S. secret space programs, and the testimony of witnesses, will be presented in an upcoming lecture and workshops in Los Angeles (Oct 8-9) and San Francisco (Oct 14 & 16) by best-selling Amazon.com author Dr Michael Salla. More info here.
This article may be freely circulated in its entirity.

Further Reading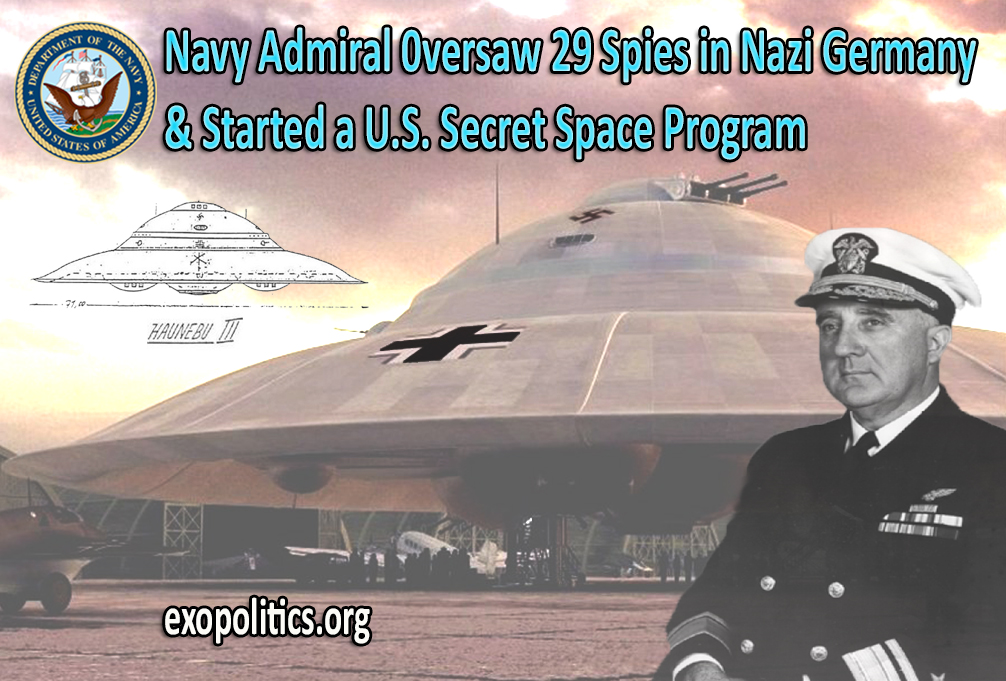 Rear Admiral Rico Botta was an extremely busy man during World War II. In addition to his official daytime naval duty as "Assembly and Repair Officer" at Naval Air Station, San Diego, in the evenings he led a covert Navy program operating with 29 spies embedded in Nazi Germany's most advanced aerospace programs which were developing antigravity flying saucers.
According to retired aerospace engineer, William Tompkins; from 1942 to 1946, Admiral Botta seamlessly performed his official and covert Navy duties. The covert program learned from the Navy operatives (Lieutenants in rank) that the Nazis had developed up to 30 prototypes of antigravity craft, some of which were capable of space flight.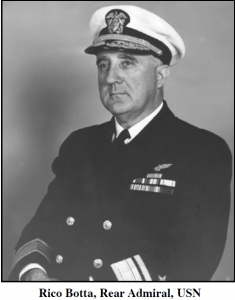 It was Admiral Botta's duty to understand both the war and post-war potential of the Nazi aerospace programs, and disseminate the relevant technical information acquired by the spies to his Navy superiors, and also select U.S. aerospace companies, think tanks and government laboratories.
Tompkins job was to assist Admiral Botta by physically taking the briefing packages created during the covert program to organizations with the technical expertise to understand the Nazi designs and prototypes, assess their feasibility, and incorporate them into the war effort, if possible.
Tompkins did this approximately 1200 times. Each late night debriefing session was run by the Admiral, with one or more out of a pool of three Navy captains in attendance, along with Tompkins and a stenographer to record the sessions.
After the official end of WWII, Botta went on to play a key role in starting a U.S. Navy led secret space program filling a number of positions until his final "official" assignment at Naval Air Material Center, Philadelphia, from 1950 until his retirement in 1952.
Admiral Botta's covert program was first publicly revealed in December 2015 by Tompkins in his book, Selected by Extraterrestrials.
Here Tompkins released a document  revealing his mission orders as a Disseminator of Naval Aircraft Research and Information, and explained how he would deliver briefing packages to various aerospace organizations.
Tompkins also released a document issued by Navy Secretary James Forrestal, which formalized the technology acquisition program headed by Admiral Botta within the newly created Office of Research and Inventions on May 19, 1945.

Yet more documents he released are two exit passes signed by Admiral Botta, which gave Tompkins permission to exit the Naval facility with his "briefing packages."
These two exit passes confirm Admiral Botta's direct role in the covert Navy program. It is hard evidence that Botta was leading a covert program at Naval Air Station, San Diego, which was authorized by Secretary Forrestal, as Tompkins has claimed.
Confirming Botta's role in the covert program described by Tompkins has been elusive up until recently. Botta's background and expertise would remain a mystery until researchers at Rense.com combined their efforts to find an official biography on him. 
Botta's biography was published on the website of the "Golden Eagles," an organization formed by naval aviators back in 1956.  Curiously, Botta's biography was only made available in March 2016, four months after Tompkins' Selected by Extraterrestrials was published and publicly identified Admiral (Rico) Botta (mistakenly spelled in the book as "Rick Obatta").
This occurrence, five years after the Golden Eagles website first appeared in 2011, is oddly coincidental, and suggestive of "official approval" for the release of Botta's biography into the public arena.

Despite the curious timing of its release, there is no reason to question the accuracy of Botta's biographical details as found on the Golden Eagles website.
Evaluating Admiral Botta's various commands and expertise will help considerably in determining whether or not he was capable of running the covert Navy Spy program alleged by Tompkins, and whether Tompkins testimony itself is credible.
One of the first issues to address about Admiral Botta's background is his rank while stationed at Naval Air Station, San Diego. His official position as "Assembly and Repair Officer" in normal circumstances would be filled by a Captain.
This is confirmed in the citation for his award of the "Legion of Merit" after WWII for his time at San Diego:
The President of the United States of America takes pleasure in presenting the Legion of Merit to Captain Rico Botta, United States Navy, for exceptionally meritorious conduct in the performance of outstanding services to the Government of the United States as the Assembly and Repair Officer, U.S. Naval Air Station, San Diego, California from 31 December 1942 to the termination of hostilities in August 1945.

Yet, on January 11, 1946, after the award of his Legion of Merit, Botta was retroactively promoted to Rear Admiral, spanning back to June 30, 1943. The Congressional record refers to the retroactive promotion due to a temporary assignment which meant that his position as 'Assembly and Repair Officer" had aquired flag officer responsibilities.
It's feasible that his temporary appointment as Admiral was due to the wartime responsibility of "Assembly and Repair Officer" expanding significantly beyond the normal command level involved during peacetime operations. This is certainly the view of WWII historians such as Ken McCanliss, who points out that Botta is among "a list of 58 Navy flag officers who were given retroactive promotions reflecting war time rank."
It's also possible that his temporary rank of Rear Admiral was due to him performing additional duties of extreme importance to the Navy, commensurate with the rank of Rear Admiral. This is what Tompkins' two May 1945 documents suggest in terms of a covert technology acquisition program that reported directly to Secretary Forrestal.
According to Tompkins, Forrestal directly intervened in ensuring Botta's temporary promotion to Rear Admiral since that was required for the covert program that Botta would head. It would certainly make a difference for Tompkins' briefing packages to be taken seriously if he was working for a Rear Admiral, rather than a Navy Captain, when he delivered them to leading aerospace companies.
Furthermore, Botta's background as an Australian citizen (he emigrated to the U.S. in 1908 at age 18), and not being a graduate of the U.S. Naval Academy, would likely have created additional hurdles to advancement to flag officer rank.
Botta's promotion supports Tompkins claim that in addition to Botta's official "daytime" duties, he also performed covert duties at night, in running the Navy spy program out of Nazi Germany, which required a flag officer to be in command. It's worth emphasizing that Tompkins recalls that when he began working under Botta in 1942, the latter wore the uniform of an admiral.
We can now examine some of Botta's other Naval assignments to assess whether he was capable of running a covert espionage program out of Germany to learn about its aerospace secrets.
According to his biography, Botta worked for the Bureau of Aeronautics for two periods. First from 1921 to 1924, and the second time from 1937 to 1942. During his second stint, he worked in the Engineering Division Material Branch and later was the head of the Power Plant Design Section.

Here is what we know of the Bureau of Aeronautics from Wikipedia:
The Bureau of Aeronautics (BuAer) was the U.S. Navy's material-support organization for naval aviation from 1921 to 1959. The bureau had "cognizance" (i.e., responsibility) for the design, procurement, and support of Naval aircraft and related systems.
These two assignments confirm that in 1942, Admiral Botta had nearly nine year's experience in a variety of areas associated with aircraft engineering, design and power supply. This had contributed to him developing a "superior and outstanding technical knowledge" as described in his "Legion of Merit" citation:
Captain Botta, by his superior and outstanding technical knowledge and skill, his great administrative ability and his constant devotion to duty enabled this Department to meet the ever increasing demands of the Fleet Air commands for combat aircraft of the latest type and with the latest combat-proved changes installed.

The citation is consistent with what Tompkins claims Botta was doing at the Naval Air Station with the covert operatives in Nazi Germany. It refers to Botta learning about the "latest type" of combat aircraft and changes to improve combat readiness for US Navy aircraft.
Consequently, if the Navy had spies embedded in Nazi Germany, then Admiral Botta would have been an ideal choice as someone who could debrief them, adequately assess the technical information involved, and pass on relevant information to select aerospace companies and think tanks for further study and development, as Tompkins contends.
Admiral Botta's career after WWII took him into positions that were directly involved in the study of antigravity technology that could help start a US Navy secret space program.
One of the Navy research centers that Tompkins says he took his briefing packages to during the war was the Naval Air Material Center, Philadelphia, Pennsylvania. The Naval Air Material Center was located at the Philadelphia Naval Shipyard, and during WWII was responsible for developing new aircraft technologies.
On July 1, 1950, Botta became the commander of the Naval Air Material Center, suggesting that he would be assisting it with developing experimental aerospace technologies, especially with regard to antigravity technologies.
Here is what was publicly known about experimental aviation projects at the Naval Air Material Center in 1944: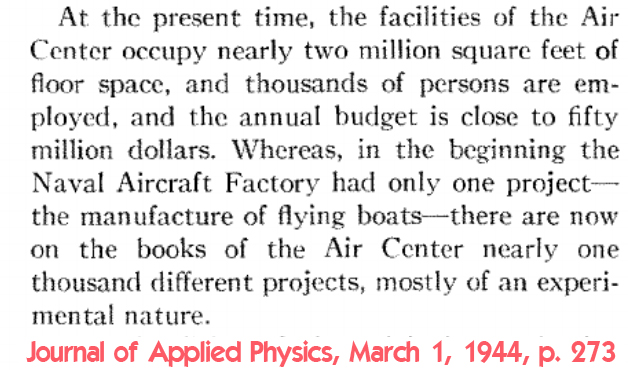 When Admiral Botta took over command of the Naval Air Material Center on July 1, 1950, he was in charge of a facility that was capable of running up to a 1000 experimental aviation projects. Not only is this powerful confirmation that Botta had the expertise to run a covert program with 29 operatives embedded in Nazi Germany's secret aerospace programs, but also that he continued to work on such projects well into the 1950's.
I therefore agree with Major George Filer's [USAF ret.] assessment of the significance of Botta's postwar assignments:
His [Botta's] leadership likely helped the Navy to lead in the development of disk craft and spaceships.

Tompkins claims that while employed at the Advanced Design think tank at Douglas Aircraft Company from 1951 to 1961, he worked on unsolicited proposals sent to the U.S. Navy for kilometers-long antigravity spacecraft. This suggests that Tompkins' proposals were assessed and developed, at least up to 1952, at the Naval Air Material Center run by his former boss, Admiral Botta.
A review of Admiral Botta's expertise, experience and military commands shows that it is very feasible that he ran a covert Navy operation out of Naval Air Station, San Diego, from 1942 to 1946, as Tompkins claims. Furthermore, Botta's post WWII assignments suggest that he continued to work on Navy aerospace projects associated with the antigravity space craft first developed by Nazi Germany.
It can be reasonably concluded that not only did Admiral Botta run a covert espionage program during World War II learning about Nazi Germany's successful development of antigravity space craft, but he also played a leading role in developing similar craft for the U.S. Navy.
Consequently, a review of Admiral Botta's background supports Tompkins claims that he (Tompkins) was directly involved in a covert Navy espionage program that learned about Nazi Germany's antigravity secrets, and passed these on to senior officials and leading aerospace companies, for the development of a secret space program run by the U.S. Navy.
© Michael E. Salla, Ph.D. Copyright Notice
Further Reading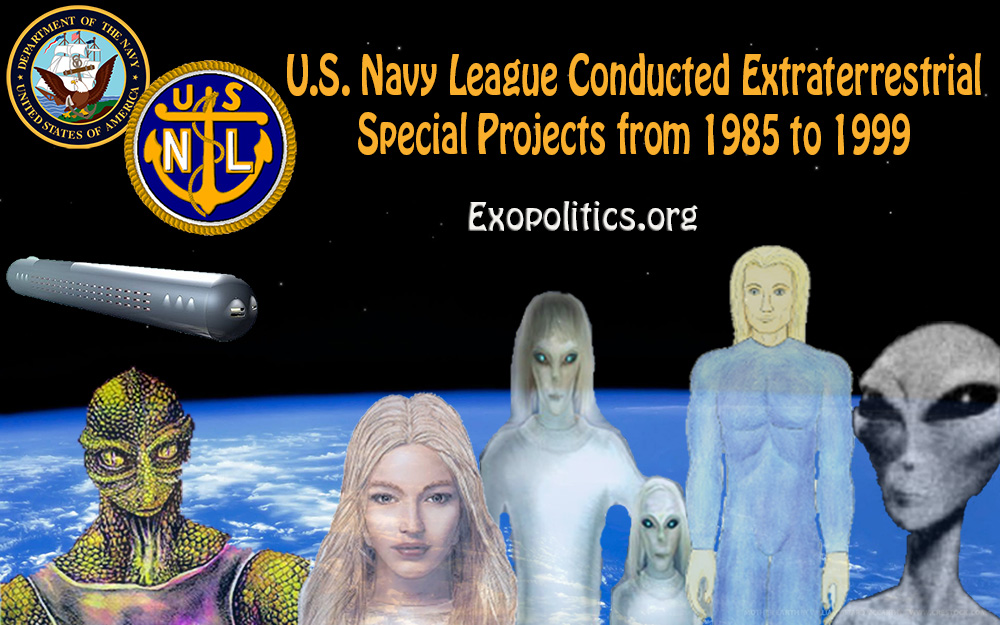 Former aerospace engineer, William Tompkins, has revealed that from 1985 to 1999 he was given permission to create a number of special projects involving extraterrestrial life and technology at a council of the U.S. Navy League established in Medford, Oregon.
Tompkins has supplied a document confirming that a Special Projects Committee was created and gave reports at meetings of the Medford "Rogue Valley" council of the Navy League.  In addition, two retired Navy officers who attended these meetings have been contacted, and confirmed that Tompkins did discuss extraterrestrial related issues at the Navy League meetings as he contends.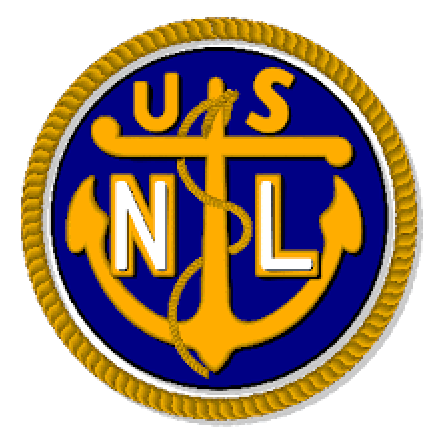 The US Navy League is a national organization with over 50,000 members that provides support for the US Navy, Marine Corps, Coast Guard and Merchant Marine. It was founded in 1902 due to a suggestion by President Theodore Roosevelt. The Navy League describes itself as "a civilian organization dedicated to the education of our citizens, including our elected officials, and the support of the men and women of the sea services and their families."
Tompkins created the Navy League Rogue Valley Council in January 1985, and became its inaugural President. Prior to this, Tompkins had worked for the U.S. Navy and leading aerospace contractors from 1942 to 1984. During this period of over 40 years, he has stated that he worked on a number of advanced spacecraft designs based on information that was developed with the assistance of extraterrestrials.
Of particular importance, during his time at Douglas Aircraft Company (1950 – 1963), Tompkins was involved in designing naval space battle groups with spacecraft carriers and cruisers that were as much as two kilometers in length. He has described in his book, Selected by Extraterrestrials, three Nordic aliens that were embedded in the Douglas Company, that quietly assisted him.
Later in his aerospace career with companies such as Rocketdyne, TRW, Lockeheed, and General Dynamics, Tompkins says that he participated directly in various aspects of the Navy's secret space program as it went from the early design phase, leading to detailed architectural plans, and finally to the space battle groups eventual deployment in 1984.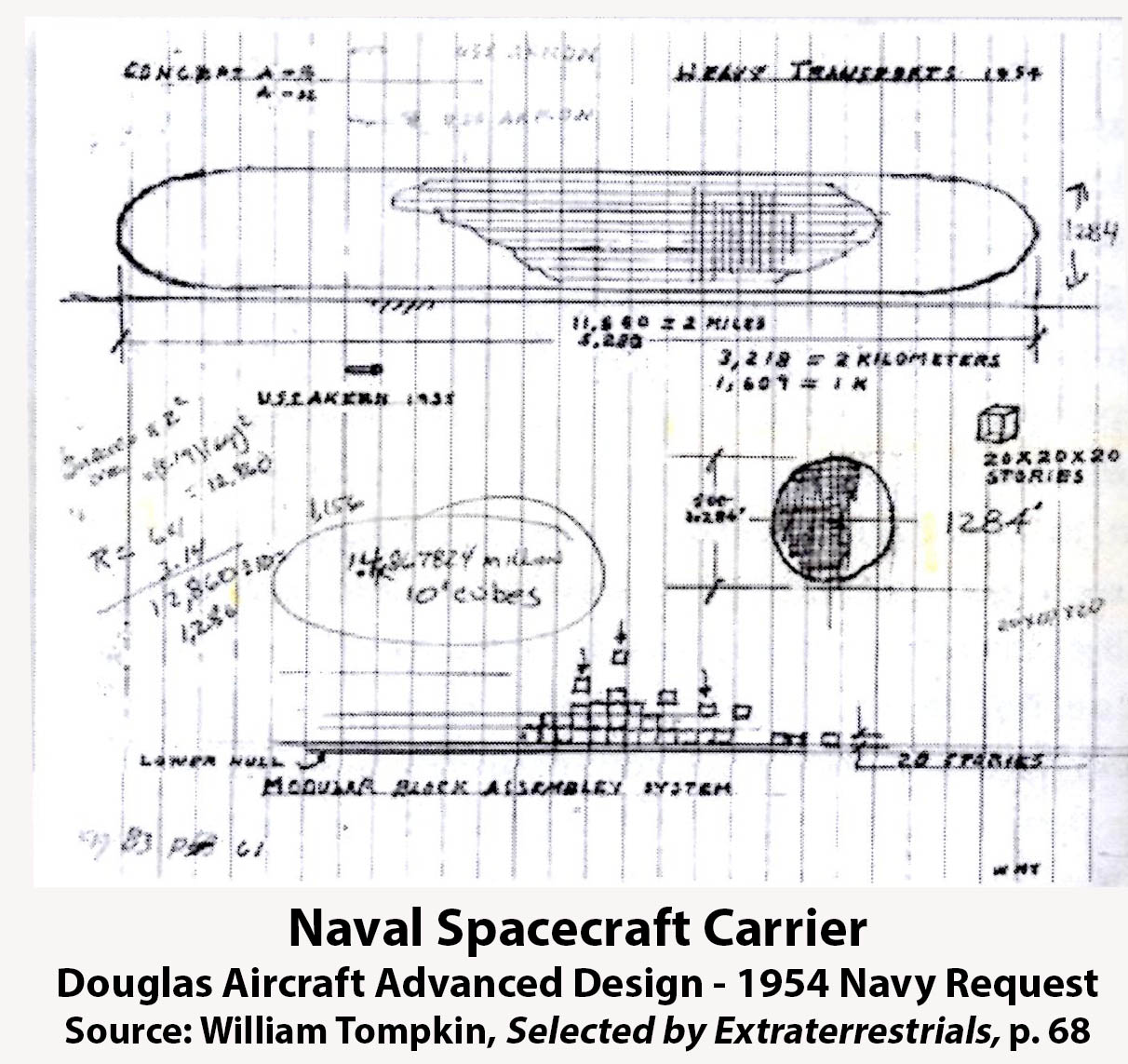 Coinciding with the Navy's secret space battle groups being operationalized, Tompkins "officially retired" from the aerospace industry. He began a new phase in his already remarkable career. Tompkins would now educate select Navy officers and their children about extraterrestrial life and technology to prepare them for a world where the existence of extraterrestrial life was common knowledge.
On January 1, 1984, Tompkins moved to Medford, Oregon where a high concentration of reserve and retired Navy Officers resided. In February 1984, he attended the Navy League National Convention in Seattle.
Prior to the Convention, Tompkins briefed Rear Admiral Hugh Webster, a President (San Diego) and corporate director (national) of the Navy League, about some of the extraterrestrial projects he had been involved in during his aerospace career. Tompkins received the Admiral's full support for his plans to develop a series of Navy led special projects dealing with the alien topic.
Later, in 2001, Webster would give Tompkins permission to disclose all he knew about the Navy's involvement in extraterrestrial related projects in a future autobiography – published in December 2015 as Selected by Extraterrestrials.  
Tompkins subsequently received permission to create the Navy League, Rogue Valley Council, formally established on January 1, 1985, using Navy Reserve Center facilities. As its inaugural President, Tompkins was soon after promoted to Vice President of the Navy League for the entire State of Oregon.
In his autobiography, Tompkins describes his main mission in January 1985:
Created Southwest Navy League Council [Medford] with 37 top Navy officers, the "special projects" group, pilots from various employers, all working on alien interaction projects." (p. 431)
In an unpublished video interview from March 2016, Tompkins said:
You've got a hand out of Navy people responsible for this Navy League Council that I started up in Oregon, and we had specific missions up there with extraterrestrials, particularly in large mountains up there. It's interesting that if you read that little list of names how many of these personnel, who were out of the Navy, but are still in the Reserve, are pilots, Navy pilots, Commanders or Captains. I happened to have one of the largest groups in the country in this Navy League, supporting extraterrestrial missions.
One of his immediate tasks was to set up a Command, Communications and Control system for the Navy League's Medford council. To achieve this, he set up the "Sea Cadets" where junior high school children of navy officers and others, would be given a basic education of naval maritime and aerospace operations.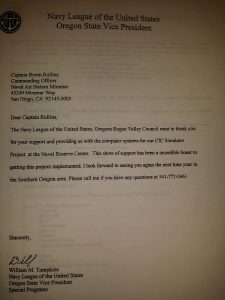 Tompkins was able to secure 14 computers from the Miramar Naval Air Station [previously used for F-14 flight training] for this purpose. He says that the command and control system (CIC) that was set up for the Sea Cadets, was planned to be used as a means for educating Navy officers and "sea cadets" about extraterrestrial and secret space operations.
Tompkins has supplied a number of documents to support his remarkable claims. One confirms the computer systems given to him by the Miramar Naval Air Station.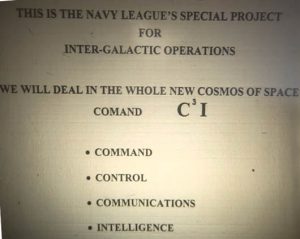 Another document is a hand out prepared by Tompkins for the Navy League describing the deep space and extraterrestrial operations project being set up at the Navy League.
He refers to the operations system that was being set up as a "special project".
Another document confirms that special projects were indeed being discussed, and conducted at the Navy League in Medford, as Tompkins claims.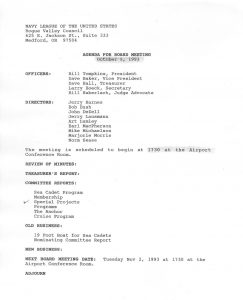 The document is the minutes of a meeting held on October 5, 1993. The minutes confirm that Tompkins was President of the Rogue Valley Council [Medford].
Most significantly, the minutes confirm that an item on the agenda was a report by a Special Projects Committee. Tompkins says that this Committee was in charge of six "special projects" which each had their own sub-committee.
One was the Inter-galactic operations special project discussed above.
In private interviews, he has described some of the other special projects that he says he was directly involved in.
One special project involved reports of UFOs seen entering and leaving Mount Shasta which was believed to be an extraterrestrial base. Pilots affiliated with the Navy League would fly around the mountain to find entrances, and all-terrain vehicles were also used for the same purpose.
Another special project was a contact program where personnel could meet and interact with aliens at a remote mountain location in the Cascades. Tompkins has described how holographic technologies were used to help participants learn about the history of extraterrestrial life, and interactions with Earth.
Corroborating Tompkins Testimony and Documents
Tompkins has privately supplied a November 1995 list of Navy, Marine and Air Force officers, and local officials who participated in the Navy League, Medford council. From this list, I was able to locate two Navy Officers so far, and each confirmed serving with Tompkins. Both of their names also appear in the October 1993 meeting document described earlier.
I spoke with Art Lumley (Commander, USN ret.) on May 19, 2016, who is the current President of the Rogue Valley Council Navy League. Lumley served for 20 years with the US Navy and Navy Reserve, and then worked for 26 years as a pilot with United Airlines retiring as a Captain.
Captain Lumley says that he recalls that extraterrestrial life was a topic discussed in special projects that were areas of interest for the Rogue Valley Council during the time Tompkins was President. He said that Tompkins would raise the extraterrestrial topic in discussions, and it was known among Council members that he was an expert on the topic. Lumley said he does not recall any direct involvement in such projects himself, but did recall Tompkins discussion of them.
I also spoke with Larry Boeck (Captain, USN ret.) on May 24, 2016. His naval service spanned 25 years and he retired as a Captain in the U.S. Naval Reserve in 1995. During his career he commanded five Naval Reserve units.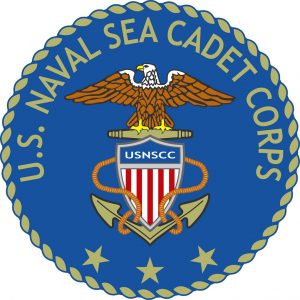 Captain Boeck says that while he does not recall any direct involvement in special projects himself, he does remember Tompkins talking about extraterrestrial life and giving reports to committee members about them. He also remembered Tompkins discussing hologram technologies as a means of educating Navy League personnel and Sea Cadets.
Boeck says that Tompkins was very knowledgeable about the extraterrestrial topic, and researched it a lot. He said that due to Tompkins knowledge and contacts, he found him very credible when it came to the topic of extraterrestrial life.
Conclusion
Bill Tompkins revelations about his knowledge of extraterrestrial technologies acquired during the Second World War, and secretly developed by select U.S. aerospace corporations are ground breaking. In Selected by Extraterrestrials, he has supplied documents that corroborate his claims.
Tompkins has publicly revealed some of the information about his time in Oregon with the U.S. Navy League in a May 31, 2016 radio interview on Rense. In a future volume of his autobiography, Tompkins plans to reveal more information about his involvement with the Navy League in Oregon from 1985 to 1999.
With regard to his claims about the U.S. Navy League in Oregon being involved in a number of extraterrestrial related special projects from 1985 to 1999, Tompkins has provided additional documents that support this. The most important being the 1995 Minutes of a Meeting discussing reports by a Special Projects Committee, and the names of officials attending the meeting.
Critically, two officials of the Navy League at the time that are identified on the Minutes document, are both retired Navy officers. They have confirmed their participation in the Rogue Valley Council meetings, and Tompkin's reports and discussions concerning extraterrestrial related projects.
Both Captain Boeck and Commander/Captain Lumley acknowledged that Tompkins was viewed by members of the Rogue Valley Council as an expert on the extraterrestrial issue and advanced aerospace technologies.
What adds further credence to Tompkins claims is the testimony of Catherine Austin Fitts, a former Assistant Secretary of the Department of Housing and Urban Development. She says that in 1998, the US Navy had initiated a plan to adjust its operations for a future where it is openly known that extraterrestrials exist and live among us.
Fitts was asked to participate in strategy sessions that were being conducted by the Arlington Institute, a non-profit organization headed by John Peterson that was assigned a number of US Navy contracts. Fitts says:
John asked me to help him with a high level strategic plan Arlington was planning to undertake for the Undersecretary of the Navy… I met with a group of high level people in the military in the process — including the Undersecretary. According to John, the purpose of the plan — discussed in front of several military or retired military officers and former government officials— was to help the Navy adjust their operations for a world in which it was commonly known that aliens exist and live among us.
In support of her testimony, Fitts released the Minutes of a March 26, 1999, Board of Directors meeting which confirm that discussions of extraterrestrial life were being conducted by the Arlington Institute as at least one of its contracts – very likely with the US Navy – required.
It is more than coincidental that while Tompkins was conducting extraterrestrial Special Projects out of the Rogue Valley Council of the Navy League from 1985 to 1999, aiming to educate Navy personnel and their children about extraterrestrial life, that the Arlington Institute was doing something very similar on the other side of the country in 1998. In both cases, senior Navy officials had authorized these initiatives through private civilian organizations.
Consequently, documents and the supporting testimony of two Navy officers confirm that from 1985 to 1999, the Medford Council of the U.S. Navy League did discuss extraterrestrial related activities that were occurring in "special projects".
This supports Tompkins claims that he had set up a number of special projects aimed at educating Navy and other military personnel, along with their children enrolled in the Sea Cadets, about extraterrestrial life and technology. In doing so, Tompkins had the direct support of senior leaders in the national organization of the U.S. Navy League, and almost certainly, the tacit support of high level officials in the Department of the Navy. 

© Michael E. Salla, Ph.D. Copyright Notice
Further Reading
What follows is the full transcript of William Tompkins responding to questions on the first ExoNews TV episode (see above) presenting his testimony.
Interview Date: February 25, 2016
Location: San Diego, California
Published on ExoNews TV – 3/29/16.
Interview Key:
WT: William Tompkins
RW- Dr. Robert Wood
MS – Dr. Michael Salla
…
[For full introductory comments to interview click here]
MS: The following interview extract features [William] Tompkins answering questions from Dr. Robert Wood and I on the information he gained from the Navy operatives, the different corporations and thinks tanks he traveled to, and some of the aerospace technologies that were being secretly developed by the Nazis during the War. Tompkins begins the interview by describing the small office where the debriefings of the Navy spies took place at Naval Air Station, San Diego.
…
WT – We had this little small office. He [Rick Obatta] was commander of Naval Air Station, San Diego and so the admiral would be sitting here. I'm sitting next to him and one of my three captain bosses sitting here. A typist was sitting at the other side of the table and the Navy operative – a Lieutenant Commander or Lieutenant would sit over there. And he would lay out the information [with] some sketches, very few photographs, so it was almost all verbal, almost all. And if it was a system that we had already known about, other operatives from the information two years before, and it was an update of it, he would tie together all of the other organizations that were tied with that specific part, of say the cigar shaped vehicles, what the weapons were, what the operations were, the different companies underneath the ground, which were slave labor organizations.
RW – I want to go back to this table where you and Rick [Obatta], the Captain and the Navy spies, sitting at this table, how many times did you get exposed to incidents like that. Was it ten or was it a thousand, like a hundred? It was four years right?
WT – I'd say a thousand, maybe 1200.
RW – Well that would be like every night for four years.
WT – Yes, it was like …
RW – Was it a nightly thing, typically occur day after day?
WT – They [Navy operatives] would stay with us for maybe a week, and we tried to put together, better define his information, OK. Then we'd put that together as a package and we'd fly that out.
RW – So it would usually be one source would give his story, it might take two or three days for him to give his story, and it would be packaged up, and then you would take it away.
WT – I'd say this continued …
RW – What I'm trying to do is grasp the overall scope of those say three or four hundred deliveries you'd make, and some of the stuff had to do with Nazi history. Did some of the scope have to with, for example, age regression, Nazi age regression, as well as Nazi UFOs?
WT – Most of it was Nazi UFOs
RW – I'm talking about what the Nazis were doing in a military mode.
WT – Yes, it went to weapons systems, all types of advanced weapons systems, all types of methods of war.
RW – Did you get exposed to the Hanebu craft designs, or anything like that during that time?
WT – I was involved in making sketches of some of the stuff that was actually there.
MS – Did you ever come across the term 'Hanebu' as a description for various models of German antigravity vehicles?
WT – No.
MS – What about Vril? Did you ever come across Vril as a designation, Vril 1, Vril 2 …
WT – Yes, but remember the stuff that we got … the wording was in English, some of the documents that we got were of course in German. But we didn't get so much of the documents. It was mostly verbal, and it was saying, in his interpretation, that was another thing, because we had one of the guys to go check so and so, "I want you back over there, and I want you back here next month." Then there's updates to the information.
And so some of the stuff that was in German, we had another group of people convert it into English. So you are working with information that you don't have background on, and so what you are trying to do is put enough of it together so that [for example] Lockheed could take that information, and develop it, interpret it and come up with something that could possibly be used.
When I said that many, remember that I went back to these facilities, sometimes six or seven times with updated information that we got. Because three years after they said it before, we got things now, it's been developed. Now it's this, this and this.
RW – So do you remember what kind of material you took to different places, JPL or Caltech as it was called then? At JPL would you take the material relevant to UFO craft or antigravity craft?
WT – Everything about propulsion, the different types of propulsion and the stuff, I had no idea what this was… Then controls, different types of controls, support systems. Almost any subject, any question you wanted to ask. Some of that information we were getting.
RW – Some of the groups didn't get everything.
WT – No.
RW – So if there were six locations, Douglas, Caltech, MIT, is that right?
WT – Yes.
RW – And then Lockheed?
WT – Lockheed, Boeing, North American, Northrup, North American.
RW – So there were seven or eight different locations that you made deliveries to?
WT – No, it's hundreds of different places we took the data. We took the data to every Navy Research organization. We took it to Navy Development Center, Warminster, Pennsylvannia. OK. That's a big facility. I bet I went 20 times back there with stuff. The Caltech one, I didn't even go to Pasadena for that. I went to the Navy's weapons system at China Lake because Caltech was working on other programs there. They would pull their scientists off, whatever that was, and throw these guys into a package, and run with the ball…
Some of them that I went to, they wouldn't let me disseminate the information, they were not interested. They didn't want to have a thing to do with it. And I had that with several universities who were doing military programs.
RW: Was Purdue one of them?
WT – Yes, Purdue was one…. What I'm saying is that not everyone was willing to help the Navy.
MS – What about the Air Force? Like Wright Patterson?
WT – Yes, Wright Patterson … A couple of the admirals didn't want that, but we had our list of who we thought could help. The point is that these went not document after document you gave them. You gave them information that was verbal almost, very little photographs, very little drawings of a specific part of the propulsion, or a method of control … of these things.
RW – Technical things.
WT – All technical stuff. I don't mind talking about this because frankly I lived that thing for four years. It was staggering. The German titles or stuff was a problem, so we had interpreters there that would help us put the packages together to say to take to Douglas, OK? And so there's the misinterpretations and stuff, that I'm right. All that's part of it. You don't get some nice good package, and so packages were taken to places that were insufficient information. So they would get all … upset with me. I've got to go get this and that.
RW – Even though you were not trained technically as an engineer or a scientist, you were exposed to technical information in this process. It's usually put in terms of common language and common sense. So you understood it?
WT – I understood some of it. Some of it I had no idea what he was talking about, and I have to tell him that, you know.
END TRANSCRIPT
---
William Tompkins autobiography, Selected by Extraterrestrials, is available at Amazon.com
Michael Salla's Insiders Reveal Secret Space Programs and Extraterrestrial Life is also available at Amazon.com
Copyright: Permission to freely distribute on Internet. Permission required for print & audiovisual reproduction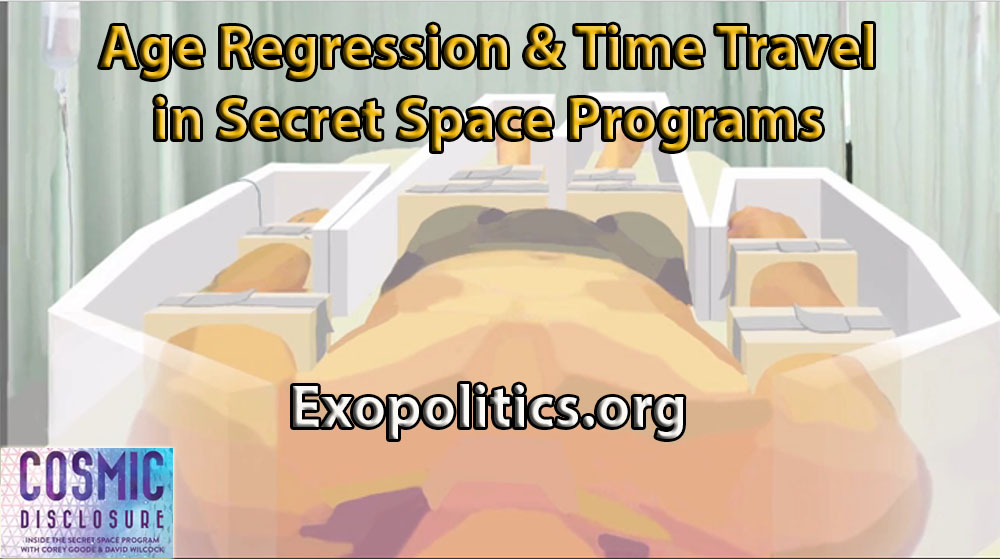 In yesterday's episode of Cosmic Disclosure, Corey Goode described the age regression and time travel technologies used for his "20 [years] and back" tour of duty in several secret space programs. He comprehensively detailed the process used as a standard operating procedure for the many thousands recruited into these programs, and then returned back to 'normal' civilian or military life at the time of their initial recruitment, with their memories wiped.
This is not the first time Goode has discussed the physical age regression and time travel used in the secret space programs. In my email interview with him published on April 14, 2015, he first publicly described at length the standard operating procedure used for the "20 and back" tours of duty."
His account was compared with another alleged secret space program whistleblower, Randy Cramer, who explained an almost identical age regression and time travel process to Goode's. Cramer, like Goode, claims the processing happened to him in 2007 at a secret base on the Moon, called Lunar Operations Command.
In the highly popular Insiders Reveal Secret Space Programs and Extraterrestrial Alliances, Goode's and Cramer's testimonies are compared with another whistleblower, Michael Relfe, who was the first to claim having an experience of a "20 and back" tour of duty with a secret space program. Relfe described serving from 1976 to 1996, before being age regressed and time traveled back. His testimony first publicly appeared in 2000 in the two volume book, The Mars Records.
Goode's account of the age regression and time travel process for the "20 and back" program in the March 22 episode of Cosmic Disclosure offers additional information to what has been previously described by him and other whistleblowers. His most recent testimony is therefore very helpful in better understanding what appears to be the standard operating procedure used in secret space programs.
Goode described the process at the end of a 20 year service term, they were first debriefed, made to sign non-disclosure agreements, and given assurances that they would be looked after once they returned. They were also promised many benefits such as scholarships, financial reimbursements, etc. Goode said that none of these promises made to him were kept. This is identical to the claims made by Relfe and Cramer regarding what they were promised before undergoing the age regression process.
Goode described how he was physically immobilized for two weeks, while a variety of pharmaceutical products were used on him. The Cosmic Disclosure episode provided an artistic depiction of how he looked while he was in this immobilized state. At the end of the two weeks, Goode described waking up feeling groggy, but now being 20 years younger.
Significantly, when he awoke, his physical environment was completely different since he had been time traveled back 20 years, to when he first began his secret space program service. He describes then being again debriefed, having his memories wiped for the first time, and finally he had screen memories put in place. Goode was then transported back to only a few minutes after he was first taken in 1986, just before his 17th birthday.
Goode said that people recruited to the "20 and back" tours of duty were either civilians as in his case, or serving members of the U.S. military, who have been covertly recruited during their normal military service. This is consistent with Relfe's claim that in 1976 he enlisted in the U.S. Navy, and was then covertly recruited into a secret space program.
Upon his return, after serving out his "20 and back" tour of duty, Relfe says that he next completed his six year service in the Navy, and was honorably discharged in 1982. Relfe has documentation to confirm his military service, but has not yet released this into the public arena.
Goode described how upon his own return in 1986, from his "20 and back" service, he first woke up as a sixteen year old feeling confused, and then after several weeks, started regaining the bulk of his memories.
Goode says that he was among a small group of people who the blank slating technologies simply didn't work on, despite repeated efforts. In our April 2015 interview, he elaborated on why he decided to withhold telling others about his memories due to the chaos this would cause him, and the likely intervention of those covertly monitoring him. He described how others who regained their memories would either be re-abducted and put through the blank slating process again, intimidated into keeping silent, or eliminated.
Goode says that for many others, who have completed the standard "20 and back" tours and subsequently undergone the blank slating process, they start to regain all of their memories after 20 years in "normal life" has elapsed. It is very significant here that both Relfe and Cramer, experienced "total recall" after 20 years had passed since their secret space program service.
At this stage, it is worth asking what evidence exists to support Goode's incredible claims about the existence of age regression technologies used for "20 and back" tours of duty? So far, we have the independent whistleblower testimony of two others, Relfe and Cramer, who claim that they experienced an almost identical process.
In Insiders Reveal Secret Space Programs, I analyze their respective claims and conclude that there is no cross contamination of their testimonies, and that each is offering a truly independent account of what they recall had happened to them during their 20 year tours of duty. While their testimonies are compelling, and help to corroborate Goode's recollections, it is fair to say that conclusive evidence has still not been found.
However, this situation appears to be changing with the emergence of the latest whistleblower testimony of William Tompkins, who has provided documentation to support his participation in a variety of U.S. Navy and aerospace corporate projects related to secret space programs. His book, Selected by Extraterrestrials, provides some of Tompkins documentation to back up his incredible claims.
Significantly, in my private interviews with Tompkins, he has described the development of age regression technologies by one of the aerospace companies he worked with. Tompkins says that while he worked with TRW from 1967 to 1971, they began developing age regression technologies based on information gained from Nordic extraterrestrial groups that were helping in the development of the U.S. Navy's Solar Warden space program.
Tompkins said he assisted TRW in developing age regression technologies, using his expertise in systems engineering to help coordinate the different groups and departments covertly involved in the project. Tompkins described these technologies as pharmaceutical in nature, which is consistent with the testimonies of Goode, Cramer and Relfe who state they underwent multiple injections of pharmaceutical products.
Tompkins is presently writing about his experiences at TRW and its involvement in the development of age regression technologies in what will be the second volume of his autobiography. Significantly, TRW was taken over by Northrup Grumman in 2002, which is the corporation, according to Tompkins, primarily involved in building secret space carriers and battle groups today.
Importantly, Northrup Grumman is now also involved in developing the age regression technologies for personnel recruited into secret space programs. According to Tompkins, age regression will be among a select group of technologies, including free energy and antigravity, which are planned to be publicly disclosed in the next few years due to a U.S. Navy sanctioned disclosure initiative dating back to 2001, if not earlier.
Corey Goode's latest Cosmic Disclosure episode is a detailed exposé of a range of technologies used for "20 and back" tours of duties. The corroborating support of both Relfe and Cramer's prior whistleblower testimony reveals the standard operating procedure used for the application of age regression technology in secret space programs. Finally, Tompkins' testimony casts significant light on the historical research and development of age regression technology, and of covert plans to soon release this previously highly classified information into the public arena.
© Michael E. Salla, Ph.D. Copyright Notice
Further Reading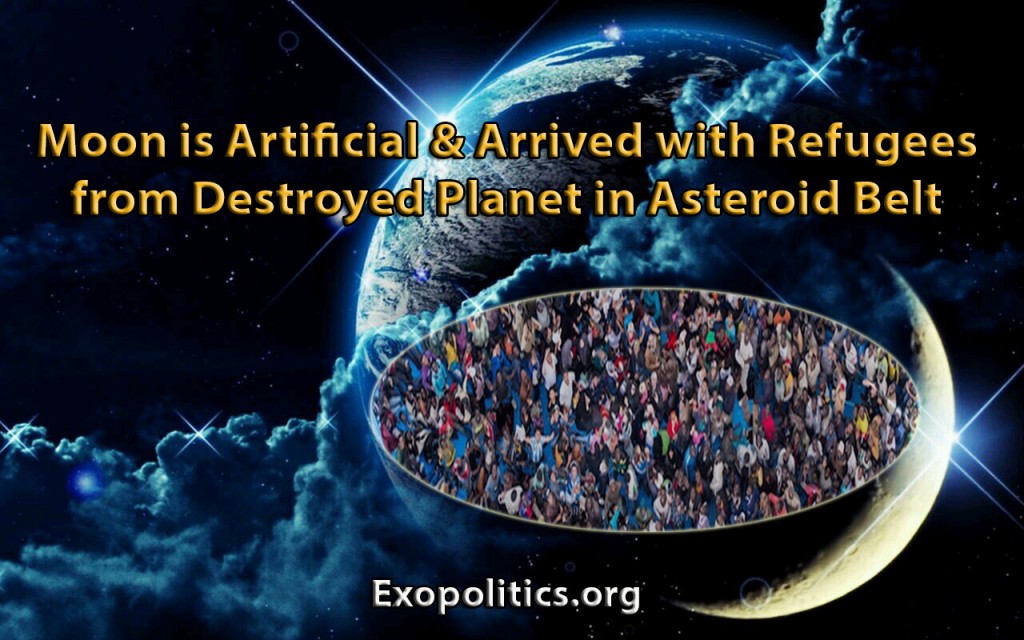 According to secret space program whistleblower Corey Goode, there was once a "Super Earth" in the asteroid belt with human looking giants who were involved in a devastating galactic war that destroyed their planet. Goode claims in yesterday's episode of Cosmic Disclosure that many of the giants fled the destruction via one of their artificially created moons, which was sent into an orbit around the Earth approximately 500,000 years ago.
Goode says that the smart glass pads he read during his 20 year service with different secret space programs from 1987 to 2007 provided two explanations for the moon's artificial nature. One was that it was a hollowed out natural moon, and the second was that it was a giant orbiting space station.
Goode then says that waves of refugees from the Super Earth began arriving on Earth during different stages in the period spanning the former planet's destruction. One of these waves was associated with the arrival of the Moon that was teeming with refugees.
The refugees arrival on Earth created armed conflict with advanced indigenous human groups that had previously escaped into the Earth's interior from cataclysms, and were helping survivors on the surface rebuild society. In previous episodes, Goode says that these breakaway "Inner Earth" groups date as far back as 18 million years, inhabit vast caverns as large as the U.S. state of Texas, and possess advanced space craft.
In addition, different extraterrestrial groups had established colonies on the Earth's surface where long term genetic experiments had begun – 22 according to Goode and the contactee, Alex Collier. The arrival of the different extraterrestrial groups and their genetic manipulation of surface humans had previously created conflict between the Inner Earth civilizations and the extraterrestrial human hybrid colonies on the surface.
The arrival of the Moon with refugees possessing advanced technologies threatened to upset the delicate balance of power that had been achieved on the Earth between the Inner Earth and surface civilizations. There were subsequent military battles between the Inner Earth civilizations, extraterrestrial visitors and the Super Earth refugees on the Moon, according to Goode.
Evidence of these ancient Moon battles can be witnessed today in the form of the remnants of giant crystal domes, huge towers and square structures, which Goode says he directly witnessed while flying over the moon's surface. Support for Goode's astounding claim comes from the research of Richard Hoagland who has conducted extensive digital analysis of much NASA lunar imagery, which he concluded revealed the remnants of giant glass/crystal structures all over the Moon:

Goode's incredible claims about the history of the Moon are part of a two part series of Cosmic Disclosure episodes on a Super Earth that once orbited the sun in the region of the asteroid belt. The previous episode discussed how Mars was also once a moon orbiting the Super Earth.
Mars at the time had sufficient water and oxygen rich atmosphere to host a large population on its surface. The events that led to the Super Earth's destruction also wiped out much of the surface population on Mars, and removed the bulk of its atmosphere according to what Goode read on the smart glass pads. The force of the Super Earth's destruction propelled Mars into its present planetary orbit.
Goode and Wilcock's discussion of the destruction of a Super Earth reveals astonishing historical facts that are very helpful for understanding our real galactic history. So was there a Super Earth that was destroyed in a titanic battle, which resulted in one of its moons being sent into Earth orbit, and another being sent into its present orbit as the planet Mars?
The first major scientist to seriously research the possibility that the asteroid belt is the remains of a former planet is Dr. Thomas Van Flandern, who was the chief astronomer at the U.S. Naval Observatory. He wrote several academic papers on what he described as the Exploded Planet Hypothesis, which suggested that several asteroid belts in our solar system arose from the destruction of planets stretching all the way back to the beginning of the solar system:

Putting all this evidence together, we have strong hints for two original planets near what is now the main asteroid belt: hypothetical "Planet V" and "Planet K". These were probably gas giant planets with moons of significant size, such as Mars, before they exploded. We have hints of two more asteroid belts, probably from the explosions of two more planets ("Planet T" and "Planet X") beyond Neptune. And we have hints for two extra-large gas giant planets, "Planet A" and "Planet B", that exploded back near the solar system beginning.

Van Flandern elaborated on his proposal that Mars was once a moon of a destroyed planet in the asteroid belt:
The above summarizes evidence that Mars was not an original planet, but rather a moon of a now-exploded planet occupying that approximate orbit. Many of these points are the expected consequences of having a massive planet blow up nearby, thereby blasting the facing hemisphere and leaving the shielded hemisphere relatively unscathed. Especially significant in this regard is the fact that half of Mars is saturated with craters, and half is only sparsely cratered. Moreover, the crustal thickness has apparently been augmented over one hemisphere by up to 20 km or so, gradually tapering off near the hemisphere boundaries.

Van Flandern's Exploded Planet Hypothesis lends scientific support to Goode's claims about both the Moon and Mars being two former moons of a Super Earth.
If Goode is correct, then prior to the Moon's arrival approximately 500,000 years ago, the Earth had no moon. Indeed, there is historical evidence that the Moon was a late arrival to the Earth. Immanuel Velikovsky found numerous historical references to pre-lunar cultures on Earth, some of which he described as follows:
The period when the Earth was Moonless is probably the most remote recollection of mankind. Democritus and Anaxagoras taught that there was a time when the Earth was without the Moon. Aristotle wrote that Arcadia in Greece, before being inhabited by the Hellenes, had a population of Pelasgians, and that these aborigines occupied the land already before there was a moon in the sky above the Earth; for this reason they were called Proselenes.
Apollonius of Rhodes mentioned the time "when not all the orbs were yet in the heavens, before the Danai and Deukalion races came into existence, and only the Arcadians lived, of whom it is said that they dwelt on mountains and fed on acorns, before there was a moon."
Plutarch wrote in The Roman Questions: "There were Arcadians of Evander's following, the so-called pre-Lunar people."
Goode's revelations about a Super Earth and the cataclysmic events surrounding its destruction are shocking. If accurate, as the research of Dr. Van Flandern and additional independent evidence suggests so far, then Goode has opened the door to better understanding the real history of our Earth, Moon, Mars and the solar system more generally.
Goode and Wilcock's Cosmic Disclosure series continues to surprise and enlighten as it discloses many aspects of galactic history discovered by secret space programs, which are for the first time allowing much of this information to be released to the general public through Goode and other whistleblowers.
© Michael E. Salla, Ph.D. Copyright Notice
Further Reading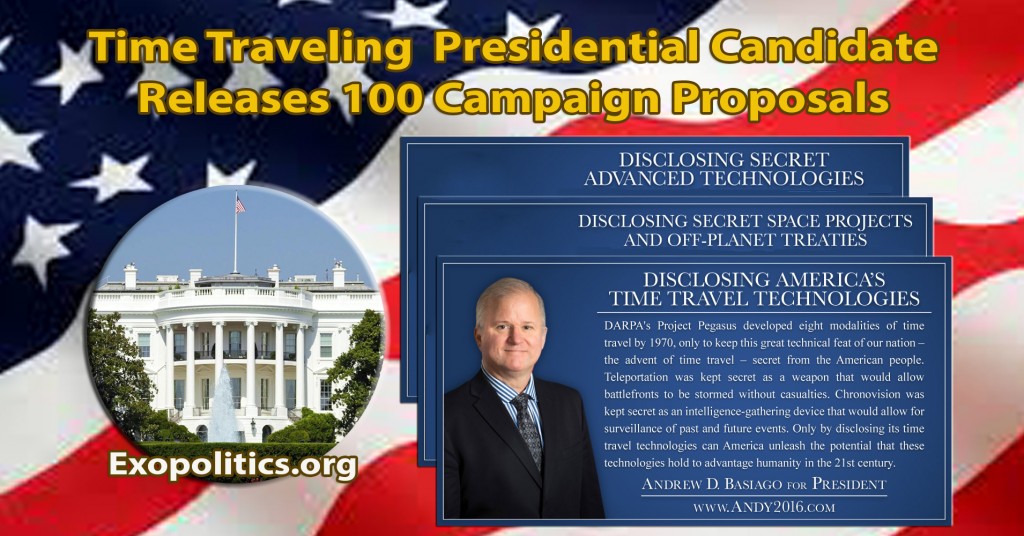 Andrew Basiago, who claims to have participated in two DARPA/CIA classified programs involving time travel and teleportation to Mars, has released 100 proposals on highly alternative issues for his 2016 Write-In Presidential campaign. In putting forth a policy platform based on his alleged experiences, he is offering a template for a future post-disclosure Presidential campaign to include public policy debates over the uses of highly advanced technologies and the existence of extraterrestrial life.
Basiago's proposals contain many positive and progressive insights regarding classified programs that deserve widespread public support. His proposals concerning the disclosure of extraterrestrial life, classified technologies, secret space programs and the truth about Bush administration foreknowledge of the 911 attacks, make for refreshing reading given the more mundane public policy proposals of mainstream political candidates.
It is therefore worthwhile to examine a few of his key proposals in light of what other independent whistleblower sources and documents have revealed about classified space programs and exotic travel technologies.
First, it is important to point out that there are many who are still not convinced that Basiago is a genuine whistleblower and/or is part of a sophisticated psychological operation by the CIA and other agencies. In a series of articles (see here, here and here) investigating documentary and other whistleblower testimonies, I found impressive evidence to support his key claims of being a participant in two CIA/DARPA run classified programs.
My main reservation was that Basiagio, by his own admission, is part of a CIA sanctioned disclosure initiative to reveal classified time travel, teleportation and space program activities. His "grooming" as a predicted future President by CIA 'White Hats', who included his deceased father, Raymond Basiago, raises specific concerns about his 2016, and future, Presidential campaigns.
In particular, does Basiago's perspective about the CIA's historic role in classified advanced technology programs reflect an agenda to skew public perception in order to preserve the CIA's existence in a post-disclosure world? By focusing on our volatile world's intrinsic need for the CIA's intelligence gathering using classified technology programs, he believes this makes it indispensable and worth reforming as a "super-university," despite its nefarious history in covert operations and the abuses that occurred, as his following proposal advocates.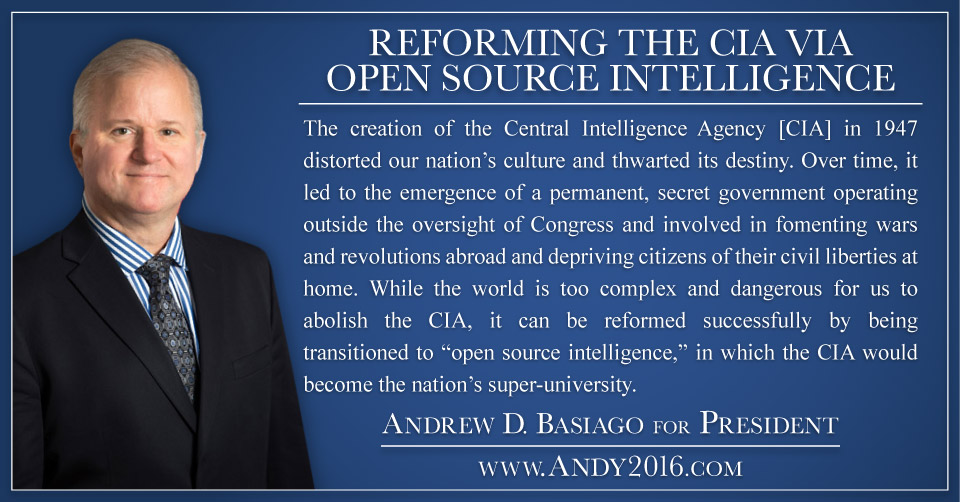 I have to disagree with Basiago. A more suitable policy would be to abolish the covert operations branch of the CIA (National Clandestine Service) and have its functions taken over by the U.S. military. Military officers, who swear allegiance to the U.S. Constitution, are more likely to maintain constitutional principles in covert operations than CIA operatives. The latter have participated in illicit activities including the drug trade, as documented by Garry Webb in his book, Dark Alliance.
Basiago's major contention is that the CIA used time travel technologies for intelligence gathering purposes in a variety of scenarios, including predicting and influencing future Presidents. In this regard Basiago proposes: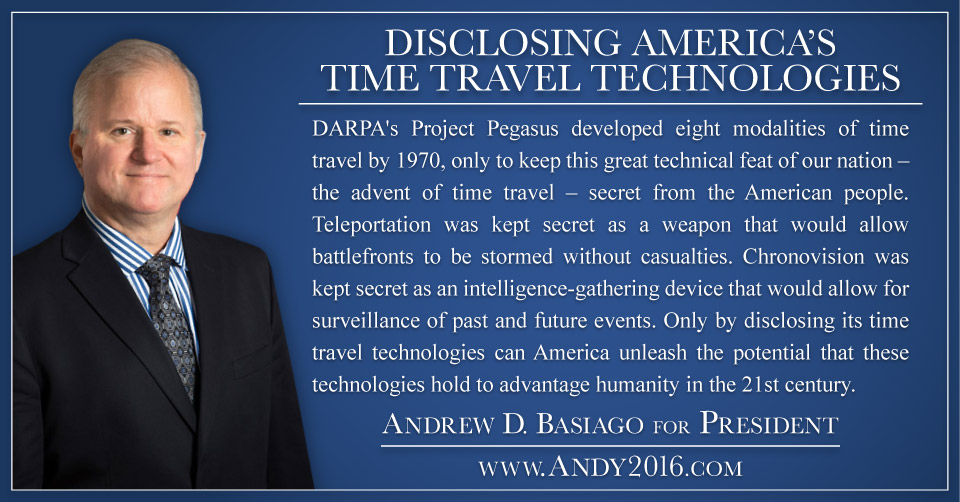 Basiago's proposal to disclose classified time travel technologies has much merit, and could lead to many benefits. In particular, his description of "Chronovision" technology – based on holographic interaction with possible future events – would bring in a predictive element into ordinary people's lives that could help them make better career and personal choices. On the other hand, such technology could also be easily abused by a police state that decides to use it as a tool for law enforcement; to preemptively act against perpetrators of predicted crimes as depicted in the popular movie, The Minority Report.
Another of Basiago's proposals elaborates on teleportation technologies. He says: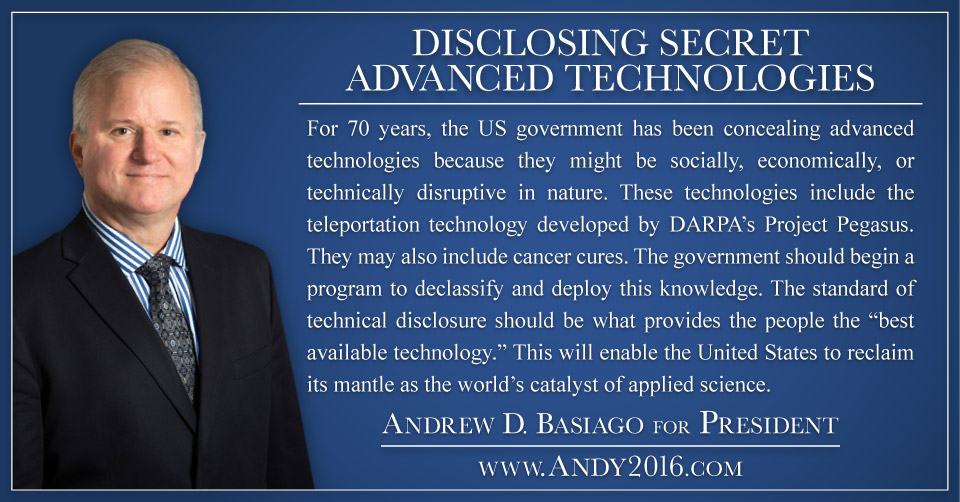 Basiago dates these secret teleportation technologies to the 1940's, more specifically to the 1943 Philadelphia Experiment. This is consistent with other whistleblower and researcher claims regarding how the U.S. Navy accidentally discovered teleportation allegedly during the development of a radar invisibility program.
In Basiago's version of the historical development of teleportation technology, it was too dangerous to develop at the time and was shelved until better understood. It was roughly 25 years later that teleportation was operationalized as a safe means of transportation for personnel in classified programs.
Basiago claims that the breakthrough in developing teleportation technology for operational purposes came through the Ralph M. Parsons company that cooperated with the Advanced Research Projects Agency (later renamed DARPA) and the CIA. In an affidavit, he asserted that in 1967-68, teleportation became "fully operational in the secret realms of the US defense-technical community." Basiago says that in 1967-68, he was the first American child to be teleported when his father, Raymond, inducted him into the Project Pegasus program.
According to Basiago, Mars soon became an important teleportation destination, and this allowed the development of colonies there whose existence ought to be disclosed as his following proposal advocates: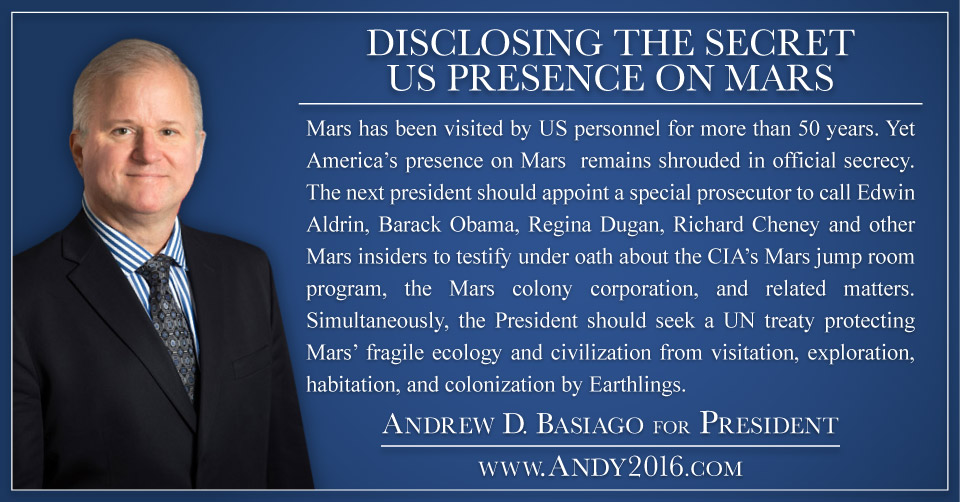 Basiago cites, as independent support for the development of teleportation as a means of space travel used in classified programs, the testimony of Michael Relfe. Relfe has claimed that in 1976, he was teleported to Mars in a 20 year and back program, which was documented in the two volume book, The Mars Records. Later, in 1980, Basiago claims that he was part of a CIA run teleportation program to Mars. Basically, Basiago's version of teleportation technology as an operational program dates to 1967/68 when Project Pegasus began.
More recently, other whistleblowers have emerged that provide an alternative historical version of the development of teleportation technology and its operational use for traveling to Mars and elsewhere. Corey Goode claims that teleportation was first developed by scientists working for the Nazi SS and/or German Secret Societies during the Second World War. Subsequently, from hidden bases in Antarctica and South America, the Nazis used teleportation technologies to travel to the Moon, Mars and other distant locations.

Goode described in some detail how the Germans relied heavily on the use of teleportation for transporting equipment before it could be safely used for personnel. After secret agreements had been reached between the Eisenhower Administration and the Nazi/German Secret Societies in the 1950's, Goode describes extensive cooperation in the colonization of Mars through teleportation:
It wasn't until the '50s that they were able to start transporting people consistently without them suffering. I believe they called it temporal dementia. People would teleport intact from here to Mars. They would look fine, but then after a number of days, they would suffer some sort of dementia, they would call temporal dementia. And the Germans did a lot of work in this field that helped us figure out how to do this properly– them working alongside their ET allies.
Another more recent whistleblower, William Tompkins, publicly emerged in December 2015 with impressive documents to support his claims that Nazi Germany had achieved numerous technological breakthroughs. In a February 25 interview with the writer, Tompkins revealed that these breakthroughs included the development and use of teleportation technology.
Tompkins learned of Germany's scientific achievements through Navy spies embedded in advanced technology programs run by the Nazis during World War II. In his book, Selected by Extraterrestrials, Tompkins describes his attendance at debriefings of the spies at the Naval Air Station in San Diego from 1942 to 1945. Tompkins job was to subsequently disseminate the information in these debriefings to any U.S. industries, and think tanks capable of understanding and reverse engineering these Nazi programs.
If we accept Goode and Tompkins testimonies as accurate, then teleportation technology was successfully developed and operationalized in the 1940's by the Nazi regime, 25 years before the onset of the CIA/DARPA run Project Pegasus program in 1967-1968. Getting the history right when it comes to the successful development and use of teleportation technology becomes relevant when another of Basiago's proposals is examined. He says: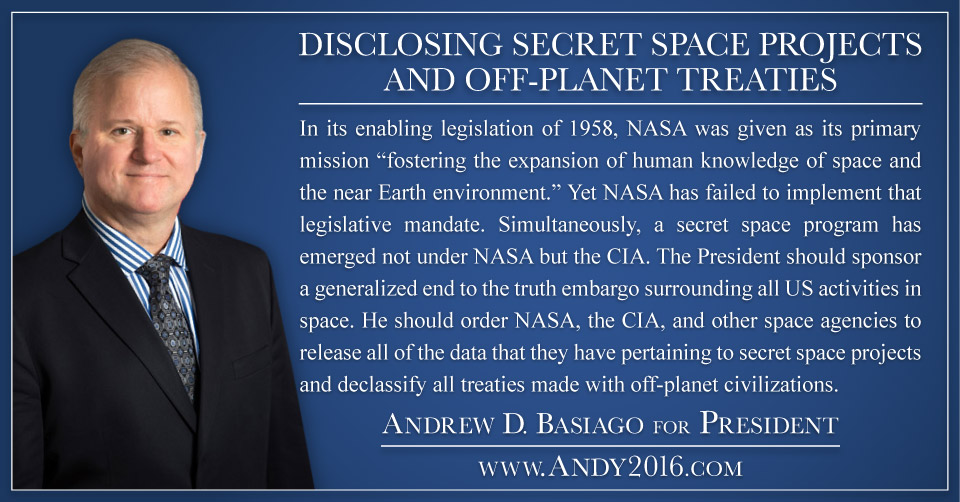 Here, Basiago is claiming that the CIA's classified development and use of teleportation technology for off-planet travel occurred at the same time that NASA began operations in the 1960's. He is suggesting that the real "secret space program" is run by the CIA and not NASA.
This claim raises a number of problems when it comes to genuine "Disclosure of Secret Space Projects" as Basiago's above proposal is asserting. According to Goode and Tompkins, the era of secret space programs began with the Nazis/German Secret Societies in the 1930's/1940's, and then involved different branches of the U.S. military setting out to replicate these German technological achievements.
According to Goode, the U.S. Military Industrial Complex began cooperating with the German Breakaway space program in the 1950's. In a similar vein, Tompkins says the Douglas Aircraft Company and other corporations and think tanks began working in the 1950's on antigravity space craft, while being fully aware of the rival secret German space program operating out of Antarctica and South America.
Indeed, Tompkins describes in his book, Selected by Extraterrestrials, how the Nazis were sabotaging the Apollo program. Support for Tompkin's claim comes from another veteran aerospace whistleblower, Clark McClelland, who says he personally witnessed Nazi SS general Hans Kammler at the Kennedy Space Center, and that Operation Paperclip scientists were being intimidated by the Nazi SS even during the 1960's!
Despite Nazi infiltration and sabotage, the first U.S. Navy space battle groups would finally be deployed in the mid-1980's according to Goode and Tompkins. They each say the Navy's secret space program was called Solar Warden. Prior to the deployment of the Navy space battle groups, the Navy and U.S.A.F had successfully developed antigravity prototype spacecraft that could achieve short range space missions.
It is very likely that Basiago was simply not briefed about the real history of secret space programs and the role of the Nazis/German Secret Societies in pioneering teleportation and antigravity space craft, and of the U.S. military industrial complex playing catch up ever since World War II.
It is very concerning, however, that Basiago is making a case that the CIA was running the real "secret space program" via teleportation technologies since 1960's. The truth is much more likely that the CIA program was an intelligence gathering operation that was also a useful cover for secret space programs associated either with the Nazi/German breakaway space program, or the Solar Warden program being developed by the U.S. Navy.
Basiago's run for President evokes mixed responses from the UFO and exopolitical community. There are legitimate concerns about the role of CIA in grooming Basiago to run as a predicted future President, as allegedly also occurred with Barack Obama. This raises the possibility that Basiago's experiences have been shaped over a long term period in a very sophisticated psychological operation designed to make him an advocate of a disclosure agenda supported by CIA 'White Hats'.
On the other hand, Basiago is very sincere, educationally highly qualified, and an articulate spokesperson for the Disclosure movement, who very likely has genuinely been involved in classified CIA/DARPA programs for close to 50 years. Andrew Basiago's 100 proposals for his 2016 Presidential campaign, therefore, deserve serious scrutiny and debate by all seeking the truth about the history of advanced time travel and teleportation technologies, and the origins of secret space programs.
Michael E. Salla, Ph.D. Copyright Notice
Further Reading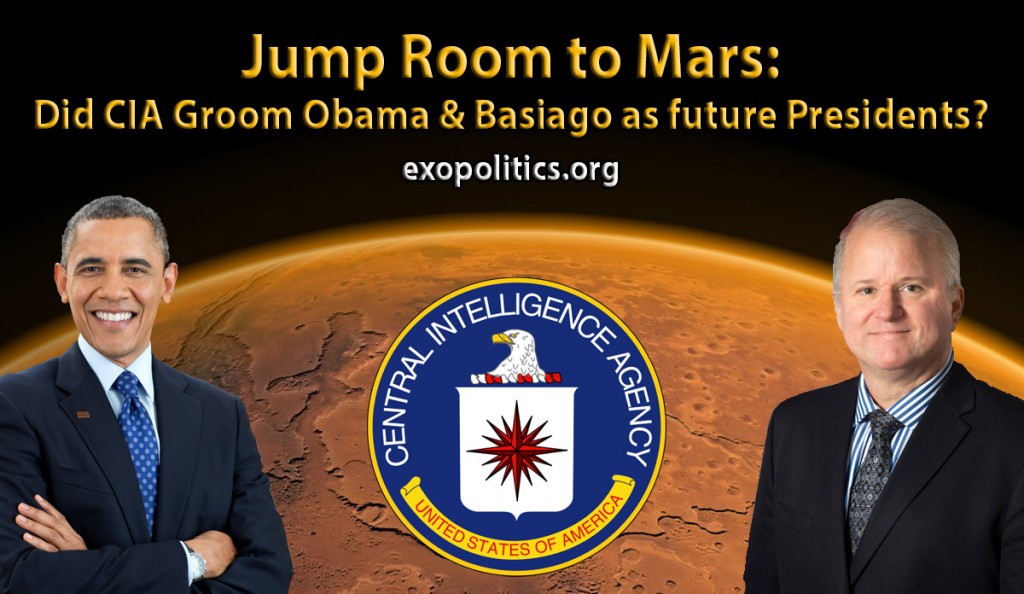 In Part One of this series, it was shown that Andrew Basiago's run for the 2016 Presidential election is partly based on his belief that he was pre-identified as a future U.S. President in a CIA/DARPA run time travel program called "Project Pegasus." The Project's main purpose was to gather intelligence from past and future world events, including the election of upcoming Presidents.
Subsequent to his involvement in Project Pegasus (1969-72), Basiago claims that from 1980 to 1984, he was recruited into a second CIA-led project that involved the use of teleportation technology for travel to Mars. These "Jump Rooms" led to him and others traveling to the Red Planet on multiple occasions witnessing indigenous life on Mars, as well as secret bases there.
In 1980, at the start of the CIA Mars Jump Room project, Basiago claims that he learned that Barack Obama had also been pre-identified as a future President and even Basiago himself was destined to become a U.S. President:
Barack Obama also was told; because when he and I were serving in the Mars Jump Room Program, we were being trained under Ed Dames in the summer of 1980, at College of the Siskiyous, in Weed, California. His Presidency and mine were being openly discussed by who was present …

Basiago further claimed that in 1980, he and Barack Obama actually were roommates while being briefed about upcoming jump room teleportation to Mars:
So, Barack Obama was not only aware of his Presidency when we were being trained in 1980, when he was 19 years old – and just turned 19 in August of '80 – but when we were rooming together briefly, a couple of days – at the College of the Siskiyous. He was reading briefing documents that they were giving him to groom him for the Presidency. [emphasis added]
Importantly, Basiago is here declaring that the CIA was actively grooming Obama for the Presidency by giving him access to briefing documents. In other words, according to Basiago, Obama is a CIA sanctioned U.S. President.
Basiago is not alone in claiming that Obama was groomed by the CIA to become a future President. Investigative reporter Wayne Madsen was the first to make such a claim in August 2010 in a three part series of articles. He followed this up in a 2012 book titled, Manufacturing a President: The CIA's Insertion of Barack H. Obama, Jr. into the White House.
Basiago added an unexpected twist to the Obama CIA relationship, Obama's Presidential grooming began during a covert program involving teleportation to Mars. This predictably has resulted in much controversy over Basiago's claims, and has led to him being ridiculed as evidenced by a Colbert Report on October 11, 2012 examining his Mars Jump room testimony.

However, there have been other whistleblowers that have made similar claims of teleportation technologies that enable travel to Mars. Whistleblowers such as Michael Relfe and Henry Deacon (aka Arthur Neumann) have gone on the public record to claim that they used similar teleportation technologies for travel to Mars.
Another whistleblower, Corey Goode, claims that teleportation technologies were first developed by Germany and used as early as the 1940s for transporting equipment to secret bases on Mars. He says that these German bases were later greatly expanded in collaboration with the U.S. military industrial complex.
Basiago's claims about participating in a classified CIA teleportation project to Mars in 1980, is plausible given what other independent whistleblowers have claimed.
If Basiago is correct in his core claims about the two classified projects he participated in, is it possible that he is also correct that Obama was groomed by the CIA to be President during a Mars Jump Room project? If so, has Basiago also been groomed by the CIA to be a future President, and his 2016 election bid is part of a CIA sanctioned disclosure program?
Has the CIA Groomed Andrew Basiago to be the U.S. Disclosure President?
Basiago's claims have led to much close scrutiny and criticism by veteran UFO and exopolitics researchers. I have critiqued claims by Basiago of being himself the discoverer of life on Mars, which he based on his analysis of Mars Rover images in a paper he published in December 2008.

I found his claims to be both unconvincing and unprofessional for a practicing attorney, because he refused to consult independent image analysis experts to corroborate his paper's findings. His refusal led to me criticizing him as a "crackpot by design."

After his initial public emergence in 2008, Basiago came forward again to reveal his involvement in the CIA and DARPA run Project Pegasus in November 2009. He followed this up with his revelations about the Mars Jump Room program in August 2011. To his credit, Basiago has done a lot of subsequent work in finding additional whistleblowers, witnesses and documents to support his controversial claims.
There have been a number of individuals who have come forward to claim that they were also part of the CIA's teleportation program to Mars. Brett Stillings and Bernard Mendez attest that they were part of this program. They have corroborated Basiago's claim that in addition to Obama, other prominent public individuals such as Regina E. Dugan, Mary Jean Eisenhower and Admiral Stansfield Turner were also part of these programs.

Basiago has conducted numerous independent investigations to corroborate his testimony, and has given details of additional evidence he has discovered in interviews. Included here are comments by David Baker, a former engineer from the Parsons company.
Baker corroborated Basiago's account of the different engineers that Basiago claimed to have met who worked at Parsons. This makes for powerful corroboration that Basiago was indeed present during his father's dealings with other Parsons company engineers in "special projects" that were highly classified.
In reviewing the extensive details and evidence supplied by Basiago over his participation in Project Pegasus and Mars Jump-room projects, I have found little to cast doubt on Basiago's version of events as he has narrated them. Indeed, the evidence he has supplied to corroborate his testimony is impressive in its scope, and leads to the conclusion that Basiago is sincerely telling the truth about events he personally witnessed and experienced in great detail.
Basiago, therefore, does not appear to be lying when he claims to have worked in classified joint CIA and DARPA run projects dealing with time travel and Mars teleportation technologies.
However, there is an important caveat here which needs to be considered when evaluating his reliability as a whistleblower and Presidential candidate. Basiago is on the record as saying that he and Barack Obama were pre-identified by the CIA as future Presidents. He has said that Obama was subsequently groomed by the CIA to be President. This suggests that Basiago has similarly been groomed, and is part of a CIA sanctioned disclosure program.
Is Basiago part of a CIA Sanctioned Disclosure Program?
It is natural to assume that the time travel technologies used by Basiago, to provide intelligence for the CIA, would also be used for operational security purposes. Among these would be determining Basiago's reliability, as far as maintaining secrecy in the future was concerned.
Basiago's later decision, as an adult, to become a whistleblower was almost certainly anticipated very early through psychological profiling. This would have very likely led to the same CIA operated time travel technologies being used to identify him as a future whistleblower.
Basiago says that he heard Donald Rumsfeld reveal plans that he and other Project Pegasus participants would, after completing High School, go the Naval Academy in Annapolis. As a Navy officer, Basiago was to continue working in covert programs as he recalls Rumsfeld saying:

Secretary Rumsfeld was explaining to my father – he literally said: "What we plan to do with the kids is in high school, we're going to admit them to the Naval Academy, as first-year plebes, when they graduate from high school; and we'll use that as a pretext for involving them in future project activities." So there, in 1971/72, they were already planning for what our destiny was going to be in the fall of 1979. And Rumsfeld was aware of what the major plan was.

However, Basiago states that he rebelled against this plan, which he was expected to follow, and chose a civilian life instead:
… my Dad sat me down in high school and told me I was going to the Naval Academy – which I ultimately rejected as an option …

It's important to keep in mind here that as a 17/18 year old in 1979, Basiago had refused to follow the advice of not only his father, but also a former Secretary of Defense – Rumsfeld held this position during the Ford Administration from 1975 to 1977.
Due to his refusal to pursue a Naval career, psychological profiling would have revealed that Basiago was a future security threat for the Project Pegasus program. This predictably would have led to additional security screening using the time travel technologies, which would have revealed Basiago's role as a future whistleblower.
Yet during his undergraduate study at UCLA, Basiago says he was recruited into another CIA project. The leads to a troubling question. Why would the CIA ignore the red flag raised by Basiago's refusal to follow a DARPA/CIA sanctioned career path, and instead reward his rebellion with access to yet another CIA project, this time involving jump-room technologies to Mars?
From his time as a participant in this second CIA classified program, Basiago describes an incident that provides an answer. He says that in 1983, as a 22 year old, he was asked by his CIA handler, Courtney Hunt, to travel to an elementary school to meet with a 10 year girl called Hesper Natalie. Hunt was aware that 27 years later, in 2010, she would help publicly confirm that Basiago had participated in Project Pegasus, and was a genuine whistleblower.
We also have other theories, possibly of what Hunt was doing. Hunt may have had… may have taken Hesper's name from my Montauk Chair writings – my file that pertained to travelling to the future in the Montauk Chair as a child – and then decided to have me meet her as a child; because then when we met in real time, that would basically improve my involvement in the program.

This is where Basiago reasons that Hunt, along with his father, were in fact "White Hats" in the CIA wanting to publicly disclose the truth about teleportation technologies in the future:
So it may have been actually something basically positively serepetitious [sic] that Hunt was doing to undermine the secrecy of the project. But nonetheless, we not only have one of the Montauk girls here, but we have somebody from my past who knows I'm telling the truth – because the CIA had me go and meet her – what was it, Hesper, 27 years before we met in real time [2010]?
The above quotes need to be carefully considered in evaluating Basiago's testimony. What they reveal is that Basiago's handler, Hunt, and therefore the CIA, was well aware of the possibility that Basiago would become a whistleblower and disclose classified programs that he was involved with.
Rather than take steps to prevent this, the CIA would instead actively help him by arranging for meetings to occur, such as meeting Hesper in 1983, so that later in 2010, she would meet him again and therefore support him as a bona fide whistleblower.
This leads to the conclusion that Basiago was identified as a future whistleblower by the CIA, and was therefore exposed to events, people and circumstances that would shape and influence his later testimony. This suggests that Basiago's whistleblowing activities are part of a long-term CIA sanctioned disclosure program, which is based on pre-identifying and grooming future Presidents.
Michael E. Salla, Ph.D. Copyright Notice
Further Reading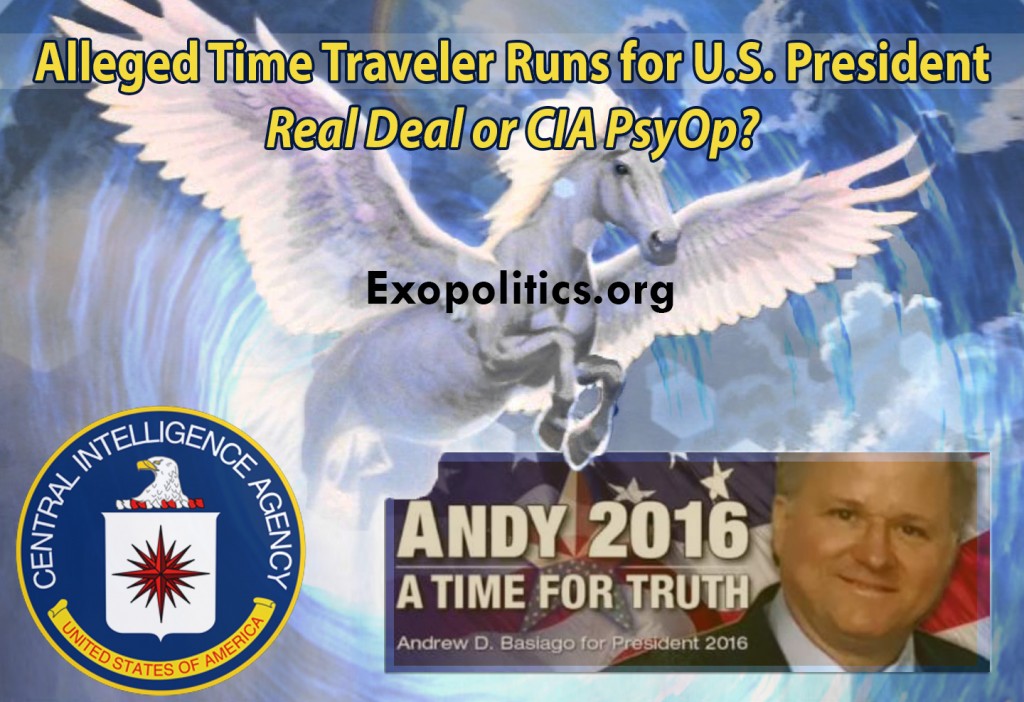 On December 19, Andrew Basiago, J.D., officially declared on the nationally syndicated Coast to Coast radio show that he is running as a candidate for the 2016 U.S. Presidential election. He announced that he would soon release 100 proposals, which would include telling the truth about classified projects run by the CIA that he claims to have directly participated in involving time travel and trips to Mars.
According to Basiago, these classified CIA programs pre-identified him as a future U.S. President. Is Basiago a heroic whistleblower disclosing the existence of extraterrestrial life and secret space programs, or part of a CIA sanctioned psychological operation to manipulate the disclosure process?
Basiago's campaign will be based on the three pillars, "Truth; Reform; and Innovation in a New Agenda for a New America." He has explained the goals of his Presidential Truth campaign bid as follows:
My plan, basically, is to sustain my Truth campaign about secret US achievements of time travel and Mars visitation; [to] continue to share my experiences in Project Pegasus [a classified time travel program] and on Mars in mainstream and alternative media.
And then, as part of my recommendations of what I would bring about as President – a major one is what I would do with these two technical capabilities when I run for president in 2016.
Alfred Webre, a prominent futurist and legal scholar, pointed out a key element of Basiago's past participation in classified CIA programs, and why he has declared himself as a U.S. Presidential candidate:
… career CIA officers associated with DARPA's-secret time travel program confirmed that U.S. government secret time travel pre-identified him as a future U.S. President — as it did U.S. Presidents George H.W. Bush, Bill Clinton, George W. Bush, and Barack Obama.

The role of the CIA in pre-identifying Basiago as a future President leads to an important question. Was Basiago groomed by the CIA, since childhood, to eventually run for the U.S. Presidency on a CIA sanctioned "disclosure program?" Answering this question requires some examination of Basiago's claims concerning teleportation, time travel, trips to Mars; and the CIA's role in preparing him for an eventual Presidential run.
CIA, DARPA and Project Pegasus
Basiago claims that in 1967/1968, when he was age six, his father Raymond Basiago introduced him to a teleportation device by which he was physically transported from New Jersey to New Mexico, as "the first American child to teleport."
I was first brought into Project Pegasus by my father in 1967-68, when at age six I teleported with him from New Jersey to New Mexico via a teleporter located in Building 68 at the "old" Curtiss-Wright Aeronautical Company facility formerly at 1 Passaic Avenue in Wood Ridge, New Jersey. This "jump" resulted in me becoming the first American child to teleport.

Basiago said that his father soon after recruited him into a CIA-run intelligence gathering operation called "Project Pegasus" in which he served until 1972. Basiago states: "Project Pegasus at the time that I joined it in 1969 was not primarily a time travel project – it was an intelligence program for the CIA."
Project Pegasus involved children testing up to a total of eight different time-travel and teleportation related technologies, and revealing what they had experienced in subsequent debriefings:
Project Pegasus was debriefing the teleportees and the other forms of time travelling – time travelers – including myself, having gone to the past and future using different methodologies and different technologies – so we were being interviewed to derive when we were going forward in time … information with which the US government could create reports that were promulgated by the CIA, and then sent around the project in other areas of the government to people with a 'need to know' status, to know of certain events.
Project Pegasus was alleged to be a vital national security program and was administratively placed under the control of the Defense Advanced Research Projects Agency (DARPA –named ARPA at the time.).
In a signed affidavit released on September 11, 2012, Basiago says:
The mission of Project Pegasus was to use quantum access to develop a "remote sensing in time" capability pertaining to non-local events on behalf of the Executive Branch of the United States government.
It was hoped that by developing better intelligence about past and future events, Project Pegasus would enable the US president, intelligence community, and military to engage in better contingency planning for future events.
Project Pegasus was trying to accomplish this by developing different time travel technologies in a research and development program under the aegis of DARPA.

Basiago claimed that the Ralph M. Parsons company, was directly involved in developing some of these time travel technologies of interest to the CIA and DARPA. Basiago's father, Raymond, was a "special projects engineer" for the company and its liaison with the CIA.
In investigating the precise nature of his father's relationship with the CIA, Basiago states in his signed affidavit that to all intents and purposes, Raymond was a CIA agent:
During his 18 years of employment with the Parsons Corporation ostensibly working on conventional engineering projects, my father was secretly employed as the technical liaison between Parsons and the CIA on the theory and practice of teleportation.
While it is not clear whether Raymond F. Basiago was ever a CIA officer per se, his work with DARPA, the CIA, and other US military and intelligence agencies was extensive enough for him to be in the CIA employee database.
When I inquired of my father's employment status with the CIA through an intermediary ten years ago, I was told by the CIA that they could not release information to the family members of living or deceased CIA personnel.
Basiago has described the extensive connections between the CIA and the Ralph Parsons company which included a former CIA Director, John McCone, in its leadership team.
Basiago believes that his father and other CIA personnel in Project Pegasus were "White Hats" in favor of public disclosure ,and release of the teleportation technologies:
So he [Raymond Basiago] was CIA – as were many other people. But I'm proud of my dad and I think you can say that he was a 'White Hat' inside the intelligence community; because among other things, he was actively urging the public adoption – the declassification and deployment of Tesla teleportation – for civilian functions, for civilian transport, when he was serving on this project.
This admission is vitally important for understanding Basiago's disclosure testimony, and involvement in CIA run projects. As far as he was concerned, his father and others were "White Hats" fighting the good fight within the CIA to release these advanced technologies to the world.
Basiago's Time Travel Expeditions
Basiago has described a number of time travel expeditions he has undertaken during his time in Project Pegasus. This included time travel back to Gettysburg in 1863, to hear Lincoln address the Union troops, using a wormhole technology called "plasma confinement." The effects of this mode of time travel wore off after a period, thereby returning him to the present:
The Plasma Confinement Chamber. In Spring 1972, my father took me to a time lab in East Hanover, NJ where, under the direction of Dr. Stirling Colgate, I entered a Lucite chamber where plasma was emitted, and while immersed in the plasma, I worm-holed to Gettysburg, PA on November 19, 1863, where I was depicted in the famous Josephine Cobb photograph of Abraham Lincoln at Gettysburg.
In support of his claim, Basiago has shown in public lectures the Cobb photograph of the Gettysburg address with a child in the foreground. He claims that he was told by Project Pegasus leaders that he was the child, and that it happened just before he returned back to 1972.

Basiago claims that he undertook other journeys into the past, using a different time-travel technology called "the Chronovisor" (aka "Looking Glass"). This enabled past and future events to be experienced holographically, without physically traveling there as he explains:
A "chronovisor" is an electro-optical device that by driving an electro-magnetic signature through a crystal array propagates a hologram that lenses a non-local event into the laboratory. Chronovisors were fully operation in the secret realms of the US defense-technical community by 1967-69.

In 1970, Basiago claims that he and other Project Pegasus child participants visited various classified facilities hosting chronovisors:
In Fall 1970, the children in my group first began accessing past and future events via third and fourth-dimensional Ernetti-Gemelli chronovisors situated at the General Manufacturing Company in Convent Station, New Jersey; a public auditorium under construction in Morristown, New Jersey; and the ITT Defense Communications facility in Nutley, New Jersey.

Basiago's assertion of visiting a classified facility run by ITT in Nutley, New Jersey in 1970 received surprising corroboration by no less a personage than famed radio host Art Bell, who was at the time employed by ITT in a classified NATO communication project. This was information Bell had never before publicly revealed. He was clearly shocked as Basiago revealed during a live radio interview on August 14, 2015, how he encountered Bell working on a classified project at the Nutley facility in 1970 when Basiago was only 8/9 years old.

Basiago says that through the chronovisor technology a highly classified film was made of the crucifixation and resurrection of Jesus Christ. Basiago claims to have seen the 20 minute film and said it matched what is depicted in biblical accounts of the life of Jesus.

Basiago further claims that the 9/11 twin tower attacks involving Arab terrorists that hijacked two planes was foreseen by his father and other Project Pegasus participants. He says that Donald Rumsfeld was the liaison at the time between Project Pegasus and the Pentagon, and therefore knew about the 9/11 attacks in advance. This led to Basiago putting together a detailed affidavit that he publicly released on September 11, 2012, as a submission to a non-official investigation called the Vancouver 9/11 Tribunal.
I am filing this affidavit with the tribunal because I have direct, personal knowledge of the fact that a secret time travel project for which he served as defense attache gave Donald H. Rumsfeld, who served as US Secretary of Defense during 9/11, prior knowledge of 9/11 thirty years before 9/11.

Basiago's affidavit became a contentious issue for the Vancouver Tribunal and ultimately led to an acrimonious split between Alfred Webre, who wanted to submit it, and Jim Fetzer and others who believed it would subvert the 9/11 Truth Movement.

At this stage, it is worth examining Basiago's credibility as a whistleblower. In his signed 2012 affidavit, Basiago affirms:
This affidavit is accurate to the best of my ability to remember and tell the true life experiences that I testify to in it and is made without any motive to deceive or purpose of evasion.
Basiago has an impressive educational resume with degrees from UCLA and Cambridge University, which has culminated in him having a private law practice in Washington State. As such, he is professionally required to adhere to high ethical standards in order to continue being an officer of the court. Among these is telling the truth when it comes to public activities.
This is a fact that Basiago has emphasized again and again when it comes to his disclosures that, if proven to be untrue, would lead to his disbarment and effectively end his professional career.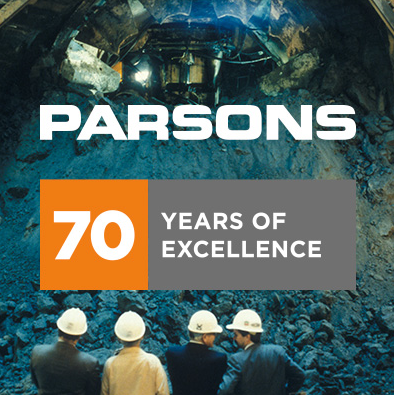 There is little debate over his father's professional background as an engineer, and the possibility that the Ralph Parsons company was directly involved in classified time-travel projects. The Parsons company had been involved, since its formation, in a number of highly classified programs run by the Department of Defense. This included developing silos for the placement of U.S. strategic nuclear missiles.

It is very plausible that the Parsons company would have been chosen to spearhead research and development of a classified program such as Pegasus, as Basiago claimed. Indeed, he describes an intriguing incident involving a luxury yacht purchased by the company founder, Ralph Parsons, from the arms trader, Adnan Kashoggi. Parsons renamed the yacht Pegasus II, in an indirect reference to the Pegasus program that his company had been entrusted with by the CIA and ARPA. A local newspaper covered the event in February 1973:


In his choice of name for his newly acquired luxury yacht, Parsons clearly associated the name 'Pegasus' with success and achieving the impossible. Was it mere coincidence, or was the naming due to his company's success in doing the impossible: developing time travel technologies that provided the CIA a unique intelligence gathering capacity? If so, would the CIA use such technology to determine who future U.S. Presidents would be, and attempt to influence them prior to the events leading to their Presidencies?
Project Pegasus and Pre-identifying Future Presidents
Basiago says a number of U.S. Presidents and Vice-Presidents were "pre-identified" through time traveling by other Project Pegasus participants. These pre-identified (Vice-) Presidents were met by Basiago's father and other CIA/DARPA personnel in informal lunches which Basiago also attended as a pre-teen:
I also met several future national leaders of the United States at lunches that were held in Albuquerque, NM with project principals shortly after they were apprised of the fact that using its quantum access capability DARPA had determined that they were destined to serve as President or Vice President of the United States. These individuals included President George H.W.Bush, Vice President Richard B. Cheney, President George W. Bush, and President William J. Clinton.
Less than a decade after completing his participation in Project Pegasus in 1972, Basiago claims that he learned that Barack Obama, and Basiago himself, had been pre-identified as future Presidents during another classified program run by the CIA. This raises the question, is Basiago's 2016 Presidential run the "real deal" or is it part of a CIA psychological operation?
Continued in Part 2
© Michael E. Salla, Ph.D. Copyright Notice
Further Reading