According to Secret Space Program whistleblower, Corey Goode, preparations have been underway since 2002 to publicly announce the discovery of a flash frozen civilization in Antarctica. Goode's startling claim has received support from internet data mining expert, Cliff High, who, in a January 2017 report, refers to an economic boom caused by an Antarctica announcement in the next year or so.
Goode and High's information leads to the intriguing possibility that President Donald Trump will authorize a major announcement about an Antarctica discovery in order to rejuvenate America's manufacturing industry.
On December 11, 2016, Goode revealed that he had learned about a major excavation underway in Antarctica of a flash frozen civilization that was technologically highly advanced, and involved extraterrestrial life. He said that since 2002, teams of scientists and archeologists have been excavating the ruins which are buried under two miles of ice.
Critically, in early January 2017, Goode says he was taken to Antarctica to see the ruins for himself by an Inner Earth civilization he calls the "Anshar". Goode said that bodies and artifacts that are extraterrestrial in origin were being removed and replaced by terrestrial objects from warehouses secretly located elsewhere around the planet. The goal appears to be one of both sanitizing the area of any extraterrestrial evidence, while seeding artifacts that steer scientific analysis towards a desired agenda.
Circumstantial support for Goode's claim of a major Antarctica discovery being excavated comes from a series of recent VIP visitors to Antarctica in 2016. The list includes then US Secretary of State John Kerry, Apollo Astronaut Buzz Aldrin, Russian Orthodox Church Patriarch Kirill, and Australia's Governor General, Sir Peter Cosgrove.
There have also been visits to locations near Antarctica by former presidents Barack Obama who traveled to Bariloche, Argentina, and Bill Clinton who visited Christchurch, New Zealand.
In prior years, other VIP visitors included Prince Harry of Great Britain (2013) and King Juan Carlos of Spain (2004).
Goode's startling claims are further supported by Cliff High's January report examining recent internet trends. High describes his research method as the art of predictive linguistics which he explains as follows:
Predictive Linguistics is the process of using computer software to aggregate vast amounts of written text from the internet by categories delineated by emotional content of the words and using the result to make forecasts based on the emotional 'tone' changes within the larger population. A form of 'collective sub-conscious expression' is a good way to think of it. Predictive linguistics can be used to forecast trends at many different levels, from the detail of sales to individuals, all the way up to forecasts about emerging global population trends.
High issues monthly reports called "Asymmetric Linguistic Trends Analysis Intelligence Report." In his January 2017 Report titled "Sci-fi World" he had some very significant things to say about the global impact of a discovery in Antarctica:
The new data sets have 'The (Antarctica) Discovery' providing more than 'new technologies' and 'economic boom period'… There is some suggestion from the data that a 'hoard' or 'trove' of 'knowledge' discovered is going to 'transform humanity' over these next '4'/four decades (and beyond)'…
Given Trump's desire to revitalize the US manufacturing industry, it can be predicted that he would jump at the chance to roll out the Antarctica discovery during his administration once he is briefed about it.  This is consistent with High's reference to an "economic boom period" and the release of technologies that will "transform humanity."
High goes on to describe an ongoing debate over how much and when to release information about the Antarctica discovery:
There are a number of sets within the Antarctica and The Discovery sets that may be describing a 'battle' that is now, and will continue to take place over 'how much', and 'if', and 'when' the 'information' about The Discovery is to be 'released' into the wilds of humanity. However, the data is quite clear that the 'arguing' and 'discord' will all be 'wasted time' as it is describing 'individuals' who just 'take it upon themselves' to 'awaken humanity' with "The Discovery."
High's above analysis is very consistent with Goode's report that the Antarctica discovery is on the verge of being publicly announced, and preparations for this have been underway since 2002.
High's analysis further supports Goode's earlier claims that elites are locked in fierce debates over how much and when to release advanced technologies that have been discovered, or developed in Secret Space Programs.
Finally, Goode's account of his 2017 Antarctica visit is an example of High's reference to "'individuals' who just 'take it upon themselves' to 'awaken humanity' with 'The Discovery'" in the case that official disclosure is unnecessarily delayed by disagreements.
A major question that arises is when and to what extent will Trump be briefed about such a discovery? An important clue is Secretary Kerry's Antarctica visit during the 2016 Presidential election. While the visit was ostensibly for him to learn about global environmental trends, it is clear that what he was witnessing had relevance for the U.S. elections then underway.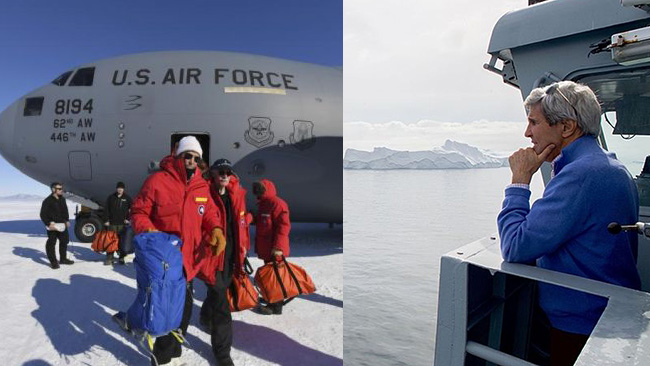 Kerry or the US State Department officials who accompanied him will eventually brief Kerry's successor, Rex Tillerson, who on January 23 received a close Senate Committee vote of approval, and this week is scheduled to be officially confirmed as the next Secretary of State. Once Tillerson is briefed about the Antarctica discovery, he will pass on the information to Trump and his National Security Council.
Significantly, Trump issued a Presidential Memorandum on January 28 reorganizing the National Security Council which he chairs, and includes the Secretary of State.  In an unprecedented move, his reorganization included his chief strategist, Stephen Bannon, as a permanent member of the NSC.
Bannon in particular, is very likely the person who will most forcefully argue for disclosure of such information as a key element of Trump's long term political and national security strategy once raised in any NSC meeting.
Given Trump's stated policy objective of rejuvenating America's industrial manufacturing capacities, it is highly unlikely that he would pass up the opportunity to initiate an industrial revival by officially disclosing the Antarctica discovery.
Consequently, it can be predicted with high confidence based on Goode's revelations and High's predictive linguistics model, that Trump will at some point in his Presidential administration disclose the discovery of a flash frozen civilization in Antarctica with advanced technologies. Not only will such an announcement stimulate an economic boom, it is also likely to open the door to an official disclosure process of even more advanced technologies used in secret space programs and visiting extraterrestrial life.
© Michael E. Salla, Ph.D. Copyright Notice
Further Reading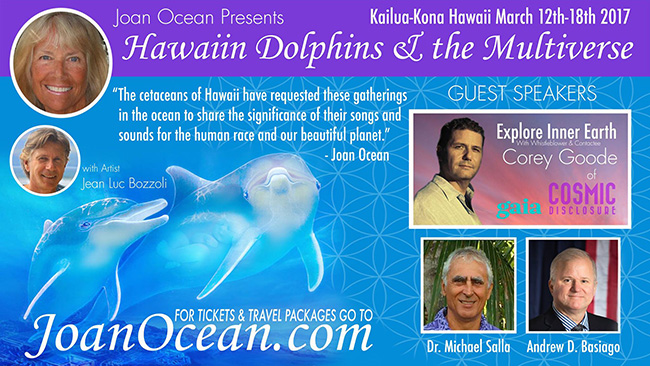 In his inauguration speech challenging the vested interests that control political life in Washington D.C., President Donald Trump spoke of a future where humanity has full access to the kind of advanced technologies allegedly used in secret space programs. Trump appeared to be hinting at the benefits official disclosure of these programs would bring to the U.S and the world, and that he was going to challenge the vested interests hiding these.
Back in December 2016, he had told presidential historian Douglas Brinkley that he planned to write a short speech himself. Later, Trump tweeted a picture of himself working on his speech alone, thereby indicating that its content would be his own creation.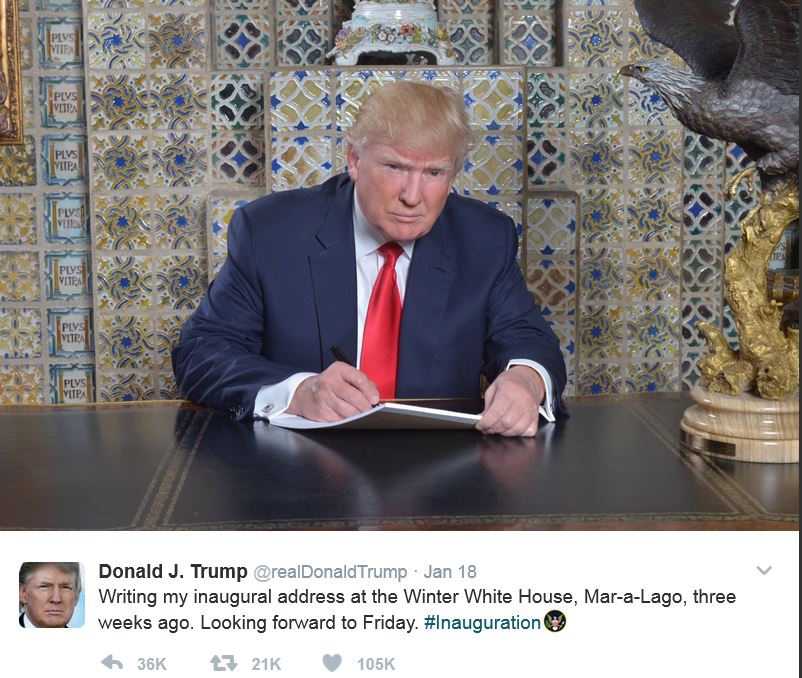 It is highly likely that Trump's speech writers would have polished his words, and added a few rhetorical flourishes to accentuate whatever points he wanted to make in the various drafts leading to the final product. Nevertheless the contents of his Inauguration Speech reveal much of what Trump really thinks about the future and hopes to achieve during his presidency.
Early in his speech, Trump was clear that Washington politics only benefited a small wealthy elite rather than the entire population:
For too long, a small group in our nation's capital has reaped the rewards of government while the people have borne the cost. Washington flourished, but the people did not share in its wealth. Politicians prospered, but the jobs left and the factories closed. The establishment protected itself, but not the citizens of our country. Their victories have not been your victories. Their triumphs have not been your triumphs. And while they celebrated in our nation's capital, there was little to celebrate for struggling families all across our land.

Trump affirmed his campaign pledge to revitalize American manufacturing industry and bringing high paying jobs back. He stated his opposition to Free Trade deals which have led to many U.S. corporations taking their manufacturing plants out of the U.S., and shipping their cheaply made foreign products back at a huge profit for a small group benefited by powerful Washington DC., lobbyists:
One by one, the factories shuttered and left our shores, with not even a thought about the millions and millions of American workers that were left behind. The wealth of our middle class has been ripped from their homes and then redistributed all across the world.

Towards the end of his speech, Trump uttered one sentence that contained his most developed vision of the future for America and its citizenry. He said:
We stand at the birth of a new millennium, ready to unlock the mysteries of space, to free the earth from the miseries of disease, and to harness the energies, industries and technologies of tomorrow.

Trump's use of the phrase "unlock the mysteries of space" may be just a rhetorical flourish to show his determination to rejuvenate the NASA space program and to assist the growing commercial space industry. Alternatively, it is a hint that he is aware that there is much more happening in space than the public have been informed about.
His use of the word "unlock" suggests that these mysteries are kept hidden in highly classified programs, and he now holds the keys to them. In that sense, he is sending the message that as the President and Commander in Chief, he holds all the keys and intends to use them to further his vision of the future. Once again, he was signaling his intent of confronting the "small group" hidden in Washington that benefit from keeping secrets from the public.
The next phrase used by Trump in the same sentence furthermore raises the possibility that he is aware of advanced healing technologies secretly developed in classified programs.
Witnesses and whistleblowers have described advanced healing technologies used in secret space programs that can regenerate limbs and organs, and cure any disease. For example, retired Aerospace Engineer, William Tompkins, says that from 1967 to 1971 he worked at the TRW Corporation, which had developed "life extension" pharmaceutical products that can cure any disease, and physically age-regress people.
Medical researchers such as geneticist, Dr. David Sinclair, have publicly demonstrated that age-regression is not science fiction, but is scientifically feasible. He states that testing on human subjects is only a few years away, without realizing the breakthroughs achieved in classified programs going as far back as five decades.
Trump further added that he planned "to harness the energies, industries and technologies of tomorrow." Again, was this a rhetorical flourish added by a speech writer, or was he hinting at advanced technologies used in secret space programs?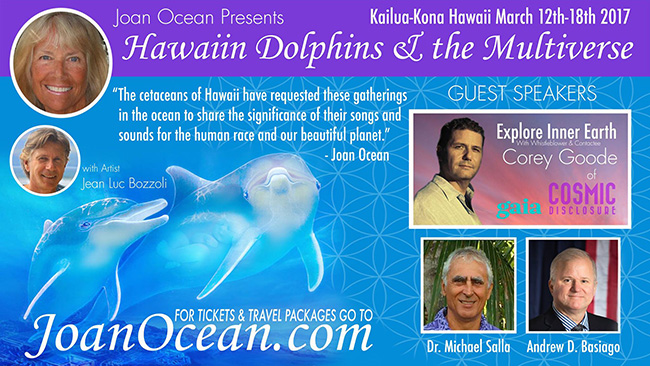 In discussing the "technologies of tomorrow" Trump appeared to be referring to more than just bringing back conventional manufacturing industries to generate new jobs. If some of the advanced technologies used in secret space programs such as antigravity and free energy were released, then this would revolutionize the automobile, aviation and energy industries. Tens of millions of jobs would be created in the U.S. alone.
Trump has promised to move quickly in achieving his campaign goals and the vision outlined in his Inauguration Speech. It appears that he has been made aware of advanced space technologies that have been kept secret from the American public, and the "small group" that benefits from this. As the newly installed Commander in Chief, he now holds the keys to unlocking these secrets, and ushering in a "new millennium" through an official disclosure process that does "Make America Great Again."
© Michael E. Salla, Ph.D. Copyright Notice
Further Reading
On January 20, 2017, Donald Trump will be inaugurated as the 45th President of the United States. Among the most important policy questions he will be facing is how to respond to classified briefings about secret space programs and extraterrestrial life. Will President Trump maintain the status quo of secrecy on the grounds of national security, or will he support official disclosure as complimentary to his vision to "Make America Great Again"?
One of the perennial questions confronting UFO and exopolitics researchers is, "how much are U.S. Presidents briefed about classified programs concerning secret space programs and extraterrestrial life?" According to some experts, U.S. Presidents are told relatively little, and run into institutional roadblocks when they explore alternative routes to the truth.
It is well known for example that President Bill Clinton asked his close personal friend, Webster Hubbell to get answers to two questions:
If I put you over there in justice I want you to find the answer to two questions for me: One, who killed JFK. And two, are there UFOs.
There is no reason to doubt the accuracy of Hubbell's recollections. This suggests that soon after being elected President in November 1992, Clinton had concluded he was being given the institutional run-around in learning the truth.
In contrast, Canadian researcher, Grant Cameron, states that U.S. Presidents are told quite a lot. If so, this might explain references by President Obama during an interview on Jimmy Kimmel Live, apparently in jest, that aliens would not allow him to disclose the truth.

The aliens won't let it happen. You'd reveal all their secrets. They exercise strict control over us.

According to Andy Basiago and three other purported first-hand witnesses, Obama had learned as early as 1980 about a covert CIA program involving jump room teleportation technologies that allowed covert missions to Mars. If true, that would mean that Obama, upon becoming President, already knew about one secret space program, but chose not to reveal this either out of national security concerns, or alien threats.
Sometime after his January 20 inauguration, President Trump will receive a classified briefing on the extraterrestrial topic. Regardless of how extensive the briefing(s) will be, he will have to make a decision about what to do with the information. Will he decide that national security arguments used to maintain the decades-long secrecy policy are compelling and worth preserving, or will he adopt a new approach based on his desire to restore high paying manufacturing jobs to the American people.
According to secret Space Program whistleblower, Corey Goode, Trump was quietly backed by a consortium of institutional actors, the "Alliance", wanting to disclose the truth about secret space programs and extraterrestrial life.
Donald Trump is indeed being backed by the Alliance. Trump is certainly not entering into this battle free from his own baggage. He has said and done a variety of things that are upsetting to people. He does not, however, represent a group that actively seeks to kill billions of people by starting World War III as soon as possible.

Goode's information suggests that key figures and leaders in the Alliance have decided that Trump will back disclosure initiatives since he is unlikely to submit to being pressured or blackmailed into remaining silent. Trump's background in large scale real estate construction projects predisposes him to supporting disclosure of classified technologies that help restore the industrial manufacturing capacity of the U.S.
Trump's desire to create American jobs through resurrecting its latent manufacturing capacity, is going to find a perfect outlet when he is briefed about the advanced technologies used in secret space programs. Arguments to continue keeping these technologies hidden due to national security concerns are unlikely to persuade him. Threats made against him are also doubtful to succeed given his success in warding off all kinds of negative publicity and attacks during the Presidential campaign.
Consequently, this leads to the question of what kind of disclosure will Trump support. Will it be "full disclosure" or a form of "limited disclosure"?
Goode states that in late 2016, agreements had been reached to go forward with a limited disclosure initiative which would reveal the existence of the U.S. Air Force based secret space program involving two Earth orbiting stealth space stations, and antigravity vehicles used to service these such as the TR-3B.

During the 2016 Presidential campaign, Wikileaks released emails by John Podesta, Hillary Clinton's Campaign Chair, which revealed that two retired U.S. Air Force Generals and the head of Lockheed's Skunkworks, are part of a group of ten senior advisors working directly with Rock Star, Tom DeLonge. They are backing DeLonge's disclosure initiative which he describes in his co-authored book, Sekret Machines.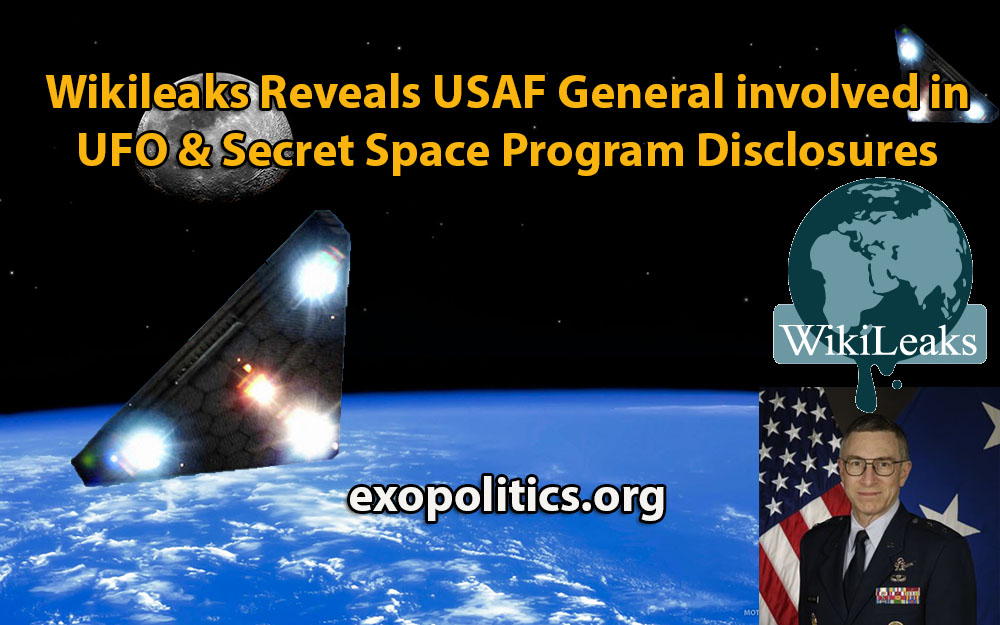 In an extensive two part book review of Sekret Machines (see here and here), I have shown that the information DeLonge has received is part of a limited disclosure initiative backed by the USAF. In short, DeLonge provides a sanitized version of the history of secret space programs in which the main national security threat from Russia, which possesses its own fleet of destructive antigravity spacecraft responsible for abductions, interference with U.S. nuclear weapons facilities, and UFO sightings.
I contrasted DeLonge's "limited disclosure" initiative with a "full disclosure" initiative backed by the U.S. Navy, which is far more revealing of the full range of space assets secretly developed and deployed over the last six decades. Importantly, full disclosure covers nefarious activities, such as a space slave trade and the key individuals that made this trade possible.
In December 2015, retired aerospace engineer, William Tompkins, came forward to disclose how the U.S. Navy developed eight space battle groups, which were first deployed in the 1980's as part of a covert program called "Solar Warden".
According to Tompkins, a number of top Aerospace corporations played key roles in designing and developing kilometers long antigravity spacecraft used in Solar Warden. He says that the Navy's eight battlegroups are now antiquated and a new generation of 12 space battle groups is currently under development, and is expected to be deployed in the 2030's.
Upon learning the full extent of the USAF and US Navy secret space programs, and the existence of multiple extraterrestrial visitors, some of whom have reached agreements with elements of the Military Industrial Complex, Trump will be confronted with highly significant policy choices about how much and when to disclose. What can be predicted with certainty is that Trump will seek to strike a deal of some sort, and then move forward with his final policy.

Trump is a man with huge ambitions and has a reputation for getting his way, as is well illustrated through his successful Presidential campaign despite great opposition. On the other hand, there is a seven decades long secrecy policy that is deeply entrenched in the national security system.
This brings us to the paradox of what happens when an unstoppable force [Trump] meets an immovable object [secrecy]? There are certainly going to be fireworks, as we are already witnessing in the run to Trump's January 20 inauguration. My best guess is that Trump will stamp his name on an official disclosure policy on secret space programs and extraterrestrial life that results in massive scale industrial projects designed to "Make America Great Again".
© Michael E. Salla, Ph.D. Copyright Notice
Further Reading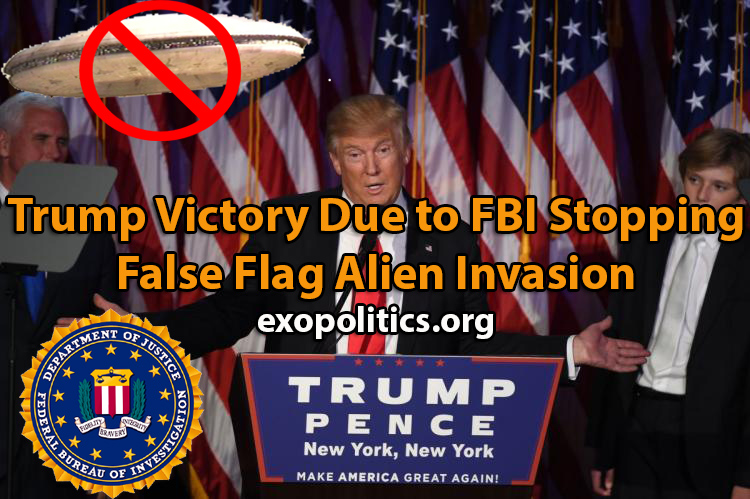 Donald Trump's win in last night's Presidential election caught most political pundits, media networks and Clinton supporters off guard. Many firmly believed polls that predicted a decisive Hillary Clinton victory. What the pundits and networks failed to do was factor in the true purpose behind FBI Director James Comey's puzzling intervention in the closing days of the Presidential campaign.
Undoubtedly, the most surprising event preceding the election was the October 28 letter by FBI Director Comey that Clinton was once again under federal investigation. The FBI had learned from a sexting investigation of disgraced congressman, Anthony Weiner, that one of his computers was shared with his wife, Huma Abedin, deputy chair of the Clinton campaign. It contained emails between Abedin, Clinton and others sent during her tenure as Secretary of State.
This was relevant to the FBI investigation of Clinton which had been closed earlier in July. Comey's letter to the heads of different Congressional Committees informing them of the re-opening, rocked the Clinton campaign and led to 11 days of the worst press experienced by Clinton during the entire campaign.
Then on November 6, only two days before the election, Comey once again called off the investigation, and lifted a cloud of uncertainty from the Clinton camp. Her supporters expressed a huge sigh of relief and believed the road to the White House was wide open once again.
Most were bewildered by Comey's puzzling behavior. Why did he say anything in the first place if there was nothing sufficiently incriminating in the Weiner/Abedin emails to change the earlier July decision to close the investigation?
Clinton supporters were angry at Comey, and believed he had blatantly interfered in the election to help the Trump campaign. Republicans, including Trump himself, criticized Comey for once again protecting Clinton.
Former Clinton insider, Larry Nichols, offered another criticism of Comey that helped understand Comey's puzzling behavior. Comey, according to Nichols, was running a psychological operation of misdirection, to help the Clinton campaign by steering the mainstream media away from the more damaging Wikileaks disclosures that were occurring.
While there is great appeal in Nichols explanation, certainly Alex Jones thought so, I don't believe Nichols is correct.  
The damaging nature of many of the Wikileaks disclosures have been succinctly described by Abby Martin in a November  5 video (see below). While the Wikileaks disclosures certainly had damaging information about Clinton's campaign chair, John Podesta, they had little directly implicating Clinton herself. After all, Clinton could simply sack Podesta if she needed to do damage control in the closing days of her Presidential campaign.
Understanding the real purpose behind Comey's bizarre behavior requires analysis of a document leaked by Anonymous on October 18, which contained internal polling data by the Benenson Strategy Group conducted for the Clinton campaign. The document contained sensitive internal polls showing that the Clinton campaign was in deep trouble, and heading towards inevitable defeat.
The Benenson strategy document correctly predicted that Trump supporters would turn out in droves, and laid bare the fact that Clinton had only soft support among the American population. The document further pointed out that the public was aware that crowds had to be manufactured for Clinton's poorly attended campaign events.
The Benenson document recommended a number of salvage options designed to stop Trump supporters heading to the polls, and/or creating a national security crisis. The document began with a "non-recommended list" which contained a number of very alarming false flag scenarios involving a "Red Dawn" foreign invasion, a "Cobalt Rain" radiological attack, civil unrest, ZIKA virus, etc.
The recommended salvage option was "FIRESIGN" which uses advanced holographic technology to create a religious "awe effect." The plan was to use the FIRESIGN technology to create the illusion of an extraterrestrial invasion which would allow the creation of an emergency situation that would lead to cancelation of the Presidential election. President Obama would subsequently hand power directly over to Clinton once the alien invasion was put to a stop through the intervention of a secret space program run by the USAF.
Significantly, some of the Wikileaks emails contained information about two USAF Generals and the head of Lockheed Martin's Skunk works sharing information about this classified USAF program with the Clinton campaign through her campaign chair John Podesta.
In fact a meeting was held on January 25, 2016 revealing the existence of advanced technologies belonging to this USAF space program. This may be where the required information for staging a fake extraterrestrial invasion was acquired by the Clinton campaign, and passed on to the Benenson Strategy Group for developing a number of salvage strategies.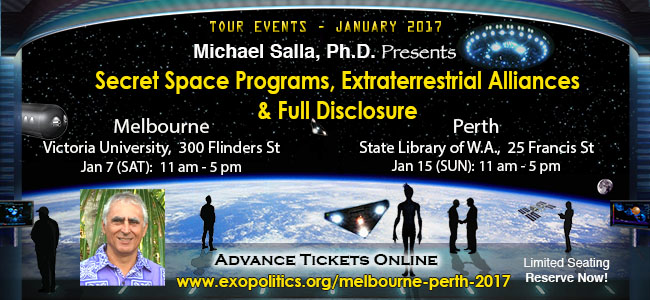 To date, the Benenson document has not been debunked, even though there are some anomalies found that raise questions over its legitimacy.
The success of the Trump campaign tells us that the projections in the document were correct after all. This suggests that the Benenson document contained factually accurate information including plans for false flag attacks.
So why did the false flag extraterrestrial invasion recommended by the Benenson document not go ahead in order to salvage the Clinton campaign? That's where Comey's October 28 announcement of the FBI reopening the investigation into Clinton becomes relevant.
Comey was sending the Clinton campaign a clear message – no dirty tricks for the election. Comey's letter was the proverbial shot across the bow of the Clinton campaign. No false flag event would be permitted. The FBI was going to use its very powerful resources to ensure a clean U.S. election.
The subsequent November 6 decision by Comey to once again close the investigation into the Clinton emails was likely due to an agreement being reached behind the scenes. The November 8 election would move forward without any manufactured national security crisis.
Consequently, Comey's intervention into the Presidential campaign put an end to plans for a false flag extraterrestrial invasion, and has led to a highly significant transfer of power to a political outsider, reviled by the political establishment of both major parties.  On January 20, 2017, President-elect Trump will gain the power to fully disclose the truth about classified projects involving secret space programs and extraterrestrial life.
© Michael E. Salla, Ph.D. Copyright Notice
Further Reading