Is that an elongated human skull on Mars?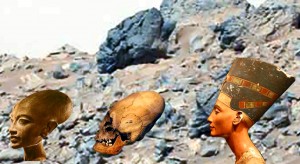 A photograph taken by the Mars Curiosity Rover shows what appears to be an elongated skull on the Martian surface. According to an October 18, 2014, report by UFO Sightings Daily, the curious object is an elongated head similar to those found in ancient Egypt. In a Youtube video, the Martian skull like object is compared to elongated human skulls found in various Egyptian murals and the similarity is striking.
Around the same time the skull like object began to be discussed on the internet, NASA administrator Charles Bolden made a surprising statement about life on Mars in an October 9 interview in London:
People always ask the question 'Why Mars?' Several reasons: One, Mars is very Earth-like, or least used to be Earth-like. It is a planet, a sister planet to Earth. It is the most likely planet in our solar system, um, that had life at one time… may have life now, and we feel can definitely sustain life.
Was this merely a coincidence, or was Bolden preparing the world public for some surprising future announcement regarding life on Mars? Perhaps Martian life once existed, and it was connected to ancient Egypt?
The photograph was taken by Curiosity Rover on September 14, 2014 and was the focus of a video posted a month later. In the video, comparisons with various elongated human skulls depicted in Egyptian murals and statues, the suggestion is that the object is a human skull. If so, then the elongated skull may be evidence of a tangible connection between ancient Egypt and Mars. Both Earth and Mars at one time in their history possessed a human population with elongated skulls that were part of their respective planetary leaders.
Whatever the origin of the mysterious object, it is unlikely that the Curiosity Rover will investigate it more closely due to the standard response by NASA that such fossil like bone fragments are just rocks. For example, in its response to a Mars Rover image of what appeared to be a thigh bone found on Mars, NASA responded that it was nothing more than rock. Former NASA employees, such as Richard Hoover, however disagree. Hoover claims that NASA administrators go to great lengths to cover up the possibility of Martian life, and in one case directed one of the Rover missions to actually destroy evidence of a Martian fossil.
Perhaps NASA's standard response is right, and the skull looking object captured by Curiosity Rover is just a rock. Alternatively, the object may be the elongated skull of a humanoid species that had a historical connection to ancient Egypt. Was NASA Administrator Bolden's October 9 claim of past Martian life purely coincidental in timing, or the start of NASA releasing more of what it really knows about life on Mars?
© Copyright 2014. Michael E. Salla, Ph.D.
Further Reading