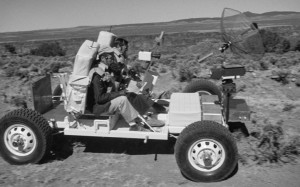 A rare set of NASA photos of astronauts training on the lava fields of the Big Island of Hawaii were publicly released today. The Big Island has been a favored destination for NASA to send astronauts to train in environments similar to the Moon and Mars. The photos show a variety of situations where astronauts are seen testing equipment for upcoming lunar missions and future landings on Mars. The volcanic lava fields are not only to be used for training earth astronauts for trips to the Moon, Mars and beyond. If officials from the reinstated Kingdom of Hawaii have their way, alien astronauts will soon land on Hawaiian lava fields to meet humanity. It appears that Hawaii's lava fields are suitable for astronauts from both earth and alien worlds to spend some time visiting.
The NASA photos were released by the Hawaii based Pacific International Space Center for Exploration Systems (PISCES) whose mission statement is to assist "aerospace agencies from around our planet to develop, test, and validate in Hawaii pioneering technologies that can advance robotic and human missions to space." In the late 1960s, scientists recognized that the Big Islands lava fields bore "an uncanny resemblance to the terrain on the Moon," Astronauts from Apollo missions 13 to 17 trained on the Big Island's lava fields. In a blog post PISCES describes its efforts to locate the photos from NASA to document Hawaii's role in helping send astronauts to the Moon.
On  May 28, the Reinstated Kingdom of Hawaii issued a "Declaration for a Hawaii Star Visitor Sanctuary" setting out its goal of converting some of the Big Island's more recent lava flows into a place where alien astronauts can land and meet with humans. According to the Declaration, Hawaiian legends reveal that the native Hawaiians are descended from extraterrestrial visitors from the Pleiades star system. Representatives from the Reinstated Kingdom claim sovereignty over new land created by recent lava flows, and plan to dedicated some of it for extraterrestrials to land in a special ceremony on June 27 that will be part of an upcoming Hawaii Sustainability event.
The lava field designated for alien visitors is in the Kalapana area of the Big Island, only an hour or so car ride to the lava fields used by the Apollo mission for training astronauts for moon missions. Even closer is the Hilo office of PISCES where the Apollo images are proudly hanging on a mural. The Big Island of Hawaii's lava fields, according to PISCES, offer an exciting venue for national aerospace agencies to send astronauts. If the Reinstated Kingdom of Hawaii succeeds with its plans, U.S. and other astronauts will be joined by alien astronauts in visiting the Big Island's volcanic terrain.
© Copyright 2014. Michael E. Salla, Ph.D.
Further Reading
Reinstated Kingdom of Hawaii to create extraterrestrial visitor sanctuary