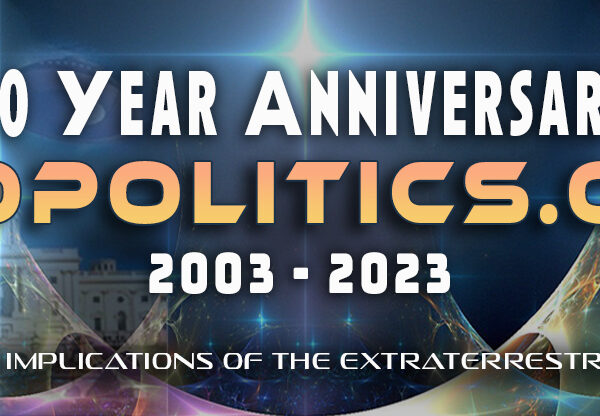 Today marks the 20th anniversary of exopolitics.org which was created on January 20, 2003, on Martin Luther King Day. The date was chosen to celebrate the life and mission of Martin Luther King who was a personal inspiration to me, and whose work had important similarities with the new research and life venture that I was embarking on with the creation of Exopolitics.org. Dr King confronted racial segregation that discriminated against people of color in the American South. In first being exposed to the reality of extraterrestrial life, and a massive cover up of supporting evidence I saw a similar struggle ahead to what had confronted Dr King in the civil rights arena – it would be segregation based, not on skin color, but, on privilege and access to advanced technologies reverse engineered from alien visitors and ancient civilizations.
After a 20-month period of researching the issues raised from my watching of Dr Steven Greer's Disclosure Project Press Conference in May 2001, I decided to change my conventional research interests at American University where I had worked since 1996 as a peace and conflict resolution scholar. In writing my first exopolitics paper, "The Need for Exopolitics: Implications of the Extraterrestrial Conspiracy Theories for Policy Makers and Global Peace", I naively thought it would be welcomed by my superiors at American University in Washington DC. How wrong I was. I was told not to associate the University with exopolitics in any way, and so could not publish my article on my Amerian University webpage, which I had created in 1996. This refusal directly led to the creation of Exopolitics.org . Continued opposition led to my eventual dismissal from American University in 2004.
Twenty years after the creation of the Exopolics.org website, I am encouraged by the increasing number of individuals that have become interested in exopolitics, and who have created exopolitical websites and organizations around the world. Nevertheless, the struggle is still massive and much work needs to be done to expose the extent of the cover-up of extraterrestrial life and reverse engineered technologies used in secret space programs. We continue to live in a globally segregated society where the vast majority of humanity struggle with basic energy, food and health issues on a daily basis, while a privileged minority have unfettered access to incredibly advanced technologies used in deep underground bases and off-planet facilities with zero transparency and accountability.
The individuals, institutions and processes that hide this truth from the American and world publics need to be exposed. Up until very recently, there were powerful public biases that individuals discussing UFOs and extraterrestrial life are on the fringe of society and needed to be shunned. That has begun to change with recent mainstream coverage of UFOs (aka UAPs) as a national security threat that culminated in the creation of the All Domain Anomaly Resolution Office on July 15, 2022, which is now delivering regular reports on UFOs/UAPs to the US Congress. Nevertheless, much work needs to be done as the extraterrestrial origins of many UFO/UAPs continues to be downplayed or shunned by mainstream media regardless of the evidence.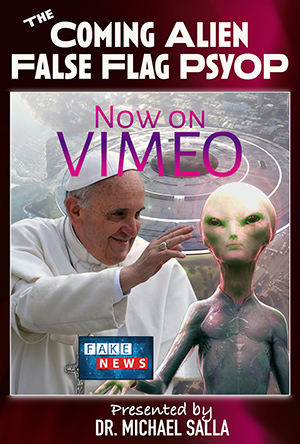 Instead, the mass media is consistently describing UFOs/UAPs as a national security threat that raises the specter of a false flag event being orchestrated that once again manipulates public opinion through deception and hides the truth that we live in a deeply segregated global society, which has profound quality of life implications for the general public.
All studying UFOs, extraterrestrial life and secret space programs are courageous individuals who have dedicated much of their time, and lives in many cases, to finding out the truth despite public dismissal and ridicule. While there will always be differences of opinion and methods among researchers, I admire all who have dedicated their time to UFO and exopolitical issues given the historical public biases against such interests. I especially appreciate those individuals that have supported my work in many ways and given me the courage to continue despite the determined opposition of public institutions and the mass media.
Exopolitics continues to personally inspire me and my research interests. Those visiting Exopolitics.org can view online for free the full scope of my 20 years of research – well over a thousand articles equivalent to ten books worth of material or over a million words. More recently, I have begun doing regular Exopolitics Today podcasts featuring interviews with many witnesses, contactees, and researchers that cast more light on the exopolitics phenomenon, which is far to big and complex for any one individual to have all the answers. My full archive of interviews going back to 2004 can be found on Exopolitics.org, again, all for free.
I look forward to what the next 20 years will bring to the field of exopolitics and to my own endeavors to learn the full truth. I am very thankful for the contributions of Alex Collier, Elena Danaan, JP, Wendelle Stevens, William Tompkins, Clifford Stone, Steven Greer, Paola Harris, and many others who have cast light on the complexity surrounding extraterrestrial life and secret space programs. I greatly appreciate the support of my webmaster Jas Marlin who also helps with the videography of my interviews. I am especially grateful to my inspired and talented wife, Angelika Whitecliff, who continues to support me in all my exopolitical endeavors through her editorial, artistic and videography skills.
Finally, I sincerely thank all that have had the courage to write, speak or commit themselves to investigating and informing others about evidence of visitors from other worlds coming to our small planet, and overcoming the segregated global society we live in that has been created by those controlling access to reverse engineered technologies from extraterrestrial or ancient civilizations. You continue to inspire me and give me cause for optimism over the tremendous opportunities that lie ahead for us individually and as a species as we boldly step forward to embrace the truth about our cosmic visitors and our Star Trek future.
Warmest Aloha
Michael E. Salla, Ph.D
January 20, 2023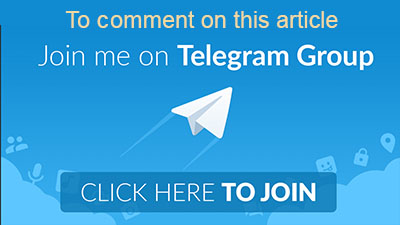 ---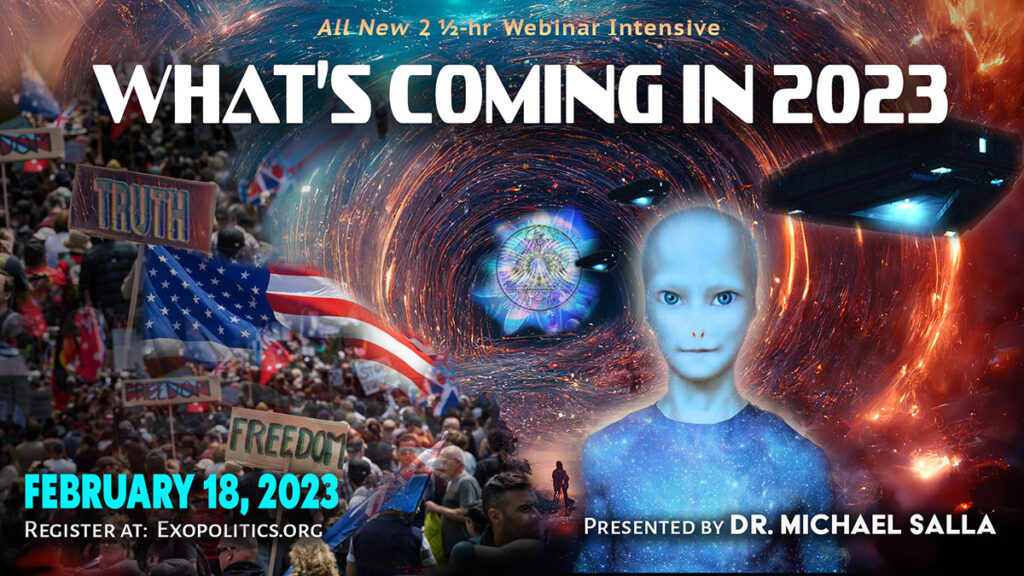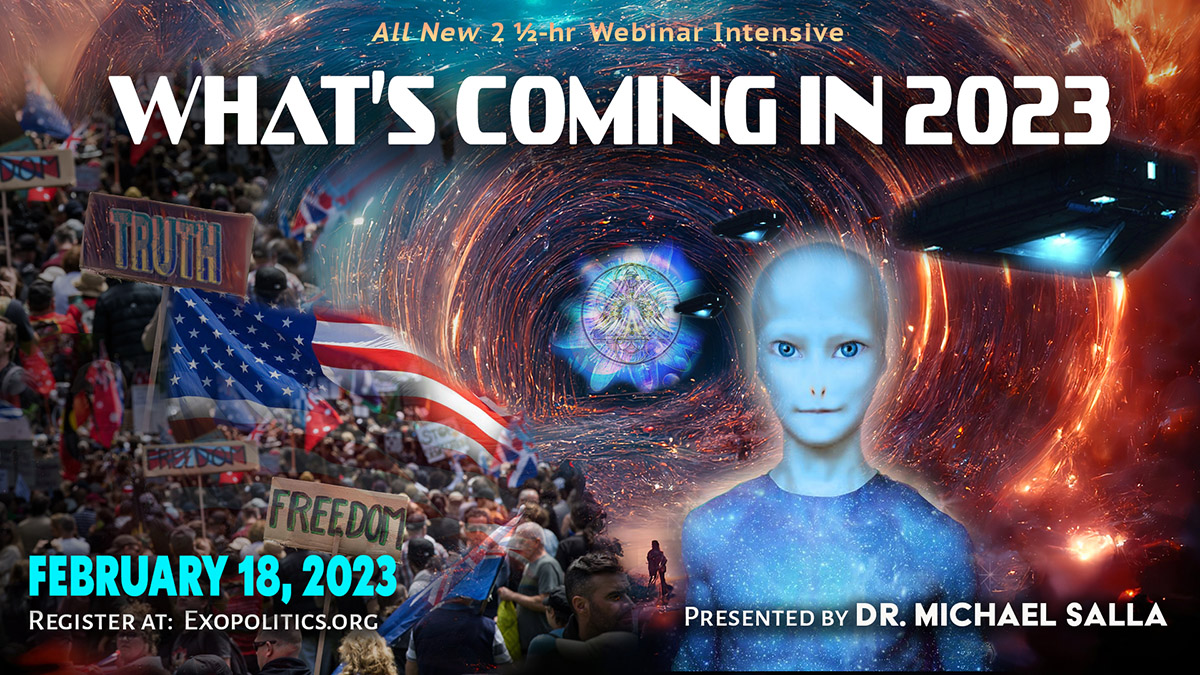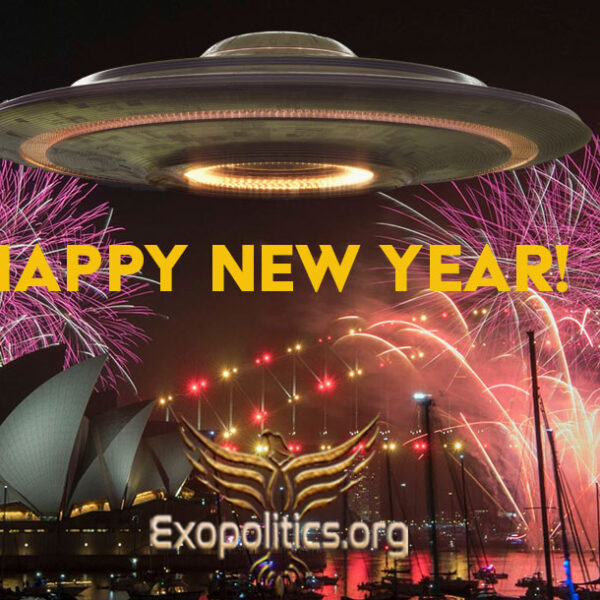 Hope you are enjoying your New Year celebrations wherever you are. I'm presently in Australia meeting family members after a 3-year hiatus due to the global plandemic, which leåd to severe travel restrictions in my country of birth. I'm ready for 2023, which promises to be a revolutionary year for the entire planet after a lackluster 2022. I'm most excited by growing evidence that the Deep State is unravelling with more and more of its most deeply held secrets being released every day by whistleblowers and White Hats in what appears to be a globally coordinated plan.
 
It's no accident that the recently signed 2023 National Defense Authorization Act in the US gives whistleblowers protection from any Non-Disclosure Agreements when it comes to UAPs/UFOs. This is going to spark an avalanche of whistleblowers coming forward and revealing more of what has been happening in corporate and military facilities dealing with reverse engineered alien technologies and off planet visitors. One of the individuals who will be impacted by the new law is my long time source JP, who continues to serve in the US Army, and may be able to reveal more about his missions. I hope he will succeed in persuading other serving military personnel to come forward under the new whistleblower protection law.
 
Also, the James Webb Space Telescope is focusing on distant star systems such as Trappist containing multiple populated exoplanets, which makes the detection of technosignatures inevitable. Exopolitics is fast going mainstream as discussion of extraterrestrial life and its implications is increasingly being seriously discussed in official circles and major media.
 
At this point, it's still not clear what the trigger will be for the global revolution. Will it be:
Judges overturning rigged elections as more data comes in?

More Twitter files exposing the truth about Deep State operations?

Ukraine's military collapse from an impending Russian winter offensive that will lead to NATO's implosion?

The truth about Deep State's Plandemic coming out?

An announcement that the Webb Telescope discovered ET life?

The Deep State finally moving ahead with a false flag alien event that is bound to fail?

The ETs themselves forcing the issue by uncloaking their motherships/Arks and exposing the Deep State's biggest secret?

The awakening of giants or Inner Earthers coming forward to reveal themselves to the mass consciousness?
It could be any one or a combination of these factors that leads to a global revolution as the people wake up to the decades of Deep State manipulation and deception.
 
In 2023, I'm planning to do many new weekly interviews with fascinating guests who will cast light on many exopolitical issues. I will again do eight webinars this year on topical issues beginning in late February. Also, I plan to start a weekly podcast to cover the Exopolitical news that week, and eventual turn it into a live podcast with Q & A. Finally, I'm working on Book 8 of the Secret Space Program Series which should come out in May.
 
Unfortunately, the growth of exopolitics and my podcast channels has led to many impersonators, scammers, etc., imitating me on Telegram and YouTube. If you ever receive a personal message from someone claiming to be me encouraging you to sign on to some financial scheme, then note you are being scammed. I never privately approach anyone offering financial advice or to solicit funding.
Scammers have also been phishing my email address (drsalla@exopolitics.org) to impersonate me. Thankfully, I found a great new startup company in Australia (CanIphish.com) that strengthens websites to stop phishing by scammers. Click this link to see if your website is vulnerable (see banner below for more details & an exopolitics discount code).
 
Well, that's my New Year's message for 2023, so stay tuned as much more is coming.
 
I wish you all a Happy and Prosperous New Year.
 
Michael Salla, Ph.D.
Exopolitics.org & Exopolitics Today
---
---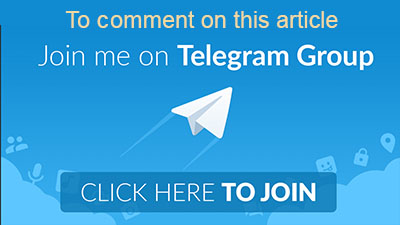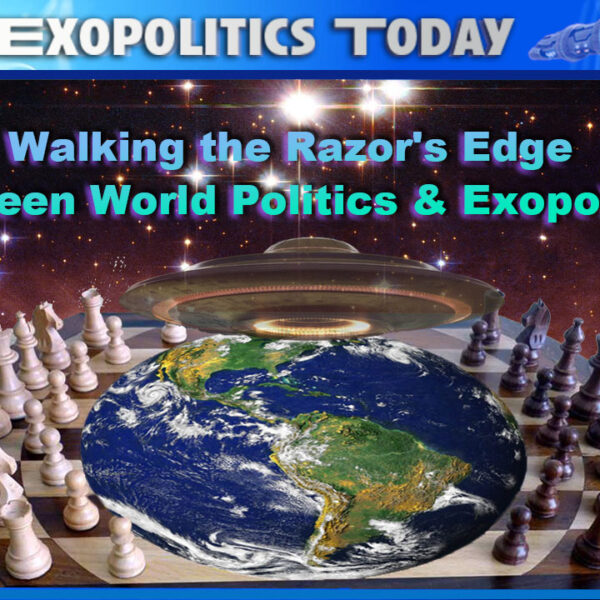 Come Carpentier became interested in UFOs and extraterrestrial life in the late 1960s when he learned about the mysterious Ummo case in France and Spain. Alleged extraterrestrials from the planet Ummo created an office in Spain where they began corresponding with scientists and UFOlogists from around the world introducing them to advanced physics and philosophies. Come later moved from the Canary Islands, Spain, to New Delhi, India in 1975 and went on to distinguish himself in the study of world politics. He is currently a Distinguished Fellow in the India Foundation and convenor for the World Affairs Journal.
Come combines his professional research on world politics with his long time interest in exopolitics where he has investigated many historical UFO cases from around the world. These include the famed Friendship (Amicizia) case in northern Italy (1956-1978), and UFO sightings in the Himalayan region of India and Tibet. In the 1980s, he traveled to Colorado, USA, where he met a high ranking USAF general who confided information about official contact and relations with extraterrestrial civilizations.
In this Exopolitics Today interview, Come discusses his background, conventional political interests, and how these intersect with exopolitics. He describes the dividing line between World Politics and exopolitics as a razor's edge, which he has learned to carefully tread for more than 50 years.
Interview available on Rumble, YouTube & Odysee

Audio Podcast on Apple, Spotify, or Google
Come is the organizer of a major academic conference to be held in New Delhi from Sept 22-24, 2022, titled:" "Exploring Consciousness- From Non-Locality to Non-Duality: The Man-Machine Debate". It will be live streamed from youtube.com/c/IndiaFoundationChannel
Come Carpentier's website is: http://www.comecarpentier.com/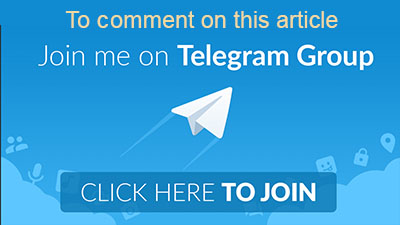 ---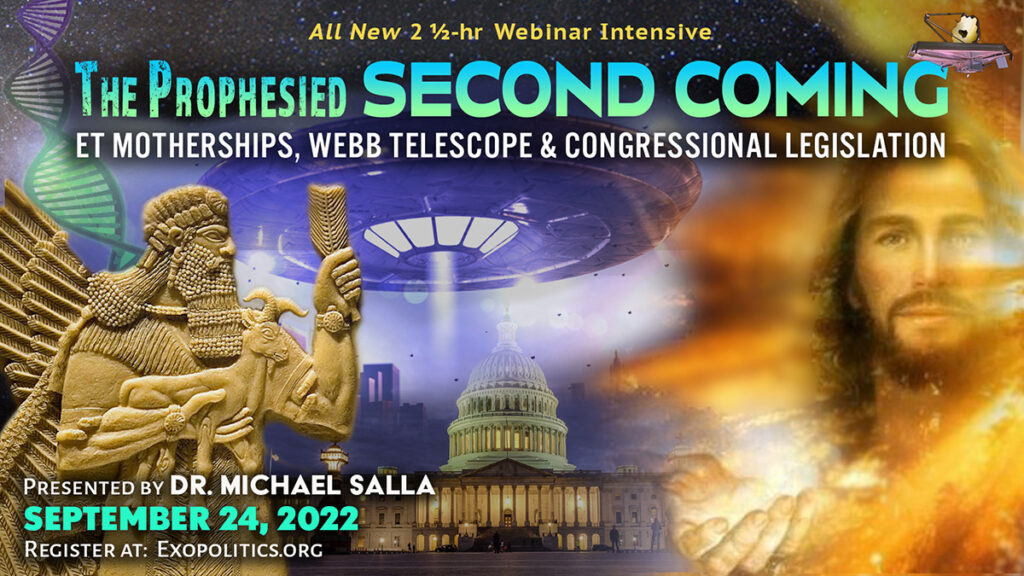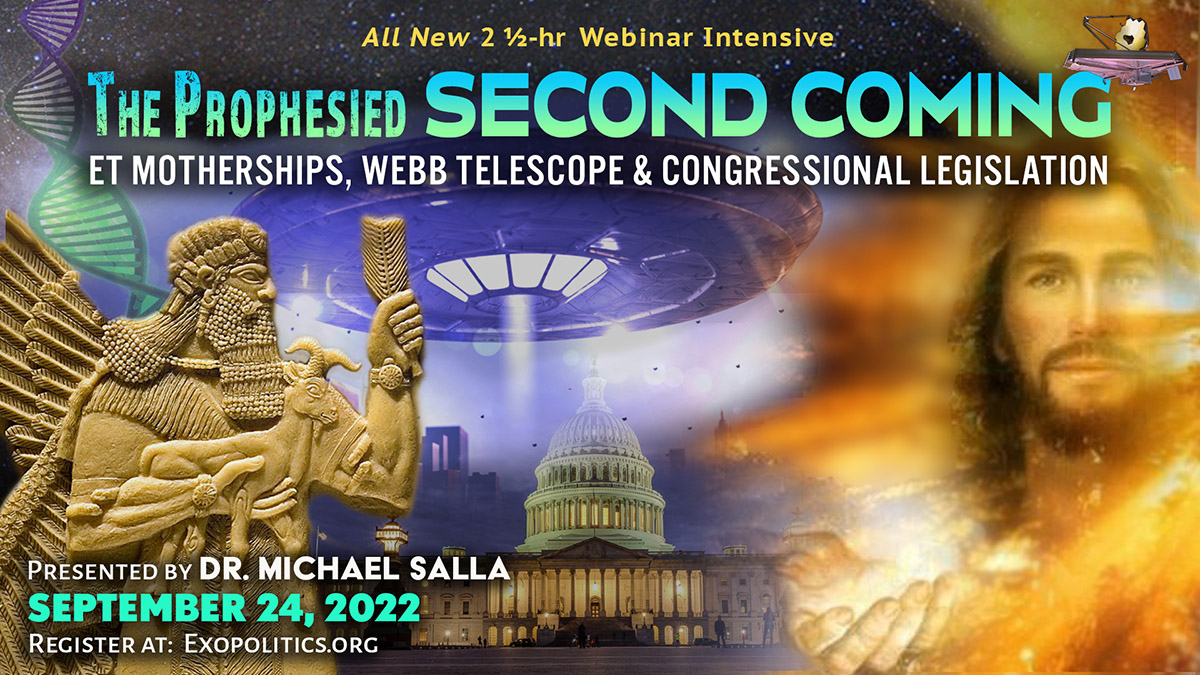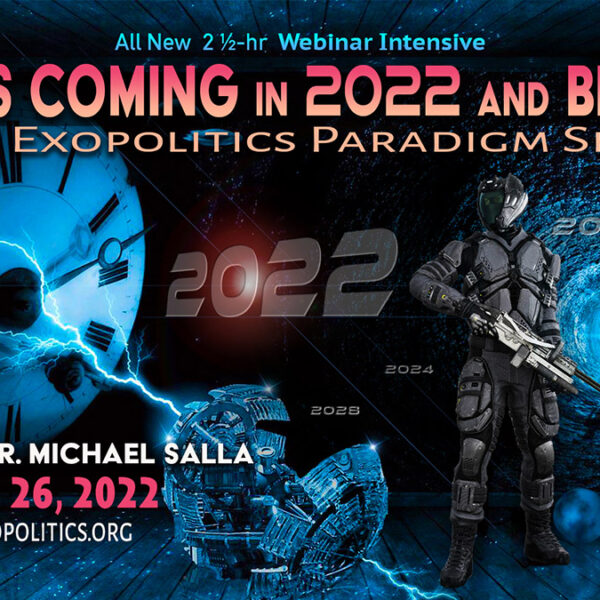 The successful deployment of the James Webb Space Telescope and its scheduled start of astronomical observations in July 2022 heralds a major 'exopolitical' shift about to happen in the mainstream scientific community with regard to the 'Fermi Paradox'. The earlier Kepler Space Telescope's discovery of exoplanets in other solar systems led to a paradigm shift in scientific thinking about the existence of habitable planets in our galaxy. This is about to repeat with the looming discovery of biosignatures on exoplanets that will confirm the existence of extraterrestrial life, and provide a definitive answer to Enrico Fermi's famous question of where are the extraterrestrials?
In 2021, the Pentagon confirmed that UFOs are real and are in our skies today. Soon, the proven discovery of alien life will lead to an even more profound change as the scientific community and general public are forced to reconcile the mountain of historical evidence of extraterrestrial life visiting Earth. The dam of secrecy held in place for decades is about to collapse. Contactee reports, whistleblower and insider testimonies, leaked Majestic documents, and more, will all be newly evaluated and take on great significance as humanity moves into the Exopolitical Era.
In this two-hour webinar, Dr. Michael Salla will use the latest whistleblower, scientific and military data to make predictions spanning the coming year and decade. He will discuss:
the exopolitical implications of the Webb telescope confirming the existence of extraterrestrial life;

examine recent developments in space such as the Artemis Accords;

the formation of Combined Military Space Commands;

manned missions to the Moon and Mars;

covert multinational missions to ancient space arks;

how discovery of an ancient ark in Ukraine has led to a rapid escalation in the conflict;

the collapse of the Deep State and its wall of secrecy;

and the return of the Seeder/Guardian races to our solar system to witness our planetary graduation.
Join Dr. Salla in this exciting and uplifting look at behind-the-scenes developments and coming announcements that will catapult our world from its current state of darkness into a Star Trek future.
Webinar Trailer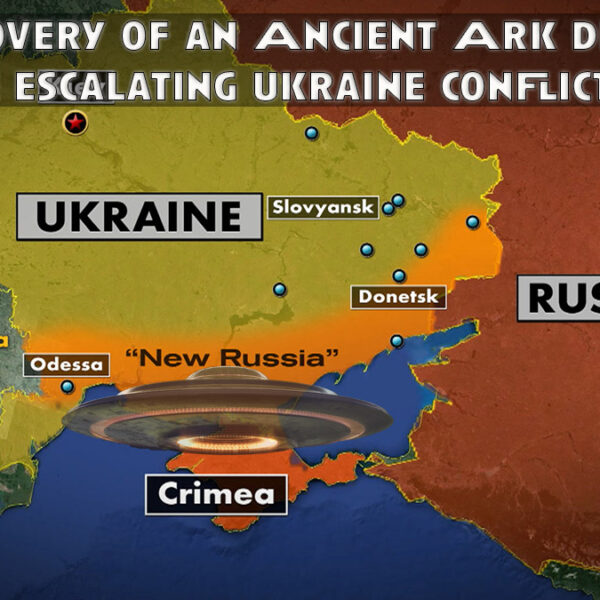 On March 19, 2003, two months after I wrote my first research paper on "The Need for Exopolitics," the US led a multinational coalition into Iraq. I quickly learned that the real reason for the invasion was very different from the declared public rationale—to stop Iraq from developing weapons of mass destruction. The US sought to take control of a 'stargate' and ancient cuneiform texts filled with information about extraterrestrial technologies found in the remains of buried Sumerian cities.
Today we are being told that Russia's intervention in Ukraine is all about it protecting Russian speakers in Eastern Ukraine from rabid Ukrainian ultra-nationalists being encouraged by the US. The real reason, once again, is more about exopolitics than either of the two narratives coming from both sides in the rapidly worsening conflict. It has been claimed that an ancient space ark has been found in Ukraine, and Russia wants to assert control. What are the space arks, and why are they suddenly being found now all over our solar system and on Earth, after millennia of lying dormant?
We are on the cusp of an exopolitics revolution, where information concerning extraterrestrial life is going mainstream. The James Webb Space Telescope has just deployed and, by July 2022, will start relaying data about exoplanets. It's expected to detect biosignatures, which will wake up the long-sleeping academic community that intelligent extraterrestrial life can be found throughout our galaxy. Also, the US military and intelligence community are creating a joint office for investigating UAPs (aka UFOs) in response to Congressional legislation passed in December 2021. These UAPs are officially depicted as a national security threat, thereby laying the groundwork for a military response and increased spending. Could this lead to a hoaxed alien invasion—something that has been predicted since the mid-1990s?
Today, the Artemis Accords and increasing cooperation between the Space Commands of a bloc of US-led nations is taking us into a Star Trek future. One where humanity's open expansion into space will take place in a way that is predicated on US dominance and western values, thereby preventing China from becoming the preeminent space power. Deals have been struck with extraterrestrial organizations to recognize US leadership as humanity takes responsibility for our solar system. How and why was the US chosen to play this role?
At the same time as these agreements were being made, large fleets of ancient extraterrestrial visitors arrived to watch humanity's 'graduation' into the galactic community. Their arrival has triggered the activation of ancient space arks, which carry the secrets of long-forgotten civilizations and technologies stretching back tens of thousands, if not millions of years. The visitors are closely watching humanity's collective response to the discovery of the ancient arks. Will discoveries of the arks and the race to control them lead to a new major global war or increased international cooperation predicated on disclosing what is being found? Is the discovery of an ancient ark really driving the conflict in Ukraine?
Join me this Saturday as I tackle these and many other questions about what is coming in 2022 and beyond, and the coming exopolitics paradigm shift in my first webinar for 2022.
Michael Salla, Ph.D.
---
Webinar Trailer
More information about the February 26 Webinar is available here.
For earlier webinars by Dr. Michael Salla, click here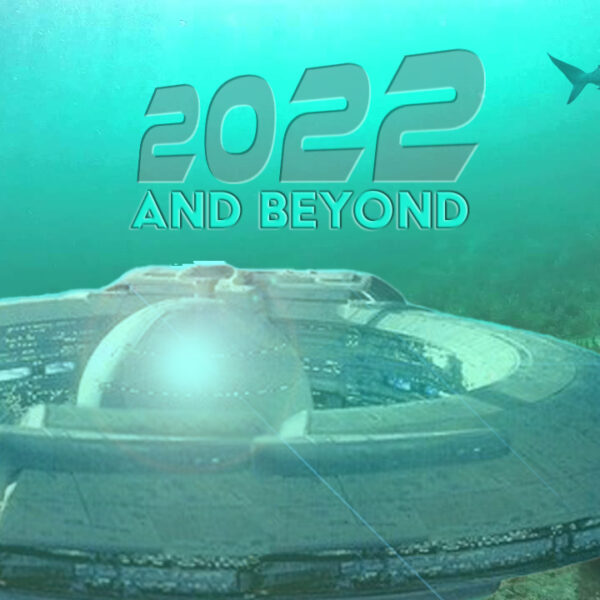 This is the official trailer to "What's Coming in 2022 and Beyond: The Exopolitics Paradigm Shift" a live webinar scheduled for February 26, 2022.
Available on YouTube and Rumble
To learn more about this webinar click here. To register click here.
My heartfelt thanks to my talented wife, Angelika Whitecliff, for creating this trailer.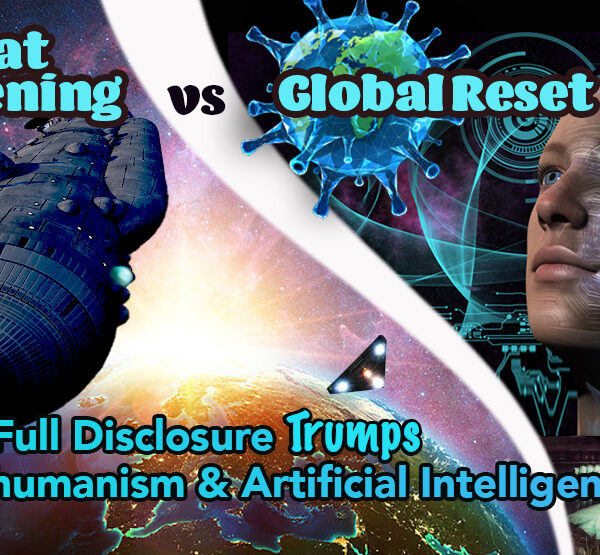 Aloha all, I've just finished my powerpoint presentation for tomorrow's Webinar Intensive on the Great Awakening vs the Global Reset. It will be an information packed Intensive with nearly 140 slides detailing the history and exopolitical processes behind the "Global Reset", or what the World Economic Forum wants to call the "Great Reset" – there's really nothing great about what is being planned!
What makes my presentation different to many others critical of the "Global Reset" is my exopolitical analysis. After more than 30 years teaching, researching and writing about international conflict, I've learned that it is only through an understanding of the hidden involvement of extraterrestrial life that one can make sense of what really happening behind the scenes. Without an exopolitical analysis, it's like trying to understand the complexities of world politics from the perspective of local government personalities and issues.
So, what is it about the hidden history and involvement of extraterrestrial life that brings clarity to the ideas of a Great Awakening and a Global Reset? First of all, we need to understand that multiple secret agreements have been made between those making up the Cabal or Deep State with their extraterrestrial overlords. These agreements involve the creation of wars, poverty, and famine in order to fulfil the conditions of the agreements, but without the rest of the population learning about what is truly happening. Countless millions have mysteriously disappeared and been used for a myriad of purposes by their extraterrestrial abductors.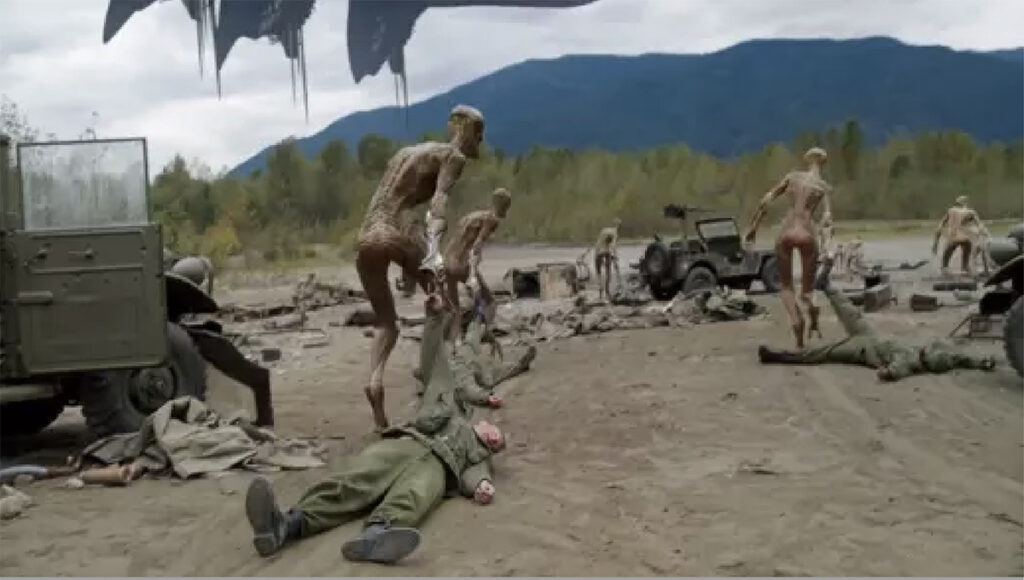 This is where the Global Reset comes in. The "new normal" that the World Economic Forum and global leaders want to establish is really all about controlling the flow of information so that people do not revolt over policies that increasingly eliminate human freedoms, constitutional rights, and meaningful political participation. But it doesn't stop there.
The establishment of a 5G satellite global communications network, the development of corporate controlled smart cities, the rollout of DNA altering vaccines, and the widespread introduction of brain implant technologies are all key elements of what lies ahead. As the "Internet of Things" is rolled out, humans will be among the "Things" that are constantly monitored, influenced and controlled by the Artificial Intelligence computer systems that are being developed all over the world.
 
Transhumanism will lead to enhanced human performance in all sectors of life, but it's the military application that will stand out for several reasons. Technologically enhanced supersoldiers will be developed to fight future battles. Transhuman cyborgs will not only battle against one another and AI robots, but also be secretly used to fight against visiting extraterrestrials. This is a key aspect of the agreements that have been reached, which I will discuss at length in my Webinar.
Those refusing to accept the brain implants, "the normies", will be increasingly ostracized from the smart cities that are already being integrated into existing cities, with others being built from the ground up as the US State of Nevada has proposed. Whether one tries to escape such a dystopian future by going to a remote rural location or choosing to live in decaying metropolitan areas for cheap housing, the prospects are bleak. The Hunger Games movie series is a glimpse into the dystopian future that lies ahead if we don't take action now against the Global Reset.
 
That's where the Great Awakening comes in. Hundreds of millions of people have been awakened by recent political, health and societal events. Whether it's from Wikileaks revelations, Q drops, COVID-19 policies, DNA altering vaccines, the introduction of 5G transmission towers and satellite systems, social media censorship, or rigged elections, more and more people are seeking answers and awakening to the reality of corrupt global political, financial, legal, medical and media systems. People are rising up and resisting all over the world, but will they be successful?
 
What is essential for success in resisting the Global Reset is the full disclosure of suppressed technologies and extraterrestrial life. Understanding how and why global elites have hidden and suppressed the emergence of such technologies is critical. What would you say if I told you that a critical requirement for joining a benevolent Galactic Federation of Worlds is the widespread sharing of advanced technologies?
Up until recently, I believed the Deep State's suppression of advanced technologies was to protect the fossil fuel and pharmaceutical industries in order to maintain the Deep State's profit margins, and to suppress the evolution of human consciousness.
 
However, there was a critical factor I was missing. By suppressing the release of advanced technologies, keeping secret the existence of secret space programs, and interfering with the evolution of human consciousness, the Deep State had found a way to prevent the Galactic Federation from intervening in human affairs and helping expose the truth about how our world has been run and managed for millennia.
Most importantly, the Galactic Federation is here to warn us of a future galactic tyranny that had been traced back to present day Earth, and they arrived decades ago to help military and government White Hats, the Earth Alliance, and planetary population, stop it.
If you are not among the more than 70,000 that have watched the short film introducing the Webinar Intensive, you can watch it either on YouTube or Rumble.
 
To learn more, I recommend you join me in my Webinar tomorrow. It will be broadcast live from my home studio here on the Big Island of Hawaii via Zoom, and I promise you an exciting experience that will give you a fresh perspective on what's happening and offer some fresh hope for the future.
 
Michael Salla, Ph.D.
Webinar Completed
Length 4-hours
Recorded March 27, 2021

Now Available on Vimeo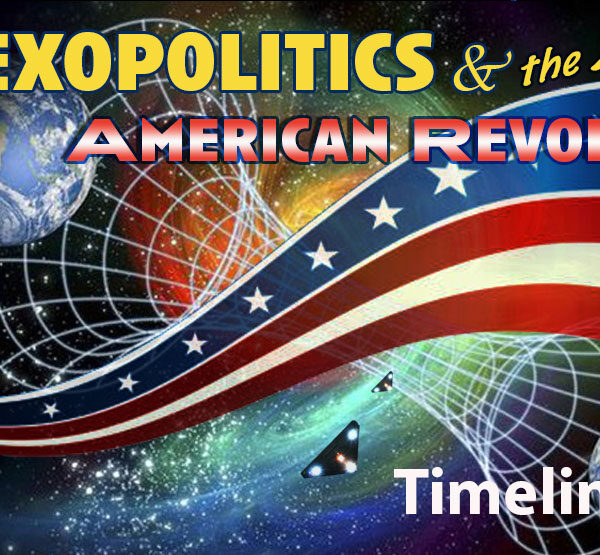 Learn how our timeline has been hijacked by the Deep State with the support of negative extraterrestrial entities. Find out what is needed to restore the positive timeline and how positive ET groups can play a role. Two timelines and two Presidencies but only one will lead to a 2nd American Revolution.
To register for January 30 Webinar: "Exopolitics & the 2nd American Revolution: Timeline War" go to: https://tinyurl.com/y6jvj8rm
For earlier exopolitics Webinars featuring Dr. Michael Salla, click here.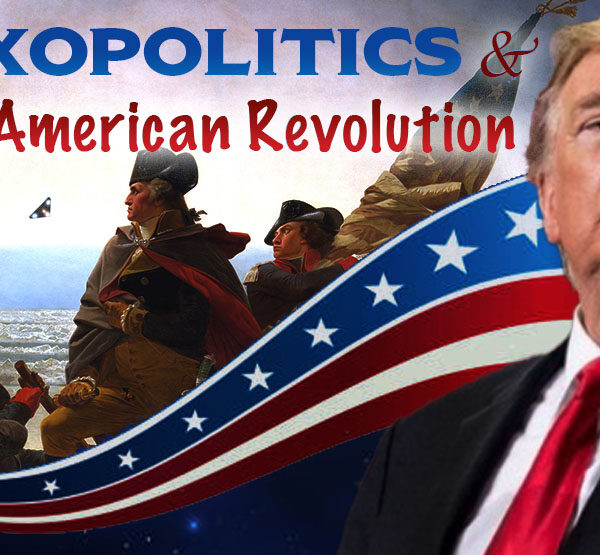 Today, we are in the midst of a Timeline War requiring a 2nd American Revolution where Deep State, rather than British, tyranny is to be overthrown. In the process, the advanced technologies that have been hoarded, exploited, and used against the American and global citizenry will be revealed for the first time to the world.
Understanding the dynamics of this Timeline War and the need for a 2nd American Revolution requires an "expolitical" perspective on the origins of advanced technologies that were clandestinely reverse engineered and used as key instruments for maintaining the Deep State's tyranny. The release of these advanced technologies will not only restore the American Republic but also usher in a Galactic age of unprecedented global prosperity.
Dr. Michael Salla is the author of the first published book on Exopolitics (2004) and the bestselling Secret Space Programs Book Series
Webinar Date: January 30, 2020 (Saturday)
11 am – 3.30 pm PST/ 2 – 6.30 pm EST USA (Includes Q&A at the end)
Cost: $55.
*This LIVE event will be recorded, and attendees are able to watch unlimited replays for 60 days.
To view and purchase past webinars click here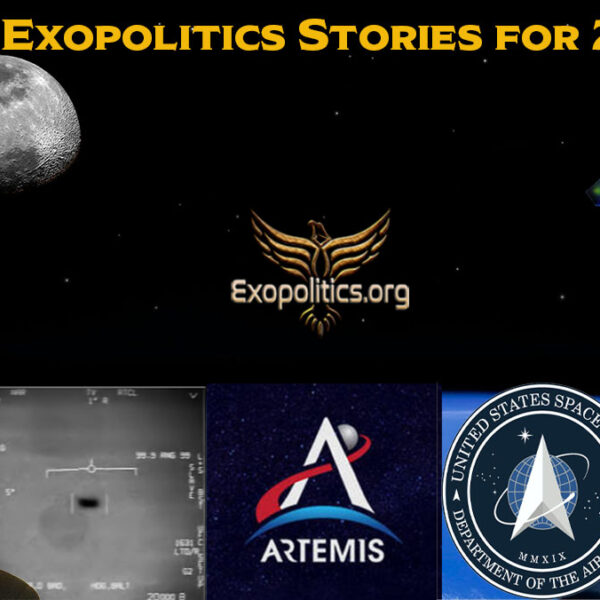 2020 was big year for exopolitics and UFO disclosure with multiple mainstream news sites reporting major developments. Legacy media is now regularly discussing UFOs/UAPs and extraterrestrial life, along with the latest developments with the US Space Force. I discussed my list of the Top 10 Exopolitics news stories with Corey Goode on Zoom (see video below) to get his take on what they mean for "full disclosure". I consider Corey, along with the late William Tompkins, to be one of the most informed, legitimate and accurate insiders about secret space programs, extraterrestrial life, etc., with significant evidence to back up his claims, as I have discussed previously.
I will go into detail about my  the Top 10 list with slides and news videos on January 3 in the upcoming Ascension, Exopolitics & Disclosure Conference with Laura Eisenhower, John DeSouza and Neil Gaur. This promises to be an exciting webinar discussing what happened in 2020 and what we can expect in 2021. 
What follows is the zoom video with Corey and my list with links to relevant exopolitics.org articles published earlier in 2020.
Happy New Year Everyone!
Michael E. Salla, Ph.D.
---
Top Ten Exopolitics Stories for 2020
Professor Haim Eshed revelations on US ET agreements and Galactic Federation https://exopolitics.org/controversy-over-israeli-scientist-claims-of-us-alien-agreements-galactic-federation/
Signing of Artemis Accords – https://exopolitics.org/artemis-accords-are-a-first-step-to-a-space-nato-future-star-fleet/
Eric Davis Briefings to Pentagon Congress on alien reverse engineering https://exopolitics.org/what-was-revealed-in-classified-ufo-briefings-to-congress-pentagon/
Mike Turber revelations on Navy Tic Tac sightings being part of USAF SSP https://exopolitics.org/tic-tac-ufos-revealed-in-2005-briefing/
Salvatore Pais Patent application on nuclear fusion gets published in prestigious journal https://exopolitics.org/paper-on-nuclear-fusion-reactor-for-hybrid-spacecraft-published-in-prestigious-journal/
Space Center to be established at Ramstein Air Base, Germany https://exopolitics.org/nato-creates-space-center-in-germany-in-move-towards-future-star-fleet/
Space Force completes first year with official logo, recruits, bases, doctrinal documents and Guardian name https://exopolitics.org/space-force-sets-priorities-to-prevent-future-space-war/
Trump received secret briefing that Roswell UFO involved time traveling humans https://exopolitics.org/roswell-ufo-crash-to-be-officially-disclosed-as-time-traveling-future-humans/
Congress asks Intel Community for comprehensive UFO report 180 days after passage of 2021 NDAA: https://exopolitics.org/us-congress-asks-for-ufo-report-from-intel-community-in-180-days/
China sends up a Moon lander and retrieves lunar rocks to demonstrate its growing space power capabilities