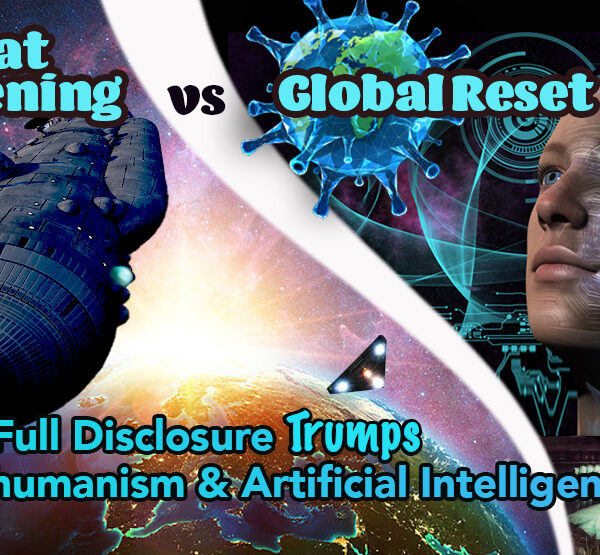 Aloha all, I've just finished my powerpoint presentation for tomorrow's Webinar Intensive on the Great Awakening vs the Global Reset. It will be an information packed Intensive with nearly 140 slides detailing the history and exopolitical processes behind the "Global Reset", or what the World Economic Forum wants to call the "Great Reset" – there's really nothing great about what is being planned!
What makes my presentation different to many others critical of the "Global Reset" is my exopolitical analysis. After more than 30 years teaching, researching and writing about international conflict, I've learned that it is only through an understanding of the hidden involvement of extraterrestrial life that one can make sense of what really happening behind the scenes. Without an exopolitical analysis, it's like trying to understand the complexities of world politics from the perspective of local government personalities and issues.
So, what is it about the hidden history and involvement of extraterrestrial life that brings clarity to the ideas of a Great Awakening and a Global Reset? First of all, we need to understand that multiple secret agreements have been made between those making up the Cabal or Deep State with their extraterrestrial overlords. These agreements involve the creation of wars, poverty, and famine in order to fulfil the conditions of the agreements, but without the rest of the population learning about what is truly happening. Countless millions have mysteriously disappeared and been used for a myriad of purposes by their extraterrestrial abductors.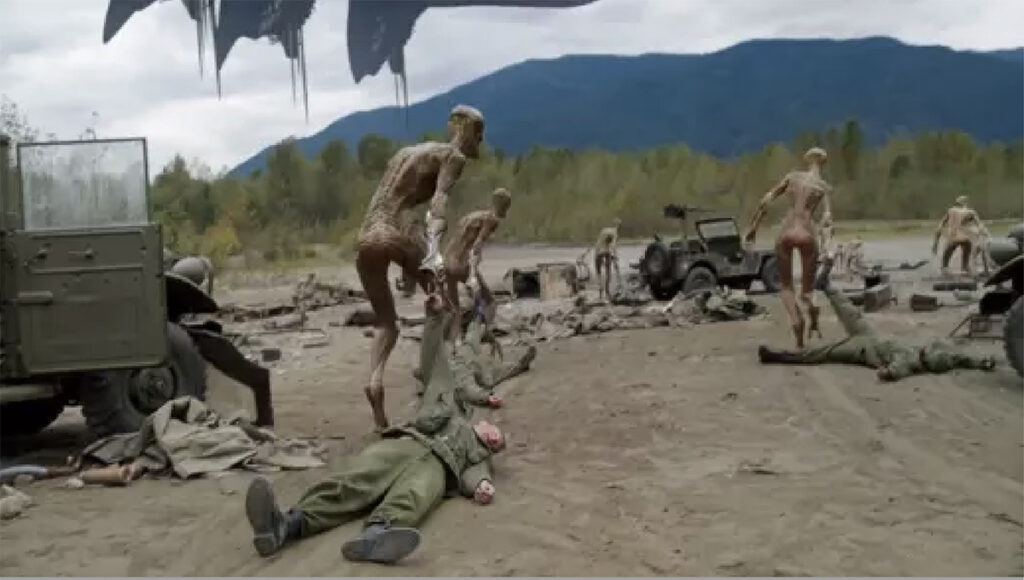 This is where the Global Reset comes in. The "new normal" that the World Economic Forum and global leaders want to establish is really all about controlling the flow of information so that people do not revolt over policies that increasingly eliminate human freedoms, constitutional rights, and meaningful political participation. But it doesn't stop there.
The establishment of a 5G satellite global communications network, the development of corporate controlled smart cities, the rollout of DNA altering vaccines, and the widespread introduction of brain implant technologies are all key elements of what lies ahead. As the "Internet of Things" is rolled out, humans will be among the "Things" that are constantly monitored, influenced and controlled by the Artificial Intelligence computer systems that are being developed all over the world.
 
Transhumanism will lead to enhanced human performance in all sectors of life, but it's the military application that will stand out for several reasons. Technologically enhanced supersoldiers will be developed to fight future battles. Transhuman cyborgs will not only battle against one another and AI robots, but also be secretly used to fight against visiting extraterrestrials. This is a key aspect of the agreements that have been reached, which I will discuss at length in my Webinar.
Those refusing to accept the brain implants, "the normies", will be increasingly ostracized from the smart cities that are already being integrated into existing cities, with others being built from the ground up as the US State of Nevada has proposed. Whether one tries to escape such a dystopian future by going to a remote rural location or choosing to live in decaying metropolitan areas for cheap housing, the prospects are bleak. The Hunger Games movie series is a glimpse into the dystopian future that lies ahead if we don't take action now against the Global Reset.
 
That's where the Great Awakening comes in. Hundreds of millions of people have been awakened by recent political, health and societal events. Whether it's from Wikileaks revelations, Q drops, COVID-19 policies, DNA altering vaccines, the introduction of 5G transmission towers and satellite systems, social media censorship, or rigged elections, more and more people are seeking answers and awakening to the reality of corrupt global political, financial, legal, medical and media systems. People are rising up and resisting all over the world, but will they be successful?
 
What is essential for success in resisting the Global Reset is the full disclosure of suppressed technologies and extraterrestrial life. Understanding how and why global elites have hidden and suppressed the emergence of such technologies is critical. What would you say if I told you that a critical requirement for joining a benevolent Galactic Federation of Worlds is the widespread sharing of advanced technologies?
Up until recently, I believed the Deep State's suppression of advanced technologies was to protect the fossil fuel and pharmaceutical industries in order to maintain the Deep State's profit margins, and to suppress the evolution of human consciousness.
 
However, there was a critical factor I was missing. By suppressing the release of advanced technologies, keeping secret the existence of secret space programs, and interfering with the evolution of human consciousness, the Deep State had found a way to prevent the Galactic Federation from intervening in human affairs and helping expose the truth about how our world has been run and managed for millennia.
Most importantly, the Galactic Federation is here to warn us of a future galactic tyranny that had been traced back to present day Earth, and they arrived decades ago to help military and government White Hats, the Earth Alliance, and planetary population, stop it.
If you are not among the more than 70,000 that have watched the short film introducing the Webinar Intensive, you can watch it either on YouTube or Rumble.
 
To learn more, I recommend you join me in my Webinar tomorrow. It will be broadcast live from my home studio here on the Big Island of Hawaii via Zoom, and I promise you an exciting experience that will give you a fresh perspective on what's happening and offer some fresh hope for the future.
 
Michael Salla, Ph.D.
Webinar Completed
Length 4-hours
Recorded March 27, 2021

Now Available on Vimeo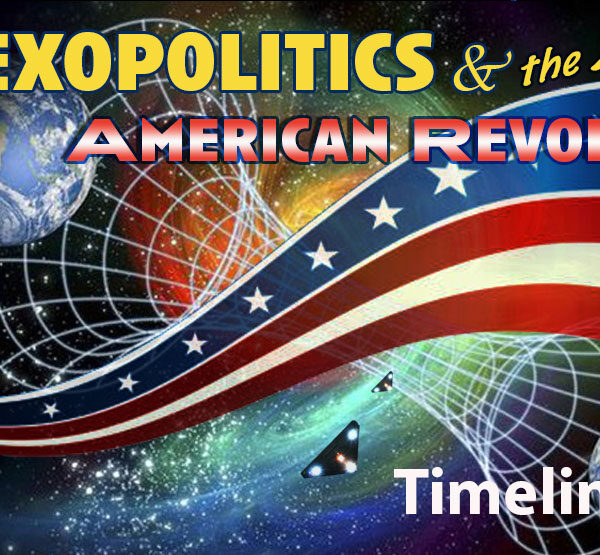 Learn how our timeline has been hijacked by the Deep State with the support of negative extraterrestrial entities. Find out what is needed to restore the positive timeline and how positive ET groups can play a role. Two timelines and two Presidencies but only one will lead to a 2nd American Revolution.
To register for January 30 Webinar: "Exopolitics & the 2nd American Revolution: Timeline War" go to: https://tinyurl.com/y6jvj8rm
For earlier exopolitics Webinars featuring Dr. Michael Salla, click here.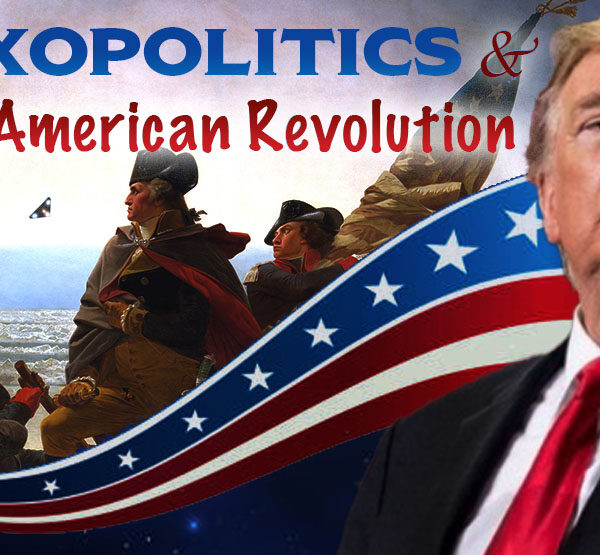 Today, we are in the midst of a Timeline War requiring a 2nd American Revolution where Deep State, rather than British, tyranny is to be overthrown. In the process, the advanced technologies that have been hoarded, exploited, and used against the American and global citizenry will be revealed for the first time to the world.
Understanding the dynamics of this Timeline War and the need for a 2nd American Revolution requires an "expolitical" perspective on the origins of advanced technologies that were clandestinely reverse engineered and used as key instruments for maintaining the Deep State's tyranny. The release of these advanced technologies will not only restore the American Republic but also usher in a Galactic age of unprecedented global prosperity.
Dr. Michael Salla is the author of the first published book on Exopolitics (2004) and the bestselling Secret Space Programs Book Series
Webinar Date: January 30, 2020 (Saturday)
11 am – 3.30 pm PST/ 2 – 6.30 pm EST USA (Includes Q&A at the end)
Cost: $55.
*This LIVE event will be recorded, and attendees are able to watch unlimited replays for 60 days.
To view and purchase past webinars click here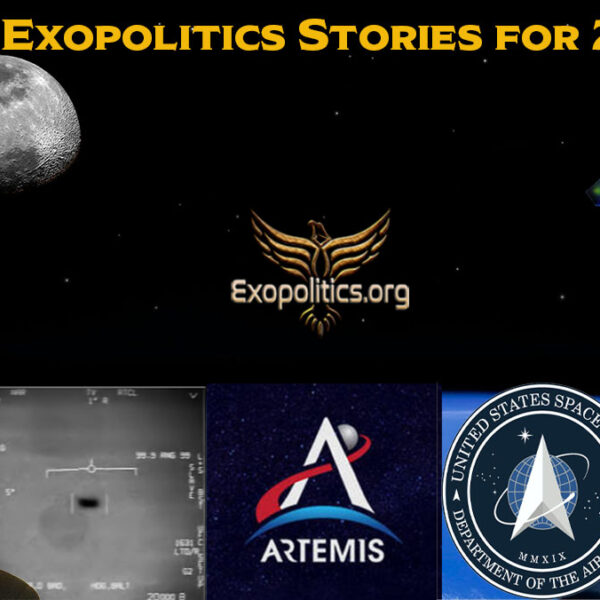 2020 was big year for exopolitics and UFO disclosure with multiple mainstream news sites reporting major developments. Legacy media is now regularly discussing UFOs/UAPs and extraterrestrial life, along with the latest developments with the US Space Force. I discussed my list of the Top 10 Exopolitics news stories with Corey Goode on Zoom (see video below) to get his take on what they mean for "full disclosure". I consider Corey, along with the late William Tompkins, to be one of the most informed, legitimate and accurate insiders about secret space programs, extraterrestrial life, etc., with significant evidence to back up his claims, as I have discussed previously.
I will go into detail about my  the Top 10 list with slides and news videos on January 3 in the upcoming Ascension, Exopolitics & Disclosure Conference with Laura Eisenhower, John DeSouza and Neil Gaur. This promises to be an exciting webinar discussing what happened in 2020 and what we can expect in 2021. 
What follows is the zoom video with Corey and my list with links to relevant exopolitics.org articles published earlier in 2020.
Happy New Year Everyone!
Michael E. Salla, Ph.D.
---
Top Ten Exopolitics Stories for 2020
Professor Haim Eshed revelations on US ET agreements and Galactic Federation https://exopolitics.org/controversy-over-israeli-scientist-claims-of-us-alien-agreements-galactic-federation/
Signing of Artemis Accords – https://exopolitics.org/artemis-accords-are-a-first-step-to-a-space-nato-future-star-fleet/
Eric Davis Briefings to Pentagon Congress on alien reverse engineering https://exopolitics.org/what-was-revealed-in-classified-ufo-briefings-to-congress-pentagon/
Mike Turber revelations on Navy Tic Tac sightings being part of USAF SSP https://exopolitics.org/tic-tac-ufos-revealed-in-2005-briefing/
Salvatore Pais Patent application on nuclear fusion gets published in prestigious journal https://exopolitics.org/paper-on-nuclear-fusion-reactor-for-hybrid-spacecraft-published-in-prestigious-journal/
Space Center to be established at Ramstein Air Base, Germany https://exopolitics.org/nato-creates-space-center-in-germany-in-move-towards-future-star-fleet/
Space Force completes first year with official logo, recruits, bases, doctrinal documents and Guardian name https://exopolitics.org/space-force-sets-priorities-to-prevent-future-space-war/
Trump received secret briefing that Roswell UFO involved time traveling humans https://exopolitics.org/roswell-ufo-crash-to-be-officially-disclosed-as-time-traveling-future-humans/
Congress asks Intel Community for comprehensive UFO report 180 days after passage of 2021 NDAA: https://exopolitics.org/us-congress-asks-for-ufo-report-from-intel-community-in-180-days/
China sends up a Moon lander and retrieves lunar rocks to demonstrate its growing space power capabilities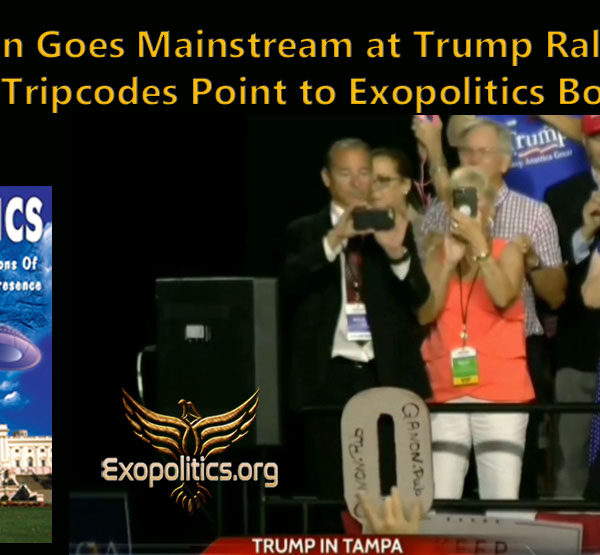 President Trump's "Make America Great Again" rally in Tampa, Florida on July 31 saw many attendees bearing QAnon shirts and signs, and even had the President approvingly point to someone carrying a QAnon sign. This led to multiple mainstream media (MSM) stories later attacking the QAnon movement. Rather than putting a stop to the rapidly growing movement, the MSM attacks are instead putting QAnon on the radar of millions more Americans.
All this was occurring at the same time as researchers found an important link between QAnon's tripcodes and lists of books, some of which deal with the topic of "exopolitics" – broadly defined as the political implications of extraterrestrial life. Is this a harbinger that future Q drops will deal with extraterrestrial disclosure and the control groups that have kept all this secret from Americans for decades?
First let's begin with the Trump rally where QAnon members were prominent in the crowd and Trump approvingly acknowledged them as evidence in a short video featuring Trump pointing directly at someone holding a QAnon sign.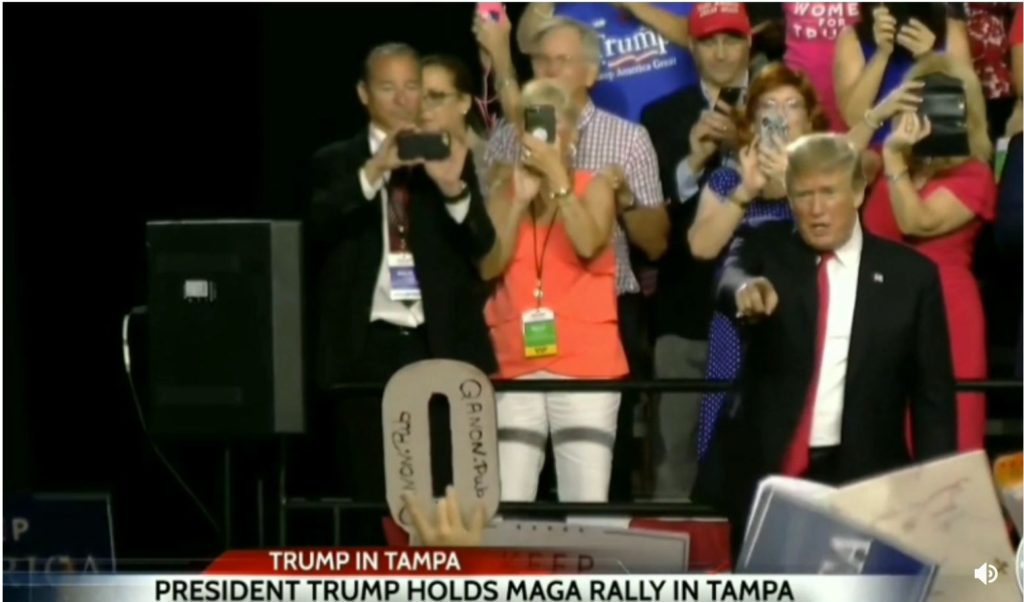 A question about QAnon was even directed to Sarah Huckabee Sanders, the White House Press Spokeperson.
QAnon listed in multiple posts, many of the subsequent MSM article attacking QAnon supporters using terms such as "outlandish", "fringe conspiracy", and even "deranged conspiracy cult" as exemplified in his/her August 2 post (#1797):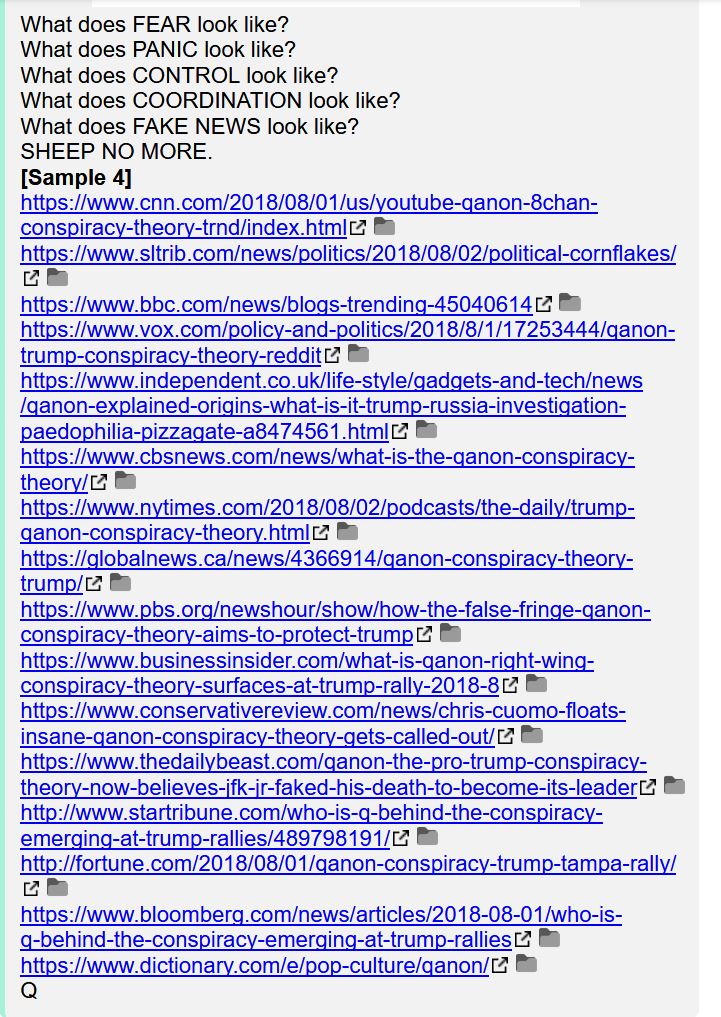 Many of the MSM stories skeptically covered some of QAnon claims such as the Clintons and Democratic Party being secretly dominated by pedophile groups; that George Soros is manipulating domestic U.S. groups to promote political violence; that the Rothschild family is at the apex of a global Satanic network; and of course that the Russia collusion charge was an insurance policy contrived by the Deep State operatives with the help of Britain's MI6 and other Five Eyes intelligence partners in case Trump won the 2016 election.
The result that emerges from the Trump Tampa rally is that QAnon has now gone mainstream and has reached a critical threshold in terms of many millions of Americans learning about it.
What makes the rapid growth of the QAnon movement significant, despite negative mainstream media coverage, is that QAnon has now gained a mainstream platform for reaching millions of Americans who for the first time will be exposed to intelligence data that is highly classified.
According to several researchers, QAnon has dropped clues about the future direction of the intelligence dumps through the specific tripcodes that have been chosen. Rather than QAnon's tripcodes being randomly chosen sequences of numbers and letters used for a temporary period for identification purposes on the 4chan and 8chan posting boards, it has been shown that these are references to lists of books on Googlebooks.
The following video posted on July 22 shows how QAnon's tripcodes have referred to a series of ground breaking books dealing with a range of topics that have been covered in Q posts:
In a later July 29 article titled, "EVERY TripCode & UserID used by Q Points to a Book", the author writes:
Q has used 11 TripCodes, and 1100 UserID's. EVERY one of them points to a book when you search them in Google Books. Some are even pointing to specific pages within that book.
Sure enough, when one goes to the Google Books website and enter different tripcodes used by QAnon, one gets a list of books. The writer includes the following examples:
1 Ramtha, Last Waltz of the Tyrants, the Prophecy REVISITED
Author: Ramtha
Found: TripCode CbboFOtcZs
Used: 376 times
2 Alraune
Author: Hanns Heinz Ewers
Found: TripCode 4pRcUA0lBE
Used: 106 times
3  "I Love Learning; I Hate School": An Anthropology of College
Author: Susan D. Blum
Found: TripCode 2jsTvXXmXs
Used: 9 times
4  Barbelo: The Story of Jesus Christ
Author: Riaan Booysen
Found: TripCode xowAT4Z3VQ
Used: 429 times
5  Behold a Pale Horse
Author: William Cooper
Found: TripCode UW.yye1fxo
Used: 620 times
Notes: Interview with Bill Cooper
The above books cover a wide range of conspiracy related topics, in particular William Cooper's Behold a Pale Horse (1991) comes up a staggering 620 times when entering QAnon's trip codes and ID's. Behold a Pale Horse is a classic when it comes to the topic of a government/military coverup of extraterrestrial life, which falls under the rubric of "exopolitics".
In 1989, Cooper became one of the first whistleblowers to come forward to reveal what he had seen in classified U.S. Navy intelligence files when he served on the briefing team for the Commander of the Pacific Fleet. Perhaps most importantly for QAnon readers, he provided some pretty detailed information about the Illuminati (Deep State) and their connection to ruling bloodline families and Satanism.
Of particular interest to me was the tripcode used by QAnon from November 9 to December 15, 2017 (!ITPb.qbhqo) which included my first exopolitics book in page one of the listed books as illustrated below (highlighted by red bar).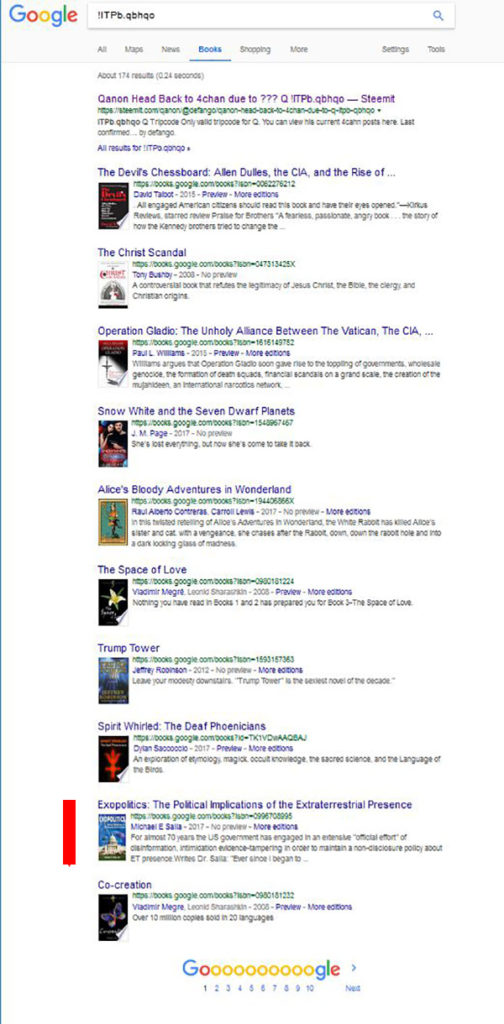 On page 3 of the same tripcode, another one of my exopolitics books is listed: Galactic Diplomacy: Getting to Yes with ET.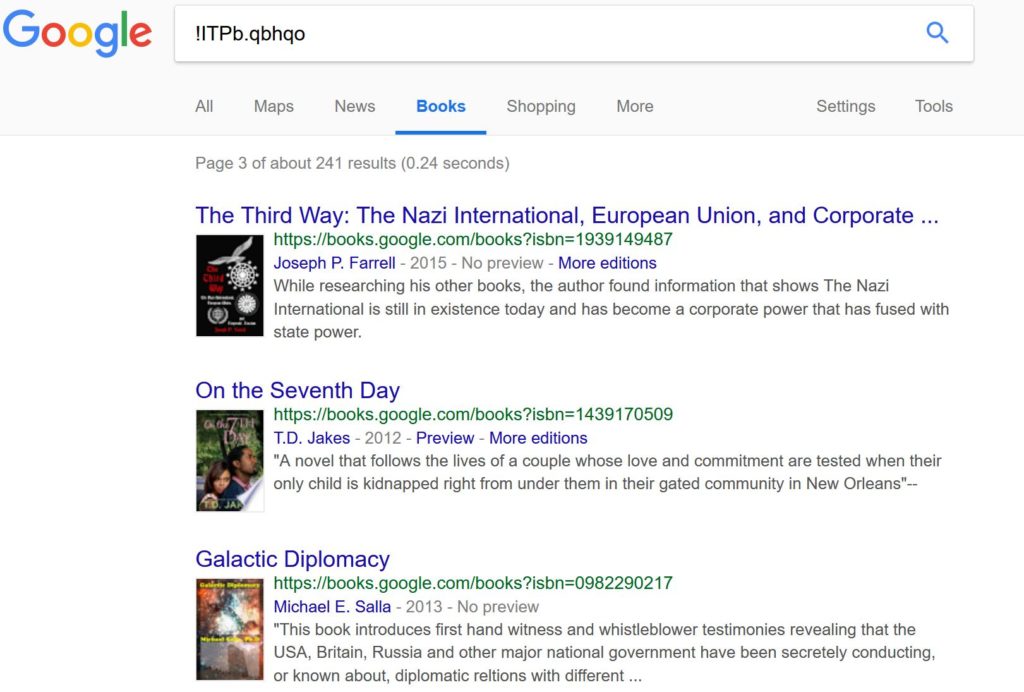 Based on tripcodes, the conclusion that can be reached is that QAnon is signaling that in the future important disclosures about extraterrestrial life are going to be made, and that it behooves people to get up to speed with what the available "exopolitics" literature is telling us.
The Exopolitics and Galactic Diplomacy books were respectively published in 2004 and 2013. I recommend both of these, along with my more recent Secret Space Programs series as critical for any wanting to understand the decades long cover up of extraterrestrial life and technology.

As the QAnon movement grows rapidly with the mainstream media fixation on discrediting Q's information only serving to rapidly accelerate Q's popularity, we can get an idea of the direction of future Q drops by the tripcodes and ID's that have been used, and what shows up on the Google Books listings for these.
© Michael E. Salla, Ph.D. Copyright Notice
Further Reading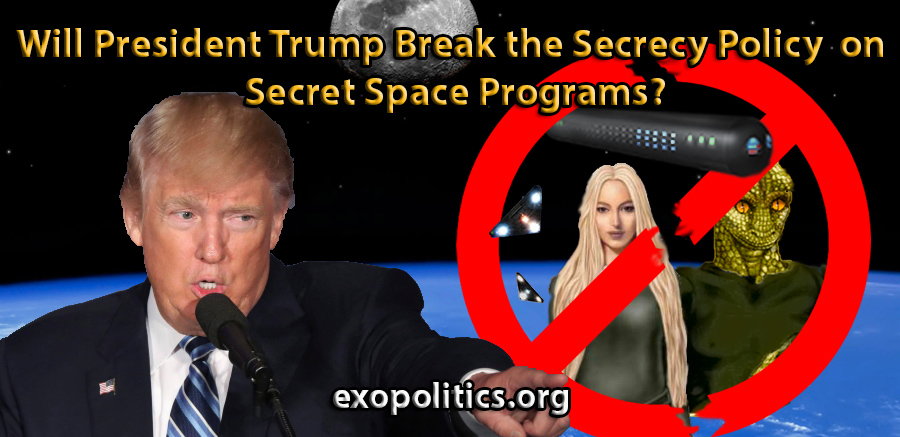 On January 20, 2017, Donald Trump will be inaugurated as the 45th President of the United States. Among the most important policy questions he will be facing is how to respond to classified briefings about secret space programs and extraterrestrial life. Will President Trump maintain the status quo of secrecy on the grounds of national security, or will he support official disclosure as complimentary to his vision to "Make America Great Again"?
One of the perennial questions confronting UFO and exopolitics researchers is, "how much are U.S. Presidents briefed about classified programs concerning secret space programs and extraterrestrial life?" According to some experts, U.S. Presidents are told relatively little, and run into institutional roadblocks when they explore alternative routes to the truth.
It is well known for example that President Bill Clinton asked his close personal friend, Webster Hubbell to get answers to two questions:
If I put you over there in justice I want you to find the answer to two questions for me: One, who killed JFK. And two, are there UFOs.
There is no reason to doubt the accuracy of Hubbell's recollections. This suggests that soon after being elected President in November 1992, Clinton had concluded he was being given the institutional run-around in learning the truth.
In contrast, Canadian researcher, Grant Cameron, states that U.S. Presidents are told quite a lot. If so, this might explain references by President Obama during an interview on Jimmy Kimmel Live, apparently in jest, that aliens would not allow him to disclose the truth.

The aliens won't let it happen. You'd reveal all their secrets. They exercise strict control over us.

According to Andy Basiago and three other purported first-hand witnesses, Obama had learned as early as 1980 about a covert CIA program involving jump room teleportation technologies that allowed covert missions to Mars. If true, that would mean that Obama, upon becoming President, already knew about one secret space program, but chose not to reveal this either out of national security concerns, or alien threats.
Sometime after his January 20 inauguration, President Trump will receive a classified briefing on the extraterrestrial topic. Regardless of how extensive the briefing(s) will be, he will have to make a decision about what to do with the information. Will he decide that national security arguments used to maintain the decades-long secrecy policy are compelling and worth preserving, or will he adopt a new approach based on his desire to restore high paying manufacturing jobs to the American people.
According to secret Space Program whistleblower, Corey Goode, Trump was quietly backed by a consortium of institutional actors, the "Alliance", wanting to disclose the truth about secret space programs and extraterrestrial life.
Donald Trump is indeed being backed by the Alliance. Trump is certainly not entering into this battle free from his own baggage. He has said and done a variety of things that are upsetting to people. He does not, however, represent a group that actively seeks to kill billions of people by starting World War III as soon as possible.

Goode's information suggests that key figures and leaders in the Alliance have decided that Trump will back disclosure initiatives since he is unlikely to submit to being pressured or blackmailed into remaining silent. Trump's background in large scale real estate construction projects predisposes him to supporting disclosure of classified technologies that help restore the industrial manufacturing capacity of the U.S.
Trump's desire to create American jobs through resurrecting its latent manufacturing capacity, is going to find a perfect outlet when he is briefed about the advanced technologies used in secret space programs. Arguments to continue keeping these technologies hidden due to national security concerns are unlikely to persuade him. Threats made against him are also doubtful to succeed given his success in warding off all kinds of negative publicity and attacks during the Presidential campaign.
Consequently, this leads to the question of what kind of disclosure will Trump support. Will it be "full disclosure" or a form of "limited disclosure"?
Goode states that in late 2016, agreements had been reached to go forward with a limited disclosure initiative which would reveal the existence of the U.S. Air Force based secret space program involving two Earth orbiting stealth space stations, and antigravity vehicles used to service these such as the TR-3B.

During the 2016 Presidential campaign, Wikileaks released emails by John Podesta, Hillary Clinton's Campaign Chair, which revealed that two retired U.S. Air Force Generals and the head of Lockheed's Skunkworks, are part of a group of ten senior advisors working directly with Rock Star, Tom DeLonge. They are backing DeLonge's disclosure initiative which he describes in his co-authored book, Sekret Machines.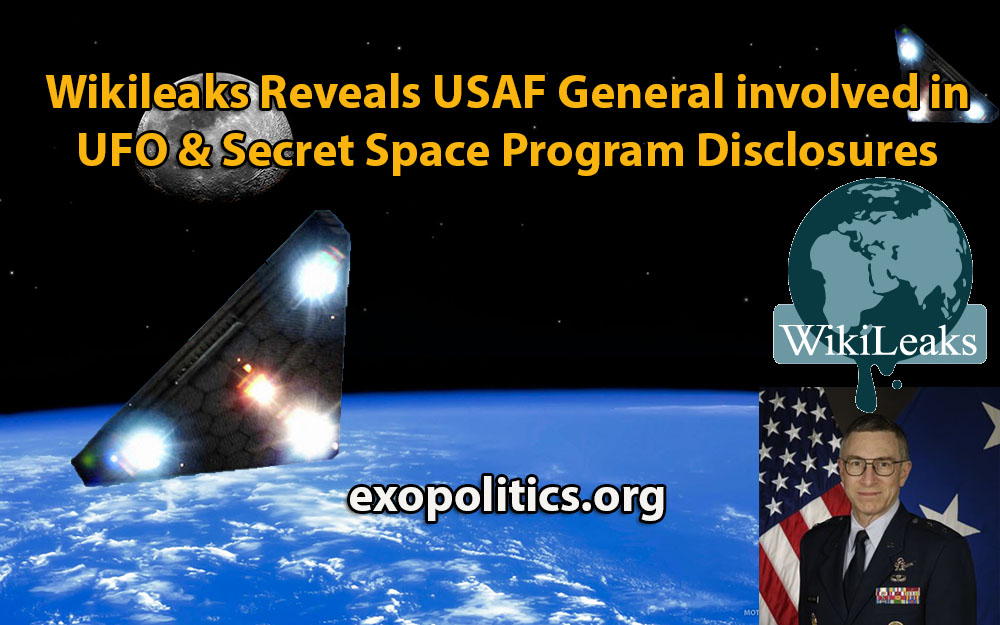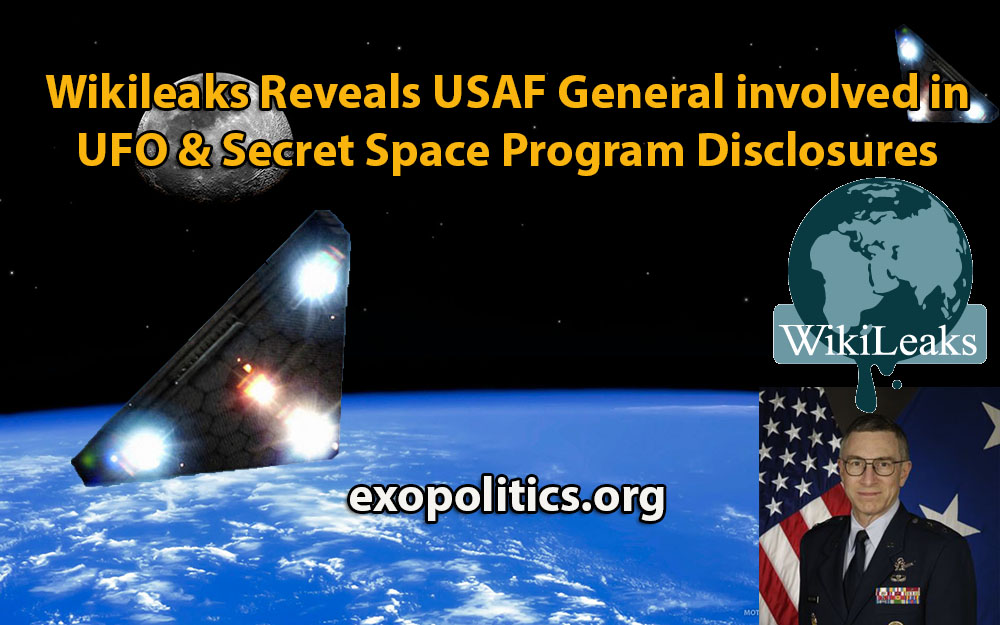 In an extensive two part book review of Sekret Machines (see here and here), I have shown that the information DeLonge has received is part of a limited disclosure initiative backed by the USAF. In short, DeLonge provides a sanitized version of the history of secret space programs in which the main national security threat from Russia, which possesses its own fleet of destructive antigravity spacecraft responsible for abductions, interference with U.S. nuclear weapons facilities, and UFO sightings.
I contrasted DeLonge's "limited disclosure" initiative with a "full disclosure" initiative backed by the U.S. Navy, which is far more revealing of the full range of space assets secretly developed and deployed over the last six decades. Importantly, full disclosure covers nefarious activities, such as a space slave trade and the key individuals that made this trade possible.
In December 2015, retired aerospace engineer, William Tompkins, came forward to disclose how the U.S. Navy developed eight space battle groups, which were first deployed in the 1980's as part of a covert program called "Solar Warden".
According to Tompkins, a number of top Aerospace corporations played key roles in designing and developing kilometers long antigravity spacecraft used in Solar Warden. He says that the Navy's eight battlegroups are now antiquated and a new generation of 12 space battle groups is currently under development, and is expected to be deployed in the 2030's.
Upon learning the full extent of the USAF and US Navy secret space programs, and the existence of multiple extraterrestrial visitors, some of whom have reached agreements with elements of the Military Industrial Complex, Trump will be confronted with highly significant policy choices about how much and when to disclose. What can be predicted with certainty is that Trump will seek to strike a deal of some sort, and then move forward with his final policy.

Trump is a man with huge ambitions and has a reputation for getting his way, as is well illustrated through his successful Presidential campaign despite great opposition. On the other hand, there is a seven decades long secrecy policy that is deeply entrenched in the national security system.
This brings us to the paradox of what happens when an unstoppable force [Trump] meets an immovable object [secrecy]? There are certainly going to be fireworks, as we are already witnessing in the run to Trump's January 20 inauguration. My best guess is that Trump will stamp his name on an official disclosure policy on secret space programs and extraterrestrial life that results in massive scale industrial projects designed to "Make America Great Again".
© Michael E. Salla, Ph.D. Copyright Notice
Further Reading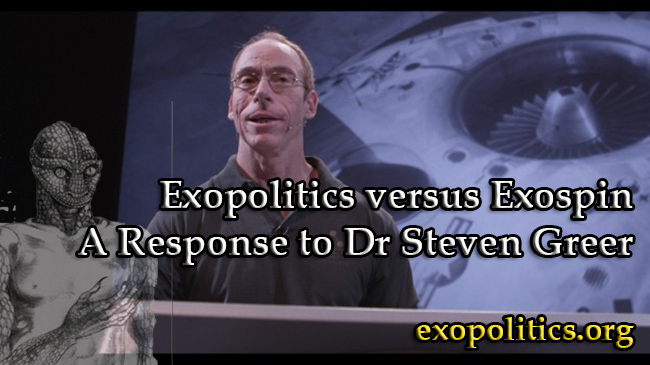 [Originally published, May 2, 2006] In January 1994, I remember visiting the Jakarta office of Mr Irawan Abidin, the former Director of Foreign Information in the Indonesian Ministry of Foreign Affairs. I had just arrived from a two week field trip to the former Indonesian territory of East Timor researching alleged human rights abuses. I had found ample evidence of abuses through the traumatized testimonies of many East Timorese I had spoken with.
Mr Abidin assured me that systematic human rights abuses were not occurring in East Timor and that such claims were spurious accusations orchestrated by discontented Timorese expatriates who were the former ruling elite. I politely explained to him what I had been told in my fieldwork involving interviews with dozens of private citizens, but he insisted that such claims were gross exaggerations and people were basically content in East Timor. He handed me a Ministry publication to support his position and exhorted me to tell the world how content people were with Indonesian rule in East Timor.
In reading Steven Greer's recent public statement, "Exopolitics or Xenopolitics" where he openly criticizes me as someone supporting xenophobic approaches to Exopolitics, I had a feeling of déjà vu with my earlier meeting with Mr Abidin concerning my research into alleged human rights abuses.
In his May 2 statement, Greer claims:
While there are certainly diverse opinions regarding why any given extraterrestrial civilization may wish to visit Earth at this time in our history, recent public comments by Michael Salla have added a virulent strain of fear-based xenophobia, based on the flimsiest of documentation.
Dr Greer further states:
He has maintained that a nefarious and injurious group of ETs have made a secret pact with covert humans – and have a harmful agenda towards the human race." This, and more. The Disclosure Project has over 450 military, government and corporate insiders who have first-hand knowledge of actual UFO/ET events and projects. We find it odd that not a single one of these insiders can confirm the xenophobic rumors proffered by Salla.
I accept Dr Greer's implicit invitation to engage in a public debate with him concerning the evidence supporting the diverse motivations and activities performed by extraterrestrial visitors. I think such a debate is healthy and can lead to greater cooperation between exopolitical researchers and activists who have long been polarized into mutually antagonist camps of those exclusively viewing extraterrestrials as benign visitors helping humanity evolve, and those generally viewing extraterrestrials as committing systematic human rights abuses.
I will avoid personalizing such a debate which can only be a distraction and focus only on the arguments offered by Dr Greer and myself in discussing the substantive issues raised in his public statement and my own public research.
To begin, in his statement Greer explicitly refers to his database of 450 whistleblower cases as the source for his exopolitical view that extraterrestrials visiting Earth are exclusively benign advanced civilizations sincerely desiring humanity to evolve into a mature, sovereign and independent galactic species.
It's worth pointing out that Dr Greer has only released the identities and testimonies of a comparatively small sample of that database in his Disclosure book (which has almost 70 testimonies, less than 20% of his alleged database). I have privately corresponded with Dr Greer on a number of occasions where he has repeatedly dismissed the data I have forwarded to him that some extraterrestrials are violating the rights of individuals, and that agreements with covert agencies have indeed been reached where these agencies have become complicit in such violations.
Dr Greer claims that his database of 450 military, government, and corporate whistleblower cases do not support the idea that extraterrestrials are engaging in such human rights violations, nor that some extraterrestrials have reached agreements with covert government agencies. He boldly claims that "not a single one of these insiders can confirm the xenophobic rumors proffered by Salla."
This is a gross misrepresentation of the data possessed by Dr Greer. This can be easily demonstrated by the case of Lt Col Philip Corso who is prominently featured as a Disclosure Project witness, and is arguably the most widely known and significant whistleblower to ever emerge in UFO research.
According to Greer, Corso did not confirm that some extraterrestrials were engaging in activities that violated individual rights which for Greer are xenophobic claims. That is a gross misrepresentation of Col Corso's position as evidenced in statements such as the following in his soon to be published private notes:
… the aliens have shown a callous indifference concerning their victims. Their behavior has been insidious and it appears they might be using our earth and manipulating earth life. Skeptics will excuse them that possibly they are benevolent and want to help, however, there is no evidence they have healed anyone or alleviated human ailments. On the other hand, they have caused pain, suffering and even death.
I have privately corresponded with Greer on Corso's testimony but he has repeatedly dismissed this information and now boldly states that not a single one of these insiders can confirm such allegations. As the above quote and other selections from Corso's testimony demonstrate, Greer is incorrect.
The case of Corso is not isolated. For example, with regard to allegations of human rights abuses and of a shooting war involving extraterrestrials at an underground facility in New Mexico, Dulce, made by whistleblowers such as Phil Schneider, Greer includes these among the list of xenophobic rumors.
Unfortunately, another prominent Disclosure Project whistleblower, Dan Morris, not only confirms the existence of the Dulce facility, but also that Schneider did indeed work there and was eliminated for disclosing classified information about such bases and what had occurred there with resident extraterrestrials.
In Greer's' Disclosure book, Morris says:
There are other people who have been eliminated for what they know. One was a friend of mine. Phil Snyder (sic) who worked out here in New Mexico building the tunnels – the biggest one that he was involved with was the Dulce underground facility (Disclosure, p. 359).
Another area where I have privately corresponded with Greer concerns alleged covert agreements between some extraterrestrial groups and covert government agencies. According to Greer's statement, this is part of the xenophobic rumor mill I am spreading on the flimsiest of documentation.
We do not have to look too far to find evidence of such covert agreements among Greer's list of Disclosure Project witness. In addition to Corso who claims that the government had been forced into a "negotiated surrender" with extraterrestrials, and of Morris's claims of extraterrestrials residing at the underground Dulce facility, we find the example of Capt Bill Uhouse, another Disclosure Project witness, who describes how extraterrestrials would come into classified meetings to give hints to scientists and engineers concerning the reverse engineering of extraterrestrial technology.
Similarly, Sgt Clifford Stone has testified how upon his induction into covert projects concerning extraterrestrials, he was taken into a secure facility under the Pentagon where he was taken to have a telepathic communication with a gray extraterrestrial where he blanked out and was then threatened with death if he disclosed what had happened.
The above examples demonstrate that Greer selectively filters out or ignores the testimonies of some Disclosure Project witnesses who describe invasive extraterrestrial behaviors, and agreements between extraterrestrials and covert government agencies.
More significantly, Greer excludes from his database an extensive number of whistleblowers that have publicly discussed extraterrestrials performing egregious activities, e.g., Paul Bennewitz, Phil Schneider, Robert Dean, John Lear, "Connor O'Ryan", Dan Burisch, Charles Hall and others.
For example, in the case of Charles Hall, Hall described numerous instances where Tall White extraterrestrials willfully intimidated, threatened or injured military servicemen who were unfortunate enough to accidentally run into the Tall Whites that roamed the Nellis AFB hidden facility and deliberately stalked servicemen.
In addition to manipulating his database by filtering Disclosure Project witness testimonies and excluding the testimonies of other whistleblowers revealing abusive extraterrestrial activities and covert government agreements, Greer regularly dismisses evidence from researchers with extensive field work expertise such as Dr David Jacobs, Budd Hopkins, Dr Karla Turner, Whitley Strieber, and others analyzing case studies of abductees whose rights have been systematically violated by extraterrestrials.
Dr Jacobs for example has examined hundreds of abduction case studies over several decades to reach his conclusion that the behavior of extraterrestrials consistently violates accepted human rights standards and is a long term threat to human sovereignty. According to Greer, Dr Jacobs work can be easily dismissed as part of the undocumented xenophobic rumor mill based on flimsy evidence, yet Jacob's work is well documented.
Also, Greer regularly refers to the Military Abductions (MILABs) phenomenon offered by Dr Helmut Lammer to support his thesis that all alleged abuses attributed to extraterrestrials can be ascribed to MILABs imitating extraterrestrials or to individuals projecting psychological traumas onto benign extraterrestrial visitors. This is a distortion of the evidence provided by Dr Lammer who does not exclude the possibility that extraterrestrials are violating human rights during the abduction phenomenon, only that the military is attempting to replicate extraterrestrial methods and violating human rights in the process.
Furthermore, Greer does not refer to the extensive research of those such as Zecharia Sitchin, Dr Arthur Horn, William Bramley, Jim Marrs, and others who have examined archeological records and argued that humanity has been seeded by extraterrestrial groups who have violently competed among themselves for control of the Earth.
Indeed, these sources point to a long historical presence where humanity has been used as an exploitable resource by some extraterrestrial groups whose motivations and activities are certainly questionable when it comes to the question of human rights violations.
Finally, in addition to dismissing the data on different categories of researchers documenting extraterrestrial violations of human rights in the modern and ancient era, Greer dismisses the testimonies of a great number of alleged contactees describing the nefarious activities of some contemporary extraterrestrial visitors. Contactees such as Howard Menger, Enrique Castillo Rincon, Eduard "Billy" Meier, "Prof Hernandez", Brian Scott, and many others whose testimonies have been documented and investigated by competent researchers.
In sum, by filtering the testimonies of Disclosure Project witnesses on invasive extraterrestrial activities and covert agreements; excluding the testimonies of whistleblowers openly describing invasive extraterrestrial behaviors; excluding the extensive data offered by reputable researchers of the abduction phenomenon; ignoring the data of exo-archeologists, and dismissing the relevance of many 'contactee' testimonies, Greer is engaging in a willful attempt to distort the public conclusions concerning the true motivations and activities of the extraterrestrial visitors.
While his effort to spin data concerning extraterrestrial activities in a positive light may be perceived by some to be well intentioned, it is in reality both naive and dangerous to distort public perceptions in this manner given the extensive data suggesting that extraterrestrials have been involved in systematic human rights violations and that some government agencies have been complicit in these.
Based on the data I have examined in my Exopolitics research, I have arrived at the conclusion that extraterrestrials are as varied as humans in terms of their motivations and interactions with humanity. Some extraterrestrials are highly ethical and principled as Dr Greer contends.
I have pointed out in a number of my research papers that many extraterrestrial groups are advanced evolved beings genuinely wishing to assist humanity in its evolution, and have not entered into covert agreements with government agencies where they believe advanced extraterrestrial technology will be misused by irresponsible government agencies. These extraterrestrials appear to be in the majority which would replicate the social dynamics of human societies where a majority a citizens are law abiding.
This is where in his statement Greer distorts the nuances in my research and argues as follows:
I feel a point has been reached where silence only redounds to the further empowerment of a message of fear, hatred, prejudice – and the unwitting buttressing of the argument for weapons and war in space.
So Greer believes that my analysis buttresses the argument for the weaponization of space. The deliberate targeting of extraterrestrial visitors by covert government agencies using advanced weapons is a major concern which I have pointed out on a number of occasions in my recent papers.
On the other hand, there appears to be a minority of extraterrestrial visitors, who view humans as a biological resource to be exploited and have entered into covert agreements with a number of government agencies who easily exploited due to the latter's desire for advanced technologies.
Extraterrestrials entering into such agreements have demonstrated little genuine desire to assist humanity in its evolution to a mature planetary civilization. There is credible evidence that covert agreements have led to various government agencies becoming complicit in some of the more egregious extraterrestrial activities such as what had or is occurring at the alleged Dulce facility.
The solution is not a military campaign using space weapons, but a political solution based on political disclosure of the extaterrestrial presence and the public accountability of public officials making key decisions in the management of extraterrestrial affairs.
The truth concerning alleged covert agreements between some extraterrestrial visitors and government agencies makes for a far more complex exopolitical situation than Dr Greer is willing to concede or support. That is understandable since the data is seldom conclusive, important whistleblowers or witnesses are intimidated into silence, which altogether compounds the difficulty of researchers seeking to document their sources and reach reliable conclusions.
Nevertheless, the available data is overwhelming that such agreements exist, and that some extraterrestrial visitors are violating human rights with the complicity of government agencies. Greer laments that:
"The facile acceptance of every story as true- no matter how dangerously xenophobic – is irresponsible and can only serve the agenda of those who wish to see the populace dis-informed, panicked and cowed into eventually accepting a military, space-based solution to the ET problem."
He further argues that trying to distinguish between different categories of extraterrestrial visitors to discern their motivations and activities is a form of racism. He claims:
Today, we see racist appellations applied to certain alleged ET groups – The Grays! The Reptilians! The Tall White Ones! Must we go down this tired, dirty path again? Must we replay the sordid history of human racism, prejudice, and xenophobia as we begin our first steps towards the stars?
Unfortunately, Greer overlooks the solid research data that points to as many as 60 or more different extraterrestrial races actively interacting with or monitoring Earth. This data is supported by credible whistleblowers such as Clifford Stone and Robert Dean.
To conclude that all extraterrestrial visitors are uniform in their benign activites and motivations is greatly mistaken, and it appears Greer wishes to assert such a fallacious view on the general public and use his status to punish or intimidate researchers arguing a contrary position.
I have presented my research concerning the motivations and activities of different extraterrestrial visitors and their varying degrees of involvement in covert government agreements in a 17,000 word report. The data is impressive and credible, and cannot be simply dismissed by a strongly worded rhetorical flourish of 1400 words as evidenced in Greer's May 2 statement.
While I respect the important work Dr Greer has done through the Disclosure Project in encouraging many credible whistleblowers to come forward, I disagree both with his research method and his conclusions. Greer claims with regard to my research that:
The facile acceptance of every story as true- no matter how dangerously xenophobic – is irresponsible and can only serve the agenda of those who wish to see the populace dis-informed, panicked and cowed into eventually accepting a military, space-based solution to the ET problem.
Greer's opinion here greatly distorts the data presented by several of his own Disclosure Project witnesses as explained above, in addition to the work of many other whistleblowers, researchers and witnesses, which are supported to varying degrees by available documentation.
I certainly don't accept all data concerning alleged abuses by extraterrestrial visitors, but conclude that there exists credible and substantiated data supporting this conclusion. Rather than get into an acrimonious turf war over what can and can't be said or accepted in exopolitics research, I invite Dr Greer to respond to my criticisms of his research method so I and the general public can gain a more accurate picture of the true motivations and activities of extraterrestrial visitors.
I think a scholarly debate over the pros and cons concerning the data pointing to the varied motivations and activities of extraterrestrial visitors, and their alleged agreements with covert government agencies is highly valuable. Greer dismisses those holding contrary views on alleged extraterrestrial abuses or covert agreements as xenophobic, racist, and supporting military solutions to extraterrestrial visitation.
This strikes me as a form of political spin or "exospin", that replicates methods used by the mouthpieces of repressive regimes such as Mr Irawan Abidin of the former Suharto government in Indonesia. I contend that exopolitics is the scholarly analysis of all credible data concerning the extraterrestrial presence, not a highly selective approach that supports a preconceived conclusion of only advanced benign extraterrestrial visitors to our planet. The latter is not objective exopolitical scholarship but exospin of the most disingenuous kind.
Michael E. Salla, PhD
www.exopolitics.org
May 5, 2006
***
Forward as you wish. Permission is granted to circulate among private individuals and groups, post on all Internet sites and publish in full in all not-for-profit publications. Contact author for all other rights, which are reserved.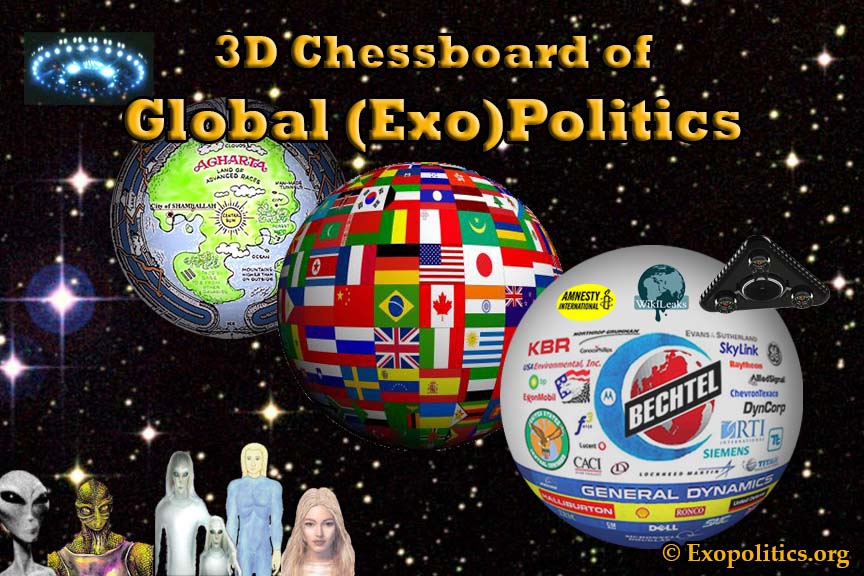 The above video published today on Youtube outlines how global politics needs to expand beyond the traditional scholarly focus on nation states, transnational corporations, non-state actors, international organizations, and social movements.
Global politics requires three dimensional thinking, as depicted in the fictional 3D Chess of Star Trek, in order to factor in how both advanced subterranean civilizations and extraterrestrial civilizations influence political events on Earth.
Dr. Michael Salla has held full time university positions teaching both graduate and undergraduate students key concepts in global politics. He combines his scholarly expertise in global politics with his more recent research in exopolitics, to produce a remarkable 3D understanding of global (exo)politics.
More info at: exopolitics.org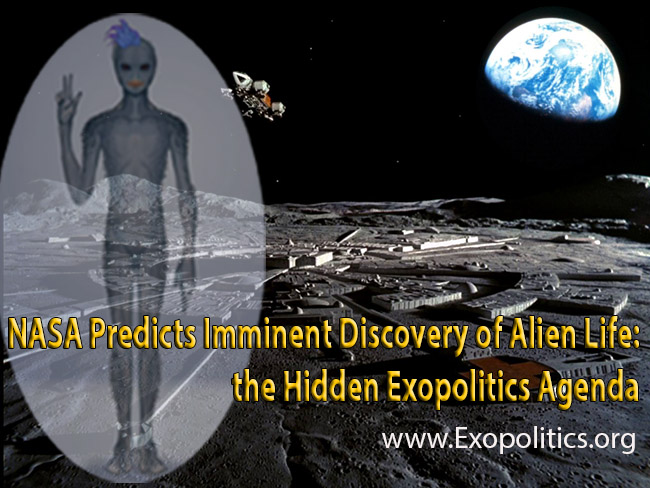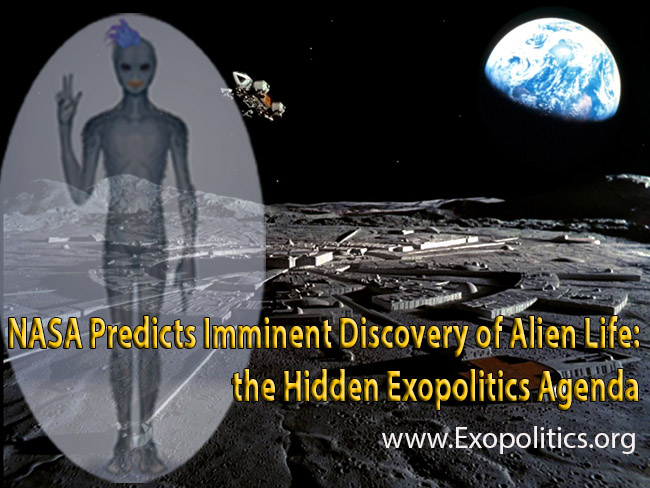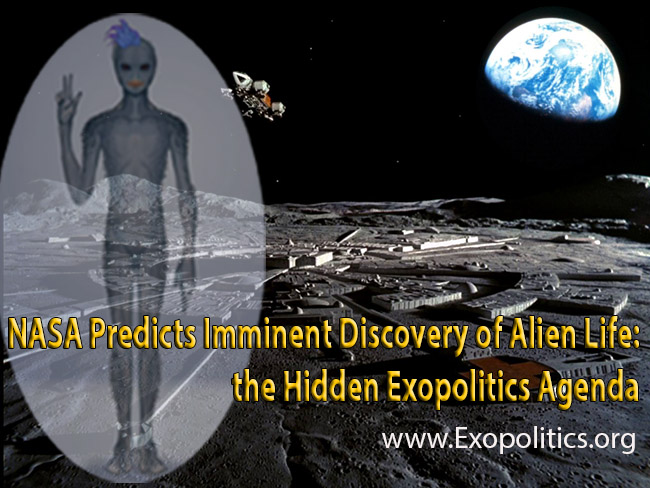 On Tuesday, Dr. John Grunsfeld, head of NASA's Science Mission Directorate told the House Science, Technology and Space Committee that extraterrestrial life is on the verge of being discovered. For many, Grunsfeld's bold prediction was basically a pitch to the House Committee to increase spending levels for NASA's space exploration missions, where recent successes by NASA in discovering water on other planets and moons in our solar system justifies more funding. Was his discovery prediction merely a pitch for more funding based on recent scientific discoveries, or is there a deeper 'exopolitics' agenda at play concerning the imminent disclosure of extraterrestrial life?
Grunsfeld told the House Committee:
Are we alone? Many, many people on planet Earth want to know…. We are on the cusp of being able to answer that question.
The Huffington Post gave a summary of the recent developments concerning the discovery of water in the solar system:
There's evidence of an interior ocean on Pluto. One of Jupiter's moons has a global ocean beneath its crust that could contain more than twice as much water as Earth. There are at least half a dozen of these ocean worlds in our solar system alone — and where there's water, there may be answers about the potential for life across the universe.
In addition, there was the recent discovery of a rocky exoplanet only 60% larger than earth that rotates around a sun similar to our own, in a comparable orbit of 385 days. Scientists said that the likelihood that Kepler has surface water, and therefore the right conditions for life to evolve is very good.
NASA's recent scientific discoveries and bold predictions by Grunsfeld and other NASA officials lead to the conclusion that the public is being prepared for the imminent discovery of extraterrestrial life. Is this merely a result of genuine scientific advances in NASA's ability to better detect the conditions for life in our and other solar system? Or is Grunsfeld's prediction part of a deeper 'exopolitics' agenda driven by developments behind the scenes?
Beginning in early March 2015, there was an alleged meeting on the moon involving up to 70 private individuals along with about 120 officials representing different secret space programs and national governments who heard plans about disclosing the existence of extraterrestrial life. The meeting was addressed by an 8ft tall extraterrestrial called Raw-Teir-Eir who belongs to an alien race called the "Blue Avians" that is part of an alliance called the Sphere Being Alliance. The Sphere Being Alliance is allegedly intent on helping bring about full disclosure of extraterrestrial life.
Two of the individuals that attended that secret moon meeting have revealed themselves to varying extents. Corey Goode, who initially used the pseudonym GoodETxSG when his testimony first emerged in October 2014, publicly revealed himself in early April. The second individual, a military officer who uses the pseudonym Lt Col Gonzales, more recently allowed summaries of two secret space program meetings he attended in June to be released. The summaries were Goode's notes on the oral briefings Gonzales had given to Goode who did not attend the two meetings. Goode gave video testimony of the secret moon meeting held in March that both he and Gonzales attended which is available for free online at Gaia TV.
Goode's and Gonzales' testimonies suggest that public officials at NASA, the European Space Agency and other national space programs have been advised that plans are advancing quickly behind the scenes to disclose to the general public the truth about extraterrestrial life. In order to better prepare the world for the psychological shock of discovering that extraterrestrial life is real and that government institutions have been withholding this for decades, officials such as Grunsfeld are very active in playing up the imminent nature of a discovery of extraterrestrial life. Presentations such as Grunsfeld's at the House Science Committee are a good opportunity to generate media interest in the implications of such a discovery while making it appear as though the only hidden agenda is a pitch for more NASA funding.
If Goode and Gonzales are correct, then there is a deeper exopolitics agenda behind Grunsfeld's announcement. This agenda suggests that any NASA announcement about the discovery of extraterrestrial life is preparation for further disclosures about when alien life was first discovered, when it first made contact with humanity, and why this vital information was kept secret from the public for decades.
© Michael E. Salla, Ph.D. Copyright Notice
Further Reading
[Note: The first two episodes of Cosmic Disclosure are available for free on the Gaia TV website. The first episode is also on Youtube. To watch the whole season of Cosmic Disclosure, you need to subscribe to Gaiam TV. If you subscribe using this link, then a portion of your monthly subscription will go towards supporting Corey Goode as he continues his disclosures. His website is here.]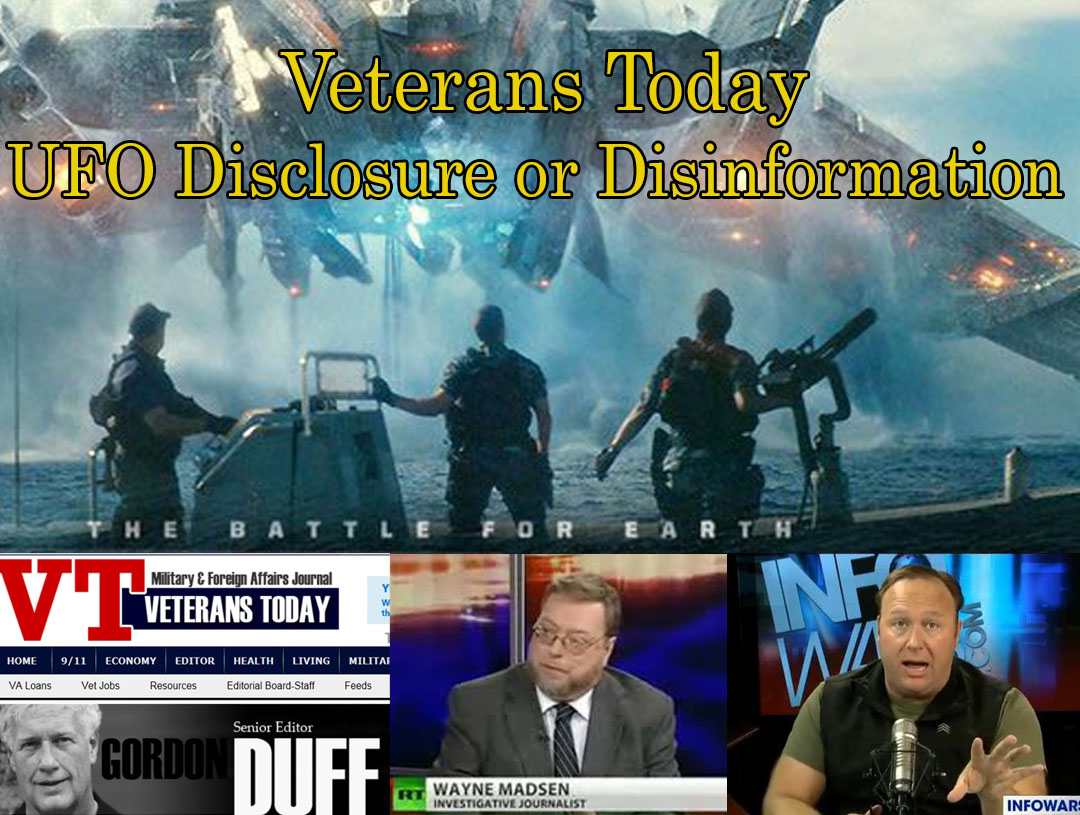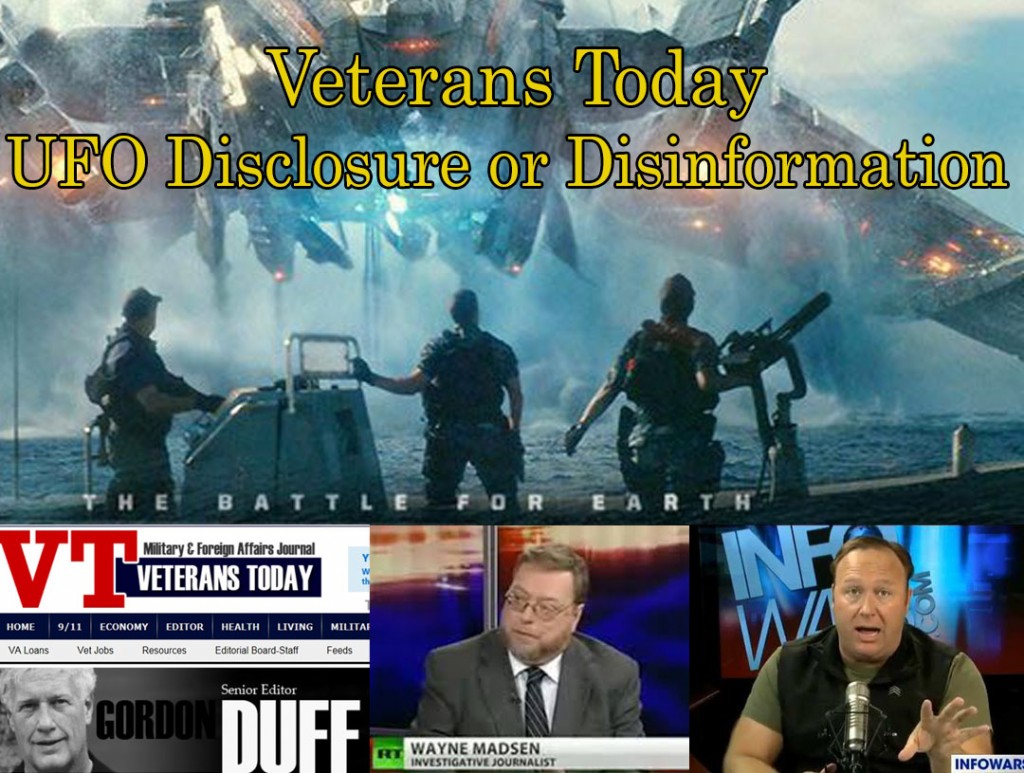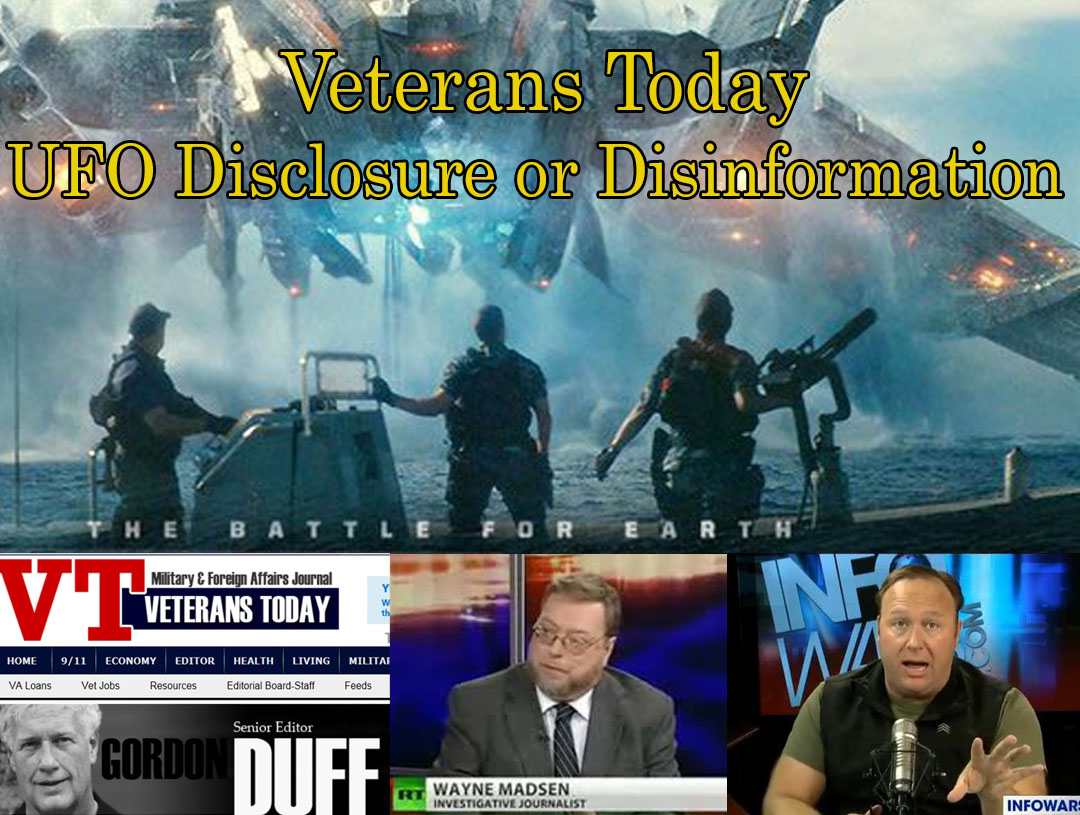 Is Veterans Today a genuine pro-UFO disclosure site where "white hats" in the military intelligence community are leaking what is really happening behind the scenes, or a military psyop disseminating disinformation to divide the truth movement? That is the key question arising from an ongoing debate between the VeteransToday.com and Infowars.com websites where hostile articles and radio shows have been exchanged about the veracity of their respective flag ship icons: Gordon Duff and Alex Jones.
For Veterans Today writers, Infowars is deliberately down-playing Zionist involvement in false flag events because Jones is a shill for Israel's intelligence service, Mossad. For Infowars, Duff is a self-declared serial misinformer trying to divide the truth movement by inserting falsehoods that are part of a military intelligence psyop.
Investigative Reporter Wayne Madsen recently weighed in on the acrimonious debate by clearly siding with Alex Jones, and accusing Veterans Today of being a military intelligence operation. Madsen's sterling credentials and NSA background may be enough to settle the issue for those trying to evaluate the Veterans Today and Infowars debate. However, when it comes to the UFO disclosure issue, one that has been given increasing prominence by Veterans Today writers, both Madsen and Jones fall short.
Here is what Madsen had to say about the Veterans Today website on Feb 24:
WMR has received a number of queries about a certain website that claims to cover 'veterans' affairs" but actually promotes dubious conspiracies, self-admitted fraudulent stories, and staffers with highly-inflated curricula vitae. In fact, the website contains no information not already available at more reputable websites.
A more trenchant criticism of Veterans Today can be found in a Jan 20, 2014 report on the forum of the Wayne Madsen Report (WMR) website. The unnamed writer provides editorial assistance to Madsen who helped in the fact checking for the report. The WMR writer meticulously outlines the intelligence background of Duff and his editorial board who are involved in a shady intelligence group call Adamus
According to the WMR writer, Adamus is an alleged company located in Zug, Switzerland that presumably has ties with a Swiss organization used by the NSA to monitor official intelligence by national governments as exposed by Madsen in a Feb 1999 report.
The WMR writer cites the Veterans Today website description of the Adamus group.
Several Adamus group companies work in the area we broadly refer to as "disclosure," managing the integration of "after next-gen" technologies. Among those are energy sectors including a variety of fusion systems, advanced energy weapons and unconventional flight systems. Adamus is privately held, quasi-governmental and operates under the authorities of several treaties and conventions.
The above statement is critical for how easy it is to dismiss Veterans Today and the shady Adamus Group as merely covers for a military psyop as the WMR writer does indeed conclude:
That sounds quite compatible with the NSA-tied Crypto AG with whom they are bunking up in the village in Switzerland.
Another interpretation is that Duff and the Adamus Group are involved in a pro-disclosure agenda of encouraging the release of classified alien technologies similar to what Col Philip Corso described in the Day After Roswell.
Corso revealed that the U.S. Army was behind a classified attempt to seed alien technologies in the civilian sector, No less than a three star general, Arthur Trudeau, the former head of Army Intelligence, was secretly in charge of the pro-disclosure operation. Is it possible that that Duff and the Adamus Group is behind a new pro-disclosure initiative that is endorsed by senior military intelligence figures? That indeed is what Duff claims is occurring with the Adamus Group and information released through Veterans Affairs on alien UFO issues.
Unfortunately, Madsen doesn't give such a possibility the time of day, even though he has shown himself to be sympathetic to the UFO pro-disclosure movement and written favorable comments about the evidence behind it. In a Nov 2007 article titled, "Kucinich is not the only Democrat to have shown an interest in UFOs," Madsen wrote about documentary evidence that the Clinton administration actively researched the UFO issue. In a 2009 article, titled "Apollo 14 astronaut says UFOs are real," he described Edgar Mitchell's interest in UFOs as something that is helping change mainstream media attention on the subject.
Madsen with many others associated with the UFO disclosure movement associate it as a physical phenomenon that deserves a serious investigation by the US Congress and mainstream media. The focus is firmly on accumulating reliable documentation in terms of photos, radar evidence, pilot reports, Freedom of Information Act records and credible witness accounts of UFOs. Discussion of actual extraterrestrial life is posed merely as a hypothetical explanation of the data, if at all. This kind of UFO disclosure advocacy has since the inception of the UFO era led to a lobbying effort to get Congress and the media to investigate the UFO phenomenon
However, the above approach is only the documented surface level of the UFO cover up. There is much more to the issue in terms of classified programs involving the study of retrieved extraterrestrial technologies; deep underground bases using alien technologies; off-world programs involving a secret space fleet and bases; corporate control over much extraterrestrial information; assassination of prominent US officials opposed to the cover up; face to face meetings with extraterrestrial visitors; and finally secret alien agreements.
This is where Duff and fellow writers such as Preston James go much further in their UFO disclosure advocacy. They embrace the concept of 'exopolitics' since they recognize the extraterrestrial issue forms the contextual overlay for understanding geopolitics and international finance. They recognize that the alien issue is the "Holy grail" of international intelligence activities. On that score, Duff and James are correct.
As far as Alex Jones and Infowars.com is concerned, there is little support for the UFO disclosure movement other than isolated articles discussing an alien false flag invasion and an elite belief that extraterrestrials are their progenitors. Yet Jones is on the record in rejecting extraterrestrial conspiracy theories. Like many in the truth movement, UFOs are regarded at best as an unnecessary distraction from real issues if not outright disinformation. On that score, Jones and fellow Infowars writers are deeply in error.
When it comes to UFO disclosure in terms of its deeper exopolitics issues concerning alien life, Gordon Duff, in contrast to Jones and Madsen, is a serious advocate.
Back in 2010, Duff had this to say about UFO disclosure:
The other issue, a very devisive one, UFOs … I have been getting continual feedback out of the DOD on this subject, long the "Holy Grail" of the intel world. Warnings have been coming out about the United States having UFO technology for decades, capabilities we have kept secret from the public, are in the "chatter world" every day.
Later in Sept 2012 Duff began releasing information from his sources concerning a US Chinese military alliance battling hostile aliens off the coast of California. This was remarkably similar to the scenario described in the movie battleship, and could easily lead to dismissal of Duff's comments as outright disinformation.
Duff and the other main Veterans Today writer covering the exopolitics issue, Preston James, have gone on to pen articles and give interviews on aggressive aliens battling a consortium of nations secretly working together. James in particular has been prolific in putting out 19 articles that touch on various exopolitics themes many of which promote fearful images of hostile aliens wanting to exploit humanity. His latest exopolitics article is no exception and bears the title, "Alien Agenda XIX: High-tech Soul-snatching and the long planned Final Solution."
This is where Duff's declaration that 40% of his information on military intel is disinformation becomes relevant. This is done, according to Duff, to protect sources who are taking major risks in releasing sensitive information on the most classified information in the intel community involving exopolitics. It is one thing for whistleblowers such as Corso to go public after the expiration of their secrecy oaths, decades after the end of the programs they witnessed, it is entirely another thing to spill the beans on current alien projects for personnel still sworn to secrecy. That's why Duff's 40% disinformation claim is understandable.
Jones and Madsen, however, don't buy it. They condemn Duff and co. for disseminating disinformation and doing it so blatently. Clearly, Jones and Madsen don't want to work in the smoke and mirrors of alien intel or exopolitics where the truth is hidden under layers of disinformation. Yet, Duff is telling us that this is precisely how pro-UFO disclosure advocates in the military-intel community have to work. He has a point, even if it's a difficult one to accept for those wanting to stick to documented research and data on UFOs, rather than cover more contentious exopolitics issues.
For decades, UFO researchers have tried to focus on the documented phenomenal aspect of the UFO issue, and black-balled researchers probing deeper exopolitics issues where disinformation is rife. The most egregious recent example is the International UFO Congress run by the Open Minds production group that avoids legitimizing exopolitics research by having it covered at its flagship annual event. In its steadfast opposition to exopolitics research, Open Minds reveals itself to be anything but open minded on evidence concerning both historic or current classified extraterrestrial projects. That is unfortunate since it is both possible and necessary to sift through the dross of disinformation to find the nuggets of truth into what is happening in extraterrestrial related programs.
In the now acrimonious debate between Veterans Today and Infowars, the leading protagonists have valid points to make against one another. Jones soft pedaling on Mossad involvement in false flag events is a cause for concern. Duff's and James's advocacy of hostile aliens battling multinational alliances lays the foundation for a future alien false flag invasion. This is also a cause for concern,
Wayne Madsen's weighing in on the acrimonious debate appears to be the impartial assessment of a well credentialed investigative writer. Yet, Madsen is no impartial investigator here. His embrace of UFO disclosure is limited to the documented physical sightings phenomenon, rather than the deeper exopolitics issues at stake.
By introducing exopolitics issues into the public arena, even if mixed with as much as 40% disinformation as Duff and James concede, Veterans Today is opening the door to the public to take a peek into what is really happening behind the scenes. Duff and Veterans Today may be involved in a modern version of Col Corso's release of classified alien technologies sanctioned by "White Hats" in the military intelligence community. The only way of ultimately telling if Duff's intel on extraterrestrial projects is a military psyop designed to misinform, or an officially sanctioned UFO disclosure initiative designed to inform, is by doing the necessary exopolitics research.
© Michael E. Salla, Ph.D. Copyright Notice