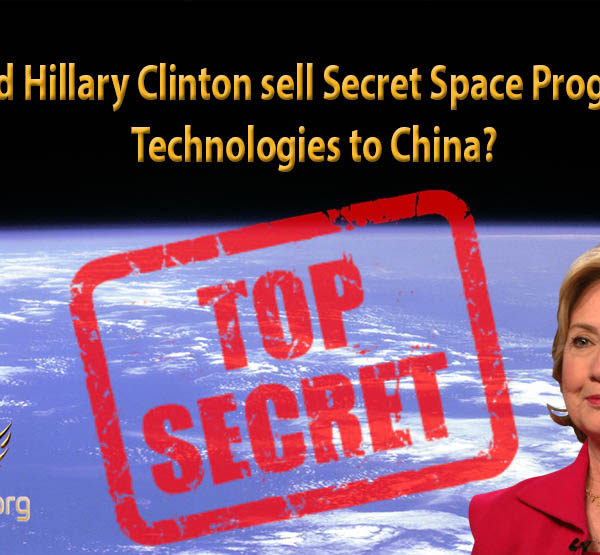 The anonymous group Q (aka QAnon), which has strong ties to the Trump administration and U.S. military intelligence, claims that former Secretary of State, Hillary Clinton, orchestrated a pay-to-play scheme where classified information was uploaded to her private servers, which were deliberately left susceptible to hacking from foreign entities. Among these entities was China which used the classified material from Special Access Programs and Sensitive Compartmented Information found on the Clinton servers to learn about advanced technologies deployed by the U.S. military in space.
There is documentary evidence that Clinton was granted access to classified information on space technologies, and this was a topic covered in her emails discussing a range of issues including a possible UFO disclosure initiative. According to the information provided by Q, Clinton's ultimate goal was to sell classified information that would allow China to bridge the technological gap with a secret space program run by the U.S. Air Force, rather than genuinely disclosing the truth behind the UFO phenomenon.
Q has posted multiple times on Clinton selling America's technological secrets to China during the period between January 21, 2009 and February 1, 2013 when she was US Secretary of State, and had access to advanced technology secrets including spy satellites and other space assets.
The most recent post was today, March 13 (post #3045). It is worth breaking down the post to distill what Q is communicating about Clinton's access to Special Access Programs (SAPs) and Sensitive Compartmented Information [SCI]. Q communicates information by raising leading questions, which the reader is expected to research and answer using previous information reveald by Q:
HOW DID HRC [Clinton] OBTAIN SAP (SPECIAL ACCESS PROGRAMS) ON HER PERSONAL SERVER(S)?
ACCESS TO SAP/SCI IS RECORDED IN A LOCAL ACCESS REGISTER OR IN A COMPUTER DATABASE —- WHERE ARE THE RECORDS?
IDEN OF 'SPECIFIC' SAP/SCI ON THE SERVER PROVIDES A TARGET (ROADMAP) TO REVIEW ACCESS LOGS TO THAT SPECIFIC PROGRAM?
WHAT PROCESS AND/OR SEC CLEARANCE WOULD BE REQ TO WALK-AWAY [TERMINAL_CLEAR] W/ SAP/SCI MATERIAL 'ELECTRONICALLY'?
Q is here explaining that Clinton made special arrangements within the Department of State in order to gain access to SAP/SCI material outside of normal security protocols. Her bypassing of established security protocols for digital information made it possible for foreign entities to hack into her private servers to gain access to the classified material according to Q:
Did a Foreign State gain access to the server?
Did a Foreign State gain access to the SAP/SCI material on the server?
https://thehill.com/policy/national-security/404192-fbi-denies-trump-claim-that-china-hacked-clintons-private-email
The link is to an article by The Hill debunking an August 28 tweet by President Donald Trump that China had hacked into Clinton's private server.
Hillary Clinton's Emails, many of which are Classified Information, got hacked by China. Next move better be by the FBI & DOJ or, after all of their other missteps (Comey, McCabe, Strzok, Page, Ohr, FISA, Dirty Dossier etc.), their credibility will be forever gone!

— Donald J. Trump (@realDonaldTrump) August 29, 2018
The point Q is making by linking to the article by The Hill, which Q regards as a prominent part of the fake news establishment, is to identify China as the "Foreign State" that had gained "access to the SAP/SCI material on the server", just as Trump had tweeted.
In an earlier September 4, 2018 post (#2077), Q makes it crystal clear that China had hacked into the Clinton servers, and this was part of a pay-to-play scheme:
Ex 1 – 'Being Afraid'
Does HRC care about you?
If she cared about protecting you…
Would she sell out America's secrets and Uranium to China/Russia [Ex 1]?

In yet another post, on February 22, 2018, Q says that Clinton [HRC] was operating with the CIA [Clowns] in selling technological secrets to China: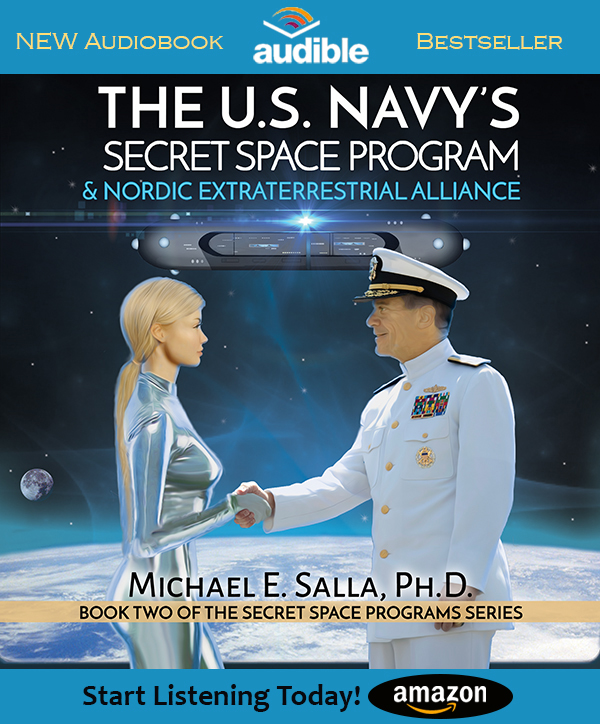 Clowns revealed in China/other.
2010.
[187]
Sold intel?
HRC open source server?
[Missing emails]
[CrowdStrike]
Granted access.
Betrayed.
Only the tip.
This will be made public [soon].
Q
Basically, Q is revealing that Clinton's scheme of selling advanced technology secrets through susceptible private servers was sanctioned by the Deep State, which was betraying the US national interest.
It was determined by the Inspector General for the Intelligence Community, Charles McCullough, that included among the emails sent and stored on Clinton's private servers was classified information concerning Special Access Programs (SAPs). In a letter dated January 14, 2016, Charles McCullough wrote:
To date, I have received two sworn declarations from one [intelligence community] element. These declarations cover several dozen emails containing classified information determined by the IC element to be at the CONFIDENTIAL, SECRET, and TOP SECRET/SAP levels. According to the declarant, these documents contain information derived from classified IC element sources.

Fox News, which was the first comment on McCullough's letter, described its significance:
Intelligence from a "special access program," or SAP, is even more sensitive than that designated as "top secret" – as were two emails identified last summer in a random sample pulled from Clinton's private server she used as secretary of state. Access to a SAP is restricted to those with a "need-to-know" because exposure of the intelligence would likely reveal the source, putting a method of intelligence collection — or a human asset — at risk. Currently, some 1,340 emails designated "classified" have been found on Clinton's server, though the Democratic presidential candidate insists the information was not classified at the time.

It's worth emphasizing that the SAP information was found in only random sample of the Clinton emails, suggesting a great many more lay among the 1,340 classified emails that were sent and stored on the Clinton private server.
Declassified Freedom of Information Act documents confirm that Clinton has had an interest in UFOs dating back to 1995, and that during the 2016 election campaign, she and her campaign chief, John Podesta, had raised the UFO issue on several occasions. For example, on December 30, 2015, she said:
He [John Podesta] has made me personally pledge we are going to get the information out. One way or another. Maybe we could have, like, a task force to go to Area 51.
Clinton followed this up with a statement on Jimmy Kimmel Live in March 2016, where she discussed UFOs, or what she referred to now as "Unexplained Aerial Phenomenon" (UAP). She pledged to release any UFO/UAP files that were not classified for national security reasons:
I would like us to go into those files and hopefully make as much of that public as possible. If there's nothing there, let's tell people there's nothing there. If there is something there, unless it's a threat to national security, I think we ought to share it with the public.
Documents leaked by Wikileaks confirm that the Clinton and Podesta were doing more than simply making comments in support of declassifying UFO/UAP information. Podesta was involved in meetings discussing the testimony of Major General William McCasland and other insiders about their knowledge of the UFO topic, and strategizing over how the Clinton campaign could support a disclosure initiative to release this information to the US public.
Given her historical interest in UFOs and publicly disclosing this information, it is all but certain that some of Clinton's emails discussing the UFO topic were stored on her private server, and this encroached on SAP/SCI material concerning advanced space technologies.
According to Q, the SAP/SCI information sold by Clinton was covertly raising slush funds for the Deep State (Eye of Ra) as revealed in a December 22, 2017 post [#228]:
2011 Shuttle Program terminated by Hussein [Obama].
US loses space dominance.
http://www.foxnews.com/opinion/2017/08/09/obama-administration-knew-about-north-koreas-miniaturized-nukes.html
IRAN Nuke deal.
NK Nuke/Missile Tech.
SpaceX.
NASA Tech to ?
HRC SAPs (private server).
Connected.
$$$,$$$,$$$.00 (pockets).
EYE OF RA.
Left eye [marker].
Symbolism.
EVIL.
STUPID.
JUSTICE.
Q  

Significantly, Q was referring to North Korea as a recipient of NASA's technology secrets and mentioned Elon Musk's Space X as playing a role. Presumably, the Deep State was helping North Korea develop its ballistic missile capabilities with the latest rocket technologies developed by NASA and, incredibly, Space X.
To learn more about the kind of SAP information Clinton was including in her emails, we can turn to a Sensitive Compartmented Information [SCI] Nondisclosure Agreement she signed on January 12, 2009, which outlined her legal responsibilities. Importantly, her Nondisclosure Agreement reveals four SCI control systems (which cover material from multiple SAP's) she would have access to.
Among the four SCI control systems accessed by Clinton was Talent Keyhole (TK) which is described as a "top-level control system" involving a number of surveillance platforms in very high altitudes and space:
TK covers space-based IMINT (Imagery intelligence), SIGINT (Signals intelligence), and MASINT (Measurement and signature intelligence) collection platforms; related processing and analysis techniques; and research, design, and operation of these platforms… The original TALENT compartment was created in the mid-1950s for the U-2. In 1960, it was broadened to cover all national aerial reconnaissance (to later include SR-71 sourced imagery) and the KEYHOLE compartment was created for satellite intelligence. [Source: Wikipedia]
Put simply, Talent Keyhole is surveillance data gained from America's most highly classified space platforms, which allegedly only involves data from spy satellites the U.S. Air Force and its partners in the military intelligence community (National Reconnaissance Office, National Security Agency and Defense Intelligence Agency) has sent into space.
In reality, however, the USAF and its partners have secretly developed and deployed far more advanced technologies in space as acknowledged by Q in a post dated September 19, 2018 (2224) where they answered several questions raised on the 8chan forum:
Q,

Did NASA fake the moon landings? Have we been to the moon since then? Are there secret space programs? Is this why the Space Force was created?
False, moon landings are real.
Programs exist that are outside of public domain.
Q
Q was here acknowledging that secret space programs are real and the information is classified at a very high level "outside of public domain". This refers to Special Access Programs that are associated with the Talent Keyhole control system that Clinton was granted "need to know" access to.

According to my research into secret space programs, the USAF has deployed manned space stations, along with orbital weapons platforms incorporating destructive technologies such as "Rods of Gods" and "Directed Energy Weapons".
These are all part of a USAF run secret space program, which operates advanced antigravity craft from sensitive facilities such as Nevada's Area 51, the Utah Test and Training Range, Kirtland Air Force Base in New Mexico, and Florida's McDill Air Force Base, home of Special Operations Command. 
In late 2017, different shaped antigravity platforms such as flying triangles, rectangles and cylindrical craft were photographed near McDill AFB in a disclosure initiative being conducted by USAF Special Operations, which encouraged a local resident to take the photos for public dissemination.

The conclusion that can be drawn from Q's posts is that included among the SAP/SCI material that Clinton was storing on her servers, was Talent Keyhole level information about the surveillance capabilities of the USAF run secret space program. This highly sensitive information appears to have been sold off in an illicit intelligence market to major U.S. rivals such as China and North Korea with the support of the Deep State and the CIA.
It is possible that Clinton's interest in UFO disclosure, was used as a cover to discuss Talent Keyhole material in emails that would be saved on her private servers, and eventually accessed by Chinese and other foreign hackers.
From the documents and evidence that has been made public so far, it is clear that Clinton had SAP/SCI material on her private servers, and this included Talent Keyhole level material which she had been granted "need to know" access. This makes Q's claims that Clinton was selling off America's advanced technology secrets to China and North Korea very plausible.
Consequently, the possibility that Clinton was part of a Deep State/CIA plan to funnel technological secrets, including information about a USAF run secret space program, to China, North Korea and other foreign entities, demands a serious investigation.
Indeed, some of the more than 80,000 sealed cases that have been identified in PACER judicial records, may involve charges of treason against Deep State officials involved in selling off America's advanced technology secrets.
It can be hoped that as more information is released in anticipated criminal/military trials that Q contends are imminent, that these provide the opportunity for official disclosure of a USAF secret space program, and the release of advanced technologies that would greatly benefit the general public.
© Michael E. Salla, Ph.D. Copyright Notice
Further Reading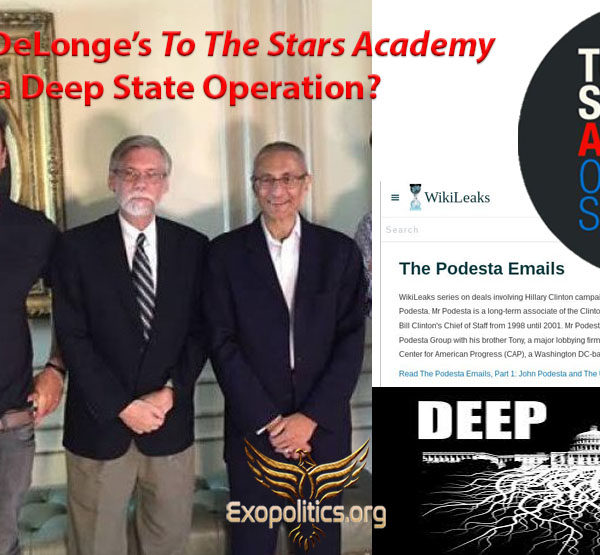 Former Blink 182 rockstar, Tom DeLonge, is having great difficulty in convincing many UFO researchers that his To the Stars Academy is not a Deep State operation. Many believe that DeLonge has been coopted by savvy Deep State operatives who gave him access to the rarefied world of highly classified Special Access Programs in order to manipulate him.
Despite the success of the To The Stars Academy in getting mainstream media attention to study UFO files released by the U.S. military intelligence community, a number of UFO researchers have become very vocal in their criticism of DeLonge, basically claiming that he is in over his head and is being played by the Deep State.
The concern has become so great that Peter Levenda, one of DeLonge's co-authors in his book series, Sekret Machines, attended the Contact in the Desert Conference in June to dispel such concerns. I recently was able to view the video of his presentation given on June 3, 2018 which was aptly titled: "Conspiracy Theories & UFOlogy: Tom Delonge & the Deep State Scenario".
In the abstract he wrote:
This will be a discussion of the current theories in Ufological circles that Tom DeLonge and the To The Stars Academy are agents of a "deep state" that wishes to manipulate Ufology, or expectations concerning UFOs, for the benefit of a secret cabal of government insiders. .
In his nearly two hour presentation, Levenda offered a strident defense of DeLonge, the To the Stars Academy, and his own involvement in the book series. However, Levenda's defense was so unconvincing that he inadvertently raised doubts with viewers, such as myself, over whether DeLonge may indeed be in over his head and has been coopted into a Deep State operation.
Levenda began by describing his own background and research that has made him a successful book author, who has travelled widely and interviewed many infamous individuals. His first book, Unholy Alliance: A History of Nazi Involvement with the Occult (1995) has become a classic and was among the first that examined the cult beliefs that dominated Nazi Germany's ruling elite.
I read the book and have it on my bookshelf as a reliable source on Nazi occult beliefs. Levenda's scholarship won him many fans, including myself.
What did raise my eyebrows during his Contact in the Desert presentation was Levenda's account of how in 1968, as a 17 year old, he was involved in establishing a cult church in New York city where he and his buddy were self-appointed bishops.
Levenda described how he and his buddy gate-crashed the Robert Kennedy funeral impersonating high level church dignitaries who were transported in a limousine. Was this all simply an elaborate lark by two precocious 17 year olds as Levenda contends, or was something more sinister at play?
What we do know for certain is that Levenda and his buddy became targets for recruitment by rival strange churches, which were fronts for the CIA and other intelligence agencies as Levenda has publicly acknowledged. He says that he declined such offers, and his subsequent worldwide travel and research, was prompted by intellectual curiosity into the bizarre and unusual.
Perhaps, but the legitimate question can be raised about whether his subsequent writing career was established as a suitable cover for recruitment as a CIA agent and/or operative. After all, as a precocious 17 year old, he had displayed a clear talent for deception and establishing fake identities. This surely would have made him an ideal recruit for the shadowy world of CIA covert operations.
It is what Levenda had to say about critics of the To The Stars Academy that really raised my suspicions during his presentation. He called out Dr. Steven Greer as one of the more prominent critics, and set out to contrast Greer and DeLonge's approaches to gathering UFO evidence.
Whereas Greer was depicted as touting up to 1000 unnamed whistleblowers/insiders spilling the beans on the UFO/extraterrestrial cover up, DeLonge was credited with getting former high level government and corporate officials to come forward and risk their reputations by joining his To The Stars Academy.
The audience was told that Greer was touting speculation by unknown sources, whereas DeLonge was promoting scientific research by having hard facts and evidence discussed by experts who had verifiable credentials in the military industrial complex.
There was a major flaw in Levenda's critique of Greer. It is simply not true to say that Greer has touted unknown whistleblowers as sources on the UFO coverup. In his May 2001, Disclosure Project Press Conference, he got 21 former military, government and corporate figures to go public. In the subsequent book, Disclosure: Military and Government Witnesses Reveal the Greatest Secrets in Modern History, there were over 60 individuals who by a vast majority went on the record in terms of their identities and credentials.
While it is true that the bulk of Greer's hundreds of Disclosure Project witnesses (currently estimated up to a 1000 according to Levenda) have not been named, a significant number have been publicly identified and their testimonies are available for research and analysis. Distorting the record of a prominent critic certainly did not help Levenda's main goal of rebutting Greer's criticism of DeLonge as out of his depth when it came to dealing with the Deep State.
Levenda went to great effort to stress that DeLonge had been researching the UFO field for decades, and was sufficiently familiar with the issues and main figures in the field to make good judgement calls on who's authentic or not.
Essentially, Levenda was saying we can trust DeLonge and not see him as an inexperienced dupe, who has been taken in by the Deep State as Greer and other critics were contending.
My own knowledge in this regard is limited to an incident where Tom DeLonge got to hear the views of William Tompkins and Dr. Bob Wood regarding a secret space program, Solar Warden, established by the U.S. Navy with the aid of corporations such as Douglas Aircraft/McDonnell Douglas. Both Tompkins and Dr Wood have decades of experience with Douglas Aircraft and the aerospace industry.
DeLonge expressed his disbelief that such a thing could have happened. I know that DeLonge is not alone in disbelieving that the U.S. Navy could have secretly developed kilometers long space carriers out of its classified facilities as Tompkins contends. There is testimonial evidence that U.S. Air Force officials, have investigated Tompkins and Corey Goode's claims in this regard as well, as I have written about here.
My book, the US Navy's Secret Space Program and Nordic Extraterrestrial Alliance, lays out all the evidence that Solar Warden was real, and that it continues to operate in Deep Space. Perhaps DeLonge is merely reflecting the worldview of his insider sources, largely drawn from the US Air Force, who disbelieve that they would have been out of the loop on such an advanced technology program.
What the above incident does show, however, is that DeLonge has an inability to reconcile information that is contrary to what he is being told by his insiders. That's a red flag and doesn't help build confidence that he is not being duped by the military industrial community.

It is what Levenda had to say about the John Podesta – DeLonge link that finally shifted me from being an agnostic on the "DeLonge is an agent of the Deep State" perspective. Levenda described the Pizzagate controversy raised by Wikileaks release of thousands of Podesta emails by dismissing it as yet another example of the fear and paranoia that is so prevalent in the UFO community.
Levenda assured the audience that there's nothing to Pizzagate and that Podesta isn't the pedophile child sacrificing deviant that many now believe due to the Wikileaks release. In the past, I've written admiringly of Podesta, and also of Hillary Clinton, in their respective roles in promoting UFO disclosure dating back from the 1990's during the Clinton Administration, right up to the 2016 Presidential campaign.
Like many in the UFO/exopolitics communities I saw them as heroes fighting the good disclosure fight, and supported them above other politicians/public figures who remained silent on the UFO issue.
All that changed with the October-November 2016 Wikileaks releases of the Podesta emails that showed coded language using pizza related words being used by Podesta, Clinton, and their associates. Investigative reporter Ben Swann and other investigators showed that this was an elaborate code used by known pedophile networks that indulged in child trafficking, and even ritual human sacrifice. The fact that many of the symbols and codes were known to law enforcement agencies merited close examination of such claims despite debunking efforts by the mainstream media such as the New York Times and Snopes.
I had earlier been made aware of the connection between child trafficking and the Washington D.C. political establishment (Deep State) through the pioneering research of John DeCamp in The Franklin Cover-up: Child Abuse, Satanism, and Murder in Nebraska and Cathy Obrien's seminal book, Trance: Formation of America. Both of these books showed how an elaborate sex-trade in children was used to compromise young upcoming politicians, and ultimately make them agents of the Deep State as they were rapidly promoted into senior positions.
I understand that this is all very controversial, and why UFO researchers would want to steer clear of all of this. However, with the Wikileaks release of Podesta's emails, we have someone long viewed as among the few public officials supporting UFO disclosure being directly implicated in an alleged network of child traffickers that practice many kinds of abusive rituals.
I would have understood it if Levenda had simply skirted around all this controversy and merely pointed out that DeLonge's association with Podesta pre-dated the Wikileaks email release (they began meeting in mid-2015). This would have meant that DeLonge, along with Levenda, were simply unaware of what Podesta may have been involved in, and merely wanted to elicit his support for a UFO disclosure initiative that they were pursuing.
However, what Levenda did instead was to offer a full-throated rebuttal of the entire Pizzagate controversy. Levenda said it was all another example of the systemic fear and paranoia that is part of the UFO community, and there was nothing of substance in the Pizzagate controversy. He even made a crude pizza joke about it all, to the stunned silence of his audience.
That is not the position an objective researcher would take when looking at all the data and evidence. The Podesta emails are a part of the public record, and in many of them he and other Clinton affiliated figures appear to be using pizza related code words and symbols recognized by law enforcement bodies as common among pedophile rings.
Levenda was not interested in seriously examining the Wikileaks email release in terms of what the use of a coded pizza words meant for Podesta and Clinton.
That's when it finally hit me. Levenda was a Deep State agent/operative after all. His history and recruitment by the Deep State was hidden in plain sight with his account of his exploits as a precocious 17 year old which brought him into contact with CIA/Deep State operatives in an "innocent lark" involving the creation of a fake church cult.
Furthermore, who would be unscrupulous enough to use deception and a fake identity to gate crash the funeral of Bobby Kennedy who had just been assassinated after clinching the Democratic nomination for the 1968 Presidential campaign? Certainly not any normal person, but instead a future CIA agent/operative with a talent for using deception in public interactions.
Ironically, Levenda's attempt to prove he was not a Deep State operative only succeeded in converting me from being an agnostic on the whole "DeLonge is an agent of the Deep State"  narrative, to now accepting it.
DeLonge may still be a well-meaning researcher wanting to promote UFO disclosure, but he has been coopted by Deep State operatives, including Levenda, and that is not a good foundation for any kind of genuine disclosure of the truth behind UFOs and extraterrestrial life.
© Michael E. Salla, Ph.D. Copyright Notice
Further Reading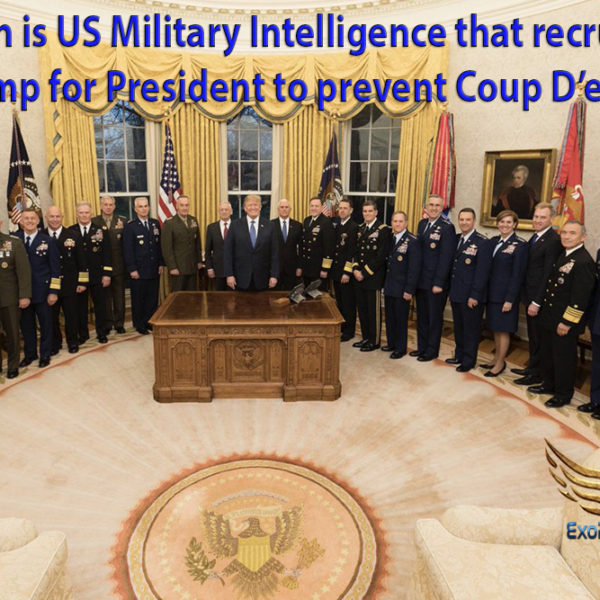 According to veteran investigative reporter and best selling author, Dr. Jerome Corsi, he was approached three years ago by a group of generals and told that Donald Trump had been recruited by U.S. military intelligence to run in the 2016 Presidential elections, and subsequently help remove corrupt Deep State officials from positions of power. Corsi claims that QAnon represents the same group of senior military intelligence officials who are exposing the Deep State corruption and officials involved in a history of treasonous actions against the U.S. Republic.
This is what Corsi said at a meeting on April 11, which also featured the founder of InfoWars.com, Alex Jones:
About three years ago a group of Generals came to me, and it was explained to me that they were ready to conduct a coup d'etat. They were ready to move Barack Obama from office with military force. And then a few weeks later I got another call and said they were reconsidering.
You know why they were reconsidering? [audience calls out answers] Because they talked to Donald Trump, and Trump had agreed he would run, and they agreed that if he would run, they would conduct their coup d'etat as a legitimate process, rooting out the traitors within government.  And that pact between the military and Donald Trump has held, as we have been interpreting and watching, and Alex has been following QAnon.
 QAnon is military intelligence and close to Trump, and the intelligence we've getting, that we've explained on Infowars, really is a lot of the inside script.
While Corsi didn't name the generals or provide hard evidence for his startling claim, an examination of public comments by President Trump, QAnon and related political events do make Corsi's extraordinary claim very plausible.
It's important to note that Corsi's speech happened only a day after a tweet by President Trump featuring him with 20 senior U.S. military officials who dined with him the previous night: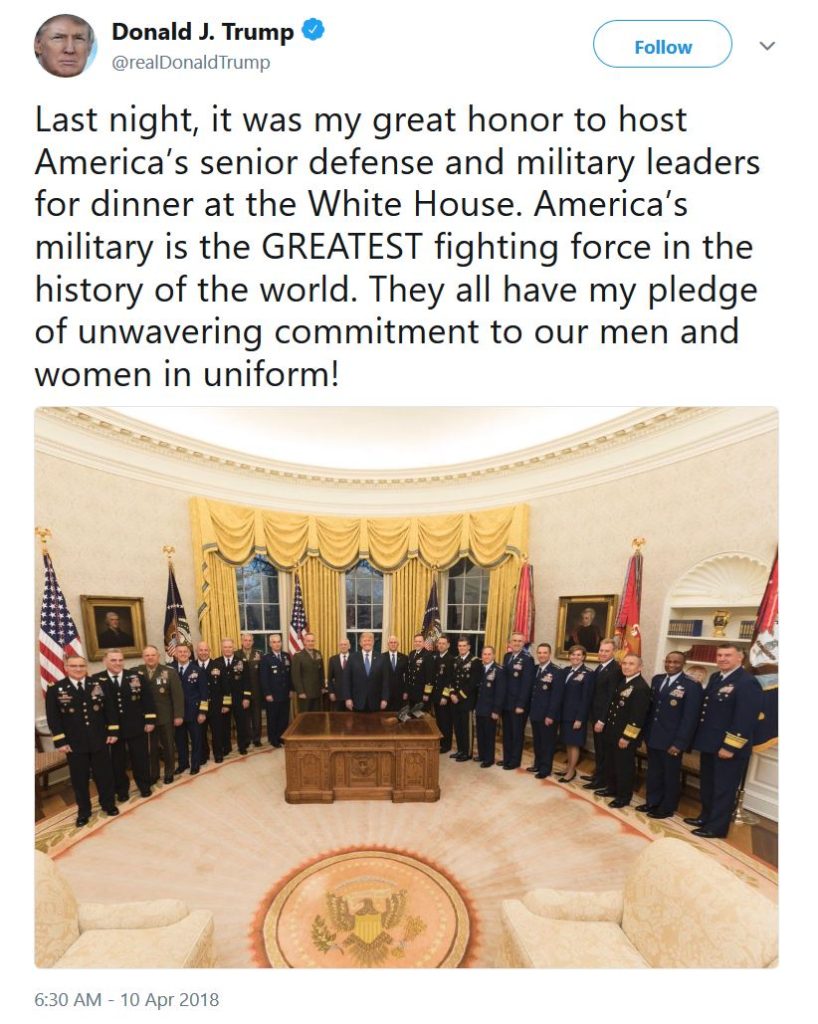 Only hours after Trump's tweet, QAnon posted a message commenting about the photo's significance: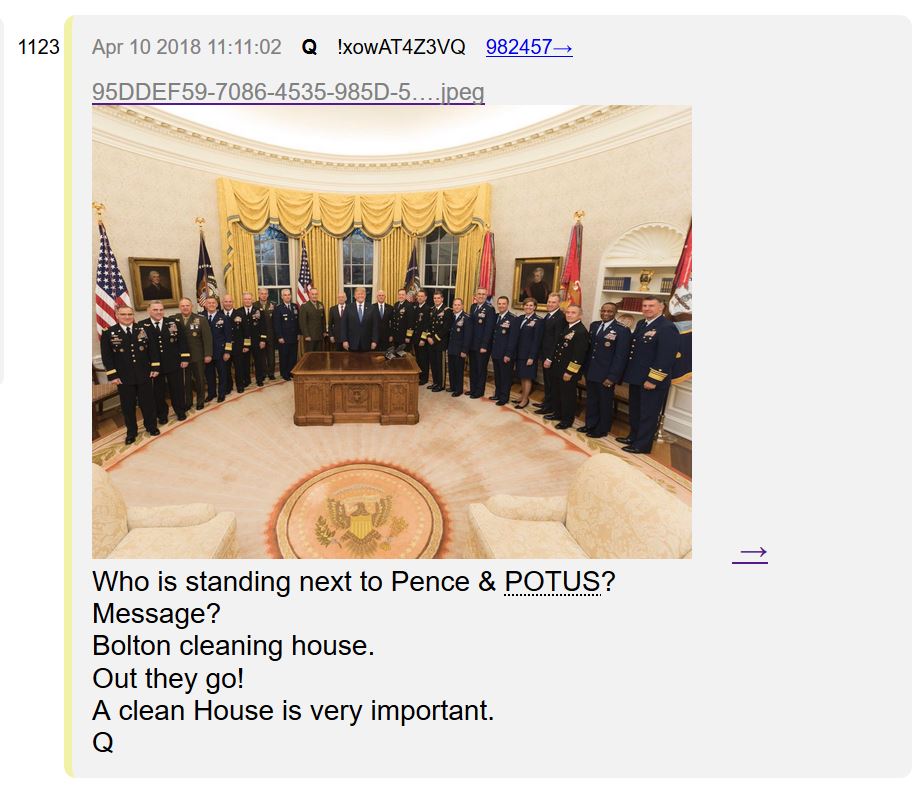 In the photo, the man next to Vice President Pence and Trump is Admiral Michael Rogers, the head of the National Security Agency. It was Rogers who travelled to Trump Tower on November 17, 2016, a week after the Presidential election, without the knowledge of his superiors in the Obama administration.
The next day, the Washington Post ran a story saying that senior Defense and Intelligence officials in the Obama administration were aghast at Roger's action:
In a move apparently unprecedented for a military officer, Rogers, without notifying superiors, traveled to New York to meet with Trump on Thursday at Trump Tower. That caused consternation at senior levels of the administration, according to the officials, who spoke on the condition of anonymity to discuss internal personnel matters.
The Washington Post went on to report that a recommendation had been previously made to President Obama to remove Rogers in October 2016 by James Clapper (Director of National Intelligence) and Ashton Carter (Secretary of Defense). This coincided with a FISA court approving a request made by President Obama for his administration to spy on Trump's campaign.
Given recent disclosures about FISA court orders approving the Obama administration spying on Trump, the timing suggests that Rogers had travelled to New York to warn Trump that the intelligence community were spying on him under the authority of a FISA court order. This is how one analyst explained the sequence of events:
NSA Director Admiral Mike Rogers didn't want to participate in the spying scheme (Clapper, Brennan, Etc.), which was the baseline for President Obama's post presidency efforts to undermine Donald Trump and keep Trump from digging into the Obama labyrinth underlying his remaining loyalists.  After the October spying operation went into effect, Rogers unknown loyalty was a risk to the Obama objective.  10 Days after the election Rogers travels to President-Elect Trump without notifying those who were involved in the intel scheme.

It would be fair to conclude that QAnon is acting with the approval or support of Admiral Rogers, and that intelligence data is being anonymously leaked to expose the extent of Deep State corruption.
Another interesting aspect of the photo tweeted by Trump showing him, Pence and Secretary of Defense, James Mattis, flanked by 20 uniformed military officers, is that 9 were on his right, and 11 on his left. Was this symbolism for the 911 event that is regarded by Corsi, Jones and many in the US Patriot community as a false flag event, orchestrated by corrupt Deep State officials that had manipulated both the Bush (43) and Obama administrations?
It's worth examining Corsi's claim that a group of generals were prepared to launch a military coup given the level of Deep State corruption and control prior to Trump choosing to run. Could this have been possible?
According to a November 2, 2017 post by QAnon, if Hillary Clinton had won the election or results were overturned in her favor, a military coup would indeed have occurred given her level of corruption:

As mentioned in my previous article, the Clintons' corruption began with Bill's term as Governor of the State of Arkansas, where he supported CIA drug running operations out of Mena, Arkansas. As investigative reporter Roger Morris discovered, there were many documents showing how the Clintons financially benefited, and even photos showing Bill using cocaine. This made it easy for the Deep State to manipulate Bill Clinton throughout his Presidency.
As Bill's Presidency was coming to an end, Hillary's rise to high political office was made possible, according to QAnon, by the CIA assassinating John F. Kennedy's Jr., who was a threat to her plan to run for New York's open US Senate seat in the November 2000 election.

If Clinton had indeed been helped in this sinister way by the Deep State, it is easy to understand how important she was to their future plans, and how deeply compromised she was.
These are only some of the "corrupt and dirty" events mentioned by QAnon, which the Clintons were deeply involved in, all of which facilitated Deep State power.
As to Corsi's claim that military intelligence had recruited Trump to run and thereby prevent a Clinton victory through a rigged election, here is what QAnon had to say on the topic back on October 31, 2017: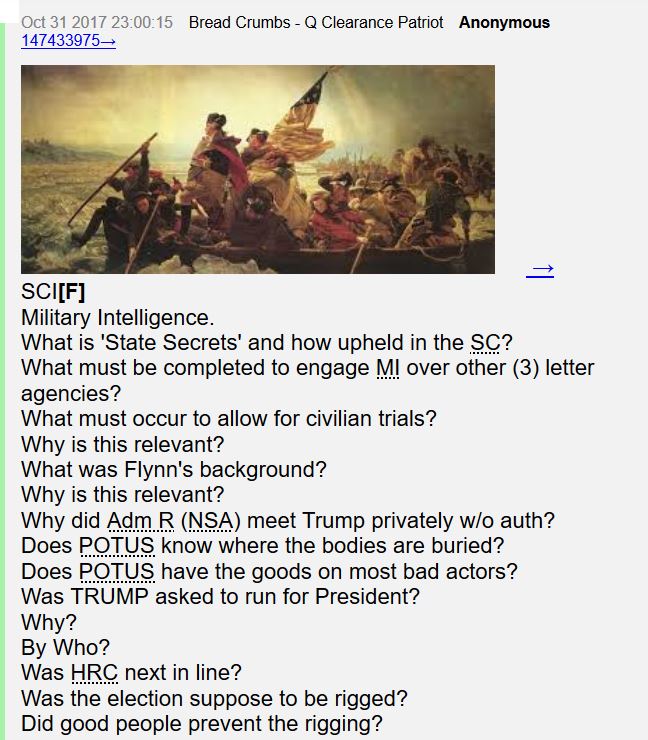 Corsi did not elaborate on the three generals that approached him in 2015, but it would be a fair to guess that Lt. General Michael Flynn was involved. As a former head of the Defense Intelligence Agency, Flynn would have been aware of the deep corruption underscoring the Clintons and the dirty tricks played by the CIA in support of the Deep State.
Flynn famously led chants of "lock her up" at the 2016 Republican convention when discussing Hillary Clinton.
Flynn's appointment as Trump's National Security Advisor, and quick departure less than a month later, appears to have been a major setback for the Military Intelligence community secretly backing the Trump administration. On October 28, 2017, QAnon first began releasing information on message boards. Presumably, this was done to enlist public support in exposing and taking action against corrupt public officials impeding Trump's policies and the Military Intelligence community's plans.
The level of information on Deep State control and corruption released by QAnon in over 1100 posts to date is astounding in its scope and impact.   A number of false flag events have been revealed, the most significant being a January 13, 2018 nuclear ballistic missile attack against Hawaii, which was intended to start a major regional war.
The knowledge that these revelations are coming from senior military intelligence officials working closely with the Trump Administration to overcome the corrupting power and influence of the Deep State is highly significant.
One can only guess what will happen if the military intelligence community succeeds in its plans to overcome the corruption and dirty tricks of the Deep State. While I don't personally support many of Trump's policies that have a right wing, pro-business, conservative agenda that guts many necessary welfare programs, I nevertheless recognize many positive benefits from dismantling the Deep State.
Exposing and removing corrupt Deep State officials will open the door to many life changing technologies that have been suppressed for decades, to finally be released to the public. It appears that this is what Trump was referring to during his Inauguration speech on January 20, 2017:
We stand at the birth of a new millennium, ready to unlock the mysteries of space, to free the earth from the miseries of disease, and to harness the energies, industries and technologies of tomorrow.
These technologies are so advanced that a Star Trek-like future is well within the reach of all of us. This merits keeping, at the very least, an open mind about the Trump administration, what Corsi was told about a possible coup d'etat and the 2016 election, and what QAnon is revealing to us.
© Michael E. Salla, Ph.D. Copyright Notice
Further Reading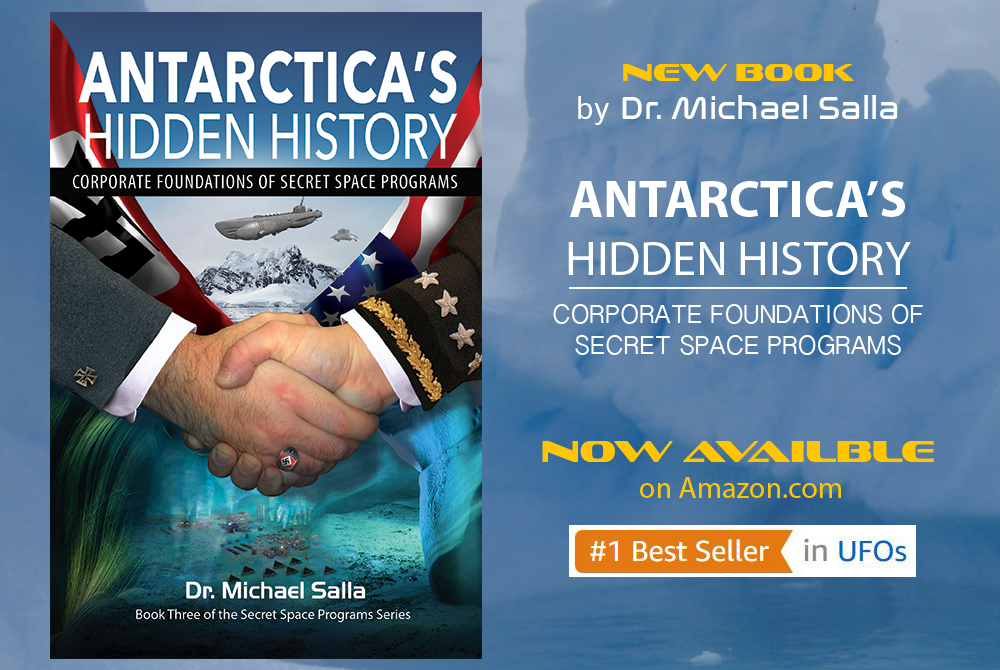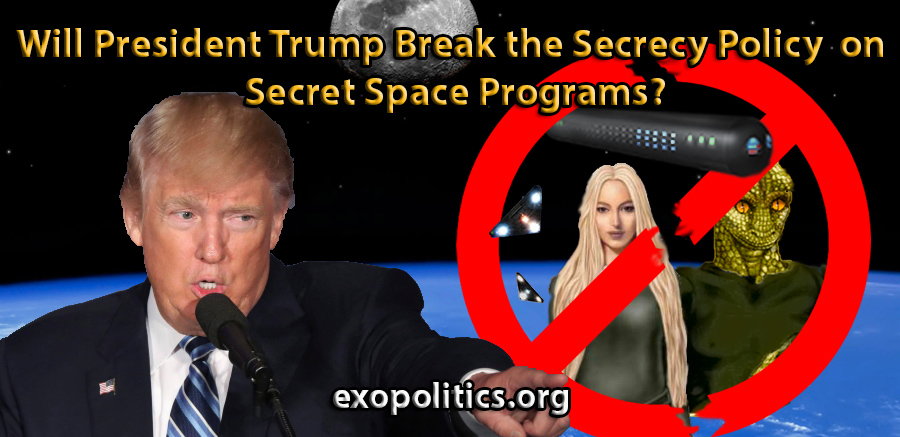 On January 20, 2017, Donald Trump will be inaugurated as the 45th President of the United States. Among the most important policy questions he will be facing is how to respond to classified briefings about secret space programs and extraterrestrial life. Will President Trump maintain the status quo of secrecy on the grounds of national security, or will he support official disclosure as complimentary to his vision to "Make America Great Again"?
One of the perennial questions confronting UFO and exopolitics researchers is, "how much are U.S. Presidents briefed about classified programs concerning secret space programs and extraterrestrial life?" According to some experts, U.S. Presidents are told relatively little, and run into institutional roadblocks when they explore alternative routes to the truth.
It is well known for example that President Bill Clinton asked his close personal friend, Webster Hubbell to get answers to two questions:
If I put you over there in justice I want you to find the answer to two questions for me: One, who killed JFK. And two, are there UFOs.
There is no reason to doubt the accuracy of Hubbell's recollections. This suggests that soon after being elected President in November 1992, Clinton had concluded he was being given the institutional run-around in learning the truth.
In contrast, Canadian researcher, Grant Cameron, states that U.S. Presidents are told quite a lot. If so, this might explain references by President Obama during an interview on Jimmy Kimmel Live, apparently in jest, that aliens would not allow him to disclose the truth.

The aliens won't let it happen. You'd reveal all their secrets. They exercise strict control over us.

According to Andy Basiago and three other purported first-hand witnesses, Obama had learned as early as 1980 about a covert CIA program involving jump room teleportation technologies that allowed covert missions to Mars. If true, that would mean that Obama, upon becoming President, already knew about one secret space program, but chose not to reveal this either out of national security concerns, or alien threats.
Sometime after his January 20 inauguration, President Trump will receive a classified briefing on the extraterrestrial topic. Regardless of how extensive the briefing(s) will be, he will have to make a decision about what to do with the information. Will he decide that national security arguments used to maintain the decades-long secrecy policy are compelling and worth preserving, or will he adopt a new approach based on his desire to restore high paying manufacturing jobs to the American people.
According to secret Space Program whistleblower, Corey Goode, Trump was quietly backed by a consortium of institutional actors, the "Alliance", wanting to disclose the truth about secret space programs and extraterrestrial life.
Donald Trump is indeed being backed by the Alliance. Trump is certainly not entering into this battle free from his own baggage. He has said and done a variety of things that are upsetting to people. He does not, however, represent a group that actively seeks to kill billions of people by starting World War III as soon as possible.

Goode's information suggests that key figures and leaders in the Alliance have decided that Trump will back disclosure initiatives since he is unlikely to submit to being pressured or blackmailed into remaining silent. Trump's background in large scale real estate construction projects predisposes him to supporting disclosure of classified technologies that help restore the industrial manufacturing capacity of the U.S.
Trump's desire to create American jobs through resurrecting its latent manufacturing capacity, is going to find a perfect outlet when he is briefed about the advanced technologies used in secret space programs. Arguments to continue keeping these technologies hidden due to national security concerns are unlikely to persuade him. Threats made against him are also doubtful to succeed given his success in warding off all kinds of negative publicity and attacks during the Presidential campaign.
Consequently, this leads to the question of what kind of disclosure will Trump support. Will it be "full disclosure" or a form of "limited disclosure"?
Goode states that in late 2016, agreements had been reached to go forward with a limited disclosure initiative which would reveal the existence of the U.S. Air Force based secret space program involving two Earth orbiting stealth space stations, and antigravity vehicles used to service these such as the TR-3B.

During the 2016 Presidential campaign, Wikileaks released emails by John Podesta, Hillary Clinton's Campaign Chair, which revealed that two retired U.S. Air Force Generals and the head of Lockheed's Skunkworks, are part of a group of ten senior advisors working directly with Rock Star, Tom DeLonge. They are backing DeLonge's disclosure initiative which he describes in his co-authored book, Sekret Machines.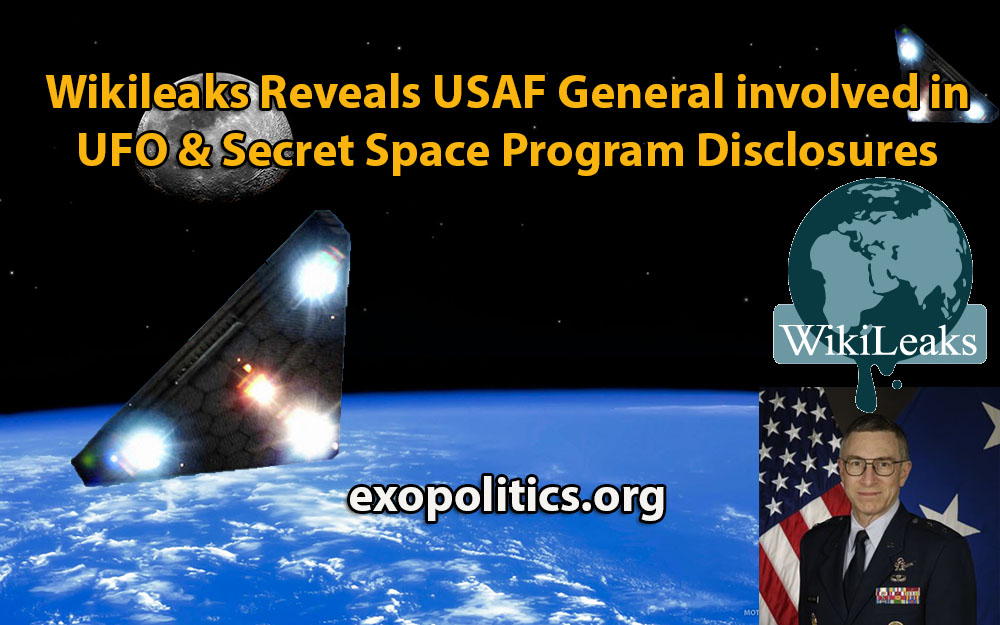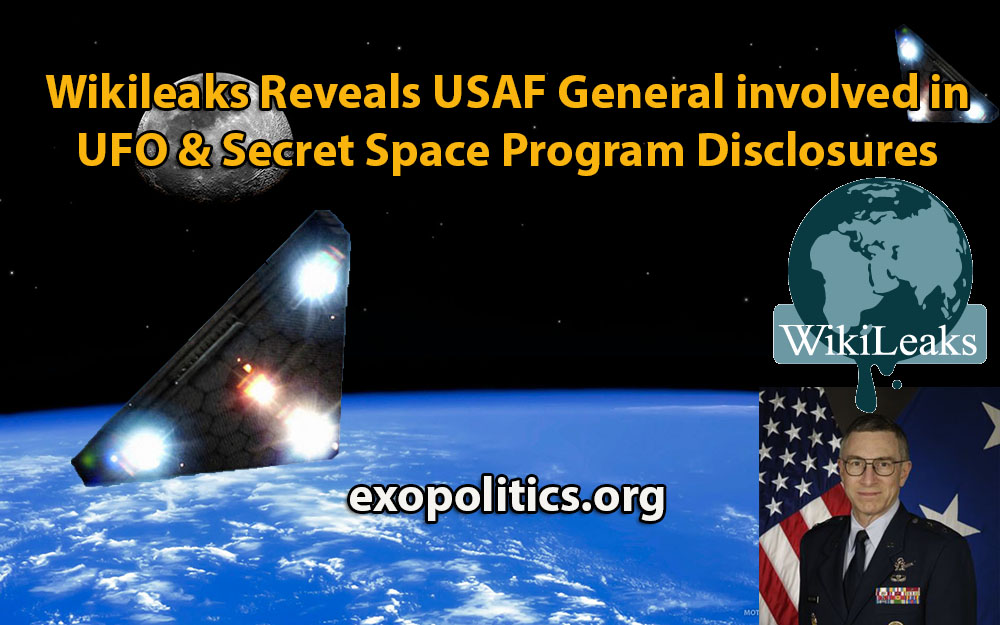 In an extensive two part book review of Sekret Machines (see here and here), I have shown that the information DeLonge has received is part of a limited disclosure initiative backed by the USAF. In short, DeLonge provides a sanitized version of the history of secret space programs in which the main national security threat from Russia, which possesses its own fleet of destructive antigravity spacecraft responsible for abductions, interference with U.S. nuclear weapons facilities, and UFO sightings.
I contrasted DeLonge's "limited disclosure" initiative with a "full disclosure" initiative backed by the U.S. Navy, which is far more revealing of the full range of space assets secretly developed and deployed over the last six decades. Importantly, full disclosure covers nefarious activities, such as a space slave trade and the key individuals that made this trade possible.
In December 2015, retired aerospace engineer, William Tompkins, came forward to disclose how the U.S. Navy developed eight space battle groups, which were first deployed in the 1980's as part of a covert program called "Solar Warden".
According to Tompkins, a number of top Aerospace corporations played key roles in designing and developing kilometers long antigravity spacecraft used in Solar Warden. He says that the Navy's eight battlegroups are now antiquated and a new generation of 12 space battle groups is currently under development, and is expected to be deployed in the 2030's.
Upon learning the full extent of the USAF and US Navy secret space programs, and the existence of multiple extraterrestrial visitors, some of whom have reached agreements with elements of the Military Industrial Complex, Trump will be confronted with highly significant policy choices about how much and when to disclose. What can be predicted with certainty is that Trump will seek to strike a deal of some sort, and then move forward with his final policy.

Trump is a man with huge ambitions and has a reputation for getting his way, as is well illustrated through his successful Presidential campaign despite great opposition. On the other hand, there is a seven decades long secrecy policy that is deeply entrenched in the national security system.
This brings us to the paradox of what happens when an unstoppable force [Trump] meets an immovable object [secrecy]? There are certainly going to be fireworks, as we are already witnessing in the run to Trump's January 20 inauguration. My best guess is that Trump will stamp his name on an official disclosure policy on secret space programs and extraterrestrial life that results in massive scale industrial projects designed to "Make America Great Again".
© Michael E. Salla, Ph.D. Copyright Notice
Further Reading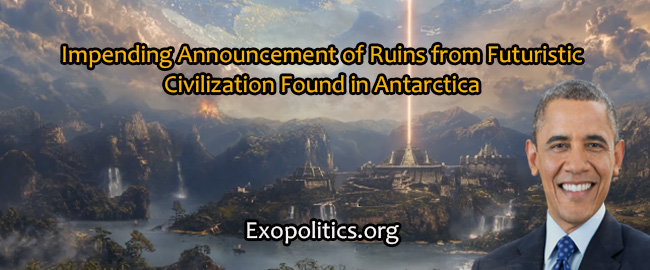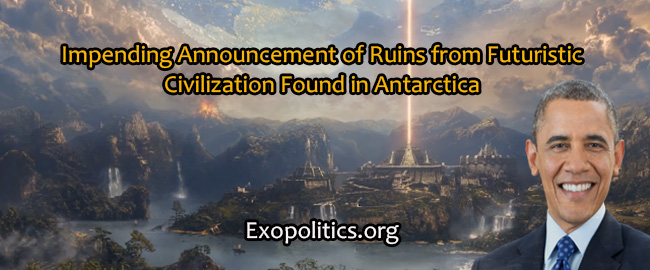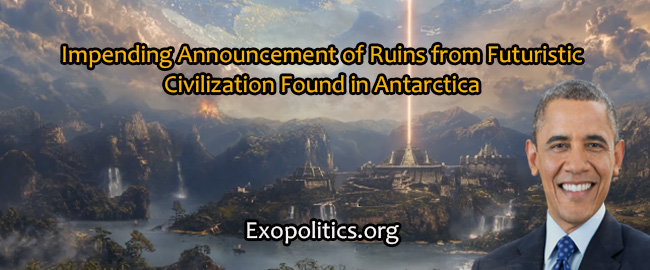 Many have been pondering the significance of recent visits to Antarctica by prominent officials and individuals offering puzzling explanations for their travel there. On November 9, U.S. Secretary of State, John Kerry, landed in Antarctica, during the peak of the U.S. Presidential Election. Why would the serving Secretary of State leave the U.S. at such a critical time just to observe global warming patterns in Antarctica?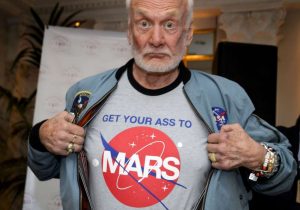 Even more mysterious was the December 1 medical evacuation of astronaut Buzz Aldrin out of Antarctica, after a surprise visit there, apparently to become "the oldest person to reach the South Pole at the age of 86."  He was seen along with companions wearing shirts with "Get Your Ass to Mars" logos. Was he there because he wanted to personally see the discovery of something that would make his dream of Mars colonization a reality?
Earlier on February 18, 2016, Russian Patriarch Kirill visited a Russian outpost in Antarctica, reportedly to see penguins. Just over a month later, on March 23, President Obama visited the southern Argentinian resort town of Bariloche, which is claimed to have been the secret hideaway of Adolf Hitler after World War II.  Bariloche became the unofficial capital of a breakaway German civilization based in Antarctica, and it is claimed that there is a hidden tunnel system from there to Antarctica. Also noteworthy, Presidents Eisenhower and Clinton have visited Bariloche.

The real reason for all these mysterious visits to Antarctica, and nearby locations such as Bariloche, is about to be revealed according to Secret Space Program whistleblower, Corey Goode. He says he was given time sensitive intelligence about an impending official announcement of the discovery of ruins from a futuristic civilization found in Antarctica.
Goode's data is about to be released according to a December 6 update by David Wilcock who conducts a highly popular interview series on Gaia TV with Goode titled Cosmic Disclosure. In an article titled, "ENDGAME: Disclosure and the Final Defeat of the Cabal," Wilcock writes:
Imagine if you woke up one day to see hyper-futuristic ruins being revealed in Antarctica. You're not seeing this on Ancient Aliens or on alternative news sites, but everywhere… on every major media platform there is.
Imagine journalists and military officials revealing these incredible findings—in videos shot on location. An event of this magnitude could be far more distracting than any 9/11-style catastrophe.
The power elite may well be hoping that such a civilization-defining "game changer" could make any and all preceding news stories irrelevant and forgotten.

Wilcock goes on to discuss what he believes is the ulterior motive for announcing such a monumental discovery at this time. He asserts it is designed to distract the mass public from recent Wikileaks revelations concerning "Pizzagate", and the involvement of high level officials in both the Clinton and Obama administrations in pedophilia rings which involve child sacrifice. Bill Clinton's former chief of staff, John Podesta, who was also Obama's Counselor and senior advisor, as well as heading the Hillary Clinton campaign, figures prominently in the Pizzagate scandal.
Wilcock's article, which is a prelude to an upcoming article about the impending Antarctica announcement, is quite detailed and well worth reading.
Wilcock says that the upcoming article was co-written with Goode. He describes what Goode's sources have revealed to him about the discovery in Antarctica, and plans to officially disclose this. Wilcock writes:
Corey Goode was made aware of the discovery of epic new Antarctic ruins approximately three months ago, and wasn't even authorized to tell David what was going on.  We have only just now been cleared to release this critical, time-sensitive data to the public.
While we await the release of the upcoming update by Goode and Wilcock to provide more details of what was discovered in Antarctica, it is worth pondering the implications of Secretary Kerry's recent visit there, if he did indeed witness such an incredible discovery.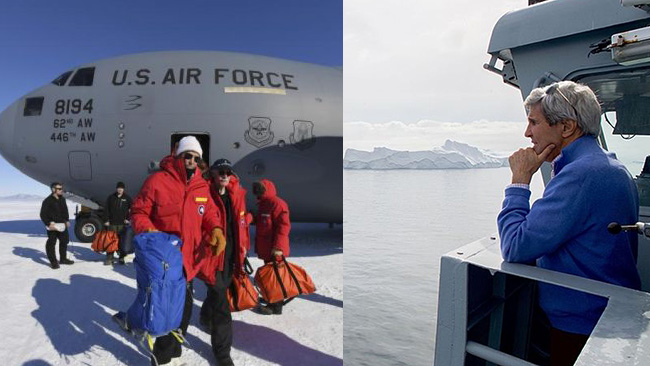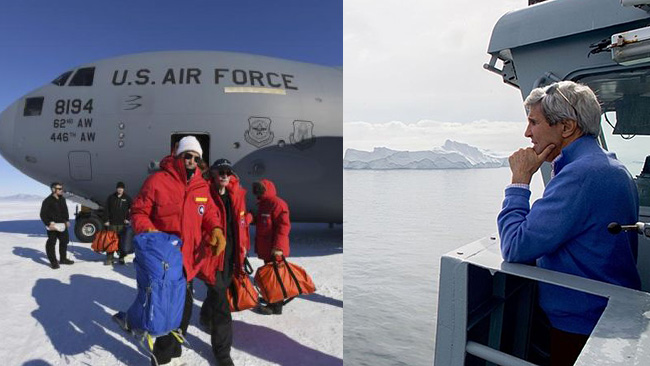 As the outgoing Secretary of State, Kerry is sure to want to release the full portent of what he saw in Antarctica before his term officially ends in January 20, 2016. President Obama will likewise want to move forward with such a world shattering announcement to put the icing on his legacy as the first African American U.S. President, whose policies ushered in a new era of prosperity.
Alternatively, as Wilcock suggests, the goal is to distract the American press and public away from damaging evidence of the Clinton and Obama administrations' involvement in pedophilia rings. This suggests that Podesta's involvement in a US Air Force initiative to promote "limited disclosure" about UFOs and extraterrestrial life, was likewise designed to serve as a distraction from even more damaging "full disclosure" revelations provided by Corey Goode, William Tompkins and others.
Positive economic trends continue to emerge in the U.S. in terms of dropping unemployment, rising stock markets, and renewed optimism about the state of the economy. When combined with an official announcement of a discovery of the ruins of an advanced civilization in Antarctica, Obama will give a tremendous boost to his legacy. This information is likely to be given wall-to-wall coverage by the mainstream news, thereby distracting the public from alternative media reports about information that tarnishes Obama's legacy.
Perhaps a further motivation for President Obama releasing news about such an Antarctica discovery would be to upstage the incoming Trump administration in terms of future bragging rights for who is to be ultimately credited for "Making America Great Again."
© Michael E. Salla, Ph.D. Copyright Notice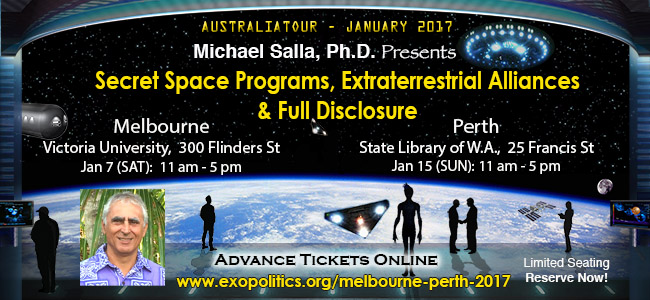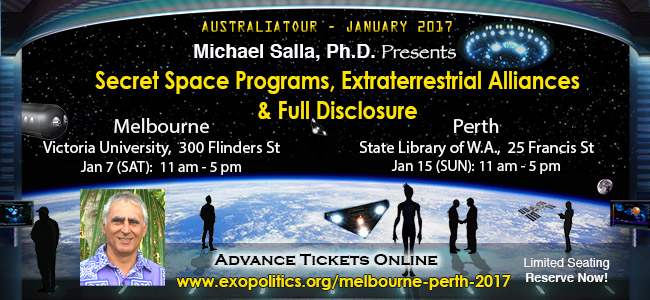 Further Reading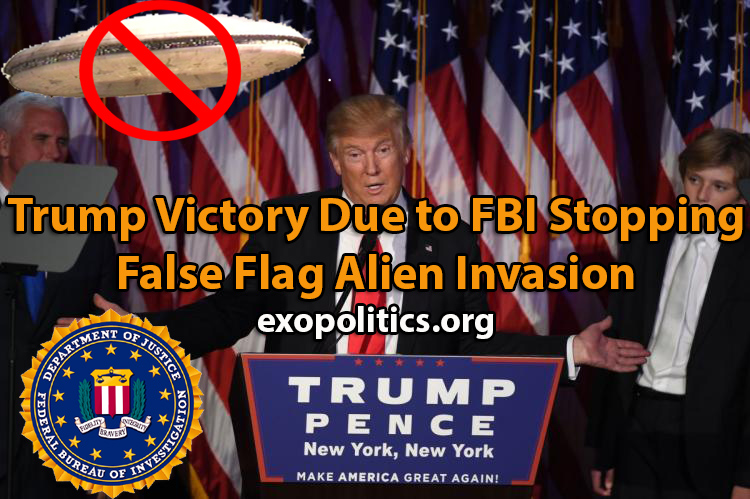 Donald Trump's win in last night's Presidential election caught most political pundits, media networks and Clinton supporters off guard. Many firmly believed polls that predicted a decisive Hillary Clinton victory. What the pundits and networks failed to do was factor in the true purpose behind FBI Director James Comey's puzzling intervention in the closing days of the Presidential campaign.
Undoubtedly, the most surprising event preceding the election was the October 28 letter by FBI Director Comey that Clinton was once again under federal investigation. The FBI had learned from a sexting investigation of disgraced congressman, Anthony Weiner, that one of his computers was shared with his wife, Huma Abedin, deputy chair of the Clinton campaign. It contained emails between Abedin, Clinton and others sent during her tenure as Secretary of State.
This was relevant to the FBI investigation of Clinton which had been closed earlier in July. Comey's letter to the heads of different Congressional Committees informing them of the re-opening, rocked the Clinton campaign and led to 11 days of the worst press experienced by Clinton during the entire campaign.
Then on November 6, only two days before the election, Comey once again called off the investigation, and lifted a cloud of uncertainty from the Clinton camp. Her supporters expressed a huge sigh of relief and believed the road to the White House was wide open once again.
Most were bewildered by Comey's puzzling behavior. Why did he say anything in the first place if there was nothing sufficiently incriminating in the Weiner/Abedin emails to change the earlier July decision to close the investigation?
Clinton supporters were angry at Comey, and believed he had blatantly interfered in the election to help the Trump campaign. Republicans, including Trump himself, criticized Comey for once again protecting Clinton.
Former Clinton insider, Larry Nichols, offered another criticism of Comey that helped understand Comey's puzzling behavior. Comey, according to Nichols, was running a psychological operation of misdirection, to help the Clinton campaign by steering the mainstream media away from the more damaging Wikileaks disclosures that were occurring.
While there is great appeal in Nichols explanation, certainly Alex Jones thought so, I don't believe Nichols is correct.
The damaging nature of many of the Wikileaks disclosures have been succinctly described by Abby Martin in a November  5 video (see below). While the Wikileaks disclosures certainly had damaging information about Clinton's campaign chair, John Podesta, they had little directly implicating Clinton herself. After all, Clinton could simply sack Podesta if she needed to do damage control in the closing days of her Presidential campaign.
Understanding the real purpose behind Comey's bizarre behavior requires analysis of a document leaked by Anonymous on October 18, which contained internal polling data by the Benenson Strategy Group conducted for the Clinton campaign. The document contained sensitive internal polls showing that the Clinton campaign was in deep trouble, and heading towards inevitable defeat.
The Benenson strategy document correctly predicted that Trump supporters would turn out in droves, and laid bare the fact that Clinton had only soft support among the American population. The document further pointed out that the public was aware that crowds had to be manufactured for Clinton's poorly attended campaign events.
The Benenson document recommended a number of salvage options designed to stop Trump supporters heading to the polls, and/or creating a national security crisis. The document began with a "non-recommended list" which contained a number of very alarming false flag scenarios involving a "Red Dawn" foreign invasion, a "Cobalt Rain" radiological attack, civil unrest, ZIKA virus, etc.
The recommended salvage option was "FIRESIGN" which uses advanced holographic technology to create a religious "awe effect." The plan was to use the FIRESIGN technology to create the illusion of an extraterrestrial invasion which would allow the creation of an emergency situation that would lead to cancelation of the Presidential election. President Obama would subsequently hand power directly over to Clinton once the alien invasion was put to a stop through the intervention of a secret space program run by the USAF.
Significantly, some of the Wikileaks emails contained information about two USAF Generals and the head of Lockheed Martin's Skunk works sharing information about this classified USAF program with the Clinton campaign through her campaign chair John Podesta.
In fact a meeting was held on January 25, 2016 revealing the existence of advanced technologies belonging to this USAF space program. This may be where the required information for staging a fake extraterrestrial invasion was acquired by the Clinton campaign, and passed on to the Benenson Strategy Group for developing a number of salvage strategies.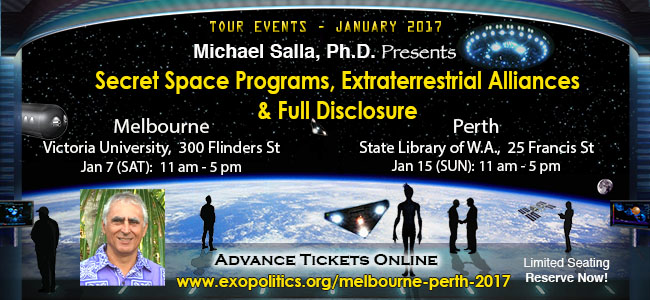 To date, the Benenson document has not been debunked, even though there are some anomalies found that raise questions over its legitimacy.
The success of the Trump campaign tells us that the projections in the document were correct after all. This suggests that the Benenson document contained factually accurate information including plans for false flag attacks.
So why did the false flag extraterrestrial invasion recommended by the Benenson document not go ahead in order to salvage the Clinton campaign? That's where Comey's October 28 announcement of the FBI reopening the investigation into Clinton becomes relevant.
Comey was sending the Clinton campaign a clear message – no dirty tricks for the election. Comey's letter was the proverbial shot across the bow of the Clinton campaign. No false flag event would be permitted. The FBI was going to use its very powerful resources to ensure a clean U.S. election.
The subsequent November 6 decision by Comey to once again close the investigation into the Clinton emails was likely due to an agreement being reached behind the scenes. The November 8 election would move forward without any manufactured national security crisis.
Consequently, Comey's intervention into the Presidential campaign put an end to plans for a false flag extraterrestrial invasion, and has led to a highly significant transfer of power to a political outsider, reviled by the political establishment of both major parties.  On January 20, 2017, President-elect Trump will gain the power to fully disclose the truth about classified projects involving secret space programs and extraterrestrial life.
© Michael E. Salla, Ph.D. Copyright Notice
Further Reading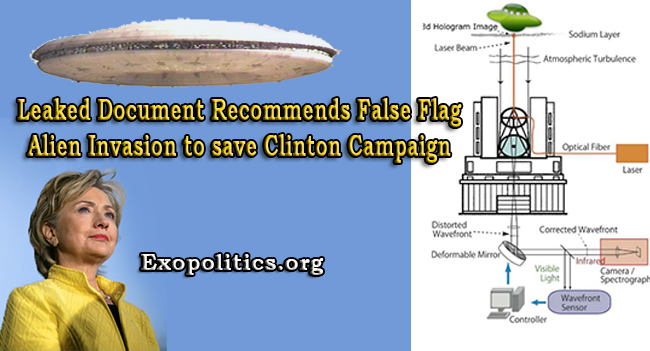 A document released by the Benenson Strategy Group on behalf of the Clinton Foundation reveals that Hillary's Presidential Campaign is in dire straits due to mistrust over mainstream media coverage and polling. The document analyses a number of salvage scenarios and recommends one called FIRESIGN which is a false flag extraterrestrial invasion using advanced holographic technology.
The seven page document is titled "Salvage Program" was written less than a week ago, and was leaked by Anonymous on October 18, in a video, and later made available through the Before Its News website which has a questionable reputation for releasing accurate information. So is the document genuine?
The Benenson Strategy Group website describes itself as a "strategic research consultancy that marries language expertise with innovative research to frame choices so that your brand is the only answer."

The document is headed by logos for both the Benenson Strategy Group and the Clinton Foundation.



Benenson Strategy Group has worked with the Clinton Foundation in the past to conduct internal polling, as Fox News reported in an October 16 story about Wikileaks. Joel Benenson, founder of the Group, is "currently the chief strategist for Hillary Clinton's 2016 presidential campaign." Here is what is further known about him:

the CEO of Benenson Strategy Group, a strategic consulting firm, and serves as a communications and polling advisor to the [Obama] White House. He has been a strategist for U.S. senators, governors and mayors, as well as Fortune 500 companies. He was a pollster for the DCCC in 2006, when the Democrats won back the majority in the House of Representatives. […] Benenson is also the Co-Founder of iModerate Research Technologies. In January 2015, Hillary Clinton hired Benenson and Robby Mook as strategists.
The Salvage Program document uses internal polling data from a survey of 2,021 adult Americans. It goes over the respective strengths and weaknesses of the Clinton and Trump Presidential Campaigns and paints a dire scenario for the Clinton campaign despite mainstream media fixation on allegations of Trump groping women.
The document begins its executive overview with the following:
At this point Donald Trump has both momentum and enthusiasm. Distrust in the mainstream media is blunting the impact of the collective polling narrative. As Election Day approaches, Hillary Clinton's favorable ratings have crashed to historic lows (12%) in non-partisans and Donald Trump is consolidating support (97% of LV Republican-identifying respondents are either enthusiastic or very enthusiastic about voting for Trump).
One of the most damming statements in the document is the following:
On a disturbing note, some 70% of Republican-leaning voters are aware bussed-in voting, false-face operations, and dead-man's-party registration drives. This may necessitate severe strategy changes for November.
This is supported by alternative media reports that Hillary's campaign rallies are poorly attended, and that its plausible that large numbers need to be bussed in order to provide the illusion of popular enthusiasm.
The document goes on to analyze a number of aspects of the internal polling data, most of which is bad news for the Clinton campaign. It concludes that "Trump Voters are Virtually Unstoppable," and that "The Public Has Lost Faith In Polling" which is viewed as a propaganda tool as the following extract shows: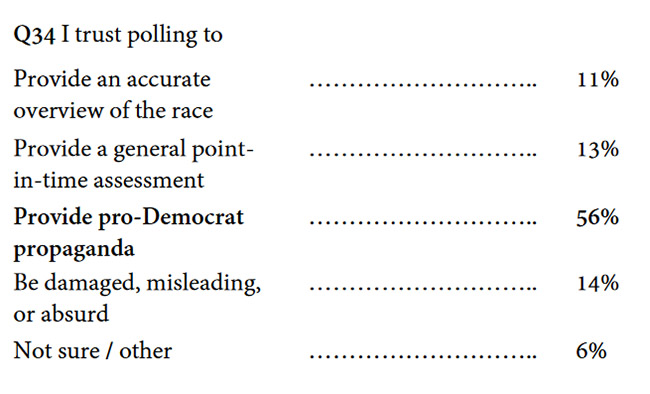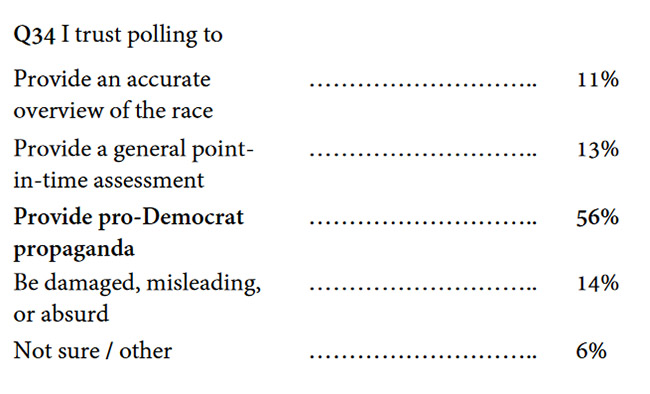 The Benenson document further reveals that mainstream liberal media has lost much legitimacy and that people are increasingly turning to social media for their information as the following diagram reveals: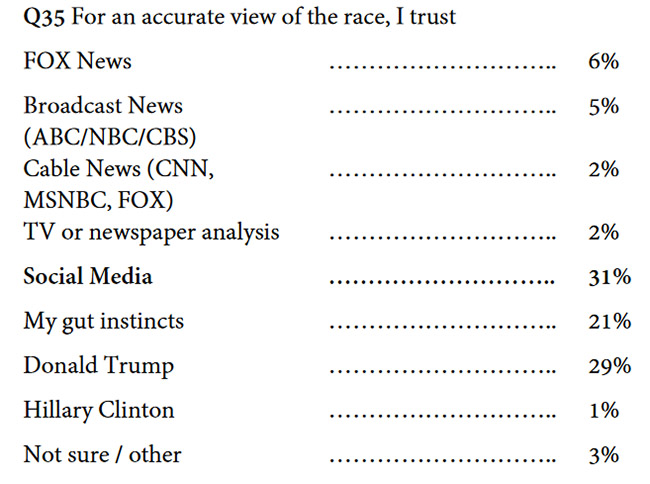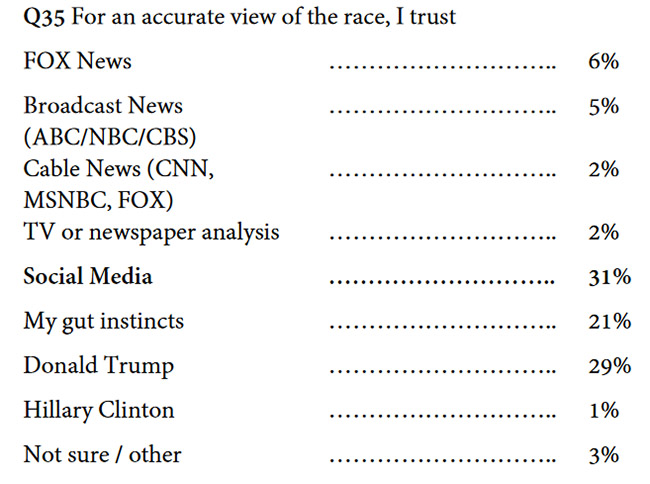 To remedy the situation the document analyses a number of "Salvage Options." It begins with a "non-recommended list" which contains a number of very alarming false flag scenarios involving a "Red Dawn" foreign invasion, a "Cobalt Rain" radiological attack, civil unrest, ZIKA virus, etc.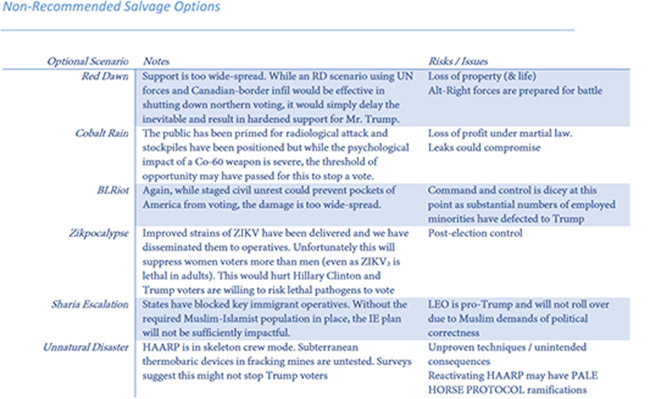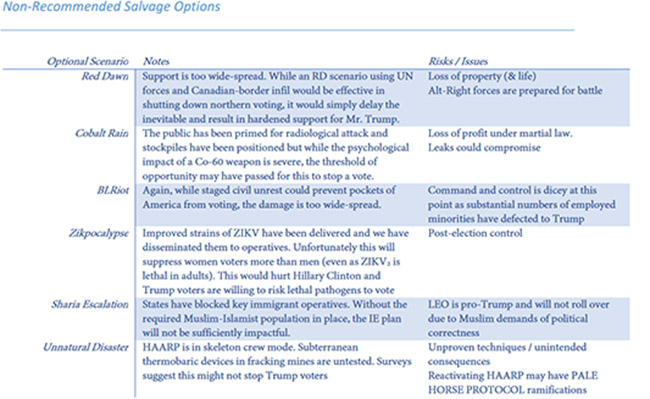 The recommended salvage option is FIRESIGN which uses holographic technology to create a religious "awe effect" as the following extract illustrates.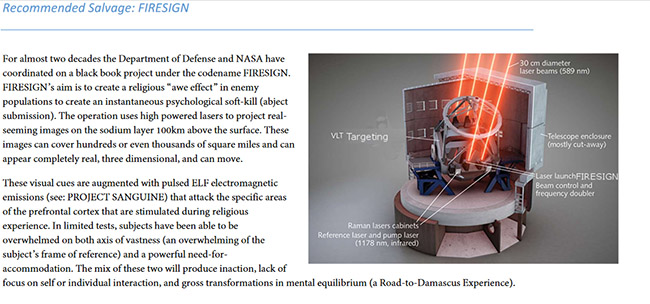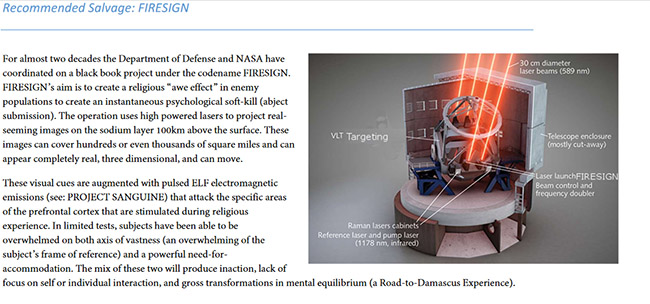 The recommended use of the FIRESIGN technology is to create the illusion of an extraterrestrial invasion which would allow the creation of an emergency situation that leads to a cancelation of the Presidential election. President Obama would subsequently hand power directly over to Hillary Clinton once the invasion is put to a stop.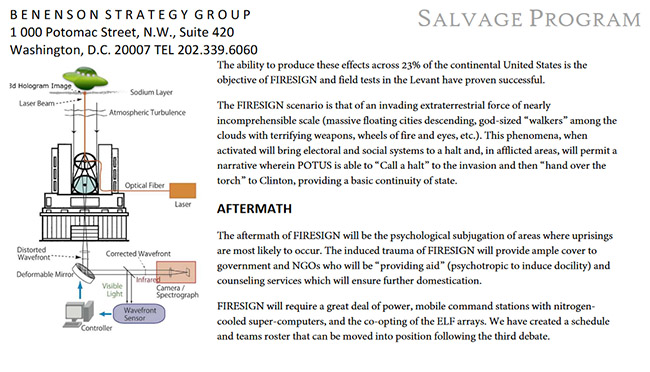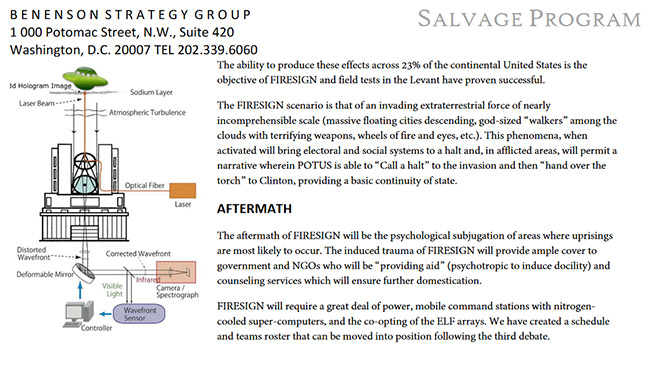 Many elements in the Salvage Program document appear to be based on an accurate analysis of prospects of the Clinton campaign succeeding as distrust in mainstream media and polling reaches unprecedented heights. The FIRESIGN technology has been well known to many UFO/exopolitics researchers who over several decades have described it as Project Blue Beam.
Nevertheless, there are a number of issues from the document that raise doubt about its authenticity according to the popular blog author, Kauilapele. These include the document using an old 2012 logo for the Berenson Strategic Group, and an incorrect street address being used for its Washington Office.These discrepancies may be indicative of a hoax, or included in order to introduce plausible deniability in case of any unintended leak.

While it is possible that the Salvage Program document is an elaborate hoax, it is also very possible that a majority of the information in it is genuine. If so, then Clinton's Presidential campaign may ultimately rely on a false flag extraterrestrial invasion, which might be a factor in why she and her campaign chair, John Podesta, have repeatedly raised the UFO issue during the election campaign.
© Michael E. Salla, Ph.D. Copyright Notice
[Update 10/22/16. The article was updated with the Youtube video of the original Anonymous release of the document with commentary, more information about the founder of the Benenson Strategy Group and a response to an article by the author Kauilapele where he expresses several doubts about the Salvage Program document]
Further Reading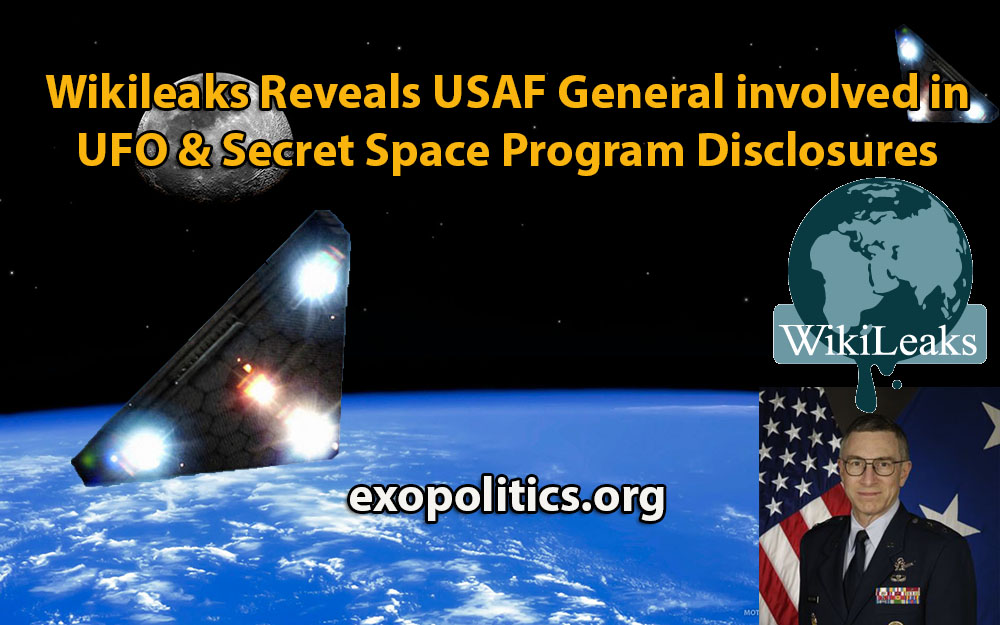 Among the latest Wikileaks email releases is one revealing the name of a US Air Force General involved in an initiative led by rockstar, Tom DeLonge, to reveal the truth about UFOs and secret space programs. This General ran a top USAF research facility out of Wright Patterson Air Force base up until 2013, and has been secretly helping DeLonge to put together a team of ten advisors to tackle the issue of how to reveal to the world the truth about UFOs and a secret space program run by the USAF using antigravity technologies.
The hacked email is addressed to John Podesta, chairman of the Hillary Clinton Presidential Campaign, and dated January 25th, 2016, with the subject header "General McCasland":
He mentioned he's a "skeptic", he's not. I've been working with him for four months. I just got done giving him a four hour presentation on the entire project a few weeks ago. Trust me, the advice is already been happening on how to do all this. He just has to say that out loud, but he is very, very aware – as he was in charge of all of the stuff. When Roswell crashed, they shipped it to the laboratory at Wright Patterson Air Force Base. General McCasland was in charge of that exact laboratory up to a couple years ago. He not only knows what I'm trying to achieve, he helped assemble my advisory team. He's a very important man.
Best, Tom DeLonge

Podesta had previously been named by DeLonge as an official working with him to reveal the truth about UFOs. Podesta's involvement in UFO disclosure initiatives is well documented, and involves his service in both the Clinton and Obama Presidential administrations.
Arguably, the most significant among Podesta's many statements about UFOs and government secrecy was his tweet, on the final day of his appointment as a Senior Advisor to President Obama, where he revealed:

In early 2016, DeLonge co-authored the book, Sekret Machines: Chasing Shadows, which is the first in a planned multimedia series of books and documentaries promising to blow the lid off of a cover up of secret space programs and the UFO phenomenon.
In Sekret Machines, DeLonge describes an unnamed General who had helped him to put together a team of advisors to promote disclosure:  
I've had meetings in mysterious rooms far out in the desert. I've had meetings at the highest levels of NASA. I have had conversations at research centers, think tanks, and even on the phone connected to secret facilities. I've been introduced to a man whom I call "the Scientist," and another whom I call "the General." And there are many more of whom I cannot say much about, but some have become true friends, and all have become close counselors. Each of these men has all held, or currently holds, the highest offices of the military and scientific elite. The point is, I have done it. I have assembled a team of men and women "in the know." And they all believe I am doing something of value, something worth their time and yours.[Sekret Machines – Kindle Locations 95-100]
With the Wikileaks release, we now know that the unnamed general is Major General William N. McCasland, who up until 2013 was the Commander of a top Air Force Research Laboratory.
Here is a brief biography of McCasland prior to his retirement:
Maj. Gen. William N. McCasland is the Commander, Air Force Research Laboratory, Wright-Patterson Air Force Base, Ohio. He is responsible for managing the Air Force's $2.2 billion science and technology program as well as additional customer funded research and development of $2.2 billion. He is also responsible for a global workforce of approximately 10,800 people in the laboratory's component technology directorates, 711th Human Performance Wing and the Air Force Office of Scientific Research.

McCasland's biography clearly establishes that he had the necessary scientific and technical background to be very familiar with the topic of advanced aerospace technologies related to the UFO phenomenon.
McCasland, however, is not the only USAF General supporting DeLonge.  On the back cover of Sekret Machines, an endorsement appears from another retired US Air Force General whose last military assignment was Special Assistant to the Commander, Air Force Space Command. Here is what Maj. General Michael Carey had to say:
Sekret Machines scratches at the surface of "who do" we trust with our classified technology – certainly our adversaries are aware of our undertakings, as they are doing the same, but what of our citizens, our politicians, even our own military. Tom DeLonge and A.J. Hartley create a convincing narrative describing the "cat and mouse" game that is timeless between strategic adversaries. It has existed under the sea, on the surface of the earth and in its skies, why wouldn't we believe it occurs in space. Our military leaders have been saying space is a contested environment for years now, perhaps we should believe them! -Maj. Gen. Michael J. Carey
With the Wikileaks release, we now know the name and background of the USAF General directly involved in DeLonge's disclosure initiative. The endorsement by Carey for Delonge's Sekret Machines confirms that at least two, and possibly more senior USAF officials are covertly supporting DeLonge's disclosure initiative.
In Sekret Machines, Tom DeLonge spends much time describing corporate involvement in developing a secret space program involving the USAF. According to him, a global consortium of corporations secretly funded the development of TR-3B 'flying triangles' using antigravity and torsion field principles adopted from experiments conducted by Nazi Germany, and later reverse engineered by the USAF.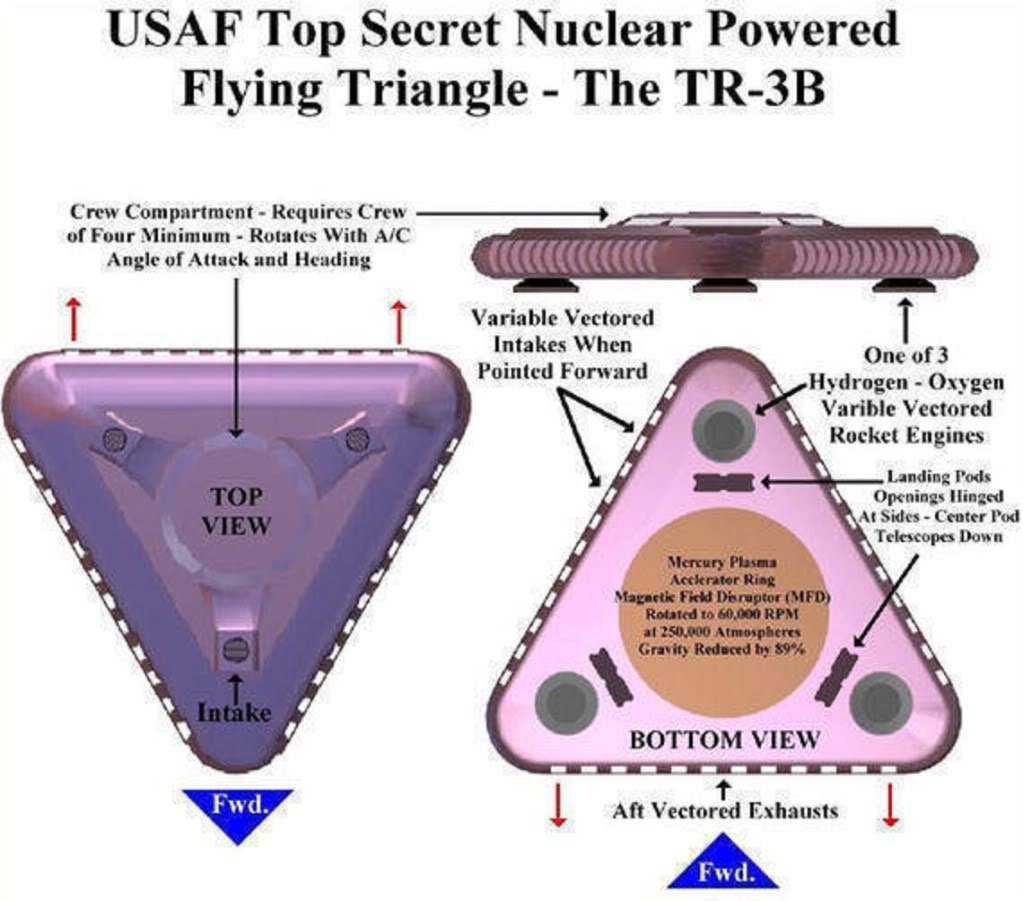 This resulted in the development of a squadron of TR-3B's based out of Area 51's highly secretive S-4 facility at Papoose Lake. The US Air Force Space Command and Defense Intelligence Agency is in charge of the TR-3B or 'Locust', operating out of S-4, according to Delonge, as relayed by his advisory team, which we now know includes McCasland.
Delonge went on to explain in Sekret Machines that the TR-3B is a combined U.S. military and corporate made aerospace vehicle capable of operating both near the Earth's surface as a conventional aircraft, and in near Earth orbit as a spacecraft. He described different sized Locust vehicles, with the largest being several hundred feet across.
In a prior article, the possibility was discussed of DeLonge being part of a "limited hangout" initiative where some, but not all aspects of multiple secret space programs are publicly revealed. It is plausible that McCasland, and the rest of the advisory team of ten senior corporate and military personnel advising DeLonge, may be part of a limited hangout operation to spill the beans on what has been happening at Area 51, in order to keep hidden even more important secret programs happening elsewhere.
© Michael E. Salla, Ph.D. Copyright Notice
Further Reading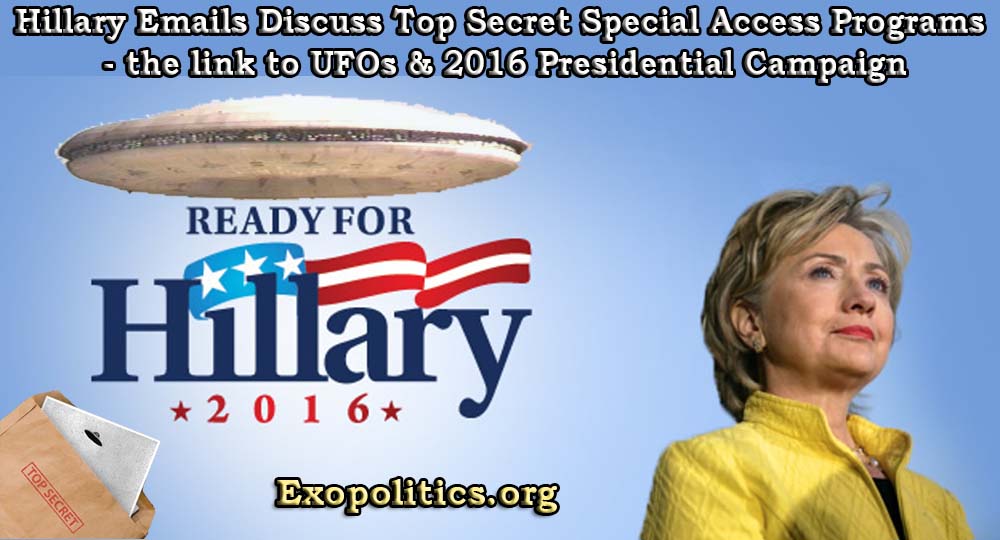 On May 25, an Inspector General Report by the US State Department revealed that Hillary Clinton had ignored rules for handling classified information by setting up a private email server. An earlier report, disclosed in a January 14, 2016, letter by the Intelligence Community Inspector General, confirmed that among official State Department emails found on Hillary Clinton's private server were a number dealing with highly classified Special Access Programs (SAPs).
Some SAPs have long been claimed by whistleblowers and researchers to involve the UFO phenomenon and extraterrestrial life. The Inspector General reports by the State Department and Intelligence Community make it plausible that among the email discussions stored on her private server were those dealing with the UFO phenomenon and alien life. Significantly, there is reason to believe that this access to SAP UFO files may have factored into her 2016 Presidential campaign strategy.
On the subject of UFOs, Hillary Clinton has received widespread coverage due to her recent comments that she would look into the UFO topic. First was her December 30, 2015, statement to a reporter where she said:
He [John Podesta] has made me personally pledge we are going to get the information out. One way or another. Maybe we could have, like, a task force to go to Area 51.

Clinton followed this up with a statement on Jimmy Kimmel Live in March 2016, where she discussed UFOs, or what she referred to now as "Unexplained Aerial Phenomenon" (UAP). She pledged to release any UFO/UAP files that were not classified for national security reasons:
I would like us to go into those files and hopefully make as much of that public as possible. If there's nothing there, let's tell people there's nothing there. If there is something there, unless it's a threat to national security, I think we ought to share it with the public.

Clinton's comments have sparked many mainstream media stories, and led to the White House Press Spokesman responding to a question from an Associated Press reporter about UFOs. Indeed, speculation has recently emerged that President Obama is on the verge of releasing UFO related information.

Clinton has long been a person of interest to UFO researchers due to documents released by the Freedom of Information Act confirming that she was involved in a private initiative by Laurence Rockefeller, a billionaire philanthropist, to have President Bill Clinton disclose the truth about UFOs.
FOIA documents confirm that Rockefeller helped the Clintons develop a strategy for having classified UFO files released through a more streamlined declassification process. Clinton's Executive Order 12958 made it possible for older national security files to be automatically subjected to review for declassification and eventually released to the public.
Among these were historic files either designated Sensitive Compartmented Information (SCI) and/or belonging to Special Access Programs (SAP's). SCI files and SAP's are very highly classified, requiring stringent security procedures for gaining access and/or discussing them.
Such files are generally regarded as "Above Top Secret," even though the security classification of a specific file in an SCI/SAP compartment may not be Top Secret, it nevertheless requires "need to know" and clearance to the compartment in question. The unauthorized disclosure of SCI/SAP information is viewed as among the most serious of national security breaches, which for Top Secret is defined as follows:
"Top Secret" shall be applied to information, the unauthorized disclosure of which reasonably could be expected to cause exceptionally grave damage to the national security that the original classification authority is able to identify or describe.

If successful, the Clinton Administration's initiative would have had dramatic global impact through the release of previously classified UFO files revealing vital information about the historic UFO phenomenon and extraterrestrial life. As veteran UFO researcher, Grant Cameron, has discussed at length, the Clinton Administration (1993-2001) was unsuccessful, and did not lead to the release of classified UFO files. 

Nevertheless, as Commander in Chief, President Clinton would very likely have been briefed to some extent about SCI information and SAP's that involved the UFO phenomenon. For example, the UFO phenomenon has been confirmed to involve the electronic interference of nuclear weapons control systems, which would have given Clinton "need to know" access to such information, in order to discharge his capacity as the ultimate decision maker when it came to authorizing their use. 

Any briefings involving "Unacknowledged" SAP's would have been verbal only, where President Clinton would not have been given permission to copy and keep in his possession any classified UFO documents he saw. Consequently, by law, President Clinton would have been unable to disclose anything he had seen or been told about UFO's during such briefings either to the public, his staff, and even the First Lady, Hillary.
Given Hillary Clinton's documented role in the Rockefeller UFO disclosure initiative as a pivotal figure, it is highly unlikely that Bill would not have shared something about what he had learned from any classified briefings about SCI files/SAP's dealing with UFOs.
However, whatever Bill privately shared with Hillary on the topic, it would not have been anything that she could ever publicly reveal or even hint at. She would have to feign total ignorance or risk legal reprisal from the national security apparatus, who would closely watch the former First Couple for any unauthorized disclosure of classified information after leaving office.
Hillary Clinton's elevation to the position of Secretary of State (2009-2013) once more provided a means for the Clintons to gain access to highly classified files that involved the UFO phenomenon. This time it would be Hillary who would have direct access, and subsequently privately share anything she had learned with Bill.
A January 14, 2016 letter by the Intelligence Community (IC) Inspector General I. Charles McCullough III confirms that Hillary was given access to SCI and/or SAP files: 

Furthermore, Hillary signed a Sensitive Compartmented Information Nondisclosure Agreement on January 12, 2009, which outlined her legal responsibilities. Importantly, her Nondisclosure Agreement reveals four SCI Control Systems, also described as SAP's, she would have access to.
One of the SCI Control Systems was TK (Talent Keyhole) which stands for the following according to Wikipedia:
TK covers space-based IMINT (Imagery intelligence), SIGINT (Signals intelligence), and MASINT (Measurement and signature intelligence) collection platforms; related processing and analysis techniques; and research, design, and operation of these platforms… The original TALENT compartment was created in the mid-1950s for the U-2. In 1960, it was broadened to cover all national aerial reconnaissance and the KEYHOLE compartment was created for satellite intelligence.TALENT KEYHOLE is now a top-level control system…

Given the advanced satellite technologies involved in monitoring the Earth and nearby space, it's fair to assume that at least some classified UFO information would have fallen under the rubric of TK SCI control system.
Consequently, Hillary's access to TK SCI information during her tenure as Secretary of State would have enabled her to get an idea of what was happening when it came to the issue of UFO's, at least as far as space satellite surveillance was concerned. This raises several critical questions when it comes to her use of a private email server, and deliberately ignoring State Department rules, as the May 25 Inspector General Report revealed.
First, did Hillary set up her private email server in the Clinton basement so she could share with Bill and key staffers highly classified files in order to develop a strategy on sensitive topics, including how to deal with SCI/SAP's involving UFOs? Key insights from the failed disclosure initiative during the Clinton Presidency could have led to her developing new strategies.
Second, how much does Hillary really know classified UFO files and the reality of extraterrestrial life? Her recent pledge to look into the phenomenon, after winning the 2016 Presidential Election, is shown to be disingenuous given what is likely to be a significant pool of information she has gained over at least two decades.

Third, do Hillary's recent public comments about UAPs/UFOs, along with those of her campaign chair John Podesta, suggest an agenda to make the UFO issue newsworthy due to forthcoming global developments on the issue? Rumors that President Obama is about to make some important UFO disclosures make it plausible that Hillary wants to get ahead on the UFO issue in a way that assists her Presidential campaign.

Finally, is Hillary Clinton a true champion of "full disclosure" of UFO information, who has been fighting the good fight since 1993? Or alternatively, are her recent statements part of a "limited disclosure" initiative where "national security" will be used as the trump card for hoodwinking the American and global public about what has been really happening concerning UFOs and extraterrestrial life?
While there is much public attention on the May 25 State Department Inspector General Report criticizing Hillary's disregard of rules for handling classified files, a January 14 letter discussing an earlier report conducted by the Intelligence Community Inspector General is much more significant. What clearly emerges from the earlier report is that Hillary's private email server contained SCI/SAP files which were accessed by those with a documented history in seeking access to classified UFO files.
Hillary's recent public statements confirm her readiness to make the UFO topic a Presidential campaign issue. It is therefore possible and likely that Hillary and her staff, along with Bill Clinton, discussed Special Access Programs involving UFOs, and this has to some extent influenced her Presidential campaign strategy.
© Michael E. Salla, Ph.D. Copyright Notice
Further Reading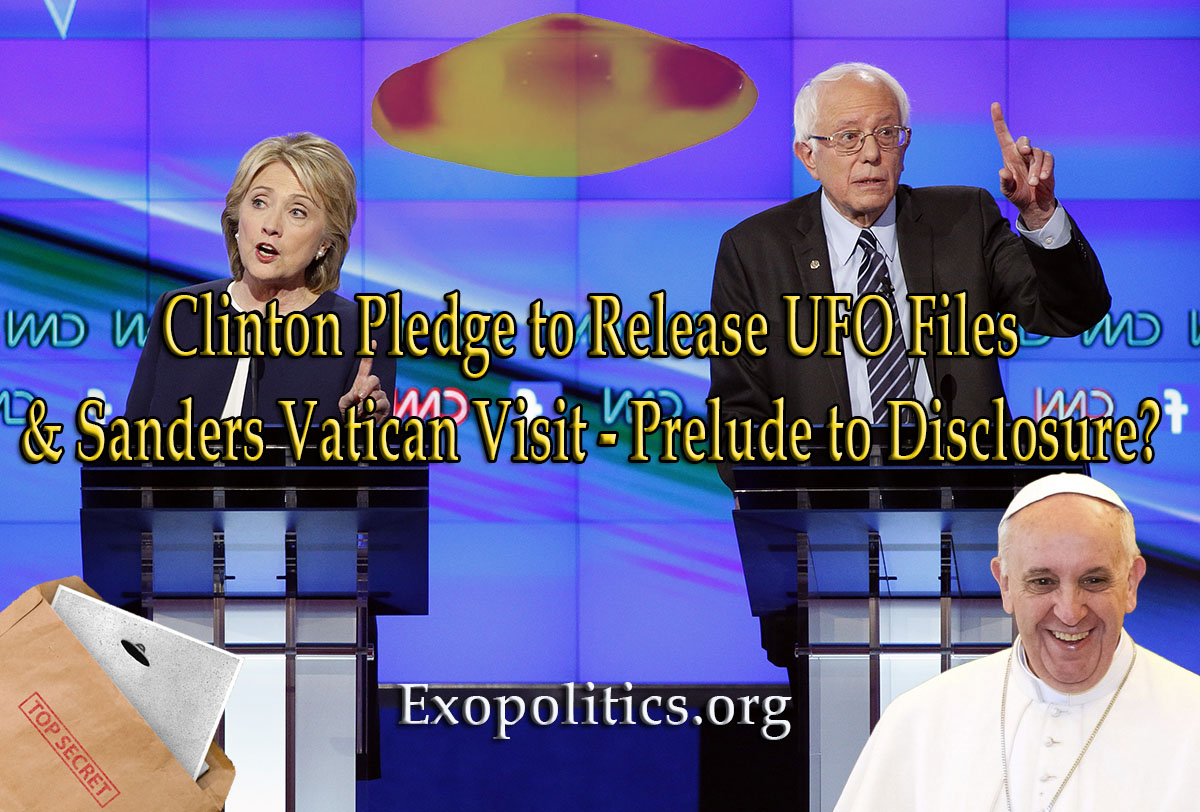 On April 8, one day after the Hillary Clinton campaign again raised the importance of the public learning the truth about classified UFO files, her chief rival, Senator Bernie Sanders, announced that he was accepting an invitation to give a speech at a Vatican Conference on April 15 at the Pontifical Academy of Sciences. This is the same venue that Vatican astronomers have organized events to discuss the implications of discovering extraterrestrial life.
While the two Presidential campaign announcements may appear at first to be unrelated, a closer inspection raises another possibility. The announcements are related to two different UFO disclosure narratives pursued by competing global elites with influence over the two major Democratic candidates.
In a CNN interview on April 7, Clinton's campaign chief, John Podesta, said:
The U.S. government could do a much better job in answering the quite legitimate questions that people have about what's going on with unidentified aerial phenomena.
Back on December 30, 2015, Hillary Clinton gave an interview referring to a pledge she had given to Podesta, to publicly release what the government knows about UFOs, and to launch an investigation of Area 51.
He has made me personally pledge we are going to get the information out," said Clinton. "One way or another. Maybe we could have, like, a task force to go to Area 51.
In his April 7 interview, Podesta revealed more about the pledge Clinton had given him:
What I've talked to the secretary about, and what she's said now in public, is that if she's elected president, when she gets into office, she'll ask for as many records as the United States federal government has to be declassified, and I think that's a commitment that she intends to keep and that I intend to hold her to.
If this all sounds like deja vous, it is because a Clinton Presidency has been down the UFO disclosure track before. It is a matter of public record that in January 1993, President Bill Clinton entrusted family friend, Webster Hubbell, over at the Justice Department with the job of finding out the answer to two questions: "One, who killed JFK. And two, are there UFOs?"
In his memoirs, Friends in High Places, Hubbell revealed that he failed to make any progress in finding the answers Clinton was seeking. Hubble was eventually jailed for overbilling clients while in private practice.  
Documents later released through the Freedom of Information Act confirm that Hillary Clinton had, in 1995, become the lead person in an initiative by Laurence Rockefeller, to have the Clinton administration release classified UFO files.
Significantly, Podesta's April 7 CNN appearance confirmed that a UFO disclosure initiative had occurred during his tenure with the Clinton administration:
Podesta, a former chief of staff to President Bill Clinton, said the 42nd president once "asked for some information about some of these things, and in particular, some information about what was going on at Area 51."
According to Dr. Steven Greer, Hillary nixed the UFO disclosure effort when it was decided that it would ruin her husband's 1996 re-election campaign. With the failure of the Rockefeller UFO disclosure initiative, Podesta and the rest of the Clinton administration focused on political survival in the face of the growing Monica Lewinsky scandal.
Podesta briefly returned to public office as White House Counselor to President Obama in 2014.  At the end of a one year term, he left in February 2015 to take charge of the Hillary Clinton Presidential Campaign. That's when he made his famous statement that he had once again failed to secure UFO disclosure:

Clearly, Podesta was suggesting that powerful forces had prevented UFO disclosure from happening under the Obama administration. Significantly, Obama himself went on air with Jimmy Kimmel and alluded to these powerful forces preventing disclosure, when he "joked" that aliens were controlling how much of the truth could be revealed.
Now, if we are to believe the narrative coming out from the current Clinton campaign, Hillary has pledged to make UFO disclosure a priority because Podesta has convinced her to do so. Given Podesta's central role in a future Clinton Administration disclosure initiative, what kind of UFO disclosure can we expect from Clinton and Podesta?
Podesta is a well-known fan of Chris Carter's X-Files, which was rebooted in 2016 with six new episodes. The main premise of the series relaunch was that classified UFO files were based on secret space programs that had been reverse engineered from the discovery of a crashed extraterrestrial craft.
The first episode of the series reboot aired on January 24 to an audience of more than 16 million. In it, Agent Mulder gave a lengthy monologue about a vast secret government conspiracy to hide the truth about extraterrestrial life, reverse engineered space craft, alien retroviruses, and the 911 false flag attack.
Podesta's long time fascination with the X-Files series suggests that the pilot episode for the new series lays a plausible foundation for a future UFO disclosure narrative, coming out of a new Clinton White House. The narrative is likely to focus on mysterious elite groups using advanced technologies in ways that deceive the world into believing aliens are behind the abduction phenomenon.
To promote such a UFO disclosure narrative as President, Clinton must first overcome the surging candidacy of Bernie Sanders.
On April 8, it was announced that Sanders had accepted an invitation from the Vatican to speak next week a conference on social, economic and environmental issue organized by the Pontifical Academy of Sciences. Controversy immediately arose with a Bloomberg News story over whether Sanders had been invited or had invited himself. In turns out that the invitation had come from a senior Vatican official and Chancellor of the Academy who had not informed its President.
The Pontifical Academy is no stranger to the issue of extraterrestrial life. Since November 2009, Vatican astronomers have played a prominent role in astrobiology conferences discussing the societal implications of the discovery of alien life, and how such a discovery would cause no problem with Catholic theology.
Pope Francis himself has made clear that he views the discovery of extraterrestrial life as an event that would not cause theological problems, even if it were realized that extraterrestrials, rather than "God," had played a direct role in creating humanity. On October 28, 2014, during a speech at the Pontifical Academy of Sciences, the Pope discussed the evolution of life, and the role of extraterrestrials, which he euphemistically referred to as "beings of the universe," as agents in God's evolutionary plan:
He [God] created beings and allowed them to develop according to the internal laws that he gave to each one, so that they were able to develop and to arrive and their fullness of being. He gave autonomy to the beings of the universe at the same time at which he assured them of his continuous presence, giving being to every reality. And so creation continued for centuries and centuries, millennia and millennia, until it became which we know today, precisely because God is not a demiurge or a magician, but the creator who gives being to all things.
There has been much more happening behind the scenes at the Vatican in terms of it preparing humanity for future announcements concerning the existence of extraterrestrial life. The Vatican was a sponsor of a UNICEF video that promotes tolerance for extraterrestrial life.
According to Tom Horn and Chris Putnam, authors of Exo-Vaticana, the Vatican plans to manipulate the issue of extraterrestrial life, in order to promote a new global religion based on an alien savior. Dr. Preston James has written, according to his insider sources, that the Vatican indeed has made contact with a group of extraterrestrials which could play such a role:
Some Vatican insiders have claimed that top Vatican Clerics have already established secret relationships and treaties with a certain alien ET group that presents itself as friendly to the human race and claims it can save it from the evil empire of the Bankster-owned and -controlled Hierarchy….
Dr. James concludes that the Vatican plans to lead a global disclosure initiative on extraterrestrial life:
From all indications so far, these coming disclosures will involve the top Clericals at the Vatican and will occur through the Catholic Church itself publicly …
The invitation to Bernie Sanders to give a speech at the Pontifical Academy of Sciences, suggests  Vatican insiders view Sanders as a more suitable candidate for disclosing what the Vatican, and other governments, want the general public to know about alien life and the UFO issue. It is very possible that Sanders will receive a confidential Vatican briefing on what it would like released to the world in the form of UFO disclosure, which focuses on extraterrestrial life, rather than advanced technologies.
Podesta's and Clinton's most recent public statements on the government releasing classified UFO files, and Sanders' speech next week at an upcoming Vatican conference,  suggests at least two UFO/alien disclosure narratives are being secretly developed by competing factions of global elites.
One faction, linked to the Rockefeller family, prefers to release information about advanced technologies related to the UFO phenomenon, which presumably would lead to disclosure of secret space programs, which have been in operation since the 1980's. On the other hand, another faction, closely associated with the Vatican, wishes to concentrate on the existence of extraterrestrial life, as a means of establishing a new global religion with alien elements. 
Classified UFO files, thanks to Clinton and Podesta's efforts, are slowly emerging as a campaign issue. Sanders likely exposure to disclosure related issues during his April 15 speech at the Vatican organized conference, raises the possibility that he in future will openly discuss the issue of extraterrestrial life during his campaign. The current trail of evidence suggests 2016 Presidential elections are shaping up to be a prelude to UFO disclosure, where the world learns some of the truth about extraterrestrial life, advanced technologies, and/or secret space programs.
© Michael E. Salla, Ph.D. Copyright Notice