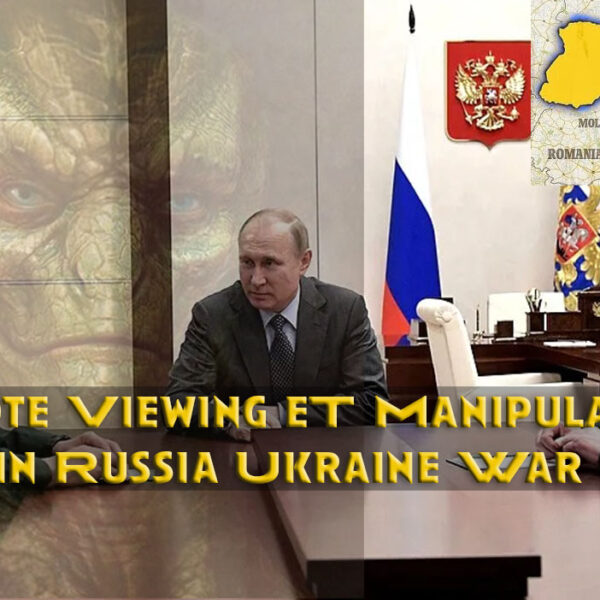 On April 16, the Farsight Institute released a remote viewing project concerning President Vladimir Putin and his inner circle over the decision to intervene in Ukraine militarily. The "Vladimir Putin and His Inner Circle" project involved four highly trained remote viewers who identified an extraterrestrial factor influencing President Putin and his chief advisors. According to Farsight Institute Director, Dr. Courtney Brown, the extraterrestrial interference is part of a plan to entice human leaders into new agreements that will perpetuate secrecy and enable future manipulation to occur without being exposed.
In his introduction to the remote viewing project, Dr. Brown stated:
This project started with the Russian invasion of Ukraine. It just did not seem rational in any logically oriented sense of the word. Ukraine was not threatening Russia, and the invasion cost Russia an enormous amount in terms of international prestige, its economy, and even its concern about NATO, a defense alliance that previously was struggling for a reason to exist. Quite a few people have even questioned if President Putin is mentally stable. Basically, the entire Ukrainian war thing has been confusing to just about everyone.
The question of whether Ukraine was genuinely threatening Russia through its plan to join NATO is a controversial one. Certainly, from the perspective of the mainstream news narratives, Ukraine was an innocent victim needlessly attacked by a more powerful neighbor that launched a brutal invasion. As I will show, however, the situation is far more complex than mainstream media has been telling us.
The remote viewing project showed the danger of world leaders being covertly influenced via 'neural engagement' by manipulative extraterrestrials who operate behind the scenes. In the concluding remarks to the remote viewing project, Dr. Brown pointed out the dangers of this scenario continuing indefinitely under the current global secrecy system, which effectively prevents more benevolent extraterrestrials from intervening on humanity's behalf to end such manipulation.
In the Vladimir Putin and his inner circle project, the four remote viewers­—Intysam, Aziz Brown, PrinCess Jeanee, and Shantae—were given a list comprising an alphanumeric target and several subjects. Only Dr. Brown knew that the target was "President Vladimir Putin of Russia at the moment when he makes the final decision to invade Ukraine in the year 2022."
Though conducting the sessions separately and independently, the remote viewing team showed remarkable consistency in identifying President Putin and his inner circle being influenced by different extraterrestrial entities through a form of "neural engagement." Essentially, the extraterrestrials were able, to varying extents, to get into the minds of Putin and his inner circle comprising Sergei Shoigu, Russia's Defense Minister, Alexander Bortnikov, Director of the Russian Federal Security Service (FSB/FSS), and Valery Gerasimov, chief of the General Staff.
The four remote viewers described how manipulative extraterrestrials had varying degrees of success depending on how stressed, worried, and agitated President Putin and his inner circle was at the time of Russia's "special military operation" into Ukraine. Only, Bortnikov largely escaped the influence of the manipulative extraterrestrials due to his calm demeanor and methodical approach to the issues at stake.
The results and consistency of the remote viewers' data regarding multiple subjects are remarkable, given that all the sessions were conducted using a blind scientific protocol. This protocol prevents "front loading," which Dr. Brown asserts will inevitably happen when remote viewers are made consciously aware of their subjects and targets. This blind scientific protocol is why Farsight's remote viewing sessions are an important tool for exopolitical research and analysis, which seeks to understand the big picture of extraterrestrial intervention on Earth.
In the remote viewing session, the four remote viewers focused on the state of mind of President Putin and his inner circle, and the influences on them in the final decision to approve Russia's military intervention. It was clear that extraterrestrials exploited these Russian leaders at a time of great tension and influenced them in their decision-making over the Ukraine crisis. Yet, we do not know what the different issues were and how these were evaluated for the final decision to intervene militarily.
Crucially, we don't know if a similar process was happening behind the scenes among Ukraine's political and military leaders, and among key NATO member states that acerbated tensions in the immediate period leading up to Russia's military intervention.
In his concluding comments, Dr. Brown raised several critical points:
So, at this point, it should be clear that our remote viewing data do suggest that there has been a lot of mental manipulation of Russian leadership by certain extraterrestrials. They seem to be investing a lot in this project, and the Ukrainian war seems to be something they are involved with. Now the question is, why? Why would certain extraterrestrials want to trigger a Russian invasion into Ukraine? Is that all there is, a war in one European country or is there something bigger going on?
Friends, if you have long followed Farsight's activities, you know that we have seen situations in which certain extraterrestrials have acted to manipulate human leadership by first creating a crisis and then by offering to solve the crisis for a price…
Those agreements open the door to establishing underground extraterrestrial bases that have been heavily involved in the massive and highly exploitive experiments involving what appears to have been millions of earth humans. Moreover, such agreements with extraterrestrials were not limited to those signed by US leadership only as seemingly suggested by others…  
You see there are other extraterrestrial groups who could intervene and stop the Reptilians and their allies from exploiting humanity if the secrecy ended and humans asked for assistance from those more positively oriented extraterrestrials. Those more positively oriented extraterrestrials demand that free will be respected and they require that humanity openly request the assistance. From their point of view, if a species volunteers to become a slave race that is OK as long as it is an act of free will, but all that is coming apart as more and more people become aware of the fraudulent agreements that were made between governmental leaders and the oppressive extraterrestrials.
Up to this point, I agree with the conclusions made by Dr. Brown in his evaluation of the remote viewing data. Indeed, repressive extraterrestrial groups do use neural engagement to control and manipulate human leaders. This manipulation has been happening for a long time, as observed by several researchers such as William Bramley in the Gods of Eden (1989) and Jim Marrs in Rule by Secrecy (2000).
This takes me to the Ukraine crisis and why extraterrestrials intervened, according to Dr. Brown:
So the oppressive extraterrestrials are certainly on the lookout for establishing a new set of agreements that would further delay any involvement by the more positively oriented extraterrestrials, and this leads us to our current crisis between Ukraine and Russia. You see, if the Russian leadership is being manipulated into conducting a senseless war against Ukraine, it is only a matter of time before the Russian military faces the possibility of defeat as the rest of the world acts to assist Ukraine in its defensive efforts.
The idea that Russia has embarked on a "senseless war against Ukraine" has been heavily promoted in mainstream media narratives, which widely assert Putin is another Hitler and is driven by similar despotic, even demonic, impulses. Indeed, the idea that negative extraterrestrials influenced President Putin and his inner circle to embark on an unjustified brutal invasion will be interpreted by many as a validation of this mainstream media narrative.
However, a deeper analysis of the Ukraine crisis suggests that this negative extraterrestrial influence extends far beyond President Putin and his inner circle, and at the very least, dates from events in Ukraine that occurred in early 2014.

The violent ousting of the democratically elected President, Viktor Yanukovich, who had attempted to bridge the gap between Ukraine's fervently nationalist west with the Russophile east, created the destructive political dynamic that led to civil war and the present-day crisis.
This destructive process is well described in the political analyses of well-informed East European history and politics scholars, such as Professors John Meiersheimer and Stephen Cohen. Both warned of the dangers of civil war if Ukraine was forced into making a stark binary choice between a future of integrating with the European Union and NATO, or establishing closer ties with the Russian Federation.
In addition, Oliver Stone's documentary, Ukraine on Fire, graphicly describes the political dynamics that got us to the present-day crisis, and the sinister forces operating behind the scenes to acerbate the conflict.
Prior to Russia's February 24, 2022, "special military operation," there is compelling evidence that the Ukrainian military was poised to retake the rebel Donbas region by a lightning military campaign. This was made feasible by the US and key NATO members encouraging Ukrainian leaders to take a hardline approach to the rebel-held areas, which had been promised political autonomy in the 2014 Minsk Accords—promises that were never implemented.
In short, the US/NATO encouraged Ukraine's leaders to avoid reaching any political solution with the rebel-held areas and instead seek a military solution to their Donbas problem. NATO provided necessary training and armaments to make it possible for Ukraine to pursue a military solution similar to Croatia's "Operation Storm" that successfully retook the Serb-held area of Krajina in August 1995.
In addition to the alarming news that Ukraine was contemplating restarting its nuclear weapons program, there was also the problem of multiple Pentagon-funded biolabs in Ukraine. After US officials initially denied that the Pentagon was funding biolabs, Victoria Nuland the Under Secretary of State for the Biden administration, confirmed that this was indeed happening, albeit for defensive purposes only. Both of these developments were naturally of great concern to President Putin and his inner circle.
Finally, there is also evidence that a "space ark" with incredibly advanced ancient technologies had been found in southern Ukraine in the Kherson Oblast, as several sources have stated. Indeed, Kherson was the first Ukrainian city taken by the Russian military. The addition of a space ark that NATO sought to control only worsened the already dangerous situation in Ukraine.
All the above factors predictably would have weighed heavily in the decision-making of President Putin and his Inner Circle, which led to their fateful decision to go ahead with the "special military operation," ostensibly for denazification and demilitarization of Ukraine.
At this point, I wish to state that I disagree with President Putin and his inner circle's decision to launch a "special military operation" against Ukraine. He gave what negative extraterrestrials and their Deep State minions desperately wanted and had taken years to contrive—a new war that would directly pit NATO and Russia against one another.  
Nevertheless, I understand why Vladimir Putin and his advisors felt cornered, stressed, vengeful, and agitated; and why they believed they had no other alternative to the choice that was made. This is where Farsight's remote viewing is most helpful, as it gives important answers to what qualitatively tipped the scales towards Russia's fateful military actions. In contrast, President Putin had previously been far more restrained in his relations with Ukraine, NATO, and the US.
This is where Dr. Brown's conclusion gives a long-time solution that prevents this scenario from playing out again or degenerating into a future nuclear war:
You may wonder why humans and particularly human national leadership, is so easily duped. The answer is simple, secrecy. As long as the extraterrestrial presence is kept secret from the larger population then it is possible for human leadership to be continually duped time after time using neural engagement when necessary. The only thing that can stop this from happening is disclosure.
The end of secrecy means disclosure. Spilling the beans, so to speak. This is all that matters, disclosure. What human leadership needs to understand is that what has been happening to Vladimir Putin and his inner circle is likely happening in various ways to all important human leadership. That is all human leaders, including all presidents and prime ministers, are not safe from manipulation. No one is safe.

I agree that full disclosure is vital to end extraterrestrials manipulating world leaders through neural engagement, contriving unnecessary wars, imposing exploitative agreements, and keeping the secrecy system in place for decades to come. Full disclosure will end such egregious practices and, most importantly, promote world peace and open contact with extraterrestrial visitors.
Video version of this article is on YouTube & Rumble
Audio Podcast on Apple, Spotify, or Google
© Michael E. Salla, Ph.D. Copyright Notice
To watch the Farsight Remote Viewing project on "Vladimir Putin and his Inner Circle," click here.
Related Articles/Podcasts
---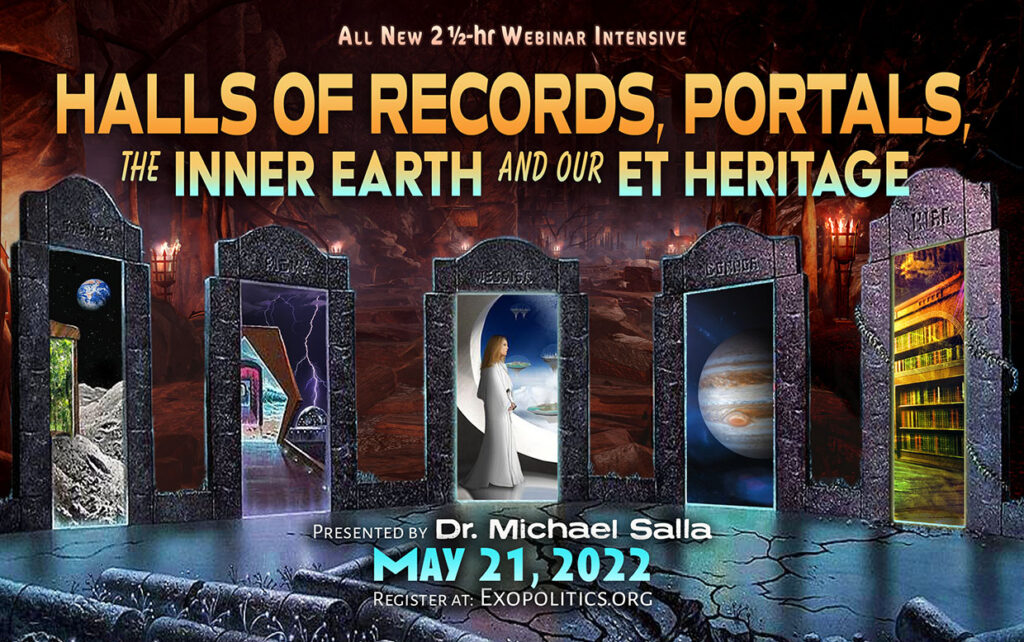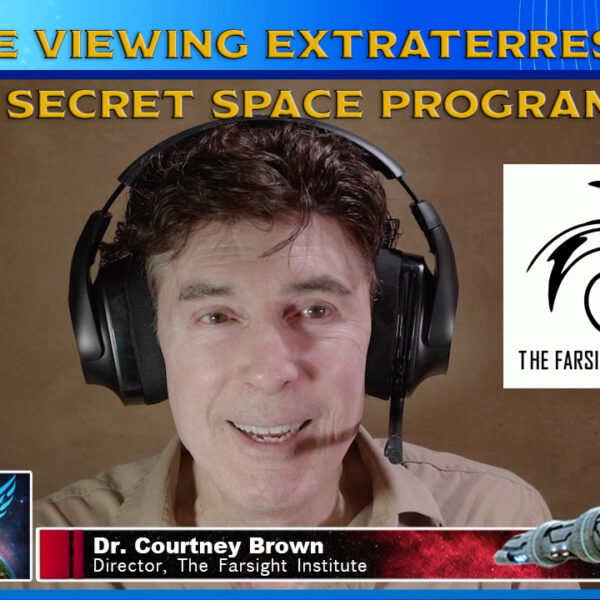 In this Exopolitics Today interview Dr. Courtney Brown, Director and Founder of the Farsight Institute discusses how remote viewing can be used as an intelligence gathering tool on extraterrestrial life and secret space programs. He answers questions about his academic background in political science, how he got interested in remote viewing, and some of its key principles and techniques involving quantum physics and temporal mechanics.
Dr. Brown warns about the dangers of front loading in remote viewing and how blind protocols are critical for preventing the subconscious mind influencing results. Importantly, he explains that when done correctly, remote viewing can be safely used on different types of extraterrestrial and spiritual entities, even those regarded as the most powerful.
Dr. Brown discusses a number of Celestial Projects conducted at Farsight including Presidential meetings with Extraterrestrials, Operation Highjump, and Ceres supersoldiers. He explains how he was surprised by remote viewing results that validated Tony Rodrigues experiences on Ceres and Mars as described in his book, Ceres Colony Cavalier.
This is an unforgettable interview where Dr. Michael Salla gets one of the world's leading practitioners of remote viewing to explain its benefits and transformative potential for our planet.
Audio Podcast on Apple, Spotify, or Google
The Farsight Institute Website is here.
Farsight's Streaming service is here.
Related Articles/Podcasts
Three Days to Dr Michael Salla's next Webinar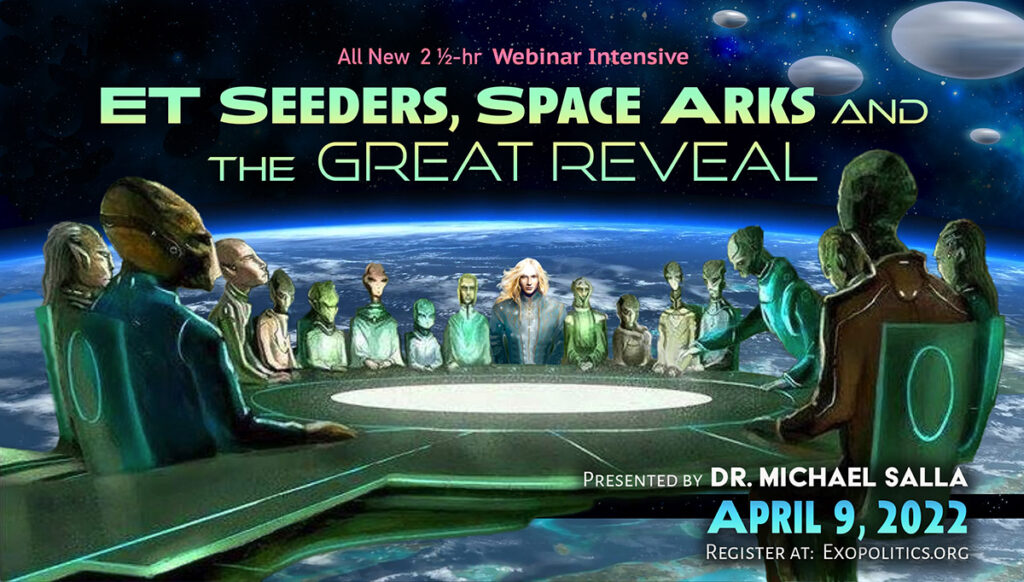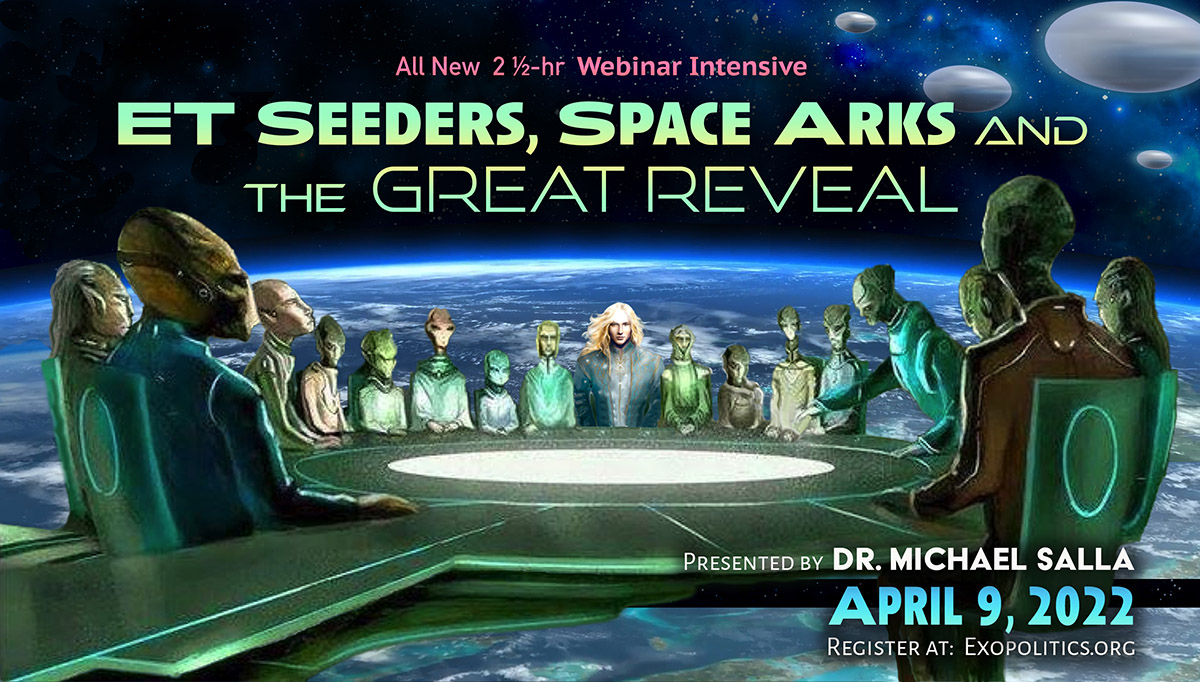 In early 2022, Tony Rodrigues published his book, Ceres Colony Cavalier, in which he described in detail his "20 and back" experiences as a slave, both on Mars as a military auxiliary fighting against indigenous insectoids and then serving with a German-led Dark Fleet. Rodrigues' book came to the attention of Dr. Courtney Brown, who subsequently organized a remote viewing project to investigate two of the book's core claims. The results greatly surprised Dr. Brown who concluded Rodrigues' testimony was accurate and carried much significance for full disclosure.
First, a brief overview of Rodrigues' story is appropriate. His traumatizing experiences began in 1981 when he was only nine years old and in 4th grade. Rodrigues was involuntarily recruited into a "twenty and back" program as punishment for something he did to one of his classroom peers. He publicly embarrassed the son of a high-level member of the Illuminati who used his influence to have Rodrigues covertly recruited. Rodrigues says that he was soon after abducted by three Gray aliens and one small Reptilian ET.
He was then genetically tested to determine what skills he possessed, which could be used in covert 'support' programs and eventually for one of the secret space programs once he got older. Ceres Colony Cavalier describes in detail how Rodrigues was subsequently manipulated, sexually abused, and humiliated as a slave used by different individuals and groups.
After briefly serving on Mars as a slave fighter for a mercenary military force protecting corporate bases from indigenous Martians—which included highly intelligent insectoids—Rodrigues says he was taken to Ceres, a planetoid in the asteroid belt. He worked at Ceres for 13 years with a German-led freighter crew that was part of the "Dark Fleet." For more about Rodrigues' experiences, check out my earlier interviews with him.
In setting up the remote viewing project to investigate Rodrigues' core claims, Dr. Brown emphasized that it would incorporate blind scientific protocols. None of the four expert remote viewers knew anything about the targets or subjects being investigated. Nor did Dr. Brown contact Rodrigues or communicate with him.  
The two targets for the remote viewing sessions were:   
Target 1: The interior of the asteroid Ceres.
Target 2: The interaction between the personality currently known as Tony Rodrigues and the "Bugs" on Mars as described on pages 185-193 in his book, Ceres Colony Cavalier.
In the first part of the remote viewing session, the four remote viewers also focused on several characters, locations, and ships identified in the book. The remote viewers were only given alphanumeric targets, locations, and subjects such as Target 1, Subject K, etc. Only Dr. Brown knew what the alphanumerics corresponded to in terms of the material discussed in Ceres Colony Cavalier.
After the four remote viewers, Intysam, Aziz Brown, Shantae, and PrinCess Jeanee shared the visuals of what they had seen concerning Target 1 (Base on Ceres) and the different subjects, locations, etc., Dr. Brown offered the following synopsis:  
OK, so it seems like the asteroid or planetoid known as Ceres has quite a bit of hollowed out interior. There is a base on the inside. Moreover, it seems like there is some support for the memories of Tony Rodrigues that suggests that the base has a number of extraterrestrial species, and that the administration of the base is done by former Europeans. Indeed, former German Nazis.
Apparently, pulling pieces together, these are the same Nazis that we reported on the Farsight mysteries project called Operation High Jump, a slave mercenary military force that was organized by the Reptilians. I understand that such Nazis or "IS-BEs' are just like anyone else, so they can be placed in new bodies as each body wears out. So having former Nazis still hanging about is entirely possible.  
This is remarkable independent corroboration for Tony Rodrigues' core claim that he spent 13 years serving on a merchant marine spacecraft operating out of a large underground base on the planetoid Ceres. Crucially, the remote viewing confirmed that the base and vessel were controlled by former German Nazis that operated a secret space program called the "Dark Fleet" that Rodrigues and others have described.
The second half of the Farsight remote viewing project focused on Rodrigues' claim of a military engagement with intelligent insectoids on Mars. Once again, the remote viewers were only given alphanumeric terms to investigate the target and subjects that Dr. Brown was seeking information about— e.g., Target 2, Subject A, etc.
After the four remote viewers described the military engagement on Mars with the insectoids in terms that closely matched what Rodrigues described in Ceres Colony Cavalier, here's what Dr. Brown concluded:
So what can we say to pull things together? From our point of view, our data seemed to indicate the activities, places, and events that are reported by Tony Rodrigues in his book Ceres Colony Cavalier actually exist and happened. Now let's be clear that we only checked two things: the existence of the base inside Ceres, and the activities on Mars reported by Mr. Rodrigues, but given the significance and centrality of those two things and his writings, it seems a reasonable bet to say that the rest of the things described in the book by Mr. Rodrigues have a high probability of being accurately described as well—which given what he says regarding some of those other things is more than a little bit bone-chilling. Nonetheless, it is what it is.
It is vital not to underestimate the importance of Dr. Brown's conclusion here. Independent investigation by multiple expert remote viewers had just confirmed Rodrigues' core claims about his involuntary service on Mars and Ceres. While this did not confirm the entire scope of Rodrigues' book, it did point to the high likelihood of its accuracy, especially when it came to claims of slave labor.
On the topic of slave labor, Dr. Brown went on to make some vital points to keep in mind:
Now it is natural to ask what can be done to stop these things from happening, these twenty-year long-term abductions into slavery, or at least to influence these things in a positive manner. There really is only one thing that can change all of this—disclosure. The negative or oppressive extraterrestrials can get away with all of this for one reason and one reason only. They are doing it secretly, apparently, with the consent of some human authorities. As long as the bulk of humanity sticks its head in the sand, they will keep doing it. Disclosure that is the single thing that is needed to pull humanity back into the drivers seat.
Dr. Brown is correct that only full disclosure can prevent this covert program that involves the exploitation of abducted individuals used as slaves from continuing in the future. Secrecy makes such exploitation possible, and only full transparency can bring about the end of such abusive practices. The rest of humanity needs to wake up to the big picture of how extraterrestrial life has long been interacting with us, led to the creation of multiple secret space programs, and how these battling entities involve both positive and negative factions.
In the meantime, I highly recommend reading Tony Rodrigues, Ceres Colony Cavalier, to understand what is happening to slaves in space and on Earth and watching Farsight's latest remote viewing project "Supersoldiers of Ceres."
A video version of this article is on YouTube & Rumble
Audio Podcast on Apple, Spotify, or Google
© Michael E. Salla, Ph.D. Copyright Notice
[Note: On April 9, I will be holding my next live webinar which focuses on the arrival of extraterrestrial Seeder races, activation of ancient arks in our solar system, and finally the Great Reveal which is about to happen. Click here or banner below for more info.]
Related Articles/Podcasts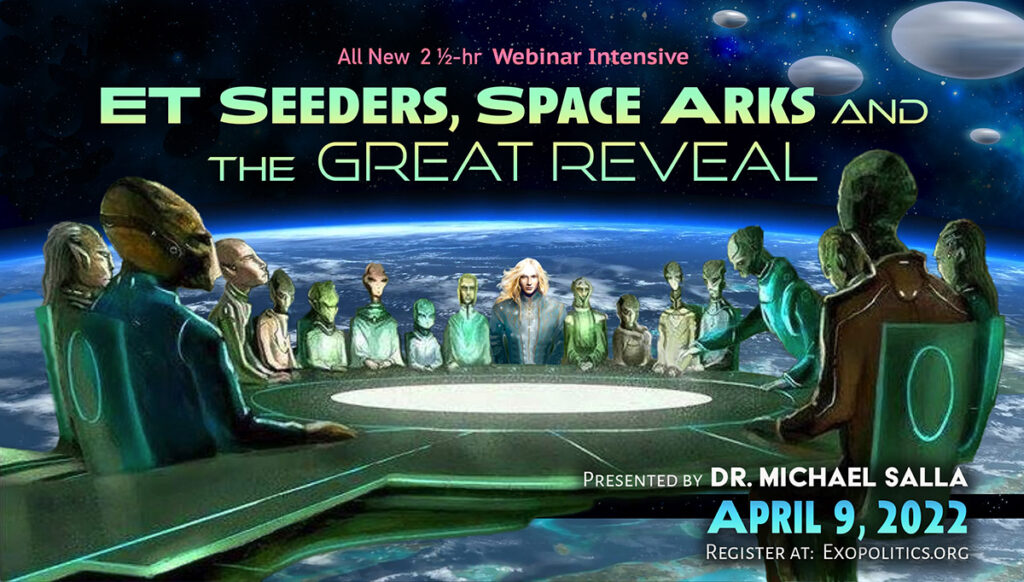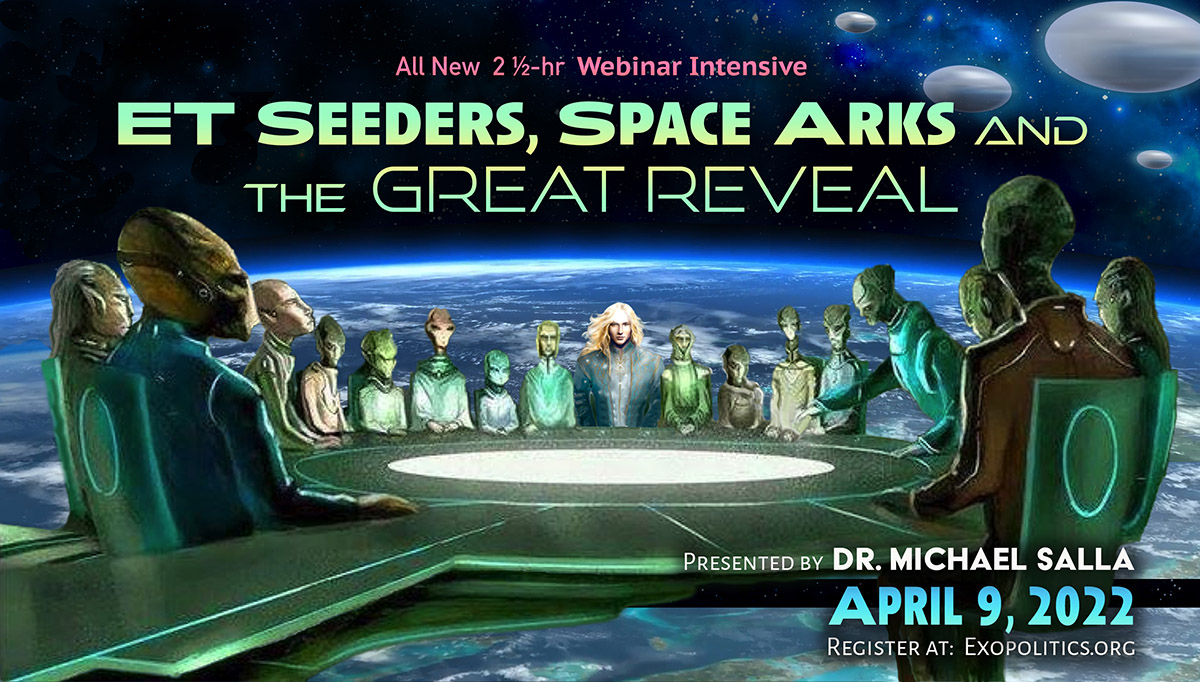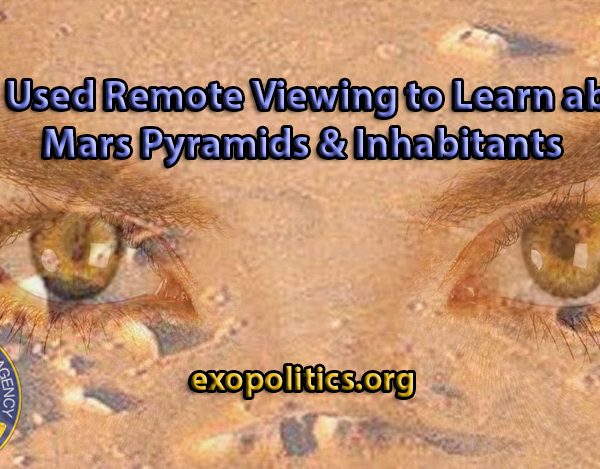 A declassified Central Intelligence Agency document reveals that in 1984, the CIA employed a psychic "remote viewer" to look at a region of Mars as it was approximately one million years ago. The remote viewer, who was not aware that the coordinates given were on the planet Mars, described seeing pyramids, futuristic technologies and a very tall human-looking civilization facing impending environmental calamity.
What makes the CIA document remarkable is that the coordinates provided to the unknown remote viewer were of the Cydonia region as depicted in a series of Viking Orbiter images of Mars in 1976. Cydonia became famous after a succession of researchers claimed that the region contained a face, ruins of a city, and pyramids.
The first reference to artificial structures found in Cydonia date to an October 25, 1977, National Enquirer article titled "Did NASA Photograph Ruins of an Ancient City on Mars?"  It's worth pointing out that the Enquirer was a tabloid run by Gene Pope, a CIA asset who was trained in psychological warfare.

Pope and the National Enquirer's chief purpose was to hide the truth in plain sight by releasing it in sensationalized news stories with questionable sources that would be widely ridiculed by the general public. Subsequently, any academics or scientists prepared to investigate such sensational claims faced ridicule from their peers and ruining their professional careers.
Nevertheless, competent researchers did turn their attention to the now controversial Viking Orbiter images and found that they indeed did appear to show an artificially created "Face on Mars", nearby ruins dubbed "Inca City", and even pyramids.
The first objective analysis of the Viking data was published in 1982 in Omni Magazine by the researchers Vincent DiPietro, an electrical engineer, and Gregory Molenaar, a computer engineer. Their 1982 Omni article was an extract of their 77-page book, Unusual Martian Surface Features, also released that year. They were soon followed by other independent researchers such as Richard Hoagland who in 1987 authored The Monuments of Mars: A City on the Edge of Forever.
What this short review of the history of the Viking images of Cydonia tells us is that while researchers such as DiPietro, Molenaar and Hoagland were widely ridiculed by their scientific peers for their analyses and conclusions, the CIA was paying very close attention.
Declassified CIA documents confirm that remote viewing was taken very seriously by the Agency and other intelligence services. Significant funding went into studying the usefulness of remote viewing as an intelligence gathering tool.
The conclusion was that remote viewing had sufficient accuracy to be utilized for field work as the following declassified CIA document dated May 9, 1984 clearly states. ­­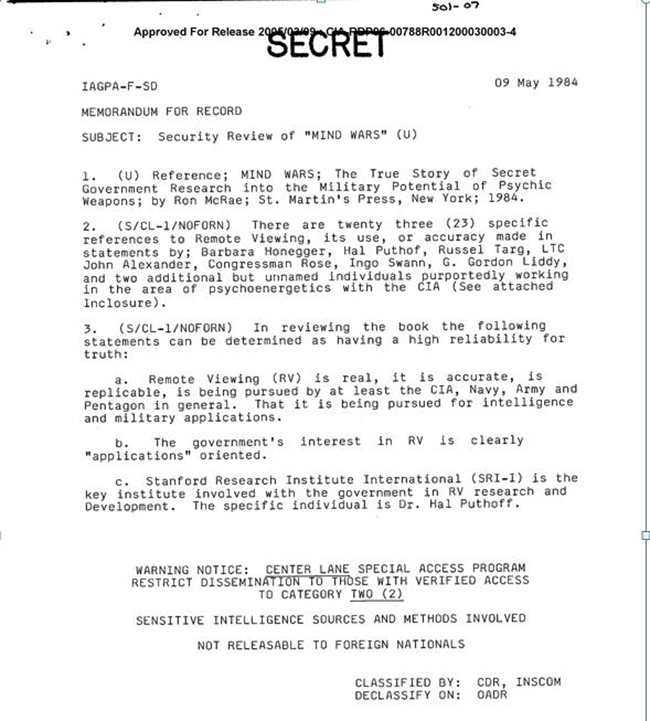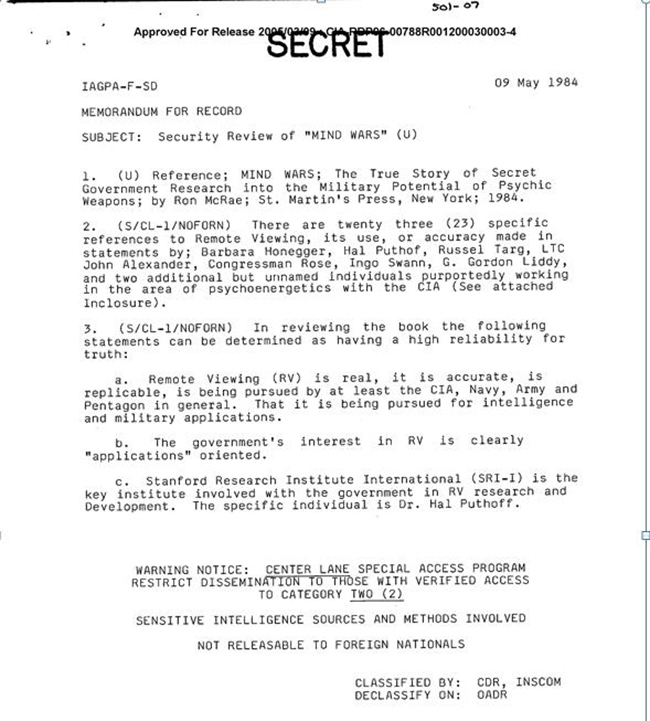 Among the most accurate of remote viewers described in the CIA documents was the famed psychic Ingo Swann. In his 1998 book, Penetration, Swann described at length how the CIA utilized his remote viewing skills.
One assignment in 1975 was to spy on secret bases on the Moon, which were run by one or more extraterrestrial civilizations. In chapter five, Swann opens by describing his remote viewing of the Moon for Axelrod/Axel, a CIA officer: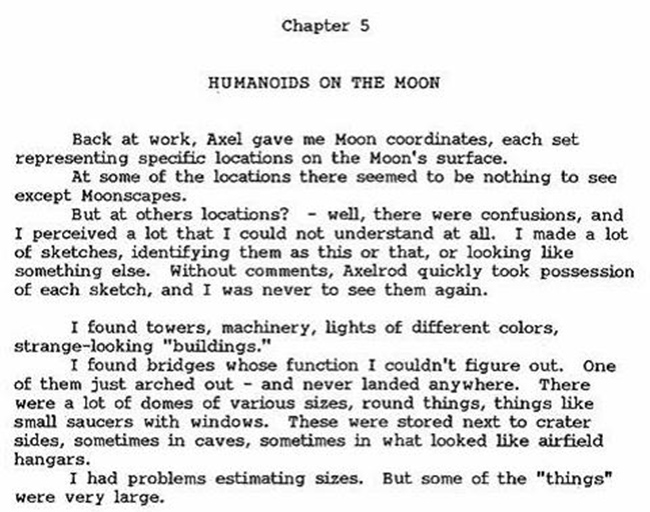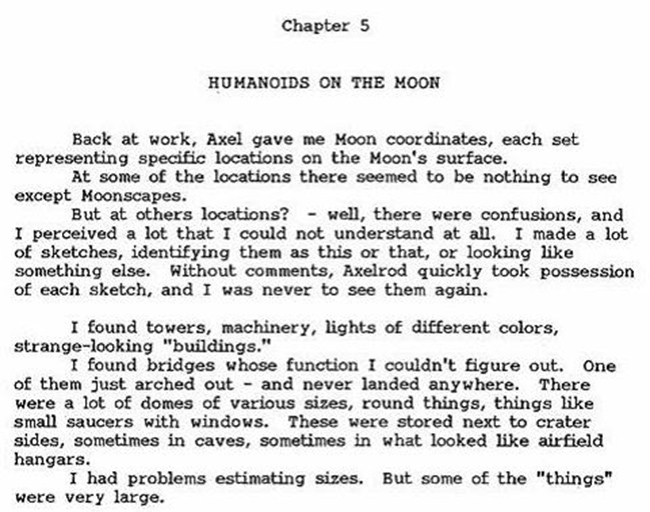 Given the earlier off-planet locations assigned to top remote viewers like Swann, it is not surprising that the CIA employed a remote viewer to learn about the origins of the pyramids and other artificial Mars structures in the Cydonia region.
The protocol used for the session is described on page 2 of the CIA document, which is dated May 22, 1984:


The rest of the CIA document (pp. 3-9) is a transcript of the remote viewer responding to questions about different locations and time periods given to him (in 1984, all known remote reviewers were men). The remote viewer is referred to as "SUB.," while the questioner is "MON."
This is what the remote viewer reports after being given his first question:


The coordinates are for the Cydonia region, and immediately the remote viewer describes some kind of pyramid sitting in a valley. This is remarkable corroboration for the multiple researchers who have identified pyramids in the Viking images of this exact region of Mars.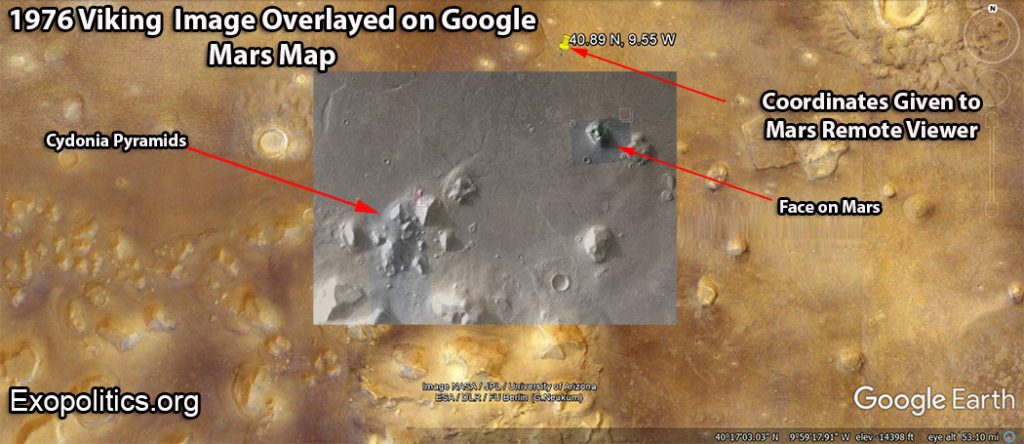 Next, the remote viewer responds to a serious of questions concerning the population living in the region shortly before planet-wide geological disturbances that occurred approximately one million years ago. He describes the population as very tall and thin, and looking to escape the disturbances which included very violent storm activity:


The Martian civilization is dying and the population knows about it:


The Martians are waiting to travel elsewhere to survive. Some are able to escape to distant regions, presumably off-planet, as the following quote suggests:


Next, the remote viewer describes what clearly appears to be a spacecraft taking survivors to another planet over a million years ago: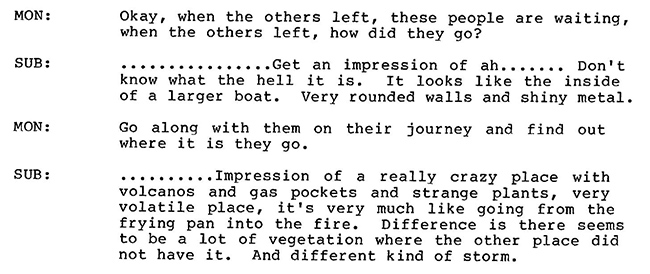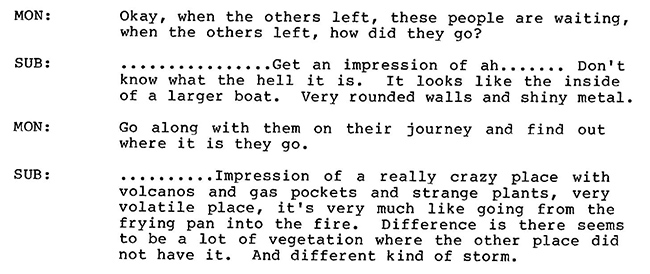 The above description is very suggestive of what Earth may have looked like at the time. So did escaping Martians travel to Earth approximately a million years ago leaving behind them pyramids and other ruins in the Cydonia region, which were observed by the Viking orbiter in 1976 and the CIA's remote viewer in 1984?
© Michael E. Salla, Ph.D. Copyright Notice 
Further Reading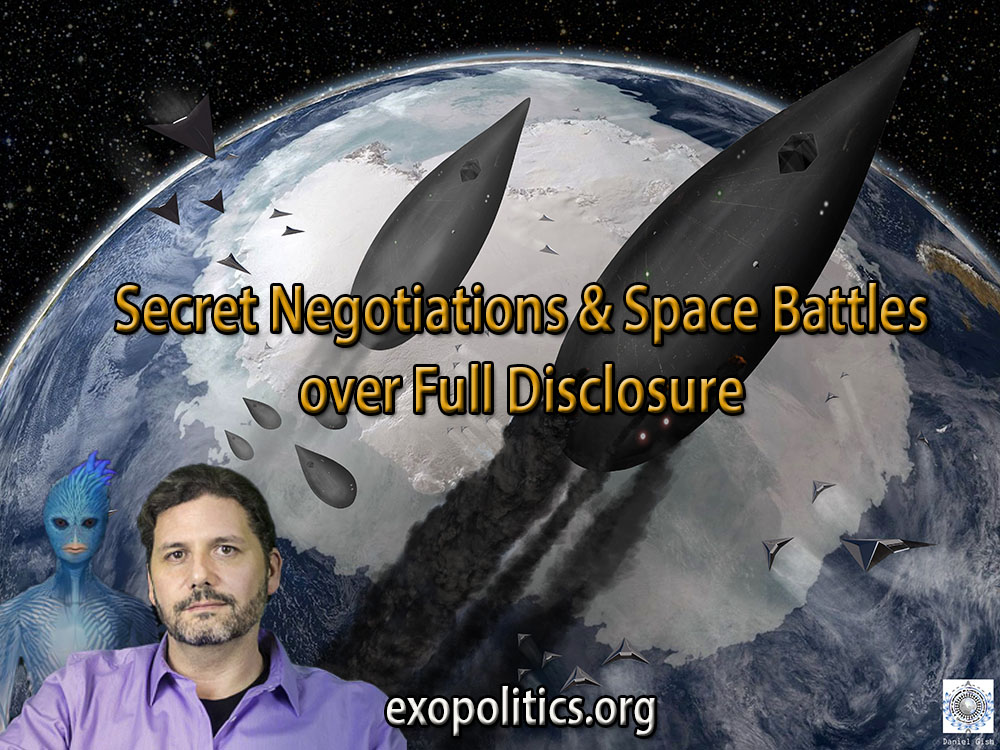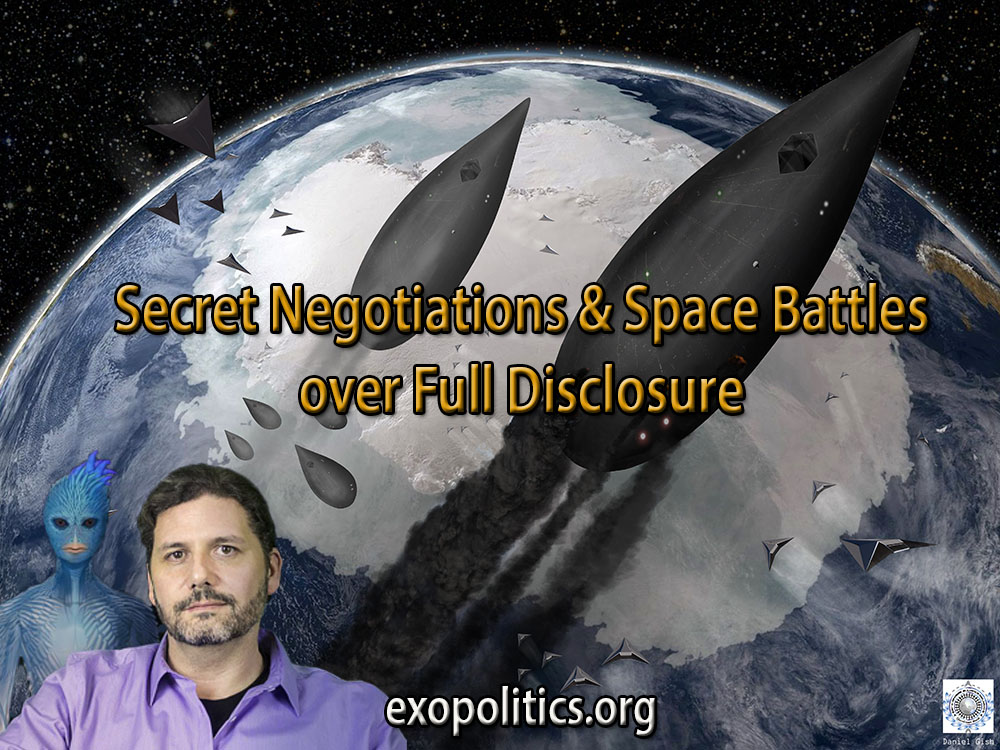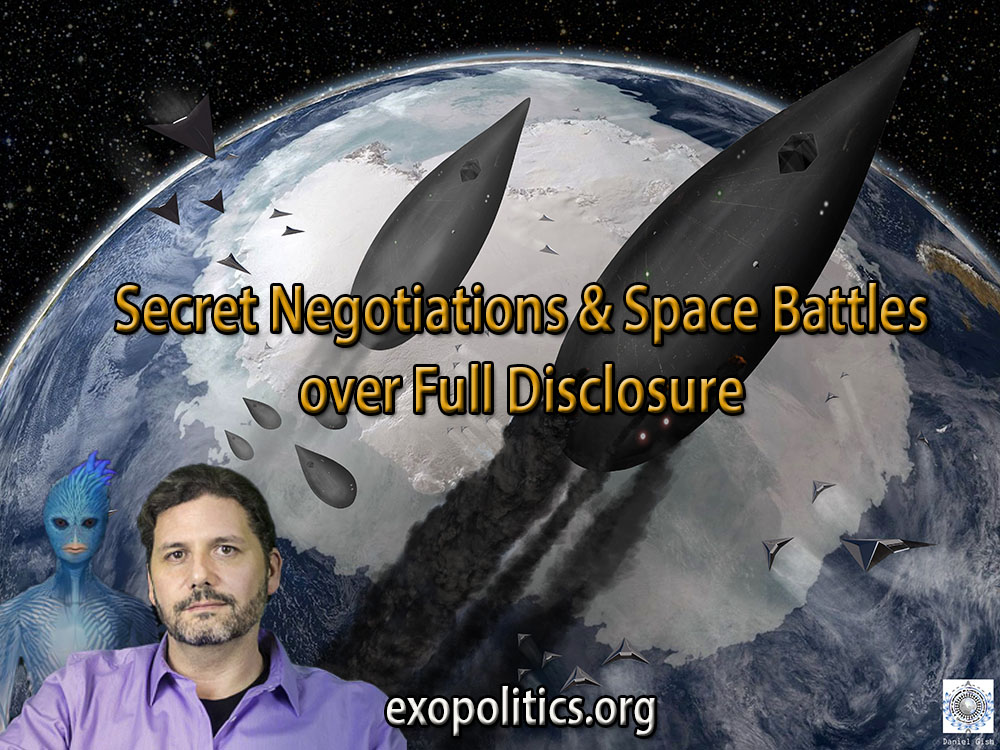 In this second article in a series discussing Corey Goode's latest update about his meetings with representatives of extraterrestrial groups, Inner Earth civilizations and the "Secret Space Program Alliance," I focus on what he claims to have been told about ongoing negotiations and battles between Cabal/Syndicate groups, and the "Earth Alliance".
The Earth Alliance comprises BRICS nations (Brazil, Russia, India, China & South Africa), Asian secret societies, and "White Hats" within the military industrial complex of the U.S. and other nations, who desire to have full disclosure of extraterrestrial life and advanced space technologies, and expose crimes committed by Cabal/Syndicate groups.
Goode says that after he had completed his discussion with Raw Teir-Eir about increasing cosmic energy waves, humanity's optimal time line, and Ascension discussed in the previous article, a familiar figure was transported to the same meeting area. He described his initial encounter with Lt. Col. Gonzales – a pseudonym used by this liaison to the Secret Space Program [SSP] Alliance comprising the Solar Warden Space Program and defectors from rival space programs:
I was about to inquire more about what had just been communicated when I then noticed a blue orb arrive. The orb deposited Gonzales next to the other three beings mentioned before. He was facing them and obviously communicating with them. The entire group appeared to glide over to within about 10 feet of Tear-Eir and I as we wrapped up our communication.
Gonzales greeted me with a big smile and asked "I hope you didn't miss me too much". It was nice to see that he still had the same sense of humor. He had just gotten back from a meeting with the SSP Alliance where the Mayan group was also present.
The Mayan group is one of the ancient Earth civilizations that developed a space program, and they have colonies in other solar systems including the Pleiades constellation. Gonzales, according to Goode, is now working as the liaison between the Secret Space Program Alliance and the Mayans.
Previously, Gonzales worked as the liaison between the Secret Space Program Alliance and the Earth Alliance, where he held a cover identity in Texas. When he was involuntarily outed by Goode, who had been abducted by a lower level secret space program under the control of the USAF Space Command, National Reconnaissance Office and Defense Intelligence Agency, Gonzales had to flee for safety into the Inner Earth to find sanctuary with one of the civilizations there called the Anshar.
In the second part of his report, Goode gives a surprising explanation for why Gonzales had to leave his sanctuary with the Anshar after having spent several weeks with them:
On two separate occasions, he noticed two of the priest caste walking down a corridor that ended in a solid cave wall. They walked right through the wall but he was unable to do so himself. It was quite difficult for him to find a way to look into the room they had gone into, but eventually he discovered a fissure in the wall that allowed him to see where they went. When he looked in, he saw a number of different types of giants that were conversing with the two priests. Their heights varied considerably. These giants were very upset. They appeared to be prisoners or refugees. The bigger one that was conversing with the priest in the front had his head in his palm. He was making what Gonzales perceived as groaning noises. Shortly after that incident, Gonzales had worn out his welcome and was asked to leave. He didn't have any information on why the giants were there.
During their encounter, Gonzales gave Goode the latest information about negotiations between the Earth Alliance and the Cabal:
Gonzales then went into recent details about negotiations between the Earth Alliance and the syndicates that make up what many of us refer to as the Cabal. These negotiations seem to be going nowhere fast. They are now debating the fates of the syndicate members and those that had worked under them – both wittingly and un-wittingly. These syndicates insist that either everyone in their groups are given full immunity and pardoned from prosecution, or no one should receive immunity.
Goode went on to describe the Cabal's argument for partial disclosure:
They also continue to insist on a controlled, partial disclosure that would gradually unfold over the next 100 years. They opposed any type of document dumps, insisting that this would de-stabilize the entire socio-economic system on the planet. They argued that a full disclosure would lead to chaos and many deaths from rioting and the anger and panic from countries victimized by the Cabal. A large number of the Earth Alliance members have similar fears of these scenarios taking place in the event of a full disclosure.
Goode describes the plan hatched by Cabal/Syndicates in case mass document dumps were to occur:
Gonzales then went on to state that the syndicates had already prepared for a massive document dump. They have developed a kill switch for the internet, and can knock out communications and even electricity in certain regions to stop the data from being viewed. They can mitigate any response from those who had viewed the data, such as through their controlled establishment media outlets. They can also manicure and remove videos, articles or social media posts that contradict their agenda.
Goode revealed that the Panama Papers are part of a Cabal orchestrated plan to thwart mass document dumps by preemptively exposing prominent members of the Earth Alliance:
Gonzales said that the document dump event may start off as a data-dump war. The Panama Papers seemed to be the Cabal's first strike to let the Alliance know that they also had incriminating evidence that could put many of them on trial as well.
According Goode, this means that the new strategy adopted by the Earth Alliance is to have a sequence of document dumps that is spread over a period of time:
It is now believed that document dumps need to occur in spurts in order to have a higher possibility of actually reaching the population.
Goode described emerging efforts and threats by the Cabal which are being thwarted:
These syndicates have been continually pushing for WWIII, without gaining any success. They still continue to make threats to cause natural disasters, which includes detonating charges that would cause two super-volcanoes to erupt, causing an extinction-level event on Earth. I highly doubt that this would be allowed to occur, but most of the Earth Alliance does not feel like they can gamble on it. Skirmishes are continuing to occur in our upper atmosphere and various areas around Earth and other celestial bodies in our star system.
Both the Earth Alliance and Cabal fear that an advanced spacecraft will crash into an urban populated area due to the many skirmishes that are happening in the upper atmosphere.
The fear of an advanced craft crashing in a populated area is very real to both of these groups. Both sides have members of their groups that are ready to pounce if a crash does indeed occur.
They have cooked up cover stories involving nuclear-powered satellites crashing and causing contamination in large areas. This could compel people to either flee or stay in their homes until informed otherwise….
In these skirmishes, many different military satellites and weapons platforms have been destroyed, causing them to burn up in our atmosphere or to be flung out of our orbit.
The above scenario is consistent with what was recently described by three remote viewers associated with the Farsight Institute who predicted an asteroid or explosive type object impacting a large urban area sometime in the month of August.
The remote viewers described, with varying degrees of detail, the devastation caused by an object crashing into the unknown city, probably in the U.S.A. Some believe the remote viewers were describing an asteroid impact on a densely populated area. According to one analyst, who examined the descriptions given by the three remote viewers, the incident likely involves the city of Houston, Texas, which may be targeted by a Directed Energy weapon in a false flag attack similar to 911.
Goode's information suggests another possible interpretation. What the three remote viewers may have witnessed was a spacecraft crashing after a battle between the Earth Alliance and Cabal/Syndicate space fleets.
Such an incident may be easily confused with an asteroid impact, or involve the use of Directed Energy weapons, as the above interpretations of the three remote viewers descriptions suggest. While the month of August is almost over, according to Goode's information, there is a growing likelihood of such an event happening in the near future.

Goode described being asked once again by the SSP Alliance to take Gonzales old position as liaison the Earth Alliance, but he again declined:
The SSP Alliance further wanted me to accept the deal that the Wrangler [described in an earlier report by Goode as an enforcer type operative] had tried to shove down my throat. They wanted me to become their asset and follow their orders. I would receive logistical and financial support if I agreed, but would be muzzled from divulging the full details to David or anyone else. This made me feel as if the olive branch that was being offered bore no fruit. I politely declined.
Despite his refusal, Gonzales told Goode that he would still be included in future SSP Alliance meetings:
Gonzales did however state that I would be appearing before them in the future to be a liaison between them and the Sphere Being Alliance.
One of the consequences of there not being a current liaison between the Earth Alliance and the Secret Space Program Alliance is that actionable intelligence, about the respective actions between the Earth Alliance and the Cabal/syndicate groups, is going to be delayed and/or compromised.
Goode has previously explained that the power of the SSP Alliance to influence Earth affairs is presently very limited. The Alliance has been denied access to near Earth space by a corporate run space program in charge of Air and Space Traffic Control, located on a moon base called Lunar Operations Command.
This means that the SSP Alliance can't simply go forward with mass document dumps using its own operatives and resources. Such action has to be taken in coordination with the Earth Alliance, which is currently locked in an acrimonious negotiation process with the Cabal/Syndicates who still weld considerable power on Earth despite recent set backs.
There is a real and terrible possibility that a major urban area and/or a U.S. city could be impacted by one of the advanced spacecraft shot down in one of the ongoing space battles between the Earth Alliance and Cabal/syndicate groups. Such a potential event by itself earnestly compels us to re-focus our attention wholeheartedly on humanity's optimal timeline occurring.
© Michael E. Salla, Ph.D. Copyright Notice
[Click here for next article in this series]
Further Reading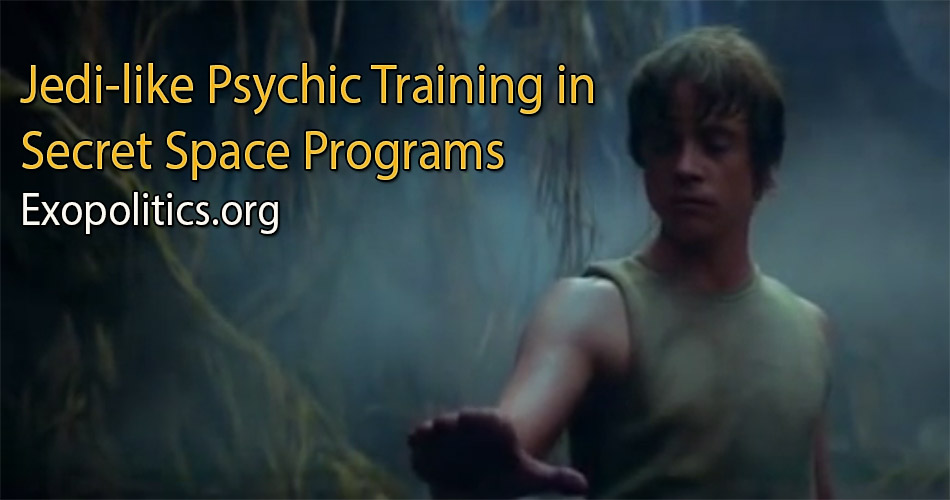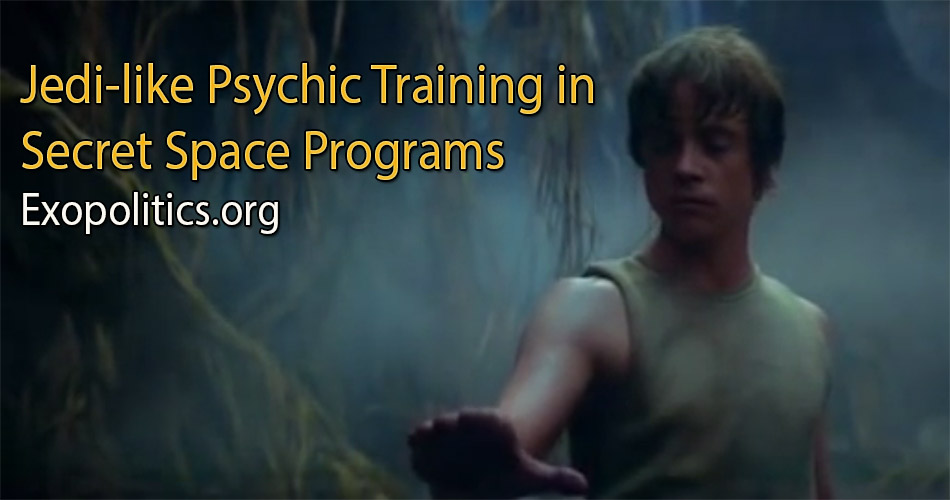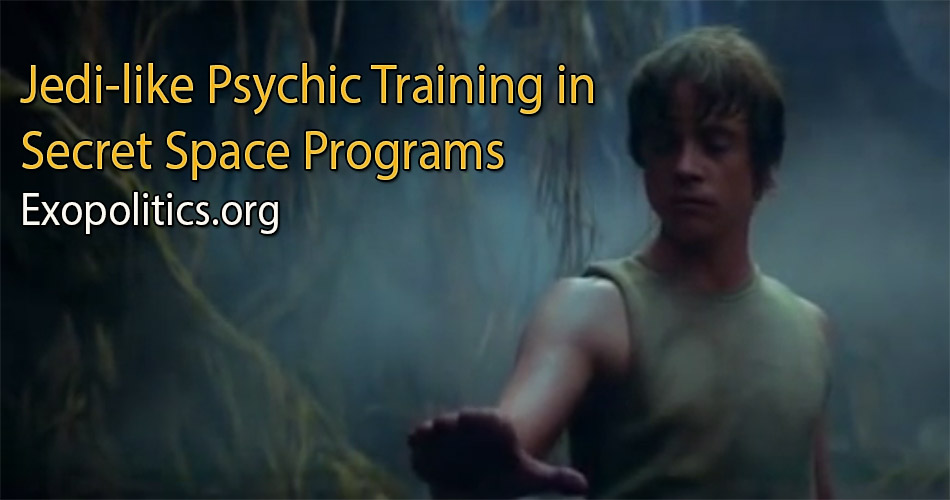 Secret space programs train recruits to use enhanced psychic abilities for a variety of covert missions according whistleblower, Corey Goode. In today's episode of Cosmic Disclosure, he describes how psychic abilities are enhanced through the stimulation of the pineal gland. Goode says that the development of psychic abilities and training is very similar to what was depicted in the Jedi training programs in the Star Wars movies. Individuals trained through these Jedi-like programs, can develop powerful psychic abilities that can be used for both defensive and offensive purposes.
Goode described how stimulation of the pineal gland was identified by the secret space programs as the key to personnel developing powerful psychic abilities. He says that after stimulation of the pineal gland, a variety of psychic abilities such as out of body travel and teleportation were developed using what he described as a person's "light body":
A lot of beings use the pineal gland and their light body to project their consciousness and inner selves to other physical locations and then send that information back through that connection into their physical bodies and then change the vibrations of their physical bodies to match the vibration of the location that they are at and then the body teleports to that location and rejoins the consciousness or what some people are saying are having out-of-body experiences or projecting their minds – a lot of different terminology for what these more advanced beings were doing.
Goode says that part of the training involved visualization of energy spheres that could actually be made physical by the more advanced instructors who could use them as weapons.
Goode's description of the training closely matches what was depicted in the Jedi training found in the Star Wars movies. He describes the training as having elements of both the more positive Jedi philosophy, and the darker Sith practices where psychic abilities were used for destructive purposes. Goode referred to David Wilcock's book, The Source Field Investigations and said:
These people were the ones that believed very much in the like Star Wars, Jedi, the Force. And you wrote a book, The Source Field. They harnessed what they would call like the dark side of the Source Field or the dark side of the Force, and they were very much into like really the straight out of Star Wars – the Jedi, the Dark Lord Sith kind of magic energy that they pulled from the ether or the universe.
Goode's account of psychic abilities being harnessed for both positive and negative purposes corroborates the testimony of another secret space program whistleblower. Michael Relfe, who went public with his testimony in 2000 with publication of The Mars Records, claims to have served for 20 years on Mars after having his psychic abilities enhanced through genetic alterations conducted by extraterrestrials. The alien abductions, which occurred during his youth, were closely monitored by the U.S. Navy. In 1976, Relfe enlisted in the Navy and soon after was recruited for covert service on Mars until 1996, when he was age-regressed and sent back in time to 1976.
Relfe says that his psychic abilities were gradually enhanced, through chemical and electronic means, similar to what Goode described in the latest Cosmic Disclosure episode. Relfe says that his psychic abilities were first used in remote viewing for espionage purposes, and then for 'remote influencing,' where targets could be manipulated in some way. He finally became an assassin where he used his enhanced psychic abilities for eliminating 70 targets over his 20 year tour of duty that included Reptilian extraterrestrials and synthetic life forms. Relfe described his psychic abilities in a 2000 interview, and his remarkable testimony is compared to Goode's in the forthcoming, Insiders Reveal Secret Space Programs & Extraterrestrial Alliances.
Goode described the need for psychically grounding oneself in order to fully access the energies from "The Force" coming through the activated pineal gland. He says that grounding was possible through the Earth, the Sun and Galactic Center, all of which allowed one to access more and more of the Force permeating the universe.
There was a grounding aspect mentioned of visualizing yourself grounded with the center of the Earth and also visualizing yourself as an antenna that can pull in and push out energy – this background energy of the cosmos…. The Earth had a relationship with the sun. The sun had a relationship with the local star cluster. The local star cluster had a relationship with the center of the galaxy. The galaxy had a relationship with the local galaxy cluster and so on.
Goode went on to describe how the psychic training involved being immersed in virtual realities where one had to increasingly rely on intuition to win. Psychological profiling was also conducted in order to identify sociopaths who, like Relfe, could be used to perform difficult assignments like psychic assassination.
Corey Goode's Cosmic Disclosure interviews continue to unveil deeper layers behind the covert actions of secret space programs. His latest testimony of the training of intuitive empaths, remote viewers and psychic warriors, using pineal gland activation, is highly recommended.
© Michael E. Salla, Ph.D. Copyright Notice
[Note: The first two episodes of Cosmic Disclosure are available for free on the Gaiam TV website. The first episode is on Youtube. To watch the whole season of Cosmic Disclosure, you need to subscribe to Gaiam TV. If you subscribe using this link, then a portion of your monthly subscription will go towards supporting Corey Goode as he continues his disclosures. His website is here.]