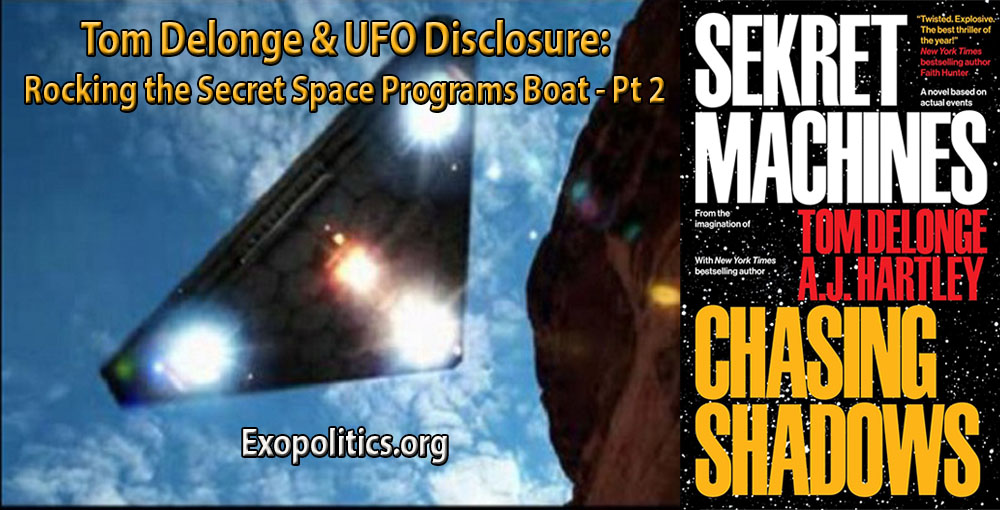 [Click for Part 1] In Sekret Machines, Tom DeLonge spends much time describing the corporate involvement in developing a secret U.S. space program. According to him, a global consortium of corporations secretly funded the development of flying triangles using antigravity and torsion field principles adopted from the Nazi Bell experiments.
These resulted in the development of a squadron of TR-3B's based out of Area 51's highly secretive S-4 facility at Papoose Lake. The U.S. Air Force Space Command and Defense Intelligence Agency is in charge of the TR-3B or 'Locust', operating out of S-4, according to Delonge, as relayed by his advisory team.
Delonge went on to explain in Sekret Machines that the TR-3B is a combined U.S. military and corporate made aerospace vehicle capable of operating both near the Earth's surface as a conventional aircraft, and in near Earth orbit as a spacecraft. He described different sized Locust vehicles, with the largest being several hundred feet across.
DeLonge's information about the Locust closely matches the earlier revelations of Edgar Fouche, an aerospace engineer, who worked at Area 51. While there, he learned about the Locust's existence as the most highly classified aerospace vehicle built by the U.S. military industrial complex in the late 1980's.
In 1998, Fouche first came forward to reveal the Locust's existence, and that it was stationed at the S-4 facility, and was as much as 600 feet wide, similar to what Delonge later claims he was told by his advisory team.

Fouche's documentation provides much credibility to his testimony, which is also supported by the many flying triangle sightings reported in Belgium, and elsewhere. Indeed, a chapter in Sekret Machines explains the 1989 Belgium sightings as directly related to flights of the Locust.
Once again, the testimony of William Tompkins and Corey Goode differs dramatically to DeLonge's information as provided to him by his advisory team. Tompkins has revealed that he was directly involved in the design of space battle groups that would be under the control of the U.S. Navy.
In the 1950's he conceptualized different designs for the space vehicles as revealed in two documents he released in his book, Selected by Extraterrestrials. Both the space carriers and cruisers were approximately two kilometers in length, and space transport ships event longer.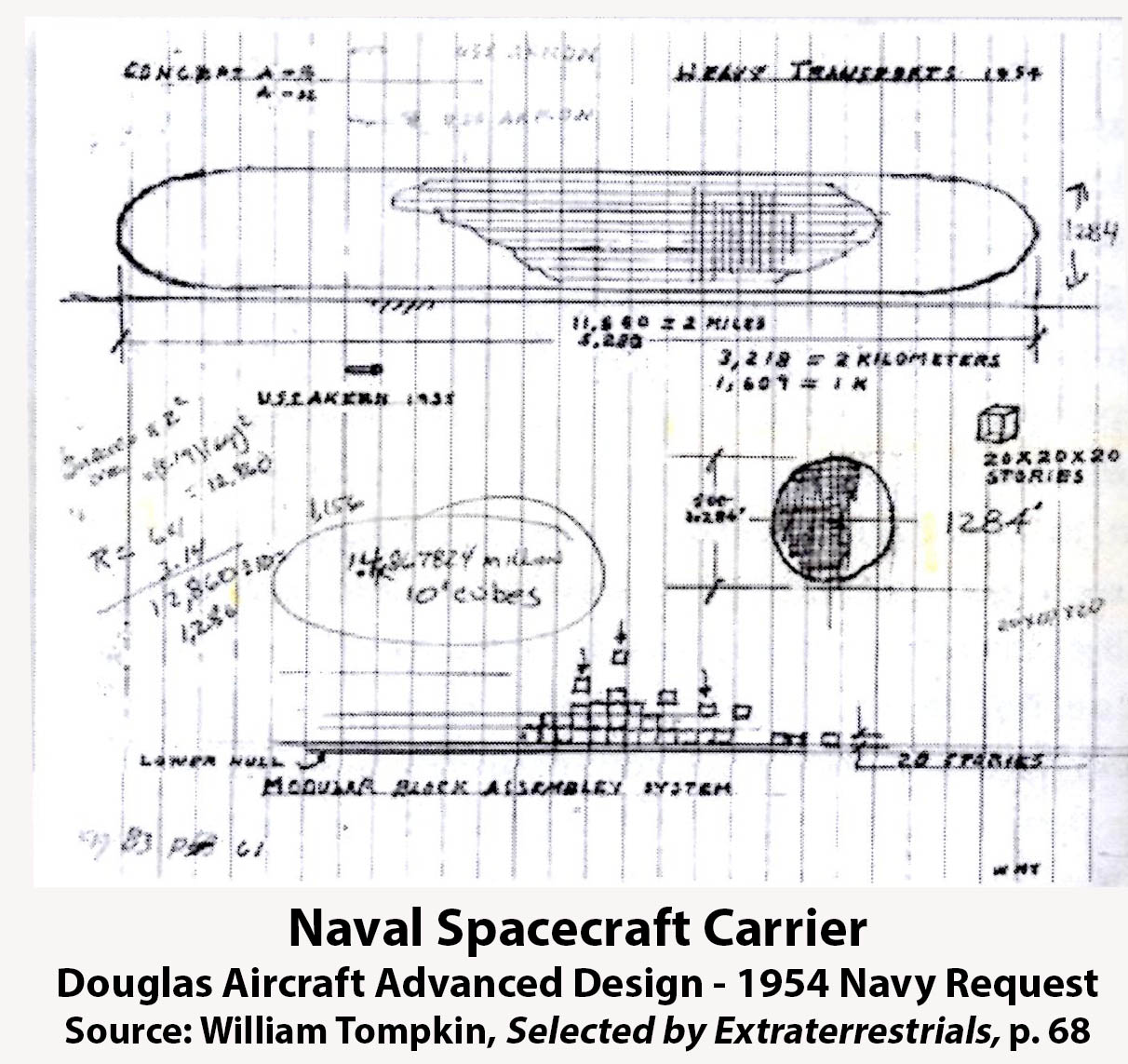 Tompkins has said that the space battle groups were constructed in massive underground facilities in the Wasatch Mountains of Utah beginning in the 1950's. These Navy controlled space battle groups were first deployed in 1984 as the Solar Warden program. Eight battle groups were eventually constructed, and these rotate with four in service at any time, while the other four undergo maintenance – similar to the scheduling of aircraft carriers.
Goode has said that he directly served in Solar Warden from 1987 to 2007. Significantly, he says that the TR-3B Locust became outdated with the deployment of Solar Warden space fleets, and became a hand-me down from the U.S. Navy, to less classified programs run by the U.S. Air Force and other groups:

There were more than 8 of the "Cigar" shaped carrier class and other class of vessels of various sizes and classifications. They were designed to carry various type of "craft" that many think of as the TR-3B… The TR-3B is considered extremely outdated technology and in many cases has been gifted as "hand me down" craft to "Elites" within the Secret Earth Governments and their Syndicates as something akin to "Company Jets". There are so many newer technologies that are of the same general shape as the TR-3B (& models that came after) that it would blow people's minds
Consequently, what Goode and Tompkins testimonies reveal is that the Locust is part of a second tier secret space program run out of Area 51.
Are Extraterrestrials Real?
In Sekret Machines, an incident is described where an apparent UFO abduction occurs, but the female victim unmasks the extraterrestrial who is really a human disguised in an alien costume. After briefly escaping the remote facility where she is being held, she learns that she was taken to Siberia by a covert Russian group.
The abduction incident is depicted to be part of a Russian secret space program using technologically advanced arrow-shaped aerospace vehicles similar in flight performance to the Locust.
Delonge describes other UFO incidents involving covert Russian spacecraft. These include UFO incidents at U.S. nuclear facilities which led to them being deactivated. The Russian spacecraft were allegedly interfering with the U.S. nukes as a means of demonstrating Russia's ability to deactivate and even destroy America's nuclear arsenal.
Consequently, it is not extraterrestrials behind many UFO incidents such as abductions and nuclear weapons deactivation, but Russian secret spacecraft according to what DeLonge was told by his advisory team. Once again, there is a dramatic difference here with what Tompkins and Goode have to say about extraterrestrials and secret space programs.
In part one, I commented on their accounts of Nazi Germany being assisted by Reptilian and Nordic extraterrestrial groups. Furthermore, according to Tompkins, Nordic extraterrestrials assisted the U.S. Navy program to establish space battle groups. The Nordics were seeking allies in their galactic conflict with the Draconian Reptilians, and believed that the US Navy would eventually become an ally.
Tompkins says that Nordic extraterrestrials were embedded in aerospace companies where he worked, such as Douglas Aircraft Company and TRW, and actively helped in the research and development of antigravity spacecraft. He asserts that the Nordics helped counter the industrial sabotage by Reptilians in both the NASA and the nascent U.S. Navy secret space program.
Goode also says that the Solar Warden and Dark Fleet programs coordinate with different extraterrestrial visitors. In addition, he says that the corporate run space program has industrial scale manufacturing centers on Mars that trade with up to 900 extraterrestrial civilizations.

DeLonge however proposes a wildcard that helps explain stories of encounters with advanced extraterrestrial visitors and discovery of non-human constructed spacecraft. He refers to mythological accounts of the "Gods" as referred to in history and suggests these were not flights of fancy by ancient peoples, but real beings that manipulated humanity for both positive and negative agendas.
In Homer's Illiad, for example, the reader of this epic poem learns how the Gods took different sides of this ancient war between the Greeks and Trojans – the superpowers of that region of the world at the time. The conflict was wholly contrived by a mischievous Goddess called Eris, who rolled her "golden apple of discord" at the foot of the Gods, and set off a chain of events that led to the Trojan War.
Sekret Machines ends on a cliff hanger regarding the role of the Gods and current secret space programs. It is expected that future volumes will describe different ways in which the Gods have helped foment geo-political conflict between major world powers such as the U.S. and Russia – the modern equivalents of Ancient Greece and Troy.
This is likely to involve the recovery of highly advanced non-human spacecraft at various crash retrieval sites, which DeLonge attributes to the Gods. These are modern day versions of golden apples of discord planted by the Gods.
Conclusion
How does one account for the significant differences between secret space program disclosures by Delonge and his advisory team, with what Tompkins and Goode have said? If one accepts Tompkins and Goode's testimonies as accurate, as my analyses suggest, then there are two scenarios which come to mind.
The first is that of a "limited hangout," which according to Victor Marchetti, a former Special Assistant to the CIA Deputy Director, is "spy jargon for a favorite and frequently used gimmick of the clandestine professionals." Marchetti went on to describe how a limited hangout works:
When their veil of secrecy is shredded and they can no longer rely on a phony cover story to misinform the public, they resort to admitting—sometimes even volunteering—some of the truth while still managing to withhold the key and damaging facts in the case. The public, however, is usually so intrigued by the new information that it never thinks to pursue the matter further.

A limited hangout scenario suggests that DeLonge is being fed a well-crafted narrative by his advisory team and the intelligence community, who believe their cover stories for the UFO phenomenon no longer have credibility. The new narrative is designed to appeal to widespread public belief in a cover-up of UFOs, by revealing some of the advanced technologies developed in deep black programs that would account for the UFO phenomenon dating back to the World War II era.
So while the public learns of antigravity space craft, they are told that the extraterrestrial hypothesis – that UFOs are interplanetary spacecraft – is false. The only 'alien' factor are elusive Gods mentioned in historical texts who are today manipulating the U.S. and Russia to launch a nuclear war, or planting advanced spacecraft in remote locations as "golden apples of discord".
The preceding scenario appeals to scientific skeptics as well as followers from different religions who can view this information as confirming the legitimacy of their scriptures.
What this scenario suggests is that DeLonge is being given access to genuine information that is part of a limited hangout operation by the intelligence community, who are carefully crafting a narrative through DeLonge that maintains their legitimacy after some kind of official acknowledgement of a secret space program based at Area 51 which uses the TR-3B Locust.
After all, if there are Gods hidden in the shadows manipulating both Russia and the U.S. into having a nuclear conflict over advanced technologies, then the whole issue concerning secret space programs becomes firmly embedded in national security concerns.
The second scenario to be explored is that Delonge's advisors are simply out of the loop when it comes to the most advanced secret space program technologies. Delonge has repeatedly said that his advisors work at or are familiar with Area 51 facilities, where the TR 3B Locust is based. Yet according to Tompkins, it is Utah's Wasatch Mountains where the Navy's space battle fleets are constructed and serviced.
What this suggests is that there is a secret space program run by military entities such as U.S. Air Force Space Command, the Defense Intelligence Agency and the National Reconnaissance Office, that is entirely separate to what the U.S. Navy has been doing in the Wasatch Mountains.
The compartmentalization process is so successful between the different space programs, that USAF/DIA/NRO personnel do not believe that such a Navy run space program exists. For example, Goode claims that in January and February of this year, he was abducted at least three times by covert teams associated with the USAF/DIA/NRO who interrogated him.
Goode's abductors were interested in him since he had previously revealed accurate information about their classified programs, but at the same time they dismissed Goode's claims concerning the existence of deep space battle groups under a Navy run program called Solar Warden.
Both Goode and Tompkin's revelations suggest that there is a deeper layer of secret space program operations and technologies than anything happening in near Earth orbit under the control of the USAF/DIA/NRO.
Due to compartmentalization, this deeper level space program, Solar Warden, is not known by personnel working on antigravity spacecraft such as Locust under the USAF/DIA/NRO. It is therefore very feasible that corporations and personnel working on classified aerospace programs at Area 51, are out of the loop on the Solar Warden program.
In conclusion, it is plausible that the advisory team of ten senior corporate and military personnel advising DeLonge may be part of a limited hangout operation to spill the beans on what has been happening at Area 51, in order to keep hidden even more important secret programs happening elsewhere. Alternatively, DeLonge's advisory team may be genuinely out of the loop of the Navy led Secret Space Program based out of the Wasatch Mountains which is currently operating in deep space.
Despite the question of which of the above two scenarios better explains what is happening with DeLonge and his advisors, the disclosures in Sekret Machines genuinely reveal the first layer of a multilayered set of secret space programs.
Click here for Part One
© Michael E. Salla, Ph.D. Copyright Notice
Further Reading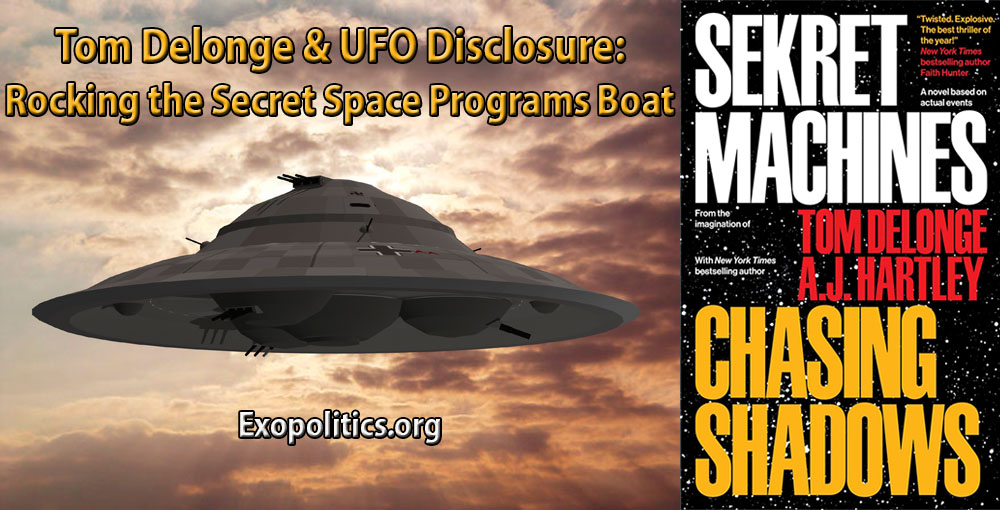 Rock star Tom DeLonge co-authored the book, Sekret Machines: Chasing Shadows, which is the first in a multimedia series of books and documentaries promising to blow the lid off a cover up of Secret Space Programs and the UFO phenomenon. A close reading of the "fiction based on fact" Sekret Machines, suggests that what it more accurately does is expose the reader to the first level of a multilayered set of Secret Space Programs.
DeLonge, a former lead vocalist for Blink 182, is the creator of the Sekret Machines multimedia disclosure initiative, and has enlisted top writers such as A.J. Hartley and Peter Levenda to co-author up to six books. In the preface of Sekret Machines and interviews, Delonge describes how he is being helped by a team of ten advisors with direct links to corporations and Department of Defense entities involved with the U.S. development of a secret space program, and knowledge of a similar program simultaneously developed in Russia and the former Soviet Union.
Sekret Machines is the product of what the advisory team is telling Delonge about their knowledge of the secret space programs that evolved in the US and Russia. According to DeLonge, their revelations are officially sanctioned by those with need to know access, and therefore the most authoritative disclosure yet to emerge on the topics of UFOs, extraterrestrial life and secret space programs.
This leads to the all-important question: is what the advisory team telling DeLonge the full truth about these topics, or only the first layer of the proverbial onion when it comes to secret space programs involving U.S. corporations and different branches of the U.S. military?
Delonge's secret space program revelations in Sekret Machines need to be carefully compared to what credible sources have to say about these programs. In particular, the testimonies of whistleblowers who have publicly revealed themselves, thereby allowing close public scrutiny of their claims, provide a template for evaluating DeLonge's revelations. There are two who stand out at the moment as the most credible independent sources of information on secret space programs: William Tompkins and Corey Goode.

Tompkins, a former aerospace engineer, has provided multiple documents, some dating back to the early 1940's, which support his claimed involvement in the development of U.S. Navy and corporate funded initiatives related to secret space programs. Tompkins says that he was involved in various stages in the design, engineering and construction of a secret space program called "Solar Warden," up to the time it became operational in 1984.
Two retired Navy officers recently confirmed Tompkins' subsequent claims of leading "Special Projects" relating to advanced aerospace topics, while holding a number of leadership positions with the U.S. Navy League from 1985 to 1999.

Goode has provided first hand testimony of direct involvement in the operations of these programs from 1987 to 2007, and more recently in negotiations between Solar Warden and other space related programs. While Goode has provided no documents to directly support his testimony, he has been extensively vetted by a number of sources.
These include the managers of Gaia TV and best selling author David Wilcock, who found him to be credible and subsequently approved a series of interviews called Cosmic Disclosure, which just began its second year. My own analysis of Goode's testimony in relation to other whistleblower revelations, public documents and circumstantial evidence was also positive, as detailed in the book, Insiders Reveal Secret Space Programs.
What follows is a two part series of articles comparing DeLonge's version of the history of a corporate funded U.S. secret space program, and what Tompkins and Goode have previously disclosed.
The Role of Nazi Germany in developing a Secret Space Program
In Sekret Machines, Delonge's revelations coincide closely with the "high octane speculations" of the historian, Joseph Farrell, who has closely studied many Nazi-era documents in a series of books. We are told by DeLonge and Farrell that Nazi Germany was partly successful in developing an antigravity torsion field device called the Bell – Die Glocke. While it was not successfully weaponized in time to assist the Nazi war effort in Europe, it was secretly transported to South America, and eventually Antarctica in an effort by the Nazis to establish a covert Fourth Reich.
The development of the Bell project continued at secret Nazi facilities funded by gold and corporate funds taken out of Germany by Deputy Fuhrer, Martin Bormann, which has been well documented by Paul Manning in the book, Bormann in Exile, and more recently by Farrell in The Third Way.
In Sekret Machines, DeLonge describes how the Nazi Bell project was relocated to Antarctica after South American facilities were compromised by covert allied teams in 1946. The Nazi were able to develop several operational flying saucer craft in Antarctica that were capable of reaching incredible speeds and were highly maneuverable in the atmosphere.
Operation Highjump, led by Admiral Richard Byrd, was successful in locating the Nazi bases in Antarctica in early 1947, according to Delonge. While Operation Highjump suffered casualties, it was able to destroy the Nazi facilities and flying saucer prototypes, and take back to the U.S. the recovered booty in terms of scientists, technical information, and resources related to the Nazi Bell research and development program.
Subsequently, the breakaway Nazis no longer provided a significant military challenge to U.S. geopolitical dominance and secret research into antigravity craft using principles of torsion field physics.
This is where DeLonge's version of events in Antarctica and genesis of a U.S. secret space program diametrically differs with Tompkins and Goode's revelations. According to the latter, Nazi Germany had two secret space programs that ran concurrently during WWII.
The Bell experiments and research in Nazi occupied Europe was part of an unsuccessful "wonder weapons" program led by Heinrich Himmler's SS that was under the direct control of the civil engineer and SS Lieutenant General, Hans Kammler.
In Antarctica, in contrast, another secret space program was headed by German Secret Societies that had successfully developed advanced aerospace technologies with the help of two different extraterrestrial races. One was a group of human looking Nordics, while the other was a species of Reptilians called Draconians.
While the Nordics were the first to help the German Secret Societies in the 1920's by providing designs of antigravity spacecraft through mystics such as Maria Orsic, it was the Draconians in the 1930's who ultimately became more influential with the Nazi regime and German Secret Societies.
According to Tompkins, after agreements has been reached with Hitler, the Draconians provided actual working models of flying saucers, and information about underground bases in Antarctica where these models could be reverse engineered during World War II.
Both Tompkins and Goode insist that the German Secret Space Program in Antarctica continued independently of what was happening in Europe under Kammler and the Nazi SS, which was essentially a second-tier weaponization program that was ultimately unsuccessful. At the same time, the first tier German Space Program located in Antarctica had succeeded in reverse engineering the flying saucer designs and prototypes they had acquired.
The Germans subsequently began building fleets of antigravity vehicles capable of deep space missions to the Moon, Mars and beyond. According to Tompkins and Goode, the Reptilians had helped the Germans develop sophisticated weapons platforms for their Antarctica based spacecraft.
The long term goal was that the armed German space craft would eventually join Reptilian interstellar fleets in galactic conflicts. Goode has described the German space fleet as the "Dark Fleet", due to it being so highly classified that relatively little is known about it, even to the present day. 
Consequently, Operation Highjump was a dismal failure with the German flying saucers comprehensively destroying the Navy's best fighter planes at the time. Tompkins and Goode's version of events in Antarctica is supported by KGB files citing the ease with which the German flying saucers shot down the Navy aircraft.

Byrd's expedition returned empty handed, and with a powerful lesson that the Antarctica based Germans would be a powerful geo-political force for years to come.
As mentioned earlier, this is a very different account of the Nazi presence in Antarctica to what is found in Sekret Machines. Why the discrepancy? For an answer we need to move on to the next major element in Sekret Machines – the secret development of the TR-3B "Locust" dual purpose antigravity aircraft and space craft.
© Michael E. Salla, Ph.D. Copyright Notice
Further Reading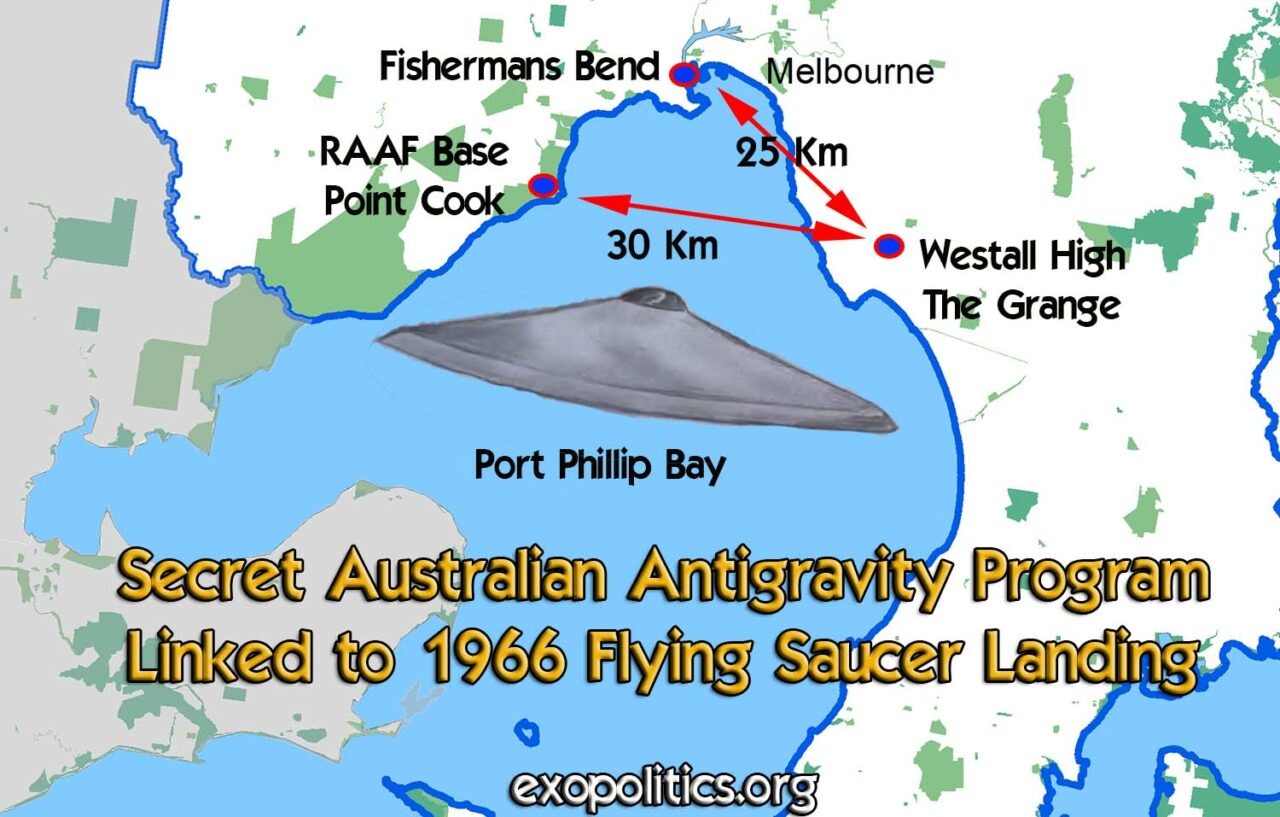 This year marks the 50th anniversary of the most documented UFO case in Australian history – the April 6, 1966, sighting of a flying saucer by over 200 witnesses, who saw it fly overhead for several minutes before briefly landing and taking off again near two schools in the Melbourne suburb of Westall.
The Westall UFO case has been the subject of several Australian news reports and documentaries, which have tried to find answers to the mystery of what precisely had landed. Recent whistleblower testimonies provide a compelling answer – the flying saucer was part a secret Australian aerospace program involving the development of antigravity technology in cooperation with the U.S. and Great Britain.
There have long been unconfirmed reports that the US, along with the United Kingdom, began developing a secret space program with the assistance of Nazi scientists extracted from Germany soon after the end of World War II. Early Nazi flying saucer prototypes called "Vril" were allegedly secretly removed from Germany and shared equally by the US and Britain as required by wartime agreements.
These technology exchange agreements date back to Britain's "Tizard Mission" where a delegation of British scientists led by Henry Tizard traveled to the U.S. in September 1940, and shared British technologies in advance of an expected Nazi German invasion of Britain. 

What is undisputed fact is that 1500 leading Nazi aerospace scientists were extracted to the USA under Project Paperclip, and hundreds of others were evacuated to the United Kingdom by an elite military group called T-Force which forcibly abducted them when necessary.

The former Nazi scientists were put to work in U.S. and British laboratories to develop a new generation of rockets based on the V-2, which were ultimately used to establish nuclear ballistic missiles and also the NASA space program.
Other Nazi scientists were allegedly secretly assigned to develop antigravity space craft using principles of high energy plasma and high voltage electrostatic charges.
High energy plasma, which would circulate around a highly conductive ring at very high revolutions per minute, was a speciality field of one of the Nazi scientists brought to the U.S. by Project Paperclip. Professor Winfried Otto Schumann. He was allegedly involved in developing the first Vril flying saucers in the 1920's and 1930's.
Schumann's name appears on the list of scientists requested by the US Army Air Force (predecessor to the US Air Force established in September 1947) back in 1946, which suggests that his speciality was important for highly classified aerospace projects being studied at the highly classified Dayton, Ohio, aerospace facility.
The first documented reference to electrostatics as a means of antigravity propulsion (electrogravitics) can be found in a 1928 British patent by Thomas Townsend Brown for an electrogravitic device called a gravitator. This has come to be called the Biefeld-Brown Effect, and was incorporated in a 1952 bid by Brown to the U.S. Navy to build a fleet of flying saucer craft called Project Winterhaven.

According to official records, Project Winterhaven was turned down by the U.S. Navy and a subsequent attempt by Brown to fund it through a non-profit foundation resulted in failure. In December 2015, William Tompkins, a retired aerospace engineer came forward to reveal that the U.S. Navy had secretly funded the development of flying saucer craft after all.
According to Tompkins, this was done by the Navy approaching private aerospace contractors such as Douglas Aircraft Company, to design and eventually build an assortment of antigravity vehicles.
Tompkins, revealed that while he worked at Douglas' Advanced Design (1951-1963), he was responsible for submitting designs for kilometer long space craft using antigravity technologies, to the U.S. Navy in "unsolicited bids." These early designs were used for constructing U.S. Navy space battlegroups which began deployment in 1984, as the Solar Warden Space Program.
The U.S. antigravity space program involved leading think tanks and aerospace companies such as Douglas Aircraft Company and the RAND Corporation, which was an off-shoot of Douglas. At the time, Douglas was the leading U.S. manufacturer of advanced military aircraft, and had created a classified think tank called Advanced Design, which was split off to form RAND, according to Tompkins.

Tompkins said that he was directly involved in a covert Navy intelligence program, which had discovered during World War II that up to 30 different flying saucer prototypes had been developed by the Nazis. These Nazi prototypes, or designs for them, were closely studied in U.S. and British laboratories after the war.
Further, Tompkins states that he worked under two senior scientists at Douglas, Dr. William Klemperer and Elmer Wheaton, who were actively researching antigravity principles and UFOs. Wheaton left Douglas in 1962 to take charge of similar projects at Lockeheed's Skunkworks. Tompkins has supplied a document (on right) that confirms that his superiors were working on antigravity in the 1950's, as he claimed.
Similar antigravity research was underway in Great Britain involving think tanks and leading aerospace companies. In 1956, a London based organization called "Gravity Rand" published a scientific discussion paper called "The Gravitics Situation," which revealed the extensive research being conducted by leading aerospace scientists in Britain.

The U.S. and Britain were not alone in researching or developing antigravity technologies. In 1956, Interavia Magazine reported: "There are gravity research projects in every major country of the world. A few are over 30 years old."  Among these countries was Australia, a staunch ally of both Britain and the U.S.
In Australia, the Aeronautical Research Laboratories (1949-1994) was actively involved in classified antigravity research, according to a research physicist, Stan Deyo. Deyo has revealed that when he traveled to Melbourne, Australia in May 1972, he was given a letter of introduction to the head of Aeronautical Research Laboratories, located at Fishermans Bend, where Deyo could continue the antigravity research he had earlier begun in the U.S.
The letter was written by Dr. James B. Maxfield, a Texas radiologist, who was recommending Deyo as someone familiar with antigravity research, who could help the Aeronautical Research Laboratories in its own program. According to Maxfield's letter, first released in Deyo's book, The Cosmic Conspiracy, Maxfield had an interest, as did the father of the Hydrogen Bomb, Dr. Edward Teller, in the field of antigravity.
According to Deyo, Teller headed the antigravity research program in the U.S., and was actively assisting major allies such as Australia and the UK in their own respective programs. Deyo provided a second letter from Dr. Maxfield, discussing a planned future visit by Teller to Melbourne, which was part of a secret U.S. and Australian cooperation on antigravity technology.
Support for Deyo's claim is found in an article published in November 1955 by the New York Herald Tribune, which identified Teller's leading role in U.S. antigravity research:
The initial steps of an almost incredible program to solve the secret of gravity and universal gravitation are being taken today in many of America's top scientific laboratories and researcher centers… These include Dr Edward Teller of the University of California.

Deyo's testimony is further supported by Bob Lazar, an innovative rocket propulsion engineer turned whistleblower, who says that it was Dr. Teller who recruited him to join a classified facility at Area 51 called S-4, where he witnessed nine antigravity spacecraft that were being secretly studied. According to a former CIA Agent, Kewper, who claims to have visited S-4 in 1958, four of the flying saucer craft were early German designs, two of which were called "Vril".
Finally, in his autobiography, Memoirs: A Twentieth-Century Journey in Science and Politics, Teller confirms his friendship with Dr. James Maxfield who had contacts with some of Australia's leading industrialists (p.496). This included Lang Hancock, a very wealthy Australian mining magnate who was Maxfield's personal friend.  Teller's biography confirms the role Maxfield played in organizing at least two of Teller's trips to Australia where he met with Hancock and other influential Australians.
During his May 1972 Melbourne visit, Deyo was surprised to learn how knowledgeable the Australian scientists were about antigravity principles, and even witnessed a prototype flying saucer craft at one of the Aeronautical Research Laboratories workshops at Fishermans Bend.
Tompkins and Deyo's testimony, along with that of other whistleblowers, suggest that from the 1950's, Australia closely worked with Great Britain and the U.S. in developing antigravity spacecraft, some of which resembled flying saucers. This establishes the possibility that the 1966 Westall incident was part of a classified antigravity vehicle test.
As the top graphic illustrates, Fishermans Bend is only 25 kilometers flying distance from the Westall area (now South Clayton), across Port Phillip Bay. Furthermore, it is only 30 kilometers across the Bay from Australia's oldest aviation facility located at the RAAF Base Point Cook.
If Australia was testing antigravity vehicles, then either Fishermans Bend or Point Cook could have been used since both are adjacent to Port Phillip Bay where the craft could fly over a large body of water largely undetected.
Such a possibility is supported by some of the witnesses to the Westall incident who described camouflaged military personnel – thought to be American special forces – who quickly sanitized the flying saucer landing area. The rapid response of some of the military personnel – as little as 20 minutes according to witnesses – suggests the personnel were stationed nearby to monitor a test.
One Australian UFO researcher, Keith Basterfield, has found that a classified program called HIBAL involving high altitude balloons, was officially scheduled for a launch on April 5, 1966, one day before the Westall incident, but could have actually occurred on the same day. While he proposed Project HIBAL as a possible explanation for the Westall sighting itself, a more plausible answer is that it was a cover program for a more highly classified flying saucer program.
Leaked National Security Agency files by Edward Snowden confirm that the military intelligence community in the U.S. and its Echelon partners (Australia, Britain, Canada and New Zealand) will use a classified program as a cover for an even more highly classified program.
The flying saucer issue, as pointed out by Wilbert Smith, a former Senior Engineer with the Canadian Department of Transportation, were the most classified matter in the U.S. national security system. Consequently, a classified high altitude balloon program (HIBAL) would have been a very effective cover for a more highly classified Australian flying saucer program.

What now takes on special significance is the August 1966 visit to Australia by Teller, which he wrote about in Memoirs: A Twentieth-Century Journey in Science and Politics (p. 497). He refers to Dr. James Maxfield as having suggested the visit to him.
Given Maxfield's two letters to Deyo in 1972, revealing Maxfield and Teller's interest in antigravity research, this suggests that the 1966 visit also very likely involved antigravity research. Consequently, the April 6, 1966 Westall flying saucer incident can be linked to Teller's first visit to Australia four months later, and was possibly a test of an antigravity flying saucer, where HIBAL was used as a cover program for national security reasons.
Finally, we have the not insignificant fact that Rear Admiral Rico Botta, identified by Tompkins as the U.S. Navy officer in command of a covert espionage program with 29 spies in Nazi Germany, learning about the development of antigravity spacecraft, was born and raised in the Australian city of Melbourne, before emigrating to the U.S. in 1908, at age 18.  
The cooperation between the U.S., Britain and Australia in developing and testing of flying saucer craft using principles of antigravity, dating as far back as the 1950's, provides a compelling explanation for some of the many UFO sightings in Australia. Among these, the 1966 Westall flying saucer incident stands out as one that likely has a very worldly explanation – the top secret cooperation between Australia, the U.S. and Britain in developing antigravity vehicles for a secret space program.
Michael E. Salla, Ph.D.
[NOTE: An upcoming Australia Tour with Dr. Michael Salla in three cities – Brisbane, Melbourne and Sydney – in July/August 2016, will present documents and whistleblower testimony about the "Origins of Secret Space Programs", and how this may help finally answer one of Australia's greatest UFO mysteries. Tickets and further information about my Secret Space Programs Australia Tour are available online.]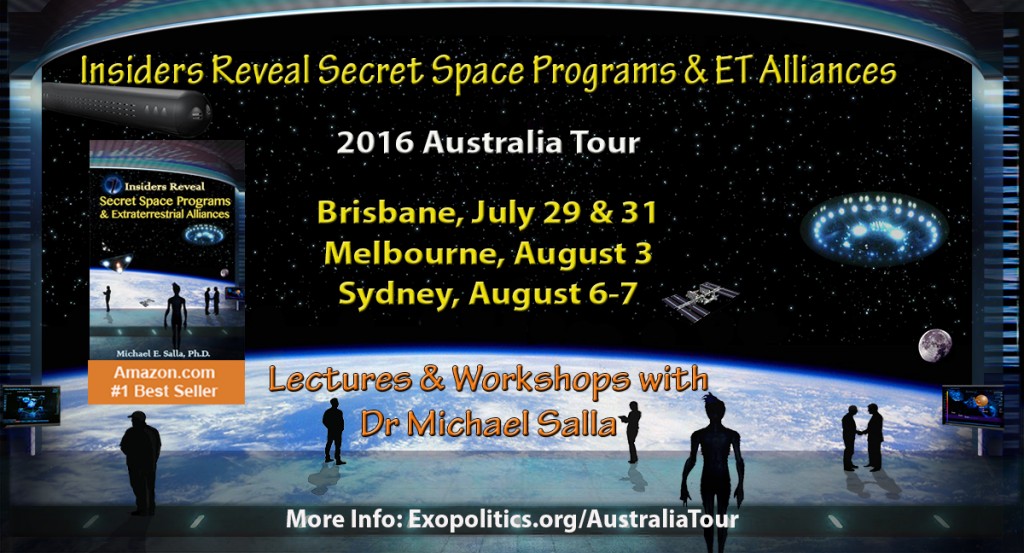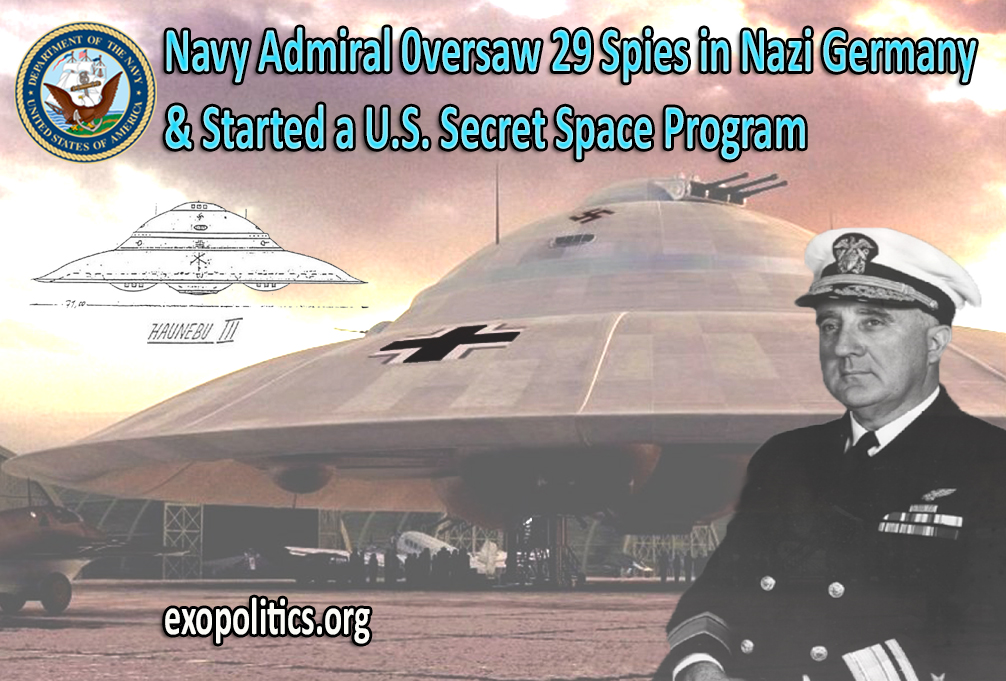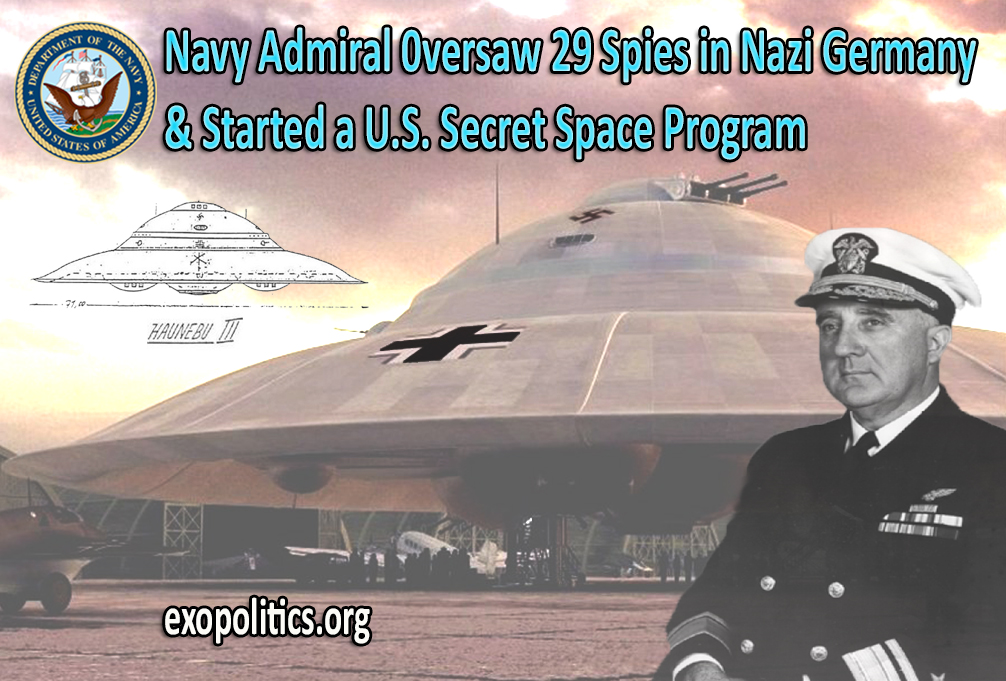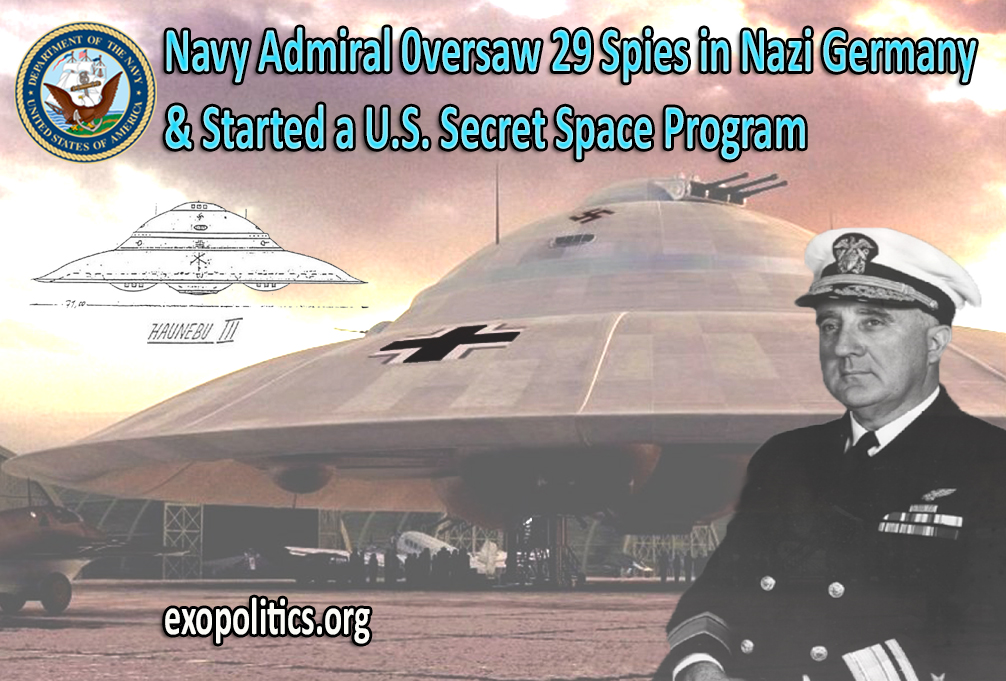 Rear Admiral Rico Botta was an extremely busy man during World War II. In addition to his official daytime naval duty as "Assembly and Repair Officer" at Naval Air Station, San Diego, in the evenings he led a covert Navy program operating with 29 spies embedded in Nazi Germany's most advanced aerospace programs which were developing antigravity flying saucers.
According to retired aerospace engineer, William Tompkins; from 1942 to 1946, Admiral Botta seamlessly performed his official and covert Navy duties. The covert program learned from the Navy operatives (Lieutenants in rank) that the Nazis had developed up to 30 prototypes of antigravity craft, some of which were capable of space flight.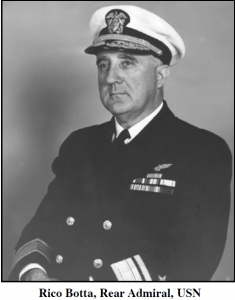 It was Admiral Botta's duty to understand both the war and post-war potential of the Nazi aerospace programs, and disseminate the relevant technical information acquired by the spies to his Navy superiors, and also select U.S. aerospace companies, think tanks and government laboratories.
Tompkins job was to assist Admiral Botta by physically taking the briefing packages created during the covert program to organizations with the technical expertise to understand the Nazi designs and prototypes, assess their feasibility, and incorporate them into the war effort, if possible.
Tompkins did this approximately 1200 times. Each late night debriefing session was run by the Admiral, with one or more out of a pool of three Navy captains in attendance, along with Tompkins and a stenographer to record the sessions.
After the official end of WWII, Botta went on to play a key role in starting a U.S. Navy led secret space program filling a number of positions until his final "official" assignment at Naval Air Material Center, Philadelphia, from 1950 until his retirement in 1952.
Admiral Botta's covert program was first publicly revealed in December 2015 by Tompkins in his book, Selected by Extraterrestrials.
Here Tompkins released a document  revealing his mission orders as a Disseminator of Naval Aircraft Research and Information, and explained how he would deliver briefing packages to various aerospace organizations.
Tompkins also released a document issued by Navy Secretary James Forrestal, which formalized the technology acquisition program headed by Admiral Botta within the newly created Office of Research and Inventions on May 19, 1945.

Yet more documents he released are two exit passes signed by Admiral Botta, which gave Tompkins permission to exit the Naval facility with his "briefing packages."
These two exit passes confirm Admiral Botta's direct role in the covert Navy program. It is hard evidence that Botta was leading a covert program at Naval Air Station, San Diego, which was authorized by Secretary Forrestal, as Tompkins has claimed.
Confirming Botta's role in the covert program described by Tompkins has been elusive up until recently. Botta's background and expertise would remain a mystery until researchers at Rense.com combined their efforts to find an official biography on him. 
Botta's biography was published on the website of the "Golden Eagles," an organization formed by naval aviators back in 1956.  Curiously, Botta's biography was only made available in March 2016, four months after Tompkins' Selected by Extraterrestrials was published and publicly identified Admiral (Rico) Botta (mistakenly spelled in the book as "Rick Obatta").
This occurrence, five years after the Golden Eagles website first appeared in 2011, is oddly coincidental, and suggestive of "official approval" for the release of Botta's biography into the public arena.

Despite the curious timing of its release, there is no reason to question the accuracy of Botta's biographical details as found on the Golden Eagles website.
Evaluating Admiral Botta's various commands and expertise will help considerably in determining whether or not he was capable of running the covert Navy Spy program alleged by Tompkins, and whether Tompkins testimony itself is credible.
One of the first issues to address about Admiral Botta's background is his rank while stationed at Naval Air Station, San Diego. His official position as "Assembly and Repair Officer" in normal circumstances would be filled by a Captain.
This is confirmed in the citation for his award of the "Legion of Merit" after WWII for his time at San Diego:
The President of the United States of America takes pleasure in presenting the Legion of Merit to Captain Rico Botta, United States Navy, for exceptionally meritorious conduct in the performance of outstanding services to the Government of the United States as the Assembly and Repair Officer, U.S. Naval Air Station, San Diego, California from 31 December 1942 to the termination of hostilities in August 1945.

Yet, on January 11, 1946, after the award of his Legion of Merit, Botta was retroactively promoted to Rear Admiral, spanning back to June 30, 1943. The Congressional record refers to the retroactive promotion due to a temporary assignment which meant that his position as 'Assembly and Repair Officer" had aquired flag officer responsibilities.
It's feasible that his temporary appointment as Admiral was due to the wartime responsibility of "Assembly and Repair Officer" expanding significantly beyond the normal command level involved during peacetime operations. This is certainly the view of WWII historians such as Ken McCanliss, who points out that Botta is among "a list of 58 Navy flag officers who were given retroactive promotions reflecting war time rank."
It's also possible that his temporary rank of Rear Admiral was due to him performing additional duties of extreme importance to the Navy, commensurate with the rank of Rear Admiral. This is what Tompkins' two May 1945 documents suggest in terms of a covert technology acquisition program that reported directly to Secretary Forrestal.
According to Tompkins, Forrestal directly intervened in ensuring Botta's temporary promotion to Rear Admiral since that was required for the covert program that Botta would head. It would certainly make a difference for Tompkins' briefing packages to be taken seriously if he was working for a Rear Admiral, rather than a Navy Captain, when he delivered them to leading aerospace companies.
Furthermore, Botta's background as an Australian citizen (he emigrated to the U.S. in 1908 at age 18), and not being a graduate of the U.S. Naval Academy, would likely have created additional hurdles to advancement to flag officer rank.
Botta's promotion supports Tompkins claim that in addition to Botta's official "daytime" duties, he also performed covert duties at night, in running the Navy spy program out of Nazi Germany, which required a flag officer to be in command. It's worth emphasizing that Tompkins recalls that when he began working under Botta in 1942, the latter wore the uniform of an admiral.
We can now examine some of Botta's other Naval assignments to assess whether he was capable of running a covert espionage program out of Germany to learn about its aerospace secrets.
According to his biography, Botta worked for the Bureau of Aeronautics for two periods. First from 1921 to 1924, and the second time from 1937 to 1942. During his second stint, he worked in the Engineering Division Material Branch and later was the head of the Power Plant Design Section.

Here is what we know of the Bureau of Aeronautics from Wikipedia:
The Bureau of Aeronautics (BuAer) was the U.S. Navy's material-support organization for naval aviation from 1921 to 1959. The bureau had "cognizance" (i.e., responsibility) for the design, procurement, and support of Naval aircraft and related systems.
These two assignments confirm that in 1942, Admiral Botta had nearly nine year's experience in a variety of areas associated with aircraft engineering, design and power supply. This had contributed to him developing a "superior and outstanding technical knowledge" as described in his "Legion of Merit" citation:
Captain Botta, by his superior and outstanding technical knowledge and skill, his great administrative ability and his constant devotion to duty enabled this Department to meet the ever increasing demands of the Fleet Air commands for combat aircraft of the latest type and with the latest combat-proved changes installed.

The citation is consistent with what Tompkins claims Botta was doing at the Naval Air Station with the covert operatives in Nazi Germany. It refers to Botta learning about the "latest type" of combat aircraft and changes to improve combat readiness for US Navy aircraft.
Consequently, if the Navy had spies embedded in Nazi Germany, then Admiral Botta would have been an ideal choice as someone who could debrief them, adequately assess the technical information involved, and pass on relevant information to select aerospace companies and think tanks for further study and development, as Tompkins contends.
Admiral Botta's career after WWII took him into positions that were directly involved in the study of antigravity technology that could help start a US Navy secret space program.
One of the Navy research centers that Tompkins says he took his briefing packages to during the war was the Naval Air Material Center, Philadelphia, Pennsylvania. The Naval Air Material Center was located at the Philadelphia Naval Shipyard, and during WWII was responsible for developing new aircraft technologies.
On July 1, 1950, Botta became the commander of the Naval Air Material Center, suggesting that he would be assisting it with developing experimental aerospace technologies, especially with regard to antigravity technologies.
Here is what was publicly known about experimental aviation projects at the Naval Air Material Center in 1944: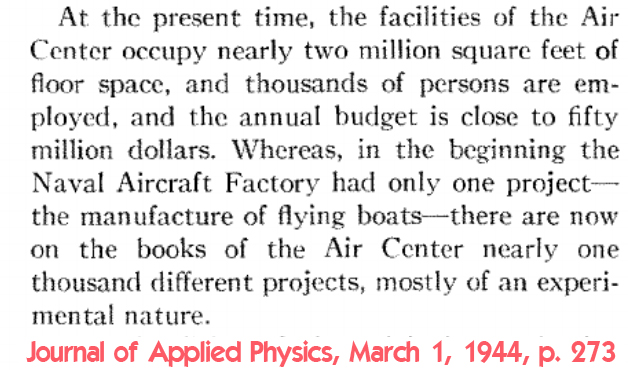 When Admiral Botta took over command of the Naval Air Material Center on July 1, 1950, he was in charge of a facility that was capable of running up to a 1000 experimental aviation projects. Not only is this powerful confirmation that Botta had the expertise to run a covert program with 29 operatives embedded in Nazi Germany's secret aerospace programs, but also that he continued to work on such projects well into the 1950's.
I therefore agree with Major George Filer's [USAF ret.] assessment of the significance of Botta's postwar assignments:
His [Botta's] leadership likely helped the Navy to lead in the development of disk craft and spaceships.

Tompkins claims that while employed at the Advanced Design think tank at Douglas Aircraft Company from 1951 to 1961, he worked on unsolicited proposals sent to the U.S. Navy for kilometers-long antigravity spacecraft. This suggests that Tompkins' proposals were assessed and developed, at least up to 1952, at the Naval Air Material Center run by his former boss, Admiral Botta.
A review of Admiral Botta's expertise, experience and military commands shows that it is very feasible that he ran a covert Navy operation out of Naval Air Station, San Diego, from 1942 to 1946, as Tompkins claims. Furthermore, Botta's post WWII assignments suggest that he continued to work on Navy aerospace projects associated with the antigravity space craft first developed by Nazi Germany.
It can be reasonably concluded that not only did Admiral Botta run a covert espionage program during World War II learning about Nazi Germany's successful development of antigravity space craft, but he also played a leading role in developing similar craft for the U.S. Navy.
Consequently, a review of Admiral Botta's background supports Tompkins claims that he (Tompkins) was directly involved in a covert Navy espionage program that learned about Nazi Germany's antigravity secrets, and passed these on to senior officials and leading aerospace companies, for the development of a secret space program run by the U.S. Navy.
© Michael E. Salla, Ph.D. Copyright Notice
Further Reading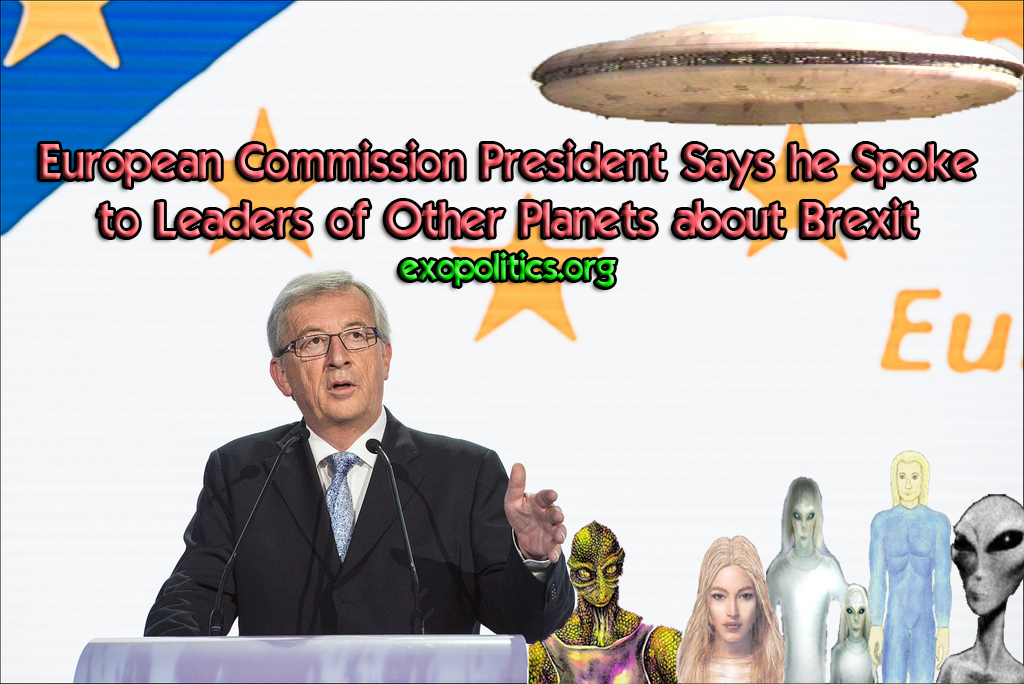 In a speech before the European Parliament discussing the consequences of the Brexit vote, the President of the European Commission, Jean-Claude Juncker, made the stunning comment that he had spoken about it to "leaders of other planets." Juncker's comment suggests that world leaders are in communication with extraterrestrials, which closely monitor global events and assess their geopolitical and 'exopolitical' impact.
Juncker's speech was given on June 28 at an emergency meeting in Brussels by the European Parliament. Here is what he said in French along with the English translation:
"Il faut savoir que ceux qui nous observent de loin sont très inquiets. J'ai vu et entendu et écouté plusieurs des dirigeants d'autres planètes qui sont très inquiets puisqu'ils s'interrogent sur la voie que l'union européenne va poursuivre. Et donc, if faut rassurer, et les européens, et ceux qui nous observent de plus… loin."
"It should be known that those who observe us from afar are very worried. I met and heard and listened to several of the leaders from other planets who are very concerned because they question the path the European Union will engage on. And so, a soothing is needed for both the Europeans and those who observe us from … farther away."

The official transcript released by the European Commission has been edited to remove the reference to "leaders from other planets". The transcript now reads:
J'ai vu et entendu et écouté plusieurs des dirigeants. Ils sont très inquiets ….

"I saw and heard and listened to several executives. They are very worried …"
Yet, when one listens to an audio loop of what Junker's actually said, he very clearly includes the phrase "dirigeants d'autres planets," which translates as "leaders of other planets," as pointed out by native French speakers discussing Junckers speech, and also by Google Translate.

There has been clearly an official attempt to cover up Juncker's admission to having spoken to "leaders of other planets," and making it appear as though he was instead referring to "executives" concerned about Brexit. So what did Juncker have in mind when he said he spoke with "leaders of other planets"?
One possible interpretation is that he meant to say that he had spoken with "other planetary leaders" outside of the European Union, and made a simple grammatical error as some contend. If so, then why wasn't the official transcript corrected to make it clear that he had misspoken? Furthermore, it is difficult to imagine a major world leader would make such a dramatic error in an important speech to the European Parliament without realizing it immediately and correcting that error on the spot.

Also, at several points in his speech, Junckers makes references to himself as a "human being" and not a robot or a machine, suggesting that some in his intended audience are not human as one native French speaker has noted in translating and interpreting his comments in a helpful thread on the Project Avalon Forum.

Taken on face value, Juncker's speech directly raises the issue that "leaders of other planets," or extraterrestrials, are very concerned by the Brexit issue and its implications for the European Union. It's worth exploring why this might be the case. There are two scenarios I wish to raise here.
One is that extraterrestrials require global unity as a precondition for revealing themselves to humanity, or having their existence disclosed. If so, then the effect of  Brexit is one of slowing down the process of global political unification, thereby delaying any official announcement of extraterrestrial life.
If the above a scenario is correct, then what becomes important is whether the extraterrestrials are acting out of positive or negative intent in making global political unity a precondition for revealing themselves.
While it appears logical that global political unity is required for any planet to be introduced to wider galactic life, as popularly depicted in many Sci Fi shows, it does not follow that having a world government is necessary for open contact to happen. Here we need to distinguish between 'global government' and 'global governance'. Our planet may already have achieved sufficient 'global governance' in terms of interlocking international treaties and institutions, thereby making 'global government' a moot point.
Nevertheless, if some extraterrestrial leaders genuinely desire global political unity before revealing themselves, then while Brexit does slow this process down, it appears disingenuous for aliens to make this a precondition.
The second scenario is that the European Union is a façade for a Nazi Fourth Reich which has secretly made alliances with a group of extraterrestrials called "Draconians." A retired aerospace engineer, William Tompkins, has provided documents supporting his claims that he participated in a covert U.S. Navy program with 29 spies in Nazi Germany who had discovered that the Third Reich had made secret agreements with Draconians.
A result of the alien agreements led to the Nazi's coming within a whisker of winning World War II, but had nevertheless been able to relocate much of their technological infrastructure to Antarctica before the War's end. This gave the breakaway Nazis the time they needed to achieve a decisive technological superiority over the U.S. military, as demonstrated during Operation Highjump in 1947.
Subsequently, the breakaway Nazi groups established a Fourth Reich through covert economic means, which involved both the infiltration of the U.S. Military Industrial Complex, and the creation of the European Union. In such a scenario, Brexit is a clear challenge to the Fourth Reich as I have argued elsewhere.
There are other scenarios that may help explain why "leaders of other worlds" are concerned about Brexit, and why Junckers chose the European Parliament as the forum to "leak" this information. Most EU Parliamentarians are not part of the official loop on what would clearly be highly classified discussions with advanced alien civilizations, yet Junckers chose to reveal this to them. Why?

Many will be tempted to dismiss Junckers' admission of having spoken with extraterrestrials as him simply misspeaking about confidential discussions with other world leaders. However, the clumsy attempt by the European Commission to remove the "leaders of other worlds" reference from the official transcript of his speech, no effort to clarify his real intent in the transcript, and overall context of his speech suggest otherwise.
Junckers speech needs to be taken at face value, and therefore provides startling evidence that we are moving from a world of 'geopolitics' to 'exopolitics' requiring new levels of analysis in understanding major political events on our planet such as Brexit, and the existence of extraterrestrial life.

© Michael E. Salla, Ph.D. Copyright Notice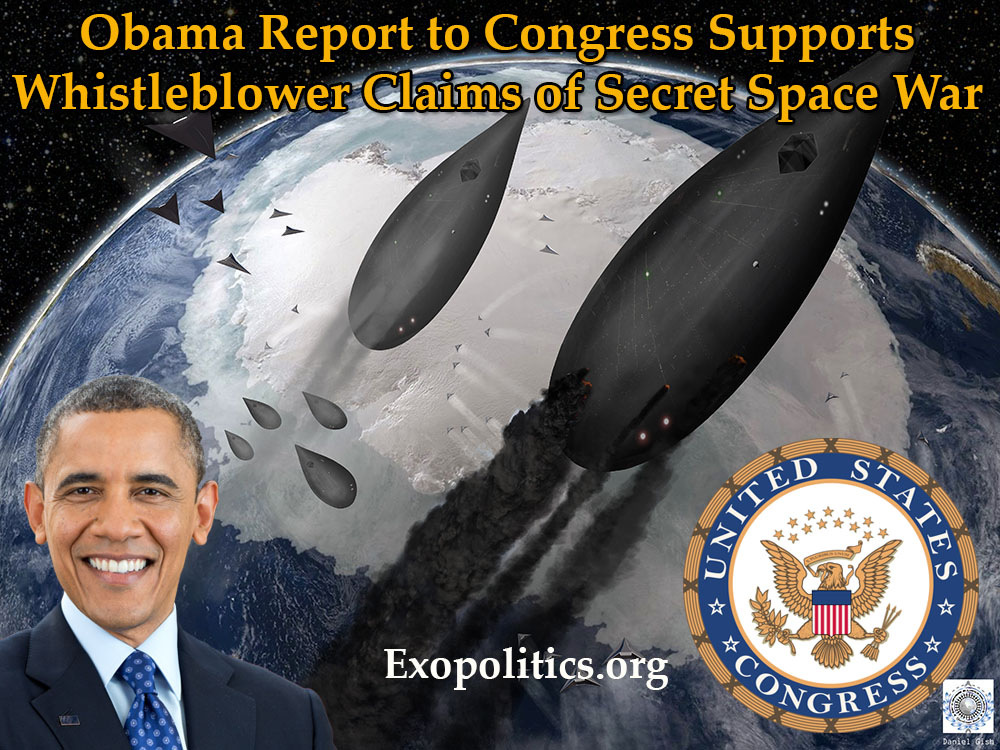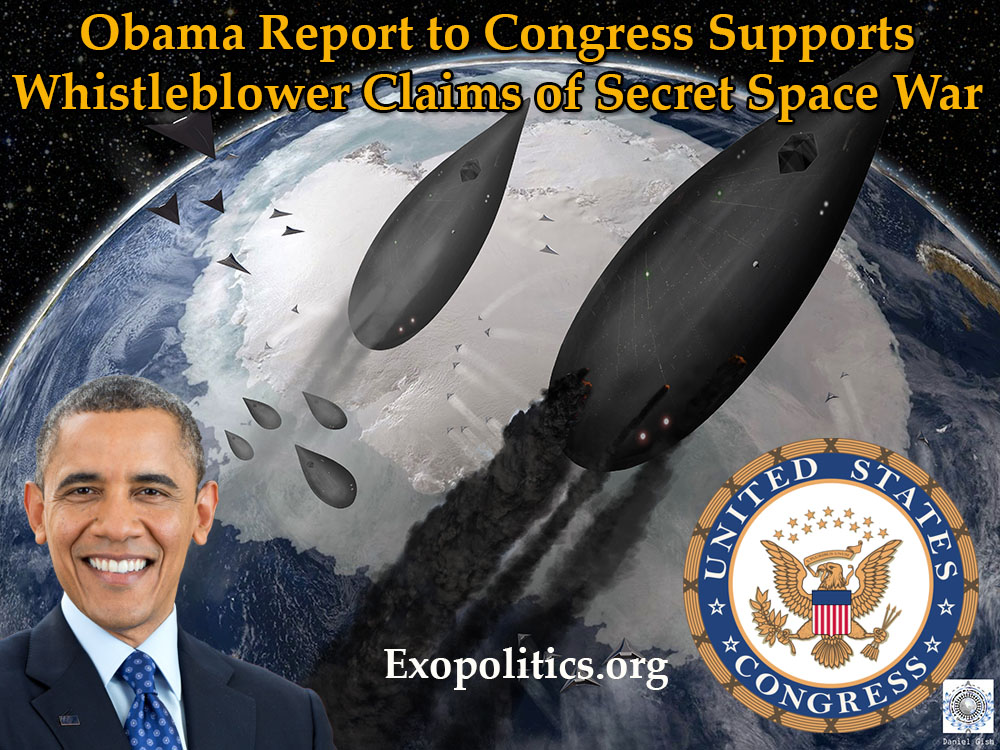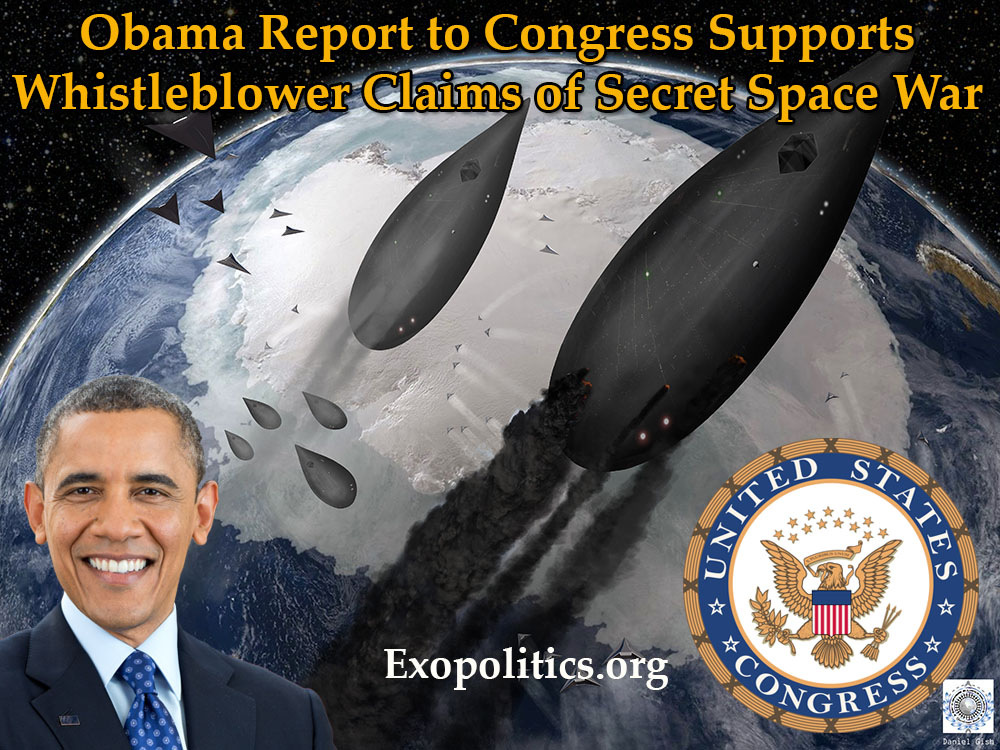 On May 26, President Barack Obama issued a report to the U.S. Congress about an interagency effort to develop an "integrated policy" to deter potential enemies in Space. Obama's "Space Report" gives credence to secret space program whistleblowers such as Corey Goode, who claim that battles have been fought between rival secret space programs in 2015, with the most recent occurring over Antarctica in April 2016.
In a letter released through the White House Press Secretary discussing the report along with a classified Annex, Obama said:
The report is the result of an interagency process with the objectives to reduce risks to the United States and our allies in space; and to protect and preserve the rights, access, capabilities, use, and freedom of action of the United States in space.  Success will require a multi-year effort and commitment across all departments and agencies, and I look forward to your continued support. 

Obama's letter said the report was issued to comply with "section 1613 of the National Defense Authorization Act for Fiscal Year 2016″, which he signed into law on November 25, 2015.

The Act was first submitted as a Bill on May 14, 2015, and had the following section to which Obama was directly responding in his May 26, 2016, letter:
Requires the President to establish an interagency process to develop a policy to deter adversaries in space.

Obama's letter refers to "a multi-year effort and commitment across all departments and agencies." What provides important context for his letter are reports of alleged battles in space between different secret space programs, which began in early 2015 according to Goode.
Goode's first public reference to battles in space was in an email interview released on May 30, 2015 where he discussed recent military conflict between different secret space programs [SSP] and their respective extraterrestrial allies both on Earth and in deep space:
Before the breakdown in the overall relations between the factions that were once united through the "Secret Earth Governments" (and their "Syndicates" known as the Cabal/Illuminati and various other Secret Societies), their Controllers (Draco Federation Royals and Ancient Earth/Human Break Away Civilizations that have deceived many and presented themselves as ET's from various Star Systems) there has been quite a lot of chaos among these groups which has resulted in them turning on each other. This has led to conflict in various underground/undersea networked facilities that have been responsible for some of the Earth Quakes in recent months that have been occurring across the Planet Earth as well as some incidents on Mars and other bodies in the Sol System…

Goode went on to describe the result of defections to a SSP Alliance formed with the U.S. Navy's Solar Warden program, which led to a surge in military battles, especially on Mars leading to many deaths at secret colonies:
Over the last 6 months there have also been some defections of assets from the Cabal controlled ICC [Interplanetary Corporate Conglomerate] Secret Space Program, remnants of the Dark Fleet (which is not a Draco Fleet but a Human SSP Fleet that serves alongside the Draco Alliance) that were not caught outside of the Outer Barrier as well as various other Military Black Ops SSP Program Members. Some of them brought with them time critical and actionable intelligence that was acted on by some of the SSP Alliance Leadership and their new allies without bringing it to the SSP Alliance Council. This resulted in Two Massive Attacks that caused large numbers of innocent deaths. Those who took part in what the Blue Avians called "Atrocities" were unapologetic and stated that it was the cost of war but the collateral damage was regrettable.

It is very significant that Goode's May 30, 2015 revelations of recent space battles overlapped with the introduction into the U.S. Congress of the original bill for the National Defense Authorization Act for Fiscal Year 2016, which requested Obama to: "establish an interagency process to develop a policy to deter adversaries in space."

It's worth emphasizing here that at the same time Goode was revealing the military hostilities that had just occurred both on Earth and in Space between different secret space programs, the U.S. Congress was authorizing President Obama to respond to future scenarios not dissimilar to what Goode was saying had already occurred in early 2015.
More recently, Goode claims that he received a briefing about a battle fought over Antarctic skies in April 2016, involving an attack on six large "teardrop shaped" cruisers by dozens of smaller "chevron shaped" space craft. He has provided graphic illustrations of both the Antarctic space battle, and of the location of the six bases from which the alleged cruisers launched.
Goode was uncertain over the origin of the chevron shaped space craft, and referred to speculation among his contacts that they belonged to an "Earth Alliance", comprising "White Hats" from different national militaries such as the BRICS nations of Russia, India, China and Brazil.
Goode also said that he was physically taken on a tour of these hidden Antarctic facilities, which he says are jointly run by the Interplanetary Corporate Conglomerate (ICC) and the Dark Fleet. He stated that the six space cruisers belonged to Dark Fleet, which dates its origin to breakaway Nazi groups in Antarctica and South America.
They were carrying Nazi-aligned global elites that had fled to South America and Antarctica over the last six months, as Goode explained in a personal briefing to me on June 15.
On June 18 – 19, David Wilcock gave his analysis of the informal briefings he had received earlier from Goode, and speculated that the attacking chevron craft belonged to members of the U.S. Military Industrial Complex (MIC):
Corey's people in the SSP Alliance did not know who built the "chevrons". It appeared to be one of the Earth-based "lower level SSP" groups. In order to give them honor and respect, I will refer to these Earth-based space program groups as the military-industrial complex, or MIC.

Wilcock says that he spoke with another whistleblower, Dr. Pete Peterson, who said that the US based MIC was given these advanced technologies by defectors from corporate controlled secret space programs:
Peterson knew all about these triangle-shaped craft when I discussed it with him on the phone. The MIC are very proud of their new weapon. It is very likely that the MIC got this technology from Alliance defectors from the space-based ICC, or Interplanetary Corporate Conglomerate.
The ICC is a faction of the SSP that started out as a part of the MIC. The ICC then became far more powerful and splintered off in various off-planet colonies. This group is completely self-sufficient, never needs money or supplies of any kind from Earth, and is effectively a breakaway civilization. The craft piloted by the earth-based MIC were nowhere near as advanced as those of the ICC or Dark Fleet, but all of that has changed now.

In June 2009, Petersen had first shared his testimony on a leading whistleblower site Project Camelot, and has continued to privately brief Wilcock.

If Goode and Petersen are correct, then it would appear that Obama's letter referring to a "multi-year effort and commitment across all departments and agencies," to deal with space adversaries, is not referring to a hypothetical future scenario, but is dealing with present real time contingencies involving one or more secret space programs and their extraterrestrial allies.
Furthermore, Goode claims that he was abducted on three occasions over a six week period during the months of January and February by an interagency military group with its own secret space assets, which was intent on gathering intelligence on the accuracy of Goode's earlier revelations.
In a previous article, I discussed Goode's June 15 personal briefing where he said that the National Reconnaissance Office, USAF Space Command and Defense Intelligence Agency (DIA) were agencies very likely involved in his military abductions.
They are part of what Goode has previously described as a "lower level" secret space program, largely unaware of the more highly classified space programs operating in deep space with kilometers long space carriers and cruisers as confirmed by former aerospace engineer William Tompkins.
While at a Douglas Aviation Company think tank called Advanced Design, Tompkins says that he personally designed the first space battle groups in the 1950's, which eventually began deployment in 1984 as the Navy's Solar Warden Space program.
The significance of Goode's January/February military abductions by the NRO, USAF Space Command and DIA is that these are currently gaining intelligence on the operations and technologies used in more advanced space programs, which are completely independent of the regular chain of military command, and Presidential oversight. These are almost certainly the same agencies involved in Obama's "interagency process to develop a policy to deter adversaries in space."

Consequently, if Goode is correctly reporting his experiences, then it would appear that his military abductions were part of President Obama's new interagency initiative to prepare for future space battles involving unnamed adversaries.
Obama's Space Report, and section 1613 of the National Defense Authorization Act of 2016, provide important circumstantial support to Goode's claims that military hostilities between rival secret space programs are currently occurring. These hostilities have stimulated a coordinated response by select military departments, agencies and corporations within the US Military Industrial Complex, and their international allies – what Goode loosely describes as the "Earth Alliance", to deal with "adversaries" who will likely be revealed in what has been predicted to be a limited disclosure announcement.
 © Michael E. Salla, Ph.D. Copyright Notice
Further Reading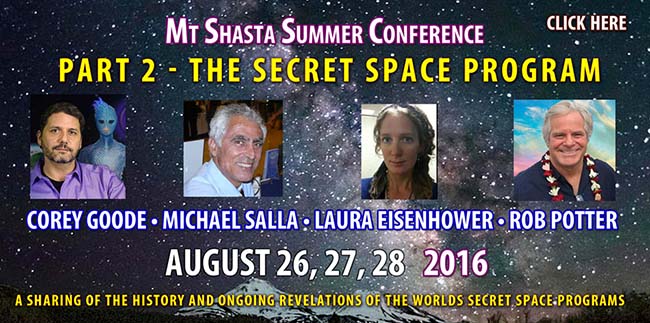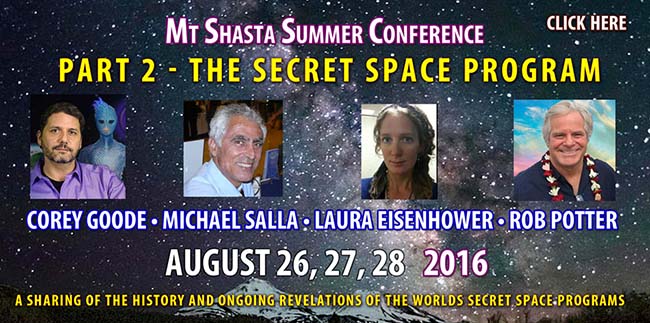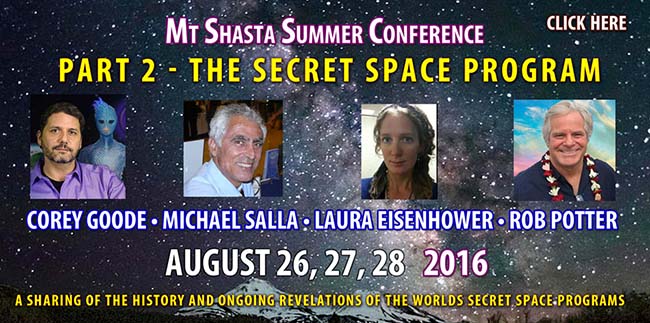 In July and August this year, successive conferences will be held at Mount Shasta focusing on Extraterrestrial Contact and Secret Space Programs. The organizer of the events, Rob Potter, has been working for nearly four decades with different contactees in the USA, and, more recently, South America. He has a wealth of experience about who's who in the field of benevolent extraterrestrial contact.
What follows is the transcript of an interview I did with Rob on June 17 about why he decided to organize these two conferences, what attendees can expect, who the speakers are, and what they will be presenting.
As one of the featured speakers, I also touch upon some of the material I will be discussing about secret space programs and how credentialed whistleblowers like William Tompkins are now appearing, who substantiate what has been previously disclosed, and the connection with extraterrestrial contact.
Rob's conferences in the pristine wilderness of Mt Shasta offer a very rare opportunity for participants to hear cutting edge information about extraterrestrial life and secret space programs, while being able to relax in magnificent surroundings.
Also, there is always the unexpected opportunity such surroundings provide for contact to occur in unique ways, as is suitable for each participant if they are ready for it!
Most want open contact with extraterrestrial life and full disclosure of secret space programs to occur. These two conferences are a step in that direction and I hope you can support them by attending and/or letting others know.
Michael E. Salla, Ph.D.
Permission granted to distribute article in full or in part freely.
---
Rob Potter Interview with Dr. Michael Salla
June 17, 2016
Transcribed by Sam Ritchie
Dr. Michael Salla: Rob, you are organizing an event at Mt. Shasta for a Bolivian contactee, Luis Mostajo Fernando, in July [29-31]. So why have you decided to work with South American contactees?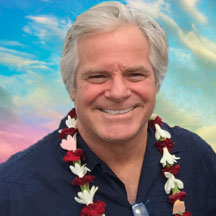 Rob Potter: Well, I have to tell you from a very early age when I first found out about things in the UFO field in the 1978, '79 era, when Fred [Bell] started talking more about the UFO experiences, I heard about the Great White Brotherhood. And I was in contact with George Hunt Williamson, and he had a group in Peru that was talking about the Inner Retreats, the Great White Brotherhood, and I actually had correspondence and they had an invitation, and my heart and soul wanted to go there, but I was 19 or 20 or something, and I could really even muster plane fare down there. It just called to me.
So when I heard about Luis Maertens, and actually through you had some contact – your feedback and your article with him really inspired me. And I went down last summer and met Luis and it was absolutely incredible.
We went to this hot springs called Urmirri, which is kind of an Outer Retreat of the Great White Brotherhood and my summer group had a contact/ sighting there. I just feel his message is so humble. There's no looking for any type of fame or attention. He's absolutely the genuine real deal, and reminds me very much of Frank Stranges, another Venusian contactee of Commander Valiant Thor, which is a little more business oriented.
Luis is all heart and he explains a lot of stuff. He has repeated physical contact with not only Venusians, but Tau Ceti, Alpha Centauri and the Pleiades – physical contacts.
He has, like Corey, been put into a Blue Sphere in Machu Picchu, many years ago, where he was transferred to Ganymede portal, the Jupiter portal, which is a major Confederation training center and contact. He has been to the Inner Retreats of the Great White Brotherhood in the mountains of Illampu, down there, in what's called The Temple of Purity.
He has also been several times to meet the Master Soromez, who is one of the ancient Atlantean masters, 40,000 years old, who is the primary caretaker of one of the Golden Discs of the Sun. There may be more. But there's one down there that's very important.
And I just absolutely adore him. He came to Hawaii this winter and people just gave him a standing ovation. He really revealed the divine feminine in his presentation.
I want his message to get out to the public. That's why he's coming, because he's a real contactee and his information doesn't go into anything at all in regards to cover-up, government stuff. It's all positive.
Dr. Salla: Yes, it's fascinating that he has had for a number of years now these experiences, and he's reported getting into these devices that are similar to the Blue Spheres that Corey Goode's been talking about. Luis and the other South Americans call them Xendras, [link] but effectively it does something very similar to what Corey's described. So it just shows that there is a real continuity here between what different contactees are experiencing.
Rob: Yeah, it's like a plasma scalar, or some sort of field portal, and it's blue. So it seems Corey's not the first person to be traveling in blue orbs spheres.
Dr. Salla: Exactly. One of the things that I found fascinating with Luis when I read his material and learned about his contact experiences was how he first met these extraterrestrials from the Galactic Confederation and he mentioned they have a base on Ganymede, one of the moons of Jupiter.
And he said that one of these beings, actually one of these extraterrestrials, facilitated his contact with this ascended master or master of wisdom, whatever you want to call him, Soromez, from one of the ancient civilizations.
And I thought it was really peculiar, but [it's] not the first time that I've come across this where extraterrestrials actually introduce contactees to these masters of wisdom who are indigenous to our planet. And it strikes me as really strange. Why is it that we as a species aren't ready to meet these ascended beings from our own world and we need to have extraterrestrials, off-world visitors, kind of do the introduction.
Rob: Well, I think that it may not be necessary in every case, but I think in Luis's particular contact, he also had contact with Oaxcl. He's a Venusian and he's been to Venus too, but I think for me, when I look at this, it confirms for me the greater plan and the unity of the benevolent races.
It goes back, again, to the quarantine. And this has to do with several things. One is, you know, most civilizations live on the interior, according to Valiant Thor, other worlds. And if you're on the surface, you can be exposed to radiation. And it seems as though that certain historical events and our misuse of nuclear power have kind of denigrated our DNA, as well as what we call the quarantine, where . . . I don't know what to call them other than evil. Some people call them hostile forces. I don't want to go into religious stuff, but let's just say, I would concur with Cobra that we're being kind of held hostage and that the benevolent forces are absolutely dying to communicate with us and to embrace us once again into the greater galactic family, but due to the hostile, bellicose nature of not only the government, but kind of humanity's misled reality, has created a situation for them that open contact with us would not be safe for them or for us at this time .
And there is required a certain level of maturity that when they introduce themselves to us, the technology has to come. We've already got it in the hands of a small elite crew in the Secret Space Nazi International Corporate Conglomerate Program that are misusing this. They're using it for their own power, their own aggrandizement, and there is a lack of respect for the surface population and what we are. They call us 'useless eaters'.
We are still taking oil out of the ground in greed. We are not quite ready for that technology. And they want to give it to us, but it has to be done in a proper way and we cannot be misusing it. We must be trained in the universal laws of Ubuntu, like we are our brother's keeper. We have a law of allegiance; a law of allowance that provides for freewill. You can do what you want as long as other people are not hurt.
So we have to kind of mature or ripen in wisdom as a people. I think they could contact us immediately and begin this process, but the mass media, people's ignorance, superstition and fear, are some of the reasons, but I think primarily, it has to do with the safety of the surface population. As you know, Michael, in the past many people were murdered for the information that Corey's is getting out and many are still working behind the scenes.
And god bless the military and the Secret Space Program guys. They are doing their best as they see it from their military viewpoint.
So we do have contact directly. It doesn't have to be an ET contact, but we do have contacts directly with ascended masters. It's historical visions of like over Egypt – the Coptic Church of the Ascended Master Mary during a time of great strife between the Coptic Christians and the Muslim. Mary appeared over the most famous Coptic Church in Egypt. I actually visited there near Luxor and the apparition sighting managed to calm the tensions down. It was kind of a mystical light appearance to calm the ignorance of religious intolerance. So that's a female ascended master showing. We also have other ones as well.
I'll say this. The inner earth group called The Great White Brotherhood, from my understanding, was formed about 10,000 years ago, and was part of this 40-race group that came here to really try to clean up the Earth's hostile environment and to begin what's called the Rahma Mission of direct contact with the masses.
Normally, they contact the world through their governance, but our governance is corrupt. So they've decided to do what's called the Rahma Mission and that's contacting individuals like Frank Stranges, you know, any individual contactee, Alex Collier, Fred Bell, Frank Stranges, could probably fall under that individual contactee umbrella that is bringing the messages directly to the people. And so many more now. It's really just increasing.
Dr. Salla: Luis, Ricardo Gonzalez, Sixto Paz Wells, and other South American contactees, emphasize spiritual exercises and personal transformation as a key for extraterrestrial contact and understanding of what UFOs are all about. So how does that mesh with the more scientific tradition in North America, especially the U.S., of relying on physical evidence to understand what's happening with UFOs?
Rob: Yeah, I would have to say maybe it doesn't mesh with the scientific minded orientation that is materialistically oriented . It's coming from One. But I think we do have to have both. I mean, the way we are in our consciousness and the way we think with the one sided approach of dualistic material. And that's kind of where we've gone is in limited view that can only be proven by materialistic scientific means.
We have made science our god and we don't allow faith or intuition. Science only takes you so far. There's only . . a close-ended never ending cycle. Intellect [and logic] are steps on an endless ladder and throughout the materials world you will never end your learning or growing in intellectual awareness, but wisdom, and spiritual experience, comes from the soul.
And the science of the soul is learning about the ancient knowledge, which is galactic and human . . . We have a historical human aspect to the spiritual development, but it's been hidden. It's been attacked. The people involved in it have been burned at the stake and ostracized, so there have been what are called mystery schools or occult, which simply means hidden, just like the Jesuits and the breakaway civilizations which are self serving in their secrecy. The lineages of Light have been forced to keep their teachings more or less secret out of a need for safety and to be free from persecution through out the ages.
And these teachings are available. For one who seeks, one can learn these teachings. For me, through Fred Bell, I came in through the spiritual. I was looking for communion with spirit. And the true nature of the self, who we are and where we came from. And he led me to Alice Bailey, which some people find controversial, Madame Blavatsky, and, of course, Manly Hall's book and also the first important book he told me to read was "The Autobiography of the Yogi".
And this book very clearly unified the universal Christ in all religions and that's where I came from in my search for truth. And I was thinking, personally I thought, back then that we have to get rid of technology. It's a mess. We need to go back to the Native American ways and become very close with the land. And we can sacrifice some of our toxic comfort that we've created for a harmonious non-invasive spiritual connection of family that we would have.
There are different principles that are involved in that. So I came to it through that and then when I started having my out-of-body-experiences with the Pleiadians, and the contact experiences, it was very inter-dimensional and very hard to process intellectually.
They showed me some things and I was like, "Ah-h-h. We CAN be spiritual and harmonious with nature. And we can time travel and live with abundance, prosperity and very high technology."
So it became apparent to me that they can be fused. So it's wisdom. And one of the teachings of the Hindus is called the Jnana and the Bhakti. The Jnana is the intellectual process of realizing God and having everything together. And Bhakti is the devotional or faith-based aspect, where all you do is pray and chant and sing and dance and commune with spirit through your heart and feelings.
They say that in the end the Bhakti must become the Jnani and the Jnani must become the Bhakti. We must fuse our wisdom and experience with our intellectual side. The other thing we have to realize is that not everything can be explained. There are unknowable things and yet we can connect to this vast wisdom – this pool of omnipotence, omniscience and omnipresence.
Through our own living flame, or the word of God, that lives within us, which some people call the Atman – there's different names for this direct connection. The soul, the essence of who we are – is part and parcel of everything. We're a holographic reflection. And if we can connect to that, then we can intuitively know – we don't intellectually think about every action, but we're just choosing the proper course of wisdom and love in our daily actions through our accumulated ability, awareness, to connect to the universal Source.
So wisdom and love, intuition and faith, are just as important as the scientific things. So I think you can come at it from both ways and eventually the intellect has to succumb to the greater reality on a certain level.
Dr. Salla: Right. I agree that there has to be some balance between the two and I like the way you approach it. And so you've met a number of U.S. contactees. You mentioned Fred Bell. So have you found that there are differences between the South American contactees and the North American contactees?
Rob: I wouldn't say particularly in general. I think the Southern American contactees, Luis Fernando Mustojo Maertens – I love that he's got four names – and you've got Sixto Paz Wells, Ricardo Gonzalez, primarily that I know of. I'm sure there are others, but these gentlemen have been contacting the same individuals under the umbrella of the same mission and been getting a lot of similar information.
So in that sense, they're very similar.
The Venusian, Valiant Thor, has several contacts. Dr. Frank Stranges is one of the only public figures I know. I know the names and individuals of some others that were on what is called the Council of Twelve from Dr. Frank. And there's a gentleman in Switzerland that's mentioned. But there contacts are very similar because they're very spiritual oriented, although they do encompass world affairs and are observing what's going on.
I met Daniel Fry back in the day. Gabriel Green was one of my greatest mentors. And he and the Bill Tompkins story we mentioned privately, Frank Chile my friend, what a great guy. I just love Frank. He was always so warm, always so enthusiastic, and he could just tell tale upon tale upon tale of benevolent space family contact.
Michael Elegion to a lesser extent. He's had physical contact. He's not directly permanently in contact, like Dr. Frank or Fred. And, again, you have Alex Collier, let's see, Daniel Fry, Gabriel Green . . . Those are some of my primary teachers. Dr. Frank Stranges and Fred, and I did get to meet Alex personally some years ago. And then he's come to my conference.
There's a difference between a telepathic communication and a physical contactee that just has that real experience of that decontamination – the process of going up and the communication and some of them on mother ships. It just leads to this absolute presence that you just look at them and you . . . you know, for people who intellectually look at them from a distance and "that's all hooey", as you know from your multiple contactee experiences and you have your own experience with Luis there where a ship came in on cue like with our group in South America.
We hope to have that happen at Shasta this summer, but there's this presence. Would you agree that they just have this look in their eye and their stories don't change, and it's very powerful. I mean, I've had limited experiences and my stories don't change. But I have not had that on-going face-to-face contact.
So I just have to say that the face-to-face ones are the most bona fide for me. I would say that most of them that I know of – and I'm not talking about abductees, I just don't go with the Travis Walton and the Whitley Strieber, bless them. But I'm not in to any Grey implant abduction scenarios left, right or center. I think that process needs to be clarified as a difference between face-to-face contact.
I think they're all, almost every single one that I know, has been benevolent. I think they have their own perspectives and what their missions are with the Earth people. And they have their own approaches. And not every single one of them knows every bit of history of ever minutae on the Earth and many of those groups wh are contacting individuals don't know what the other groups are doing with the other contactees!
So we have this . . . We don't have a unified, blanket come down where every contactee says this and that and this and that. They all have a slightly different perspective on different things and are revealing different things.
But I would generally say that most of them come in peace with love in their hearts. And of these groups, I think the Venusians are pretty up there. The Pleiadians, you know, they have different historical things and what they revealed and what they don't reveal and who they contact. You know, the Venusians are very, just generally, always extremely positive. And their civilization for some of them is based on the astral plane so they're well above anybody from Planet X or the Pleiades or some of these physical civilizations. They're in a higher dimension. They're kind of beyond the physical plane already in a sense.
So it's discernment and a processing things through our hearts. But I think if we look at the benevolent contacts, Sheldan Nidle, although he repeats a lot, my sources have indicated – one of my Venusian contacts indicated – he's the real deal. And he has very positive intentions and I'm not sure about what he's saying – the intel. It seems kind of repetitive to me, but I know Sheldan personally and he's a sincere, honest guy.
Dr. Salla: Yes, he's been around for a long time, but I do like what you said about the difference between the contactees with benevolent extraterrestrials or those who've had friendly contact experiences – the difference between that experience and those with telepathic communications.
You know, one of the things I've found with the contactees that I've met is that in their presence there's this really beautiful, uplifting energy. It's just that everyone gets lifted up to new possibilities and it really reminds me of being in … ashrams or when you're in the presence of very spiritually-evolved people that it really is something very special when you're around these people and like you said, their eyes light up and it's a wonderful experience.
And I'm not surprised that these people were chosen by the extraterrestrials for those kinds of qualities, because really they're ambassadors. They're galactic ambassadors.
Rob: Yes, I can tell you they all have personal problems, struggles, and they're all not perfect and they deal with a lot of stuff. But at the end of the day, they subjugate to the mission and their spiritual connection is strong. But they have . . . They've gone through their doubts.
Fred used to say that it was very difficult to come back off the ship. So he switched pretty early on. He got to go to the planet Lyra in the Pleiades and he actually piloted the ship once over the Air Force base we stopped and he went up for a ride.
He didn't like coming down like Alex Collier. You know, the famous quote Alex is getting off the ship. He's crying. He doesn't want to come back and I love this quote from I think it was Vyasis or Moranae, excuse me Alex if I err. whoever it was, but they said, "Alex, the pain you carry is the love that you withhold."
And that's a very high statement and easily said intellectually, adored, but to actually process that in a physical body and to really do that is not so easy. I could talk about love and light and understand the process and meditate as much as I can. And then there's the human element where we all, not everyone maybe, not you, Michael, but we all – I certainly fall short and I react. People attack me on the Internet and sometimes I just go . . . I respond . . . I probably shouldn't and should just let it go.
Some people say I'm sending them, you know, porno. I can't even create my own website. Me hacking stuff is ridiculous. But, you know, I take personal offense sometimes and I should not return anger with a snide comment. But we're all human, so . . .
A lot of the contact experience is a tremendous burden and Luis's really good at it. He's always so light and loving. Dr. Frank was the same way – just always full of joy and love for God and their eyes . . . It's a powerful thing.
Dr. Salla: Right. So you've decided to hold the event with Luis at Mt. Shasta in July. And I then that's going to be followed, I think a month later, with the Secret Space Program event at Mt. Shasta at the end of August. So why did you choose Mt. Shasta for the two summer conferences?
Rob: Well, for me, actually, my son was . . . I lived there in 1995 to kind of just get out of the rat race. I was a beach boy. I never thought I would get into this mountain living so much and Mt. Shasta I thought was a short trip, but I fell in love with the mountains. I'm a beach boy and now I'm a mountain man.
There's something so powerful there. I had so many experiences with some close contacts and some energetic overshadowing. I lived in the unique location called Morningstar. And I was having a lot of, let's say, ascended master and ET-type revelations there. And it's a spiritual pilgrimage location due to the fact that there is one of the largest underground bastions of the Galactic Confederation, The Great White Brotherhood, is the Mt. Shasta and adjacent area complex.
They have never been breached. They are extremely loving and powerful and will play a very big part in the future for education of humanity.
I've lived there on and off for 20 years. I could never really support myself. My son was born there so I'd always go back and forth during the summer and run out of money and then go back to my healing work in Southern California. I just love it.
And I have great connections there. And it just kind of happened. I started small and I'm in my sixth conference, or seventh this summer with these two. I've been very careful and prudent not to overextend myself and they've been successful.
And the great thing about these conferences, as you know, Michael, the presenters are one thing, but it's the energy. You're meeting 150 people who are the black sheep, understanding the spiritual information, who have felt isolated with their inner understanding. Sometimes there are sightings and communications.
And here they get to go and everybody you see, almost everyone, is very positive. And they can share stories and reaffirm their knowledge that they've gathered, that others are assimilating the same process.
And, of course, we're in the shadow of Mt. Shasta. James Gilliland, when he was coming, I mean, we were having light shows every night come on down. If you want to go out and watch UFOs."Power up!" And do that kind of thing. You could see it.
And I just love Shasta. I think it's a great environment. It's a little pricey because people have to travel there plus the conference fees, but I think it's well worth it. Lifetime relationships are established. We have a Facebook page and people keep in touch
There's a sense that . . . I like to bring the spiritual aspect to it – the process of attaining wisdom, of meditation. And the mystical side of developing ourselves through understanding our – let's call it our – esoteric anatomy of our glandular functions and how the process of contact can take place for us individually and to reaffirm that in a group setting. That's one of the reasons I love it. Plus, it's just darn beautiful.
Dr. Salla: Right. Yes, I know. I have been there last year at the event. The vibration is really wonderful. The people are great. And it's very friendly and very open and I can't help but think that this is the kind of environment for people that are attracted there would actually be something that would lead to some kind of physical contact.
Of course, you mentioned the Inner Earth civilization and, of course, extraterrestrial, or the flying saucer craft are seen directly there…. We could imagine that there might actually be some contact, so do you think that this is one of the things that you would like to happen whether it's at this conference or one of the future conferences that there would be a kind of contact event at your Mt. Shasta conference?
Rob: Well, I can tell you that Luis is famous for programmed contacts and that kind of contact is very possible this year. The Forest Service is giving us permission and I'm aligned with them. We're not going to be going into any general public areas. We're going to a non-disclosed location on a certain day at a certain time.
The second conference is more intellectual and we don't have a contactee like Luis, who can literally bring them in, but we will stay on the property, which is very nice. So there's a possible contact.
I'd like to say that in Dr. Frank Stranges meetings, I know for a fact I met two people from Venus there. They were telepathically communicating with me. They were from Venus, but I was kind of . . . One of them I was kind of having a cat and mouse thing. It was a girl, actually. My girlfriend at the time was jealous. Like, "What the heck stop flirting with her ?" I just shook my head. You can't explain that kind of thing.
We had a dialect/telepathy and she kind of led me into certain areas of research. She was one on the cover of a famous picture of Valiant Thor. I believe they called her Jill. But she was in Dr. Frank Stranges inner circle meeting, and she just lit up the room, smiled at me. Every time I turned she just smiled like, "Good for you, Rob. You figured me out. But don't say anything and let's just have our regular conversation." And that's the way it was.
And there was another gentleman who initiated me in to the Order of Melchizedek, which is a thing and he wasn't there for the two days. He came on the last day. He wasn't there before lunch, but he was there from the after-lunch to the next break and then he was gone.
He had long blond hair to his shoulders. Extremely good looking – a guy. And when it came to put all the members put their hand on the other members and there's a prayer and I made a pledge and an invocation, and this guy put his hand on top of my head and he locked eyes with mine and I was kind of thinking, "Oh, it's this." I was kind of embarrassed. I had forgotten that I had signed up for it.
Something told me, "Take this very seriously." And when he put his hand on my head, there were electrical currents. It was a very positive experience and I thought, "I kind of want to find that guy after the thing," and they kind of blocked my remebering ability to do the Jedi mind-trick and blocked my mind and I couldn't look for him.
They're very much like us. I can promise there's probably been an ET or two at my conferences. You'll never know. It's just not important that that be revealed at this time. But they're watching these type of things – especially with Luis, Alex, James. Of the guys that come to my conference, I think those guys have a very strong connection.
Cobra as well. You know, there's a feeling that they're watching these meetings very closely looking at people's reactions to see who's presenting, how it's being presented, and if it's coming off in a grounded way at the same time with a spiritual content. So there are contacts going on at these groups. I would say they're not openly public, but who knows.
I would like . . . Maybe we're with Luis, we'll get one of those South American contacts he's famous for where the UFO goes over the hill and three people have a contact. By the time the rest of the group gets there, they're gone. But it could be very cool.
Dr. Salla: Yes. Why does information about Secret Space Programs have a catalyzing affect on people in the New Age and the UFO communities? People can't seem to get enough of that information of these classified programs, so is that a sign of a global awakening?
Rob: Yeah, I think this, again, is coming from the research perspective, people are going to have felt a lot of the ETs is secret government stuff, which it has been, but I think that there is a . . . it's more realistic for us to think about that. The revelations that they're getting in regards to hyperspace and the science, the hard science, like on my website the Secret Space Program . . . If you click on that slider banner, there's a gallery of photos.
I was contacted in 2011, by a guy who owned a company. And he gave me all these pictures of the technology. And you can see the advanced different technologies that they were using and lots that probably weren't revealed. They showed little saucers and stuff.
I think people really understand now. They're coming in through this government cover-up, the Nazi development of this technology, which goes to the mystics, the Thule Society, those women that started it with a spiritual intent and it got basically railroaded and hijacked. The contacts, all of a sudden, switched to the tall, long-nosed Greys and the hostile groups with the Hitler, you know, superior race vibe going on that really skewed the possible benevolent revelation that could have come forward at the time.
People are getting a little education and they'll come in to the more spiritual positive elements once this dirty deeds, done dirt cheap-type of stuff that's going on with the Secret Space Program, the Nazis, and that whole thing that's been, you know, joining with the Dracos, allowing humans to be abducted and implanted, you know, the energetic loosh that David Wilcock talks about sucking people's life force through fear of little children, pedophilia and murder for these Earth-based elitist . . . This stuff is so heinous, it's just, you know, it's hard to turn away, but it's something that needs to be exposed.
I think the reason this is coming out now is humanity needs to understand this seamy underbelly so that we can expose it to the light of day and like a bit of mold, in the sunshine it will just dissipate and blow away. People will stop paying attention to these negative actions of the elitist criminals and simply un hook from The Matrix and the control system will be revealed for what it is and people will no longer . . . They're going, you know what, I don't care about my job at this point. I'm just fed up. I'm a slave." And they're out and they're making their own way.
So I think part of it is for humanity to gather traction into understanding the level of cover-up. I mean, if we take Corey Goode's information, imagine the billions of dollars that have been made on pharmaceuticals. Imagine the pain and suffering that has gone into little children with cancer and all of these horrible diseases that people have had.
And the Venusians offered this to us in '57. They said, "We're going to offer you help The Confederation wants to give you free energy, communication, transportation technology that kind of benevolent interaction, but you have to put away nuclear power and end all of your wars. That's a prerequisite."
And they just said, "Sorry, we're not going to do it. We wouldn't be in power." And they said, "Yeah, give us your technology."
And they said, "No, when we give it, we land and it goes to everyone."
And they said, "Well, we're already getting it from the Dracos, the Greys and Reptilians. Screw you. Stay away. You land and we're going to hunt you down and kill you."
And some of the people in the military, who have been following this, many of them have been compartmentalized. Many of the higher Commander Bethune, Admiral Webster, . . . I forget some of the names, the main guys. They haven't been happy with the cover-up, but the military mind likes secrecy and power and there's an aspect of that that when they figured it out, it was so hard . . . Who are you going to take out, because it wasn't a political person.
The presidents and the people in the front, except for George Bush, Cheney and some of these higher . . . like the Clintons . . . are definitely in on the program and understand what's going on for their own selfish aggrandizement. They sell their souls and create wars and all the false flags that are going on, this Orlando thing, and all that.
We have to understand that some of the individuals in there have . . . you know, who do you contact and create a cadre of resistance within the military? It is a tough nut to crack.
Some of them have been in contact with these space families and the secret technology program and developing spiritual consciousness along side of technology.
So I think there's a cadre of them and they're so secret and have been working in the underground space program who have not liked what's been going on. The themes, the general tone of secrecy and murder and keep the power at all costs, because people can't handle it. I have to agree with Cobra, that's a lie.
Randy Cramer, I adore him. He is a true patriot and that's a guy I want on my side. He says that the Marines have analyzed demographic data, blah, blah, blah, and the disclosure has to come a certain way or there will be chaos in the streets.
I feel there's chaos on the planet. There's murder, death and destruction, and people will be able to process the truth. And unlike Jack Nicholson: "You can't handle the truth." People can handle the truth.
It's going to be difficult. There will be certain things that will be shocking, but we need to have this full disclosure. And, Michael, again, I told you before, I think you are the finest writer in the field of exopolitics in that you're very grounded. You lend a sympathetic ear and you maintain your integrity as a journalist.
And I think the more enlightened and aware people out there who can do that as we move forward, we just seeing a massive explosion now of this information. It's getting to go . . . It's going viral, but it's still fringy and there's a lot of people who want to get involved very quickly and come up to speed, but they don't have the wisdom and experience or discernment so sometimes the storyline is not as grounded to many people . . . It'll all happen in it's own sweet time.
Dr. Salla: Yes, it's definitely something that's mushrooming. There's a snowball effect here. I've noticed there just seems to be more and more people being drawn to this field – the Secret Space Programs. It certainly is something that people have more attention for.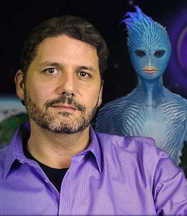 Well, Corey is going to be the featured speaker at your August Secret Space Program conference. Now, what can the public expect to hear from him and how interactive is it going to be for the audience and the speakers?
Rob: Well, the great thing is, Michael, you are coming as well. So you have, besides David Wilcock, you have the most insider contact with Corey and are dialoguing with him in regards to the history.
Now, Corey has kind of been thrust into this position. He's an empath. I think he's becoming more comfortable speaking, but he has kind of a shy side. And the great thing is you're going to be able to lay the groundwork for him and I offered for him to do a presentation. I'm not sure what he's going to present. But, we will be having at least four hours with Corey on Saturday and Sunday, which will include – and he'll be there Friday night too – direct questions from the audience.
We're going to hand out 3×5 cards, and we're going to vet them for the more interesting questions. But I'm expecting a 150 to 160 people, if all goes well.
You can write multiple questions. And we're going to vet them a little bit. They need to kind of be on point. And we're going to have some great questions and let Corey answer them. We'll probably have a microphone for follow-up questions, but it gets kind of time delay. So I think I'm going to read the questions directly to Corey on stage there.
Corey has a wonderful team around him. We're going to have it professionally video-taped and sound. And I've tried to do this several times, but I think this time we're really going to pull off a great recording for people who can't make it to actually see it. The live stream energy won't be there, but I think we're going to pull it off this time. We cannot live stream unfortunately, folks. It's deep in the forest and there's no cell phone or Internet connection there.
So I think we can look forward to wonderful conversations with Corey on stage. He did say he wants to, for those involved in the Disclosure Project . . . Some of the primary people will be meeting there for the first time. And I think we're going to have a private luncheon or two for those people who are involved in wanting to become part of the general populace to serve the awakening to the general populace – they're our brothers and sisters.
This is real. We're not fringe. We're not crazies. And this needs to be revealed to the public. At the very least we're going to get free energy and get rid of nuclear power.
Andrew Basiago says teleportation devices come in pretty quick. There's lots of toys that can come from that, but for me, it's an understanding of liberation and letting the truth come out. Let those Nazis go ahead and keep their little program and do their thing and we're going to surpass them because we're oriented in love, fellowship, unity and the common good of all.
Dr. Salla: About a month ago you did an interview with both Corey Goode and Cobra. So what did you learn from the interview? What are the highlights? What were the main lessons for those wanting to corroborate information about Secret Space Programs?
Rob: Well, one of the things I learned is that they're both extremely busy. Just coordinately that thing took me three months on time. Corey is . . . a good family man and he takes his family life seriously and it was hard to get them together, but . . . And I love Cobra. I've supported him for years. I have, you know, some differences of opinion a little bit here and there. I'm a little more . . . I'm very comfortable with the word 'God'. I don't think it's a machine. I think it's a living, loving creation and certain aspects of the spiritual lineages of Light, I think, are important.
But this was a very Secret Space Program-oriented one. When I normally give an interview, I have a conversation with Cobra or something, and a lot of people think I'm just an interviewer and that's not my personal style.
I have my own experience and I want . . . I use the interview to educate myself. So I generally have conversations and give backgrounds to questions that the audience wouldn't know if I was to say, "Hey, Bob Renaud said this and . . ."
Unless there's a background, people don't get it. So usually do that. For this interview, due to them both asking the same questions, I was very regimented and disciplined and I asked direct questions to both of them.
And what I was trying to get from that interview, was a spiritual aspect to what's going on with the good guys. Corey talks about it, but his information has been woefully – at least what I've seen so far – not sharing benevolent contact. It's like we're getting a birdseye view, but we really don't know what they're talking about.
We see these good guys doing this and that, but there's really no personal . . . like Alex Collier's very personal interactions with Morenae and Vysayus. How he's feeling and what they're thinking about us is bereft in Corey's dialogue. It's mostly very much like, "I went up there and I did this and that." He's not briefed on where he is going or anything so it is tough for him. So I was trying to get more of that from Corey.
And Cobra shared that side of his knowledge of the Confederation, and Corey and them basically supported each other in a lot of information in regards to the control Matrix and the technology that's used.
They had some differences in views in what Corey calls the artificial intelligence and Cobra calls the primary anomaly in regards to it being a technology or a universal natural source. And I had to side with Cobra on that in that I feel that it is a technology that is run by, let's call them, powerful fallen beings in direct opposition to what is considered universal law and order.
And this is something that's still not clear to us. We're beginning to see the differences here and we probably won't get clarity and all of us are going to have, "Oh, I really didn't see that one coming," as contact, first contact, moves to the forefront and open, transparent interplanetary culture exchange takes place as oppose to the piecemeal stuff when we finally do get our benevolent Elohim, Seraphim, Family and the various non-material and material beings openly communicating it will be clearer. When our interaction history with various groups and the timelines are laid bare to us as a populace through open disclosure. Even through the United Nations, albeit a readjusted United Nations, Then with a open and free mass media that's not controlled and we can actually judge for ourselves. And, of course, there'll be face-to-face contacts.
We really just need to be sure that when it's done it's done properly. I would really suspect that if disclosure, ETs, are presented to us from Obama and the Queen of England, I'm really going to . . . I would have to agree with Alex that it's a false flag introduction that may come forward.
I know they have plans for that. They've had a lot of plans that haven't come through, though, so it's very possible that the good guys may be able at some point to directly intervene when it's safe enough to reveal the truth to humanity. And we can decide on our own and be happy and not happy with some of our historical contacts and get it cleared up. What's the difference between the Sumerian's contact and the Atlantean time.
And the Biblical stories have to be put into perspective of what's happening – the men of renown, David and Goliath, the giant cyclops. All those kinds of things will be cleared up and we'll definitely probably get a book of who's who from where and how long they've been here and their histories and struggles to become a super civilization, and we'll take our place amongst the stars as brothers and sisters and equals with our space family out there.
It's an exciting time, but it's confusing. Keep your hands and arms inside the spaceship at all times.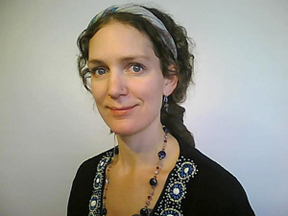 Dr. Salla: Well, one of the other presenters is going to be Laura Eisenhower, the great-granddaughter of President Eisenhower. So why is her information important for learning about Secret Space Programs? And what are we going to hear from her?
Rob: Well, I love her. I like to call her a tigress for the Light. She is enthusiastic. She's deep metaphysical and I actually spoke with one of my upstairs contacts the other day – upstairs, downstairs kind of thing – and they said she definitely brings the divine feminine and the Sophia energies and has a deep understanding of the mystical and religious and spiritual experience.
William James . . . all spiritual and mystical experiences have certain things in common they are transcendental are ineffable. You can't talk about them. They're transcendental in nature. And this is the aspect that goes beyond reason. It's kind of like a swoon. It's like a direct feeling consciousness. It's kind of like, how can you explain what happens when really good music hits your soul? It touches you. It just moves you.
I mean, you could say, "Well, the resonance of the sound vibrations effect the typhonic membrane etc." Some times you know, you've got to get into the feeling and that's where the women come in. Men are centered in reason and women consciousness is centered in feeling. The grey matter in the brain, and you have grey matter in your diaphragm, and if you, huh, huh, you watch and athlete when they pant from that kind of animalistic diaphragm, that's the center of feeling at the tip of the breastbone and that's where women are typically very much more in tune than the masculine.
Not that men aren't aware or can't be with feeling and women can't have giant intellects and be super intelligent, but until we integrate those aspects within ourselves in a positive way, the women are very in tune with feeling. Sometimes men think it's too much and don't acknowledge feeling and women think we're just thick idiots because we're not processing information from the grey matter in our diaphragm.
Laura has . . . her bona fides by her genetic grandfather and her being approached by the Secret Space Program on Mars as well . Her and I are the same way when it comes to sometimes stream of consciousness talking and all of her views on the government. She goes right to the point . . . I mean, false flags, media control, vaccinations. She's like me, just bomp, bomp, bomp, bomp. We align on almost everything.
And she is . . . got the heart space too. And women need a voice. I really am impressed and love her to death.
I've been trying to get her to come for years and I'm just so happy she can come this year. We're looking forward to some great stuff from her.
Dr. Salla: Right. Well, in my presentation, I'm going to be covering a lot of the material from William Tompkins. One of the things I've found really very supportive coming from him was how much his information dovetails with Corey Goode's. Bill actually read my book, Insider's Reveal Secret Space Programs . . . a lot of it is based on Corey's testimony. And he was really shocked at how much it matched with his own experiences in going back, right back to 1942 when he was working with the U.S. Navy… He finished working with the Navy League, [after leaving] the aerospace industry, around the year of 2000.
So it's synchronicity and corroboration there, and what Tompkins brings in is a lot of documents, a lot of credible people, that actually support his testimony, or support him as a witness. One of the things that I did was I was able to track down a couple of the Navy officers that actually worked with Bill Tompkins when he was up in Medford, Oregon, not all that far from the Mt. Shasta area.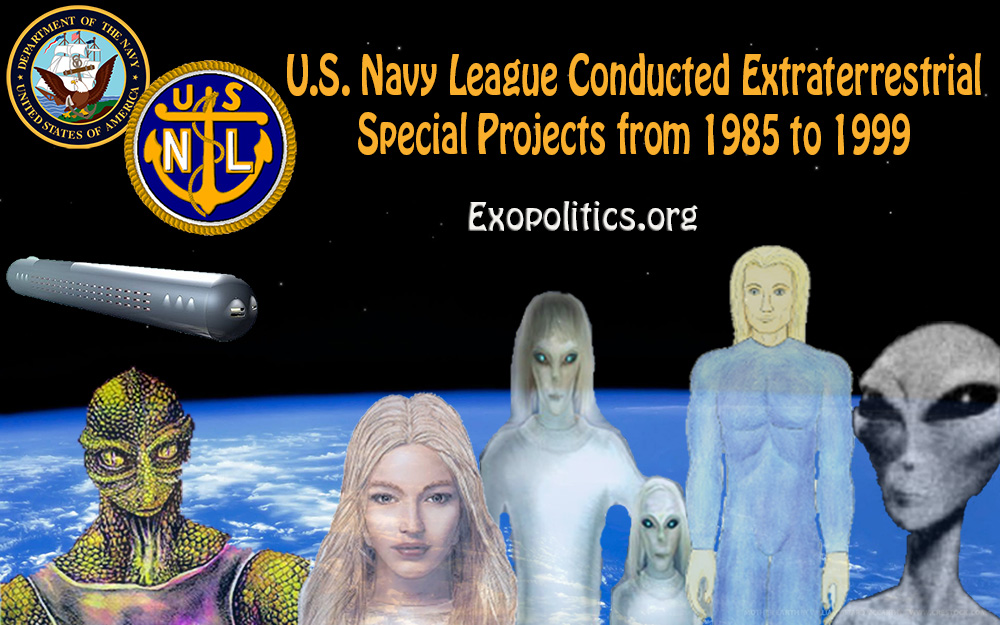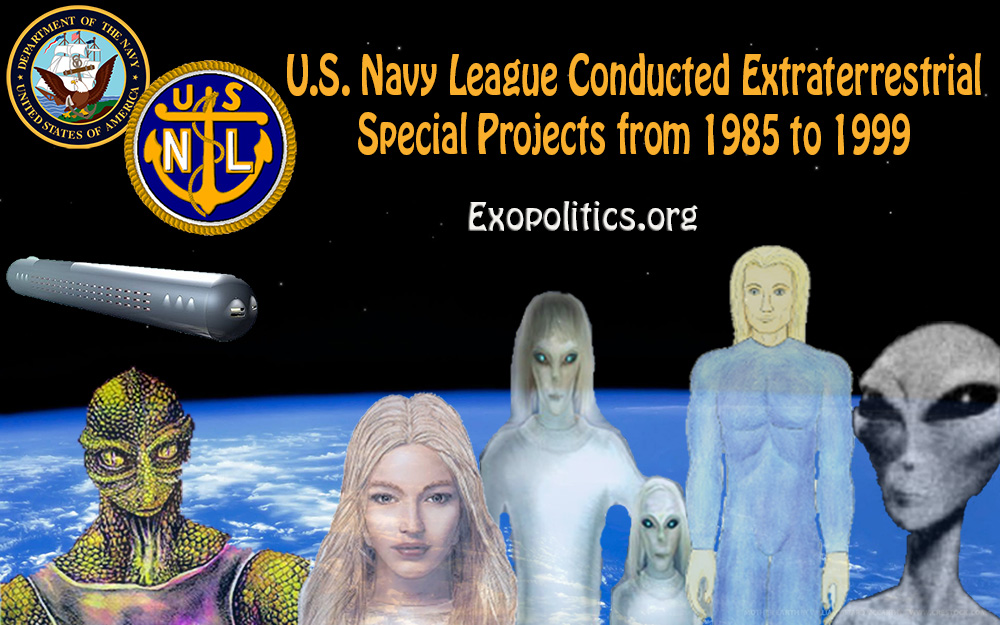 And actually there's an interesting connection there with Mt. Shasta. It's that . . . these [two] Navy officers said that Tompkins was the real deal. He was talking about extraterrestrials and that Tompkins was in charge of these special projects. Tompkins had a document basically showing that the Navy League actually was discussing these special projects. And he discussed some of them.
But one of the special projects that I thought was very interesting was that he said that a lot of the mainly retired Navy officers and the reserve Navy officers there … were pilots. And so one of the special projects was to actually track extraterrestrial visitors, or more correctly we'd say, just the flying saucers, that were entering and leaving Mt. Shasta.
That they observed these hidden entryways into Mt. Shasta. And so they had these planes up there trying to find out where the ETs were entering and leaving, and I think some of those might have been Earth civilizations. That they also actually had these off-road vehicles going up Mt. Shasta to find out, or to … find these hidden entryways.
So definitely there's this very interesting connection with Shasta. So I'll be talking about his information.
But what I find very encouraging with William Tompkins coming forward now . . . a year after Randy Cramer first came forward and then Corey Goode came forward in September of 2014. Then in December of last year, Bill Tompkins book appears, "Selected by Extraterrestrials".
It seems to me, that this is part of [an orchestrated plan]. . . I mean you couldn't plan it better, because in a way, Randy Cramer, Corey Goode, present their experience, but they have no documents. There's no kind of professional aspect of who they are as individuals in terms of education, careers, that support, directly supports, their testimony. But they put the story out.
And then a little bit later you have Bill Tompkins coming on the scene supporting what Corey has said, what Randy Cramer has said. But in Tompkins case, he actually has the background, the professional background. He has the documentation, the corroborating witness testimony.
So what I think is happening here, it's almost like there's this divine script happening, because there's a lot of professional people that say, "Ah, Corey Goode and Randy Cramer, you know, nonsense. Where's the hard evidence?"
Those same people, when you present the data with William Tompkins, they're eyes pop out … they say, "Well, really?" Well, this guy's the real deal. And he's actually supporting what Corey has said, what Randy has said.
So I think what Tompkins does is he opens it up to a much wider audience and to me it's like this is really an incredibly divinely scripted process where these Secret Space Program whistleblowers start coming out, each one supporting what the other one has said, but opening it up to a slightly new audience because of their own backgrounds.
Rob: Absolutely, and you are a primary part of that. I want to go back to the Shasta thing a little bit. Back in the '50s there was a road called Military Pass, and the government, they have an underground base there.
Andrew Basiago said that there's obviously a giant command center there. They're watching. They're impotent. They could take their tunnel boring machines, and I promise you they have, and they've gone nowhere. They get stopped. The machines will overheat. They just won't start. They've given up, I'm pretty sure, on any attempt to breach the Inner Earth civilization there, which I believe is completely benevolent.
If you've lived there for any period of time, if I have girlfriends that come close with me and they want evidence, eventually they show up and Shasta was one of the more particularly profound displays. I was with a girl and she wanted to believe and all this kind of stuff. She was kind of an atheist. She had a spiritual experience, and then she came back and was questioning me and we were over at Lake Siskiyou there and a large, golden disc went from the top of Mt. Shasta, kind of swooped down over the town, moving at a high rate of speed, and came right by us and she was like, "What was that?"
And I go, "What do you think it was?"
"Ah, ah . . ."
I said, "Maybe it was an eagle carrying a gold coin reflected from the sunlight." You know, and she finally is just like laughed and she got it. There's lots of stuff up there and if you have an open mind and an open heart, you're going to see phenomenon. And the focus is not phenomenon. The focus is, "Who's inside there? What are they doing? What is their thinking?" And if we process this information on your own over time, "How can they move so fast?" and all this stuff. Then you go into the other Secret Space Program, which is the benevolent contactees that have been on-going and paralleling the government's program.
The interesting thing about William Tompkins is also his direct interaction with what he calls the Nordics. Who they are, but, you know, I think he's protected. He's 93 years old. I was a little concerned about his age and we talked about having him come, but I might have made a mistake in not bringing him, but you can certainly share his information and maybe we can get him to come up as a personal visit, a journey.
But it certainly seems a very, very powerful aspect to have this synchronistic back up, and I agree with you 100% that this is a divinely orchestrated in a synchronistic way. And the mass media just can't stop it.
Dr. Salla: Right. Well, I'm really looking forward to the conference and presenting some of the incredible information that is coming out now. It really is picking up. There seems to be this kind of incoming of galactic energies, a heightening of awareness, the raising of vibrations, frequencies. People seem to be more open to various possibilities. So I'm very interested in presenting some of that material that I've got. I've been learning from Corey, from Bill Tompkins, and others.
So in terms of the conference logistics, how do people learn about it and how do they register?
Rob: Well, they can go to your website, and to my website, , I'm having a migration to my new site and I've been hacked, emails. Some weird stuff going on right now that is not functioning, But there's plenty of seats left. Just go there and choose. You can camp on-site or off-site, if you like.
And we'll probably have some two-day passes available towards the end near the conference date but at this point they're not available. It's a three-day event. Folks, you want to intend to stay all three days.
I'm think about having Laura Eisenhower kind of be our top speaker or ending speaker on Sunday night and lead a nice spiritual closing to all of our kind of intellectual, historical and these technological space program information. So she's going to probably be closing it out before dinner on Sunday night.
We have great food there. We have dinners and then we have two fire circles that can be opened. And people just have a blast out there, singing and talking, dancing and playing music and the forest is so beautiful and the moonlight and a lot of the fun takes place in between the speakers, at the lunches, at the lake. And in the evening time especially, I have a world-class jazz musician, Clive Stevens, coming. This brother played at the World Jazz Day. He plays with people like Stan Getz, the Marsalis brothers, Herbie Hancock. He's top-notch, world-class, and he's going to be presenting some very high-end music as well as Ryan Marchand.
So we have some fun times in the evening, some cool slide shows. It's going to be a blast. So check it out at Michael's site. You can check it out on and type in 'Shasta Summer Conference Part 2 [or click here]
It's on my website under 'Upcoming Events'. Just get your ticket. They are going much faster than any other conference I've ever had. We still have tickets, but if you're coming, you might want to make your plans. I suggest people maybe look into, if you're on a budget and want to stay in a hotel, you can get the Motel 6. It's a 40-minutes drive each day, but camping – it's a bit rustic up there. But we do have showers, toilets and food, and a very nice hall.
Thank you, so much, Michael. It's been an honor to be with you here today.
Dr. Salla: Well, thanks, Rob. Aloha, and I look forward to catching up at Mt. Shasta.
Rob: All right, folks. We'll see you up there. And God bless you all.
---
Mt Shasta Conference Registration Pages
Part 1- Ancient Wisdom Teachings – July 29-31
Part 2 – The Secret Space Program – Aug 26-28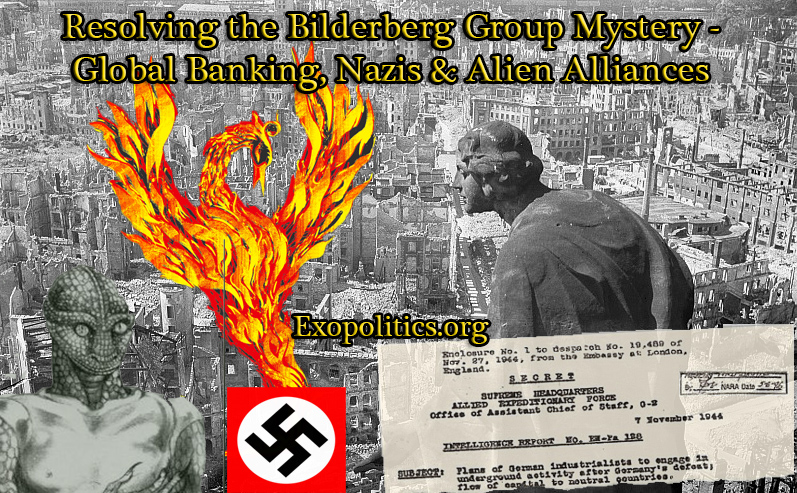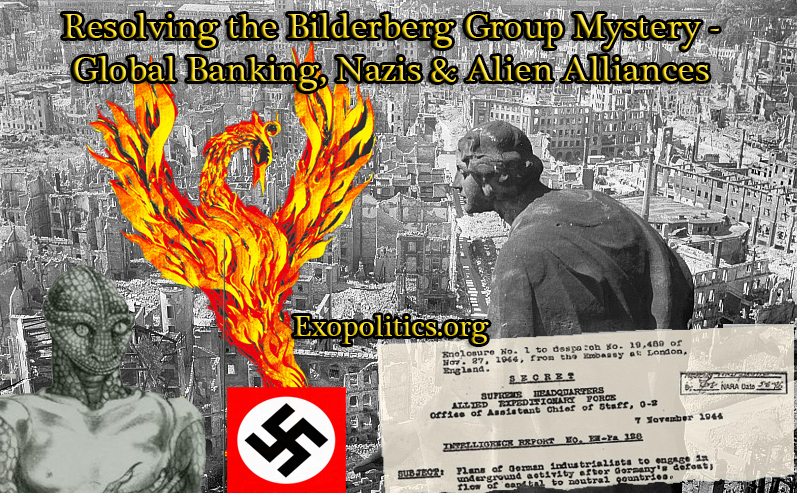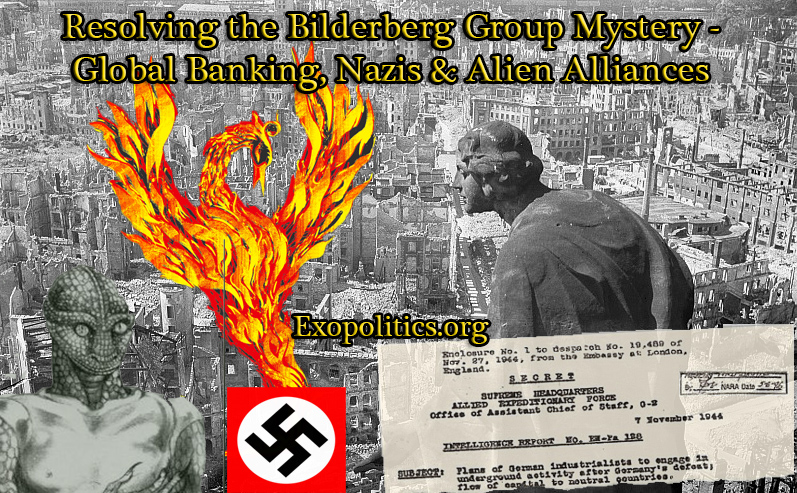 The Bilderberg Group begins its annual meeting today in Dresden, Germany to discuss a range of hot button international issues. The four day meeting (June 9 to 12) has attracted protestors, many of whom believe that the Bilderberg annual meeting serves to expand the interests and influence of international banking cartels. A number of whistleblowers reveal a very different agenda behind the Bilderberg Group – a covert global takeover spearheaded by breakaway Nazi/German groups who allied themselves with extraterrestrials during the Second World War.
To begin unraveling the Bilderberg mystery, a good place to start is with the dominant belief by many current protestors and critics that the Bilderberg meeting is a forum where world policies are secretly decided, and implemented. High among these policies is the creation of a One World Government and Central Bank dominated by corporate cartels.
According to Bilderberg Group critics such as Daniel Estulin, author of The True Story of the Bilderberg Group, the annual meeting serves the interests of an international banking cartel intent on creating a One World Government and a global Central Bank. To achieve these long term goals, the Bilderberg Group meets annually to implement international policies where they secretly manipulate national politics, economics, and global events.
The ultimate goals are all very worldly. The international banking families would provide much of the capital for setting up the World Central Bank thereby creating virtually unlimited wealth for future generations of international bankers. This wealth would be more than sufficient to satisfy the greed, ambitions, and political needs of international banking interests by controlling humanity.
The Bilderberg Group has already become, according to Estulin, a shadow world government:
… they have gathered yearly in a luxurious hotel somewhere in the world to try to decide the future of humanity … the Bilderberg Group has grown beyond its idealistic beginnings to become a shadow world government, which decides in total secrecy at annual meetings how their plans are to be carried out. They threaten to take away our right to direct our own destinies.
So is Estulin and other critics correct? Is the annual Bilderberg meeting merely a front for international banking interests that form the backbone of a shadow world government?
The following story was told to me by a former hotel employee who had worked at a venue where the Bilderberg group had met one year. This was a year where Bill Clinton was in attendance (1991), according to this hotel staff member. I will simply refer to this person as Mr B. Having met Mr B, I found him to be very credible, and he had no reason to fabricate what follows.
While at work during the Bilderberg annual meeting, Mr B was instructed to deliver an important message to a specific person attending a meeting in one of the smaller meeting rooms being used by the Bilderbergers. As is now well known, it is the tradition of the Bilderbergers to hire an entire hotel for its exclusive use during an annual meeting. All hotel staff are basically there to serve the needs of Bilderberg participants during the meeting. So it was not unusual for Mr B to be given such a task which he was now responsible to complete. Initially, Mr B was refused entry and was asked to hand the message over to someone else. Mr B insisted that he was under strict orders to deliver the message personally. After some heated discussion, Mr B was given permission to enter the meeting room. That's when things became very bizarre.
Mr B claimed that upon entering, he saw approximately 24 people seated around a large rectangular table. They were speaking in a cacophony of sounds, none of which was intelligible. It didn't sound like any language Mr B had ever heard before. Mr B couldn't see any faces among those seated around the table. He could see their physical bodies in suits, etc., but the faces were hazy due to some kind of mist or fog. Mr B reported that there was an intense energy field pervading the room – it was definitely very unusual and felt otherworldly to him.
Mr B felt resentment being projected towards him over his unwelcome presence. He was directed towards the person to whom he had to deliver the message. Mr B delivered the message and promptly left the room. He was unaware of the message's contents. Soon after leaving the room, Mr B experienced a massive headache, which lasted several days and he had to take time off.
Mr B's experience suggests that there is an element within the Bilderberg Group that does have an otherworldly composition and agenda. It's very likely that Mr B had viewed the Bilderberg's mysterious Steering Committee in session, and that the people running Bilderberg may be in touch with and/or controlled by an outside otherworldly force.
To understand the Bilderberg connection to an otherworldly element, we need to turn the clock back a decade earlier, to events that occurred during World War II.
A former US Navy Intelligence operative and aerospace engineer, William Tompkins, has revealed that U.S. Navy spies embedded within Nazi Germany's advanced technology projects during the World War II had learned that the Nazi war effort was being assisted by extraterrestrial visitors. The spies had reported to a covert Naval Intelligence operation, located at Naval Air Station San Diego, that Adolf Hitler had signed a secret agreement with representatives of a Reptilian extraterrestrial race.
In an ExoNews TV interview, Tompkins reveals how "Reptilian consultants" were helping the Nazi SS develop advanced aerospace technologies:
They had, if you want to call them, "consultants", who are Reptilian consultants assisting on all of these different things that it takes to design and build these spacecraft carriers, and propulsion systems. So this is an extremely well developed program and documented like crazy. Getting copies of the documents was hard for them, hard for our spies. This was an open program in the upper level of the SS.
The spies learned that the goal of the Reptilian plan was not only to assist the Nazis to win the war and achieve planetary conquest, but to build fleets of antigravity spacecraft carriers that could be used for interplanetary conquest in other star systems:
Holy cats the thing went way beyond that [world conquest]. Again, what we just said about this was the tip of the iceberg of what they were doing. Already Reptilians were doing it to other stars' planets all over this area of the Galaxy…. These young kids, the operatives, they couldn't believe half of what they brought back, what was going on. But some of them were really good people, and they knew how to get into places and listen to what's going on, and finding what that guy he had talked to, or he heard, and going to so and so, because yes they were doing that over there.
Tompkins information is startling, but it is not the first time claims have been made about Nazi Germany receiving extraterrestrial help during the War. The father of German rocket science, the following in response to a question about Nazi Germany's rapid technological development:
We cannot take credit for our record advancement in certain scientific fields alone. We have been helped." When asked by whom, he replied, "the peoples of other worlds."
In a 1998 interview with Linda Moulton Howe, a former CIA agent, who from 1957 to 1960 was given access to highly classified briefing files, said that the documents revealed that the Nazis had indeed been helped by an extraterrestrial race in their advanced aeronautical weapons projects:
When Vril was building that first craft, the Vril had one or two of the aliens that worked with them in Germany where they fired rockets from Peenemunde. The documents I read in Washington said that's where the first Vril vehicle was made…. They [aliens] were helpers to Germany.
More recently, Secret Space Program whistleblower, Corey Goode says that from 1987 to 2007, he read intelligence briefings on smart-glass pads that detailed what had happened during World War II.
He describes how German Secret Societies were helped before and throughout World War II by a group of Reptilian extraterrestrials known as Draconians, who were assisting the Germans in the development of advanced antigravity space battle fleets.
At the same time these [German Secret] Societies had made contact with the Draco Federation and another group that avoided the Draco's. The German Occultists were very busy from the early 1900's, especially in the time just before, during and after World War One. Their major breakthrough's occurred in the late 1930's.
Similar to Tompkins, Goode also said that the ultimate goal of the Reptilians, in helping German Secret Societies and the Nazi SS, was to create advanced space carrier groups that would be capable of interplanetary conquest. The eventual German/Nazi space battle groups became what Goode described as the "Dark Fleet." It operates outside of our solar system, and is described at length in the book, Insiders Reveal Secret Space Programs and Extraterrestrial Alliances.
The first Bilderberg meeting was held in May 1954. The public justification was that it was held to promote political and economic cooperation between Europe and North America as the best defense to what was now perceived as the long term threat of communism. To that end, prominent business and political leaders have been regularly invited to the Bilderberg Group meeting on an annual basis to discuss ways of coordinating national policies and anticipating global trends.
The real reason for the formation of the Bilderberg Group, however, can be traced to waves of flying saucer sightings over key U.S. cities in 1952. The overflights of Washington DC in the summer of 1952 were the most important because according to independent whistleblowers, these involved Nazi flying saucers operating out of hidden bases in Antarctica.
In May 2015, Goode described the Nazi overflights of the U.S. capitol in 1952 with their superior technologies, then hidden in remote Antarctic bases, and how they pressured the Truman and Eisenhower administrations into negotiating a secret agreement:
… after the failed Operation High Jump Mission, the Operation Paperclip Scientists were asked to negotiate meetings… The NAZI's used this to their advantage in some very public sorties over Washington D.C. and highly Secret Atomic Warfare Bases to mention a few. Eisenhower finally relented and signed a treaty with them … "NAZI Occult Societies" therefore infiltrated every single high tech corporation and position of power inside the now "Joint Break Away Civilization/Program". They have been involved in all western space programs and projects ever since.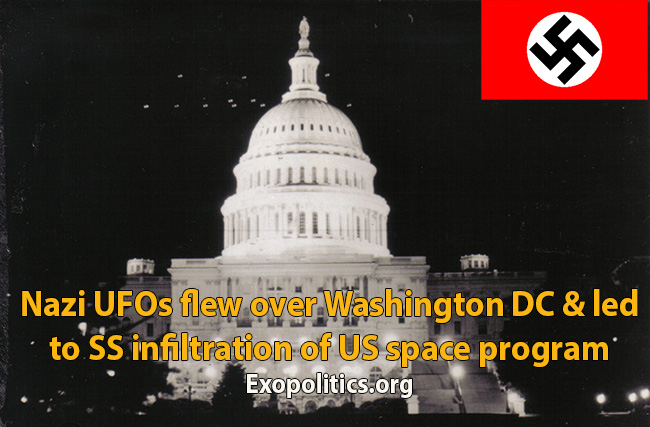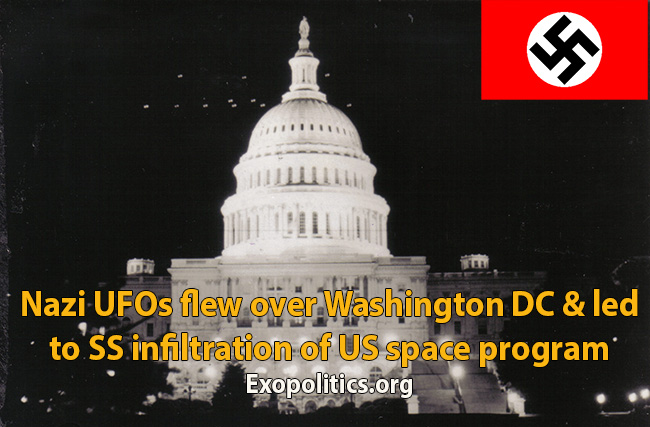 Goode's controversial claims have been corroborated by another whistleblower, Clark McClelland. In last year's August 3 instalment of his book, The Stargate Chronicles, McClelland writes:
The over flights of advance very swift crafts over Washington, DC were these German advanced aircraft that totally out flew American advanced crafts. On July 12, 1952, President Truman observed several of the UFOs and was completely amazed by their capabilities of outmaneuvering the USAF and US Navy advanced Jet fighter, the F-4D. USA jets sent up to bring one down. None could fly the speed of the German Saucers.
Similarly, William Tompkins describes in his book, Selected by Extraterrestrials, infiltration of the U.S. military industrial complex by Nazis and their Reptilian allies.
Secret agreements between the breakaway Nazi/German group in Antarctica and the Truman/Eisenhower administrations allowed the infiltration of the U.S. military industrial complex. The infiltration occurred through scientific, financial, and political processes.
The scientific infiltration occurred through Operation Paperclip where thousands of former Nazi scientists were placed in positions of authority within the military industrial complex. For example, Kurt Debus became the first director of the Kennedy Space Center in 1962, and had regular meetings with senior SS officials such as Hans Kammler who survived the War. Clark McClelland reports having seen Kammler at the Kennedy Space Center during the 1960s.

The financial infiltration would occur through massive amounts of Nazi capital that had been allowed to leave Germany in the summer of 1944. The "Red House Report" is a U.S. Army Intelligence document that confirms that on August 10, 1944, after the Normandy landing, Martin Bormann had given secret orders to leading German industrialists to move their liquid capital to neutral countries in order to help resurrect the Nazi regime after its impending military defeat. In short, the Red House Report is hard evidence of Bormann's plan to set up a covert "Fourth Reich" through economic means after military hostilities had ceased.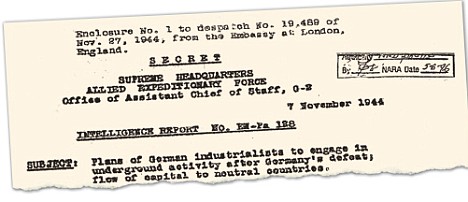 The political process coincided with the May 1954 formation of the Bilderberg Group, which involved key figures from North American and European political, and corporate elite. The Bilderberg Group was either a direct result of the breakaway German/Nazi regime secretly setting it up through pro-Nazi figures such as Prince Bernard of the Netherlands, or was co-opted by the Nazi/German breakaway groups through their extraterrestrial allies who would come to dominate the Steering Committee.
The otherworldly incident described above by Mr B demonstrates how the Steering Committee was at some point taken over by extraterrestrials, very likely the Reptilian group that had allied itself with Hitler and German secret societies. Another incident provides further evidence that it was indeed Reptilians who had powerful influence over the Bilderberg Group.
In a July 2015 briefing received by Goode from a Lt. Col. Gonzales (another secret space program whistleblower who continues to remain anonymous), Goode described that one of the principal architects of the Bilderberg Group, Henry Kissinger, was involved in a meeting involving a 14 foot Draconian extraterrestrial.
In the briefing, Gonzales describes how he was taken to meet the leader of the Draconian Federation Alliance, a 14 ft Royal White Draco. After being taken to a building somewhere in the American Southwest by a classified spacecraft, Gonzales claims he was first met by a very familiar figure:
Gonzales and his Security Team came out into a hall way and it seemed empty and quiet except the Security/IE's motioned down the hall with hand signals where they felt the awaiting delegation. When they were most of the way to the end of the hall Gonzales saw a very familiar person. He said this person had to have seen the look on his face and his gaping open mouth. This person introduced himself with his thick accent, droopy eyes and curly white hair. Gonzales said this guy had created so many think tanks, global organizations and advised more U.S. Presidents than anyone he could think of. This person is very well known as a supporter of the New World Order and Depopulation Programs.
Goode's description is referring to Kissinger, who has long been rumored to be a key figure in classified extraterrestrial related projects. Kissinger attended the 2015 Bilderberg Group meeting, which occurred only two days after Goode and Gonzales had allegedly met approximately 200 human elites that offered a limited disclosure program to begin in November 2015. Kissinger will also be attending the 2016 Bilderberg meeting in Dresden.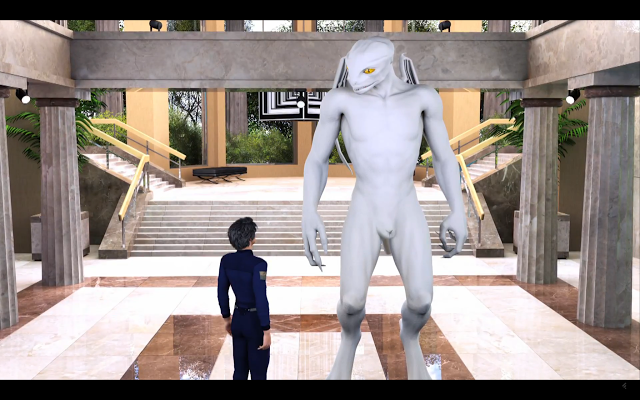 Dresden is very symbolic since it was utterly destroyed during the Second World War. Holding the Bilderberg meeting there represents a Phoenix-like return of key elements of the Third Reich in a reconstituted Fourth Reich. Consequently, the current Bilderberg Group meeting provides a further opportunity for the breakaway Nazi/German group and their Reptilian allies to move forward in their covert plan to dominate global events through a centralized global order.
Kissinger's mentor, David Rockefeller, is a key figure in Bilderberg Group meetings and plans to create a "One World Order", which would in effect be a covert Fourth Reich. Rockefeller claimed in his Memoirs (2003):
Some even believe we are part of a secret cabal working against the best interests of the United States, characterizing my family and me as 'internationalists' and of conspiring with others around the world to build a more integrated global political and economic structure — one world, if you will. If that is the charge, I stand guilty, and I am proud of it.
It's worth emphasizing that elite global interests intimately involved in the Bilderberg Group have very different goals to the global interests of humanity. A centralized system of world governance that Bilderbergers such as Kissinger and Rockefeller support, is little more than a resurrected Fourth Reich.
Casting light on the historic processes that led to the creation of the Bilderberg Group is a step in the right direction for learning about the emergence of a breakaway German/Nazi group in Antarctica, the multiple secret space programs that exist today, and key extraterrestrial alliances that greatly influence humanity's future.
© Michael E. Salla, M.A., Ph.D. Copyright Notice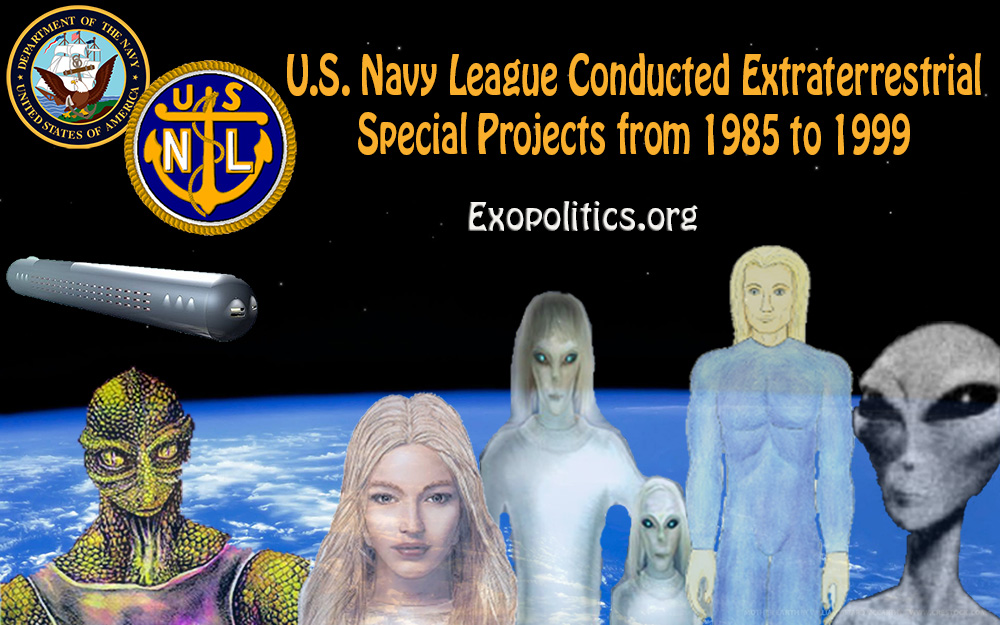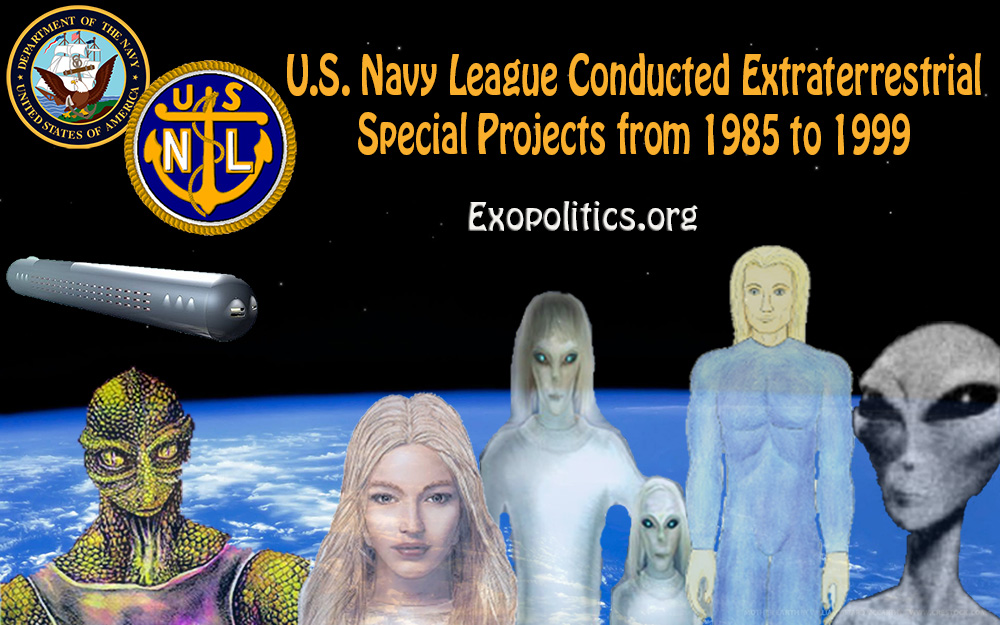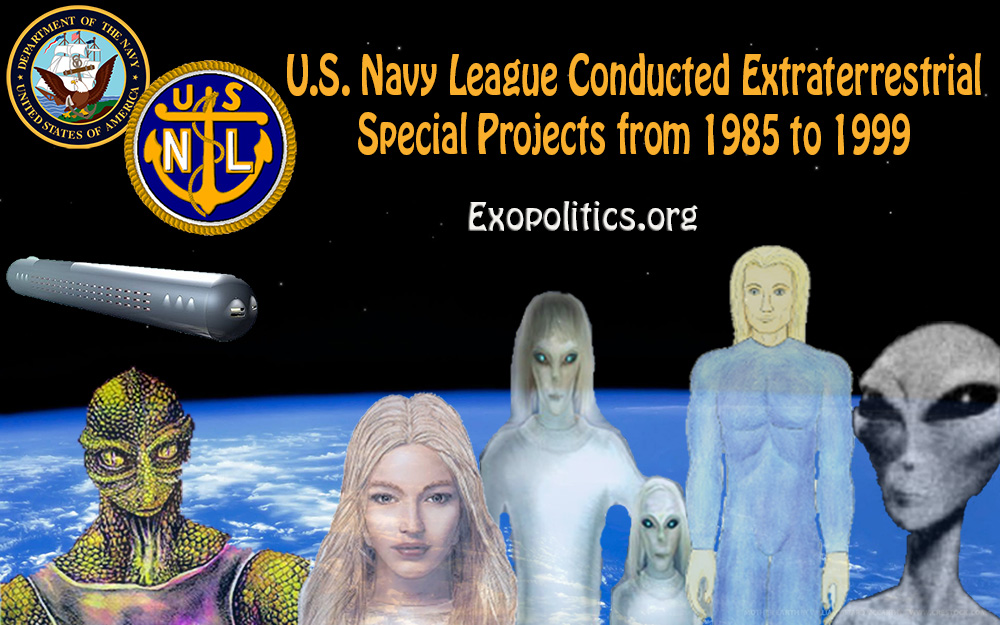 Former aerospace engineer, William Tompkins, has revealed that from 1985 to 1999 he was given permission to create a number of special projects involving extraterrestrial life and technology at a council of the U.S. Navy League established in Medford, Oregon.
Tompkins has supplied a document confirming that a Special Projects Committee was created and gave reports at meetings of the Medford "Rogue Valley" council of the Navy League.  In addition, two retired Navy officers who attended these meetings have been contacted, and confirmed that Tompkins did discuss extraterrestrial related issues at the Navy League meetings as he contends.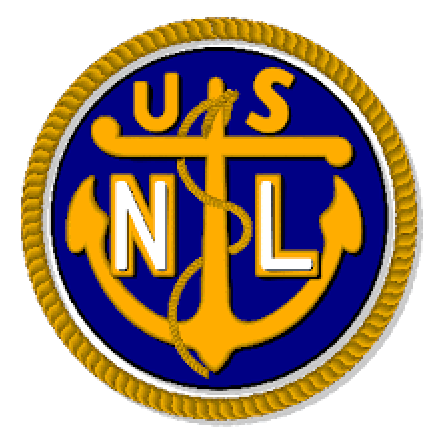 The US Navy League is a national organization with over 50,000 members that provides support for the US Navy, Marine Corps, Coast Guard and Merchant Marine. It was founded in 1902 due to a suggestion by President Theodore Roosevelt. The Navy League describes itself as "a civilian organization dedicated to the education of our citizens, including our elected officials, and the support of the men and women of the sea services and their families."
Tompkins created the Navy League Rogue Valley Council in January 1985, and became its inaugural President. Prior to this, Tompkins had worked for the U.S. Navy and leading aerospace contractors from 1942 to 1984. During this period of over 40 years, he has stated that he worked on a number of advanced spacecraft designs based on information that was developed with the assistance of extraterrestrials.
Of particular importance, during his time at Douglas Aircraft Company (1950 – 1963), Tompkins was involved in designing naval space battle groups with spacecraft carriers and cruisers that were as much as two kilometers in length. He has described in his book, Selected by Extraterrestrials, three Nordic aliens that were embedded in the Douglas Company, that quietly assisted him.
Later in his aerospace career with companies such as Rocketdyne, TRW, Lockeheed, and General Dynamics, Tompkins says that he participated directly in various aspects of the Navy's secret space program as it went from the early design phase, leading to detailed architectural plans, and finally to the space battle groups eventual deployment in 1984.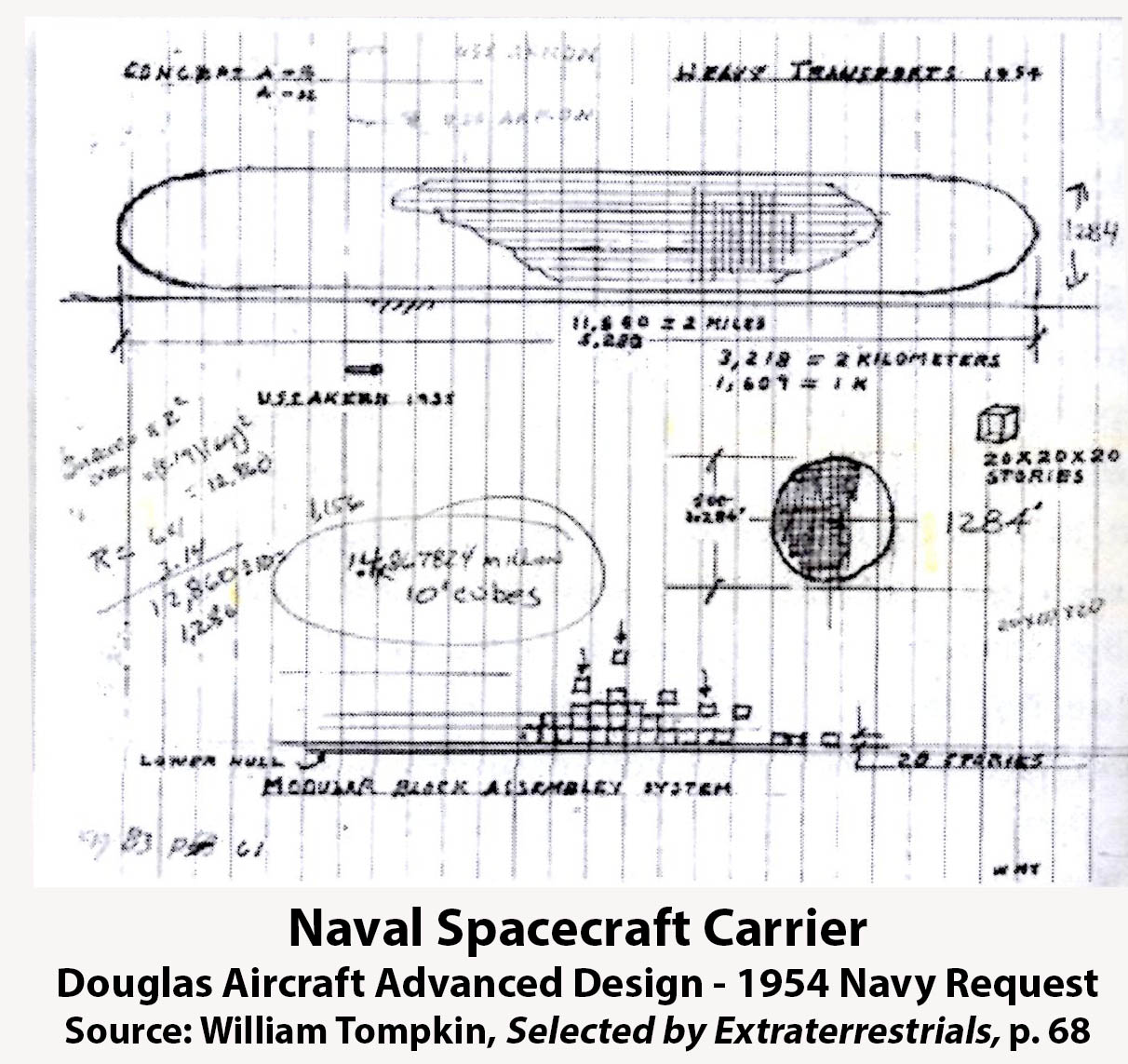 Coinciding with the Navy's secret space battle groups being operationalized, Tompkins "officially retired" from the aerospace industry. He began a new phase in his already remarkable career. Tompkins would now educate select Navy officers and their children about extraterrestrial life and technology to prepare them for a world where the existence of extraterrestrial life was common knowledge.
On January 1, 1984, Tompkins moved to Medford, Oregon where a high concentration of reserve and retired Navy Officers resided. In February 1984, he attended the Navy League National Convention in Seattle.
Prior to the Convention, Tompkins briefed Rear Admiral Hugh Webster, a President (San Diego) and corporate director (national) of the Navy League, about some of the extraterrestrial projects he had been involved in during his aerospace career. Tompkins received the Admiral's full support for his plans to develop a series of Navy led special projects dealing with the alien topic.
Later, in 2001, Webster would give Tompkins permission to disclose all he knew about the Navy's involvement in extraterrestrial related projects in a future autobiography – published in December 2015 as Selected by Extraterrestrials.  
Tompkins subsequently received permission to create the Navy League, Rogue Valley Council, formally established on January 1, 1985, using Navy Reserve Center facilities. As its inaugural President, Tompkins was soon after promoted to Vice President of the Navy League for the entire State of Oregon.
In his autobiography, Tompkins describes his main mission in January 1985:
Created Southwest Navy League Council [Medford] with 37 top Navy officers, the "special projects" group, pilots from various employers, all working on alien interaction projects." (p. 431)
In an unpublished video interview from March 2016, Tompkins said:
You've got a hand out of Navy people responsible for this Navy League Council that I started up in Oregon, and we had specific missions up there with extraterrestrials, particularly in large mountains up there. It's interesting that if you read that little list of names how many of these personnel, who were out of the Navy, but are still in the Reserve, are pilots, Navy pilots, Commanders or Captains. I happened to have one of the largest groups in the country in this Navy League, supporting extraterrestrial missions.
One of his immediate tasks was to set up a Command, Communications and Control system for the Navy League's Medford council. To achieve this, he set up the "Sea Cadets" where junior high school children of navy officers and others, would be given a basic education of naval maritime and aerospace operations.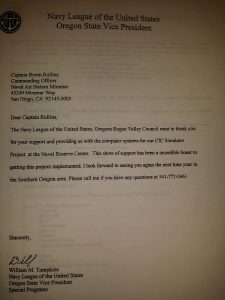 Tompkins was able to secure 14 computers from the Miramar Naval Air Station [previously used for F-14 flight training] for this purpose. He says that the command and control system (CIC) that was set up for the Sea Cadets, was planned to be used as a means for educating Navy officers and "sea cadets" about extraterrestrial and secret space operations.
Tompkins has supplied a number of documents to support his remarkable claims. One confirms the computer systems given to him by the Miramar Naval Air Station.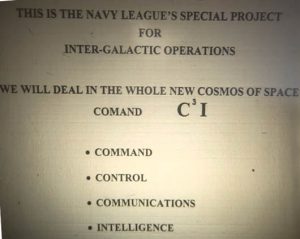 Another document is a hand out prepared by Tompkins for the Navy League describing the deep space and extraterrestrial operations project being set up at the Navy League.
He refers to the operations system that was being set up as a "special project".
Another document confirms that special projects were indeed being discussed, and conducted at the Navy League in Medford, as Tompkins claims.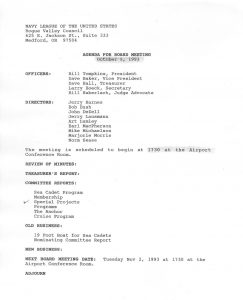 The document is the minutes of a meeting held on October 5, 1993. The minutes confirm that Tompkins was President of the Rogue Valley Council [Medford].
Most significantly, the minutes confirm that an item on the agenda was a report by a Special Projects Committee. Tompkins says that this Committee was in charge of six "special projects" which each had their own sub-committee.
One was the Inter-galactic operations special project discussed above.
In private interviews, he has described some of the other special projects that he says he was directly involved in.
One special project involved reports of UFOs seen entering and leaving Mount Shasta which was believed to be an extraterrestrial base. Pilots affiliated with the Navy League would fly around the mountain to find entrances, and all-terrain vehicles were also used for the same purpose.
Another special project was a contact program where personnel could meet and interact with aliens at a remote mountain location in the Cascades. Tompkins has described how holographic technologies were used to help participants learn about the history of extraterrestrial life, and interactions with Earth.
Corroborating Tompkins Testimony and Documents
Tompkins has privately supplied a November 1995 list of Navy, Marine and Air Force officers, and local officials who participated in the Navy League, Medford council. From this list, I was able to locate two Navy Officers so far, and each confirmed serving with Tompkins. Both of their names also appear in the October 1993 meeting document described earlier.
I spoke with Art Lumley (Commander, USN ret.) on May 19, 2016, who is the current President of the Rogue Valley Council Navy League. Lumley served for 20 years with the US Navy and Navy Reserve, and then worked for 26 years as a pilot with United Airlines retiring as a Captain.
Captain Lumley says that he recalls that extraterrestrial life was a topic discussed in special projects that were areas of interest for the Rogue Valley Council during the time Tompkins was President. He said that Tompkins would raise the extraterrestrial topic in discussions, and it was known among Council members that he was an expert on the topic. Lumley said he does not recall any direct involvement in such projects himself, but did recall Tompkins discussion of them.
I also spoke with Larry Boeck (Captain, USN ret.) on May 24, 2016. His naval service spanned 25 years and he retired as a Captain in the U.S. Naval Reserve in 1995. During his career he commanded five Naval Reserve units.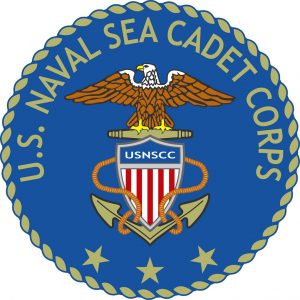 Captain Boeck says that while he does not recall any direct involvement in special projects himself, he does remember Tompkins talking about extraterrestrial life and giving reports to committee members about them. He also remembered Tompkins discussing hologram technologies as a means of educating Navy League personnel and Sea Cadets.
Boeck says that Tompkins was very knowledgeable about the extraterrestrial topic, and researched it a lot. He said that due to Tompkins knowledge and contacts, he found him very credible when it came to the topic of extraterrestrial life.
Conclusion
Bill Tompkins revelations about his knowledge of extraterrestrial technologies acquired during the Second World War, and secretly developed by select U.S. aerospace corporations are ground breaking. In Selected by Extraterrestrials, he has supplied documents that corroborate his claims.
Tompkins has publicly revealed some of the information about his time in Oregon with the U.S. Navy League in a May 31, 2016 radio interview on Rense. In a future volume of his autobiography, Tompkins plans to reveal more information about his involvement with the Navy League in Oregon from 1985 to 1999.
With regard to his claims about the U.S. Navy League in Oregon being involved in a number of extraterrestrial related special projects from 1985 to 1999, Tompkins has provided additional documents that support this. The most important being the 1995 Minutes of a Meeting discussing reports by a Special Projects Committee, and the names of officials attending the meeting.
Critically, two officials of the Navy League at the time that are identified on the Minutes document, are both retired Navy officers. They have confirmed their participation in the Rogue Valley Council meetings, and Tompkin's reports and discussions concerning extraterrestrial related projects.
Both Captain Boeck and Commander/Captain Lumley acknowledged that Tompkins was viewed by members of the Rogue Valley Council as an expert on the extraterrestrial issue and advanced aerospace technologies.
What adds further credence to Tompkins claims is the testimony of Catherine Austin Fitts, a former Assistant Secretary of the Department of Housing and Urban Development. She says that in 1998, the US Navy had initiated a plan to adjust its operations for a future where it is openly known that extraterrestrials exist and live among us.
Fitts was asked to participate in strategy sessions that were being conducted by the Arlington Institute, a non-profit organization headed by John Peterson that was assigned a number of US Navy contracts. Fitts says:
John asked me to help him with a high level strategic plan Arlington was planning to undertake for the Undersecretary of the Navy… I met with a group of high level people in the military in the process — including the Undersecretary. According to John, the purpose of the plan — discussed in front of several military or retired military officers and former government officials— was to help the Navy adjust their operations for a world in which it was commonly known that aliens exist and live among us.
In support of her testimony, Fitts released the Minutes of a March 26, 1999, Board of Directors meeting which confirm that discussions of extraterrestrial life were being conducted by the Arlington Institute as at least one of its contracts – very likely with the US Navy – required.
It is more than coincidental that while Tompkins was conducting extraterrestrial Special Projects out of the Rogue Valley Council of the Navy League from 1985 to 1999, aiming to educate Navy personnel and their children about extraterrestrial life, that the Arlington Institute was doing something very similar on the other side of the country in 1998. In both cases, senior Navy officials had authorized these initiatives through private civilian organizations.
Consequently, documents and the supporting testimony of two Navy officers confirm that from 1985 to 1999, the Medford Council of the U.S. Navy League did discuss extraterrestrial related activities that were occurring in "special projects".
This supports Tompkins claims that he had set up a number of special projects aimed at educating Navy and other military personnel, along with their children enrolled in the Sea Cadets, about extraterrestrial life and technology. In doing so, Tompkins had the direct support of senior leaders in the national organization of the U.S. Navy League, and almost certainly, the tacit support of high level officials in the Department of the Navy. 

© Michael E. Salla, Ph.D. Copyright Notice
Further Reading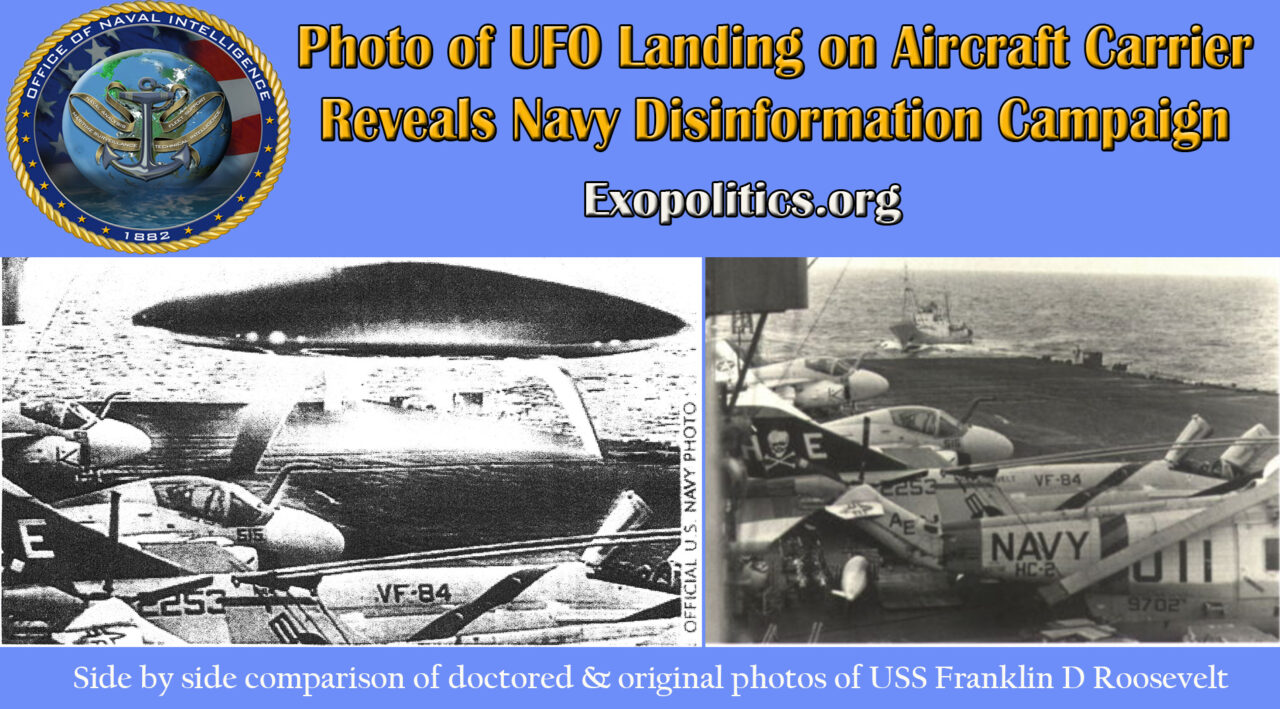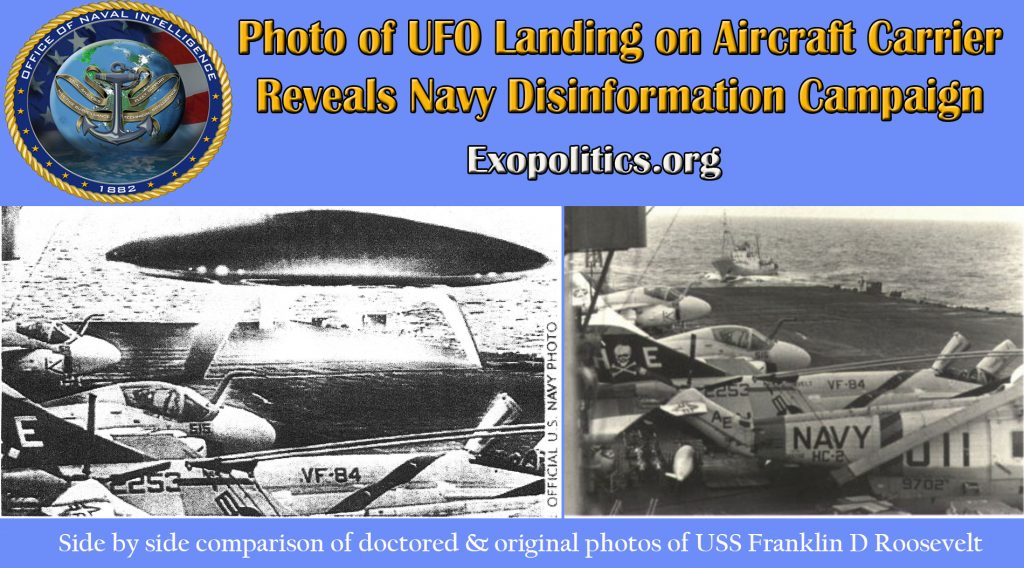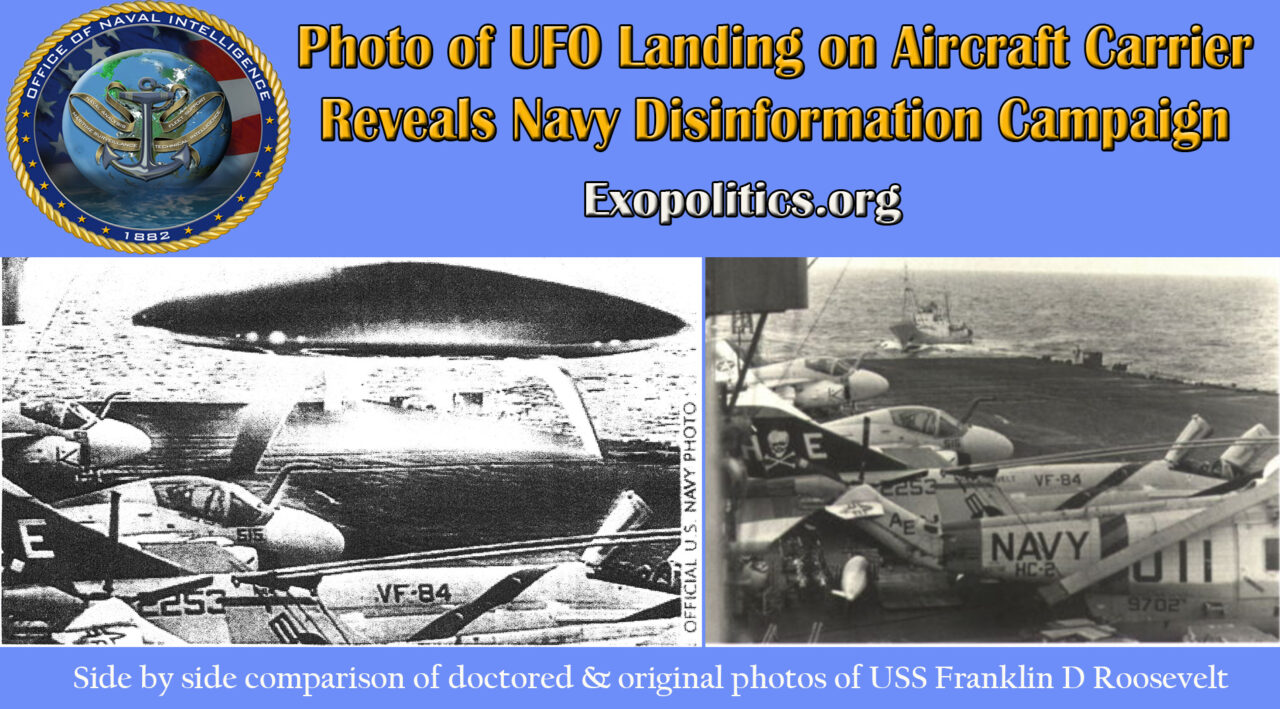 There has been an important breakthrough in the investigation of the authenticity of a photo showing a flying saucer landing on an aircraft carrier that was obtained by Navy Commander Graham Bethune (now deceased), and first publicly released in 2008 by his associate, Frank Chille. Bethune's photo was discussed in a May 4 interview on Rense radio featuring William Tompkins, and was analyzed in an exopolitics article published on May 11.
An official US Air Force photo of the flight deck of the USS Franklin D. Roosevelt from April 1975 closely matches the configuration of aircraft found in Bethune's photo. There is clear evidence that the 1975 photo was altered to produce Bethune's photo. The origin and chain of custody of Bethune's photo suggests it was part of an officially sanctioned Navy disinformation campaign around the issue of flying saucers landing on U.S. aircraft carriers.
First some background. The 1975 USAF photo was released by the U.S. Air Historical Support Office and published in the 2002 book, American Military Aviation: The Indispensible Arm. It shows a Soviet intelligence ship approaching the USS Roosevelt, which was stationed in the Mediterranean Sea at the time.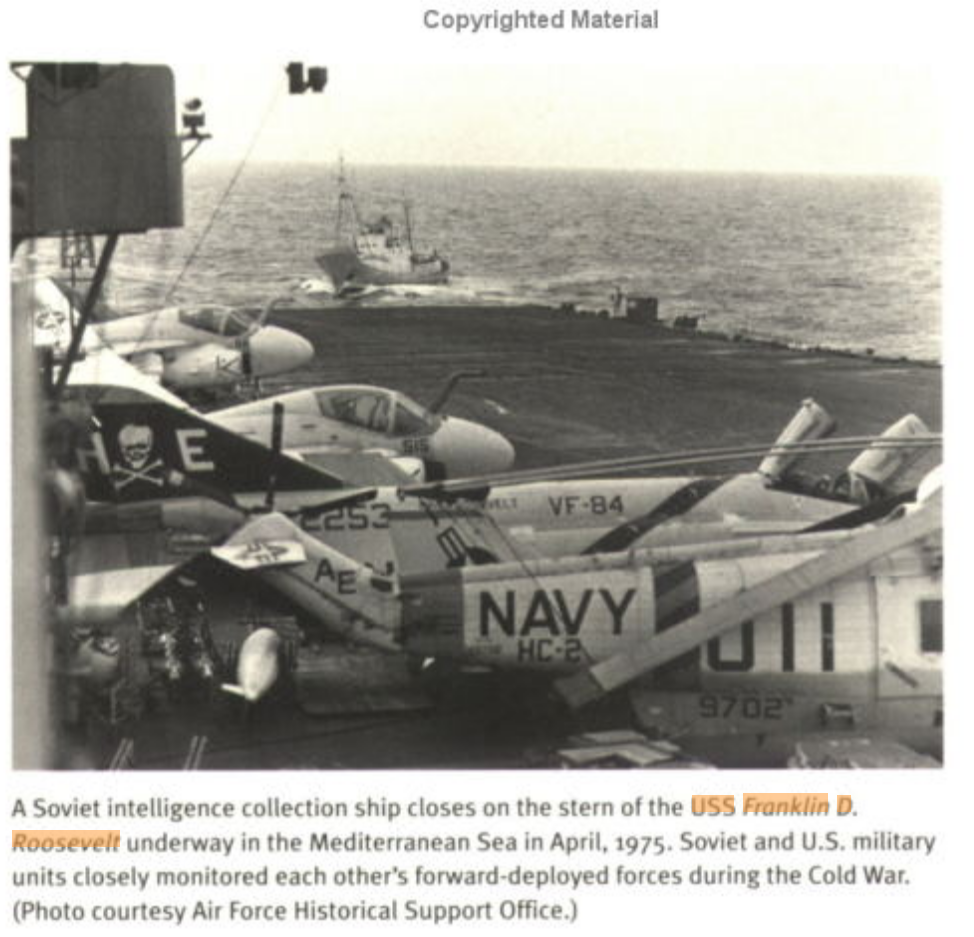 The chronology of the flying saucer landing on the aircraft carrier photo released by Bethune is given by Chille, who says he obtained a copy from Bethune around the year 2000:
Graham had told me that all his photos were hand delivered to him personally by Admiral Delmar Fahrney. I had the distinct impression that I was one of very few whom were ever shown these photos by Graham Bethune. Graham never published any of the photos he had shared with me and he never told me not to share this photo with anyone. Graham did say to me at many meetings that Admiral Fahrney was very aware of the Visitors and the craft they employed. They had ships of all sizes and description and some were enormous in size. [Email 5/13/16]
It's important to emphasize that according to Chille, the photo possessed by Bethune was given to him personally by Rear Admiral Fahrney sometime before that latter's death in 1984, and then later passed on to Chille in 2000. Bethune never publicly released the photo, and passed away on October 30, 2006. Chille publicly released it for the first time in 2008 via the CNN website. Chille later passed on the photo to Major George Filer who released it in one of his Filer Reports on November 2012. Finally, it was released online by Rense for his radio interview with Tompkins on May 4, 2016.

Chille's recollection of the genealogy of Bethune's photo clearly points to the U.S. Navy's involvement in its creation and/or dissemination via Admiral Fahrney.
Fahrney, retired with the rank of Rear Admiral in 1950. He was credited with being the father of "naval air guided missiles":
Rear Admiral Fahrney was "the foremost Navy pioneer for the development of guided missiles. His vision of future weaponry, technical excellence and tireless advocacy formed the basis for the post-World War II Navy missile programs." "Admiral Fahrney's early work in guided missiles and his foresight in planning for future generations of missiles earned for him recognition by many peers as 'the father of naval air guided missiles.'" (circa 1956).
He subsequently became a prominent member of the National Investigations Committee on Aerial Phenomena (NICAP), and was prominent advocate of the "Extraterrestrial Hypothesis" that UFOs were interplanetary vehicles. Fahrney's stature would have meant that whoever he forwarded the alleged photo of a flying saucer landing on an aircraft carrier would have accepted it as genuine.
However, a comparative analysis of the 1975 USAF photo and Bethune's photo leads to a surprising conclusion. Bethune's photo is an altered version of the original USAF photo. The following animated gif which was created by Keanu Bruun shows the key similarities and differences of the two photos.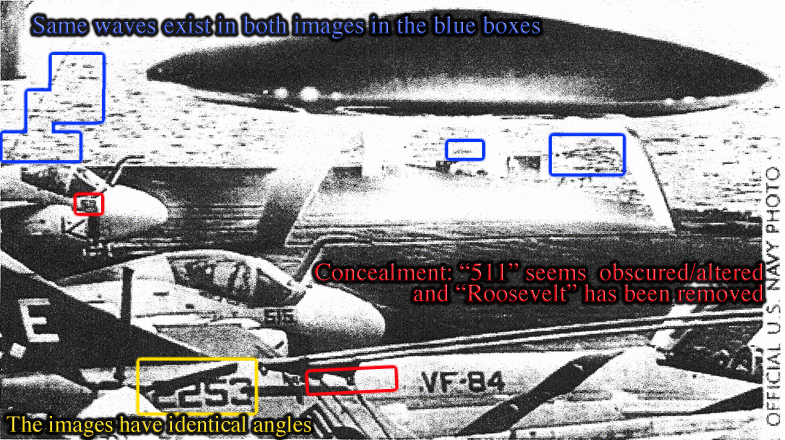 The removal of the word "Roosevelt" from the F-4 Phantom on the deck of the Roosevelt is very clear evidence of photo alteration. The identical wave action in the highlighted sections of the two photos is also very suspicious, and strengthens the case for the 1975 USAF photo being the original used in creating a doctored version.
This raises questions of why was the hoax created, and why was Admiral Fahrney complicit in its dissemination? His Naval and UFO research background suggests that it would take a professional military intelligence organization, such as the Office of Naval Intelligence, to fool him into believing the hoaxed photo was genuine, and anticipate that he would eventually pass it on to others who would leak it into the public arena.
Alternatively, Fahrney and/or Bethune may have been simply following orders to leak the doctored photo into the public arena.
The painstaking work that went into producing this doctored photo sometime between 1975 and 1984, well before Photoshop and other image manipulation software became publicly available, would have required professional photo manipulation expertise. Furthermore, the senior military ranks of the Navy personnel involved suggests there would have needed to be an important national security reason behind the photo's creation.
One justification is that if flying saucers were genuinely landing on aircraft carriers on a regular basis, then over the years many thousands of Naval personnel would have witnessed such occurrences, and could eventually start revealing this to the public. Fahrney may have been told by Naval Intelligence assets, for example, that a flying saucer had indeed landed on the USS Roosevelt in 1975, and that dissemination of a doctored photo was necessary on national security grounds in case the incident was ever revealed by rank and file Naval personnel.
What better way to anticipate and discredit future reports of such encounters than by releasing a doctored photo of one? The hoax could then be easily mistaken as genuine by those familiar with or having direct experience of flying saucer landing on aircraft carriers, and thereby discredit such a phenomenon.
Indeed this appears to have happened with retired aerospace engineer, William Tompkins. In a radio interview with Jeff Rense, he connected Bethune's photo to an incident described in his autobiography, Selected by Extraterrestrials, where a flying saucer piloted by "Nordic extraterrestrials" landed on the USS Coral Sea in the 1950's.
Rense: … the first image that comes up is a large disk-shaped craft with a couple of lights visible. Apparently [it] landed on the deck of an American aircraft carrier. Tell us about that picture, Bill. What's the story? …

Tompkins It's one of quite a number of Nordic extraterrestrial UFOs that have landed on US Navy aircraft carriers.
Tompkins was likely confused by the realistic depiction of the flying saucer in the doctored photo, which led him to believe it was a genuine photo of one of many landing incidents.
One of the leaked Edward Snowden NSA documents confirms that the intelligence agencies of the "Five Eyes" nations – USA, UK, Canada, Australia and New Zealand – are involved in disseminating hoaxes involving UFO images online. The doctored flying saucer landing on the USS Roosevelt is evidence that such an officially sanctioned disinformation effort is being conducted to confuse not only the general public, but also well-meaning senior military officers and even aerospace engineers, over what is genuine or not.
In the case of Bethune's photo, it was through a collaborative effort by private researchers, who were able to identify the original USAF photo used to create the doctored version, which proved essential in bringing this to public attention. While some may be disappointed that Bethune's photo is not hard evidence of a flying saucer landing on an aircraft carrier, it is nevertheless significant that an official Navy disinformation campaign has been found that aims to anticipate and discredit such claims by the dissemination of doctored versions of genuine extraterrestrial encounters.
© Michael E. Salla, Ph.D. Copyright Notice
Further Reading