Alliance of Secret Space Programs Adopts Scaled Back Alien-UFO Disclosure Plan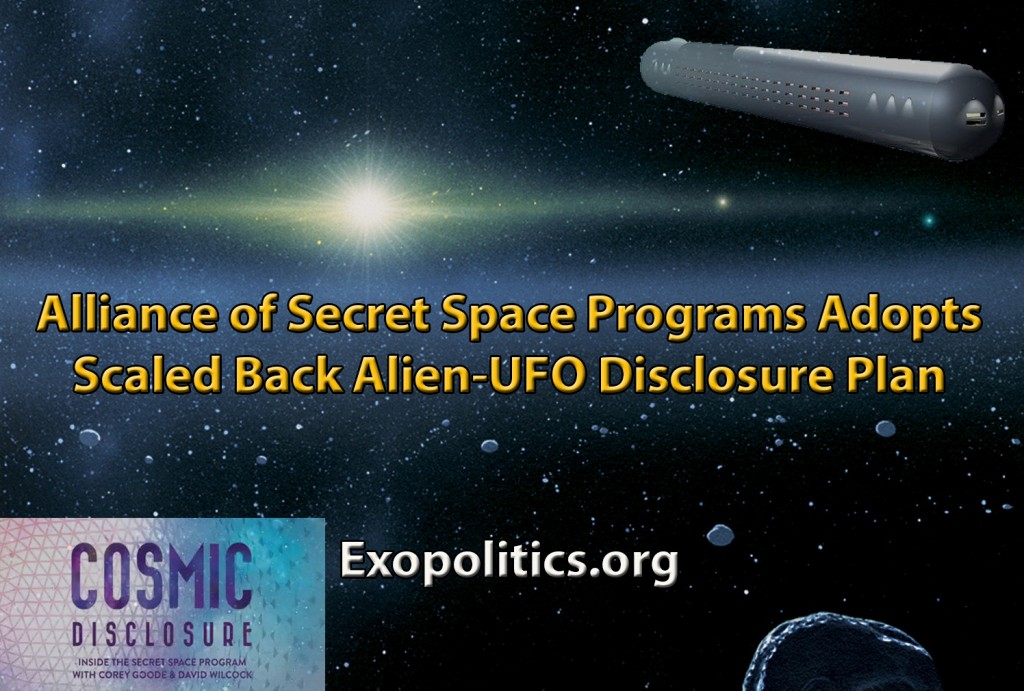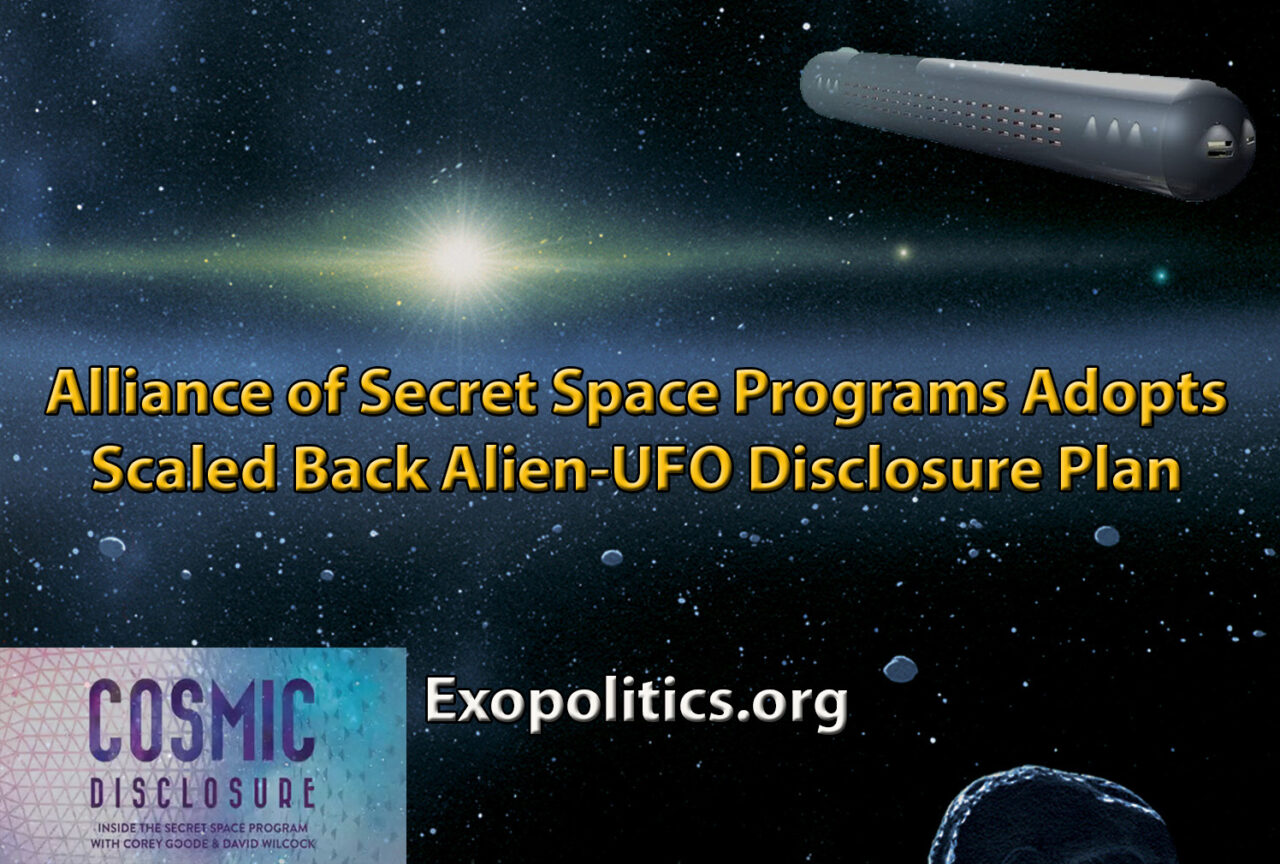 In today's episode of Cosmic Disclosure, whistleblower Corey Goode describes the discussions and dynamics of a meeting he claims to have attended at a hidden space base in the Kuiper Asteroid Belt where a plan for disclosing the existence of extraterrestrial life and secret space programs was being decided. If Goode's stunning revelations are accurate, as available evidence so far suggests, then humanity is beginning to witness a highly cordinated disclosure process, only recently approved by select clandestine organizations.
Goode claims that he was taken to the base for the purpose of debriefing a Secret Space Programs (SSP) Alliance Council meeting about his September 2015 visit to an ancient Inner Earth library. In earlier Cosmic Disclosure episodes, Goode revealed that he was taken to the Inner Earth library by a High Priestess called "Kaaree" who pointed out some of its contents along with some startling revelations.
Among these was that Zecharia Sitchin had used contrived information in his Earth Chronicles series of books. This did not appear to be a surprise to the SSP Alliance Council, presumably because they had access to the same data base found on the smart glass pads from which Goode says he first learned about Sitchin's fabricated information during his space program service from 1987 to 2007.
According to Goode, the SSP Alliance Council comprises representatives from the Solar Warden program along with defectors from rival space programs, previously described by him as the Dark Fleet, Interplanetary Corporate Conglomerate and smaller Space Access Programs possessing off-planet travel technologies.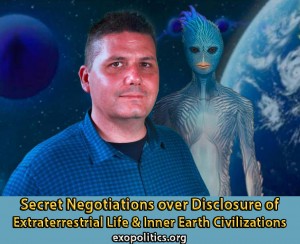 There were approximately 60 Council members in attendance during Goode's debriefing, a number of whom are antagonistic to Goode's continued involvement as a delegate for the Sphere Being Alliance of extraterrestrials, who appointed him to that position in March 2015. Some Council members believed Goode was leveraging his role with the Sphere Begin Alliance to gain greater influence over Council deliberations.
The SSP Alliance Council has been conducting secret negotiations with an "Earth Alliance", over the extent to which a large cache of documents should be released that reveals the existence of secret space programs and extraterrestrials, the history of Cabal/Illuminati policies in controlling such information, and crimes committed by the Cabal/Illuminati.
He described the Earth Alliance as comprising many dozens of international entities opposed to the Cabal/Illuminati. These include Asian secret societies, small militias, and groups with access to hidden treasures and information. Many of these entities have strong connections to major BRICS countries, such as China, whose interests they wish to promote.
Goode pointed out that while the SSP Alliance Council and the Earth Alliance have the same goal – full disclosure and release of advanced technologies – they have very different agendas over how to achieve this aim. Many in the Earth Alliance want to spread out disclosure of the truth over a 100 year period, and in the meantime allow China and other Eastern nations to become the new hubs of international business and high finance.
He pointed out that while the Earth Alliance and the SSP Alliance represent the full spectrum of humanity, they have been deeply fragmented in negotiations over what should be done to disclose the truth to the rest of humanity. Many in the Earth Alliance believe it would be irresponsible and foolish to move forward with a massive document dump, which would overwhelm the populace.
Another issue discussed was that the Earth Alliance has been infiltrated by Cabal/Illuminati operatives who have been given access to all of the documents that have been prepared for dumping into the public arena at some point. This was of a cause of great concern for the SSP Alliance Council, who believed that it would enable the Cabal/Illuminati to devise ways to neutralize the impact of such documents at the time of their eventual release. Goode said that the Cabal/Illuminati has taken steps to prevent another Snowden-like release of documents to the mass media.
He described how one possible solution to the roadblocks over full disclosure, such as the SSP Alliance de-cloaking large ships over the Earth, was not viable. Goode explained that a planetary defense grid was still under control of the Cabal/Illuminati, and they would shoot the SSP ships out of the sky.
At this time it is hard fathoming how full disclosure through massive document dumps can be achieved in the current scenario as described by Goode. Earlier, he stated that a global event, such as an economic collapse, was needed as a catalyst before full disclosure could occur. That may be, but the ability of the Cabal/Illuminati to infiltrate opposition groups along with its control over the mass media suggests that the optimal conditions may not occur, as once anticipated by the SSP Alliance Council.
This is especially true if the demands of the BRICS nations are met, thereby leading to a global financial reset that provides some relief to the world populace, while maintaining major elements of the current international economic order. Earth Alliance Groups, representing BRICS interests, have been opposed to a quick release of all the documents the SSP Alliance Council has accumulated.
More recently, after the earlier taping of the Feb 23 episode, Goode has publicly revealed that a decision has indeed been reached to move forward with a partial disclosure plan. He says that whistleblowers are currently being groomed to come forward to give their testimonies, and release supporting documents.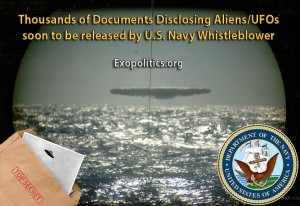 This has been exemplified very recently by a new whistleblower coming forward who has given a detailed report to the MUFON organization backed up by an extensive collection of documents from his/her time serving with the U.S. Navy. MUFON is expected to release a report soon with their evaluation of the whistleblower's testimony and documents.
In December 2015, William Tompkins (now 92) released his autobiography detailing his involvement in a secret U.S. Navy effort to build a fleet of spacecraft that would eventually be called Solar Warden. Tompkin's testimony is bolstered by many documents which he has released with the support of key officials in the U.S. Navy familiar with the Solar Warden space program.
Tompkins, and the yet to be revealed navy whistleblower who gave his report to MUFON, are harbingers of what we can expect from more whistleblowers who will come forward with documentation and covert backing by the U.S. Navy, and clandestine organizations revealed by Goode, such as the SSP Alliance Council and Earth Alliance, to disclose what they know about extraterrestrial life and secret space programs.
© Michael E. Salla, Ph.D. Copyright Notice
Further Reading
Click here for Feb 23 Cosmic Disclosure episode
Corey Goode, extraterrestrial life, MUFON, secret space programs, US Navy, William Tompkins