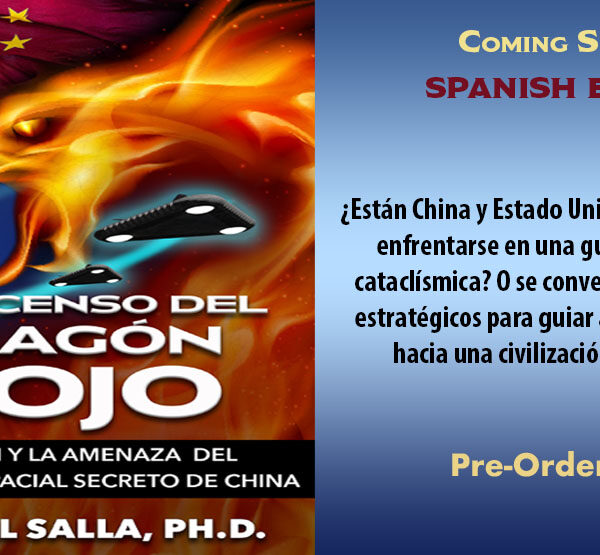 The Rise of the Red Dragon: Origins and Threat of China's Secret Space Program (2020) has been translated into Spanish and was released on September 25 in paperback and electronic editions through Amazon affiliates worldwide (click here).  A French edition is also available here. A German edition will be released in 2021. For the English version click here. What follows is the Spanish description of the book's contents. 
---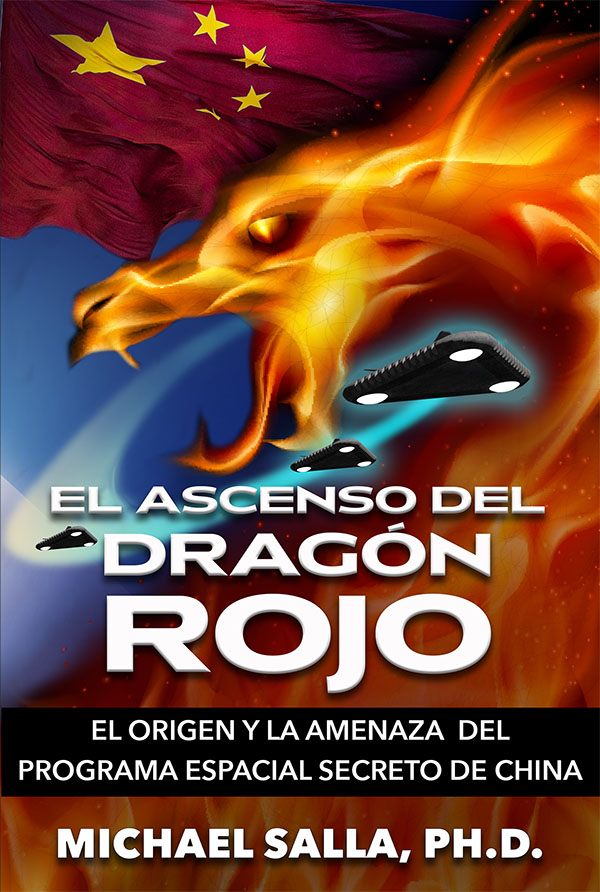 China ha experimentado un ascenso meteórico de remanso tecnológico, a una súper potencia militar en el espacio.
Esta increíble transición inició en la Fuerza Aérea de Estados unidos ¡Hace más de 75 años, dentro de sus Programas Espaciales Secretos! La clave fue un científico Chino extraordinariamente brillante, leal a los Estados Unidos, pero atacado por una extraña operación del FBI, y luego deportado a China. Este episodio finalmente llevó a un desarrollo de un Programa Espacial Secreto, ahora dirigido por Militares, que ahora desafían al Ejército Norteamericano en la Tierra y en el Espacio Ultraterrestre.
En este libro descubrirás:
•Los orígenes de China a través del trabajo del pionero Hsuen-Shen Tsien, quien llevó a China su conocimiento avanzado en Programas Espaciales Secretos Estadounidenses, y de la Alemania Nazi.
•Acerca de cómo son estudiadas en secreto, antiguas tecnologías de aviación, y de ingeniería inversa, las cuales se encontraban enterradas en las misteriosas pirámides de China.
•Artefactos exóticos de contactos extraterrestres, en regiones remotas del Tíbet, el Desierto de Gobi y la realidad detrás de las leyendas Shambala y Agartha.
•El espionaje tecnológico de China y el despliegue secreto de Armas Espaciales y Naves espaciales de propulsión electromagnética.
•La amenaza planteada por la China comunista para utilizar la Inteligencia Artificial y el 5G, para convertirse en una súper potencia dominante.
Para 2030 la economía de China superará a la de Estados Unidos, y China planea utilizar sus bastos recursos para proyectar su presencia en el Cosmos, de manera que conduzca a un aumento de confrontaciones Militares, con la recién creada Fuerza Aérea Espacial. ¿Están China y Estado Unidos destinados a enfrentarse en una guerra espacial cataclísmica? O se convertirán en socios estratégicos para guiar a la humanidad hacia una civilización galáctica?
Las ediciones de bolsillo y electrónicas ahora están disponibles para ordenar a través de Amazon.com
---
Note: Rise of the Red Dragon is also available in French on Amazon and on the publisher's page – Editions Ariane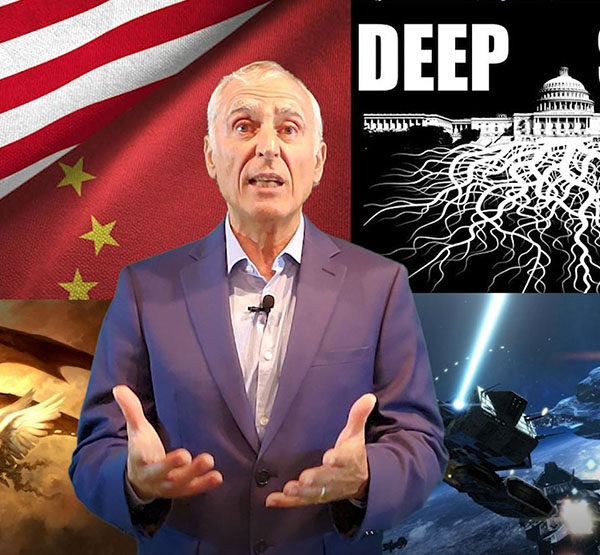 What are the origins of China's Secret Space Program, and how did the Deep State help China at critical points in its economic and scientific development? Why did the Deep State sponsor China's rise from a Technological Backwater into a Military Superpower in Space? How does Biblical Prophecy fit into the Deep State's plans for China? Answering these questions is critical to understanding unfolding events taking place today before our eyes! 
To purchase a recording of this Webinar click here.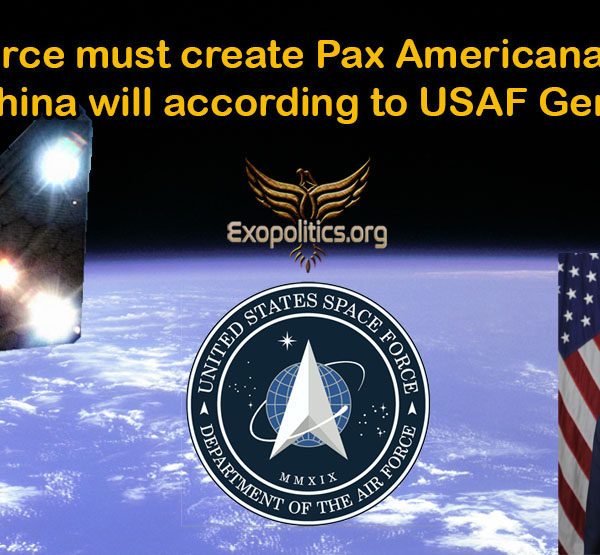 On January 17, 2019, newly retired US Air Force Lieutenant General Steven Kwast wrote an article in Politico about the need for Space Force to quickly break free of USAF strategic doctrine to create a "Pax Americana" in space otherwise China will quickly step into that role and take the strategic high ground. He explains that China is building a space navy with the equivalent of destroyers and cruisers, and that America must do the same. Is Kwast unaware that the USAF has already built a secret space program or is he laying the foundations for its future disclosure to the public?
Kwast retired from the USAF in September 2019 and gave a lecture two months later at Hillsdale College where he first presented his thinking about Space Force. In his Politico article, Kwast elaborates on many of the ideas he presented in his Hillsdale lecture.
Kwast begins his article by focusing on the future economy of space:
Space is so powerful and so full of resources that it will change the way humanity consumes energy, information, goods and services. It will also transform the way we travel more profoundly than the invention of the automobile and airplane combined. The newly established Space Force is imperative if we want to avoid war and manage this journey into the future of a new trillion-dollar space economy with the power to peacefully protect our people and values.
He warns that the USAF does not appreciate the strategic importance of protecting the future "trillion-dollar space economy", but China is:
The problem is that the Air Force is proposing a Space Force that will not protect the marketplace of space beyond earth's orbit. But China is.
Kwast is very critical of the Air Force approach to space and asserts that it doesn't have the right mindset for utilizing the full potential of space:
First, the Air Force is trapped in an industrial-age mindset. It is projecting power through air, space, and cyber yet does not properly consider the space geography beyond earth's orbit… In short, the current Air Force plan for the Space Force will lose the race to dominant the strategic high ground.
Kwast goes on to warn about the danger posed by China which is building a "guardian force" to protect its interests in the future "marketplace of space":
If America wants peace in space, it must supply some form of guardian force with the power to hold participants accountable to international law and American values. China is already building its guardian force. China is building a navy in space, with the equivalent of battleships and destroyers that can move fast and kill. America's satellites will be helpless to win against the superior speed and firepower in China's force.
He describes China's ability to destroy America's satellite communications system and the superior strategy it has developed for space:
China is winning the space race not because it builds better space equipment but because it has a superior strategy. For example, if China stays on its current path, it will deploy nuclear propulsion and solar power stations in space within 10 years. While China will claim that power stations in space can beam clean energy to anyone on Earth, the alarming fact is that the same capability can be used to turn off any portion of the American power grid, and has the ability to paralyze our military might anywhere on the planet.
Kwast concludes his article by asserting that Space Force needs to become independent of the Air Force thinking:
There is one simple action that can propel America to win. Congress must take steps to make the Space Force independent of the Air Force and give it the mission to defend the economy of space. If not it will evolve too slowly and lose this strategic high ground. There may not be time to recover.
Kwast's proposal that the US Space Force takes on the role of establishing a Pax Americana in space where US interests in the future "trillion-dollar space economy" has much support within the Trump administration.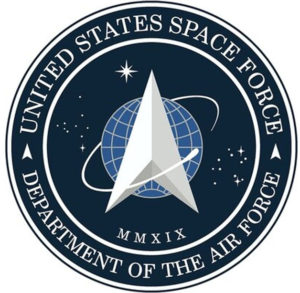 After the passage of the 2020 National Defense Authorization Act establishing the creation of Space Force, its newly created Chief of Space Operations, General Jay Raymond, has transferred 16,000 USAF personnel into Space Force, is converting USAF bases to "space bases", and approved a seal for the new service.
While Kwast lays out the need for a strategic doctrine of a Pax Americana in space involving the development of space cruisers and battleships, he does not appear aware that such a military force already exists. Is Kwast simply out of the loop about the antigravity vehicles of the USAF's secret space program or is he laying the foundation for the Air Force to disclose its existence?
In the US Air Force Secret Space Program, I lay out the historical documents and insider testimonies showing how the Air Force began deploying spacecraft using exotic antigravity propulsion systems in the 1970s. Since that time, the USAF's space arsenal has steadily grown into fleets of triangle, rectangle and saucer shaped space vehicles that dominate near-earth operations.
In short, the Pax Americana that Kwast forcefully argues needs to be established has existed for over four decades and China does not lead the way in establishing a "guardian force", but is instead quickly catching up to what the USAF did decades earlier. In fact, China is so quickly bridging the technology gap thanks to its huge economy and industrial espionage, that its military strategists are planning for China to become the new global and space hegemon by 2030, thanks to the unrestricted embrace of Artificial Intelligence.
A case can be made that Kwast was simply out of the loop of the existence of a USAF secret space program since his career assignments did not involve positions where he had a "need to know" of such a highly classified program. His last assignment was Commander of Air Education and Training Command in San Antonio, Texas.
It's also very possible that his justification of Space Force is designed to have the American public give uncritical support for the creation of a Pax Americana in space while covering up the fact that it was established decades ago, without the American public being informed. An inconvenient fact that is sure to make many angry over the decades-long delay in sharing the revolutionary advances in electromagnetic propulsion technologies, new energy systems and healing modalities that have been kept hidden from the general public.
© Michael E. Salla, Ph.D. Copyright Notice
Further Reading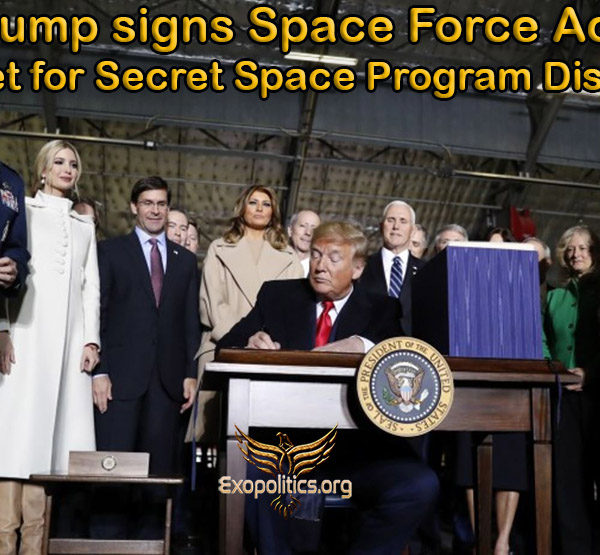 President Donald Trump signed the Space Force Act into law yesterday night. It was included in the omnibus 2020 National Defense Authorization Act (NDAA) funding Pentagon operations for another year, and officially creates a sixth branch of the military – US Space Force (USSF). Trump's signing sets the stage for some amazing disclosures of what the USAF has secretly deployed in space for decades.
The budget allocated to Space Force is a paltry $40 million for its first year of operations, which effectively covers little more than the costs of hiring 200 new personnel and changing signs for personnel transferring from Air Force Space Command to the new Space Force. Approximately 16,000  civilian and military personnel will transfer from Air Force Space Command, which currently hosts 26,000 personnel, to the new Space Force.
On the surface, there appears to be little to be excited about with the creation of Space Force, which will continue to operate with largely the same personal and commander of the current Air Force Space Command – General John "Jay" Raymond.
Space Force will operate under the authority of the Department of the Air Force as an independent military branch, a temporary compromise, according to President Trump who would like to see the creation of a Department of Space Force eventually.
Critically, General Raymond is also in charge of US Space Command, the Pentagon's newly created combatant command, which integrates the aerospace resources of the USAF, Army, Navy and USMC in combat operations around the world and outer space.
For the first year of Space Force's existence, General Raymond will be dual-hatted as Chief of Space Operations and Commander of Space Command. This will allow Space Force to closely coordinate with other branches of the US military that have assets in space.
The big change that lies ahead is what the USAF plans to do with the highly classified space program it has secretly developed and deployed with futuristic aerospace technologies dating back to the 1970s. Lieutenant General Steven Kwast (USAF ret.) recently mentioned some of the cutting edge technologies developed in classified Air Force laboratories in a November 2019 lecture:  
The technology is on the engineering benches today. But most Americans and most members of Congress have not had time to really look deeply at what is going on here. But I've had the benefit of 33 years of studying and becoming friends with these scientists. This technology can be built today with technology that is not developmental to deliver any human being from any place on planet Earth to any other place in less than an hour.
Less than a week before Trump signed the Space Force Act, the Secretary of the Air Force, Barbara Barrett, and Mike Rogers, one of the Congressman who co-sponsored the original bill for Space Force, both called for the USAF to declassify the advanced space technologies it has developed. Barrett said:
Declassifying some of what is currently held in secure vaults would be a good idea… You would have to be careful about what we declassify, but there is much more classified than what needs to be.
All the assets and personnel that clandestinely operate within the USAF secret space program will be transferred over to Space Force and the authority of General Raymond.
This will be welcomed by the commanders and personnel in the secret space program whose space activities have been classified so highly that it has negatively impacted career advancements and benefits when compared to their peers in more conventional Air Force programs.
The creation of Space Force sets the stage for the official disclosure of major components of the Air Force's secret space program which I have discussed in detail in the US Air Force Secret Space Program. Disclosure is likely to begin with antigravity vehicles such as the legendary TR-3B, a flying triangle that was first sighted in the late 1980s, and newer rectangle-shaped flying platforms, which were photographed near McDill Air Force base in 2018.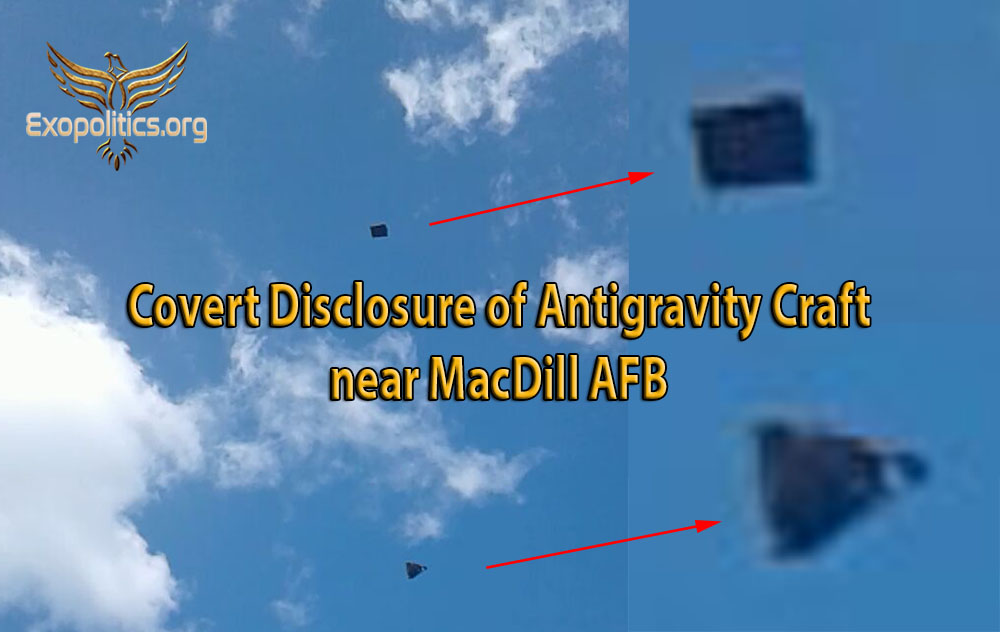 There are also disk-shaped flying saucer craft and stealth space stations that were jointly developed with the National Reconnaissance Office. More incredible are the "stargates" or traversable wormholes that have been secretly developed and used for decades according to multiple insiders.
The disclosure of these and other advanced technologies will be mind-boggling and revolutionize the aerospace industry. More importantly, for the Trump administration, they will help re-industrialize America and establish Space Force as the leading military power in space for decades to come.
© Michael E. Salla, Ph.D. Copyright Notice
Further Reading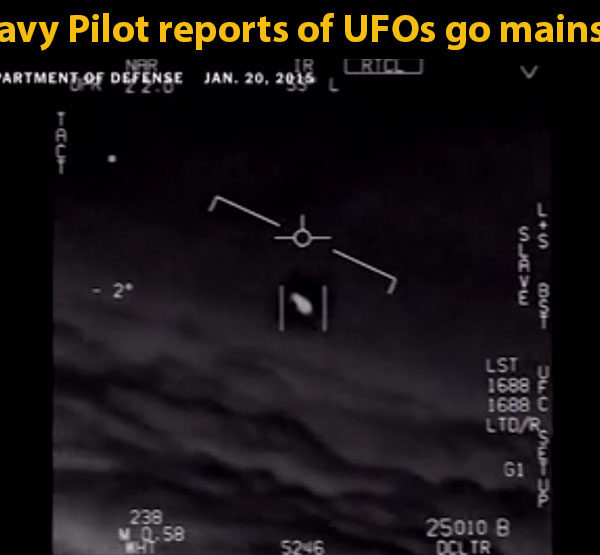 On May 26, 2019, the New York Times published a story about five US Navy pilots reporting UFO sightings in 2014 and 2015 off the coast of Florida. The story cites their descriptions of unknown craft that could fly at hypersonic speeds and hover over the ocean. Their reports were handed off to the Pentagon's Advanced Aerial Threat Identification Program (AATIP).
The five Navy pilots were interviewed by the New York Times reporters about the UFO sightings that occurred while they were conducting training maneuvers off the aircraft carrier Theodore Roosevelt before deployment to the Middle East. The Times reporters said that due to the 2014 and 2015 sightings, that the Navy upgraded its classified guidance for how pilots are to report UFOs, which now are officially referred to as Unexplained Aerial Phenomena (UAP).
A video was included of one of the UFO incidents where the pilots could be heard exclaiming: "Wow, what is that, man? Look at it fly!" The video had been released over a year earlier and was the subject of a March 12, 2018, Fox News interview with Luis Elizondo, the former Pentagon official, who headed AATIP from its 2007 up to 2017 when he retired in protest over the lack of support the program was receiving.
In the Times story, the pilots made clear that no known piloted aircraft could perform the UFO's complex aerial maneuvers:
What was strange, the pilots said, was that the video showed objects accelerating to hypersonic speed, making sudden stops and instantaneous turns — something beyond the physical limits of a human crew.
They speculated that the UFOs might be part of a highly advanced drone program that raised several safety issues due to the possibility of a midair collision. They refused to speculate further about the UFO's origins. Earlier in April 2019, the Navy issued new guidelines for reporting UFO sightings, and cited safety concerns as a factor for the need to improve the reporting process.
There are several important takeaways from this latest New York Times story that follows a December 16, 2017 story that analyzed similar sightings reported by Navy pilots back in 2004.
The first is that the US Navy is allowing its pilots to go on the public record about UFO sightings that have national security implications. This has effectively reversed a decades-long military policy dating back to 1954 called JANAP 146(C), which forbade military and civilian pilots discussing UFO sightings that were deemed to have national security implications. JANAP 146 referred to possible prosecution under Espionage Laws for unauthorized transmission of UFO sightings reported by military and civilian pilots that fell under the official reporting mechanism established by JANAP. 

The second takeaway is that the Pentagon is allowing official military surveillance video to be leaked to the public about a phenomenon which on the surface appears unknown, at least to the pilots witnessing them. It is more than likely, however, that the phenomenon is very well known to the military hierarchy who have sanctioned the leaking of the videos, which it needs to be emphasized are official Navy videos whose unauthorized disclosure carries severe penalties as JANAP 146 makes clear.
Third, the fact that the New York Times has released the story is sending a clear signal to other mainstream media sources that it is OK to discuss UFO sightings and their national security implications. We can, therefore, expect many more mainstream media stories about UFOs/UAPs in the near future as evidenced by multiple news sources immediately reporting on the Times story.
What can be concluded about the mainstream media's newfound enthusiasm to discuss pilot reports of UFO?
It's important to emphasize that there is no way the Pentagon would reverse its decades-long policy (JANAP 146) unless it was convinced that it could adequately explain the national security implications of UFO sightings. It's more than likely the video leaks and pilot interviews are part of an official disclosure process of advanced aerospace technologies that are well known to US military leaders.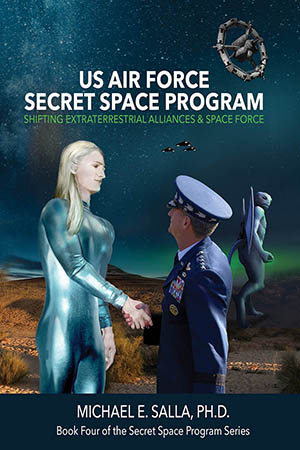 The Pentagon is slowly educating the public about advanced technologies it has secretly developed. There is abundant and compelling evidence that both the USAF and US Navy have developed secret space programs that utilize the kind of advanced aerospace technologies witnessed by the Navy pilots in the 2014/2015 and 2004 incidents.
It is most likely, however, that the US Air Force's arsenal of advanced aerospace technologies will be the first secret space program that is to be revealed given the abundance of evidence proving its existence as I have documented in the US Air Force Secret Space Program. While the Navy program focused on deep space operations, the Air Force focused on near Earth operations and its craft deployed technologies that will be easier to explain as human engineered.

It will help the unfolding UFO disclosure narrative greatly if US Navy pilots are bewildered by the advanced technologies they are witnessing, thereby pointing to such technologies belonging to another military service. This will deflect attention away from the Navy SSP to the Air Force's SSP.

It's becoming very clear that the Pentagon has decided to move forward with preparing the general public for future announcements of advanced aerospace technologies that have been secretly developed in highly classified programs. This will be used to explain the origins of many UFO sightings over the decades, including those witnessed by military pilots that were studied by AATIP. I for one, don't believe all UFO sightings can be explained as terrestrially developed advanced technologies, but certainly a great many are.
The advanced aerospace technologies secretly developed by the Air Force, as I explain in the US Air Force Secret Space Program, will be gradually disclosed with the official launch of Space Force, which is part of a long term strategic plan to eventually disclose and merge all advanced aerospace technologies developed by different branches of the US military.  In the meantime, to get more information about AATIP and multiple military pilot reports of UFOs since 2007, you can tune in this Friday to the official launch of the History Channel's, "Unidentified: Inside America's UFO Investigation".

© Michael E. Salla, Ph.D. Copyright Notice
Further Reading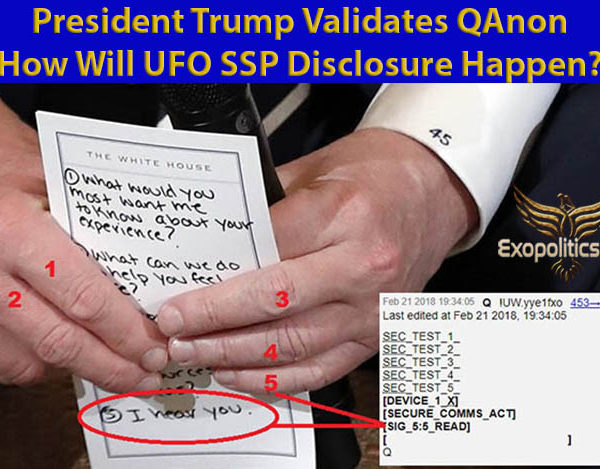 On February 21, President Donald Trump hosted a gathering of students, teachers and parents from the Majory Stoneman Douglas High School shooting tragedy. Just before the meeting began at 4:21 pm, President Trump was photographed showing some handheld notes on White House stationary with a list of five talking points he planned to use during the meeting.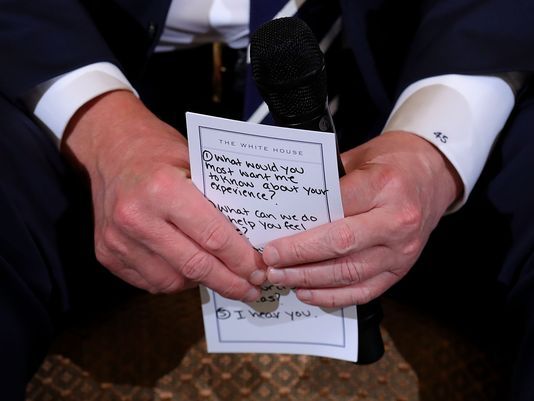 Unusually, Trump had the notes facing outward toward the cameras, rather than facing towards him which would be normal for any public speaker. This made it easy for the notes to be photographed leading to immediate media speculation about the appropriateness of Trump's talking points.

Only a few hours after the meeting, at 7:34 pm, EST, QAnon released a coded post referring to five security tests.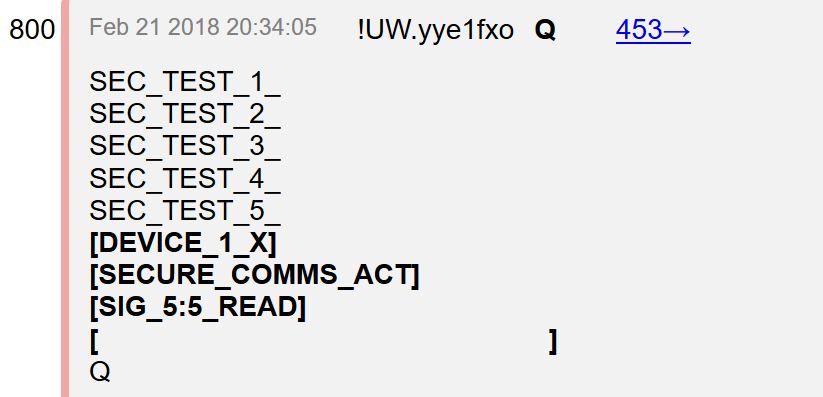 The next day, QAnon posted an image showing Trump holding the note, alongside the later coded message. Trump's hand placement, the five note's points, appeared to have a connection to QAnon's coded post.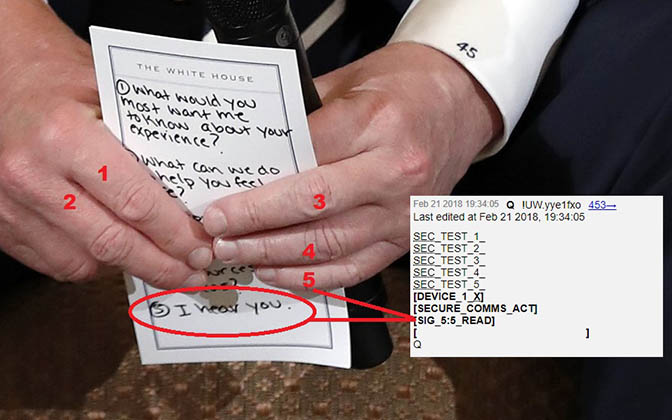 The message QAnon was transmitting was that Trump had deliberately turned his notes outward facing the camera in order to pass on a coded message.
QAnon was telling his audience that Trump was hearing the voices of the many estimated to number as much as twenty million (Q post 812), who have been following the QAnon material – "I hear you".
During the meeting itself, available on video, the notes are nowhere to be seen. Trump, only held the notes prior to the meeting's start. This tells us that these were just talking points for Trump to memorize before the meeting began and were then discarded.
It's possible that he accidently had the list of five points facing out prior to the start of the meeting, but its highly unusual for an experienced public speaker like Trump to do so. The more plausible explanation is that his action was deliberate.
Given the connection QAnon found in Trump's odd hand placement around the notes, and the coded message released only three hours later, this makes it clearer that Trump's action was deliberate and not accidental.
Consequently, it does appear that Trump was sending a coded message that corroborated the QAnon material, as investigative reporters such as Dr. Jerome Corsi contend.
If Trump was indeed passing on a coded message that both corroborated the February 21 security test, and that he was listening to people following the QAnon material, then some important conclusions can be drawn.
First, Donald Trump is aware of and endorsing the QAnon disclosures of classified information occurring on anonymous message boards. This conclusion supports the contention of Dr. Corsi that QAnon is a group of U.S. Army Military Intelligence officials that are disclosing classified information about real life events involving the White House.
Second, Donald Trump is actively participating in sending coded messages designed to legitimate the QAnon material, which confirms that his administration is directly connected with and supporting QAnon.
Third, President Trump is sanctioning the disclosure of classified information through QAnon's posts, which opens the door to read-in insiders to anonymously disclose classified information on a range of topics. This is significant since many insiders possessing classified information would not normally release it, unless authorized by a higher authority, such as Trump.
Finally, the Trump Administration is locked into a no holds barred struggle against Deep State actors and forces as explained in over 800 posts to date by QAnon.  These cover a multitude of issues concerning secret indictments, arrests of Deep State officials involved in pedophile networks, treasonous actions by Obama administration officials, and the January 13 false flag ballistic missile attack on Hawaii.
In addition, Corsi has claimed that Trump is very familiar with the cover-up of information concerning UFO's and Secret Space Programs. It's therefore very possible that QAnon will be the means by which advanced technologies secretly developed in Unacknowledged Special Access Programs will be disclosed to the world.
This leads us to a comment Trump made in his inauguration speech:  
We stand at the birth of a new millennium, ready to unlock the mysteries of space, to free the earth from the miseries of disease, and to harness the energies, industries and technologies of tomorrow.

It's therefore well worth closely monitoring QAnon's posts and President Trump's actions in supporting the release of classified information through anonymous whistleblowers, and what this is about to disclose about UFO's and secret space programs.
© Michael E. Salla, Ph.D. Copyright Notice
Further Reading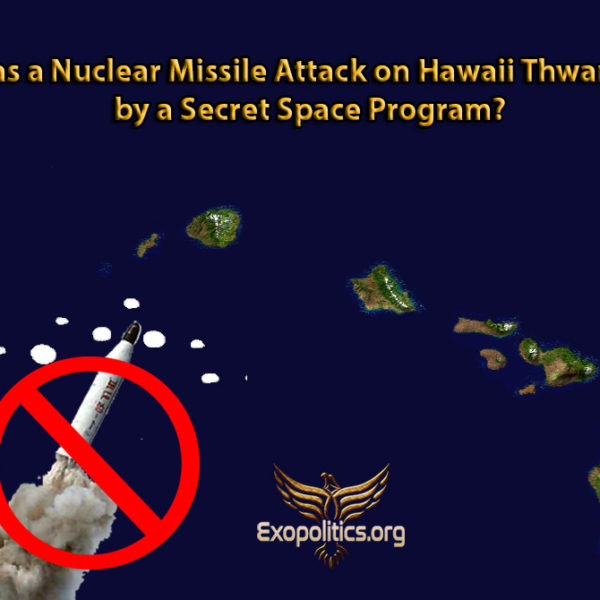 On Saturday morning January 13, residents of the Hawaiian Islands received an emergency alert that warned of an incoming ballistic missile and instructed everyone to take cover. Residents near Honolulu, the expected ground zero of any nuclear attack, fled for their lives to more remote areas of Oahu expecting the worst.
This is what appeared on peoples' cell phones at 8:07 am local Hawaii time: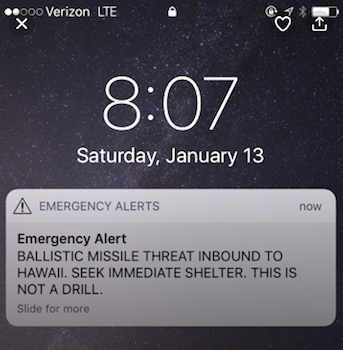 Then after 38 minutes of sheer terror for many all over the Hawaiian islands, residents were notified by the emergency alert system that it was all a false alarm.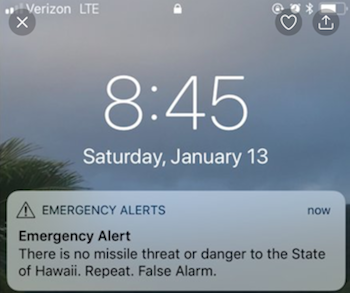 Someone had pressed the wrong button according to local State authorities.   Residents were supposed to be reassured that the responsible individual would be reassigned. An inquiry has been launched by the Hawaii Governor David Ige.
Mainstream media coverage has exclusively focused on Hawaii State authorities explaining that the problem was one person pressing the wrong button. According to an official timeline of events, U.S. Pacific Command notified Hawaii State authorities that there was no missile launch at 8:10 am.
Local authorities subsequently attempted to inform the public via a number of means that the ballistic missile alert was a false alarm. But it was only at 8:45 am, 38 minutes after the initial alert, that a second emergency alert was sent over the Public Alert and Warning System announcing the mistake.  
Was the long delay between warning and the warning retraction received by Hawaii residents simply the unprecedented foul up of an emergency alert sent by State authorities, or was something else happening?
My wife and I have lived on the Big Island of Hawaii since 2004, and during our time here there have been a steady number of emergency alerts issued for hurricanes, tsunamis, flash flooding, and lava flows. Sirens regularly wail at the start of the month to test the emergency alert system for these kinds of events, and more recently for a possible nuclear missile attack from North Korea.
The regular occurrence of destructive events and their consequences in the region have led to an emergency alert system that is second to none when it comes to providing timely and accurate information to Hawaii residents in potentially life threatening circumstances.
We regularly receive emergency alert updates after the initial event described in an emergency alert. So the explanation that it took 38 minutes to issue an update to the initial false alarm is very hard to believe.
The chances that the ballistic missile alert was a simple mistake by one person even further strains credulity. One writer points out how the system is designed to prevent this precise mistake:
There is no "button" that could be accidentally hit. There are five fail safe procedures in the Hawaiian Emergency Alert Management System, the last being a two key system such as are present in US missile silos and on US nuclear missile submarines.  Two keys, eight feet apart, requiring two different individuals to simultaneously and positively trigger the alert.

This is why alternative media reports of an intercepted nuclear missile attack needs to be considered, since it raises another scenario that better fits the sequence of events on that Saturday morning.
The first alternative news report appeared on the Operation Disclosure blogsite on January 13. It was headed RV/Intelligence Report and said:
Missile launches were detected in the Pacific Ocean off the coast of Hawaii.
The launches originated from the same anomaly detected yesterday, Jan. 12.
The missiles were immediately intercepted and destroyed.
The anomaly was revealed to be a nuclear stealth submarine.
The nuclear stealth submarine was located and destroyed shortly after the attempted attack.
On January 16, another author came out saying that the Hawaii event was an intercepted nuclear missile attack. After explaining how the emergency alert system is designed to prevent the kind of human error claimed by state authorities, s/he wrote:
There was a missile. Probably fired from a submarine under the control of individuals loyal to the Deep State, possibly Israeli or German. The missile was not fired from North Korea or by North Korean forces. The missile was intercepted. Then the coverup began.
[Update 1/17/18] An additional alternative news media source corroborating key aspects of the thwarted missile attack against Hawaii is veteran journalist and orthopedic surgeon, Dr Dave Janda. He commented in a radio interview about what a "Deep Level source", who has never been wrong over the years he has known him, had told him about the Hawaii missile incident:
What this source told me was that , and again I've never found this source to be wrong, was that there was actually a missile fired. The missile was brought down by the United States … antimissile program…. It was a submarine based missile and … it was from a Chinese sub…. This was a renegade faction within the Chinese military that was in charge of this sub that fired this missile, and in fact the Chinese Navy, supportive Xi Jinping [Current President of China] was the ship that then took out that submarine.
If the above scenario actually happened then it makes sense that an alert was generated after the initial missile launch. Then, once the missile had been intercepted, local and federal authorities were informed immediately, only three minutes later.
The additional 35 minutes was probably due to the "short time" it took to find and take out the missile launch system, likely a submarine, to prevent another missile launch. The all clear was then given to issue the additional emergency alert to Hawaii residents while covering up the nuclear attack and take down.
What adds credibility to this alternative scenario are photos of a number of UFO's seen over Hawaii 31 minutes after the second emergency alert. The photos show UFOs that display an advanced technology that may be craft belonging to a USAF run Secret Space Program that has broken away from Deep State control.
Another explanation is that the craft were extraterrestrial in origin and following a decades-long policy of secretly intervening to forestall nuclear weapons incidents, as contended by the author, Solaris Modalis, who provided the photos' genesis.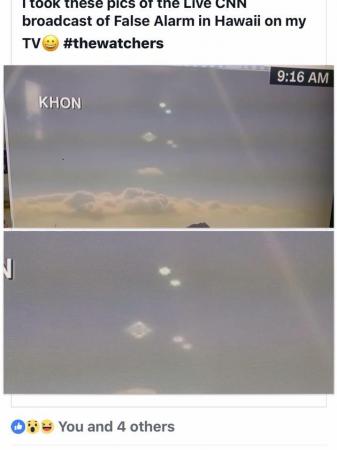 While extraterrestrial intervention is possible, it is more likely that the highly advanced state of a USAF-run Secret Space Program was all that was needed to intervene to thwart the intended false flag attack. In either case, the photos may explain how the incoming ballistic missile was shot down.
If our alternative scenario is correct, this raises a number of critical 'who', 'why' and 'where' questions. As to the 'who question', both alternative news sources refer to a stealth submarine with ballistic nuclear weapons technology.
Clearly this could only have been achieved by a nation or entity in control of submarines equipped with nuclear ballistic weapons. The Deep State is referred to in the reports as the most likely culprit, possibly using a nation state proxy to be able to pin the blame on North Korea in a false flag event.
As to the 'why question', a possible answer lies in the December 21 Executive Order passed by President Trump to freeze the financial assets of all involved in human rights abuses and corruption in the US and around the world. By cutting off the life blood of major Deep State actors and proxy groups, the U.S. Military that is the real power behind the Trump Presidency, has declared financial war against the Deep State.
Furthermore, alternative news reports of Guantanamo military prison being expanded in late December 2017, to host Deep State VIP's detained by U.S. Special Forces, may have also been a catalyst for the Deep State to react.
It's very possible that the Deep State responded to these recent developments by launching a nuclear weapons attack against Hawaii, which hosts the largest concentration of U.S. military assets anywhere in the world. If so, it is fortunate that the attack was thwarted and the culprits taken out, most likely by antigravity spacecraft belonging to a Secret Space Program.
This raises the question of whether there might be future "false flag" attacks by Deep State assets to initiate major regional conflagration and a possible World War III. Such a possibility was alluded to by the anonymous whistleblower, Q Anon, who posted a cryptic warning on January 14 that implied the Hawaii event was one of a major false flag events this coming week.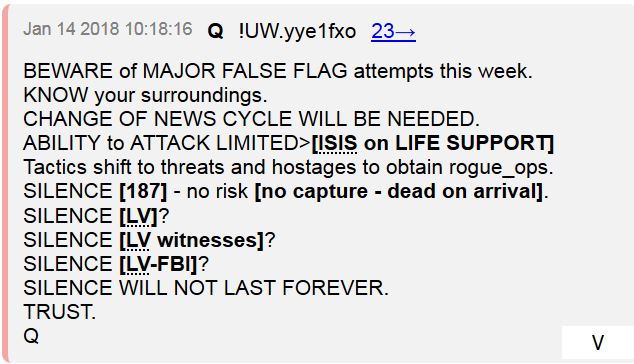 On January 16, a New York Times report referred to another false alarm, this time in Japan where residents were warned by a major TV broadcaster to take shelter from an incoming ballistic missile:
Japan's public broadcaster on Tuesday accidentally sent news alerts that North Korea had launched a missile and that citizens should take shelter — just days after the government of Hawaii had sent a similar warning to its citizens.
Could the Hawaii and Japan false alarms be the first two attempts at major false flag events orchestrated by the Deep State that have been thwarted by the U.S. military and its "off-world" allies?
It's also possible that what really happened on January 13 (and Jan 16 in Japan), including the mainstream media explanation of human error, may have been intended as a threat to the U.S. military and Trump Administration to step back from the financial war and the extraction of Deep State VIPs taken to Gitmo.  
It's hard to imagine the U.S. military and Trump backing down after their initiatives in late December 2017, especially if there really was a missile attack against Hawaii. The possibility of potential false flag military attacks orchestrated by the Deep State gives powerful incentive to government authorities to cover up what really happened on the morning of January 13, and possibly also to Japan on January 16.
The possible involvement of a Secret Space Program, most likely acting alone or with extraterrestrial assistance, in thwarting false flag attacks on Hawaii and/or Japan provides confidence that future false flag attacks using conventional military technologies are unlikely to succeed.
© Michael E. Salla, Ph.D. Copyright Notice
Further Reading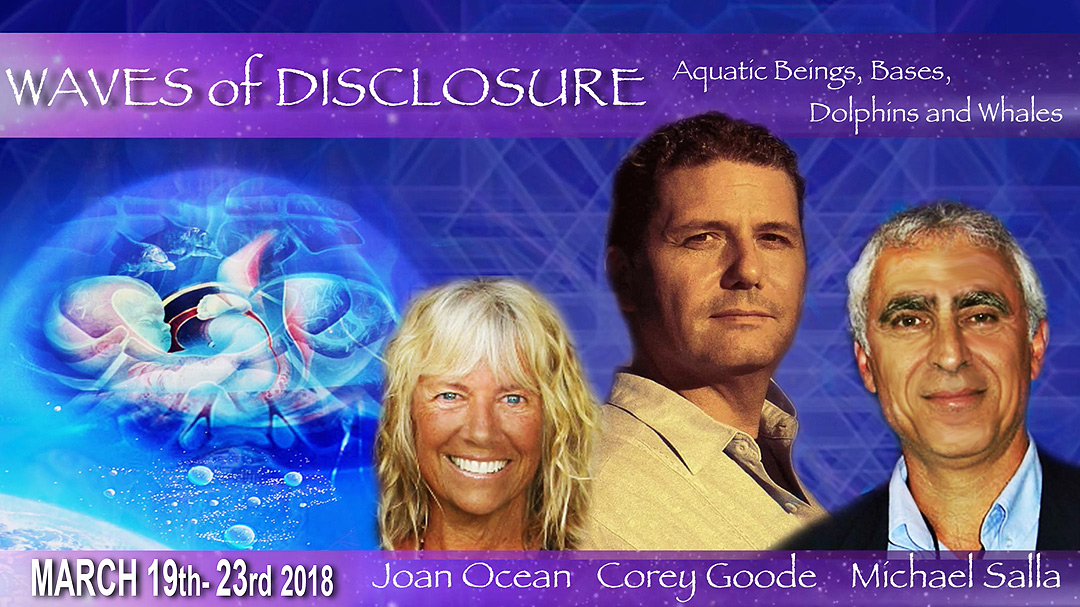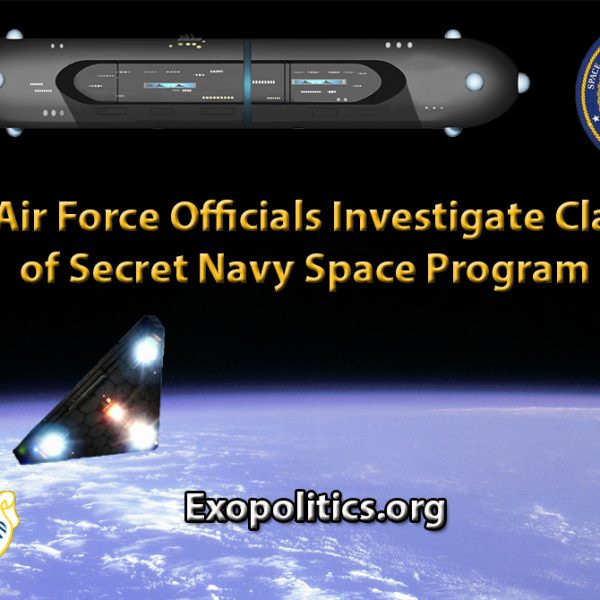 Officials from a highly classified U.S. Air Force space program that operates a space surveillance system around the Earth, are seriously investigating whistleblower claims, especially those stating that the U.S. Navy has secretly developed a parallel space program with kilometers-long craft belonging to eight battle groups capable of deep space operations.
According to secret space program whistleblower, Corey Goode, a senior official from the Air Force program who he calls "Sigmund", has been conducting "information exchanges" with Goode to learn about the alleged Navy space program and rumors of it cooperating with Nordic and other extraterrestrial groups,
Previously, Goode reported that he first encountered Sigmund in a series of military abductions that began in January 2016, when a triangular shaped antigravity spacecraft landed near his Texas home, and two Air Force personnel from the vehicle forcibly took him into the craft. Goode was subsequently interrogated and chemicals were injected into him to force him to reveal the source of his information.
After publicly emerging in March 2015, Goode's claims had come to the attention of a highly classified Air Force Space Program, which closely cooperates with other U.S. military entities such as the National Reconnaissance Office, the National Security Agency and the Defense Intelligence Agency. Goode calls this interagency collaboration the Military Industrial Complex Secret Space Program (MIC SSP).
The MIC SSP is entirely separate to a more advanced Navy Space Program known as "Solar Warden", which Goode says he served in during a "twenty year and back" tour of duty from 1987 to 2007. In previous reports, Goode has discussed at length the activities of Solar Warden and its interactions with visiting extraterrestrial civilizations.
During the initial abductions, Sigmund was trying to ascertain the source of Goode's information which had revealed highly classified information about the MIC SSP. In earlier reports, Goode also described how Sigmund and his subordinates chemically forced Goode to out several operatives working for the Solar Warden program.
The nature of Sigmund's interrogations of Goode began to significantly change when Sigmund determined that Goode's information was, at least in part, accurate, and that he was not part of a disinformation program belonging to a rogue element of the MIC SSP.
Sigmund subsequently began an "information exchange" with Goode that first occurred in "meetings" during the latter part of 2016. Goode was given information about Antarctica and the intense power struggle within the U.S. national security system involving the 2016 Presidential election. Goode wrote a report about one of these information exchanges that was published on December 11, 2016.
On March 16, Goode gave me a detailed four hour briefing about his ongoing meetings with Sigmund and/or his two subordinates from the MIC SSP, which occur on a regular basis to the present day. The information provided by Goode was originally going to be released in "Endgame 3", and was passed on to me in order to get the information out.

The scope of the information revealed by Goode is breathtaking in its national security implications for the U.S. and the rest of the planet. Consequently, this summary will be the first in a series of articles describing the information Goode has acquired through his "information exchanges" with Sigmund and/or his subordinates, and the latest activities participated in by Goode.
The overall context for the "information exchanges", according to Goode, was Sigmund's  anger over the fact that his MIC SSP was out of the loop concerning activities in deep space involving extraterrestrial life and technology. The possible existence of a more powerful Navy program operating in deep space, with technologies far more advanced than anything possessed by the MIC SSP, was of particular concern to Sigmund.
Sigmund's MIC SSP is primarily confined to near Earth operations (500 miles altitude) utilizing at least two operational space stations capable of hosting several hundred personnel, and several squadrons of TR-3B's that service the stations. This is consistent with a briefing President Ronald Reagan received in 1985, and later published in The Reagan Diaries, where he was told that the U.S. has the capacity to place 300 astronauts in space.
Lunch with 5 top space scientists. It was fascinating. Space truly is the last frontier and some of the developments there in astronomy etc. are like science fiction, except they are real. I learned that our shuttle capacity is such that we could orbit 300 people [p.334].
Reagan had been briefed about the MIC SSP and was greatly impressed by its capabilities.
In addition, Goode says that the MIC SSP maintains small bases on the moon and Mars but these are secondary in relationship to its primary mission of near-Earth surveillance and operations.
Goode says that Sigmund and MIC SSP personnel were all told that they were "the tip of the spear" when it came to the deployment of advanced military technologies in space, but had now learned that they were just the "f…ing Coast Guard"!

Sigmund's fury over lies told to him and other MIC SSP personnel led to angry confrontations with his superiors. This further resulted in Sigmund initiating a serious investigation into Goode's claims, along with those more recently provided by William Tompkins through interviews and his book Selected by Extraterrestrials, which specifically details the U.S. Navy Space Program and its cooperation with Nordic extraterrestrials.
Significantly, according to Goode, Sigmund is now conducting a similar type of investigation to my own recently completed one, done for my March 2017 book, The US Navy's Secret Space Program and Nordic Extraterrestrial Alliance. Sigmund's investigation also involves historical document searches, along with interviewing Navy personnel that have potential knowledge of a Navy Space Program that was secretly constructed in parallel with the creation of the MIC SSP.
After eliminating a number of possible sources for Goode's impressive body of information, Sigmund has now reached the conclusion that there are two remaining explanations for what Goode's revelations. The first is that a visiting group of "Nordic extraterrestrials", known to the MIC SSP, is manipulating Goode through mind control and feeding him accurate information for an unknown agenda.
The second is that Goode is genuinely associated with a Navy-run secret space program, which is part of a "Secret Space Program Alliance", and he is also working with a visiting group of extraterrestrials called the Sphere Being Alliance.
Sigmund began his information exchanges with Goode in part to further investigate Goode's claims, thus helping to determine which of the two explanations would prove to be more accurate.
Sigmund has also been concerned that plans for a "limited disclosure" of the MIC SSP would only reveal part of the truth about deep space activities involving lesser classified compartments of the U.S. military, and that the truth needed to be determined and exposed in order to maintain morale in the various programs. Was the MIC SSP the "tip of the spear" as they had been told, or "the f…ing Coast Guard" as Sigmund now feared?
This becomes especially relevant to Tom DeLonge's Sekret Machines initiative that began in early 2016 as an effort backed by 10 senior military and corporate officials. In late 2016 Wikileaks released emails that confirmed DeLonge's claims, and outed two of the ten officials involved in his initiative.
DeLonge and his advisory group genuinely believe that their disclosure of a US Air Force run space program comprising antigravity TR-3B vehicles, will usher in a new age of space exploration. These TR-3B squadrons operate out of Area 51, classified space ports on the island of Diego Garcia and a secret location in Antarctica, which according to Sigmund is also a major R & D facility.
[Update] In a March 20 post on his Facebook page, Goode explained more about this Antarctica base: 

Some of the Military and Corporate (Lockeed etc…) R&D facilities are bases that are VERY similar but much larger than Camp Freedom that was built in Iceland [Greenland] in the 50's under Project Iceworm. The space-port is an expanded former NAZI installation. The NAZI's have had several bases built across the SE and E regions of Antarctica. The reason Sigmund brought it all up is because I used the video of Project Iceworm in my CLE presentation. LOTS more going on in Antarctica that is not related to the ancient ruins. The development and testing of weapons platforms is forbidden under the international treaties of Antarctica. Also, to be noted. Many of the early bases on the Moon and Mars have been built in a similar manner. CG.
There has been widespread support among USAF and corporate officials for DeLonge's effort. That is no longer the case according to Goode. Sigmund now believes that efforts like DeLonge's are only a form of "limited disclosure", which would indefinitely perpetuate an information gap between the MIC SSP and the Solar Warden/Secret Space Program Alliance.
Consequently, the once uniform Air Force support for DeLonge's disclosure initiative is losing support. Essentially, the MIC SSP wants to get to the bottom of it all before anything about the MIC SSP is released to the public.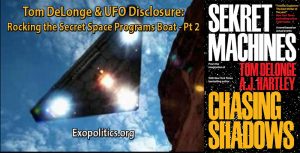 Goode says that Sigmund has been organizing meetings where he has provided briefings for select VIPs from the aerospace community. Leading engineers, scientists, industrialists and others have listened to Goode's information to see if any of it rings true for them.
The meetings have been arranged by Sigmund, and his subordinates would facilitate Goode's travel when necessary, and provide the security. Goode says that he has now given a series of briefings to 28 VIPs at similar secret meetings with between one to eight participants.
One of these meetings involved three people attending a conference being held at a hotel where Goode was staying in late January 2017. I stayed at this same hotel at the time, and Goode gave me a briefing about his visit to Antarctica in early January, which I then published on exopolitics.org.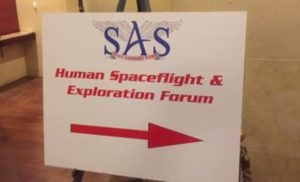 The conference was the "Human Spaceflight and Exploration Forum" organized by Special Aerospace Services  . Goode says that during his briefing presentation to the three VIPs who were Forum participants, one of the attendees got up and left in disbelief over such a secret space program existing.
The remaining two VIPs stayed to the end of the briefing, but their bemused expressions suggested that they didn't believe a word of what Goode was saying.
Goode says that in all briefings he has given, one or more of the participants have similarly stood up and left in disbelief, while the remaining VIPs largely maintained quizzical expressions. Consequently, Sigmund has recently paused the VIP briefing sessions since they have not had either the desired effect of informing the VIPs about a possible Navy space program, nor have they uncovered any further information that could help Sigmund in his investigation.
During our March 16 conversation, I pointed out to Goode the irony of his situation. The very same thing had happened to William Tompkins during World War II when he was tasked to deliver briefing packets containing information about a Nazi flying saucer program that used antigravity technologies and that the Nazi program was aided by a Reptilian extraterrestrial race.
Tompkins said that on many occasions when he delivered his briefing packets (from Naval Air Station San Diego) to the different aircraft company experimental test facilities, think tanks and university departments, the lead scientists and engineers would dismiss the information as impossible. According to Tompkins, he had to constantly battle the closed minded skeptism of those who had been trained to accept conventional scientific laws as inviolable.
Despite the VIP briefing sessions coming to an end, Goode says that his "meetings" with Sigmund and/or his subordinates continue to the present day. In these meetings, Goode has received significant information about the Trump Presidential Administration and official events to disclose the truth about suppressed technologies. This is evidenced by a secret Memorandum issued by Trump soon after taking office on January 20, 2017, to declassify secret patents involving health and free energy technologies.
Many Thanks to Corey Goode for his corrections and suggestions to an earlier version of this article, and for permission to use images which were created by a team of artists working with the Sphere Being Alliance and Cosmic Disclosure.

© Michael E. Salla, Ph.D. Copyright Notice
Further Reading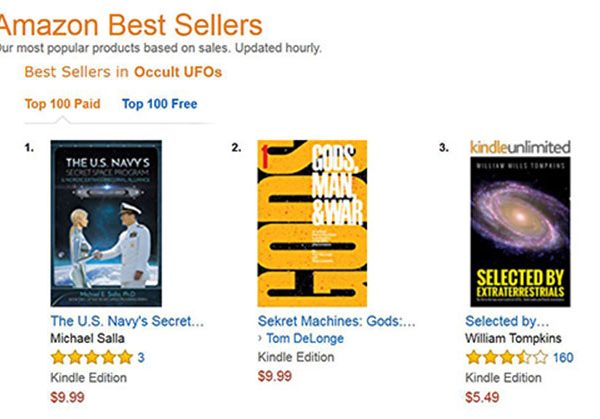 On March 5, three Secret Space Program books were at the top of the Amazon Best Seller lists for the UFO category. Two of the books, deal with a highly secretive program run by the US Navy, while the other deals with the US Air Force's better known program run out of Area 51.
The current number 1 is The US Navy's Secret Space Program and Nordic Extraterrestrial Alliance just released on March 1 that focuses on the testimony of retired aerospace engineer William Tompkins. The book uses extensive documentation to validate his claim of being directly involved in a US Navy espionage program with 29 Navy spies embedded in Nazi Germany's top aerospace programs. He also revealed the existence of a Navy research study program at its premier China Lake facility to learn about antigravity technologies which were found after the February 1942 Los Angeles Air Raid.
Tompkins later worked with several aviation companies to help the Navy design and build massive space battle groups out of its highly classified facilities hidden under the Wasatch Mountains in Utah.The book examines the historic role played by a Nordic group of extraterrestrials in helping the development of antigravity technologies first in pre-war Germany, and later in the USA in a secret alliance with the Navy.
The number two listed Amazon book is authored by Tom DeLonge and Peter Levenda and is titled Sekret Machines: Volume 1 of Gods Man and War. It is the non-fiction companion of the 2016 fiction book, Sekret Machines: Chasing Shadows, which discussed a US Air Force run secret space program. It becomes available on March 7 and will focus on evidence of historical visitation by extraterrestrials or "Gods" provided to DeLonge by a team of 10 advisors drawn from the US military and aerospace corporations. The book's Amazon description says: "Sekret Machines: GODS will take you on an eye-opening journey that transcends speculation and is based on unprecedented access to officials at the highest levels of government, military and industrial agencies who have provided insights and assistance never before experienced by any researchers in this controversial field."
The number three top selling Amazon book is authored by William Tompkins, and edited by Dr. Robert Wood (who also wrote the Foreword to the above US Navy's Secret Space Program book), and is titled Selected by Extraterrestrials: My life in the top secret world of UFOs, think-tanks and Nordic secretaries. It is the first volume of his autobiography where he reveals his involvement in the Navy's espionage program and work with Douglas Aircraft Company and TRW to design antigravity spacecraft. Most remarkable is Tompkins' claim of having worked with Nordic extraterrestrials secretly embedded in top aviation companies who covertly helped engineers and scientists achieve the technical know how to build large antigravity craft. Tompkins provides extensive documentation to support his amazing claims.
It is noteworthy that an additional two books about secret space programs (Insiders Reveal Secret Space Programs and The Ascension Mysteries) make the top six Amazon best seller list in the UFO category (see following March 5 screenshot). Both focus on the remarkable testimony of Corey Goode, and include other witnesses and whistleblowers disclosing their knowledge about these highly classified military and corporate run programs.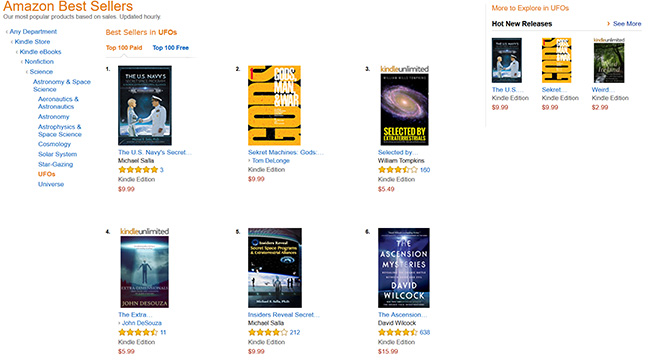 The fact that three secret space program books currently top the Amazon best seller list for the UFO category is a testament to the rapidly growing interest among the general public for information about such programs. It's very clear that people are embracing the evidence that many UFO sightings are related to highly classified technology projects that have been developed in top military and corporate scientific facilities, without the public learning the truth about their development, and the link to extraterrestrial visitation. Now, thanks to a growing number of whistleblowers, witnesses and "White Hats" in the military and corporate world, the truth is being fully disclosed to the world.
Michael E. Salla, Ph.D.
Article is available for free internet distribution.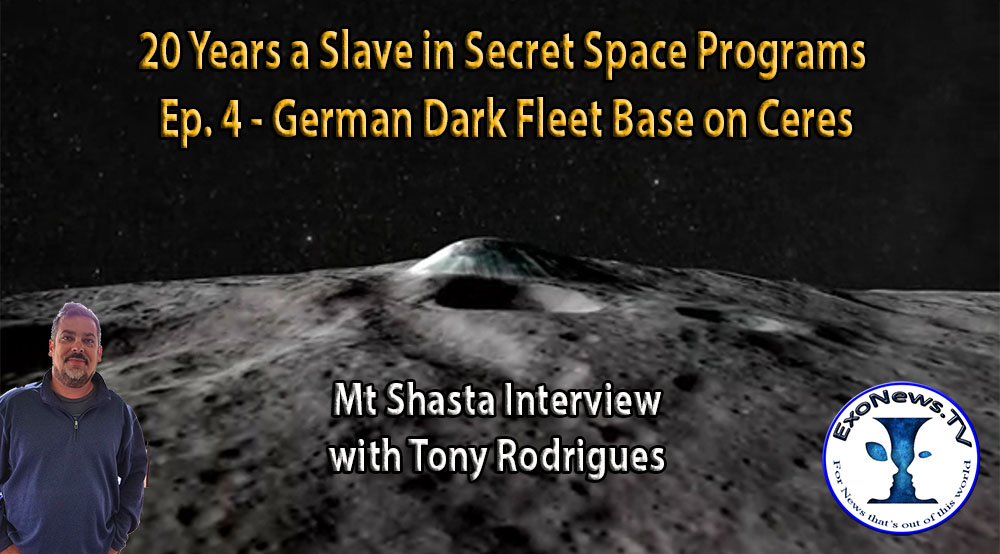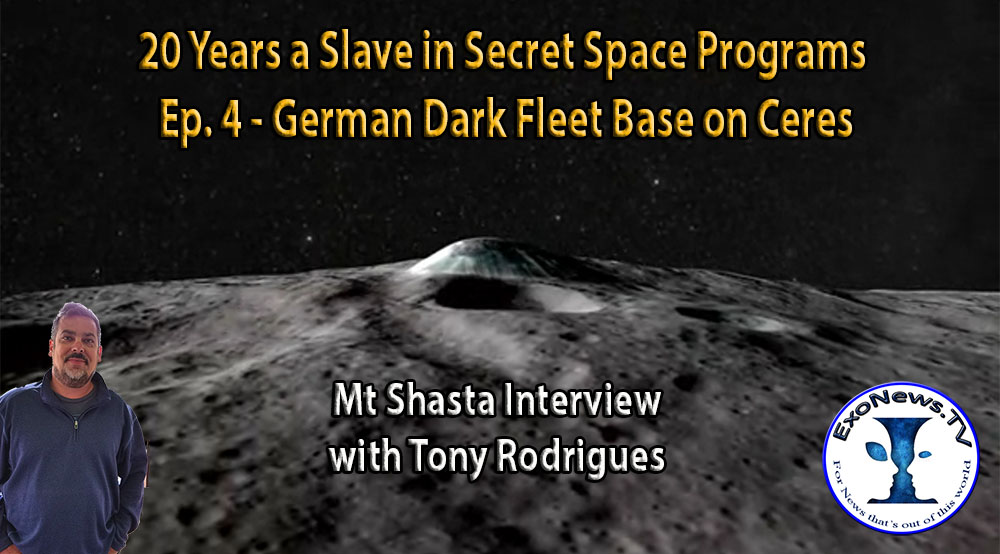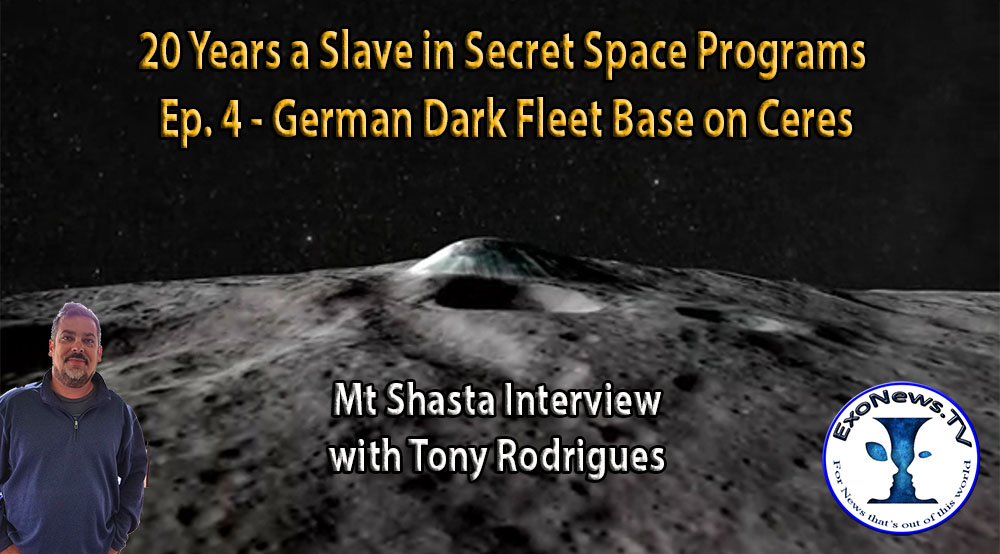 [Updated on 11/28] Three new ExoNews TV episodes have been released of Tony Rodrigues who claims he was used as slave labor for several secret space programs, one of which was German-run program known as the Dark Fleet, which was originally built in Antarctica. In two earlier episodes (parts one & two) he discussed the first seven years of his alleged "20 and back" program where he says he was used as a drug courier in Peru, sex slave in Washington State, and finally taken to the Moon when he turned 16 to be trained for space operations.
In these additional episodes from an ExoNews TV interview conducted on August 29 at Mt Shasta, California, he discusses his memories of being on a secret corporate base on Mars, and anther base on the Asteroid Belt planetoid Ceres, as well as his service on an alleged Dark Fleet Merchant Spacecraft called the Max Von Laue.
His account of the brief period he spent on Mars has similarities with the claims of Randy Cramer who says he spent 17 years stationed there as a super soldier in a military base that was kept totally separate to civilian bases run by a corporation. In part two of this five part series, Rodrigues described his brief month-long stay at the Mars military base, where he claims that he fought alongside the super soldiers as a "slave soldier" in a failed military program.
In part three, Rodrigues states that after his slave soldier program was ended, he spent a month or so completing aptitude testing on the Mars corporate colony base called Aries Prime, which Cramer was the first to publicly identify. Gray extraterrestrials identified his innate abilities which would determine the kind of future space missions he would perform.
In part four, Rodrigues says after the completion of his aptitude testing, he was sent to the planetoid Ceres through an advanced portal shuttle system from Mars, where from 1990 to 2001, he served as a crew member of a merchant space craft led by German officers that were part of the Dark Fleet.
In part five, Rodrigues  he describes his memories of time spent on a German speaking "Dark Fleet" merchant vessel called the Max Von Laue which performed interplanetary and interstellar trade missions. Among the alleged missions was one involving a nuclear attack on a Mayan colony located in the Pleiades star system.
After the release of the first two video installments of Rodrigues claims, there were doubts raised by a reliable source as to whether he was indeed a participant in a "20 and back" program.
Such doubt has been accentuated recently with claims by Dr. Steven Greer that psychotronic holographic technologies are used to create realistic scripts that are downloaded into unwitting victims, who then come forward with fabricated memories.
Greer's description of the development of these technologies and their use in secret space program testimonies was the subject of a November 13 lecture, where he said these scripts are manufactured to be "seductive and interesting". He asserted:

You've got to have multiple points of corroboration, and the bigger the tale the more the proof you got to have. Now what I would say is it that I believe that these men are sharing what they believe to be true. I also know how easy it would be to provide information that is scripted about that, and that is seductive and interesting.

His insistence that "multiple points of corroboration" are necessary for validating witness testimony is a valid one. However, controversy erupted from Greer's lecture when he claimed that the testimonies of Corey Goode and William Tompkins were corrupted by scripted memories. I responded to Greer's claim in a two part series addressing them first for Goode, and then for Tompkins whose testimony has many similarities to Goode's.
My conclusion was that Greer's accusations lacked direct evidence, were driven by bias against any claims of predatory extraterrestrials, and were purely conjectural. This was especially so in the case of Tompkins whose testimony has "multiple points of corroboration" with independent witnesses and documents.
Nevertheless, Greer raised a legitimate concern in his lecture about advanced psychotronic holographic technologies that could produce realistic scripts to contaminate whistleblower testimonies about secret space programs.
This certainly was a major concern that Goode had previously raised when he was told by his insider source, "Gonzales" (a pseudonym) that a disinformation campaign was underway to contaminate the field of secret space programs research with false whistleblower testimonies:
Gonzales suddenly got a very serious look on his face and stated that he had a few things to discuss with me. He, too, stated that there was an operation underway to water down the info we have disclosed, as well as to discredit me personally by flooding the internet with fake SSP insiders.

A new generation of Manchurian candidates, who genuinely believed their false memory scripts, could indeed make it very difficult in finding the truth about what is really happening in secret space programs.
Rodrigues memories as a slave for an involuntary "20 and back"  space program raises the question, are his memories genuine or scripted?
Before attempting to answer this question, I wish to raise a third possibility first brought to my attention by my exopolitics colleague, Alfred Webre, J.D. He publicly postulated that Randy Cramer's memories of service in a "20 and back" secret space program were not a result of his own direct experiences, but were the memories of a dead Mars supersoldier. Weber said:
Specific memories of a deceased member of the Mars Defense Force have been downloaded and implanted into Randy, although Randy is not yet conscious that this is the case…. This was done as a well-intentioned disclosure effort by officials within the Mars Defense Force to let the public know about the Exopolitical situation on Mars and Earth.

It's important to note that Weber's thesis here is not that Cramer's memories were downloaded into him for disinformation purposes, but are part of a sanctioned disclosure program by a covert group of "White Hats".  I analyzed Webre's claim regarding Cramer in my book, Insiders Reveal Secret Space Programs and Extraterrestrial Life (pp. 335-36).
Weber's thesis that memories of secret space program personnel can be extracted for subsequent downloading into another body is very plausible. His thesis suggests that rather than fabricated scripts, as Greer was suggesting, the memories of dead secret space program personnel could be downloaded into unwitting victims who are then led to believe they were part of a "twenty and back" program.
The advantage between real memories versus manufactured scripts, is that the memories would have genuine emotions attached to them, as opposed to computer generated scripts. This would make for a much more compelling witness, who would feel genuine emotions as they recalled another person's memories, which they believe to be their own.
So coming back to the question of Tony Rodrigues' memories, we have four possibilities: 1. they are genuinely his own experiences; 2. they are manufactured scripts that are part of a disinformation program; 3. they are another person's memories downloaded into him into a sanctioned disclosure initiative; and 4. they are entirely fabricated by Rodrigues himself as part of an elaborate scam.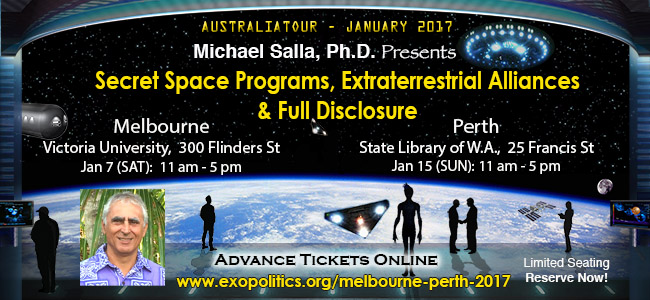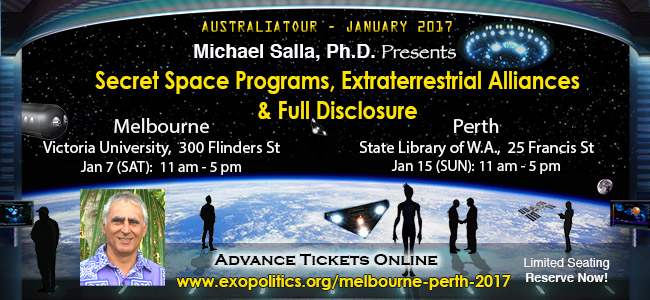 I was first contacted by Rodrigues on August 15, 2015, who shared his story. A red flag was quickly raised by due to an inconsistency in his narration of an encounter around 1997-2001, between the merchant spacecraft he claims he served on, and the Arnold Sommerfeld, the Solar Warden research vessel that Goode says he served on for six years (1987-1993).
I then spent then next year vetting his testimony along with two other researchers, Morgan Starr and Rob Potter. We collectively conducted numerous phone, email and in-person interviews, closely examining his testimony for consistency, and attempted to determine his sincerity. Importantly, we tried to find any ulterior agenda in him coming forward.
I personally met Rodrigues for the first time at the Mt Shasta Secret Space Program conference from August 26-28. I closely examined his body language, emotions, consistency in retelling his story, and motivation for coming forward. A colleague, Duke Brickhouse, J.D., also participated in the vetting process at the Mt Shasta conference.
Our collective conclusion was that Rodrigues was being truthful, sincere and consistent in describing events he recalls experiencing during a twenty and back secret space program. This ruled out, in our opinion, the possibility that Rodrigues was perpetrating an elaborate scam.
Among the things that impressed me in Rodrigues story was his description of the older generation of German spacecraft as retrofitted submarines. This was consistent with Tompkins' description of the first US Navy space craft being retrofitted Nautilus class nuclear submarines which he shared in an unpublished interview. As far as I'm aware, Rodrigues was the first person to reveal this very significant piece of information.
Another impressive feature of Rodrigues story was that says that the white spots on Ceres are water geysers which he personally saw during his time flying over the planetoid. This is consistent with early scientific data on the white spots which remain an enigma for planetary scientists.
Finally, Rodrigues account of being used as a sex slave in Seattle, Washington State from 1985 to 1988 (see part one) is perhaps the most significant aspect of his testimony insofar as it is verifiable.
After the Mt Shasta conference, Rodrigues traveled to the Seattle area location where he claims he was forced into sex slavery and recalled many locations he had been forced to work at during his "20 and back" timeline. In this current timeline, Rodrigues says that he had never previously visited Washington State.
In phone reports to Brickhouse and myself, he confirmed that he knew his way around the area where he was previously exploited, and recalls the names of the people who had run the child sex operation. Additionally, he says that through Google Earth, he was able to locate the town and environment where he was forced to work for the Peruvian drug trade from 1981 to 1985.
If there is independent confirmation of Rodrigues time in Peru and Washington, or for his alleged space service on Mars and Ceres, that will help considerably in establishing "multiple points of corroboration" for his story, and the accuracy of his memories. As mentioned in earlier articles, there are multiple corroborating points for insiders such as William Tompkins and Corey Goode.
Until multiple points of corroboration are found for Rodrigues testimony, there remains the possibility that his memories may be contaminated by manufactured scripts, or implanted memories from another person. This requires caution and discernment in using Rodrigues testimony to understand aspects of secret space programs, such as the German-run Dark Fleet, about which little is known.
[ExoNews TV episodes with Tony Rodrigues: Part 1, Part 2, Part 3, Part 4, Part 5]
[Updated on 11/28/16 with addition of Part 5]
This article may be freely circulated in its entirity.
Further Reading