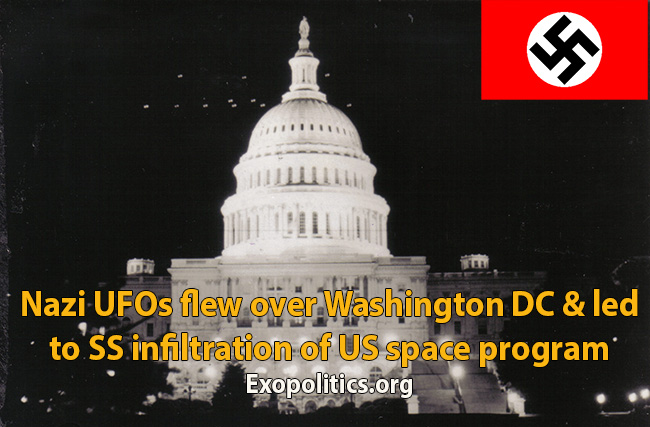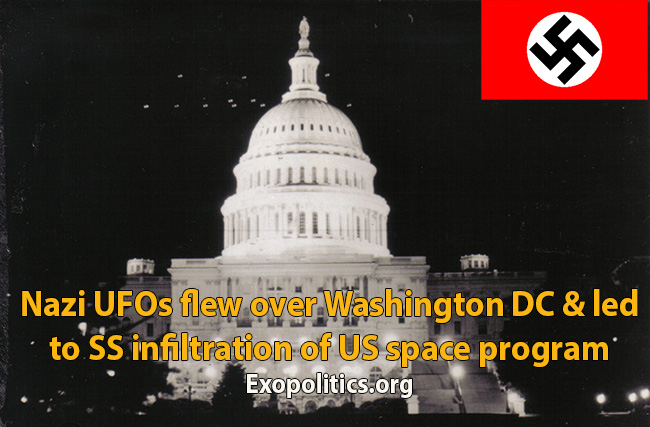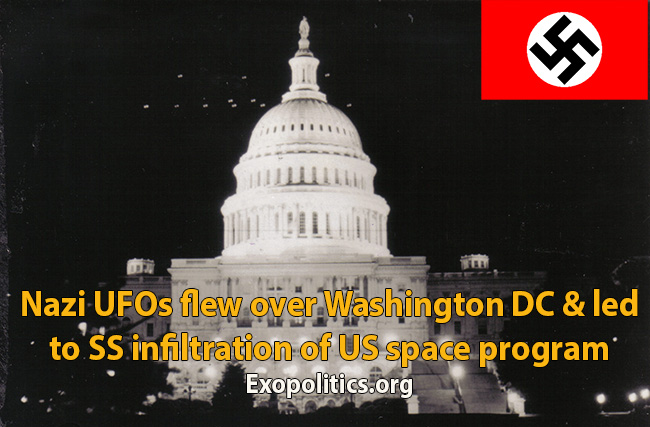 A second whistleblower has come forward to claim that Nazi flying saucers flew over Washington D.C. and other major U.S. cities in the early 1950s. These events allegedly led to secret negotiations with a surviving Nazi SS breakaway group based in Antarctica, and agreements resulting in their infiltration of a secret U.S. space program.
Clark McClelland had a 34 year career working for NASA and its aerospace contractors from 1958 to 1992, before his security clearance was not renewed due to his ongoing research into UFOs. McClelland spent much time working with Operation Paperclip Nazi scientists, and learned directly from them how the Nazi SS had survived the war, had built advanced spacecraft in Antarctica, and infiltrated the U.S. space program. McClelland's remarkable testimony has just been released and corroborates the earlier disclosure of secret space program whistleblower Corey Goode, who made similar claims in May 2015.
The fleets of flying saucers seen over Washington DC on successive weekends in July 1952 have been among the best documented UFO cases ever. Thousands of witnesses, along with numerous photographs, radar trackings, and pilots all reported flying saucers over the nation's capital on three successive weekends. Major Donald Keyhoe and other leading UFO researchers of the era thought the Washington flap was the best evidence yet of extraterrestrials visiting Earth.
The U.S. Air Force held a press conference on July 29, 1952 and Major General John Samford said that it was all due to a "temperature inversion". Even President Truman became involved when he called on Project Bluebook for a report and was given the official Air Force explanation. Much of the media and general public were confused by the official Air Force explanation, but dutifully ignored the issue out of, 'wink wink', national security concerns. For over sixty years, the secret of who really flew over Washington DC and other major U.S. cities in 1952 has been withheld from the general public.
Now, two independent whistleblowers have recently emerged with another explanation that challenges the prevailing view of history. The Nazi SS had not been obliterated in World War II, as everyone had been told after the advance of allied armies into Berlin and the May 8, 1945 capitulation of the rump German government led by Admiral Karl Donitz. Instead, the Nazi SS had been successful in establishing remote bases of operations in Antarctica and South America to continue the secret development of flying saucer technologies, which in 1952 began overflights of major U.S. cities to intimidate the Truman administration into capitulating into Nazi SS demands.
In May 2015, Goode described how the Nazis had overflown the U.S. capitol in 1952 with their superior technologies, and pressured the Truman and Eisenhower administrations into negotiating a secret agreement:
… after the failed Operation High Jump Mission, the Operation Paperclip Scientists were asked to negotiate meetings… The NAZI's used this to their advantage in some very public sorties over Washington D.C. and highly Secret Atomic Warfare Bases to mention a few. Eisenhower finally relented and signed a treaty with them … "NAZI Occult Societies" therefore infiltrated every single high tech corporation and position of power inside the now "Joint Break Away Civilization/Program". They have been involved in all western space programs and projects ever since.
Goode's controversial claims have just been corroborated by McClelland. In the August 3 instalment of his book, The Stargate Chronicles, McClelland writes:
The over flights of advance very swift crafts over Washington, DC were these German advanced aircraft that totally out flew American advanced crafts. On July 12, 1952, President Truman observed several of the UFOs and was completely amazed by their capabilities of outmaneuvering the USAF and US Navy advanced Jet fighter, the F-4D. USA jets sent up to bring one down. None could fly the speed of the German Saucers.
McClelland also corroborated Goode's claim that the Nazi SS had infiltrated the U.S. space program through Operation Paperclip scientists, and continued to intimidate German scientists at the Kennedy Space Center (KSC) well into the 1960s:
Some of the German engineers and technicians I met at KSC were all aware that a few of the German S.S. were working at Cape Canaveral and the Kennedy Space Center that arrived with Project Paper Clip with Dr. Von Braun in 1946. … These S.S. were as feared at KSC as they were in the German Army during WWII.
McClelland's testimony is compelling support for Goode's controversial claims of a Nazi breakaway civilization using advanced flying saucer technologies. Given the public documentation that McClelland has offered to support his whistleblower testimony, it is now far more difficult to dismiss his and Goode's remarkable claims, which are examined more closely in the upcoming book, Insiders Reveal Secret Space Programs and Extraterrestrial Alliances. If McClelland and Goode are accurate, then world history will have to be rewritten as the truth finally emerges about who was really in control of those flying saucers over Washington DC in July 1952.
© Michael E. Salla, Ph.D. Copyright Notice
FURTHER READING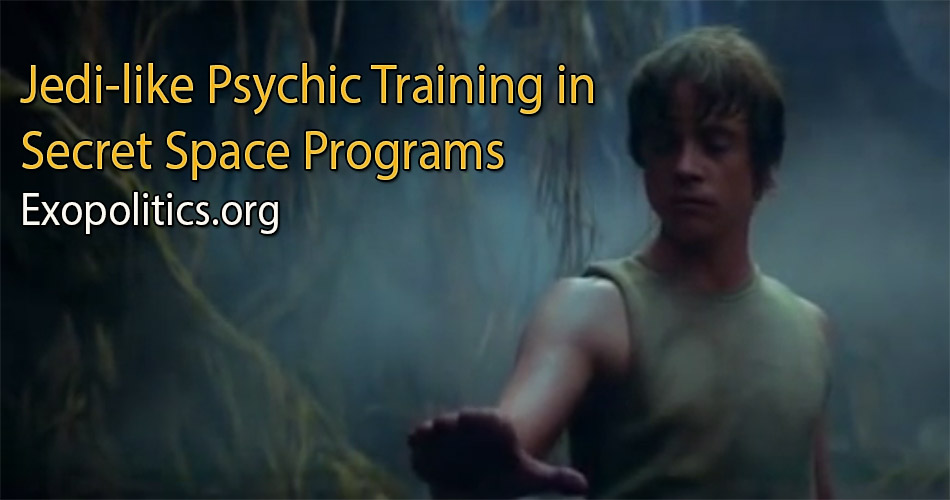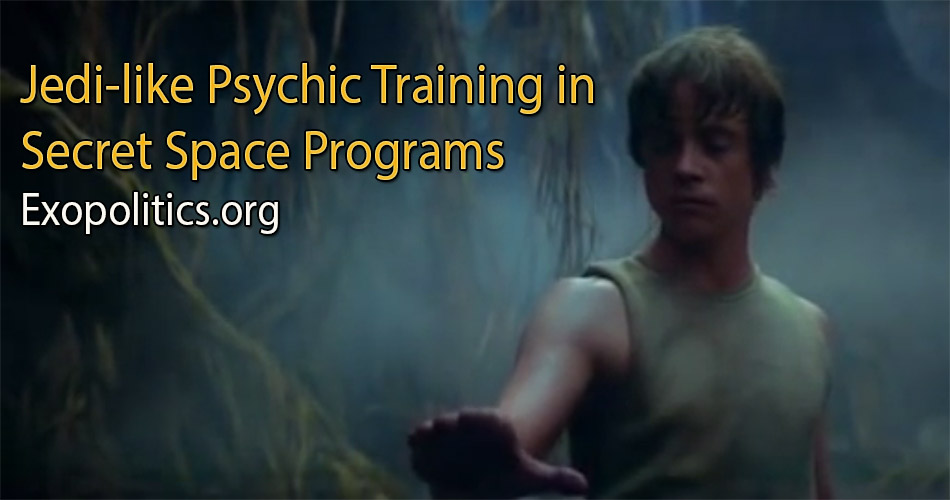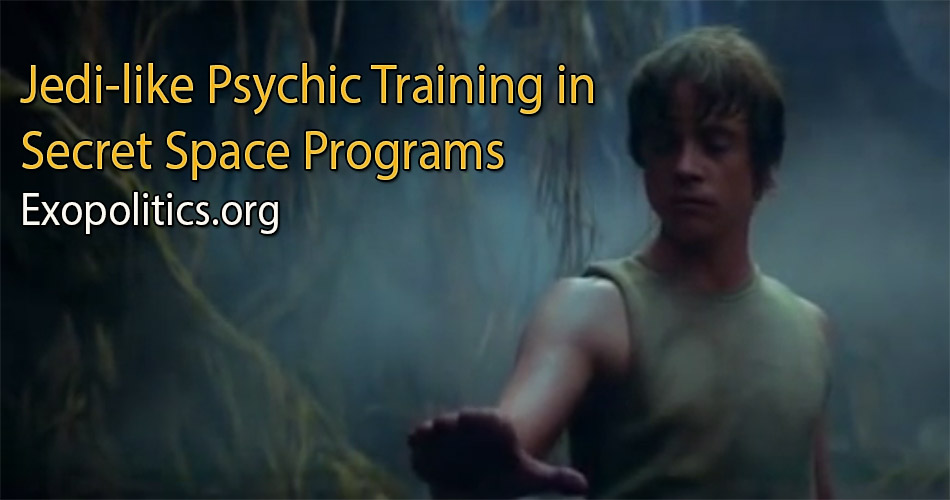 Secret space programs train recruits to use enhanced psychic abilities for a variety of covert missions according whistleblower, Corey Goode. In today's episode of Cosmic Disclosure, he describes how psychic abilities are enhanced through the stimulation of the pineal gland. Goode says that the development of psychic abilities and training is very similar to what was depicted in the Jedi training programs in the Star Wars movies. Individuals trained through these Jedi-like programs, can develop powerful psychic abilities that can be used for both defensive and offensive purposes.
Goode described how stimulation of the pineal gland was identified by the secret space programs as the key to personnel developing powerful psychic abilities. He says that after stimulation of the pineal gland, a variety of psychic abilities such as out of body travel and teleportation were developed using what he described as a person's "light body":
A lot of beings use the pineal gland and their light body to project their consciousness and inner selves to other physical locations and then send that information back through that connection into their physical bodies and then change the vibrations of their physical bodies to match the vibration of the location that they are at and then the body teleports to that location and rejoins the consciousness or what some people are saying are having out-of-body experiences or projecting their minds – a lot of different terminology for what these more advanced beings were doing.
Goode says that part of the training involved visualization of energy spheres that could actually be made physical by the more advanced instructors who could use them as weapons.
Goode's description of the training closely matches what was depicted in the Jedi training found in the Star Wars movies. He describes the training as having elements of both the more positive Jedi philosophy, and the darker Sith practices where psychic abilities were used for destructive purposes. Goode referred to David Wilcock's book, The Source Field Investigations and said:
These people were the ones that believed very much in the like Star Wars, Jedi, the Force. And you wrote a book, The Source Field. They harnessed what they would call like the dark side of the Source Field or the dark side of the Force, and they were very much into like really the straight out of Star Wars – the Jedi, the Dark Lord Sith kind of magic energy that they pulled from the ether or the universe.
Goode's account of psychic abilities being harnessed for both positive and negative purposes corroborates the testimony of another secret space program whistleblower. Michael Relfe, who went public with his testimony in 2000 with publication of The Mars Records, claims to have served for 20 years on Mars after having his psychic abilities enhanced through genetic alterations conducted by extraterrestrials. The alien abductions, which occurred during his youth, were closely monitored by the U.S. Navy. In 1976, Relfe enlisted in the Navy and soon after was recruited for covert service on Mars until 1996, when he was age-regressed and sent back in time to 1976.
Relfe says that his psychic abilities were gradually enhanced, through chemical and electronic means, similar to what Goode described in the latest Cosmic Disclosure episode. Relfe says that his psychic abilities were first used in remote viewing for espionage purposes, and then for 'remote influencing,' where targets could be manipulated in some way. He finally became an assassin where he used his enhanced psychic abilities for eliminating 70 targets over his 20 year tour of duty that included Reptilian extraterrestrials and synthetic life forms. Relfe described his psychic abilities in a 2000 interview, and his remarkable testimony is compared to Goode's in the forthcoming, Insiders Reveal Secret Space Programs & Extraterrestrial Alliances.
Goode described the need for psychically grounding oneself in order to fully access the energies from "The Force" coming through the activated pineal gland. He says that grounding was possible through the Earth, the Sun and Galactic Center, all of which allowed one to access more and more of the Force permeating the universe.
There was a grounding aspect mentioned of visualizing yourself grounded with the center of the Earth and also visualizing yourself as an antenna that can pull in and push out energy – this background energy of the cosmos…. The Earth had a relationship with the sun. The sun had a relationship with the local star cluster. The local star cluster had a relationship with the center of the galaxy. The galaxy had a relationship with the local galaxy cluster and so on.
Goode went on to describe how the psychic training involved being immersed in virtual realities where one had to increasingly rely on intuition to win. Psychological profiling was also conducted in order to identify sociopaths who, like Relfe, could be used to perform difficult assignments like psychic assassination.
Corey Goode's Cosmic Disclosure interviews continue to unveil deeper layers behind the covert actions of secret space programs. His latest testimony of the training of intuitive empaths, remote viewers and psychic warriors, using pineal gland activation, is highly recommended.
© Michael E. Salla, Ph.D. Copyright Notice
[Note: The first two episodes of Cosmic Disclosure are available for free on the Gaiam TV website. The first episode is on Youtube. To watch the whole season of Cosmic Disclosure, you need to subscribe to Gaiam TV. If you subscribe using this link, then a portion of your monthly subscription will go towards supporting Corey Goode as he continues his disclosures. His website is here.]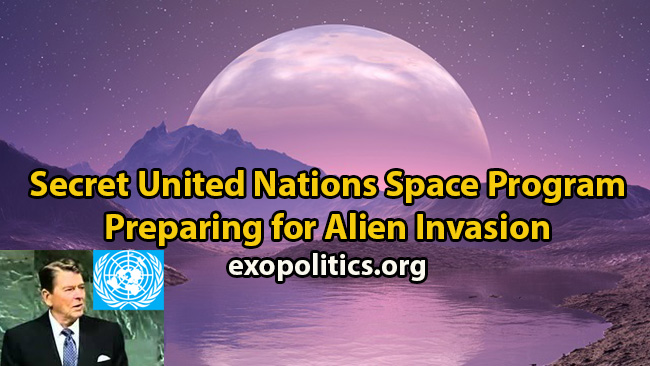 A secret space program was created for United Nations members states in the early 1990s that had agreed to cooperate for an alien invasion, according to the latest startling revelation by whistleblower, Corey Goode. He discloses, in his newly released Cosmic Disclosure Gaia TV interview, more details about the United Nations space program, which he had earlier briefly discussed in an email interview, as a NATO-type space program called the "Global Galactic League of Nations." Goode says that the origins of the secret UN space program can be dated to the 1980s, with President Ronald Reagan's statements concerning the need for global cooperation to prepare for an alien threat.
Goode began the interview by saying that during his 20 year tour of duty with a number of secret space programs, he visited a moon base in another solar system belonging to the Global Galactic League of Nations (GGLN). He says that he traveled there through a portal shuttle system, which made interstellar travel between the Earth and the exomoon very rapid – only a few minutes! Once there, Goode says that he saw personnel from many different nations in a very relaxed mood,  similar to what is depicted in the fictional Stargate Atlantis TV series. The mood on the GGLN moon base contrasted 180 degrees with what Goode experienced on the Mars colonies controlled by the Interplanetary Corporate Conglomerate.
The GGLN exomoon had a breathable atmosphere that orbited a nearby gas giant, according to Goode. He was told that the gas giant was part of the Pleiades star system, but was unable to confirm this. Most of the moon base personnel were scientists and engineers, who were working on advanced technologies that had been supplied to them by the Interplanetary Corporate Conglomerate. They were developing these technologies for defending the Earth from a possible alien invasion.
Goode elaborated on his earlier disclosure concerning the connection between Ronald Reagan's statements about alien threats, the most famous of which was delivered at the United Nations General Assembly on September 21, 1987. This speech was the catalyst for United Nations member states reaching an agreement for forming a secret space program.
The GGLN would be supplied with advanced space technologies supplied by the same multinational aerospace corporations, which had become the backbone of the Interplanetary Corporate Conglomerate.
Goode's final conclusion was that the GGLN was heavily compartmentalized and manipulated into believing they were building advanced defense systems to protect the Earth from an alien threat. They were not privy to all the information about different extraterrestrials, and thus could be easily manipulated into believing they were the tip of the spear for defending Earth. Goode did not discuss who the aliens were that might be threatening the Earth, but said it was based on what Reagan had earlier revealed.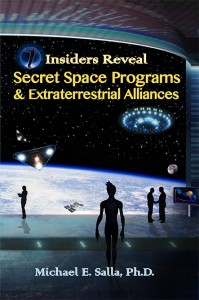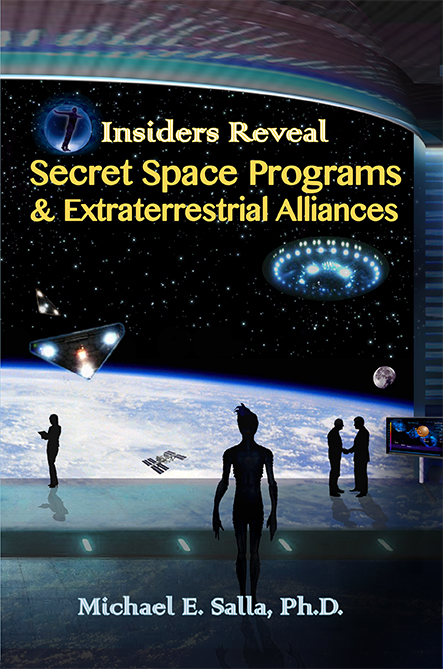 In the forthcoming book, Insiders Reveal Secret Space Programs & Extraterrestrial Alliances, a chapter discusses the relationship between Ronald Reagan and the UN secret space program. An alleged briefing Reagan was given in 1981 concerning hostile aliens is analyzed as the catalyst for his later statements concerning an alien threat and the need for planetary cooperation. The book further discusses how this unprecedented level of global cooperation was the real reason for the end of the Cold War.
The Cosmic Disclosure episode discusses other important historical developments, including the Soviet Union's development of "cosmospheres," where cosmonauts could travel into space in small metallic spheres, most of which could accommodate up to three personnel, with larger ones holding even more personnel. The Soviets used their cosmosphere sphere program as leverage for having a greater role in the secret space programs being developed in the United States in the late 1950s. Once again, this is an episode of Cosmic Disclosure that you don't want to miss.
© Michael E. Salla, Ph.D. Copyright Notice
[Note: The first two episodes of Cosmic Disclosure are available for free on the Gaia TV website. The first episode is on Youtube.  To watch the whole season of Cosmic Disclosure, you need to subscribe to Gaiam TV. If you subscribe using this link, then a portion of your monthly subscription will go towards supporting Corey Goode as he continues his disclosures. His  website is here.]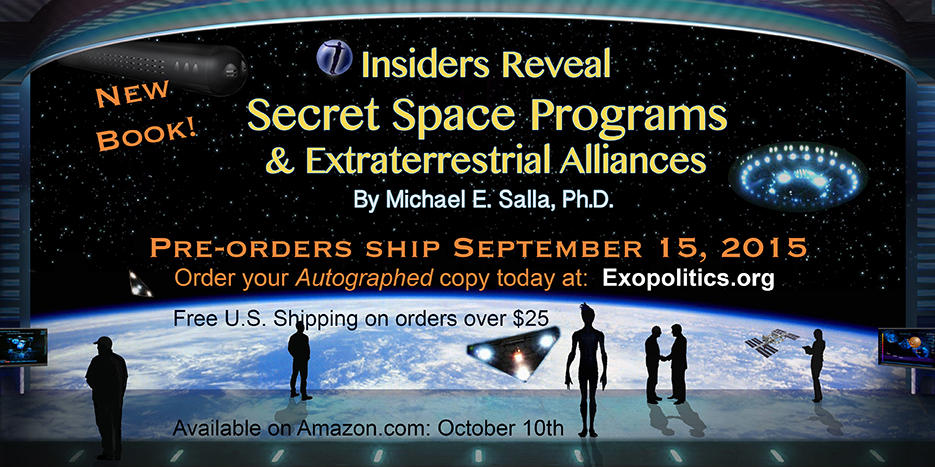 President Ronald Reagan made a startling admission in his Presidential Diary on June 11, 1985:
Lunch with 5 top space scientists. It was fascinating. Space truly is the last frontier and some of the developments there in astronomy etc. are like science fiction, except they are real. I learned that our shuttle capacity is such that we could orbit 300 people.
NASA's Space Shuttle program at the time held a maximum of eleven people per shuttle, and only five were built for space flight. Even if all five took off together, it would be impossible to place and maintain 300 astronauts in orbit.
Finding the truth behind Reagan's extraordinary revelation requires diving deep into the shadowy world of highly classified aerospace programs. The problem in doing so is not only that public documentation is at best scant, if available at all, but that possession of documentary evidence of such programs can be illegal. There are severe penalties for possessing and/or disclosing classified documents to anyone unauthorized to view them. It takes a brave whistleblower to come forward to disclose what he or she knows about classified aerospace programs.
A new book, Insiders Reveal Secret Space Programs & Extraterrestrial Alliances, introduces a number of whistleblowers who have made extraordinary claims regarding secret space programs that they either directly served in and/or were briefed about. In particular, the book investigates the extraordinary claims of Corey Goode concerning five secret space programs that he was directly involved with and/or been briefed about.
Goode says he completed a 20 year tour of duty from 1987 to 2007 in several of these programs. He reveals that in the course of his duty, he came into direct contact with different extraterrestrial groups and alliances that interacted with one or more of the space programs. Goode's position allowed him unrestricted access to "Smart Glass Pads" that had extensive information about highly classified history, science, medicine and other topics related to secret space programs and extraterrestrial life.
Goode further claims that in early 2015, he was made the delegate of an alliance of newly arrived extraterrestrial visitors. This included a group called the "Blue Avians," who facilitated meetings that he attended between the different secret space programs and/or different extraterrestrial alliances. He says that these new visitors have superior technologies in comparison to anything previously witnessed, and have implemented a solar system wide quarantine, which directly impacts all the space programs and other extraterrestrial groups, in tandem with the entire citizenry of Earth.
Available public documents along with other whistleblower testimonies help corroborate many of Goode's claims, and provide an overall context for understanding the full scope of the multiple secret space programs. His testimony provides clear answers as to what Reagan was briefed about in 1985, and why the latter's repeated offers of global cooperation to face an alien threat led to the sharing of classified space technologies that ended the Cold War.
Classified space programs have been an integral part of a complex jigsaw puzzle concerning UFOs, extraterrestrial life, ancient civilizations and advanced aerospace technologies, which have long defied any coherent understanding. Now finally, we have something to put all the pieces together with the disclosures of secret space program whistleblower, Corey Goode. A detailed investigation of Goode's and other insider testimonies reveals the big picture of a parallel world of secret space programs and extraterrestrial alliances.
Learn from this book: how the Vril/Nazi flying saucer programs in the 1930's gave birth to the 'Dark Fleet'; how Project Paperclip scientists both helped and hindered the development of the US Navy's 'Solar Warden'; how the MJ-12 Group was behind the creation of the 'Interplanetary Corporate Conglomerate'; and how Ronald Reagan was instrumental in the creation of the 'Global Galactic League of Nations' space program. Finally, learn how the Sphere Being Alliance and other extraterrestrials interact with these and other programs. The full disclosure of secret space programs and extraterrestrial alliances will unshackle the chains of deception holding humanity back from reaching its highest potential as galactic citizens.
About the Author: Dr Michael Salla is a former university professor in international relations, and is the author of Kennedy's Last Stand: Eisenhower, UFOs, MJ-12 & JFK"s Assassination (2013), which has received many "outstanding" reader reviews; and author/editor of eight other books dealing with 'Exopolitics', International Conflict, U.S. Foreign Policy  and Global Peace.
Insiders Reveal Secret Space Programs and Extraterrestrial Alliances is published by the Exopolitics Institute and is approximately 420 pages in length. Cost of paperback version is $18.95.
Click here to order your Autographed Copy.  Free U.S. Shipping for all orders over $25.
Also available at Amazon.com in paperback and Kindle editions. 
Please Note: a percentage of all book sales go to Corey Goode in financial support as he continues his whistleblower disclosures.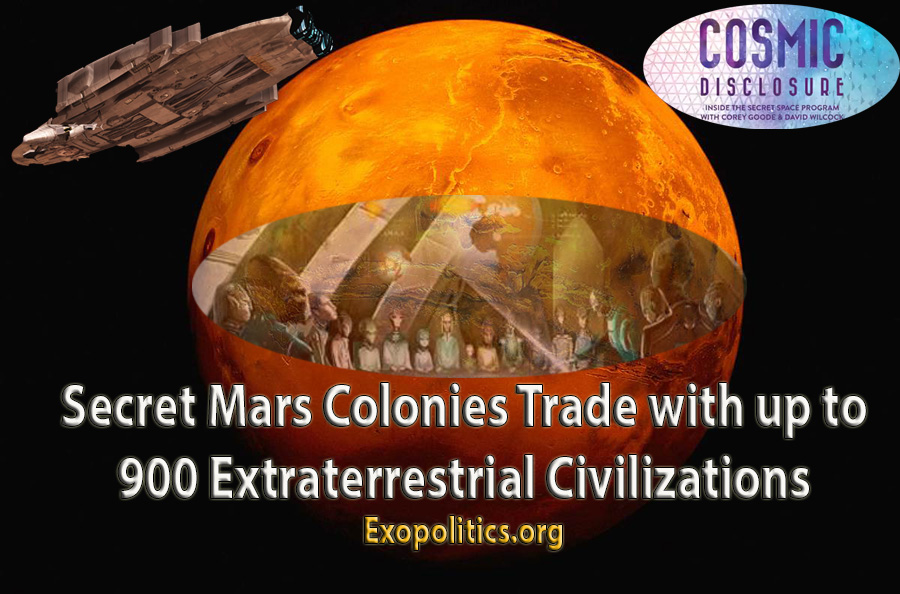 An inspection tour of a secret Mars colony that took place less than two months ago, on June 20, is the focus of episode seven of Gaia TV's Cosmic Disclosure. Secret space program whistleblower, Corey Goode, had earlier released a detailed report of the incident on June 22. In the Cosmic Disclosure interview with David Wilcock, Goode summarizes key aspects of the tour, as well as giving more details about the alleged trading conducted by a secret space program, the Interplanetary Corporate Conglomerate, with up to 900 extraterrestrial civilizations.
Upon arrival at the base located in Mars' southern hemisphere, Goode described seeing a parked dart-shaped space vehicle that belonged to the Interplanetary Corporate Conglomerate (ICC). Goode claims that these vehicles are among the most advanced spacecraft produced by the ICC Space Program. One of the dart-shaped vehicles had been captured by the NASA live stream of the International Space Station. It was docked with the Space Station and the incident has still not been satisfactorily explained by NASA. Goode says that such incidents are staged by a "Secret Space Program Alliance" to help prepare Earth's population for the major disclosures that lie ahead.
Goode also described the underground rail system that used vitrified rock for the walls of the tunnels that criss-crossed between the facilities all across Mars. He described the tunnels as looking like ripple-like glass. Wilcock explained how classified tunnel boring equipment has to pause periodically to create reinforced ring sections, which give the tunnels the rippled look. Underground bases researcher, Richard Sauder, has described how such advanced tunneling equipment works:
Nuclear subterrenes work by melting their way through the rock and soil, actually vitrifying it as they go, and leaving a neat, solidly glass-lined tunnel behind them. The heat is supplied by a compact nuclear reactor that circulates liquid lithium from the reactor core to the tunnel face, where it melts the rock. In the process of melting the rock the lithium loses some of its heat. It is then circulated back along the exterior of the tunneling machine to help cool the vitrified rock as the tunneling machine forces its way forward. The cooled lithium then circulates back to the reactor where the whole cycle starts over. In this way the nuclear subterrene slices through the rock like a nuclear powered, 2,000 degree Fahrenheit (1,100 Celsius) earthworm, boring its way deep underground.
Glass-like tubes have been photographed by NASA's Mars Global Surveyor orbiter, which has led to speculation that they were tunnels of some kind, built by giant worms or some other method. Goode's experiences at the Mars facility makes clear that these glass-like tubes are in fact part of a secret Mars-wide rail transportation network.
One of the most astounding aspects of the inspection tour is the claim that the Interplanetary Corporate Conglomerate (ICC) trades with at least 900 different extraterrestrial civilizations. Goode and Lt Col Gonzales (a pseudonym used by another eyewitness yet to reveal himself) were shown an optical neurological device that was designed to interface with technologies that was very popular on spacecraft. Goode expressed his surprise at how far the ICC has gone in developing advanced technologies that were being requested by a number of extraterrestrial civilizations. Goode's surprise is something that many in the general public are very likely to share upon learning the truth about the different secret space programs, and their interactions with up to 900 extraterrestrial civilizations.
What is especially helpful for those investigating Goode's credibility is being able to compare his recollection of the Mars inspection tour in the Cosmic Disclosure interview, and the report he wrote on June 22. Comparing testimonies is a very familiar technique used by investigators wanting to confirm whether a person is lying or not. That's why police investigators will get witnesses to repeat their recollections again and again. What is especially significant here is that writing and speaking utilize different hemispheres of the brain. While Goode's written report uses more of his analytical left brain functions, the verbal report uses the more intuitive right brain functions. If he was lying or fabricating his story in any way, there would be inconsistencies. I found, however, no inconsistency between the earlier written report and Goode's verbal recollection of the Mars inspection tour. Goode's narration of the incident appears to be a sincere recollection of experiences that genuinely occurred, rather than trying to recall something that had been contrived.
Goode briefly touches upon a number of other issues in his Cosmic Disclosure interview regarding stasis-being giants who were mistakenly thought by global elites (Cabal/Illuminati) to be their returning gods. In addition, he gives more details about NSA documents that were taken by Edward Snowden that have finally been decrypted, and will soon be released in a massive document dump. This is an episode of Cosmic Disclosure that you really don't want to miss!
© Michael E. Salla, Ph.D. Copyright Notice
[Note: The first two episodes of Cosmic Disclosure are available for free on the Gaia TV website. The first episode is on Youtube.  To watch the whole season of Cosmic Disclosure, you need to subscribe to Gaiam TV. If you subscribe using this link, then a portion of your monthly subscription will go towards supporting Corey Goode as he continues his disclosures. His  website is here.]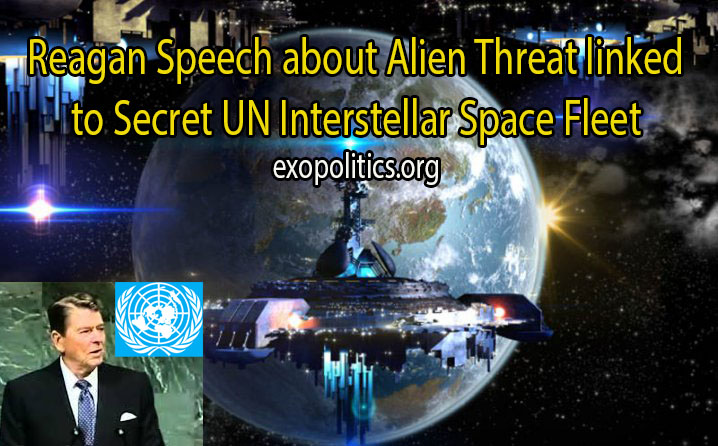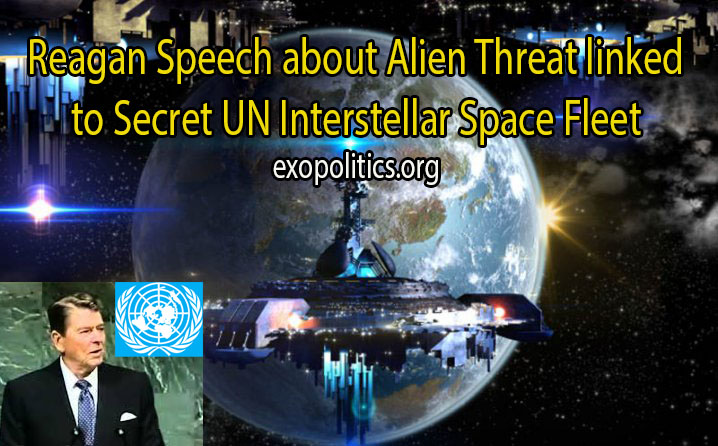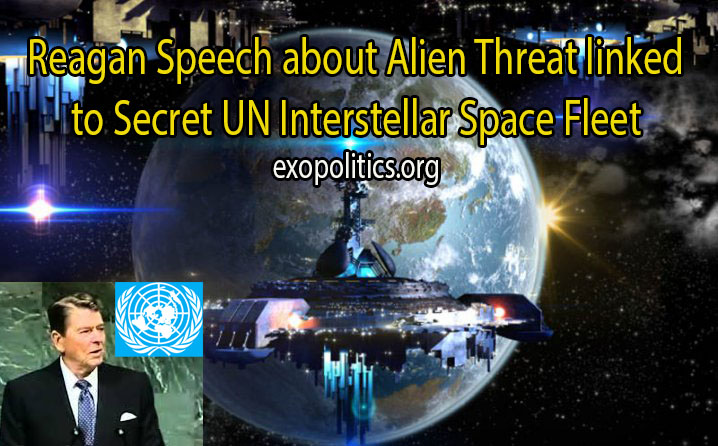 On Sept 21, 1987, President Reagan gave a famous speech to the United Nations General Assembly where he warned of an alien threat and how important it was for humanity to bond together to face it. In his latest email interview [attached below], secret space program whistleblower, Corey Goode, reveals Reagan's comment had the immediate effect of galvanizing the United Nations into forming a secret space program called the "Galactic League of Nations."
In his 1987 speech, Reagan said:
In our obsession with antagonisms of the moment, we often forget how much unites all the members of humanity. Perhaps we need some outside, universal threat to make us recognize this common bond. I occasionally think how quickly our differences worldwide would vanish if we were facing an alien threat from outside this world.
In his latest email interview, Goode replied to a question concerning the relationship between the Galactic League of Nations space program and the United Nations:
The beginning of this program coincides with a particular speech given to the U.N. by President Reagan that mentions how quickly we would come together if there was an alien threat.
If Goode is correct, then Reagan's speech sparked a behind the scenes effort by the United Nations to bond all nations together in a secret space program that would interact with extraterrestrials life.
In other email interview replies, Goode added more details concerning the six years he spent on the science research vessel "Arnold Sommerfeld" that belonged to the Solar Warden space program discussed in one of his recent Gaia TV interviews. He described the propulsion system used on the "Sommerfeld." In an earlier article I speculated that the name of the ship was due to it having something to do with Arnold Sommerfeld being one of the pioneers in developing "thought experiments" about time travel that later led to the idea of "tachyons" – faster-than-light particles. While Goode wasn't sure why the research vessel was named after Sommerfeld, he did confirm that it uses a temporal drive based on "principles of Quantum Entanglement between certain isotopes." Interestingly, these principles are also used for interstellar navigation.
Finally, Goode replies to recent criticisms that the Blue Avian extraterrestrials are part of an MK Ultra Project Bluebird mind control program that he and other Military Abductees (MILABs) were subjected to. His response outlines the importance of not dismissing the testimonies of former MILABs merely on the ground they have been previously involved in mind control programs. Otherwise, this would act as a disincentive for other whistleblowers, that have also been subject to mind control in MILABs, to come forward. Goode's point is a valid one. More whistleblowers need to come forward to reveal their personal experiences with secret space programs, not only to confirm Goode's revelations, but also to confirm the roles played by former world leaders like Ronald Reagan in such programs.
© Michael E. Salla, Ph.D. Copyright Notice
---
Questions for Corey Goode about Temporal Drives, Galactic League of Nations Secret Space Program and recent controversy – 8/4/15
[Message from Corey Goode] First off thank you for your patience in waiting for my reply to these questions. All of the crazy occurrences on our trip home from Gaiam were very taxing. It took us a week to recover from the experience. We got home from our trip and we couldn't get through the front door because someone had tried to force it in. The frame was cracked and had to be repaired. This happening right after other recent incidents caused my family some anxiety.
I have had to take a break from the Internet for a short time as I have been overwhelmed with emails and interview requests. I haven't been able to make a dent in my inbox because new communications come in as fast as I can read them. I am very happy that there is such interest in this information. I was told there would be when I started. I am still overwhelmed by the amount of attention this information has brought. Why an introvert (INFJ) would get stuck in a situation like this has me mystified.
I was told that there would soon be other whistleblowers coming out with all different sized pieces of the puzzle. I am certainly looking forward to some of them deciding to get off the fence and doing so. I think it is time for them to do so.
As you know my new Gaiam TV Sponsored link changed. I have a URL that points to the correct URL that will give me credit for any Gaiam TV memberships that people sign up with. The URL is www.BlueAvians.com. I think David already stated that the show has broken all Gaiam TV records. I don't know if I will ever not be nervous on camera. I have not been a public type of person before so I have some adjusting to do.
The episode on Sleeping Giants (Stasis Beings) just came out and can be found at www.CosmicDisclosure.com
I will be writing some updates soon about current meetings. Because of the nastiness of some of the people coming out against this information I have pulled the article I was going to publish about the incident that involved my family. I do not want them being targeted by unscrupulous trolls that have been heavy on the job of email campaigns and manipulative skype chats. I have seen them, everything is a conspiracy against them and everything is government mind control.
I am certain that this has shown the Whistleblowers that will be coming out soon who to not approach first. With most of these whistleblowers having some sort of MILAB type of program involvement certain people are going to have to come to terms with the MILAB part of the equation or lose a lot of the full picture because new insiders may soon start keeping that part of their lives secret to keep from being labeled one of the worst things you could call a person in the Alliance.
Thank you,
Corey/GoodETxSG
[Q – Michael Salla, Ph.D]
Q1. Do you know why the science spacecraft you served on for six years was named after Arnold Sommerfeld?
I served on one of the Research Vessels. In communications the Vessels were just known by their vessel designation and numbers. There was a painting and name plate for Arnold Sommerfeld in the Galley which I am told is some sort of tradition. The crew of this vessel were often rotated off in short tours or were stationed there but spent much of their time off the vessel on other projects. I would hear the crew refer to the "Sommerfeld" in relation to the vessel but this was not used in the communications between vessels or in documentation.
Q2. What can you tell us about the propulsion and navigation systems used on the Sommerfeld?
The Sommerfeld had gone through a couple refurbishments and upgrades I was told when I first arrived. The two main propulsion systems were the Torsion Drive that works much like the Warp Drive on Star Trek and Electro-Gravitic Drives. There were also some of the original positioning thrusters that were all around the vessel that were tested from time to time but I don't think ever really used. There were several ways they had for navigation both within our Sol System and while traveling to others. There was always some sort of redundancy in place to be able to locate the vessels that traveled outside of the Sol System in real time.
Q3. You have described temporal drives for secret space drives. Can you describe what these are and the key principles behind them?
They work on a principal that allows them to travel in subspace transporting a vessel from one point to another almost instantaneously. These "Jump Drives" are used to cross over and negotiate Space/Time and Time/Space in a way that does not involve traveling in our conventional way of thinking. These vessels are closely tracked and have temporal buffers in the technology that prevents the vessel from traveling back to our own Sol System in a different time frame. The QCCD (Quantum Correlated Communication Device) is a communication device that uses principals of Quantum Entanglement between certain isotopes (If I remember correctly) that allow devices to be able to communicate with each other no matter the distance in time or space. These are also tied into the navigation systems for tracking purposes.
Q4. What do you know about tachyon device drives used for interstellar class spacecraft?
I am sure this is something that one of the current military intelligence level NEO (Near Earth Orbit) SSPs would like to be able to produce. Particle and EMF Drives have already been a part of our history. The technology we have now gives many in the earlier SSP's the ability to hop around our Sol System and to other Stars rather easily. The technology reserved for the higher level SSP's and some of the Secret Earth Governments and their Syndicates are so incredible that it even blows the minds of those in the mid to upper level SSP's that have seen just about everything.
Q5. Do you know the names of other craft used in the Solar Warden program?
You would hear of types or classes of vessels more than their designations. Of all of the times in the communications station I never saw a vessel referred to other than its designation such as "ISRV-004".
Q6. You have mentioned that the Galactic League of Nations SSP program included all countries, what is its connection to the United Nations?
It seems to have been born out of a United Nations agreement. The beginning of this program coincides with a particular speech given to the U.N. by President Reagan that mentions how quickly we would come together if there was an alien threat.
Q7. Was the Vatican represented with the Galactic League of Nations SSP?
I do not know if the Vatican is one of the representatives in the GGLN. They are involved with the Secret Earth Governments so I would not rule it out.
Q8. Does the League of Nations SSP collaborate or coordinate in any way with the Dark Fleet in its interstellar activities?
Before the outer barrier went up the GGLN kept almost entirely to themselves. I am certain that they have fallen on hard times since the outer barrier was erected and it is more than possible that they have pooled resources or gotten in contact with the large number of Dark Fleet assets that were also trapped outside the barrier.
Q9. There has been some recent controversy regarding an alleged relationship between the former CIA MKUltra Project Bluebird and the appearance of the Blue Avians, how do you respond?
There was no less controversy inside the SSP Alliance rank and file. The majority of personnel come from the many programs that fall under the "MILAB" Umbrella. There are some people out there who consider all MILABS to be "Super Soldiers". While there are certainly programs to enhance children mentally and physically to become elite soldiers they are not the largest or most prevalent of the programs by far.
When the lower level personnel in the SSP Alliances began to hear about the Sphere Alliance they were nervous and skeptical. They had nearly all been brought up in one program or another from a young age and all had been forced to do things they didn't morally agree with. When they heard that one of the Sphere Beings was a "Blue Avian" there was a time period where many of them were triggered and became extremely upset and there were even some isolated incidents of them acting out.
The fact that a fairly large number of the people in the SSP Alliance have been through a version of Project Bluebird and were then being told there was a new ET group in the neighborhood and one of them happened to look like a purple or blue bird was too much for many of them to handle. They were people that were from a project that has evolved and merged with other programs over time and each had to go through a process.
I have gone into detail in the past about the people that make up the SSP Alliance and what they came from. I was told that not long after I made it through the battering and bruising of the process of coming out with this information that other whistleblowers would be coming forward. I do think that many in the truther community that consider themselves professionals have behaved in a way that has appeared unethical to some. In other cases there is a clear paper trail of some very bizarre and reactionary behavior. This serves as a warning to future whistleblowers and to whom they chose to make first contact with.
If what I am told is correct and there will soon be more whistleblowers on some of the topics recently disclosed, then we need to deal with the blanketed "MILAB" term, create a new one or chance blocking the majority of the insiders who are on the fence right now about coming forward. We may soon get to a point to where the MILAB part of the equation is left out by new insiders or whistleblowers out of fear of being labeled as a mind controlled drone working for the "Cabal".
Are we going to throw out quite a lot of valuable data because a small group of bloggers, Forum Owners and researchers feel a need to protect their established views (Book narratives) and particular esoteric or UFO religions? Many of them are basing their info off of misinformation or even in some cases disinformation put out by people who are working in the "Truther" community (Which is extremely infiltrated and influenced).
All I can say when it comes down to it is to look over the information and if it resonates with you then it is worth looking into further. I would definitely suggest that if you have been a part of this world at any level or even have taken part in some of these projects and you have wanted to come forward now is the time. I would contact myself, David Wilcock or Dr. Michael Salla.
Q10. There have been claims that the Blue Avians message of love and forgiveness, and references to the Law of One material is part of a psychological operation to entrap researchers disposed to such a message, how do your respond?
First of all the Sphere Beings and Blue Avians have never claimed to be the "RA" beings from the Law of One material. When asked if they were the RA from the Law of One material the Blue Avian present only responded "I am Raw-Tear-Eir". People hear what they want to out of that reply but this is how the Blue Avians communicate. I nor they have ever claimed that these are savior beings. The opposite is true, they say that we have to clean up our own mess and save ourselves.
I am no Law of One scholar by any means. I was not drawing the line from the Blue Avians communications to "RA" until I started speaking with David Wilcock. In the beginning I was guided to work with David but at the time I was sending emails to him and two other people David was busy. The other two ended up doing some very unethical things which were heavily documented and are now a footnote.
David would always tell me that these beings communicated in the same way and used the same general protocols as RA. He was convinced early on that this was the case when I was yet still a hold out. I was raised a Christian and as many know used this belief system to get through a lot of what happened to me directly and what I had done to others.
I had a couple aversions to channeled material because of some technology I had witnessed that was used to transmit words and data into the mind of a human from a great distance with what was originally referenced to as "The voice of God". This technology is now so prevalent that just about any high level black op's group has access to it.
This technology has been used to push people with mental disorders into certain behaviors, torture the new boyfriends of ex-wives to targeting people to make them think they are hearing "God", "Allah", "Virgin Mary", "ET's" or channeling large amounts of information from "Ascended Masters" or "High Density Beings".
I knew that some groups were ordered to read the "RA" and "SETH" Data while in the programs at the same time I knew many groups were working to discredit both works. For a time I just associated all of it in the same pile and ignored it. I never expected it to come seeking me in some form or another. I figured that since these Sphere Beings were from the same density realms as the "RA" that they must all believe similar things being from the same realm.
I have ordered the RA, Law of One books but have been making excuses not to read them. My wife finished book one on our trip to Gaiam to do our last video shoot. I do think there was a reason I was directed to work with David. He is a 20 year scholar of the Law of One, lived at "L/L" for a couple of years. It has been very helpful to have his insight in these matters as well as all of the other scientific studies he has done.
Until the Sphere Alliance tells me directly that they are the same RA beings I am not going to claim that they are. They did say they have contacted humanity 3 other times and that humanity had turned the info given to them into a religion. From all of the quotes they are saying the same types of things and in the same way. David stated that he never expected that these beings would show up in a physical way like this.
What does it matter if they were once the RA beings or not? What matters is what is occurring in the moment. There is no real information from the detractors that supports their claims of all of this info being an "AI Psyop" or "Cabal" controlled diversion. A quick look at the full history of the information I have released compared to what people are associating me with saying is enough to verify.
If love and forgiveness is considered a weakness to you then you may want to sit in a quiet place, shine a light inward and do a polarity check.
[Note: The first two episodes of Cosmic Disclosure are available for free on the Gaiam TV website. The first episode is also on Youtube. To watch the whole season of Cosmic Disclosure, you need to subscribe to Gaiam TV. If you subscribe using this link, then a portion of your monthly subscription will go towards supporting Corey Goode as he continues his disclosures. His website is here.]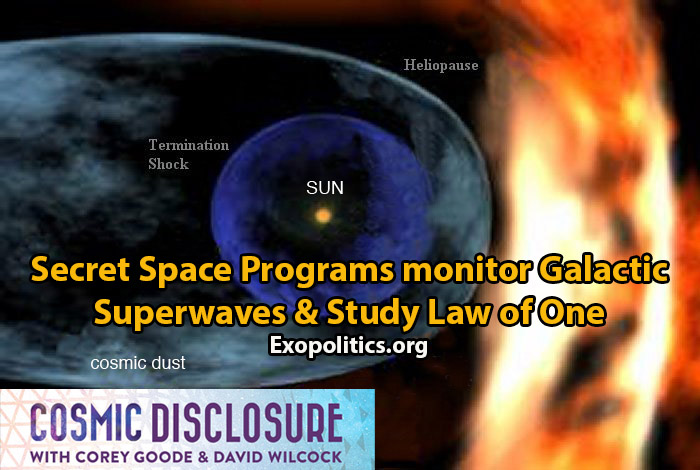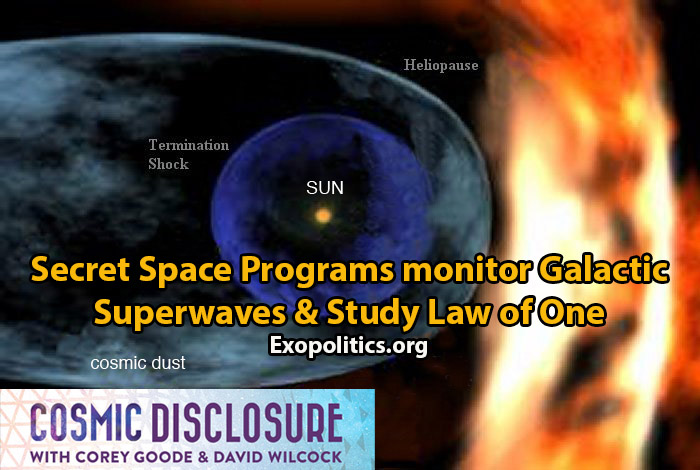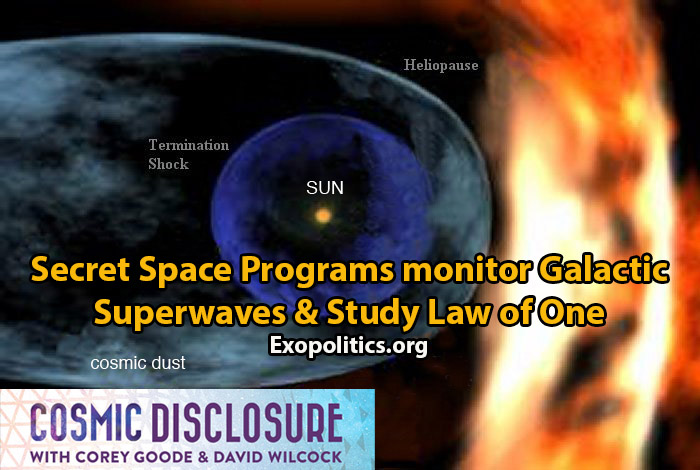 In the fifth instalment of the Cosmic Disclosure Gaia TV series, whistleblower Corey Goode reveals how secret space programs he worked with from 1987-2007 had become aware of regions of the galaxy with "superwaves" that would eventually be encountered by our solar system. It was discovered that the superwaves were made up of clouds of "vibrating energy particles" that would impact the sun, earth and humanity in ways leading to profound changes. Human consciousness itself would be directly impacted and would lead either to our rapid evolution into an advanced global society, or global self-destruction as apparently had happened in the past.
Goode says that in the late 1980's giant spheres first began appearing in our solar system that were also interested in the superwave phenomenon. These spheres remained in an observational mode until 2011 when they became operational. The spheres ranged in size from the diameter of the moon to that of Jupiter. They were strategically placed to act as "resonance buffers" of galactic superwaves so the sun, and humanity, would not be overwhelmed as our solar system progressively entered into the affected region of the galaxy.
Goode's revelation that galactic superwaves were secretly discovered and studied is stunning confirmation for the work of astrophysicist Dr Paul LaViolette who has predicted galactic superwaves eventually impacting our solar system. In his 2006 book Decoding the Message of the Pulsars, Dr LaViolette describes pulsars strategically placed in the galaxy that transmitted warnings about these superwaves that are generated out of the galactic core in cycles spanning from 10,000 to 16,000 years. LaViolette speculates that these pulsars were built by a very advanced Type III extraterrestrial civilization – one that understood how galactic superwaves operated, and their potential impact on solar systems and worlds.
A type III civilization on the Kardashev scale is one that works with galactic scale levels of energy, while a Type II civilization can do the same at a stellar level, while a Type I civilization can do similarly at a planetary level. This suggests that those responsible for the giant spheres in our solar system – the Sphere Being Alliance – are at the very least a Type III civilization.
In the rest of the Gaiam TV interview with David Wilcock, Goode described the evolution of consciousness and how the "Law of One Material" is essentially correct in affirming the underlying unity of consciousness and all life. Goode has previously revealed that the Law of One Material is required reading for a many groups in the secret space programs:
It was … a fact that certain groups in the SSP's and Secret Earth Government Syndicates (Cabal/Illuminati) were required to read the Law of One and Seth Material while trying to discredit it to the public with the many "PsyOp Channelings" (which says a lot in itself) [FAQ48].
Goode reveals that President Eisenhower did indeed meet with extraterrestrial delegations in the mid-1950s concerned about nuclear weapons development as a number of other whistleblowers have claimed. Goode goes on to describe his own personal connection to the Blue Avian beings that have been cooperating with the Secret Space Program Alliance in creating a "full disclosure event."
Goode's explanation for how humanity's co-creative consciousness is used against itself by ruling elites is well worth listening to, as well as the importance of core message delivered by the Sphere Being Alliance.
What I found most valuable in this Cosmic Disclosure episode was Goode's revelation about superwaves and how both secret space programs and the Sphere Being Alliance became aware of these decades ago. According to a July 18 statement by Goode, the giant spheres belonging to the Sphere Being Alliance have nearly completed their primary purpose and will soon leave.
This suggests that we will very soon be experiencing the full force of these superwaves that will bring out the best or worst in all humanity depending on how well prepared we are. This new episode will help the viewer appreciate the importance of taking firm steps to prepare for superwave related events that secret space programs have themselves been silently preparing for over several decades now.
© Michael E. Salla, Ph.D. Copyright Notice
Further Reading
[Note: The first two episodes of Cosmic Disclosure are available for free on the Gaia TV website. The first episode is on Youtube (see below). To watch the whole season of Cosmic Disclosure, you need to subscribe to Gaiam TV. If you subscribe using this link, then a portion of your monthly subscription will go towards supporting Corey Goode as he continues his disclosures. His website is here.]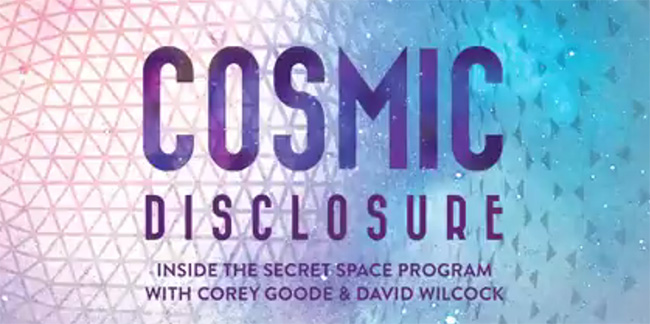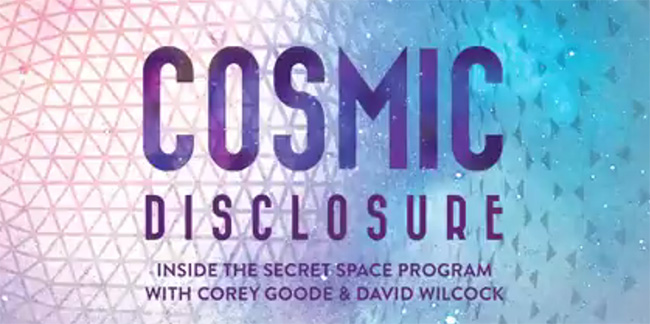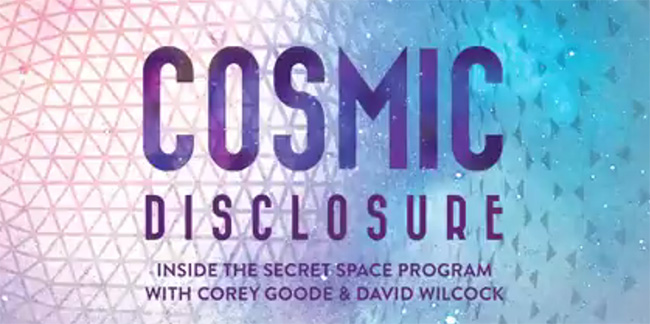 Corey Goode's revelations about highly classified space programs have intrigued tens of thousands who have visited his website, listened to audio interviews, or read his responses to questions on what has been happening behind the veil of disinformation hiding these programs. Today for the first time you can watch Goode himself as he reveals his involvement in these secret programs that interact with extraterrestrial life, and use advanced technologies for deep space and interstellar travel.
In the pilot (see below) for up to 52 episodes of Gaiam TV interviews with host David Wilcock, Goode begins by giving an overview of his twenty year service as an "Intuitive Empath" for a number of secret space programs from 1987-2007. He was trained to intuit deception and empathically connect with the feelings of others, Goode was then able to provide vital information for space programs – he described five – that regularly interacted or negotiated with different extraterrestrial groups.
Goode describes a Super Federation of human looking extraterrestrials conducting twenty two genetic experiments involving the genes of different alien races being spliced into human DNA over period stretching back as far as 250,000 years. He explains the motivations of the extraterrestrials in these genetic experiments as defying any simple explanation and really being a matter of perspective. Recently, Goode delivered a report about both him and another whistleblower attending these Super Federation meetings.
Goode also gives an overview of how he became a whistleblower after being contacted by highly evolved 6-9th density extraterrestrials that recently appeared in our solar system. The viewer gets to see for the first time an accurate artistic depiction of "Raw Tear-Eir" the Blue Avian being that first contacted Goode and persuaded him to become a delegate for the "Sphere Being Alliance."
Goode describes how the main purpose of giant Neptune size spheres is to regulate highly charged cosmic energies that are coming in to our solar system. He said that the Secret Space Programs are also aware of the cosmic energies and their impact. These cosmic energies are a double edged sword insofar as they allow some to cut away the restraints holding back incredible human abilities, while it will lead to others being overwhelmed and descending into chaos.
The Sphere Being Alliance's main purpose was to prevent chaos and give everyone more time as these highly charged energies would have powerful transformative effects not only on humans, but extraterrestrials as well. According to a written statement last Saturday by Goode, the spheres may be near the end of their primary mission of buffering these energies. This coincides with a prediction that an incoming wave of cosmic energies will peak and impact the solar system this September.
Goode's response to a question by David Wilcock about whether or not the Blue Avians are part of an elaborate psychological operation designed to fool the world public into accepting a new cosmic religion is a must see for all concerned about a possible manipulative extraterrestrial agenda. Goode finishes the pilot by delivering the key message of the Blue Avians and Sphere Being Alliance which is to become more loving, empathic and service-to-other oriented in order to be get through the evolutionary changes that lie ahead.
What I found especially revealing in Goode's responses to Wilcock's questions is watching his body language. The non-verbal cues, direct eye contact, facial gestures, etc. correspond to someone revealing genuine personal experiences. Also, having the opportunity to have had multiple email questions answered in writing by Goode, it was refreshing to watch his verbal responses to similar or related questions. What impressed me was the consistency between his verbal and written responses – another clear sign that he is revealing genuine personal experiences.
The Cosmic Disclosure series offers something valuable for everyone. For those that know little about Corey Goode's revelations, the pilot episode is a succinct introduction to a highly classified world of space programs that you won't read about in the Washington Post or New York Times. For those that have been closely following Corey's revelations for some time now, this series offers helpful visual aids, non-verbal cues, and insights to better understand his testimony. One way or the other, Cosmic Disclosure: Inside the Secret Space Program with Corey Goode and David Wilcock, promises to further lift the veil hiding a world of hi-tech futuristic programs that can transform our lives tomorrow.
[Note: The first two episodes of Cosmic Disclosure are now available for free on the Gaiam TV website. To watch the whole season of Cosmic Disclosure, you need to subscribe to Gaiam TV. If you subscribe using this link, then a portion of your monthly subscription will go towards supporting Corey Goode as he continues his disclosures. His website is here].
© Michael E. Salla, Ph.D. Copyright Notice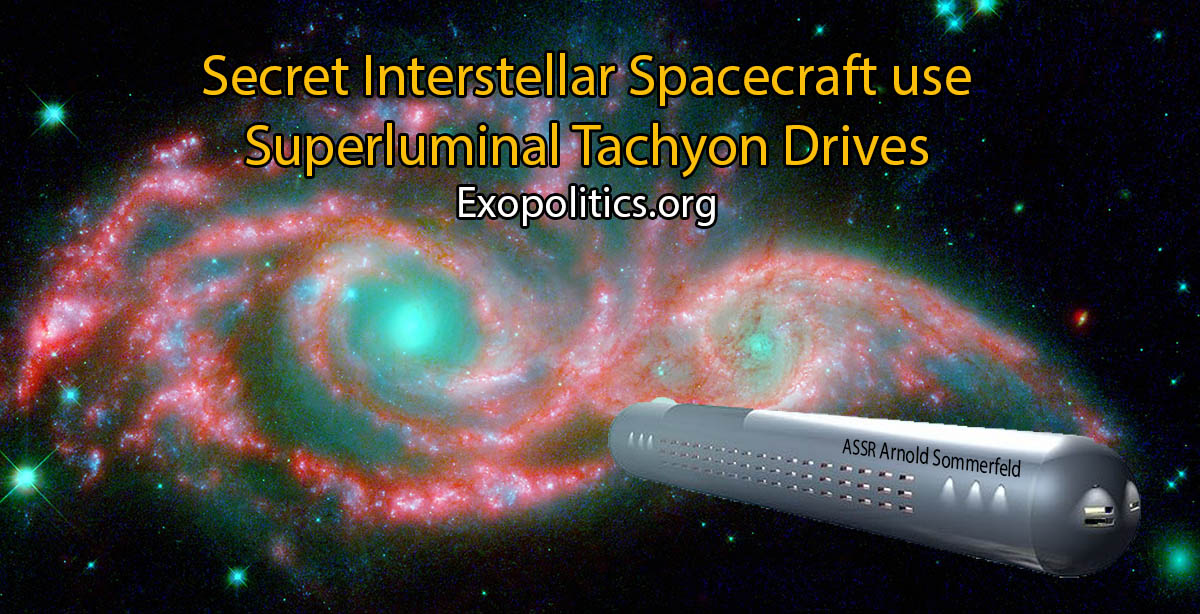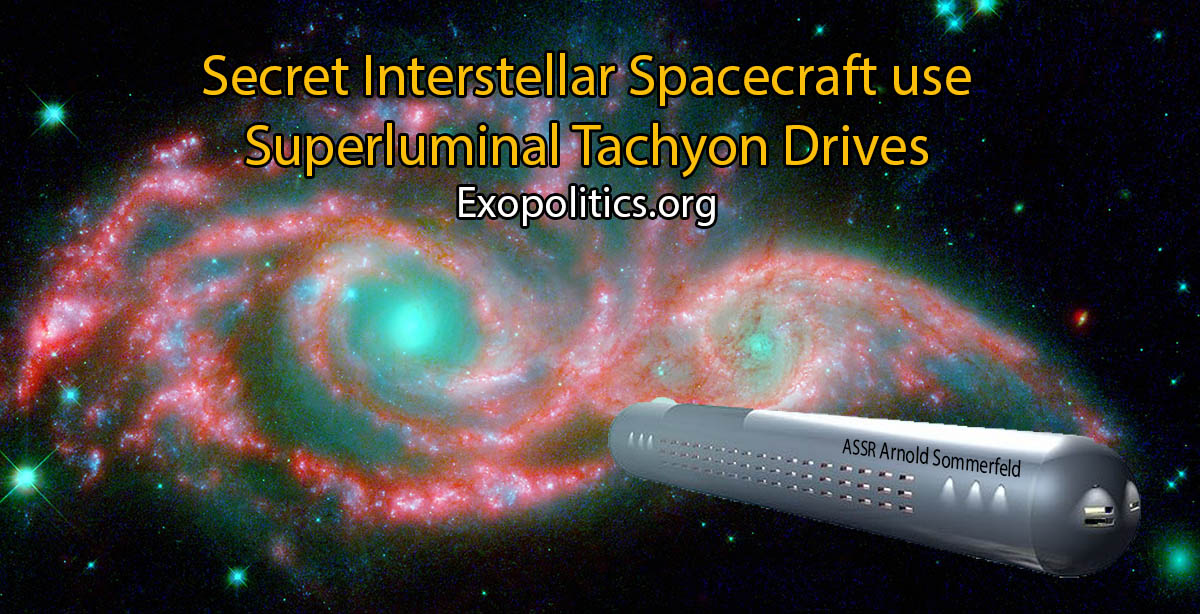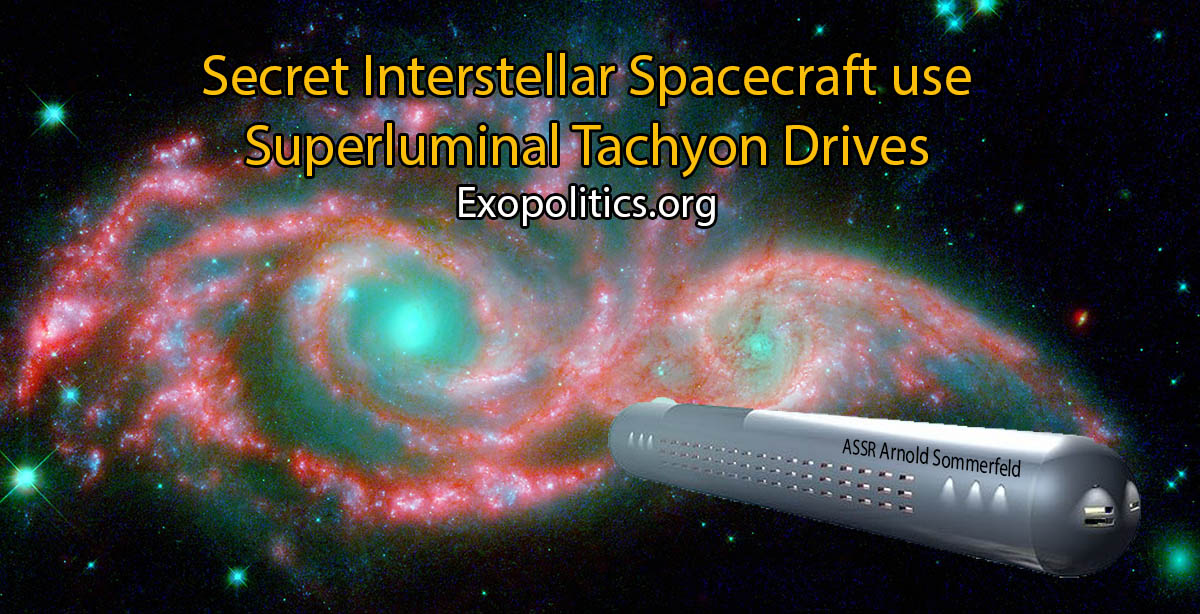 A fleet of spacecraft have been secretly constructed using tachyon drives that are capable of interstellar travel at superluminal speeds. This astounding conclusion emerges from the disclosures of a whistleblower claiming to have served for 20 years on several secret space programs. Corey Goode says he served for six years on a spacecraft cable of interstellar travel that was named after a famous German theoretical physicist, who first proposed the existence of superluminal particles later named tachyons.
In an April 4 email interview, Goode described how he was recruited to serve in a secret space program called Solar Warden. that was initially set up by the US Navy:  "Solar Warden was indeed a heavily Navy program in the beginning with Air Force involvement later on." He went on to describe Solar Warden as possessing both military and scientific research spacecraft, and says he served on one of the latter:
I was only assigned to the research vessel [ASSR "ISRV"– (Auxiliary Specialized Space Research) Interstellar-Class Vessel, Arnold Sommerfeld] for a little over 6 years.
It appears odd that Goode served on a spacecraft belonging to an alleged Solar Warden program named after Arnold Sommerfeld, a German theoretical physicist who lived from 1868 to 1951.  Clearly Sommerfeld would have had to achieve something quite remarkable to have a ship posthumously named after him in a secret U.S. Navy created space program.
Arnold Sommerfeld is known for having supervised more Noble prize winners in physics than any other person in history. Quite a remarkable achievement but certainly not enough to have an interstellar class spacecraft belonging to another nation named after you. Sommerfeld is also known as the first person to propose the existence of superluminal particles that were later named "tachyons". Here is a summary of the development of tachyon particles in theoretical physics:
Tachyons are a putative class of particles which [are] able to travel faster than the speed of light. Tachyons were first proposed by physicist Arnold Sommerfeld, and named by Gerald Feinberg. The word tachyon derives from the Greek tachus, meaning "speedy." Tachyons have the strange properties that, when they lose energy, they gain speed. Consequently, when tachyons gain energy, they slow down. The slowest speed possible for tachyons is the speed of light.
In 1910 Albert Einstein and Arnold Sommerfeld conducted a thought experiment involving a theoretical device that was later called the "tachyonic antitelephone":
A tachyonic antitelephone is a hypothetical device in theoretical physics that could be used to send signals into one's own past. Albert Einstein in 1907[1] presented a thought experiment of how faster-than-light signals can lead to a paradox of causality, which was described by Einstein and Arnold Sommerfeld in 1910 as a means "to telegraph into the past"."
A spacecraft capable of using a tachyon device would be able to achieve superluminal speeds "to telegraph into the past." This means that a Tachyon drive based on the Einstein-Sommerfeld idea of a "tachyonic antitelephone" would make interstellar flight possible. Spacecraft could travel vast distances measured in light years and essentially "telegraph into the past" to a time shortly before it left for its destination. This is nicely illustrated in the following limerick:
 There was a young lady named Bright,
Whose speed was far faster than light.
She went out one day,
In a relative way,
And returned the previous night!
While most physicists believe that "faster-than-light particles cannot exist because they are not consistent with the known laws of physics," Goode's revelation suggests otherwise. His alleged service on an interstellar capable spacecraft named after Arnold Sommerfeld suggests that tachyon drive engines have been developed and are currently being used.
There is a significant body of circumstantial evidence supporting Goode's eyewitness testimony. Furthermore, a second eyewitness has recently allowed summaries of his own experiences with secret space programs to be released, thereby lending additional support to Goode's incredible claims. All this suggests that Goode's revelation that he served on the "ASSR Arnold Sommerfeld" is compelling evidence that tachyon(ic antitelephone) drives have been developed for and used in a highly classified class of interstellar spacecraft yet to be revealed to the world.
© Michael E. Salla, Ph.D. Copyright Notice
[Note: A Resource Page listing interviews, articles and more reports about Corey Goode's revelations is available here].
Further Reading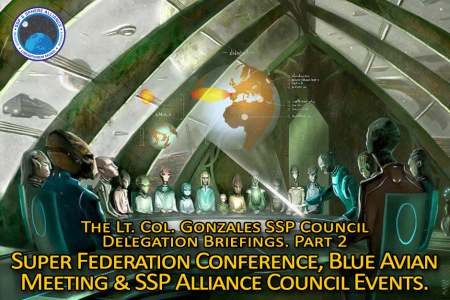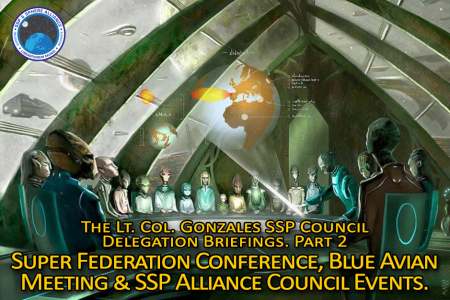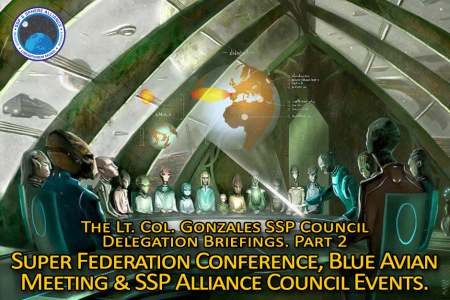 Over the last four months, incredible claims have been made that diplomatic meetings have been occurring where delegates from secret space programs and extraterrestrial civilizations have been negotiating how much information about their existence will be disclosed to Earth's population. The claims have been made by Corey Goode (aka GoodeETxSG) who says he has been a delegate to some of these meetings after being appointed to represent a new group of extraterrestrial visitors to our solar system called the Sphere Being Alliance. Goode's incredible claims have just received a boost in credibility with a military whistleblower, using the pseudonym 'Lt Col Gonzales', authorizing Goode to release summaries of two meetings he recently attended while Goode was absent.
While the content of the most recent meeting attended by Gonzales reveals major new developments, its deeper significance is that there are now two eyewitnesses reporting about the secret space program meetings first revealed by Goode back in March 2015. While Gonzales has decided to maintain his anonymity, the fact that he has approved summaries of two verbal briefings to Goode being released is very significant. It provides a second perspective on the secret "galactic diplomacy" meetings allegedly being conducted, and fresh insight into the different groups, alliances, and processes involved in these meetings.
The most recent briefing by Gonzales, as relayed through Goode, is about a meeting he attended approximately a week ago involving delegates of up to 100 different groups of human looking extraterrestrials that is called the "Super Federation Council". Gonzales began by telling Goode how it felt to attend one of these meetings for the first time as an actual delegate as opposed to being in an advisory role where one is not given access to the necessary translator technology to understand the proceedings: "It is something to finally understand what all is going on at one of those Super Federation conferences, isn't it?"
Goode summarized what Gonzales told him after arriving at the location of the meeting in the vicinity of our Solar System's gas giants:
He went on to tell me about the arrival at the Federation Council Meeting Facility. This is a station that is in a secure temporal bubble out around the orbits of Jupiter and Saturn. When you enter into the temporal bubble, you can see the station and docking ports for all of the other delegates floating freely in the middle of a completely pitch-black bubble. You cannot see the sun, planets or stars from inside this space/time anomaly. Gonzales and the crew docked, went through a security scan for AI and other outside technologies, and were allowed in.
Goode described the difference between being a delegate as opposed to being in an advisory position such as an Intuitive Empath (IE), a position Goode claims to have occupied during his secret space program service from 1987 to 2007:
Gonzales said he was immediately treated like he mattered this time, as opposed to last time when the other delegates and support staff only interfaced with me — and ignored the IEs and him. He said it was all very polite, with respectful communications and treatment from everyone the entire walk down the passage from the space docks to the meeting hall. Gonzales and the IEs could feel a different energy in the air that was more one of anticipation, instead of the mixture of anxiety and agitation from the previous times.
Gonzales then explained the main subject of the meeting which was to relax a planetary quarantine that was endangering extraterrestrials trapped on Earth that were conducting humanitarian or scientific missions. Goode has earlier explained how the Earth quarantine was created:
The Sphere Alliance has setup 2 "Energy Barriers" that cannot be penetrated by any beings or technology (be they 3/4D or 4/5D beings). One is the "Outer Barrier" which completely closes off the entire Sol System (including Gate/Portal travel) from travel into or out of the system. The other is a "Barrier" that surrounds the Earth. It keeps every Being and Craft/Technology that was either On Earth or in Near Earth Orbit from leaving a certain distance from the Planet.
The Secret Space Program Alliance, to which Gonzales was the delegate, was given superior technology by the newly arrived Sphere Being Alliance to monitor and enforce the Earth quarantine:
There had been dozens of petitions by ETs who wanted to retrieve their teams who were on expedition missions to Earth to study the planet's oceans, jungles and other aspects of nature. These ETs were completely uninterested in interacting or meddling in the affairs of humanity, or with interacting with other ET Groups who were present in our Sol System. They were positive groups who were only interested in the planet's biosphere. Since being trapped on Earth, many of these smaller expeditionary teams had been running out of needed supplies and had begun to be hunted down by human and negative ET Groups.
Gonzales reported that the Super Federation Council: "normally had 40 to 60 groups in attendance. Now it had well over 100 groups all massed together in the auditorium." When Gonzales stepped to the podium:
He announced that the Earth's barrier was going to be relaxed, and that these groups would be allowed to return back to their support teams who were here in the Sol System, trapped inside the outer barrier. The Earth's traffic would go back to a strict grid authorization system – an air traffic control-type system — and would be enforced by the more advanced SSP Alliance vessels.
Goode describes how Gonzales felt "relief in the room as he finished his short message and presentation." Gonzales went on to say:
Once again, as in the previous meetings, group after group took turns taking the stage to make short statements of what they had contributed to the Earth, humanity and the Grand Experiment.
Goode shared much more information in his report about the briefing Gonzales gave him on a range of topics related to efforts to disclose the truth about secret space programs and extraterrestrial life to the general public. Perhaps most significant given recent international news is what Gonzales had to say about hacking incidents involving personnel files of major governments:
This is when he mentioned what was going on with a few EU countries financially, and the recent round of high-level government hacks that have occurred – not just to US databases, but to the entire Western World. Gonzales stated that these hacks were incredibly pervasive — and that they had also hacked the Secret Earth Government and syndicates' "Dark-Net". Gonzales said that very little of what was taken has been reported in the MSM. Nonetheless, a stunning amount of intelligence was obtained and compiled into the database we had so far that has been contributed to by several parties.
Such hacking claims are consistent with recent reports that the hacking of the U.S. Office of Personnel Management involved a staggering 25 million background security files, not just the four million originally reported. Furthermore, Wikileaks has recently released files about the NSA spying on different European national leaders, as well as files from an Italian company selling hacking software to national governments wanting to spy on citizens, corporations or other entities.
While the content of Goode's report about Gonzales briefing contains incredible claims, arguably what is most significant is that it provides another eyewitness account of secret meetings involving different secret space programs and extraterrestrial life. Goode has been providing his own eyewitness account since March of these meetings. Now we have Gonzales sharing his own eyewitness testimony for the two most recent meetings, albeit through Goode.
The summaries of Gonzales two briefings released on July 9 and July 13 are an important step forward in confirming Goode's incredible claims. It's also likely that in the future Gonzales identity will be independently confirmed, and more will be revealed about his background. The next time Gonzales gives a briefing, however, he needs to have it transcribed verbatim in part or in whole. This will help greatly in investigating and confirming Corey Goode's claims, and better prepare the general public for the "full disclosure event" being discussed at secret space program meetings.
© Michael E. Salla, Ph.D. Copyright Notice
[Note: Corey Goode requires public support to continue his disclosures. You can help by visiting his website to donate, purchase products or register through this link for his upcoming Gaiam TV interviews.  A Resource Page listing interviews, articles and more reports about Corey Goode's revelations is available here].
[Update 7/15/15: In an earlier version of this article, it was mistakenly stated that the Earth quarantine had been set up by the Secret Space Program Alliance. Goode has instead claimed the Sphere Being Alliance had set up the quarantine and supplied the SSP Alliance with superior technology to monitor and enforce the quarantine. The article was revised accordingly. Thanks to Marco Monahan for pointing out the error]
Further Reading