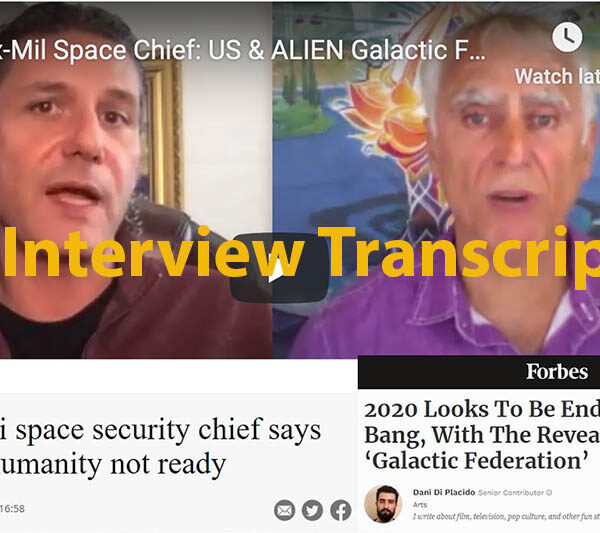 Transcript of Interview on "Israeli Ex-Mil Space Chief: US & ALIEN Galactic Federation Deal (Human Experiments) & Mars Base" with Dr Michael Salla and Corey Goode
December 10, 2020
Source – YouTube: https://youtu.be/c7OwPpc4cLA
* * * * * * * *
Corey Goode: Hello. Thank you for joining the Sphere Being Alliance YouTube channel. Today I'm talking with Dr. Salla about some rather exciting articles that have appeared on even mainstream media. And it's been trending on Twitter. You see it all over Facebook.
It's regarding the Israeli "spy", as they're calling him, who announced that United States had signed an agreement with an extraterrestrial federation and that we had a joint base on Mars.
Welcome, Michael, Dr. Salla. How are you doing today?
Dr.  Michael Salla: I'm good, Corey. I'm glad to be here and it's really great with this breaking news from this Israeli scientist. I mean, he's really very senior. For him to come out and share what he has been saying is really confirmation about the sort of things you've been talking about for a few years now.
Now we're getting it from a person that headed Israel's defense program for spy satellites for 30 years.
Corey: Yeah, you being the researcher that you are, you dug into him and researched him, I'm sure. And can you kind of give us a little bit of a summary of why we should pay attention to this person?
FORMER ISRAELI SPACE SECURITY CHIEF'S STORY
Dr. Salla: Okay. All right. Well, he has a PhD in aeronautical engineering and he was sponsored by the Israel's Defense Forces. And he was put in charge of the Space Research Institute at Technion, which is a technical university in Israel and that's the place where they actually run Israel's spy satellites.
So this guy ran that for 30 years after having served in the Israeli Defense Forces for a number of years.
So from 1981 up until . . . it was about 30 years, until 2010 when he retired, he ran this institute and the satellite program, which for Israel is really doing a lot of their espionage or this space surveillance.
And because of that, that meant he got to work closely with the National Reconnaissance Office (NRO) and the CIA because the CIA runs the National Reconnaissance Office in conjunction with the Pentagon.
And so that means that the kind of programs that the NRO and the CIA have been doing for years in terms of space surveillance they have cooperated with Israel.
And so this is the person who headed the Israeli side of the spy satellite system.
He personally was in charge when 20 satellites went up.
And so that's the cover. I mean, that's really the sort of thing that Israel's Defense Forces and the Mossad does to kind of like give them information about real world intelligence in the Middle East.
But what he's just revealed through these interviews, which are part of a book that's just come out, is actually that it was much more than just satellites up there that they were working with the Americans and that there was the joint extraterrestrial agreement.
So big news. So that's where I wanted to kind of get your feedback on what you know about the NRO being involved in this kind of like liaison with extraterrestrials on behalf of the U.S. government.
SUPER FEDERATION OF GENETIC FARMERS
Corey: Yeah, the NRO and the DIA, I believe, had assets that are similar to what this person's describing. And them talking about the federation, we have to remember, you know, I had talked earlier about this Galactic Super Federation.
And the Super Federation was kind of like a ruling body or place where people came together to present their experiments – the progress of their experiments – see the progress of others and to kind of . . . It's a kind of governing body.
There are other small federations that are made up of different groups that are allied that are coming together in this Super Federation.
So it sounds very much to me like the genetic farmer races that I had described that, basically, the Deep State, or the super shadow government, had made deals like I had described with some of these extraterrestrial groups that were here supposedly monitoring us but also tinkering with our genetics.
Let's say someone signed a deal in the 1940s. Like I've described before, these ETs have the ability to travel in time as easily as they travel in space.
So if they just happen to show up here in, let's say, 1940, and it's the first time they've been in our system, they could conceivably then travel all the way back in time and start tinkering with our timeline and genetics, and they could actually be our ancient aliens.
It's a hard thing to wrap your mind around.
Time is something that they can jump around in and play with very easily.
So what's happening is not only a galactic type of thing, it's a temporal occurrence as well.
DIFFERENT GALACTIC FEDERATIONS
Dr. Salla: So that's one of the things that is important is what he's talking about when he mentions the "Galactic Federation".
Is he talking about this group of extraterrestrials that have made these agreements with the Deep State and doing all these kinds of genetic experiments, and that they are kind of like, as you said, "genetic farmers"?
Or is he talking about a different group? I mean, maybe you can kind of elaborate between what he's talking about, this Galactic Federation making agreements with the US, the Deep State, for genetic engineering and overseeing our planet, with the human-looking extraterrestrials that most people associate as the good guys. They call them the "Galactic Confederation" or the . . . even the Sphere Being Alliance.
Because I remember at one point you talked about the Sphere Being Alliance being part of a galactic federation or confederation.
So are we talking about different alliance groups here?
Corey: Yeah, many different groups. You hear "Galactic Federation" a lot. Well, that could apply to many different groups, like, you know, the Sphere Being Alliance. They're a part of this, like, a galactic watcher kind of group that are overwatching higher-density realms and also looking after the lower-density realms to make sure everything's being done according to Cosmic Law. These are like 6th, 7th density beings – very evolved beings.
And then you go down to 4th and 5th density beings and those include anything from the Reptilians to these tall Nordic races, different types of beings that we lump into what we call the "Grays".
There's a whole assortment of these other types of beings that . . . Insectoids. Insectoids are extremely into genetics. That's . . . All of their technology is genetic manipulation. And even the ships they fly in.
And they're a part of these little federations together. They work with Reptilians sometimes and they have agreements of convenience as well, because some of them have genetic spiritual timeline agendas that conflict with other people in this Super Federation.
And they sabotage each other's experiments at times. That's one of the reasons that they have this Super Federation is to help manage that and prevent chaos in all of these different systems because if chaos occurs, no one wins because the objective is Ascension or evolution on a genetic level and also a consciousness level.
SUPER FEDERATION IS BEING RECONSTITUTED
Dr. Salla: Okay, so the Super Federation of these human-looking groups that you went to, that was part of your job description, . . . And more recently you said that you also went up there as that Super Federation was reconstituted.
That's kind of like a superior body or a separate body to this "Galactic Federation" that Professor Eshed's talking about, that he was knowledgeable of.
Corey: I believe so because the Super Federation is more like a governing body where they all come together like in a big congress-type of situation.
And then they kind of act like their own little states with their own agendas while not attending the meeting. But they have agreements that they come together and enforce instead of [having] open warfare in the skies, you know, ships coming in destroying small civilizations to destroy their genetic lineage so theirs will prosper or spreading diseases, all of that type of thing.
They try to manage that in a way that's going to benefit all of the different groups.
Eventually the group being worked on is supposed to take over like we are supposed to be doing.
Humanity is supposed to be taking over our own experiment.
And as I reported years ago at one of the last meetings I went to, the ET federation [Super Federation] had basically been told they're disbanding and that humanity was taking over their own evolution as far as genetics and consciousness, you know, religion, consciousness, all of that. It wasn't going to be manipulated by outside forces anymore for the first time.
So we're going through the process of having that fully handed over to us.
So I think that we're getting to the point to where they're going to be willing to share their existence, the ETs that we're talking about, openly pretty soon.
They definitely want to acclimate us and don't want it to happen on our timetable.
Dr. Salla: So that's pretty consistent with what Professor Eshed said that the Galactic Federation are looking at revealing themselves and that we haven't quite reached the point yet of being ready for them.
Do you think this is all consistent with what you learned about: the reconstituting of the Super Federation that you knew of and now humanity is in charge? Are we talking about the same process or are these parallel processes?
Corey: It sounds like the same process and in a way parallel processes.
BASES ON MARS
He mentions that humans are working with some of these extraterrestrials on bases on Mars, but we know that we have bases that ETs have built that they are "sharing" with humans on the Moon and Mars and other places up to a smaller degree. But these are pretty significant bases.
The fact that a mainstream person like the one that we're talking about would talk about humans and ETs sharing a base on Mars, that just opens up the conversation for the public on all the information you and I've been sharing the last five or more years.
Dr. Salla: Exactly. Yes. He actually did say American astronauts are up there working with extraterrestrials. So that's really acknowledging that there's a Secret Space Program with bases on Mars and that this Secret Space Program is conducting joint experiments with extraterrestrials. Mars is one of the places where this is all being done. And that he was privy to this knowledge in his official capacity.
And that matches with my ongoing research showing how the NRO and the CIA, along with the NSA, have been part of this kind of like Deep State-organized Secret Space Program.
And I think he would know about that because he was handling the Israeli side of it, because the Mossad and Israel's Defense Force and their Space Institute handling their spy satellites, all of that was all part of this kind of overall coordination between the Israelis and the Americans for not only conducting spy or espionage over the Middle East but also monitoring Deep State traffic and obviously keeping up to speed with what the extraterrestrials are doing.
ACCLIMATION PROCESS
Corey: Yes, and I believe this is all a part of an acclimation process. We've had Fox News and other media showing the Tic Tac UFO, talking about some of the programs that we had to investigate extraterrestrials and covered it in a serious way.
Now we have a fairly high-ranking credible person from one of our allied countries that is making even larger statements that's going to open up the conversation, because how many people in the mainstream saw that and after they chuckled a little bit, they went through and they read it and they were highlighting "Galactic Federation" and Googling it, and then all of these other little keywords, and then they're finding their way to our work, our community, where we're releasing this information.
This has gone somewhat viral and it's really an opportunity for the powers-that-be to start seeding our consciousness, but it's an opportunity for us to jump in on the PR around it and show everybody that there's a lot more information to be found.
POSSIBLE DISTRACTION PROGRAM
Dr. Salla: Right. So, one of the questions I think a lot of people have is: Is this genuinely part of the Disclosure Process of the Awakening Process? Or is this a distraction to kind of like get people's attention away from the political turmoil in the US and how things are unraveling here?
Corey: I had been warning for years that right when we get to the point where we see that everything's about to be exposed about the Cabal, what's been going on on the planet, that I expected a big announcement about Antarctica or ETs or the Secret Space Program to occur.
So because of the time we're in, it could be a distraction, but at the same time, it could also be just a part of this drip, drip disclosure that they have that they've been planning to release information over a long period of time.
You're starting to see news articles about "time travel is possible". They're seeding our consciousness with that because when we learn about the technology that the space program or Space Force and other groups are using now, there are too many temporal anomalies that occur when you're observing the operation of these craft for you not to have that programming. You need to have your mind expanded a little bit to understand that this time travel stuff is real, and this is kind of how it works.
And then, "Oh, these craft that we release, you notice how they flutter from here to there and it looks like they're in two places at once? Well, you know, that has to do with some of the temporal effects that occur", and it will sink in a lot easier to the mass consciousness.
Dr. Salla: Right. Okay. Because I know that's a concern some people have that this is all a distraction, but I think it's really just also a part of the awakening process as the Deep State loses control as it has to play all its cards.
You know, this is one of the big cards it's been holding back for decades now, and now it's being played. And maybe part of the rationale is a distraction from the other stuff going on, but at the same time, you know, I think we can take this as a kind of gift in a way to help awaken humanity to the big picture, because I've always thought as more and more people start to look to space and look for answers to a lot of questions – UFOs, what's happening on the other planets, and so forth, Secret Space Programs that . . . our consciousness is going to expand.
It's just inevitable when you start to think outside of our planetary sphere, consciousness expands.
So that's a good thing even if the Deep State is trying to roll this out as part of a distraction. It's still a positive thing.
DISCLOSURES FROM THE ENTERTAINMENT INDUSTRY
Corey: Yes. Yeah, I agree.
Another thing we need to watch is the entertainment industry. A lot of these disclosures . . . just prepping our mind is going to occur in movies, television shows, video games to slowly kind of ease us into what they are about to reveal.
So, I think, what's going to come out in Hollywood in the next five years is going to be, you know, really interesting to observe. Because we're talking, you know . . . We have galactic federations we're talking about in the news, time travel.
The consciousness of humanity has been seeded already for more, and they can bring in a lot of interesting concepts through science fiction and other methods.
So I think keeping our eyes on the media is going to help us kind of foresee what's about to come, because usually you can watch their moves, and the moves they make will kind of give away their timing of what they're planning on doing next.
THE KARDASHEV SCALE
Dr. Salla: Uh huh. So I wanted to ask you about one of the things that Professor Eshed said that I thought was really interesting, and maybe you've talked about it in the past, but I didn't quite . . . maybe I didn't appreciate it at the time, but he said that the Galactic Federation was on the verge of revealing itself through the Trump Administration, or that Trump was getting ready to reveal its existence.
But then it said, "No, hold on. Humanity isn't quite there yet. Technologically, we aren't at that sufficient level.
So it brings up this whole question of Type 1, Type 2, Type 3 civilizations, the Kardashev Scale. And as far as I know, the Breakaway Civilization with all the advanced tech is probably Type 1.1 or Type 1.2, or something like that, whereas we are using open source scientific data, you know . . .
Michio Kaku said that we are at 0.7%. So we're not yet a Type 1 civilization globally, yet.
So the Galactic Federation said, well, we need to be closer to a Type 1 civilization before they reveal themselves.
Is that part of the normal process for extraterrestrials making open contact that society has to be closer to a Type 1 status?
Corey: Not that I observed, and it doesn't make a whole lot of sense to me to be honest. If we were just one live news announcement away from being a Type 1 civilization, well, they just have to reveal it to us.
So the technology is there. We have the technology to go and visit these ETs at their home planet under our own volition.
A CHANGE OF CONSCIOUSNESS IS CONNECTED TO THE BUILDUP OF THE SOLAR EVENT
So I think more of what needs to catch up is the consciousness. And right now we're . . . in the United States, look we're on the verge of an open civil war. There's been a shadow civil war for at least four years.
Look at all these different countries, there's turmoil everywhere.
The ETs know that this is all part of the buildup to the Solar Event that as the cosmic energy and feedback from the Sun through the Cosmic Web builds up, it begins to affect our consciousness and everyone starts having End-Time Madness, you know, and having to deal with their own BS.
And it builds up and builds up until the Sun has this micro nova, and then it sort of resets.
And everyone after that time are all connected in a way that we've never been really connected before.
That, I believe, is more of the change that they are waiting for us to make.
We already have the Type 1 civilization technologies and we are manufacturing them, actually trading them, to other solar systems.
So, I really think that . . . Now, maybe technologically we don't have an understanding of the current laws of physics, the electroplasmic physics, the way the universe works and the way consciousness ties in. That is a technology in a way.
But as far as a physical technology as in space travel, manipulating energy and matter, we have a lot of those abilities now.
Dr. Salla: Right. Okay. So then from the perspective of extraterrestrials monitoring our planet, you know, they look at our planet, and even though we have a Breakaway Civilization hoarding a lot of these advanced technologies, they're not going to say, "Well, that planet is like type 0.7 or something or . . . They are going to judge us from the advanced technologies that are being used even if it's just by a small elite group ensconced in these classified programs that the extraterrestrials will look at all of that and say, "Well, technologically, this planet is at a Type 1 status already."
It's just that most people on the planet's surface don't have access to those technologies because they are being hoarded by the Deep State.
So what Professor Eshed said that the Galactic Federation is waiting for us to catch up, you think that's kind of like disinformation? Is that just a new agenda? Is he pushing an agenda?
MANY ET GROUPS ARE AMORAL
Corey: You know, I mean, that could be his understanding based on what they were saying in the programs. But over all it has to make you wonder: Are these ETs the amoral ones that I had talked about, or are they the angelic ones?
Well, if they're waiting for us to . . . I mean, it just doesn't sound like they're interacting with us in a way of angelic beings.
Now, a lot of these beings in these galactic federations, I'm not saying they're negative, but they're amoral. They're coming down kind of like scientists doing a clinical study and they're not getting emotionally attached to it.
They come in, they pick you up, give you an injection, check you out, make some notes, put you down, just like we would a lab rat.
But the lab rat, his perspective, is, "Hey, this being's picking me up, jabbing me, holding me in this area against my will."
It's not going to see this ET as being a positive being.
But a lot of the ETs in this Galactic Federation that do all these genetic experiments see themselves as sort of like amoral scientists.
AGREEMENTS WITH ETs FOR GENETIC EXPERIMENTATION
Dr. Salla: And that's one of the things he pointed out in his interview that these experiments that are happening are between the U.S. and the extraterrestrials as part of these agreements.
He didn't actually specify how many agreements there are and all of that, but as far as I know, the first agreement happened in 1955 at Holloman Air Force Base where Eisenhower secretly met with representatives of . . . either it was the German Antarctic Program or extraterrestrials or a combination of the two. That's kind of like still not clear.
But that's the first set of agreements that I know of.
Corey: Yeah, there are definitely agreements prior to that. If you remember, my grandfather, who during World War II was a conscientious objector, went into this program to where they were giving them viruses and wartime diseases and then coming up with treatments.
Well, I'm told that this experiment also entailed that the viruses they were giving them had little things that turned on and turned off genes in their body and then affected their offspring, going down to my dad, then me.
So this was genetic manipulation before genes were ever really announced in, I think, the 50s.
NORDIC ET GROUPS
So how were they knowing how to edit your DNA using a virus in the 1940s? Well, it's because they were working with a Nordic group. And this Nordic group was working with them to implement these genetic changes to help create assets to fight against the negative ETs that they considered negative.
So this goes back to the 40s, to the 30s.
There have been . . . The United States when it was founded . . . there were discussions . . . some of the founding fathers discussed that there were "unearthly beings" that were involved.
I would say that there would have to have possibly been an agreement even back that far.
Dr. Salla: Well, that's really interesting that the Nordics were helping the U.S. with some of their genetic experiments in the 40s.
Corey: The "20-and-Back Program" came from the Nordic race. They came and they told us: "Well, the way the mechanics of your Solar System works, there's like a 20-year kind of little bandwidth that you can use to exploit to create time temporal bubbles that you can bring people from all different times into and work on problems."
And they had done it in many different solar systems, but in each solar system it's a different time period. It might be a 10-year-and-Back – a 10-year loop that they are able to exploit.
And I was told it had to do with Saturn, something with Saturn, in our Solar System, that Saturn was our chronos planet.
NORDICS AND SOLAR WARDEN, AND THE REPTILIANS AND THE DARK FLEET
Dr. Salla: Right. So the 20-and-Back Program really began in the U.S. with the Nordic races helping secretly, I guess, the Navy develop the Solar Warden Program.
Whereas the Reptilians helping the Germans in Nazi Germany and in Antarctica. I mean, they wouldn't need a 20-and-Back Program, or maybe they did. Maybe they piggybacked on it, but I assume that they didn't need it to begin with, but the U.S. did because it was all being done secretly.
Corey: Yeah, the Germans were exploiting that as well.
Dr. Salla: Uh-huh.
Corey: Dark Fleet was using 20-and-Back as well.
Dr. Salla: Okay. So how would the Dark Fleet . . . have been doing it, or the Germans? Were they kind of like doing it, the 20-and-Back, with their own citizens or after agreements were reached with the U.S., they were taking a lot of U.S. citizens and making them work in the Dark Fleet for 20 years and then putting them back, or military people?
Corey: Well, in the beginning, the Germans were using it on a much smaller scale than what the Americans were doing. They weren't using it in earnest until like around the same time that Solar Warden was.
Dark Fleet was kind of working all around us and kind of given free reign. And they were still pulling assets from Earth. They were working on the Lunar Operations Command at times. They were integrated into everything.
So they were getting assets to and from the Dark Fleet using the 20-and-Back as well.
INTERPLANETARY CORPORATE CONGLOMERATE
Dr. Salla: Uh-huh. Interesting. Well, I thought it was really interesting that Professor Eshed kind of identified Mars as the place for this joint U.S.-extraterrestrial base.
Is that kind of like referring to, say, a base that's run by the Deep State, run by, say, whether we're talking about the Dark Fleet, we're talking about Interplanetary Corporate Conglomerate, that they are taking Americans up there and they're kind of like using them to automatically prepare them for deep space operations or doing research and development?
Corey: Yeah, you have corporate bases – almost all of them Interplanetary Corporate Conglomerate bases. There are some that are just Dark Fleet.
But the ones that he's discussing are the ones that are built and controlled by ETs, and they have given us access to the facilities, and we go and work there alongside them.
Dr. Salla: Okay. All right. So, when we're talking about a place like Mars, we're talking about bases that are either controlled by the Dark Fleet, Interplanetary Corporate Conglomerate or extraterrestrials, and Americans are taken there for different things.
But we're not talking about any bases on Mars that at the moment come under the jurisdictional sovereignty of, say, the American government.
Corey: You know, there could be small little bases that have been built, especially since I was involved, that are related to the programs that ended up aggregating into the Space Force, some of the military-industrial complex ones, but those typically are smaller, more modular sort of bases that are more in line with what we're used to seeing depicted in the 60s and 70s in NASA art, more of those types of bases.
And the larger bases that are just completely built out like cities are usually going to be Interplanetary Corporate Conglomerate.
And a lot of the bases that even the military groups use are kind of staffed out, built out and staffed, by the corporate groups anyway.
So there could be a military base that you would consider just for, let's say, the Solar Warden group. Well, that base was most likely built by Interplanetary Corporate Conglomerate assets and, most likely, there's at least some management going on inside that base that involves the Interplanetary Corporate Conglomerate even though it's officially a Solar Warden base.
They're all just kind of . . . The tentacles go everywhere.
JOINT BASE ON MARS
Dr. Salla: Uh-huh. Okay. So, why do you think Professor Eshed mentioned Mars having these joint bases? Does that mean that we're going to start to learn very soon about what's really going on in Mars that there's multiple things going on over there?
I guess that's going to blow people's minds especially the mainstream when they start learning that there are these secret bases up there already that are running.
I mean, people like Elon Musk are talking about sending up their starship, you know, taking three months to get to Mars using methane rockets to take people over there.
He's talking about 2024 maybe the first one going. But does that all now just become kind of like moot because Eshed's revealed that there bases already there and American astronauts are already there.
So they're obviously getting there. They're not using methane rockets to get there. They're using anti-gravity craft.
So does this mean that what Musk is doing, and kind of Mars exploration, that all of that's going to be supercharged as the information comes out that this advanced tech exists?
Corey: What I think is that for years to come we will still be building out this more conventional space technology because there's going to be a gap. They'll let us know . . . I mean, they let us know about the Stealth Bomber, but how many of you have flown in one?
We found out about that in the 1980s.
So just because technology is disclosed to us doesn't mean that you or I are going to be flying around in it.
And if we want to access space and access to certain areas of space, civilians are going to have to still keep building out this technology until it is opened up. It's not going to be opened up immediately.
But, yeah, it's going to probably be pretty frustrating for . . . But, you know, I think it would kind of wipe out a trip to Mars in a conventional rocket if they do announce, "Hey, we're already there. We already have colonies there and we can get back and forth very quickly."
Why invest in a trip there? So I think it would take the wind out of their sails.
Dr. Salla: Right. I imagine someone like Elon Musk that maybe he would have been very dismissive of this whole Secret Space Program genre then all of a sudden he comes across this Israeli scientist working or having worked at this top Israeli space institute who is talking about this stuff and secret bases.
I mean, mustn't someone like Musk shift from that position or all this is just BS conspiracy theory. Holy cow! It's real. This Secret Space Program stuff does have legs to it.
Corey: Yeah. Yeah. I mean, I think it's becoming more and more apparent that there's a Secret Space Program. It's becoming more and more apparent that extraterrestrials exist. And it's just below the surface now in the mainstream.
Hopefully, with more announcements like this and work that we're doing, we will be able to bring it out into the mainstream.
I'm working on doing that on a number of different levels, and the work that we've been doing is going to be seen as very important, I believe, in the next few years.
HOW LONG WILL IT TAKE SPACEX TO USE ANTI-GRAVITY INSTEAD OF ROCKETS?
Dr. Salla: Right. So what do you think of the likelihood that someone like Elon Musk can do a quick turnaround rather than . . . because he's built up his SpaceX industry and they're now doing rocket launches for NASA and for Space Force and for the NRO that Musk is doing this now.
As he learns more about this do you think he at some point will be briefed? Because imagine when he does receive an official briefing that he'll say, "Well, yeah, why am I going to waste my time with methane or kerosene rockets when there's this anti-gravity stuff?"
And with the Tesla car, he's already been a pioneer in shifting us from fossil fuels to electric cars.
So couldn't he do the same thing with rockets?
Corey: Yeah, and I believe that he's working so closely with NASA now.
Once Space Force announces certain technologies, that's going to slide right over to NASA, and NASA is immediately going to start using these technologies.
And NASA is going to use civilian contractors still to do these new technologies.
So Elon Musk could very well already be prepared to make that shift as far as we know.
From what I've been told, there are people that have worked around his organization that know quite a bit. And how much they're sharing with him, I don't know, but he at least has access to people that could give him this information.
Dr. Salla: I know he's working very closely with Space Force. He's given talks with them and he's sending up satellites for Space Force.
But I know the Secretary of the Air Force, Barbara Barrett, has actually gone on the record to say that the Air Force needs to declassify a lot more technology.
So, some of the anti-gravity stuff could be slated for release soon. I know that Space Force is in this kind of 18-month setup period ending in May of 2021 that they've officially set up. And so they're ready to go from there. Right now, they're still consolidating and getting everything sorted out.
But by May 2021, I anticipate that they're probably going to start getting briefings, or start getting the technologies, that Lockheed, Skunkworks and Phantomworks, Boeing, and whatever Northrop is building. They're going to start getting briefings on this advanced technology that has been secretly built.
And Space Force is going to say, "Yeah, we want some of those and we're going to deploy them," and then things start to open up.
And maybe that's why 2024 was set by President Trump as the target date for the return to the Moon because he anticipated or maybe his administration or people within it were planning to release this tech before then so that we have manned missions to the Moon again by 2024, because it wasn't going to happen with the constellation rocket, that's for sure, because that's a white elephant.
People are asking, "How could America get back to the Moon by 2024?"
Corey: Yeah, using existing technology that's secret.
Dr. Salla: Right.
NEW TECHNOLOGIES TO BE RELEASED
Corey: So, yeah, I think that in the next four years, from what I was told about Space Force, was: Yes, they were going to start releasing these technologies. It's going to be done very similarly to how the stealth planes were done. We're going to . . .
Around air bases, people are going to see white orbs that disappear and then a triangle is there or another type of craft, and then they'll see it descending down into an air base in Germany or somewhere else.
People will get some video and pictures of it. It'll be on the Internet for a while. People will talk about: "Oh, I saw an orb and I saw a triangle at this location."
And then it'll start coming more and more into the consciousness. And then just like they did with the Stealth Bomber and fighter, you'll see one flying in plain view. It'll be on the news. They'll talk about this new wonderful technology and how it's really . . . It just makes sense if you think about it, you know, how this technology works. It's just amazing that it wasn't . . . it hadn't come out before.
It's going to be done in a really exciting kind of way.
I've been told it was going to be done kind of slowly going over the next four years if Trump had a next administration.
WHO WILL BE WORKING WITH ETs IN THE FUTURE?
Dr. Salla: So just kind of shifting tracks back to this kind of like reorganized Super Federation that's going to take charge of Earth affairs, what do you know is going to happen from the perspective of the ETs or the Galactic Federation or this Super Federation, or what was a Super Federation?
Who's liaising with the ETs now? Who's doing the talks, and where are we heading?
Corey: It's still all of the same people. Deep State people are still in contact with ET groups. The ETs will work with whoever's in control and try to work to get other people in control.
These same negative ET groups that we would call the Reptilians are still down here interacting with the Deep State. They're obviously losing more and more power or . . . people are waking up to their power more and more every day.
We also still have Nordic groups, Anshar-type groups, different types of ETs that are coming in trying to assist us in a positive way.
And then we also have many, many other ET groups that just want us to get our act together so they can engage with commerce and exchange of culture, because it's pretty open out there, and we're in a little bubble right now, and there are a lot of these civilizations that would like to interact with us and get to know us better.
PRESIDENT TRUMP'S RECENT PERSONNEL CHANGES
Dr. Salla: One of the things that President Trump did recently was he sacked 11 members of the Defense Policy Board, and that included people like Henry Kissinger, Madeleine Albright, Gary Roughead, the former Chief of Naval Operations.
So it looked like he was trying to change something pretty major that was . . . They had a lot of influence behind the scenes.
And I know Henry Kissinger, as far as I can tell, he's been involved in the whole Deep State, extraterrestrial, global management system for decades now.
So by Trump sacking these people, is he really trying to shake things up, maybe open up negotiations with more positive extraterrestrials groups, saying, "Hey, these Reptilians" or these negative groups, "they don't have as much power as they once did. So, come to me and let's make some deal."
Corey: You know, there could be that aspect to it because of some of the people like Henry Kissinger, who we know are directly involved with Reptilians and other groups.
The briefings I had received was that this was more about taking away what they call "Deep State control" of the Department of Defense and certain Special Forces groups that were being misused by this think tank or however you want to describe it, and that they moved the control of Special Forces back over directly to the Secretary of Defense.
I think it had to do more with also getting in a position to where the DoD wasn't going to block some of the efforts he may take as next steps if he doesn't win in the Supreme Court with the election stuff, which I really don't want to get into on this video too much.
Dr. Salla: Yes. Yes.
Corey: I think it had more to do with that scenario.
THE PUBLIC WILL BE INCREASINGLY HUNGRY FOR INFORMATION
Dr. Salla: Okay. So, overall then, this development with Professor Eshed, I know it's going to really have a big impact on working professionals who are now going to take a second look at all of this literature.
So I think it's going to kind of like increase demand for people like yourself and myself who have been doing this kind of research and disclosure.
So, what do you think lies ahead?
Corey: Well, I think that what you said times a thousand when it comes to this information. It's going to be . . . The public is going to be hungry for it.
We have more and more of this information coming out. I mean, we have just people in their everyday life that are seeing things that don't make sense that are going on in the world, and that certain conspiracies bear a little bit of merit.
So they're starting to look at these so-called "conspiracy theories", you know, conspiracy theory about aliens genetically manipulating the planet. I mean, come on, you know. For the mainstream, that's crazy.
But now, look at . . . The information's out there.
So, yeah, like I said, I think our information right now in Hollywood, these topics are extremely popular, esoteric, you know, in general.
SALLA HAS FIVE BOOKS PUBLISHED ON THE SECRET SPACE PROGRAM
There are many other ways like, you know, I think when this information comes out, you know, your books . . . How many do you have? Five now, or is it more on the Secret Space Program?
Dr. Salla: Five on the Secret Space Program series. [I have] another one in the pipeline.
Corey: Yeah, and those books may become required reading in universities or at least quoted from heavily at some point, you know.
People will start searching these terms, keywords, and more and more people are going to start coming to our work, and I already see it.
I'm seeing subscribers growing, more emails coming in from people that have seen me on, like, Jenny McCarthy or somewhere else more mainstream and not niche.
So interest is growing and I think that the information that we've been putting out there is going to be some of the most popular information around here within a few years.
Dr. Salla: Right. I'm enjoying it at the moment, you know, in terms of just connecting all the dots, all of these Secret Space Program revelations that you've been doing and others have been revealing for a few years now.
And now with these official acknowledgments and a lot of the documentation that's coming out, I think that's just going to be really exciting for anyone that's trying to put together the big puzzles.
So, yeah, and that for me has always been interesting is, like, you know, what is the big picture? How do all of the pieces of the puzzle fit together?
And now we're able to fit together the pieces of the puzzle a lot more.
WE MAY HAVE A STAR TREK FUTURE
I'm doing that now with my next book which is focusing on Space Force. I'm just going to do a whole book on Space Force: How it was set up and why it's threatening the Deep State, and how it connects to kind of like Starfleet, because that's one of the things that I think . . . well, Roddenberry's vision of a Star Trek future. You've talked about that too a few times. The military wants the Star Trek future.
So, I was really amazed to see that in 2019 there was something called the Space Futures Workshop that was organized by Air Force Space Command, and that's the predecessor to the Space Force.
And I was really amazed to see that they came up with eight scenarios and their preferred scenario was the Star Trek future. And I thought that was really interesting that why would they choose that?
Corey: Look at the symbol they chose.
Dr. Salla: Yeah. And this was before Space Force was set up that they actually . . . Its predecessor was saying that their preferred option for the future was a Star Trek future and then you have Space Force set up. You have the logos and all of the connections with Star Trek as it was envisaged.
To me it's almost like back in the past in the '50s and '60s someone used time travel technologies and saw, "Okay, in the future we're going to have something called Starfleet. So let's start seeding the mass consciousness with that." And Roddenberry was briefed.
And I talked about that in the Navy Secret Space Program book that Roddenberry was briefed.
PEOPLE'S EXPERIENCES IN THE "20-AND-BACK PROGRAM" CAN BLEED BACK INTO HUMAN CONSCIOUSNESS
Corey: Let me blow your mind even more. The 20-and-Backs, all of the temporal travel that's going on, you have to visualize it this way.
This is just picking dates out of the air.
Let's say in 2036, Space Force develops the technology to travel back in time. Well, they're traveling back in time and working with people back in the 30s, 40s, 50s, 60s, pulling them up into 20-and-Backs, working with them in these temporal groups.
So that information, like the people going up and working in these 20-and-Backs and working off planet for Space Force that's actually in the future are . . . this is going into their consciousness. So it kind of bleeds out in different ways.
So I think that there is a huge temporal part of this puzzle that a lot of people really aren't paying enough attention to.
And when all of this does come out, it's going to blow even the minds of people in ufology that have been covering . . . "I know about 58 different ET groups." "I know about spacecraft that can fly between here and the Moon in a matter of minutes." And they think they've got a good understanding.
But when all of it does come out, the temporal aspect of it is going to be the mind-blowing part.
COULD THE CREATOR OF STAR TREK HAVE BEEN IN A "20-AND-BACK PROGRAM"?
Dr. Salla: Right. So this pulling people out of historical epochs, the 1920s, '30s, '40s, and pushing them into this 20-year-and-Back Program, that whatever in the 2030s, 2040s, whatever, and after 20 years they get pushed back, well, that raises the question, "Could Gene Roddenberry have been in a 20-and-Back in the Dark Fleet of the future?"
Corey: Yeah, that's my question too.
Dr. Salla: Okay. Well, that's an interesting one.
Corey: Or he was influenced by someone who was.
Dr. Salla: Well, I know he was actually directly influenced by Leslie Stevens, who was the director of "The Outer Limits". "The Outer Limits" was run by Leslie Stevens and he ran that from '64 to '66, [1963-1965] I think was the last season.
And Gene Roddenberry sat in on the second season of "The Outer Limits".
Now, in the Navy Secret Space Program book, I actually talk about Leslie Steven's father, who was the vice admiral. He was the guy that worked directly with Rico Botta in setting up the Navy Secret Space Program.
So the son of Admiral Stevens was the guy that introduced – inspired or introduced – Gene Roddenberry to a lot of these ideas.
So it's quite possible that maybe Leslie Stevens was one of these people pulled out and served in the 20-and-Back Program because Leslie Stevens didn't just influence Gene Roddenberry with Star Trek, he also influenced Glenn Larson who came up with the "Battlestar Galactica" series originally in the, what was it, the '70s.
Corey: Wow! "Battlestar Galactica" plays into the whole AI threat.
Dr. Salla: Exactly. So, that would make sense that Leslie Stevens was most probably part of the 20-and-Back Program because his father was working for the Navy as a vice admiral. His father was actually head of a joint intelligence organization set up by the Pentagon.
So Leslie Stevens, the Vice Admiral, was in charge of that.
So if there was a 20-and-Back Program, and that people in the US military back in the '40s and '50s were aware of that and saying, "Okay, you can take this guy or that guy."
That maybe they said, "Okay, take my son, Leslie Stevens. Put him back and put him in the 20-and-Back Program in the future."
And then Leslie Stevens does the soft disclosure, because, you know, "The Outer Limits", if you look at the episodes of that, I think they ran for two seasons, but there's a lot of episodes in there talking about the different advanced technologies that were being used.
Like there's one episode called, "OBIT . . .", what is it, "Outer Band Individuation Teletracer", which is all about tracking people at any time through their resonant frequencies and find out what they're doing.
And this is an "Outer Limits" episode. So this is advanced tech that was being developed at the time.
So, Leslie Stevens was kind of like seeding the mass consciousness with these advanced technologies, inspiring Roddenberry to do something on a Galactic Confederation on planets in the future, Starfleet, then Glenn Larsen and "Battlestar Galactica".
So, yeah, I'd say this was probably how it was done.
Corey: You make an interesting argument.
UPCOMING EVENTS AND ACTIVITIES
Dr. Salla: Yeah, wow!
So what can we expect from you in the future?
Corey: Ah, well, let's see. I've got a lot of things going on. The graphic novel is finally on track to finish. It's turning out very amazing. It's going to go on pre-sale again here very soon.
You can get it at www.disclosurecomics.com – get on the mailing list. I mean, it'll go live very soon.
And I do believe that this comic, this graphic novel, is going to be a major collector's item, especially the pre-edition, the pre-release edition, because we're taking this as a storyboard into Hollywood.
We have interest here and there on bringing this to a movie or a series.
We're definitely not going to have a problem getting a docu-series of some sort going on on a channel somewhere that will be seen by many, many millions more people, which will bring people more to our community.
So we have that going down. My online course, "The Blue Avians and the Law of One", is going to start on January 9.
You can find all of this at www.ascensionworks.tv and you can also find my old course there.
And hopefully next year, www.ascensionworks.tv is going to launch. It's going to . . . I'm working with Mike Waskosky quite a bit on it. We're hoping to make it a new sort of social media platform as well as a place to come and watch videos like a Netflix or something like that.
We have a lot of people interested in doing shows for us, so it looks very good there.
I think those are the Number One things that are happening with me.
Maybe some of the people that are watching this video, because of this viral story that's going around, it kind of sucks somebody new into this video, and they hear us talking about you wrote five books on the Secret Space Program. Where can they find out more information about those?
Dr. Salla: Okay. Well, they can go to my website: www.exopolitics.org or they can go to Amazon. Just type in my name or just type in "Secret Space Programs". That comes up.
So there is a Secret Space Program series on Amazon that they can learn about.
So, yeah, just come to the website.
And, you know, I'm working on this Volume 6 in the series, and that's tentatively titled, "The Space Force and The Rise of Starfleet". I'm very excited that I'm getting close to finishing the first draft of that. So it will be ready sometime around March and April of next year.
And I'm going to be doing with John DeSouza and Laura Eisenhower with "Portal to Ascension" in January. I think it's the first Saturday in January or something like that. I don't have the date in front of me, but we're going to be doing a kind of second Exopolitics and Ascension online webinar. [Note: Here is the link to the webinar: https://portaltoascension.org/event/ascension-exo-disclosure-2021 ]
So that'll be something where hopefully there's more clarity about what's going on at the moment. But definitely, everything is pretty exciting.
And I'm going to be doing more webinars starting at the end of January and go right throughout 2021.
Corey: Very cool. Yeah, the webinars are a lot of fun. They're a lot of fun and the community seems to love them.
Dr. Salla: Yeah. I love that you can go really deep into an issue and not get so caught up in time management. It's like you have enough time to really kind of look at all of the facets of an issue.
MONOLITHS APPEARING AROUND THE GLOBE
Corey: Yeah. Well, before we wind this down, I wanted to ask you: Have you been paying attention to all of the weird monoliths popping up everywhere?
Dr. Salla: Yeah. I thought that was interesting. Someone seems to be . . . I think it was an artist because someone from the Leak Project went out there and took a look at one of these monoliths, and they saw rivets and all of that. So it was definitely a human artist who put it together.
So maybe it's just an artist kind of like trying to attract people's attention. But, like, totally, whether it's just a human artist . . . I think it is just a human artist – I think it still . . . archetypally . . . it helps waken people up.
Corey: It DOES help waken people up. It does, but I just had the feeling from the beginning that it was some sort of like mass marketing gimmick campaign kind of thing.
But they started popping up in different countries and different states. There's been a number of them now. It's coordinated in some way, but it'll be interesting to see why they're doing this, but it's definitely peaking a lot of curiosity.
Dr. Salla: Definitely.
WRAP UP
Corey: Awesome. Well, you know, I think that covers everything that we wanted to discuss. It was pretty exciting when this group of news articles came out discussing this Galactic Federation and joint human-ET bases on Mars.
It's very exciting for us, especially, because we've been talking about it for years, and we're starting to see more and more come out publicly from both of our information, and I think it's gratifying but at the same time we're looking for more, right?
Dr. Salla: Exactly. But it certainly is nice to have that official acknowledgment, and I know in your case you've been getting a lot of flak. You have a lot of people out there trying to shoot you down, but I think that's probably because you're like right over the target and your testimony is now going to get a lot more attention.
So, I'm very glad to be working with you and putting all this information out.
Corey: Yeah, I appreciate it. You know, the Alliance has been talking to me lately about after all of these events occur, it's time to start educating the populace. They've spoken to me about being involved in releasing media that would discuss the history of humanity.
And I look forward to being involved in that someday. And I know you and others in this community will be involved as well.
I really appreciate all the work that you've been doing over the last five years. You've been a very pragmatic person, not an emotional person. You've been a good loyal friend and you're doing really great work when it comes to the Secret Space Program and introducing this topic to people. I mean, you're a professor. You're releasing this information in a non-sensational way. And I think what you're doing is really important and I just wanted to say I appreciate the work that you're doing.
Dr. Salla: Well, thank you, Corey. I'm looking forward to what the future brings to both of us.
Corey: It's going to be exciting. It's going to be exciting.
Okay. So I thank everyone for joining us here on the Sphere Being Alliance channel [available here]. Please click the Like button right now and subscribe.
A lot more videos will be coming out here in the near future. I'm talking to someone about the financial reset and some of the NESARA, GESARA, I guess you call it, stuff going on – in Asia, mass quantities of gold, a new financial system that rumor's have been going on [about] for years.
I've been speaking for the last year with some people that are involved on a high level and I think we're about ready to do a video with them.
I've been invited to go to Indonesia and the UAE to videotape certain things that they claim exist. And my fingers are crossed that it's legitimate, but, you know, time will tell.
So please subscribe immediately, and I look forward to bringing more content to you in the near future. Thank you.
---
Transcribed by Sam Ritchie
More interviews and articles featuring Corey Goode are available here.
Related article on Prof Haim Eshed's revelation is available here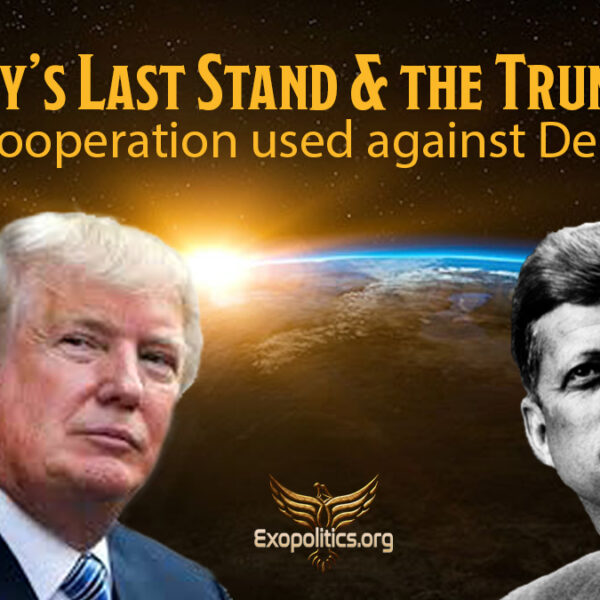 On November 12, 1963, President Kennedy reached a bold agreement with Soviet leader Nikita Khrushchev: joint lunar missions to end the Cold War. While Kennedy's earlier September 20, 1963 speech at the United Nations calling for the Soviets to cooperate on joint space missions and a moon landing is a well-known historical fact, Khrushchev's acceptance less than two months later is virtually unknown to most.
Kennedy's request and subsequent agreement with Khrushchev represented far more than an attempt to end Cold War tensions over the escalating number of nuclear weapons being built by the U.S. and Soviets. Kennedy was boldly attempting an end-run around the Deep State's blockade on releasing classified UFO-related technologies that could spark worldwide advances.
On June 28, 1961, President Kennedy sent a Top Secret National Security Memorandum requesting his CIA Director, Allen Dulles, prepare for him a "review of MJ-12 Intelligence Operations as they relate to Cold War Psychological Warfare Plans." Kennedy referred to an interagency control group called Majestic 12, which had been secretly set up on September 24, 1947, to manage the UFO-related issues and technologies. This authority placed MJ-12 at the core of the Deep State in the U.S. at that time.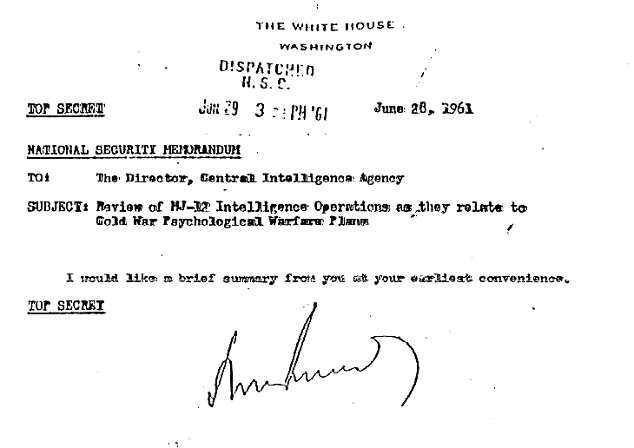 While Kennedy's June 28 Memorandum has not been officially declassified, expert examination of the leaked document supports its authenticity.
Dulles' response to Kennedy's memorandum is revealed in another leaked Top Secret document issued on November 5, 1961.  Dulles' response gives an overview of the MJ-12 activities with regard to psychological activities, which he confirms involves the UFO issue. It describes UFOs as part of "Soviet propaganda" designed "to spread distrust of the government."
Dulles' letter acknowledges it is possible that some "UFO cases are of non-terrestrial origin," but these do not "constitute a physical threat to national defense." Most significantly, Dulles' letter states: "For reasons of security, I cannot divulge pertinent data on some of the more sensitive aspects of MJ-12 activities."
What Kennedy did not know was that in addition to denying his request and blocking his other efforts to assert Presidential authority over MJ-12 operations and UFOs, Dulles organized for MJ-12 to issue eight directives in October 1961. The Directives authorized the removal from office of members of Kennedy's administration if they threatened MJ-12 operations.
I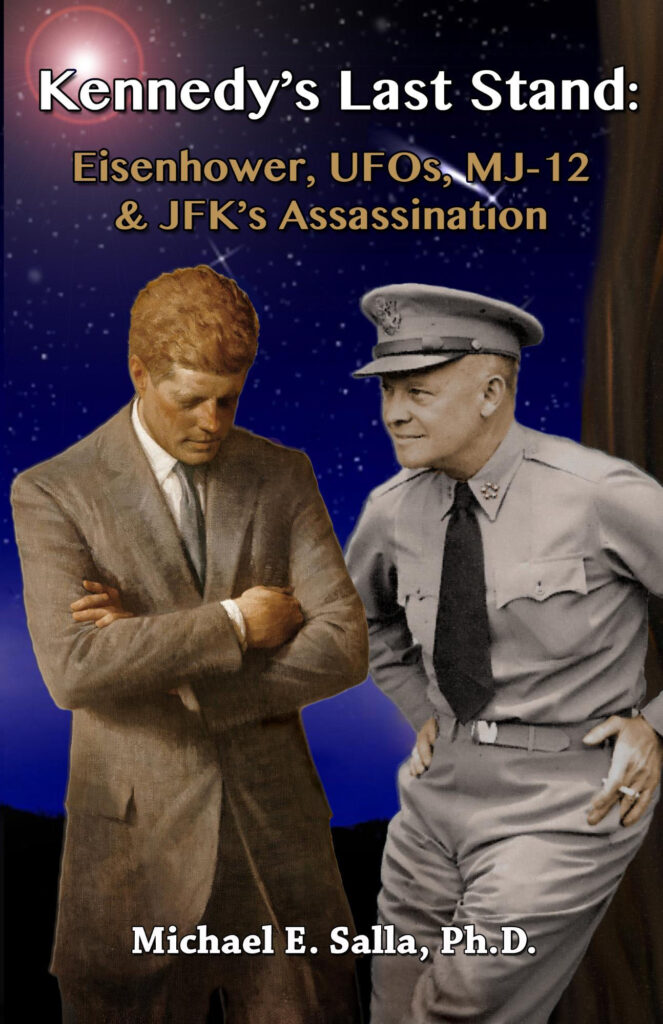 n Kennedy's Last Stand (2013), I document Kennedy's multiple efforts to assert Presidential authority over the MJ-12 Group and classified UFO files. In brief, after Kennedy reached his groundbreaking agreement with Khrushchev for joint space and lunar missions, the head of the CIA's counterintelligence division, James Jesus Angleton, implemented one of the MJ-12 directives authorizing the removal from office of political figures.
The most extreme of the eight MJ-12 directives was a cryptic assassination authorization:
Draft – Directive Regarding Project Environment – When conditions become non-conducive for growth in our environment and Washington cannot be influenced any further, the weather is lacking any precipitation … it should be wet.
Dr. Robert Wood, the foremost expert in analyzing MJ-12 documents using forensic methods, has concluded that the burned document is an assassination directive. He points out that the cryptic phrase, "it should be wet" originates from Russia, where the phrase "wet works" or "wet affairs" denotes someone who had been killed and is drenched with blood.
The implementation of Project Environment led to Kennedy's very public assassination and served as a clear warning to other political leaders not to challenge the Deep State.
The MJ-12 Group did not want U.S. and Russian cooperation in space since this threatened to expose their covert space operations using reverse engineered technologies acquired from Nazi Germany and crashed alien spacecraft. Even more sensitive were the agreements reached with the German breakaway colony in Antarctica and different extraterrestrial groups.
In the subsequent decades, the MJ-12 Group, working through the CIA, was in control of covert operations and intelligence activities in space. This was made possible by an enormous black budget of over one trillion dollars annually that the CIA funneled into various classified programs and defense agencies such as the National Reconnaissance Office.
The Department of Defense and the President's executive office were largely left in the dark over exactly what was happening in Earth's orbit and beyond. 
Before becoming Secretary of Defense on January 20, 2001, Donald Rumsfeld headed a Congressionally appointed National Security Commission that delivered a report recommending the creation of a Space Corps to defend the U.S. from a Space Pearl Harbor:
An attack on elements of U.S. space systems during a crisis or conflict should not be considered an improbable act. If the U.S. is to avoid a "Space Pearl Harbor" it needs to take seriously the possibility of an attack on U.S. space systems. The nation's leaders must assure that the vulnerability of the United States is reduced and that the consequences of a surprise attack on U.S. space assets are limited in their effects….
The use of space in defense of U.S. interests may require the creation of a military department for space at some future date…
A Space Corps within the Department of the Air Force may be an appropriate model in its own right or a useful way station in the evolution toward a Space Department.
Only eight months later, on September 10, 2001, as Congressional legislation for a Space Corps was about to be unveiled, Rumsfeld revealed 2.3 trillion dollars could not be accounted for and declared the Pentagon Bureaucracy to be America's greatest threat:
The topic today is an adversary that poses a threat, a serious threat, to the security of the United States of America. This adversary is one of the world's last bastions of central planning, governs by dictating 5 year plans… You might think I'm describing one of the last decrepit dictators in the world, but their day too is almost past and they cannot match the strength and size of this adversary. The adversary is closer to home, it's the Pentagon bureaucracy… In this building, despite the era of scarce resources, taxed by mounting threats, money disappears into duplicative duties, bloated bureaucracy, not because of greed but gridlock. Innovation is stifled not by ill intent but institutional inertia.
In his speech, Rumsfeld was not only identifying the reasons for the missing money, but also signaling that it could be used to fund necessary, though expensive, Pentagon initiatives such as Space Corps.
One day after his provocative speech, the September 11 (false flag) terrorist attacks embroiled America in unending Middle East wars against a contrived global terrorist threat. Consequently, the proposal for a Space Corps was shelved for nearly 20 years until the second year of Donald Trump's Presidency.
On March 13, 2018, President Trump first introduced and, in succeeding months, formally proposed the creation of Space Force as a 6th branch of the U.S. military.
Like President Kennedy before him, Trump had a bold vision of cooperating with Russia to implement his Presidential agenda and end the new Cold War. During his first presidential election campaign, Trump made many overtures to President Putin of Russia to cooperate on a range of global issues.
Again, like Kennedy, Trump envisaged the release of new technologies to take humanity into a new era of prosperity and cooperation. This is evidenced in Trump's 2017 inaugural address where he said:
We stand at the birth of a new millennium, ready to unlock the mysteries of space, to free the earth from the miseries of disease, and to harness the energies, industries and technologies of tomorrow.
Like Kennedy, Trump called for joint moon missions with other space-faring nations, including Russia. On December 11, 2017, President Donald Trump issued Space Policy Directive-1, which called for the return of humans to the Moon, the commercial exploitation of space, and human missions to Mars and beyond.
The Directive called for "an innovative and sustainable program of exploration with commercial and international partners to enable human expansion across the solar system and to bring back to Earth new knowledge and opportunities."
Just as Kennedy had attempted an end-run around the Deep State's opposition to him gaining access to classified UFO files, Trump's Space Force proposal is likewise an end-run around the Deep State's blockade on releasing classified reverse engineered technologies that could spark a global technological revolution
In addition, Trump's creation of Space Force threatens the Deep State's attempt to make America vulnerable to a Space Pearl Harbor by embroiling it in a never-ending war on terror. At the same time, the Deep State has been covertly helping Communist China for decades to develop antigravity spacecraft, and to build a powerful space navy, as I warn in Rise of the Red Dragon (2020).
Trump is facing massive retaliation from the Deep State over his plans for outer space cooperation, joint moon missions, ending the Cold War with Russia, and establishing a Space Force, just like Kennedy had before him.
The eight Majestic-12 directives, or some updated iteration of them, establish drastic methods that can be used to remove or take out any political leader who threaten their operations. Today, a stolen election, rather than physical assassination, is the Deep State's solution to removing President Donald Trump, yet another troublesome leader, from political office.
The key to understanding what is happening today in America is to identify the mysterious group behind the Kennedy Assassination, and how its modern-day manifestation is covertly attempting to remove Trump from the presidency for his efforts to similarly build international cooperation around a number of space-related initiatives. 
November 22 will mark the 57th anniversary of the Kennedy Assassination. The real perpetrators skillfully remained in the shadows and were never prosecuted for their crime. Thus, their successors continue to plot and implement Deep State agendas tracing back to the original eight MJ-12 directives.
[Note: To learn more about President Kennedy's assassination, the group behind it, and why this information critically links to President Trump's epic battle today, I will be holding a Webinar Intensive on Sunday, November 22, 2020 – click here or banner below for more info].
[Note: Audio version of this article is available on YouTube and Spotify]
© Michael E. Salla, Ph.D. Copyright Notice
Further Reading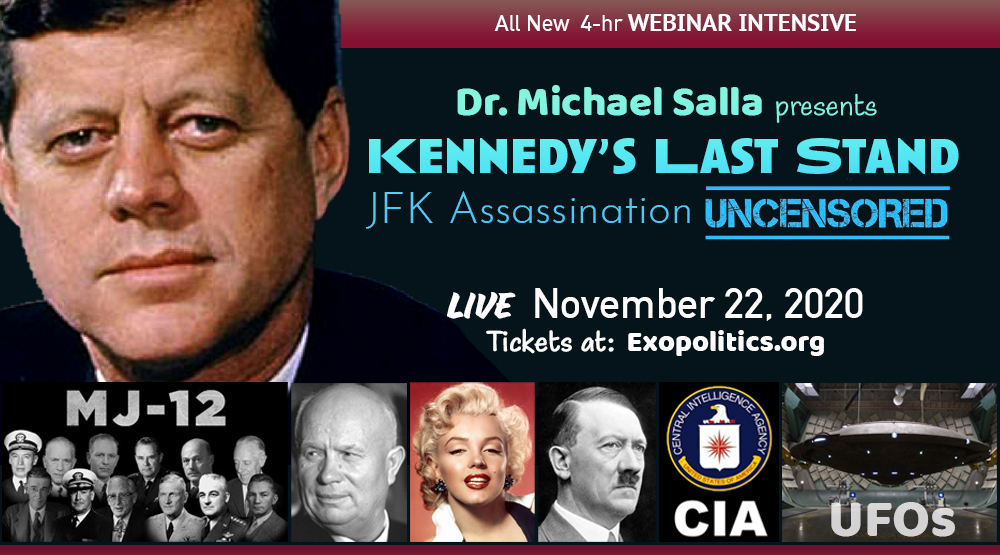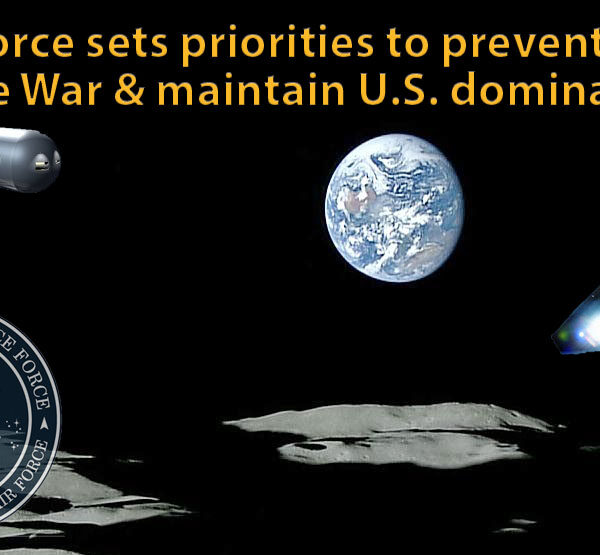 On November 9, General Jay Raymond, the U.S. Space Force's Chief of Space Operations, released a foundational document outlining the new military service's priorities and management practices for the U.S. to remain ahead of its major adversaries in space. The 12-page document, "Chief of Space Operations Planning Guidance" (CPG), makes clear that space is now viewed as a "warfighting domain", and that in order for the U.S. to maintain dominance and deter hostile actions, it needs to take immediate action to integrate, equip, train, and organize its military space assets.  
General Raymond warns about the danger posed by major adversaries, such as China and Russia, that have developed sophisticated anti-satellite technologies capable of disrupting or destroying the U.S. satellite grid. Such a possibility was first outlined in a January 11, 2001, Space Commission Report, chaired by former Secretary of Defense Donald Rumsfeld, warning about a "Space Pearl Harbor" and the need for a new military service to prevent it  
 General Raymond begins his Planning Guidance document by explaining how space has shifted from a benign security environment to one where warfare can be expected in the near future:
The Space Force has a mandate in national strategy, policy, and law to be both pathfinder and protector of America's interests as a space-faring nation. The convergence of proliferating technology and competitive interests has forever re-defined space from a benign domain to one in which we anticipate all aspects of human endeavor – including warfare. The return of peer, great power competitors has dramatically changed the global security environment and space is central to that change (CPG, p.1).
According to the 1967 Outer Space Treaty, space was considered to be a peaceful domain for scientific exploration. No country was allowed to station military forces or weapons in space, the Moon, or other celestial objects. General Raymond is here acknowledging that recent developments such as Russia and China's deployment of a range of anti-satellite weapons systems mean that space is no longer a benign environment, and that preventative military measures need to be taken.
He goes on to explain how the Space Force can prepare for future warfare in space:
The United States Space Force is called to organize, train, equip, and present forces capable of preserving America's freedom of action in space; enabling Joint Force lethality and effectiveness; and providing independent options – in, from, and to space… While we will extend and defend America's competitive advantage in peacetime, the ultimate measure of our readiness is the ability to prevail should war initiate in, or extend to space (CPG, p.1).
Deterring major adversaries from launching military hostilities is explained as a key priority in order not to lose U.S. space dominance:
America needs a Space Force able to deter conflict, and if deterrence fails, prevail should war initiate in or extend to space. Space capabilities enhance the potency of all other military forces. Our National leadership requires resilient and assured military space capabilities for sustained advantage in peaceful competition, or decisive advantage in conflict or war….
The change in the geo-strategic and operating environment that compelled the creation of the Space Force means that many of our legacy space capabilities must be reevaluated for ongoing relevance. Let me be clear – if we do not adapt to outpace aggressive competitors, we will likely lose our peacetime and warfighting advantage in space (CPG, p.2).
China and Russia are both viewed as the primary adversaries capable of militarily destroying the U.S. satellite grid in a future war or in a surprise attack, a Space Pearl Harbor:
Chinese and Russian military doctrines indicate they view space as essential to modern warfare, and view counterspace capabilities as potent means to reduce U.S. and allied military effectiveness. Modern Chinese and Russian space surveillance networks are capable of finding, tracking, and characterizing satellites in all earth orbits. Both Russia and China are developing systems using the electro-magnetic spectrum, cyberspace, directed energy, on-orbit capabilities, and ground-based antisatellite missiles to destroy space-based assets (CPG, p.2).
 From the perspective of China's Communist Party leadership, as I explain in Rise of the Red Dragon (2020), China is merely catching up to what the United States (and Russia) had already secretly developed and deployed in space decades earlier.
Not surprisingly, General Raymond emphasizes developing breakthrough space technologies in dealing with potential military conflict:
Space Force will use strategic investments to cultivate a strong, diverse and competitive American space industrial base. Civil and commercial developments that pave the way for exploration and commercialization beyond near-Earth orbit will both generate technology that benefits the USSF and require an order of magnitude expansion of our ability to sense, communicate and act to protect and defend American interests in cis-lunar space and beyond. (CPG, p.9).
General Raymond is here suggesting major aerospace defense contractors such as Lockheed Martin, Northrop Grumman, General Dynamics, Boeing, etc., will play vital roles in developing breakthrough space technologies that can be used to deter adversaries in space. While development of breakthrough space technologies is framed as a future need, the reality is that such technologies have already been secretly developed by major aerospace companies. The produced technologies have been subsequently sold off to different "customers" such as U.S. military commands, intelligence agencies, and major allies for decades.
Extensive testimonial and documentary evidence is presented in my Secret Space Programs book series showing how the U.S. Air Force and the Navy developed separate secret space programs in response to earlier developments in Nazi Germany that carried over into the post-war era. As a result of decades-long cooperation with major corporations in reverse engineering captured Nazi and alien spacecraft, advanced anti-gravity spacecraft and electromagnetic weapons systems were developed and deployed by different entities within the US national security establishment.
The critical requirement for gaining access to such breakthrough aerospace technologies by a U.S. military service, combatant command, or intelligence agency was to demonstrate a clear need for such advanced technologies for completing space-related missions.
As long as space was considered a benign environment, then this favored the acquisition of reverse-engineered technologies by intelligence services or special operations groups that used space for intelligence gathering or small-scale covert operations. The bulk of breakthrough aerospace technologies would consequently go to defense intelligence entities such as the National Reconnaissance Office, CIA, Defense Intelligence Agency, the National Security Agency, and covert groups such as Air Force Special Operations and Special Operations Command.
Even U.S. Space Command (1985-2002) and Air Force Space Command (1982-2019) would be  limited in how much access they had to such breakthrough "black world" technologies as acknowledged in a comprehensive 1996 Intelligence Commission report to the US Congress:
Two organizations within the Department of Defense manage space assets: the U.S. Space Command (SPACECOM) is responsible for so-called "white world" satellites (i.e., satellites that are publicly acknowledged) for military programs, and the National Reconnaissance Office (NRO) deals with "black world" (i.e., classified) satellites for intelligence programs. SPACECOM launches and operates satellites for military communication, weather and navigation, which are designed and procured by the military services. NRO designs, acquires, launches, and operates classified reconnaissance satellites.
The Pentagon's Joint Chiefs of Staff and the unified combatant commanders, with the notable exceptions of Special Operations Command and (Air Force) Space Command, were largely denied access. This was because major military space operations were deemed unnecessary due to space being considered a benign environment, and such operations violating international space law.
All that changes with General Raymond's Planning Guidance document, which expands upon President Donald Trump's earlier Space Policy Directive 4 which made space a hostile environment requiring defense of America's space assets. Space is now considered a war fighting domain where large scale military operations may be necessary to protect the U.S. satellite grid. This means that breakthrough corporate technologies that previously were denied to the different military services due to their high-level security classification and international space law constraints, are now permitted either through Space Force (which incorporates the former USAF Space Command) or U.S. Space Command, both of which were respectively created or reconstituted in 2019.
General Raymond emphasizes the haste with which these advanced technologies should now be incorporated into Space Force and for immediate action to be taken to protect the U.S. satellite grid:
The strategic environment demands we act boldly now to build a Service designed to act with speed and decisiveness to ensure the United States maintains its advantage in the domain….This CPG identifies those characteristics and capabilities within the force that must evolve. We do not have the luxury of delay for further analysis. (CPG, p.9).
Raymond's thinking is mirrored in recent statements by the Secretary of the U.S. Air Force, Barbara Barret, calling for declassifying many space technologies kept hidden from the general public and even from different elements of the Air Force itself. On December 7, 2019, she declared:
Declassifying some of what is currently held in secure vaults would be a good idea… You would have to be careful about what we declassify, but there is much more classified than what needs to be.
In conclusion, redefining space as a warfighting domain means that formerly highly classified technologies developed by corporations and military laboratories for exclusive use by the intelligence and special operations communities will be acquired by Space Force. These advanced space technologies will be made available for large scale deployment in future space combat operations.
The release of General Raymond's "Planning Guidance" document makes it highly likely that soon after Space Force is fully set up by May 2021 (the end of its 18 months set up period), we are likely to witness the official disclosure of multiple highly classified aerospace technologies, including anti-gravity propulsion systems, acquired by Space Force. The release of such advanced technologies will revolutionize the civilian transportation industry and military defense and take our planet into an exciting but dangerous new age.
© Michael E. Salla, Ph.D. Copyright Notice
[An audio version of this article is available here]
Further Reading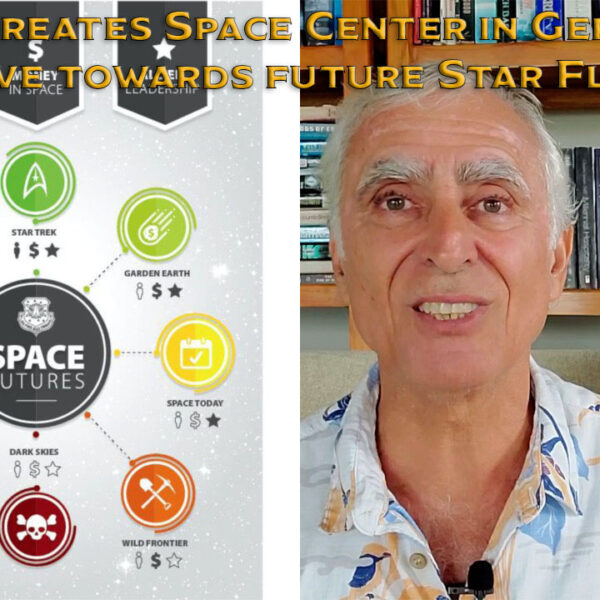 Below is my video blog on the Secretary General of NATO, Jens Stoltenberg confirming on October 22,  a Space Center would be established at Ramstein Air Base in Germany. The base is controlled by the US Air Force and the Space Center will coordinate closely with the newly established US Space Force and Space Command.
The NATO Space Center has been authorized less than two weeks after the Artemis Accords were signed by eight nations with civilian space programs. This will shortly increase as NATO and International Space Station signatories join the Accords. The Artemis Accords establish the framework of a multinational space alliance that cooperate in protecting their personnel, resources and operations in space from "harmful interference", through "safety zones".
In addition, the creation of the Space Center comes one year after a Space Futures Workshop where USAF Space Command (now Space Force) experts discussed the evolution of military affairs in space over the next 40 years. The Space Futures Workshop envisaged eight feasible scenarios.
The most favorable was a Star Trek future where a US-led coalition of nations dominate space and introduce free-world laws and processes. The least favorable is where a country like China dominates space, and introduces laws and processes that promote their own interests.
The creation of a NATO Space Center weeks after the signing of the Artemis Accords, and the 2019 creation of a US Space Force and Space Command, is the start of a long process of establishing a Star Trek future. This is the most optimistic space future where Earth and our solar system are protected by a multinational Star Fleet promoting principles of personal liberty, democracy and government transparency.
Michael Salla, Ph.D.
Links/articles discussed in video blog:
https://www.voanews.com/europe/nato-chief-alliance-build-space-center-ramstein-airbase-germany
https://www.nasa.gov/specials/artemis-accords/index.html
https://www.politico.com/f/?id=0000016d-0513-d6ab-a97f-4f93520b0001
Related Article/Video blog on Artemis Accords: https://exopolitics.org/artemis-accords-are-a-first-step-to-a-space-nato-future-star-fleet/
Webinar Announcement: https://exopolitics.org/new-webinar-kennedys-last-stand-ufos-mj-12-4th-reich-links-to-jfks-assassination/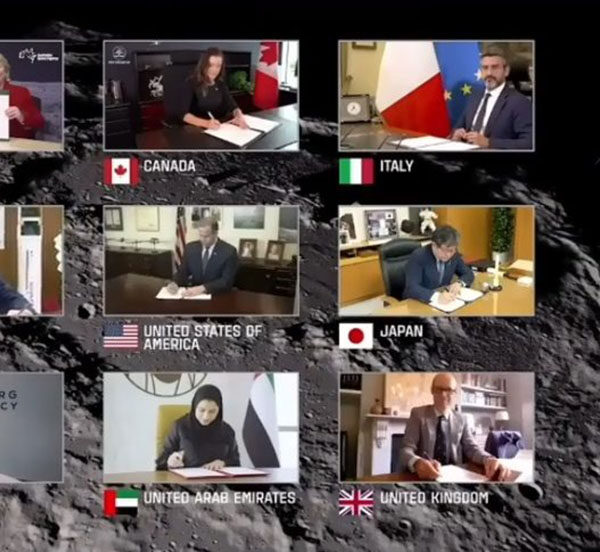 Below is my
video blog on the Artemis Accords signed on October 13 between the United State and seven allied nations with national space programs: Australia, Canada, Italy, Japan, Luxembourg, United Arab Emirates and United Kingdom. While the language is designed to fit into the provisions of the Outer Space Treaty ratified by UN member nations in 1967, these are bilateral accords with the US, and the UN is merely a place where the accords are placed for international recognition. 
The Artemis Accords contain mutual defense provisions if any nations experience harmful interference in their explorations of the Moon, Mars, asteroids and minor planets. This is first step towards a Space NATO, and eventually a future Star Fleet.
The choice of Artemis as the name for the accords is also very significant symbolically given what has been happening in space in terms of space weapons, false flag events, galactic slave trade, etc., by major nations such as China and rogue secret space programs. Artemis was the Goddess of the forest, hunt, Moon, and righteous behavior. The hidden intent of the Artemis Accords is to clean up these rogue space programs, ensure ethical behavior in space, and to rein in Communist China, which plans to become the undisputed hegemon on Earth and in  Space.

Michael Salla, Ph.D.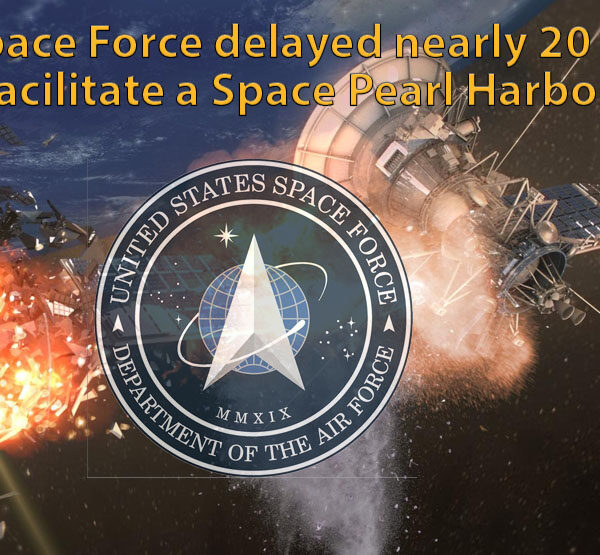 The recently established United States Space Force is widely considered to be the brainchild of President Donald Trump, which has subsequently aroused suspicion, if not outright opposition, by those believing it to be a grandiose vanity project with no genuine national security significance. However, the first proposal for a Space Force dates back to a bipartisan "Space Commission" established during the Clinton administration that delivered a detailed report on January 11, 2001, recommending a new military space service to be called "Space Corps". The chief goal of the Space Corps would be to prevent a future "Space Pearl Harbor".
What is even more intriguing in tracking the historical origin of Space Force is that the Space Commission was headed by Donald Rumsfeld, a former Secretary of Defense (1975-1977), who has a mysterious history in UFO investigations, the study and reverse engineering of captured extraterrestrial technologies, and in recruiting individuals for secret space programs. Rumsfeld's leadership of the Space Commission, and his second appointment as Secretary of Defense (2001-2006) under President George Bush, led to Commission members believing that legislation for creating a Space Force was imminent.
What happened eight months later completely derailed any hope for prospective legislation creating a Space Corps, the September 11 attack, which evidence suggests was a false flag attack orchestrated by the Deep State. Only a day earlier, Rumsfeld had admitted on live T.V. that the Pentagon couldn't properly account for a missing 2.3 trillion dollars. This had led to much speculation whether one of the motivations for the September 11 attack was to prevent serious investigations into the missing trillions.
Given Rumsfeld's leadership role in proposing the creation of a Space Corps, his subsequent second appointment as Secretary of Defense, and his exposure of the missing trillions, a question that can be asked is whether another key purpose of the Deep State in launching the September 11 attack, was to stop the creation of a Space Corps? If so, then it appears that a Space Pearl Harbor is a scenario that the Deep State has been facilitating since at least 2001, and they were laying the groundwork for U.S. officials acknowledging such a threat while effectively doing nothing to prevent it.
It's worth beginning with what the Commission report had to say about the creation of a military space service. The Report's title is "Commission to Assess United States National Security Space Management and Organization", and it was delivered nine days before the end of the Clinton administration on January 20, 2001.
The Report opens by affirming that its members were appointed in a bipartisan basis by the ranking members from both parties sitting on the Armed Services committees of the House of Representatives and Senate. It concentrated on space security and emphasized the importance of preventing a "Space Pearl Harbor" from a major adversary:
"An attack on elements of U.S. space systems during a crisis or conflict should not be considered an improbable act. If the U.S. is to avoid a "Space Pearl Harbor" it needs to take seriously the possibility of an attack on U.S. space systems. The nation's leaders must assure that the vulnerability of the United States is reduced and that the consequences of a surprise attack on U.S. space assets are limited in their effects." Space Commission Report, pp. viii-ix
In order to fully prepare for future contingencies in space, and any surprise attacks, the Commission report called for the establishment of a "Space Corps" as a new military service within the Department of the Air Force that would later evolve into a separate department:
"A Space Corps within the Department of the Air Force may be an appropriate model in its own right or a useful way station in the evolution toward a Space Department. One model is the Army Air Force's relationship to the Army during World War II. Existing Air Force space forces, facilities, units and personnel, and military space missions could be transferred to a Corps. A Space Corps could have authority for acquisition and operation of space systems, perhaps to include both DoD and Intelligence Community systems, while leveraging existing Air Force logistics and support functions." (Space Commission Report, p.81)
What's surprising here is the remarkable similarity in what the Commission recommended,  with President Trump's proposal for a Space Force that was presented 18 years later.
In Space Policy Directive-4, issued on February 19, 2019, Trump declared:
"the Department of Defense shall take actions under existing authority to marshal its space resources to deter and counter threats in space, and to develop a legislative proposal to establish a United States Space Force as a sixth branch of the United States Armed Forces within the Department of the Air Force. This is an important step toward a future military department for space."

This two-step evolutionary process is an important clue that Space Force was not merely a spontaneous creation of Trump's that appeared to be the case the first time it was raised by him in a "not really serious" manner at a speech at USMC Miramar Air Station in March 2018:
My new national strategy for space recognizes that space is a war-fighting domain just like the land, air and sea. We may even have a Space Force.… You know, I was saying it the other day cause we're doing a tremendous amount of work in space. I said 'maybe we need a new force, we'll call it the space force.' And I was not really serious, and then I said 'what a great idea, maybe we'll have to do that.'

The similarities between Trump's Space Policy Directive-4 and the Space Commission Report 18 years earlier suggest that Trump was briefed by those familiar with the Report and the idea of a military space service still had serious backing within the Pentagon.
It's important to emphasize the critical role played by Rumsfeld, who was appointed Chairman of the Commission, making its recommendations for a Space Corps. Rumsfeld's importance is outlined by the reporter John Tirpak, who wrote about the Space Commission report for Air Force Magazine on March 1, 2001:
Over the past decade, military space has generated a stream of reports from blue-ribbon panels. However, the recommendations of this one could carry considerable weight because its chairman, Donald H. Rumsfeld, has become Secretary of Defense…. Rumsfeld resigned as chairman of the panel when President Bush tapped him to head the Pentagon, a scant two weeks before the commission published its final Report. However, the Report is said to reflect much of Rumsfeld's thinking on space organization issues and could well serve as a blueprint for reorganization of military space.

Rumsfeld's role led to General Ronald Fogelman, a newly retired USAF Chief of Staff (1994 -1997) and prominent member of the 2001 Space Commission publicly stating the creation of a Space Corps was imminent:
The commission's chairman-Donald Rumsfeld-is now the Secretary of Defense, and so military space issues are fresh in his mind, said Fogleman. He added that some sort of restructuring likely will happen soon.
"If I were a betting man, I would bet you that in the [Defense Department] legislative proposal that comes to the Hill this year, this will be in there," Fogleman said.
On September 10, 2001, Rumsfeld appeared on live television, saying that the Pentagon could not account for 2.3 trillion dollars in the fiscal year 1999.
This was money that could not be tracked by the Pentagon Inspector General, who had described similar anomalies with the Pentagon budget in 1998 and 2000. In my 2003 Black Budget Report, I explained how the missing trillions were part of a massive CIA run unofficial black budget created to fund a second Manhattan Project – a vast number of Unacknowledged Special Access Programs involving research and development of retrieved extraterrestrial technologies.
Rumsfeld said in his interview that he would wage a bureaucratic war to bring about changes to properly track money flowing through the Pentagon.
Rumsfeld's remarkable admission was overshadowed the next day by the September 11 attack. His admission raises a number of possible explanations for this sequence of events and the effective shelving of a Space Corps for years to come.  
One explanation is that Rumsfeld was among a group of "White Hats" wanting to expose or redirect some of the black budget money flowing through the Pentagon to fund new projects such as his proposed Space Corps that would prevent a future Space Pearl Harbor.
A second explanation is that Rumsfeld was a "Black Hat" fully briefed about the upcoming false flag attack and wanted to release the news about the missing trillions at a time when it would be completely overshadowed by the upcoming false flag attack and the global war on terror that would subsequently dominate the Bush administration.
Finally, Rumsfeld was a "Gray Hat" who had to simultaneously play the conflicting roles of running the Pentagon's global war on terror, which effectively prevented a Space Corps being created, while behind the scenes doing what was possible to nurture the idea of a future Space Corps.
The latter explanation is strengthened by the circumstances surrounding Rumsfeld's sacking on December 18, 2016, due to him backing successive troop withdrawals from Iraq, and opposition to the surge recommended by senior military advisors that was implemented by his successor, Robert Gates, in January 2007.
Whatever the precise relationship between Rumsfeld, the missing trillions, funding a Space Corps, and the September 11 attacks are, one thing is clear. The subsequent war on terror led to Pentagon prioritizing funding for military interventions throughout the Middle East and North Africa. Potential funding for the creation of a Space Corps was shelved, and it was resurrected nearly two decades later by President Trump.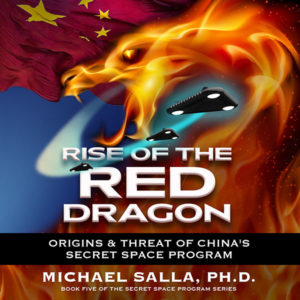 In the meantime, China has secretly built a large Space Navy which will soon be capable of conducting the Space Pearl Harbor envisaged in the 2001 Space Commission report. China's secret Space Navy was revealed by Lt General Steven Kwast (USAF ret.) in a September 2019 lecture:
China is our competition. Russia is our competition. They see the power of the economy of space … and they are rushing to that future…. China has already built the organization, and has the strategy, the doctrine and the technology, and the builders for their guardian force in space. They are building a navy in space with the equivalent of battleships and destroyers that will be able to maneuver and kill and communicate with dominance.

Will Space Force be funded and expanded in time to prevent such an attack from occurring? Will it be able to successfully integrate a small but highly advanced number of antigravity spacecraft that were part of a USAF secret space program developed and deployed in the 1970s?
Currently, the U.S. Congress has not passed defense appropriations bills necessary for funding new projects envisaged by Space Force for 2021.  The delay has led to a rebuke of the Congressional delay by the Chief of Space Operations, General Jay Raymond, who is concerned that new Space Force projects will be delayed well into 2021.
Is this Congressional delay yet another stratagem by the Deep State to slow down the roll out of Space Force in order to facilitate a debilitating Space Pearl Harbor strike by China and/or another major adversary in the near future? 
© Michael E. Salla, Ph.D. Copyright Notice
[Note: for audio version of this article, click here]
Further Reading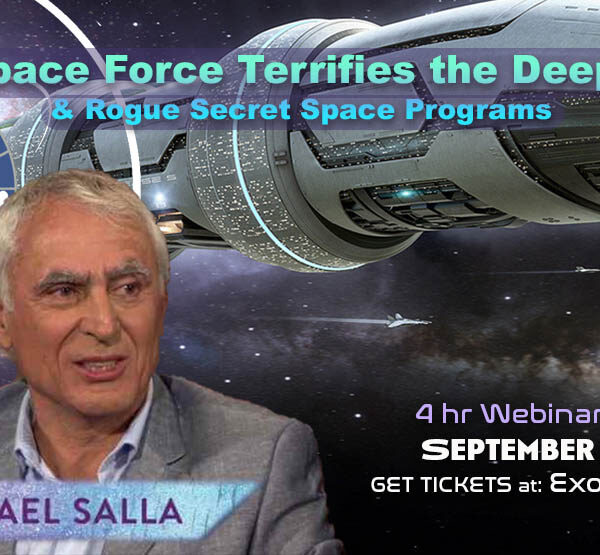 Space has for decades been used by the Deep State and rogue Secret Space Programs (SSPs) to manipulate humanity through false flag operations, staged "alien abductions", targeted satellite-based behavioral alteration and genetic modification, a galactic slave trade, and generating an enormous black budget for funding highly classified corporate technology projects. The recent creation of the US Space Force terrifies the Deep State and rogue SSPs since Space Force threatens to upend these egregious practices.
In this webinar you will learn:
• The true intention behind the creation of Space Force.
• How the Deep State delayed the creation of Space Force for nearly two decades.
• The significance of Space Force's plan to dominate Earth-Moon orbital environments.
• How the Deep State's ability to stage false flag events will be ended by Space Force.
• How Space Force will thwart a planned Space Pearl Harbor event to be launched by China with Deep State backing.
• Why Space Force threatens the space operations of transnational corporations & their plans for dominance on Earth and in space.
• The Deep State's behavioral alteration and genetic modification plans using new generation satellite networks & how Space Force threatens these.
• How Space Force is destined to put an end to the Galactic Slave Trade.
• How Space Force will eventually incorporate a US Navy-run SSP to form a multinational "Star Fleet"
September 26, 2020 (Saturday)
12 noon –  4.30 pm PDT/ 3 – 7.30 pm EDT USA  (Includes Q&A at the end)
Cost: $55. To Register click here
*This LIVE event will be recorded, and attendees are able to watch unlimited replays for 60 days.
To view and purchase past webinars click here
Webinar Trailer
---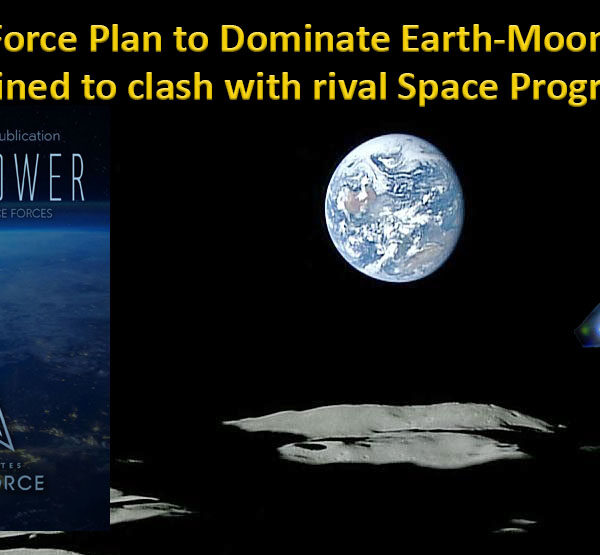 On August 10, the newly created U.S. Space Force released its "Spacepower Doctrine," defining its core identity and missions in space. Space Force will consider outer space to be a warfighting domain wherein military force will be projected into the Earth-Moon orbital environments to protect U.S. national interests and security.
In the short term, this means Space Force will compete with the rival aerospace forces established by China and Russia for space superiority. In the long term, Space Force is destined to clash with secret space programs run by a shadowy consortium of transnational corporations, and an even more elusive "Dark Fleet".
The latter is claimed by multiple insiders to belong to a German breakaway colony that transferred from Antarctica to Mars, taking with it, millions of people recruited by false inducements or forced into a life of slave labor.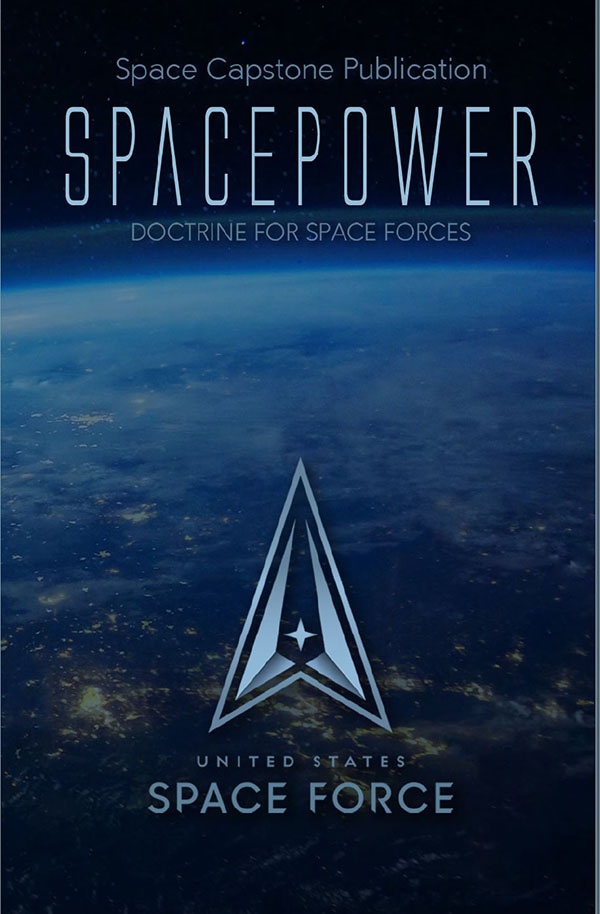 The 40-page document titled "Space Capstone Publication: Spacepower Doctrine for Space Forces" sets the tone for what follows with a 1962 statement by former President John F. Kennedy:
The eyes of the world now look into space, to the moon and to the planets beyond, and we have vowed that we shall not see it governed by a hostile flag of conquest, but by a banner of freedom and peace. [p. xiv]
The primary purpose of the document is described as follows:
The Space Capstone Publication is the inaugural doctrine manual for the United States Space Force, providing a basis for training and education, and informs decision-making, mission analysis, objectives, and the development of military space strategy in support of national security, national defense, and national military strategies. [p. xiv]
The document describes how space has dramatically changed from a domain involving peaceful cooperation and scientific exploration by the international community:
Space was once a sanctuary from attack, but the emergence, advanced development, and proliferation of a wide range of demonstrated counterspace weapons by potential adversaries has reversed this paradigm. Today, space, like all other domains, is realized to be contested due to the increasing threat to orbiting assets by adversary weapons systems. There is no forward edge of the battle area behind which military spacecraft can reconstitute and recover. Spacecraft remain in orbit through peace and war where they are potentially at risk from adversary counterspace capabilities and the hostile space environment. [p. 7]
The document goes on to explain how Space Force plans to integrate other nations sharing common interests similar to how the NATO Alliance was formed around the U.S. as the driving force to prevent aggression from the Warsaw Pact:
Military space forces are the warfighters who protect, defend, and project spacepower. They provide support, security, stability, and strategic effects by employing spacepower in, from, and to the space domain. This necessitates close collaboration and  cooperation with the U.S. Government, Allies, and partners and in accordance with domestic and international law. [p. xiii]
Space Force, however, plans to be far more than merely a multinational military operation:
Spacepower requires explorers, diplomats, entrepreneurs, scientists, developers, and warfighters. Military space forces — protectors of America's space interests — are first and foremost the warfighters who protect, defend, and project U.S. spacepower. These professionals must simultaneously commit themselves to two demanding professions: warfighting and the mastery of space. [p. xiv]
Space Force's overall mission is stated to be vital to long term U.S. national interest:
Access to space is essential to U.S. prosperity and security — it is a national imperative. The many benefits our Nation derives from space include mass communications, financial and economic information networks, public safety, weather monitoring, and military technology. Like any source of national power, the United States must cultivate, develop, and protect these benefits in order to secure continued prosperity. [p. 12]
Space is considered to be the future of economic growth and entrepreneurial activity, which is high among Space Force's core goals:
Today, the entirety of economic and military space activities is confined to the geocentric regime; however, commercial investments and new technologies have the potential to expand the reach of vital National space interests to the cislunar regime and beyond in the near future. As technology marches forward, U.S. military spacepower must harmonize with the other instruments of power to protect, defend, and maintain the Nation's strategic interests in space. [p. 14]
As far as future military conflict in space is concerned and the role of international law, this is what Space Force's capstone document has to say:
Military spacepower is inextricably linked to war. Military space forces must operate in this new warfighting domain to contribute to winning our Nation's wars. Thus, war's enduring nature and modern character shape and define military spacepower… [p. 16]
In keeping with international law, the United States acknowledges that the use of space is for peaceful purposes, while preparing for the reality that space must be defended from those who will seek to undermine our goals in space. [p. 17]
The capstone document provides an expansive view of potential enemies in space, and what Space Force needs to be prepared to do to protect U.S. interests:
Space warfare targets the mind of an adversary and seeks to neutralize their capability and will to resist. Military space forces compete against thinking actors who threaten our Nation's prosperity, security, or political aims. Thus, military space forces must prepare to outwit, outmaneuver, and dominate thinking, competent, and lethal aggressors who are attempting to thwart U.S. actions…
Military spacepower cannot unilaterally win wars, but like landpower, seapower, airpower, or cyberpower, its success, absence, or failure could prove catastrophically decisive in war. Because military spacepower has the potential to be the difference between victory and defeat, it must be viewed with equal importance as military power in any other domain. This observation is the strategic imperative for creating the United States Space Force as an independent military Service capable of maximizing military spacepower as a distinct and vital formulation of military power. [p. 21]
Evaluating the full significance of the capstone document requires appreciating both the near and long term challenges that Space Force has to face. In the short term, Space Force has to deal with the aerospace forces of both China and Russia, which have been modernizing rapidly with the growth in their respective economies.
China's economy, measured in Purchasing Power Parity, has already overtaken the U.S., and it is steadily increasing its military expenditures, especially in space which it considers to be the strategic high ground and the U.S. military's Achilles Heel.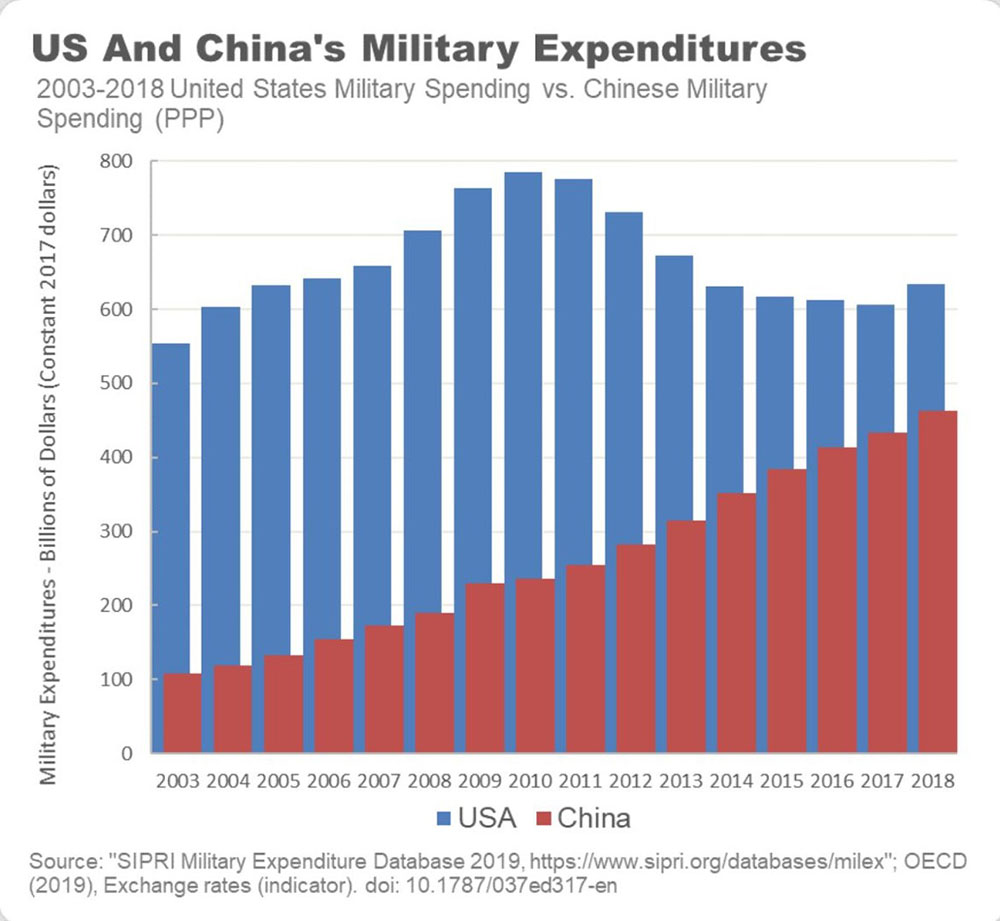 The possibility of China launching a "Space Pearl Harbor" is something that weighs heavily on the minds of U.S. military strategists, as I discuss at length in Rise of the Red Dragon (2020). Space Force's immediate goal will be to protect the U.S. satellite grid from a surprise Chinese attack, which would otherwise incapacitate the U.S. military all over the planet.
However, it is the long-term challenges to Space Force that are the most intriguing, and require considering a much wider scope of covert activities that have been occurring in space that date back to the World War II era.
It is crucial to keep in mind that Space Force will be covertly absorbing a Secret Space Program (SSP) established by the U.S. Air Force. The USAF SSP, which I described at length in the U.S. Air Force Secret Space Program and Shifting Extraterrestrial Alliances (2019), has covertly deployed squadrons of spacecraft using advanced antigravity propulsion, new energy technologies, and electromagnetic weapons systems.
These craft were reverse engineered from captured German and extraterrestrial spacecraft acquired after the end of World War II. Major US aerospace corporations collaborated with a transnational corporate consortium to secretly build these advanced craft for the USAF. The most advanced craft, however, were built for other customers, including a corporate-run SSP called the Interplanetary Corporate Conglomerate.
For much of its history, the USAF SSP operated covertly, performed ad hoc missions, had dubious legal standing, was funded by a CIA controlled black budget, and worked closely with the Deep State, a transnational corporate space program, and breakaway German colony in Antarctica.
All that changed in 2017, when the USAF learned about a far more powerful and better equipped US Navy SSP deploying battle groups led by kilometer long space carriers. Leaders of the USAF SSP realized that they had been deceived by the Deep State and their corporate/German allies who had not provided the most advanced technologies to them, as promised. See my 2019 book for more details on why the USAF SSP shifted its allegiance.
The emergence of Space Force will eventually end the chaotic and ad hoc operations of the USAF SSP, and transfer all of the latter's space assets into the control of a highly disciplined, transparent and lawfully established military space service working for U.S. national interests.
The ramifications of the Space Capstone Publication are therefore vitally important when considered in the context of how the assets of the USAF SSP were historically used to aid rogue operations contrived and controlled by the Deep State.
The long-term challenges faced by Space Force are fivefold. First, it will have to deal with nation-state peers such as China and Russia, which have the capability of launching a Space Pearl Harbor.
Second, Space Force will need to manage the more technologically advanced space programs of rogue non-state entities, the Interplanetary Corporate Conglomerate and the Dark Fleet, which possess fleets of more advanced and powerful spacecraft.  
Third, Space Force is destined to eventually merge with the US Navy SSP, whereby it becomes fully capable of handling threats posed by national rivals, rogue space entities, and aggressive extraterrestrial civilizations.
Fourth, Space Force will eventually have to confront an illicit galactic slave trade where millions of humans are taken off-planet each year and traded into a life of slavery. Will history repeat itself whereby Space Force emerges as a modern day Royal Navy whose 19th century West Africa Squadron intercepted slave ships on the high seas, but now ends the slave trade in Deep Space?
Finally, how much and when will Space Force leaders disclose to the American and World publics the truth about the dire situation confronting humanity with multiple secret space programs and extraterrestrial civilizations interacting with one another, and humanity?  Will Space Force be a conduit for full disclosure or limited hangouts that deceive humanity for years to come?
© Michael E. Salla, Ph.D. Copyright Notice
[Note: for audio version of this article, click here]
Further Reading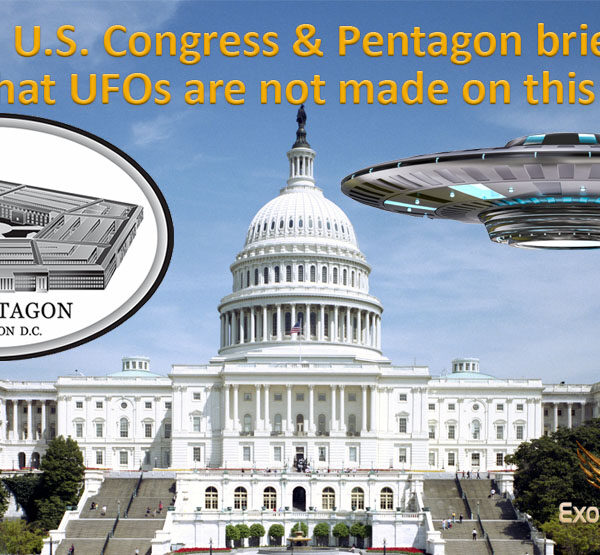 The New York Times has just released a bombshell article on classified UFO briefings received by members of U.S. Congress and Pentagon officials that the craft involved are "off-world vehicles not made on this earth". The New York Times (NYT) story cites Dr. Eric Davis, a physicist currently working with the Aerospace Corporation, who gave briefings that classified corporate studies were being conducted on the "off-world vehicles" recovered and held in corporate facilities.
The authors of the NYT story, Ralph Blumenthal and Leslie Kean wrote the following about Dr. Davis's groundbreaking briefings:
Mr. Davis, who now works for Aerospace Corporation, a defense contractor, said he gave a classified briefing to a Defense Department agency as recently as March about retrievals from "off-world vehicles not made on this earth."
Mr. Davis said he also gave classified briefings on retrievals of unexplained objects to staff members of the Senate Armed Services Committee on Oct. 21, 2019, and to staff members of the Senate Intelligence Committee two days later.
Given Davis's revelations it's therefore not surprising that the Senate Select Committee on Intelligence asked the Intelligence Community to write a comprehensive report on Unidentified Aerial Phenomena (UAPs aka UFOs) in six month. This request was included in the proposed Intelligence Authorization Act for Fiscal Year 2021:
The Committee supports the efforts of the Unidentified Aerial Phenomenon Task Force at the Office of Naval Intelligence to standardize collection and reporting on unidentified aerial phenomenon, any links they have to adversarial foreign governments, and the threat they pose to U.S. military assets and installations.
Blumenthal and Kean discuss former Senate Majority Leader Harry Reid and Senator Marco Rubio's recent comments about the briefings they received, which involved Davis and other officials.
Of particular note was Rubio's recent comments in an interview that the UFO craft have been recorded flying over U.S. military bases, which is a far more significant revelation than the unknown craft flying over the ocean in Navy testing areas as evidenced in leaked videos recently acknowledged by the Navy as genuine.
Dr. Davis's testimony is important since, in 2019, a 15-page document was leaked of his conversation with a former head of the Defense Intelligence Agency (DIA) in 2002. In the conversation, Vice Admiral Thomas Wilson revealed to Davis details about an incident in 1997 when he was denied access to a classified UFO program run by a major aerospace corporate contractor despite being, at the time, the Deputy Director of the Defense Intelligence Agency and Vice Director for Intelligence (VJ2) for the Joint Chiefs of Staff.
Wilson appealed unsuccessfully to the Special Access Programs Oversight Committee (SAPOC) that had authority over the corporate-run program. Surprisingly, the Committee ruled in favor of the corporation that Wilson did not have a demonstrable "need to know", and therefore he was denied access.
The corporate contractor's power stemmed from a 1994 agreement reached with SAPOC that gave the corporation the authority to restrict access to UFO related programs from Pentagon officials regardless of their rank and position, as Wilson complained about in the leaked 15-page document:
Special criteria were established in agreement. A special circumstance that must meet rigorous access criteria set by contractor committee. No USG personnel are to gain access unless they met the criteria – to be administered by contractor committee (program director, attorney, security director) irregardless of the tickets and position USG personnel possess. Literally their way or the highway. [Transcript/Summary p. 11]
Nevertheless, Wilson subsequently learned that the corporate contractor had been unsuccessfully attempting to reverse engineer a retrieved extraterrestrial vehicle. He wanted to know if Davis, who at the time worked with EarthTech, an Austin, Texas-based organization involved in advanced studies of aerospace technologies, knew anything more about the corporate UFO program.
The fact that the New York Times has run the story involving Davis and his knowledge of the corporate-run reverse engineering company is highly significant. As the official "paper of record", the NYT is now opening the door to mainstream media sites picking up the threads of Davis's astounding revelations and the leaked transcript of his 2002 conversation with Vice Admiral Wilson.
The likely narrative that will be emerging from the NYT story is that classified corporate-run programs on recovered extraterrestrial craft are very real, and not the imagination of UFO conspiracy theorists. This development will astound many working professionals that have ignored decades of testimonial evidence that such programs were being secretly conducted at multiple military and corporate facilities.
What remains to be answered is how did the corporations get their hands on recovered UFO craft, and were able to keep key Pentagon officials such as Admiral Wilson out of the loop? Why did the Pentagon officials running the Special Access Program Oversight Committee deny Wilson access despite his very senior status at the DIA and Joint Chiefs of Staff?
Another important question to ask is whether the information that corporations have made very slow progress in reverse engineering of retrieved extraterrestrial craft, as Wilson revealed to Davis in their 2002 conversation, is to be believed. According to multiple insider accounts discussed in my Secret Space Programs Book series, reverse engineering of captured flying saucer craft began in the 1940s, the first prototype craft were flight tested in the 1960s, and were subsequently deployed in the 1970s and 1980s.
While there may be ongoing reverse engineering programs in corporations that are making slow progress, as Admiral Wilson was told in 2002, there is much testimonial evidence that major aerospace corporate contractors have made significant progress decades earlier.
Why therefore release into the public arena information that select U.S. corporations have been conducting slow and largely unsuccessful studies of captured extraterrestrial craft? A possible answer is that those in charge of the reverse engineering programs in the U.S. don't want the public to know that such technologies were successfully reverse-engineered and deployed decades ago by the U.S. Air Force and Navy in collaboration with select U.S. corporate contractors.
Furthermore, the NYT story contributes to the narrative that other nations, e.g., China and Russia, have gotten their hands on similar off-world technologies and they have successfully reverse-engineered these, and may be behind the UFO/UAP sightings by Navy pilots as Senators Rubio and Reid have been speculating.
Such a conclusion feeds the perception that the U.S. is behind China and Russia on developing such breakthrough technologies, and that extraterrestrials constitute the ultimate threat if they suddenly choose to intervene in human affairs.
Many will rightfully interpret the New York Times story as promoting a narrative that leads to a possible alien intervention that may be either genuine or contrived by those possessing such reverse-engineered technologies that were successfully studied in corporate facilities decades ago. Nevertheless, many inquiring minds will be inspired to dive deep into the UFO and "exopolitics" literature to learn the truth about classified alien reverse-engineering programs that insiders and researchers have been disclosing for years, often to widespread ridicule and retribution from their peers.
© Michael E. Salla, Ph.D. Copyright Notice
[Note: an Audio version of this article is available here]
Further Reading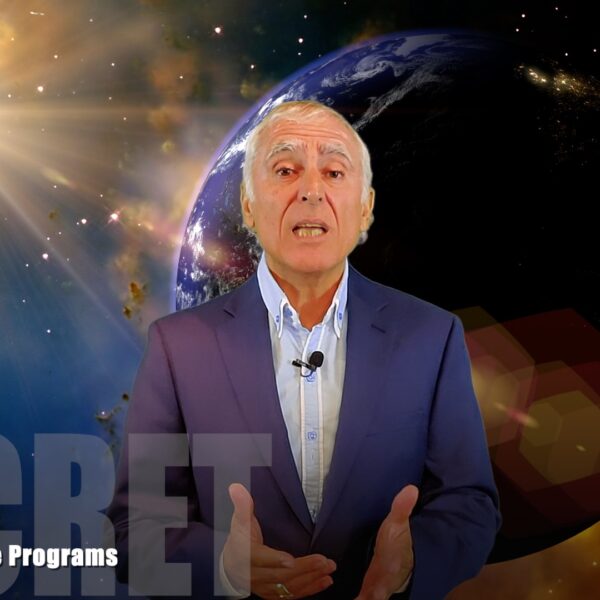 China is in the midst of a stealth war against the USA where it is using an asymmetric military strategy called "Assassin's Mace" to dominate the strategic high ground of space, and replace the US as the world's hegemon before 2049 – the 100th year anniversary of the Communist Revolution. By 2030, China's economy will outgrow the US, and China plans to use its vast economic resources to project its presence deep into space in ways that may lead to escalating military confrontations with the newly created US Space Force….
To purchase a recording of this Webinar click here.
More information at: http://exopolitics.org/china-ssp-webinars-july-2020/