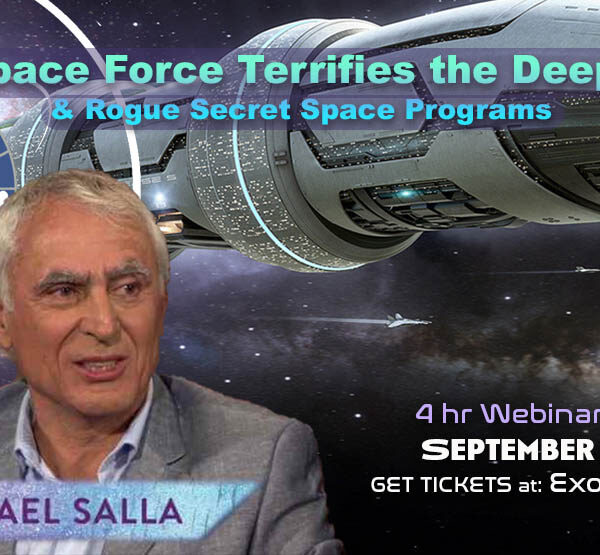 Space has for decades been used by the Deep State and rogue Secret Space Programs (SSPs) to manipulate humanity through false flag operations, staged "alien abductions", targeted satellite-based behavioral alteration and genetic modification, a galactic slave trade, and generating an enormous black budget for funding highly classified corporate technology projects. The recent creation of the US Space Force terrifies the Deep State and rogue SSPs since Space Force threatens to upend these egregious practices.
In this webinar you will learn:
• The true intention behind the creation of Space Force.
• How the Deep State delayed the creation of Space Force for nearly two decades.
• The significance of Space Force's plan to dominate Earth-Moon orbital environments.
• How the Deep State's ability to stage false flag events will be ended by Space Force.
• How Space Force will thwart a planned Space Pearl Harbor event to be launched by China with Deep State backing.
• Why Space Force threatens the space operations of transnational corporations & their plans for dominance on Earth and in space.
• The Deep State's behavioral alteration and genetic modification plans using new generation satellite networks & how Space Force threatens these.
• How Space Force is destined to put an end to the Galactic Slave Trade.
• How Space Force will eventually incorporate a US Navy-run SSP to form a multinational "Star Fleet"
September 26, 2020 (Saturday)
12 noon –  4.30 pm PDT/ 3 – 7.30 pm EDT USA  (Includes Q&A at the end)
Cost: $55. To Register click here
*This LIVE event will be recorded, and attendees are able to watch unlimited replays for 60 days.
To view and purchase past webinars click here
Webinar Trailer
---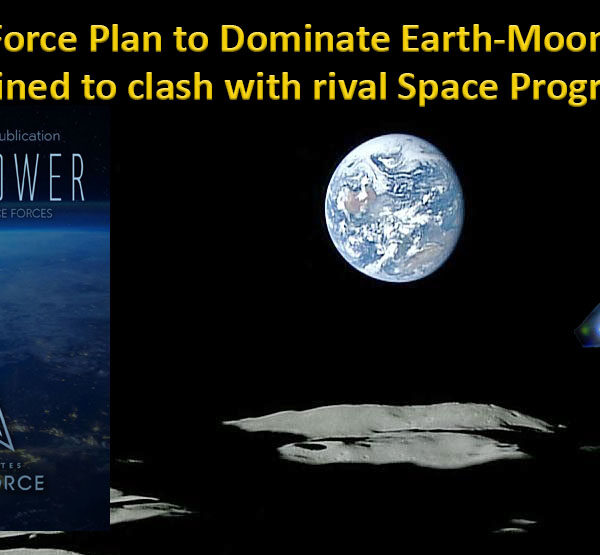 On August 10, the newly created U.S. Space Force released its "Spacepower Doctrine," defining its core identity and missions in space. Space Force will consider outer space to be a warfighting domain wherein military force will be projected into the Earth-Moon orbital environments to protect U.S. national interests and security.
In the short term, this means Space Force will compete with the rival aerospace forces established by China and Russia for space superiority. In the long term, Space Force is destined to clash with secret space programs run by a shadowy consortium of transnational corporations, and an even more elusive "Dark Fleet".
The latter is claimed by multiple insiders to belong to a German breakaway colony that transferred from Antarctica to Mars, taking with it, millions of people recruited by false inducements or forced into a life of slave labor.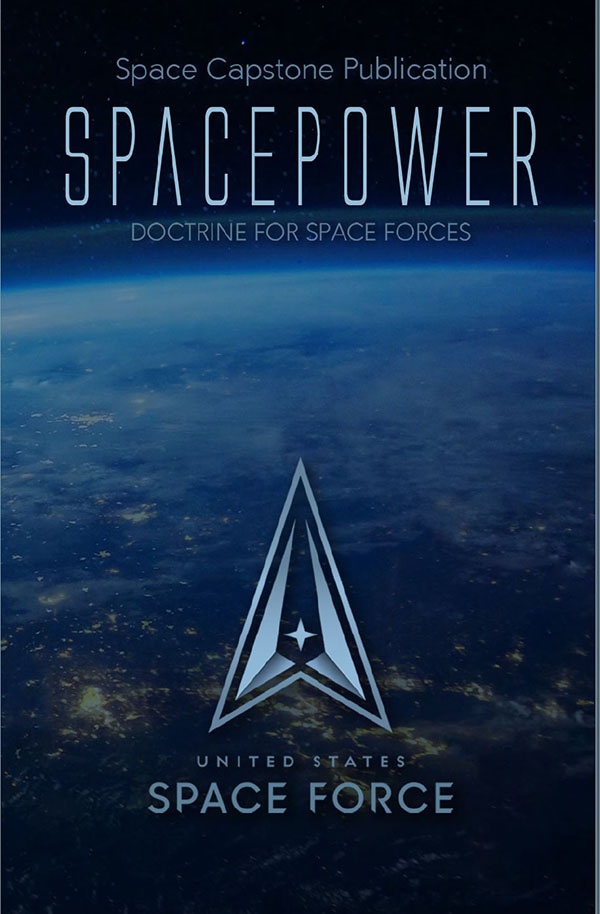 The 40-page document titled "Space Capstone Publication: Spacepower Doctrine for Space Forces" sets the tone for what follows with a 1962 statement by former President John F. Kennedy:
The eyes of the world now look into space, to the moon and to the planets beyond, and we have vowed that we shall not see it governed by a hostile flag of conquest, but by a banner of freedom and peace. [p. xiv]
The primary purpose of the document is described as follows:
The Space Capstone Publication is the inaugural doctrine manual for the United States Space Force, providing a basis for training and education, and informs decision-making, mission analysis, objectives, and the development of military space strategy in support of national security, national defense, and national military strategies. [p. xiv]
The document describes how space has dramatically changed from a domain involving peaceful cooperation and scientific exploration by the international community:
Space was once a sanctuary from attack, but the emergence, advanced development, and proliferation of a wide range of demonstrated counterspace weapons by potential adversaries has reversed this paradigm. Today, space, like all other domains, is realized to be contested due to the increasing threat to orbiting assets by adversary weapons systems. There is no forward edge of the battle area behind which military spacecraft can reconstitute and recover. Spacecraft remain in orbit through peace and war where they are potentially at risk from adversary counterspace capabilities and the hostile space environment. [p. 7]
The document goes on to explain how Space Force plans to integrate other nations sharing common interests similar to how the NATO Alliance was formed around the U.S. as the driving force to prevent aggression from the Warsaw Pact:
Military space forces are the warfighters who protect, defend, and project spacepower. They provide support, security, stability, and strategic effects by employing spacepower in, from, and to the space domain. This necessitates close collaboration and  cooperation with the U.S. Government, Allies, and partners and in accordance with domestic and international law. [p. xiii]
Space Force, however, plans to be far more than merely a multinational military operation:
Spacepower requires explorers, diplomats, entrepreneurs, scientists, developers, and warfighters. Military space forces — protectors of America's space interests — are first and foremost the warfighters who protect, defend, and project U.S. spacepower. These professionals must simultaneously commit themselves to two demanding professions: warfighting and the mastery of space. [p. xiv]
Space Force's overall mission is stated to be vital to long term U.S. national interest:
Access to space is essential to U.S. prosperity and security — it is a national imperative. The many benefits our Nation derives from space include mass communications, financial and economic information networks, public safety, weather monitoring, and military technology. Like any source of national power, the United States must cultivate, develop, and protect these benefits in order to secure continued prosperity. [p. 12]
Space is considered to be the future of economic growth and entrepreneurial activity, which is high among Space Force's core goals:
Today, the entirety of economic and military space activities is confined to the geocentric regime; however, commercial investments and new technologies have the potential to expand the reach of vital National space interests to the cislunar regime and beyond in the near future. As technology marches forward, U.S. military spacepower must harmonize with the other instruments of power to protect, defend, and maintain the Nation's strategic interests in space. [p. 14]
As far as future military conflict in space is concerned and the role of international law, this is what Space Force's capstone document has to say:
Military spacepower is inextricably linked to war. Military space forces must operate in this new warfighting domain to contribute to winning our Nation's wars. Thus, war's enduring nature and modern character shape and define military spacepower… [p. 16]
In keeping with international law, the United States acknowledges that the use of space is for peaceful purposes, while preparing for the reality that space must be defended from those who will seek to undermine our goals in space. [p. 17]
The capstone document provides an expansive view of potential enemies in space, and what Space Force needs to be prepared to do to protect U.S. interests:
Space warfare targets the mind of an adversary and seeks to neutralize their capability and will to resist. Military space forces compete against thinking actors who threaten our Nation's prosperity, security, or political aims. Thus, military space forces must prepare to outwit, outmaneuver, and dominate thinking, competent, and lethal aggressors who are attempting to thwart U.S. actions…
Military spacepower cannot unilaterally win wars, but like landpower, seapower, airpower, or cyberpower, its success, absence, or failure could prove catastrophically decisive in war. Because military spacepower has the potential to be the difference between victory and defeat, it must be viewed with equal importance as military power in any other domain. This observation is the strategic imperative for creating the United States Space Force as an independent military Service capable of maximizing military spacepower as a distinct and vital formulation of military power. [p. 21]
Evaluating the full significance of the capstone document requires appreciating both the near and long term challenges that Space Force has to face. In the short term, Space Force has to deal with the aerospace forces of both China and Russia, which have been modernizing rapidly with the growth in their respective economies.
China's economy, measured in Purchasing Power Parity, has already overtaken the U.S., and it is steadily increasing its military expenditures, especially in space which it considers to be the strategic high ground and the U.S. military's Achilles Heel.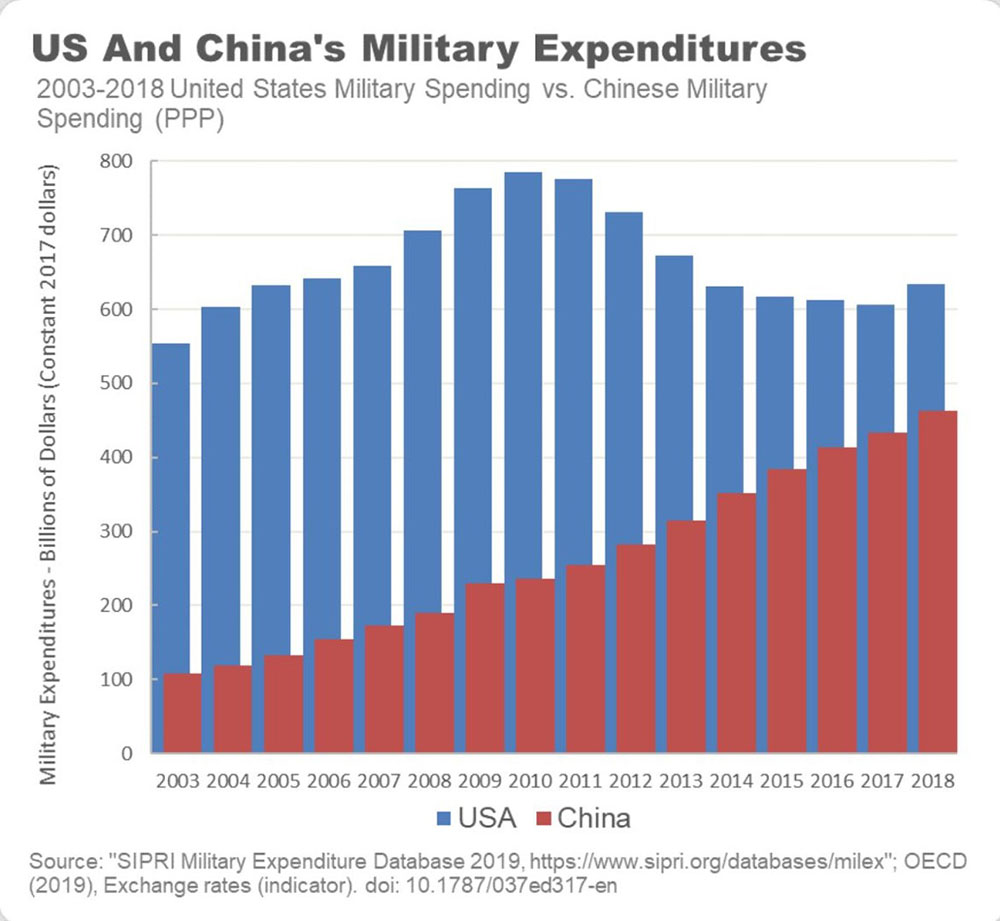 The possibility of China launching a "Space Pearl Harbor" is something that weighs heavily on the minds of U.S. military strategists, as I discuss at length in Rise of the Red Dragon (2020). Space Force's immediate goal will be to protect the U.S. satellite grid from a surprise Chinese attack, which would otherwise incapacitate the U.S. military all over the planet.
However, it is the long-term challenges to Space Force that are the most intriguing, and require considering a much wider scope of covert activities that have been occurring in space that date back to the World War II era.
It is crucial to keep in mind that Space Force will be covertly absorbing a Secret Space Program (SSP) established by the U.S. Air Force. The USAF SSP, which I described at length in the U.S. Air Force Secret Space Program and Shifting Extraterrestrial Alliances (2019), has covertly deployed squadrons of spacecraft using advanced antigravity propulsion, new energy technologies, and electromagnetic weapons systems.
These craft were reverse engineered from captured German and extraterrestrial spacecraft acquired after the end of World War II. Major US aerospace corporations collaborated with a transnational corporate consortium to secretly build these advanced craft for the USAF. The most advanced craft, however, were built for other customers, including a corporate-run SSP called the Interplanetary Corporate Conglomerate.
For much of its history, the USAF SSP operated covertly, performed ad hoc missions, had dubious legal standing, was funded by a CIA controlled black budget, and worked closely with the Deep State, a transnational corporate space program, and breakaway German colony in Antarctica.
All that changed in 2017, when the USAF learned about a far more powerful and better equipped US Navy SSP deploying battle groups led by kilometer long space carriers. Leaders of the USAF SSP realized that they had been deceived by the Deep State and their corporate/German allies who had not provided the most advanced technologies to them, as promised. See my 2019 book for more details on why the USAF SSP shifted its allegiance.
The emergence of Space Force will eventually end the chaotic and ad hoc operations of the USAF SSP, and transfer all of the latter's space assets into the control of a highly disciplined, transparent and lawfully established military space service working for U.S. national interests.
The ramifications of the Space Capstone Publication are therefore vitally important when considered in the context of how the assets of the USAF SSP were historically used to aid rogue operations contrived and controlled by the Deep State.
The long-term challenges faced by Space Force are fivefold. First, it will have to deal with nation-state peers such as China and Russia, which have the capability of launching a Space Pearl Harbor.
Second, Space Force will need to manage the more technologically advanced space programs of rogue non-state entities, the Interplanetary Corporate Conglomerate and the Dark Fleet, which possess fleets of more advanced and powerful spacecraft.  
Third, Space Force is destined to eventually merge with the US Navy SSP, whereby it becomes fully capable of handling threats posed by national rivals, rogue space entities, and aggressive extraterrestrial civilizations.
Fourth, Space Force will eventually have to confront an illicit galactic slave trade where millions of humans are taken off-planet each year and traded into a life of slavery. Will history repeat itself whereby Space Force emerges as a modern day Royal Navy whose 19th century West Africa Squadron intercepted slave ships on the high seas, but now ends the slave trade in Deep Space?
Finally, how much and when will Space Force leaders disclose to the American and World publics the truth about the dire situation confronting humanity with multiple secret space programs and extraterrestrial civilizations interacting with one another, and humanity?  Will Space Force be a conduit for full disclosure or limited hangouts that deceive humanity for years to come?
© Michael E. Salla, Ph.D. Copyright Notice
[Note: for audio version of this article, click here]
Further Reading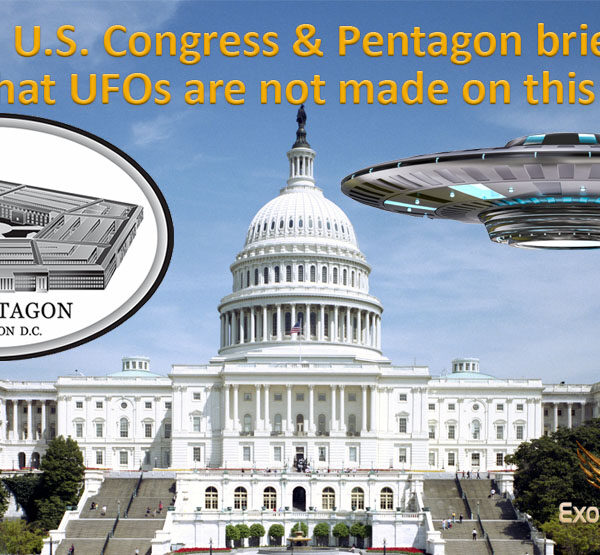 The New York Times has just released a bombshell article on classified UFO briefings received by members of U.S. Congress and Pentagon officials that the craft involved are "off-world vehicles not made on this earth". The New York Times (NYT) story cites Dr. Eric Davis, a physicist currently working with the Aerospace Corporation, who gave briefings that classified corporate studies were being conducted on the "off-world vehicles" recovered and held in corporate facilities.
The authors of the NYT story, Ralph Blumenthal and Leslie Kean wrote the following about Dr. Davis's groundbreaking briefings:
Mr. Davis, who now works for Aerospace Corporation, a defense contractor, said he gave a classified briefing to a Defense Department agency as recently as March about retrievals from "off-world vehicles not made on this earth."
Mr. Davis said he also gave classified briefings on retrievals of unexplained objects to staff members of the Senate Armed Services Committee on Oct. 21, 2019, and to staff members of the Senate Intelligence Committee two days later.
Given Davis's revelations it's therefore not surprising that the Senate Select Committee on Intelligence asked the Intelligence Community to write a comprehensive report on Unidentified Aerial Phenomena (UAPs aka UFOs) in six month. This request was included in the proposed Intelligence Authorization Act for Fiscal Year 2021:
The Committee supports the efforts of the Unidentified Aerial Phenomenon Task Force at the Office of Naval Intelligence to standardize collection and reporting on unidentified aerial phenomenon, any links they have to adversarial foreign governments, and the threat they pose to U.S. military assets and installations.
Blumenthal and Kean discuss former Senate Majority Leader Harry Reid and Senator Marco Rubio's recent comments about the briefings they received, which involved Davis and other officials.
Of particular note was Rubio's recent comments in an interview that the UFO craft have been recorded flying over U.S. military bases, which is a far more significant revelation than the unknown craft flying over the ocean in Navy testing areas as evidenced in leaked videos recently acknowledged by the Navy as genuine.
Dr. Davis's testimony is important since, in 2019, a 15-page document was leaked of his conversation with a former head of the Defense Intelligence Agency (DIA) in 2002. In the conversation, Vice Admiral Thomas Wilson revealed to Davis details about an incident in 1997 when he was denied access to a classified UFO program run by a major aerospace corporate contractor despite being, at the time, the Deputy Director of the Defense Intelligence Agency and Vice Director for Intelligence (VJ2) for the Joint Chiefs of Staff.
Wilson appealed unsuccessfully to the Special Access Programs Oversight Committee (SAPOC) that had authority over the corporate-run program. Surprisingly, the Committee ruled in favor of the corporation that Wilson did not have a demonstrable "need to know", and therefore he was denied access.
The corporate contractor's power stemmed from a 1994 agreement reached with SAPOC that gave the corporation the authority to restrict access to UFO related programs from Pentagon officials regardless of their rank and position, as Wilson complained about in the leaked 15-page document:
Special criteria were established in agreement. A special circumstance that must meet rigorous access criteria set by contractor committee. No USG personnel are to gain access unless they met the criteria – to be administered by contractor committee (program director, attorney, security director) irregardless of the tickets and position USG personnel possess. Literally their way or the highway. [Transcript/Summary p. 11]
Nevertheless, Wilson subsequently learned that the corporate contractor had been unsuccessfully attempting to reverse engineer a retrieved extraterrestrial vehicle. He wanted to know if Davis, who at the time worked with EarthTech, an Austin, Texas-based organization involved in advanced studies of aerospace technologies, knew anything more about the corporate UFO program.
The fact that the New York Times has run the story involving Davis and his knowledge of the corporate-run reverse engineering company is highly significant. As the official "paper of record", the NYT is now opening the door to mainstream media sites picking up the threads of Davis's astounding revelations and the leaked transcript of his 2002 conversation with Vice Admiral Wilson.
The likely narrative that will be emerging from the NYT story is that classified corporate-run programs on recovered extraterrestrial craft are very real, and not the imagination of UFO conspiracy theorists. This development will astound many working professionals that have ignored decades of testimonial evidence that such programs were being secretly conducted at multiple military and corporate facilities.
What remains to be answered is how did the corporations get their hands on recovered UFO craft, and were able to keep key Pentagon officials such as Admiral Wilson out of the loop? Why did the Pentagon officials running the Special Access Program Oversight Committee deny Wilson access despite his very senior status at the DIA and Joint Chiefs of Staff?
Another important question to ask is whether the information that corporations have made very slow progress in reverse engineering of retrieved extraterrestrial craft, as Wilson revealed to Davis in their 2002 conversation, is to be believed. According to multiple insider accounts discussed in my Secret Space Programs Book series, reverse engineering of captured flying saucer craft began in the 1940s, the first prototype craft were flight tested in the 1960s, and were subsequently deployed in the 1970s and 1980s.
While there may be ongoing reverse engineering programs in corporations that are making slow progress, as Admiral Wilson was told in 2002, there is much testimonial evidence that major aerospace corporate contractors have made significant progress decades earlier.
Why therefore release into the public arena information that select U.S. corporations have been conducting slow and largely unsuccessful studies of captured extraterrestrial craft? A possible answer is that those in charge of the reverse engineering programs in the U.S. don't want the public to know that such technologies were successfully reverse-engineered and deployed decades ago by the U.S. Air Force and Navy in collaboration with select U.S. corporate contractors.
Furthermore, the NYT story contributes to the narrative that other nations, e.g., China and Russia, have gotten their hands on similar off-world technologies and they have successfully reverse-engineered these, and may be behind the UFO/UAP sightings by Navy pilots as Senators Rubio and Reid have been speculating.
Such a conclusion feeds the perception that the U.S. is behind China and Russia on developing such breakthrough technologies, and that extraterrestrials constitute the ultimate threat if they suddenly choose to intervene in human affairs.
Many will rightfully interpret the New York Times story as promoting a narrative that leads to a possible alien intervention that may be either genuine or contrived by those possessing such reverse-engineered technologies that were successfully studied in corporate facilities decades ago. Nevertheless, many inquiring minds will be inspired to dive deep into the UFO and "exopolitics" literature to learn the truth about classified alien reverse-engineering programs that insiders and researchers have been disclosing for years, often to widespread ridicule and retribution from their peers.
© Michael E. Salla, Ph.D. Copyright Notice
[Note: an Audio version of this article is available here]
Further Reading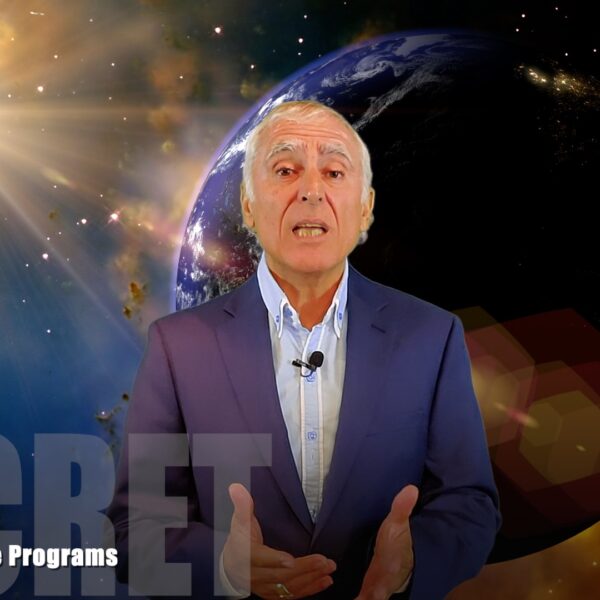 China is in the midst of a stealth war against the USA where it is using an asymmetric military strategy called "Assassin's Mace" to dominate the strategic high ground of space, and replace the US as the world's hegemon before 2049 – the 100th year anniversary of the Communist Revolution. By 2030, China's economy will outgrow the US, and China plans to use its vast economic resources to project its presence deep into space in ways that may lead to escalating military confrontations with the newly created US Space Force….
To purchase a recording of this Webinar click here.
More information at: http://exopolitics.org/china-ssp-webinars-july-2020/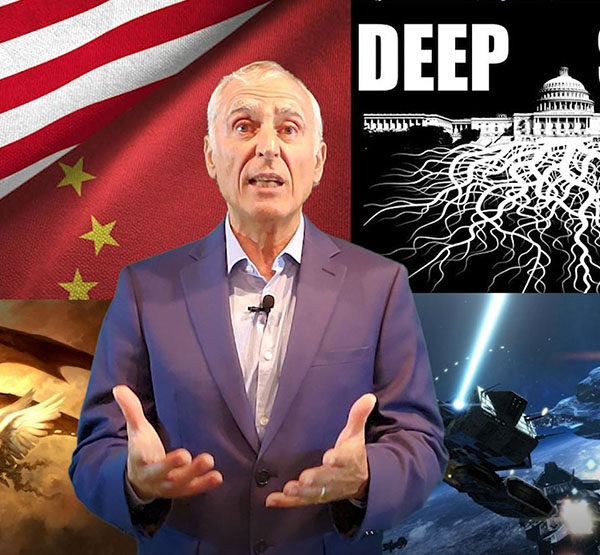 What are the origins of China's Secret Space Program, and how did the Deep State help China at critical points in its economic and scientific development? Why did the Deep State sponsor China's rise from a Technological Backwater into a Military Superpower in Space? How does Biblical Prophecy fit into the Deep State's plans for China? Answering these questions is critical to understanding unfolding events taking place today before our eyes! 
To purchase a recording of this Webinar click here.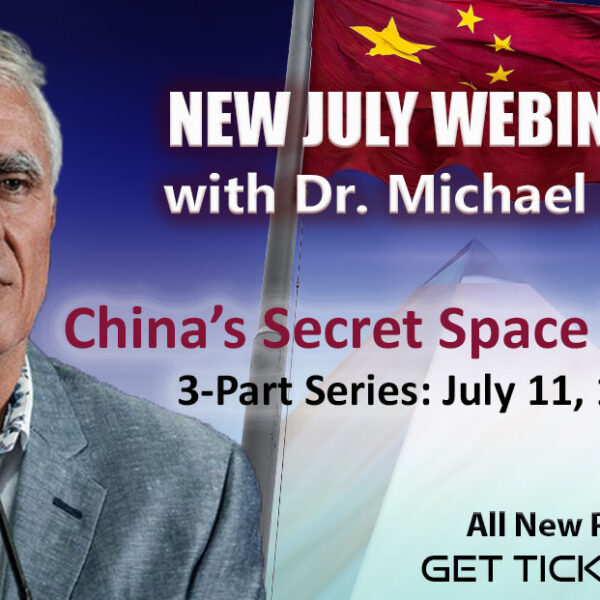 Today, space is the playing field were global dominance is going to be determined. It is the ultimate high ground from which world affairs will be steered. Most importantly, China is poised to challenge US supremacy in space with its unconventional and deadly Assassins Mace strategy. It is now critical for us to understand what's coming to be prepared …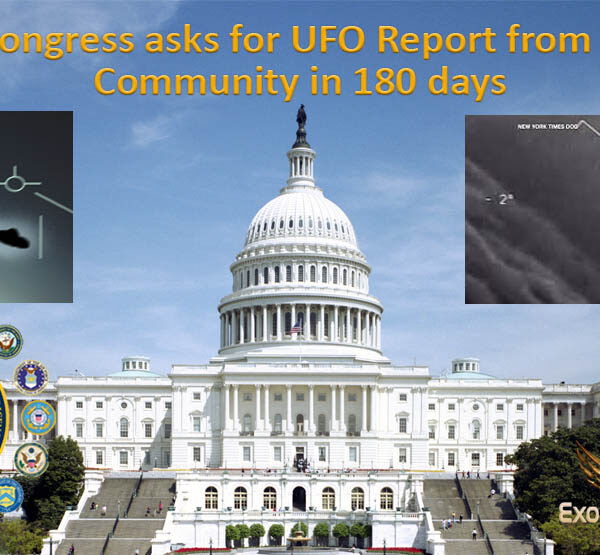 The US Senate Select Committee for Intelligence has just approved a bill that includes a request for the Intelligence Community to write up a comprehensive report on Unidentified Aerial Phenomena (UAPs, aka UFOs) in 180 days. Most importantly, the report will be unclassified, meaning that its findings are intended to be released to the general public.
The eventual Intelligence Community report is intended to be a comprehensive interagency breakdown and analysis of what's behind the UAP phenomena. Will the report turn out to be  the official disclosure announcement that UFO activists have been working towards for decades, or will it become a limited hangout to hide the  truth?
In the comments portion of the proposed Intelligence Authorization Act for Fiscal Year 2021 there is a section titled "Advanced Aerial Threats", which begins by asserting the Committee's concerns that no unified reporting mechanism exists for UAPs/UFOs given the potential threat they pose to US national security:
The Committee supports the efforts of the Unidentified Aerial Phenomenon Task Force at the Office of Naval Intelligence to standardize collection and reporting on unidentified aerial phenomenon, any links they have to adversarial foreign governments, and the threat they pose to U.S. military assets and installations. However, the Committee remains concerned that there is no unified, comprehensive process within the Federal Government for collecting and analyzing intelligence on unidentified aerial phenomena, despite the potential threat.
It's important to emphasize that the Committee is particularly concerned about UAPs and "any links they have to adversarial foreign governments."
The bill goes on to propose that the Director of National Intelligence (DNI) oversees the development of a comprehensive report:
Therefore, the Committee directs the DNI, in consultation with the Secretary of Defense and the heads of such other agencies as the Director and Secretary jointly consider relevant, to submit a report within 180 days of the date of enactment of the Act, to the congressional intelligence and armed services committees on unidentified aerial phenomena (also known as ''anomalous aerial vehicles''), including observed airborne objects that have not been identified.
The Senate Committee next outlines the different intelligence sources that are required to submit information for the report. The exhaustive listing shows that the report is intended to be very comprehensive:
The Committee further directs the report to include:
A detailed analysis of unidentified aerial phenomena data and intelligence reporting collected or held by the Office of Naval Intelligence, including data and intelligence reporting held by the Unidentified Aerial Phenomena Task Force;
A detailed analysis of unidentified phenomena data collected by:
geospatial intelligence;
signals intelligence;
human intelligence; and
measurement and signals intelligence;
A detailed analysis of data of the FBI, which was derived from investigations of intrusions of unidentified aerial phenomena data over restricted United States airspace;
A detailed description of an interagency process for ensuring timely data collection and centralized analysis of all unidentified aerial phenomena reporting for the Federal Government, regardless of which service or agency acquired the information;
Identification of an official accountable for the process described in paragraph 4;
Identification of potential aerospace or other threats posed by the unidentified aerial phenomena to national security, and an assessment of whether this unidentified aerial phenomena activity may be attributed to one or more foreign adversaries;
Identification of any incidents or patterns that indicate a potential adversary may have achieved breakthrough aerospace capabilities that could put United States strategic or conventional forces at risk; and
Recommendations regarding increased collection of data, enhanced research and development, and additional funding and other resources. The report shall be submitted in unclassified form, but may include a classified annex.
What's noteworthy in the Committee's request is that there will be an official who will be given responsibility for overseeing the interagency process for releasing all UAP/UFO data. In addition to the intelligence community, this also includes the FBI and its ongoing investigations of UAPs.
Most significant is the Committee's request that any breakthrough aerospace technologies possessed by foreign adversaries are included in the report. More specifically, the Committee is concerned that foreign adversaries, China, Russia, etc., have achieved technological breakthroughs in the aerospace arena that threatens US national security.
China, in particular, has made incredible strides over the last few decades in developing a secret space program based on advanced aerospace technology secrets and designs obtained from the US Air Force. In fact, the lead Chinese scientist who set up their secret space program, Dr. Tsien Hsue-shen (aka Qian Xuesen) began his career by working for the US (Army) Air Force in the 1940s, and co-wrote the blueprints for future advanced aerospace technologies based on retrieved Nazi and crashed UFO craft. To learn more about China's secret space program, see my upcoming webinar series beginning July 11, and book, Rise of the Red Dragon (April 2020).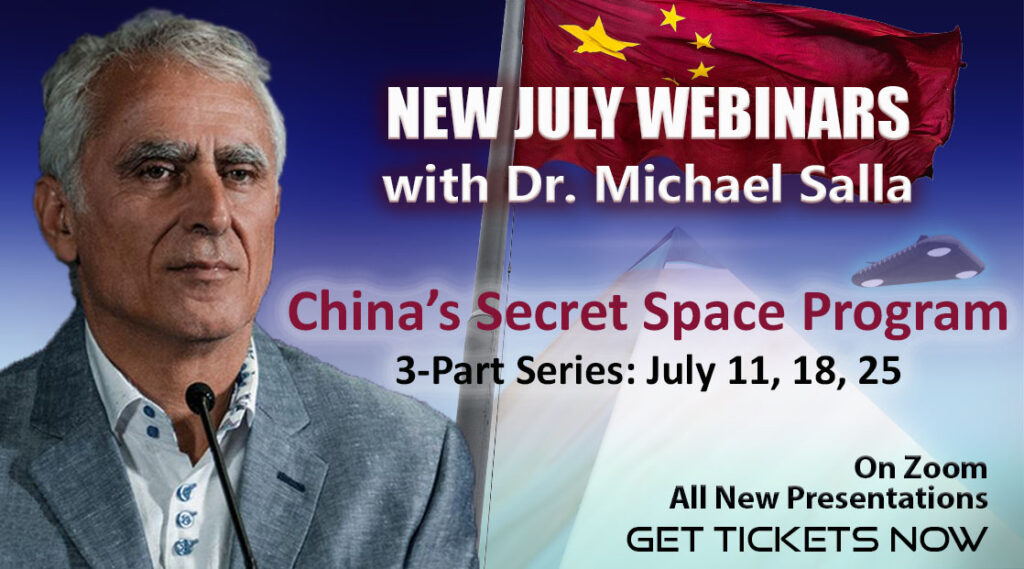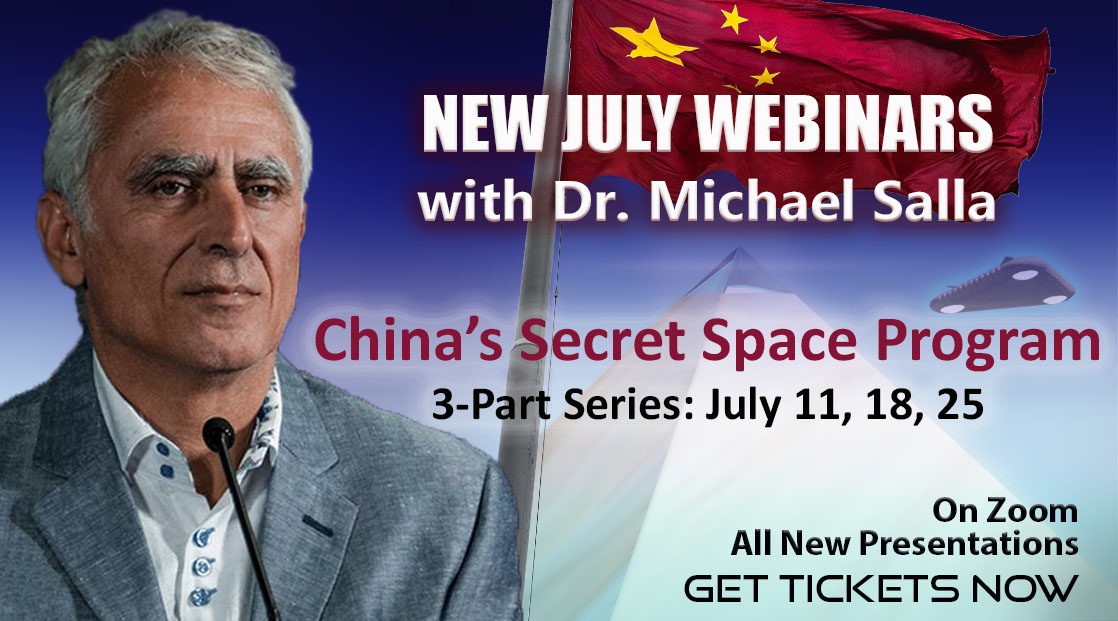 It's important to keep in mind that the Advanced Aerial Threats section included in the bill just passed by the Senate Intelligence Committee still has to pass the full Senate. It then needs to be similarly passed by the House of Representatives, and finally signed into law by President Donald Trump. It's not clear exactly when the bill will be enacted into law, but once it is, the 180 day countdown for the report's release will begin.
Given the bill was passed on a bipartisan basis (14 votes in favor, 1 against), it can be concluded with great confidence that in early 2021, the US public will get to read a comprehensive UAP report by the Intelligence Community.
Why did the Senate Intelligence Committee include this unprecedented request to the Intelligence Community in the 2021 Intelligence Authorization Act?
According to Tom DeLonge, the request is a result of strong lobbying by his To The Stars Academy (TTSA).
Very proud that @TTSAcademy DID THIS— We galvanized Senators, organized briefings, submitted Natl' Security language and wrote Op-Eds in major news outlets to achieve page 11 in the below link. THIS is how we get to DISLCOSURE https://t.co/rHTReJDdiQ

— Tom DeLonge (@tomdelonge) June 24, 2020
The involvement of DeLonge and his TTSA in lobbying for passages dealing with "Advanced Aerial Threats" does raise suspicions over the real agenda behind the request for a comprehensive report. Is the request for a UAP report something to be embraced as the long-awaited official disclosure anticipated by DeLonge and the UFO community, or is it a limited hangout by the Deep State designed to raise money for corporate run classified programs?
In the past, I've raised my concerns that DeLonge and his TTSA are involved in a limited hangout and is heavily influenced, if not controlled, by compromised Deep State officials. Yet, there's no doubt that the impending passage of the Intelligence Authorization Act with passages on "Advanced Aerial Threats" is a major step forward that carries great significance for the UFO Disclosure Community.
The fact that it is happening after a new DNI Director, John Ratcliff, was officially confirmed by the US Senate on May 21 is a very encouraging sign. Ratcliff is a strong ally of President Trump, and has the authority to put a White Hat in charge of overseeing the interagency effort to release information to be included in a comprehensive report on UAPs/UFOs.
It's perhaps no coincidence that in a June 18 interview, Trump was asked about UFOs by his son, Don Jr. President Trump said that information about Roswell is very interesting and that he will consider declassifying it in the future. Could the Intelligence report to be issued by Ratcliff be a vehicle for disclosure of many secrets behind the Roswell crash and Area 51?
Rather than the requested Intelligence report being a Deep State orchestrated limited hangout, as contended by some of DeLonge's critics, it can very easily become a means for White Hats in the Trump administration to officially disclose major components of secret space programs developed by its major adversaries, China and Russia.
Once the Intelligence Community releases its report on the foreign aerospace technologies possessed by China, Russia and other "foreign" sources linked to UAP sightings, the stage will be set for the future disclosures concerning the USAF's own secret space program, which is currently in the process of being transferred to the newly created Space Force.
Ratcliff and White Hats in the Trump administration can use the requested report to disclose to the America public important truths about suppressed advanced aerospace technologies and secret space programs.
The disclosures on UAPs and UFOs that lie ahead promise to be momentous even if the original intent in the Congressional bill was to limit the report to what China and Russia have secretly developed. Predictably such revelations will lead to calls for Congress to massively increase funds for Space Force so it can quickly develop and deploy similar technologies for national security purposes.
Clearly, the November 3 Presidential elections will impact on what comes out in Ratcliff's UAP report anticipated in early 2021. Assuming President Trump wins re-election, then he and Ratcliff will be in a powerful position to disclose far more than merely what the Intelligence Community suspects China and Russia have secretly developed in the aerospace arena.
Ratcliff's UAP report may well be part of an elaborate plan for a decades-old USAF secret space program being covertly transferred to Space Force, and then disclosed by Trump to the American public as newly acquired technologies developed in response to the threat posed by China and Russia's secret space programs. While such a process would be disingenuous, it would nevertheless be a stepping stone to the public release of many revolutionary aerospace technologies that could transform life on our planet.
© Michael E. Salla, Ph.D. Copyright Notice
[Note: an Audio version of this article is available here]
Further Reading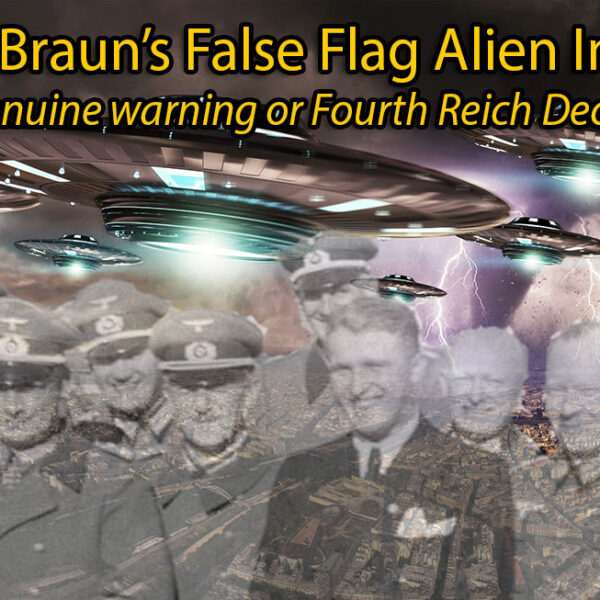 From 1974 – 1977, Werner Von Braun began privately telling Carol Rosin, a colleague at a major aerospace company Fairchild Industries, about a sequence of contrived global false flag "cards" such as asteroid impacts and extraterrestrial invasion, which would lead to the militarization of space and usher in a New World Order. Now more than 40 years later, the sequence predicted by Von Braun appears to be on the verge of playing out as mainstream media increasingly speculate about asteroid strikes and an alien invasion in what many believe are cases of predictive programming.
Given Von Braun's background as a former Nazi and the existence of a breakaway Nazi colony in South America and Antarctica in the post-World War II era seeking to establish a Fourth Reich, a key question is whether Von Braun's warning was genuine or whether it was part of a deception by the Fourth Reich.
In answering such a question, it's important to understand why Von Braun went to work with Fairchild Industries, where he learned about the planned sequence of false flag cards being discussed at boardroom meetings as described by Rosin in Part 1 of this series.
After NASA made the decision to end the Apollo Program, Von Braun decided to retire on May 26, 1972, six months before the launch of Apollo 17, the last moon landing mission. He had been the Director of NASA's Marshall Space Flight Center (1960-1972), where he led the largely German engineering teams designing the Saturn V rockets that would power the Apollo Program.
Von Braun joined Fairchild Industries as a Vice President for Engineering and Development. Fairchild Industries was one of the aerospace contractors that was secretly involved in building a ring-shaped "Von Braun" space station based on Von Braun's early designs for the USAF and the National Reconnaissance Office, as explained in chapter 13 of my book, the US Air Force Secret Space Program.
What is not widely known about the Apollo Program is that it was used as a very effective cover for massive amounts of funding, resources, and personnel covertly being transferred to Antarctica to help the expansion of a breakaway German Space Program hidden in underground bases.
In chapter 12 of the US Air Force Secret Space Program (2019), I detail how the Apollo program was used as part of an agreement reached between the Eisenhower Administration and the Antarctica based German colony, also known as the Fourth Reich.
Von Braun's job at NASA was to mislead the US public about the potential of rocket propelled space travel, while ensuring the German space program in Antarctica had all the resources and personnel it needed for its electromagnetically propelled spacecraft to start space colonization on the Moon, Mars, and elsewhere in our solar system. Put simply, while the Apollo program got Americans to the Moon, it got Germans to Mars and beyond.
In return for its covert help through the Apollo program, the US military gained scientific assistance in its efforts to study and reverse engineer captured extraterrestrial technologies from former Nazi scientists who were brought into the US under Operation Paperclip (1945-1959). Many were secretly working for the Fourth Reich either voluntarily or were coerced to do so.
Werner Von Braun was among a select group of Operation Paperclip scientists who were asked to evaluate the remains of the 1947 Roswell Crash for the US (Army) Air Force as revealed in a leaked Majestic 12 document called the Counter Intelligence Corps/Interplanetary Phenomenon Unit Report:
Select scientists from the General Advisory Committee of the Atomic Energy Commission, most notably DR. J. ROBERT OPPENHEIMER, was interviewed at LZ-2 (second Roswell UFO crash site) as well as other members. Among PAPERCLIP specialists identified at LZ-2 were DR. WERNER VON BRAUN (Fort Bliss); DR ERNST STEINHOFF (AMC [Air Materiel Command, Wright Field]) and DR. HUBERTUS STRUGHOLD (AEROMEDICAL LAB, RANDOLPH FIELD).
This leaked Majestic document has an authenticity rating "Medium-High Level of Authenticity" according to a scale developed by Dr. Robert Wood and his son Ryan using a number of criteria developed for evaluating leaked government documents.
What helps corroborate the document's account of the role played by Von Braun in evaluating the Roswell debris as an expert scientific consultant is a former NASA Spacecraft Operator, Clark McClelland, who asked Von Braun about the Roswell UFO crash.
Von Braun told McClelland about the incident on the condition that no details would be revealed until after his death.
Dr. Von Braun explained how he and unnamed associates had been taken to the crash site after the bulk of the military personnel had left the scene. They did a quick once over of the site, Van Braun stated. He related how the exterior of the space craft was not metal as we know it, but appeared to be made of something biological, like skin….
And yes, there were alien bodies which were being kept in a medical tent near the UFO. The beings were small, very frail, and reptilian in nature. Von Braun compared their skin to rattlesnakes that he and his group had encountered at White Sands.
 Von Braun was puzzled by the nature of the debris. The material was very thin, aluminum colored, similar to chewing gum wrapping, according to the scientist.
The leaked Majestic 12 document and McClelland's recollection does show that Von Braun and other Paperclip Scientists were actively advising the US [Army] Air Force on recovered alien technologies from Roswell and other locations from July 1947.
Dr. Arthur Rudolph was also a German rocket scientist that was brought into the US in Operation Paperclip. He worked at both NASA's Kennedy Space Center and Marshall Space Flight Center as the chief architect for the Saturn 5 engines that powered the Apollo program and as Von Braun's Special Assistant up to January 1969. Rudolph has been identified as working with the US Air Force in studying and reverse engineering a captured extraterrestrial spacecraft, especially after his "official" retirement in 1969.
David Adair, who designed an "Electromagnetic Fusion Containment Engine" for the US Air Force in 1971, describes how Rudolph was leading a highly classified scientific effort to reverse engineer a captured extraterrestrial spacecraft stored at Area 51. Adair described how Rudolph had authority over senior Air Force officials and was being actively helped by the CIA.
So, if German Paperclip scientists were helping the USAF study and reverse engineer alien technologies, were they genuinely assisting, or were they double agents sabotaging US efforts?
William "Bill" Tompkins, a draftsman/engineer with Douglas Aircraft, TRW, and other leading aerospace companies during the 1950s-70s, describes how the German Paperclip scientists occupying senior corporate positions would sabotage industry efforts to build electromagnetic and torsion field propulsion systems.
And even at Douglas and over at TRW, and all these other companies, General Dynamics included, some top-level people were throwing negatives on everything that we were attempting to do. So, you must ask the question: "Why do we have so much of this sabotage happening at such a high level in technology in the country, and in the whole military?" And, who is telling them to try to stop everything, try to cut it down when we're trying to help ourselves? (Selected by Extraterrestrials, Vol 2, p. 92)
The power of a mysterious Fourth Reich over Operation Paperclip scientists, some of whom were forced to sabotage US R&D efforts is illustrated by McClelland who says he personally witnessed the former Nazi SS general Hans Kammler in the mid-1960s at the NASA office of Dr. Kurt Debus, head of the Kennedy Space Center. Kammler had escaped from Nazi Germany before its collapse to South America and Antarctica to help the Fourth Reich expand its underground bases there.
McClelland described the powerful influence exerted over the German scientists working for NASA who feared Kammler and the shadowy Fourth Reich:
I opened his office door and saw two people I had not seen at KSC [Kennedy Space Center]. He introduced me to both men. He only gave me their first names during the introduction…. One was introduced to me as Sigfried and the other was introduced as Hans…. Both had the look of Nazi High Command Officers…. Today I am certain of who these two men were. I eventually learned from other German scientists that one of them me was Siegfried Knemeyer. He was a very high ranking Nazi Oberst Officer in the Luftwaffe… The other man was difficult to recognize until I saw an older photo of him after he had later entered the USA. He was in my opinion Heinz (Hans) Kammler…. There were rumors after WWII that Kammler had made a deal with General George Patton to turn over German Top Secret technology for his support in getting Kammler into the USA. That may have actually happened. I personally believe it did happen. (The Stargate Chronicles, ch. 15).
What emerges from the testimonies of Adair, McClelland, Tompkins, and others is that the US military industrial complex had been successfully infiltrated by the Fourth Reich using Operation Paperclip scientists who were either forced or willingly working as double agents.
While the German scientists appeared to be providing technical assistance for US rocket and other advanced aerospace programs, many were sabotaging US industry efforts to replicate the advanced aerospace technologies the Nazis had reverse engineered from extraterrestrial spacecraft.
This naturally raises the question of whether Von Braun had truly broken free of all Nazi influences while heading the Marshall Space Flight Center and building the Saturn V rockets for the Apollo program, or whether he was a double agent.
Adair's recollection of a warning given to him by Von Braun about Rudolph does suggest that as the inaugural Director of the Marshall Center, Von Braun was being handled by Rudolph who was the project director for the Saturn V rocket, and later Von Braun's Special Assistant:
The thing is, von Braun warned me that if during my rocket work, I should encounter a man named Dr. Arthur Rudolph, I should be extremely careful because he was so dangerous.
It appears that Von Braun and other German Paperclip scientists were intimidated by Rudolph – an ardent Nazi – who was almost certainly recruited by Kammler as a key operative for the Fourth Reich. Rudolph's covert mission was to coerce Paperclip scientists to do the bidding of the Antarctic Germans or face severe consequences.
If Von Braun either voluntarily or was coerced to work as a double agent for the Fourth Reich, this raises the question of what his true agenda was when he met Carol Rosin at Fairchild Industries in 1974.
Was Von Braun truthful to Rosin in warning her of a Deep State plot to stage an alien false flag invasion to justify space weapons, or was he attempting to sabotage US military efforts to one day bridge the defense technology gap with the German secret space program?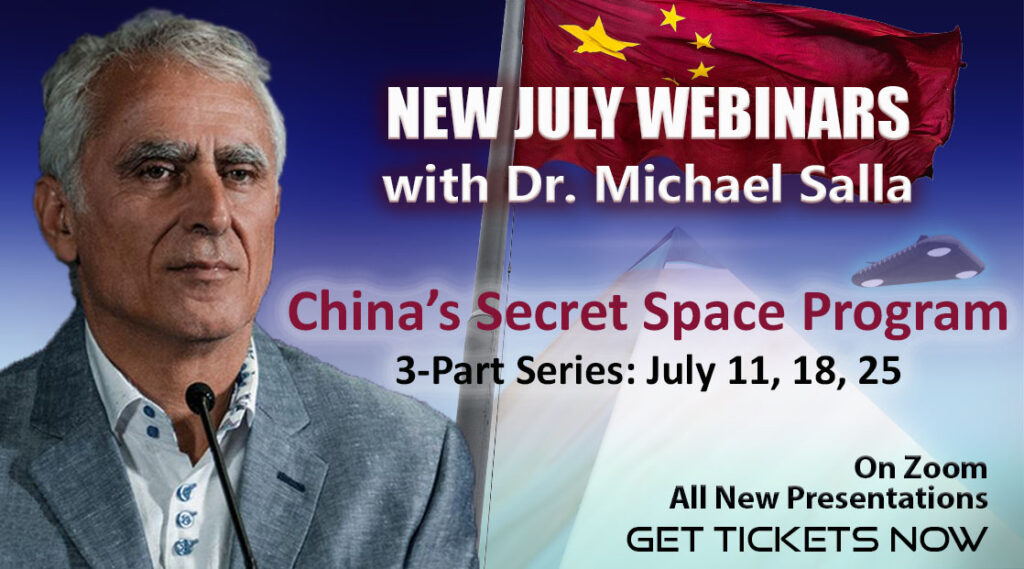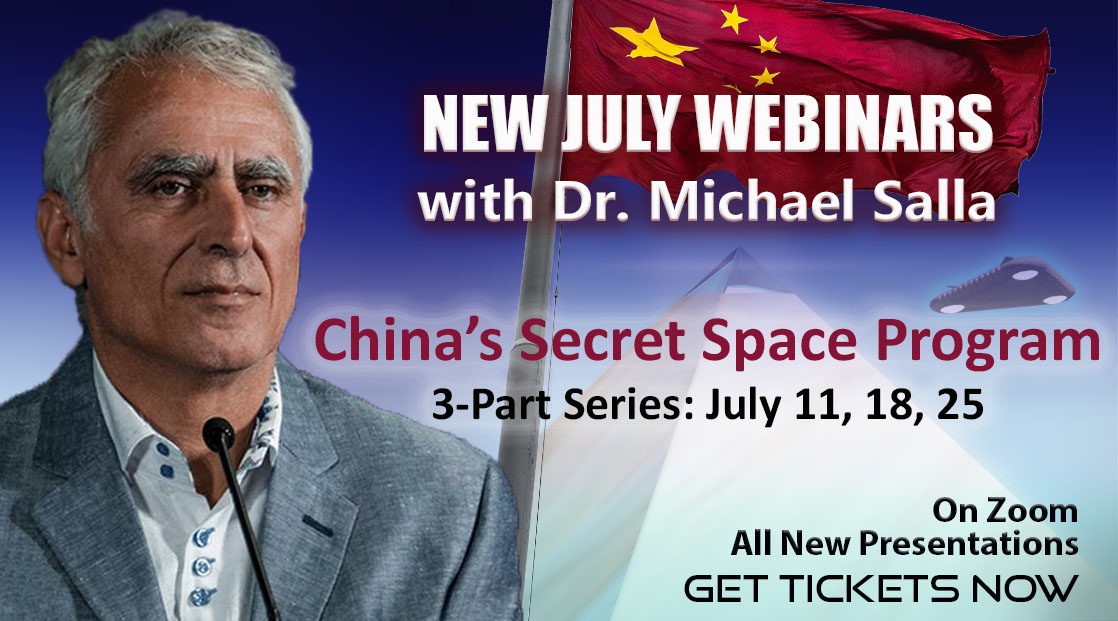 The Apollo Program took away valuable resources from scientific research and development of electromagnetic and torsion field propulsion systems, which the Germans had mastered for their Antarctica space fleet described by various insiders as the "Dark Fleet" or "Nacht Waffen" (Night Weapons)
Understanding Von Braun's true role in the US Apollo and German Antarctic space programs is vital context for analyzing his subsequent opposition to space weapons, as recalled by Rosin. Was Von Braun genuinely committed to eliminating weapons in space as he convinced Rosin during the final years of his life, or was he a double agent secretly working for the Fourth Reich Antarctic Germans?
Just as Von Braun and other former Nazi scientists convinced the US Congress and the scientific community that rocket propulsion was the key to future space travel, as a distraction from the true potential of electromagnetic and torsion field propulsion systems, was Von Braun sowing the seeds for handicapping a future US military space program that could one day threaten or rival the German's Dark Fleet/Nacht Waffen through advanced space weapons?
© Michael E. Salla, Ph.D. Copyright Notice
[Note: Audio version of the above article is available here]
Further Reading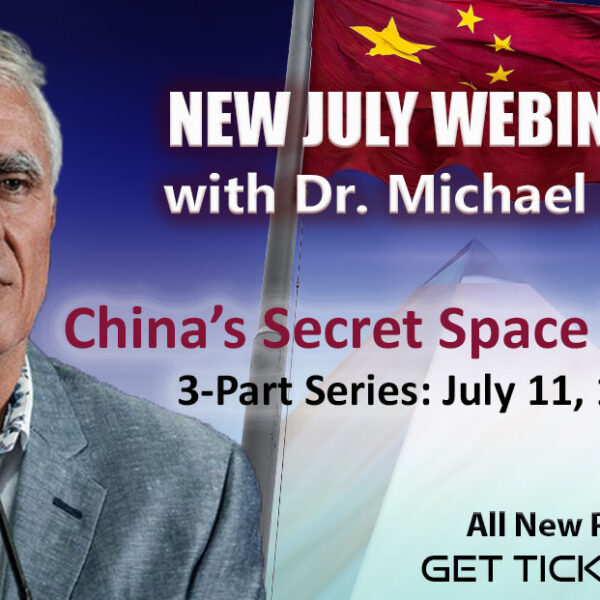 China's Secret Space Program
3-Part Series on July 11, 18, 25

Plus, "Get Your Answers" on July 26

– All on Zoom with Brand New Presentations!
– Enroll in one or all of the July presentations.

3-Part Series Overview
China is an increasingly explosive topic in the news today. Wrong doings and misdeed by the Chinese Communist Party (CCP) are coming to shocking light and evidence of China's calculated challenge to the American way of life is escalating. However, most people are not yet aware of the true magnitude of the threat China poses through its hidden technological advances and secret space program aimed at dominating space. People need these facts and answers now.
In this exciting 3-Part Webinar series, you will learn never before seen information about China's development of a secret space program, its connection to pyramids, extraterrestrials and ancient technological artifacts, along with the CCP's long term strategic goals for global dominance, the help it's receiving from the Deep State and the necessary steps individuals can take to help ensure the preservation of liberty and freedom.
The surveillance, control and censorship model of China can be avoided, but it will take citizens offering their educated and informed collective voices to decision makers. Facilitating humanity's expansion into outer space is fundamentally important for establishing global peace, and you will learn how you too can take positive action.
Watch Series Trailer
---
---
COMPLETED

– Part 1 – Origins of China's Secret Space Program: From Technological Backwater to Military Superpower in Space
July 11, 2020 (Saturday)
12 noon – 2:30 pm PST / 3 pm – 5:30 pm EST
While living in the United States, a brilliant Chinese scientist, Dr. Tsien Hsue-shen, is chosen to work on the US (Army) Air Force's most classified technologies for over a decade during the 1940s – 1950s. Suddenly, he is outlandishly targeted by the FBI, traded in a prisoner exchange by President Eisenhower and returns to China in a sequence of events orchestrated by the Majestic 12 Group/Deep State. These contrived events ultimately led to China's development of a military-run secret space program using exotic electromagnetic propulsion systems now challenging US military dominance on Earth and in outer space.
Topics covered include:
The role of Dr. Tsien Hsue-shen, a pioneering Chinese rocket scientist, in the US Army Air Force's Operation Lusty, which retrieved and studied Nazi Flying saucer prototypes in 1945.
The subsequent role Dr Tsien played in secret research and development studies of recovered extraterrestrial spacecraft conducted by the US Air Force, and later in developing blueprints for structuring and building the USAF secret space program.
The controversial circumstances that led to Dr. Tsien taking his advanced knowledge of Secret Space programs in Nazi Germany and the United States over to China where he quickly established its nuclear ballistic missile and conventional space programs.
How China's failed development policies delayed efforts by decades to start a Chinese secret space program using exotically propulsion systems.
Reasons behind President Ronald Reagan giving Chinese scientists access to Area 51 and US reverse engineering of programs involving captured flying saucers.
How China's SSP has been helped in critical stages of its historical development by the Deep State/MJ-12 through officials embedded within successive US Presidential administrations.
2 hours (Presentation with limited Q&A at the end)
To Purchase Webinar Recording click here
Watch Trailer for Part 1
---
COMPLETED – Part 2 – China's Pyramids, Ancient Civilizations and Extraterrestrial Contact
July 18, 2020 (Saturday)
12 noon – 2:30 pm PST / 3 pm – 5:30 pm EST
China has a rich ancient history with many legends of advanced flying technologies, mysterious underground civilizations and extraterrestrial contact. What is the truth behind these legends and are China's mysterious pyramids older than contemporary archeologists claim? Do China's pyramids possess hidden repositories of long forgotten technologies that are secretly being studied and reverse engineered by leading Chinese scientists with the help of extraterrestrial visitors? Why did Chinese military forces, with Soviet assistance, invade a large UFO base built by Agartha and did they take away flying saucer technologies? All these questions will be answered with persuasive evidence and facts about China's carefully guarded connections to ancient peoples, artifacts and the stars.
Topics covered include:
The true historical age of China's mysterious pyramids and their connection to ancient aviation technologies secretly being studied and reverse engineered by Chinese scientists.
The Dropa Stones and what they tell us about a Chinese Roswell that occurred 12,000 years ago.
The role of Tibet as a historical meeting place between humanity and extraterrestrial visitors.
The truth behind legends of Shamballa and Agartha in remote regions of Tibet and the Gobi Desert, and why Communist authorities seriously investigated these legends.
Reports of a joint Chinese and Soviet Attack on a secret UFO base in western Mongolia in 1970.
Accounts of Chinese scientists secretly working with extraterrestrial visitors.
2 hours (Presentation with limited Q&A at the end)
To Purchase Webinar Recording click here
Watch Trailer for Part 2
---
---
Part 3 – China's Secret Space Program Today – Global Threat or Opportunity?
July 25, 2020 (Saturday)
12 noon – 2:30 pm PST / 3 pm – 5:30 pm EST
China is in the midst of a stealth war against the USA where it is using an asymmetric military strategy called "Assassin's Mace" to dominate the strategic high ground of space, and replace the US as the world's hegemon before 2049 – the 100th year anniversary of the Communist Revolution. By 2030, China's economy will outgrow the US, and China plans to use its vast economic resources to project its presence deep into space in ways that may lead to escalating military confrontations with the newly created US Space Force.
Topics covered include:
The importance of China's "Period of the Warring States" and Sun Tzu's Art of War, in shaping strategic military thinking in China over global hegemony and outer space.
How the collapse of communism in the Soviet Union and Warsaw Pact countries impacted the development of the Chinese secret space program.
The different space weapons and electromagnetically propelled spacecraft secretly being developed and deployed by China.
The strategic choice of China's remote Gobi Desert region in the establishment of a Chinese secret space program and its equivalent to Area 51.
The real reasons behind the Trump Administration tough approach to China and withdrawal from multiple international treaties.
The threat posed by Communist China's plan to use Artificial Intelligence and the 5G Internet of Things to become the dominant superpower on Earth and in space.
Whether the US and China are destined to violently clash in an inevitable cataclysmic space war or whether they become strategic partners in guiding humanity's peaceful transition into a space faring galactic civilization.
2 hours (Presentation with Q&A at the end)
To Purchase Webinar Recording click here
Watch Trailer for Part 3
---
"Get Your Answers" Q&A Debrief
COMPLETED – July 26, 2020 (Sunday)): 12 noon – 2:00 pm PST / 3 pm – 5:00 pm EST

In this special Debrief session, attendees will be able to ask Dr. Salla questions on ANY topic. To make this event more personal, enrollments are limited to only 30 people.

This is an interactive format in which participant questions will steer all the topics covered by Dr. Salla, whose expertise in secret space programs, international politics, Q, insiders, extraterrestrial contact and more spans a career of over 30 years and 13 books, including the bestselling Secret Space Programs Series.
The field is wide open to you, so prepare your questions and get ready for a personalized Debrief where you can "Get Your Answers" with Dr. Salla in this engaging limited attendance Zoom session.
2 hours
Limited to 30 attendees – We recommend you book early!
Webinar recording available to attendees for 30 days after live event.
COMPLETED
---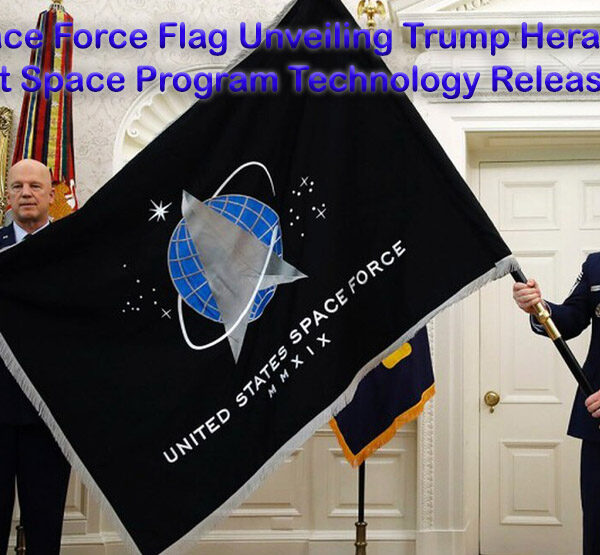 At the unveiling of the Space Force's new flag on May 15, President Donald Trump delivered remarks claiming that Space Force is the first attempt by the US to deploy weapons and military forces in space, and the US is merely reacting to what China and Russia have previously done with their own respective space forces. Trump referred to fantastic new weapons systems that are being developed for Space Force, which are far more powerful than anything possessed by China and Russia.
Trump's remarks are highly significant. They reveal a covert strategy of transferring weapons systems acquired secretly by a decades-long US Air Force led secret space program to Space Force, and proclaiming these as new weapons designed to counter recent Chinese and Russian advances in space technology.
Here's what Trump said at the flag unveiling ceremony:
Well, thank you very much.  This is a very special moment because this is the presentation of the Space Force flag.  So we've worked very hard on this.  And it's so important from a defensive standpoint, from an offensive standpoint, from every standpoint there is.
As you know, China and Russia, perhaps others, started off a lot sooner than us.  We should have started this a long time ago, but we've made up for it in spades.  We have developed some of the most incredible weapons anyone has ever seen, and it's moving along very rapidly.  And we have tremendous people in charge.
After saying China and Russia got the early jump on the US, Trump went on to assert that "we have developed some of the most incredible weapons anyone has ever seen." This is a very revealing statement which I will soon return to after briefly reviewing the respective conventional space forces developed by the US, Russia, and China.
Trump's statement that China and Russia "started off a lot sooner than us" is a reference to the creation of new military branches exclusively dedicated to space operations and the deployment of advanced space weapons.
In the case of the US Space Force, the first call for its creation occurred during the Bill Clinton Administration (1993-2001). A Congressional Commission headed by Congressman Donald Rumsfeld (before he was appointed Secretary of Defense) advocated the creation of a Space Corps as a separate military branch back in a March 2001 report.
The September 11, 2001 (false flag) terrorist attacks and the subsequent "war on terror" delayed the creation of a Space Corps until it was revived by Republican Congressman Mike Rogers in 2017, and eventually endorsed by Donald Trump in March 2018 as Space Force. After Congress approved the 2020 National Defense Authorization Act that incorporated the "Space Force Act", Trump signed it into law on December 20, 2019, formally creating the sixth branch of the US military.
Four years earlier, however, both Russia and China created Space Forces as new subordinate branches in their respective military services, which is why Trump is claiming the US is catching up to these major space adversaries in his speech.
On August 1, 2015, Russia re-established its Space Force under the newly reorganized and renamed Russian Aerospace Forces that combined the Russian Air Force with its former strategic missile defense forces. As a subordinate military branch dedicated exclusively to space operations, the Russian Space Forces focuses on a range of missions as described by the website of the Ministry of Defense of the Russian Federation:
Monitoring space objects and identification of potential threats to the Russian Federation in space and from space, prevention of attacks as needed;
Carrying out spacecraft launches and placing into orbit, controlling satellite systems, including Integrated ones (intended to be used for both military and civilian purposes) in flight, and using separate ones towards providing the Russian Federation Armed Forces with the necessary information;
Maintaining both military and integrated satellite systems with launching installations and assets of control in the workable order, and a number of other tasks.
Only a few months later, in December 2015, China developed a subordinate branch of its People's Liberation Army (PLA) called the "Strategic Support Force", which integrated space operations that were previously widely dispersed. Here is how Elysa Kanta, writing for Defense One, described the PLA's Strategic Support Force (PLASSF):
[T]the PLASSF's Space Systems Department (航天系统部), evidently a de facto 'Space Force' for the Chinese military, has consolidated control over a critical mass of China's space-based and space-related capabilities. The establishment of a unified structure through the Space Systems Department seems to reflect a response to organizational challenges that resulted from the prior dispersal of these forces, systems, and authorities across the former General Armament Department and General Staff Department.
Consequently, while it is true that Russia and China's respective Space Forces predate the creation of the US Space Force by four years, it's wrong to believe that the US is playing catch up to military resources that Russia and China have previously developed and deployed in space.
The formation of the US Space Force is indeed proceeding slowly and lags behind its rival military branches in Russia and China. Currently, the number of Space Force personnel only includes its Chief of Space Operations, General John Raymond, the senior enlisted officer, CMS Roger Towberman, and 86 recent graduates from the US Air Force Academy. While 16,000 personnel are temporarily assigned to Space Force, these are all USAF airmen until they are formally reassigned, which may take up to early 2021 due to the complex bureaucratic process in transferring thousands of personnel from one military branch to another.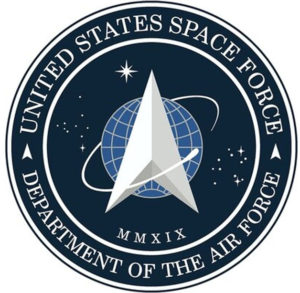 Also, Space Force is still in the process of having Air Force bases reassigned and renamed, after having had new uniforms designed on January 17, its seal approved on January 24, and now an official flag. All this indeed gives the impression that the US Space Force is still a few years off from matching what China and Russia have achieved in space, just as Trump described.
However, what Trump didn't mention is that the USAF has developed and deployed a secret space program that includes squadrons of electromagnetically propelled spacecraft that utilize antigravity principles, along with powerful space-based weapons systems.
In the US Air Force Secret Space Program (2019), I provided extensive documentation and insider testimonies detailing the history of reverse-engineered spacecraft that were first deployed in the 1970s. I described how the USAF had deployed various designs such as saucer, triangle, and even rectangle-shaped craft that are weapons platforms.
Recently, it was learned that the cigar-shaped "Tic Tac" craft recorded by Navy pilots in 2004 were in fact USAF spacecraft being tested against the Navy's most advanced radar and aircraft intercept technologies. The Tic Tac craft was built by a major US aerospace contractor located at Plant 42, which is adjacent to Edwards Air Force Base.
As described in the US Air Force Secret Space Program, these advanced space assets are in the process of being transferred over to Space Force. The process will take several years and will require public disclosure by the Trump Administration of these newly acquired technologies, and how they were developed.
In his Space Force flag ceremony speech, Trump is clearly laying the foundation for disclosing the "most incredible weapons anyone has ever seen", and asserting these were only recently developed for Space Force in order to counter the advanced space weapons produced by the Russians and Chinese. The truth is that Space Force is inheriting such weapons from a decades-long USAF secret space program that long ago weaponized space.
Rather than playing catch up to Russia and China, the US has been the clear leader when it comes to the development and deployment of advanced weapons technology in space. This is why China has been hacking, spying on and stealing US advanced space technology secrets for the last three decades to bridge the technology gap, as I described in great detail in Rise of the Red Dragon (2020).
Space Force provides a convenient means of disclosing advanced space technologies that the US has secretly used for decades, without revealing too much about their historical development and deployment. President Trump's remarks lay the foundation for declassifying advanced electromagnetic technologies that have bewildered Navy pilots and the public for decades in countless UFO sightings.
© Michael E. Salla, Ph.D. Copyright Notice
[Note: An audio version of the above article is available on YouTube]
Further Reading