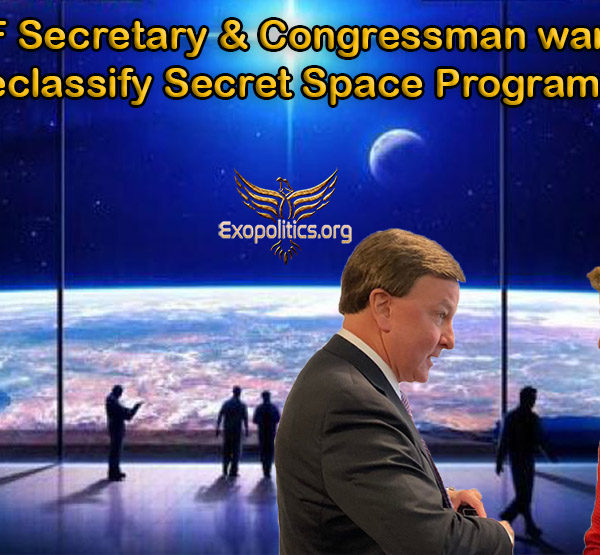 On December 7, attendees at the Reagan National Defense Forum held at the Reagan Presidential Library were told by the Secretary of the Air Force, Barbara Barrett, and US Congressman Mike Rogers, that they are in favor of declassifying information about the Air Force's secret space program in order to get the public to support a US Space Force. Their comments confirm that the US Air Force is on the verge of disclosing the truth behind rumors of a secret space program and that the Space Force is a vital part of a series of stunning disclosures that lie ahead.
Barrett and Rogers' comments were published by Defense News in an article by reporter Nathan Strout with the eye-catching title, "Barrett, Rogers consider declassifying secretive space programs". Barrett and Rogers were speaking at a panel on "Next Steps in Space: Launching America's Sixth Military Branch". In the panel Barrett said:
Declassifying some of what is currently held in secure vaults would be a good idea… You would have to be careful about what we declassify, but there is much more classified than what needs to be.
Rogers, a co-sponsor of the original House of Representatives Bill to create a Space Force/Corps, agreed and said that information about space programs was "overwhelmingly classified".
Rogers elaborated further on the need to declassify the Air Force's secret infrastructure in space in order to win public support for Space Force:
As members of the Armed Services Committee and the defense appropriators, we get it. But we have to have our other colleagues in the Congress to be supportive of us making the changes we need and the resources we need into this… It's not going to happen until they understand the threat and the dependence we have. And I don't think that can happen until we see significant declassification of what we're doing in space and what China and Russia are doing, and how space is in their day-to-day lives.
Rogers' comment that the US, China and Russia have secret space programs, and that the public needs to know more about these in order to support the creation of Space Force is stunning acknowledgment of the existence of rival military programs with space technologies far more advanced than the rocket-propelled technologies used by NASA and other national space programs.
This echoes comments by a recently retired USAF Lieutenant General Steven Kwast in a lecture where he described China developing a space navy:
They are building a navy in space with the equivalent of battleships and destroyers that will be able to maneuver and kill and communicate with dominance.

China's future space navy will be able to decimate America's satellite systems and space assets overnight.
In his Defense News article covering Barrett and Rogers' comments, Strout said:
The two declined to say how much of the black space portfolio could move into the public, nor when changes would start happening. But Barrett pledged that it would be a focus for her office moving forward, a sign that progress could come during 2020.
Two days later, it was announced that the Congressional Conference Committee set up to resolve competing Space Force proposals from the House and Senate had reached an agreement.
The National Defense Authorization Act (NDAA) for Fiscal Year 2020 would contain the Space Force Act that would officially launch Space Force in early 2020. I explained the key provisions of the Space Force Act in an earlier article available here.
On Wednesday, December 11, the House of Representatives passed the bipartisan agreement reached for the NDAA/Space Force Act and the Senate is scheduled to vote on it next week. President Donald Trump has already tweeted that he will immediately sign it into law making the creation of Space Force official.
The comments made by Barrett and Rogers about the need to declassify more of the space activities secretly conducted by the USAF followed only one day after the December 6 news of an agreement being reached in Congress for the passage of the Space Force Act. This is not coincidental.
In fact, this sequence of events is stunning confirmation that Space Force is being used as a means for declassifying key elements of a USAF secret space program that possesses advanced propulsion and energy systems that will revolutionize the aerospace industry.
The linkage between the creation of the Space Force and the declassification of advanced space technologies process is precisely what I predicted in the US Air Force Secret Space Program. Put simply, the rollout of Space Force provides the means for disclosing futuristic technologies used by the Air Force in a way the boosts public confidence, setting the stage for even more remarkable disclosures.
The creation of Space Force marks the beginning of an official disclosure process that will confirm the source of many UFO sightings were, in fact, advanced space technologies developed by the USAF, or the aerospace forces of major nations such as Russia and China.  
Recently, the US Navy authorized the release of five patents of revolutionary electromagnetic propulsion and energy systems that one of its scientists acknowledged are being actively developed by China. China has a secret space program that is greatly worrying US national security analysts such as Lt. General Kwast, and this is a key factor behind Space Force's launch.
After Space Force deploys in 2020, the stage will be set for further disclosures about revolutionary aerospace technologies. It can be expected that explanations for the origins of such technologies will be initially said to be talented scientists such as the US Navy's Dr. Salvator Pais, the inventor of the five Navy patents, and similar breakthroughs by scientists in other national space programs. It will nevertheless be much harder to hide the truth of their real origins.
Many of the technologies used in secret space programs developed by the US, China and Russia have been reverse engineered from artifacts retrieved from the ruins of ancient civilizations and from crashed extraterrestrial vehicles, as a number of insiders have recently claimed. Among these is a former Director of the Defense Intelligence Agency, Vice Admiral Tom Wilson, who learned that a major defense contractor was actively reverse engineering such technology back in 1997.
Eventually, the disclosure of technologically advanced extraterrestrial life will be announced, but only after the creation and deployment of Space Force has reached the point that public confidence is such that the societal collapse predicted in the 1961 Brookings Report would not occur.
The Brookings Report, titled "Proposed Studies on the Implications of Peaceful Space Activities for Human Affairs," described an alarming scenario of what might happen to society if humanity was not sufficiently prepared for the discovery of technologically advanced extraterrestrial civilizations:
Evidences of its [extraterrestrial] existence might also be found in artifacts left on the moon or other planets. The consequences for attitudes and values are unpredictable, but would vary profoundly in different cultures and between groups within complex societies; a crucial factor would be the nature of the communication between us and the other beings…. Anthropological files contain many examples of societies, sure of their place in the universe, which have disintegrated when they had to associate with previously unfamiliar societies espousing different ideas and different life ways; others that survived such an experience usually did so by paying the price of changes in values and attitudes and behavior.
The major takeaways from the Air Force Secretary promising future disclosures of a classified military space program and the launch of Space Force is that an official disclosure process is now firmly underway. 2020 promises to be an exciting year for all wanting to learn about secret space programs created by the US, China and Russia, and eventually learn the true origins of these technologies.

© Michael E. Salla, Ph.D. Copyright Notice
Further Reading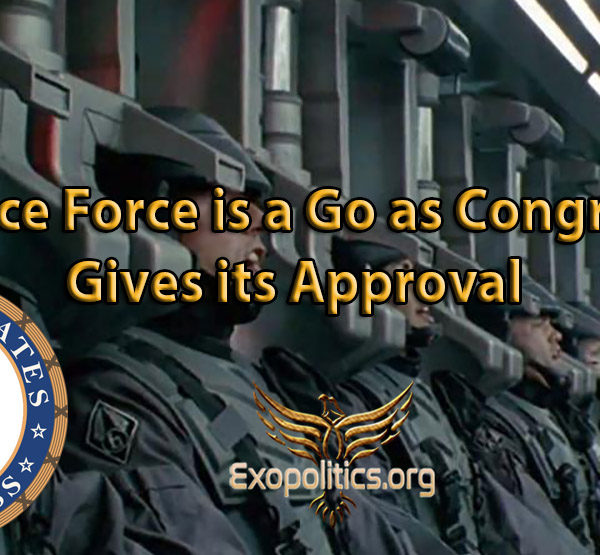 A major hurdle was passed in the creation of a United States Space Force when a Congressional conference committee comprising members of both branches of Congress, meeting to resolve conflicting congressional bills, agreed to the legislative language authorizing its creation. The "National Defense Authorization Act for Fiscal Year 2020", contains the agreed language for Space Force's creation, which will be voted on by both houses of Congress, and then signed by President Donald Trump.
The Secretary of the Air Force, Barbara Barrett, issued a statement after the Congressional conference committee gave its approval and said:
We certainly appreciate the hard work and bipartisan support of the Congress and the administration that is bringing a separate service for space closer to reality. We are reviewing the draft legislation and look forward to moving out smartly once legislation is passed by the Congress and signed by the President.
President Trump tweeted his approval of the agreement that had been reached and said he was ready to sign the National Defense Authorization Act (NDAA) that will formally create Space Force.
Wow! All of our priorities have made it into the final NDAA: Pay Raise for our Troops, Rebuilding our Military, Paid Parental Leave, Border Security, and Space Force! Congress – don't delay this anymore! I will sign this historic defense legislation immediately!

— Donald J. Trump (@realDonaldTrump) December 11, 2019
The House of Representatives was scheduled to vote on the NDAA today, and will be quickly followed by the Senate before being sent to President Trump for his signature to enact it into federal law.
In the NDAA, which is nearly 3500 pages long, the agreed-upon language for Space Force appears under Title IX – Department of Defense Organization and Management.
Subtitle D discusses how Space Force will be set up and run. It asserts that the relevant sections in the NDAA (Title IX, Subtitle D) authorizing Space Force's creation will be known in the future as the United States Space Force Act. (sec.951).
The Space Force Act re-designates "Air Force Space Command" as the United States Space Force (USSF). Space Force will be located with the Department of the Air Force. This will mirror how the US Marine Corps is embedded within the Department of the Navy but remains a separate military branch to the US Navy.
The composition of Space Force is described as follows:
(b) COMPOSITION.—The Space Force shall be composed of the following:
(1) The Chief of Space Operations.
(2) The space forces and such assets as may be organic therein.
The Chief of Space Operations (CSO) will report directly to the Air Force Secretary and one year after the passage of the Space Force Act will become a member of the Joint Chiefs of Staff.
The present head of the U.S. Space Command, General John Raymond, will also be allowed to serve as the CSO of Space Force for the first year of its operations. This will enable Raymond to oversee the smooth transition of Air Force Space Command, which he also currently heads, into the new Space Force.
The reference to "assets as may be organic therein" as part of the initial composition of Space Force is intentionally vague.  This will give Raymond broad authority to transfer assets from the Air Force into Space Force, and also transfer relevant space assets from the Navy, Army and Marine Corps. There is also another arguably more compelling reason why the assets language was left vague, as I will explain later.
The Space Act outlines the functions and duties of the Space Force as follows:
(c) FUNCTIONS.—The Space Force shall be organized, trained, and equipped to provide—
(1) freedom of operation for the United States in, from, and to space; and
(2) prompt and sustained space operations.
(d) DUTIES.—It shall be the duty of the Space Force to—
(1) protect the interests of the United States in space;
(2) deter aggression in, from, and to space; and
(3) conduct space operations.
The above functions and duties will give Space Force direct responsibility for protecting the civilian and military satellites that are the backbone of the Global Positioning Satellite (GPS) system that the Pentagon relies upon for its modern weapons. These have recently come under direct threat by China which has developed the antisatellite capacity to destroy all US satellites as part of its asymmetric military strategy called  "Assassin's Mace".
Back in 2015, General Raymond warned: "Soon every satellite in every orbit will be able to be held at risk". More recently, in January 2018, a "Top Secret" report by the Pentagon Joint Staff intelligence directorate "revealed China and Russia have built anti-satellite missiles and other weapons and will soon be capable of damaging or destroying every US satellite in low earth orbit" [source].
The defense of the US military and civilian satellite infrastructure will be among the most important responsibilities of the Space Force for decades to come. But what space assets will Space Force use to achieve its functions and duties as outlined in the Space Act?
This is where the topic of a secret space program run by the Air Force for decades becomes relevant, and why the Space Force Act contained a vague reference to "assets as may be organic therein". This vague reference was intentionally used so the assets belonging to the Air Force's secret space program comprising advanced aerospace technologies using exotic propulsion systems, some of which were reverse-engineered from captured extraterrestrial spacecraft, can be 'organically' incorporated into Space Force.
In the US Air Force Secret Space Program: Shifting Extraterrestrial Alliances and Space Force (2019), I described the different space assets possessed by the Air Force's secret space program. These include disk-shaped "alien reproduction vehicles"; different models of the TR-3B/flying triangle craft; flying rectangle-shaped weapons platforms; and finally ring-shaped stealth space stations.
I have previously provided photos taken of some of the classified flying triangles and rectangles operating out of MacDill Air Force Base, and how this had been orchestrated by leaders of the Air Force's secret space program. Indeed, the photographer identified personnel from Air Force Special Operations, as part of this covert space program.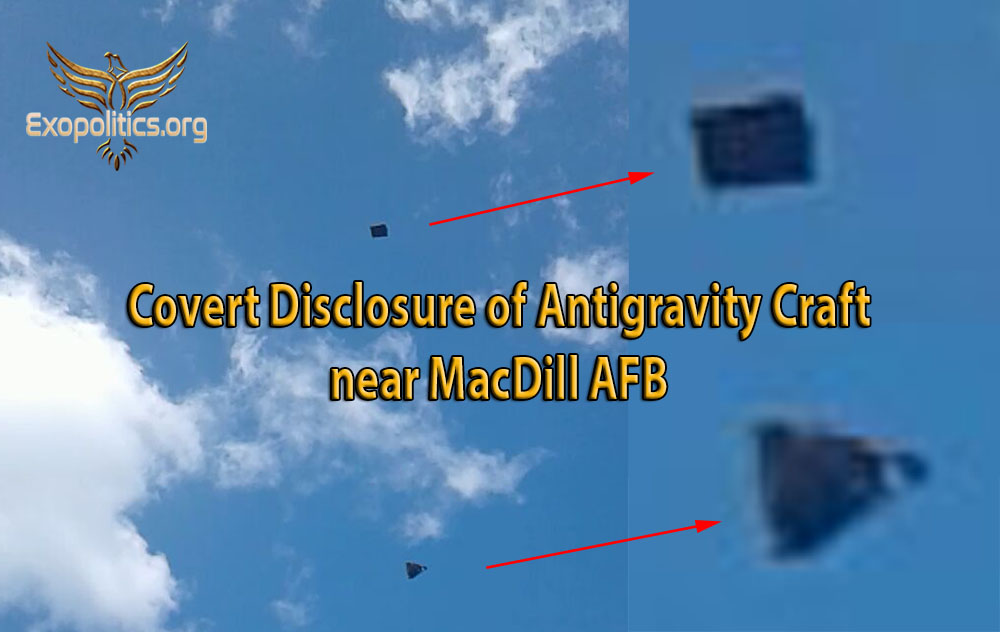 All the assets belonging to the Air Force's secret space program will be placed under the direct authority of the incoming Chief of Space Operations, General Raymond, who will ensure these are used to protect the sensitive satellite infrastructure that China is directly threatening with its asymmetric "Assassin's Mace" military strategy.
The official creation and launch of Space Force in 2020 will be a momentous event. It will enable the official disclosure of many advanced aerospace technologies that use exotic propulsion and energy systems based on electromagnetic principles not thought viable or possible by conventional scientists. Some of these exotic propulsion and energy systems were recently disclosed in a series of US Navy patents showing their feasibility, and how they can be applied in ways that revolutionalize the aerospace industry.
Space Force will not only open the door to the release of many highly classified technologies and the aerospace craft that have been secretly built as a result, but will also pave the way to future official disclosures about advanced subterranean civilizations and extraterrestrial life residing on, or visiting our planet.
© Michael E. Salla, Ph.D. Copyright Notice
Further Reading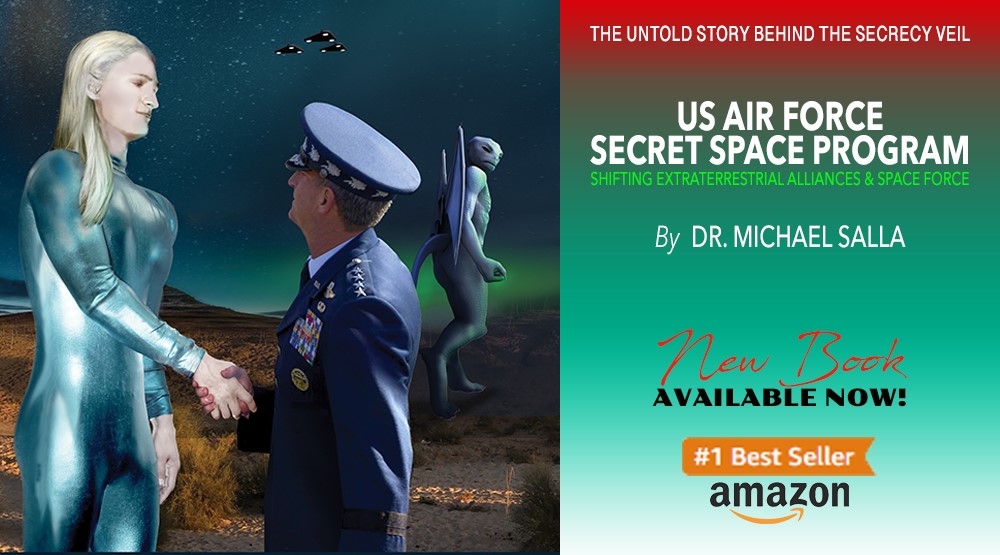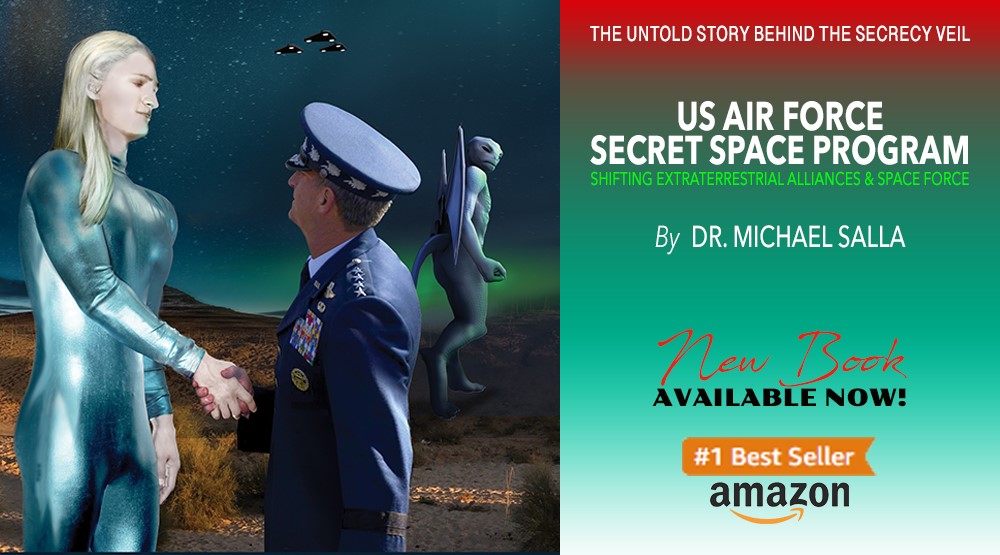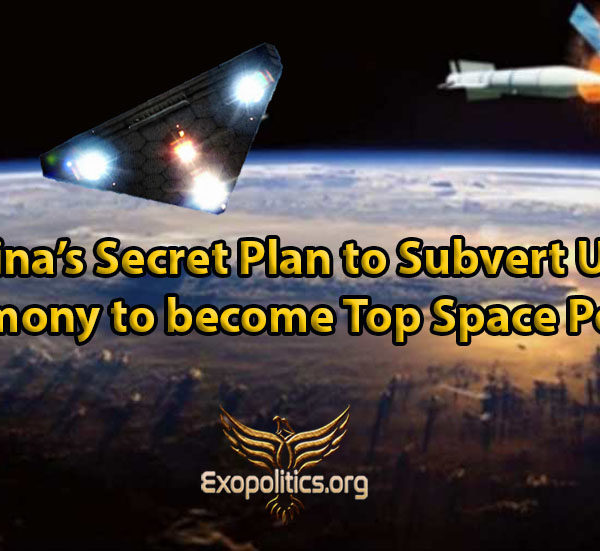 China is painstakingly implementing a 100-year strategic plan aimed at overtaking the United States as the world's dominant superpower or hegemon by 2049 according to Michael Pillsbury's authoritative 2015 national best seller, The Hundred Year Marathon. Pillsbury's keen insights not only provide a foundation for understanding how China plans to supplant the US, but how it is covertly responding to the existence of secret space programs developed by the US military industrial complex, and what China plans to do in response in order to achieve dominance both on Earth and in space.
Pillsbury is a China expert who has worked with the US Department of Defense, State Department, and Congress for over four decades, since 1975. A fluent Mandarin speaker, he has had unrivaled access to top Chinese military and political leaders during his professional career and is very familiar with the policies and plans of China's ruling Communist Party elite, especially the military hawks who exert great influence behind the scenes. Currently, Pillsbury is a top advisor to President Donald Trump on US-China relations.
Pillsbury begins his highly detailed book by describing how top Chinese leaders cunningly use the historical period of the Warring States (475-221 BC) to develop their strategic planning for engaging with the US. In short, the Warring States period was a time when up to seven ethnic Chinese kingdoms competed amongst themselves for hegemony and dominance over their rivals.
Pillsbury explains how a ruling hegemon (the US in contemporary times) would be undermined by an aspiring hegemon (China), by means of stealth, cunning, and deception as practiced by different kingdoms during the Warring States period. He cogently explains how such goals require long term thinking by China as the aspiring hegemon that lacks the political and military power to directly confront the ruling US hegemon until it has been sufficiently weakened by internal and external strife.
Chinese military and political leaders began their 100-year marathon in 1949, Pillsbury explains, after the victory of the Communist Party and the establishment of the People's Republic of China. Initially, China relied on the Soviet Union to help it industrialize and to modernize its vast military. After their political falling out in the 1960's and military clashes along their shared borders, China's Communist Party began secret overtures to the West.
It was Chairman Mao who covertly reached out to President Nixon, Pillsbury points out, and not the other way around as many erroneously believe. Initial relations between China and the US were genuinely positive since both had much to fear from the Soviet Union. All that changed with the 1989 Tiananmen Square protests and the collapse of the Soviet Union in 1991.
Chinese school textbooks changed dramatically. Previously positive descriptions of US history and democratic ideals, which had been extensively cited by Chinese students at the Tiananmen protests, were now overwhelmingly negative. Future generations of Chinese students were indoctrinated to believe that the US has been humiliating and abusing China since the mid-1800s.
Previously positive descriptions of President Lincoln (1861-1865), for example, were now overwhelmingly negative. Pillsbury explained how Chinese students came to be taught the ridiculous proposition that Lincoln was busy undermining China's sovereignty, during the US Civil War. Essentially, China's Communist Party was ensuring that there would be no repeat of the Tiananmen Square protest were the youth were citing positive US democratic ideals and personalities, which had been deeply embarrassing to Party elders.    
Pillsbury then explains how China opened its doors to western industries and economic innovation as part of its modernization effort. Using strategies taken directly from the Warring States period, the Communist Party feigned openness to democratic political ideals, while ruthlessly clamping down on ethnic minorities and political dissidents, and blocking genuine democratic reforms.
The goal was to lure Western nations into a false sense of complacency where the common assumption was that China would inevitably change in the future as its huge economy opened to Western influence. Pillsbury emphasized that such future democratic changes were a chimera since the Chinese military and political elite were driven not by Western ideals, but by their understanding of what history revealed about how an aspiring hegemon needed first to undermine and then supplant a ruling hegemon.
He points out that China had no intention of helping the US and its allies establish a stable world order, but instead aimed at undermining it so as to usher in a world order where China would be the dominant power.
Pillsbury provides many examples of how China has assisted various rogue states and groups around the world, such as Afghanistan's Taliban. Just as the U.S. secretly used extremist groups to weaken the Soviet Union during the Cold War, now China was covertly doing the same through economic development and arms supplies to nations that challenged US policies.
As far as economic development is concerned, Pillsbury explains how China is at the forefront of industrial espionage, counterfeiting efforts, theft of intellectual property, hacking and other unscrupulous practices. The goal is to help China's state-owned enterprises (which numbered over 140,000 companies in 2011), cheat, steal, manipulate, and outmaneuver Western companies that establish a commercial presence in mainland China.
When it comes to outer space, Pillsbury explains how China has been using these unscrupulous practices to develop its own conventional space program, with the goal of projecting a military presence into space. While the Trump administration is in the midst of creating of Space Force as the sixth branch of the US military, China has had an "Aerospace Force" up and running since 2014.
China's Aerospace Force was created as the fifth branch of Peoples Liberation Army (PLA) as explained in an article titled "China's Military Creates New Space Force" published in The Diplomat by Zachary Keck on September 10, 2014. A speech by President Xi was summarized by a Chinese space expert cited by Keck as a clear endorsement of Chinese militarization of space in response to US and other nations already having done so:
The United States has paid considerable attention and resources to the integration of capabilities in both air and space, and other powers have also moved progressively toward space militarization… Though China has stated that it sticks to the peaceful use of space, we must make sure that we have the ability to cope with others' operations in space.
The problem is that Pillsbury, and the US public more generally, is largely unaware of the extent of the US military's true presence in outer space, and mistakenly assume that Space Force will be the official start of US militarization of space. However, as I have extensively documented in my Secret Space Program Book series, both the US Air Force and the US Navy have independent secret space programs that have projected their respective military power deep into space.
These two parallel US military-run space programs have been in operation since the 1970s, while the general public was hoodwinked into believing that the only US presence in space was through NASA's civilian-run space program.
China, however, is well aware of the truth behind covert US military space operations once it began sending satellites into Earth orbit in the 1970s. China's growing space surveillance capacities allowed it to track US military space operations, especially the construction of secret military space stations operated by the USAF and the National Reconnaissance Office (NRO).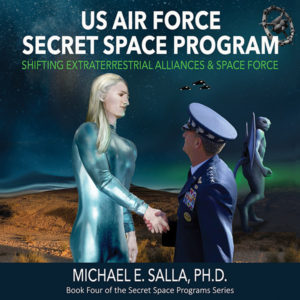 In Book Four of my series, the USAF Secret Space Program, I discuss 825 declassified NRO documents that show how the USAF and NRO used the allegedly discontinued Manned Orbiting Laboratory project as the cover for sending laboratory modules into space that could be configured to establish Von Braun type space stations, i.e., modules assembled into a circular configuration.
These secret USAF/NRO space stations provide ideal weapons platforms capable of extending US military force all over the planet from the high ground of space. China, like other major nations with satellite surveillance capacities, is well aware of the USAF/NRO space stations and their potential military capabilities.
China insists that it is only attempting to match the US militarization of space, but given the gap between the development of the US military's presence in space, and China's more recent efforts, it will take China many years to catch up. This is why Pillsbury's book is important since it outlines the unscrupulous practices China is willing to adopt in order to bridge the gap in space technologies.
For example, the real scandal behind the hacking of the Hillary Clinton email servers during her tenure as Secretary of State (2009-2013), is the role played by China,  and the likelihood that it was all part of an elaborate pay-to-play scheme to leak classified space technologies. As I have written previously, Clinton had security access to Talent Keyhole space technologies classified within Special Access Programs (SAPs) and discussed these in emails stored on her servers.
This was corroborated by no less than the Inspector General for the US Intelligence Community who identified the various security levels of emails stored on Clinton's hacked servers:
To date, I have received two sworn declarations from one [intelligence community] element. These declarations cover several dozen emails containing classified information determined by the IC element to be at the CONFIDENTIAL, SECRET, and TOP SECRET/SAP levels. According to the declarant, these documents contain information derived from classified IC element sources.
According to the anonymous military intelligence group  QAnon, Clinton was indeed involved in a pay-to-play scheme with China to leak advanced technology secrets.
Conclusion
Pillsbury's conclusions dictate the different steps the US needs to take to stop China from achieving its goals and appear very sensible given what he has outlined. His influence can be seen in President Trump's increasingly tough policies on China, which have ushered in a new era in US-China relations.
Despite the incisive analysis provided by Pillsbury, there are a number of deficiencies in his book which largely reflect a conventional world view that nation-state behaviors are driven by public officials nominally in charge of major political, military and economic institutions.
Pillsbury shows no understanding or recognition of the existence of a Deep State and how it manipulates public officials to pass policies that promote a hidden agenda. A good example is how President Trump's first two years in office were hamstrung by Russia collusion claims that poisoned prospects of Trump and Putin collaborating to solve major world problems. The Deep State had no intention of the US and Russia collaborating on the world scene and used compromised public officials to promote a false narrative that was aided and abetted by the mainstream media.
Most disturbing is growing evidence that the Deep State is actively assisting China in its covert efforts to lie, steal and cheat its way to technological parity with the US both on Earth and in outer space. It's no accident that Clinton and other leading US politicians such as Joe Biden and Diane Feinstein have been accused of helping China gain access to sensitive technologies, which is precisely what the Deep State wants as QAnon has been revealing for well over a year.
Is it a good or bad thing if China continues to use unscrupulous practices to catch up to what the US military has secretly developed and deployed in space? From a Chinese national security perspective, it is entirely understandable why China is doing whatever it can to bridge a technological gap in outer space since this gap makes China vulnerable to US political and military pressure.
From the US national security perspective, China is a totalitarian communist state that is profiting from the West's naivety in opening their economies in the forlorn hope that China will usher in democratic reforms. The danger is that as China grows into the world's largest economy, it will use its economic clout to prop up repressive political systems that will be natural allies to its one-party totalitarian system.
China's totalitarian system is something that the Deep State desperately wants to expand onto the world stage since a concentration of political power will be far easier to infiltrate and take over than democratic political systems with their complex system of checks and balances,  as exemplified in the US.
That is why the Deep State is currently helping China bridge the technology gap with the US, and helping them develop a secret space program that rivals what the US Air Force and Navy have secretly developed. Space is where the real battle between the ruling hegemon (US) and the aspiring hegemon (China) will be determined, and where China's plans to supplant the US as the ruling hegemon will be ultimately resolved.
© Michael E. Salla, Ph.D. Copyright Notice
Further Reading
A cigar shaped UFO was videotaped near Orlando Florida on Sept 12, 2019 by my confidential source JP, who I have known since 2008. The video shows a cigar shaped craft that is illuminated during the daylight. It has no apparent wings or tail, and is filmed moving away from JP who is taking the video from inside his car. It is clearly no reflection from inside the car and is not a helicopter or drone.
The YouTube video features my commentary of the original video JP sent along with a zoom of the craft. You can watch the original video along with a zoom version below. Note there has been no enhancements of the original other than the zoom feature used in the final portion of the video.
What follows is a screenshot of the cigar shaped craft in the video, along with a magnified copy as well as an auto-contrasted copy being added for comparative purposes. The zoom and contrast shows that the craft has no wings or tail section, and is emitting no contrail.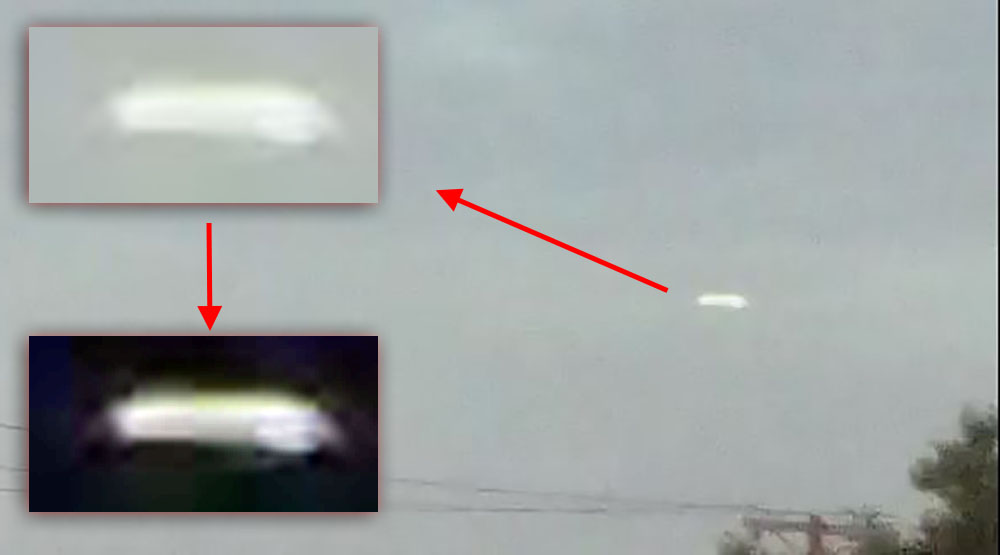 JP has been sending me photos and videos of UFOs he has witnessed near MacDill Air Force Base, Tampa and Orlando, Florida since August 2017. He has photographed flying triangle, rectangle, disk and cigar shaped antigravity craft in the vicinity of military facilities. According to JP's information these facilities are used by a USAF secret space program that is working closely with human-looking "Nordic" extraterrestrials.
According to JP the Nordics operate both cigar and disk shaped craft which he has photographed both near MacDill AFB and in Orlando as I have discussed in previous articles that are available here and here.
You can learn more about JP's photos and videos of antigravity craft belonging to an USAF run SSP along with their human extraterrestrial allies in a series of articles available here.
Michael E. Salla, Ph.D.
Feel free to share this article with original links.
FURTHER READING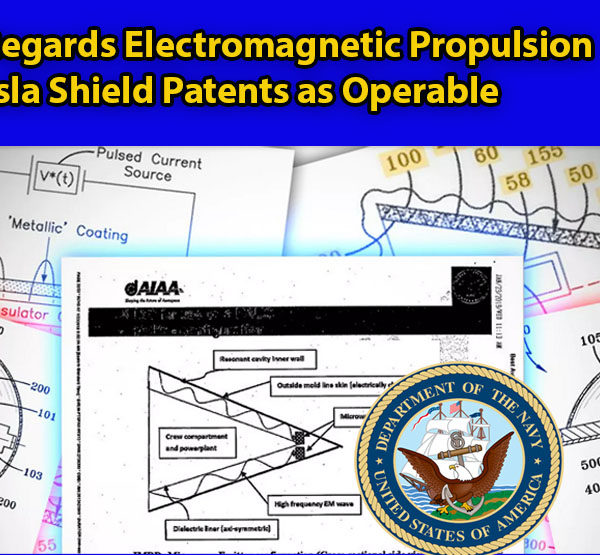 The US Navy has for the second time in a year intervened to support a patent application for an exotic propulsion system technology lodged by one of its employees, Dr. Salvator Pais, which had been rejected by the US Patent and Trademark Office. The Drive's Brett Tingley comprehensively examines many details of Dr. Pais' proposed invention, and why the Navy has intervened to support two of his applications.
The first time the Navy intervened concerned Dr. Pais' patent application for a "Hybrid Aerospace-Underwater Craft" (HUAC), which would generate a quantum vacuum (electromagnetic bubble) around the craft enabling it to move through air and water at tremendous velocities. Here's how Tingley summarized the HUAC's capabilities:
In the Navy's patent application for the HUAC, it's claimed that the radical abilities of propulsion and maneuverability are made possible thanks to an incredibly powerful electromagnetic field that essentially creates a quantum vacuum around itself that allows it to ignore aerodynamic or hydrodynamic forces and remove its own inertial mass from the equation. Thus, the ability to generate such high-frequency electromagnetic waves is key to the alleged abilities of this theoretical hybrid craft that can soar near effortlessly through air and water at incredible speeds with little to no resistance or inertia.
The HUAC application was rejected on November 28, 2017 until the Navy's Chief Technical Officer of the Naval Aviation Enterprise, James Sheehy, intervened on behalf of Dr. Pais, which I discussed in a previous article. The patent was eventually granted a year later on 12/4/2018.
However, another of Pais revolutionary patent applications, for a "Piezoelectricity-induced Room Temperature Superconductor" was also initially rejected by the patent examiner as explained by Tingley:
Nevertheless, Pais' room temperature superconductor patent was rejected under 35 U.S.C. 101 because the examiner determined "the disclosed invention is inoperative and therefore lacks utility" and that "no assertions of room-temperature superconductivity have currently been recognized or verified by the scientific community.".  That code states that patents will be granted only for "any new and useful process, machine, manufacture, or composition of matter, or any new and useful improvement thereof." 
According to the Manual of Patent Examining Procedure (MPEP) code 2164.07, patents are rejected on these grounds in cases "when the examiner concludes that an application claims an invention that is non-useful, inoperative, or contradicts known scientific principles."
Once again, Dr. Sheehy intervened and on 11/27/2018 wrote a letter to the patent examiner where he stated:
I am familiar with the above referenced patent application (and related amendment), as well as the development, usage and properties of the piezoelectricity-induced room temperature superconductor. That as a result of my education and career, I am regarded as a subject matter expert and can be considered "a person of ordinary skill in the art" in the subject matter of the above patent application.
That the invention described in the above referenced patent application is operable and enabled via the physics described in the patent application and the peered reviewed paper described in the Inventor Amendment.
Sheehy's reference to the patent application as "operable and enabled" is highly significant, as observed by Tingley:
At the heart of these questions is the term "operable." In most patent applications, applicants must assert proof of a patent's or invention's "enablement," or the extent to which a patent is described in such a way that any person who is familiar with similar technologies or techniques would be able to understand it, and theoretically reproduce it.
However, in these patent documents, the inventor Salvatore Pais, Naval Air Warfare Center Aircraft Division's (NAWCAD) patent attorney Mark O. Glut, and the U.S. Naval Aviation Enterprise's Chief Technology Officer Dr. James Sheehy, all assert that these inventions are not only enabled, but operable.
In short, Pais and his employer are claiming his inventions actually work. In addition to Sheehy's letter of support, a letter was also written on behalf of Pais by his patent attorney Mark Glut who emphasized the room temperature superconductor invention was both "operable and enabled".
On June 6, 2019, Pais and Glut had a telephone interview with the rejecting Patent Examiner, Paul Wartalowicz. Tingley discovered through Freedom of Information Act requests that the appeal to overturn the latest rejection is ongoing.
In addition to the HUAC discussed earlier, another successful patent is the "The High Energy Electromagnetic Field Generator (HEEMFG)" which is essentially an electromagnetic forcefield. The patent's significance was explained by Tingley:
In the patent for the HEEMFG, the technology is described as being able to create what is essentially a force field straight out of science fiction, one that could generate "an impenetrable defensive shield to sea and land as well as space-based military and civilian assets, protecting these assets from such threats as Anti-Ship Ballistic Missiles, Radar Evading Cruise Missiles, Top Attack for Main Battle Tanks (land and sea-based systems), as well as counteracting the effects of solar-induced Coronal Mass Ejections or defending critical military satellites in an ASAT [anti-satellite] role (space based system).
The similarity to Nikola Tesla's electromagnetic shield is striking. Back in the 1930's, Tesla proposed an electromagnetic shield based on scalar waves, explained as follows:
Scalar Waves can be warped into a dome around objects, such as cities or houses (publishing companies included). Such a Scalar Wave force field is generally known as a Tesla Shield, and it would be analogous to the "shields" referred to in the popular "Star Trek" series. Tesla Shields have a definite defensive application, and could not in any way be used for offensive purposes (although a platoon of soldiers charging into a Tesla Shield would be instantly disintegrated). The only defense from a blast of a Scalar Wave Howitzer would be a Tesla Shield.
In sum, there are three patents that have been successfully awarded so far to Pais where the Secretary of the Navy is the assignee. In chronological order, these are the HEEMFG shield whose full title is the "Electromagnetic Field Generator and method to generate an Electromagnetic Field" (granted 11/20/2018. a "Craft using an inertial mass reduction device" (granted 12/4/2018), and the "High Frequency Gravitational Wave Generator"(granted 06/18/2019).
To date, the patents granted to Pais have met with considerable scientific skepticism. Tingley interviewed Dr. Mark Gubrud, a physicist at the University of North Carolina, who said the following about the room temperature superconductor patent application:
Pais's patents flow as an intimidating river of mumbo-jumbo that most trained physicists would recognize as nonsense, although many might simply disengage in confusion, and there are always some who might even be credulous. Of what, however, is hard to say, as it is not really clear what Pais is even claiming, apart from the room-temperature superconductor which, if it were true, would be huge news.
Pais deploys fairly sophisticated babble to make this sound plausible to those who know what real physics sounds like, but don't understand much of it. Which is likely to include most patent examiners, journalists, and Pais's own enablers in the Navy.

In bringing his article to a close, Tingley reached the following conclusion:
If the Navy has indeed managed to develop operable room temperature superconductors and electromagnetic force fields, these technologies would revolutionize warfare in ways not seen in centuries, or maybe even ever, not to mention leading to paradigm changes in civilian technology. Yet the largest question remains: if the Navy indeed possesses these technologies, or even thinks they are obtainable in the near term, why make the patents public? 
Tingley ponders a number of possibilities including Pais' patent applications being part of a sophisticated Navy disinformation campaign to throw China and other US military competitors off the track.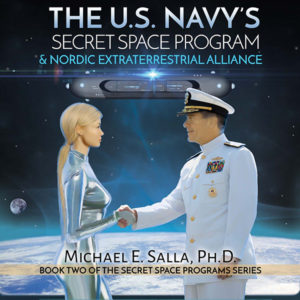 Among these possibilities, is one that is close to the truth based on my research into US Navy and Air Force Secret Space Programs which have been documented in two books respectively available here and here.
Tingley states:
It's also at least worth considering that some breakthroughs in highly exotic propulsion might have been made and that the Navy is willing to invest big bucks into seeing them progress further. Maybe those advances happened many years ago and only now is the Pentagon willing to slowly disclose them.
This is precisely what I believe is happening with Pais' patent applications. The US Navy is letting the world know about technologies that have been secretly researched and developed decades ago, and put into operation in classified space programs.
This is the reason why Pais, Sheehy and Glut all assert that the room temperature superconductor (along with Pais' other inventions) is operable and enabled.  We are being told the Navy has already developed these technologies in secret space programs, and it's time for conventional scientists to wake up to the truth and for commercial companies to start developing these technologies for the civilian aerospace industry.
© Michael E. Salla, Ph.D. Copyright Notice
Further Reading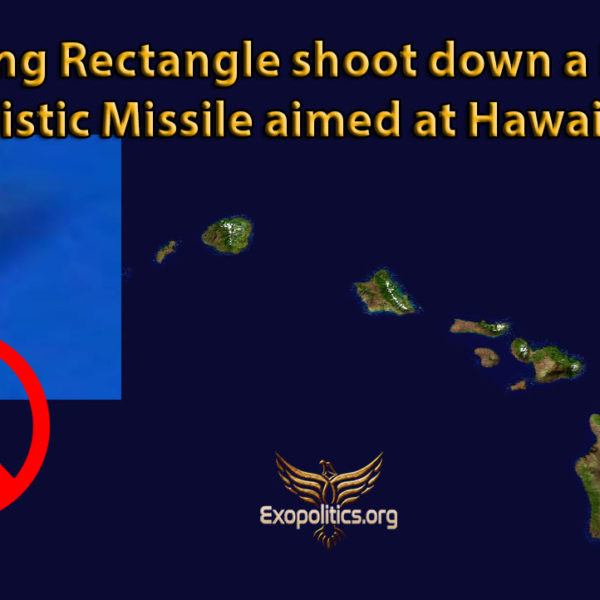 On July 3, 2019, a photo was released of a flying rectangle shaped UFO near the island of Maui that was taken over a year earlier, and only recently discovered by the photographer. What is remarkable about the photo is that it shows what appears to be a craft very similar to one photographed near MacDill Air Force base in October 2017, which was revealed by my Florida source, JP, to be a weapons platform used by U.S. Air Force Special Operations.
The similarity of the craft seen in the respective photos raises the intriguing possibility that the flying rectangle photographed near Maui may have been involved in the shooting down of a nuclear ballistic missile aimed at Hawaii on January 13, 2018, widely thought to have been a false missile alert.
First, here is the photo of the Maui rectangle along with an insert showing a close-up.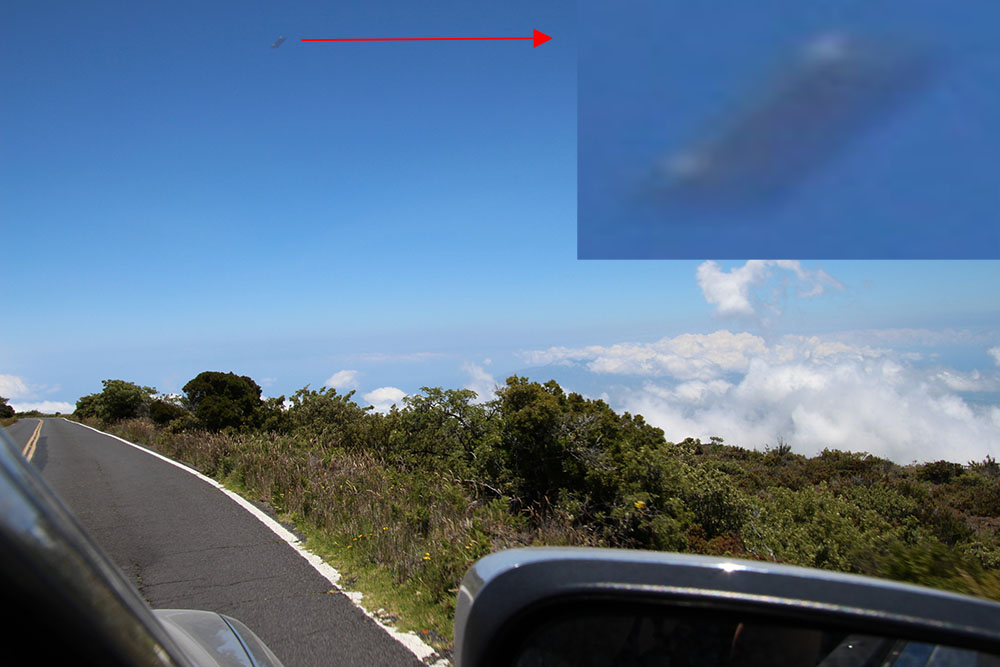 According to the photographer:
While driving up mount haleakala in maui i took this picture and didnt notice anything until weeks later when i was going over my vacation photos. the object was not seen live. the object was in only one frame, nothing before or after. unkown altitude but as you can see it was above the cloud line [sic].
The photo was taken on May 24, 2018, but the flying rectangle only discovered and reported by the photographer on July 3, 2019, to MUFON.
Now here is some important background for understanding the deep significance behind the 2018 Maui rectangle UFO sighting in terms of photos previously sent to me by JP.
I have known JP since 2008, and he has regularly given me updates on his multiple contact experiences with human looking extraterrestrials, along with his experiences with covert Air Force operatives who have abducted and interrogated him at classified facilities or in their antigravity spacecraft. My evaluation of him is that he is a reliable and credible source, and I have created a webpage with my articles about the photos he regularly sends me.
In October 2017, JP sent me a series of photos of a rectangle shaped UFO that he witnessed near MacDill Air Force Base, home of US Special Operations Command. He took the photos after being prompted to do so by two mysterious men he believes were covert Air Force operatives.
One set of nine photos taken on October 19, 2017, shows a rectangle shaped UFO flying together with a triangle shaped craft.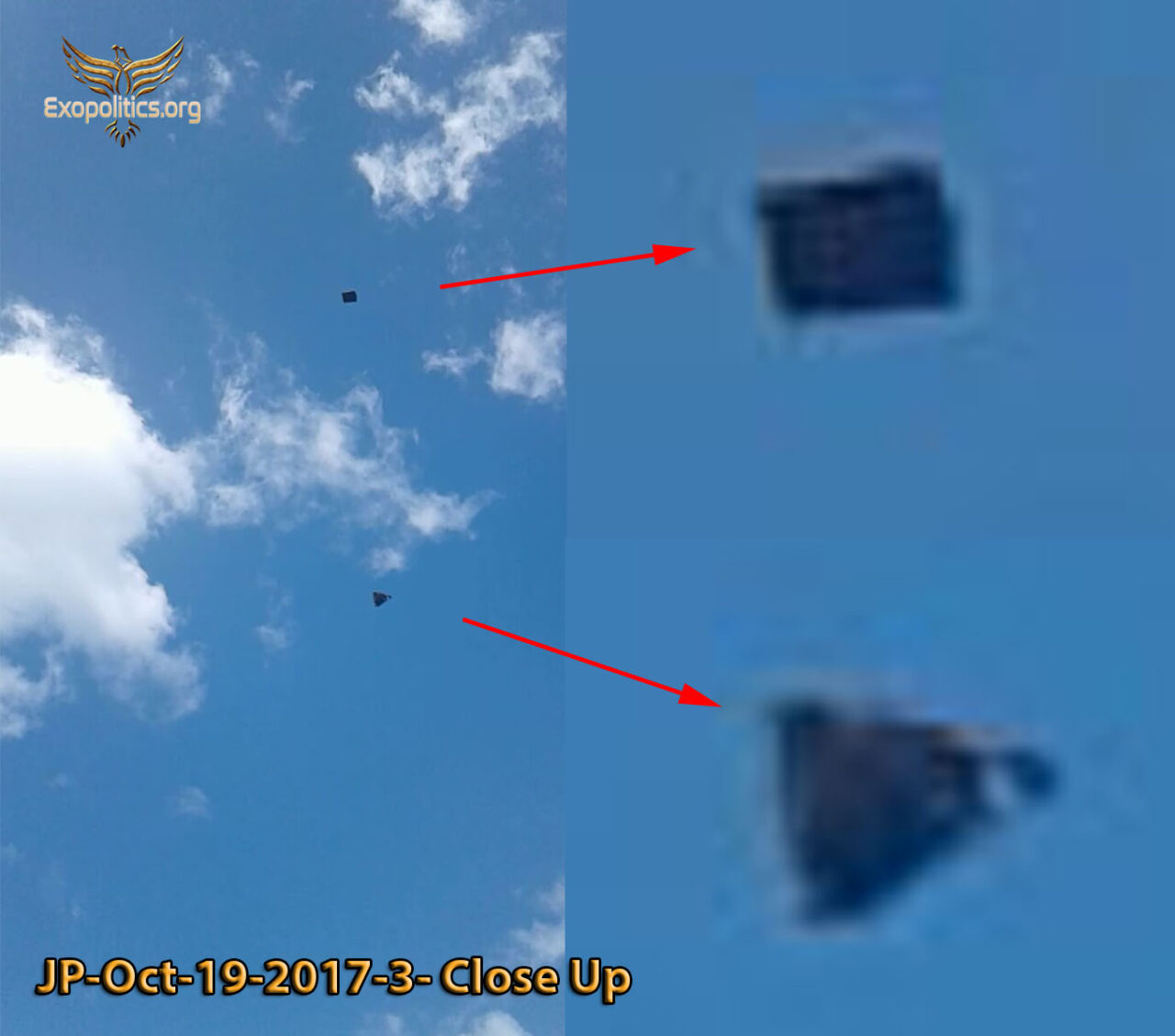 In another set of five photos taken on October 23, 2017, JP witnessed a rectangle UFO flying alone near MacDill. Both incidents involved covert operatives encouraging JP to take the photos. What follows is a short video featuring the October 23 photos and with some close-ups.
In one of the October 2017 incidents, JP recalls having been taken aboard the flying rectangle where he saw personnel wearing the patches of Air Force Special Operations.  He says that during his visit to the flying rectangle, he was in a corridor where he could peer outside and saw many instrument panels. He later speculated that these were part the craft's weapons control system.
JP's experience matched other insider accounts that flying rectangles are heavily armed weapons platforms used by a secret space program run by the Air Force, Defense Intelligence Agency, the National Security Agency and the National Reconnaissance Office. Corey Goode, a prominent Secret Space Program insider, had the following to say about the weapons systems of flying rectangles:
I think similar platforms or UFOs have been reported in the 80s and 90s as they were first building out of these platforms that have modular weapons and personnel delivery systems or configurations. They were built up on that superstructure type frame a long time ago and they been on improved upon since but these are pretty old technologies both the TR 3B and the square platform.
JP recalled his experience aboard the rectangle craft only after he photographed it as a result of being prompted by the two Air Force covert operatives. After being prompted and taking the photos, he then remembered being just taken aboard the craft as his head gradually cleared from a daze after receiving an injection during the abduction.
In my earlier analysis of JP's photos and his eyewitness testimony, I concluded that the flying rectangle is a weapons platform used by Air Force Special Operations that can be deployed in the upper atmosphere and in Earth orbit.
The similarity between the flying rectangles photographed by JP in October 2017, with the UFO photographed near Maui on May 24, 2018, is remarkable. Here is a side by side comparison of the Maui photo with what was photographed by JP on October 19 and 23.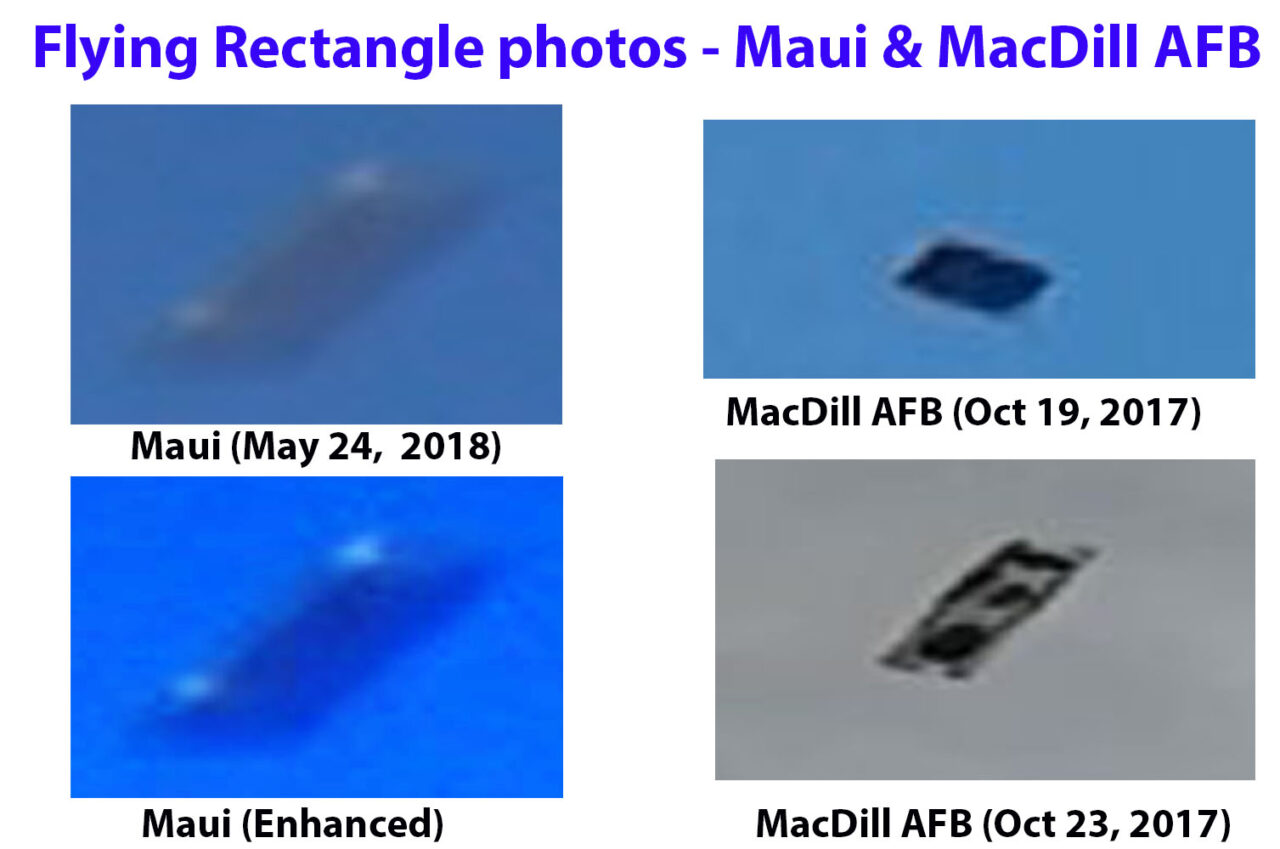 What lends great significance to the Maui photo is that it was taken four months after the alleged "false ballistic missile alert" for Hawaii issued on January 13, 2018.
I covered the alleged false missile alert in a series of online articles (see here, here & here), and more recently in an extensive chapter in my 2019 book, the U.S. Air Force Secret Space Program: Shifting Extraterrestrial Alliances and Space Force.
Remarkably, the military intelligence group QAnon, appeared to have given a warning of an impending false flag attack involving a "Defcon 1" scenario in a series of posts beginning on January 7, 2018, only six days before the Hawaii alert.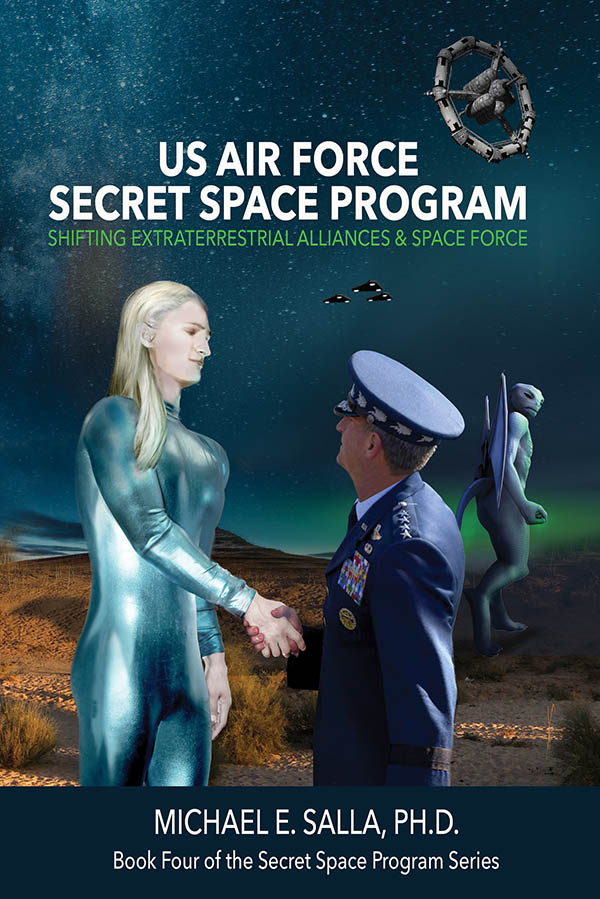 What my research revealed was that the ballistic missile alert was not a false alarm at all, but was instead a false flag attack intended to start World War III by framing North Korea. What stopped the false flag attack was the US Air Force Secret Space Program (SSP), which had recently undergone a dramatic change in attitude, policies, and leadership, the genesis of which I discuss in great detail in my 2019 book.
There were multiple witnesses of something being shot down on the morning of January 13, 2018, near Maui. The US Coast Guard subsequently spent the next week scouring the ocean for debris of what had been shot down as Maui boat captains have confidentially reported to me and others.
These witness reports, along with the testimonies of multiple whistleblowers all support the conclusion that a nuclear ballistic missile was shot down by White Hats within the US military opposed to a Deep State effort to covertly start another world war.
The false flag attack occurred in January 2018, and four months later a flying rectangle is accidentally photographed near the island of Maui. Given the photos and testimony of JP, it appears that a flying rectangle used as a weapons platform by Air Force Special Operations was being secretly deployed near the Hawaiian islands during the critical months after the attack. If so, it may have been also directly involved in neutralizing the January 13 false flag attack on Hawaii.
Synchronistically, a day after the release of the Maui flying rectangle photo, President Donald Trump declared at the July 4 Independence Day celebration that Space Force was soon to be created as the sixth branch of the US military.
It is highly likely that soon after the formal inauguration of Space Force, and its incorporation of classified space units manned by Air Force Special Operations, that some of its secret arsenal of antigravity vehicles will be revealed to the general public.
In a future July 4 celebration, perhaps as early 2020, flying rectangles may be among the highlights of the air show as they drop down from space directly over the Washington Mall. Included among the flying rectangle craft may be the one that was photographed near Maui in 2018, and which may have also been involved in shooting down a ballistic nuclear missile attack on Hawaii that was intended to start World War III.
© Michael E. Salla, Ph.D. Copyright Notice
Further Reading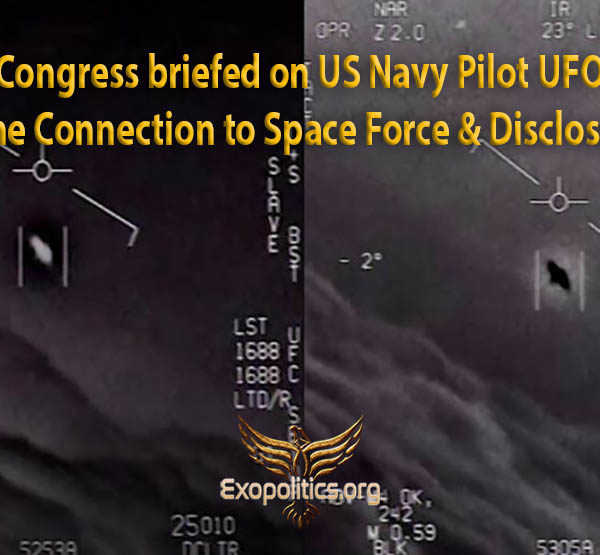 President Trump and members of the US Congress have recently received briefings about US Navy pilot sightings of UFOs. When combined with the Pentagon acknowledging that it had created a classified program to study the UFOs from 2007 to 2012 with Congressional funding, the briefings are leading to increasing speculation on whether we are on the verge of official disclosure on UFOs and their true origin.
Furthermore, the briefings are occurring at the same time as legislation for the creation of a Space Force is making steady progress through Congress. This raises the intriguing question of whether Trump and members of Congress have been told Space Force is necessary to deal with UFOs being sighted by the Navy pilots which are being viewed by the Pentagon as a potential threat.
In an interview with ABC TV host, George Stephanopoulos, President Donald Trump admitted that he received a briefing about UFO sightings by US Navy pilots that occurred in 2004 and 2015. In a June 15 story titled: "Trump briefed on Navy UFO sightings," Politico's Matthew Choi wrote about what Trump told Stephanopoulos: 
"I want them to think whatever they think," Trump said of the Navy pilots. "I did have one very brief meeting on it. But people are saying they're seeing UFOs. Do I believe it? Not particularly."
Trump was here acknowledging that he doesn't believe in UFOs, which has the connotation of being an extraterrestrial piloted spacecraft. Reading between the lines here, Trump is hinting that what the Navy pilots saw were not UFOs but something else that he and the Pentagon knew the answer to.
When asked the question of whether he knew of an extraterrestrial connection to the sightings, he told Stephanopoulos:
"I think our great pilots would know. And some of them see things a little bit different from the past. … We're watching, and you'll be the first to know."
Trump appeared to be deflecting from what he really knew about the alien connection, but one thing he emphasized was that his administration is paying attention to what the Navy pilots have been reporting. Again, reading between the lines, Trump is saying that his administration is actively seeking answers to the UFO phenomenon, and when he finds out, he will relay this to Stephanopoulos and the general public.
A few days later on June 19, Politico ran a story where it discussed three US Senators that had also received classified briefings on the UFO sightings by Navy pilots. In "Senators briefed on Navy UFO sightings", Bryan Bender wrote:
Three more U.S. senators received a classified Pentagon briefing on Wednesday about a series of reported encounters by the Navy with unidentified aircraft, according to congressional and military officials — part of a growing number of requests from members of key oversight committees.
One of them was Sen. Mark Warner (D-Va.), the vice chairman of the Senate Intelligence Committee, whose office confirmed the briefing to POLITICO.
 "If naval pilots are running into unexplained interference in the air, that's a safety concern Senator Warner believes we need to get to the bottom of," his spokesperson, Rachel Cohen, said in a statement.
Justifying their interest in the Navy pilot sightings as a "safety concern" is a convenient way for members of Congress to take an active interest in UFO reports, which have been officially dismissed and ridiculed for decades. This official policy goes back to 1953 when a CIA sponsored panel of scientists gave a damming report on UFO sightings that recommended a public education program to dismiss and ridicule UFO (aka flying saucer) sightings on national security grounds.
Ever since then UFO sightings have been reported by the mainstream press in a way that often mocks and ridicules the subject matter. What is very unusual today is that serving Navy pilots are given permission to talk about their sightings, and the press is giving their accounts serious attention in articles without any ridicule factor.
This is amply demonstrated in the many mainstream news stories that appeared after the New York Times and Politico ran simultaneous articles about the Navy pilot UFO sightings back on December 16, 2017. Both newspapers discussed the pilots' UFO sightings, leaked videos of the UFOs recorded by their planes instruments, and the connection of the sightings to the establishment of the Advanced Aerospace Threat Identification Program (AATIP) back in 2007 with Congressional funding of $22 million.
All this coincides with the formation of Space Force as a sixth branch of the US military, which is currently being debated by both houses of Congress. In the last few weeks, two Congressional defense committees have approved the passage of bills authorizing the creation of Space Force. It will take another month or two for both the House of Representatives and Senate to pass their respective bills, and to then resolve differences in language and priorities between the two versions for their inclusion into the National Defense Authorization Act for 2020.
One thing is becoming very clear, Space Force enjoys genuine bipartisan support in Congress, and this appears to be a result of the current media and Congressional interest in UFOs generated by Navy pilot reports and Pentagon disclosures about its AATIP program. Was Senator Warner, a Democrat, told by his Pentagon briefers that the UFOs sighted by the pilots were an unknown threat, and this is why Space Force is necessary?
A few weeks earlier, Senator Ted Cruz spoke about Space Force being necessary to deal with space pirates. He was not talking about extraterrestrial visitors, but rogue elements from different countries or corporations that could challenge US supremacy in space.
It's not coincidental that members of Congress are being briefed about Navy pilot reports of UFOs that led to the Pentagon setting up its AATIP program in 2007. They are being told that UFOs are an unknown threat, at the same time as the Trump Administration and the Pentagon are pushing for the establishment of Space Force.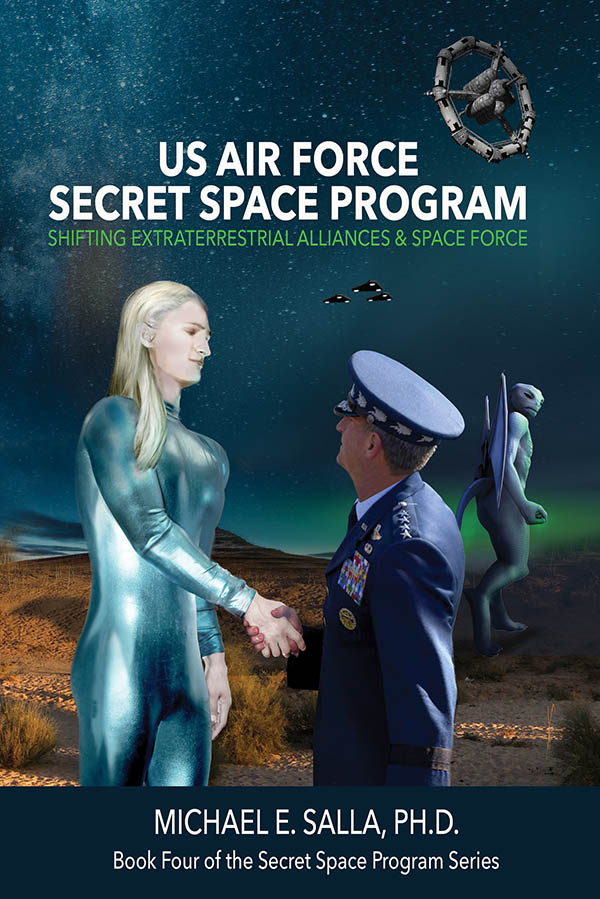 It's widely expected that Space Force will be officially created and set up under the Department of Air Force in 2020, mirroring the relationship between the Department of the Navy and the US Marine Corps. After its official launch, the stage will be set for the Air Force to unveil the classified space technologies it has been covertly developing for decades in a secret space program, which is described in detail in my newly released book, US Air Force Secret Space Program: Extraterrestrial Alliances and Space Force.
Official disclosure is likely to unfold in different stages. The first will be that many UFO sightings involve classified technologies developed by the USAF, along with similar aerospace technologies developed by Russia and China. Disclosure of an Air Force secret space program will be an optimal way of surprising the US public with news about the different sized and shaped antigravity vehicles that have been deployed for several decades now.
The second stage of disclosure likely involves future announcements involving the capture and reverse engineering of non-terrestrial technologies that date back to the 1940s, as also described in the US Air Force Secret Space Program.
A sure sign of what lies ahead is a leaked document about Vice Admiral Tom Wilson, former Director of the Defense Intelligence Agency, being denied access back in 1997 to a classified corporate program involving the reverse engineering of non-human made advanced technologies.
The leaked document identifies several scientists and former military officials who could be summoned before Congress to testify about their knowledge of such a reverse engineering program. Indeed the Pentagon official in charge of the AATIP program from 2007 to 2017, Luis Elizondo, gave an interview on Tucker Carlson on May 31 admitting that some UFO technologies had been retrieved and were being studied by the US government.
Carlson: Do you believe, based on your decade of serving in the US government on this question that the US government has in its possession any material from one of these aircraft?
Elizondo: I do. Yes.
Carlson: Do you think the US government has debris from a UFO in its possession right now?
Elizondo: Unfortunately Tucker I really have to be careful of my NDA [Non-Disclosure Agreement], I really can't go into a lot of more detail than that …
Carlson: Okay.
Elizondo: But, ah, simply put, yes.
This would set in place a means by which the Pentagon and the Trump Administration could reveal how retrieved non-terrestrial technologies were used for the USAF for the research and development of advanced aerospace technologies using antigravity, torsion field and other exotic propulsion systems.
Finally, after Space Force has been created and its arsenal of antigravity spacecraft inherited from the USAF is publicly revealed, the truth about some of the extraterrestrials currently visiting our world can be announced. Extraterrestrial disclosure can be done in a way that does not undermine public confidence over the US and other national governments being able to defend their populations against any possible hostile extraterrestrial actions.
The widespread media attention given to US Navy pilot reports, the association of the UFOs with the AATIP program, and Congressional passage of legislation establishing Space Force are all sure signs of major disclosures that lie ahead.
© Michael E. Salla, Ph.D. Copyright Notice
Further Reading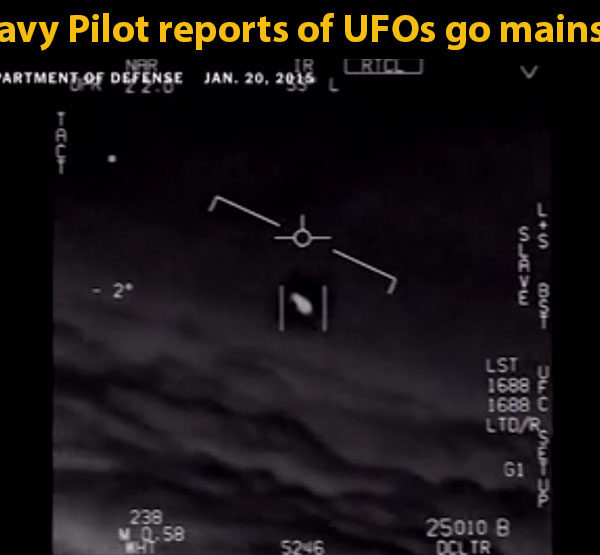 On May 26, 2019, the New York Times published a story about five US Navy pilots reporting UFO sightings in 2014 and 2015 off the coast of Florida. The story cites their descriptions of unknown craft that could fly at hypersonic speeds and hover over the ocean. Their reports were handed off to the Pentagon's Advanced Aerial Threat Identification Program (AATIP).
The five Navy pilots were interviewed by the New York Times reporters about the UFO sightings that occurred while they were conducting training maneuvers off the aircraft carrier Theodore Roosevelt before deployment to the Middle East. The Times reporters said that due to the 2014 and 2015 sightings, that the Navy upgraded its classified guidance for how pilots are to report UFOs, which now are officially referred to as Unexplained Aerial Phenomena (UAP).
A video was included of one of the UFO incidents where the pilots could be heard exclaiming: "Wow, what is that, man? Look at it fly!" The video had been released over a year earlier and was the subject of a March 12, 2018, Fox News interview with Luis Elizondo, the former Pentagon official, who headed AATIP from its 2007 up to 2017 when he retired in protest over the lack of support the program was receiving.
In the Times story, the pilots made clear that no known piloted aircraft could perform the UFO's complex aerial maneuvers:
What was strange, the pilots said, was that the video showed objects accelerating to hypersonic speed, making sudden stops and instantaneous turns — something beyond the physical limits of a human crew.
They speculated that the UFOs might be part of a highly advanced drone program that raised several safety issues due to the possibility of a midair collision. They refused to speculate further about the UFO's origins. Earlier in April 2019, the Navy issued new guidelines for reporting UFO sightings, and cited safety concerns as a factor for the need to improve the reporting process.
There are several important takeaways from this latest New York Times story that follows a December 16, 2017 story that analyzed similar sightings reported by Navy pilots back in 2004.
The first is that the US Navy is allowing its pilots to go on the public record about UFO sightings that have national security implications. This has effectively reversed a decades-long military policy dating back to 1954 called JANAP 146(C), which forbade military and civilian pilots discussing UFO sightings that were deemed to have national security implications. JANAP 146 referred to possible prosecution under Espionage Laws for unauthorized transmission of UFO sightings reported by military and civilian pilots that fell under the official reporting mechanism established by JANAP. 

The second takeaway is that the Pentagon is allowing official military surveillance video to be leaked to the public about a phenomenon which on the surface appears unknown, at least to the pilots witnessing them. It is more than likely, however, that the phenomenon is very well known to the military hierarchy who have sanctioned the leaking of the videos, which it needs to be emphasized are official Navy videos whose unauthorized disclosure carries severe penalties as JANAP 146 makes clear.
Third, the fact that the New York Times has released the story is sending a clear signal to other mainstream media sources that it is OK to discuss UFO sightings and their national security implications. We can, therefore, expect many more mainstream media stories about UFOs/UAPs in the near future as evidenced by multiple news sources immediately reporting on the Times story.
What can be concluded about the mainstream media's newfound enthusiasm to discuss pilot reports of UFO?
It's important to emphasize that there is no way the Pentagon would reverse its decades-long policy (JANAP 146) unless it was convinced that it could adequately explain the national security implications of UFO sightings. It's more than likely the video leaks and pilot interviews are part of an official disclosure process of advanced aerospace technologies that are well known to US military leaders.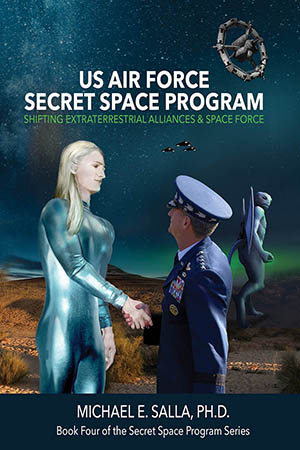 The Pentagon is slowly educating the public about advanced technologies it has secretly developed. There is abundant and compelling evidence that both the USAF and US Navy have developed secret space programs that utilize the kind of advanced aerospace technologies witnessed by the Navy pilots in the 2014/2015 and 2004 incidents.
It is most likely, however, that the US Air Force's arsenal of advanced aerospace technologies will be the first secret space program that is to be revealed given the abundance of evidence proving its existence as I have documented in the US Air Force Secret Space Program. While the Navy program focused on deep space operations, the Air Force focused on near Earth operations and its craft deployed technologies that will be easier to explain as human engineered.

It will help the unfolding UFO disclosure narrative greatly if US Navy pilots are bewildered by the advanced technologies they are witnessing, thereby pointing to such technologies belonging to another military service. This will deflect attention away from the Navy SSP to the Air Force's SSP.

It's becoming very clear that the Pentagon has decided to move forward with preparing the general public for future announcements of advanced aerospace technologies that have been secretly developed in highly classified programs. This will be used to explain the origins of many UFO sightings over the decades, including those witnessed by military pilots that were studied by AATIP. I for one, don't believe all UFO sightings can be explained as terrestrially developed advanced technologies, but certainly a great many are.
The advanced aerospace technologies secretly developed by the Air Force, as I explain in the US Air Force Secret Space Program, will be gradually disclosed with the official launch of Space Force, which is part of a long term strategic plan to eventually disclose and merge all advanced aerospace technologies developed by different branches of the US military.  In the meantime, to get more information about AATIP and multiple military pilot reports of UFOs since 2007, you can tune in this Friday to the official launch of the History Channel's, "Unidentified: Inside America's UFO Investigation".

© Michael E. Salla, Ph.D. Copyright Notice
Further Reading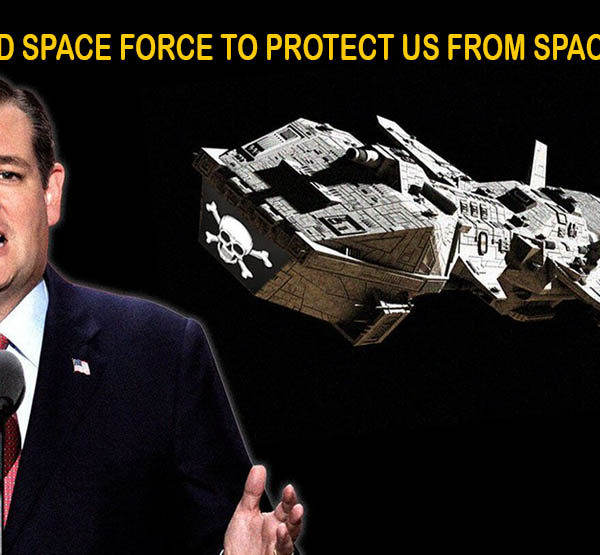 On May 14, Senator Ted Cruz (R-TX) gave a speech in support of Congress moving forward with the creation of Space Force as a new branch of the US military. Cruz gave an intriguing perspective on what the proposed new military branch would protect the country from – space pirates!
Cruz said the following in his Space Force speech at a hearing of the Senate Subcommittee on Aviation and Space, which he chairs:
Since the ancient Greeks first put to sea, nations have recognized the necessity of naval forces and maintaining a superior capability to protect waterborne travel and commerce from bad actors. Pirates threaten the open seas, and the same is possible in space. In this same way, I believe we, too, must now recognize the necessity of a space force to defend the nation and to protect space commerce and civil space exploration. 
Cruz's implicit reference to "space pirates" quickly garnered much internet attention, particularly on Twitter's "moments" news thread, where tweets of multiple people mocking him appeared. Cruz fired back at Jack Dorsey, creator of Twitter, for not giving equal coverage to his responses:
Hey @jack how come Twitter's "moment" quotes all the snarky leftists making fun of my comments, but doesn't include my tweets in response explaining the real point that NATIONS like China have already developed & tested weapons to destroy satellites? https://t.co/dwkM5ndXj3

— Ted Cruz (@tedcruz) May 16, 2019
President Donald's Trump's proposed Space Force is currently being debated in the US Congress which is considering legislation officially creating it as a new military branch under the US Air Force.
The Pentagon has come out in support of Space Force being created, despite initial opposition by the Secretary of the Air Force, Heather Wilson, and its Chief of Staff, David Goldfein. Patrick Shanahan, the Acting Secretary of Defense, has been the driving force behind the Pentagon getting behind Trump's proposal.
A two stage process was outlined by the Pentagon on August 9, 2018, for realizing Trump's goal. One of the four components in the first stage was was the elevation of the Air Force's current Space Command into one of the Pentagon's unified combatant commands. Currently there are ten combatant commands that are at the apex for command and control of different geographical regions and specific functions performed by all branches of the US military.  
On March 27, 2019, John William "Jay" Raymond, a four-star general who is the current head of Air Force Space Command (2016-), was proposed by President Trump to head up the new Space Command.
In his February 19, 2019, Space Policy Directive 4, Trump proposed that legislation be created for the formal establishment of a Space Force as a separate military branch initially placed under the Department of the Air Force. Trump's desire for a separate Department of the Space Force, would be revisited at a later stage.
Legislation for Space Force was submitted to Congress in February by Secretary Shanahan and is currently being debated in various congressional committees, including Cruz's. The Space Force legislation is a major test for whether or not the new military branch has enough Congressional support to have its creation passed into law.
While the partisan nature of the current Congress makes any passage of policies proposed by Trump challenging, there is still strong bipartisan support for policies supported by the Pentagon. A letter of support from 43 former Pentagon officials is proving to be very influential in overcoming doubts expressed by members of Congress. The letter states that Space Force will:
… develop military space culture and ethos; recruit, train, educate, promote, and retain scientists, engineers, and warriors with world-class space skills and talent; advocate for space requirements and resources; develop space doctrine and operational art; develop, field, and deliver advanced space capabilities; and steward resources to sustain America's strategic advantage and preeminence in national security space activities.
Consequently, because Shanahan and other Pentagon officials are committed to the creation of Space Force, it's very likely that Congress will pass the proposed legislation and authorize its creation.
This finally brings us to Cruz's indirect reference to "space pirates". Was this just hyperbole for why Space Force is needed?
In his tweet to Dorsey, Cruz tried to walk back his comment by referring to the capability of major nations such as China to destroy satellites as his real point. However, according to multiple insider sources, the idea of the US having to defend itself against space pirates is not as ridiculous as it appears. There are a number of non-state actors secretly operating in space that do threaten US national interests, and the planet more generally.
One of these sources is rogue special access programs, which operate outside of lawful government control. Former Apollo astronaut Dr. Edgar Mitchell confirmed that the sitting head of intelligence for the Joint Chiefs of Staff, Vice Admiral Tom Wilson, was denied access in 1997 to an Unacknowledged Special Access Program (USAP) involving UFOs.
This incident and many others point to rogue USAPs conducting various advanced aerospace projects that can impact US space operations and Earth installations. These USAPs are loosely controlled by shadowy entities such as the Deep State, which have their own distinct globalist agendas that conflict with nationalist policies.
An example of existing rogue operations is given in my new book, the US Air Force Secret Space Program: Shifting Extraterrestrial Alliances and Space Force a chapter discusses how the Deep State used its MASER equipped satellites to steer Hurricane Irma against MacDill Air Force Base in retaliation for Air Force Special Ops openly displaying some of its antigravity craft to members of the general public in support of disclosure. The conclusion is that rogue USAPs are a modern day form of space pirates.
We also have the idea of Space Nazis which was proposed by insiders such as William Tompkins who worked for the US Navy during World War II, and said he was part of a Navy espionage program that monitored the Nazi's flying saucer program. Tompkins asserted that the Germans successfully established a breakaway colony in Antarctica which became a space power over the succeeding decades.
According to Tompkins and other insiders, the Germans have established colonies on Mars, Ceres, and elsewhere in Deep Space, and have developed some of the most advanced aerospace technologies known to humanity. Given their non-state status, the breakaway German Antarctic/Mars colonies may also be considered a modern form of space pirates.
Finally, we have the idea of a transnational corporate network that has developed its own space fleet that operates outside of any national or global institutional authority. According to insiders such as Corey Goode, the Interplanetary Corporate Conglomerate has the most advanced spacecraft in existence as a result of their long-time cooperation with the breakaway German group in Antarctica.
Given their official non-state status, transnational corporate entities such as the Interplanetary Corporate Conglomerate may also be included in the category of space pirates that Cruz was warning the public about.
As the head of a key Congressional subcommittee dealing with space affairs, Cruz may have acquired some inside knowledge of these different non-state actors operating in space outside of any recognized lawful national or global authority.
The problem of "space pirates" is very real and not just hyperbole. Whether by design or accident, Cruz has just pointed out a major reason why Space Force is being created, and is being fast-tracked into existence by the Trump administration.
© Michael E. Salla, Ph.D. Copyright Notice
Further Reading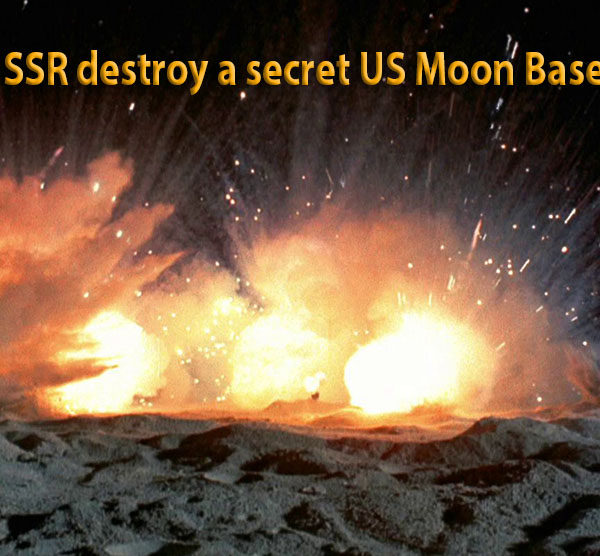 A Wikileaks document that referred to the destruction of a US moon base sometime in the 1970s has recently gained renewed attention. The document is dated January 24, 1979, and is titled "Report that UR Destroyed Secret US Base on Moon." It was correspondence involving one or more officials from the U.S. State Department to Samuel L. Devine, a Republican member of the US Congress.  
The document has tags "Operations–General | UR – Soviet Union (USSR)" which reveals that "UR" stands for the USSR. The document was marked unclassified, which suggests that the content of the correspondence did not contain classified information, and involved open source material widely available at the time. The fact that officials were discussing such a topic raises the question, did the USSR destroy a secret US moon base sometime before January 1979?

Wikileaks included the document in its dump of State Department diplomatic cables that it began releasing online in November 2010 and ended on September 1, 2011. Julian Assange's arrest on April 11, 2018, sparked renewed interest in him and Wikileaks document dumps over the years.
Arjun Walla published an article in Collective Evolution that discussed Assange's arrest and examined the controversial Wikileaks' Moon base document. Walla discussed it in relation to a host of Moon-related information that has been leaked over the years. This included a Congressional statement on building a permanent Moon base; CIA concern over Soviet plans to build a Moon base; Soviet concerns over the US plans to use the Moon as a military base of operations; and whistleblowers discussing photographic evidence of moon bases. I recommend reading Walla's article for a succinct overview of this data.
However, to explore the question of whether or not the USSR destroyed a secret Moon base in the 1970's we need to go back a few years to the remarkable audio letters of Dr. Peter Beter. Beter was the General Counsel of the Export-Import Bank (1961-67) and had high-level sources who confided to him what was happening behind the scenes in space from the 1960s to the early 1980s. In this modern era of whistleblowers, it's worth emphasizing that Beter was the first genuine insider to come forward with details about secret space programs. 

He described how the US and USSR were fiercely competing both in a race to the Moon and in the development of particle beam weapons that could operate between the Moon and Earth. It was clear that whoever first developed a particle beam weapon that could operate from the Moon would possess an overwhelming strategic advantage.
According to Beter, while the US was forging ahead in the race to the Moon, the Soviets were ahead in developing particle beam weapons. In his Audio Letter 26, released on September 30, 1977, Beter wrote:
By 1972, these experiments still were a long way from a suitable weapon for deployment on the moon. But ominous developments in the Soviet Union led to the decision to cut off the Apollo program prematurely so that the construction of the secret moon base could be rushed ahead.
According to Beter, Diego Garcia was used as a spaceport for building the moon base:
Early in 1973, soon after the supposed end of the American moon program, we began hearing about a place called Diego Garcia in the Indian Ocean. Supposedly we were merely building a communications installation there, yet the drastic step was taken of relocating all the 20,000 or so natives of this little island to other areas. More recently, we have heard about Diego Garcia as the site of a new American naval base; but, my friends, you still haven't been told the whole story. Diego Garcia, my friends, is the new space-port from which secret missions to the moon have been launched during the building of the moon base.
Diego Garcia was the ideal location for a space launching pad according to Beter:
Unlike Cape Canaveral, where Saturn rocket launches are impossible to hide, Diego Garcia is remote and isolated, and even the natives are no longer there to watch what goes on. What's more, Diego Garcia is practically the perfect moon-port, located as it is almost on the earth's equator, and a space vehicle launched eastward into orbit from Diego Garcia passes over a nearly unbroken expanse of water for more than half the circumference of the earth. The only means of monitoring the early flight of a space craft launched from Diego Garcia, therefore, is from ships.
In his 1977 newsletter, Beter wrote about the information he had received from his sources about the US moon base:
I was first alerted to the existence of a secret base on the moon last November 1976–but it has been one of the best kept of all Rockefeller secrets, and it was only a few weeks ago that I was able to confirm its existence and learn the complete story; and since that time, events have moved with lightning speed.
Beter went on to give details about the deadly race to develop particle beam weapons as it played out in 1977:
Throughout this year an unseen but deadly race has been underway to see who would get an operational Particle Beam first: the Rockefellers, at their secret moon base; or the Soviet Union, in earth orbit. By late spring, a Salyut manned space craft was launched that carried out preliminary tests of beam-weapon techniques, using lasers in order to simulate the Particle Beam.
Beter next gave details about the race between the USSR and US to develop particle beam weapons for deployment in space and/or the Moon. The Soviets succeeded in developing the first operational particle beam weapons in Earth orbit, and destroyed the newly built US moon base:
By the 26th of September, American personnel at the secret Rockefeller moon base nestled in Copernicus Crater were almost ready. Their Particle Beam was almost operational–but they were too late. By late that day, the Soviet Union began bombarding the moon base with a Neutron Particle Beam. Through the night, and all day on September 27 the moon base was bombarded without mercy with neutron radiation just like that produced by a neutron bomb; and by that evening as Americans looked up at the peaceful full moon overhead known as the Harvest Moon, the last few Americans on the moon were dying of neutron radiation. America had lost the Battle of the Harvest Moon.
It's not clear what the contents of the document titled "Report that UR Destroyed Secret US Base on Moon" discusses. Given its unclassified status, and the date it was created, the most plausible explanation is that it involved a discussion between Congressional and State Department officials about Beter's "Harvest Moon Battle", or some other unclassified material regarding destruction of a US Moon base and the development of particle beam weapons.

Why would Congressional and State Department officials be interested in such information; and, more importantly, what did they have to say about it? A Freedom of Information Act request will help answer such questions.
© Michael E. Salla, Ph.D. Copyright Notice
Further Reading