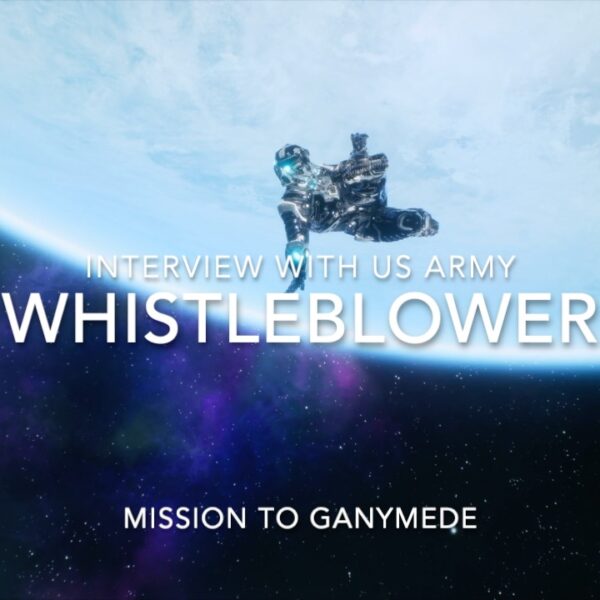 In this Exopolitics Today interview, a serving member of the US Army, JP, discusses his recent mission to Jupiter's moon, Ganymede, and the time he spent at different locations on the surface and below ground performing various tasks. JP is disclosing covert space assignments he and other military personnel are asked to perform, and keep silent about when returning to Earth. JP provided a 4 minute video where he discusses the time spent on Ganymede which is presented immediately after the interview.
JP is keeping his name and physical appearance confidential to preserve his career, but is encouraging other former or serving US military personnel to come forward to share their own extraterrestrial related experiences. In this video interview, I've only included the audio to protect his identity.
I have known JP since 2008, and believe he is very sincere and a credible witness. I have written an extensive number of articles on his UFO photos, ET Contact and secret space program experiences which are available here.
Video Premieres today at 11 am EST on YouTube and Rumble
Podcast version will be available on Apple, Spotify and Google
If anyone else currently serving in the US military would like to contact me regarding their own knowledge and/or experiences regarding recent Moon, Ganymede or other solar system missions, I can be reached at drsalla@exopolitics.org
For an earlier interview and video release by JP describing the emotional impact of meeting and befriending extraterrestrials and leaving behind military colleagues on Ganymede, click here.
Many thanks to Angelika Whitecliff for her creative visuals and editing of the interview segment of this video.
Michael Salla, Ph.D.
Related Articles/Podcasts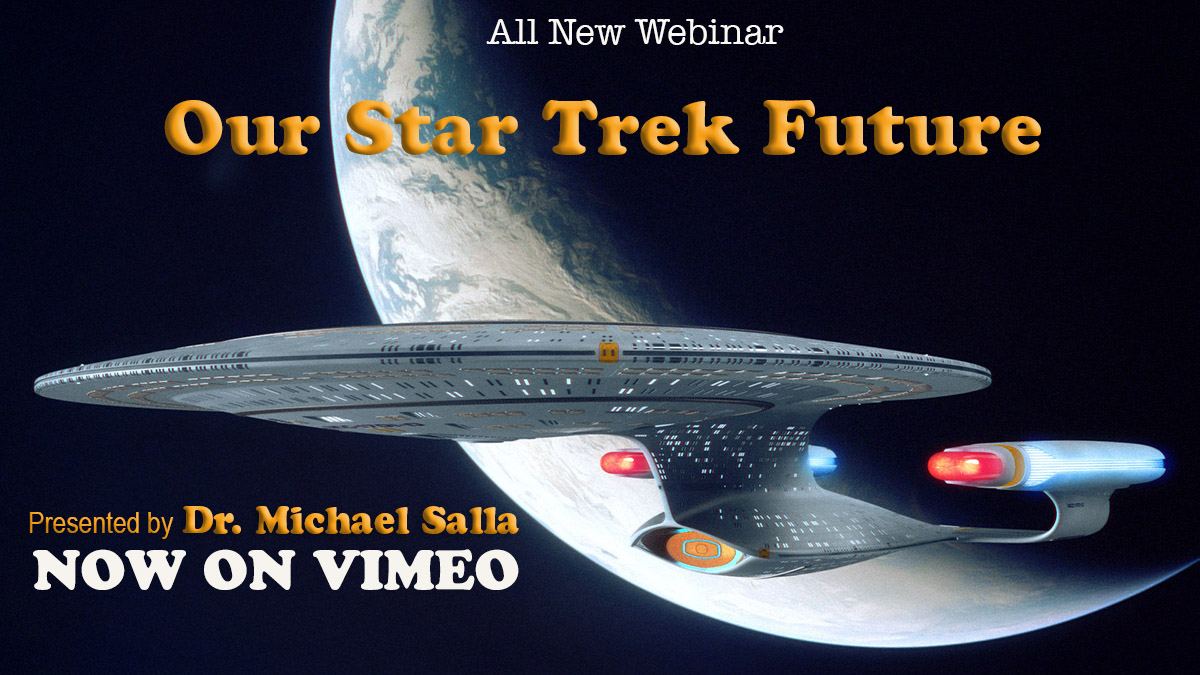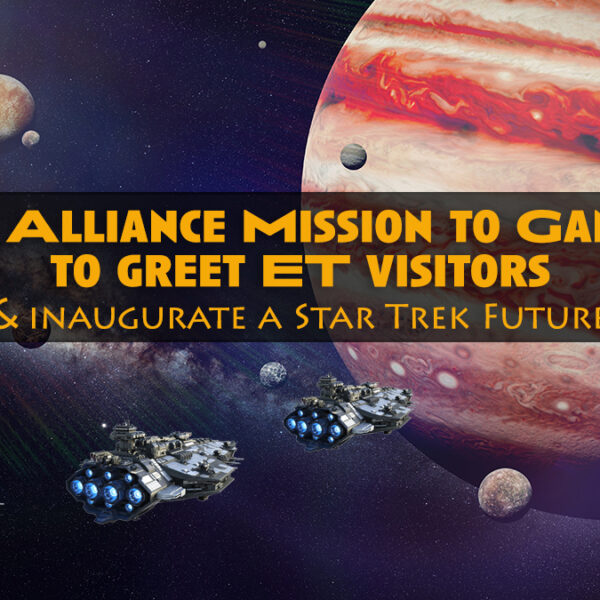 A fleet of spacecraft from a highly evolved group of friendly extraterrestrial visitors has arrived in our solar system and established a presence on Jupiter's moon Ganymede, according to three independent sources familiar with unfolding events in deep space. This latest intel coincides with William Shatner, globally revered for his role as Captain Kirk in the Star Trek franchise, being launched into space on October 13, a likely cover for him playing a significant role in unfolding events on Ganymede.
My first source, JP, who currently serves with the US Army, revealed to me that an international space coalition has been secretly sending personnel and ships to Jupiter's moon Ganymede, to meet with a powerful new group of extraterrestrial visitors regarded as friendly.
My second source on what is currently happening on Ganymede is the extraterrestrial contactee Elena Danaan, who has passed on the most recent intel from her Galactic Federation source, Thor Han Eredyon, about the visitors who are establishing an outpost on Ganymede to coordinate with the Earth Alliance until humanity is ready for open contact.
My third source is long-time Andromedan contactee Alex Collier who confirmed that there has been much recent activity on Ganymede, which possesses a number of large extraterrestrial facilities that have been present there for thousands of years.
I begin with intel from my long-time source JP who I've known since 2008, which was when he first contacted me about his extraterrestrial contact experiences in Brazil. JP revealed back on September 7 that he and other US military personnel had been assigned to covert Moon operations and began assembling large facilities there with the assistance of human looking extraterrestrials working with US Space Command.
In an earlier article, I discussed what JP had revealed about US military operations on the Moon that corroborated information being released by another contactee, Megan Rose, and her source, Val Nek, about the Galactic Federation building a new base on the Moon. The new moonbase would use secure technologies to prevent infiltration by hostile extraterrestrials from the Draconian Empire and Orion Alliance.
On September 21, JP first informed me about a large space convoy leaving the Moon and heading towards Ganymede to meet with an incoming group of friendly extraterrestrials. He told me:
Also, something good is happening. They're moving some technology from the moon to Ganymede. Among the soldiers everybody talking. Major space convoy… Sometime this week or next week the convoy leaves. Don't know the exact hit time. Earth satellite to Jupiter's satellite. 
The large space convoy would not be using rocket-propelled technologies to get to Ganymede, which would take more than a year. The space convoy would take a fraction of that time using antigravity, torsion field, and other exotic propulsion systems. JP let me know the route the Earth Alliance convoy would take:
To the Moon, then Ganymede..  But in between the Moon and Jupiter's satellite there's gonna be major stops like in Mars and in the astro belt..  Before reaching Jupiter's gravitational pull.
On September 27, JP asked me: "From your sources you know anything about going to Ganymede. The soldiers are still talking about it…"
I replied: "My Federation sources are not talking about Ganymede. Tell me what the soldiers are saying." JP continued:
"That they're moving some advance technology from the moon to the biggest moon in our Solar System … And when I heard you talk about the Jupiter meetings.. I really got interested. It's a moon that has a magnetic field and has a lot of water… There's massive facilities there already. We are just transporting a shit Load of stuff…. There's massive structures there massive … I remember them saying that there was a massive war there [Ganymede] a couple 1000 years ago…. All I know is an armada is heading over there… BIG Big ships
I have covered the Jupiter Meetings first revealed by Thor Han through Elena Danaan and later corroborated by Val Nek through Megan Rose in an interview. One of the pieces of corroborating data that I referred to was the announcement by NASA that the launch vehicle for the Clipper Mission to Europa, Ganymede's sister moon, had been awarded to SpaceX. I speculated that this was the cover for Musk to attend the Jupiter Meetings. His attendance, along with that of Jeff Bezos and Richard Branson, was later confirmed by Val Nek.
With this new intel from JP, it becomes clearer that the NASA Europa Clipper mission is a cover for a much larger space operation, an Earth Alliance convoy to travel to Ganymede to set up facilities to meet and interact with an incoming group of extraterrestrial visitors.
JP next had an encounter with a human-looking extraterrestrial who told him to prepare for being part of one of the upcoming military missions to Ganymede to meet with an incoming group of visitors. This did not come as a surprise to me since JP's recruitment into the US Army was facilitated by US special forces personnel who had several years earlier helped him take photographs of antigravity spacecraft flying near MacDill Air Force Base in order to promote disclosure. I analyzed JP's photos in a series of articles, including my latest book on the US Space Force.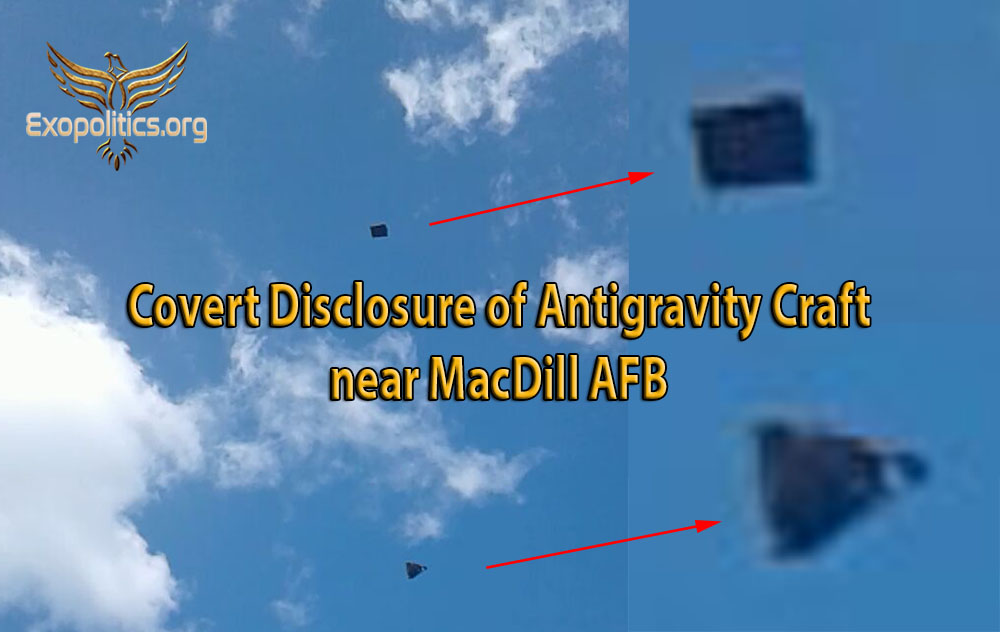 On October 4, I asked Elena whether she knew anything about "something big … coming into our solar system", she replied:
I also heard about another great return, of powerful benevolent forces, from another dimension and realm. A great force that has always tried to free Humanity of Earth from slavery. This also is back. We are up for a great grand finale.
This takes me to Elena's [E] latest intel from Thor Han [TH] received on October 10, which provides much more information about this incoming benevolent force, and the connection with Ganymede:
TH: The fleet from the Intergalactic Confederation has arrived in this star system. Their ships will be stationed around Jupiter for a while, until further notice to move nearer to Earth's orbit. The personnel and logistics are welcomed on the Ashtar outpost. High officials are staying at the Council of Five facility on the moon Ganymede. They come to evaluate the result of our common work regarding to the dismantlement of the Dark Alliance, and collaborate together with the Galactic Federation of Worlds a course of action for the next step.
Thor Han's information here is stunning confirmation for what JP had earlier revealed to me back in September. A multinational (Earth) alliance headed by US Space Command is sending a large convoy to Ganymede to meet with and collaborate with an incoming group of extraterrestrial visitors. Thor Han elaborates on this growing collaboration between the new visitors and the Earth Alliance:
E: What is the next step?
TH: Connecting with the Earth Space Force and evaluation of the potential for a civilian contact. We usually don't require their intervention but we recently requested their assistance to secure this timeline. You know, Terra is not like one of these stage 2 or 3 civilizations that the Galactic Federation of Worlds rescues from external interference. Terra is special. It bears the seeds they planted.
E: Can you talk about that?
TH: They are our forefathers. They seeded us, here in Nataru. Terra, like a few other places in this galaxy, has been for a long while one of their particularly loved grounds for experimentation about human development and consciousness. Such as in Mana (K62-Lyra). They are the seeders.
E: I understand they are a bunch of different races, aren't they?
TH: Yes, they are very diversified but not as widely diversified as the life-forms they created.
E: How do you "create" life-forms?
TH: By hybridization. It is a great amusement for them but there is a serious underlying matter. They work in accordance with Source. Of course, they do NOT create all life forms; this is the creation of Source; but they rather play with the material to create hybrid races and populate worlds.
This is a fascinating development since it dovetails with the information provided by several researchers and contactees about humanity's extraterrestrial origins and how different races seeded humanity. The oldest reference to such information comes in biblical texts such as the Old Testament that refers to the Elohim as humanity's creators.
Alex Collier says that he was told by Andromedan extraterrestrials that humanity was a hybrid species containing the genetics of 22 extraterrestrial civilizations. In his book, Defending Sacred Ground, Alex spoke about Ganymede being used as an outpost by the Andromedans: "The Andromedans have huge mother ships on Jupiter, [and] the moon of Ganymede."
Therefore, it is very possible that this new group that has established a presence on Ganymede is related to one or more of these 22 civilizations. Elena's conversation with Thor Han continued:
TH: Did I tell you about the Nine Elders?
E: Yes, you did.
TH: They are the highest level of individuated consciousness before Source. Some call them the Nine Gods, others the Nine Prophets of Source. They do not live in a definite dimension but in no dimension; I mean, for you to understand: they dwell in-between the created universes, in a place where time and space are uncreated. We call it: the Void. Or the Sanctuary. Their consciousness encompasses all consciousnesses. They can fractally divide themselves to be present simultaneously in as many places as they wish, for they do not travel in space, nor in time, but they connect to a location and an entity when they want to pass on a message, or act, whatever the distance, whenever the time. For them, time occurs only when they connect to a space-time continuum. They are the first children of Source.
E: Archangels?
TH: Higher than that. They are pure consciousness, non-incarnated, shapeless, but with each their own individual thinking, although binding as one. Nine mouths, one heart. They are the Nine, they have no other name.
E: Can they be called the Council of Nine sometimes?
TH: Well yes, sometimes. You know there are a tremendous lot of councils. These Nine are an intergalactic sort of council, and you have also the Nataru (this galaxy) Council of Nine, which is now "The Five". And at the head of the Zenae (Andromedans), you have also nine elders.
At this point, it's worth mentioning that the first reference to a Council of Nine interested in human affairs came from channeled communications involving Dr. D.G. Vinod, who worked with the famed psychiatrist Dr. Andrija Puharich back in 1952. Puharich had several psychics channel the Council of Nine, including famed Israeli psychic Uri Geller and later Phyllis Schlemmer.
Her book, The Only Planet of Choice summarizes 20 years of research and communications with the Council of Nine. Importantly, Gene Roddenberry attended some of the Council of Nine channeling sessions and asked them questions. This inspired the creation of the TV series Deep Space Nine where a mysterious group of incorporeal extraterrestrials called the 'Prophets' who occupied non-linear time inside a wormhole that instantaneously connected different parts of our galaxy.
What Thor Han next had to say about the Council of Nine has an uncanny resemblance to the Prophets in Roddenberry's Deep Space Nine:
E: And the Galactic Federation has a High Council of 25, isn't it?
TH: 24 plus one, the law-keeper. This one settles the final decision, but this task takes turns. The Law-Keeper is replaced by another member of the council every 10 cycles.
E: Based on what cycle?
TH: A fractal of the temporal cycles of this galaxy.
E: Are the Nine also coming in our star system now?
TH: (laughs) They do not need ships to move. Their mind can connect to everywhere. They can take any shape, instantly teleport and materialize in a temporary biological vessel, related to the species they visit. They can change into anything. Biological forms, elements such as fire, water…
E: Why so then, did they leave all these events happening in this star system?
TH: Understand: the Nine are above everything, they overlook the stories of all creatures populating these universes, rarely playing a role at an individual level in the balance of things.you
Elena next goes on to ask about an extraterrestrial organization she calls the Intergalactic Super-Confederation, which she described in her most recent book, We Will Never Let You Down. She describes it as an apex intergalactic organization with a higher status than the Council of Nine, Andromeda Council, Galactic Federation, Ashtar Command and other extraterrestrial organizations operating locally in our galaxy.
E: You said that Terra is special, and dear to the heart of the Intergalactic Super-Confederation… oh what is the exact name, by the way?
TH: They have their own name, which is in frequency, not translatable in human language. We do, in Taami, name them Ard Oraa Tu, but it is a very faint translation of a multidimensional frequency-based language. We rather like to call them: "Do", the Guardians, because that is what they really do. (Thor Han is here answering my question about the Intergalactic super-confederation, not the Nine)
It's significant that US Space Force personnel chose to refer to themselves as Guardians, and are now directly liaising with a group of visitors called the Guardians or Prophets.
To sum up, according to Thor Han, the recently arrived extraterrestrial race that has entered our solar system and established a presence on Ganymede, is the Intergalactic Super-Confederation. It is here to oversee the incredible transition about to take place on Earth and our solar system, and to liaise with the newly created Earth Alliance comprising 14 spacefaring nations and companies that participated in the July Jupiter meetings.
In addition, Thor Han revealed that an intergalactic Council of Nine known throughout our galaxy as 'Prophets' or 'Guardians', has also arrived interdimensionally to observe how events play out in our solar system.
I spoke with Alex Collier on October 11, and he said that the new group of extraterrestrial visitors had indeed made a beeline for Jupiter and established a presence on Ganymede to watch events unfold in our solar system. He said that Ganymede has enormous facilities that date back many thousands of years. When I told him about JP's intel about a space convoy heading for Ganymede, Alex said that they likely had been assigned one of the huge facilities on Ganymede as a forward base of operations.
There is a very important synchronicity happening on October 13 that supports the above information. Jeff Bezos' Blue Origin spacecraft is scheduled to launch with William Shatner as one of the four astronauts. According to Elena, the Blue Origin uniforms are a close match to the uniforms of Earth Alliance personnel interacting with the Galactic Federation and other extraterrestrial groups.
My speculation is that the October 13 Blue Origin mission is a cover for Shatner and the other three astronauts secretly traveling to Ganymede to participate in the welcoming ceremony for the newly arrived Intergalactic Super-Confederation, and possibly even the Council of Nine. Shatner is a tremendously popular worldwide figure and would make an excellent cultural ambassador for Earth in initial contact meetings with such an important group of visitors. Shatner's participation in such meetings would also herald humanity officially entering into a Star Trek future.
In conclusion, there are three independent sources that confirm that a powerful new group of extraterrestrials have arrived in our solar system, and established a presence on Jupiter's moon Ganymede. It is more than coincidental that NASA's Clipper mission to Europa was announced back in July, as it provides the perfect cover for a large space convoy to be secretly assembled and sent to its sister moon Ganymede without arousing too much suspicion. The large convoy and development of a human presence on Ganymede at one of the large facilities there also helps explain the worldwide labor shortage that I have previously discussed.
Finally, the Blue Origin space mission involving William Shatner, with his deep connection to the Star Trek franchise, does lend plausibility to the idea that humanity has officially entered into an exciting new phase with a highly evolved group of extraterrestrial visitors, depicted in Deep Space Nine as the Prophets, that have taken up residence on Ganymede.
© Michael E. Salla, Ph.D. Copyright Notice
[Video Version of this article is available on YouTube and Rumble. Podcast available on Apple, Spotify and Google]

I wish to thank Elana Danaan for relaying Thor Han's update and sharing her drawing of the incoming extraterrestrial space fleet. Her YouTube channel is https://www.youtube.com/elenadanaan
[October 13 – Author Note Gene Roddenberry would employ teams of writers and producers to come up with different episodes of Star Trek and its sequels based on his original ideas. Rick Berman and Michael Piller are widely acknowledged as the official creators of the Deep Space Nine series which first aired in 1993, two years after Roddenberry's death. Roddenberry did attend Council of Nine channeling sessions and the close resemblance between them and the Prophets in the DS9 episodes does suggest that this was another case of his writers and producers introducing ideas he first discussed and developed with them. So while it can be stated with confidence that the DS9 was inspired by Roddenberry's attendance at Council of Nine channeling sessions, it is incorrect to attribute creation of the DS9 series to him. I have therefore updated my article accordingly.]
Related Articles & Podcasts
For a complete list of articles and interviews concerning the Galactic Federation and/or featuring Elena Danaan, Megan Rose,  and other sources click here.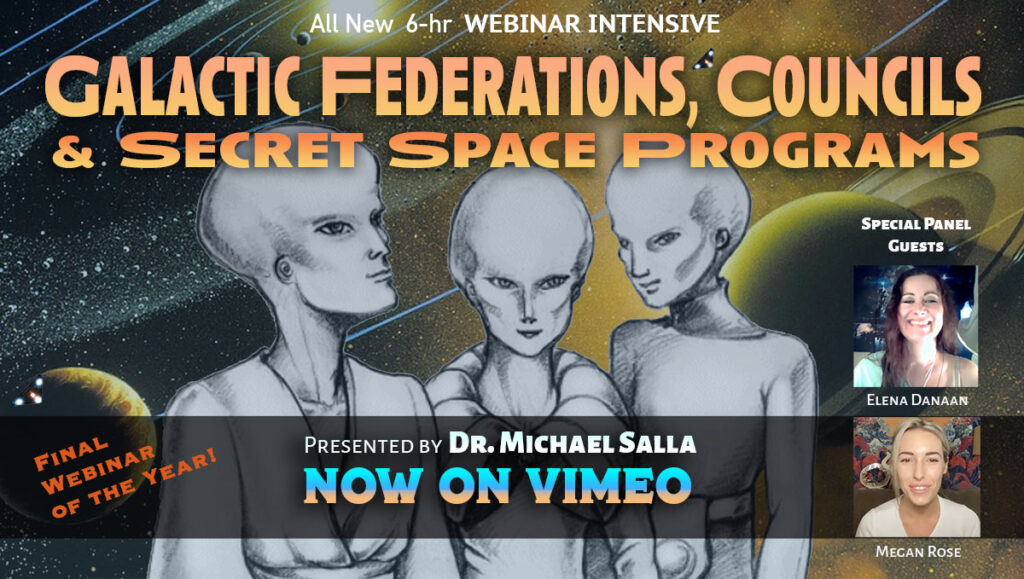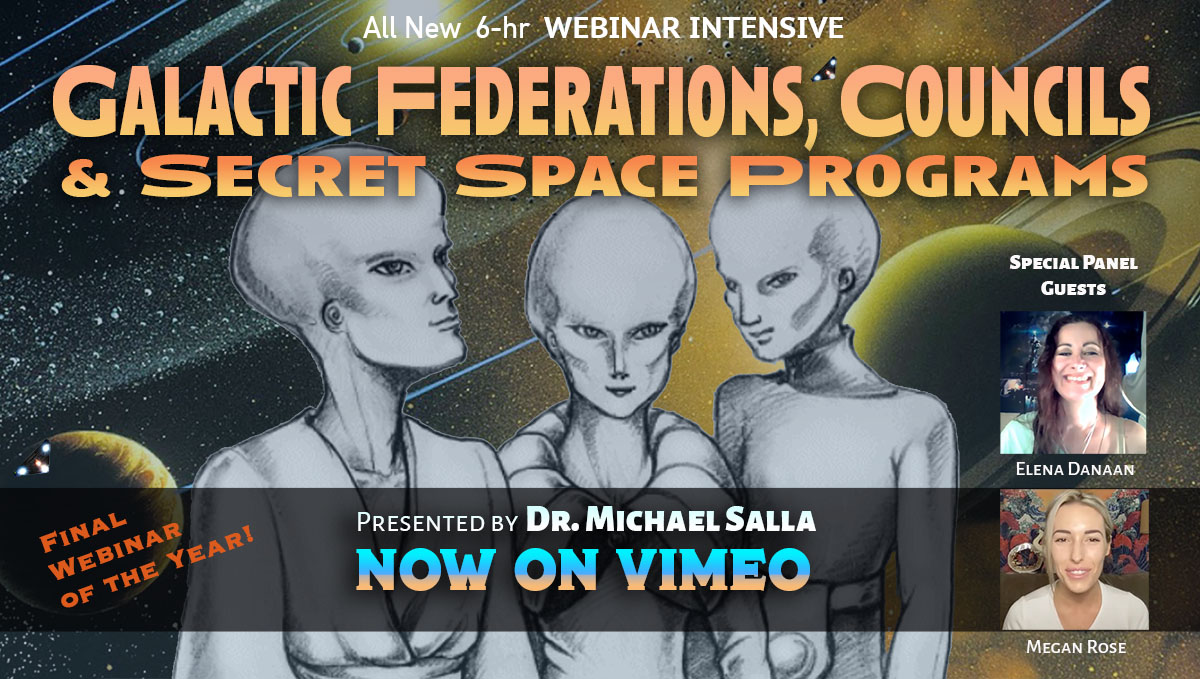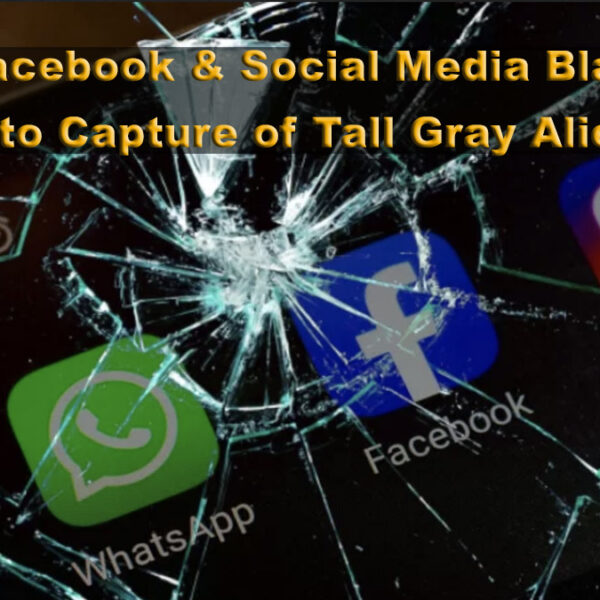 On October 3, I reported on the sensational news that nine Tall Gray (Eban) extraterrestrials had been captured by the Galactic Federation of Worlds only four days earlier, which has sparked quite a bit of online interest and debate. These Grays were allegedly the same leadership group that had reached agreements with the Eisenhower Administration in the 1950s, and were subsequently key players in the New World Order that had been secretly set up by their Deep State partners. Only five days after the reported capture, Facebook, Instagram and Whatapp all experienced blackouts on October 4. A coincidence? Not so according to the latest updates from two Galactic Federation representatives, Val Nek and Thor Han, as relayed through independent sources.
In my October 3 article, I discussed how the Tall Grays were being kept in stasis chambers so as to disconnect them from their hive queen, which effectively was keeping them alive. The Galactic Federation was trying to crack the code of their connection since capturing Tall Grays alive for study purposes is apparently quite rare as the hive queen immediately terminates them after capture.
It appears that the Galactic Federation's capture of the Tall Grays had significant repercussions for the global internet. This was especially the case for major social media companies, which had long ago been infiltrated and compromised by the Tall Grays, who had set up a mind control system through the internet that uses specific frequencies to manipulate humanity.
Here is the information from Val Nek, which I received from Megan Rose on Sept 4:
We are changing internet servers from a CIA controlled service to a different, non-hackable server that is run by the [Earth] Alliance. The war on information has been going on for a very long time. There are security threats to citizens as long as these servers remain operable and in control of the dark fleet and its allies. The United States has made agreements, during the Jupiter meetings, to use technology created by the Alliance for this project. This project is very large as it involves the internet systems that are responsible for most of Terra's internet. Many internet providers are run by private companies without the proper security features. This will change. We are in the process of dismantling these systems and replacing the old with new. I salute you.
The gist of what Val Nek is saying here is that the Tall Grays are experts in being able to hack into electronic systems and insert all kinds of stealth technologies to that promote their long-term agenda. The CIA has been the principal US agency that has worked with the Tall Grays and Draco Orions, on behalf of the Majestic 12 Group, to create a planetary surveillance and communications system that was deeply compromised.
The Galactic Federation had begun working with the "Earth Alliance"— White Hats and the Space Commands of the 14 spacefaring nations that attended the Jupiter meetings in July 2021— to set up a secure planetary defense system that would prevent the Grays, the Reptilians, and other negative groups from infiltrating the Earth using wormholes, portals and interdimensional travel technologies. Apparently, this upgraded security system provided by the Galactic Federation to the Earth Alliance was also being incorporated into the global internet.
Val Nek's next update on October 4 gave more details about the upgrade to the Earth's internet made possible from the incorporation of the same technologies used for the planetary defense system:
VN: These frequencies have been recalibrated to a higher frequency, similar to much of the technology that is being used for planetary defense. These frequencies, the codes to them, are in the hands of the Earth Alliance. The Earth Alliance will be responsible for the codes of the new internet systems. This is important to note because the Nebu can hack into the old internet systems, the way it was designed before. Much like a portal, we were able to unlock their internet system using the frequency key we have recently recovered. It is like "cracking a code" so to speak. A quantum configuration that is also a mathematical equation, it is a frequency. This is good news.
The Federation will continue to work with the Alliance to secure Terra's internet and forms of communication. For a long time, many years, the Nebu have used lower frequencies to broadcast the internet which are harmful or at least not ideal for Terrans….it is a frequency that is compatible with their mind control agenda. This will change, thanks to the agreements made between the Federation and Alliance.
M: When you said Dark Fleet and its allies in your first bit of intel, did you also mean Nebu as well?
VN: Yes of course the Nebu are involved…. the three-letter agencies, what can I say…. there is a small faction of humanoid extraterrestrials that also work alongside the Ciakahrr Empire and the now dismantled Dark Fleet, they are involved also.
Val Nek's update is exciting news. The codes and frequencies embedded into Earth's global communications and satellite systems—originally set up by the CIA—had long ago been compromised by Tall Grays. These codes had been recalibrated to the higher frequencies used by the Planetary Defense Grid.
As I discussed in a previous article, these higher frequencies are unhackable, thereby making it impossible for the Grays, the Reptilians, and their allies to control the global internet. In short, the social media blackouts were caused by the recaliberation of the global internet using secure frequencies, which was now under the control of the Earth Alliance.
This takes me to information independently shared by Thor Han (TH) as relayed through his contact Elena Danaan:
TH: "these servers are now under the control of the Earth Alliance. I told you, that your internet will change. We will now be able to go forward with the new technology we are offering to you. The Earth Alliance will set this in place. Anything that is owned by the CIA is being taken down."
TH said: "they [the servers] are being disconnected from the Nebu hive queen." …
TH just said they have changed the frequency of these servers and will put them back, but they are now disconnected from the Nebu frequencies.
I received Elena's information in real time during the blackout of Facebook. Once again, the CIA is identified as the lead agency responsible for compromising the global internet to enable codes and frequencies transmitted by the Tall Grays and their hive queen to mind control the planet. Thor Han's reference to the servers now being under the control of the Earth Alliance means that the backbone of the global internet is no longer controlled by the CIA and their Tall Gray overlords. The consequence of this will be very powerful as the codes and frequencies embedded in the global internet would no longer work for the Tall Grays and their minions.
Importantly, employees working in Facebook, WhatsApp, etc., will no longer be mind-controlled through the codes and frequencies embedded in CIA-controlled servers that their companies were unwittingly using. This means that many employees that are on the political left, who had mindlessly implemented algorithms and policies to stifle free speech without giving it a second thought, will now realize the consequences of their actions.
This will certainly not transform the internet overnight, but it will begin the awakening process, and help restore integrity to the people and social media companies that control it.
What Val Nek and Thor Han have revealed gives us a possible explanation for the real reason behind the global blackout of Facebook-controlled social media companies on October 4. The fact that the blackouts happened less than a week after the reported capture of the Tall Grays does point to a causal connection. If what Val Nek and Thor Han have reported is accurate, we will not need to wait long to see noticeable differences in the way Facebook and other social media companies conduct themselves when it comes to censorship, shadow banning, and other egregious practices that have stifled free speech and the great awakening on our planet.
I wish to thank Megan Rose and Elana Danaan for relaying Val Nek and Thor Han's updates. Their respective YouTube channels are here and here.
Note: On October 9, I will hold my final webinar for 2021 on the topic of "Galactic Federations, Councils & Secret Space Programs." The Webinar will conclude with a special panel featuring Elena Danaan, Megan Rose, and myself.
© Michael E. Salla, Ph.D. Copyright Notice
[Video Version of this article is available on YouTube and Rumble. Podcast version will be available on Apple, Spotify & Google]
Related Articles & Podcasts
For a complete list of articles and interviews concerning the Galactic Federation and/or featuring Elena Danaan, Megan Rose,  and other sources click here.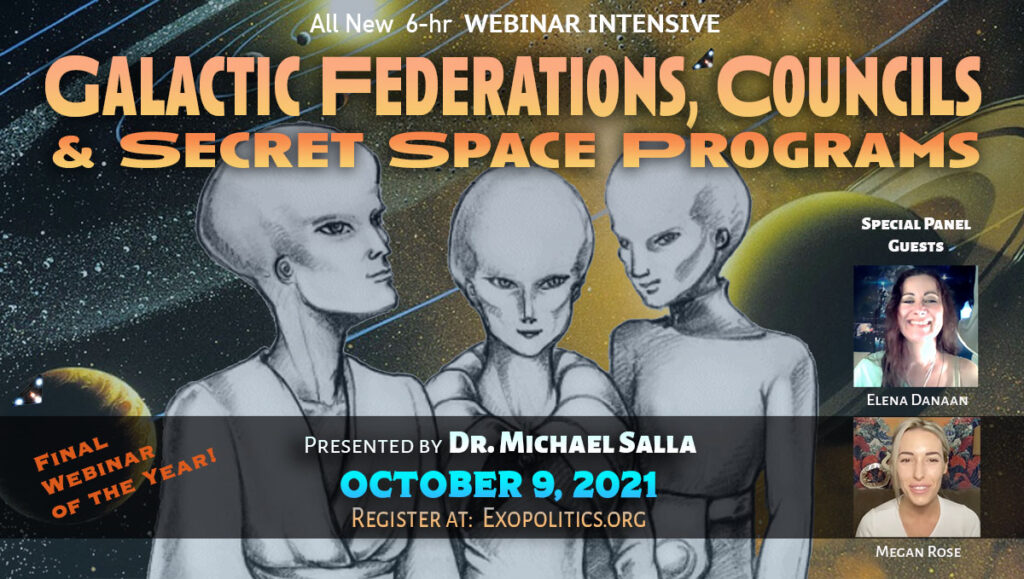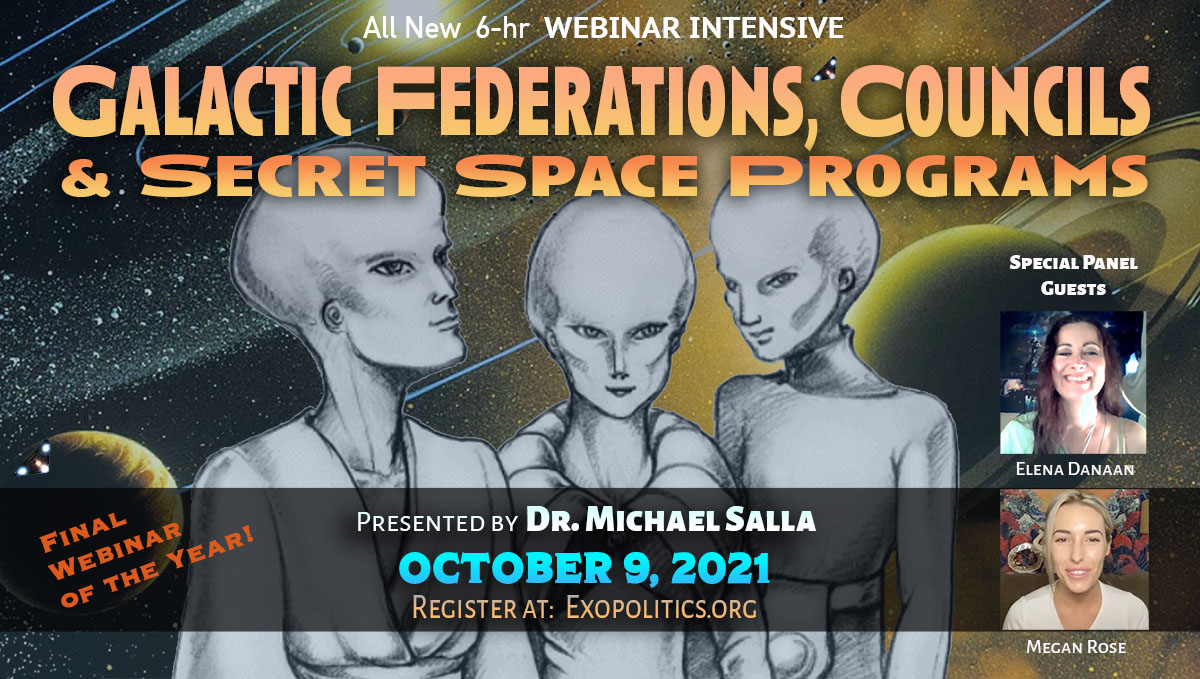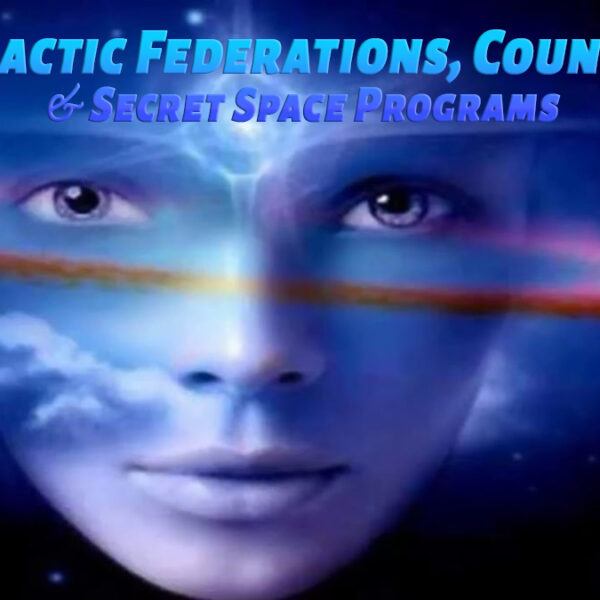 I'm delighted to announce the official trailer for my upcoming webinar, Galactic Federations, Councils & Secret Space is now available. Enjoy the historical tour of how different galactic federations and councils have intervened in human affairs, and interacted with different space programs. All done in five minutes!
My heartfelt thanks to my incredibly talented wife Angelika Whitecliff for creating this official trailer.
Michael Salla, Ph.D.
Available on YouTube and Rumble
6-hour Webinar Intensive
Saturday, October 9, 2021
4 Hour Presentation by Dr. Michael Salla
1 ½ Hour Panel Discussion Hosted by Dr. Salla with Elena Danaan & Megan Rose (includes 30 min audience Q&A)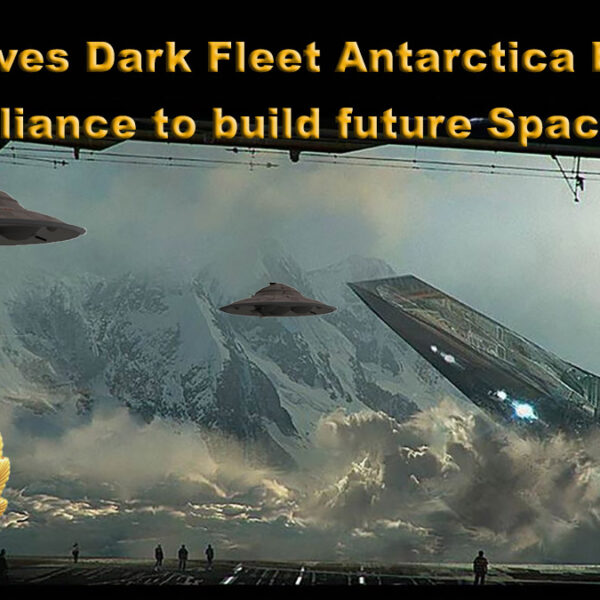 On September 24, I received a new update about recent developments in Antarctica concerning former Dark Fleet bases taken over by China, and how these were being turned over to the Earth Alliance as a result of the Jupiter Agreements. The update was released by Val Nek, from the Galactic Federation of Worlds, through Megan Rose who again relayed the information.
After receiving the report, I asked a series of questions which were relayed back to Val Nek. I received his answers on September 25, and immediately began experiencing severe computer hacking. The cursor on my computer would move independently and I could not use the programs necessary for creating articles and videos despite activating my McAffee anti-virus program, and twice rebooting my computer.
Thankfully, after an hour or two, the problem disappeared. I suspect my computer was hacked and its functions restored after a third party intervened. The incident was a reminder of the importance of the information I was receiving and the need to release it publicly as quickly as possible. Without further ado, here is what Val Nek [VN] reported on Sept 24.
VN: I am happy to report that with many successful missions that the bases in Antarctica are cleared and in control of the [Earth] Alliance. The Alliance has worked alongside members of the Federation to clear the Dark Fleet and its allies from its numerous bases. This is not new information but rather relevant to agreements made with China, what you have called the Artemis Accords.
While China is not currently a party to the Artemis Accords, these are the foundation of the multinational alliance that has been created around the US as the hub. Both China and Russia at first opposed the Accords, but after their popularity led to the Galactic Federation choosing the US as the leader of the 14 spacefaring nations and aerospace corporations present at the July Jupiter meetings, China had to consequently shift its position. This was necessary if China was to receive any advanced aerospace technologies from the Federation, after the Draconian Empire (Ciakharr) and Orion Alliance (Tall Grays) had to leave our Solar System, developments which were covered in previous articles.
China's compliance with the Jupiter Agreements as a condition for receiving new aerospace defense technologies is directly addressed by Val Nek:
As I have previously mentioned, China had limited access to the new space station and other zones as outlined in the Jupiter Agreements. Part of the reason for limited access was also their interest in taking control of the Dark Fleet bases and expanding their space program in this area. As many know, this area has been used by the Dark Fleet and the Ciakahrr Empire for human experimentation, technological manufacturing and also human trafficking.
Val Nek described in an earlier update publicly released on September 8, that a number of planetary defense outposts were being built for global security and surveillance purposes. These defense outposts (large space stations) would use advanced cloaking technologies, and control an impenetrable shield preventing the Draconians and Orions from future infiltration using interdimensional portal technologies.
The Federation was helping the Earth Alliance build the necessary defense technologies in Earth Orbit and on the Moon, to deal with a potential return of our former planetary overlords. If China was to benefit from the defense technologies being shared by the Federation, it was obliged to cooperate, especially when it came to the former Dark Fleet bases in Antarctica that had been used for nefarious purposes.
Val Nek continued:
Our agreements with them [China] were very strict, they must agree to relinquish control of certain areas of these bases and they will have access to the stations built by the Alliance and the corporations. This is important as the Federation's goal is to unify the space programs and countries so that they work together for the good of humanity and one day join membership in the Federation. It is important to note that once a planet or species joins the Federation, they are obligated to work for peace and balance in the universe and are no longer a threat to the rest of the galaxy. China agreed to these terms and is now working alongside the Alliance.
These cooperative principles are fully described in the Galactic Federation's Prime Directive, which was released on September 6, by Val Nek's colleague Thor Han to Elena Danaan. Surprisingly, I found that the fictional Prime Directive developed in the Star Trek series and released in text form in a 1986 book, The Federation, was based on the real Prime Directive that was later released by Thor Han. According to Thor Han, the book authors, Bernard Menke and Rick Stuart, and/or Gene Roddenberry had been given the real Prime Directive.
My analysis of the two prime directives showed they derived from the same source, as explained in an extract from my September 9 Webinar, Our Star Trek Future. The comparison is available on YouTube & Rumble.
Analysis of the Federation's Prime Directive makes clear why China is obliged to cooperate with the US led Earth Alliance if it is to receive advanced defense technologies from the Federation. This led to the handover of Antarctica's former Dark Fleet bases, as Val Nek explains:
I know Dr. Salla will find it very interesting as to what we are using these bases for. I can report that some of the manufacturing for the star fleet will take place here. As your planet and its governments have proven to be very complicated and interesting, it was also necessary for China to agree to our terms due to its availability of certain supplies. To my knowledge, there is much production of many supplies, that are shipped from this country all over Terra. This has proven to also be the case with building the star fleet.
China is working with the Alliance to manufacture these materials and supplies. Much of the human work force from the Dark Fleet have also [been] opted to be employed by these programs in the interest of keeping their jobs. Our ships, the technology to build these ships, is also readily available in Antarctica, which makes it a feasible place to start production of these materials. This is good news and we continue to move forward.
It is now clear that one of the inducements that led to China agreeing to join the US led Earth Alliance was that it would play a key role in building the future planetary defense technologies out of Antarctica bases that were previously owned by the Dark Fleet. China's recent history of becoming the world's manufacturing hub for consumer products, made it a logical choice to do the same in the secretive world of advanced spacecraft construction.
As I discuss in my 2020 book, Rise of the Red Dragon: Origins and Threat of China's Secret Space Program, China has been secretly building large exotically propelled spacecraft in remote locations in order to one day challenge US space dominance.
I asked Val Nek five questions about his update and what follows are his responses.
1 Does he know what happened to the slaves, workers, etc., at the Antarctica bases once the Dark Fleet and Ciakharr left? How many people were involved, thousands, tens of thousands, etc.?
VN: The exact number I cannot say. It was in the tens of thousands, this includes the slaves but also workers as well. Most, if not all, the slaves had been experimented on. This also includes humans, but hybridized species of humans as well. Like the super soldiers from Mars, these people are being cared for by the Alliance in medical facilities. I can also say that hybrids or humans, most have undergone a great deal of mind control, with implants placed in the cerebral cortex. This requires the Federation to assist the Alliance in deactivating the implant and assimilating the brain to its original function. 
The hybrids, of course, require the Federation to intervene since they carry genomes that are unknown to the Terran military and therefore providing medical treatment would not be appropriate. The Alliance and the Federation have the ability to transport medical treatments to these bases to give them proper treatment. What your people call med beds, is the technology, or very similar technology, that is being used. The workers have been given new employment options with the Alliance in these areas. Their help is useful in explaining the facilities and how they operate in some cases. Of course, these people are employed personnel and are not elite workers who directly reported to the Dark Fleet.
In an earlier article, I described some of the human rights abuses that were occurring at these Dark Fleet and Corporate run Antarctica bases. The scale of the human suffering that occurred was massive, but to date no one has been brought to justice for these crimes. Thankfully those victims that survived are being taken care of in Federation facilities.
The Q and A continued:
Can Val Nek say how many Dark Fleet bases were taken over by the Chinese and their approximate locations, e.g., Queen Maud Land, West Antarctica, etc.?
VN: This information I am not at liberty to disclose completely…. I can say between 3-5 bases were handed over to the Alliance and their respective locations I cannot say, but you are welcome to speculate. When we are able to disclose the purpose for these bases, if the time comes, it may help your inquisition.
It's worth separating these three to five former Dark Fleet bases, to the six large industrial bases used by a corporate consortium that built interstellar craft for the Dark Fleet, which Corey Goode said he witnessed back in January 2016 during a visit to Antarctica. The latter are still in the possession of the corporations, which will now play a role in building interstellar capable spacecraft for the Earth Alliance as a later response by Val Nek confirms.
My Q & A with Val Nek continues:
Val Nek referred to certain parts of these former Dark Fleet bases first handed off to China, have now been turned over the Earth Alliance as required by the Jupiter Agreements. Does that mean China still controls other sections of the bases where it can do what it likes under certain limitations?
VN: China does not have complete control over any bases at this time. The agreements are written as such. The goal of the Federation is to ensure that the countries work together and are organized in how they approach their respective space programs. China was reluctant, at first, to relinquish control, as I mentioned previously, they had many self interests. While the United States was chosen to be the leader of these countries and their programs….they are exactly that, leading the space fleet with the intention of unity and peace between the countries of Terra.
China originally claimed some bases in Antarctica, through no legal agreements, and quickly handed them over after the Jupiter Agreements. Many of your countries use their military assets against each other, for land and conquest. The Federation has found this way of doing [things] very interesting, considering the much more hostile threats to planet Terra in the galaxy. We are making change and progress together, moving forward as one planet.
Clearly, Val Nek was referring to the respective leaders of the Earth Alliance being made to recognize the overall strategic situation concerning Earth in the wider Galaxy, and that there was no real alternative to international cooperation to dealing with potential future threats, despite significant political, cultural and economic differences between Earth's major nations.
The next question addressed the fate of corporate bases in Antarctica used to build the Dark Fleet's interstellar craft:
The Dark Fleet worked very closely with a Corporate Consortium that was building many of the large starships for the Dark Fleet. Has this Corporate Conglomerate handed over their facilities to other companies/Earth Alliance, or have they realigned themselves to now build spacecraft for the Earth Alliance?
([Megan Rose] Val Nek is amused by this question)
VN: I cannot disclose this information in the interest of Megan's safety and ongoing operations.
My speculation here is that the corporate consortium (aka Interplanetary Corporate Conglomerate) that built the Dark Fleet, is now using the same facilities to build interstellar craft for the Earth Alliance. After all, corporations are driven by the profit motive and can quickly adapt to the needs of new customers and new conditions. Presumably, the corporate executives implicated in the use of slave labor, genetic experiments or other abuses that occurred when Dark Fleet vessels were being built have been retired and/or brought to justice for their complicity in such crimes. This is a very sensitive issue and it's understandable why Val Nek was hesitant to provide more details for Megan's safety.
My final question and Val Nek's response follows:
To understand the big picture, the mass production of antigravity and advanced health technologies is now happening on the Moon and Antarctica and is to be distributed by the Earth Alliance. Similar facilities on Mars have been destroyed or taken over by the Indigenous Martians while similar ship building facilities on Ceres have been left for its residents to use as they wish. Is there a timetable for when the advanced technologies being mass produced on the Moon and Antarctica will be released to the rest of humanity?
VN: Yes indeed, the indigenous Martians are in the process of taking back control of their planet, the same as planet Terra. I cannot give an exact timetable, as it depends on the corporations and their manufacturing speed, among a few other variables. We have a goal in mind of course, as I have mentioned previously, the corporations chosen have the infrastructure to meet our time requirements and demands. I have also stated previously that there is a time constraint and we wish to accomplish these projects relatively quickly. I can say that most with a logical perspective, considering how large this operation is, would be pleased with the time constraints and goals that we have put in place.
We know from a September 7 update from Val Nek, that the space fleets (Starfleet) being built on the Moon—and now also in Antarctica—combine both indigenous Earth and Galactic Federation defense technologies. Without knowing too much about the classified construction technologies being used on the Moon and Antarctica to build an entirely new generation of spacecraft for the Earth Alliance, we can get an idea of the timeline from estimates of how long it takes to build new generations of nuclear-powered submarines and aircraft carriers.
Recently, Australia reached agreements with the US and the UK to build a new fleet of nuclear powered submarines as part of the new AUKUS Alliance, thereby greatly upsetting France, which was going to build a conventional diesel powered submarine fleet for Australia instead. Production of the first Australian nuclear submarines is expected to take the rest of this decade to complete.
I believe the nuclear submarine building project is a cover for Australia participating in the massive starship construction process that the Earth Alliance has begun. The timetables for the respective launches of Australia's nuclear submarines and the Earth Alliance's "Starfleet" are likely to be similar. This is not accidental. Australia is a vast continent and it would not be surprising if remote locations were to be used to complement what was secretly being built on the Moon and under the ice shelves of Antarctica.
It's also worth pointing out that secret space program insider William Tompkins said that the next generation of Solar Warden space carriers would be ready for deployment in the early 2030s. All this gives us an idea for estimating how long it will take to build new fleets of spacecraft for the Earth Alliance.
However, it can be expected that advanced medical technologies—currently being mass produced on the Moon as discussed in a prior update by Val Nek—can be released much earlier than the completion of the Earth Alliance's future Starfleet. Doing so, would predictably increase public support for the massive spacecraft construction secretly underway on the Moon, Antarctica, and perhaps Australia as well.
I wish to thank Megan Rose for relaying Val Nek's update and answers to my questions. Her website is MeganRoseMedium.com
Note: On October 9, I will hold my final webinar for 2021 on the topic of "Galactic Federations, Councils & Secret Space Programs." The Webinar will conclude with a special panel featuring Megan Rose, Elena Danaan, and myself.
© Michael E. Salla, Ph.D. Copyright Notice
[Podcast Version of this article available on Apple, Google, & Spotify. Video Version is available on YouTube and Rumble]
Related Articles & Podcasts
For a complete list of articles and interviews concerning the Galactic Federation and/or featuring Megan Rose, Elena Danaan and other sources click here.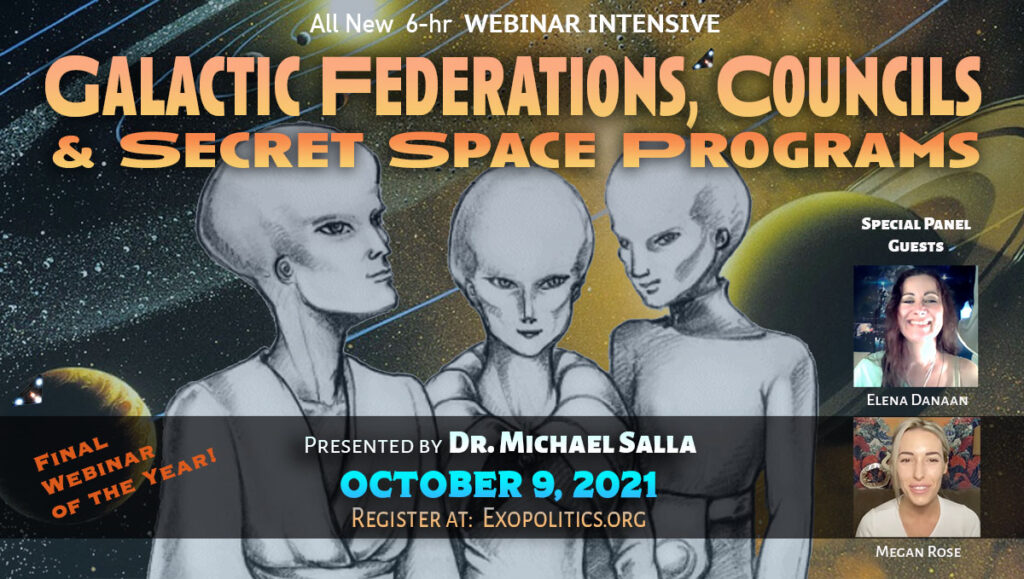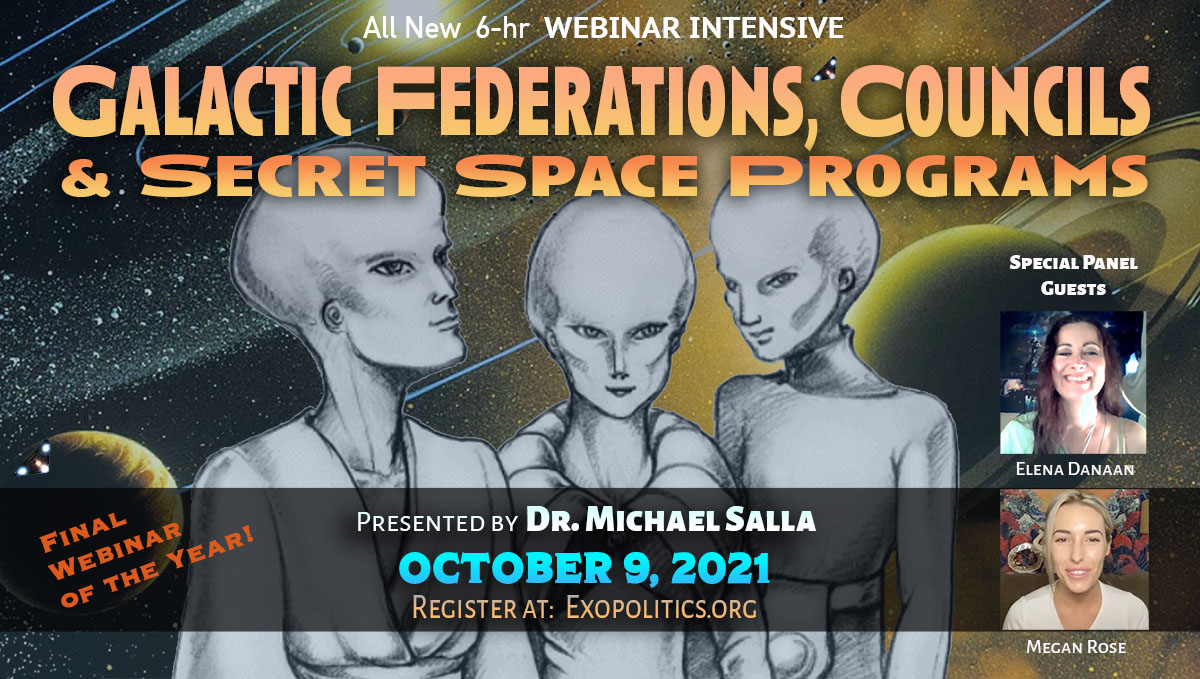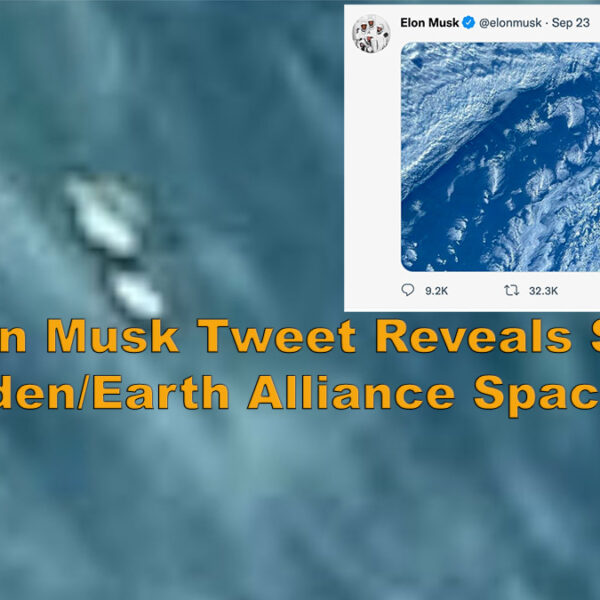 On September 23, 2021, Elon Musk tweeted a picture taken from a SpaceX civilian mission into low Earth Orbit. A close up of the picture reveals at least six cigar shaped craft traveling in formation. According to Thor Han Eredyon of the Galactic Federation of Worlds—as relayed by Elena Danaan—the craft belonged to the US Navy's Solar Warden program and are now part of the newly formed Earth Alliance.
I have been told that Musk is constrained by Non-Disclosure Agreements (NDAs) from revealing what he knows about the Earth Alliance, diplomatic meetings on Jupiter, extraterrestrial life, etc., but is allowed to leave clues so we can figure it out by ourselves. 
Video of the spacecraft formation is available on YouTube and Rumble
For more articles, videos and podcasts featuring information about the Galactic Federation of Worlds as relayed by Thor Han/Elena Danaan and Val Nek/Megan Rose, click here.
---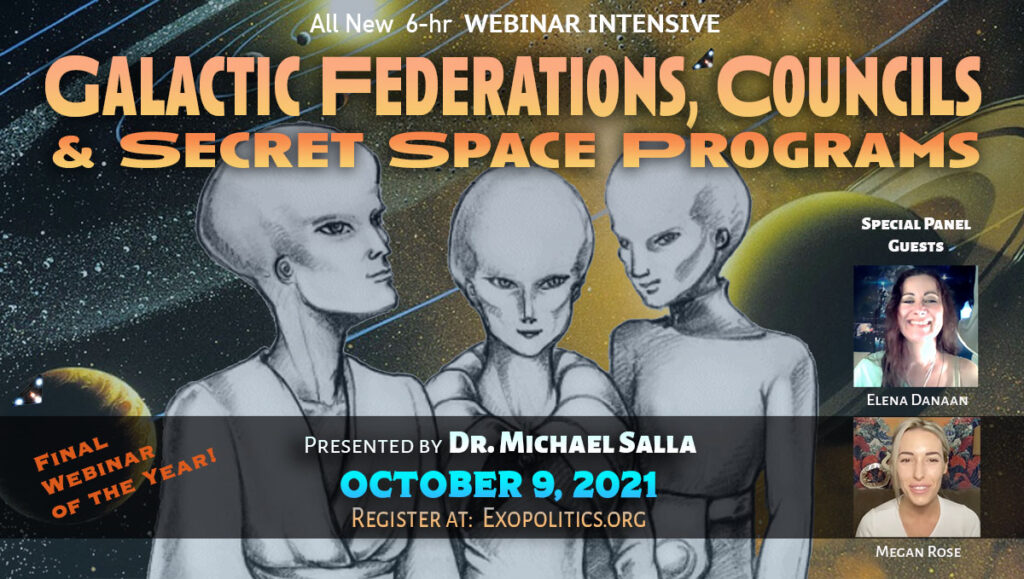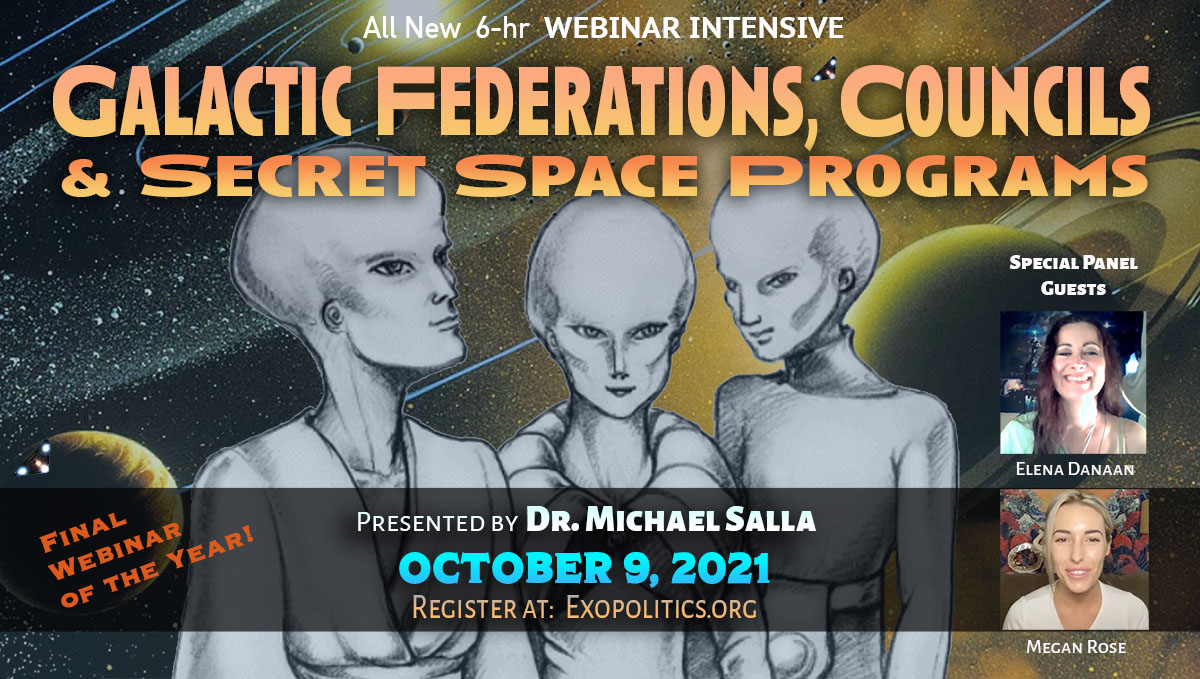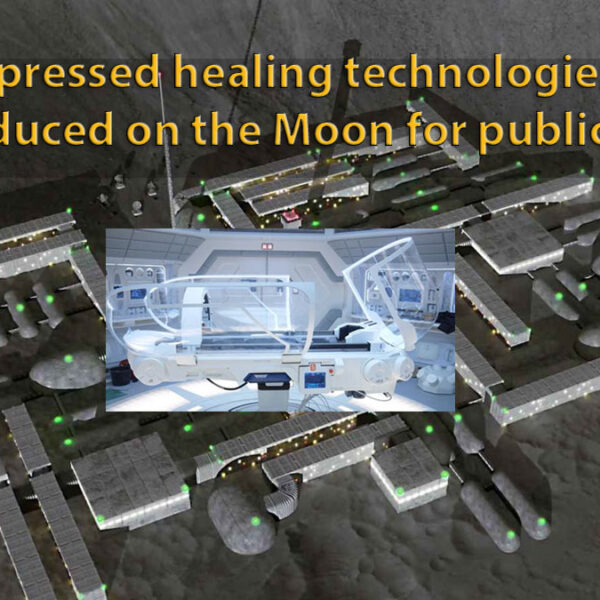 On September 11, I received an important update concerning the impending public release of advanced healing technologies that are being mass produced on the Moon, as a result of the Jupiter Agreements involving military and space program officials from 14 nations and cutting-edge aerospace companies that occurred back in July. The update was given by Val Nek, a High Commander of the Galactic Federation of Worlds who took part in the Jupiter Agreements, according to Megan Rose who relayed Val Nek's intel.
Val Nek's update involves Lunar Operations Command (LOC), a former German/Nazi base on the Moon that initially was handed over by the Dark Fleet to US authorities including the Air Force Secret Space Program, NASA, CIA, National Reconnaissance Office, National Security Agency, and a consortium of corporations in the 1970s, as a result of secret agreements. This corporate consortium became more dominant over the subsequent years in managing the LOC and has been called the Interplanetary Corporate Conglomerate.
The first Secret Space Program insider to discuss LOC was Randy Cramer who came forward in April 2014 with his revelations. He says he was taken to LOC for induction and training, before being sent to Mars for a 17-year period as a supersoldier to fight indigenous Reptilians and Insectoids to protect Mars corporate colonies, before serving in the Solar Warden program for a further three years in deep space operations. He described being returned to the LOC at the end of his "20 and back" program in 2007, when he was put through age regression technologies that reversed his age back to 17. He was then returned back in time to when he began his service in 1987.
Randy's experiences on Lunar Operations were very similar to what was later described by Corey Goode in early 2015 when he came forward with his experiences. I compared Randy and Corey's experiences in an article published in April 2015, and also incorporated them along with another insider, Michael Relf, with information about events on Mars in a chapter of Insiders Reveal Secret Space Programs (2015). Other insiders have since come forward describing their own experiences at LOC and the advanced medical technologies that exist there.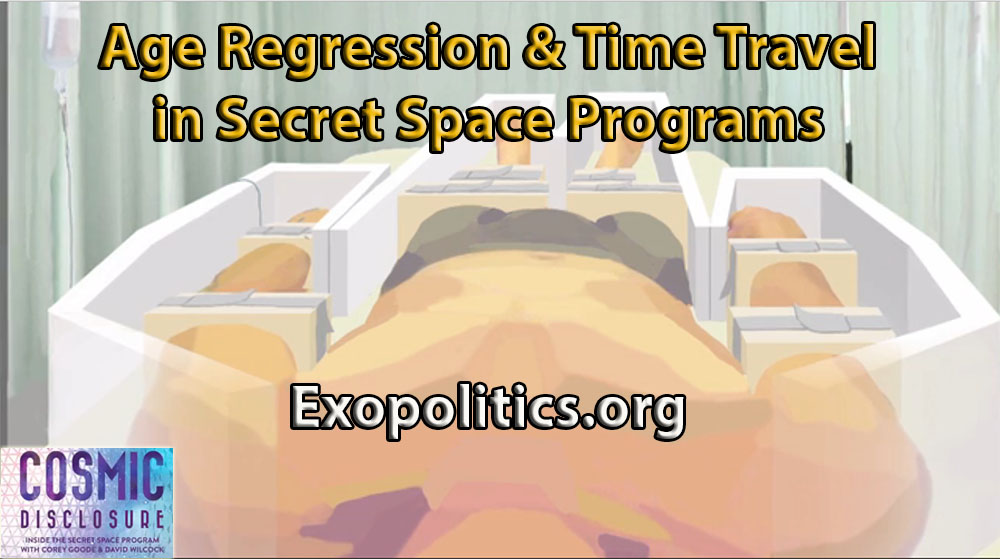 Consequently, Val Nek's information that LOC will be repurposed for the mass production and release of advanced healing technologies to humanity is very important news. This is what Val Nek (VN) said:
VN: I can now report that Lunar Operations Command is in the process of being remodeled into a medical facility for the Terran military. There are technologies, as you know, being manufactured. I repeat again, that these technologies are advanced technologies from the Federation and are being manufactured by the Terran people. The technology that will be present in Lunar Operations Command are medical technologies. It will be used as a medical base for the Terran military.
It is necessary to point out that until this time, real healing technologies have not been available to the Terran people. It was and is important to the Federation that these technologies be released in the proper way, through us (the Federation) and the [Earth] Alliance. Thus, these medical technologies and the release of such, is also outlined in the Jupiter agreements. The Terran military is to help manufacture these technologies as well. Their scientists and medical personnel are being retrained and educated by the Federation.
Lunar Operations Command was chosen as the medical facility because of its vast space and also its location on the moon. The location on the Moon makes it very accessible. The Alliance is in charge of Lunar Operations Command and organizing the Terran military there. The facility is being renovated with special technology. This technology is very interesting to the Terran people as it has never been used before.
Val Nek's information here is that the Earth Alliance has assumed control over the LOC, thereby replacing the Interplanetary Corporate Conglomerate that was closely aligned with the Dark Fleet.
Furthermore, whatever age regression and healing technologies that existed at LOC for secret space programs are now being augmented by healing technologies provided by the Galactic Federation that will be mass produced by the Earth Alliance. These healing technologies will be used by the multinational space alliance being assembled under the Artemis Accords and Combined Space Commands under US leadership, as stipulated in the Jupiter Agreements, which was covered in a previous article.
What's most crucial is that these advanced healing technologies will be released to the rest of humanity, which is a very welcome break from past practices where such technologies were only available in highly classified programs to a select number of participants. Presumably such technologies will be very helpful in dealing with many chronic diseases, life threatening injuries, and global pandemics.
Val Nek continued his update as follows:  
There are healing frequencies that are blasted in certain sections of the medical bay at this facility. We are using this technology to heal the super soldiers and slaves that we have rescued from Mars. As these people are victims of our enemy, it is the Federation's responsibility, once they were evacuated, to give them proper medical attention. The technology is frequency based … I cannot be too specific, however, I can explain that when the body comes in contact with these frequencies, it rearranges the atoms to its original structure, completely healing the DNA and returning it to its original sequence.
This process is especially beneficial for the super soldiers who have undergone trauma based mind control. The trauma in their brains has caused the neurons to form strong links between each other, in a pattern that usually cannot be undone naturally or without intervention. While nothing is impossible, the best form of healing we can offer is through medical intervention. The high frequency retrains the brainwaves to behave in a normal pattern very quickly instead of the soldier doing years of therapy or psychotropic medications to retrain the brain tissue. I am happy to report that this process is ongoing and will report more when the time is right.
Upon hearing Val Nek's information about healing frequencies being blasted through the medical bay of LOC, I immediately thought of Nikola Tesla's electromagnetic frequencies that he believed could be used to both heal people and to enhance their mental capacities. I asked Val Nek about Tesla and his inventions, and his reply appears below after the completion of his September 11 update.
The September 11 update continued with Megan (M) and Val Nek (VN) having a Q and A:
M: So has Lunar Operations Command already been refurbished or is it in the process of being refurbished, is it functional as a medical facility?
VN: There are sections of it that are operational. It is a very large facility, it has not been completely refurbished. There are other sections of the facility that will also be used for other things that will be reported at a later date. The operational sections are being used to recover the human soldiers from Mars.
M: Are you talking about med beds?
VN: We do not call them med beds…. the concept of med beds, yes this medical technology is similar to what you call med beds. Because of the potential for this technology to be misused or sold for profit, and not for the benefit of Terra, the Federation is very strict on how it will be administered as outlined in the Jupiter Agreements.
It's worth pointing out that med bed technology was part of the pioneering space medicine that was being developed by a major aerospace company, TRW, from 1967 to 1971, according to William Tompkins, who worked there at the time.
Age regression, and other advanced medical technologies for the aerospace industry were developed at TRW, which was later acquired by Northrup Grumman in 2002. I asked Val Nek about this Grumman connection and his answer also appears below in response to my questions.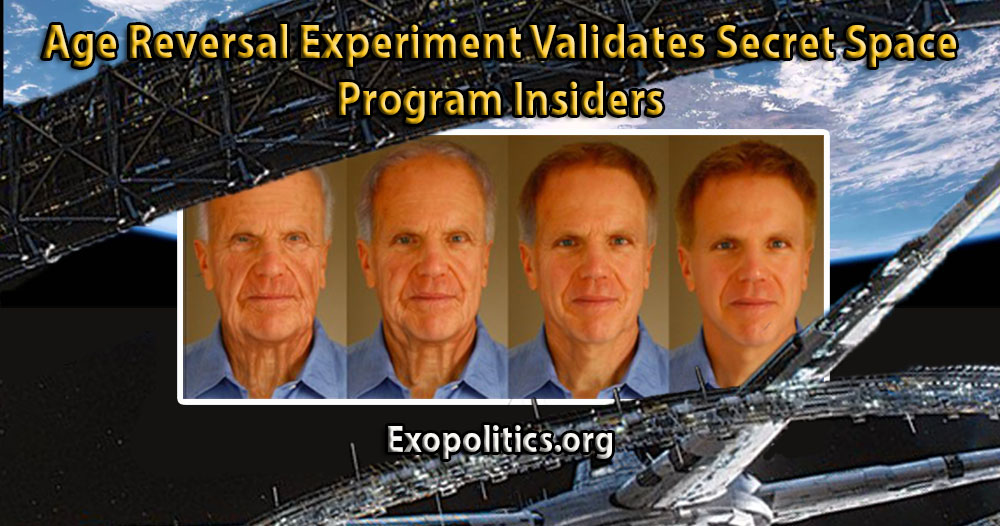 Megan and Val Nek's Q & A continued as follows:
M: So some of these technologies have already been manufactured for use?
VN: Yes in preparation for the liberation of Mars and the Dark Fleet leaving, agreements were made on a smaller scale than the Jupiter agreements to manufacture some of these technologies by the [Earth] Alliance. As I said, Lunar Operations Command is in the hands of the Alliance and so are their manufactured technologies. The medical technologies, the same ones manufactured on a smaller scale by the Alliance, will be manufactured on a larger scale, mass produced by corporations that participated in the Jupiter Agreements.
[M] Val Nek gave me an image of this technology being used: I was shown a person lying down with a frequency around and running through their body. Val Nek's explanation of the image.
[VN] The frequency is a higher frequency and has an inter dimensional component. It goes between the matter and uses magnetic force to rearrange the DNA to its original pattern. In each strand of DNA, there are sequences that are held together by a magnetic pattern. This pattern is identified by the technology and then rearranged to form that pattern. It is very advanced.
M: What is the technology made out of?
VN: It is made out of precious metals and other elements…some of it natural to Terra and some of it is not natural to Terra.
M: Is there a reason why you have been giving so much intel recently?
VN: Because I think it's important to notify the Terran people of our ongoing operations. They need hope.
It is very helpful to know that the Galactic Federation is being proactive in encouraging the Earth Alliance to release suppressed and newly acquired advanced health technologies in order to give the rest of humanity hope. It is indeed a challenging time for humanity as individuals have to deal with lockdowns, job losses, depression, suicides, etc., as the Deep State plays its final cards to ward off their inevitable defeat by the Earth Alliance and their Galactic Federation partners.
After receiving Megan's update, I [MS] asked Val Nek five questions and what follows are his answers:
[MS]. 1. Val Nek said that the release of medical technologies is part of the Jupiter Agreements. Does he know how many of the 5,915 suppressed patent applications in the US Patents and Trademarks Office for the year 2020 involve medical technologies?
VN: I am not sure about the exact calculation for the year 2020….I can say, I know, about half of those patents include suppressed medical technologies. The reason the Federation is involved with the suppressed patents is because they involve extra-terrestrial technology that was suppressed by our enemies and we are in accordance by Federation laws, righting a wrong. We are also helping to improve upon these plans, the schematics for the technology so that it is the most up to date.
At the end of 2020, the US Patents and Trademarks Office reported 5,915 patents being withheld due to secrecy orders being placed by one or more Federal government agencies. Such orders effectively put the patents in limbo where they can't be developed for commercial release, but may be incorporated into classified programs.

[MS]. 2. Also, do the Jupiter Agreements refer to the release of new energy and propulsion technologies that are also part of the 5,915 suppressed patent applications in the US?
VN: I am very happy to report that free energy is part of the Jupiter Agreements. I can report that a corporation run by one of the men that was speculated to be in attendance at the Jupiter Agreements, and later confirmed, by Thor Han and myself, will be manufacturing some of the free energy and releasing it within the decade. Of course, you can speculate who this might be, but I am unable to name the person or corporation specifically.
My speculation is that it is either Elon Musk's SpaceX or Jeff Bezos' Blue Origins that will manufacture free energy technologies for commercial release. Musk's SpaceX is planning ambitious missions to Mars later this decade to set up colonies. The development of free energy technologies would make such an endeavor feasible so I would lean towards SpaceX as the company Val Nek is alluding to.
[MS]. 3. Val Nek refers to healing frequencies that are used to heal supersoldiers and others suffering brain trauma and/or mind control. This sounds very similar to the kind of EM frequencies that Nikola Tesla promoted for healing and brain enhancement in the early 1900s. Is it correct to say that these kinds of EM healing technologies have been suppressed for more than a century by the Deep State?
VN: I am very amused by this man, his is very sharp (referencing Dr. Salla). Yes exactly, these ideas and technologies were given to Nikola Tesla over 100 years ago by the Federation. Since these ideas and technologies, the ideas and schematics, were interfered with by our enemy, we have the right in accordance with our law, to intervene and right a wrong. It shall be noted that these improvements will benefit all of humanity, not one specific country, and administered as such, as they were originally intended. The Nazi-Reptilian alliance (the Dark Fleet) and the Cabal, as you call it, interfered with the evolution of society by suppressing these advancements. So in the interest of balance, we are involved with releasing to humanity what is rightfully theirs.
Tesla's inventions in this regard actually began to be implemented in Sweden for school classrooms in 1912, just before the events of World War 1 swept aside these pioneering efforts. A story appeared in Popular Electricity Magazine on Dec 1, 1912, titled "Tesla's Plan of Electrically Treating School Children," which explained how finely calibrated electromagnetic baths had special healing and brain enhancement properties.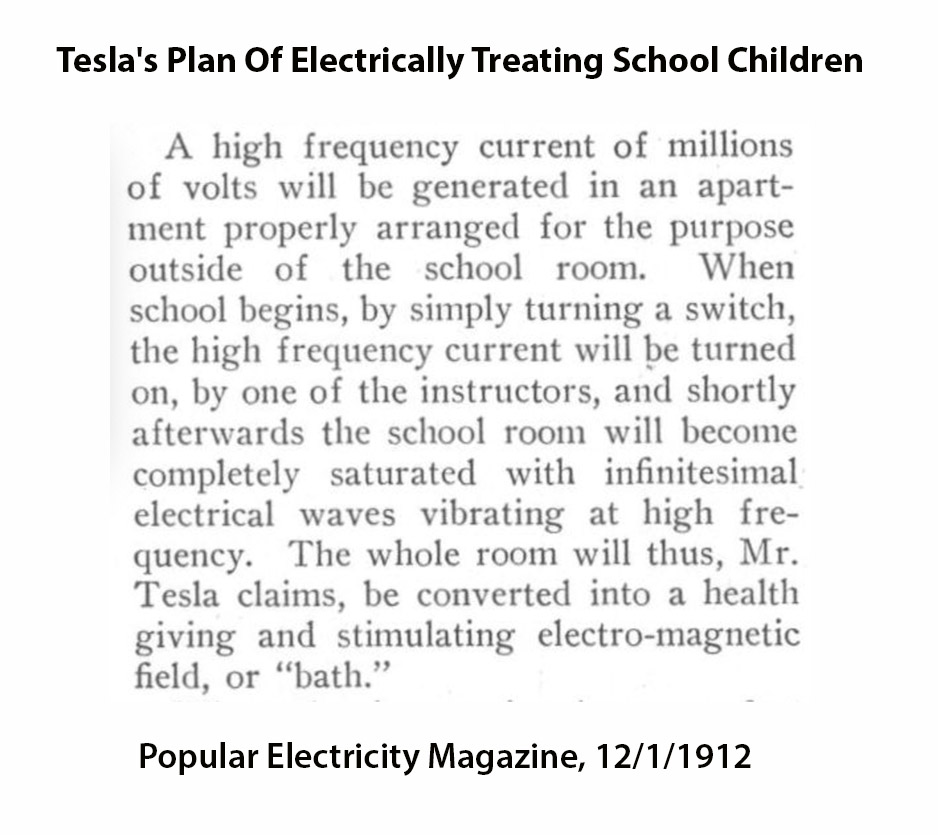 My questions to Val Nek continued thus:
[MS] 4. Regarding the healing technologies that are about to be mass produced by corporations, does this include companies such as SpaceX, Blue Origin, Virgin Galactic, Bigelow Aerospace that have an interest in such technologies for prolonged space travel?
VN: Because this involves parties that are working with, but are also separate from the Federation, I cannot completely answer this question in the interest of the companies privacy, but also Megan's safety. You can speculate if you wish, but I cannot confirm.
This is not the first time Val Nek has referred to the need to protect Megan from repercussions for releasing intel. The home of Megan's mother was visited by four Men in Black a few days ago making inquiries about a young lady, Megan. It's clear that the visit was meant to send a message and intimidate Megan's mother, and thereby influence Megan not to continue releasing updates.
My final question was thus:
[MS] 5. Finally, William Tompkins said that from 1967 to 1971 he worked at TRW and they were working on age regression technologies that were later incorporated into the US Navy Secret Space Program. TRW was acquired by Northrup Grumman in 2002. Therefore is Northrup one of the companies that participated in the Jupiter Agreements and will be involved in the mass production of healing technologies to be soon released to the Terran population?
VN:  I cannot say much because these companies are separate from the Federation, but you can speculate if you wish. I am aware of the schematics given and incorporated into the US Navy at that time. I can also confirm that I am aware of the Federation being in touch with the Navy during this time period. The healing technologies given at that time were very advanced and will be similar to those being released. The new technologies being released are over sighted by the Federation to ensure they are the absolute safest and most effective. It is important to note that these technologies will be in accordance with the evolution of humanity. By this I mean everything has a potential to be misused for nefarious reasons, which is why the Federation and the Council of Five is involved with overseeing these projects while working with the Alliance.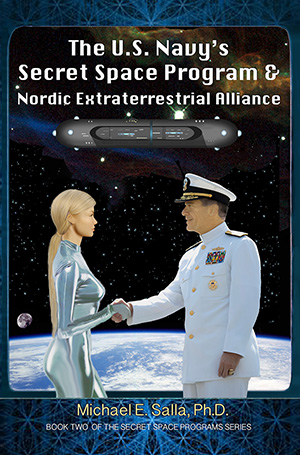 Val Nek is here confirming that the US Navy did acquire such advanced technologies at the time, and further that it was working with the Galactic Federation. In short, the Nordic extraterrestrials that William Tompkins repeatedly referred to in his books and interviews, were members of the Galactic Federation.
What is also clear is that Val Nek will neither give nor confirm specifics, but invites speculation about the companies and individuals involved in implementing the Jupiter agreements. My best guess consequently is that Northrup Grumman continues to be associated with the production of advanced healing technologies, and will be among the companies setting up mass production facilities at the LOC.
In conclusion, it is clear that the Galactic Federation is taking action to rectify the wrong done to humanity due to the repression of many advanced healing technologies over the period of the last century dating back to the pioneering work of Nikola Tesla. Under their Prime Directive, the Galactic Federation is permitted under Article IX and X to take action when wrongs are perpetuated by off-planet species such as the Draco Empire and the Orion Alliance, who began intervening in human affairs in the 1930s, as a result of secret agreements reached with Nazi Germany.
The early agreements with Nazi Germany and subsequent agreements with Draconian and Orion extraterrestrials involving the US and other nations led to the suppression of thousands of free energy, exotic propulsion, and healing technologies. This is best evidenced today with the 5,915 patents that have not been publicly released due to secrecy orders being placed upon them. What Val Nek is effectively saying is that many of these suppressed technologies, along with newer contributions from the Galactic Federation, are currently being mass produced on the Moon and will be soon released into the public arena. That indeed is a prospect worth looking forward to in these dark times on our planet.
I wish to thank Megan Rose for relaying Val Nek's information and answers to me. Megan's website is here.
© Michael E. Salla, Ph.D. Copyright Notice
[Video version of this article is available on YouTube & Rumble]
Further Reading/Podcasts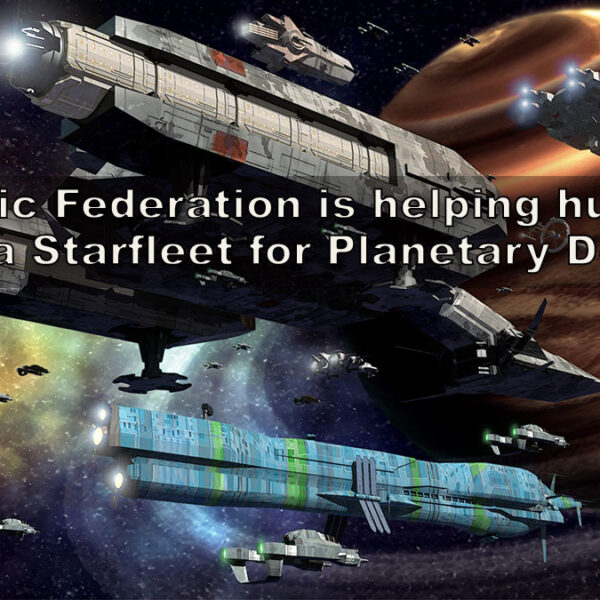 According to Val Nek, a High Commander with the Galactic Federation of Worlds, Earth is undergoing a major power shift with the exodus of the Dark Fleet and their Draco Reptilian and Orion allies from our solar system. In his latest communication, relayed through one of his contactees, Megan Rose, we learn more about the status of unfolding events on Earth and our solar system, especially concerning the construction of huge motherships in Earth orbit that will serve as international outposts, and the development of a Starfleet for planetary defense.
In a previous article, I explained why I believe Megan's communications closely align with another contactee, Elena Danaan, who has also met and knows Val Nek. One of the criteria I use to assess the validity of information from new sources such as Megan is if something is happening in real life that independently confirms what is being said. In the case of this latest intel, I was in the midst of communicating with JP, one of my long-time sources (since 2008) who is currently serving with the US Army, and wishes to remain anonymous.
His information, which I will soon present, corroborated what Val Nek was saying to a surprising degree. Consequently, I pass on the following information with high confidence that it is credible and worth evaluating for gaining a big picture overview of current events in our solar system.
On the morning of September 7, this was the message Megan (M) received from Val Nek (VN).
VN: Mars has been liberated. The Ciakahrr empire, the dark fleet, have fled Mars completely. They are now trying to flee to other star systems, like Sirius A, and form alliances to attack the federation and planet Terra. This is the need for ongoing security and training personnel from the Terran military, along with building a space fleet equipped to handle an attack. On Mars, most of their dark portals have been completely closed, with the exception of a few, which the Federation is working on. Their main portal to their headquarters, Aldebaran, has been closed completely. This is a huge victory for the Federation, as it is impossible for them to re-enter and re-infiltrate their precious outpost on Mars.
As you know, I have been working with US military officials to train and implement a fleet to protect and defend Terra. I want to reiterate that we have implemented technology to protect planet Terra. The star fleet, as you call it, is designed with higher density technology, making many of the new ships undetectable to the enemy. The enemy is unable to track or locate these ships due to the higher frequency. The ships have the capability to materialize and dematerialize in a lower density when necessary. This technology was given to the Terrans and must be built/produced by Terrans as to be in accordance with the laws of the Federation.
This is where the information of my anonymous source, JP, becomes relevant. Synchronistically, on the morning of September 7, he was telling me that he and select US Army colleagues were participating in multiple missions to the Moon on advanced shuttle craft using Nordic extraterrestrial technologies that had been shared with the US military and built on Earth.
In a previous article, I explained an incident where JP met with one of these Nordics working with the US military, and took a photo of the spacecraft.  JP said that while his Army colleagues were having their memories wiped, he remembered everything about the Moon missions.
He described the shuttlecraft as very similar to a Nordic spacecraft that he had witnessed in Brazil in 2008, soon after which we began communications. I have documentation proving JP is currently serving with the US Army and has completed special forces training (necessary for covert space missions) along with the training required for his Military Occupation Specialty (MOS 91J)  as a quartermaster and chemical repairer.
JP described the Moon shuttlecraft as fully autonomous vehicles that were a combination of human and extraterrestrial technology being remotely controlled from the Moon and Earth depending on where the craft was transiting. The principle is similar to an airport shuttle, but in this case, the craft was shuttling military personnel very quickly forth and back to the Moon for defense and construction projects.
Here are extracts from my Skype conversation with JP:
Tiring moon and back moon and back moon and back moon and back moon and back… Converting ice into water… I never seen this craft before. Similar from the one in Brazil sharper ends… I remember something interesting the floor was made to like a gel substance… We sat around in a circle  Belted in…. You feel the G force a split 2nd and everything seems normal… A lot of people are going to the moon and not having recollection I still have recollection. I remember everything…. There's always construction going around. Is always new stuff coming up….
It was kind of funny when we left one time Another group stayed but only speaking French… It's like a International thing. And another time another group.  Stayed that does not even look human… Similar to us… Take turn holding these spots down…. It looks more like Nordic technology. It's like a mixture. Of us and them
JP's MOS 91J status supports his claim of being sent to the Moon to install or repair equipment that would convert ice into water. JP's information directly supports Val Nek's claim that the Galactic Federation is helping the US and allied militaries build fleets of new advanced spacecraft for a variety of missions – a modern day Starfleet. JP's information also supports a prior communication from Val Nek, who described the construction of a new Moon base, and refurbishing older abandoned bases.
I now return to Val Nek's communication with Megan on the morning of Sept 7:
[VN] Thus the need for the earth alliance to make agreements with large corporations. I must stress that although there is of course, in times of war, the chance of an incoming threat, that planet Terra is secure and we are doing everything we can to ensure the safety of the Terran people. Do not consent to fear. It is my honor and pleasure to serve the Terran people.
M: Can you say anything about why the Ciakars want to come back to Terra?
VN: I cannot disclose everything. They are interested, of course, in planet Terra for its vast resources. They are trying to make alliances with other species from other star systems that will adhere to their strict code of ethics, if you can call them that. What I mean by this, the Ciakahrr historically, are not good negotiators. They need resources to negotiate, Terran resources. They do not make good allies, as they have a predatory nature and look out for their own self interests. Their ability to negotiate, their power, has substantially decreased since their supply of trade has been cut/obliterated. They are rendered powerless. This is good news.
Val Nek's reference to the Galactic Federation and Earth Alliance's need to work with major corporations, especially Elon Musk's SpaceX, Jeff Bezos' Blue Origin, and Richard Branson's Virgin Galactic, has aroused much public criticism due to the questionable practices of these corporate CEO's in the past, and their links to the Deep State. However, from the perspective of Val Nek and the Galactic Federation, Earth has an urgent need to defend itself from the possible return of their former extraterrestrial overlords with new allies. Therefore, the construction of large fleets of stealth-equipped spacecraft with powerful defense technologies is a priority, and large aerospace corporations have vital roles to play in building a Starfleet for the Earth Alliance and the Combined Space Commands of allied nations.
In the evening of September 7, Megan received further information from Val Nek about ongoing activities in space involving the Galactic Federation and the Earth Alliance.
VN: The Federation is working with the Alliance and their partners to develop outposts surrounding Terra. These outposts will be put in place for various reasons, but the main reason being security and surveillance. There are different sections of the satellite grid, as I mentioned, the Space Fence, that will be monitored from these outposts. These outposts are similar to the International Space Station, but are not the same thing. The International Space Station is in the hands of the Alliance and will likely be dismantled or refurbished, depending on what the alliance decides to do. The Federation is independent from some of their decision making and this is one of them. I cannot say anymore about the ISS.
The outposts will be similar to what we call a mothership. It will be a station in the sky that is used to monitor Terra and the fleets protecting Terra. This technology that the station is built with will be manufactured by the companies that participated in the Jupiter agreements. It is very good news and a very big deal. The motherships (by motherships, I mean, there will be one main one and several other smaller outposts, but still large, considering the size of a normal ship) will be equipped with medical technology, living quarters for soldiers and many other technologically advanced components that I can reveal at a later date.
There will also be space for fleets of ships to be docked, calibrated and checked on, to make sure they are working properly before and after space travel. Please understand this is a very large operation, as you can imagine, the Federation is helping engineers to work on, repair and learn these ships once they are manufactured by the Terran people.
M: The Space Fence, the satellite system, will be monitored from the Moon as well?
VN: Yes of course, for safety reasons, Terra will be monitored from many outposts in the sky as well as on the Moon, at the new base. This is the most secure way to handle operations.
M: Is there anything else you would like to say?
VN: Not at this time, I will give more reports at a later date, as our operations are ongoing.
I [MS] asked Val Nek [VN] two questions which Megan [M] relayed to him and we received the following responses [Note: I mistakenly thought Val Nek had earlier referred to three outposts being built in Earth orbit in framing my question]:
[MS] 1. I do have a question about the three outposts that will be established, and the decommissioning of the International Space Station. As far as I'm aware, the National Reconnaissance Office along with the CIA had one or more stealth wheel shaped space stations (based on the Von Braun Space Station design) that they used to conduct covert and intel operations around the world that were set up in the 1970s and 80s. What will happen to these NRO/CIA stealth space stations as the new outposts are set up?
…
VN: There are more than three and there will be one main station which is a larger structure. This structure is built with the same technology used to build the new moon base for the US. It is an impenetrable technology that uses a high frequency to create a grid in the walls of the structure, but, also, in this case around the station as well. This disallows any unauthorized personnel. This technology of course, will be built by the Terran people, thus referencing the agreements made in the Jupiter agreements. I would like to reiterate, it is likely, although I cannot confirm, that the ISS will be dismantled or at least refurbished due to its technology soon being very outdated compared to what is being manufactured for space at this time.
In reference to the NRO/CIA space stations: In the interest of Megan's safety, I cannot completely answer this question. What can I say…..our operations in respect to some of these groups are ongoing. There has been, as many know, an infiltration of [an] extraterrestrial presence in some of these organizations. The war on and under Planet Terra is ongoing. Now that the Dark Fleet has left Mars, the military allies of some of these groups are greatly weakened and they pose little threat. However, in times of war, we do not disclose ongoing operations.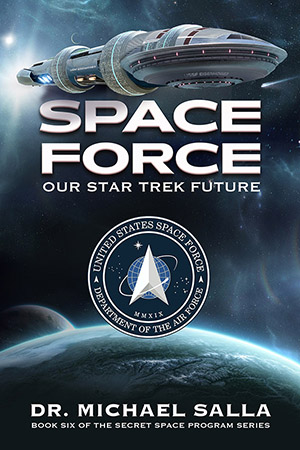 The security concern over Megan's safety is entirely understandable. A secret space program set up by the CIA is currently run out of National Reconnaissance Office facilities using CIA black budget funding. It is very secretive and runs out of the "Office of Space Reconnaissance," which is formally part of the CIA despite being staffed by NRO personnel and aerospace contractors. I explain how the Office of Space Reconnaissance was set up this way in 2014 to escape Congressional and Executive branch oversight in Chapter 7 of my book, Space Force: Our Star Trek Future (2021).
It's worth emphasizing that in the Congressional legislation, the National Defense Authorization Act of 2020, which created the US Space Force, that NRO activities would remain outside of the military chain of command. In short, while US Space Command would have control of Space Force and other military assets in space, the joint NRO/CIA space program would remain independent. This will prove to be a major challenge to future US Space Command operations as my Space Force book explains.
Val Nek's response to my second question follows:
[MS] 2. Also, does Val Nek know about China's role for the … mothership outposts? China was excluded from the ISS due to mistrust, but due to the Jupiter agreements, I assume it will be included in the … new outposts.
VN: China has limited access as outlined in the Jupiter agreements. They are considered by the Federation to be the least trustworthy. There is an opportunity to gain trust with good behavior over time. I can reveal that the US will be in charge of these stations we are manufacturing. Other countries and their space programs will have access to them as outlined in the Jupiter agreements. There is a code of conduct outlined in these agreements. For example, how to behave in space and other, what you can consider, legal guidelines for maintaining their programs respectively.
M: Why is China the least trustworthy?
VN: The reasons I cannot fully disclose, but I can say…..they were evaluated by the Council of Five, a spiritually evolved organization, to be slightly regressive and to have many self-interests. The Council of Five had a role in the Jupiter Agreements, and part of that role was to evaluate the spiritual evolution of the leaders on Terra. This was done, of course, to ensure the safety of the Terran people, as we know they have been under Tyrannical control for some time.
In Rise of the Red Dragon: Origins & Threat of China's Secret Space Program (2020) I explain how China has built a secret space program using espionage, deception and corporate theft of advanced aerospace technologies from the US and around the world. China was in the midst of building a large powerful fleet of spacecraft with the help of negative extraterrestrial groups. China now has to face a new strategic landscape where its former allies have been forced to flee, and a new extraterrestrial group is mentoring humanity in its transition into a spacefaring civilization. In the meantime, China is quickly filling in the vacuum created by the exodus of the Dark Fleet from Antarctica, as I've explained in a previous article.
In conclusion, the latest information received from Val Nek provides many valuable insights into what is happening in our solar system. His information is independently backed by my anonymous source, JP, who has participated in secret Army construction projects on the Moon using hybrid human and extraterrestrial technologies, including autonomous space shuttlecraft.
As far as constructing several massive space stations—motherships—to serve as monitoring, repair, and planetary defense outposts is concerned, there are good reasons why such an endeavor is necessary. There is indeed a high likelihood that the negative extraterrestrial races that have recently fled our solar system will attempt to return at some future time, first through infiltration, and eventually through more kinetic means using new interstellar allies. Val Nek's information confirms that we are in the midst of an enormous planetary transition.
Humanity is being helped by the Galactic Federation in building a Starfleet for Planetary Defense. A "Star Trek Future" is unfolding right now, as envisaged in a 2019 Space Futures Report, and presents many new opportunities and challenges for humanity.   
I wish to thank Megan Rose for relaying Val Nek's information and answers to me. Megan's website is here.
If you want to learn more about our Star Trek Future, then I highly recommend my September 11 webinar titled Our Star Trek Future, which will reveal how the Galactic Federation played a significant role for decades in nurturing such a future and even was in contact with Gene Roddenberry in the 1960s in seeding such an idea into humanity's consciousness.  
© Michael E. Salla, Ph.D. Copyright Notice
[Podcast version of this article is available on Apple, Google, & Spotify.  Video version of this article is available on YouTube & Rumble]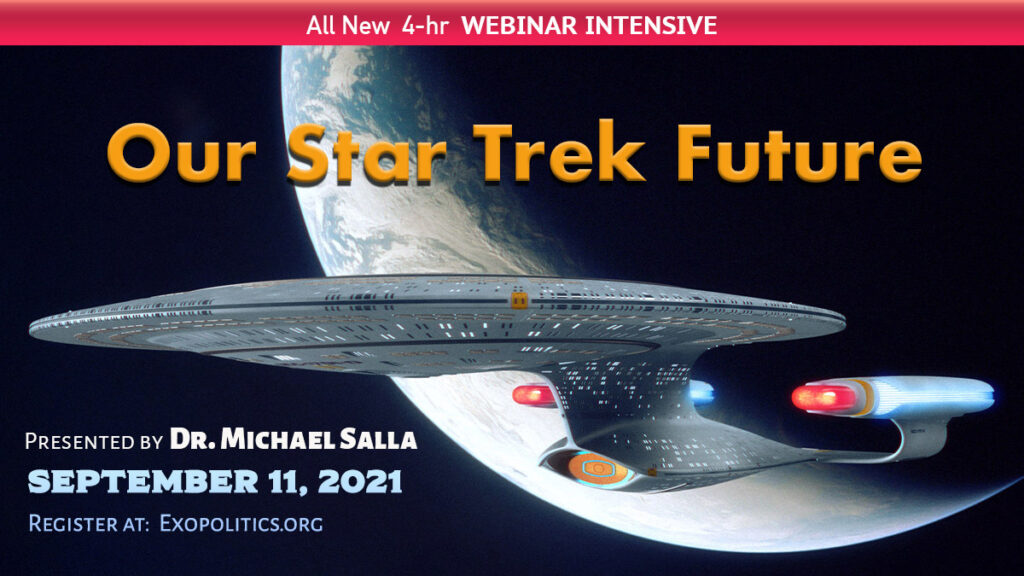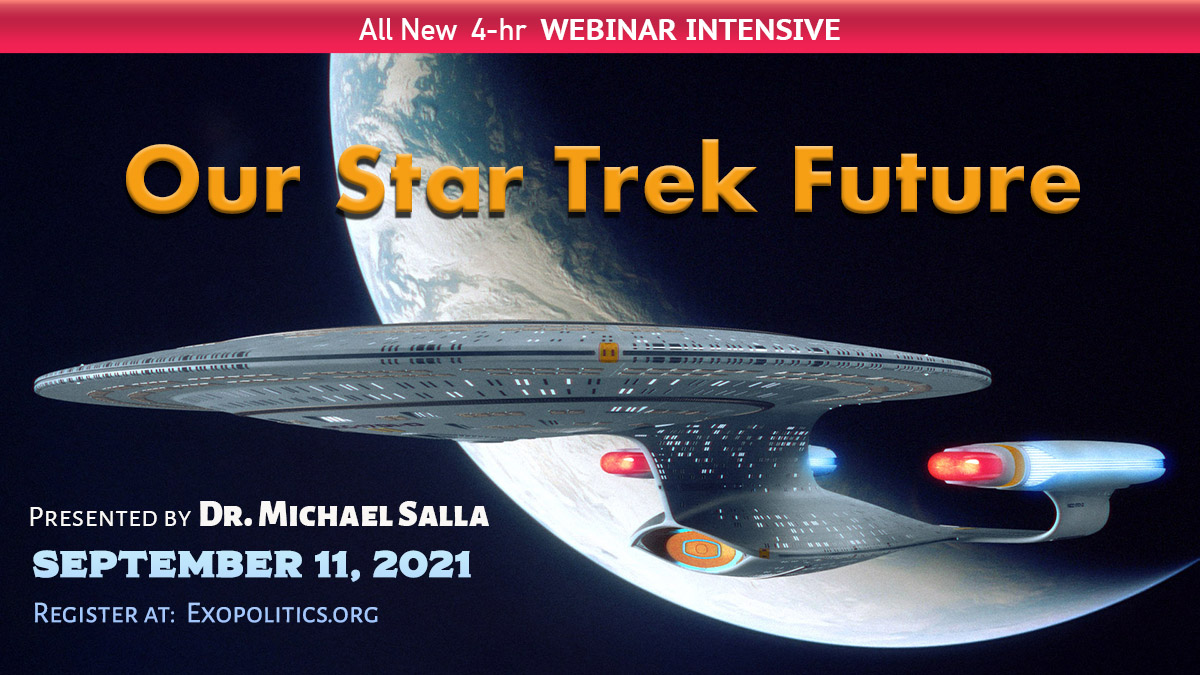 Further Reading/Podcasts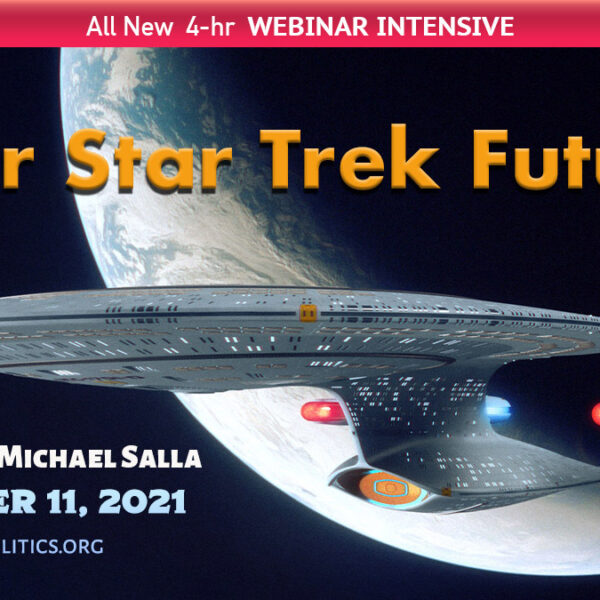 At a March 2019 "Space Futures Conference" featuring leaders from multiple national space programs, aerospace corporations, and military organizations from around the world, it was agreed that a Star Trek Future was the optimal outcome that humanity should strive to achieve by the year 2060. Not surprisingly, the creation of a multinational military space alliance—a modern-day "Starfleet"—was critical to a Star Trek future.
In August 2019, the US Space Command was re-booted and the US Space Force was officially launched four months later on December 20. In October 2020, the Artemis Accords were signed making it possible for a multinational space alliance to be created with the US at its core. NATO subsequently created a Space Center at Ramstein Air Base (Germany) that would become a key institution for the future multinational military coalition.
These critical events occurred at the same time as key officials in the Trump administration were said to be working with a "Galactic Federation" towards disclosing suppressed life changing technologies, and the existence of extraterrestrial life.
In 2021, the United Kingdom, Germany, Italy, and Australia authorized the creation of Space Commands within their respective militaries, and all planned to closely coordinate with the US Space Command. In the meantime, Russia and China began an initiative to set up their own multinational space alliance.
Critically, in July 2021, the Galactic Federation (of Worlds) allegedly held a meeting near Jupiter with representatives from Earth's major space faring nations to discuss the future of our solar system, due to the looming defeat of negative extraterrestrial races, the Dark Fleet and the Deep State in controlling the Earth, Moon, Mars, and the rest of our solar system. Key aspects this secret meeting coincide with what is known about the growing popularity of the Artemis Accords among space faring nations, and the failure of the China-Russia Moon base initiative in attracting international support.

In this exciting new webinar, Dr Michael Salla presents all the evidence for how these recent developments firmly point to a Star Trek Future being created right before our eyes.
Length 3 hrs + 40 min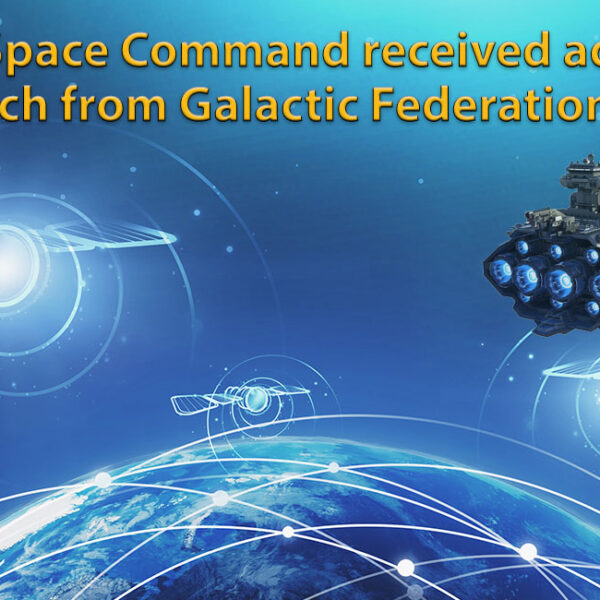 The Galactic Federation of Worlds is sharing advanced technologies with the US Space Command to prevent future infiltration by hostile extraterrestrials according to the latest update by one of two known 'contactees' working with the Federation. On August 29, I got an update from Megan Rose regarding a communication she had just received from her primary Galactic Federation source, Val Nek. The information is very significant given real-time events concerning outer space and the creation of new satellite systems.
In my August 27 interview with Megan, she described the history of her contact experiences with the Galactic Federation, and how Val Nek, a spacecraft pilot, rescued her from two negative alien abduction incidents at ages five and nine. He has subsequently been monitoring Megan.
It was in 2019 that her memories of the childhood incidents were fully restored, and she received a physical implant through which she can telepathically communicate with Val Nek who now is in a senior leadership position with the Federation.
Megan's experiences and communications with the Galactic Federation corroborate another contactee, Elena Danaan who had earlier met Val Nek aboard one of the spacecraft that she was taken to in 1987 when she was an archeology student in France. In her book, A Gift From the Stars, Elena described meeting Val Nek after she was invited to sit in the pilot's chair by her primary contact, Thor Han:
The co-pilot beside me had slightly different features than the rest of the crew. Although he also had blonde hair, it was scarcer and short. His face was more elongated and he had a prominent chin. His eyes were also different: more slender and indigo, nearly black. He had a thin and hooked nose. His name was "Valnek" and I would learn later that he is originally from Epsilon Eridani and Thor Han's best friend (p. 29).
When Megan began communicating with Elena more than three decades later, she sent information about Val Nek that was not in Elena's book or publicly available, and the information was subsequently confirmed by Thor Han.
So in the case of Megan and Elena we have two individuals with separate abduction experiences taking place in different continents and decades apart, confirming that they had been rescued by the crew of the same Galactic Federation spacecraft. Both Megan and Elena's information are complimentary and consistent, which is not surprising given the close relationship between their primary extraterrestrial contacts, Val Nek and Thor Han, who have performed many missions together.
According to Megan and Elena, Val Nek and Thor Han have spent decades rescuing children from extraterrestrial abductions performed by Grays (Nebu/Orion Alliance) and Reptilians (Draco Empire).
There is a long history of child abductions by extraterrestrials that were first exposed by Alex Collier in the 1990s. Alex is a very credible source who has paid a heavy personal price for his bravery in coming forward with such disturbing information three decades ago, which is finally receiving more attention today.
In assessing Megan and Elena's information, what needs to be kept in mind is that both are receiving and sharing real-time intelligence data. This is not information that will appear in the mainstream media, nor are government or corporate officials likely to reveal it anytime soon.
Nevertheless, the Galactic Federation has chosen Elena and Megan to be conduits for the general public learning the truth in this time of our global awakening as a galactic civilization. The Federation is very careful not to be too specific with what is revealed in terms of personnel, operations, and organizations in order to protect Elena and Megan from possible retaliation.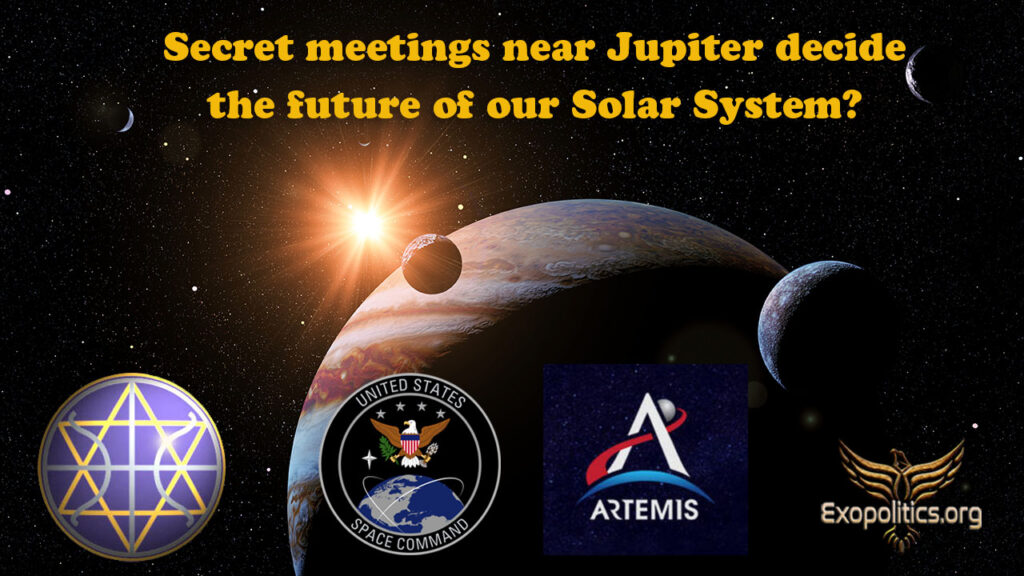 It's left up to others to analyze updates to make educated guesses about personnel and other specifics in order to make headway with what is secretly happening on Earth and around our solar system.
So now we are ready to examine the update from Val Nek that I received from Megan [M] on August 29:
Val Nek: The moon base is a very large structure built with impenetrable technology. This technology was given from us (GFW) to the US military in order for them to have a base that is protected from energy weapons and other weapons that use a frequency to hack technology. The walls of the base are built with the same technology we use for portals. Only those who have the frequency key are allowed access, without it, entering or invading using energy weapons is impossible. This is important as the reptilians and greys, the Orion alliance, have the ability to invade areas using their technology, similar to ours, but not as advanced.
The base is secure and with the help of the Galactic Federation of Worlds, we have set up a satellite system that monitors the entire planet of Terra. The satellites are in orbit surrounding Terra. We have set up a grid that covers the entire planet. There are sections of the grid that correspond to each satellite. This technology has an interdimensional component which is very important. It does not allow anything to pass through it and works as a protective mechanism for planet Terra. This is very important because the Zeta Reticuli and Nebu create wormholes to invade different planetary systems instead of using a portal. The satellite surveillance is located inside the base on the moon where we are training engineers from the US military to use it. This is good news. Planet Terra is secure. I salute you.
M: Are all the dark portals on planet Terra closed?
Val Nek: I cannot share that information. What I can say… It is under control. The portal in Antarctica is in the hands of the Alliance. There are many portals all over Planet Terra. I cannot say much more because there are active operations going on underground, underneath your planet. It is in the process of being cleared out.
M: Is there anything else that you want me to share?
Val Nek: Everything is under control. Do not consent to fear. It is my greatest duty and honor to be in service to humanity at this time. I will share more as our operations are ongoing.
There are several issues raised in this update worth elaborating upon. First, regarding the base given to the "US military", this is almost certainly referring to US Space Command, which is headed by General James Dickinson.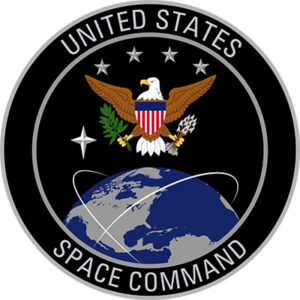 Space Command coordinates all space activities by the different branches of the US military, including Space Force and the US Navy, along with the space commands of partner nations such as Australia, Canada, France, Germany, New Zealand, and the United Kingdom.
Currently, this coordination in space by the combined space commands under US leadership is called the "Combined Space Operations Initiative". It makes up the bulk of the "Earth Alliance" that is being given responsibility for managing our solar system with the collapse of the Dark Fleet and their extraterrestrial allies according to information from the Galactic Federation.
It's also noteworthy that Val Nek referred to "training engineers from the US military" to use the new advanced technologies. On August 24, the US Space Force released a recruitment video for new "guardians" to join with expertise in the space sciences, including engineering.
In his update, it was not clear whether Val Nek was referring to a new base built by the Galactic Federation that was handed over to US Space Command, or a refurbished pre-existing Moon base.
In 2014, it was first revealed by insiders that Lunar Operations Command, built over a former Dark Fleet base, was handed over to the US after secret agreements were reached during the Eisenhower Administration with the 4th Reich and their Draco Reptilian patrons. Eventually, the Interplanetary Corporate Conglomerate would play a leading role in controlling the Lunar Operations Command, along with secret space program facilities in Antarctica.
With the solar system wide collapse of the Dark Fleet and the Interplanetary Corporate Conglomerate, due to joint Galactic Federation and Earth Alliance interventions, it would make sense that Lunar Operations Command would be handed over to the Earth Alliance comprising the space commands of major nations.
I asked Megan a question over the Moon base, which she relayed to Val Nek who quickly replied. The Q & A follows:
Q: First, when Val Nek is talking about a moon base built with impenetrable technology, is he talking about a brand new base, or a refurbished one? Lunar Operations Command was a secret facility used for decades by the US military, Dark Fleet and the Corporate Space program, it was built over an old Nazi base that was handed over after agreements. Was this base (LOC) equipped with the impenetrable technology, or an entirely new moon base was built by the Federation?
Val Nek: There are many bases on the moon. The base I am referring to is an entirely new base built with new technology. The walls of the base are built with special materials used by the Federation. The old bases are being refurbished, this is true, but it is not the one I am specifically referring to. Lunar Operations Command is in the hands of the alliance, I can confirm. The purpose of the different bases can be revealed at a later date. It was necessary to build a new construction due to the materials being used, it is new technology that has never been used on the moon before.
Val Nek's response makes clear that an entirely new Moon base has been built for US Space Command and the Earth Alliance, which has hack-proof walls and infrastructure to prevent any infiltration by the Gray, Reptilian and Orion aligned extraterrestrial groups. The new Moon base is destined to play a critical role in coordinating the activities of different nations and corporations that have space programs beyond Earth's orbit.
I next focused on the following element from Val Nek's statement: "We have set up a grid that covers the entire planet. There are sections of the grid that correspond to each satellite. This technology has an interdimensional component which is very important. It does not allow anything to pass through it and works as a protective mechanism for planet Terra."
It was clear that the planetary grid Val Nek was referring to is the "Space Fence" built by Lockheed Martin and controlled by the US Space Force out of Kwajalein Atoll in the Marshall Islands. Here is how Space Fence is officially described on Lockheed's website:
Space Fence, now the world's most advanced radar, provides uncued detection, tracking and accurate measurement of space objects, including satellites and orbital debris, primarily in low-earth orbit (LEO). The new radar permits the detection of much smaller microsatellites and debris than current systems.  It also significantly improves the timeliness with which operators can detect space events.  The flexibility and sensitivity of the system also provides coverage of objects in geosynchronous orbit while maintaining the surveillance fence.

The Space Fence's use of ground and space-based radar systems creates a comprehensive planetary grid ostensibly as an early warning system against dangerous Near Earth Objects‑asteroids. Its real purpose, however, was to create a detection system for any "unauthorized entry" into Earth's air space by different extraterrestrial groups and off-planet space programs.
I asked Megan whether I was on the right track in my speculation about the planetary grid, its relation to Space Fence and Elon Musk's Starlink, which she relayed to Val Nek who again responded:
Q: Regarding the satellite grid the GFW and Earth Alliance are building, my guess would be that it would be connected to the "Space Fence" that is controlled by the US Space Force. Also, Elon Musk's Starlink satellite system may play a big role as the plan is to send up to 40,000 microsatellites into space to form the kind of grid Val Nek is referring to. Does that sound about right in terms of Val Nek saying in his message, " There are sections of the grid that correspond to each satellite."?
Val Nek: Yes, that is correct, Space Force is involved. Yes, exactly, this is correct. I am very impressed with his research.
The idea that a planetary grid is being set up to prevent infiltration by unwelcome extraterrestrials via Elon Musk's Starlink is important to know. That makes Starlink's recent announcement that they were adding "laser crosslinks, enabling the satellites to communicate with each other to reduce their reliance on ground stations", very important.
This would make the planetary space grid fully autonomous and provide real-time detection against infiltration by our planet's former extraterrestrial overlords.
Musk, along with Jeff Bezos and Richard Branson, attended the Jupiter meetings, which both Val Nek and Thor Han have independently confirmed, as I've previous discussed. Interestingly, Musk, Bezos and Branson have all been invited to Russia to allegedly watch the launch of the  Soyuz MS-19 mission on October 5.
This is clearly a cover story for their real purpose in traveling to Russia. The truth is that they are more likely there to implement key aspects of the Jupiter agreements over fast tracking technology releases.
Musk, in particular, may be seeking Russian assistance to optimize the Starlink satellite system that is being used to set up the planetary defense grid to keep out unwelcome extraterrestrials traveling to Earth via spacecraft, inter-dimensionally, through wormholes, or through portals.
In conclusion, there are momentous events happening in space that involve coordination between major space faring nations and the Galactic Federation of Worlds that open up our solar system to humanity. The control system created by the Dark Fleet and their extraterrestrial and corporate allies for controlling life in our solar system is being quickly replaced by a multinational space alliance headed by US Space Command.
This is making possible the creation of a Star Trek Future as outlined in a 2019 Space Futures Workshop report which is available online.
To learn more about our Star Trek Future, I recommend my 2021 book, Space Force: Our Star Trek Future, and my upcoming September 11 Webinar which covers all the recent developments towards this bright future.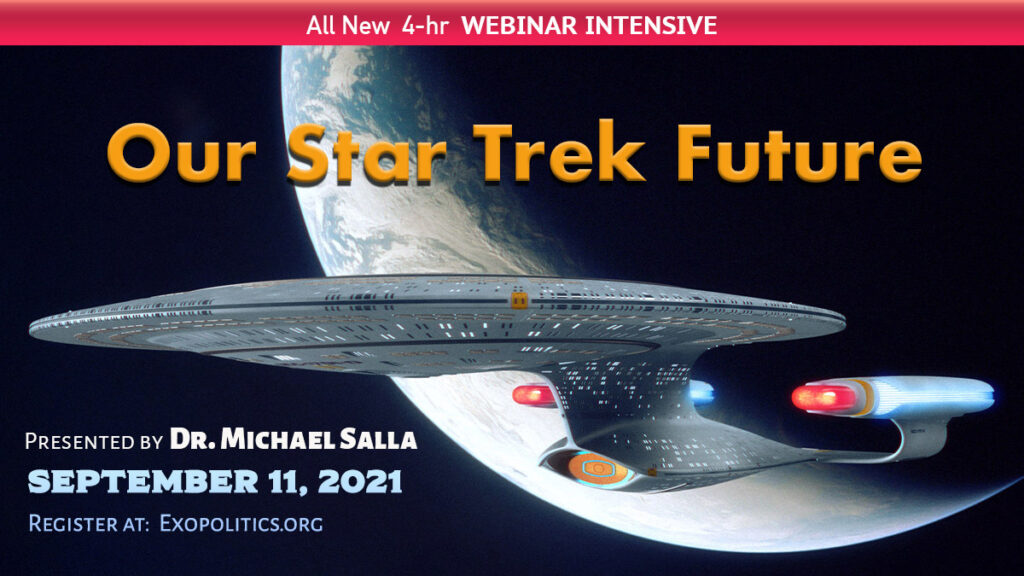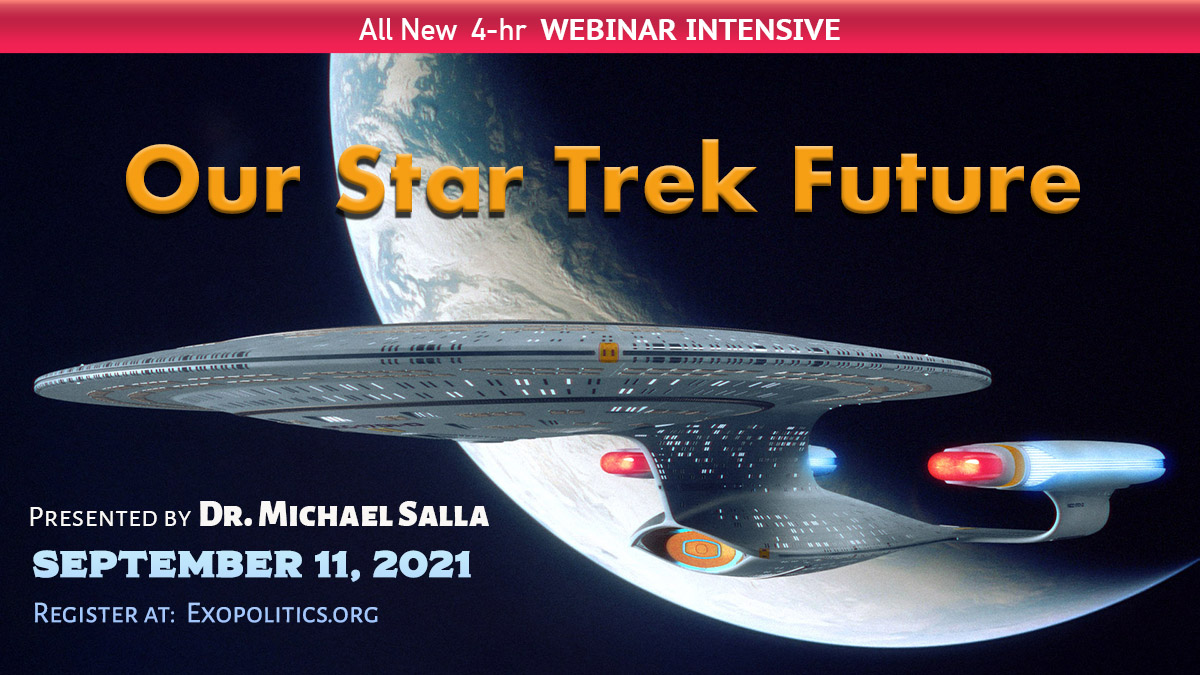 While the information presented by Megan and Elena in their respective updates about Galactic Federation activities may be difficult for some to accept as genuine, it is consistent with confirmable real-time events as I have described in this and previous articles. It's important to keep an open mind while investigating their information and enormous changes over the management of outer space that is unfolding before our very eyes.
I wish to thank Megan Rose for sending me Val Nek's update and his responses to my questions. Megan's website is here.
© Michael E. Salla, Ph.D. Copyright Notice
[Video version of this article is available on Rumble and YouTube]
Further Reading/Podcasts