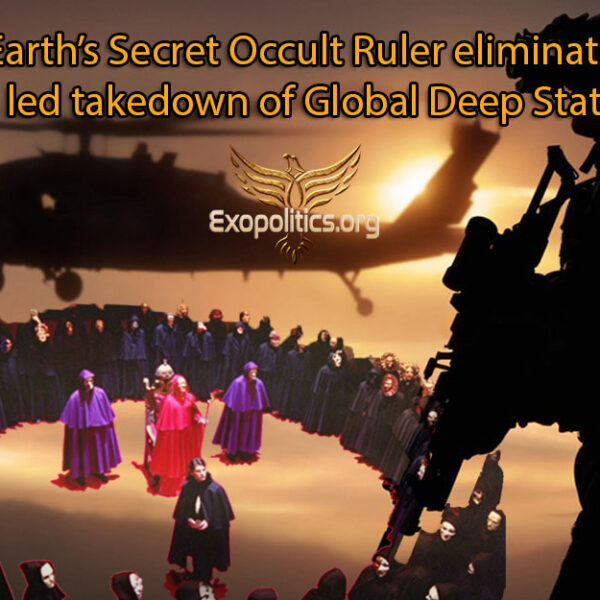 On January 15, it was announced by multiple news sites that Baron Benjamin de Rothschild unexpectedly died of a heart attack at the age of 57 while at his Swiss home. According to best-selling author David Wilcock, Rothschild was the world's "Pindar" – the secret occult ruler of our planet reporting directly to off world extraterrestrial masters.
What makes Wilcock's claim particularly intriguing is that he says that only a day earlier, the US Secretary of State Mike Pompeo gave a coded message through his Twitter account authorizing the final stage of a covert military operation to take down the Deep State around the planet. Wilcock's claims raise intriguing questions about Rothschild's death, his possible role as Earth's Pindar, and a covert US led takedown of Global Deep State.
Rothschild's death was first announced on the Edmond De Rothschild company website and details were provided by Bloomberg news about him:
De Rothschild had been head of the group created by his father since 1997 and worked to simplify its structure after delisting. As of the end of 2019, the group had 173 billion francs ($194 billion) in assets with activities in 15 countries, according to its website.
In his online presentation yesterday, Wilcock discussed arrests taking place around the world of people involved in a coup attempt against the President of the United States. He then linked this takedown operation to the mysterious death of de Rothschild who was the Pindar or leader of the globally orchestrated coup attempt:
Pindar actually is the name of the leader of this group that we've been talking about for so long. It is a name that refers to the Dragon and the male member of the Dragon, that's the name of the leader. So, the Pindar is basically the number one guy. And this number one guy just so happened to have mysteriously passed over on January 16 [15 at age 57. And here you go, that's right, Banker Benjamin de Rothschild … owner of the Group dies age 57. So that is compelling since it's a very young age and a suspicious time to say the least.
To help understand the role of the Pindar in relation to the male heirs of the Rothschild family, it's worth recalling what Dr Bill Deagle, a former US Air Force medical doctor, had to say about a mysterious encounter he had with a leading member of the Rothschild family, Baron Guy de Rothschild, in 1992. In a Project Camelot interview, Deagle said:
I woke up in the middle of the night, bolt upright, and I sat up. And I had all the lights on because I'd have to periodically go to the restroom or whatever. I had all the lights on. And this guy was standing in front of me with what I call a $5,000 tuxedo, not a gray hair in his head, mid-50s, slim and trim.
I said: How did you get in here?
And he says: It's wonderful to see you, my son.
I said: You're not my father.
And I looked at this guy, and he looked like French nobility. Right? And I said: Who are you?
He says: I am the Baron Guy de Rothschild, the Pindar.
And I had this really kind of, what I call a check or a kind of a cringe in my spirit. And I knew right away, because I have this gift. Right? Without getting into a big long discussion, I knew right away.
I said: I know who you are. You're the representative of the Luciferic power that controls Earth.
He says: Yes, I am the CEO of Earth, Inc., and I am the man that sits in the 13th chair of the Druidic Council. I want you to be my understudy, and when I transcend I want you to take over my job.
And I said: No, I'm not going to.
He said: We know your bloodlines; we know your genetics; we know everything about you and you're a perfect replacement for me.
And I said: No!
What is particularly interesting in this exchange is Rothschild's claim of being the "Pindar" and the "CEO of Earth, Inc". These statements suggest that he is merely running the Earth on behalf of others, but who?
For an answer, we can look to information about the Pindar supplied by British researcher David Icke. Icke wrote about the Pindar in The Biggest Secret after interviewing a former participant in Satanic occult ceremonies, Arizona Wilder. Icke wrote:
Pindar means 'Penis of the Dragon'…  Arizona says that Pindar, like all the reptilians when they shape-shift, has very powerful hypnotic eyes (the 'evil eye' of legend) and at sacrifices the victims face is turned to Pindar at the moment of death for him to steal the person's soul or energy through this 'evil eye' magnetic process…. Pindar attends the major Satanic ceremonies in Europe and then flies to California for the rituals there. [pp. 302-3]
Icke's reference to Reptilian extraterrestrials directly connects to the high-ranking member of the Rothschild family who is regularly chosen to be the CEO of Earth Inc., which in turn is controlled by a Reptilian empire that spans countless other planets, according to multiple insiders.
Baron Guy de Rothschild died in 2007 at the age of 98. If Deagle was told the truth in 1992 about Rothschild planning to retire as Pindar, it means that anytime in the period between 1992 and 2007, another male heir of the Rothschild family had replaced him.
Benjamin Rothschild became the head of the Edmund de Rothschild company in 1997. As head of one of the major Rothschild banking and investment groups, it's highly likely that Benjamin succeeded Guy as the Pindar, as claimed by Wilcock.
This is where another of Wilcock's claims becomes highly relevant to contemporary political events. He says he found a solution to a coded message by the mysterious Q military intelligence group that has been subjected to an unprecedented global censorship campaign.
In a post dated June 4, 2020, Q revealed a sequence of six events numbered RED1 to RED6, which refer to events associated with different stages of a covert global military operation to take down the Deep State.   
Q !!Hs1Jq13jV6 ID: 866b8a No.9473673
Jun 4 2020 18:49:59 (EST)
EAM LOYALISTS:
RED1: POTUS twitter removal
RED2: Central communications blackout [continental US]
RED3: CLAS movement PELOSI or PENCE
RED4: Movement of MIL assets [10th Mountain_1st Marine_CPSD_Marine_QVIR] to central locations under guise of citizen riot control.
RED5: NAT MIL COM CEN
RED6: SEC OF DEF _instruct1
USSS
CASTLE_ROCK
Q
The first event RED1, occurred on January 8 with the permanent suspension of President Trump's Twitter account. Wilcock gave a plausible explanation for the sequence of RED2-5 events occurring with the suspension of thousands of alternative social media sites, movement of military personnel into Washington DC and state capitals, etc.
With regard to the final event in the sequence, RED6, Wilcock had a fascinating solution. He said it was a coded message by Secretary Mike Pompeo through a photo of six bottles of Red Wine he displayed in a January 14 Tweet.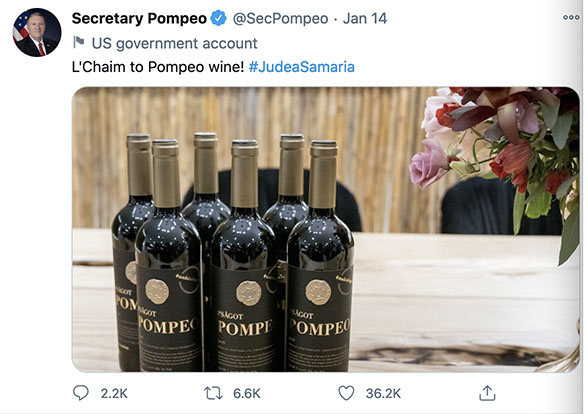 If Wilcock is correct, then Pompeo's Tweet was a coded authorization RED6 for the final stage of a global covert takedown of the Deep State to begin.
The very next day, Baron Benjamin Rothschild was dead. Was this merely a coincidence, or was he a high-level casualty of the global covert takedown of the Deep State now underway as suspected by Wilcock?
We will not have to wait long for an answer as the covert operation is expected to be publicly announced either just before or after President Trump's term of office formally ends on January 20. Wilcock points out that January 19 is National Popcorn Day, which would make for an ironic way to bring to the public's attention a worldwide operation to take down the Deep State in a 2nd American Revolution.
© Michael E. Salla, Ph.D. Copyright Notice
[Note: my next Webinar Exopolitics and the Second American Revolution has been rescheduled for January 30, 2021 – Registration Info here]
Further Reading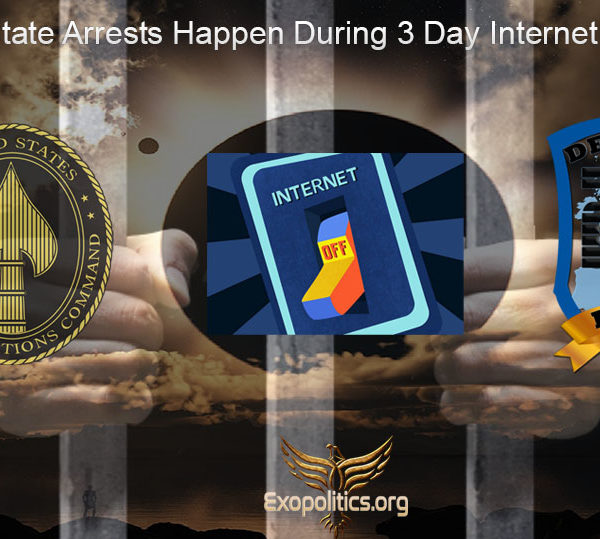 Planned military arrests of Deep State figures have been put on hold until an impending three day shutdown of the internet, according to information presented by David Wilcock in a March 29 webinar. Even more startling is Wilcock's assertion that at the end of the shutdown, there will be a series of major disclosures covering a spectrum of issues ranging from Deep State crimes to the release of suppressed technologies used in secret space programs. How likely is the sequence of events proposed by Wilcock?
Wilcock's webinar was watched live by approximately 35,000 viewers, with a total of over 645,000 views to date since its airing. He provided an update to the Defender Europe 20 military exercises, which he explained provided the necessary personnel and equipment that would be used in conjunction with U.S. special forces to raid the European fortresses of senior Deep State figures hiding from secret indictments issued by U.S. grand juries.
As I briefly mentioned in my previous article on Wilcock's webinar series, the Defender Europe 20 exercises were significantly cut back as a result of the COVID-19 pandemic. Nevertheless, Wilcock's claim that newly arrived U.S. personnel and equipment could provide armored support for U.S. special forces conducting mass arrests is still plausible.
According to a March 17 news release by the U.S. Army:
In response to the current outbreak of the COVID-19 virus and recent guidance by the United States Secretary of Defense, we have modified exercise Defender-Europe 20 in size and scope. As of March 13, all movement of personnel and equipment from the United States to Europe has ceased…. As we make the appropriate adjustments, the linked exercises to Exercise Defender-Europe 20 – Dynamic Front, Joint Warfighting Assessment, Saber Strike and Swift Response – will not be conducted. We anticipate the involved U.S. armored brigade combat team already deployed to Europe will conduct gunnery and other combined training events with Allies as part of a modified Allied Spirit exercise.
In short, most of the exercises that made up Defender Europe 20 have been canceled, except for the Allied Spirit exercise, which comprises the bulk of six thousand U.S. soldiers shipped to Europe along with "approximately 3,000 pieces of equipment via sea from the United States." Many of the 3,000 pieces of equipment are 70 ton Abrams tanks to be used in Allied Spirit.
Could a U.S. armored brigade, which normally numbers up to 5,000 personnel, provide the armored support for special forces raiding Deep State compounds to conduct the mass arrests that Wilcock originally contended?
Wilcock cited a number of anonymous sources known to him and secret space program insider, Corey Goode, that confided to him the sequence of events leading up to the mass arrests under the Defender Europe 20 exercises. I have personally met one of the sources, a former NATO general, who Goode introduced me to in September 2017.
After conducting my due diligence, I was able to verify that the General was a retired military official, who has been informally briefing Goode and Wilcock, about events in Europe and around the world. I have also, on occasion, had the General's briefings passed on to me for review and background information in conducting my secret space program research.
In addition, it's worth pointing out that another of Goode's active sources works within the Defense Intelligence Agency, and had passed on to him two Defense Intelligence Reference Documents that were released for the first time into the public arena in December 2017. They were marked "Unclassified: For Official Use Only," and their release much surprised the papers' author, Dr. Eric Davis, who pointed out that only a serving public official could have taken such an action, as I have previously pointed out.
The release of the DIA papers was done in Goode's words, "to slowly 'read in' certain people in the DOD/DIA to Special Access Programs." The DIA papers provided powerful corroboration for key elements of Good's remarkable secret space program testimony, which I investigated at length and documented in the book, Insiders Reveal Secret Space Programs (2017).
Nevertheless, many leading UFO researchers have disingenuously ignored Goode's role in releasing these official DIA documents, and instead made disparaging comments of him starting a "blue chicken cult" based on little more than public deception.
This is despite the fact at least one active DIA official and a retired senior NATO official accept Goode's core claim about him being the liaison for a group of higher dimensional entities comprising "Blue Avians" and others belonging to a "Sphere Being Alliance", that are intent on transforming political power structures on Earth, our solar system and galactic neighborhood.
In his webinar, Wilcock explained what had been revealed to him from Goode's sources, particularly the General, after the bold pronouncements made in Wilcock's previous webinars concerning the Defender Europe 20 exercises as the cover for mass arrests taking place, which I covered in my previous article.
In his March 29 seminar, Wilcock described the delay to the timing of the mass arrests, as explained to him by the General:
The first glimmer that I got was from Corey Goode on Saturday, March 21 he has multiple sources feeding us information. I had already done the video and discussed Defender Europe 20 as if arrests were already happening. That was the first video we did, the general, we have a couple of guys we call the general, but the general called and laughed and said no, it's not happening yet. Nobody's been arrested in Europe yet (1:39:19). But he was amazed that I got all those details right.
He said the final stage will involve about three days where we do not have access to regular phone calls you can make emergency calls to 911 … but you are not going to have the internet or the phone.
Wilcock went on to explain that during the three days of darkness, the Presidential Broadcast System will be used to inform people of what is happening:
They want you to know about his so that you don't freak out and commit suicide I guess…. So there will be an emergency presidential broadcast system that they will use. The QAnon source talked about this on December 19, 2019. They will use a national presidential alert system, and why was this created and tested for political and information warfare.
During these three days they believe that they're going to be able to get everybody. They've got it all planned out how they're going to get this thing done. They think they can get it all done in three days. It might take a little bit longer, but they probably will get it done in three days and it's going to be fast. Probably 24 hours a day shifts that these soldiers are working.
Wilcock cited a text message received from Corey Goode March 21, who summarized what he had been told about the upcoming internet shutdown and mass arrests:
I sure hope arrests are going on. I was also told recently that all communications (except 911) would go offline. I am not sure if they mean cell comm's only … that the internet would slow to a crawl during any actual mass arrests. Then the National Emergency network would come on like you said in the video. With the Virus scenario, they may not need to take comm's down or shut down electricity in regions. This virus, the cabal's last ditch effort … may be the perfect screen to do the arrests. I am just hearing majorly conflicting information on that from my contacts.
The General was hearing in the beginning but then said 'it was called off'.
I am also hearing that there are very strange troop movements, Nat Guard but also elite Marine units that specialize in breeching compounds have been seen moving about in a frantic manner on their base (can't remember which one).
That FEMA was gearing up some of the camps that were set aside but they are not being setup in a 'pattern' that would be expected for a pandemic. So, prisons?
So much speculation even among the top brass because over a week ago all briefings (Proper ones) stopped and 'Comm's went down' … Silent Running.
Was also told to expect a lot of strange E.Q.'s [earthquakes] around areas that you would expect secret bases to be at.
Comm's being down and troop movement is going on for sure.
It is way toooo much overkill for a virus outbreak of this magnitude.
The General was even saying that there were rumors of using this situation for an economic reset of some kind.
The critical point in Goode's information here is that the COVID-19 pandemic is a last-ditch effort by the Deep State to create the necessary international chaos necessary to implement their New World Order.
In another article,  I discussed how the origins of the pandemic could be traced back to a 2005 meeting in the City of London, where Deep State figures discussed a plan that had been developed for implementing their New World Order. The key point was that the elaborate sequence of events involving a global pandemic needed to be implemented in full in order to achieve success for the creation of a New World Order.
Not doing so would lead to failure. Consequently, the release of the COVID pandemic is indeed a last ditch effort by the Deep State to overwhelm nation states. Not only is the Deep State plan destined to fail, which we see already with China successfully emerging out of the lockdowns that initially crippled their economy, but the lockdowns do provide an opportunity for Deep State figures to be arrested, as proposed by Wilcock.
Wilcock points out that while some will panic, thinking that the impending mass arrests are tantamount to a military takeover, it is the opposite:
They are not going to tell you this is the mass arrests. So some people are going to have a serious dark night of the soul when we go through these three days because they're worried that this is the end okay, and this is martial law and this is a government takeover that's not what it is. The real takeover was going to happen if the illuminati had not been opposed by this amazing group of military and intelligence officials not just from the U.S. but all over the world that are working to make sure these plans don't succeed, which once again after the only three days what  we are hearing is that everybody's going to get the truth. These eight-hour chunks of data they're going to run three times a day you got to watch the whole eight hours to get the data and once you've done that you'll basically now be aware of what's really going on, who these people are, what they were trying to do, and how they're being stopped.
It's clear, according to the information provided by Wilcock, that something very important was originally planned in Europe with the Defender Europe 20 military exercises, until these were significantly scaled back due to the COVID-19 pandemic. According to Goode's General, the arrests were called off.
Nevertheless, significant U.S. military resources and personnel have been shipped to Europe and could under the remaining  Allied Spirit exercise provide the necessary armored firepower to back up U.S. special forces in storming Deep State compounds in Europe, as Wilcock originally contended.
Could this happen duringa three day internet shutdown, which both Wilcock and Goode's sources predicted? If so, then their advance warning will be very helpful in navigating the uncertain times that lie ahead as the covert civil war between the Deep State and the Military White Hats/Trump Administration comes to a stunning conclusion, while the bulk of the citizenry in the U.S., Europe and much of the planet are experiencing unprecedented national lockdowns.
The arrest and removal of the Deep State officials from positions of power would certainly have major implications for the disclosure of thousands of suppressed advanced technologies dealing with new energy sources, health, and exotic propulsion systems. The possibility that the whole planet will soon learn the truth about secret space programs and extraterrestrial life is quite high if the scenario laid out by Wilcock comes to pass.
© Michael E. Salla, Ph.D. Copyright Notice
Update – 3/31/20.  In my initial version of this article I erroneously wrote that David Wilcock said the mass arrests would follow the three days of darkness, rather than during them. Thanks to readers that alerted me to the error which has been corrected.
Further Reading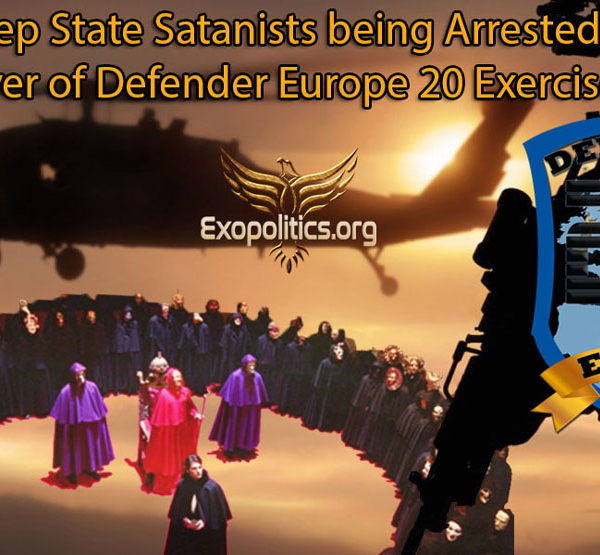 While much of Europe has been closed off due to the Coronavirus pandemic, elite military forces from 17 NATO and partner countries are using the Defender Europe 20 Military Exercizes as a cover to arrest leading Deep State Satanists entrenched in fortified European compounds, according to a New York Times best-selling author. David Wilcock made his startling claim in his latest video live-streamed on March 19, to his 288,000 You Tube followers.
In his video presentation, Wilcock cites at length a March 15 English language summary of an article by Manlio Dinucci, who wrote about the Defender Europe 20 Exercices on March 3 for the Italian web newspaper Ill Manifesto. The March 15 article summarizing Dinucci's earlier Italian language article is titled "30,000 American Troops Arrive in Europe Amidst COVID-19 Crisis", and begins as follows:
Manlio Dinucci writing in the Italian web newspaper, Il Manifesto on March 3rd, 2020, reports that despite Trump's travel ban 20,000 American troops will be traveling to Europe in the next few days–joining the 10,00 already there.
Despite the travel advisories issued by the U.S. State Department for Americans traveling to northern Italy and elsewhere in Europe, Dinucci is again cited from his original March 3 article:
However, one category of U.S. citizens is exempted from these rules: the 20,000 soldiers beginning to arrive from the United States in European ports and airports for the Defender Europe 20 exercise, the largest U.S. troop deployment in Europe in the last 25 years. Including those already present, about 30,000 U.S. troops will participate in April and May, flanked by 7,000 troops from 17 NATO member and partner countries, including Italy.
The author of the English language article citing Dinucci, who uses the pseudonym, Poppalloff, subsequently points out:
None of these troops have been issued with Bio/Hazchem suits or masks, which seems a little reckless of the American Government if COVID-19 is really the threat that we are being told that it is…
Dinucci is then cited again:
"The 30,000 U.S. soldiers, who "will spread through the European region," are in fact exempted from the preventive COVID-19 regulations that apply to civilians. The assurance given by the U.S. Army in Europe that "we are monitoring the Coronavirus [COVID-19]" and that "our forces are in good health" is enough.
At the same time, the environmental impact of a military exercise of this magnitude is ignored. U.S. Abrams tanks will participate, weighing 70 tons, with depleted uranium shells. Each tank consumes 400 litres of fuel per 100 km, producing heavy pollution to deliver maximum power." 
Popalloff, in summarizing Dinucci,  points out the suspicious nature of many European citizens being in locked down in their homes, while elite NATO troops are able to travel around without any restrictions at all. Popalloff, concludes his/her article by saying that the "pandemic is obviously a cover story for some kind of powerplay by the 1%."
The implication here is that the Coronavirus pandemic, the European lockdowns, and the NATO exercise all combine into a nefarious coup being covertly orchestrated by the 1% (the Deep State), and people need to be concerned about what is really happening behind the scenes.
In contrast, Wilcock cites extensively from the March 15 English language summary of Dinucci's earlier March 3 article, and reveals what he has been told by his own insider sources, who tell a very different story of what is really happening behind the scenes:
What we're getting from our briefings folks is that this is a targeted effort for the mass arrests that I've been telling you about this whole time. That's why they're there. There 37,000 troops from 18 countries including the US. … you better believe those are elite soldiers they're very trained. What are they doing? They're going to the places where the Deep State is. They're infiltrating their strongholds and they are arresting people.
Wilcock goes on to discuss the use of Abrams tanks in the Defender Europe 20 Exercise for a purpose that is very different to the coup that Dinucci proposed was underway:
"U.S. Abrams tanks will participate, weighing 70 tons, with depleted uranium shells." Ok, well that's weird, why do they need tanks. It's a military exercise, the biggest one in 25 years. Well maybe they're going into to be going into some people's stronghold's folks. Some of these guys that are billionaires, they're Satanic. If you start to learn about this, that's what's really going on. You got to bust in through those compounds, you got to get these people. You got to arrest them. Hopefully, they don't provide armed resistance, they're not going to make it, okay.
This is not a coup, this is not the end of the world. It's saving the world. These people already tried to kill the planet. So if you think this is a coup, that's okay, but they already fired their best shot and I don't believe this is the end of the world at all.
This is the crux of Wilcock's analysis of current events in Europe that involve an unprecedented shut down of people's movements and businesses, while NATO is simultaneously conducting its largest military exercises in the last 25 years. The well-protected compounds of Deep State officials, many of whom are practicing Satanists, who frequently conduct child sacrifices, are being raided by elite military special forces under cover of the NATO exercises.
Of the two explanations offered so far for the massive NATO exercises occurring in the midst of the coronavirus pandemic and lockdown in Europe, Dinucci/Poppalloff's concerns that these are a cover for a coup by the 1% (Deep State) and Wilcock's diametrically opposing view that Deep State officials are being arrested under cover of the military exercizes, I find Wilcock's assessment to be far plausible. This is despite reports that NATO leaders have cancelled a number of Europe Defender drills due to Coronavirus concerns.
Importantly, Wilcock's assessment is consistent with ongoing revelations from the military intelligence group QAnon, which has worked closely with the Trump White House since first coming forward in October 2017. In a number of articles, I have pointed out my reasons for concluding that QAnon comprises White Hats within the U.S. military who are locked in a behind the scenes civil war against the Deep State, whose senior leadership comprises practicing Satanists.
If one accepts what QAnon has revealed in multiple posts which advises readers to "prepare for the storm", and the taking down of Deep State leaders, then Wilcock's assessment is more likely than the alternative offered by Dinucci and Poppalloff.
Fortunately, I believe we will not need to wait long to learn the truth about what's happening in Europe with the scaled-back NATO drills, the unprecedented Coronavirus lockdown, and alleged mass arrests of Deep State leaders occurring behind the scenes.
The world wants to learn the truth about who is really behind the Coronavirus pandemic, and the U.S. military also has strong reasons to reveal the truth given that an increasing number of Chinese officials are accusing the U.S. Army in the initial spread of the Coronavirus in Wuhan during the October 2019 World Military Games.
© Michael E. Salla, Ph.D. Copyright Notice
Note: An audio version of this article is available here.
Further Reading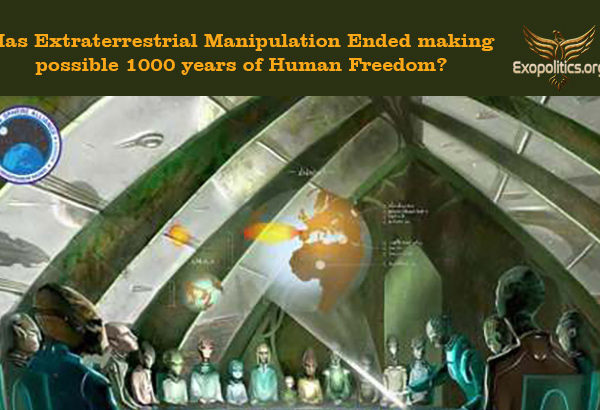 A consortium of extraterrestrial races conducting long term genetic engineering of humanity has been told to end its historic interference according to Secret Space Program insider Corey Goode. As a result of this, and related "galactic diplomacy" developments, he says that humanity is about to embark on a thousand years of uninterrupted peaceful development as a fully autonomous member of the galactic community.
Goode has just released an extensive update with his latest experiences involving extraterrestrials, Inner Earth entities and secret space programs in a joint article written with New York Times best selling author David Wilcock.  While Goode's update may read like a science fiction space opera, his Cosmic Disclosure Gaia TV interview series with Wilcock has generated hundreds of thousands of views, and a devoted following convinced of the veracity of his claims.
In my own research of Goode's claims since March 2015, I have not found any evidence of fraud or deception. Instead there has been much circumstantial evidence supporting his claims which have been detailed in a number of articles, and more extensively in a 2015 book comprehensively examining his claims in light of such evidence along with corroborating witness testimony.
The most recent examples of circumstantial evidence concern Goode's revelations of extensive underground facilities in the Moon where large bases had been secretly built. In 2017, scientists confirmed the existence of massive lava tubes in the Moon which could support large cities. The size of the Moon's caverns were large enough to fit a large metropolitan city, as illustrated in the following diagram showing how Philadelphia could easily fit inside one of them.
In his latest update, Goode discusses being taken into the Moon where he traveled through its network of lava tubes.
There is an extensive amount of information in Goode's portion of the joint article which is over 10,000 words. Given the extensive material, I will focus on arguably the most significant event, which concerns what he was told about the extraterrestrial consortium, the "Super Federation", being compelled to end its long term genetic experiments.
To read the other issues raised by Goode in his update, you can visit the latest post by Wilcock on his Divine Cosmos website. All quotes that follow are extracted from the joint Goode and Wilcock article.

Goode begins by describing how he was taken to a Super Federation meeting:
In one of these dream-state communications I was told that I should prepare for a series of meetings with the Super Federation and the "Council at Saturn" in the next few days.
On Saturday, December 16, 2017, at a little after 3:30 AM, a blue orb appeared in my room. I got up and put on the nice clothes that I had laid out next to my bed the night before….
I then faced the orb and indicated that I was ready to be transported.
Goode described being taken to a temporal anomaly near Jupiter housing a large diplomatic facility where the Super Federation conducts its regular Assembly. He has previously discussed participating in various roles as part of an Earth delegation in the Assembly.
In his update, Goode discussed his new role where he would address the entire Assembly as a spokesperson for the Sphere Being Alliance, a recently arrived group of higher density extraterrestrials (6th-9th) whose abilities and technologies far exceed those of the extraterrestrials running the long term genetic programs on Earth.
I was starting to get a bit shaky when I figured I would just get it over with. I thought to myself, "I am ready." Immediately, Tear-Eir and the Golden Triangle Being were standing behind me, very much in the same manner as when they had first appeared with me in front of the SSP Alliance at the LOC.
Goode has previously described Tear-Eir as a 6th density being who has mentored him since 2013, and appointed him to play the critical role as the Sphere Being Alliance's delegate at a meeting at Lunar Operations Command (LOC) in March 2015, before a consortium of human space programs called the Secret Space Program (SSP) Alliance.
Goode states that the process of appointing a normal citizen to represent the Sphere Being Alliance in diplomatic negotiations with the major space powers and extraterrestrial groups in a solar system has been repeatedly followed in our local stellar cluster of 52 star systems.
It appears that this diplomatic formula has been used to overcome the usual power disparity where the will of normal planetary citizens are ignored by planetary elites and their extraterrestrial patrons. Goode certainly appears to be a good choice for such delegate as he has a common touch that appeals to many watching his interviews.
Goode was chosen by the Sphere Being Alliance, to overcome this power disparity on Earth, and give the normal citizenry of our planet a voice in diplomatic negotiations concerning their future:
Tear-Eir addressed me and said "Repeat everything exactly as I communicate it to you," to which I nodded in agreement. I then turned to the delegation once more and began to speak.
I then spoke the words "We greet you in the love and light of the one infinite creator" at which time both Tear-Eir and the Golden Triangle being put their palms forward and bowed. I mimicked what they did. I felt a very deliberate yet loving energy coming from Tear-Eir….
He was having me address groups of beings by both their name and where they came from. Tear-Eir began to discuss cosmic agreements over these programs that have been made and broken over oceans of time. It seems that each of the 52 stars in our local star cluster have gone through similar programs.
Tear-Eir then announced that the Super Federation as they knew it would soon be disbanded, as had been done in countless other star systems in accordance with cosmic Law.
Tear-Eir further stated that soon 2 more Guardian Races would come to replace the Blue Avians and Golden Triangle Beings. At that point, the new Guardians would guide the Super Federation through consolidating and closing down these programs.
Goode then described a vehement protest by the extraterrestrial races in the Assembly, who were then reminded of the superior technological power possessed by the Sphere Being Alliance (aka Guardian Group) that had been militarily exercised in previous past situations:
Tear-Eir then had me say "remember the Ponce System." I had a flash of some sort of military conflict between a few of the Super Federation groups and a Guardian group that was enforcing a similar situation in a far-away star system, long ago.
The incident seemed significant to everyone present, except the Earth Delegation and myself. The delegates returned to their seats and waited for me to address them again.
What Goode just described appeared to be a veiled threat by the Sphere Being Alliance/Guardians that basically forced the Super Federation to accept the terms that had been laid before them. He went on:
Tear-Eir then had me state, "Humanity has had much to overcome. In this new phase, this council will soon disband.
"Humanity's "Cosmic Family" will assist them in healing and guiding them through the management of their own genetic and spiritual growth.
"This council will attend to its members incarnated on Earth, until which time humanity requests that you remove them.
"Humanity will be offered an official seat at a new Super Federation Council.
"These Cosmic Family members will use their experiences as a part of these programs to help guide this council in further ongoing programs across this Galaxy."
Soon after, "Gonzales", a pseudonym for a U.S. Navy officer that has worked closely with Goode in his space encounters since 2015, spoke about the significance of the development:
He said "Do you know what this means?" I looked at him and said, "Humanity will not be controlled and experimented on by dozens of ET races who think they are gods?"
He smiled and said, "They are the gods from our myths…. But, yes. And it means that the Galactic Federation, which the Sphere Being Alliance is a part of, will now assist us with the Draco Empire.
"They will not remove them for us, but will provide support that allows us to clean up our own house. We will really only have to contend with the AI threat until the series of solar events clear them from the Sol System."
Goode was next informed about a 1000 year galactic energy anomaly that will make possible an era of unprecedented human evolution and development:
I was shocked and said, "The Sphere Being Alliance is non-violent; how will they confront the reptilians?" He said, "I think we will have to watch that play out together. After the series of solar events, the Draco will be energetically expelled from this system.
"An incompatible energy will emanate from the Sun for about a thousand years.
"Many reptilians will try to remain hidden on Earth in temporal fields and within heavily shielded bases deep in the Earth, as they have for prior cycles.
"Humans will be responsible for rooting them out of their hiding places.
"During that time, the Draco will be unable to return to this system." …
I asked, "Why for only a thousand years?" Gonzales looked at me and said, "Sounds Biblical, doesn't it?
"The Earth is near a Super Gate. Those are quite special. The only alternative is to block their access to a system the super-gate is near. After Humanity has been through disclosure and the solar events, the reptilians will be of little threat."
I asked "Who manages this energy field for the thousand-year period?"
He stated, "The thousand-year energy fields seem to be a natural part of the cosmic web's cycles and energy flow."
He stated that according to his info, this thousand-year cycle is "not something set up by Galactic Federation assets."
Goode has not offered any hard evidence to support his claims. Aside from some circumstantial evidence and corroborating claims by insiders such as the recently deceased William Tompkins, Dr. Pete Peterson, and others known to David Wilcock, there appears little to corroborate his incredible claims.
The lack of hard evidence has led to some critics claiming Goode is a fraud, and even led to an extreme form of character assassination against him and his closest associates. However, a close examination of two of the most well-known critics shows they deliberately omitted and skewed important background data that supported Goode's professional background. This doesn't prove Goode's testimony to be genuine, only that persistent efforts to discredit or debunk him fail to be persuasive.

Goode's testimony is ground breaking and until there is clear evidence showing him misrepresenting or concocting events, he deserves to be taken seriously given the strong public interest in his case, and growing fan base. If his testimony is accurate, as I continue to believe is the case, then he may just have participated in major off-planet diplomatic meetings that directly impact humanity's future, and ushers in an unprecedented 1000 year age of freedom from extraterrestrial interference.
© Michael E. Salla, Ph.D. Copyright Notice 
Further Reading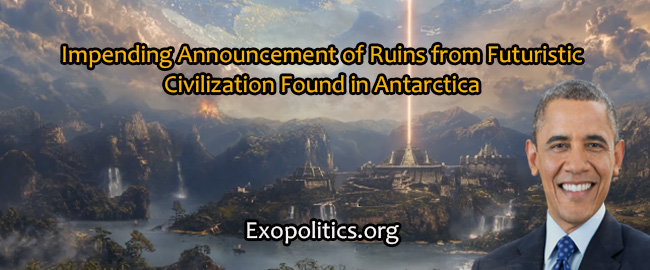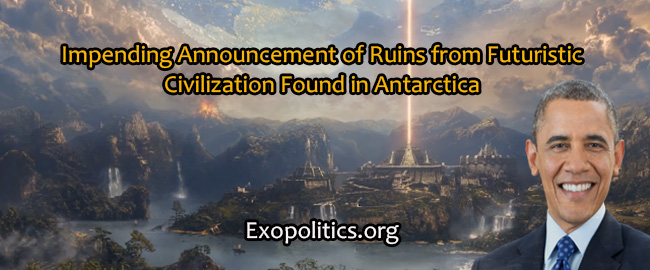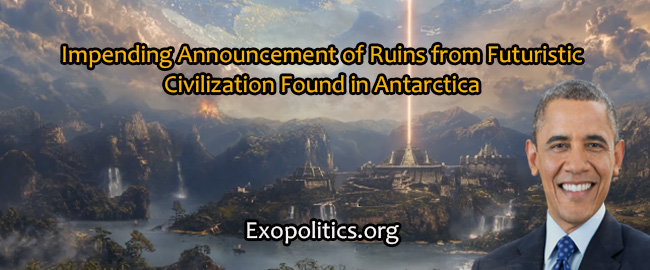 Many have been pondering the significance of recent visits to Antarctica by prominent officials and individuals offering puzzling explanations for their travel there. On November 9, U.S. Secretary of State, John Kerry, landed in Antarctica, during the peak of the U.S. Presidential Election. Why would the serving Secretary of State leave the U.S. at such a critical time just to observe global warming patterns in Antarctica?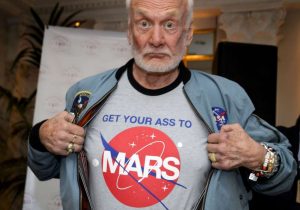 Even more mysterious was the December 1 medical evacuation of astronaut Buzz Aldrin out of Antarctica, after a surprise visit there, apparently to become "the oldest person to reach the South Pole at the age of 86."  He was seen along with companions wearing shirts with "Get Your Ass to Mars" logos. Was he there because he wanted to personally see the discovery of something that would make his dream of Mars colonization a reality?
Earlier on February 18, 2016, Russian Patriarch Kirill visited a Russian outpost in Antarctica, reportedly to see penguins. Just over a month later, on March 23, President Obama visited the southern Argentinian resort town of Bariloche, which is claimed to have been the secret hideaway of Adolf Hitler after World War II.  Bariloche became the unofficial capital of a breakaway German civilization based in Antarctica, and it is claimed that there is a hidden tunnel system from there to Antarctica. Also noteworthy, Presidents Eisenhower and Clinton have visited Bariloche.

The real reason for all these mysterious visits to Antarctica, and nearby locations such as Bariloche, is about to be revealed according to Secret Space Program whistleblower, Corey Goode. He says he was given time sensitive intelligence about an impending official announcement of the discovery of ruins from a futuristic civilization found in Antarctica.
Goode's data is about to be released according to a December 6 update by David Wilcock who conducts a highly popular interview series on Gaia TV with Goode titled Cosmic Disclosure. In an article titled, "ENDGAME: Disclosure and the Final Defeat of the Cabal," Wilcock writes:
Imagine if you woke up one day to see hyper-futuristic ruins being revealed in Antarctica. You're not seeing this on Ancient Aliens or on alternative news sites, but everywhere… on every major media platform there is.
Imagine journalists and military officials revealing these incredible findings—in videos shot on location. An event of this magnitude could be far more distracting than any 9/11-style catastrophe.
The power elite may well be hoping that such a civilization-defining "game changer" could make any and all preceding news stories irrelevant and forgotten.

Wilcock goes on to discuss what he believes is the ulterior motive for announcing such a monumental discovery at this time. He asserts it is designed to distract the mass public from recent Wikileaks revelations concerning "Pizzagate", and the involvement of high level officials in both the Clinton and Obama administrations in pedophilia rings which involve child sacrifice. Bill Clinton's former chief of staff, John Podesta, who was also Obama's Counselor and senior advisor, as well as heading the Hillary Clinton campaign, figures prominently in the Pizzagate scandal.
Wilcock's article, which is a prelude to an upcoming article about the impending Antarctica announcement, is quite detailed and well worth reading.
Wilcock says that the upcoming article was co-written with Goode. He describes what Goode's sources have revealed to him about the discovery in Antarctica, and plans to officially disclose this. Wilcock writes:
Corey Goode was made aware of the discovery of epic new Antarctic ruins approximately three months ago, and wasn't even authorized to tell David what was going on.  We have only just now been cleared to release this critical, time-sensitive data to the public.
While we await the release of the upcoming update by Goode and Wilcock to provide more details of what was discovered in Antarctica, it is worth pondering the implications of Secretary Kerry's recent visit there, if he did indeed witness such an incredible discovery.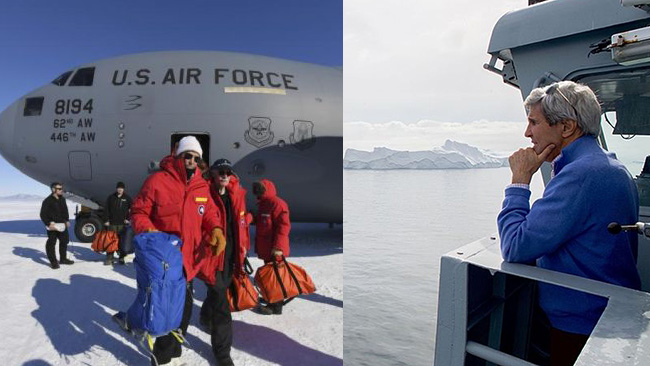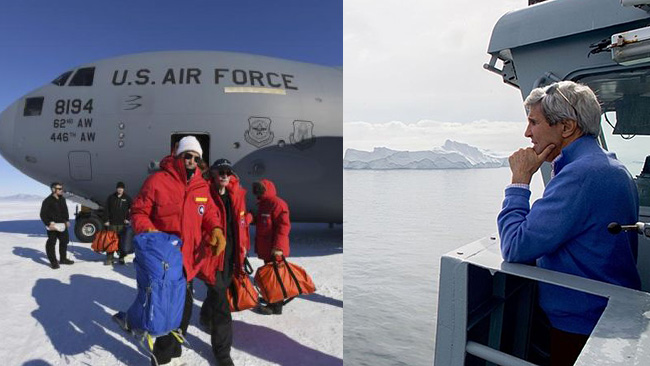 As the outgoing Secretary of State, Kerry is sure to want to release the full portent of what he saw in Antarctica before his term officially ends in January 20, 2016. President Obama will likewise want to move forward with such a world shattering announcement to put the icing on his legacy as the first African American U.S. President, whose policies ushered in a new era of prosperity.
Alternatively, as Wilcock suggests, the goal is to distract the American press and public away from damaging evidence of the Clinton and Obama administrations' involvement in pedophilia rings. This suggests that Podesta's involvement in a US Air Force initiative to promote "limited disclosure" about UFOs and extraterrestrial life, was likewise designed to serve as a distraction from even more damaging "full disclosure" revelations provided by Corey Goode, William Tompkins and others.
Positive economic trends continue to emerge in the U.S. in terms of dropping unemployment, rising stock markets, and renewed optimism about the state of the economy. When combined with an official announcement of a discovery of the ruins of an advanced civilization in Antarctica, Obama will give a tremendous boost to his legacy. This information is likely to be given wall-to-wall coverage by the mainstream news, thereby distracting the public from alternative media reports about information that tarnishes Obama's legacy.
Perhaps a further motivation for President Obama releasing news about such an Antarctica discovery would be to upstage the incoming Trump administration in terms of future bragging rights for who is to be ultimately credited for "Making America Great Again."
© Michael E. Salla, Ph.D. Copyright Notice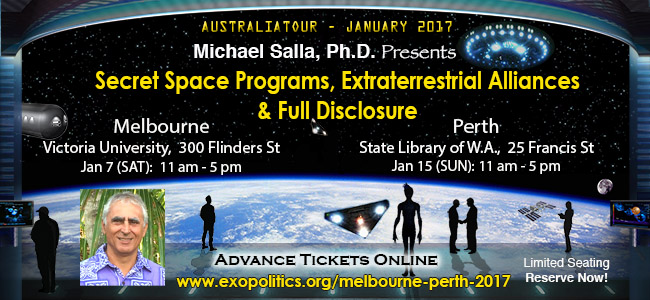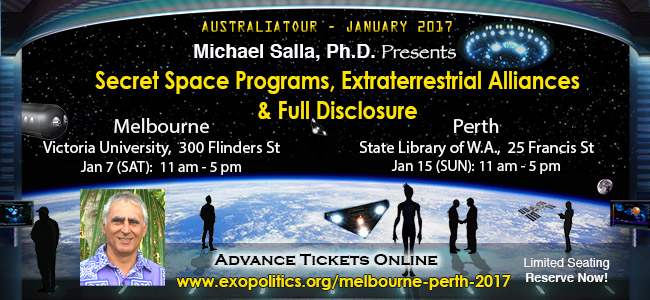 Further Reading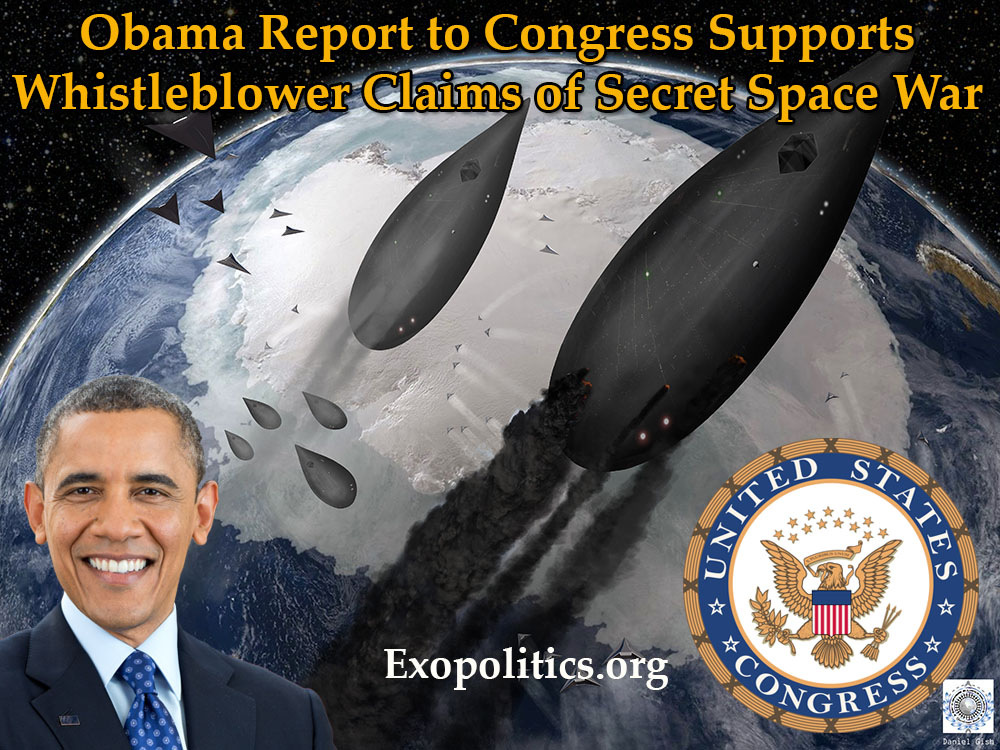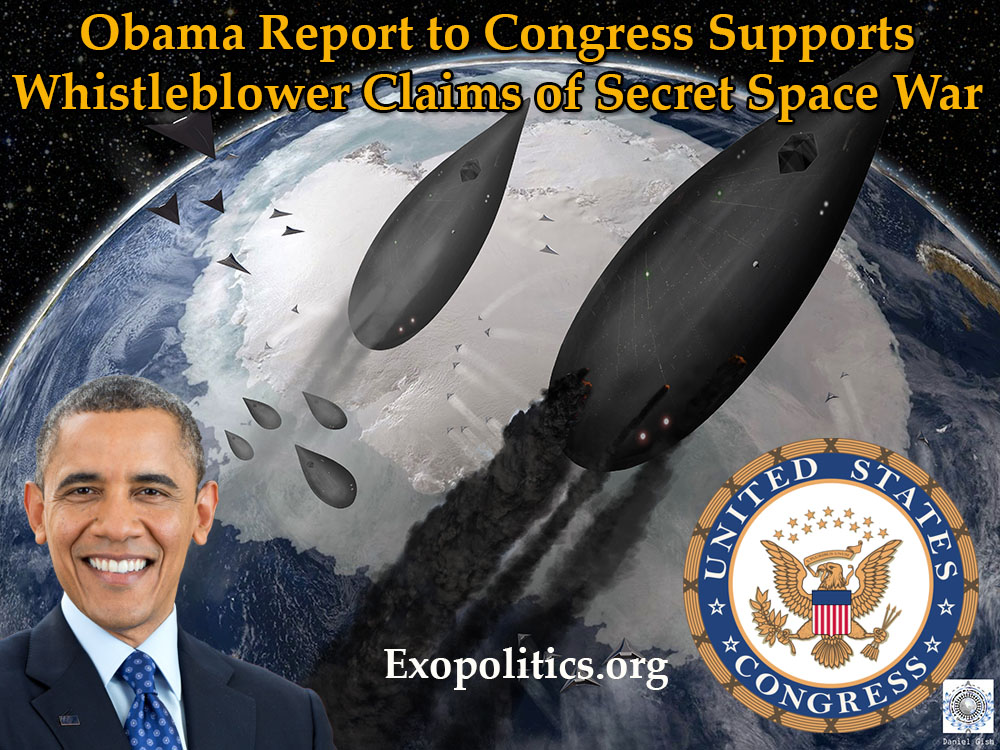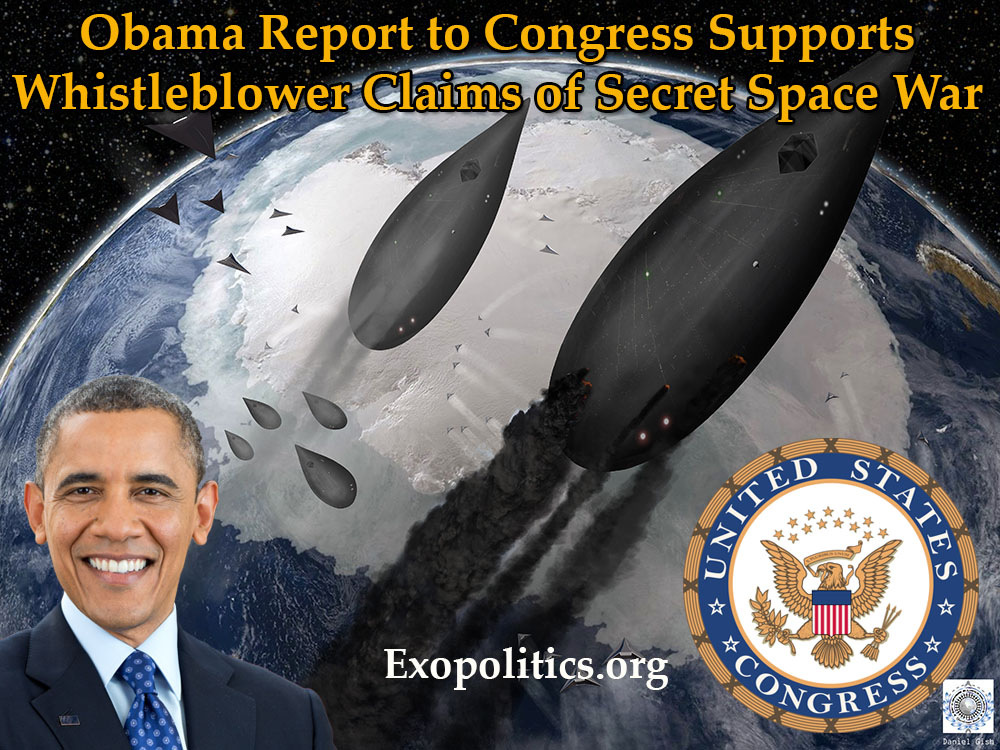 On May 26, President Barack Obama issued a report to the U.S. Congress about an interagency effort to develop an "integrated policy" to deter potential enemies in Space. Obama's "Space Report" gives credence to secret space program whistleblowers such as Corey Goode, who claim that battles have been fought between rival secret space programs in 2015, with the most recent occurring over Antarctica in April 2016.
In a letter released through the White House Press Secretary discussing the report along with a classified Annex, Obama said:
The report is the result of an interagency process with the objectives to reduce risks to the United States and our allies in space; and to protect and preserve the rights, access, capabilities, use, and freedom of action of the United States in space.  Success will require a multi-year effort and commitment across all departments and agencies, and I look forward to your continued support. 

Obama's letter said the report was issued to comply with "section 1613 of the National Defense Authorization Act for Fiscal Year 2016″, which he signed into law on November 25, 2015.

The Act was first submitted as a Bill on May 14, 2015, and had the following section to which Obama was directly responding in his May 26, 2016, letter:
Requires the President to establish an interagency process to develop a policy to deter adversaries in space.

Obama's letter refers to "a multi-year effort and commitment across all departments and agencies." What provides important context for his letter are reports of alleged battles in space between different secret space programs, which began in early 2015 according to Goode.
Goode's first public reference to battles in space was in an email interview released on May 30, 2015 where he discussed recent military conflict between different secret space programs [SSP] and their respective extraterrestrial allies both on Earth and in deep space:
Before the breakdown in the overall relations between the factions that were once united through the "Secret Earth Governments" (and their "Syndicates" known as the Cabal/Illuminati and various other Secret Societies), their Controllers (Draco Federation Royals and Ancient Earth/Human Break Away Civilizations that have deceived many and presented themselves as ET's from various Star Systems) there has been quite a lot of chaos among these groups which has resulted in them turning on each other. This has led to conflict in various underground/undersea networked facilities that have been responsible for some of the Earth Quakes in recent months that have been occurring across the Planet Earth as well as some incidents on Mars and other bodies in the Sol System…

Goode went on to describe the result of defections to a SSP Alliance formed with the U.S. Navy's Solar Warden program, which led to a surge in military battles, especially on Mars leading to many deaths at secret colonies:
Over the last 6 months there have also been some defections of assets from the Cabal controlled ICC [Interplanetary Corporate Conglomerate] Secret Space Program, remnants of the Dark Fleet (which is not a Draco Fleet but a Human SSP Fleet that serves alongside the Draco Alliance) that were not caught outside of the Outer Barrier as well as various other Military Black Ops SSP Program Members. Some of them brought with them time critical and actionable intelligence that was acted on by some of the SSP Alliance Leadership and their new allies without bringing it to the SSP Alliance Council. This resulted in Two Massive Attacks that caused large numbers of innocent deaths. Those who took part in what the Blue Avians called "Atrocities" were unapologetic and stated that it was the cost of war but the collateral damage was regrettable.

It is very significant that Goode's May 30, 2015 revelations of recent space battles overlapped with the introduction into the U.S. Congress of the original bill for the National Defense Authorization Act for Fiscal Year 2016, which requested Obama to: "establish an interagency process to develop a policy to deter adversaries in space."

It's worth emphasizing here that at the same time Goode was revealing the military hostilities that had just occurred both on Earth and in Space between different secret space programs, the U.S. Congress was authorizing President Obama to respond to future scenarios not dissimilar to what Goode was saying had already occurred in early 2015.
More recently, Goode claims that he received a briefing about a battle fought over Antarctic skies in April 2016, involving an attack on six large "teardrop shaped" cruisers by dozens of smaller "chevron shaped" space craft. He has provided graphic illustrations of both the Antarctic space battle, and of the location of the six bases from which the alleged cruisers launched.
Goode was uncertain over the origin of the chevron shaped space craft, and referred to speculation among his contacts that they belonged to an "Earth Alliance", comprising "White Hats" from different national militaries such as the BRICS nations of Russia, India, China and Brazil.
Goode also said that he was physically taken on a tour of these hidden Antarctic facilities, which he says are jointly run by the Interplanetary Corporate Conglomerate (ICC) and the Dark Fleet. He stated that the six space cruisers belonged to Dark Fleet, which dates its origin to breakaway Nazi groups in Antarctica and South America.
They were carrying Nazi-aligned global elites that had fled to South America and Antarctica over the last six months, as Goode explained in a personal briefing to me on June 15.
On June 18 – 19, David Wilcock gave his analysis of the informal briefings he had received earlier from Goode, and speculated that the attacking chevron craft belonged to members of the U.S. Military Industrial Complex (MIC):
Corey's people in the SSP Alliance did not know who built the "chevrons". It appeared to be one of the Earth-based "lower level SSP" groups. In order to give them honor and respect, I will refer to these Earth-based space program groups as the military-industrial complex, or MIC.

Wilcock says that he spoke with another whistleblower, Dr. Pete Peterson, who said that the US based MIC was given these advanced technologies by defectors from corporate controlled secret space programs:
Peterson knew all about these triangle-shaped craft when I discussed it with him on the phone. The MIC are very proud of their new weapon. It is very likely that the MIC got this technology from Alliance defectors from the space-based ICC, or Interplanetary Corporate Conglomerate.
The ICC is a faction of the SSP that started out as a part of the MIC. The ICC then became far more powerful and splintered off in various off-planet colonies. This group is completely self-sufficient, never needs money or supplies of any kind from Earth, and is effectively a breakaway civilization. The craft piloted by the earth-based MIC were nowhere near as advanced as those of the ICC or Dark Fleet, but all of that has changed now.

In June 2009, Petersen had first shared his testimony on a leading whistleblower site Project Camelot, and has continued to privately brief Wilcock.

If Goode and Petersen are correct, then it would appear that Obama's letter referring to a "multi-year effort and commitment across all departments and agencies," to deal with space adversaries, is not referring to a hypothetical future scenario, but is dealing with present real time contingencies involving one or more secret space programs and their extraterrestrial allies.
Furthermore, Goode claims that he was abducted on three occasions over a six week period during the months of January and February by an interagency military group with its own secret space assets, which was intent on gathering intelligence on the accuracy of Goode's earlier revelations.
In a previous article, I discussed Goode's June 15 personal briefing where he said that the National Reconnaissance Office, USAF Space Command and Defense Intelligence Agency (DIA) were agencies very likely involved in his military abductions.
They are part of what Goode has previously described as a "lower level" secret space program, largely unaware of the more highly classified space programs operating in deep space with kilometers long space carriers and cruisers as confirmed by former aerospace engineer William Tompkins.
While at a Douglas Aviation Company think tank called Advanced Design, Tompkins says that he personally designed the first space battle groups in the 1950's, which eventually began deployment in 1984 as the Navy's Solar Warden Space program.
The significance of Goode's January/February military abductions by the NRO, USAF Space Command and DIA is that these are currently gaining intelligence on the operations and technologies used in more advanced space programs, which are completely independent of the regular chain of military command, and Presidential oversight. These are almost certainly the same agencies involved in Obama's "interagency process to develop a policy to deter adversaries in space."

Consequently, if Goode is correctly reporting his experiences, then it would appear that his military abductions were part of President Obama's new interagency initiative to prepare for future space battles involving unnamed adversaries.
Obama's Space Report, and section 1613 of the National Defense Authorization Act of 2016, provide important circumstantial support to Goode's claims that military hostilities between rival secret space programs are currently occurring. These hostilities have stimulated a coordinated response by select military departments, agencies and corporations within the US Military Industrial Complex, and their international allies – what Goode loosely describes as the "Earth Alliance", to deal with "adversaries" who will likely be revealed in what has been predicted to be a limited disclosure announcement.
 © Michael E. Salla, Ph.D. Copyright Notice
Further Reading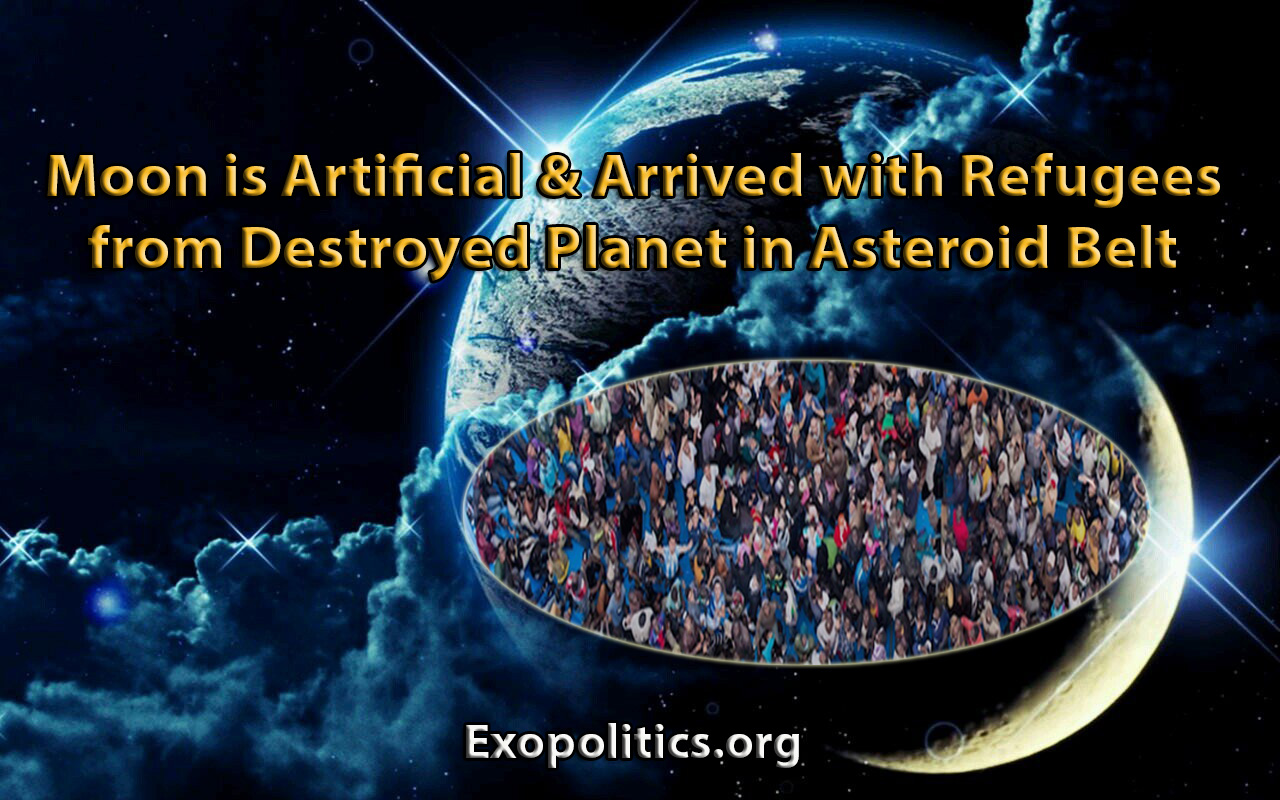 According to secret space program whistleblower Corey Goode, there was once a "Super Earth" in the asteroid belt with human looking giants who were involved in a devastating galactic war that destroyed their planet. Goode claims in yesterday's episode of Cosmic Disclosure that many of the giants fled the destruction via one of their artificially created moons, which was sent into an orbit around the Earth approximately 500,000 years ago.
Goode says that the smart glass pads he read during his 20 year service with different secret space programs from 1987 to 2007 provided two explanations for the moon's artificial nature. One was that it was a hollowed out natural moon, and the second was that it was a giant orbiting space station.
Goode then says that waves of refugees from the Super Earth began arriving on Earth during different stages in the period spanning the former planet's destruction. One of these waves was associated with the arrival of the Moon that was teeming with refugees.
The refugees arrival on Earth created armed conflict with advanced indigenous human groups that had previously escaped into the Earth's interior from cataclysms, and were helping survivors on the surface rebuild society. In previous episodes, Goode says that these breakaway "Inner Earth" groups date as far back as 18 million years, inhabit vast caverns as large as the U.S. state of Texas, and possess advanced space craft.
In addition, different extraterrestrial groups had established colonies on the Earth's surface where long term genetic experiments had begun – 22 according to Goode and the contactee, Alex Collier. The arrival of the different extraterrestrial groups and their genetic manipulation of surface humans had previously created conflict between the Inner Earth civilizations and the extraterrestrial human hybrid colonies on the surface.
The arrival of the Moon with refugees possessing advanced technologies threatened to upset the delicate balance of power that had been achieved on the Earth between the Inner Earth and surface civilizations. There were subsequent military battles between the Inner Earth civilizations, extraterrestrial visitors and the Super Earth refugees on the Moon, according to Goode.
Evidence of these ancient Moon battles can be witnessed today in the form of the remnants of giant crystal domes, huge towers and square structures, which Goode says he directly witnessed while flying over the moon's surface. Support for Goode's astounding claim comes from the research of Richard Hoagland who has conducted extensive digital analysis of much NASA lunar imagery, which he concluded revealed the remnants of giant glass/crystal structures all over the Moon:

Goode's incredible claims about the history of the Moon are part of a two part series of Cosmic Disclosure episodes on a Super Earth that once orbited the sun in the region of the asteroid belt. The previous episode discussed how Mars was also once a moon orbiting the Super Earth.
Mars at the time had sufficient water and oxygen rich atmosphere to host a large population on its surface. The events that led to the Super Earth's destruction also wiped out much of the surface population on Mars, and removed the bulk of its atmosphere according to what Goode read on the smart glass pads. The force of the Super Earth's destruction propelled Mars into its present planetary orbit.
Goode and Wilcock's discussion of the destruction of a Super Earth reveals astonishing historical facts that are very helpful for understanding our real galactic history. So was there a Super Earth that was destroyed in a titanic battle, which resulted in one of its moons being sent into Earth orbit, and another being sent into its present orbit as the planet Mars?
The first major scientist to seriously research the possibility that the asteroid belt is the remains of a former planet is Dr. Thomas Van Flandern, who was the chief astronomer at the U.S. Naval Observatory. He wrote several academic papers on what he described as the Exploded Planet Hypothesis, which suggested that several asteroid belts in our solar system arose from the destruction of planets stretching all the way back to the beginning of the solar system:

Putting all this evidence together, we have strong hints for two original planets near what is now the main asteroid belt: hypothetical "Planet V" and "Planet K". These were probably gas giant planets with moons of significant size, such as Mars, before they exploded. We have hints of two more asteroid belts, probably from the explosions of two more planets ("Planet T" and "Planet X") beyond Neptune. And we have hints for two extra-large gas giant planets, "Planet A" and "Planet B", that exploded back near the solar system beginning.

Van Flandern elaborated on his proposal that Mars was once a moon of a destroyed planet in the asteroid belt:
The above summarizes evidence that Mars was not an original planet, but rather a moon of a now-exploded planet occupying that approximate orbit. Many of these points are the expected consequences of having a massive planet blow up nearby, thereby blasting the facing hemisphere and leaving the shielded hemisphere relatively unscathed. Especially significant in this regard is the fact that half of Mars is saturated with craters, and half is only sparsely cratered. Moreover, the crustal thickness has apparently been augmented over one hemisphere by up to 20 km or so, gradually tapering off near the hemisphere boundaries.

Van Flandern's Exploded Planet Hypothesis lends scientific support to Goode's claims about both the Moon and Mars being two former moons of a Super Earth.
If Goode is correct, then prior to the Moon's arrival approximately 500,000 years ago, the Earth had no moon. Indeed, there is historical evidence that the Moon was a late arrival to the Earth. Immanuel Velikovsky found numerous historical references to pre-lunar cultures on Earth, some of which he described as follows:
The period when the Earth was Moonless is probably the most remote recollection of mankind. Democritus and Anaxagoras taught that there was a time when the Earth was without the Moon. Aristotle wrote that Arcadia in Greece, before being inhabited by the Hellenes, had a population of Pelasgians, and that these aborigines occupied the land already before there was a moon in the sky above the Earth; for this reason they were called Proselenes.
Apollonius of Rhodes mentioned the time "when not all the orbs were yet in the heavens, before the Danai and Deukalion races came into existence, and only the Arcadians lived, of whom it is said that they dwelt on mountains and fed on acorns, before there was a moon."
Plutarch wrote in The Roman Questions: "There were Arcadians of Evander's following, the so-called pre-Lunar people."
Goode's revelations about a Super Earth and the cataclysmic events surrounding its destruction are shocking. If accurate, as the research of Dr. Van Flandern and additional independent evidence suggests so far, then Goode has opened the door to better understanding the real history of our Earth, Moon, Mars and the solar system more generally.
Goode and Wilcock's Cosmic Disclosure series continues to surprise and enlighten as it discloses many aspects of galactic history discovered by secret space programs, which are for the first time allowing much of this information to be released to the general public through Goode and other whistleblowers.
© Michael E. Salla, Ph.D. Copyright Notice
Further Reading



Zecharia Sitchin is widely acknowledged as a pioneer in disseminating the idea that one or more extraterrestrial races have visited Earth in antiquity and assisted the development of human civilizations. His translation of Sumerian cuneiform texts suggesting that an alien race called the "Anunnaki" created humanity has been translated into over 25 languages and sold millions of copies worldwide. The problem, according to the latest revelation by Secret Space Program whistleblower, Corey Goode, is that Sitchin's translations contain contrived information!
Goode made his startling claim about Sitchin's translation in the February 9 episode of his Cosmic Disclosure series of interviews by David Wilcock aired on Gaia TV. It arose out of an account Goode was giving of his meeting with representatives of seven Inner Earth Civilizations back in September 2015. He described being taken to a library created by the oldest of the civilizations, dating as far back as 18 million years in age.
The High Priestess, "Kaaree" (Car-ee), who led Goode on this library tour, showed him different levels of an ancient library hosting a variety of manuscripts, scrolls, tablets and books of various ages. In a section of books, Goode recognized titles authored by Zecharia Sitchin which collectively are known as the Earth Chronicles.
In an earlier episode of Cosmic Disclosure released on February 2, Goode reported being told that the Ancient Sumerians had been helped by the Inner Earth beings who had decided to teach them agriculture and language. This was necessary due to a minor cataclysm that had wiped out surface civilizations. Goode asked how this information meshed with those who believed the Sumerians had been helped by alien visitors, and was told by Kaaree that he would find his answer in the library.
Once in the library, Goode got the answer he sought. During a discussion of a very large ancient dictionary defining terms in the ancient Sumerian language, Kaaree pointed up at Zecharia Sitchin's books, and said:
All of the information in those books is pretty much contrived… You cannot take those books, and you cannot go into an ancient Sumerian tablet, to the tablets and texts, and do translations and get what is said in those books.
She gave as an example the word 'Anunnaki' which Sitchin defined in his first book, The Twelfth Planet, as 'those who from the heavens came." According to Kaaree, the word actually means "royal seed." Her translation of 'Anunnaki' is supported by more conventional Sumerian scholars, as Sitchin critics have previously pointed out.
Goode says that Kaaree told him that Sitchin had been approached by three members of a secret society whose goal was to promote an elite inspired religion based on fictitious extraterrestrial creators. They fed Sitchin their translations of the Sumerian cuneiform texts which he proceeded to release in his Earth Chronicle series books that began in 1976 with publication of The Twelfth Planet.
She said that the writer [Sitchin] had three people that were giving him the narrative to write, and that these three people gave him the narrative that he wrote, that was a very clever infiltration of these, I guess, Illuminati into the ufology esoteric community to make their religion, our, or their religion
Goode then claimed that this contentious information was also known to the Secret Space Programs because he read it in on the "smart glass pads" he was given access to during his covert service from 1987 to 2007. If Goode's revelations are accurate, as my own research so far has found them to be, then this is independent corroboration of Kaaree's claims.
Adding another level of plausibility to the accusation that Sitchin's translations of the Sumerian texts were secretly contrived by others, was an anecdote shared by Wilcock, host of Cosmic Disclosure, during yesterday's episode. Wilcock revealed that a Spanish college friend, who he was unwilling to identify on air, regularly talked with Sitchin who confidentially told him that he was told what to write in his Earth Chronicles books.
Goode's information is certain to be very controversial due to many supporters of Sitchin who believe that more conventional academic translations of Sumerian texts are inaccurate. On the contrary, Goode points out, that many conventional scholars are correct in their interpretations, as illustrated earlier with discussion over the correct translation of the word 'Anunnaki'. He encourages people to research conventional Sumerian translations to determine for themselves the accuracy of Sitchin's translations.
As far as the inner Earth civilization that Kaaree belongs to, it is important to clarify what may appear to be a contradiction in what Kaaree said in regard to Sitchin's translation. In a September 23, 2015 report about his meeting with Kaaree earlier that month, Goode said that the Inner Earth civilizations would often assist surface civilizations after a cataclysm. In such cases, the Inner Earth beings would say they were gods or extraterrestrials from other planes or planets:
They stated that they would emerge from time to time to kick-start the civilization of the survivors who were the most closely related to them in terms of their genetics.
They claimed that these surviving races assumed they were the gods of their own ancient legends. It was decided that they would allow those they were assisting to believe they were gods, in order to keep their subterranean civilizations secret and secure.

Kaaree acknowledged that her civilization had aided the Sumerians with agriculture and language. Presumably, the Inner Earth civilization had also told the Sumerians that they were 'gods'; or at least encouraged the Sumerians to adopt such a belief, which was in alignment with their legends.
This suggests that the translations provided by Sitchin were based on a partial truth, that the Sumerians had been helped by a technologically developed society, the "Anunnaki", who claimed to be gods.
However, Sitchin's translation that the Anunnaki came from the planet Nibiru, and had bio-engineered humanity by splicing their own DNA with early hominids, is contrived information. This appears to be what Kaaree was referring to as an effort by an Illuminati secret society to manufacture an elite-inspired religion involving extraterrestrial creators.
Significantly, Clive Prince and Lynne Picknett authored a book in 2001 called The Stargate Conspiracy, which traced efforts by global elites to manufacture a new religion that would revolve around the idea of extraterrestrial creators.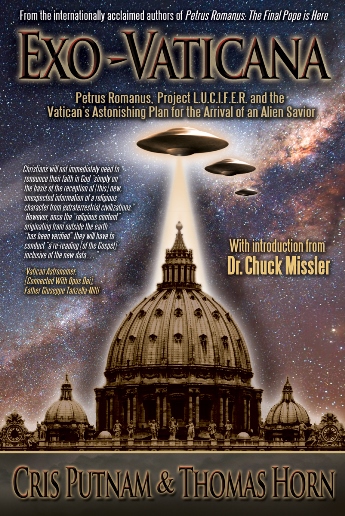 This idea has been further developed by authors such as Tom Horn and Chris Putnam, in their book Exovaticana, in which the Roman Catholic Church is leading a secret effort by Jesuits (the Catholic order to which Pope Francis belongs) to establish a new global religion with extraterrestrials playing a key role in humanity's creation. Indeed, the Pope took a dramatic step in this direction with an October 27, 2014 statement explaining how extraterrestrial activities were part of God's plan.

In my own 2013 book, Galactic Diplomacy, I pointed out that Sitchin's account of a single set of extraterrestrial creators was inconsistent with the evidence that there have been multiple extraterrestrial races blending their genetics with humanity over a long historical period. According to Goode, and "extraterrestrial contactees" such as Alex Collier, there are 22 different alien races that have contributed their DNA to humanity.
The Inner Earth civilizations, however, insist that their own genetics long predate the multiple interventions by visiting extraterrestrials who bio-engineered surface humanity. Kaaree's people date their origins to the time of the "Guardians," a very ancient race of higher dimensional beings that helped establish and/or protect the first human civilizations on Earth.
Presumably, the genetics of the first humans were more compatible with manifesting a higher universal consciousness, referred to in the Law of One material as the Logos or creative principle, in physical form. Consequently, the Inner Earth Civilizations have maintained a strict separation from the genetically mixed, and by implication 'inferior', surface humanity for many millennia.
This greatly contrasts with Collier's claims, in which extraterrestrials from the Andromeda constellation consider our mixed human extraterrestrial DNA as a form of genetic royalty. In a 2000 interview, Collier said:
According to the A's [Andromedans] we are genetic royalty, everyone on this planet and it has nothing to do with where we are on a soul level. People confuse the two. It is like people don't listen as well as they hear. They say we are genetic royalty because we are the subtotal in our genetics of 22 different races. Many different races have been here, over millions and millions of years they have genetically tampered with us and left us and ended up mating while they were here.

The complex situation with the Inner Earth beings appears set to change, however, since a group of five extraterrestrial races Goode describes as the Sphere Being Alliance, appeared in our solar system very recently. The Inner Earth civilizations have recognized members of the Sphere Being Alliance as their Guardians who have returned at a time of great change at the planetary, stellar and galactic levels.
According to a January report by Goode of a face-to-face meeting between the Sphere Being Alliance and representatives of the Inner Earth civilization, which occurred in the Kuiper Belt in late 2015, they were told that they had "not been proper stewards" of the planet. This has led to some of the Inner Earth civilizations reevaluating their policy of strict separation, and considering ways to reveal themselves more to surface humanity, which will in some future time lead to planetary unity.
Goode's accounts of his meeting with Inner Earth civilizations are astounding, and will lead to a great re-evaluation of humanity's ancient origins, and the roles of different extraterrestrial and Inner Earth groups as more evidence emerges to substantiate his claims. As far as exposing Zecharia Sitchin's translations of the Sumerian cuneiform texts as contrived information, Goode is suggesting that there is an implicit warning by the Inner Earth civilization that Sitchin was part of a secret Illuminati effort to create a new elite driven global religion based on extraterrestrial intervention in human affairs.
© Michael E. Salla, Ph.D. Copyright Notice
Further Reading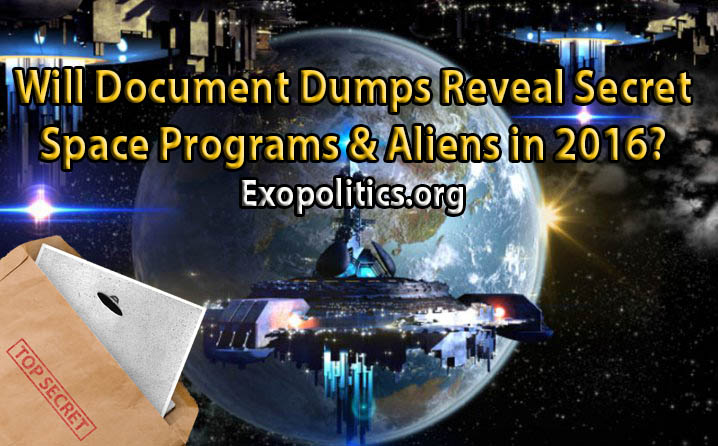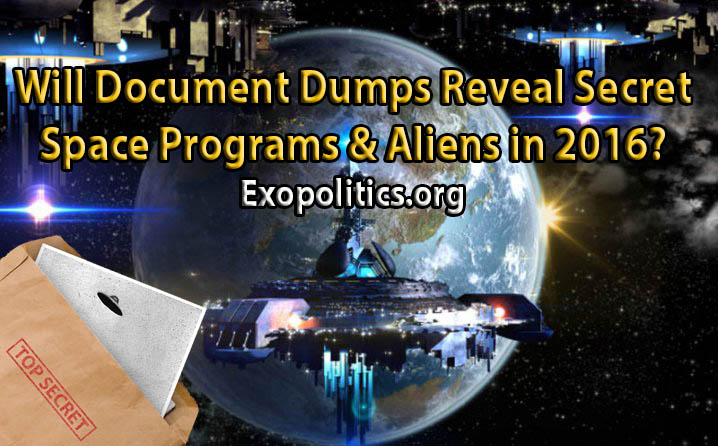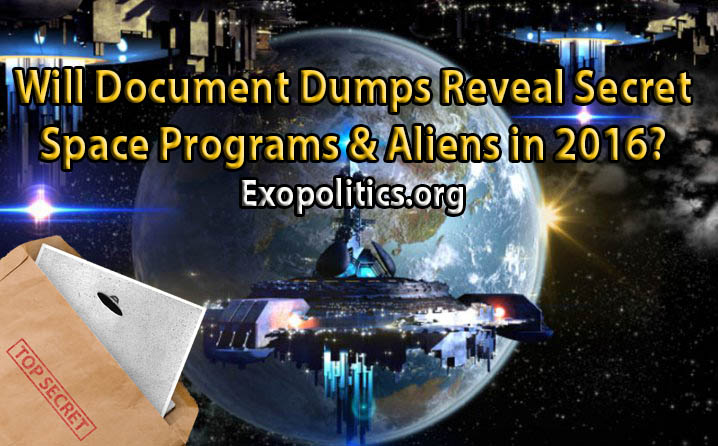 In June 2015, details emerged of a "full disclosure" plan allegedly developed by an alliance of Secret Space Programs to reveal to the world the truth about these highly classified programs and the existence of extraterrestrial life. According to Corey Goode, who claims to have worked in several secret space programs for 20 years and in early 2015 was appointed as a liaison for a visiting group of extraterrestrials, the "full disclosure" plan envisaged massive document dumps.
In his June 15 response to a question about what the full disclosure plan involved, Goode wrote:
A full disclosure event would consist of a major data dump on the Internet with many hundreds of thousands of document, audio and video files on multiple mirrored sites for everyone to have access to. There would be a collapse of the corporate media machine and a 24/7 television and radio education campaign would be initiated. Not all channels and stations would be co-opted so people are not overwhelmed and could "tune out" as they needed to due to the stress.
Goode then contrasted this with a "partial disclosure" event that was being planned by a group of human elites often described as the Illuminati/Cabal:
If a person or group go public and reveal the existence of ET visitation and some advanced technologies, but not technologies that would collapse a "New Financial System" or reveal the crimes against humanity that have been perpetrated by the "Human Elite" and certain "Off World" or "Ancient Break Away Groups" then you have not been told the whole truth.
That would be a partial disclosure where the narrative has been controlled by a group preserving their power and avoiding the release of their crimes. The majority of the world would be shocked by this information alone and it would occupy their imaginations for some time. Very few of us at the current moment would realize that this was just another deception.

In a series of three Secret Space Program related meetings held in June 2015, Goode reported that the Cabal/Illuminati were willing to proceed with their own limited disclosure event, and gave late November 2015 as a possible "partial disclosure" date if agreement could be found with the Secret Space Program Alliance. Agreement was not found and so at the start of 2016 we find ourselves in the position that there are two disclosure plans that are ready to move forward when the right conditions have been reached.
In the most recent episode of Cosmic Disclosure with David Wilcock, Goode explained what conditions needed to be reached for the full disclosure plan to move forward:
I'm told that the data dumps are going to occur after a catalyzing event that's going to occur down here on the surface. This doesn't necessarily mean it is going to be [what I am about to say], but an example [that] was given to me [is] something like a global economic meltdown, to where it became obvious to everybody on the surface, all of the sleeping masses, that [the economy has] been a giant Ponzi scheme [from the beginning]. Everybody that they voted for and supported [in government] were criminals in [the Cabal's] pockets. And the masses of people that were normally asleep and wouldn't listen to things that people consider "conspiracy theory", will now be open to the information. After that point, the information will be dumped on [to] the population through many different media [outlets], including the internet.

Another important constituency in this battle between the Secret Space Program Alliance and the Cabal/Illuminati over the scope and timing of "official disclosure" is what Goode describes as the "Earth Based Alliance." This Alliance primarily comprises "White Hats" inside the U.S. military industrial complex along with "White Hats" in other major nations, which are cooperating with the BRICS bloc of nations (led by Brazil, Russia, India, China and South Africa) in launching an alternative financial system that would be a part of the official disclosure process.
Complicating the full disclosure plan advocated by the Secret Space Program Alliance is technology possessed by the Cabal/Illuminati that can accurately predict future events using Artificial Intelligence (AI) to delay the disclosure process, by encouraging defections from the Earth Based Alliance. The following exchange between Goode (CG) and Wilcock (DW) in the latest Cosmic Disclosure episode reveals the problems caused by such technology:
CG –… The cabal has been using this advanced artificial intelligence technology that gives them probable future scenarios that has helped them stay one step ahead this whole time. [The (Secret Space Program) Alliance has] found a way around this and they're pretty confident that they'll be able to do the data dumps if the alliance on the ground cooperates [Earth based Alliance]… but if the data dumps happen too soon, the cabal will be able to mitigate it, call it "conspiracy theory", tear it apart, and take it down.
DW – And you said that some of the people in the Earth-based alliance have now treasonously told the cabal what's in the data dump?
CG – Shown them.
DW – Which gives them the opportunity to prepare alibis and counter arguments for it.
CG – Right. And it's also made them want to create a WW3 scenario and that kind of stuff.

If Goode is accurate in his descriptions of the dynamic interplay between the different factions over the scope and timing of disclosure, then it is clearly very hard to predict when and if "full disclosure" will happen.
Goode's admission that key factions in the Earth-based Alliance have defected to the Cabal/Illuminati suggests that the conditions described by Goode, for a "catalyzing event" that prepares humanity for full disclosure through "document dumps", is being actively prevented from occurring.
A catalyzing event such as economic collapse, as Goode was told, could be prevented by a new financial system being put in place to reform the current financial system. Thus, China and other BRICS nations could come forward to rescue the tottering international financial system in exchange for a variety of benefits.
In a comment to an article, Goode described such a scenario as follows:
[S]ome of the "Earth Alliance Groups" have been infiltrated and are now looking to make deals with these "Cabal Groups" based on a replacement financial system where they will have more power ("The West had its 100 years, now the East will have its 100 years" is a quote that is circulating among the Earth Based Alliance Groups). The new financial system will be yet another Debt/Slave system controlled by just another group of people. They plan on clearing peoples' debts and giving them free money in the beginning to give people hope and cause them go get excited about a new financial system.

The ability to foresee and prevent the necessary conditions for "full disclosure" to occur suggests that the Cabal/Illuminati, and the defecting factions from the Earth-based Alliance, are likely to go ahead with a limited disclosure plan. Such a plan will release some advanced technologies and reveal the existence of extraterrestrial life. This will be done in a way that will, as Goode says, allow the Cabal/Illuminati to maintain their power and escape prosecution for their crimes.
The control over the world's major media and communication channels by the Cabal/Illuminati, suggests that it has tremendous resources at its disposal to spin any major international event in a way that promotes its ultimate agenda. Thus, the "catalyzing event" that the Secret Space Program Alliance is waiting for can be mitigated, and/or spun in a way that might not create the necessary global psychological receptivity desired for "full disclosure" via massive document dumps.
Consequently, there appears to be a deep flaw in the strategic planning of the Secret Space Program Alliance, as Goode has explained their reasoning. Put simply, waiting for the right global conditions for the document dumps to occur, gives more time for the Cabal/Illuminati to prepare and move forward with their own "limited disclosure" plan.
Once the "limited disclosure" plan goes forward, then the global changes it creates will allow the Cabal/Illuminati more options to maintain its global influence and escape accountability for past criminal actions. We have already seen this to an extent with the U.S. Congress and President Barack Obama approving an asteroid mining law that effectively gives corporations, secretly involved in space mining, free reign in space up until 2022.

Divide and conquer is a strategy the Cabal/Illuminati understands all too well in dealing with the different Earth-based Alliance factions. Their cooperation is necessary for "full disclosure" to occur as desired by the Secret Space Program Alliance.
An alternative solution would be to start releasing some of the documents possessed by Secret Space Program Alliance into the public realm. The benefits of starting "full disclosure" with a trickle of documents are numerous:
It allows for UFO/exopolitics researchers to study the document releases, and compare them with currently available knowledge of secret space programs and extraterrestrial life;

It further prepare those in the public arena who are already familiar and/or open to the disclosures Goode and other Secret Space Program whistleblowers have revealed;

It will help numerous officials in different national security apparatuses better understand the scope of what has been really occurring with the Secret Space Programs, and to take necessary actions in accord with their sense of public duty and conscience;

Finally, it will give a solid response to critics of Goode's disclosures who have been asking for hard evidence to substantiate his claims.
It is not unprecedented for official documents concerning UFOs/extraterrestrial life to be released in a trickle to the public. This previously occurred with the "Majestic Documents," beginning in the 1980's, which were released by "White Hats" in the CIA and others in the U.S. national security apparatus to UFO/exopolitics researchers.
The Majestic Documents were released over an approximate twenty year period starting from 1984. They have been investigated by leading UFO researchers such as Dr Robert Wood, who has used rigorous document verification techniques to confirm their authenticity.

The Majestic Documents have cast light on many dark corners of the highly classified world of extraterrestrial life and advanced technologies. The release of the Majestic Documents are an example of how the release of even a trickle of documents can help enormously in preparing the public for the truth.
Given the high risks involved in waiting for a catalyzing event for full disclosure to occur, it would be wise to begin the document dump process as soon as possible in 2016, with a trickle that can be easily accelerated as the general public becomes more receptive to learning the truth about secret space programs and extraterrestrial life.
© Michael E. Salla, Ph.D. Copyright Notice
Further Reading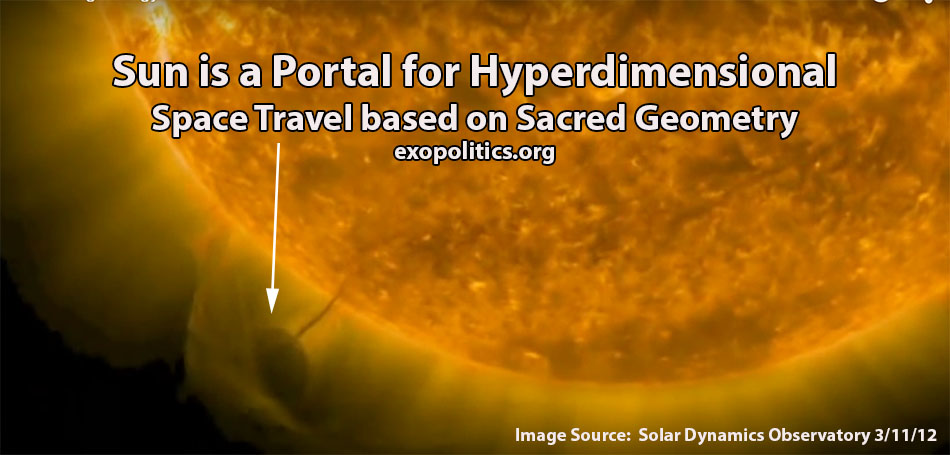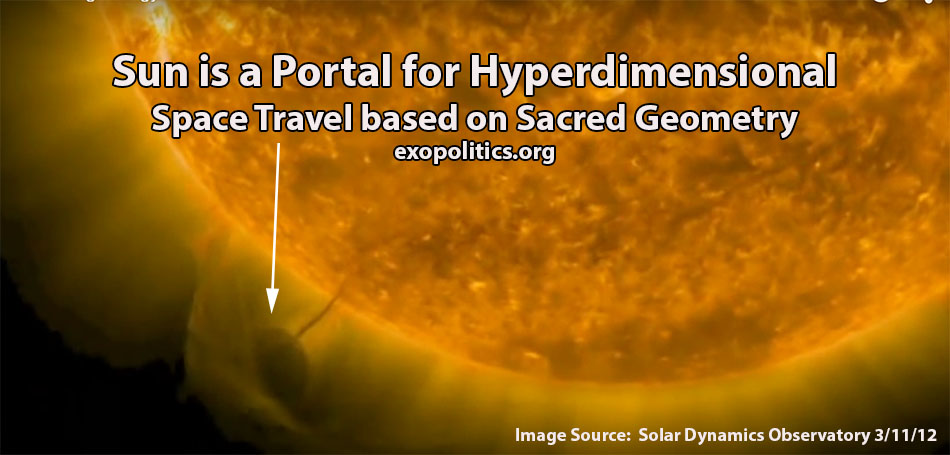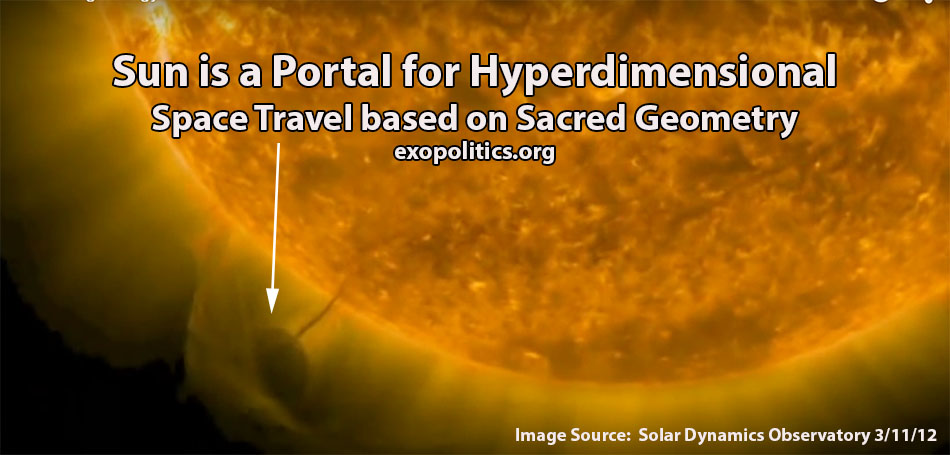 The sun is a portal for spacefaring civilizations using a form of hyperdimensional mathematics based on sacred geometry, according to the latest testimony from secret space program whistleblower Corey Goode. He says that while serving for six years on a scientific research vessel belonging to the Solar Warden Space Program, he witnessed probes being launched into sunspots to study the sun's composition and behavior.
What was discovered would shock the mainstream scientific community that believes the sun is a giant nuclear fusion generator. Instead, the sun was confirmed to be electrical in nature whose plasma outbursts acted as portals for space faring civilizations to move into and out of our solar system.
Goode's revelation was presented in today's episode of Cosmic Disclosure, where he is being interviewed on Gaiam TV by David Wilcock. Goode's revelation supports the electric universe model proposed by a number of alternative scientists that includes Wallace Thornhill and David Talbott, authors of The Electric Universe.
The "electric universe" model is an astronomical model in which the sun and planets are electrically charged celestial objects, which exist in an electric field that is generated by the sun in a radial direction (like the spokes on a bicycle wheel) throughout the solar system. Furthermore, the sun is part of a vast galactic scale electrical grid generated by the Galactic Center, again in a radial direction. Charges flow through these solar and galactic scale electric fields by virtue of the plasma particles that are constantly being released by the sun and the galactic core.
Plasma is the fourth state of matter (solid, liquid, and gas being the first three) and comprises free protons, neutrons, electrons and ions. Plasma is not electrically neutral, but is a superconductor that can carry electrical charges throughout the solar system, and into interstellar and intergalactic space.
According to Goode, probes launched into sunspots showed that these contained spiral plasma filaments (aka solar prominences) that stretched all the way from above the sun's surface to its core. This is contrary to mainstream scientific theory that claims solar prominences only loop from the surface through hundreds of thousands of miles of space.
Furthermore, the solar core is made up of metals such as magnesium and sodium, rather than hydrogen and helium gas that mainstream scientists believe power the nuclear fusion process.
Most remarkable is Goode's claims that the Solar Warden program confirmed that under the right conditions, these solar filaments could be used as stargates or portals whereby extraterrestrial civilizations can enter or leave our solar system. Goode described this solar stargate system as similar to a vast cosmic web that interconnects all suns and galaxies, making it possible to travel vast interstellar and intergalactic distances.
If he is correct, this suggests that among the many thousands of objects identified by observers leaving or entering the sun, according to images extracted from Solar & Heliospheric Observatory and other solar space observatories, some were not merely camera anomalies, but were interstellar space craft. A good example is a large spherical UFO connected to a solar filament observed by the Solar Dynamics Observatory leaving the sun's vicinity on March 11, 2012.
Goode went on to reveal that there is a hyperdimensional mathematical model that links all the suns in our galaxy, which was given to the Solar Warden program by extraterrestrials. He said that this mathematical model uses geometrical patterns similar to the Platonic solids for navigation purposes. Goode's discussion with Wilcock on sacred geometry and how it is fundamental to hyperdimensional space travel is well worth watching.
Goode also discusses "nodes" (natural portals) found all over the world, such as in the Bermuda Triangle, that open and close unpredictably. When activated, these nodes can transport ships and aircraft caught within them through hyperdimensional space to anywhere in the galaxy.
Goode's discussion of the nature of time and consciousness, as it is understood in covert space programs, is eye-opening. It raises the possibility that individuals and collectives can redefine how they experience time. This episode of Cosmic Disclosure is another powerful glimpse into the secret world of space programs, and the mind boggling knowledge and technologies they possess.
© Michael E. Salla, Ph.D. Copyright Notice
[Note: The first two episodes of Cosmic Disclosure are available for free on the Gaia TV website. The first episode is on Youtube. To watch the whole season of Cosmic Disclosure, you need to subscribe to Gaiam TV. If you subscribe using this link, then a portion of your monthly subscription will go towards supporting Corey Goode as he continues his disclosures. His website is here.]