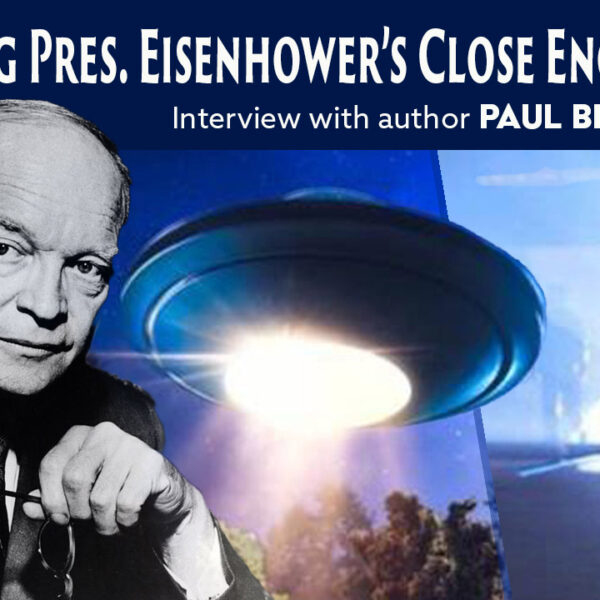 Paul Blake Smith has extensively researched historical records, whistleblower testimony, and documentary evidence that President Dwight D. Eisenhower had multiple close encounters with extraterrestrials. These encounters may have begun as early as 1948/1949 when he was working with the Truman administration, according to Smith's analysis of a leaked 1989 Defense Intelligence Agency document.
In his book, President Eisenhower's Close Encounters (2020), Smith presents an impressive body of evidence that during his Presidency, Eisenhower met with extraterrestrial delegations on at least three occasions at Edwards Air Force Base (Feb 1954); Kirtland AFB (July 1954), and Holloman AFB (Feb 1955), which culminated in secret agreements. In this Exopolitics Today interview, Smith and Dr. Michael Salla discuss these key events and their significance.
Interview available on YouTube & Rumble
Listen to Podcast on Apple, Spotify, or Google
President Eisenhower's Close Encounters is available in paperback, kindle and Audio formats on Amazon
Paul Blake Smith's website is here
Further Reading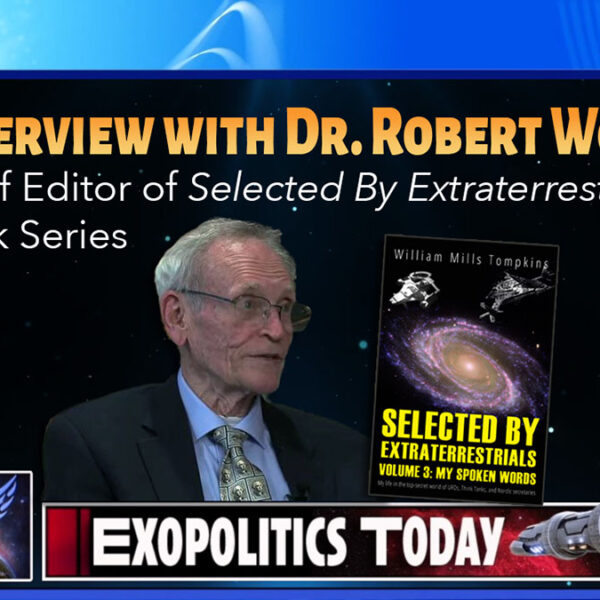 Dr. Robert Wood worked as an aerospace engineer and physicist for 43 years during which time he specialized on missile technology for Douglas Aircraft Company and its successor McDonnell Douglas. During the mid-1960s, he received significant funding to research UFOs to see if their propulsion technologies could be understood and reverse engineered. After his 1994 retirement he began working on the leaked Majestic Documents and was able to verify the authenticity of many of these controversial documents which can be found at MajesticDocuments.com.
Dr. Wood was the first UFO researcher to verify the authenticity of Bill Tompkins claims of having worked at a secret think tank, Advanced Design, hidden within Douglas Aircraft Company that designed kilometer(s) long spacecarriers for the US Navy, with the help of Nordic-looking extraterrestrials.
In this interview discussing the release of the third volume of Selected by Extraterrestrials, Dr. Wood discusses his first hand knowledge of key corporate officials that Tompkins worked under, the feasibility of a secret think tank at Douglas, Tompkins work with the US Navy during WWII, the Nazi secret space program established in Antarctica, the Nazi connection with Reptilians, and other issues.
Significantly, Dr. Wood asserted that the the Nordic extraterrestrials embedded at Douglas who Tompkins worked with, were members of the Galactic Federation of Worlds that several contactees have recently spoken about.
Interview available on YouTube and Rumble
Listen to Podcast on Apple, Spotify, or Google
Book 3 of Selected by Extraterrestrials is now available on Amazon 

Deep appreciation to Angelika Whitecliff for creating this video
More articles featuring Bill Tompkins testimony about the US Navy's secret space program are available here.
---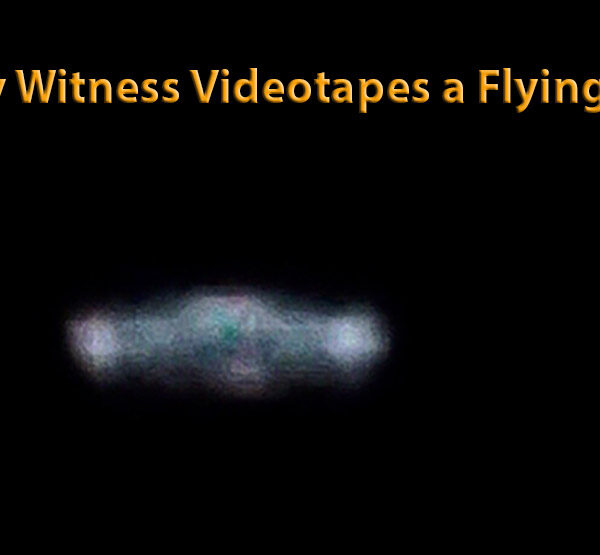 My long time contact JP has sent me a compelling video of an antigravity craft he personally witnessed and recorded on the night of February 6, 2021. The video shows a flying saucer shaped craft flying over North Carolina. JP is currently serving with a branch of the US military, and wishes to maintain his anonymity for personal and professional reasons.
I have known JP since 2008 when he first contacted me about an extraterrestrial encounter he had in Brazil. He has over the subsequent years supplied me many photographs and videos of different shaped antigravity craft and encounters with their occupants. These include both extraterrestrial entities and military personnel, including Air Force Special Operations.
I have written multiple articles about his previous encounters along with supporting photos and videos here.
The flying saucer craft he videotaped on Feb 6 is very similar to one that he witnessed on May 24, 2018, which landed near his home in Orlando, Florida. The Nordic looking extraterrestrial occupant offered JP a ride which he declined. He wore an Air Force uniform and said his group was working with the USAF. JP took a photo of the departing flying saucer which I wrote about here.  
JP believes that the same Nordic group wanted to let him know that they are ready to make contact again, and are aware of his current position with the US military. His Feb 6 video can be viewed on Rumble or in the following YouTube video.

All photos and videos sent to me by JP are originals and have not be altered in any way. Enhancements are provided in addition to the original to provide clarity on what is being witnessed. The photos and videos are empirical evidence of other worldly contact and of secret space programs operating on Earth using antigravity technologies.
Michael Salla, Ph.D.
Further Reading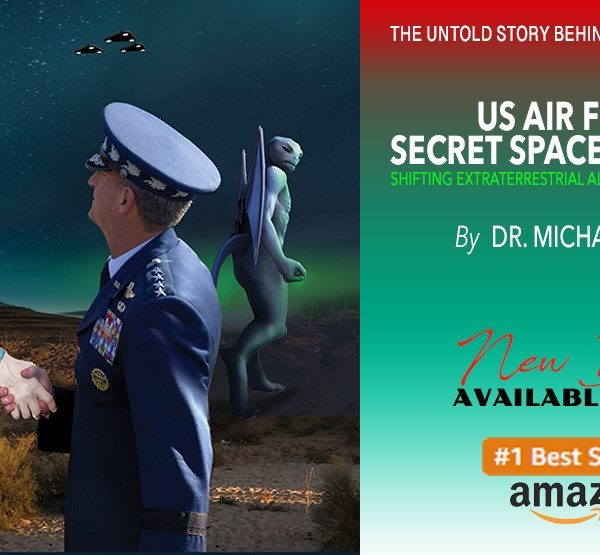 The US Air Force is experiencing a profound shift! In order to aggregate the military's major space assets under one authority, they are being moved into a new branch under the purview of the Air Force. This new branch is to be called "Space Force".
The true purpose of Space Force will be to publicly unveil the most well-guarded secrets in the Air Force's stunning arsenal of exotic spacecraft, unconventional weapons and mind-blowing technologies assembled over the more than seventy years since its official emergence in 1947. 
This book lays out the history of the Air Force Secret Space Program:
Ushering in a new era with the recovery of several extraterrestrial craft in the 1940's.

Secret agreements with a breakaway German colony in Antarctica (the Fourth Reich) & different extraterrestrial groups in the 1950's.

Its complicity in the German infiltration of NASA & the Military-Industrial Complex in the 1960's.

Development of stealth space stations beginning from the 1970's.

Deployment of squadrons of disk, triangle and rectangular-shaped craft in the 1980's & 1990's.
After its 2016 discovery that it had been deceived by the Deep State and their shadowy Fourth Reich allies, Air Force leaders made the momentous decision to shift alliances and realigned their covert space program with human-looking extraterrestrials. This has led to bold steps being taken by the Air Force to reveal the existence of its arsenal of spacecraft to the US public.
About the Author: Dr Michael Salla is a former university professor in international relations, and is the author of Insiders Reveal Secret Space Programs and Extraterrestrial Alliances (Book 1 in Secret Space Program Series, 2015); The US Navy's Secret Space Program and Nordic Extraterrestrial Alliance (Book 2 in the Series); Antarctica's Hidden History (Book 3 in the Series) all of which became #1 Amazon Best Sellers. He is also the author/editor of nine other books dealing with 'Exopolitics', International Conflict, U.S. Foreign Policy  and Global Peace.
US Air Force Secret Space Program: Shifting Extraterrestrial Alliances and Space Force is 494 pages in length, and is Book 4 in the Secret Space Programs Series. Cost $25.95.

Released on May 21, 2019!
Kindle Edition now available at Amazon.com .[#1 Best Seller in UFO category]
Paperback edition now available at Amazon or Barnes and Noble.
Audible edition will be available mid-June.

To order your autographed paperback edition from Exopolitics.org click Add to Cart, and follow instructions.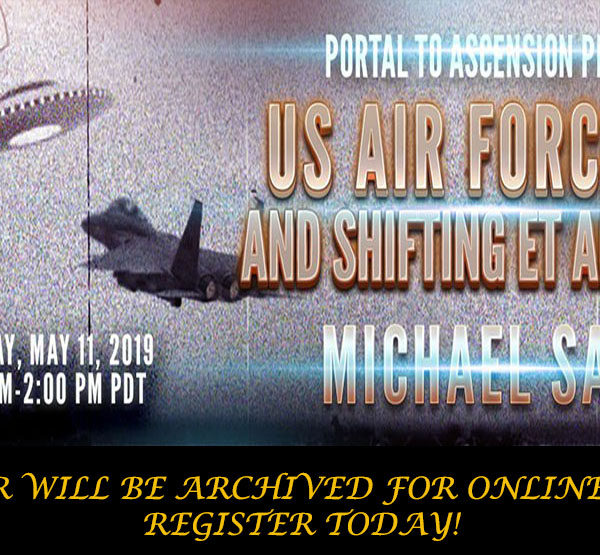 The origin of a US Air Force secret space program dates back to the 1942 Los Angeles UFO Air Raid incident when captured extraterrestrial technologies were studied by the US Army Air Corps. In the 1950's, the USAF began being assisted by some extraterrestrial races in developing a small fleet of atomic powered antigravity vehicles capable of near Earth operations.
In addition, stealth space stations were built using Gemini rockets, and TR-3B vehicles were used to transport material and personnel to these.
Most recently, after investigating insider claims of a larger more advanced Navy secret space program developed with the assistances of human looking Nordic extraterrestrials, USAF leaders changed direction and began greater cooperation with the Nordics. This is evidenced in a leaked Defense Intelligence Agency document and photos of alleged Nordic spacecraft near MacDill Air Force Base, which have been cooperating with USAF Special Operations,
The participation of the USAF secret space program in shooting down a false flag ballistic missile attack against Hawaii marks a major step forward in the USAF cooperating with a US Navy/Nordic alliance, and acceptance of a more comprehensive plan to disclose the existence of advanced alien life and technologies.
Webinar Time & Date: 12 -2 pm PDT. May 11, 2019.
Hosted by Portal to Ascension
Cost: $33
To Register click here.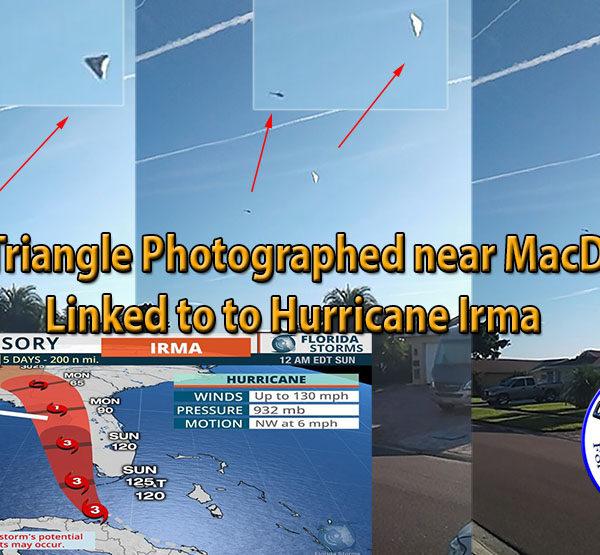 The first two segments of a four part audio interview series with JP, who has been releasing photos of flying triangles, flying rectangles, flying saucers and other antigravity craft witnessed in the vicinity of MacDill Air Force Base, Tampa, and Orlando, Florida, is now available on ExoNews TV. 
JP is a contactee who has had contacts with human looking "Nordic" extraterrestrials since 2008. In addition to ongoing contact experiences with the Nordics, he has also had experiences with a U.S. Air Force run secret space program that has been taking him aboard flying triangles and rectangles.
What makes JP stand out among many contactee/insider claims is that he has taken stunning photos of the craft that he has been taken aboard, and/or belonging to the Nordics. In some cases, JP was encouraged by personnel associated with USAF Special Operations to take photos of their antigravity vehicles.
In Part 2 (released today) we learn from JP how he began releasing photos of flying triangles he witnessed near MacDill AFB, Tampa, Florida, in August 2017, after being prompted to do so from unknown covert personnel. Soon after Hurricane Irma appeared and reached Category 5 on the hurricane scale, and made a beeline for MacDill, which led to its first ever evacuation and closure.
According to JP's sources, Irma was retaliation for the USAF Special Operations Command making its fleets of antigravity craft known to the general public.
In Part one (released on March 30) we learn about how JP's contacts began during his early childhood, and resumed in 2008 where he encountered Nordics for the first time. He soon after began communicating his experiences with me and I have kept a record of his encounters and began writing a series of articles on them in September 2017 .
To learn more about JP and the photos he has taken of antigravity craft go to: http://exopolitics.org/jp-articles-photos-videos/
Michael E. Salla, Ph.D.
Feel free to share this article with original links.
FURTHER READING
[Special Note: JP recently lost his job after he began sharing his photos with more members of the general public, after repeated warnings of not to do so by personnel associated with the CIA. He has been pressured to join the U.S. military in order to resolve his financial problems, but has resisted since it would impact his ability to share his startling experiences with the public.
If you would like to support JP in his efforts to continue disseminating his photos and information, you can do so through a donation via the Exopolitics Institute. Please use the following Paypal link for your donation and mark it, "JP Donation" .]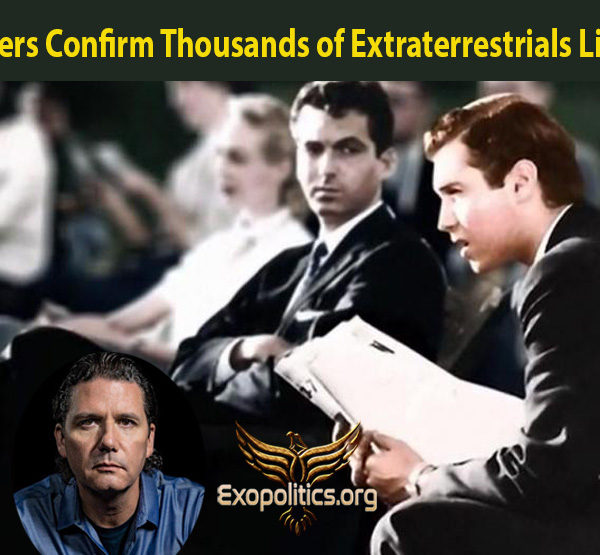 As the scientific community continues to speculate about whether intelligent extraterrestrial life exists on exoplanets being discovered throughout our vast galaxy, military insiders have come forward to reveal that national governments are hiding a stunning truth. Extraterrestrials who look just like us not only exist throughout the galaxy, but tens of thousands of them have infiltrated communities all over the planet as neighbors, co-workers, teachers, doctors, humanitarians, etc.
Emery Smith and Corey Goode claim to have worked on highly classified extraterrestrial related programs that are run by the U.S. and other military forces, which are under the authority of transnational corporations.
Smith says that he encountered human looking extraterrestrials living among humanity while working at highly classified facilities such as Kirtland Air Force Base, Sandia National Laboratory, Los Alamos National Laboratory, and other military facilities.
In a series of interviews completed on the popular online streaming show "Cosmic Disclosure," Smith says that while working at these facilities he encountered human looking extraterrestrials who are indistinguishable from modern humans. In the August 7 episode, he responded as follows to a question about whether extraterrestrials live among us:
Well, extraterrestrials also come to watch over us and look at things on the Earth. And they're here to gather information to make sure we don't blow up the Earth or kill each other.
So they're here just to get information and have it and to also experience the life of a human, which is quite preferably like a vacation for them.
So it's a very interesting scientific job for an extraterrestrial to have. It's kind of an honor to come here, live amongst us, and do things, just living like a normal human being, actually, and interacting with human beings. . . It's like a universal Peace Corps.
He says that in addition to encountering such extraterrestrials in classified projects run by corporations on U.S. military facilities, he was also recently briefed that up to 100,000 of them are presently living all over the planet.
In past interviews, Smith has discussed completing tissue extractions from the bodies of deceased human looking extraterrestrials, and also working alongside some live ones who participated in autopsies of their deceased compatriots. In his August 7 interview, Smith furthermore described what he knew from briefings about extraterrestrials who had infiltrated human civilization.
Smith said that around 1997, he left the classified program when he realized that the bodies of the extraterrestrials that were being autopsied were still warm. He became suspicious that some of them had only recently died, presumably tortured and killed by the corporations that were running the programs.
Goode's experiences were different, but very consistent with what Smith described. Goode said that he served in an "Intruder, Intercept, and Interrogate program" where he was part of a covert team whose job it was to capture and interrogate extraterrestrials that had infiltrated human society.
In the August 7 interview, he responded to a question by David Wilcock about whether the extraterrestrials had come to Earth with permission or not:
[Corey] It's both. Some of them are from other star systems far away that are paying very close attention to what's going on here, including the Draco conquest of star systems. So they'll send people in to do a little reconnaissance.
Emery: Sure.
Corey: And when they come in, and they come in without permission, if they get caught, it's not a good thing for them at all.
Emery: No, right.
Corey: There's actually a program that I was a part of called the Intruder, Intercept and Interrogation Program. And we ran into quite a few different species that were here without permission.
Goode and Smith then went on to describe how the human looking extraterrestrials were able to blend into societies all over the planet:
Corey: What was interesting is: in the Intruder, Intercept and Interrogation program, only about 10% to 15% of the beings that we processed were what we would call "alien-looking".
Emery: Right.
Corey: Most of them were very human-looking. And they weren't augmented to look human. They were humans –
Emery: Right.
Corey: . . . just from a different planet. And they would normally be picked up in countries where they would most likely blend in.
Emery: Sure.
Corey: Like there were some Polynesian-looking ones.
Emery: Right. The Nordics and all this. Right.
Goode described one example of an extraterrestrial who had infiltrated a company and over the course of a decade had risen to a senior executive position:
Corey: And I was there when some – it was a high-level executive – was pulled out of a high-rise building in the middle of the day.
They delta-waved everyone there, went in, and ingressed-egressed from the roof, took him out, and brought him up for interrogation. And he had been on the Earth for well over a decade and had blended in, had created an identity, and was now at a high position in a corporation.
David: Wow!
Emery: Yeah, they prepare these extraterrestrials to come to this planet, so there is some genetic, you know, inoculations going on like what we do here as far as frequency goes, how they survive here – and even as far as getting certain procedures done on their body so they can digest our food and things like this.
It's worth pointing out that the recently deceased aerospace engineer, William Tompkins, says that he worked with "Nordic" extraterrestrials that had infiltrated companies such as Douglas Aircraft Company, North American Aviation, etc., in the 1950's and 1960's, who had helped the U.S. Navy develop its secret space program.
Goode says that the "Intruder Intercept and Interrogate" program could be brutal in how captured extraterrestrials were treated.
He says that those who were captured but belonged to human looking groups that had permission to be on Earth, were released as stipulated in agreements. Those that were here without permission, were harshly interrogated, and turned over to a transnational corporate entity called the Interplanetary Corporate Conglomerate (ICC).
Some of those that were turned over to the ICC, ended up dead and were examined in classified facilities similar to where Smith had worked.
Smith and Goode's accounts were very consistent with one another, and gave different perspectives on a similar covert process set up to deal with off-world visitors. The key question that arises is whether their information is true or not?
Aside from documents corroborating their respective military and employment histories, there is no hard evidence provided either by Smith and Goode to directly substantiate their claims. However, others have interacted with human looking extraterrestrials that have infiltrated human society, and have been allowed, even encouraged, to take photos of their spacecraft.
One example is my anonymous source JP who has met with human looking extraterrestrials that are part of secret agreements reached with the U.S. Air Force (USAF). He says that he has met with them in remote areas of Tampa and Orlando, Florida, where they have worn USAF uniforms, and communicated with him. He has taken photos of their craft which have been published on my website.
JP is a civilian and has never served with the U.S. military or been a worker in any classified government/corporate facility. He has no professional background that supports his claims, which is perhaps why he is being allowed to take photos of these craft and disseminate them.
I will be discussing JP's photos and his experiences at my upcoming lecture on the "US Air Force Secret Space Program and Shifting Extraterrestrial Alliances" at the Dimensions of Disclosure Conference from August 17-19.  JP plans to be in the audience as an anonymous guest of the Conference Organizers.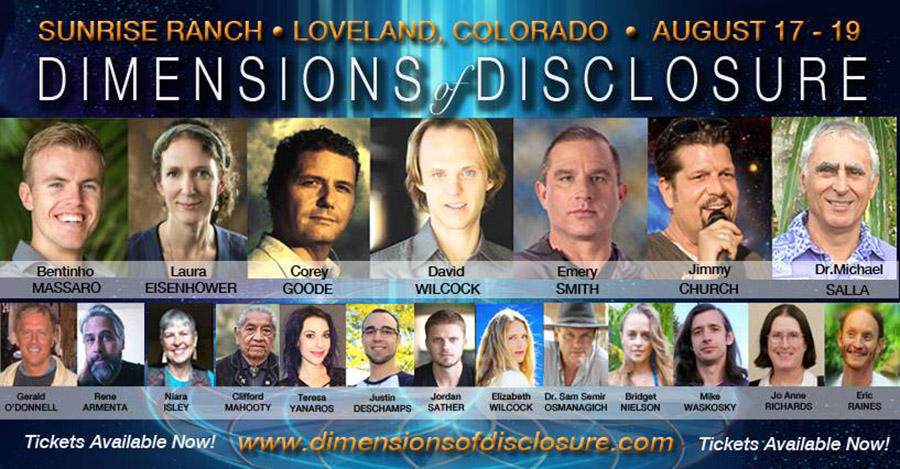 If you would like to contribute to a GoFundMe campaign to fund JP's travel and other expenses for attending the conference, you can do so here.
In addition to the photographic evidence provided by JP that human looking extraterrestrials are on Earth as part of secret agreements with the U.S. military, there is also testimonial evidence from highly credible sources that are available.
Undoubtedly, the most significant comes from the former President of Russia, Dmitry Medvedev, who says that he was given a top secret file about human extraterrestrials that live among us, and an international organization that monitors the off world visitors:
Along with the briefcase with nuclear codes, the president of the country is given a special 'top secret' folder. This folder in its entirety contains information about aliens who visited our planet… Along with this, you are given a report of the absolutely secret special service that exercises control over aliens on the territory of our country… I will not tell you how many of them are among us because it may cause panic.
The "absolutely secret special service" described by Medvedev, appears very similar to Goode's "Intruder Intercept and Interrogate" program, which was fictionalized in the Men In Black movies.
Robert Dean, who reached the rank of Command Sergeant Major with the U.S. Army, says that in 1964, while stationed at the Supreme Headquarters of the Allied Powers in Europe (SHAPE), he read a Cosmic Top Secret Assessment that described human looking extraterrestrials living among us.
There was a human group that looked so much like us that that really drove the admirals and the generals crazy because they determined that these people, and they had seen them repeatedly, they had had contact with them…. These people looked so much like us they could sit next to you on a plane or in a restaurant and you'd never know the difference. And being military and being primarily paranoid, that bothered the generals and the admirals a little bit. That the fact that these intelligent entities could be involved with us, walking up and down the corridors of SHAPE, walking down the corridors of the Pentagon. My God, it even dawned on a couple of them that these guys could even be in the White House! Of course, as I said, being paranoid in those years it really shook things up a little bit.
Earlier, in the 1950's, famed contactees such as George Adamksi, Howard Menger, and Daniel Fry say that they encountered human looking extraterrestrials who sought their assistance in infiltrating human society. While the general public and UFO researchers widely ridiculed such claims at the time, Smith and Goode said that such a process has indeed been underway for decades involving tens of thousands off world visitors.
David: Well, we've talked about this before, Corey, but I also think it's important to reiterate. And I know you don't have really specific data, but do we have any sense as to how many approved immigrants there are on this planet that are not from here that are blending in our society?
Corey: It was . . . Back in the '90s, it was many, many tens of . . . I mean, many thousands.
Emery: 100,000 was the numbers I'm recently getting in the past six months.
Corey: Yeah. And it was probably a smaller number when I was in, but it was a . . . And it was in just about every country. It's well known that they were integrated.
Smith and Goode's testimonies provide a stunning perspective on what is really happening on Earth when it comes to the existence of extraterrestrials who appear indistinguishable from modern humans. They also discuss how other non-human looking extraterrestrials can blend in using advanced technologies, and what happens to them if discovered by programs such as Goode's "Intruder Intercept and Interrogate".
While scientists speculate and argue over the possibility of extraterrestrial life existing on exoplanets discovered in distant regions of the galaxy, it is stunning to think that all this time many thousands of human looking extraterrestrials have been interacting with us on Earth for decades, and infiltrated societies all over our planet.  
[Note: Emery Smith's interviews on Cosmic Disclosure can be found here.]
Michael Salla, Ph.D. Copyright Notice 
[Author Note: On Saturday, August 11, I will be conducting my first online  Webinar on "Antarctica's Hidden History and Secret Space Programs." Please click here or banner to learn more.]

Further Reading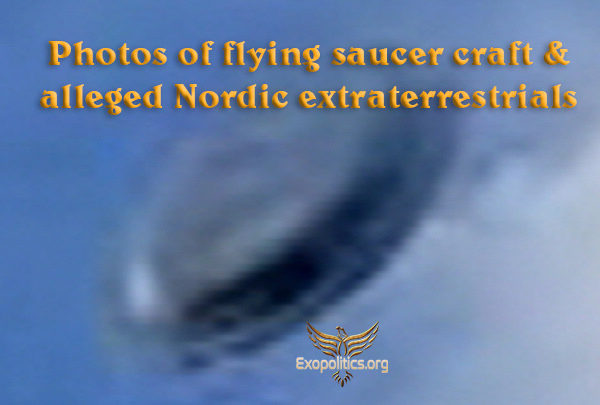 On January 12, a photo was taken of a flying saucer craft with a large rectangular shaped porthole window apparently showing two occupants. According to the photographer, who uses the pseudonym JP to maintain anonymity, the occupants are two Nordic "human looking" extraterrestrials who were telepathically communicating with him.
JP says that he received a telepathic communication while at a residence about 10 outside of Orlando, Florida where he was told to go outside and look up into the sky. This is what he says he was told in the communication:  
Today at 6 o'clock I had an amazing contact… I was getting telepathic messages inside the house.
Asking me if I wanted to see them. So I was negotiating with them if I could take a picture. I told them that this was really important for Disclosure
The voice in my head that I heard was the Nordics that picked me up in Brazil. [Note: I was first contacted by JP in 2008 about his extraterrestrial encounter in Brazil. M.S.]
They are working with the United States Air Force. Doing missions around Antarctica in outer space. Giving a technology to the Air Force that's overwhelming
 That can manipulate any point in the air and open a wormhole to other planets giving coordinates. This technology works in flashes, gives a flash like a lightning [bolt] but no noise
So I go outside and I hear the voice that tells me to look up. I saw them. I was taking but it was not working. My phone was being blacked [out] by some hacker. But I did manage to take some pictures and save it in my phone.
JP provided a sketch of the two alleged Nordics he saw in the spacecraft.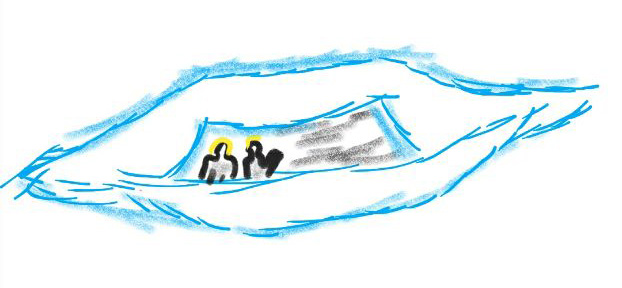 He also supplied three photos of the craft he witnessed which are found in the following video.
The final photo in the sequence appears to validate his claim of witnessing two Nordic extraterrestrials – original photo is available on right.
What's also pertinent in JP's above telepathic communication is the claim that the group of Nordics in the spacecraft captured in the photos is working with the US Air Force, providing different types of technological support.
On September 14, 2017, JP supplied photos of a cigar shaped craft flying near MacDill Air Force base.  He says this craft belongs to extraterrestrials working with USAF Special Operations. JP has also supplied photos of triangle and rectangular antigravity craft flying out of MacDill Air Force Base, some of which have taken him on board.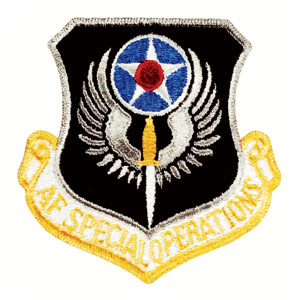 In one incident on October 23, 2017, he recognized the insignia of the military occupants of a rectangular shaped craft as belonging to USAF Special Operations.

JP recently moved from Tampa to Orlando, Florida, and continues to liaise with the special operations community that wish to recruit him due to his relationship with Nordic extraterrestrials who have provided him information about advanced technologies.
The January 12 photos provided by JP is evidentiary support for his alleged contacts and communications with Nordic extraterrestrials, and may be among the few photos capturing the mysterious occupants of alien spacecraft.
© Michael E. Salla, Ph.D. Copyright Notice
[Note: Only hours after sending me the photos of the above craft and its occupants, JP's daughter began experiencing convulsions, turned blue and had to be rushed to hospital with a 103 degree F. temperature. Please send your thoughts and prayers to JP and his family.]
Further Reading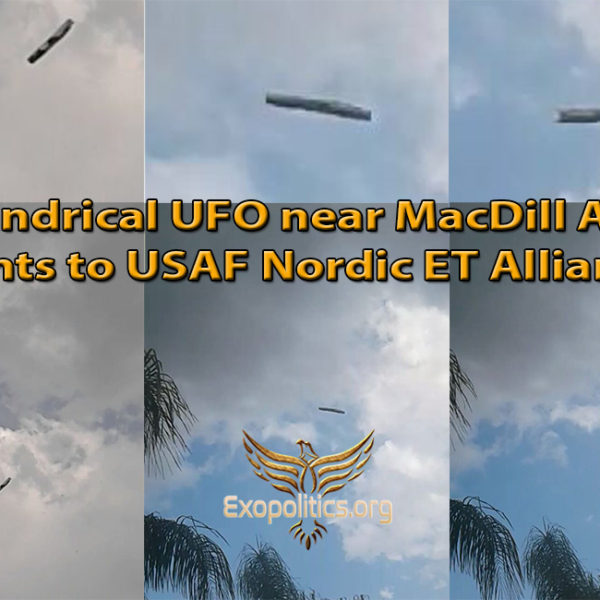 Only three days after MacDill Air Force Base reopened from a mandatory evacuation due to Hurricane Irma, UFOs were once again photographed near it. This time, the UFO's were cigar-shaped, and at least 100 meters in size according to the photographer, JP (a pseudonym), who I have known for nine years and is a very credible source.
On September 14, at around 3 pm (EDT) JP took a series of 11 photos and also video of the cigar-shaped UFO which appeared approximately two miles from MacDill AFB. Several orb-like objects were also moving around the cigar-shaped ship, which first appeared coming out of the clouds, according to JP's eyewitness account.
Further, he says that during the six minutes of filming and photographing the incident, all city noises ceased around him and it became very quiet and peaceful. Yet that quickly changed after the cigar UFO disappeared back into the clouds.
What follows below is a short mp4 of the 11 photos JP sent to me, which show the cigar UFO and possible companion craft nearby in the first five photos of the series.
Below is a composite of three of the images which most clearly show the cigar-shaped UFO, with added close-ups at the top of the composite. The first image shows approximately five orb-like objects, which JP said were in the vicinity of the craft.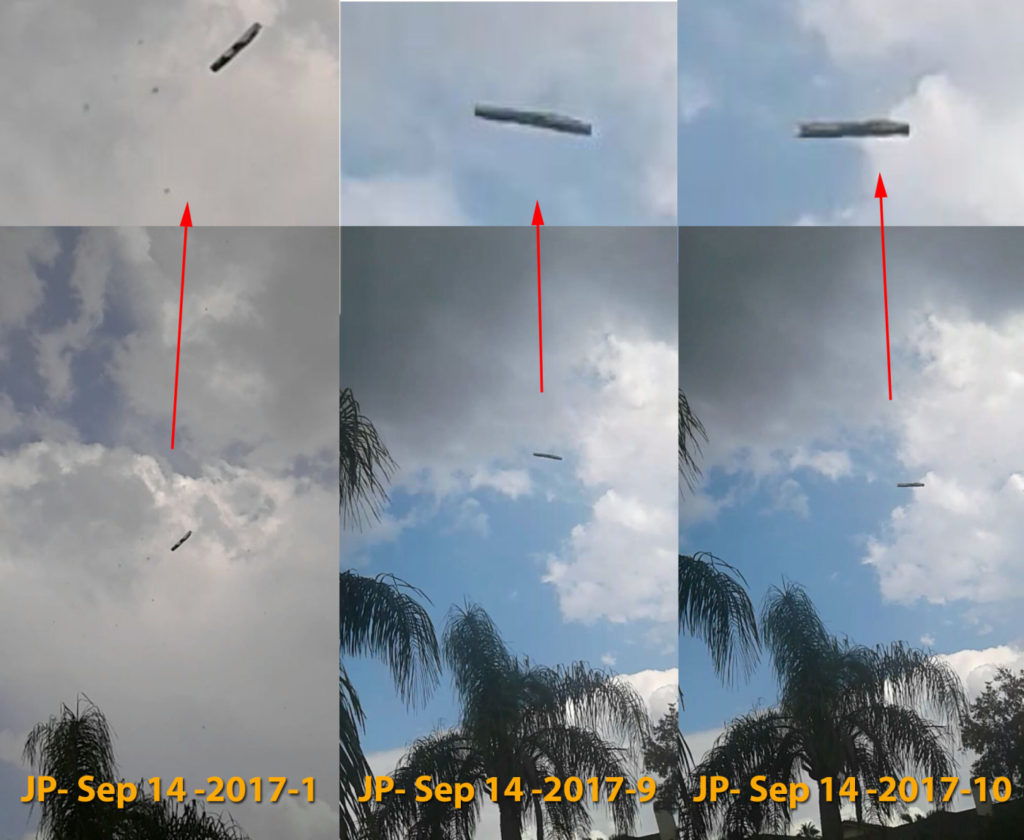 JP emphasized that he felt very calm and peaceful during the sighting as all around him turned quiet. This makes him suspect that the craft was extraterrestrial in nature since his feelings were very different during the flying triangle sightings he photographed from September 1 to 7.
As discussed in my first article on JP's flying triangle photos, he first got in touch with me in 2008 to talk about his extraterrestrial contact experiences he had in Brazil. Later it became clear that this was a human-looking "Nordic" group of extraterrestrials communicating with him.
During his previous contact experiences, JP has told me that he had feelings of peace and calm, and his encounter with the cigar-shaped craft had generated a similar emotional impact on him. This is why he believes this photographed craft is extraterrestrial rather than part of the USAF secret space program.
Then something occurred after he took the 11 photos and video that was very upsetting for JP. He says that after the cigar UFO departed, the ambient noise returned and he received a phone call. The person on the line was very abrupt and threatening. The male voice told JP, "don't put [out] no videos, delete [them]", then he hung up.
Immediately after receiving the call, JP said it began to rain, and two lightning bolts struck the ground in succession about 20 feet (7 meters) from him. He felt very intimidated by the events and decided to delete the video, but to keep the nine photos which he soon sent to me.
As to who called him, a clue comes from another incident JP told me about which occurred on the previous day, September 13. JP had been assigned to visit a private residence for his job where he and the customer began talking. Here he received a veiled warning as he explains:
I was at a customer's house and we were talking. We were talking about weather manipulation. I never actually talked to this customer before. He told me something really, really interesting. The house that is in front of his is the house of the commander of the CIA at MacDill Air Force Base… I got cold feet, cold hands, the customer said we're watching you … He went inside.
What this exchange suggests is that CIA operatives are closely monitoring JP who is being allowed to photograph antigravity flying triangle craft near MacDill, which are operated by Special Operations Command.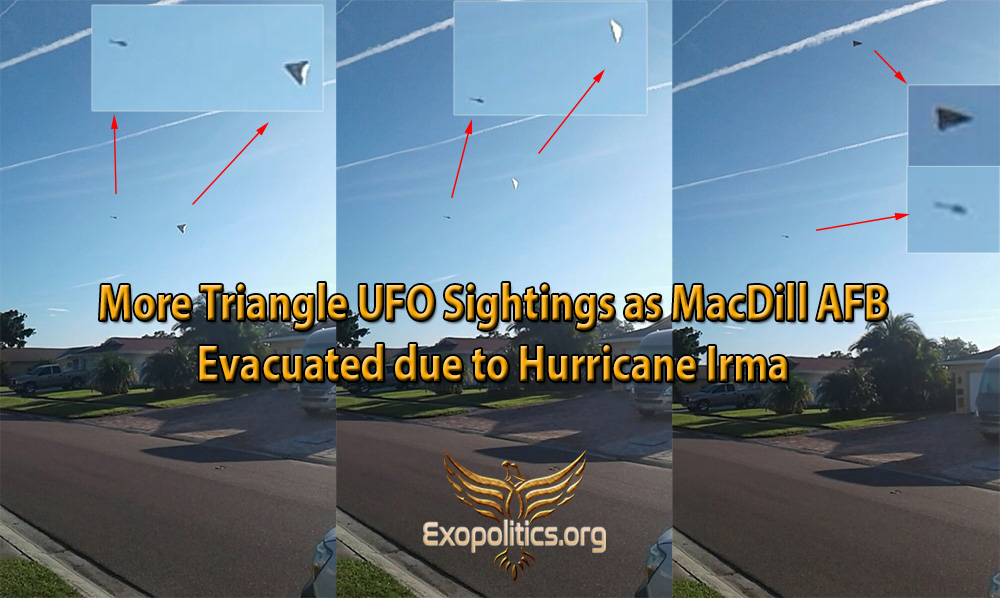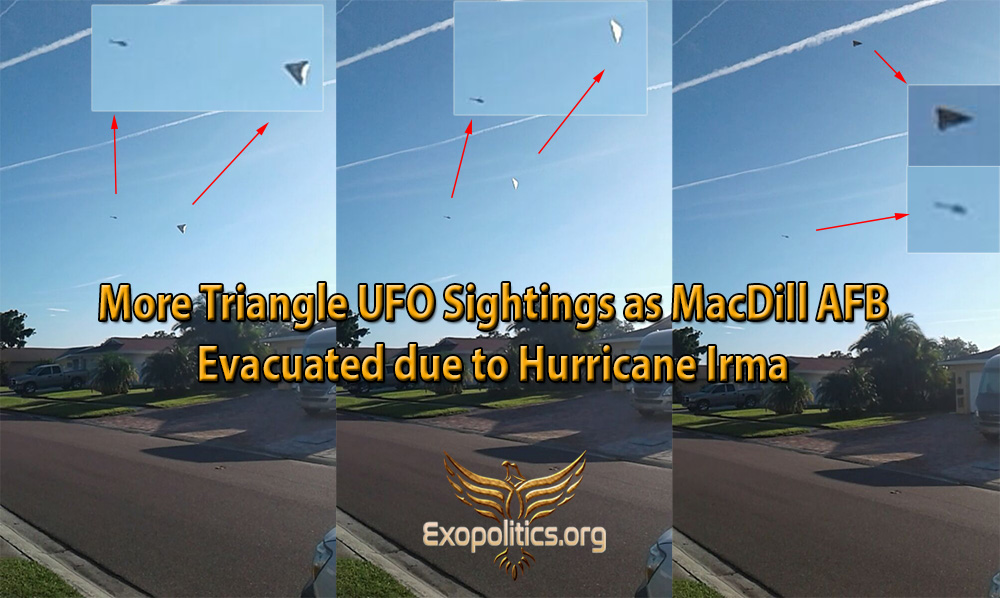 JP knows a covert operative from MacDill who has befriended him, and who has been revealing details of various special forces operations involving the flying triangles out of MacDill. Further, JP says that he has also been abducted by the flying triangles on various occasions and taken to place where he has encountered human looking extraterrestrials.
It appears that a group of extraterrestrials, which are cooperating with Special Operations Command, are allowing JP to photograph their vehicles near MacDill AFB. What this suggests is that Nordic extraterrestrials are actively working with Special Operations Command to disclose the existence of antigravity flying triangles and also the existence of extraterrestrial life.
Such a scenario is bolstered by a leaked 1989 Defense Intelligence Agency document which discussed how Nordic extraterrestrials are friendly, and can be relied on as opposed to other extraterrestrial groups. The briefing document refers to four groups of extraterrestrial visitors which are listed in order of importance to our planet, and cites whether they are friendly or not:
There are four basic types of EBEs so-far confirmed. And they are listed here in descending order of their influences on our planet.
Earth-like humanoids. There are several variations more-or-less like ourselves. The majority of these are friendly and are the bulk of our EBE contacts. Most have a high degree of psychic ability and all use science and engineering of an advanced nature.

Small humanoids or "Grays". The Grays, so–called for the hue of their skin possessed by most of this type, are a sort of drone. They are not unlike the worker ants or bees…. They are mostly under the psychic control of the Earth-like humanoids who raise them like pets (or a kind of slave). Assuming the Greys are under benign control, they are harmless.

Non-humaoid EBEs. These are in several classes and come from worlds where dominatnt morphology took a different evolutionary course. Many of these are dangerous not for organized hostile intentions, but because such creatures do not hold human life as sacred…. Thus far, contact has been minimal with only a handful of unfortunate encounters.

Transmorphic Entities. Of all the forms of EBE studied so far by Operation  Majestic, these are the most difficult to understand or even to give a description of. Essentially, such entities are not "beings" or "creatures" … exist in some either dimension or plane which is to say not in our space or time. They do not use devices or travel in space…. In essence these entities are composed of pure mind energies. … They are said (by other EBEs) to be capable of taking on any physical form that they "channel" their energy … as matter.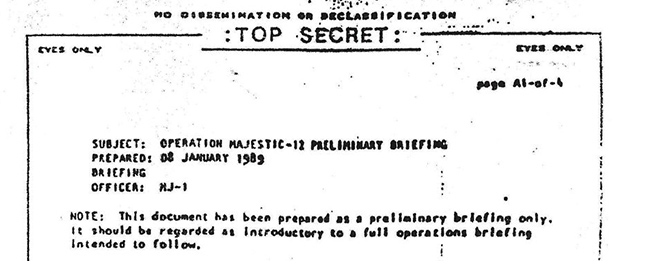 This leaked document was the first time that any Majestic document had ever referred to "human looking" or a Nordic extraterrestrial group. The DIA document and JP's experiences lead to the conclusion that the USAF is now actively working with a Nordic extraterrestrial group.
This Nordic ET – USAF/DIA alliance is opposed by other factions in the US military industrial complex which would help explain why Hurricane Irma was steered towards Tampa, where MacDill and Special Operations Command is located.
This Nordic/USAF/DIA alliance would also explain why JP has been chosen as the individual to take the photos of various craft in the vicinity of MacDill, while also being intimidated by another CIA linked group that wants to slow or prevent his disclosures.
JP believes that he will soon be allowed to share videos of the craft he is witnessing. That will occur as the decision for official disclosure is made at a very high level, likely involving President Donald Trump.
© Michael E. Salla, Ph.D. Copyright Notice
Further Reading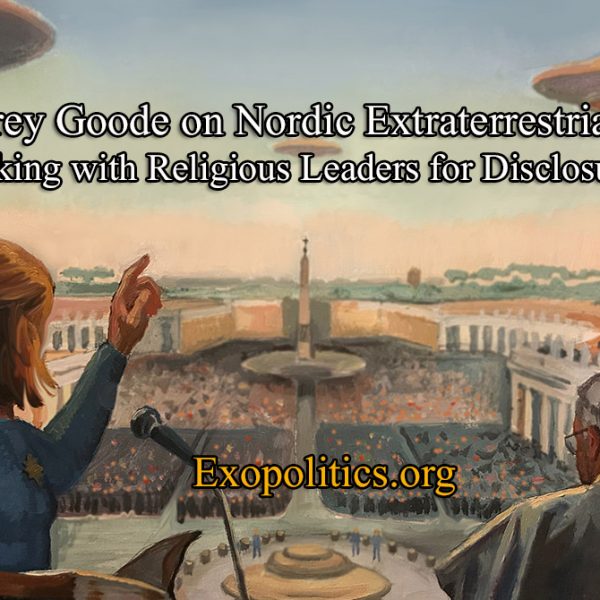 The following answers were received from Corey Goode on June 26 in response to questions I sent to him about information he shared recently in an article about the Vatican being involved in an extraterrestrial disclosure initiative. In his responses, he provides further details about what he has been told by multiple sources about ongoing events involving the Vatican, Nordic extraterrestrials and a US Air Force run secret space program.
For those still questioning the credibility of Goode and his disclosures, I recommend an article published on June 11 where documents and professional references are provided that prove two prominent UFO investigators were conducting a hoax investigation into Goode. The investigators clearly attempted to tarnish Goode's credibility by saying his former career as a well-respected and highly paid Information Technology consultant was wholly contrived, and therefore he is a "pathological liar".
I have to date communicated with three Information Technology experts who have corroborated Goode's professional IT background, and they added that he continues to be highly regarded. In all, five IT professionals have vouched for Goode, four of whom have provided recommendations listed in Goode's LinkedIn account. What this information clearly shows is that Goode was indeed a highly respected IT professional before going public in 2014 with his extraordinary whistleblower claims.
This does not prove any of Goode's remarkable statements about secret space programs, but it does establish his credibility as a whistleblower whose information deserves serious scrutiny. Since coming forward, irreparable damage has been done to his prospects of working in the IT industry again. What follows adds important information about the role of the Vatican and the U.S. Air Force in impending disclosure initiatives involving Nordic (human looking) extraterrestrials.
Questions and Responses
Q1. Can you explain who told you about a group of extraterrestrials working with the Vatican and other religious leaders about alien disclosure?
I had heard this info in various forms for at least the last 6 months. I think I first heard it from Gonzales. Most recently "Sigmund" and his 2 Airmen Escorts have mentioned it as well. On June 15th, while discussing a number of topics Ka Aree mentioned it in the same conversation of the M.[Muhammad] Accords now being ignored by up to 4 Non-Human Groups.
Q2. What do you know of the Nordic extraterrestrials working with the religious community and why does Ka Aree consider them "brothers and sisters in the Confederation?
Ka Aree stated that the Nordics have worked with Humanity for a very long time. They have mostly worked quietly in the background, but do pop up in historical documents referenced as "Angels". They would directly interact with certain groups within the Military and Government (including the founding fathers of the United States) as well as with various religious leaders. They have been heavily involved in developing Humanity in a number of ways.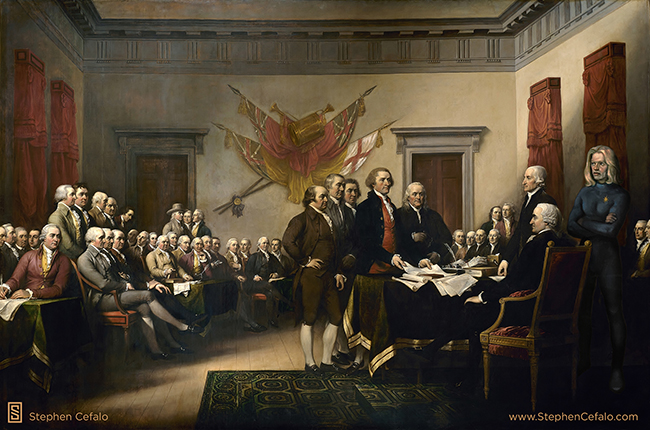 First they (& other races) began to manipulate our DNA to assist in the ability to use speech and to have higher cognitive abilities. Then they developed civilization and base religions with humanity. During this time, Humanity began another important stage of our evolution. The Industrial and Technological Booms were assisted by a number of races including the Nordics. From the beginning these groups were manicuring our consciousness through belief systems and religions.
New belief systems and religions have been crafted by these groups (the Nordics in particular) up until the present day. In fact, The Airforce General we call "Sigmund" had just completed a report prior to his disappearance. In the report he concluded that the experiences I am having are all created and controlled by the Nordics. Further, his report stated that he and his superiors were convinced that this same Nordic group had created the Law of One information as well. He was convinced from the moment I met him that the Nordics were behind this.
The report stated there is no evidence of a NAVY SSP or credible reports from within the Airforce Space Command of there being a barrier around the solar system or a new group of ET's arriving in Planet Sized Spheres.  This is very interesting knowing that Sigmund did indeed make contact with members of the Navy SSP and even arrested and interrogated a few of them. This report was dated in April 2017, just prior to his disappearance. I'm not at all sure that he wrote the report that was filed under his name.
Q3. What were you told about the contents of an extraterrestrial disclosure announcement in terms of why it would become the basis for a new world religion?
After these beings are introduced, they expect the public will have a lot of questions about the ET's. The ET's beliefs and knowledge of the Universe and God would be among the top questions. At this point these beings are expected to share a newly crafted belief system that is based on the ET's true belief system. These beings will be doing this to help Humanity from the ET perspective.
Q4. You say 90% of people will adopt the new religion quickly. Were you told why it would happen so quickly?
It is expected that most will question their belief systems in the first few years of an introduction to ET's. Humanity will understand how little we know and will be reaching out to these new "friends" for assistance and answers. This sets up a situation for the majority of people on the planet to adopt a similar belief system that gets them away from the current division.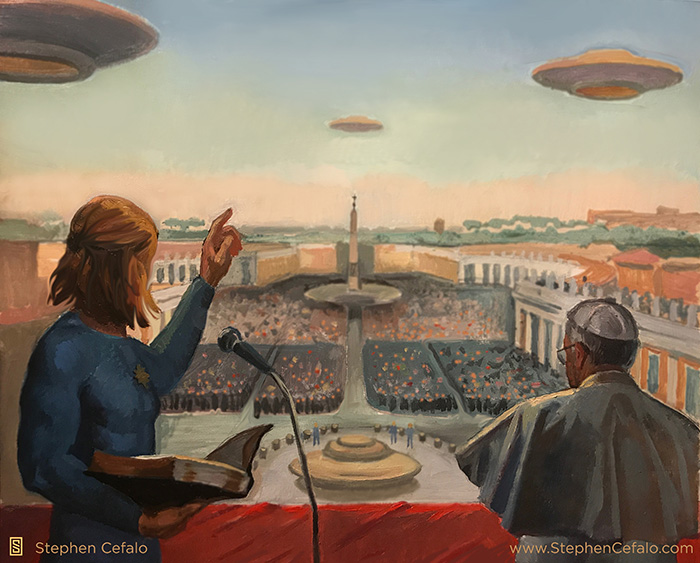 Q5. What do you know of such an extraterrestrial disclosure announcement being preceded by disclosure of a Military Industrial Complex Secret Space Program?
The MIC SSP (Air Force/NSA etc…) have been preparing for the disclosure of their program. I have not heard of them doing this in tandem with an ET announcement other than the Antarctic ruins being disclosed along with more "Ancient Alien" artifacts around the Solar System. This narrative was supposed to first disclose ET's, but only that the ET's were here thousands of years ago only.
The MIC SSP disclosure was originally going to be done among the Project Blue Beam scenario. It has most recently been talked about in the context of revealing an ancient alien presence in our Solar System. The meeting of the ET's could occur after the SSP Disclosure.
If up to 4 groups are no longer abiding by the M. [Muhammad]Accords, then the Powers That Be may not have time to roll out the Antarctica, Ancient Aliens and MIC SSP disclosures first. Things could be drastically sped up if these beings do indeed start communicating with the public in an open way.
Q6. Is the recently leaked Majestic-12 Assessment Briefing Document related to these upcoming announcements?
I cannot verify those documents at the current time. They do have interesting info that is similar to what I had observed. The Nordic race that has the drone ant-like Gray Aliens that do a lot of their physical labor is one example.
Q7 What role is President Donald Trump to play in this sequence of announcements given his recent visit to three major religious centers: Vatican, Saudi Arabia and Israel?
Unknown, from what we have heard Trump is getting some briefings from the Alliance via one of his White House sources. The amount of intel in his current Intel Agency and DOD briefings is very limited by design. It appears he has a small area of operation that he is responsible for and is not privy to the details of other operational domains.
Q8. If Nordic ETs and their allies reveal their existence, and the MIC SSP cooperates, does this mean that the Navy SSP will soon after be revealed or will it continue to be kept secret for some reason?
Unknown, too many variables at this point.
Q9. Do you have an idea of how the four Nordic ET groups plan to circumvent the Muhammad Accords, more physical contacts, dreams, fly overs, etc.?
Nordics plus up to 3 other non Earth-Human types, plan using dreams and altered states to communicate, acclimate the people and prepare them for face to face contact. This may be how disclosure actually occurs, and then the religious leaders need to explain it from a spiritual perspective, in come the new ET friends w/their beliefs etc. This would indeed interrupt the long term roll out that is currently underway. Using Antarctica/Under ocean ruins, Ruins on Mars to sell the ancient aliens only model along with the release of the MIC SSP (Not sure about the Navy SSP).
Exopolitical Analysis
It is highly significant that the disclosure scenario outlined above heavily features human-looking Nordic extraterrestrials. This will certainly allay the fears of some concerned about the influence exercised by non-human groups such as the Draconian Reptilians, whose close relationship with the current power structure (Cabal/Illuminati) has proved to be very harmful to humanity in recent history. There have been two world wars, thousands of smaller scale wars, and the covert influence of the Fourth Reich, all of which can be traced to the Reptilians and their relationship with human elites over the last century.
On the other hand, Corey Goode and others (Alex Collier) have spoken about Nordic and other human-looking extraterrestrial groups running 22 long term genetic experiments involving humanity. While humanity shares similar genetics with our galactic cousins, does this automatically mean we can trust them?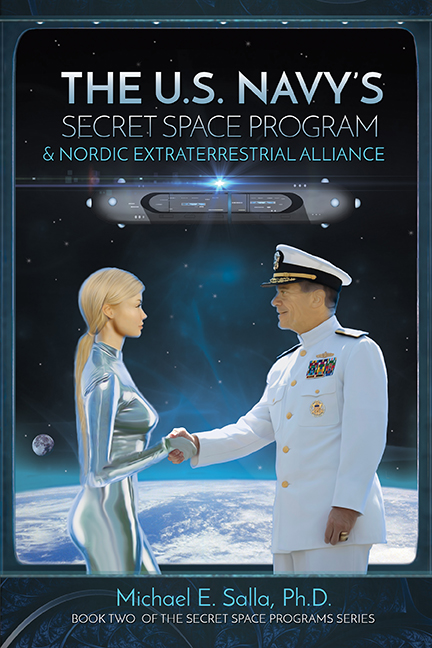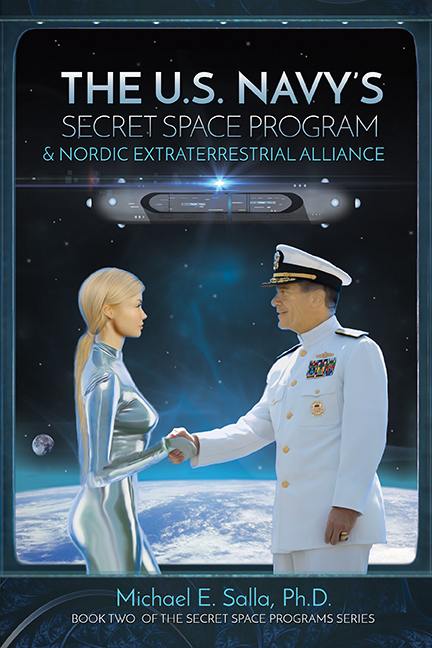 Certainly, from Goode's responses, the MIC SSP does not fully trust the Nordics who they believe are hoodwinking Goode into believing stories about 8-foot tall Blue Avians, and the existence of a Navy run secret space program. This is despite, as Goode points out, the MIC SSP picking up and interrogating other members of the Navy created Solar Warden Program.
Furthermore, what has happened to the high-ranking USAF general, "Sigmund", who allegedly wrote the report claiming that Goode is being controlled by the Nordics. Why his disappearance after a report bearing his name appeared? Does he really agree with its findings?
Nevertheless, at this stage it appears that the USAF/MIC SSP is prepared to run with the Nordic extraterrestrial disclosure scenario described by Goode. This is certainly what the recently leaked MJ-12 document suggests with its favorable description of the role played by Nordics in diplomatic relations:
Earth-like humanoids. There are several variations more-or-less like ourselves. The majority of these are friendly and are the bulk of our EBE contacts. Most have a high degree of psychic ability and all use science and engineering of an advanced nature.
Similarly, the Vatican also appears ready to accept human-looking extraterrestrials who can be accepted as "brothers in Christ", and lay the foundation for a deepening understanding of universal forces and life. This has been exemplified in a series of Vatican related statements dating back to 2008 when Father Gabriel Funes had an interview released titled "The Alien is my brother".
More recently, on June 14, the Vatican succeeded in having a diverse collection of world religious leaders come together in an extraordinary appeal for friendship and unity. This, as described in my June 22 article, "World Religions Unite as Prelude to Extraterrestrial Disclosure", is something to be welcomed.
As such, a new cosmic religion with the Vatican and all other major religious traditions cooperating with Nordic extraterrestrials does appear very plausible. Indeed, the very rapid adoption of up to 90% of humanity into the new faith described by Goode appears very possible. There would certainly be a collapse of traditional belief systems with the open appearance of the Nordics, and the revelation of how much humanity was lied to over the last century by the global elite.
Should the Nordics be trusted however in the impending disclosure scenario described above?
For those that have been following the Corey Goode's disclosures, what emerges from the above information is the minimal role to be played by the Sphere Being Alliance and the Navy's secret space program in the upcoming disclosure scenario. That is a cause for concern. However, that can quickly change, as Goode points out, given the unknown variables involved.
It's worth pointing out that Goode himself is not sure whether the role of Nordics in disclosure will be a positive thing or not. In a follow up to an early draft of this article, he wished to emphasize that he does not support the idea of "Nordics as angels of a new religion people should adopt."
Goode's caution here is well worth heeding. Nordic and other human-looking extraterrestrials need to be regarded as galactic cousins who are once again openly revealing themselves, as they once did in our past as historical records clearly reveal, as the work of Erich Von Daniken has so cogently demonstrated.
In this regard, Goode points out that the Nordics worked with the Founding Fathers in establishing the American Republic, thereby suggesting the Nordics are capable of playing a very constructive role in shaping human history.

In the past, the extraterrestrials were regarded as angels revealing profound information that became the basis of major world religions. Today, after three centuries of secularism in the "Age of Enlightenment", humanity has progressed beyond a distinctly religious world view.
Nevertheless, as the "Friendship and Unity" statement suggests, many billions still embrace diverse religious faiths, and religious leaders can play a positive role in overcoming global differences. A new global religion which emphasizes friendship and unity, and recognizes extraterrestrial life as very real is something to be welcomed.
The role of Nordic extraterrestrials in helping humanity better understand the galactic community and the greater cosmic reality is also to be welcomed. In providing such information they should be regarded as our galactic cousins, rather than angels intent on establishing a new global religion.
While the idea of a new global religion embraced by up to 90% of humanity might concern some, I'm optimistic that the information provided by Nordics will open the door to many hidden truths being revealed, and help humanity rapidly evolve as full partners in the galactic community.
© Michael E. Salla, Ph.D. Copyright Notice
[Many thanks to Stephen Cefalo and the Sphere Being Alliance for permission to use the graphic images of Nordic ETs in this article.]
Addendum – 10 am (PDT) June 27, 2017 – The following questions and answers with Corey Goode were added to help clarify some questions raised by readers to the above article.

Q. Do you have more intel on the four ET groups involved in this initiative that can be shared?
No, only that they are very human like. Of different race types other than Nordic. Ka Aree stated that up to 4 groups, including the Anshar (their race types) were now ignoring the accords. No further details on w/races. The Nordic/Religion thing is also something the programs have discussed so we don't know if it is a cabal op working w/an ET group or what at this point. The info is popping up that the UN is also ready to respond at the same time the religions do. So there is chatter about this and variations of this scenario coming out from several sources. This information has slight variations, depending on who the source was, but after a few correlations I thought it was worth reporting in our most recent briefing.
Q. When you say, "Of different race types other than Nordic", do you mean that one of the groups is Nordics and three not?
As I have mentioned on Cosmic Disclosure, there are a number of non-Earth Human types of beings that get lumped in with the "Nordic ET" label. There is even a 6 fingered "Nordic" looking race that works closely with the Reptilians. We have even had confirmation within the programs that German Breakaway Groups were appearing to people as Nordic ET's. At this point we don't know which group of "Nordic-like ET's" are reported to be considering this type of revelation to humanity while working in concert with various governments, Military organizations and Religious Leaders. This type of thing was indeed planned in 2008, but never occurred. The main point is that this is among the scenarios that are being planned for us. We need to be informed and prepared for how we will react to which ever scenario or combination of scenarios may end up playing out. It is obvious that Project Blue Beam is not viable unless used in concert with the revelation of positive ET friends. This is speculation based on what I have observed and been told.
Up to 4 groups that are Human Like, one of which is Nordic Looking. Some of Ka Aree's people are very Nordic looking as well.

Q. Many have been really hoping that full disclosure would lead to a world without established religious faiths. That seems very naïve to me. What do you think?
It is a bit naive to think people will abandon religion and spiritual belief systems all together when we are programmed to do so. That is the reason the positive ET's, until this point, have not appeared before the pubic. In the past they were worshiped and want us to focus on ourselves instead of outside forces to save them. I think that is all I have to clarify. TY
Further Reading